Up at nine today, we had to leave Rebak Marina, nice as it is, we had done Rebak and Chenang so off to pastures new. First though I went to the marina here in search of micro-balloons,  which I got, these are clever little things, when together they look like flour, but are great for thickening epoxy, without the need to drill through your finger.
After the chandlers we had a quick stroll around the yard where Tim found his next boat. 😉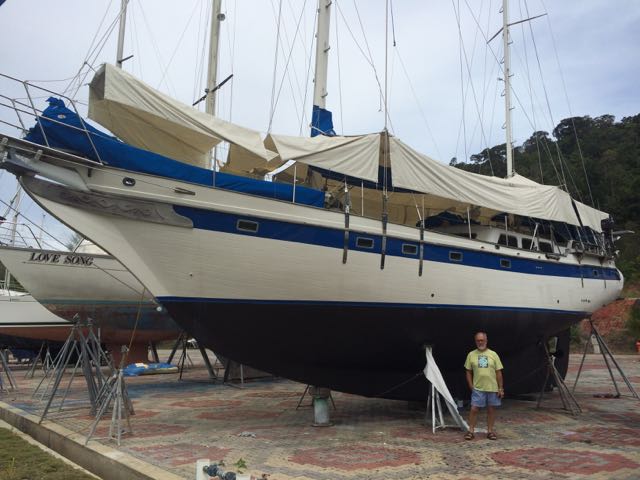 So a quick exit from Rebak, and round the corner and up North to Telaga harbour where we could get fuel. Telaga harbour has a marina and a fuel jetty, the only marina with fuel in the whole of Malaysia apparently, anyway we bought about 300 Litres of diesel for £90, pretty good really.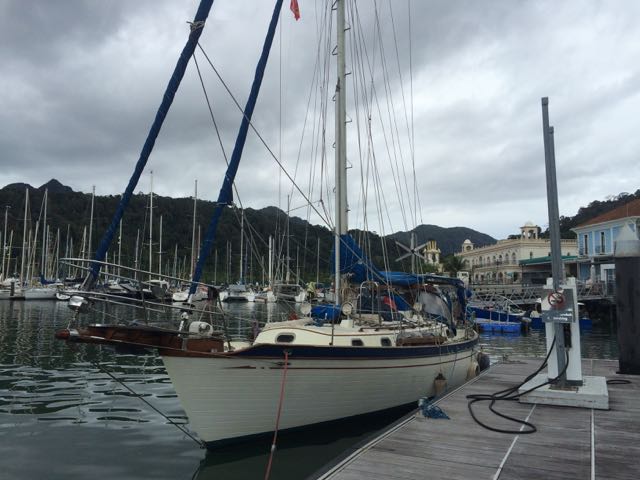 It has been a very overcast day, and consequently the temperature is most pleasant. This image is of Telaga harbour/marina as seen from the far western side where Tim and I went to have lunch, of Tapas. I almost walked out in disgust at the outrageous prices they were charging. I'm not surprised the restaurant was empty. In the picture you can just make out Sister Midnight on the fuel dock to the right.

They have a yacht preserved here on display, much like the Gypsy Moth used to be in Greenwich, I believe the yacht was used by the first Malaysian to sail solo around the world.
After lunch we hit the waves, lumpy ones too, as we are exposed to the Malacca straits here and travelled back to Kuah and the Langkawi yacht club, I phoned up and asked for our old berth, which they were very happy to give us. This is the track of our trip back which took about 4 hours.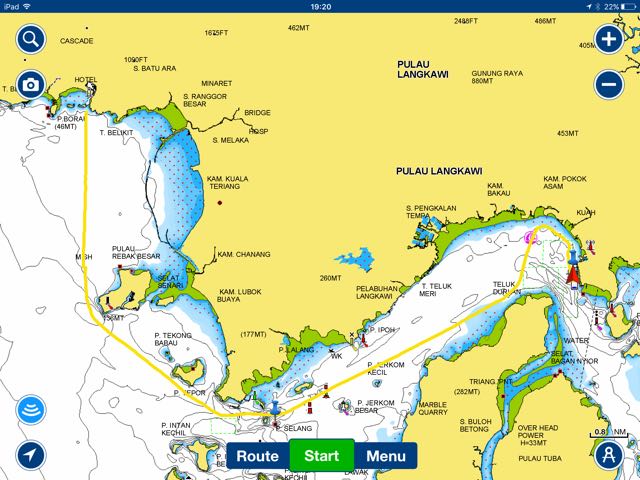 When we arrived back, we had a leisurely cruise amongst all the boats at anchor in the bay here, something I expect to be doing myself at some point as it's free and an easy dinghy ride to the shore.
You can see the eagle in this picture, Langkawi means eagle, and I guess that's why they made this one, however you just need to look upwards and there's always eagles above you, big things too.



Heres one on top of the Grimsby boat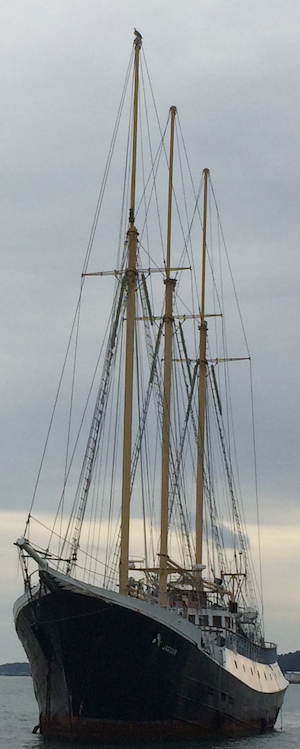 Once in our berth, which once again I messed up, thought I was too close to the finger, but was actually a metre away, and while trying to throw ropes ashore, didn't realise I had left her in reverse. It was all done very slowly, so nothing hit anything, just looked bad, will get there in the end. Perhaps I need to practise patting my head while rubbing my tummy more.
My AIS has arrived at the post office, and the Parcel Isaac sent is also waiting at the yacht club, so tomorrow will be like christmas here.
Paul C.