Powerful stuff, must put more lotion on.
I popped up the mast today to replace the spreader working lights, these are lights that we use to light up the deck at night if we need to work in the dark. I also use them to illuminate the sails to make ourselves more visible if I want other boats to see us.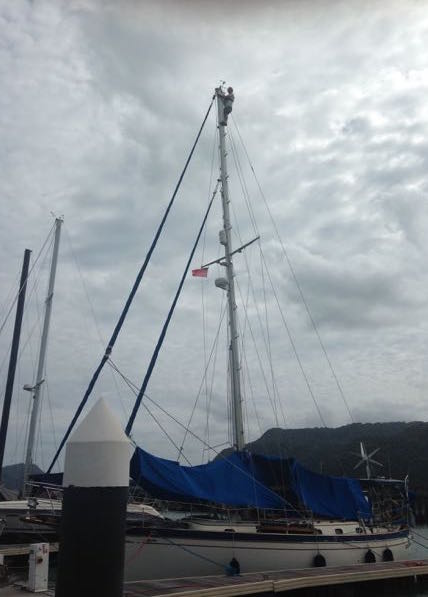 I also wanted to extract the old masthead Tricolour/Anchor light. I was surprised to see how deteriorated the light was. This was quite crazed when I looked at it back in May, but now it was disintegrating, it really brings home how powerful the Uv rays from the sun are here. One of the screws that fixed it down snapped off as I was removing it, so I need to remove that tomorrow.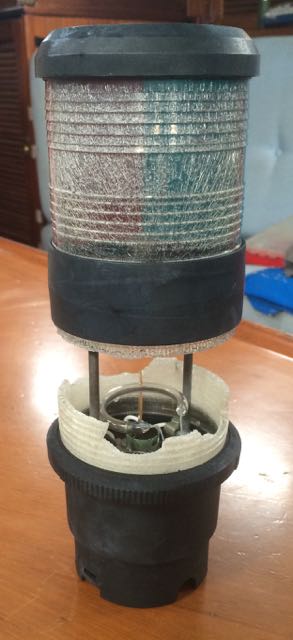 The spreader lights work well now, I can't replace the steaming light, which is a white light on the front of the mast we have to have on when we are using the engine for propulsion, because when I tested the light I brought out, it wasn't white at all but red and green. I ordered a new one today from Austrailia along with a new water tank sensor, should be here in a few days. Tomorrow I will fit the new masthead light which is an LED job from NASA  Marine.
I have also paid for the new standing rigging to be made, it's being fabricated in Florida and flown out here as I write this, seems crazy, but these wires hold the mast up, and the quality from the USA is very high, so it"s worth it, it's also quite a reasonable price.
I'm hoping to have the rigging replaced and to depart Langkawi for Phuket in about 2 weeks time. Kathy is working out our itinerary for the trip, so many places to see and events happening there, I can't wait.
Paul C.