It really would be rude not to rest and relax here. The whole resort is created exclusively for comfort and the promotion of that 'away from it all' feeling.  On our first evening here, we had a delicious meal in the restaurant that overlooks the pool, with palm trees and a fairy-lit terrace. We made the most of the lavish, all you can eat hot and cold buffet which consisted of soups, noodles, sauces, curries, rice, pizzas, salads meats, vegetables, breads and an array of desserts, all laid out in an elegant restaurant.  One of several chefs was quick to point out all the vegan dishes on offer when I enquired, and it was all very tasty ( so much so, we went back for seconds and a dessert, most unusual for us).  As marina guests we get to use all the facilities in the resort, and also get a 25% discount on food and drink bills. The photos attest to the stunning beauty of the place, and it's very peaceful. Several of the guests are clearly on honeymoon (it's an ideal resort for one), and the rest consist of other 'yachties', and a few family groups from Australia, Malaysia, China and America. The staff are mostly Indian or Malay, Taj being an Indian company. The holiday lodges are in the form of attractive, dark wooden chalets complete with balconies and gardens – some of which are right next to the beach. I really can't fault the place (apart from the frequency with which Ed Sheeran is played on the sound system by the pool, but I can block him out with my iPod ;)).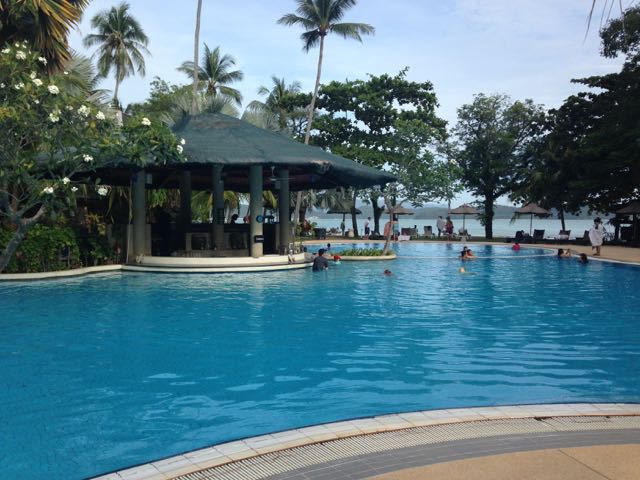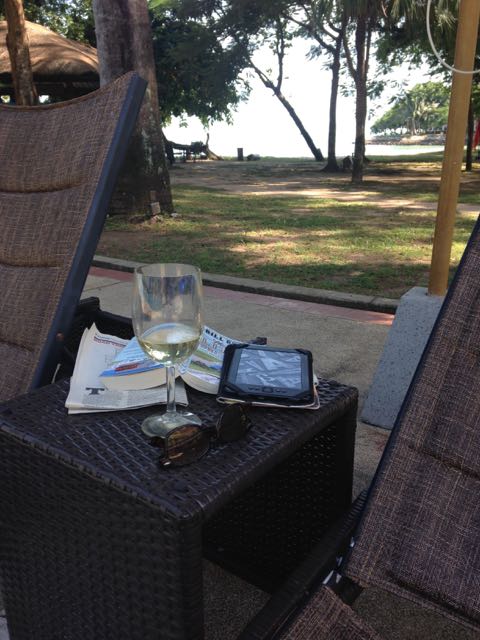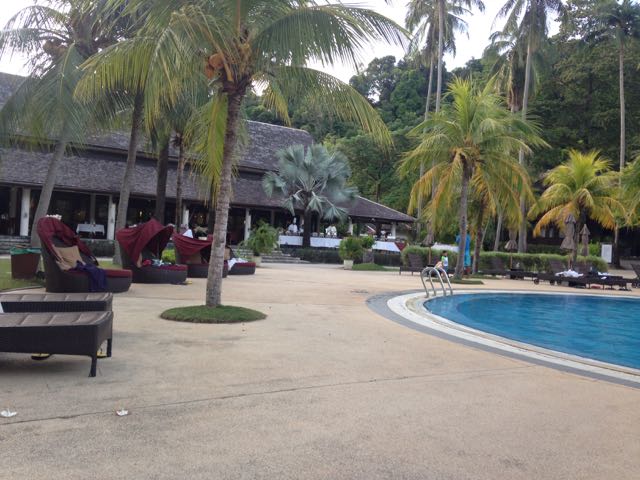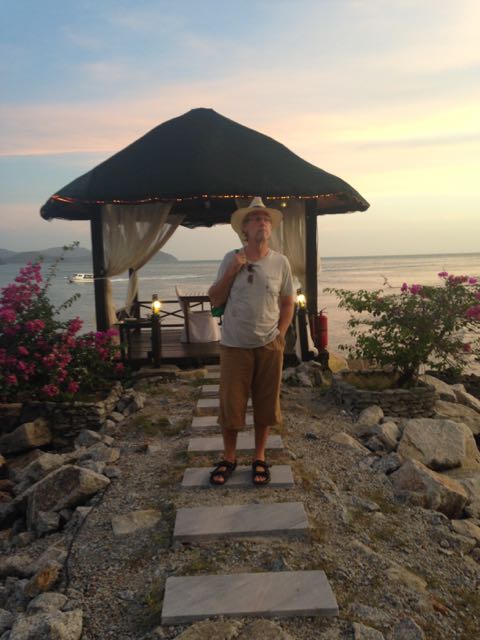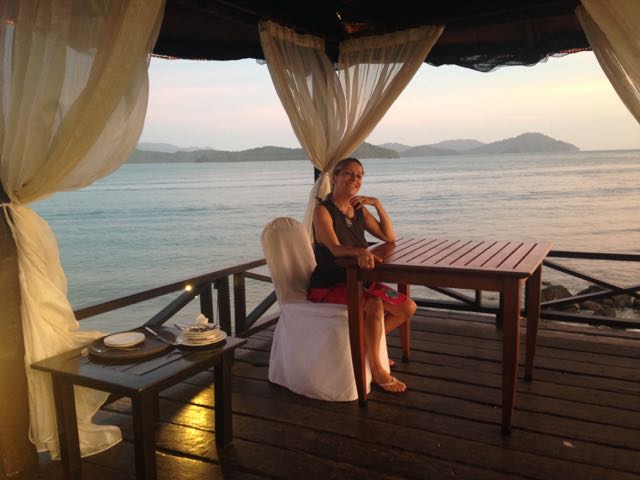 Most afternoons have been spent on sun loungers by the pool. It's so pleasant to lie there with a book, doze, 'people watch' (and 'listen') and have an occasional swim to cool off.  One afternoon while Paul worked on the boat I went to the loungers on the beach instead where it was quieter, and lay on one under a canopy to shelter from a gentle rain shower. There were sand crabs all around me, scurrying in and out of their holes – too quick for me to capture them on film.  Near the marina is a swampy area called Mangrove Pavilion. The viewing place looks a bit like a bird hide with no walls, with seats set out to look at the trees and muddy ground unseen by birds or creatures within. We haven't seen any exotic wildlife there yet though.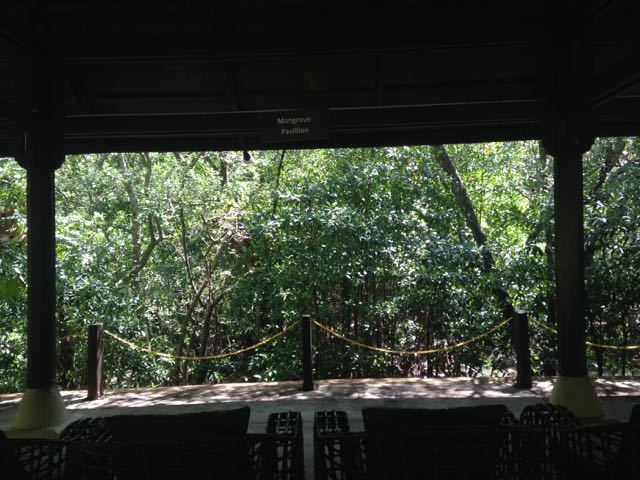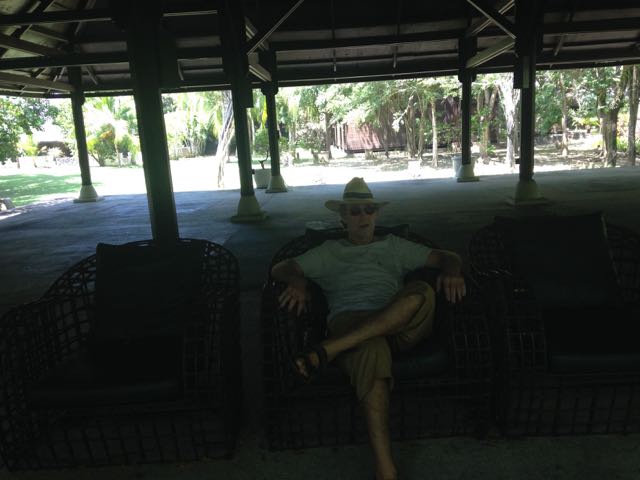 On Monday afternoon we hopped on the free ferry to a place called Cenang. Paul had been there before and described it as the Asian equivalent of Blackpool or Rhyl. I was intrigued!  It was a fast and exhilarating five-minute trip across the water to Langkawi where a taxi took us from the jetty into Cenang Town.  The main street is indeed lined with gift and souvenir shops, beachware stalls, fast food cafes and restaurants, and duty free shops with a wealth of chocolate and booze on offer.  The street itself was in serious need of repair: paving stones were being pushed out and up by tree roots, and in some places there were deep holes leading down to foul-smelling drains, creating tripping and falling hazards that would horrify health and safety officials. To be fair, there is a lot of work going on to improve the area and it's a month before the official holiday season starts here.  After a bit of a browse, we headed for the beach. A short walk down a hill and the sea was before us and a long stretch of clean, sandy beach. It was a glorious contrast after the dusty, rubble of the hot street. We sat at a cafe and had a drink looking out at Rebak and other islands enjoying the sea breeze.  Before going back we had a walk on the beach and a paddle in the warm water.  The sand was full of pretty shells, and one of the cleanest I've been on. More luxury holiday homes are adjacent to the beach, and in one spot a wedding had just taken place (see pic below).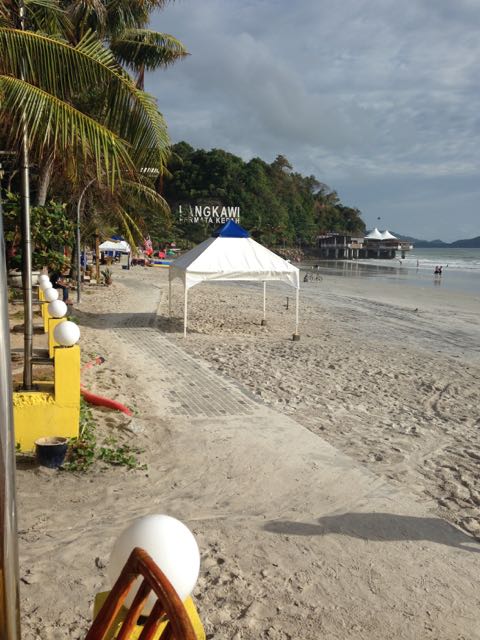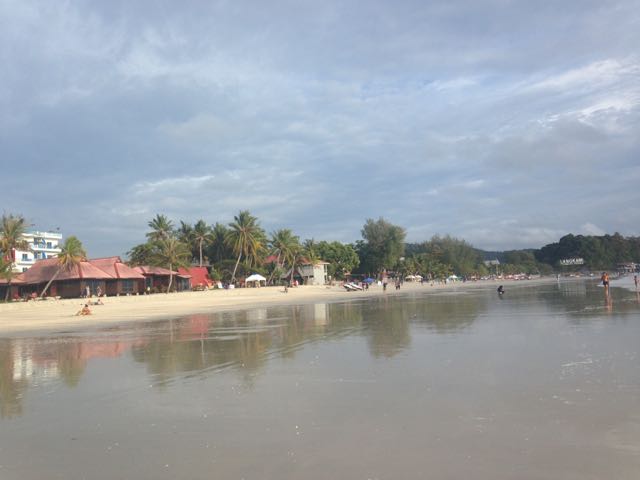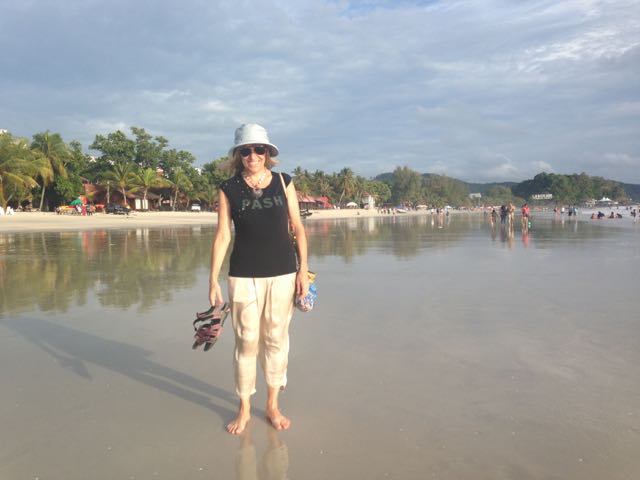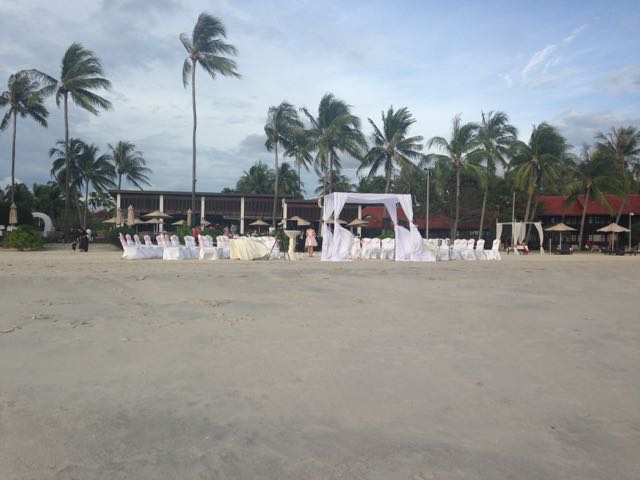 I was expecting to have to leave early in the week but Paul discovered that his plans had gone slightly awry by the rigging delivery being delayed.  It came as a welcome surprise to be told we'd 'have' to stay here a bit longer. Since we had more time we thought it would be good to follow the 'Nature Trail' we'd seen on a signpost. The path led us past the marina and out by the sea, with thick forest on our left.  Paul was keen to venture into it but my fear of leeches and other wriggly things falling on me rather put me off ;).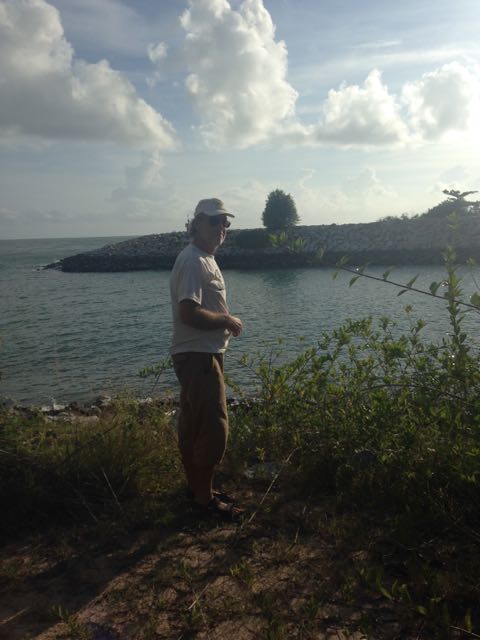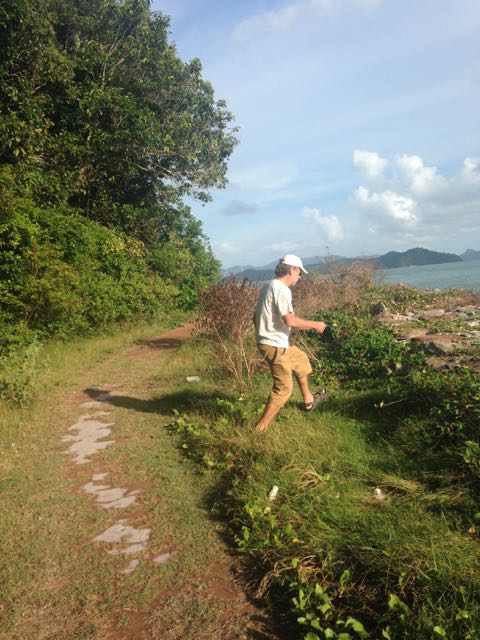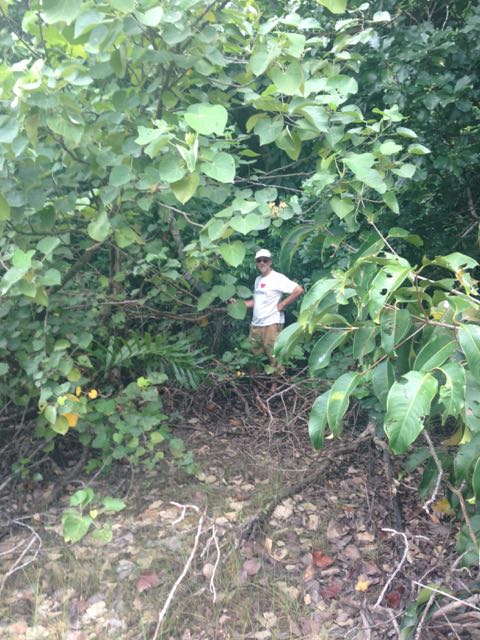 The following evening, we did the other recommended walk, thinking the exercise would be good after so much lounging by the pool. I was a bit braver this time – I even left off my elasticated-bottomed trousers and socks! Paul wanted to check out a dilapidated building just off the beaten track and I thought 'why not'. We hadn't gone far in, however before my eye caught movement on the ground; this turned out to be huge brown millipedes! They seemed to be all around me and I felt panic threatening to overwhelm me.  There was nothing else for it but to run in a rather ungainly manner (with accompanying hysterical squeals) back to the safety of the wider path. It was a great walk actually, and we ended up on a beach typical of the traditional image of a desert island.  It was fantastic, and amazing to see shells walking along the sand. Paul's video in his post shows them perfectly. We spent ages looking at the debris that had been washed up-sadly there were a lot of plastic bottles and drink cans amongst it all.  Naturally I was reluctant to return through the forested area and wondered if we could follow the coastal route. Paul wasn't altogether certain but we gave it a go anyway. We had to pick our way over prickly shells and steep and slippery rocks crawling with crabs -it was great fun, real Swallows and Amazons stuff!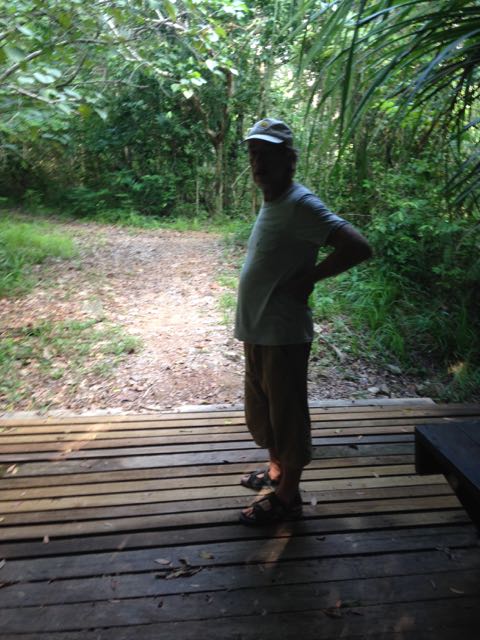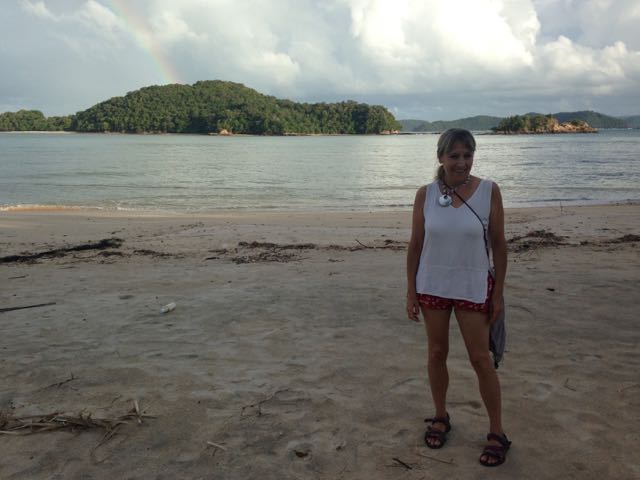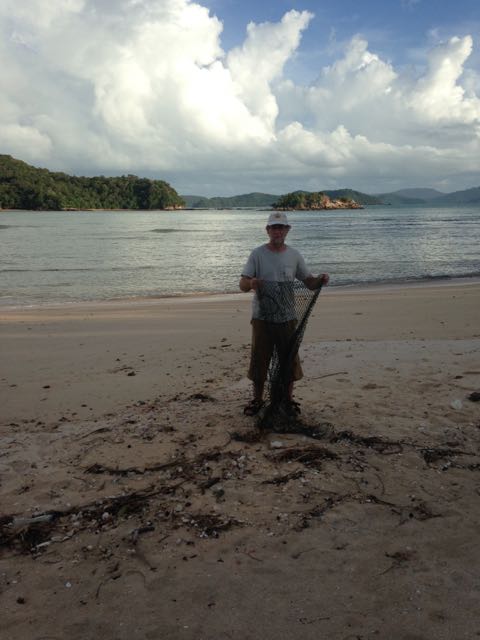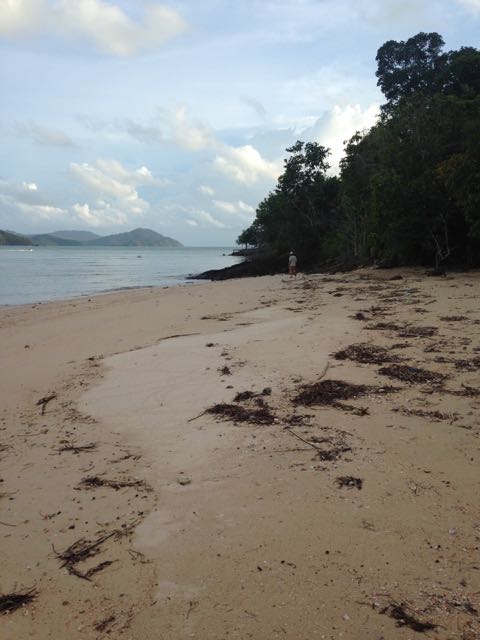 Our extended stay meant we were beginning to run low on supplies, especially fresh items like bananas and salad ingredients. The shop on the resort doesn't have a wide range of choice so we decided to visit Cenang again yesterday to stock up from one of the larger supermarkets there. We asked the taxi driver to drop us at one just out of town, thinking we'd go there, have a quick drink at the beach and then get back in time for an afternoon at the pool. On the way, the driver came to an abrupt halt as a huge creature lumbered across the road. It looked like a crocodile and when I asked him what it was, he said crocodile but I'm still not convinced: Komodo dragons look very similar. It was still thrilling to see anyway. No fruit or veg to be had in the big supermarket, so we walked on into town.  On the way we passed a paddy field, the first one we've seen here so stopped to have a look.  Some of the workers were resting on the platforms in the middle of the fields, and each field was in a different stage of growth. In season, it's possible to do a tour to see how the rice is produced but this one was closed until November. We stood watching a cow and its accompanying bird which was relieving the cow of the insects flying around its head, when I noticed movement to my right and saw another 'crocodile-like' animal slithering down a slope into a murky drainage ditch next to the field.  It swam towards us at quite a rate but was unfortunately too submerged and fast-moving to study it or film it.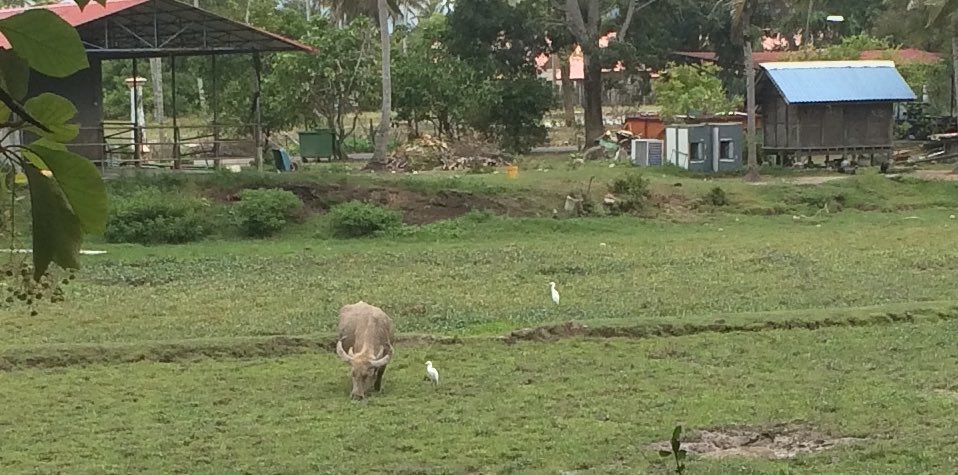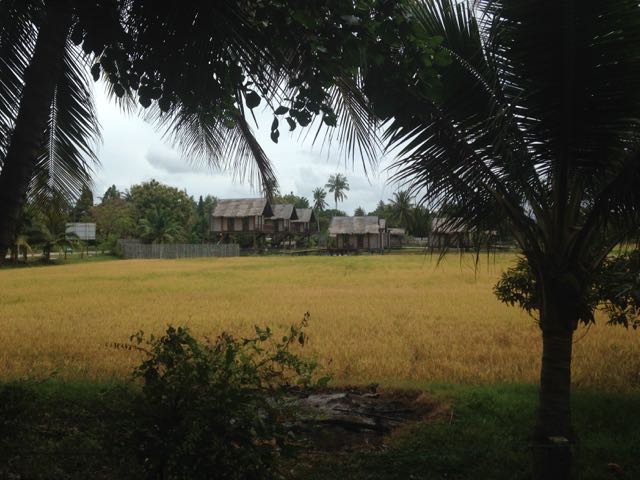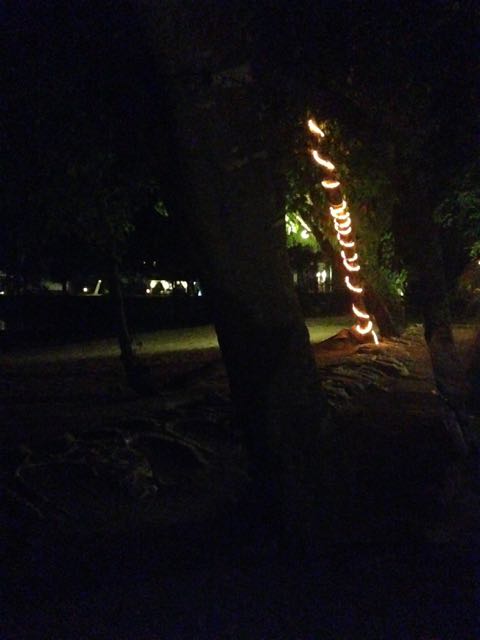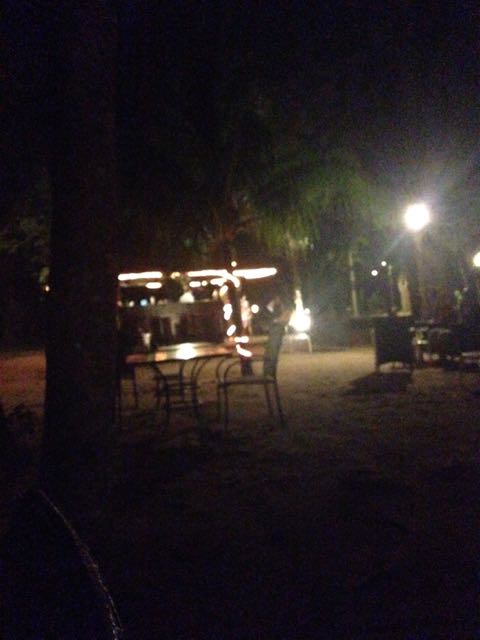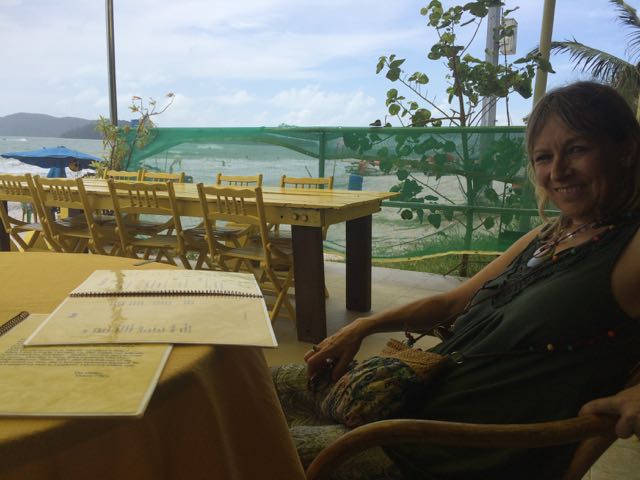 Our search for fresh produce in Cenang proved fruitless (pardon the pun). When we asked an Indian lady in one of the small shops where we could buy some bananas and tomatoes, her reply was long and convoluted enough (in terms of directions and reasons for the lack of) for us to realise we weren't going to find any within walking distance, so went for a drink instead.  It was 3 o'clock by then and 'The Yellow Cafe' we'd been to before was just opening up. We were both hot and ready for a drink and a rest so it was nice when a gentle and cooling shower of rain began to fall as we sat watching the jet skiers and swimmers in the big waves.
Back on Rebak later that evening we went to the seafront bar on the sand to make use of the wifi. The pictures I took don't do justice to how pretty and atmospheric it was. It's still a novelty to me to be sitting outside in the dark at 9pm in a flimsy vest and shorts without feeling in the least bit cold.  One more day here, then it's on to Telaga.
Kathy