On Sunday afternoon (11th September) after we finished work for the day, we ordered a taxi via Uber to take us to Straits Quay Marina. Paul asked him to drop us a little way from the marina itself so that we could walk to it.  There were so many high rise buildings surrounding us that it was hard to believe we were anywhere near water. More of these towering apartment buildings are being constructed constantly – all over Penang. So many homes are contained in each of those huge complexes, it really creates a sense of how many people live there.  I keep wondering where they all lived before they began to build them. Straits Quay is another smart shopping and dining hub, and it's only when you walk through the ornate entrance with its cafes, shops and restaurants that you spot the masts of boats in the marina and beyond, the channel of water between the island and the mainland. It was a hot, sunny day and the smart bars along the waterside were too tempting to resist (for me anyway), so we sat at one of them and people-watched for a while, enjoying the view over to the mainland.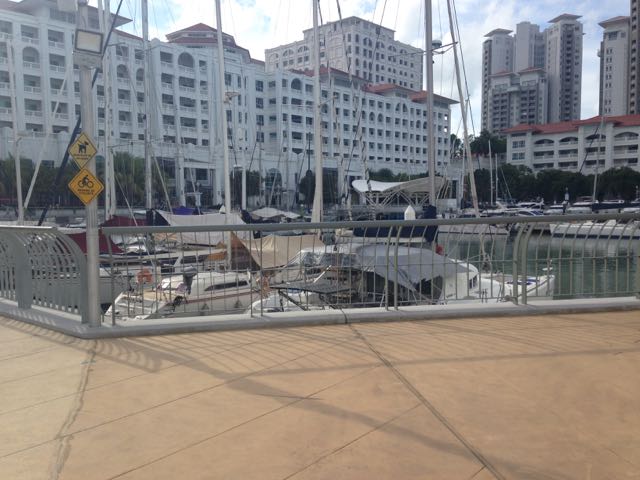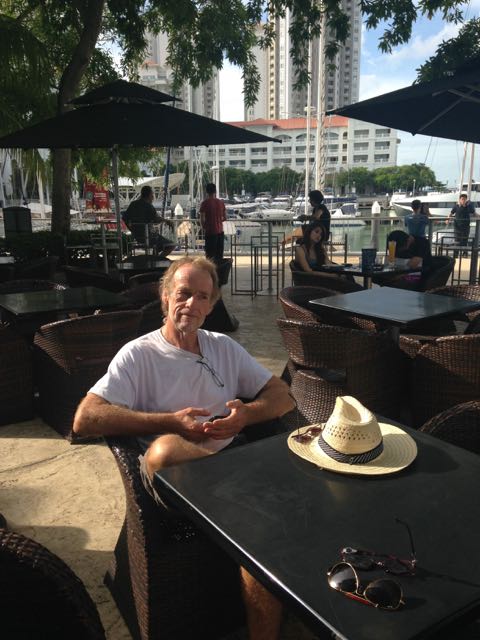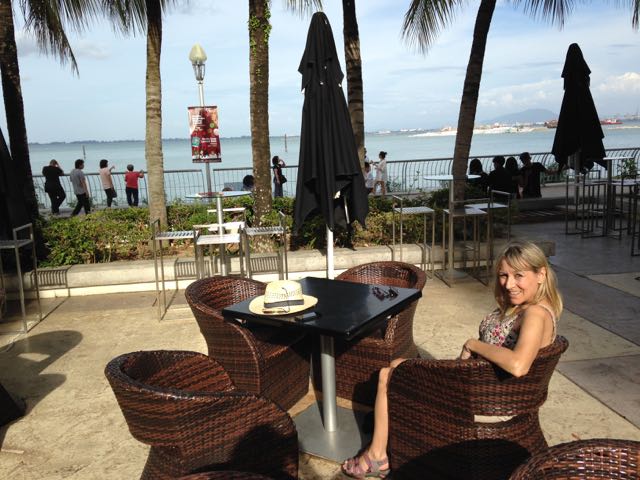 Walking further along from here, we passed 'Uncle Albert's Fish and Chip Restaurant', English-style pubs and tearooms, and a lively Irish Pub packed with people in green T shirts watching a rugby match. Time to move on! We ambled slowly and leisurely along a path by the coast watching the boats out on the water until it began to get darker, then went for a drink in Gurney Plaza before heading on to Hawker Food Market for dinner.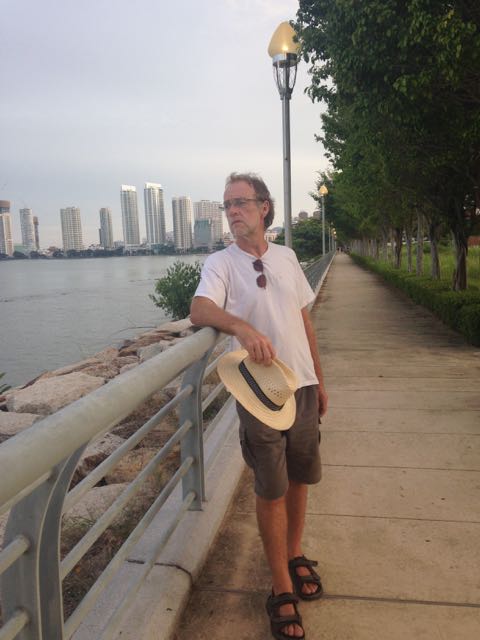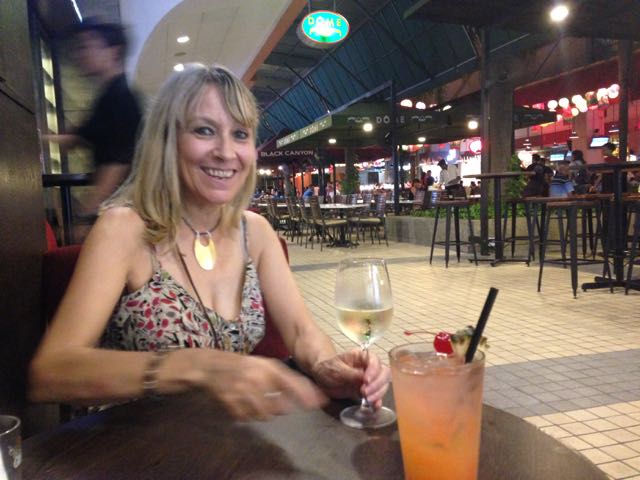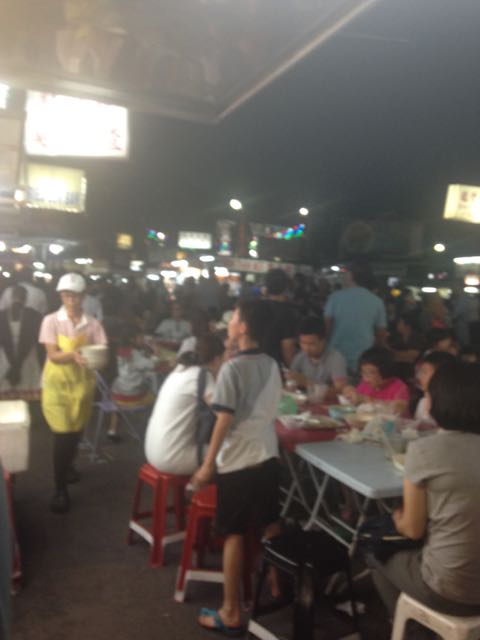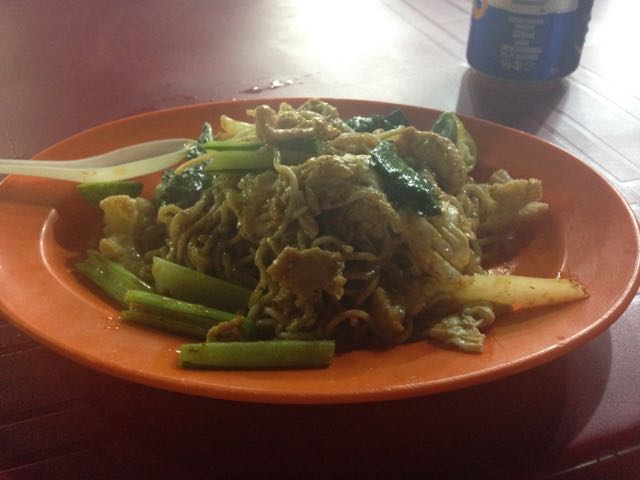 The following day we took the boat out for a spin to check the sails and to practise a few boat manoeuvres. It felt great to be out on the water, making the most of the sea breeze – a respite from another sweltering day. It was hard work keeping the boat on course while Paul tacked and gybed but I felt that I learned a lot in the few hours we were out there, and certainly feel more comfortable with the steering now.  When we got back, Paul taught me the correct way to cleat off on the pontoon, and the art of throwing and catching ropes (this time with no spectators to put me off :)).  However, when we moved the boat onto the emergency pontoon ready for the morning departure, I didn't throw the line far enough for the guy to catch it so he had to retrieve it from the water, and then when Paul threw a line to me, I dropped that in the water so it seems I need a lot more practise yet.
Luckily, the 10am morning departure on Tuesday went without a hitch and soon we were watching Penang's skyline fade into the distance. The conditions for sailing weren't quite as good as Paul had hoped but we got some sailing in and the six-hour passage to our anchorage was squall and storm-free. Paul let me choose the place to drop anchor and it was Pulau Bidan that took my fancy – not because Song Song was further away but because it looked so intriguing.  The island was bigger than Song Song and we could see people moving around near huts by the beach and it was very peaceful and serene-looking. I thought it a nice spot to watch and listen to the birds and to spot any other creatures that might inhabit the place.  As we were anchoring I saw a fish (looked a bit like a swordfish) leap out of the water and it went higher than I would have ever thought possible – a real 'wow' moment.  Despite its being a rich fishing area, Paul has yet to catch one, even after putting two lines out over the stern ;).  Once we were secure, we went for a quick swim round the boat to cool off.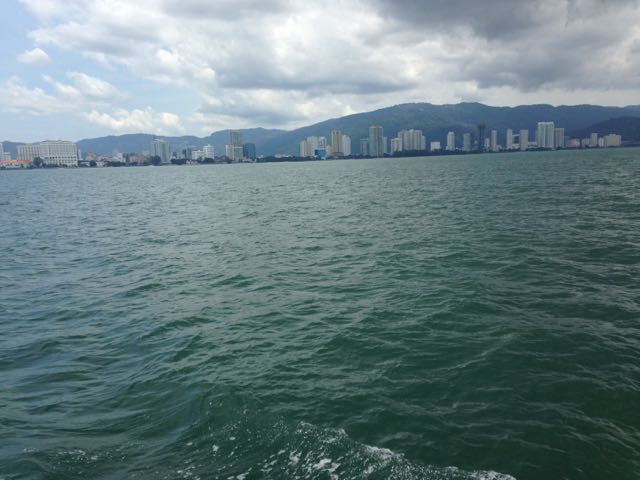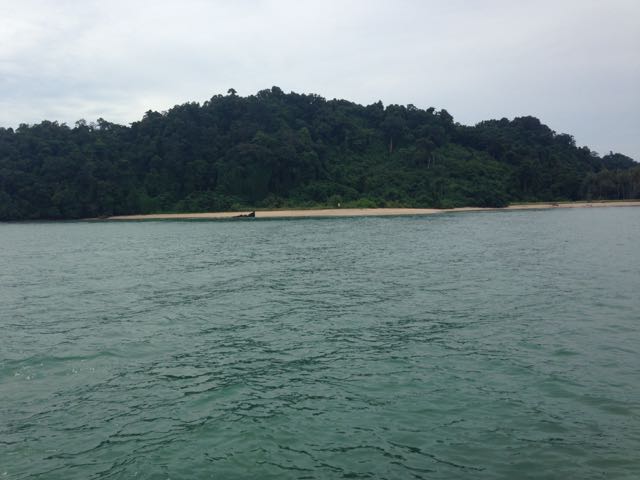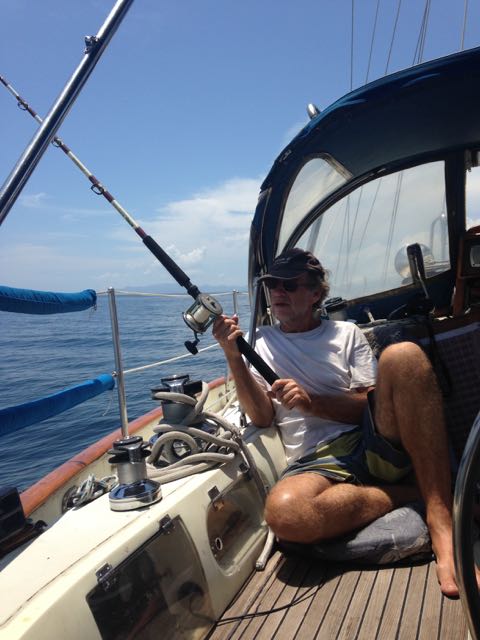 Paul looked up some information on the island and my guess that it looked like a place for volunteers interested in nature-watch projects turned out to be on the right track. It's an ecotourist destination, host to a range of wildlife and natural biodiversity and the aim of the organisation running it is to build up a community dedicated to preserving and protecting the island's ecology. We spotted some geese marching up and down the beach and heard a cockerel crowing regularly, so I guess there are hens there too. The living conditions looked fairly rudimentary but I thought what an amazing and worthwhile experience it would be – it beats what Bear Grylls has people doing on the islands in his TV series' anyway.  While we ate dinner in the cockpit, the shore of the beach was lit up with a line of subtle 'street lights', creating a wonderfully atmospheric picture for us to look at.
The night we spent there turned out to be the hottest and stickiest night I think I have ever had! Paul slept in the cockpit and I thought I'd try the V berth as it had been fine at Song Song but it was too hot in there so I moved to the port side sofa and that was no better.  I didn't fancy the cockpit because mosquitoes feast on me, so I put the boat fan on and lay as still as possible until I dozed off.  I woke three hours later, soaked in sweat and itching with bites so I gave up and read for a few hours which was pleasant enough. As the boat shifted with the tide, a breeze came through the hatch and window in the V berth, and I was finally able to get more sleep in there until Paul woke me at 8 with a Happy Birthday coffee and said we'd need to get moving soon. I opened my one and only card and the thoughtful presents he'd got me (see below), and then we set off for Langkawi.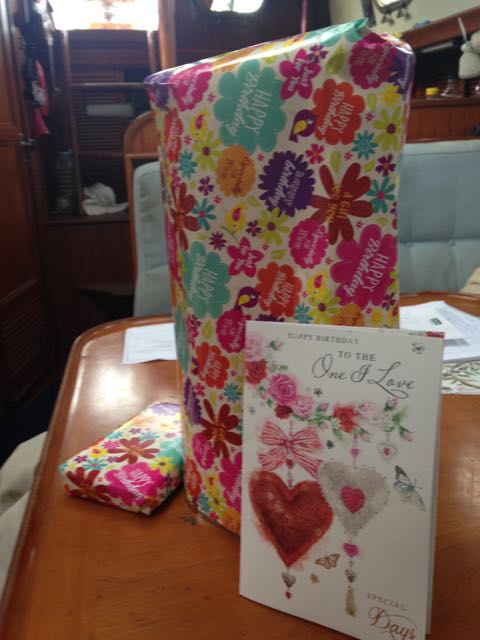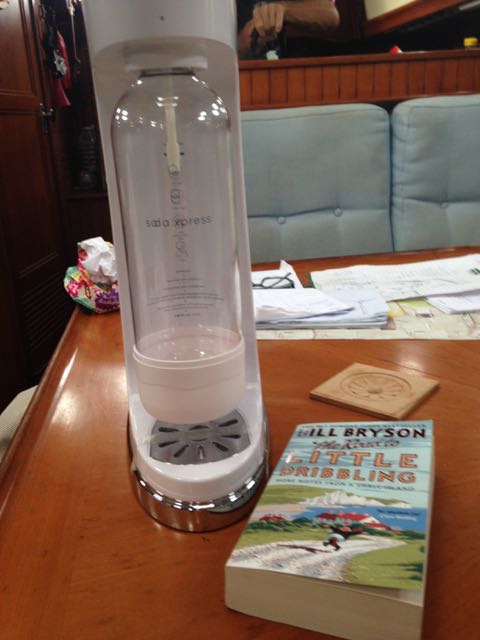 The journey was very relaxing. I tried to get some more sleep but it was still very humid, even up above so I lounged below, reading (currently reading Dickens's Little Dorrit, The Long Day Wanes by Anthony Burgess, White Jazz by James Ellroy, The Enemy by Lee Child, Far Eastern Tales by Somerset Maugham, and four mystery/thrillers on my kindle phone app, so no shortage of material to get through).  Not a bad way to spend my 56th birthday all in all.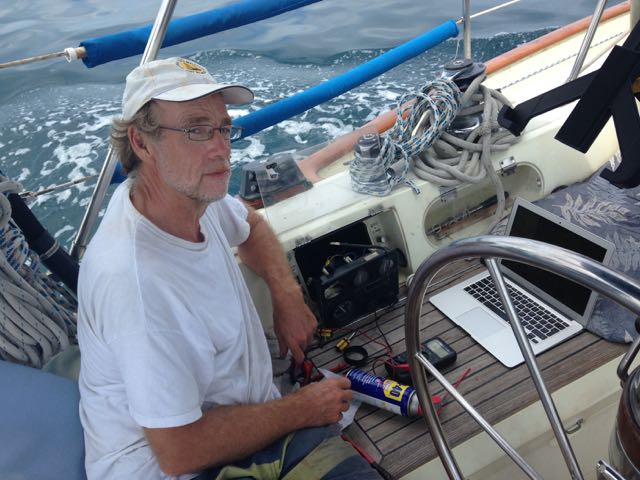 We arrived at the marina at 5pm and the cleating lessons paid off because I was able to jump ashore with a line and tie us to the cleat with no difficulty. It was very hot and humid and by the time we'd got secure and the boat shipshape we had to use the hose on the pontoon to cool ourselves down.  My unusual and enjoyable birthday ended with a drink and a meal at Charlie's Place. It's great to be back in Langkawi 🙂
Kathy