Not quite the same as the events in Willy Russell's tale, but it would have been nice to take a monkey from the park if they'd only been more friendly ;).
We hired a car last Thursday so that we could explore more inland places of Langkawi.  The process of hiring a car turned out to be a lot less of a hassle here than in any other country.  Apparently the lady on the desk just took a cursory glance at Paul's driving licence, charged him the equivalent of £12 for 24 hours, asked for a £10 deposit, and asked if he'd return it with the same amount of petrol. There was no inspection of the car's condition; in fact she merely pointed to one, seemingly at random, gave him the keys and said 'there you go, take that one'.  It was small, automatic, air-conditioned and comfortable, even if it did struggle to work out which gear it should be in sometimes. Our first stop was to get some petrol so we stopped at the first one we saw in Kuah Town.  Paul couldn't work out how the petrol cap came off and was trying various buttons and levers while I searched compartments for a helpful manual or leaflet until an attendant with a world-weary expression came over, reached inside and pulled a lever near the handbrake (I have a feeling he might have had to do this before). Petrol is a lot cheaper here (the equivalent of 40p a litre). Paul put £4's worth in and could have got away with a lot less for the day's use.
We'd worked out a rough itinerary of where we wanted to go.  We were heading to the western side of the island, where the Machinchang Cambrian Geoforest Park is located, taking in a few other places on the way.  There is a road that cuts through the island's rural middle and we drove along that after leaving Kuah's busy centre.  Soon, lush rainforest was on either side of us, and as we climbed higher, there were steep rock faces (no protective netting or warnings of loose rocks here).  There was hardly any other traffic so we could slow down to look at anything interesting.  The houses in the tiny villages we passed looked just like Swiss chalets or the more ornate sheds and cabins found in garden centres. Other places were made up of ramshackle buildings that looked as if they might fall in strong winds. On the roadsides we saw several stray dogs, beautiful red roosters and chickens, cows and the ubiquitous monkeys, which I've since found out are mainly Dusky Leaf or Macaque. On one stop, quite high up, we stopped to look out at the Andaman Sea and on the beach below I was most excited to spot what looked like a crocodile or alligator but it could well have been a Komodo Dragon.  You can just about see it in the picture below in the middle of the beach.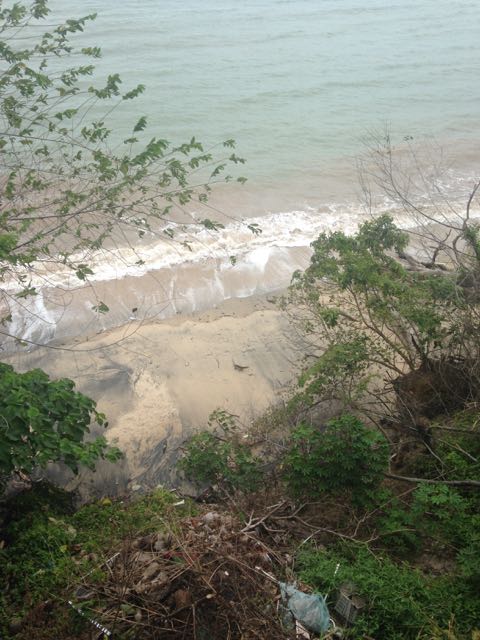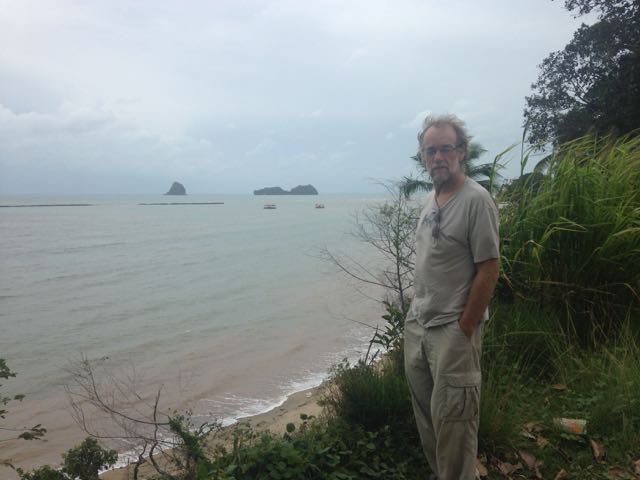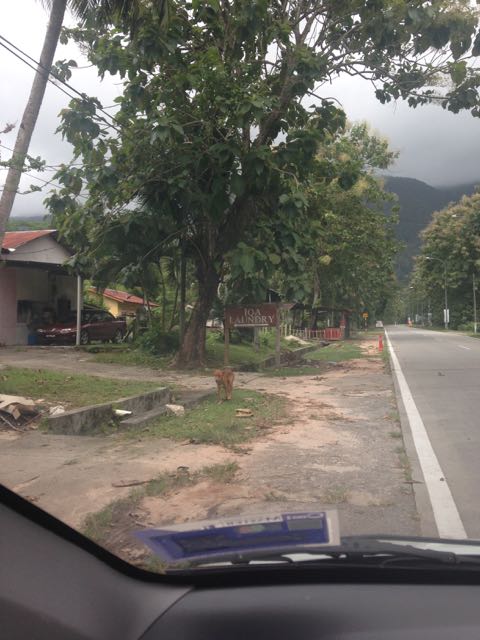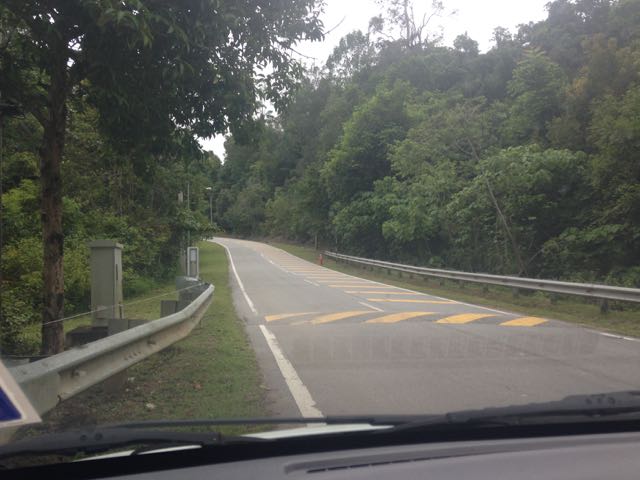 There are adverts everywhere for 'Crocodile Adventureland', the pictures on the banners show people variously prising open the mouths of the crocodiles (to place a head or an arm inside), riding on their backs and possibly getting them to perform tricks 'seaworld' fashion, and as neither of us are in favour of that form of entertainment, we passed that one by and instead headed for the nearby Handicraft and Art Village.  As well as the usual hand made souvenirs and other unique items, this complex contained a couple of museums about Langkawi's heritage and culture.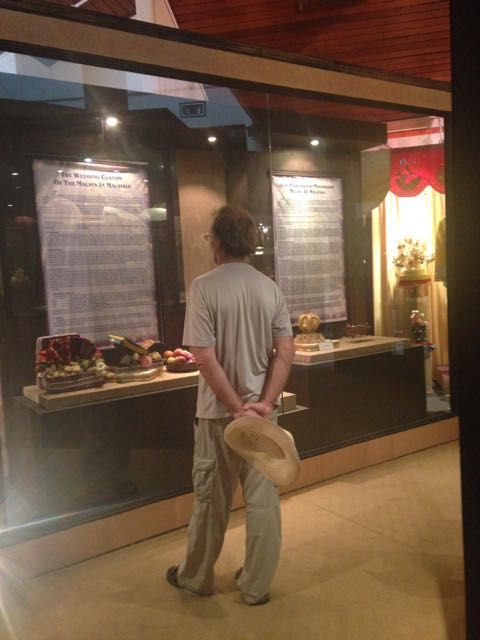 Our next destination on the map was the attractive-sounding Seven Wells Waterfall.  It was a picturesque journey through more thick woodland where all the luxury tourist villas are located.  It was still a surprise, however to come upon an exclusive golf course and resort as we rounded a corner. Suddenly all the jungle-like vegetation had disappeared and it was like we were in the middle of the rural Surrey.  The waterfall was a little way after the golf club according to the map.  Thinking we'd missed it, we had to double back and check the location again and discovered from a roadside plaque that it was still being built! Once finished it will be the biggest man made waterfall in Malaysia apparently.  The climb to its source was open though so we decided to do it. A group of workers on the opposite side (in the pictures behind us) cheered us on when they shouted to check we were climbing to the top and watched us all the way. The pictures don't show the steepness of the steps – some of the were so steep I nearly had to pull myself up with my hands.  The view from the top was stunning though.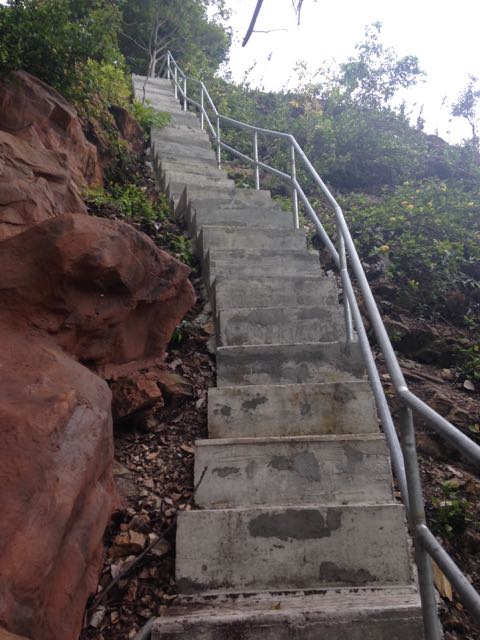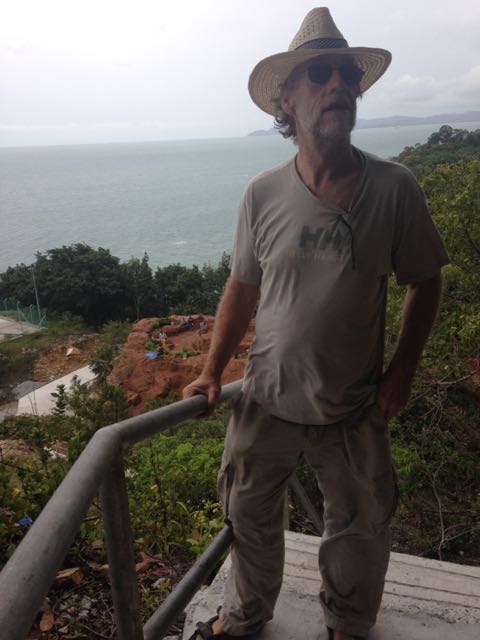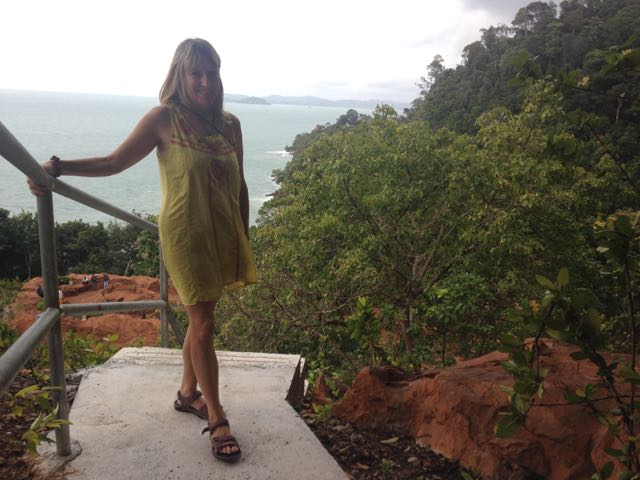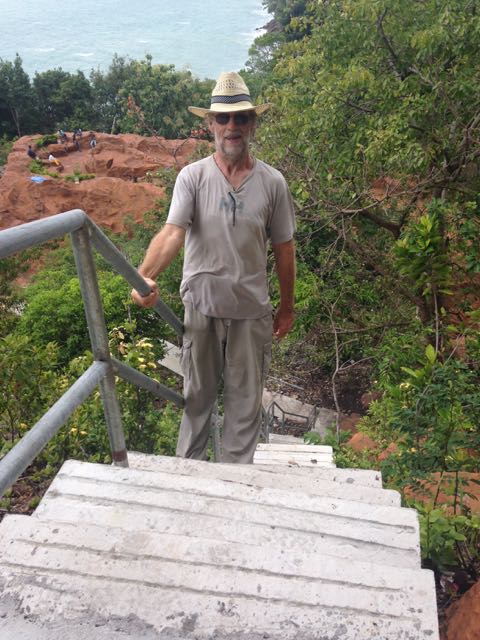 Refreshment was in order after all that exertion so we drove to Telaga Harbour for a late lunch.  We'll be coming back to this place before going to Thailand and Paul's getting the rigging done here by a guy he knows.  It's a modern-looking marina with classy restaurants, cafes and bars around it and although it's not Paul's ideal place, I was too hungry to search around so we settled on an Italian restaurant with a view over the marina where we had a very nice pizza (for Paul) and fries for me.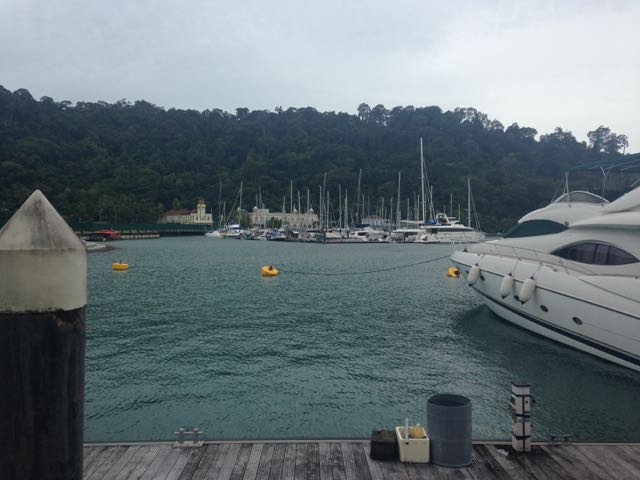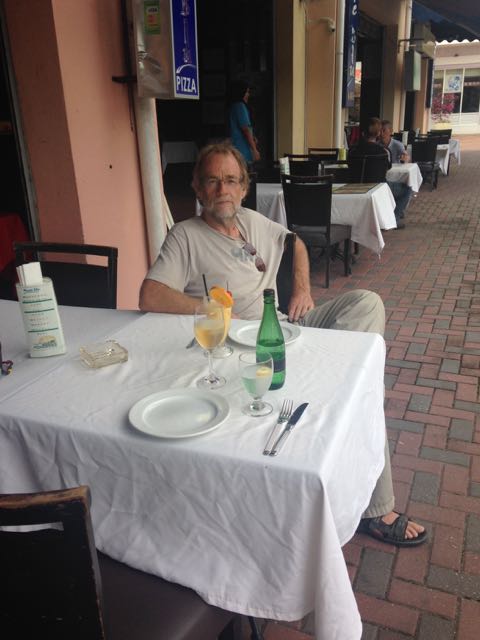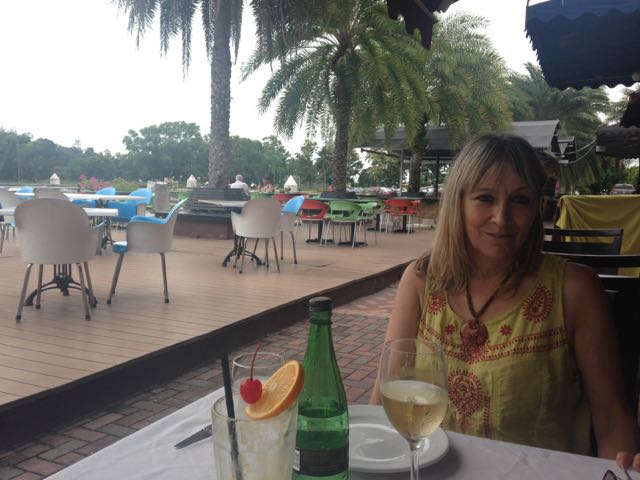 Finally we visited The Oriental Village in the heart of the Geoforest Park. This is laid out very much in the style of theme parks such as Alton Towers, but without the rides: lots of handicraft and souvenir shops, a 'feed the bunnies' area, cafes, play areas, a huge lake with a wobbly bridge over it, pretty gardens, oh and a plastic, roaring dinosaur which had people queueing to be photographed next to it.  The Oriental Village is also the gateway to the cable car ride which takes you to the peak of Langkawi's second highest mountain, and the hugely popular Langkawi Sky Bridge attraction, but we decided to save those treats for when we return to the area.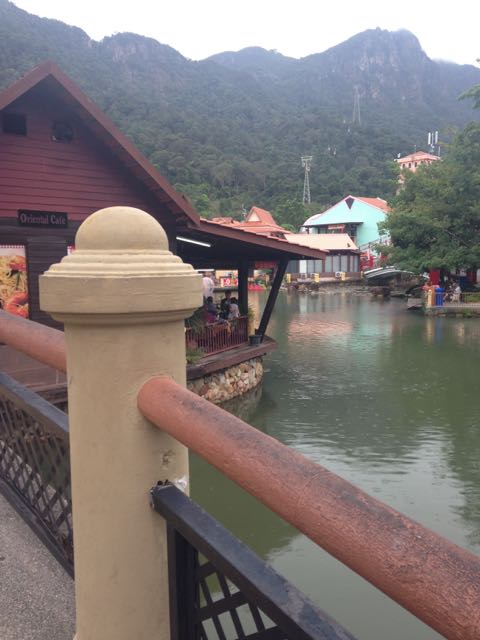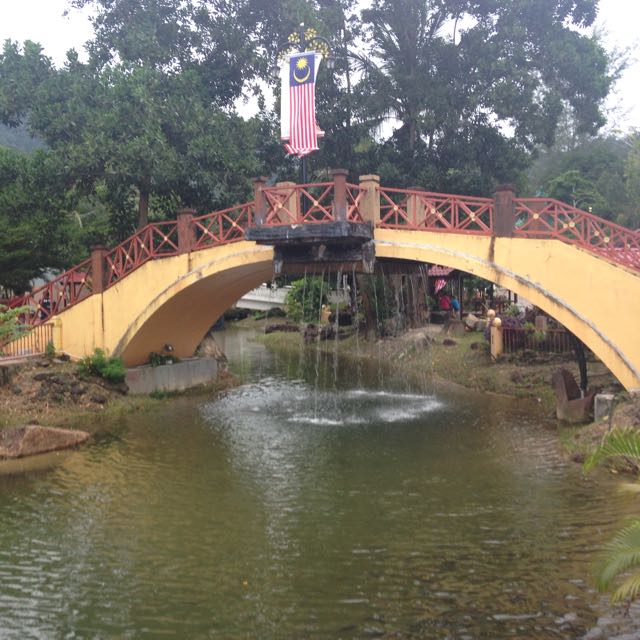 The best part was the monkeys. There were scores of Dusky Leaf Monkeys there, and we sat and watched their antics for ages. They run wild and free within the park, jumping on fences and climbing the trees to feed in large groups.  Some of them had tiny babies clinging to their tummies and they're not in the least bit bothered by hordes of people photographing and staring at them as they go about their business. Obviously I took loads of pictures in an attempt to capture their cheekiness/cuteness but Paul's video just about sums them up.  Watch how one of them knocks another off the fence 🙂