After a short trip to Kuah to stock up with provisions for the trip to Thailand, we presented ourselves to the immigration office to check out, show passports and fill out the required forms.  In the afternoon while the rigging was being completed we found time to have a walk on the beach so that Paul could cool down with a swim (sharp rocks underfoot made for a painful walk into the water unfortunately).  The sandcrabs are fascinating to watch – they flee sideways into the sea or down little holes on the beach when anyone gets too near, and the patterns they make in the sand are quite beautiful.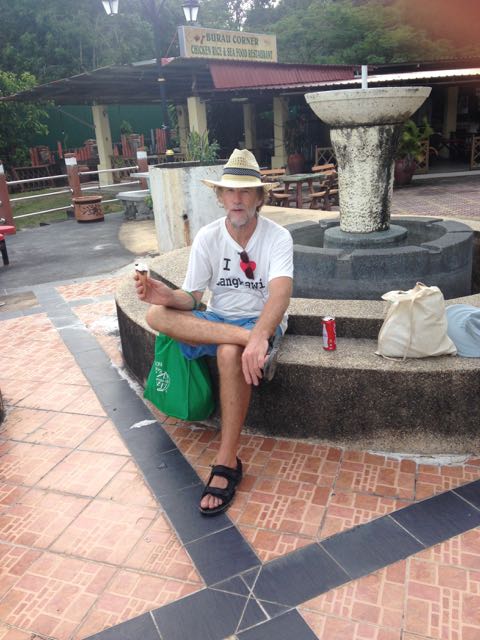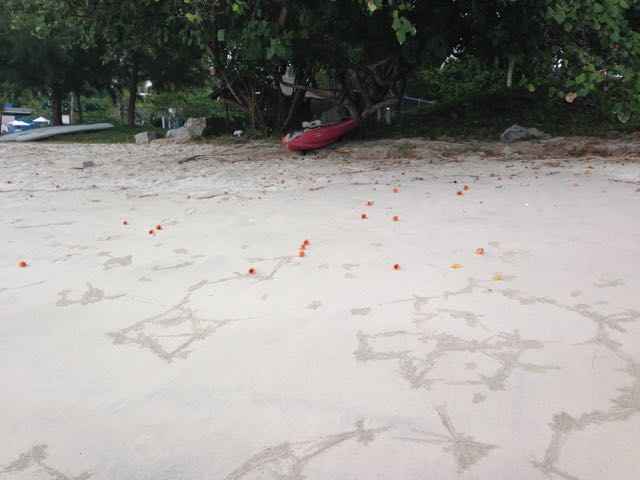 We left Telaga early in the morning on Friday 14th. The forecast wasn't great but we'd been used to frequent heavy rain showers and strong gusts of wind, had welcomed them in fact as a refreshing change from the heat and humidity.  The squalls started not long after we left, and the sea state was such that the boat was 'pitching' from bow to stern in the waves. This always make me slightly nauseous but I can stave off full-on seasickness as long as I stay up above and keep still.  We had to change our original destination from Koh Lipe and divert to Tarutao due to the current and wind. It took 7 hours to get there, during which time we only saw two other boats, and they were fishing vessels.  We found a nice spot to anchor and I was thrilled to spot dolphins' fins slicing through the surface as we arrived – the first we'd seen in Asia. They moved a lot slower than the ones in Europe, and instead of leaping energetically out of the water they glided gracefully away before I had a chance to photograph them.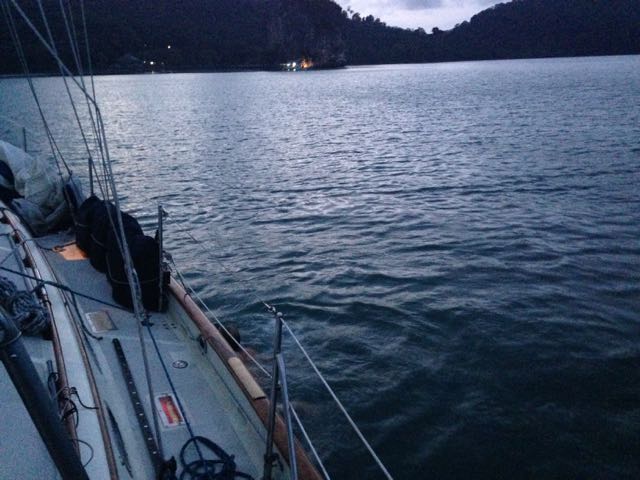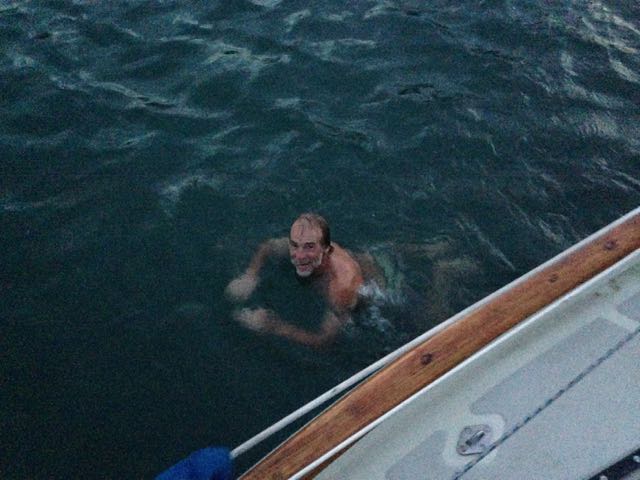 Our first night at anchor was very peaceful, and a lot cooler than the last time we slept at anchor. There were a few showers but they were unaccompanied by wind, and I woke fairly refreshed and looking forward to the next leg.  I'd noticed that at some point my phone had updated to Thailand time and we'd gained an hour.  Paul didn't seem to think this was right, and one of our (admittedly out of date) guide books stated that Thailand was indeed on the same timezone as Malaysia, so for a while we weren't entirely sure what the time was – not that it really mattered, and we forgot all about it until a few days later when the internet confirmed that my phone was correct.
It was a lovely sunny morning when we left Tarutao. Paul sat in the cockpit sewing the damaged staysail that had fallen down the previous day. He even managed to climb the mast to retrieve the staysail's broken halyard, something he hadn't been able to do on Lady Stardust during passage. I kept watch and read in the sunshine – all very relaxing and pleasant.  As the day wore on, the wind gradually strengthened and the waves increased in size, causing us to roll as the sea got more choppy. Soon, things down below began to fall and slide as the boat pitched and tossed and it became increasingly difficult to move around with ease. We began to see more fishing buoys, but again, very few other boats.  Huge, tall rocks appeared on the horizon and as we got nearer, some of them looked remarkably similar to the prehistoric standing stones at Avebury, while some of the islands we saw had interesting shapes.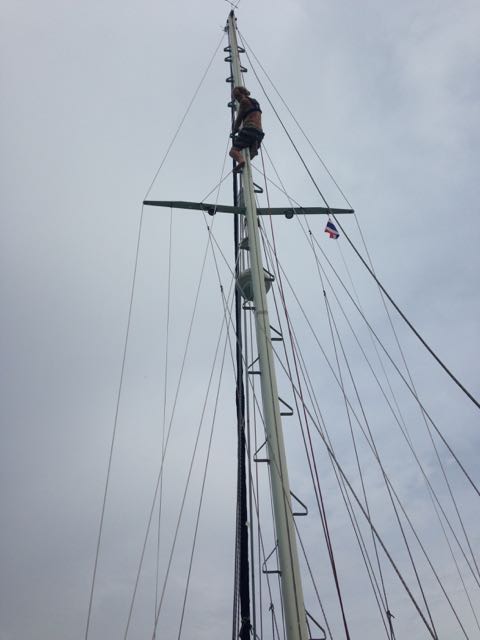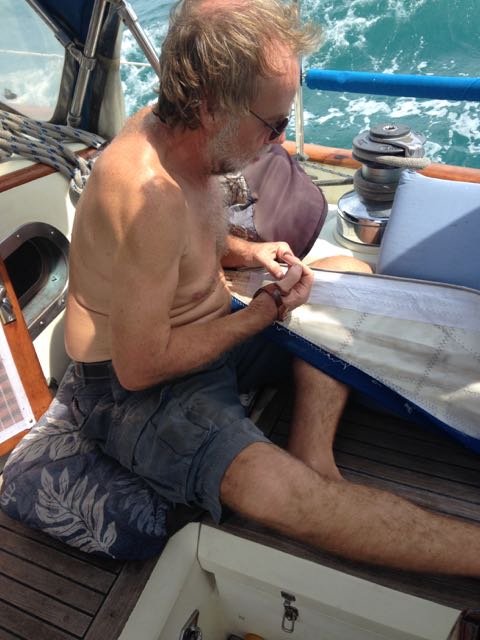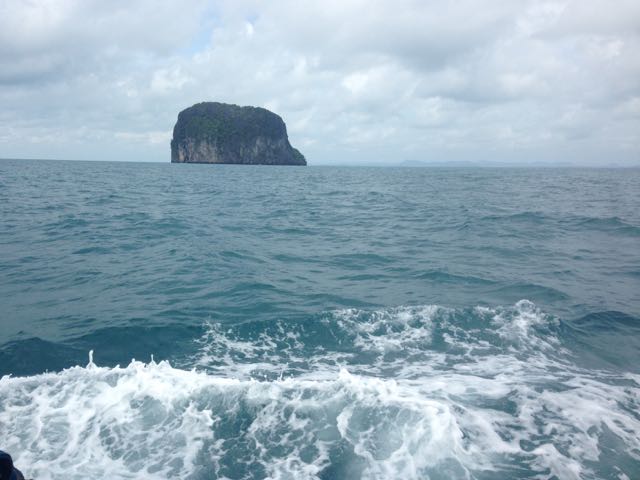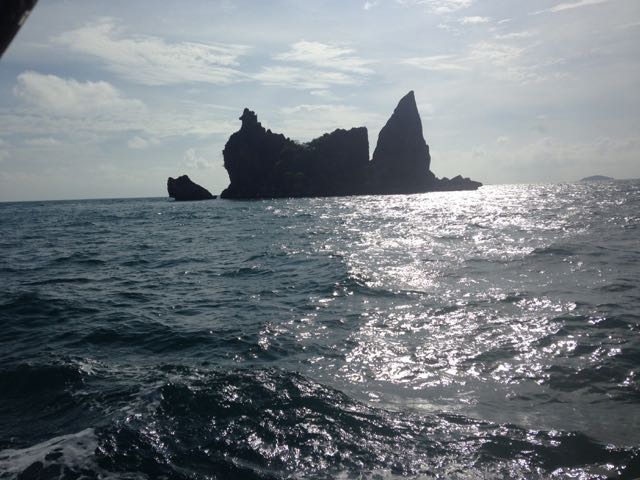 The autohelm, or Captain Mainwaring as we refer to it, performed well and Paul only took over the steering during the worst of the squalls so that it wasn't put under any unnecessary strain. It was a relief to reach our destination of Koh Liang early in the evening.  The Liang Group consists of two tall limestone islands which our 'Sail Thailand' guidebook informed us, has a Sea Gypsy village on one of them where seafood and coconuts can be exchanged for money or barter. They both looked decidedly uninhabited, however and since the book was published in 2001, they may well have left.  It was very windy and the sea was still fairly choppy even though we were in the lee of the island, but we anchored with no problems. However, we were both unsure whether it was a good idea to stay where we were going to be 'rocked and rolled' throughout the night, especially as the squalls were set to continue.  It was a tough call because to move somewhere calmer would mean another hour or so at sea and we'd risk losing the light, and of course there was no guarantee that another place would be any calmer. We were both in need of a rest by then, as sleep tends to be interrupted on passages like this, so we elected to stay.  It wasn't too bad actually. We both checked that the anchor was secure at various intervals during the night and there were only a few showers.  The island looked quite spooky in the moonlight; a solitary fishing boat showing a red light was moored right beside it and when the wind was howling the effect was beautifully eerie.
We woke early to a lovely clear, sunny Sunday morning and after coffee, prepared to leave for our next destination.  Just as Paul had got the anchor up, a squall hit us.  I was at the helm and was drenched within seconds.  It didn't last long, but the wind direction and current caused us to make slow progress for most of the morning.  Gradually, conditions changed in our favour. The wind shifted, the sails were set, the engine was turned off and we began to make good speed. Apart from negotiating a 'forest' of fishing buoys in one area, we had a straightforward passage to Koh Po, an island just east of Koh Lanta, and anchored for the night at around 6pm. Dinner was pasta with a homemade, pre-prepared tomato and vegetable sauce, a quick and satisfying meal on passages, especially after not having eaten much else during the day, also a manageable one in the rolly conditions we were experiencing.  We both crashed out on the starboard sofa not long after that, only waking to deal with the night's heavier rain showers (ok, to be honest, Paul was the one who woke to deal with them).
It rained all night. Things were beginning to feel (and smell) damp and musty. The hatch over the V berth had dripped rain over the covers despite my best efforts to prevent it.  Clothes and items that were hung up to dry in the cabin, had received fresh drips and dribbles overnight . We'd tried to balance it so that there was enough air coming in to keep us cool but not opened up enough to let too much rain in.  Anyone who's been camping knows how quickly things get-and stay-wet in heavy downpours.  The forecast predicted rough conditions for the day ahead and Paul considered staying another night at anchor but we were both keen to get going, confident that we'd cope with whatever came our way. We set off at 8am and motored for about an hour with no wind. By 9 0'clock the wind had got up to 23 knots and from then on things went from bad to worse.  I jotted down things as I remembered them but at the time it was all I could do to stay in one place as we were tossed around. Drama Queen reflections follow ;):
The waves were huge and soaked me a few times, I felt nauseous and cold; visibility was bad; things were falling around down below; it was hard to move without falling over and the rain fell relentlessly…so much rain; strong winds forced us over at (to me) such a frightening angle the sea was rushing in to the cockpit, the guard rails were in the sea and I felt panic setting in.  Paul said this was how it often is for sailors who race and it was nothing to worry about. Then a squall hit us and he asked me to steer – I had to get it exactly on course while he dealt with the flapping sails, he instructed, or else we would capsize. That did it for me – I burst into tears as thoughts of being hurled into the water entered my mind, yet I still managed to take the helm and I kept us on course! I really did think we would tip right over though and it took me ages to stop shaking and sobbing.  It seems I need to learn more about how the wind direction and speed affect the sails, but I felt that it really wasn't the ideal time to receive such a lesson.  It was dark by the time we reached Koh Phi Phi Don in torrential rain, and we had to take care while anchoring not to disturb any coral or get mooring ropes tangled in the propellor. The relief once we were secure was so tremendous, I just had to have another good cry to celebrate ;). I felt much better after that and a few glasses of wine!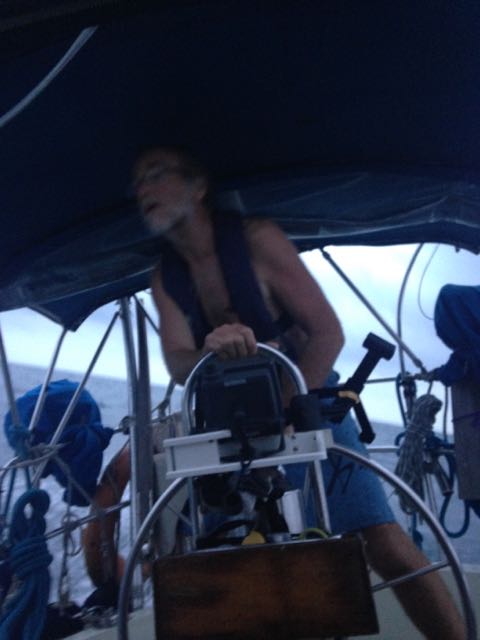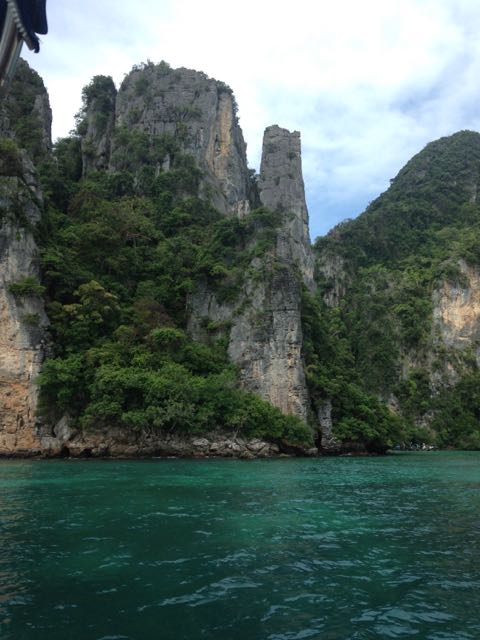 We spent two days at Phi Phi Don, which Paul has described in his blog post. I don't have too much to add to that apart from relating the fact that Paul had a mocktail when we went ashore that he is convinced was in fact a cocktail.  The ingredients listed on the menu didn't include alcohol but when he got up from his seat he said he felt sloshed, to put it politely.  He went on to analyse the feeling as walked through the town, concluding that he had no wish to go back to drinking, and couldn't understand what people got out of it.  Anyone seen the Father Ted episode where Mrs Doyle presses alcohol on a priest who'd not had a drink for years, rediscovers his taste for it, and goes on a drunken rampage?  I felt sure that wasn't going to happen (!). Thankfully, the feeling had worn off by the time we had to get the dinghy for the ride back to the boat.  The dinghy journey is precarious enough, especially as Paul wasn't convinced the outboard would last for the duration and we might have to row.  It's a shame we couldn't risk taking our phones ashore in case they got wet.  It's a lovely island – but we'll be returning to it for a longer stay in due course anyway. We arrived in Phuket on Thursday afternoon after a journey with only one dramatic episode, but I'll save that for another time.
We're in Yacht Haven Marina now and it's great.  I can hardly wait to see The Soi Dog Foundation. Meanwhile, there's a nice new marina to check out.
Kathy.