…To quote Shakespeare! The title is also the name of a painting by Norman Garstin that I'm very fond of, which is of Newlyn seafront on a rainy day with ladies holding umbrellas, and some wet-looking dogs on the prom. The weather here has brought that scene and those words to mind a few times this week because the promised end to the rainy season, at the beginning of November shows no sign of happening yet. It's not much of a problem though; the showers are heavy and some last longer than others but all we have to do is close all the windows and hatches if on board the boat, or take shelter when outside. Several people, including long term marina residents, local workers and radio presenters have declared that it's the worst start to the high season they can ever remember. A good deal of last week was spent just relaxing on board – doing pleasant things like listening to readings from Alan Bennet's new book, some Radio 4 comedy shows, and reading and catching up on episodes of Have I got News For You.  We also both tackled the cleaning of the cooker using copious amounts of Mr Muscle and a fair bit of elbow grease to get rid of ingrained fat, grease and burned-on food.  Most evenings during the week we go to the bar – not for the sunset, more to enjoy the view, say Hi to a few boat owners we've come to know a little, have a cuddle with the cute black cat, and to glance at the headlines on the muted TV News channel. It will be interesting to see what replaces the US election mania next week.
On Wednesday, after another walk in the delightful Koh En Village where we not only managed to buy both bananas and bread, we were amused to see a chicken crossing the road, prompting Paul to ask it the obvious question 'why did you do that?'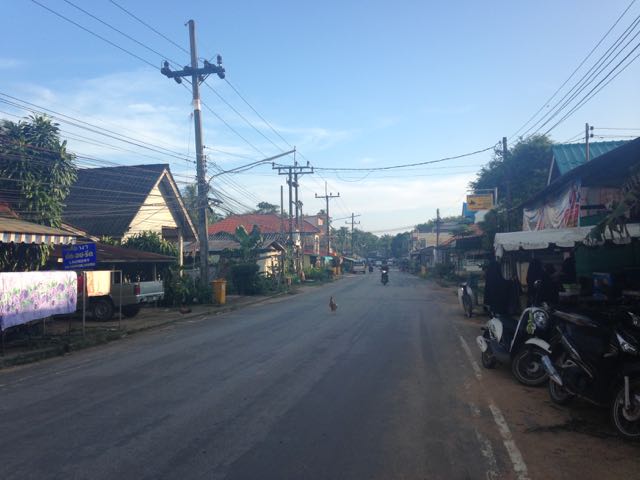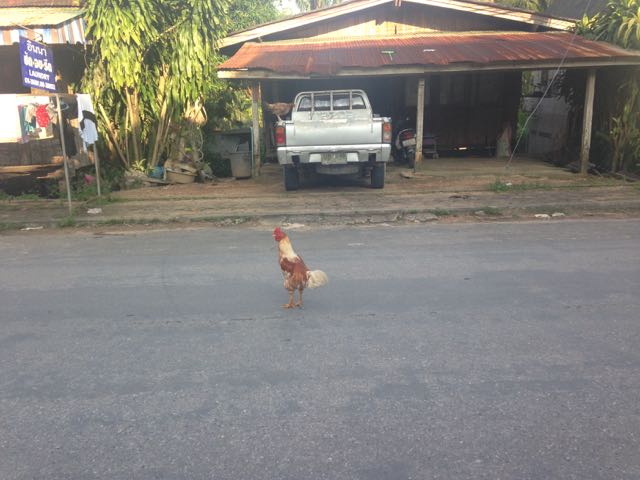 We had dinner in the bar later that evening and I managed to order a Papaya Salad which is a traditional Thai dish.  To request that it had no added shrimp, all I had to say was 'jay', pronounced 'jear' and they know that means strictly no meat or fish. Most Thai dishes are not vegetarian but they are more than happy to cook any dish on the menu without meat, fish or eggs if you ask. The salad was nice but it was the spiciest meal I've had for years thanks to the chilli dressing. My lips and tongue were on fire – not really what you expect from a salad.  The following evening we were treated to a spectacular thunderstorm while in the bar. It had been hot and very humid all day and we watched the sky get slowly darker. It was very atmospheric, ethereal almost. The lightning took the form of a long horizontal line on the horizon and lit the sky for several seconds.  When the rain came, it was one of the heaviest downpours I've seen. For the first time during a rain shower, we all had to move our chairs further back from the terrace to avoid getting soaked.  Back on the boat I made a variation on a traditional autumn favourite for dinner: potatoes (not jacket unfortunately) fried with leeks, baked beans and veggie sausages.
The rain continued to fall for most of Friday, and we were prepared for another day of lazing on the boat on Saturday, since the hire car was booked for Sunday and Monday but Paul got a phone call at 10am to let him know a car was available after all if we still wanted it. After collecting it at 1pm, our first stop was Boat Lagoon where Paul went to buy items from the chandlery and I went to the very expensive supermarket.  Using the currency converter on my phone prevented me from buying several of the tempting goodies in there, including a box of veggie burgers for £6.50, and I came out with just a box of crispbread, and some pitta bread.  On we went to Rolly Tasker to buy ropes. I stayed in the car reading about our next destination while Paul was in there. Wat Chalong Temple is listed as one of the ten 'must sees' in Phuket. I learned that it houses a bone fragment that is supposedly from the Lord Buddha himself.  The only other thing I read that interested me was the description of the beehive-shaped structure where firecrackers are lit regularly to repel evil spirits and to give thanks for answered prayers.  As we approached, I could tell it was an undeniably impressive building but I was more interested in the amount of dogs that were strolling around. They seemed to be everywhere, along with several cats I spotted enjoying the shade of nearby buildings. Some of the dogs were laying on the benches provided for tourists and it was clear that they were long-term 'residents'. All were well fed and healthy-looking and I was curious to know the story behind them.  Later, I looked it up and discovered there isn't really any reason: they are just 'there' and they get fed by various charities.  It seems fitting in such a place anyway.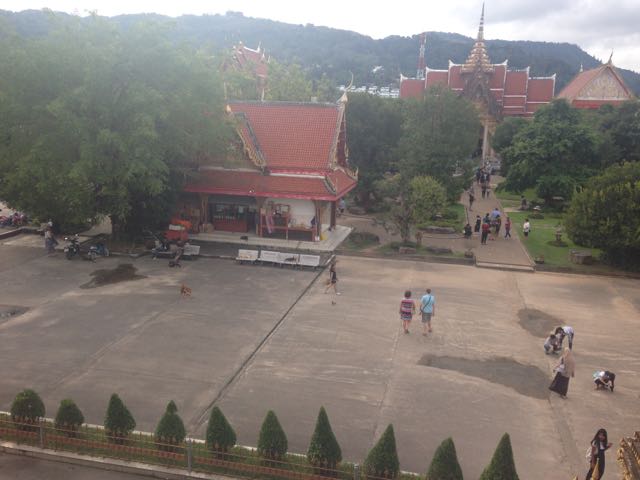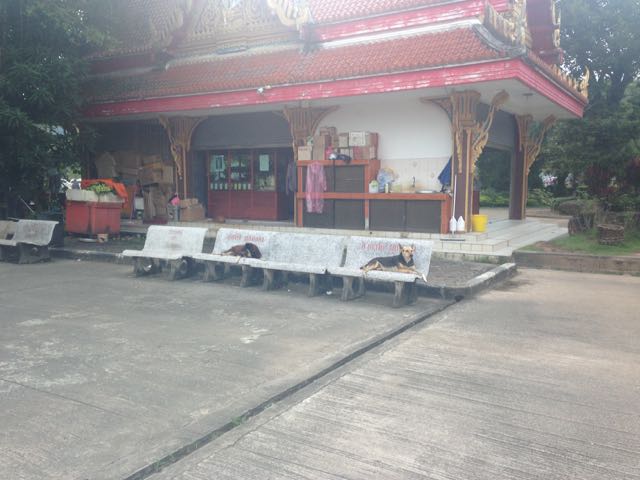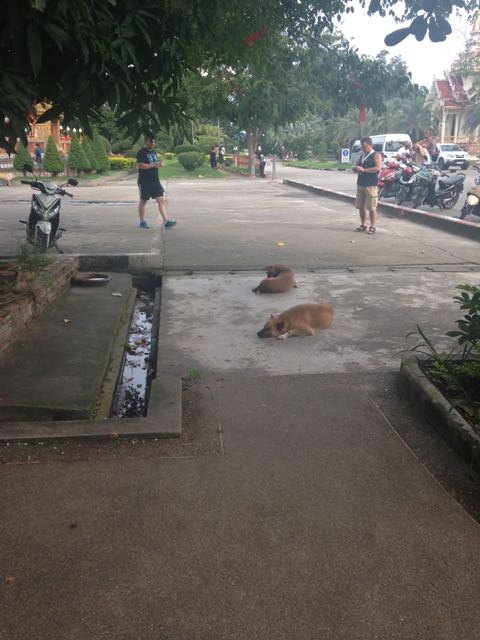 The temple was…ok. If I'm honest I feel that once I've seen one of the temples, any others are bound to look very similar and I don't know enough about Buddhism to have my interest ignited, although I have a high regard for its peace and harmony outlook on life. The three gilded statues covered in gold flakes were fascinating; the effect was like their glittery gold skin was peeling off and floating away in the breeze.  We heard the firecrackers while we were inside the temple. It sounded like rapid gunfire and made me jump until I realised what it was. The date was November 5th so at least we heard some fireworks!  When we got closer to have a proper look it was too loud to stand too close, and the aroma of gunpowder was pungent. I guess the animals have got used to it all because they weren't unduly bothered.  I did wonder how the hearing of the guy who has to light the strip of crackers every five minutes fares though.  In the photo below you can see him stood to the right of the beehive. Hopefully he has ear defenders under his hat.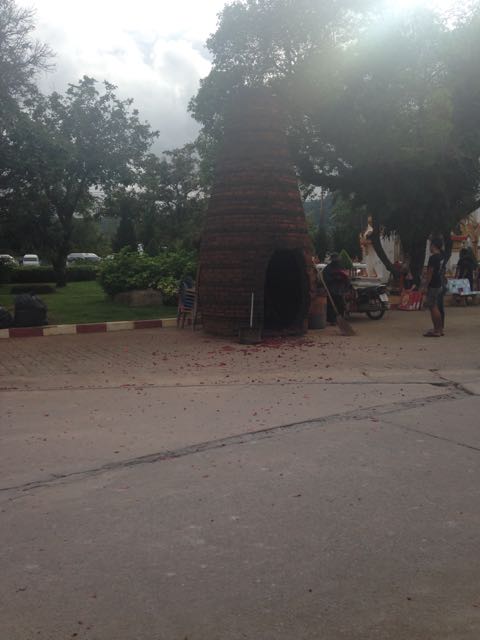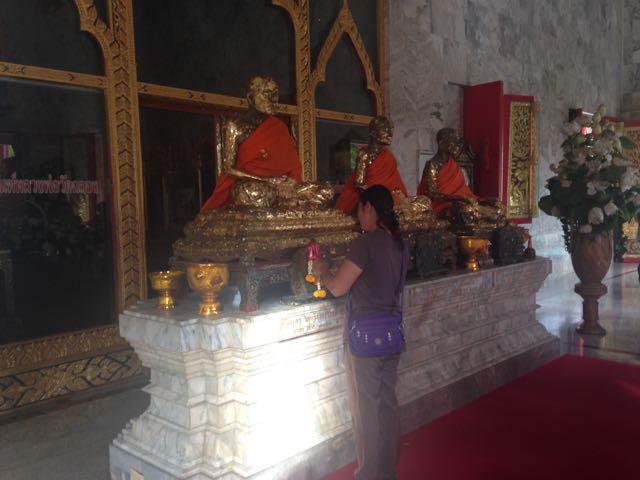 Before leaving to drive to the night market I had a quick look around the gift stalls outside in case there was a book or leaflet with more information on the temple and its animals. Nothing like that, but there were lots of buddha statues :).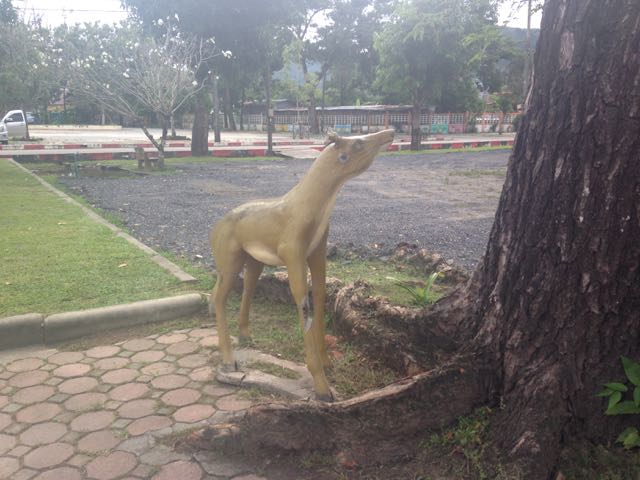 The night market wasn't too far away, or difficult to find. Parking posed the main problem when we got to the area. Cars lined both sides of the busy road with a long line of slow moving traffic looking for spaces: it was clearly a popular place.  Luckily we found one down a side road and walked over to check out the market. It was huge! The more we walked around the more impressed and delighted I became. Stallholders urge you to browse their wares if you so much as glimpse at them, and it was often too tempting not to. They're only too pleased to explain things and are willing to haggle regarding prices. The smells coming from the food vendors were wonderful and the dishes and products on display looked very tasty.  We tried things from quite a few, including some fried potatoes on a stick and filled pancakes in the shape of a fish! We found a bar and sat to have a drink and a rest soaking up the atmosphere and watching more customers pour in. I plan to revisit before we go home and have a longer meander around the stalls.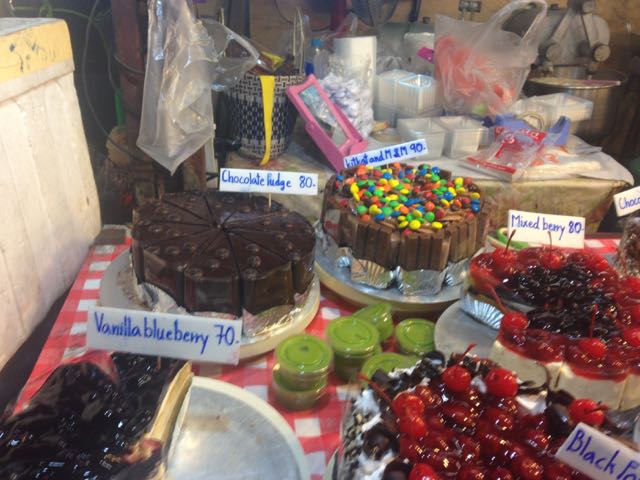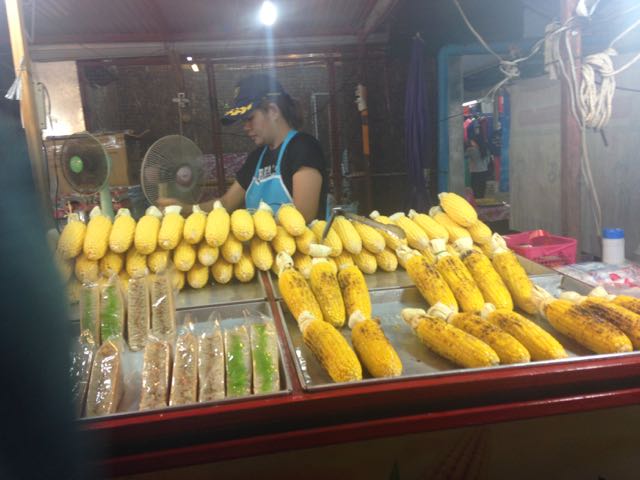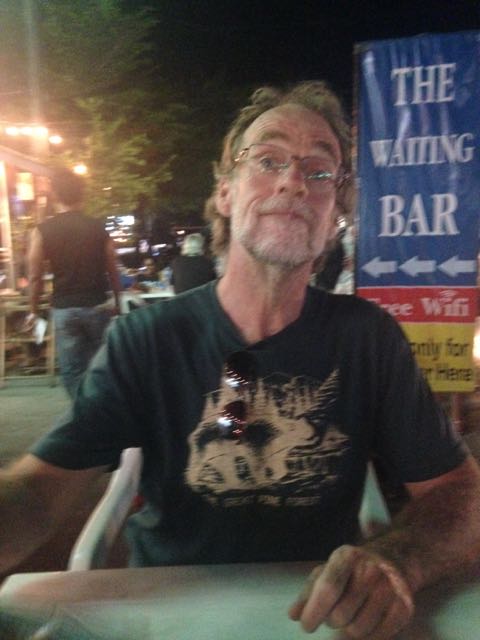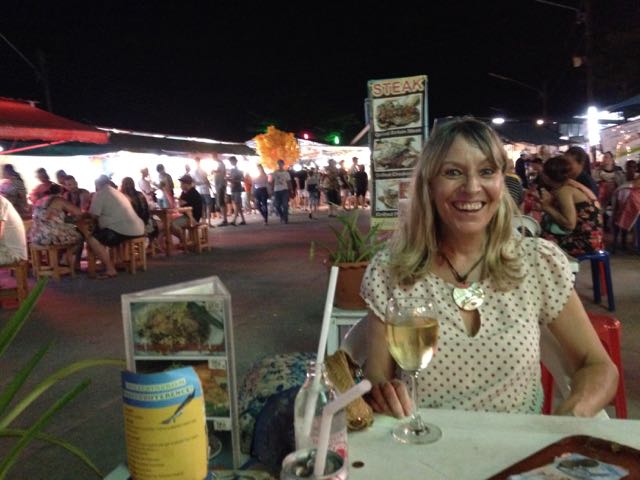 The intention on Sunday was to visit The Soi Dog Foundation but but we discovered that its opening hours had changed and it was no longer open to visitors at weekend so we postponed it until the following morning. Instead, we headed out to the southern part of Khao Phra's National Park. The plan was to do a nature walk and to see the second largest waterfall in Phuket (we'd seen the largest in the northern area of the park).  On the way there I discovered that I'm not very good at navigating using a mobile phone displaying google earth maps! We took a few wrong turns which led to us seeing some very pretty rural villages we wouldn't otherwise have seen ;). The edges of these country roads have a fair few chickens, goats, dogs and cows on show but unlike Malaysia, no monkeys.  We saw rubber tree plantations, ramshackle farm buildings, and always the rainforest area we were headed for, looking lush and tall in the distance.  The photo below is just before we drove down an extremely steep slope on a road that had seen better days to look at an adventure pursuit area, curious to see the 'canopy climb'. It was a hairy descent!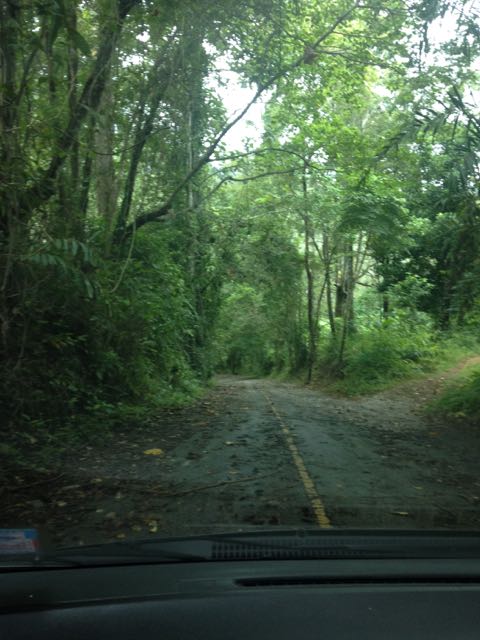 The place proved to be well worth the drive down. It was so peaceful and picturesque, with a lake as still as a mill pond. It had turned hot and sunny by then too after the usual wet start to the day so we took a few pictures and braved the drive back up the steep road.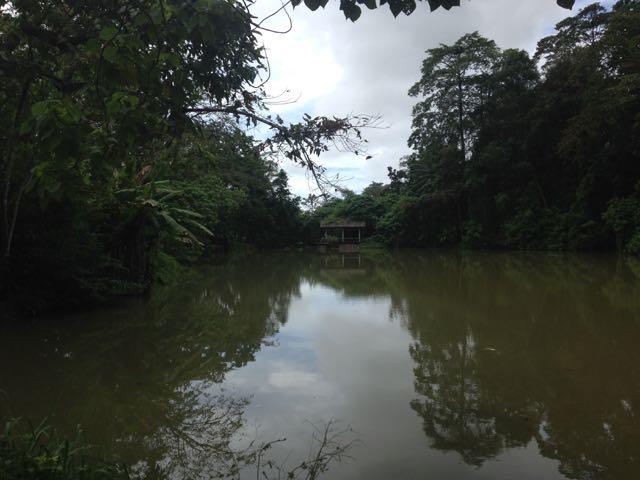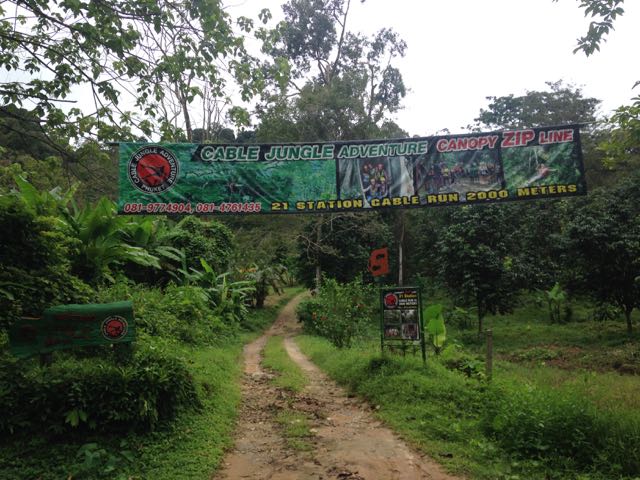 Next, it was on to the nearby Ton Sai Waterfall.  Again, we paid an entrance fee of £4 each and parked in a car park with only a few cars in. This waterfall didn't seem to be as popular as the Bang-Pae one but we noticed some people bathing in the bottom pool's running water as they had been at that one. Following the sign pointing the way to the top of the waterfall, we began the trail. The first part meant crossing the fast running shallow river, which I did with some trepidation, always thinking about the possibility of leeches.  The surrounding rainforest foliage was lovely – lush, tall, green and dense. It was good to know that the gibbons released from the rehabilitation project ended up in there.  More people were enjoying slashing around in the clear running water as we went further up, and we had to cross another stream. Afterwards, we were just about to ascend the narrow path when I spotted a giant millipede on the ground in front. I yelled to Paul, who stepped back and his foot went 0n it causing it to curl up and show its legs wriggling frantically. I freaked out and screamed loudly – a complete automatic reaction, I hate displays like that but couldn't stop myself. Luckily the noise of the water muffled my screeching, and once it had been shunted out of the way I elected to stay and wait in a clearing while Paul continued to the top.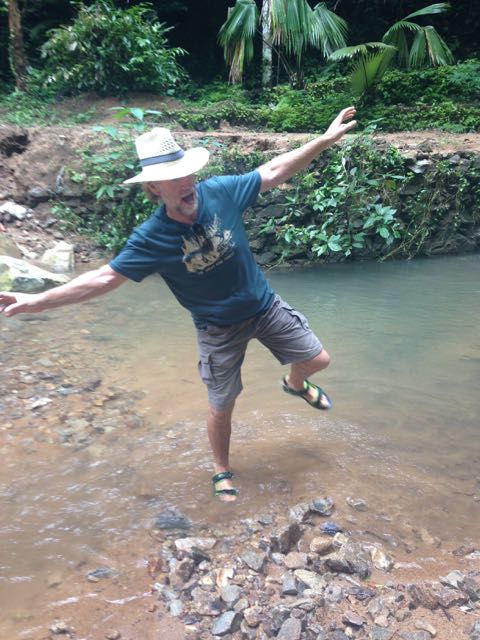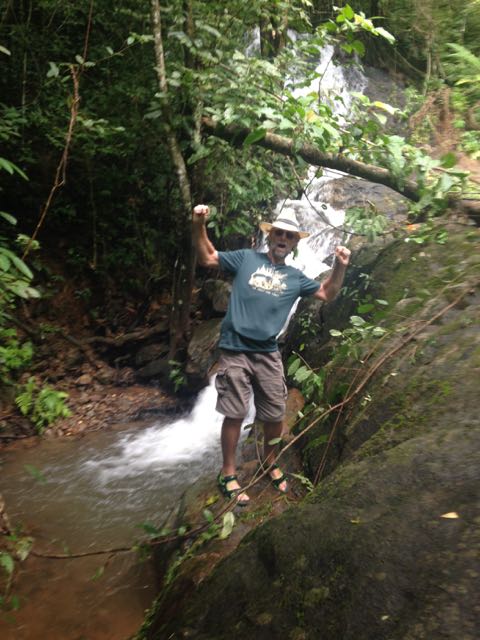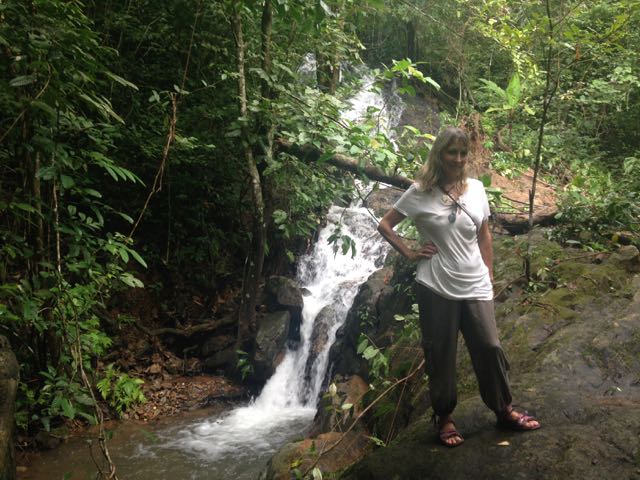 When he returned and we cautiously went back down, we saw a sign for a nature walk, and as it was still early we decided to follow it. I resolved to be brave despite the path appearing to look very similar to the millipede one.  The walk was nice, I had a real sense of being in the jungle as we stooped underneath the foliage and branches, trying not to look too closely at the ground before me.  The humidity in there soaked me in minutes and the sounds around us were, well…jungle-like.  Eventually we arrived at the very same path that I'd seen the millipede on. We had ended up walking the whole trail without realising it and I felt rather pleased with myself.  Back at the car, I sat down in the passenger seat, looked down and saw a small black 'twig' on my leg at the same time as I suspected what it might be. I slapped it off and saw it move on the ground in a way that could only mean it was indeed a leech! My worst nightmare about Asian creepy crawlies had come true.  I didn't scream this time but it took me a while to stop shaking and slapping at myself in case there were more.  And that was my first and last rainforest walk!
As I publish this, it looks increasingly like Trump will win the US election  :(. Another line from Shakespeare's 'Clown' song in Twelfth Night comes to mind, the meaning of which is underneath it – I only hope it proves to be the case.
By swaggering could I never thrive,
my bullying and blustering didn't work.