We packed a lot in to our day out in the car last Wednesday.  The priority was to get our visas extended in order to be legal until we leave to fly back to the UK next month.  Paul had heard the queues and waiting times could be long and drawn out so we got to the immigration office fairly early on an extremely hot and humid morning.  The building was surprisingly small for a place that has to deal with so many people on a daily basis, and predictably, the procedure was anything but smooth. The first room we entered had a relatively small queue of people, all clutching the same sheaf of papers we had (forms, passports, documents etc).  Three officials were sitting behind a desk processing couples, families or single people.  This bit didn't take too long and it was interesting to watch and listen to the people in front, and those being interviewed – no chance of privacy in such an enclosed room.  When it was our turn and we presented our forms, we discovered that we needed passport photos to attach to one of the forms. We had guessed as much while waiting and I had gone out to see where we'd need to get them done. In the adjoining room a very glum-looking lady was sitting at the information hatch.  I asked her politely where we had to go to get photos taken and she looked at me as if I had insulted her with the worst phrase she'd ever heard. I guessed she might be having a bad day (we all get them I thought), so I ploughed on and she eventually pointed at the window, which had a display of the prices for a set of six small photos. I smiled and asked if the photos were taken here (meaning where I was stood) and she muttered yes. We stood staring at each other for a while – I actually thought she was going to take the picture there and then. Eventually I tentatively asked exactly where we would have to go and with a weary sigh and a scowl she told me that a fee of £4 had to be paid first, then we could go in to her office and she would photograph us. I went back to the queue and told this to Paul and he said he'd been hoping we might not need the photos. He thought I was probably exaggerating when I said how grumpy the lady was. Her mood hadn't really improved when we approached to ask pretty much the same questions I had already asked. I suppose she is heartily sick of hearing the same queries every day, and pointing to the information sign doesn't really clarify matters.  Anyway once we had paid and were inside she was a bit more friendly. She took the pictures with her mobile phone and ushered us back out to wait for five minutes.
Once we had the pictures and the correctly filled out forms, we went back to the other building where we spoke to the lovely lady who had dealt with us first. She was unable to complete our application and issue us with tickets for the next bit because their computer system was down and they were uncertain when it would be up and running again.  She told us to go and have some lunch, which I thought was a splendid idea.  However, we thought we might as well do the other things on the agenda first. Paul collected his new sails from Rolly Tasker and then we went to Boat Lagoon to get rope for the anchor. By then it was time to go back to the immigration office.  There were a lot more people there and some were going through the same scenario of discovering they needed to leave the room to get photos taken. It's an undeniably frustrating process but despite this, the staff (apart from the aforementioned lady) and the people waiting were cheerful, calm and patient. It was quite fascinating to sit in the next bit, which was set out much like a doctor's waiting room, with our numbered tickets and watch the staff working. There were some interesting characters among the people waiting, too ;).
All of that cost us about £50 each but we are now legal and I'm pleased to have some specific country stamps in my passport, which I've never had before (well there has to be something for that amount of money).  It was mid afternoon by the time we left and still very hot so a trip to a beach seemed the thing to do.  We found a nice one called Yon Beach which had a bar next to it called The Ship Inn and had a much needed cold drink there.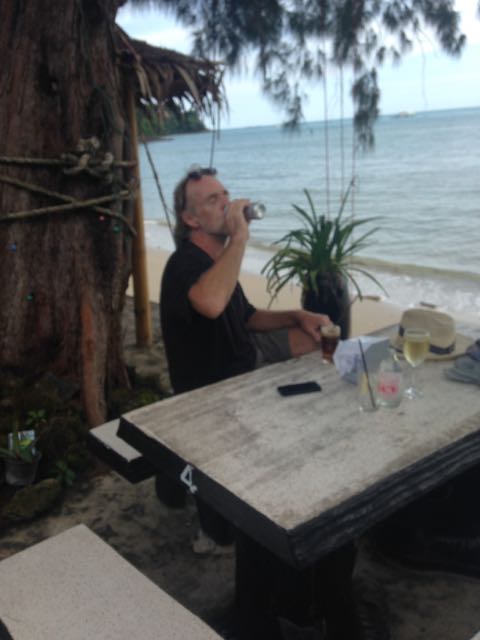 The beach wasn't really suitable for a swim so we drove on, making for Kata Beach on the west coast.  On the way I spotted a bookshop in the most unlikely, but beautiful location and couldn't resist stopping to take a look. Paul stayed in the car to check directions to the beach and I spent another nice 40 minutes or so browsing the second hand books – the only customer in there, while the lady shop assistant was busy learning English on a CD language course in the adjoining (sadly empty) cafe in the next room.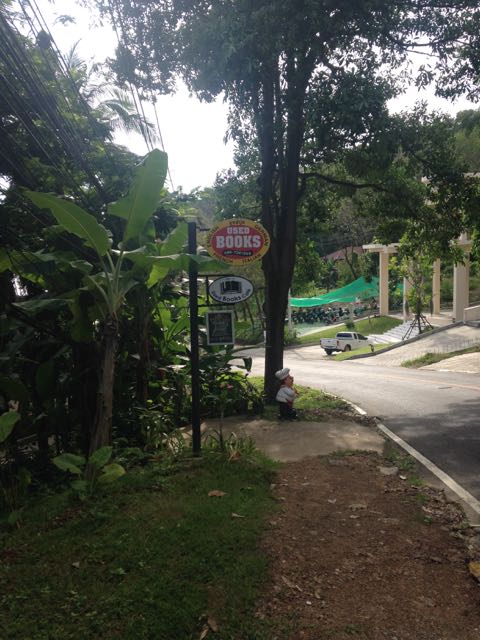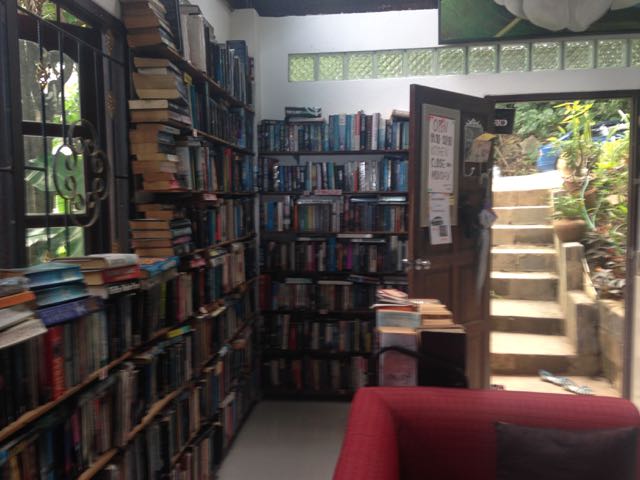 We stopped again to check out a viewing platform on the highest part of the drive.  There were a lot of steps to climb but it was worth it when we got to the top.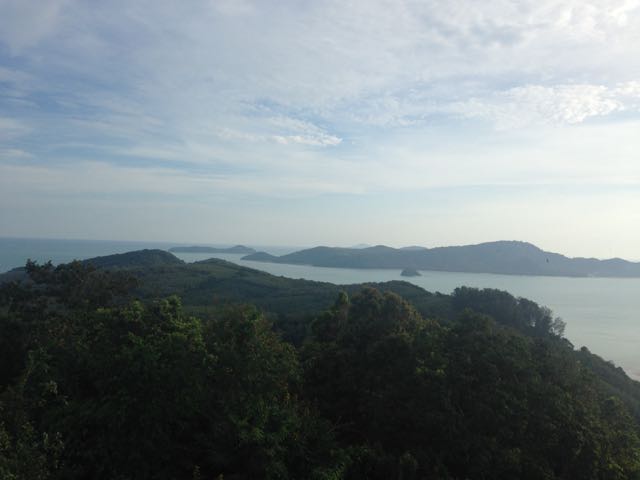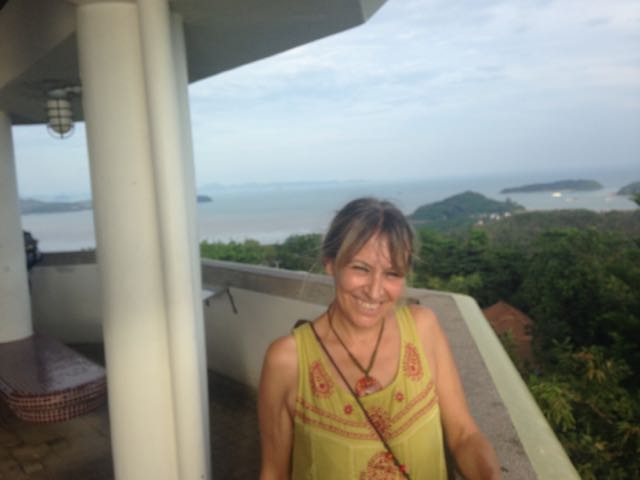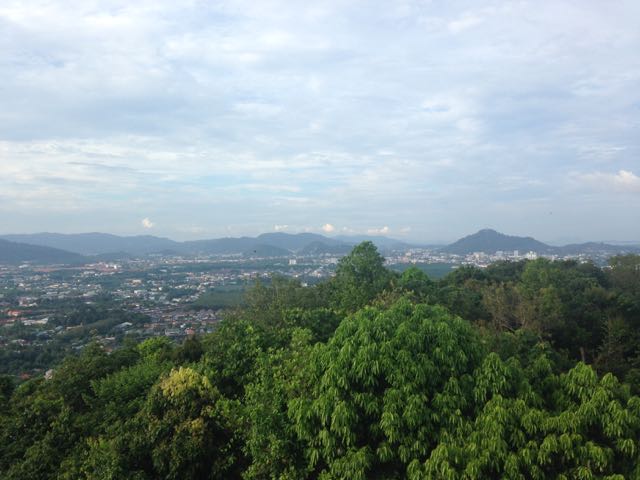 It was quite late by the time we finally reached the beach at Kata.  I didn't fancy a swim so sat enjoying the view while Paul went in. We had dinner in one of the nearby restaurants after that. It's a delight eating out in Thailand because they are so friendly and the food is always freshly cooked. We watched both our meals being prepared and the lovely lady who served us was keen to get some of her own wine for me as they didn't serve it there but I assured her a beer would be fine.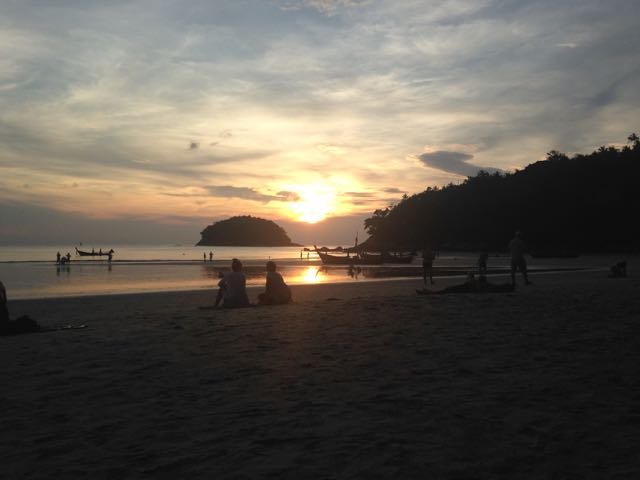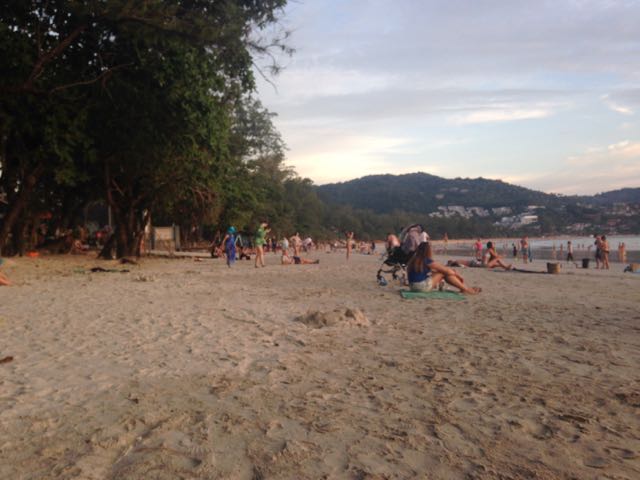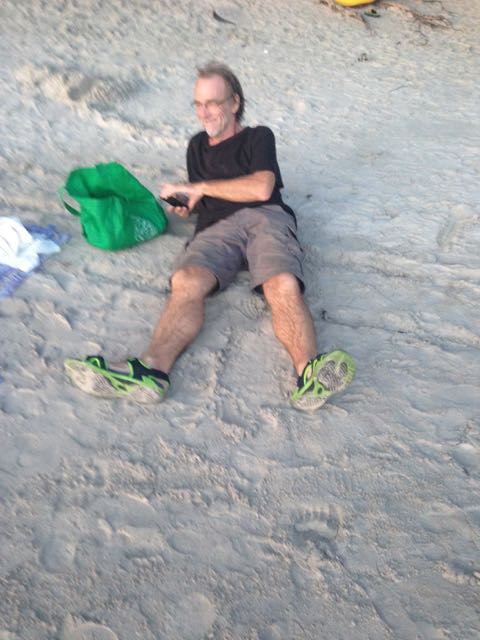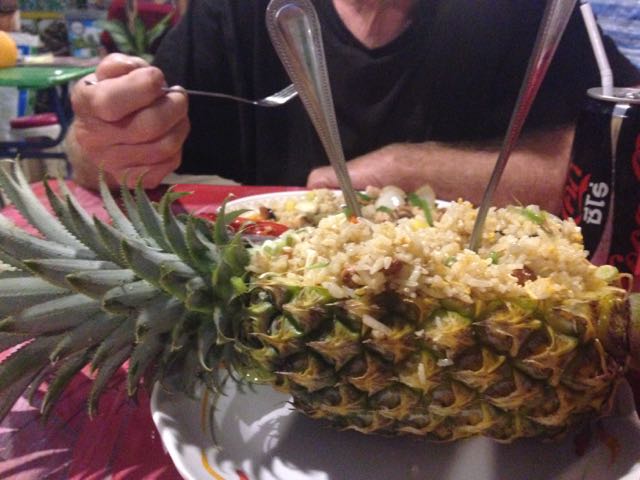 For the final part of the day we went back to Patong to have another walk around. It was a lot busier than on our previous visit. The pavements were crowded and by then I was aching so much with all the walking and standing it was hard not to respond to the many offers of massages. Plenty of people were having them, in rooms in full view of passersby. They offer head massages, foot massages, neck and shoulder, or full body. It's a shame there are often salacious connotations associated with Thai massages because most of them are completely ok. I'm definitely going to have one at the marina before we return. With all the back breaking work we've been doing recently to get the boat ready for our 10 day trip on Monday, I need one to soothe my aching muscles ;).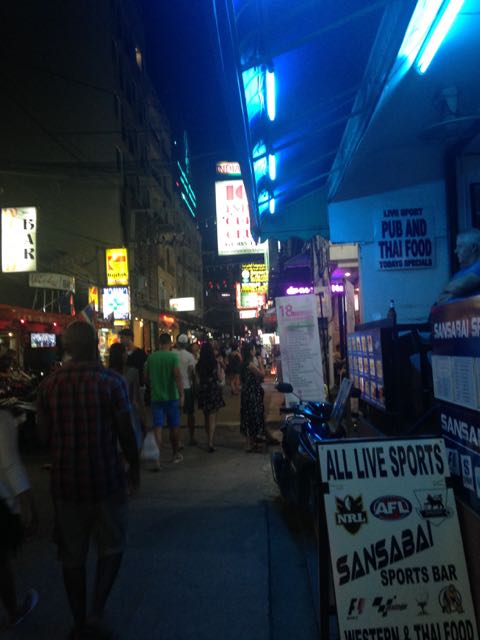 Kathy