The title is what Buddhist temple Kek Lok Si translates as. It's also said to be the biggest one in Malaysia, so on Tuesday we got up early to pay it a visit.  The temple sits on a hilltop and the ascent to reach it is a gradual one.  The steps of the stairway are typically dilapidated, and on either side the whole way up, a multitude of shops and stalls provide a welcome distraction from the climb.  The vendors pounce on you as you approach, to urge you to 'buy something' from the various souvenirs, clothes, food and drink on offer.  A polite 'just looking' doesn't deter them as they are determined to tell you how good the cloth of a certain T shirt is, or about the good value/bargain/handmade quality of their wares.  They are very friendly though and it wasn't in the least bit annoying.  Paul did actually want to get a small wooden buddha for Sister Midnight but the ones shown to him were in a set of six. We figured we'd probably see more buddhas before the day ended.  We hadn't gone far when we came to 'The Liberation Pond', a sacred pond for tortoises. There were loads of them, all shapes and sizes and it's possible to buy food to drop in the water for them. Apparently people will buy a captive turtle in order to release it into the pond for good luck.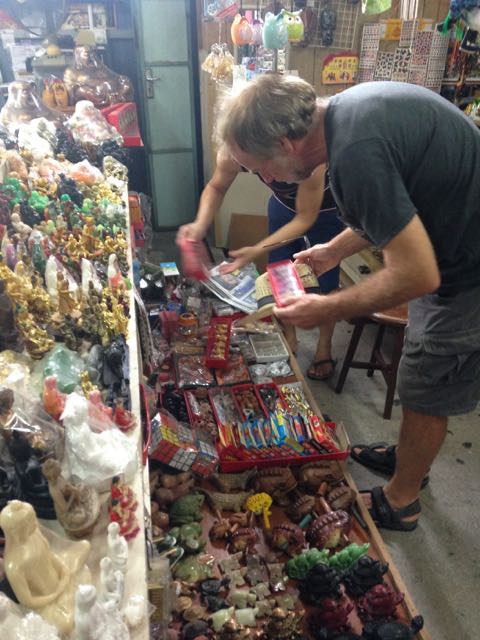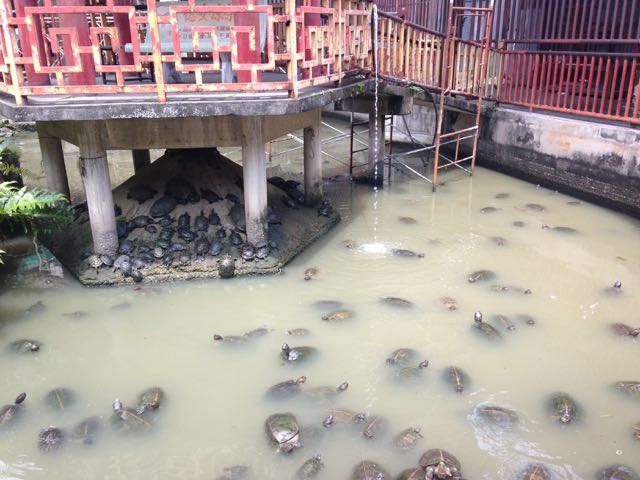 The walk up was a pleasant one. It wasn't crowded, it was bearably hot, as opposed to debilitatingly so, with plenty to look at on the way.  Each level of the complex has something to recommend it. The flower gardens and fish ponds are beautiful and of course, there is a plethora of stately statues, buddhas and incense-fragrant shrines.  Several of the temples sell religious paraphernalia to raise money for ongoing construction and maintenance.  This was obvious from the scaffolding and building materials on show: apparently the largest temple in Malaysia is still growing!  The view from the top of the seven-tier pagoda was wonderful, and luckily it was a clear day so it was possible to see it at its best.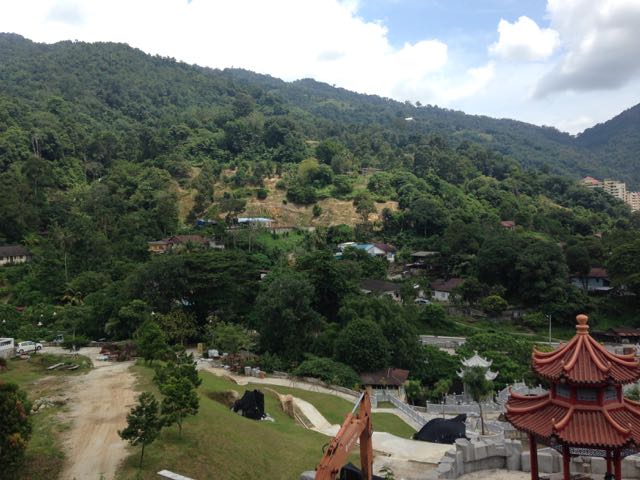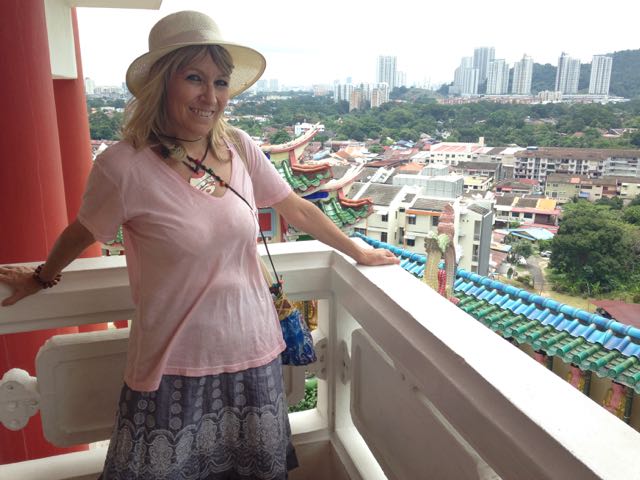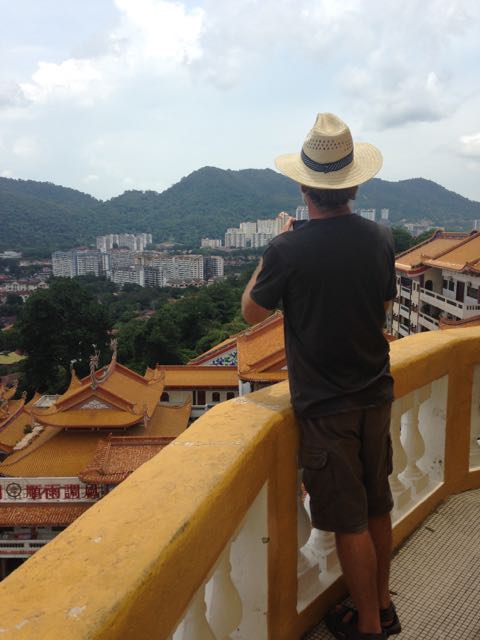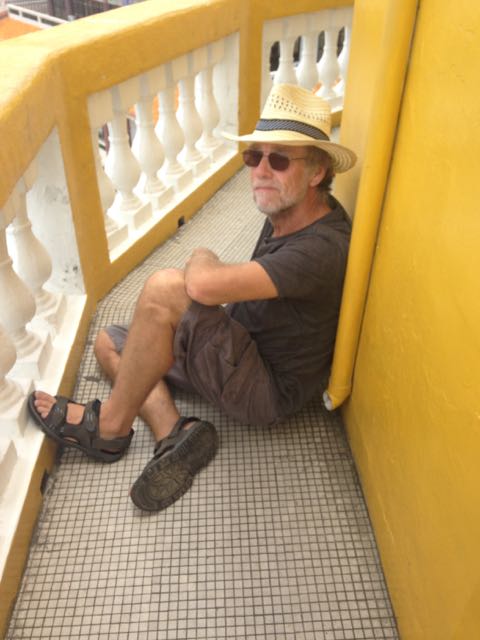 After resting for a while, we moved on to the second part of the visit.  The bronze Kuan Yin Statue is reached by taking a funicular lift up to its location on a hillside opposite Kek Lok Si. The ticket office was at the back of a large shop, packed with all the usual gifts and trinkets, but it also had an array of more interesting and unusual 'stuff': ornately-carved wooden table decorations, chinese boxes, tibetan jewellery, cloths etc.  A great place to browse.  It was a very short ride but again, a great view of Penang on the way up.  Kuan Yin (The Goddess of Mercy) is housed in an octagon-shaped pavilion and there were other shrines and pagodas in the area as well as a lovely garden with a bridge and waterfall (ideal as a resting place before the descent).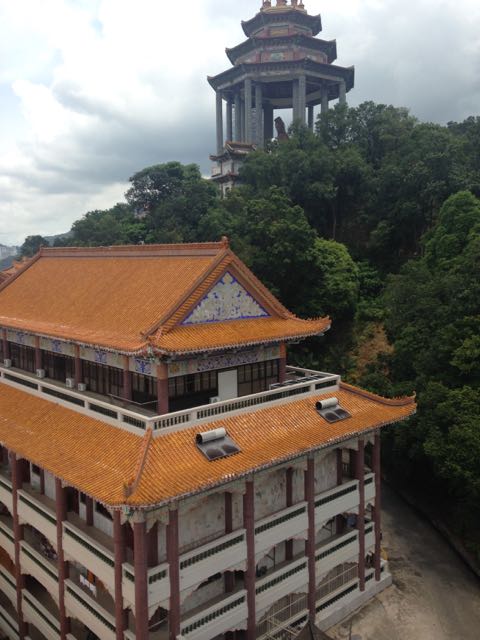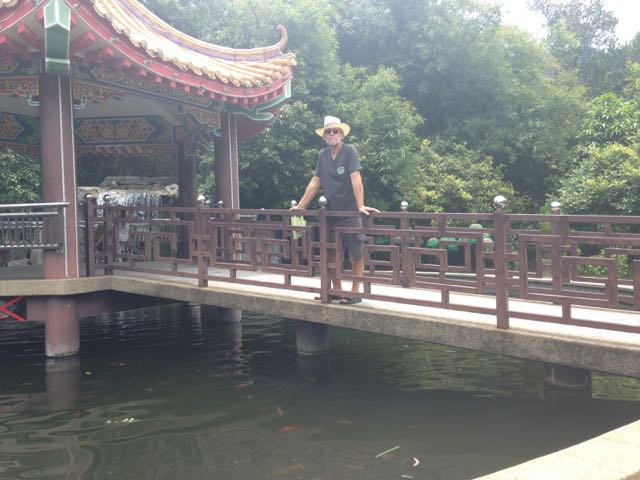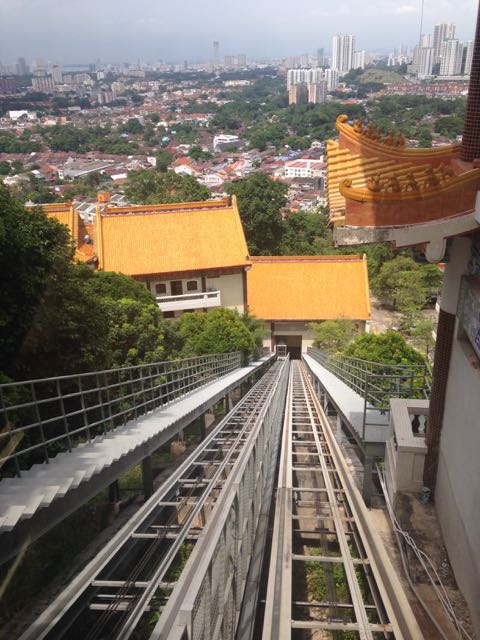 The walk down was hard on legs already tired from walking and standing for such a long period in the heat. I kept thinking a beer would be very welcome once we got to Air Itam, the town at the bottom of the hill. In Anthony Burgess's book 'The Long Day Wanes' Tiger Beer seems to be plentiful in Malaysia – not so here.  Even cafes with signs outside advertising Carlsberg or Tiger don't have it, so I made do with a coke while we waited for the taxi to pick us up.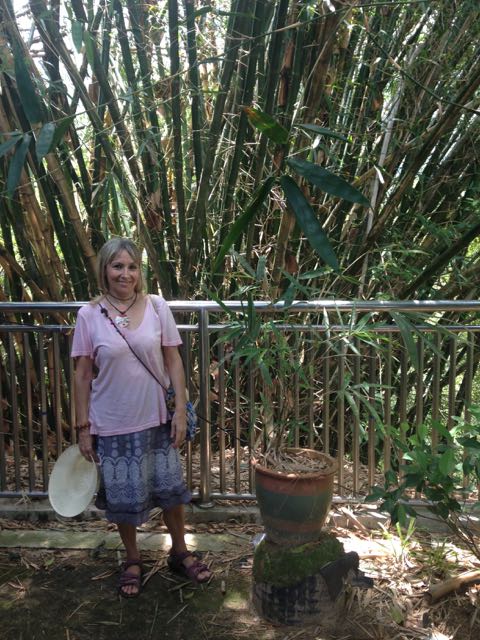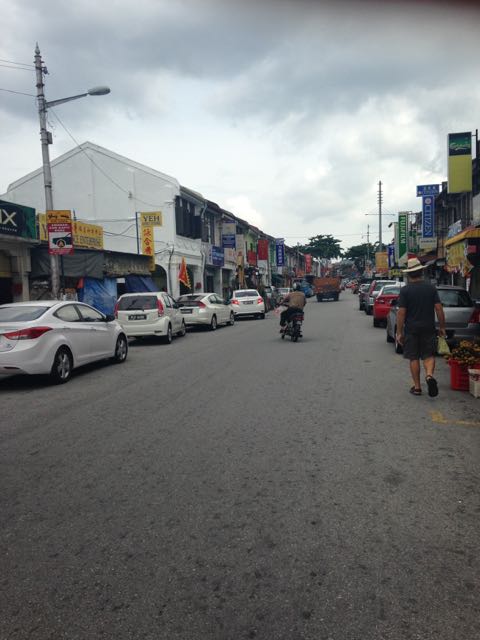 Kathy