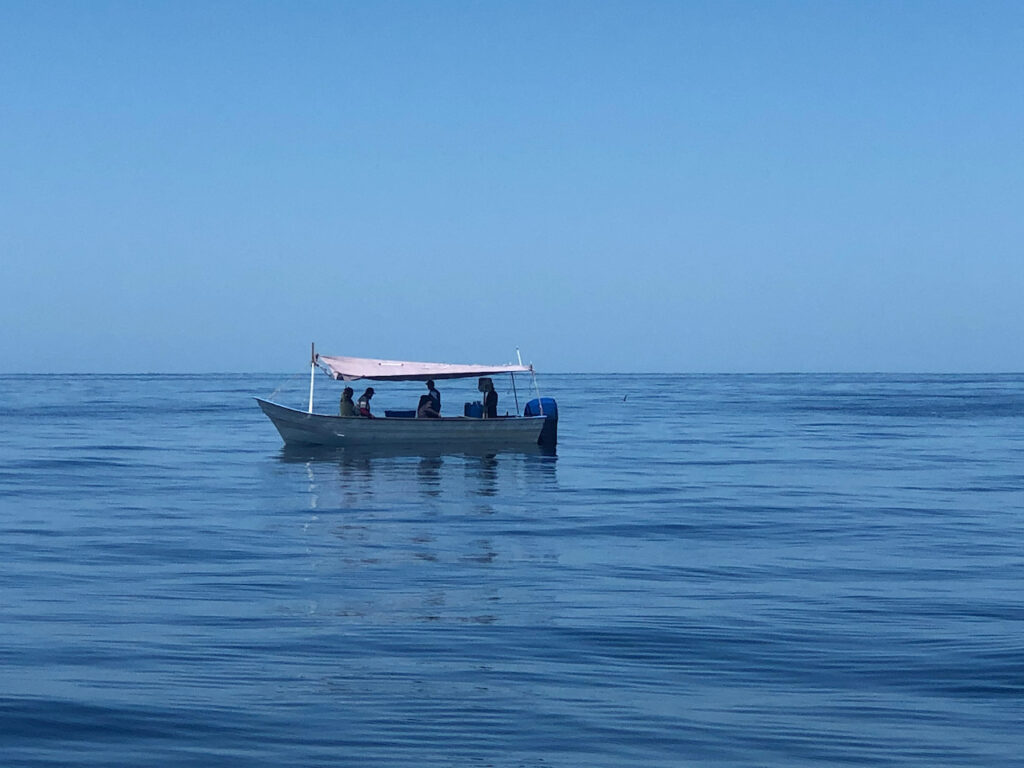 Wednesday 19th May 2021
I'm not really a beach person, but when I surveyed the horizon this morning for the first time in daylight, I was amazed at just how stunning this estuary is. It looked so relaxing that I decided to stay a day before heading into town. I tidied the boat up after the passage and restored some of the more fragile items to their normal place on tables or shelves.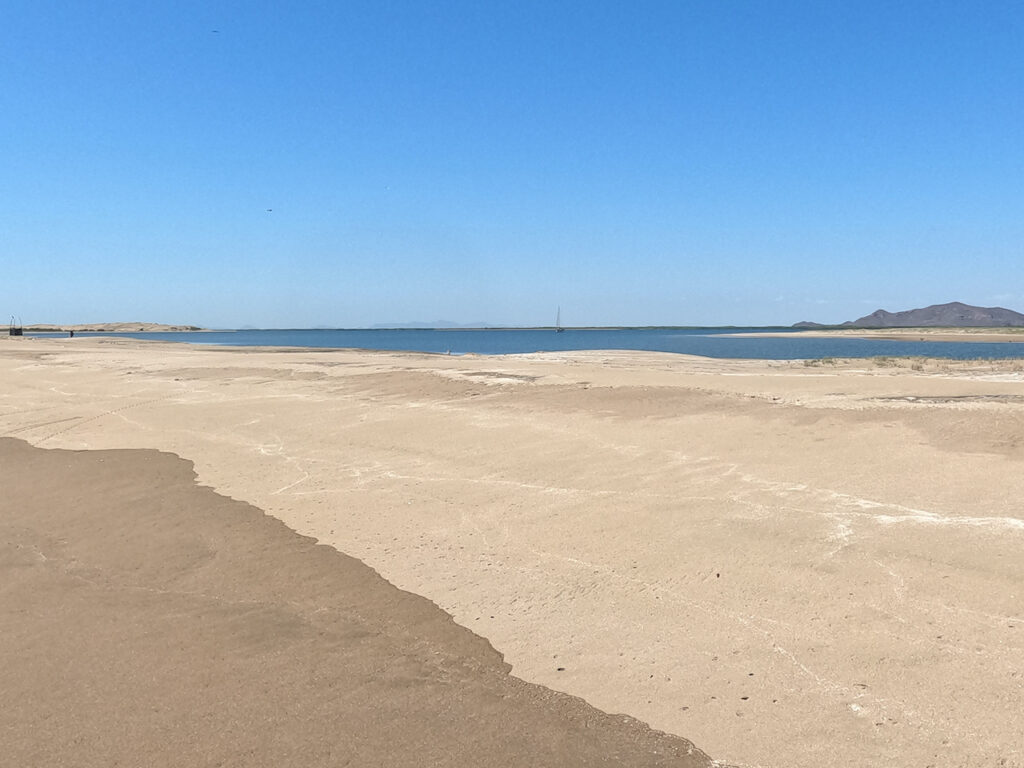 Then after breakfast and my last banana I launched the Kayak and headed off towards the beach to explore. I had to use the chart plotter to determine how far away it was. The sand created an optical illusion such that meant I couldn't tell if I was looking at some small sand dunes or a vast desert of sand. It turned out to be the former. I thought I could see a large building in the sand in the distance, the bottom hidden in a valley, later it turned out to be an upturned crate buried near the beach.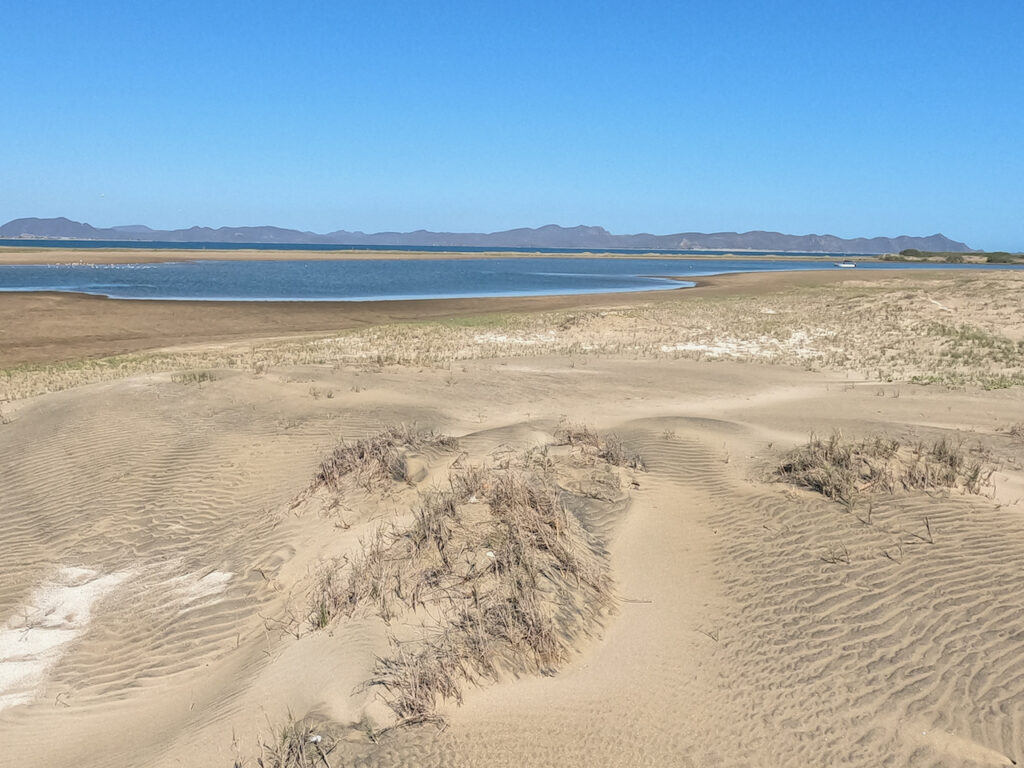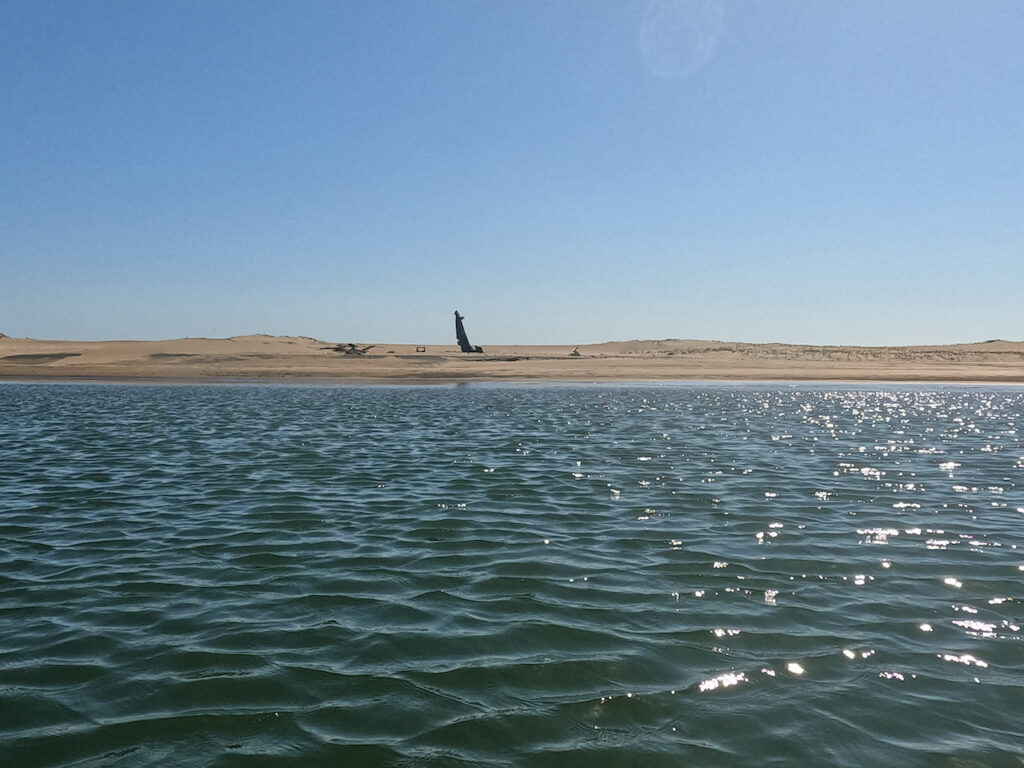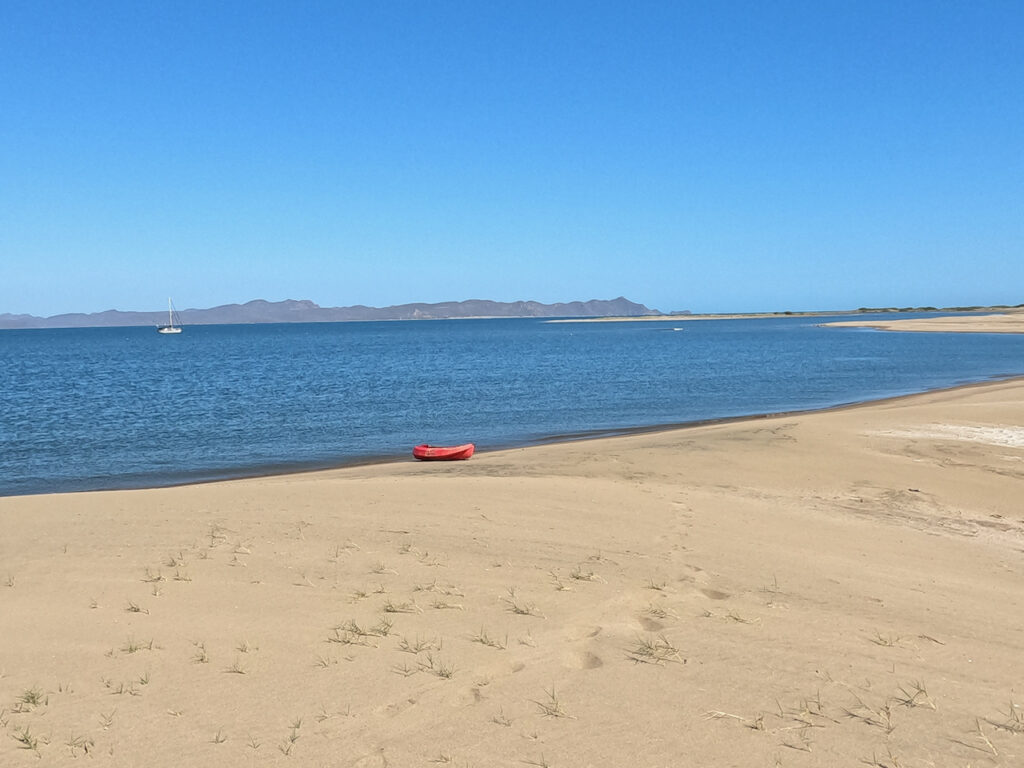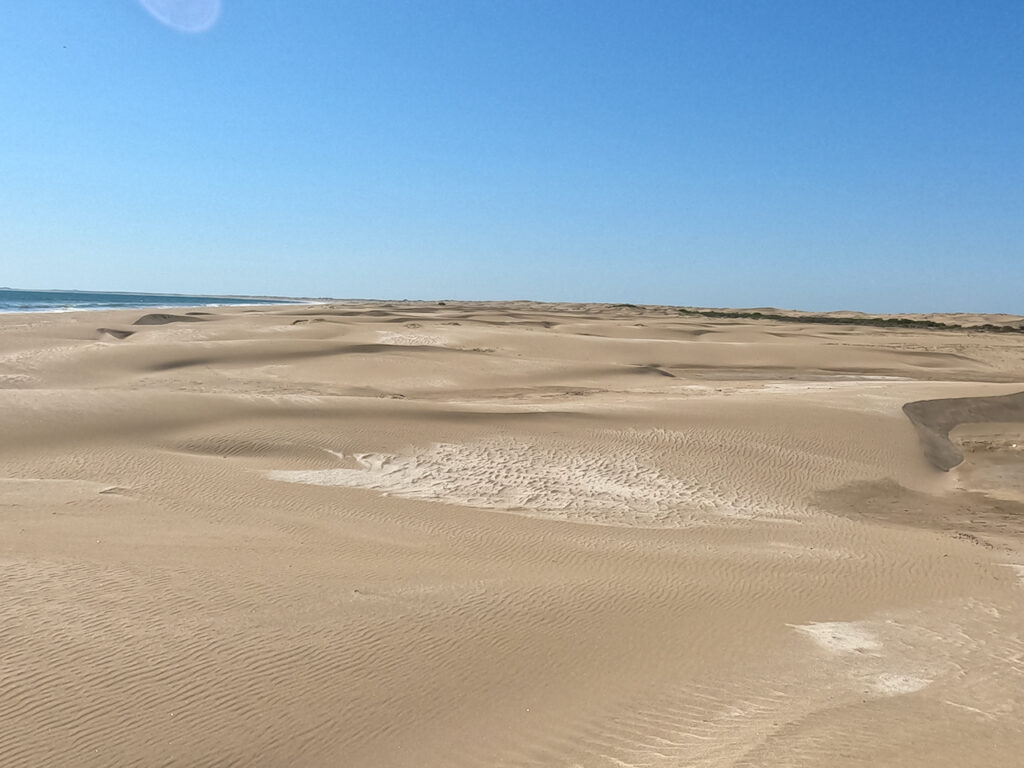 I kayaked around, a lot of the birds were quite shy, and I wondered if the dunes were protected and I shouldn't be there. I was careful where I walked. I saw a few spots were fishermen had made camp, so I felt I was probably ok. I put a short clip on Youtube (Below)
Of course with this kind of unspoilt remote paradise there is always the bugs, that night they feasted on me, there is a mosquito who I think wants to be my partner, because she, I don't think the males bite, seems to live in my bedroom and joins me every night for dinner (her dinner). I use DEET a lot, but I'm assuming it's a pesticide, and the fact it has two of the letters of a famous pesticide DDT in its name worries me.
Thursday Morning
I haul anchor and head into town. It looks like a big commercial port, the main baja truck, car & passenger ferry from La Paz runs daily trips here, and there's a big oil terminal. The guides recommend calling the harbour master to get permission to enter the narrow buoyed channel so I brush up on my "Puerto Capitanía, Solicito permiso para entrar al canal Por Favor" however he doesn't respond, I'm deflated. I had phoned the marina and they answered but the girl went all shy on me when I tried my Spanish on her, she put me on hold, then let me time out. When I phoned back she wouldn't answer. I actually think a lot of Mexicans are a bit shy when it comes to talking with gringos. So I had no idea if there would be a space for me when I arrived. Also the chart doesnt really show where I can anchor safely, the route to the marina is narrow and very shallow.
Still as I have said before, one's fears rarely turn out to be justified, and I always prefer to take a punt. So off we went, it turned out that the channel was wide enough that I could skate along the outside of it, in 5 metres of water without issue, the secondary smaller channel was always 3-4 metres deep and as I approached the marina I called on the VHF and someone acknowledged me, but wouldnt have a conversation, presumably because they had walked down to the pontoons and were waving me into a big empty berth. £50 later, in the office, and I'm all sorted for 2 nights here. I now have enough Spanish to feel confident enough to start a basic conversation, which is nice. When the topic of where I come from pops up, Liverpool, football is often mentioned, Today I was able to explain, "Tengo dos hermanos, son fanáticos del fútbol, pero yo no." (I have have two brothers who are football fanatics, but not me!).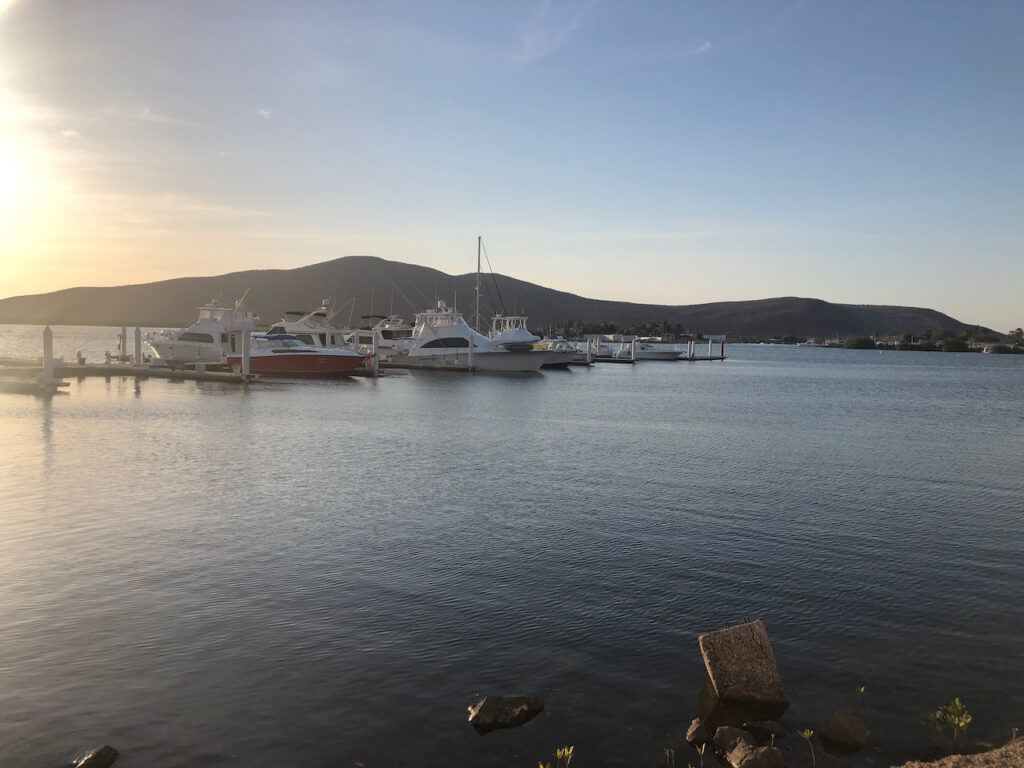 Into town for some shopping and to check things out, again I'm in a very poor town, it's a bit like holyhead not far from my hometown, in that it's a port for ferries and commercial traffic primarily, the road into town is full of trucks queued up waiting for their ship.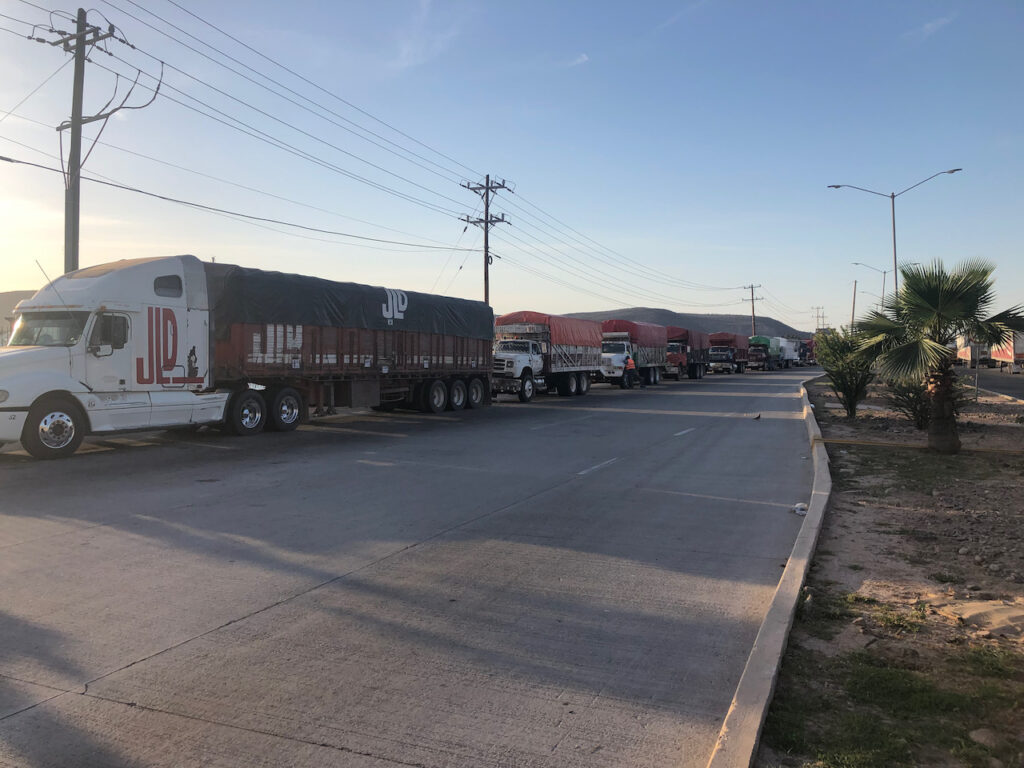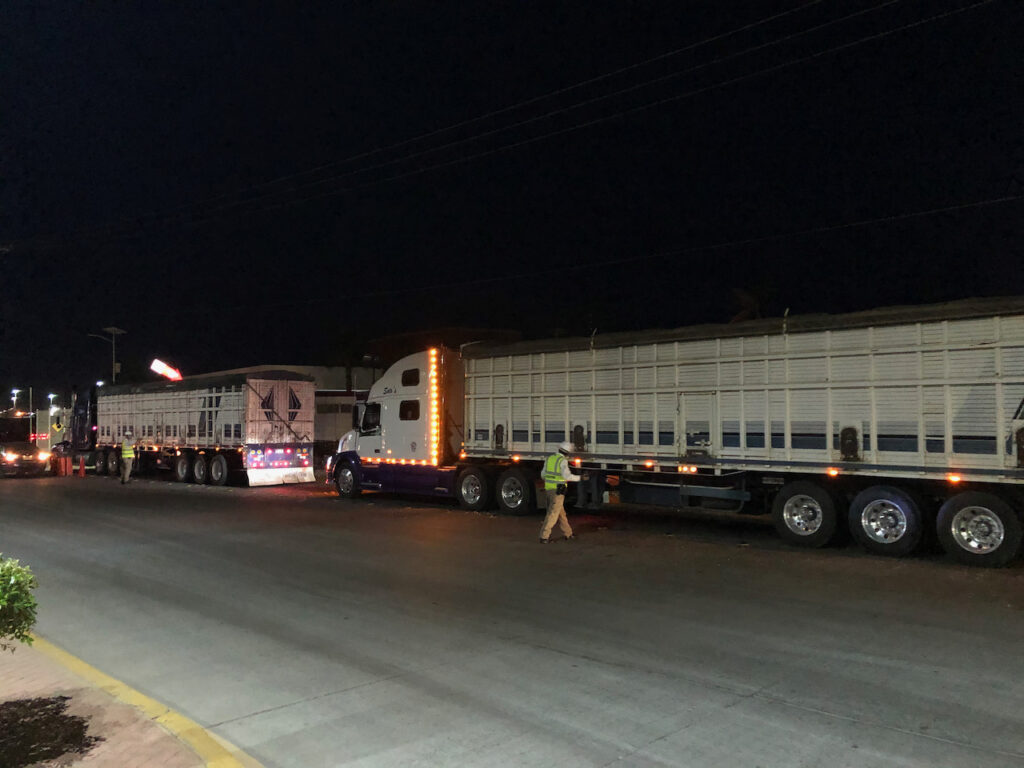 There's also a big railway line right into the docks. This line goes to Mochis I think, the next proper big town, from where people start their trip up a classic old railway line into the copper canyon. Known as the El Chepe train. I would love to visit this, but it's a bit complicated with Covid. Perhaps I will go with Kathy, it takes several days to do the round trip.
Yesterday the political leader of the state was murdered on the road into Mochis, assumed by the cartel, It's election time here, and they take their canvassing pretty seriously. I was worrying about the state of democracy back home, but perhaps it's not that bad. But slippery slope and all that!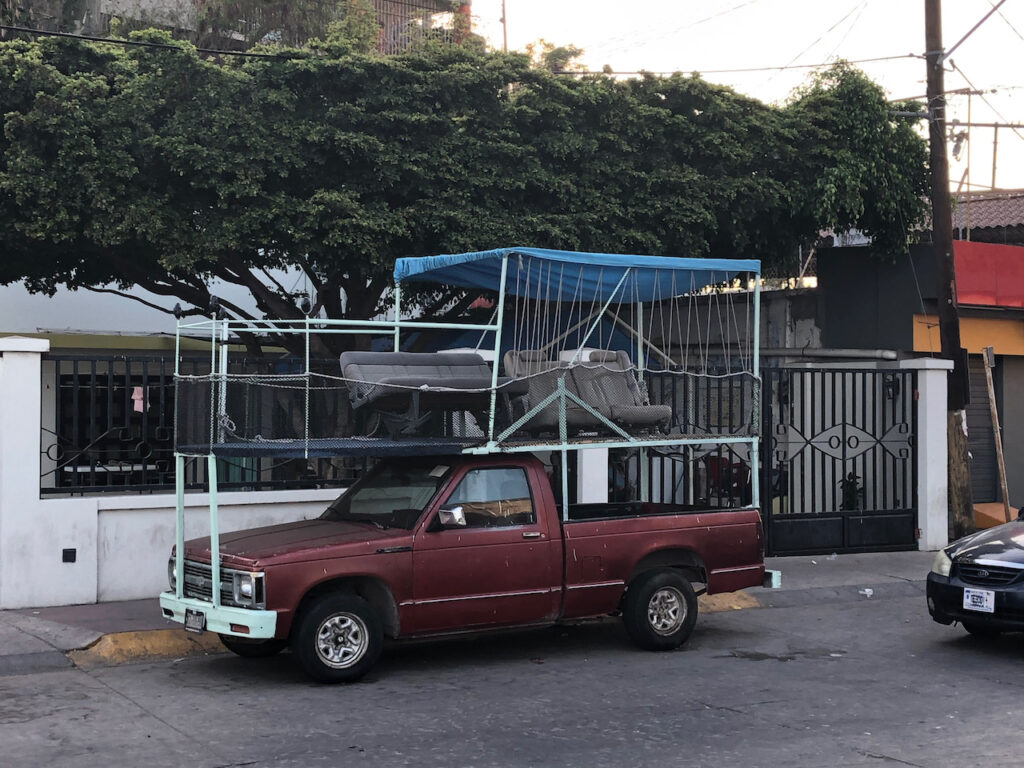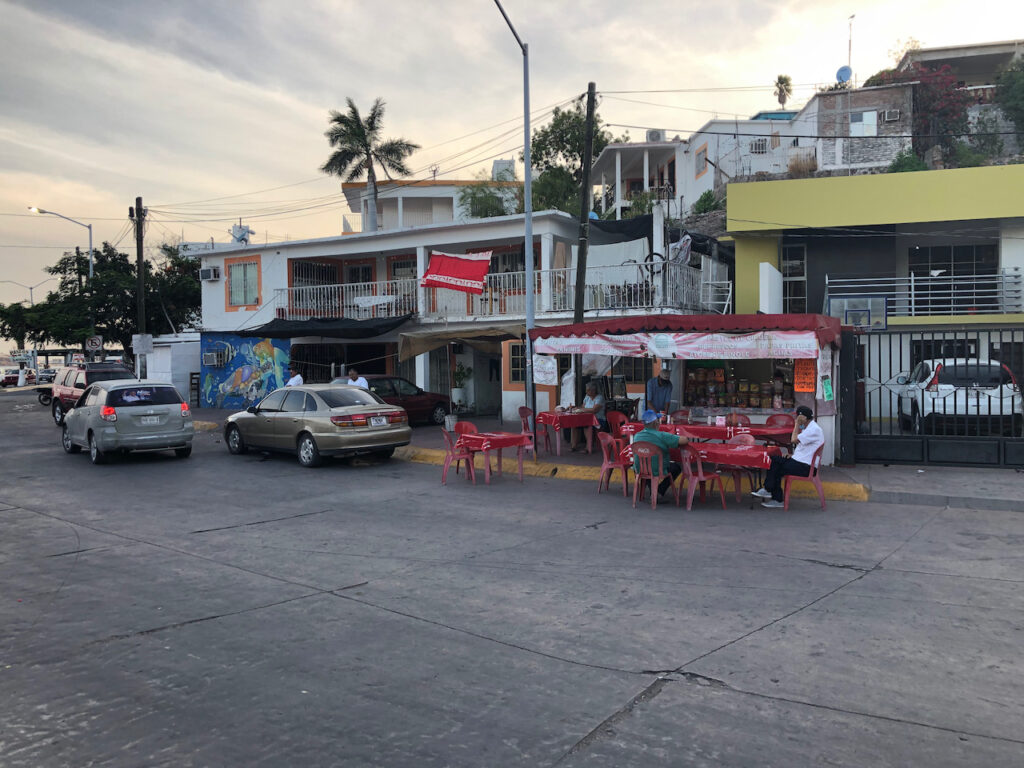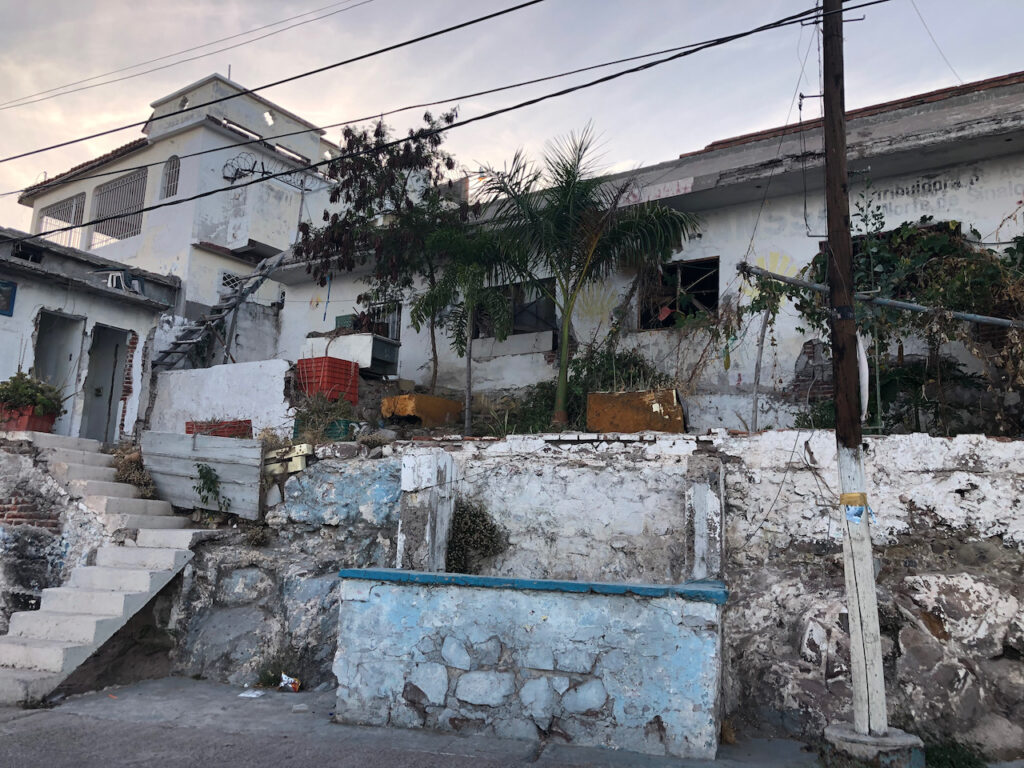 The town has a malecon, with the obligatory sign, several vendors and a few eateries.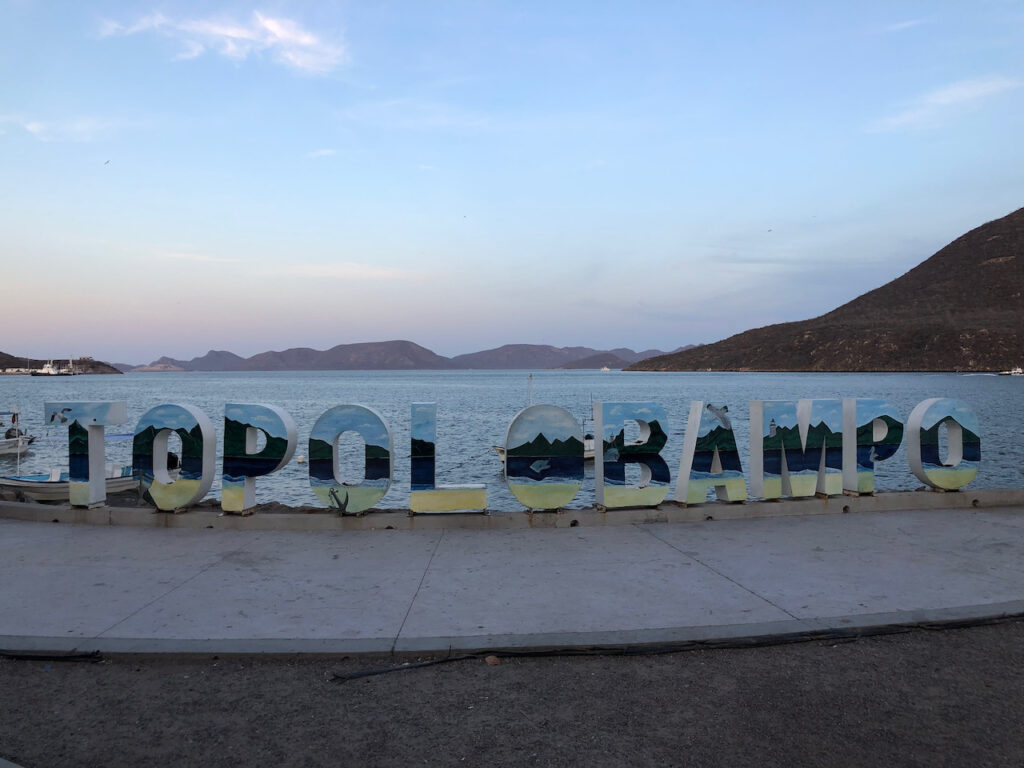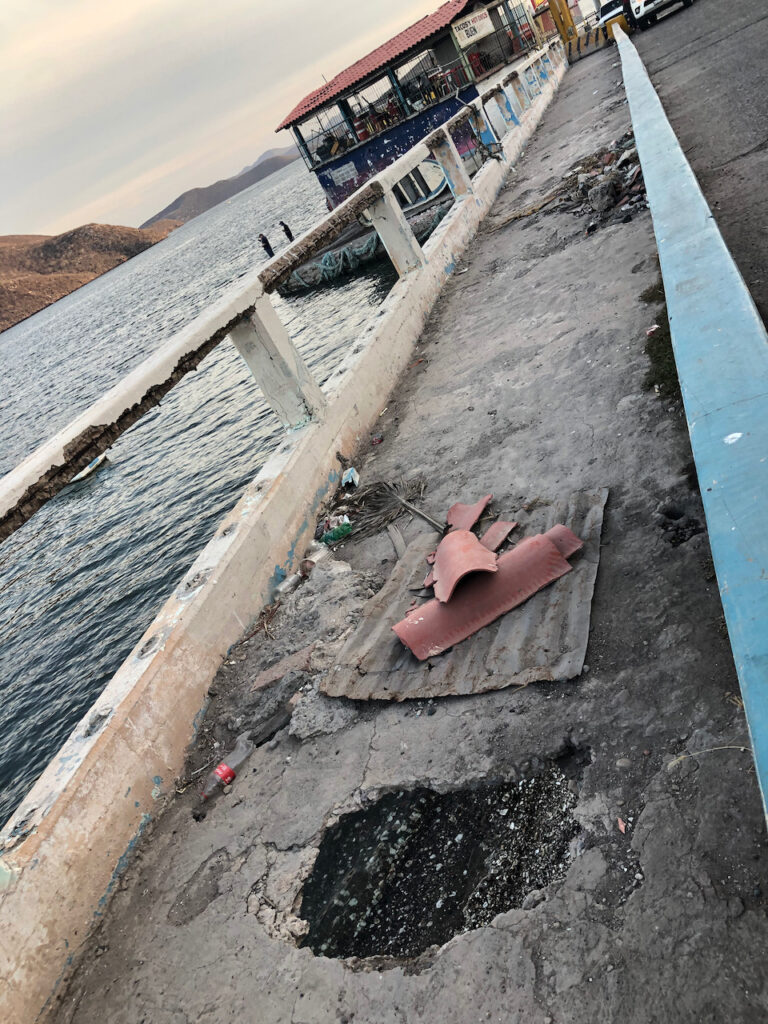 I find it to be a very pleasant place, nobody asks me to smuggle any mules into America, and the biggest upset is when I try to pay for 100 pesos worth of chocolate with a 20 peso note, having misheard the lady in the Oxxo. (For oxxo read 7-11) (for 7-11 read Spar)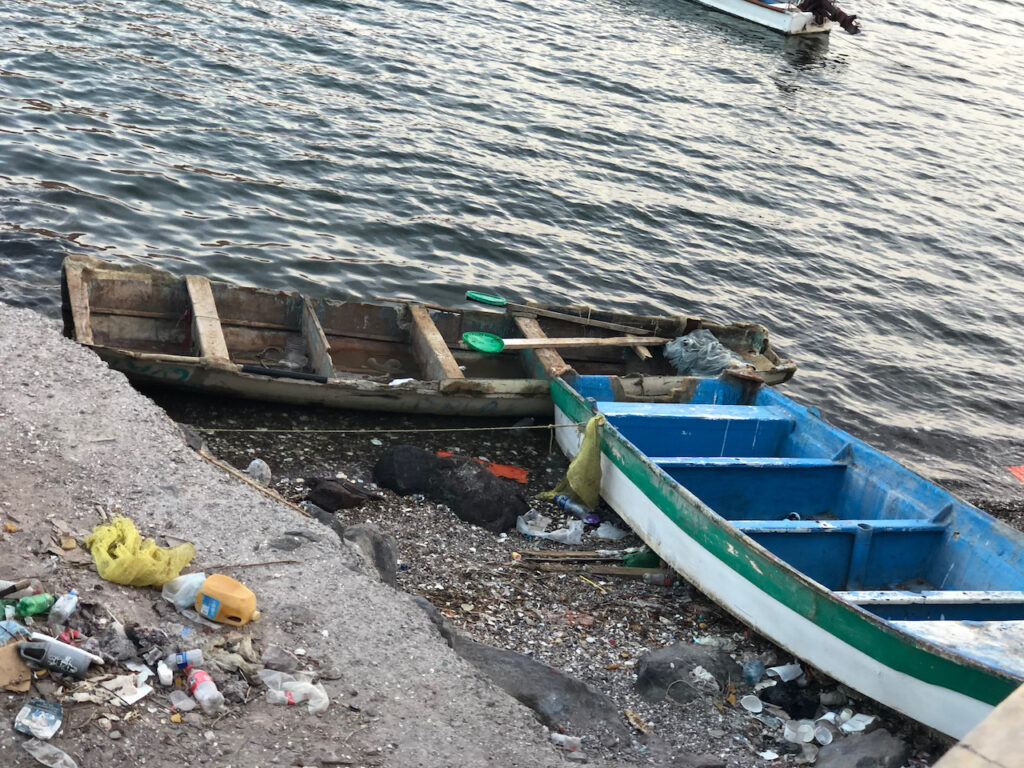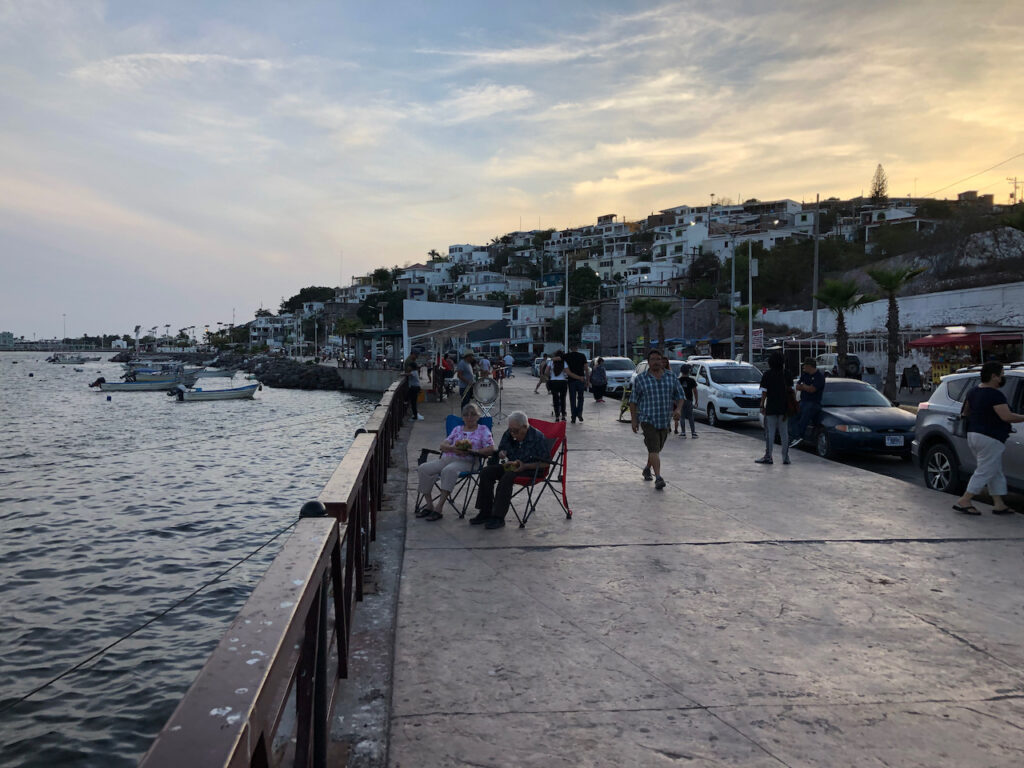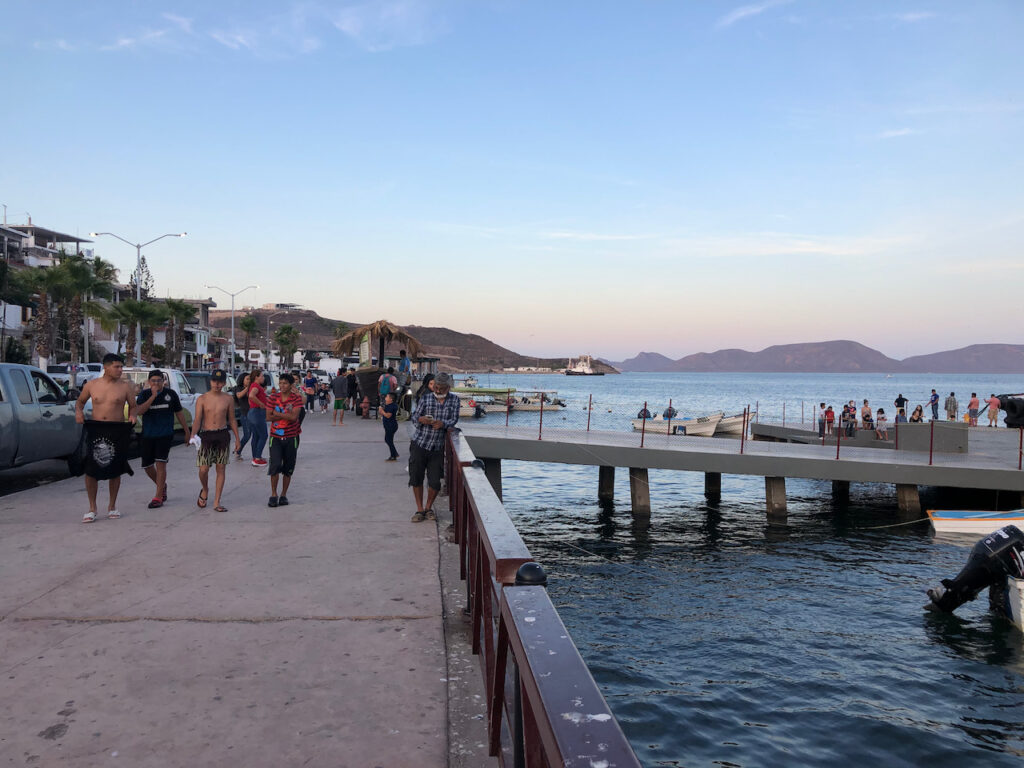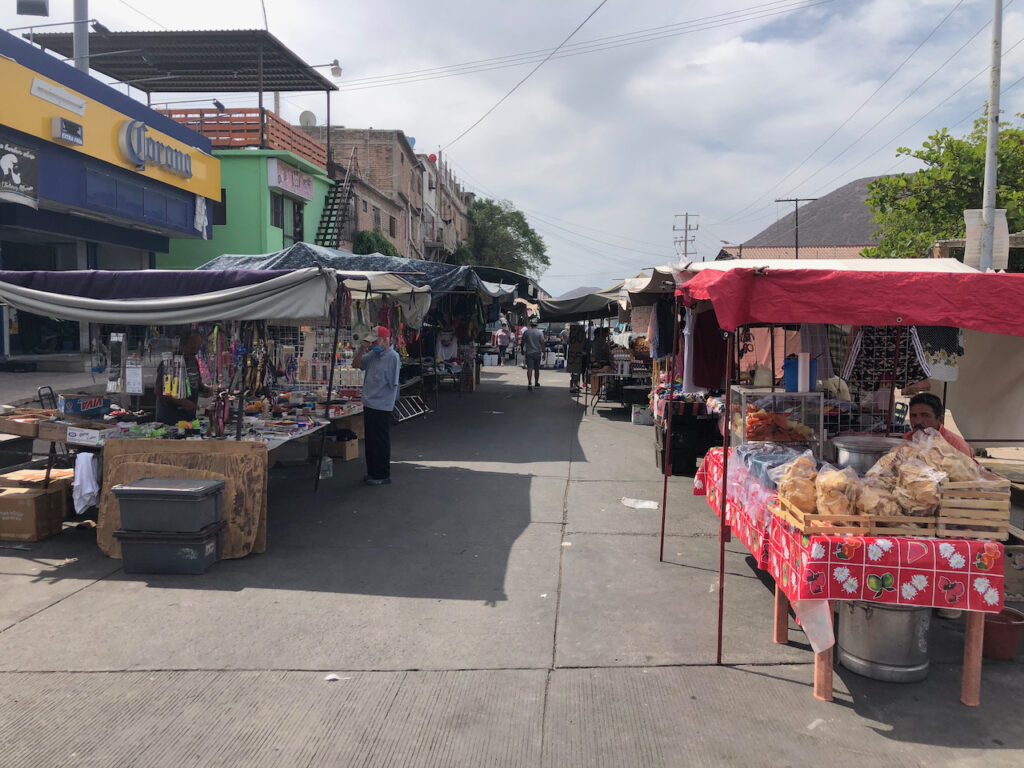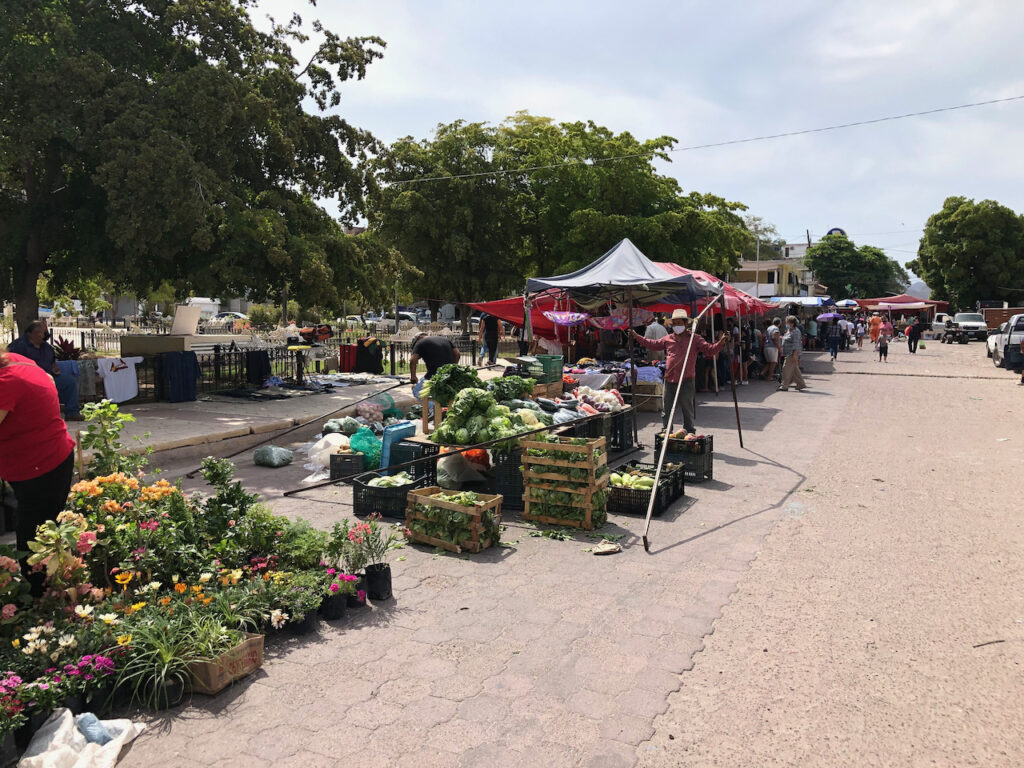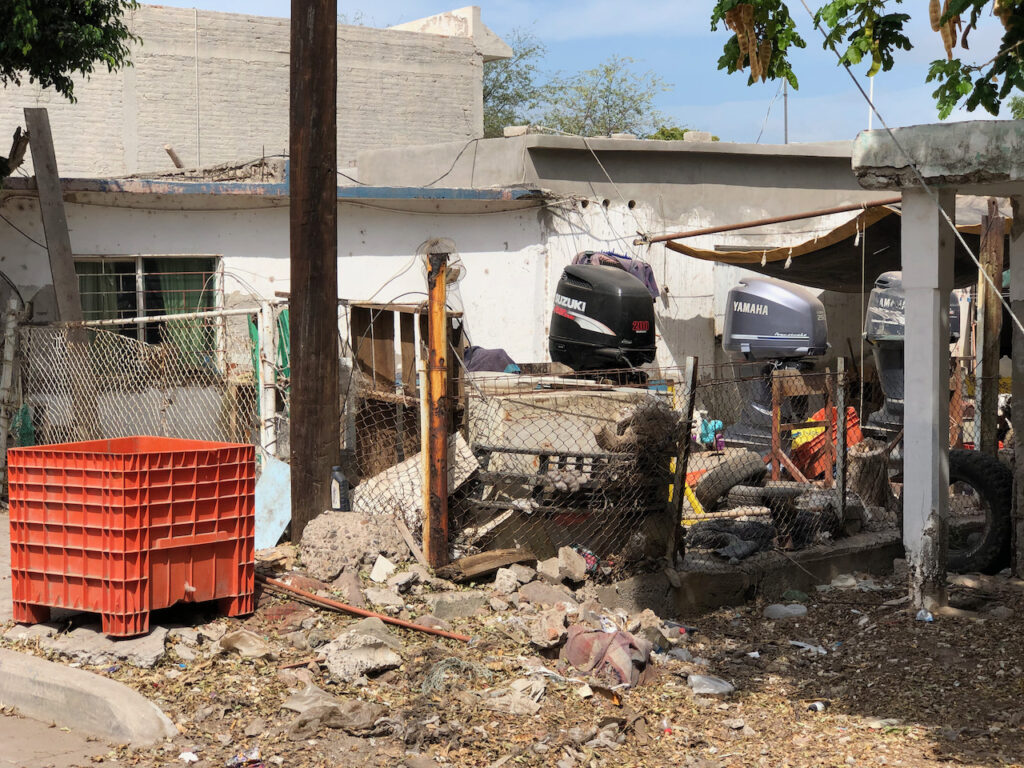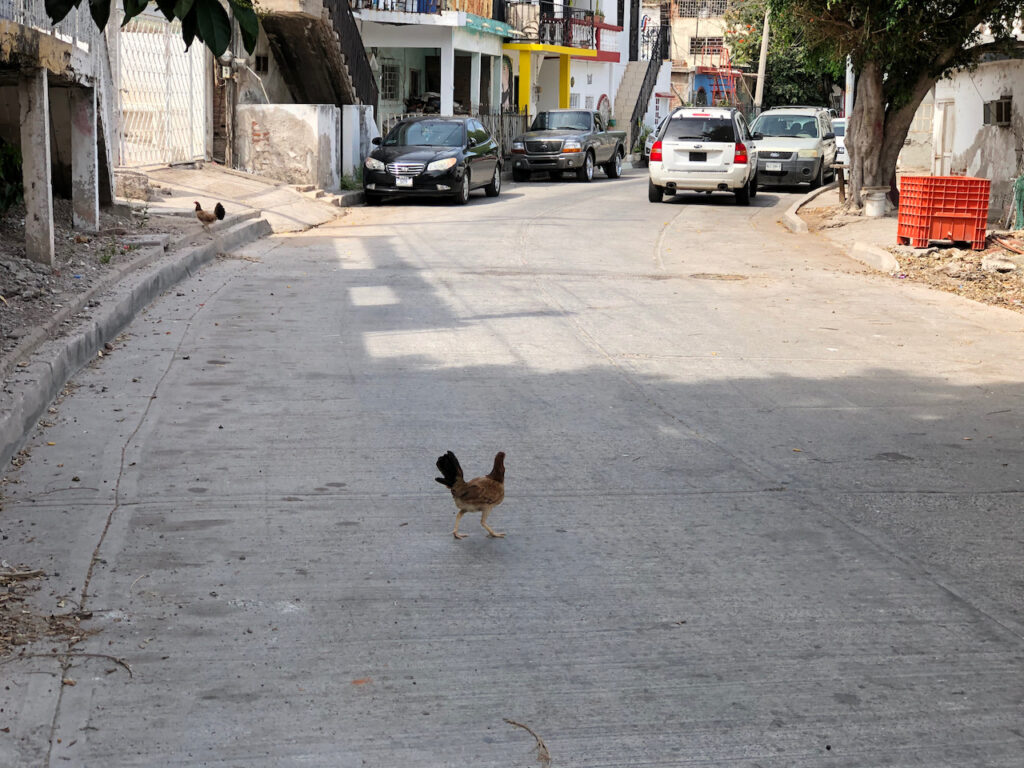 Friday,
It seems to get diesel I need to take my cans around the corner to the fuel dock at what looks like another marina, but is in fact a private yacht club with their own fuel pontoon. I suspect it also services the shrimp fleets. It's very rough and ready, and I'm glad I'm not taking the boat there, for one its dock is 10 ft higher than my boat, and has giant ropes hanging over the concrete as fenders. I take 115 litres in 5 jerry cans.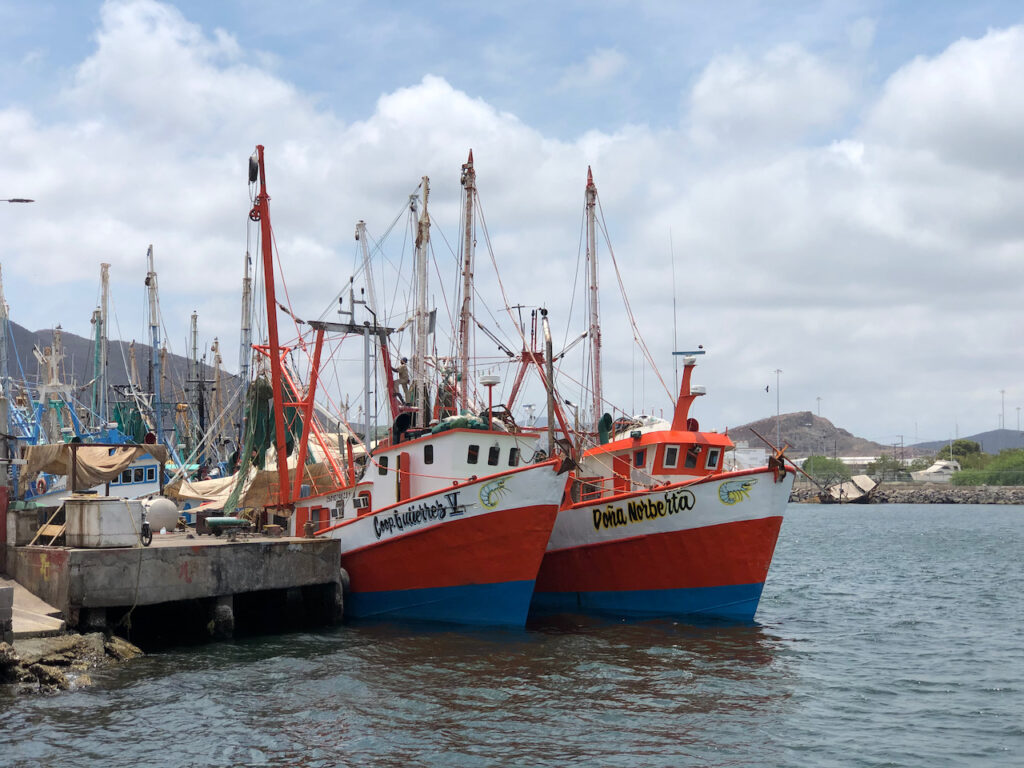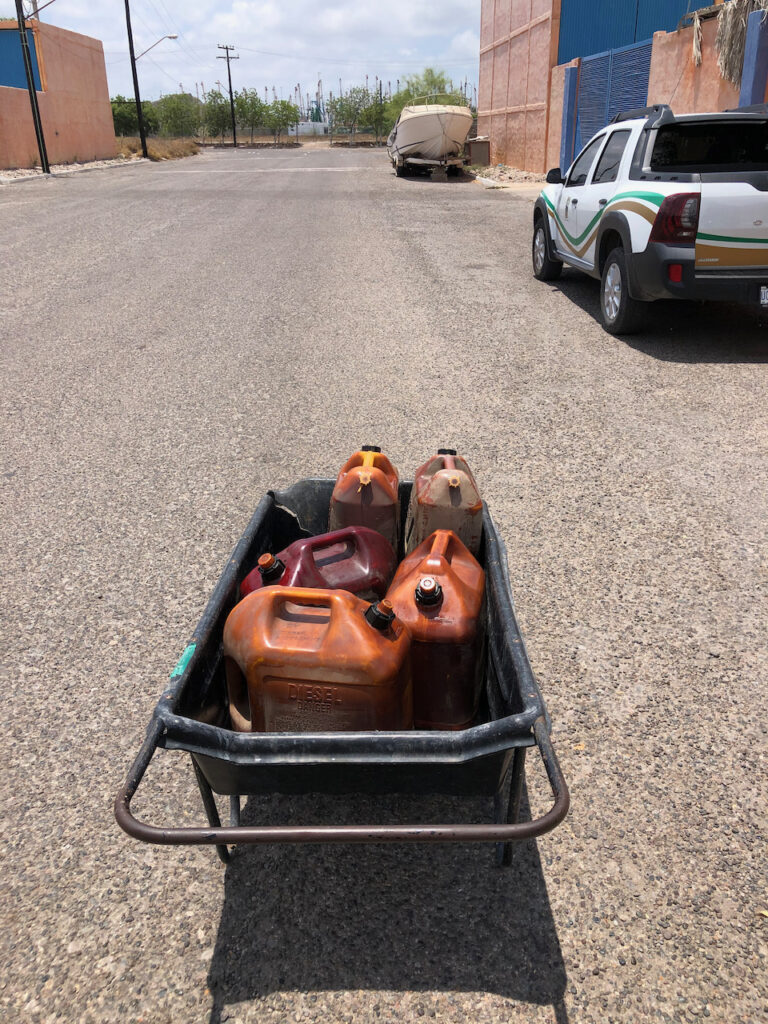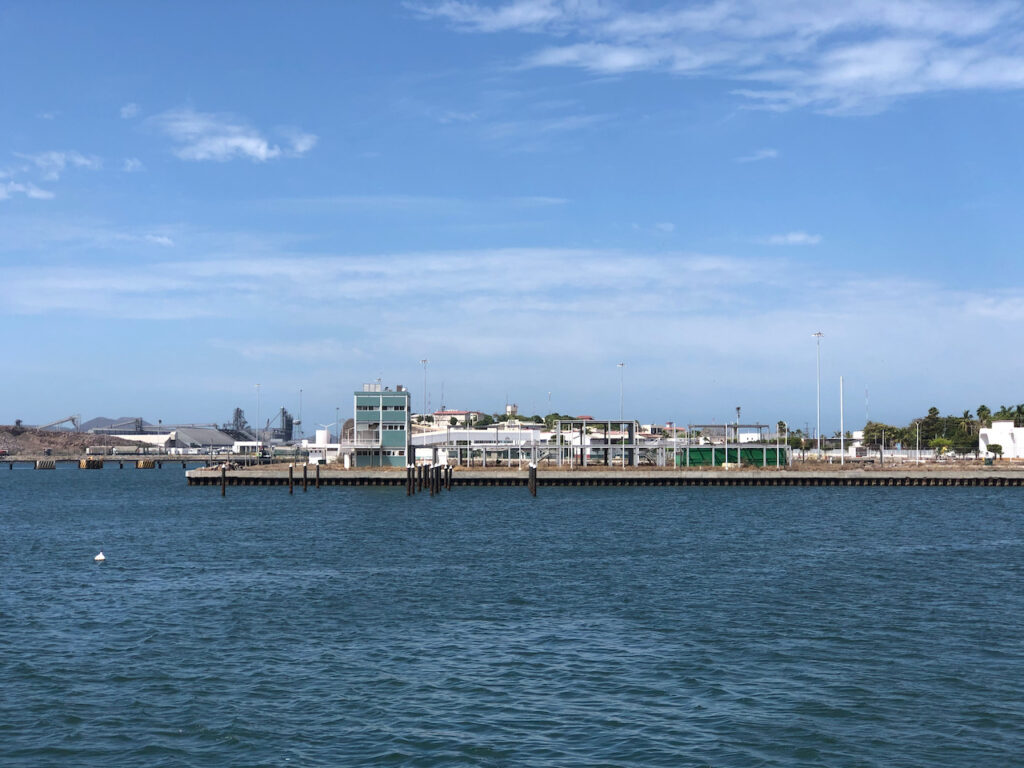 I have visited 4 fonatur marinas. These marinas were part of a plan by President Fox of Mexico in the 70's. There were to be 22 roughly following the locations travelled by the early missionaries. The tourism ministry was given this task, the same government agency that took Cancun from a backwater to the delightful holiday retreat it has become today. Unfortunately these 22 marinas mostly failed, and in the case of this one pictured above in Topo, never got finished. They all have the same structure, I have been told it's a French architects design, I have also been told the docking came from Ireland. The prices are very low, being government regulated, and where there are lots of yachties, they are full and you basically have to wait for someone to die, to move along the waiting list. (La Paz and here) In other places like Santa Rosalia, and Guaymas, the staff just keep them going but the original designs for swimming pools, captains lounges, modern facilities etc have gone by the way. The marina at Puerto Escondido, which is now run by a private consortium, with private prices, is stunning in comparison. I find the whole project of the Fonatur marinas to be fascinating and a possible insight into how business/politics/local economies work. I think once Fox lost the presidency, the will to make the project flourish left with him.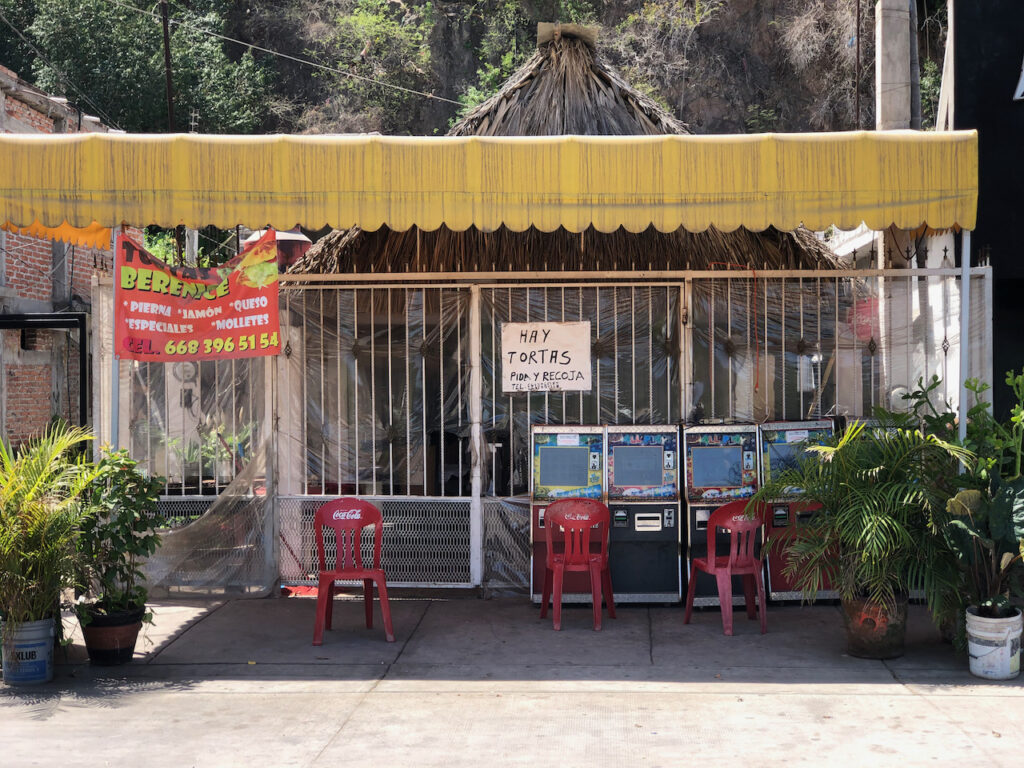 Saturday 22nd May 2021
Into town to do some last minute shopping before I leave. The market that looked so colourful and interesting yesterday is not there today. I wonder why, on a Saturday of all days. I go to the Oxxo and stock up on chocolate bars and fizzy drinks. Then back to the boat to ready for the off. While downtown I notice a big ferry, different to the La Paz ship is loading up with big trucks. I don't want to meet it in the Channel so when I'm back on Sister Midnight I try to work out when it is leaving. Sadly I can't find any reference to it on the internet, but I do hear the captain call the port capitania and mention 13:15 which is in an hour. I figure I shall wait until then and follow him out. Looking on the AIS I can see the big tanker that was out at sea anchored is making its way in, so hopefully I will be clear of them both.
10 minutes later I hear the oil tanker calling "Sailboat in the channel, this is MV Star" over and over again. No reply from the sailboat, this irks me as it's bad practice and dangerous. The Captain of the tanker won't be able to take avoiding action if they wander into his way. In fact he won't even be able to see them once he gets within a few ships lengths. The situation is even more poignant given that the bow of the shrimper is sticking vertical out of the Chanel from the collision a few weeks back.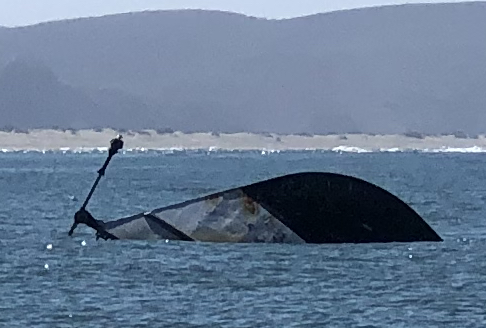 13:15 comes and there's no sign of the ferry leaving, no action on the VHF so I decide to head out. I can stay out of the channel anyway, and follow the path I took in. I'm also not going all the way out to the sea, but will hang a right and park the boat back by the lovely beach I was on. The wind needs another day to turn to be with me, not against me. As I leave the marina, the said yacht passes me, I politely wave while checking that they do have a VHF antenna sticking out their mast, I'm tempted to wave my handheld VHF at them to get them onto 16 so I can tell them they were being called, but I'm pretty sure they know that anyway. They are US flagged and a couple in their late 50's The boat is called something like 'Getting Away' So I think I understand what's going on, and keep schtum.
Halfway along the channel I turn to the North West and back to the beach I anchored off, but curiosity, and a little too much swell  pushes me another few miles along the estuary. And I anchor off a lovely mangrove beach. It's so pleasant here. I have a swim but the water is a little too hot. Also it's very shallow near the shore, and near the boat there are hundreds of jellyfish floating past. 
Sunday, I leave about 10 o'clock and make my way through the channel back into the Sea of Cortez.
The channel is wide and safe, but on either side of me the waves break ferociously, they would easily tip me upside down if I strayed into them. I set the course for Altata, a town inside a bay/lagoon halfway to Mazatlan. It's a bit of a party town, loads of restaurants, a nice Malecón, and very safe and protected there. I can anchor off the main town and dinghy in to the pier. The wind builds and I find myself sailing well the whole way. These last few nights have been crazy for condensation, actual puddles of water appearing around the boat. I guess the humidity is high. I abandon sleeping/watch keeping in the cockpit, it's just too soggy, so end up in the passage bunk.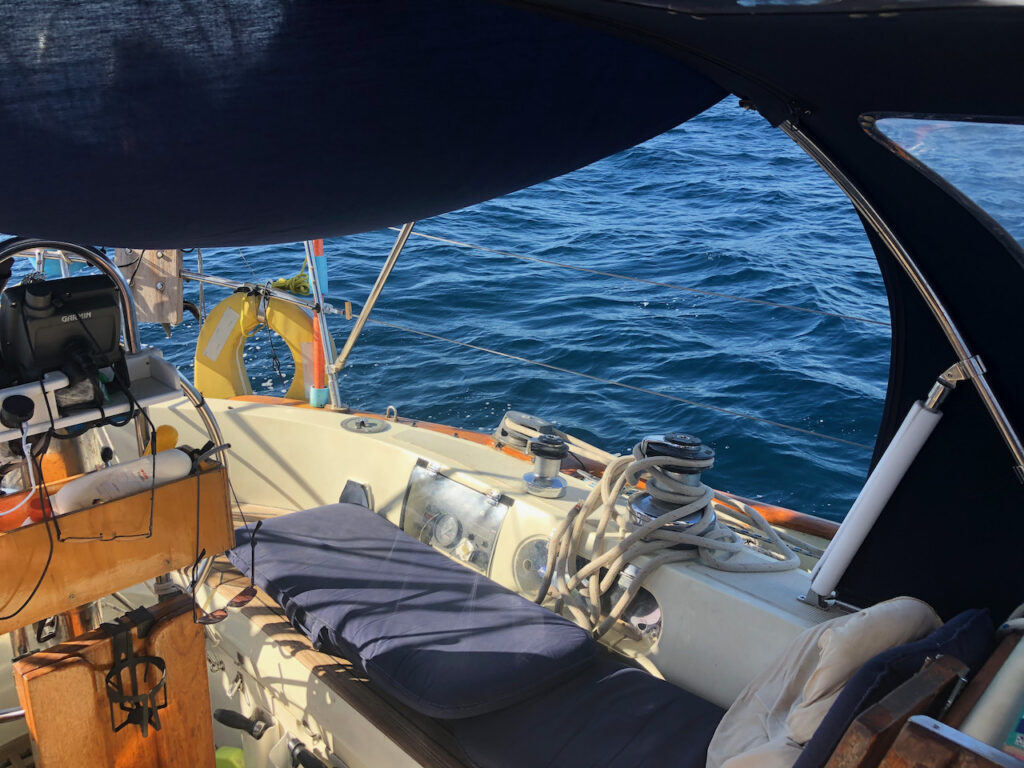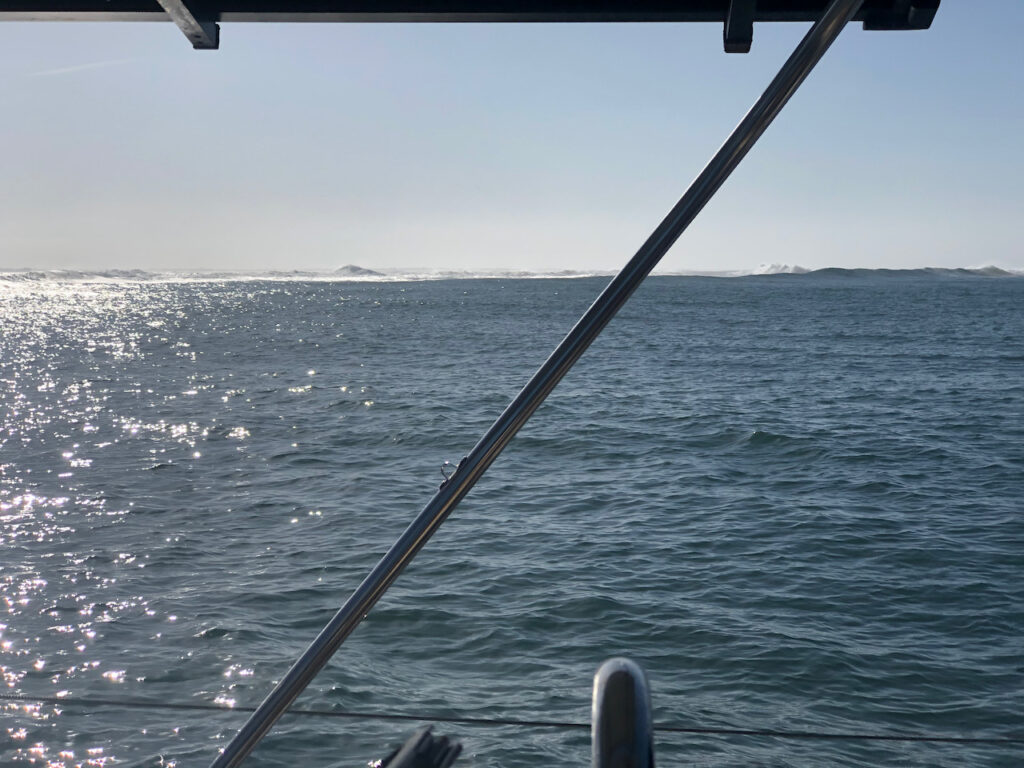 Monday
The approach to Altata is complicated, it's a small gap where the estuary / bay / lagoon empties out into the sea, there can be strong tidal flows and we are near the spring tides which exaggerates the flow. Also either side of the entrance the flowing water has deposited sand making for a long narrow winding route in, with very shallow sandbanks on each side. These banks move around every year so the charts cannot be relied on. They tried to mark it with buoys, but the hurricanes kept taking them away.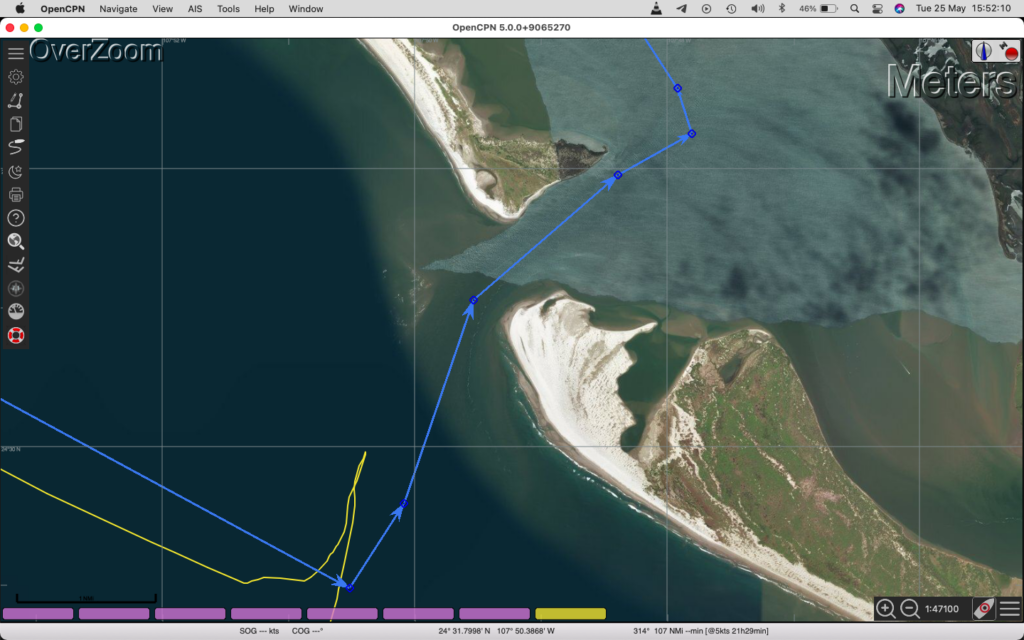 It's supposed to be safe in settled weather only, and it seems quite settled now, but as I approach I'm struggling to see the entrance. I edge closer, the massive waves that have appeared are right where I had hoped the channel was, and the calm bit seems to be where the sand bank is marked.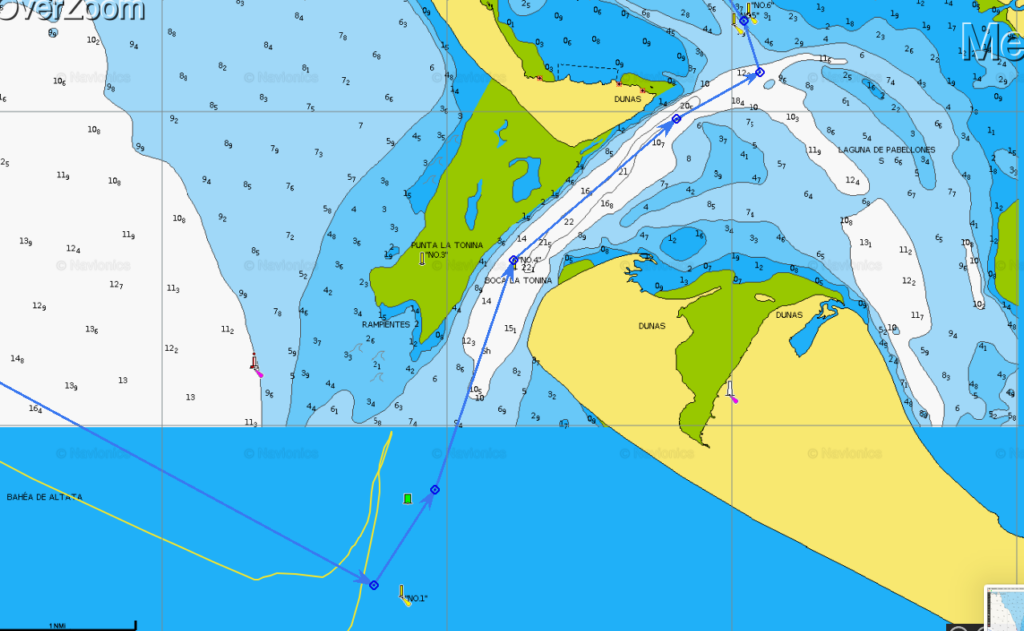 I keep my distance from the waves, but the depth is dropping quickly and now I have big waves to port. Holding my calm I move forward. The chart says that dead ahead in about half a mile I will be in the lagoon. But everywhere ahead is just roaring breaking waves, maybe 20ft high, the type surfers love in California, and the type that would flip me over in a flash. I presume it's an optical illusion and some closer waves are overlapping distant ones and there is a way through. Checking the chartplotter, and my google earth images, the way through is into the biggest of the waves, and so, whatever charms Altata has, they will have to wait. I swing the boat around and head back. Thinking I'm out of there, I'm a little bothered that I'm now battling big waves that must have crept up behind me without me realising, some of them are breaking just a couple of boat lengths to port. I navigate through them and into calmer water.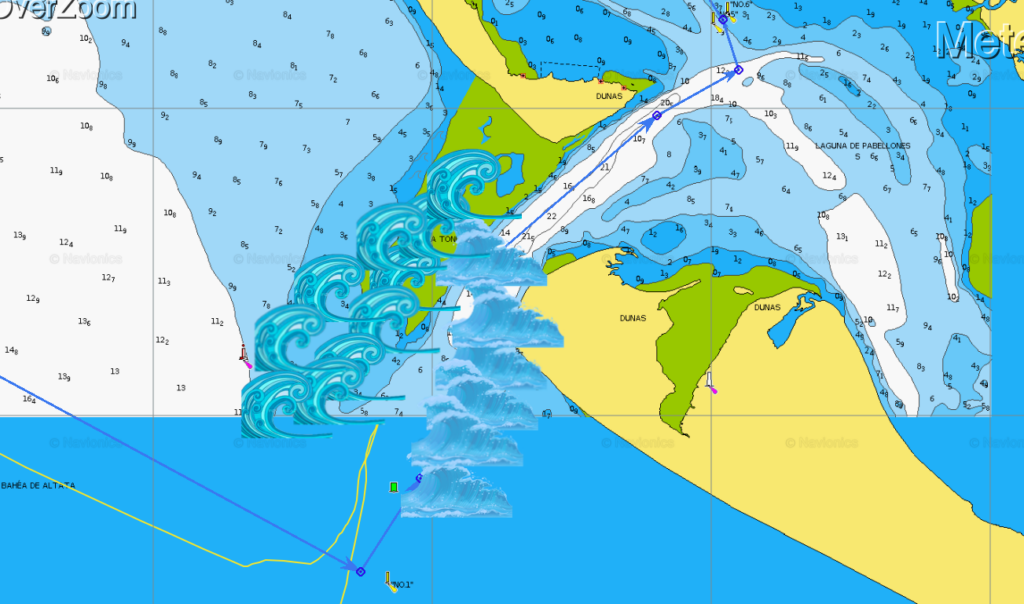 Next stop Mazatlan in 24 hours. 
Later Arturo tells me on WhatsApp that he believes Altata is where Hernan Cortes lost half his fleet on his first expedition to the Sea that got his name. So I saved 100% of my fleet. I feel a bit better now.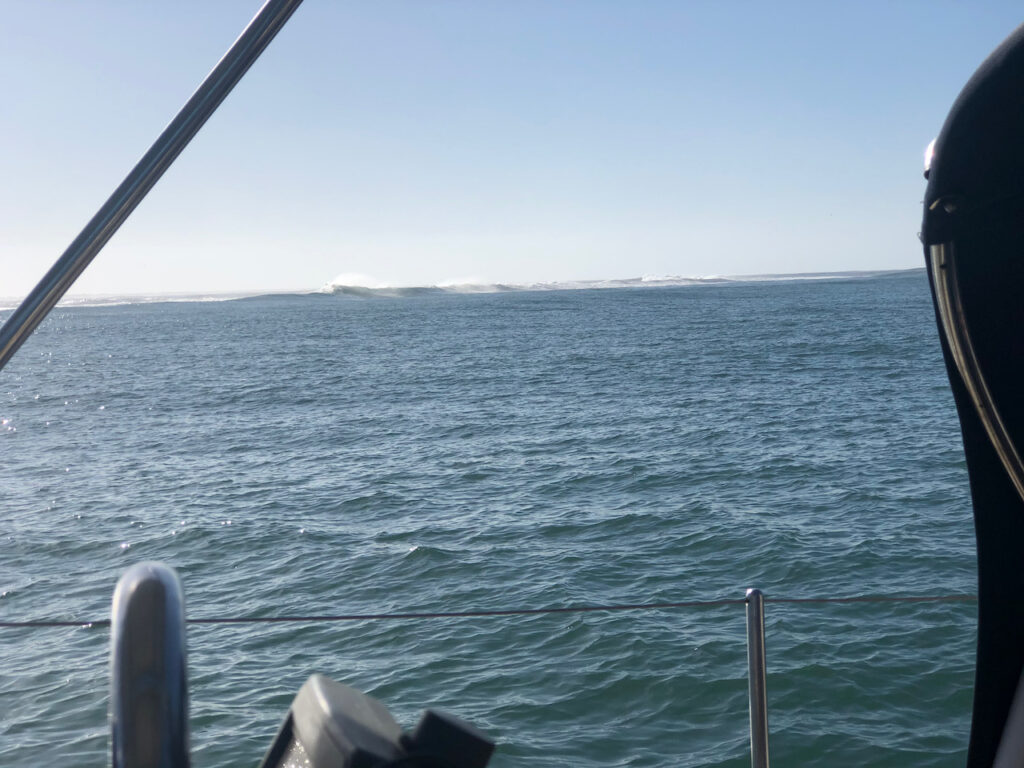 Turning SE again, Up with the sails and off with the engine. I'm only making 3-4 knots, the sea is calming which is great as I don't want to get to Mazatlan too early. One of the worrying things is that the entrance to the marina lagoon in Mazatlan can be dangerous if there is swell racing in, or if you should meet a big party catamaran heading out with or without the benefit of a dredger being at work on the first bend. I got to know a couple in Escondido who lost their yacht in just this spot, they took avoiding action and hit the rocks at the side, losing their keel and sinking. Note to oneself, be careful on that bend 🙂
Tuesday 25th May 2021
Safely tied up in Marina Mazatlan where I intend to stay for a week or two. The entrance through the waves around the dangerous bend was exciting, but as I had it all to myself, basically quite safe. More on Mazatlan to follow.