Yesterday saw me back in hospital, It's called ER here, A&E back home. But no sign of George Clooney or Hugh Laurie anywhere.
I'm often seeing stuff on Quora about the differences between US and UK Healthcare so I now had a chance to check it out myself. I might even be able to answer one of those Quora questions.
The problems started after a long bike ride a few days earlier, I thought I must have been sitting uncomfortably, as I had quite a pain later in my groin region. Perhaps that's all the detail that I need to give, other than there was some considerable swelling.
The swelling continued and the pain increased over the weekend, so a search on google revealed many possible causes, most of them quite serious. Bruising didn't seem likely.
So we headed on down to an urgent care place, these are like ER but for non life threatening issues, they are also supposed to be a lot cheaper than ER, so for just $125 they should be able to give me an opinion and maybe some treatment. Unfortunately, when I explained the problem they said they couldn't do anything for me and I should head to ER immediately, which was a bit worrying.
They also said they wouldn't charge me, which was nice.
So Kathy and I jumped into a cab and headed to ER in Ballard for a very efficient check in process, I do have medical insurance, but I had only just taken it out, and I selected a high excess. This was going to be an expensive day. The check-in process took about 5 minutes, in the UK it's about the same. Next came triage, which in my opinion should be a fairly prompt process, in the UK this normally happens within an hour, here in Seattle it was right away.
I was taken to lovely examination room, where they took my vitals, hooked me up to some monitors then scheduled a specialist to visit. He came about 30 minutes later and ordered an ultrasound scan, In the UK we might well be in the 3 -6 hour period by now. They also took blood and urine samples.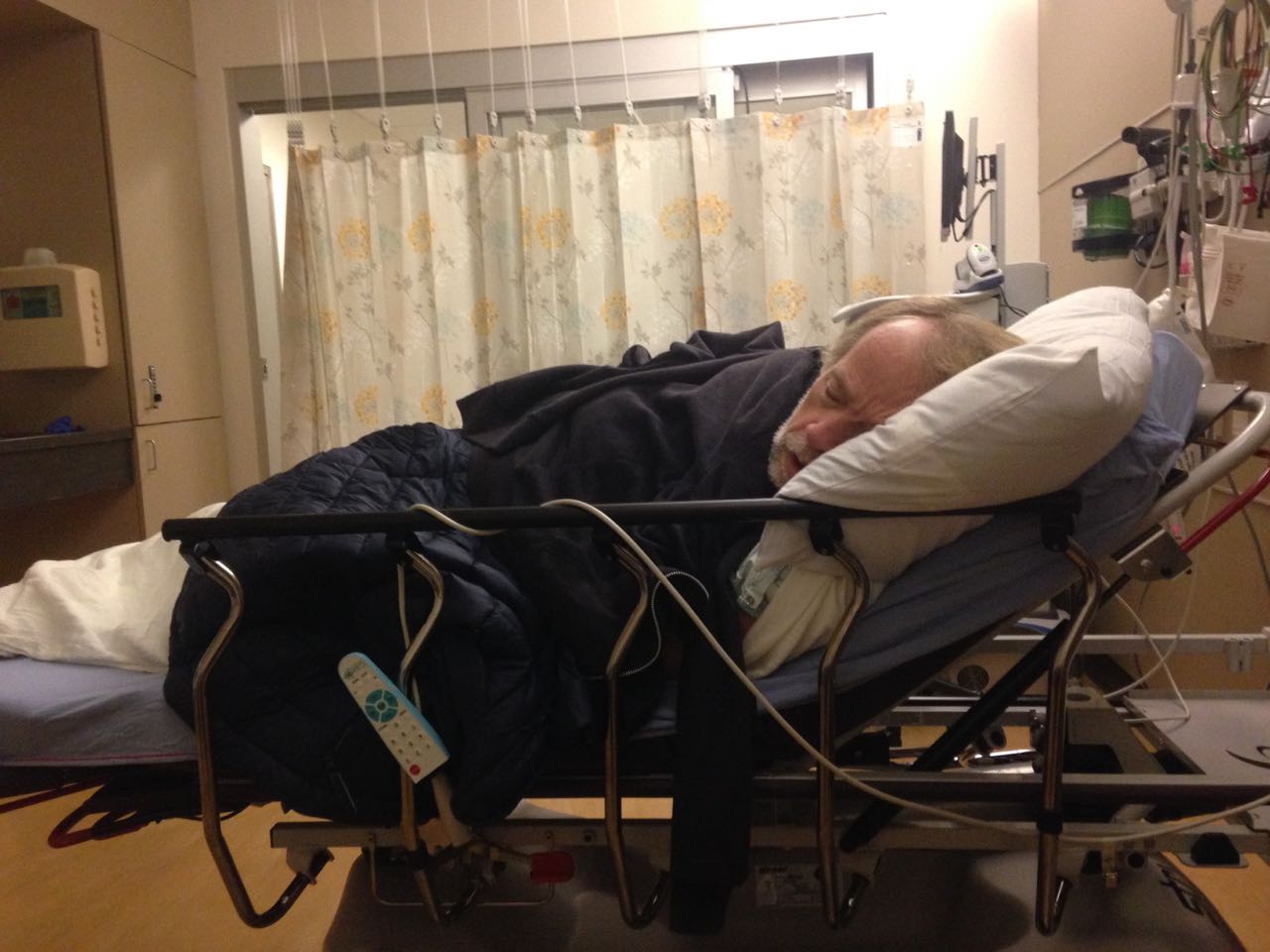 The ultrasound revealed no serious issues, just inflammation, most probably caused by an infection. The actual diagnosis was Epididymitis, and the treatment was to be a course of antibiotics, rest and loads of painkillers.
After a few hours of being at ER I was discharged with a list of drugs I had to go and buy. However I was now feeling more ill than when we arrived, so a quick uber back to the boat and I went straight to sleep, while Kathy went off in search of the medication.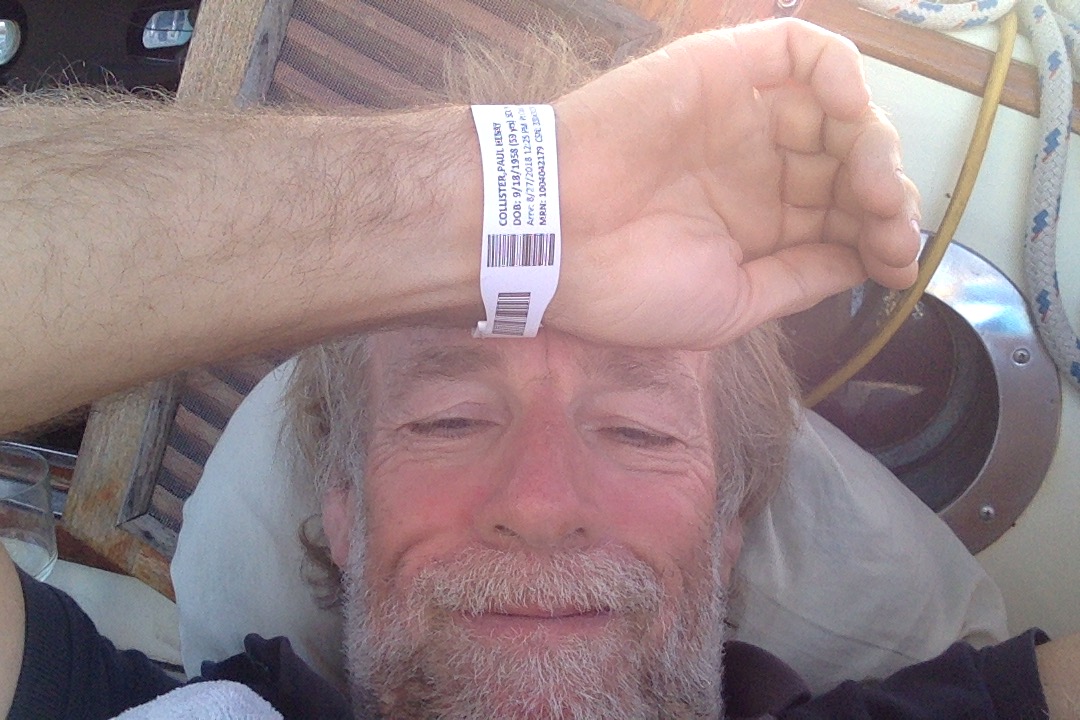 Buying medicine is a bit different here; in the UK any prescribed drugs will cost the same amount, so 10 antibiotic pills will cost about $10 total, here you have to shop around, we had a discount card from the insurers and their recommended retailers, of which safeway was the closest. Kathy popped out to get the medicine and came back, waiting for the right moment to tell me the pills cost $185!! A bit of googling showed safeway are the most expensive place around here. The pharmacy said the insurer won't pay for antibiotics, or perhaps I need to make a claim. Still another lesson learned.
I won't be surprised if the cost of the ER visit is in the region of $1000 (in 2013 the average ER visit in WA costed $1200), the bulk of which I will have to pay.
So to compare systems, well I can't really on such a flimsy illness, but I'm  sure that the outcome of either an ER or A&E visit would have been the same for me, a course of antibiotics. A&E back home would have had me sitting for a few hours in a noisy room, possibly with crying babies, noisy toddlers and the odd drunk falling off his chair. whereas here I waited for 5 minutes in a very flash foyer / reception area, before being whisked off to a private room. Nurses and Doctors here seemed very professional and caring, just like back home, which is what you would expect. However they didn't seem as rushed here, in fact that was the main difference I think, here they had plenty of room, and seemed quite laid back. All in all I think I prefer the UK setup, I think the wage deductions for National Insurance (Health care) are way lower than the cost of medical insurance, and even with insurance here, the deductibles and co-pay charges can soon add up. Still one visit and a few weeks in the country doesn't really qualify me as an expert.
That was yesterday, and I'm already feeling better today, hopefully we can get out again soon. Nurse Kathy has been doing a wonderful job as I haven't been able to move around much. We had plans to do loads of stuff here, and may stay a bit longer to make up for lost time. Seattle seems like a great place, and for the last few days the smoke has lifted and it's been lovely and sunny. BTW I thought smoke was a technical term for a light fog, it was on the marine forecasts a lot, but it turns out to be actual smoke from fires. It seems like there are lots of large fires burning on Vancouver Island. One newspaper in Seattle last week reported air quality to be so bad it was equivalent to smoking 5 cigarettes a day. Looks like we were very lucky to have seen as much of the island as we did. In fact I hear most of the western coast is suffering from big forest fires.
Before I got ill I took a trip down to West Marine, which is a short walk from the marina, they have such a great range of marine products, so far it's the best chandlery I have ever been in, aisle after aisle of everything you could ever need for the boat, in fact I bought quite a few things that weren't on my 'to buy' list. I was enrolled into the West Marine discount club, and was told they will match any price I can get from anywhere else (except eBay), which seems like a good deal. I have also ordered tons of stuff online to be sent here and I'm just pondering if I should buy a load of sunbrella, a fabric used to make boat covers/canopies etc as it's hard to get in Asia.
I need to visit Fisheries next, as that's supposed to be a great chandlery and more down to earth than West Marine.
Elliott Bay Marina below with Downtown Seatlle in the distance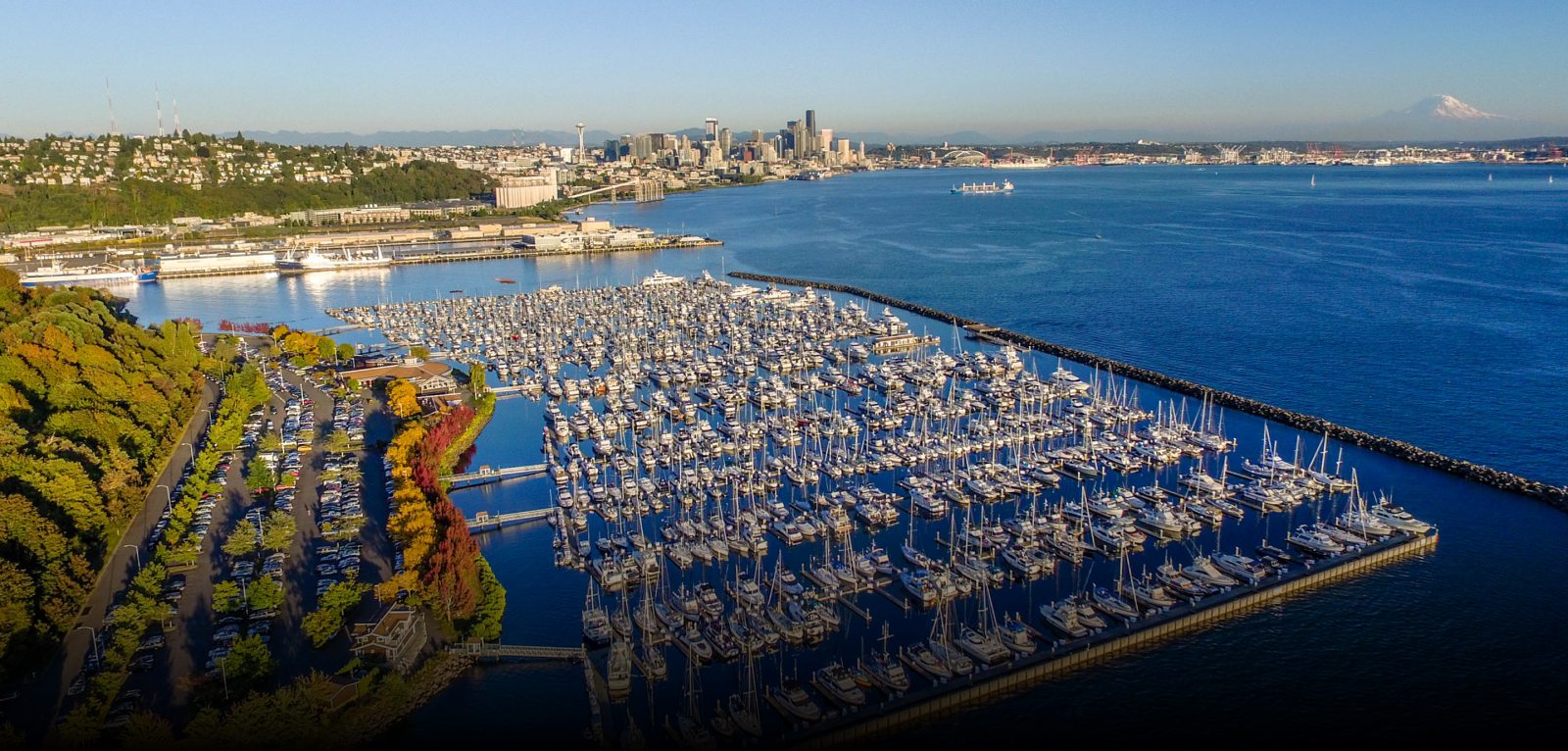 Paul Collister