I have given this page the title above, not to be a smartass or make a political statement, it's just I want to make sure I'm reminded of this great wisdom that was recently imparted to me when I look back over the blog in years to come and we are back to more normal times.
Everything is just lovely here, out in the bay it's very relaxing, quite calm and quiet. The anchor is firmly in place, and I'm popping ashore every 4 days to restock on bread, fruit & veg, and Cerveza Sin Alcohol.
Saturday: Out with the hammock. The temperatures have been steadily rising here, today we are hitting 35 Degrees Celsius. It's expected to be getting up to the 40s next week.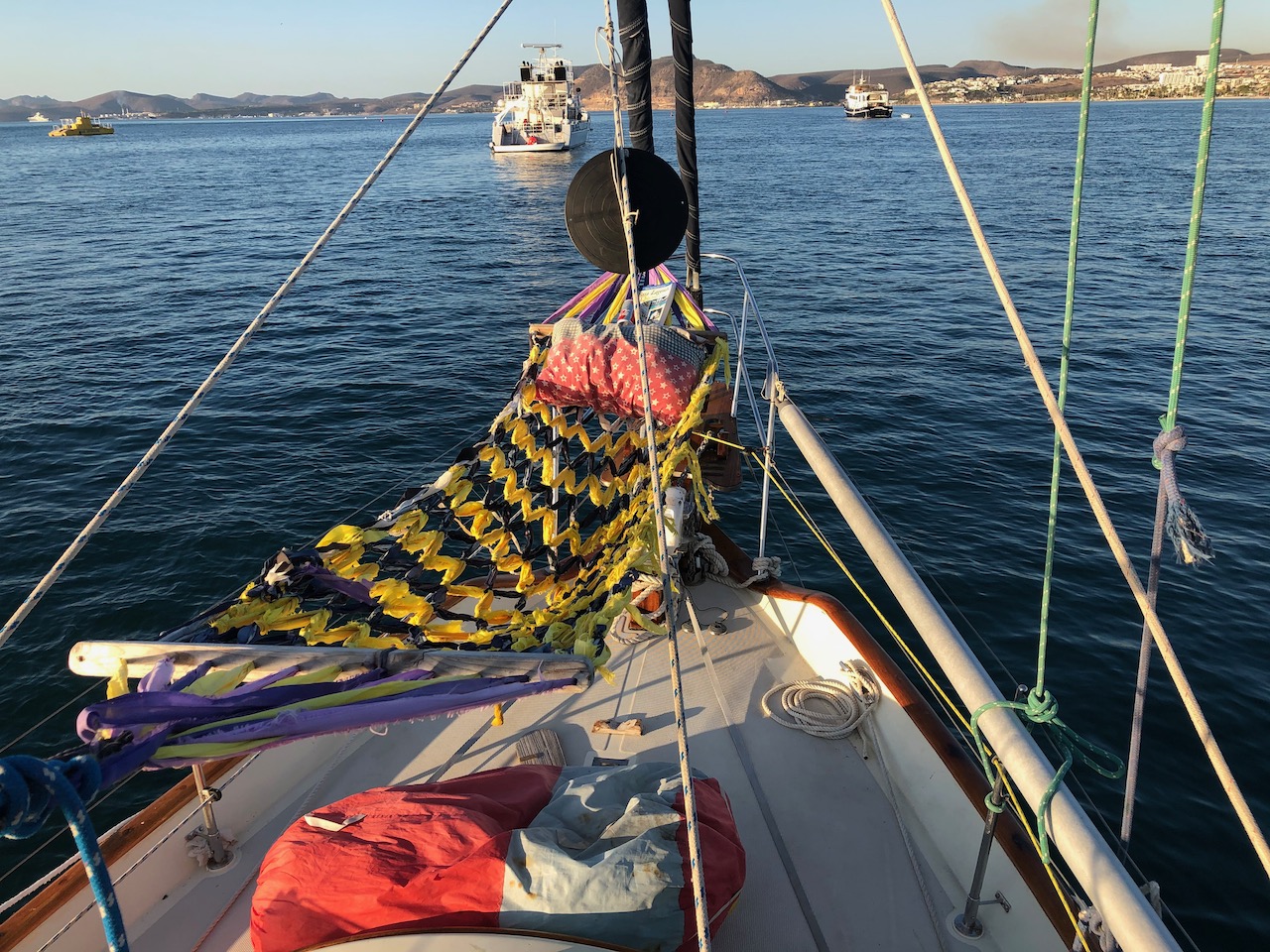 Sunday: Saturday was exhausting, what with putting the hammock up, adjusting it, and chasing the pillow that blew out and went overboard So I decided to take Sunday off and just relax.
One thing that can be a worry out here is a phenomena they call 'The La PAz Waltz', this describes the crazy motion of the boats as they swing around at anchor. The reason it's weird here is that in the bay we have two main channels separated by a shallow sandbank that runs down the centre, just a few feet below the surface. The bay is quite large, but has a narrow entrance at the end of the bank and consequently the tides can run quite fast, several knots most days.
As I mentioned before the current was enough to cause the boat a few hundred feet in front of me to pull their anchor out and he drifted down and almost hit us. So it's always a worry that the anchor might come out and then I might drift onto the sandbank, into another boat, or get swept out of the bay with the current. There are several ways to deal with this. Firstly I have a chart plotter showing my position running 24/7 I can look at at any point to see where I am, I drop loads of markers down whenever I think I am at the extreme range of the chain in any new direction.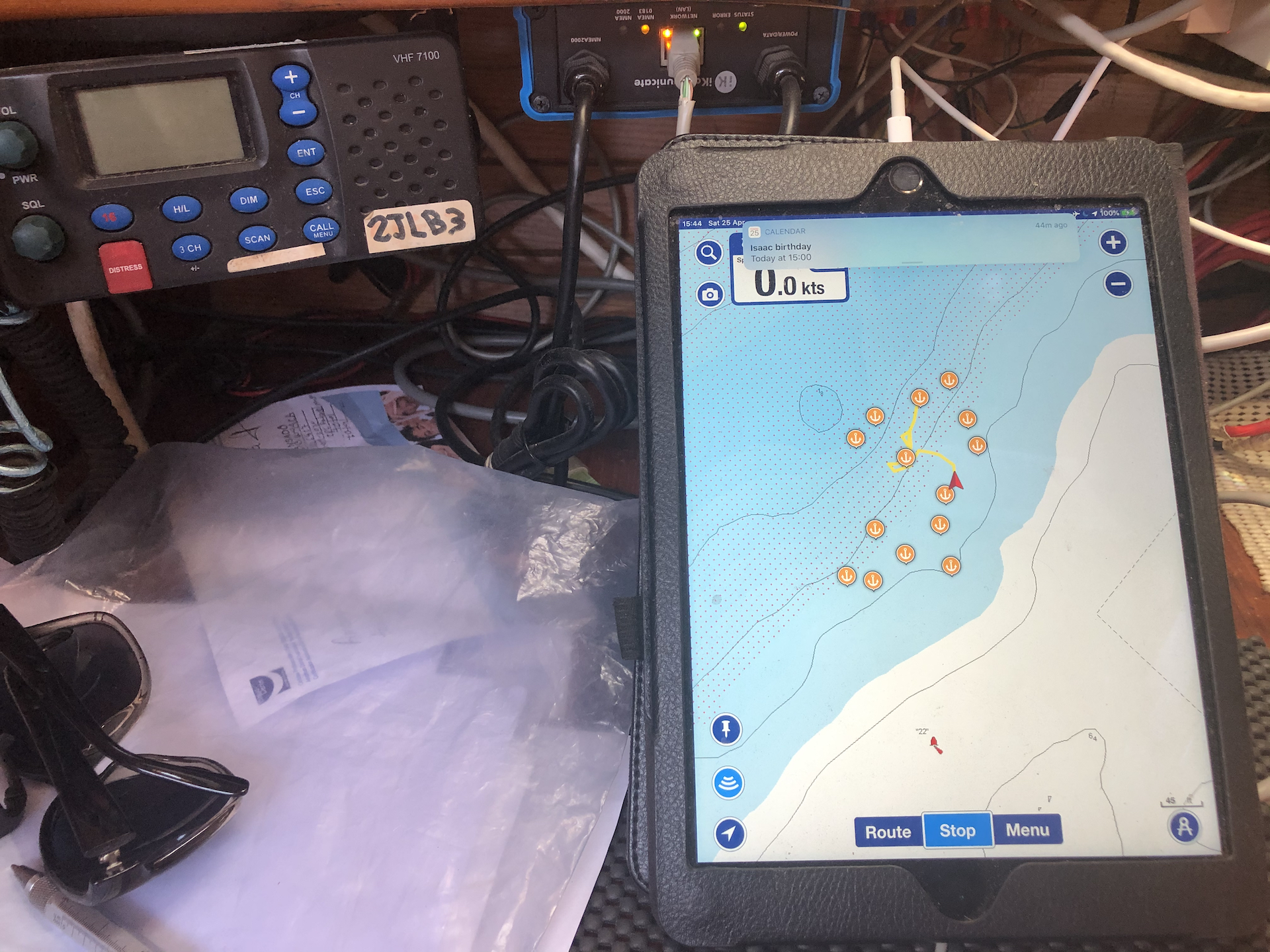 I have an anchor alarm App on my iPhone that makes a loud horrible klaxon sound when I drift too far from where I'm meant to be. This is a horrible way to be woken up at 3AM I can assure you, especially if it's just because the iPhone couldn't get a good GPS fix for a few minutes.
Finally I have the transits I take from the deck. For those who don't know, transits are imaginary lines I make up between this boat and other objects, usually that don't move on the shore. I did have a radio mast that lined up perfectly with a yachts mast when the tide was flowing into the bay. However that yacht left. Lining up masts of boats is problematic as unless they swing around the same as me, and none of them do here, then the transit is only good for one state of tide with the wind in a certain direction.
I do have one transit I love here, I have a picture below, when the tide is flooding strong, if I look between the masts of the ketch to port of me, it frames the two masts of the schooner behind it, and behind the schooner, bang in the middle is a third boats mast. It's very reassuring when these all line up, as they have been doing for the last two weeks, as it means my anchor is well and truly set fast in the mud.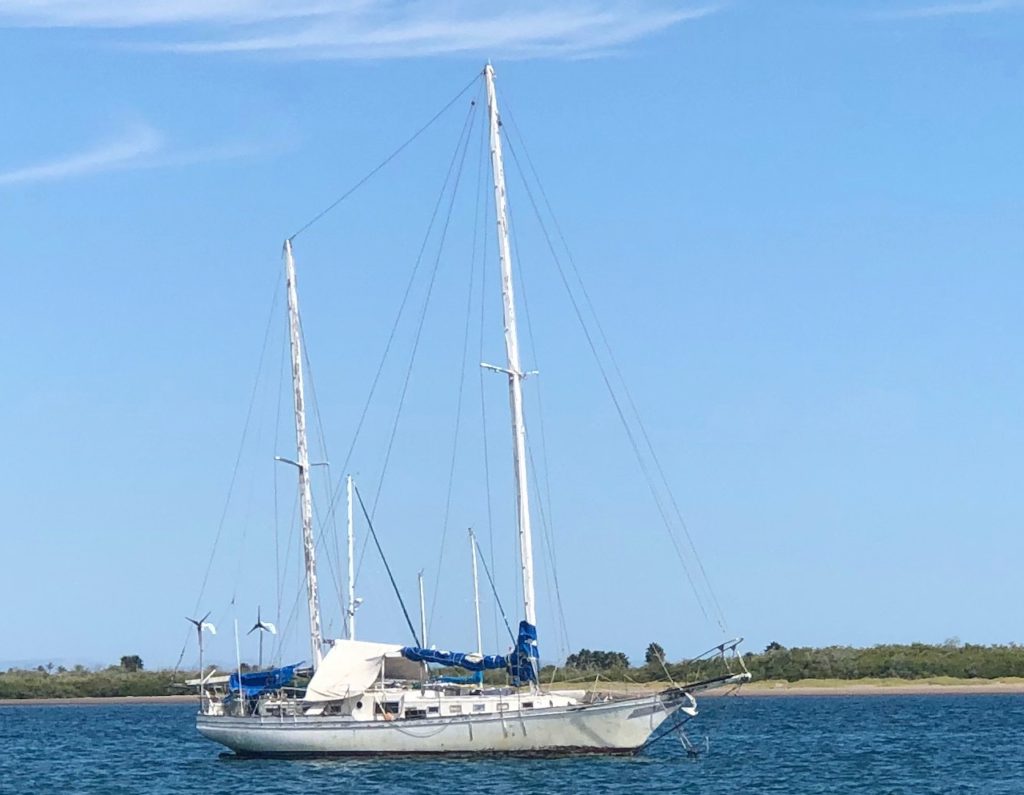 Monday: Off shopping to Chedraui, the big hypermarket where I'm shocked at the checkout to only be allowed to buy 2 cans of beer. It's not even real beer. I could have bought two cartons of 12 cans each, but I only wanted 6 cans. It seems you can only have two, two cans, two cartons, possibly two 40ft containers of beer, but only two. I don't really understand this, but I expect it's bad software in the till that won't let you have anymore than two items marked as alcoholic. I always hated it at the self service checkout when I had to get approval for my non alcoholic beer, and in America where often you just can't put cerveza cero through an automated checkout. Come on 'till vendors', get your act together.
As an aside, one of my first paid programming jobs in the early 80s was writing software for the tills in Austin Reed, on Regent St, London. I wrote a networking protocol that allowed the tills to communicate with an MP/M server and download PLUs and upload transactions. I had to connect all of the tills together and a grand total of the days sales appeared on a big monitor in the boardroom. I was astounded when the grumpy old directors were complaining that they took until 1pm to get their first million pounds of the day into the tills!
Tuesday: I decided with all of this sunshine, I should be making water with the surplus power from the solar panels, The batteries are fully charged by mid morning. The machine hadn't been run in many months, possibly a year and when I fired it up it wasnt pumping sea water through the system.
Upon further investigation it seemed that there was a problem with the high pressure pump. I pondered on stripping it all down and investigating, but decided instead to make some Guacamole and have a gentle time for the rest of the day and to convert some left over nylon rope into baggywrinkles.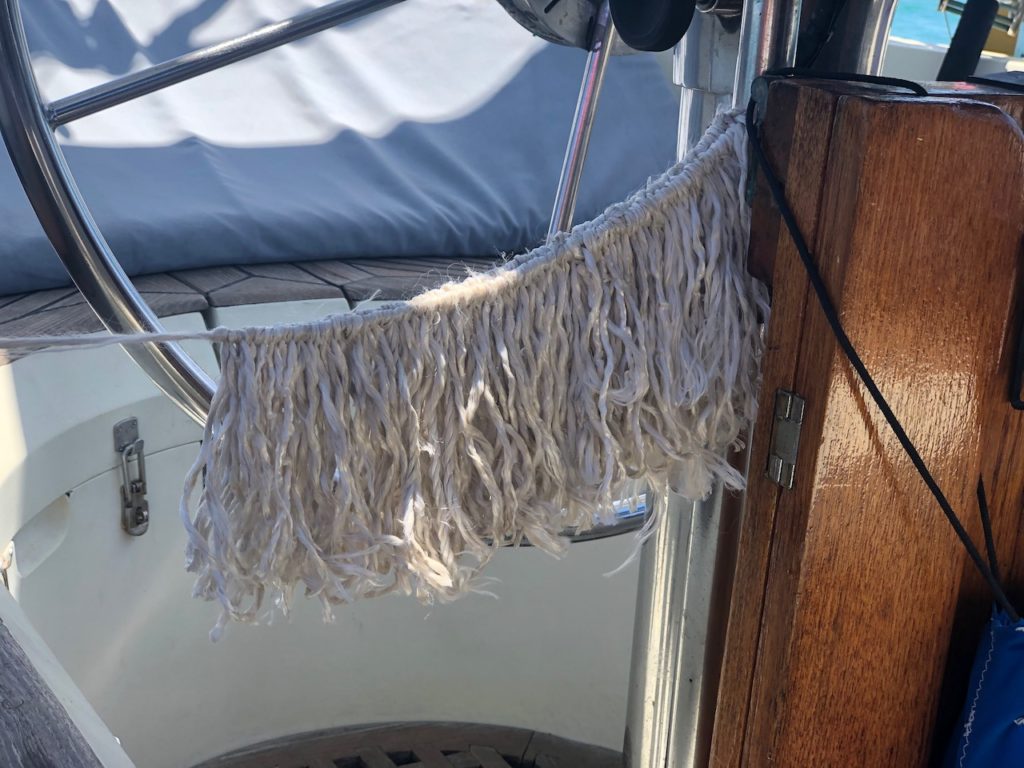 Wednesday: Mike on Ikigai had anchored next to me in the bay, he needed to get some minor repairs done on his engine and we had a great chat, mostly about how crazy many of the yachties were here ignoring the social distancing. I stayed onboard and Mike was in his dinghy while we chatted. I lent mike my outboard to save him rowing ashore.
Time to rebuild the watermaker. The pump came out easy enough and it appeared to be seized, but may have just been very stiff.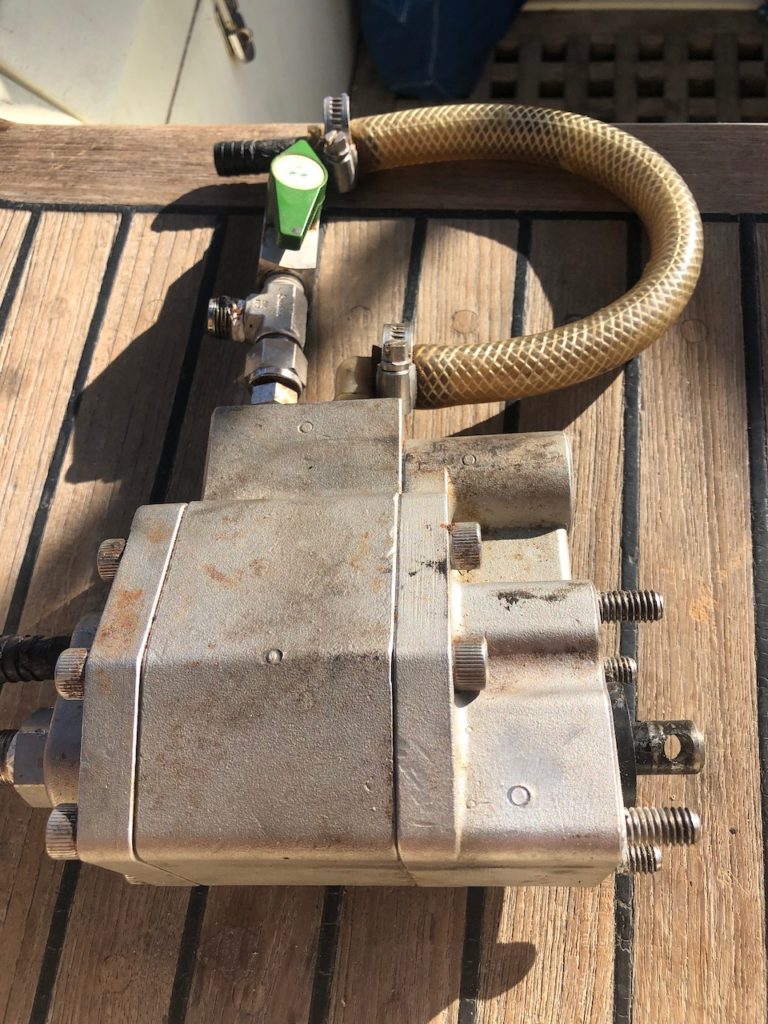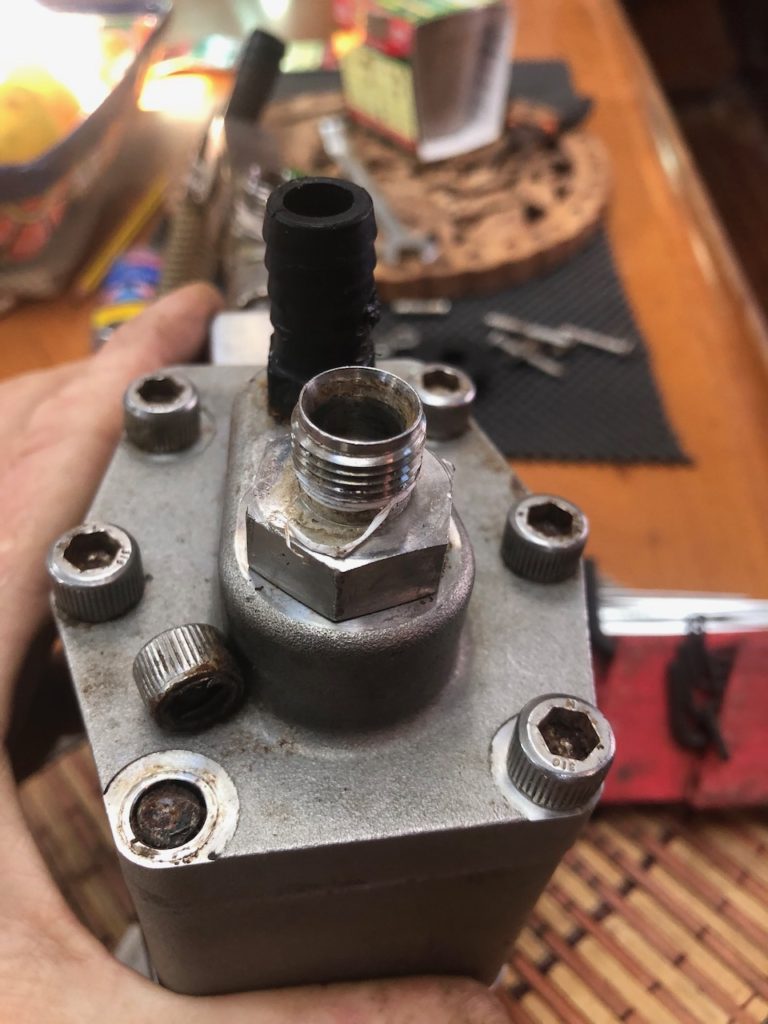 One of the bolts snapped off during the process, crevice corrosion again, probably caused by sea water leaking into the pump casing. Fortunatley I had the exact spare on board, which made me think the previous owner was expecting this? I was able to get the piston out and clean everything up and re-assemble the pump. What's that phrase people often say to me, 'Don't give up your day job Paul'. The pump leaked badly and also didn't pump, making me think the real problem might be in the motor that drives it. It could also be the membrane is so blocked that no amount of pressure will get water through it, but I doubt it.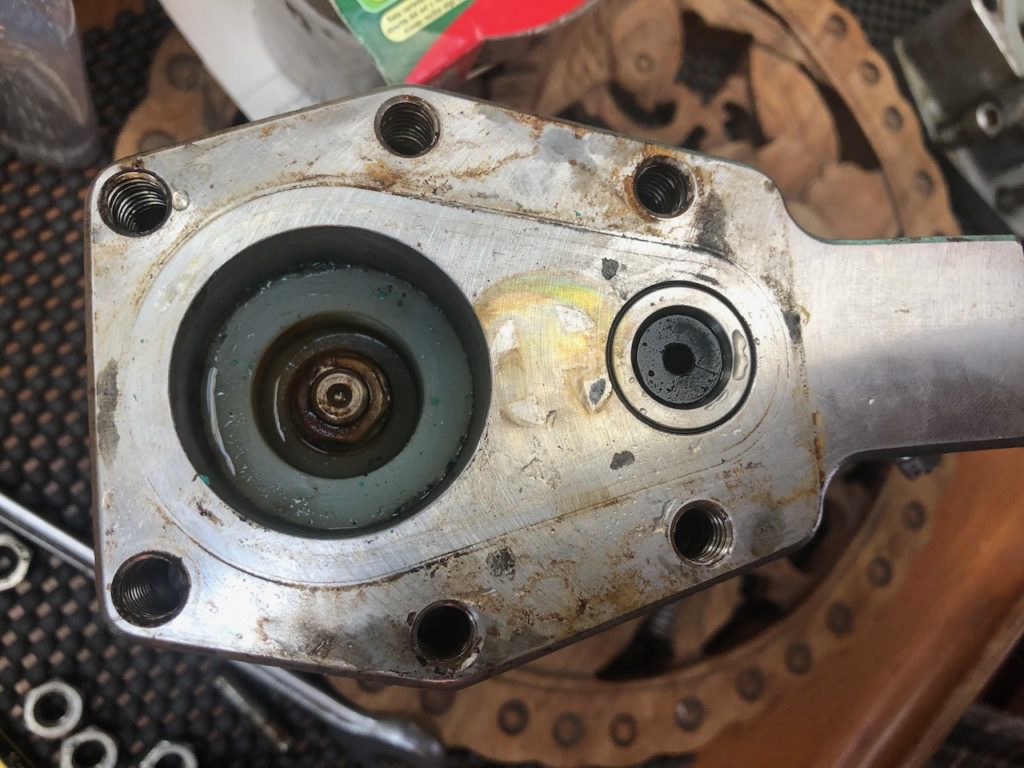 The watermaker is over 20 years old and so probably due for replacement. I always wanted to build my own using off the shelf components, membranes can be bought easily around the world for under $100, but this unit has special proprietary ones, that will cost $800 to replace, last time I looked.
This is on the back burner now. I'm not going anywhere so no big deal.
Friday: another shopping trip, I bought a six pack of Cerveza Sin Alcohol this time, and that went through no problem. On the way back to Sister Midnight I stopped by to say hi to Mike on Ikigai, and drop off 20 ltrs of water he had asked me to get for him. He's heading off to the north shortly, hoping to do some charitable work helping the locals who are in remote areas and might be struggling. Mike gave me a very fancy bluetooth speaker, RRP $$$, it had died on him, so I was hoping it might be a simple fix.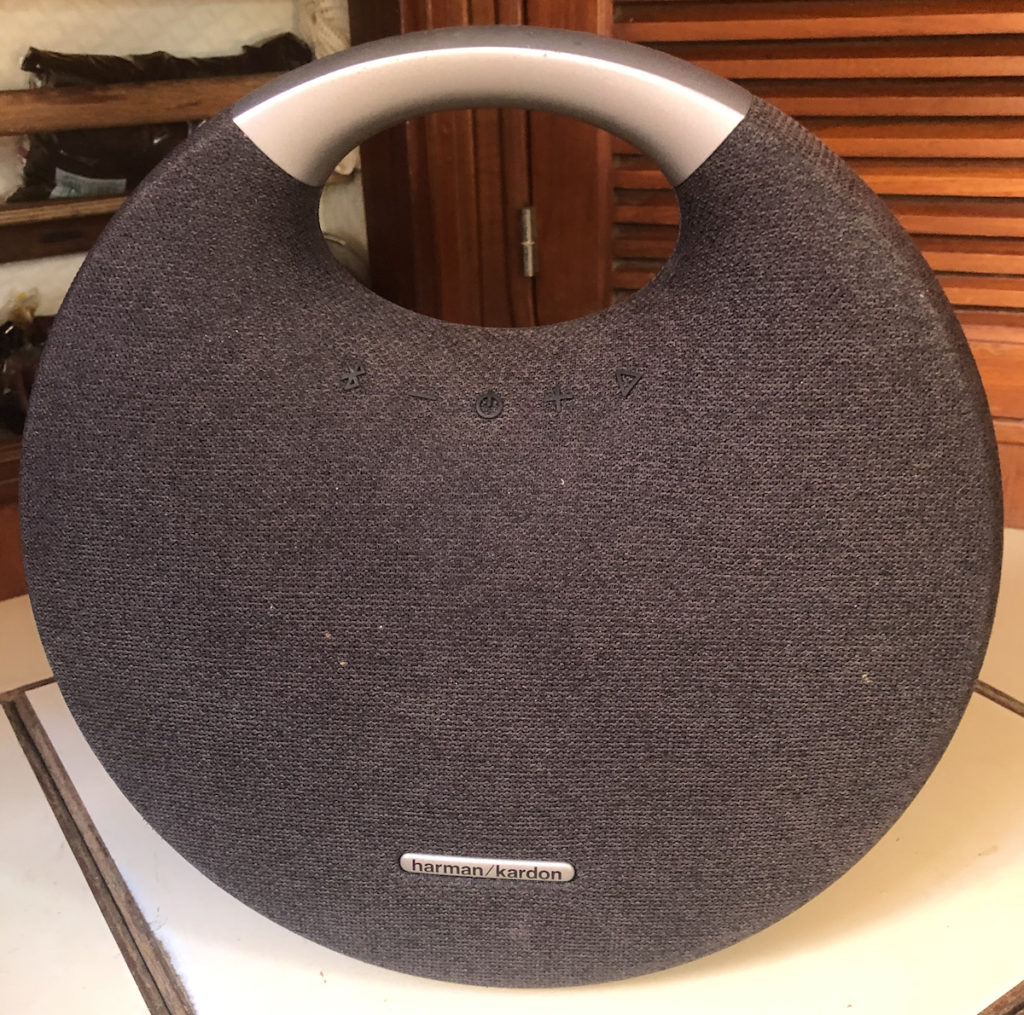 Now here's a note of caution, not all teardowns on youtube are good. This one gets 90% of the way and realises he is doing it all wrong. I got 90% of the way and found out that he was right! bugger, still I managed to get this seemingly one mould piece of kit into lots of bits. I was hoping for a fuse, or a flat battery or something obvious, but Nada, so facing the second defeat of the week it is boxed up and waiting some inspiration before I take it apart again.
I retreated to the Hammock for the rest of the day and watched turtles and dolphins swim by while I read about the Myths and Legends of Baja California.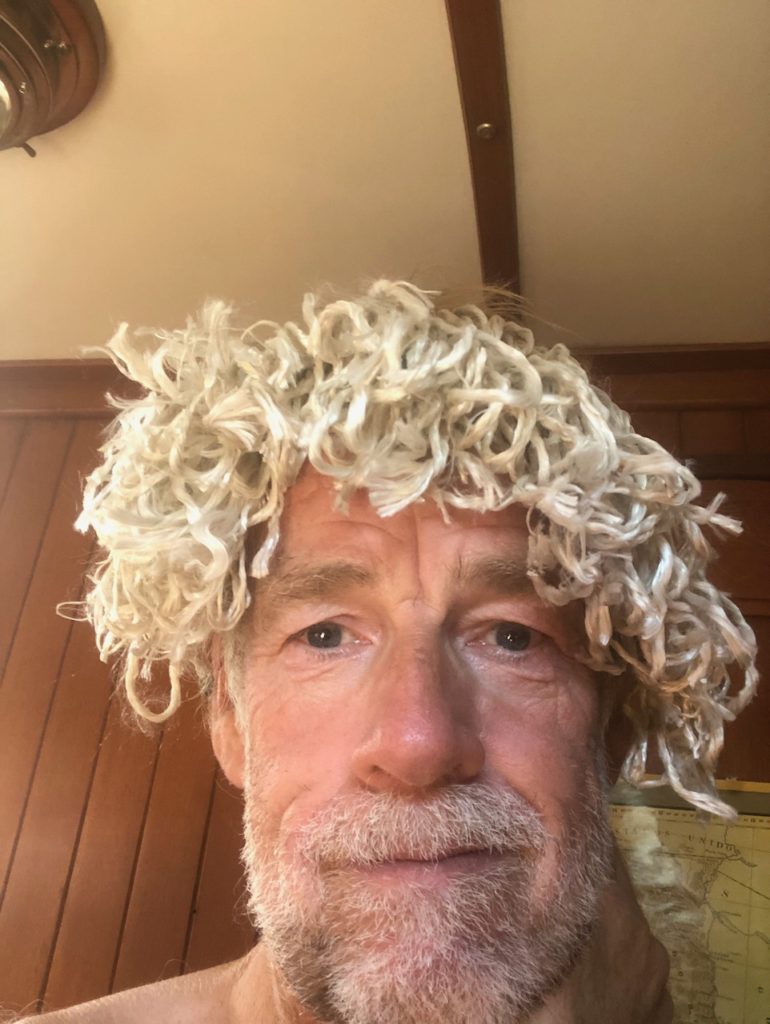 Thursday: Spending so much time sitting in the cockpit looking out I realised I had a lot of stuff on the back of the boat that didn't need staring at, all the life saving kit like the Danbuoy, the horseshoe etc aren't much use when solo and at anchor, so I moved them to the quarter berth where they will be spared the UV degradation. I also set about rewiring and tidying up the multitude of wires that run up to the solar panel and antenna on the rear arch. It's looking quite sparse out there now and is begging to be polished. I also brought in the self steering rudder as the Marina will want to charge me for the extra foot it takes up sticking out the back of the boat when I finally move in there.
I recently saw Jamie on his 'Follow the Boat' vlog making a mat out of rope, this is a bit like baggywrinkles, in the sense of 'what to do on a boat when you are bored' I'm never bored, but always planned to do this on a long passage one day to while away the hours on watch. I have done a 5 week passage and never once felt the urge to make baggywrinkles or a doormat, but somehow this piece of rope was screaming out to be made into a rug.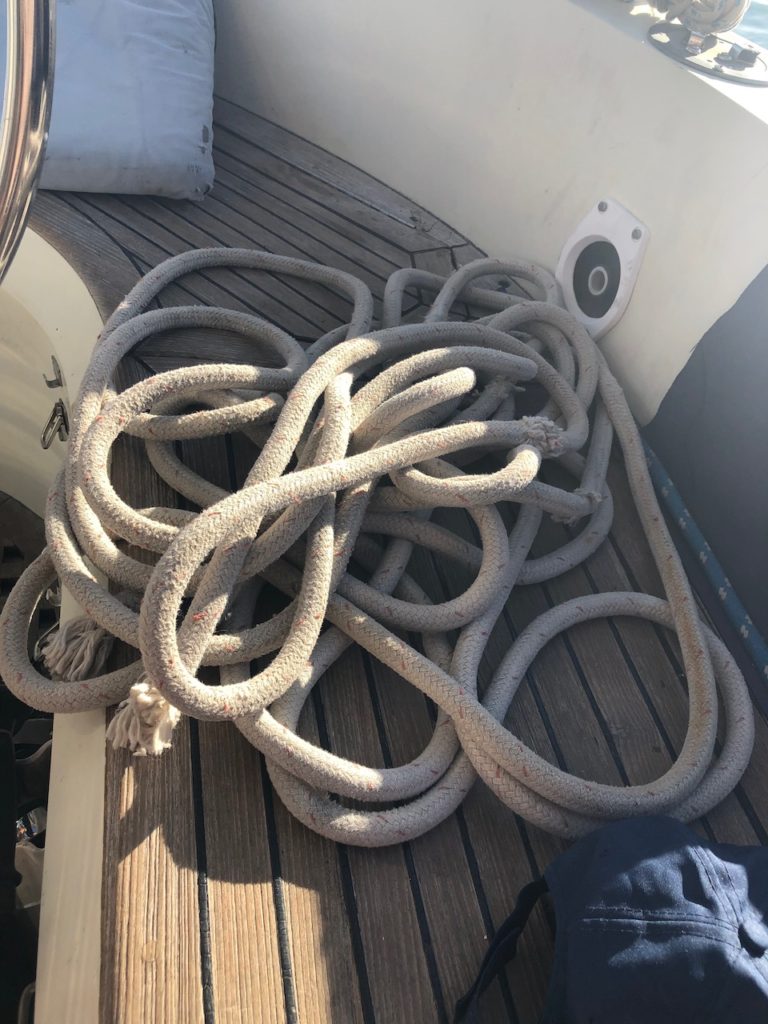 So I decided to get into this slowly and I have started with a small Celtic Knot. I might move onto the harder stuff later, but it's kind of fun.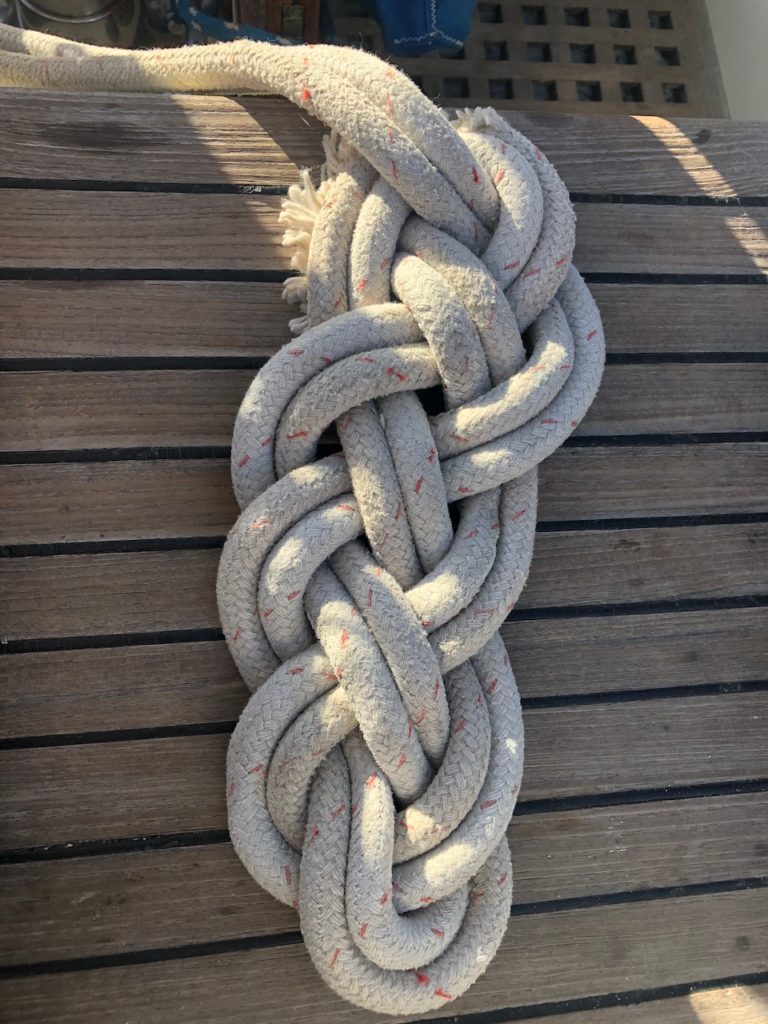 On the way back from the shopping trip I took a detour around the anchorage and was taken by how pretty this Canadian ketch was looking.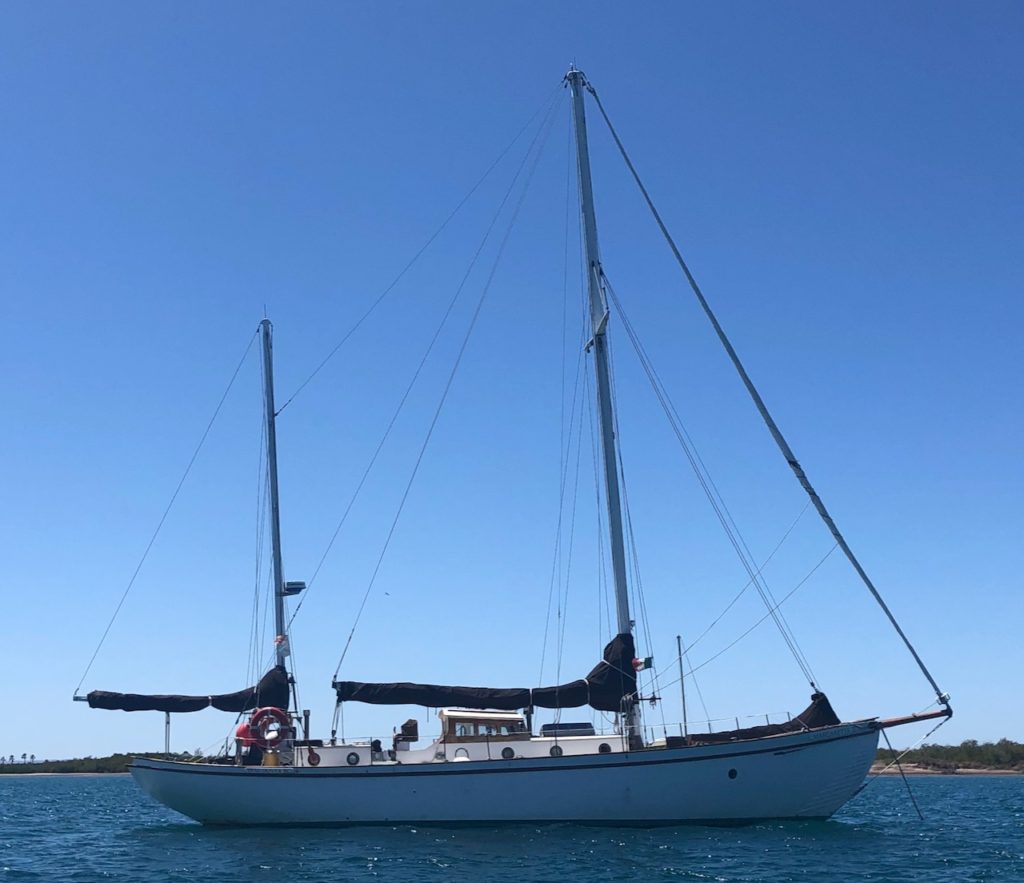 If you can't read the next section in a Philip Marlow/Private eye voice, then just skip it, otherwise it's too silly.
"It had been a while and i was about to run out of the hard stuff, Jimmy the Shark had hinted at a place a few blocks away, that for the right price might sort me out. I made my way over, and was let through the door by a wary old man. There was a grill between us, but he knew why I was there, 140 peso he said, as he slid a bottle of the stuff my way. 70% pure he said, I suspected it had been cut with some cactus juice, maybe aloe vera, but it looked the part. I handed over the money and made a quick exit before anyone took an interest."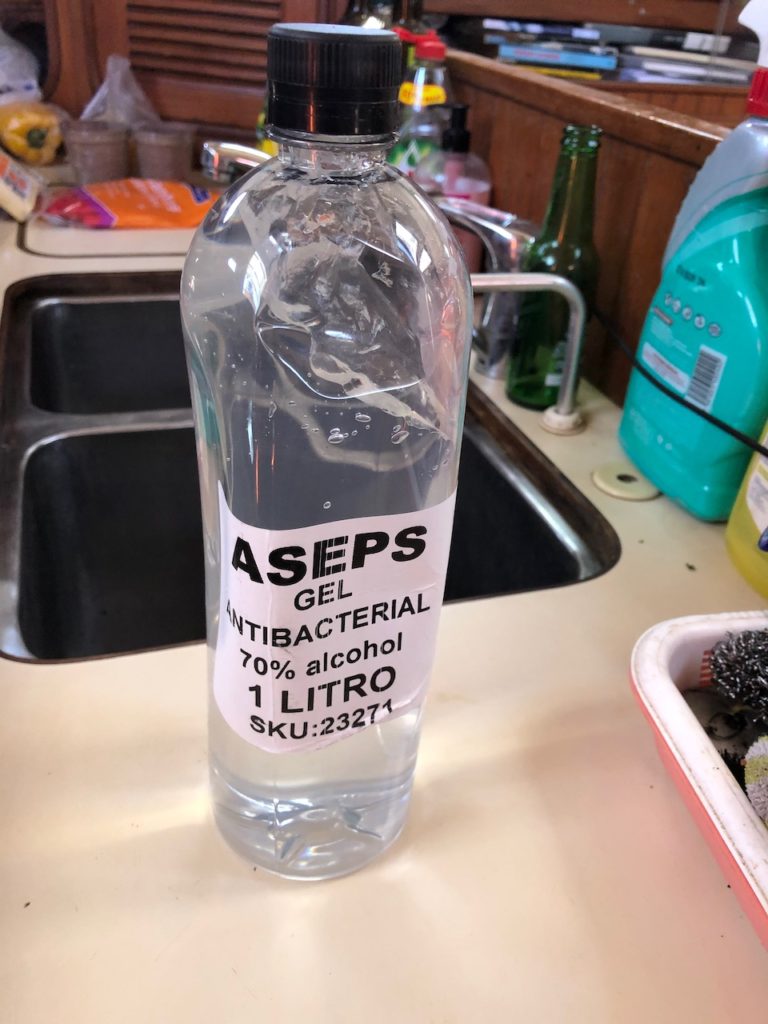 So back to Saturday, and work, and I mean real work. I have been wondering about making some money for a while now, and today I sent out a few emails about projects that I have been asked to get involved in to do with the solar power monitoring systems I built a while back. I'm not sure what my customer is doing now as a result of the virus, but I love the way their solar panels and the wind turbines have just carried on feeding power into the grid and raising invoices without a second thought to Covid-19. Wish I had some systems like that.
Paul Collister.