Monday , shop for bread and drinks
Tuesday, walk on malecon
Wednesday, walk to baseball court, run out of propane on tank 1 , buy bread
Thursday, walk through town.
Friday, day off.
Saturday
Kathy asks for help on her laptop as she has started to compose her blog. She is running windows 8 on a Sony Vaio. This is hell. It's been a long time since I had to deal with a Microsoft product, but within minutes I'm shouting at the screen because of its insane idea of how humans should work. I can honestly say that coming from an Apple perspective, this system is nuts. After trying to save her word file, its reporting errors, an investigation reveals it's file formats that are not compatible, does Kathy fully understand this? All of the recent docs have been deleted, so why show them as available files? We have to reboot to get the wifi connection back, quite what the link between file saving and WiFi is I wonder. The circle spins, it says connecting, then the circle and text disappear. Does this mean we are connected? there's no obvious way to tell, I hover over the icon and it gives me the option to connect, I click, it says you can't connect, 'would I like to run the troubleshooter', No Thanks. Just pausing with my finger over the mousepad makes unrelated windows and new screens pop up with no obvious way to get rid of them. I close Word and can't find anyway to restart it, I could go crazy if I had to use this for long. Now I'm thinking of the protests in Trafalgar square yesterday, they had placards blaming Bill Gates for the virus, and claiming he got the idea from a computer virus. I'm thinking bigger, I'm thinking the reason that the USA and the UK have their knickers in such a monumental twist is down to Bill Gates and Windows 8. If I went on twitter now I might well lash out at someone, it's only because I'm back on my Macbook Air that I can calm down again. Rant over.
It's a very hot day today, I have moved everything off the pushpit, mostly MOB (Man OverBoard) kit into the shade as it must be suffering from the UV.
We have been onboard now for 8 days since Kathy set foot into Manchester airport and the potentially dangerous covid world of international air travel. We have been self isolating on board, with me making the odd quick trip to the supermarket and a couple of walks in the evening all masked up and avoiding others. We plan to wait until 14 days have passed then we will head out and have a nice meal in one of the many restaurants now open.
I managed to find a use for my Pesos that were locked up in the online shopping site 'Mercado Online', I bought some H&S kit.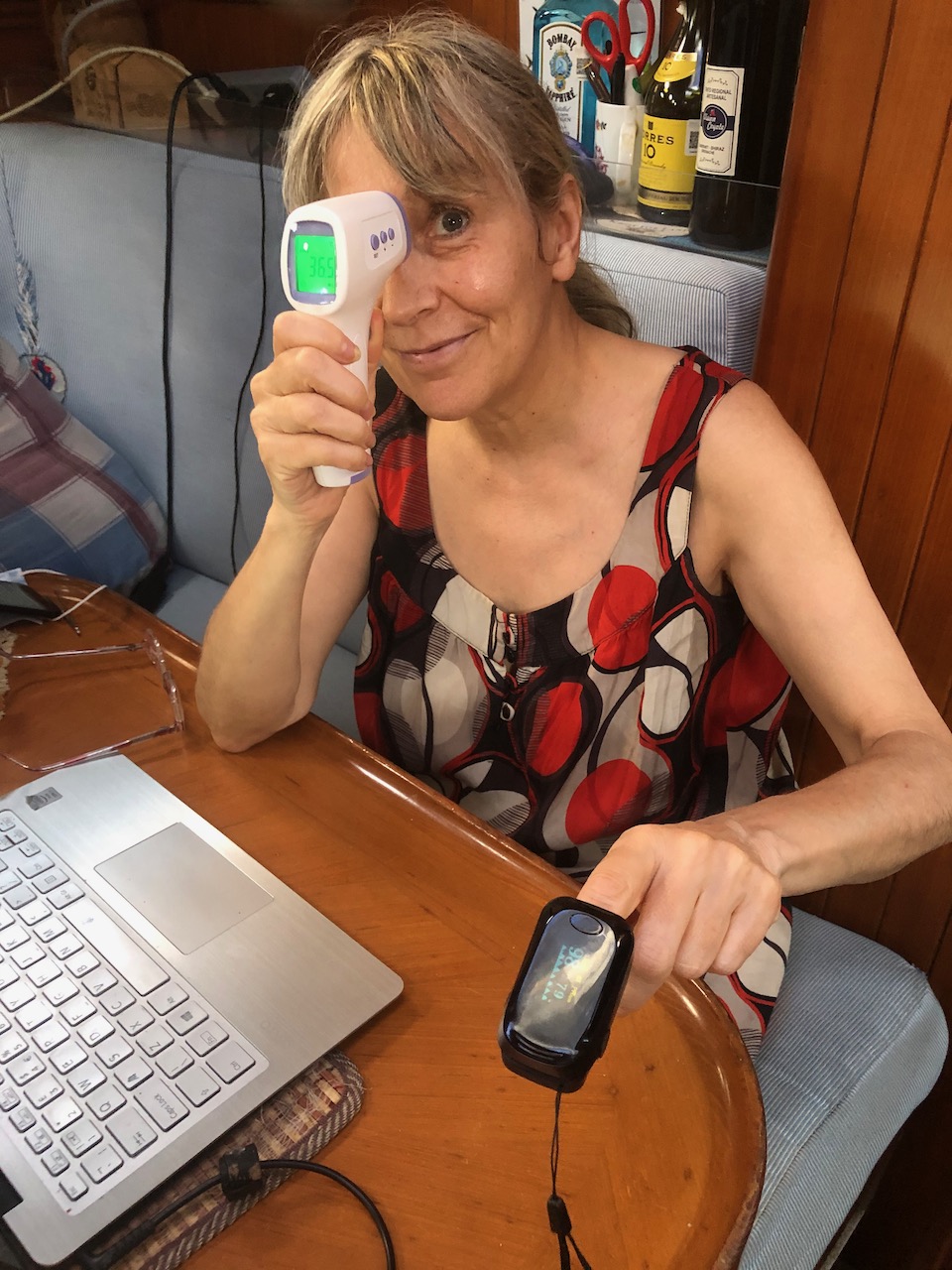 It seems like the timing has worked out well as Liverpool is heading into serious lockdown along with the rest of the UK, with Brexit looming I'm quite happy to be watching how it pans out from a good distance.

Sunday 27th.
Another super hot day so we pop out to the Magote for a swim. It's busy there and a local family are racing up and down the coast towing kids on some kind of board, I would say water skis, but I suspect they went out of fashion many years ago, along with my big floating windsurfer board.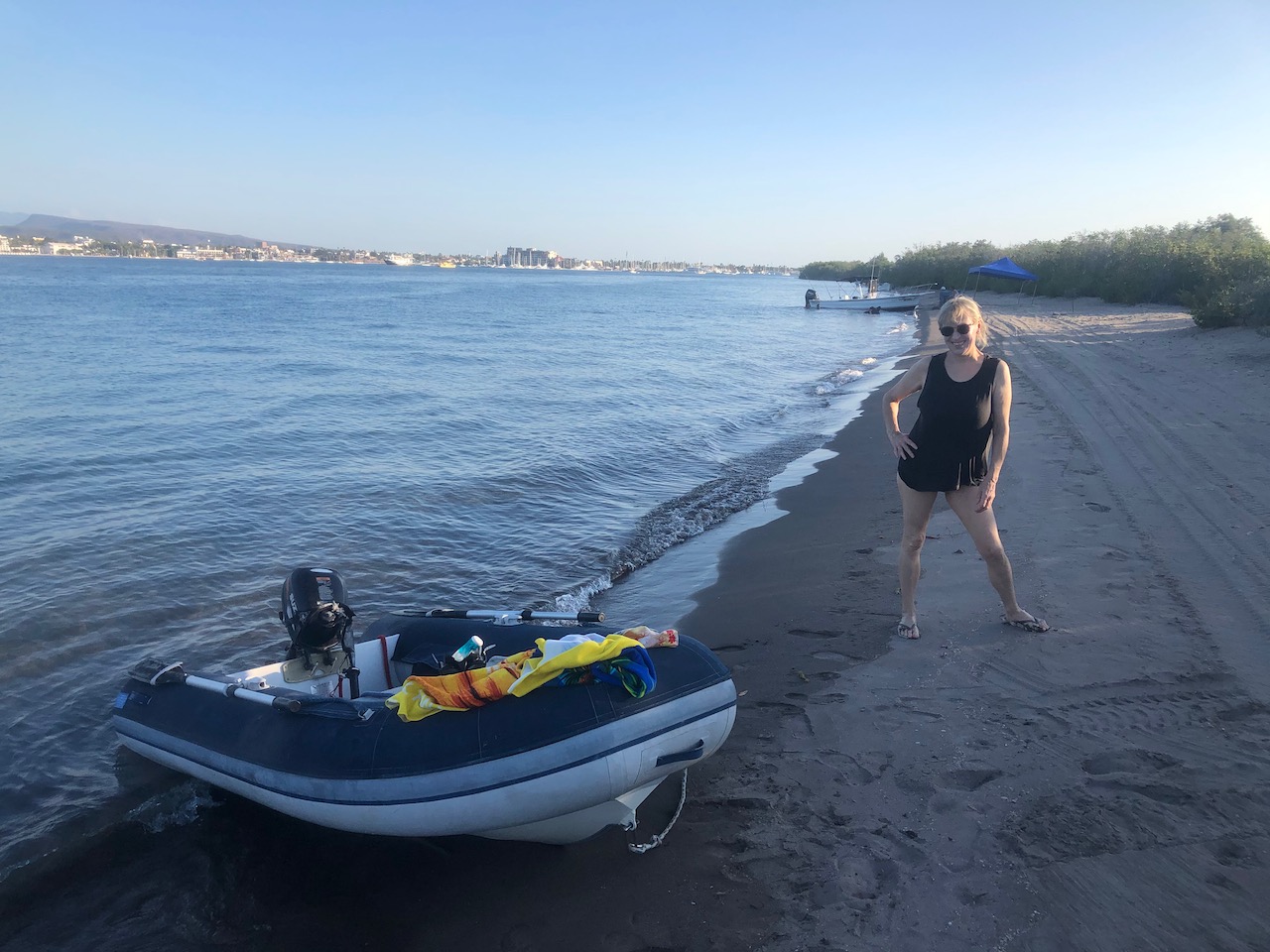 Paul Collister.