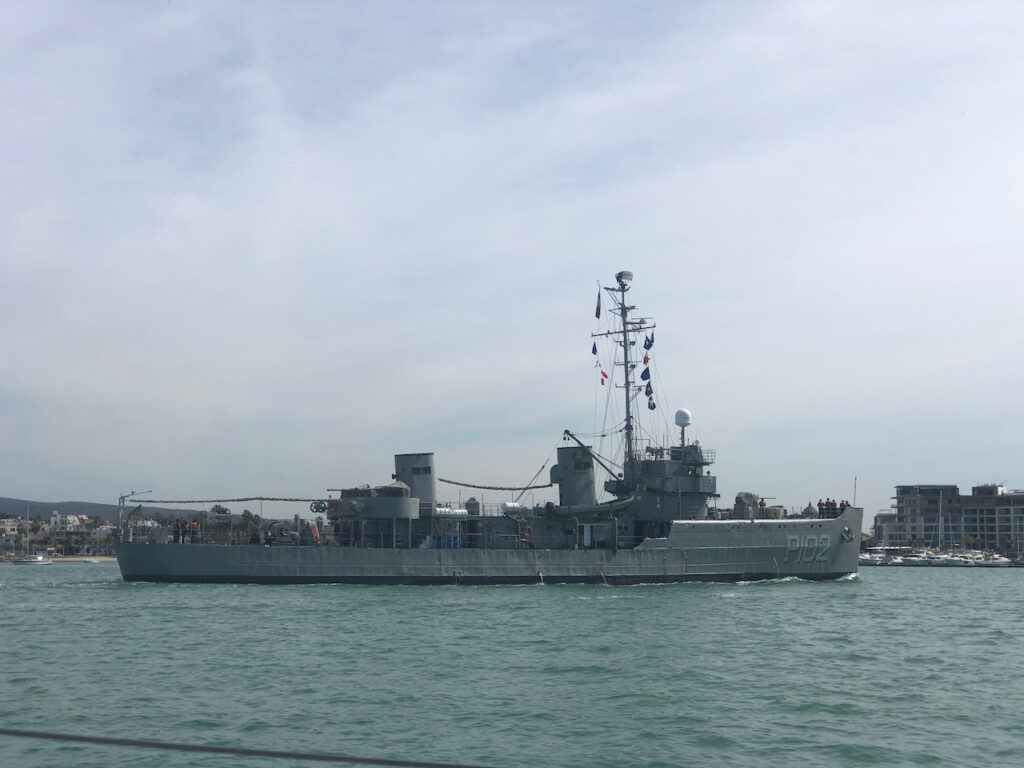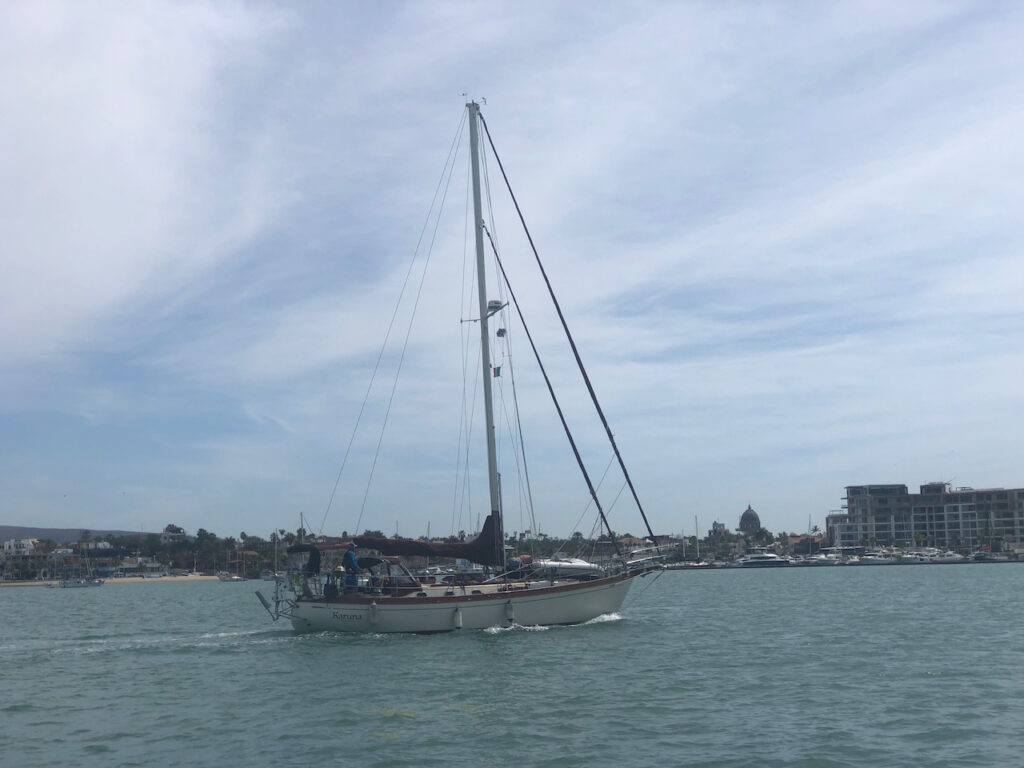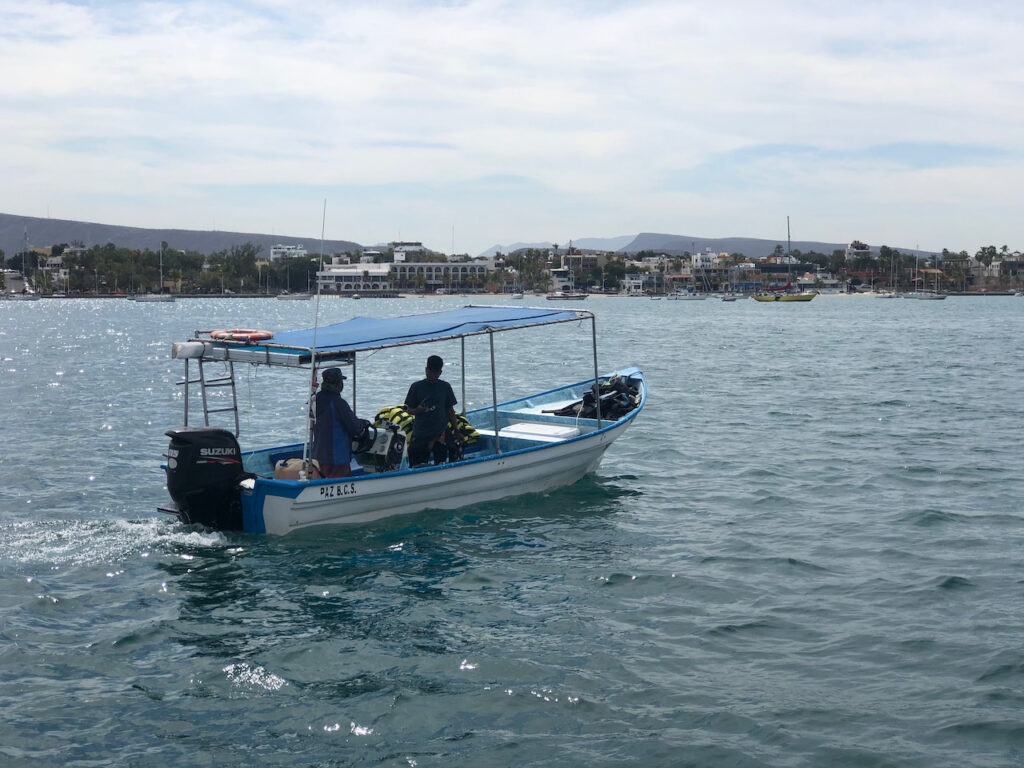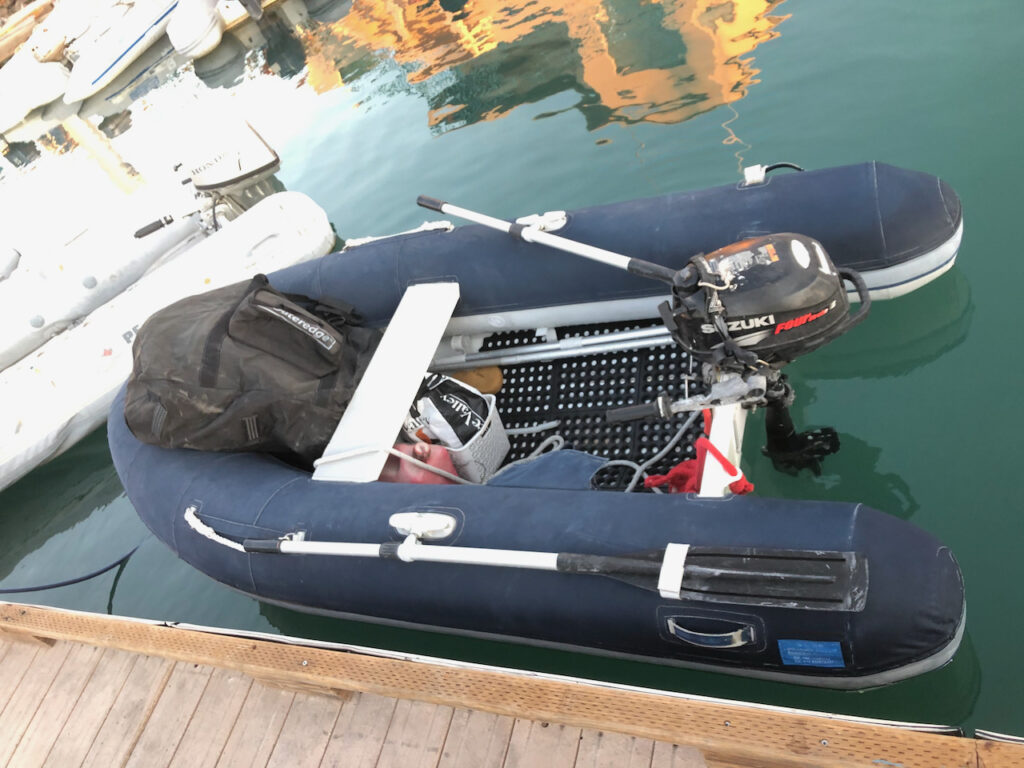 Monday 15th March 2021
Up at 6:30 as the sun rises, a cup of coffee, then to work. At 7 I will leave La Paz, possibly for the last time, and head north to Loreto. I'm hoping I might be able to get vaccinated there, then I will sail over to the mainland, possibly somewhere around San Carlos/Guyamas and from there head south to Puerto Vallarta. That will all take a month or two, depending how much I like the places en route. Last night I had a farewell meal with Arturo, I'm not sure when we will meet again, hopefully not too long.
I setup the GoPro 9 on the bow to do some time lapse, I haven't used it yet, and I'm keen to learn more about it. At 7am I haul anchor and start making my way down the long buoyed channel that leads out of La Paz bay and into the Sea of Cortez proper.
Boat traffic is light, but I'm struck by the five Cruise ships, mothballed at anchor.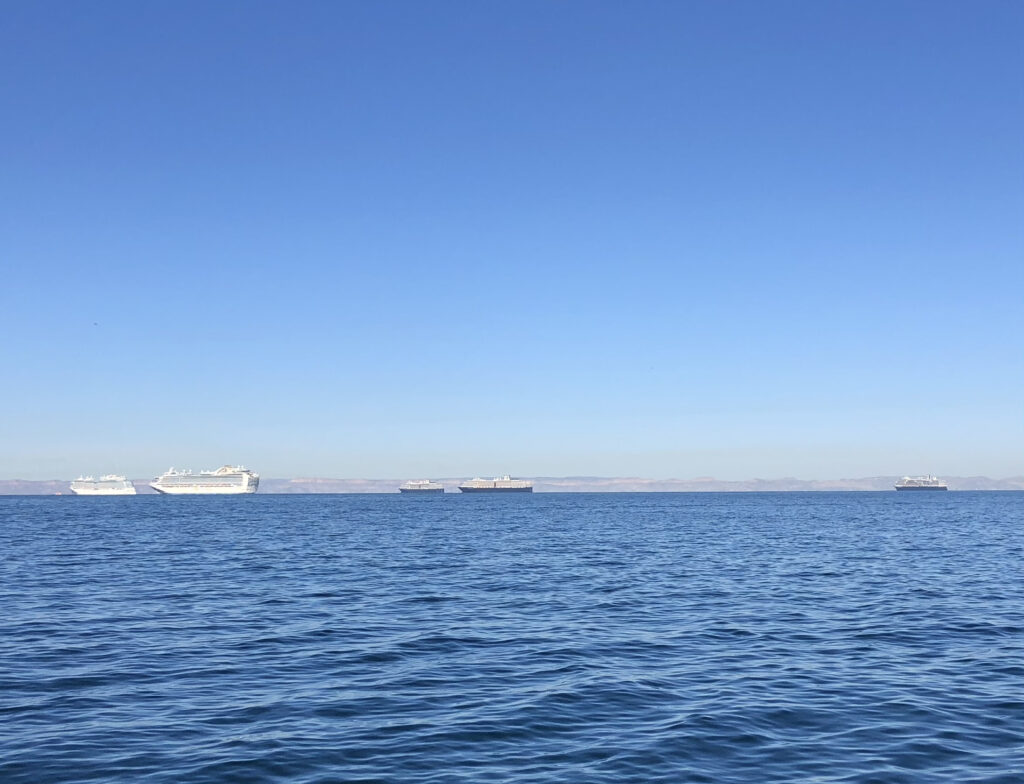 Three are sister ships, the westerdam, the zuiderdam, and the edam or something like that. Another two cruise ships look similar, and I think are from the Carnival cruise line. It's scary to think they will soon be pressed back into service and crammed with holiday makers, hopefully antivaxers and covid conspiracists. Best keep them all together in a big floating box in my opinion, what could possibly go wrong, other than accidentally cruising over the edge of the earth.
Not long after I pass the Pemex oil terminal and power station I'm in open water and I can spot quite a commotion ahead of me. There appears to be hundreds of pelicans and seagulls swarming around a few small boats, I assume it's fishermen, but as I get closer, they're right ahead of me, I spot a large pod of dolphins, maybe a hundred or more diving, jumping and generally having a big feeding frenzy. I end up steaming right through the middle of it. The smaller boats who keep out of my way are tourist pangas, who diverted here to see the spectacle. Once in the middle of it, I'm surrounded by dolphins and swooping pelicans. What a great way to get the day going.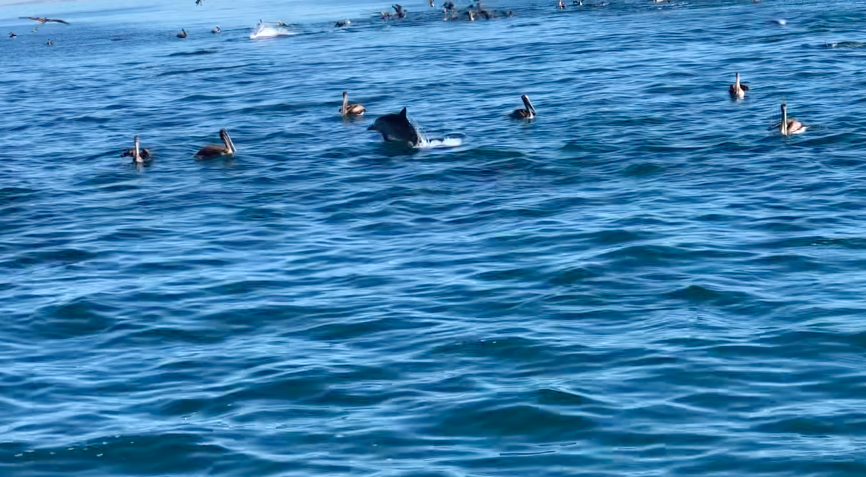 Shortly after it's all over and as the sun gets higher I can tell it's going to be a hot day. I have a 9 hour passage to San Evaristo, so I settle down and start a few small jobs around the boat.
I don't catch a fish, but do see many Manta rays doing their dance.
At 5pm I get the anchor down and relax, The mainsail helped for about 2 hours, but mostly it was motoring. One fact yachties might find interesting, is that you can keep the engine block cold-start heaters on for 2 hours by accident and they don't burn out on the MD22 🙁 .  After running hard for 10 hours, I feel confident the new timing belt has gone back on ok.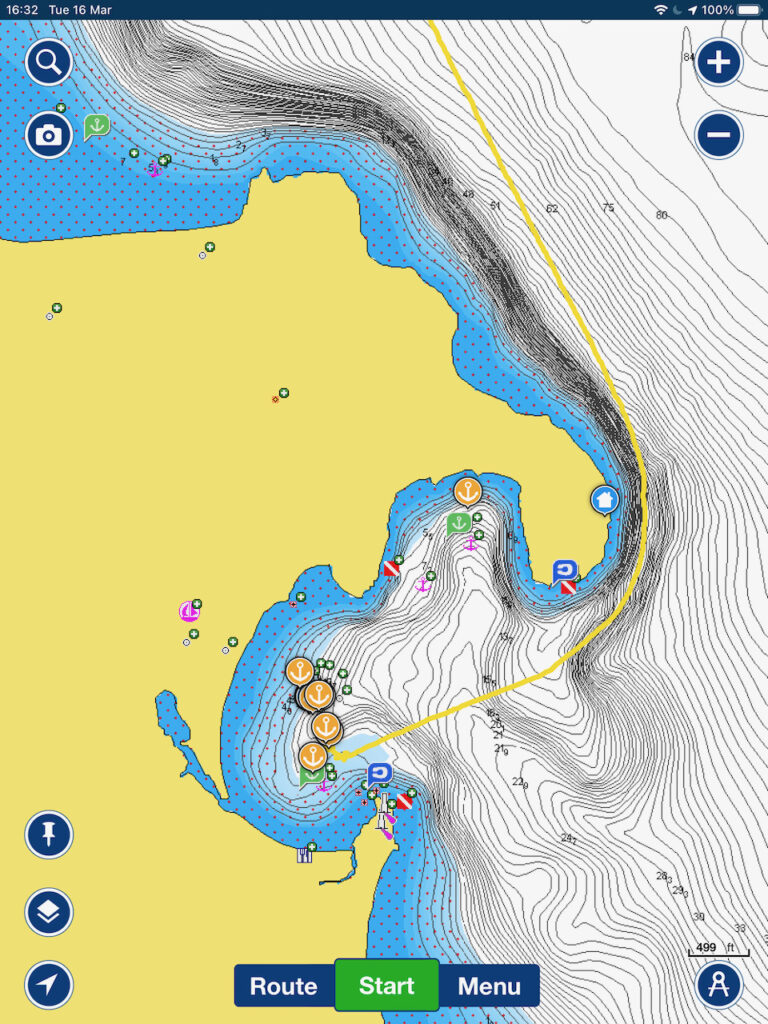 Retired General Tom and Debbie on the motor boat 'At Ease', my neighbours from Marina De La Paz, are anchored two boats down from me here.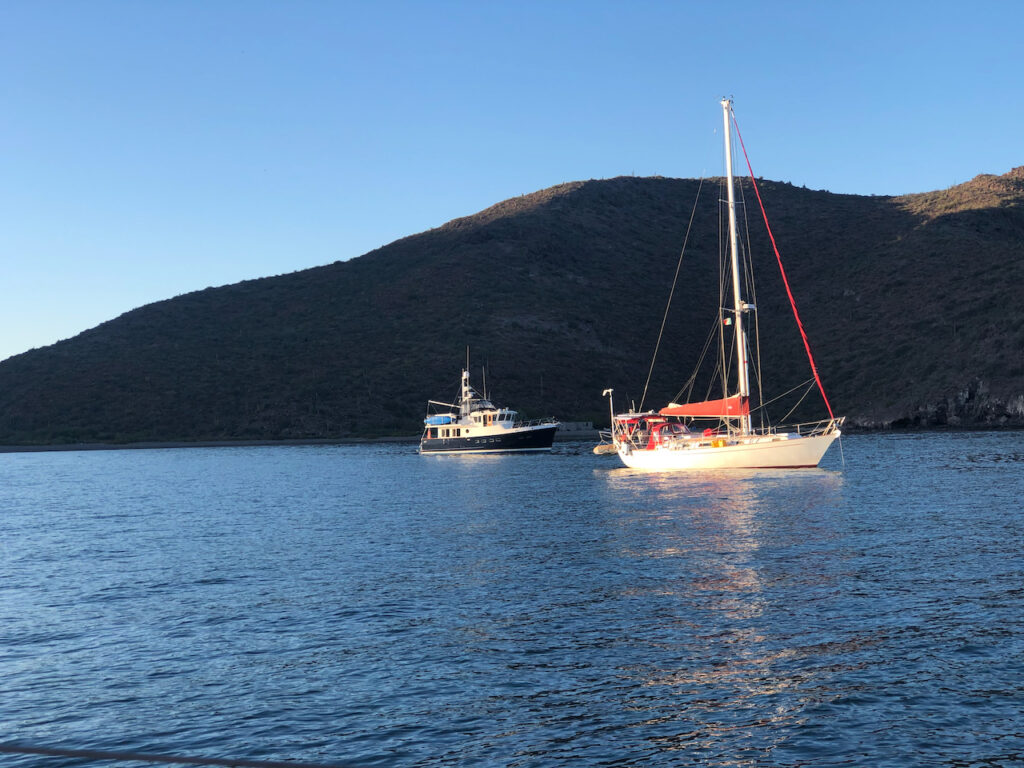 Tuesday 
Up early again for a long slog to Agua Verde. It would be nice to have some time at these stops, but I have been here before, on several occaisions now, and I'm on a mission to get to the clinic in Loreto before they run out of vaccine.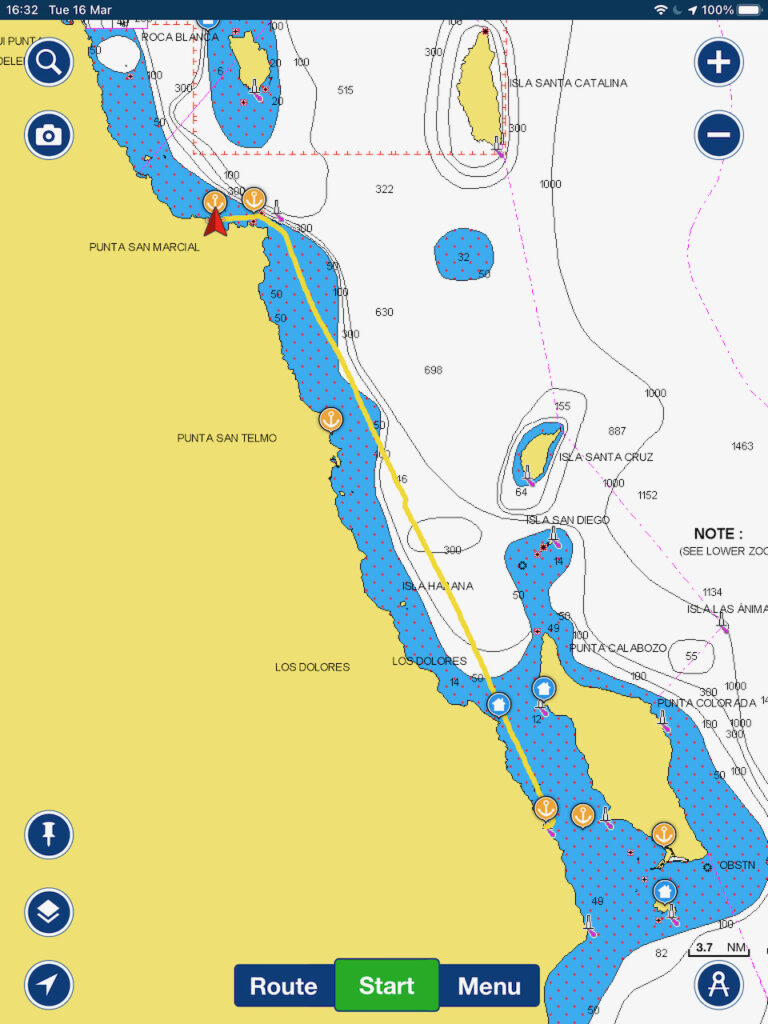 The waves are substantial, and of a short period, i.e. close together, so it's not a very comfortable ride, but another huge pod of dolphins in the San jose chanel cross my path. We all love them, but they're a serious bunch of fish committing mass murder as they travel along in these big groups. I don't feel so bad about trailing a hook behind me now, I didn't catch anything yesterday, the first time this cedar plug hook has let me down, and today is no better. To make matters worse, as you can see in the video of the trip later, a seagull is convinced the painted cedar plug is a real fish and tries to eat him. As it's dive bombing the hook, I'm terrified it will get caught and I won't have a clue how to help it. The thought of reeling in a seagull on the end of the line struggling to escape causes me to bring the hook in as soon as I can and wait until the skies are clear before I launch it again. The wind reaches 20 knots (apparent) on the nose, so we are struggling at 3 knots for some of the time. I have the engine running flat out at near maximum revs for a couple of hours, it's supposed to be good as it burns off excess carbon at the higher temperatures, but who knows, I'm not a mechanic, despite earning my timing belt badge. After we hang a left at Point San Marceal I manage to get some help from the sails for an hour as we approach Agua Verde. Again, Tom on 'At Ease' is anchored there along with a couple of sailboats. It's a little crowded in the only corner of the bay protected from the swell, and I tuck in behind them, it looks like I'm too close, and I'm worried they might be nervous with my proximity, but I also feel quite sure I know the anchorage well, and there's not going to be a problem. As it turns out, we are all perfectly separated, even when we swing 180 degrees in the night.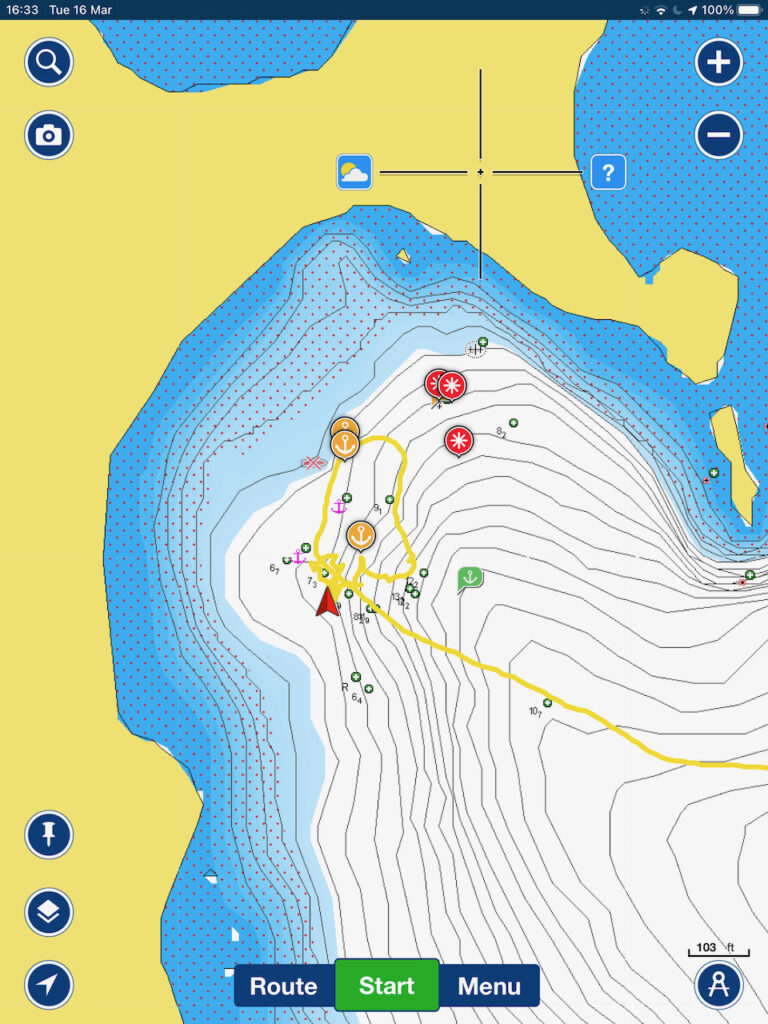 Wednesday
Up early again to get away before the wind builds, that turns out to buy me about 30 minutes, soon after I leave the calm cove and hit the exposed sea, the waves and wind build and it's a long 5 hour slog to cover the 23 miles to Escondido.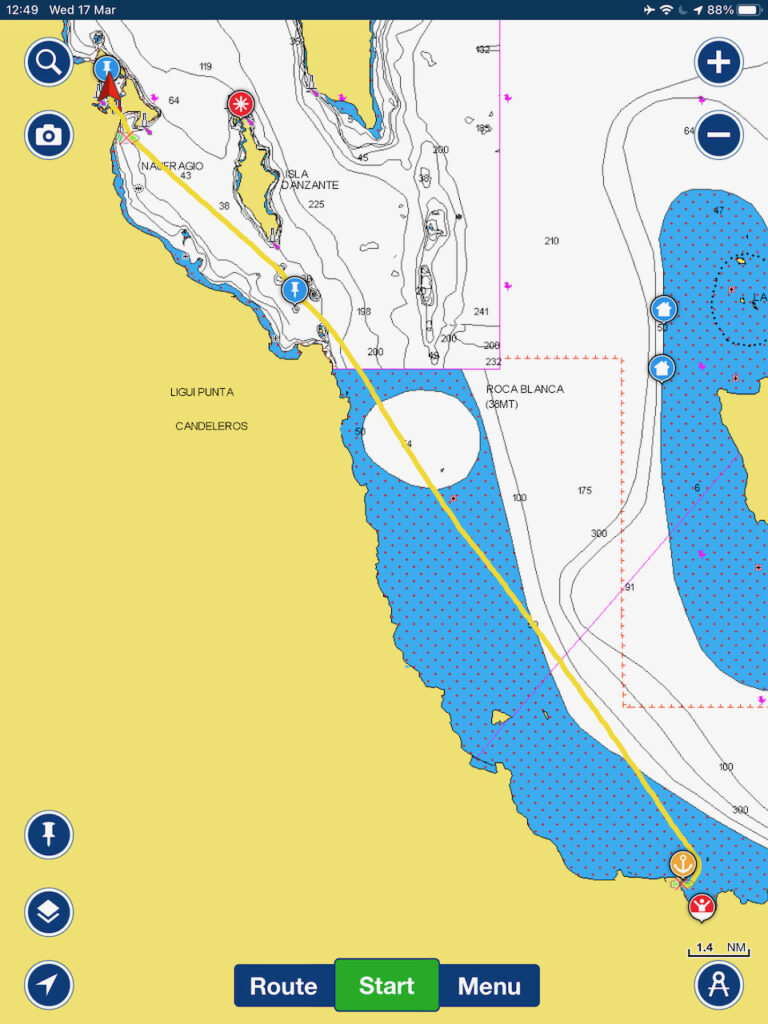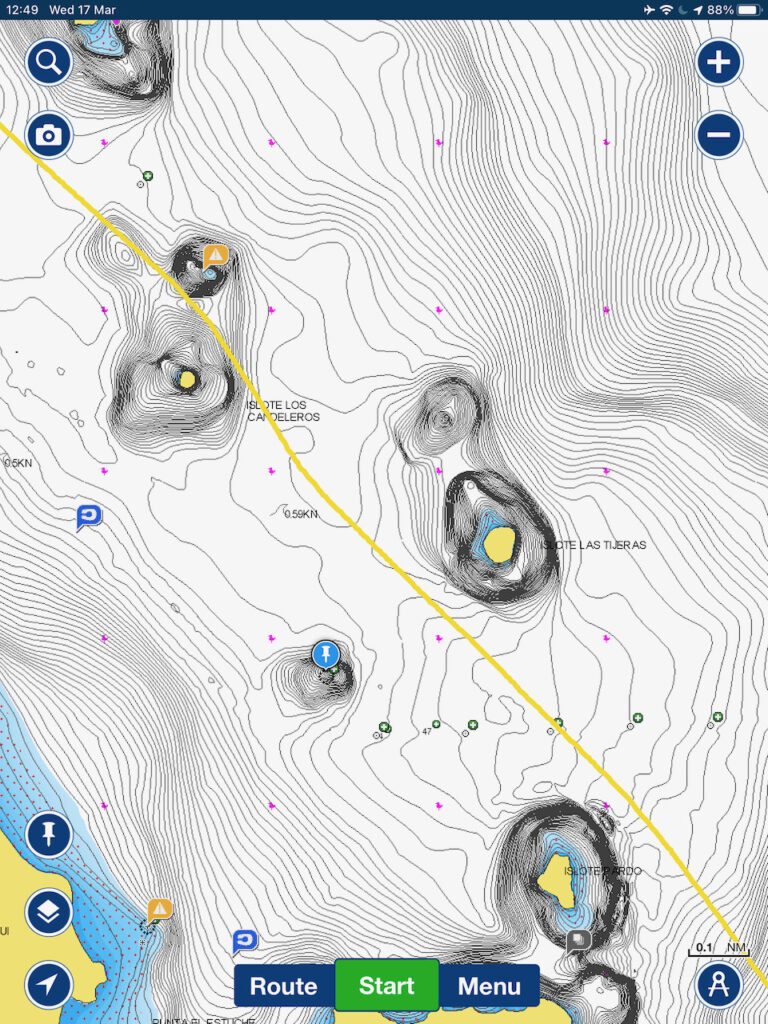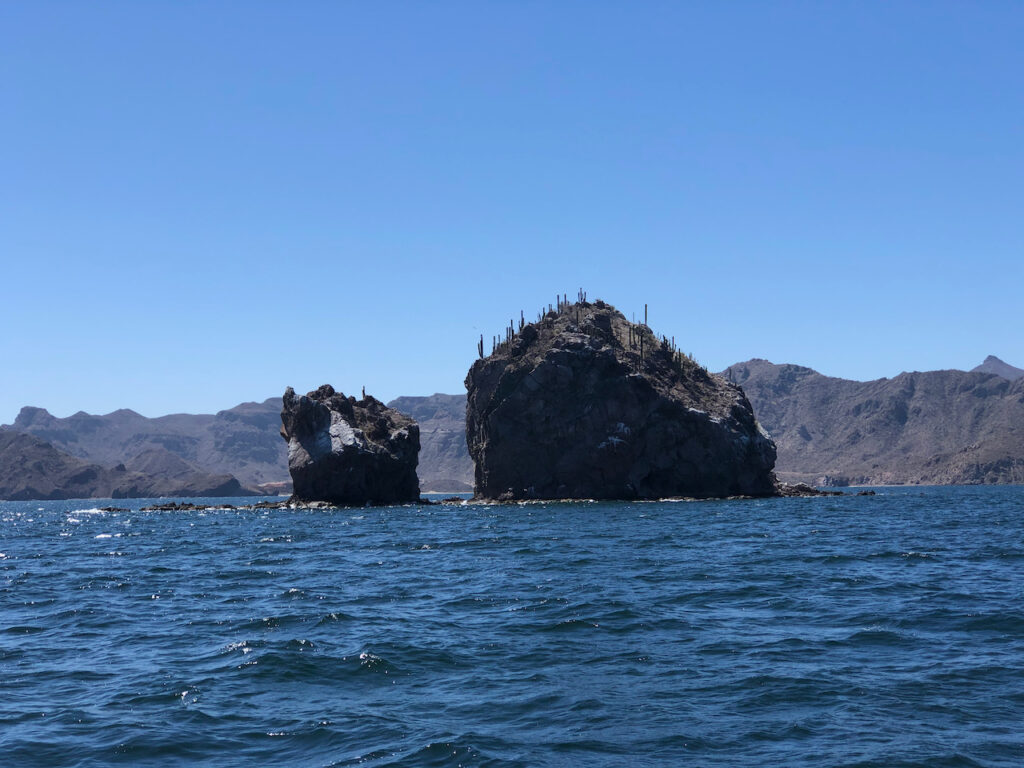 The entrance to Puerto Escondido is via a very narrow channel, perhaps 60ft wide in places and only 10ft deep. I had heard it was being dredged and some special marks were out, but it turned out to be an easy entrance.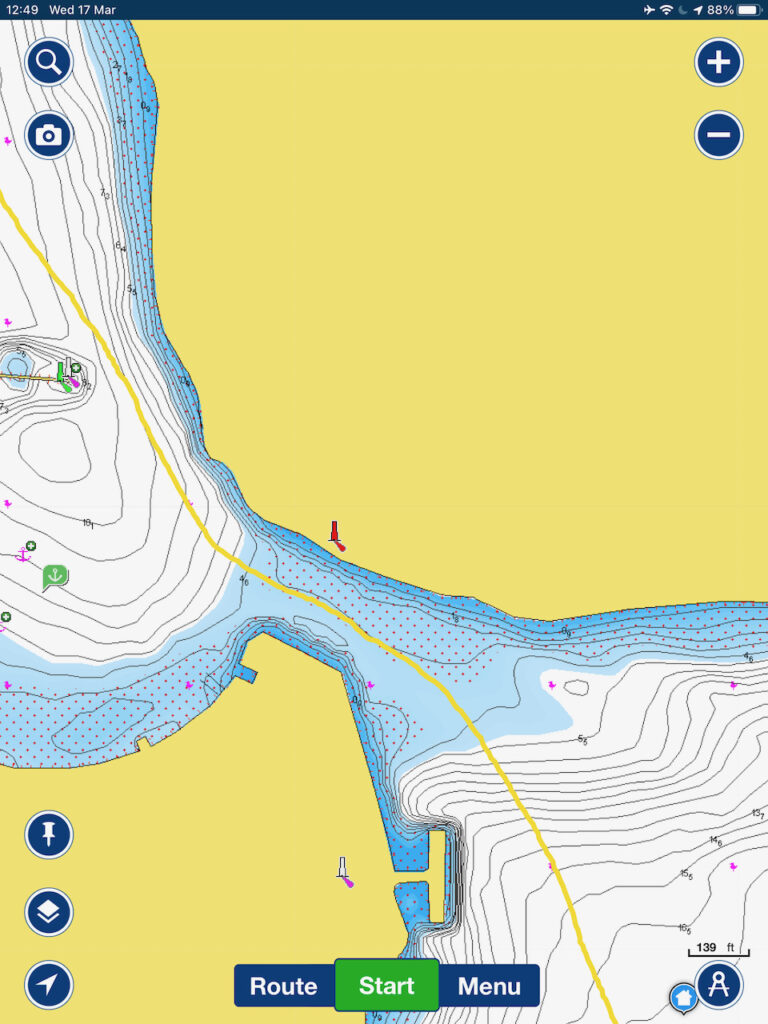 The actual harbour is a natural bay and hurricane safe area. It's like a big lagoon, with huge hills and mountains all around. To the north east there are two gaps, or windows, where northerly winds can blow through. Refreshing in the summer, but in a gale can make some waves in the harbour.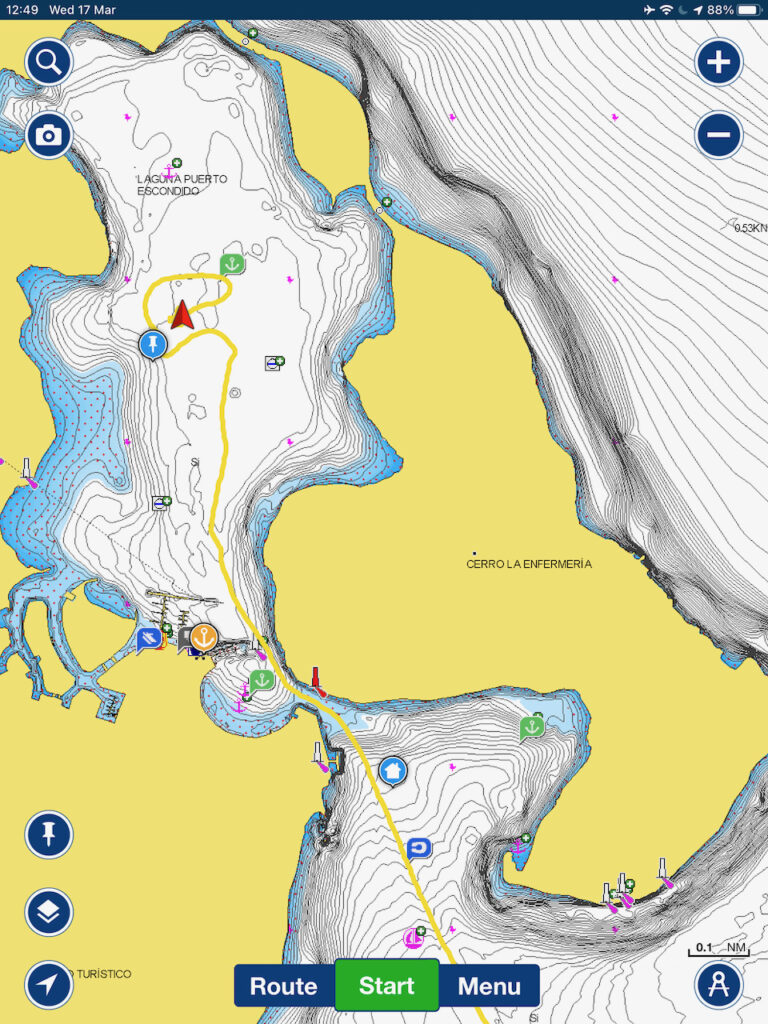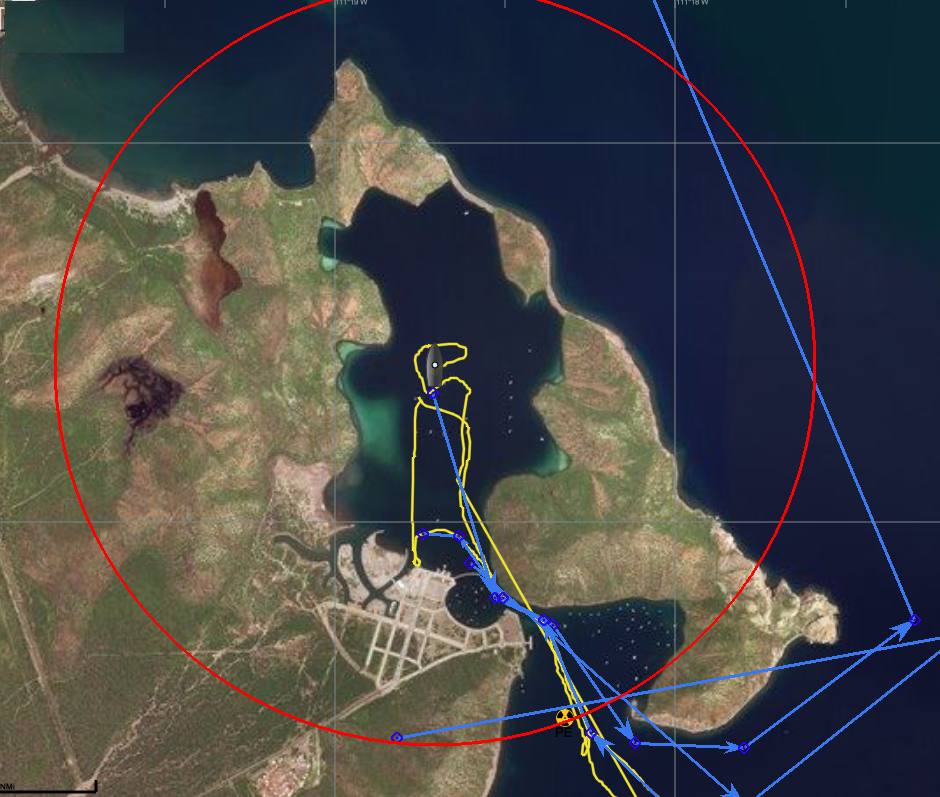 Once in the harbour I picked up a mooring buoy, completed the log book and put my feet up for a bit. Next a quick dinghy ride ashore to check in and book a car for my trip to the clinic tomorrow.
I made a 10 minute condensed video of the trip, it's on Youtube, but embedded here. It's 1080p HD so should look ok on a big screen.
Thursday 9AM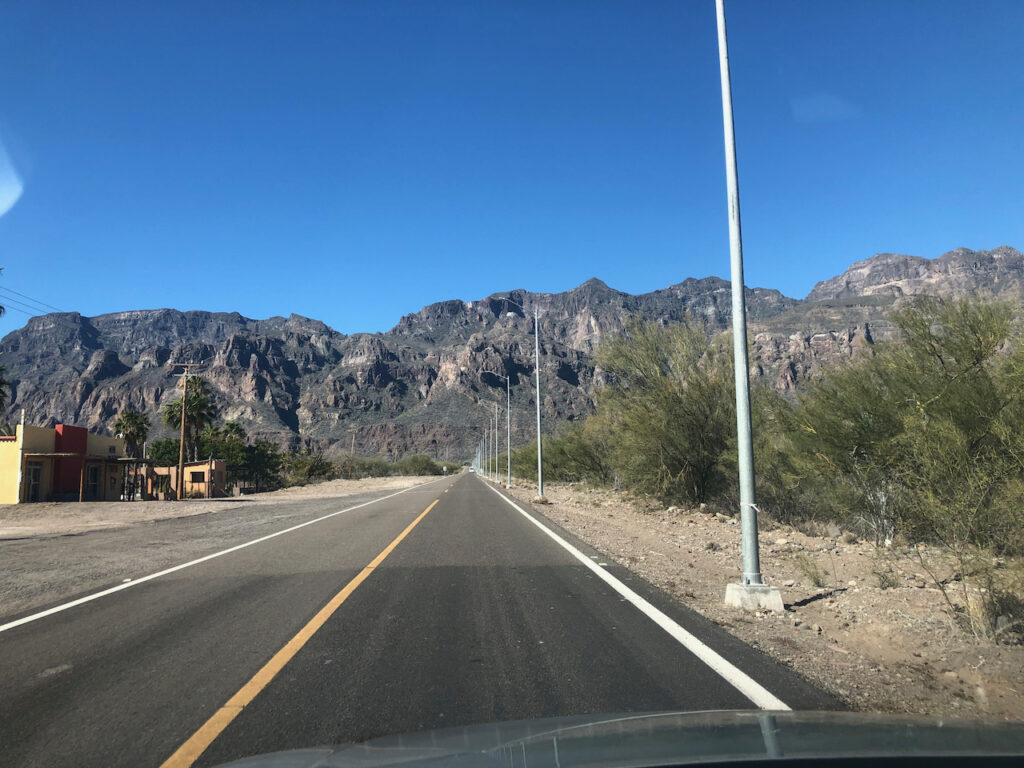 I pick up the hire car and head into town. It's a glorious day and I'm pondering on what a strange life I have these days, I realise I'm more used to driving on the right side of the road than the left now, and as I'm driving through a back road to a small town in Mexico to get a possible vaccine, where I don't even speak the language when suddenly a couple of mules pop out in front of me. I can't help smiling.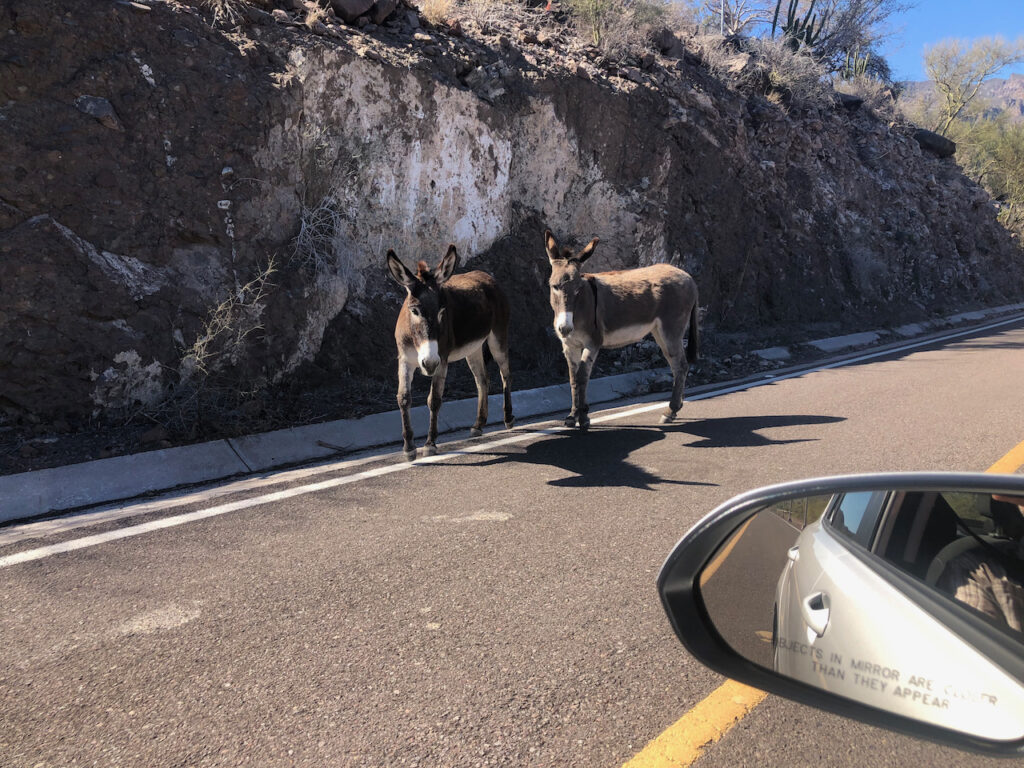 So onto Loreto, I pull into a deserted emergency clinic where I'm told they have been administering the vaccines, but they have none left, possibly next Tuesday or Wednesday. They take my name and phone number and tell me they will phone if they get any. I'm quite chuffed as I manage to converse in Spanish, with minimal help from Google translate.
I push on into town, but take a different route, just for the heck of it and end up by the arroyo, which is the dried river bed at the side of town. There's a dirt road across it, and I follow a track along its side to the sea. It's stunning scenery, and quite green, I expect due to there being a lot of fresh water at some point in the year.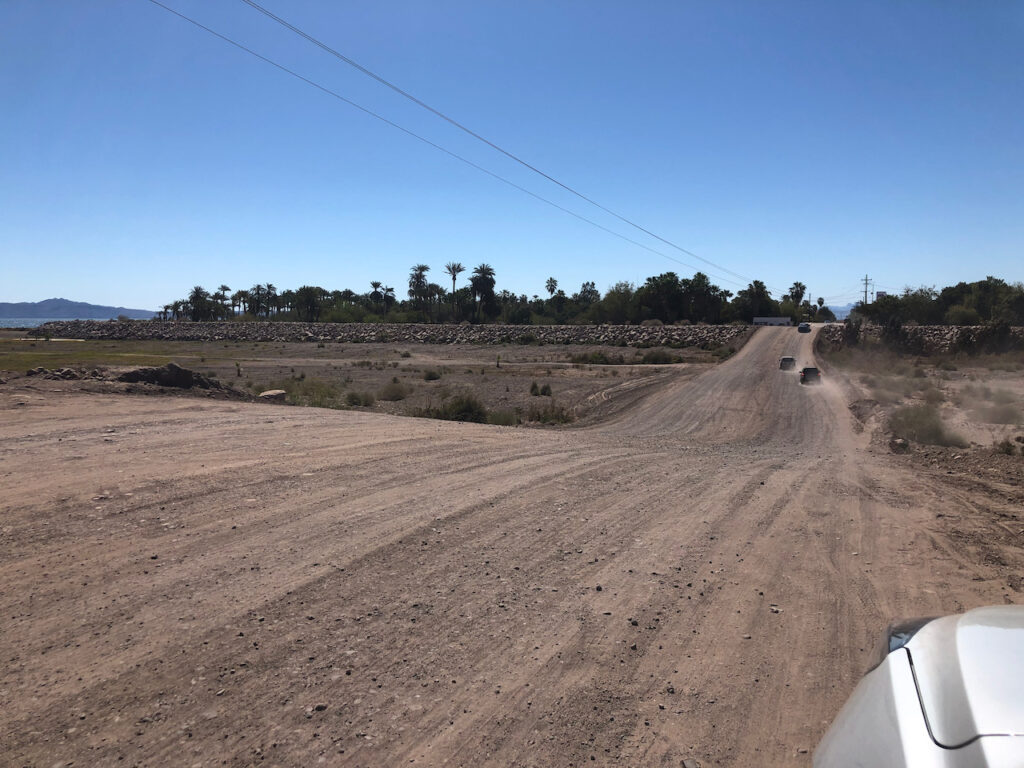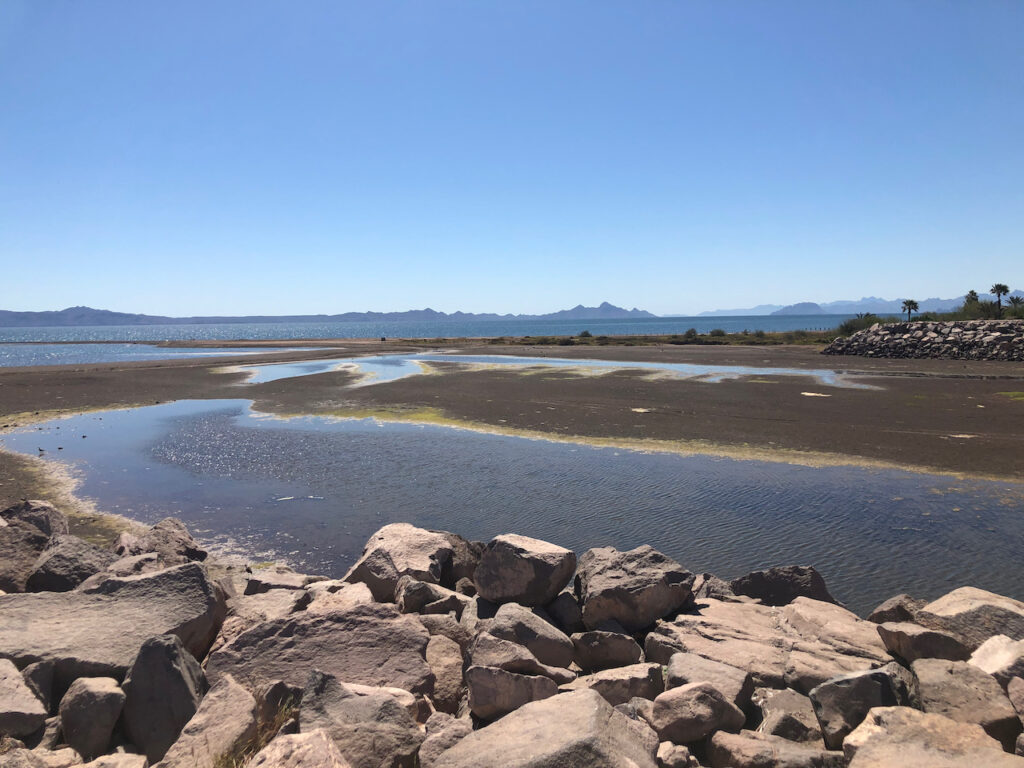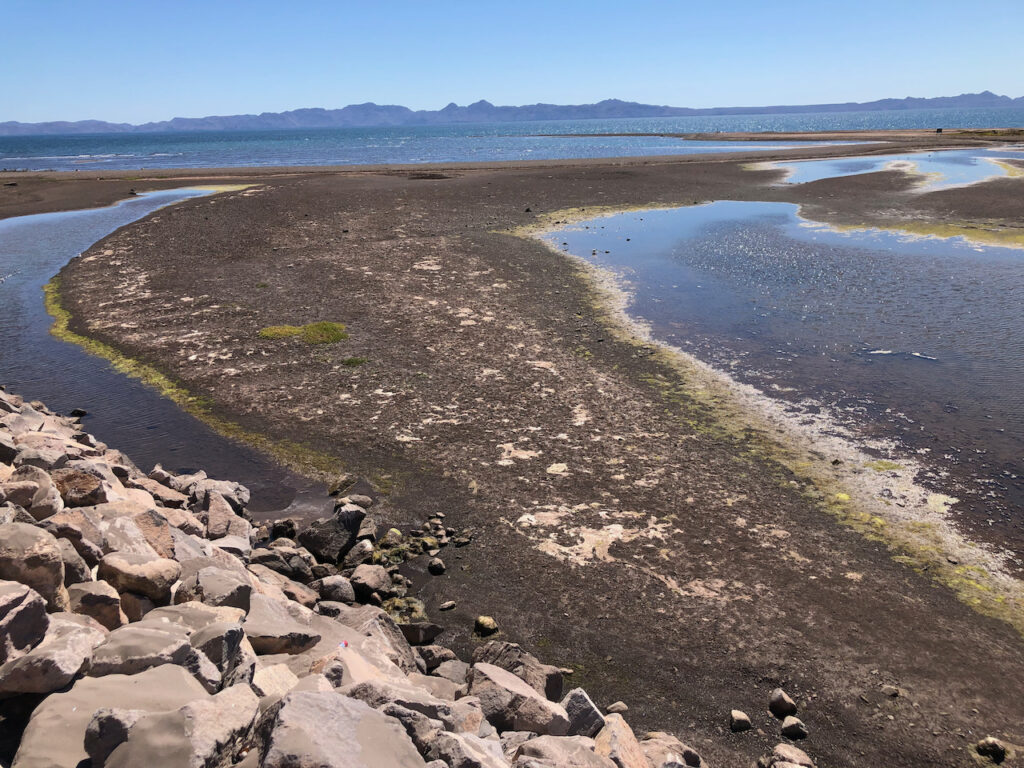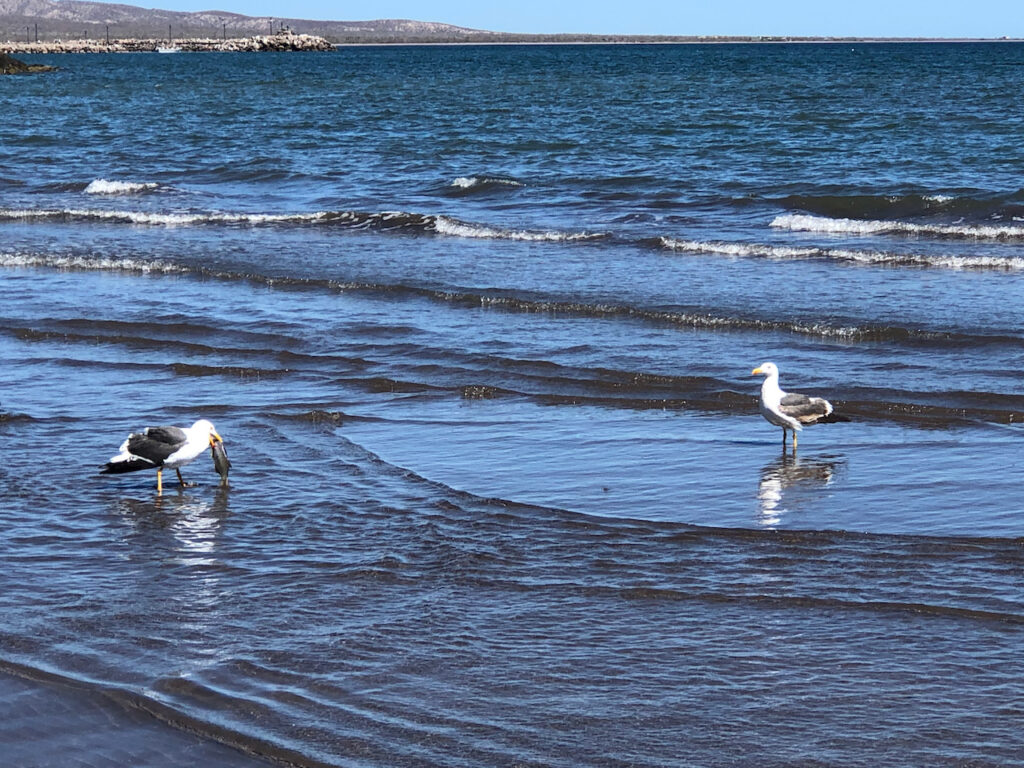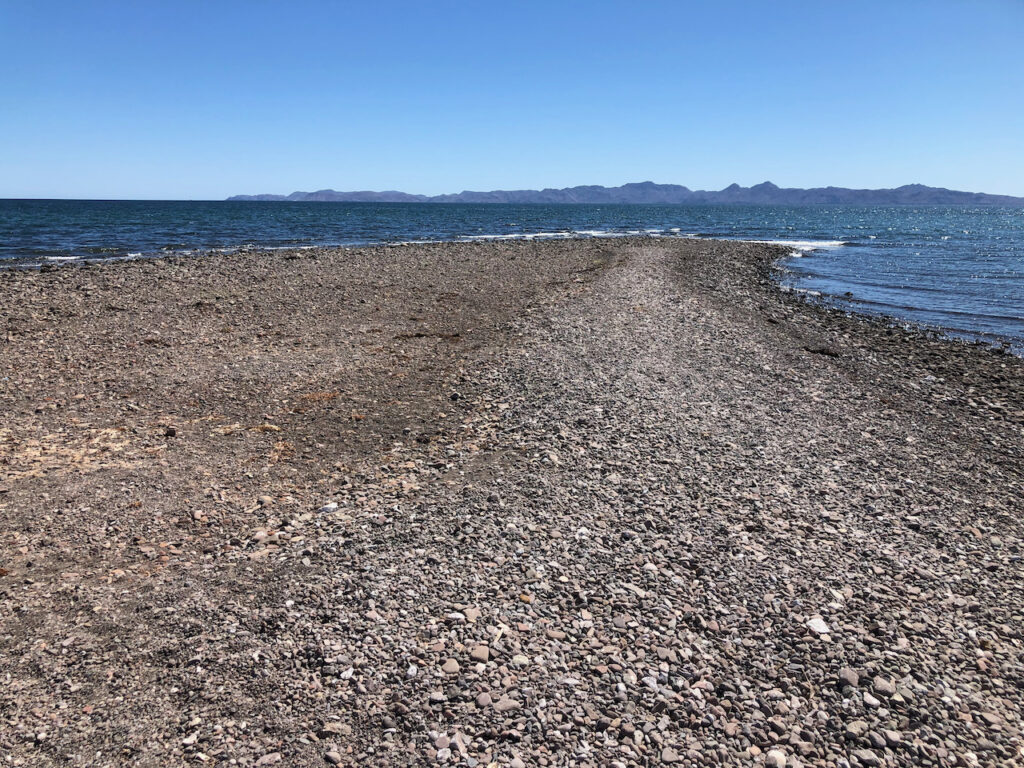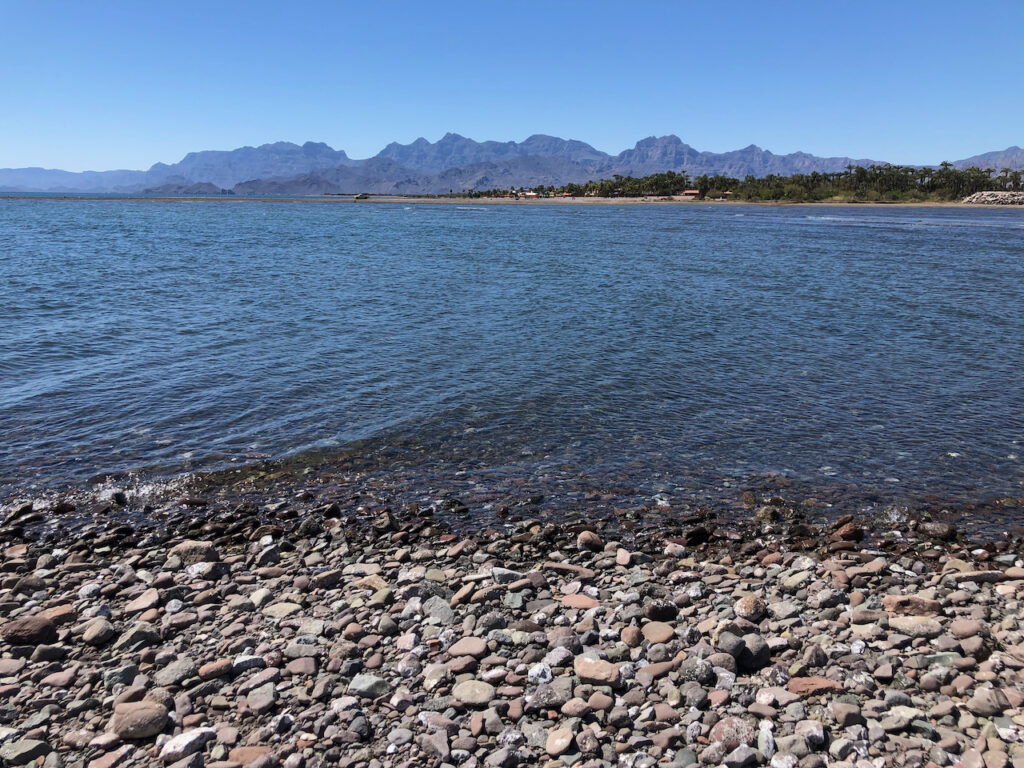 I wander around town, past the old mission, the first in BCS I think, they are remodeling this part of town and it's very dusty and noisy.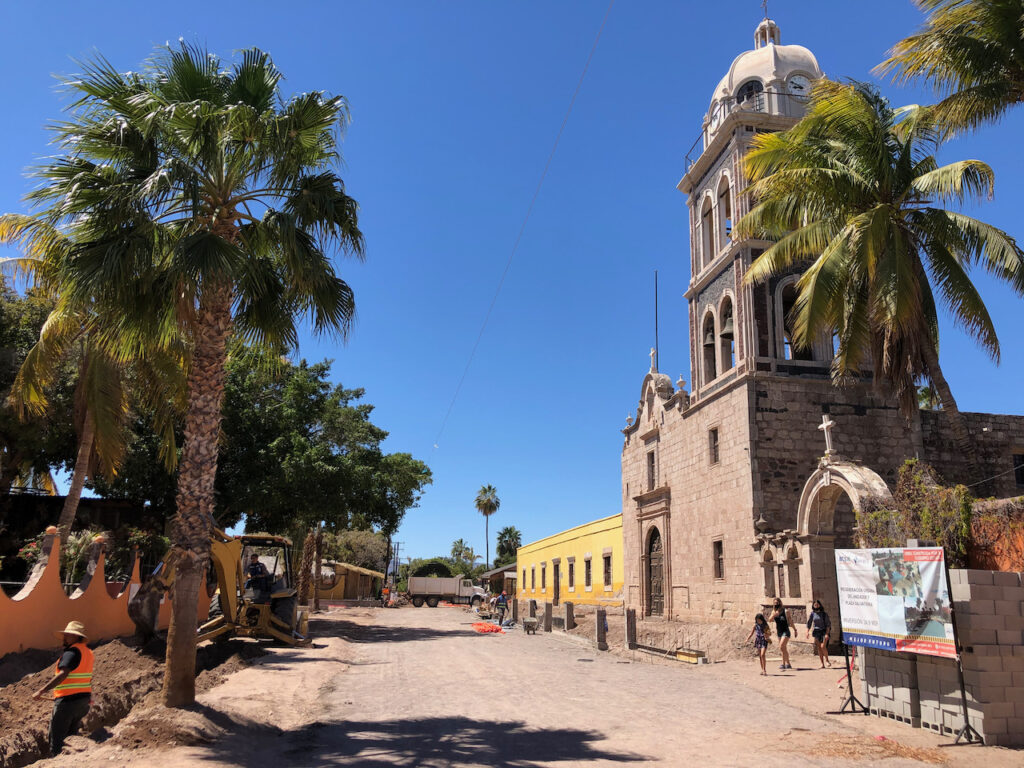 I wander down to the beach, the centre of town is odd as there's a few trailer parks here, I guess from a simpler time, and big hotels have been built around them.
I drive along the coast a little in town, then decide to see what the main highway is like to the north of town, I have the car for a day, but nowhere to go really. I have just left the centre and I'm passing a few out of town stores when I can see a road block ahead, and I know straight away this isn't right. there's no police cars or anything official looking, as I get closer, a man has blocked most of the highway with his car and has just waved the car ahead of me through, to his left is a big grizzly looking guy with a submachine gun across his chest. No uniforms or any hint of who they are. With some relief I'm waved through, but I realise quickly that I have to return this way, loreto has one road in and one road out!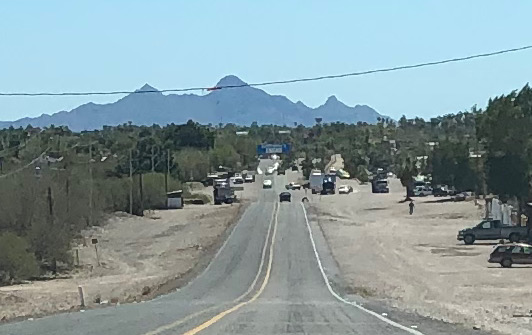 So I drive north for a bit, but it's just scrubland desert, cactus after cactus and I'm soon bored, it's a couple of hours to the next town and I don't want to risk driving back in the dark so I head back to the road block. This time he stops me, I wind down the window, he looks into the car then shouts at me "GO", which of course I do! I'd love to know what that was all about, Narcos, undercover police? who knows. Loreto did set up roadblocks to stop people coming into town at the start of the covid pandemic, but that was different.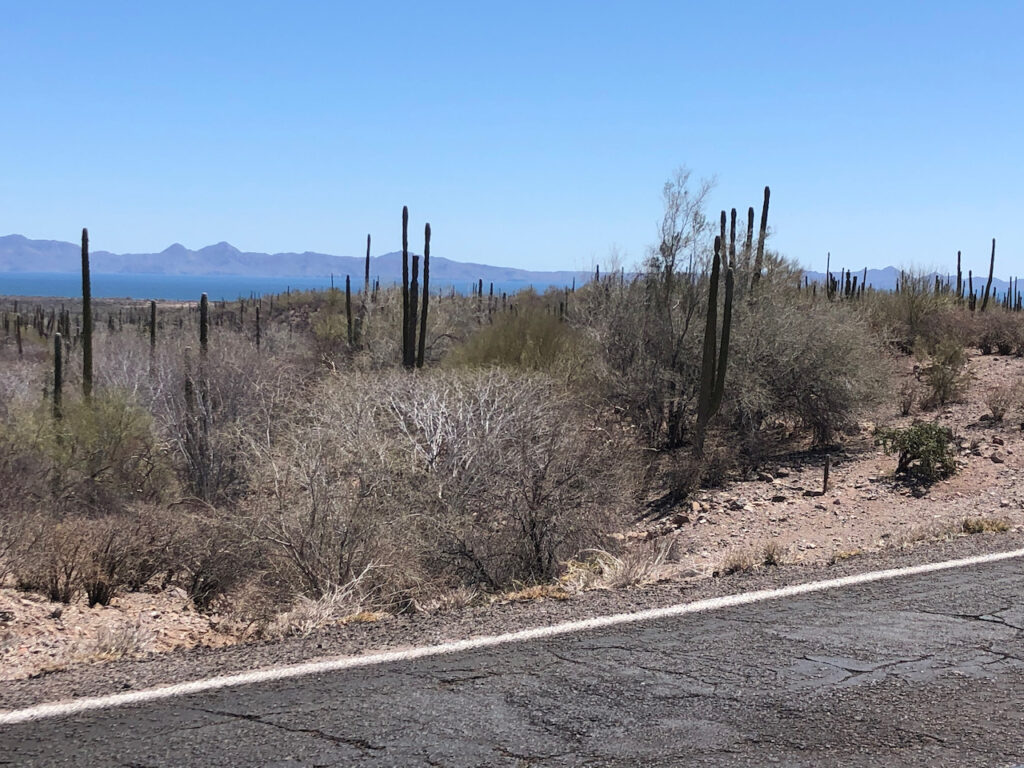 So I push on back to the marina and notice a very odd looking boat in the boatyard, I'm assuming it needs a keel, surely it can't use a drop-keel?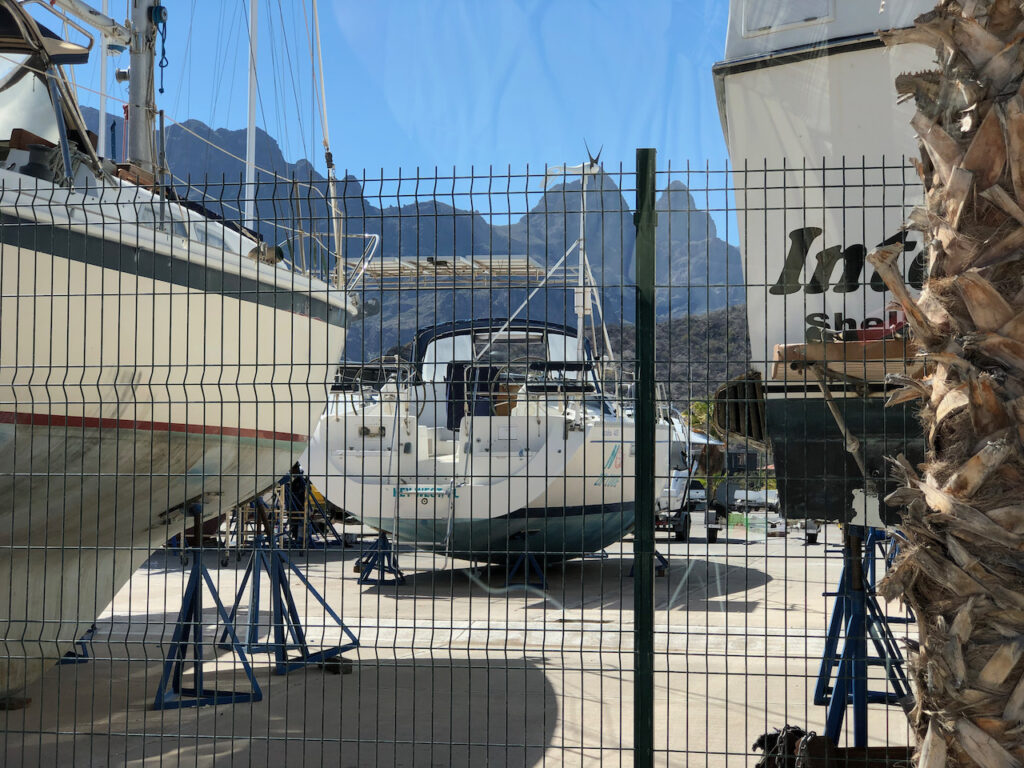 Back on board I decide to tackle the mess on the chart table.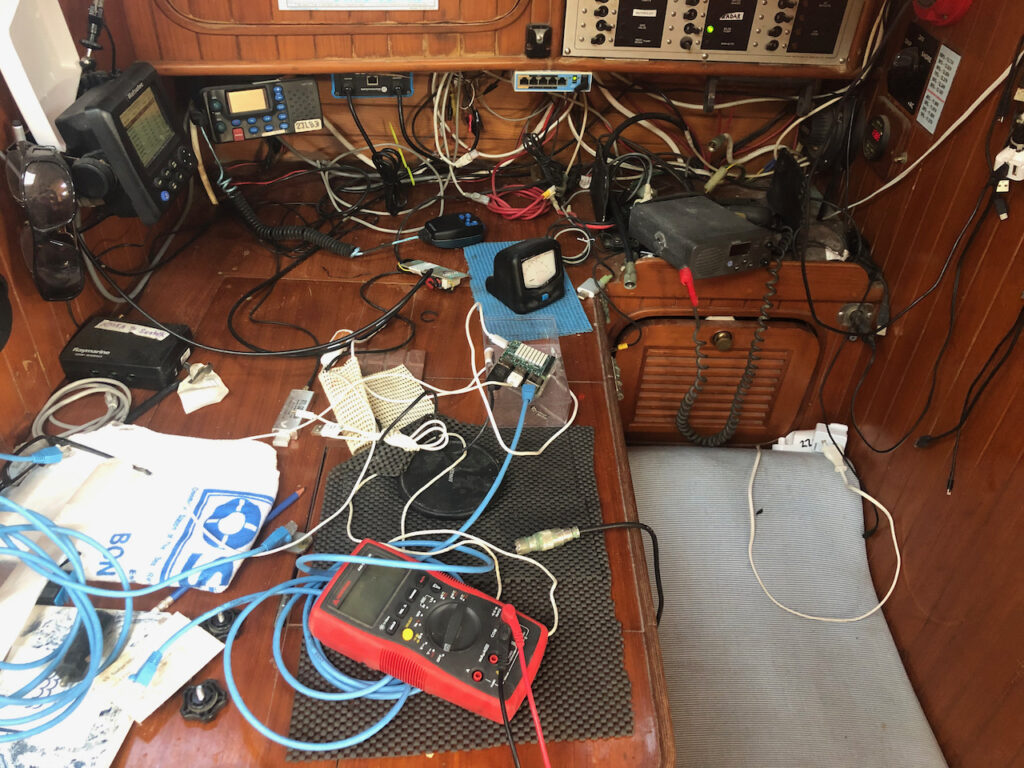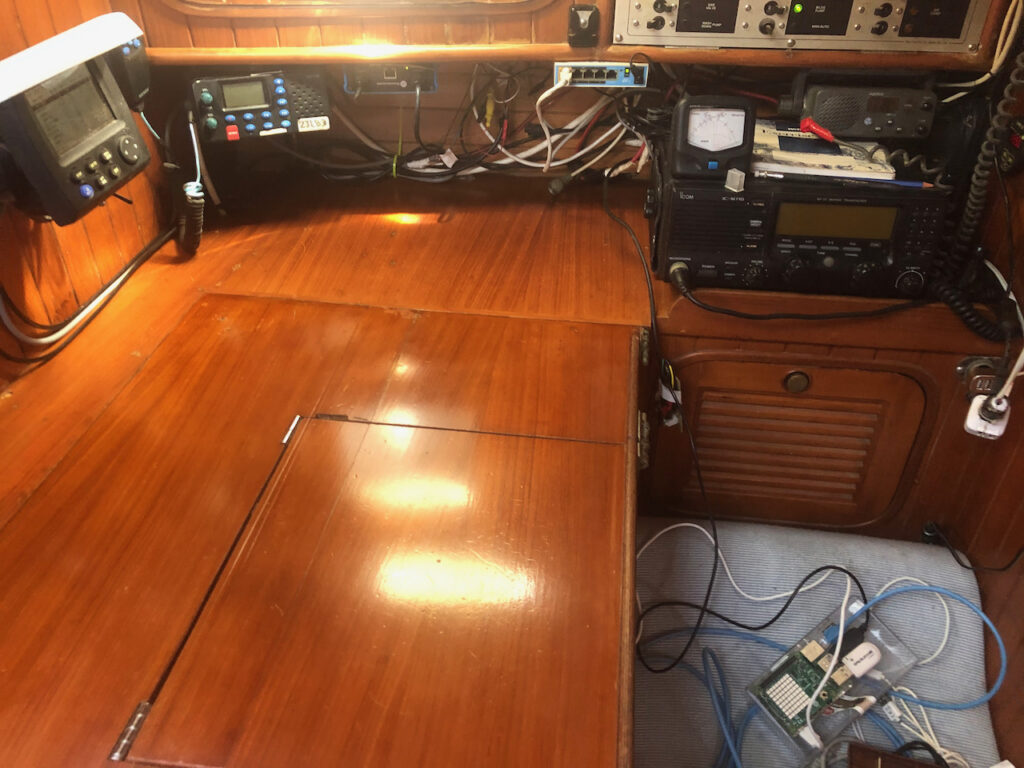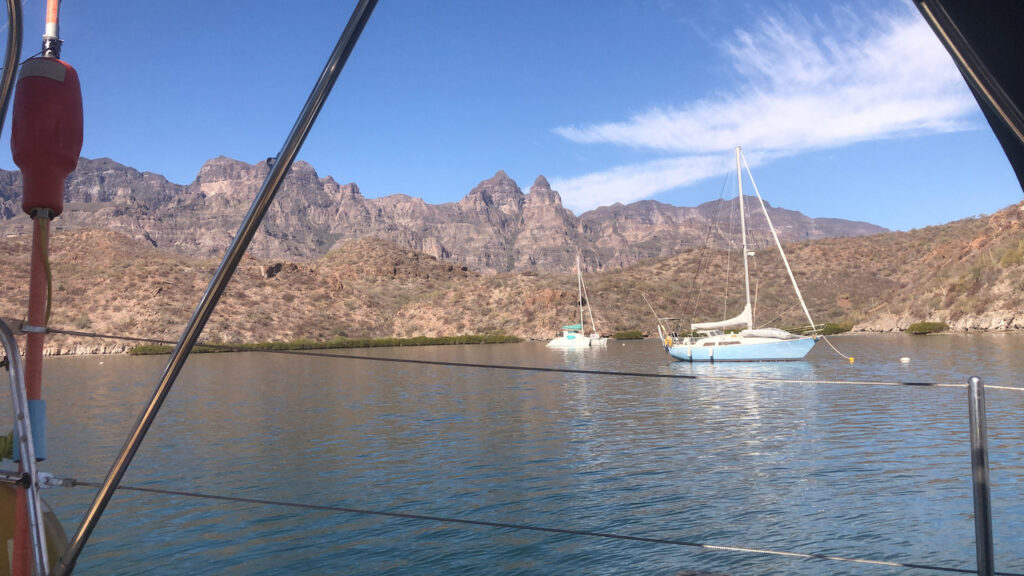 Finally to wind the day off, some home made guacamole and strawberries as the sun sets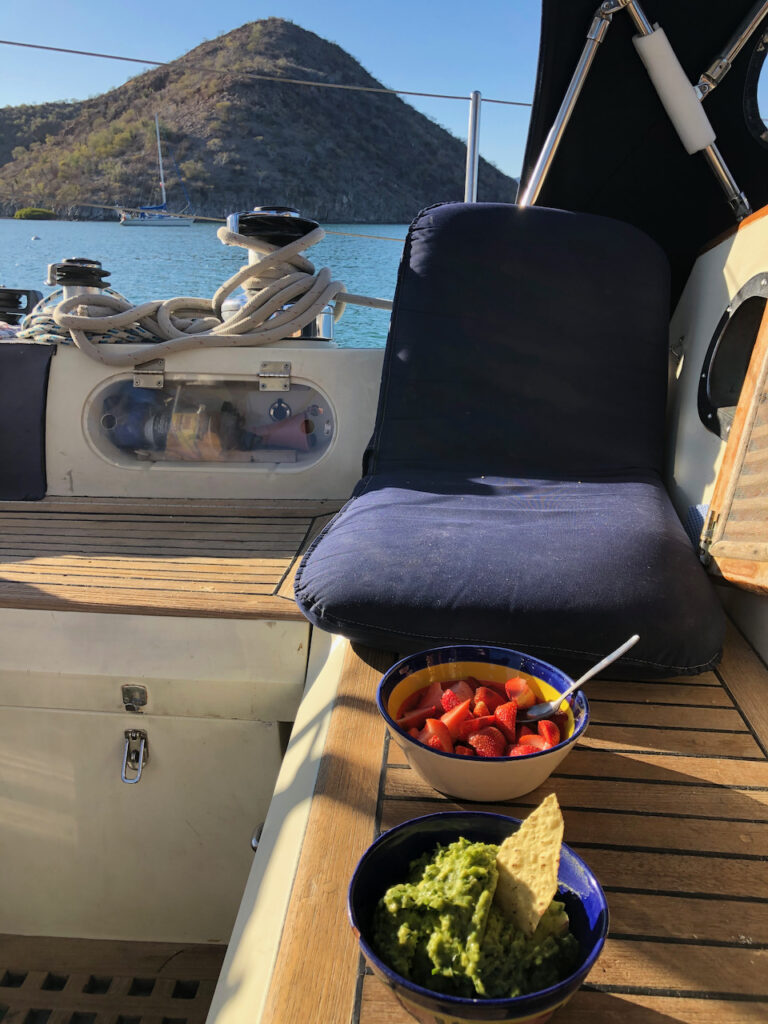 Paul Collister