Sunday 27th June 2021
I'm back in La Paz and all tied up in the marina, close to where I left a few months ago for my solo circumnavigation of the lower half of the Sea of Cortez. A trip of about 1000 nautical miles, started 15 weeks ago and covering three states, Baja California Sur, Sonora and Sinaloa.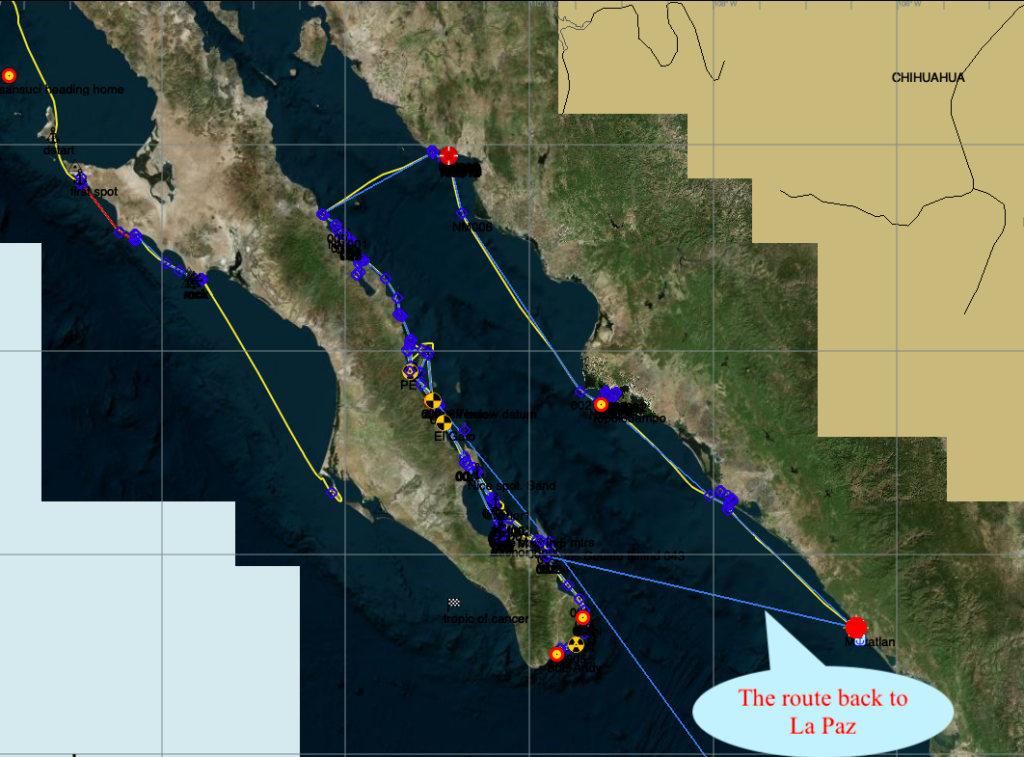 Monday 21st June
Stepping back a bit, it's Monday and my dove has gone, I start preparing the boat to leave and head over to the office to clear out in advance for an early start on Tuesday. The office lady chats with me about the dove, and says she thinks the dove knows the weather well and decided to leave before the storm. Which is nice. However she also tells me the port is closed, so I'm not going anywhere in a hurry. The red flag is flying from the port capitania's office. The recent storm, Dolores, to the south, which didn't make it to hurricane status did create some walloping big waves which are creating huge swells at the entrance to the marina. I dinghy out and sure enough the waves are crashing over the breakwater. Maybe tomorrow.
Tuesday: Maybe Tomorrow
Wednesday: Maybe tomorrow

Thursday, Yes, a yellow flag is flying so I pass my key to a security guard, throw the bike on board and head off around 10:30, which is when there will be enough water to get out the channel. I cautiously motor through the swell at the entrance, some of the staff at Marina El Cid which is right near the entrance, wave me on. They know me now from my daily visits in the Kayak to check on the waves. After 15 minutes I'm in the sea and past the rollers and big swell. It feels great, I hoist the main and get the other two headsails out. The wind isn't where it's meant to be, and I can't lay a course direct to La Paz, so I head a little north, close hauled but making great speed in 10-12 knots of wind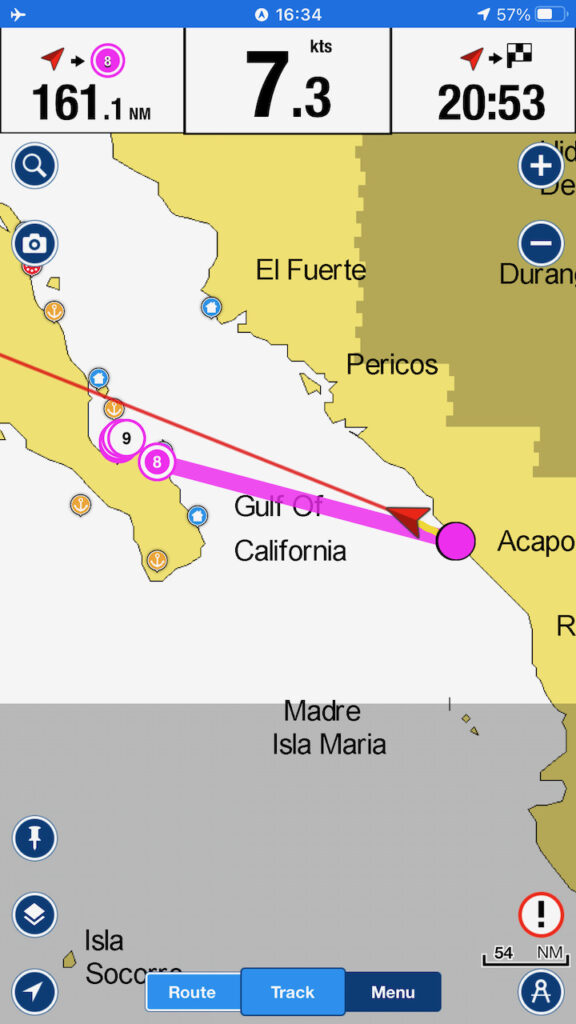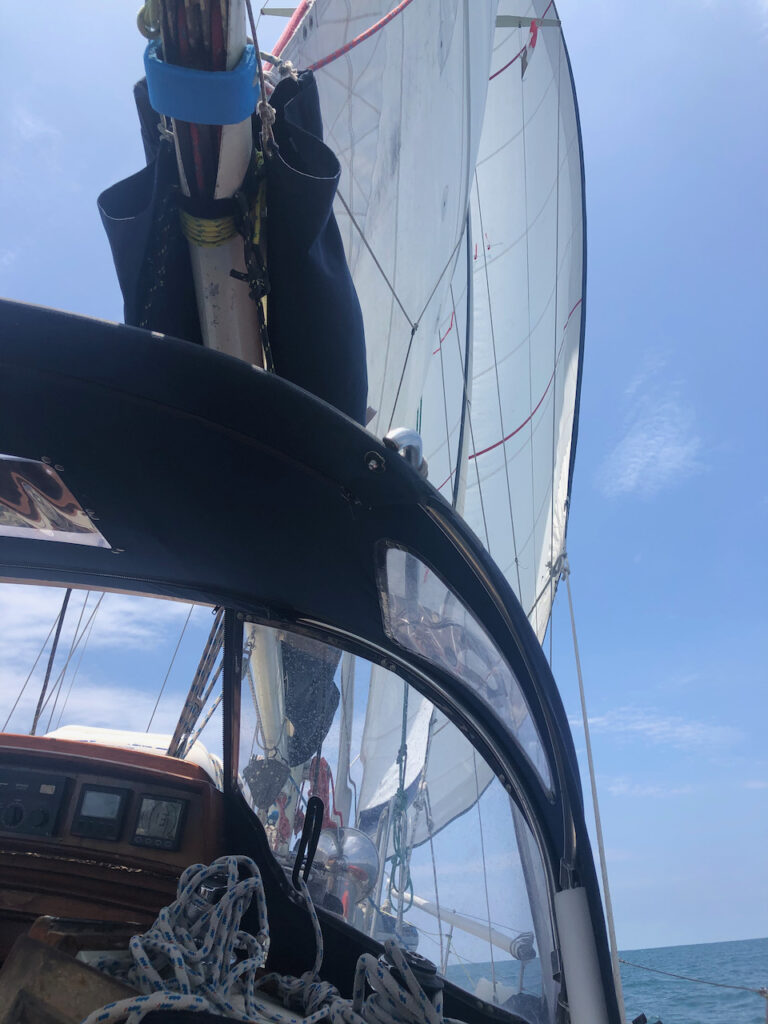 It takes me 35 hours to cross the sea, 5 hours better than I had expected. besides a bit of sail trimming, watching dolphins and flying fish, there was little to do. I didnt see another vessel for the whole passage, not even on AIS once I was offshore. I stayed in the cockpit and had modest meals I had ready to go. Napping for 15-20 minutes in the night.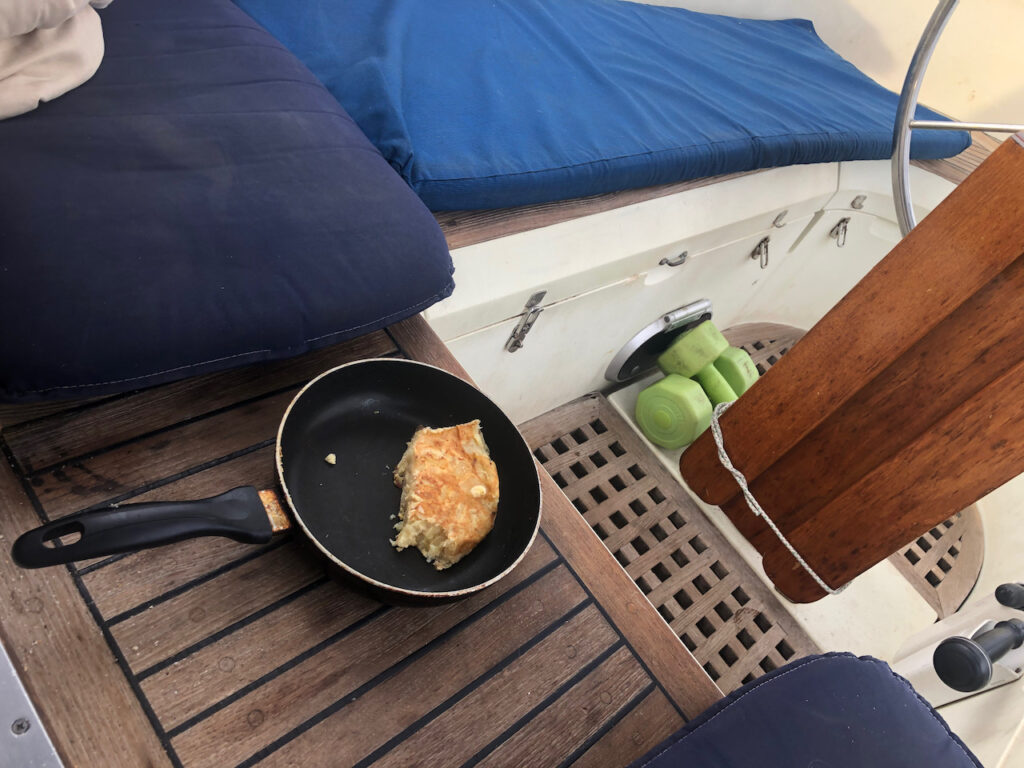 Spanish omellete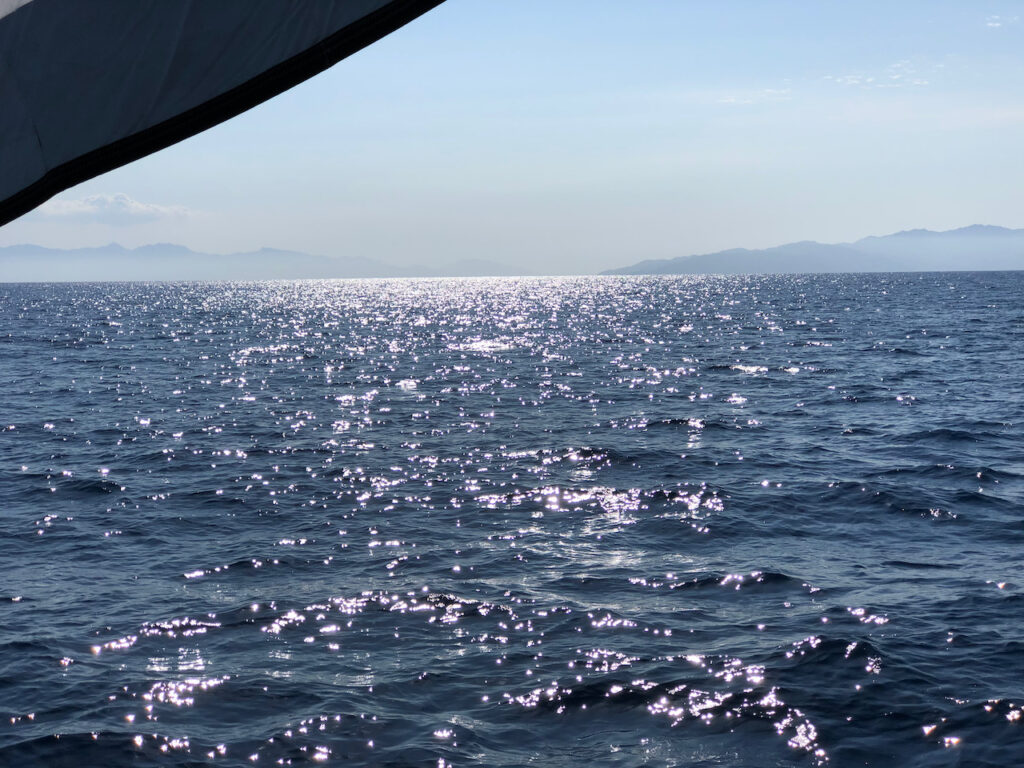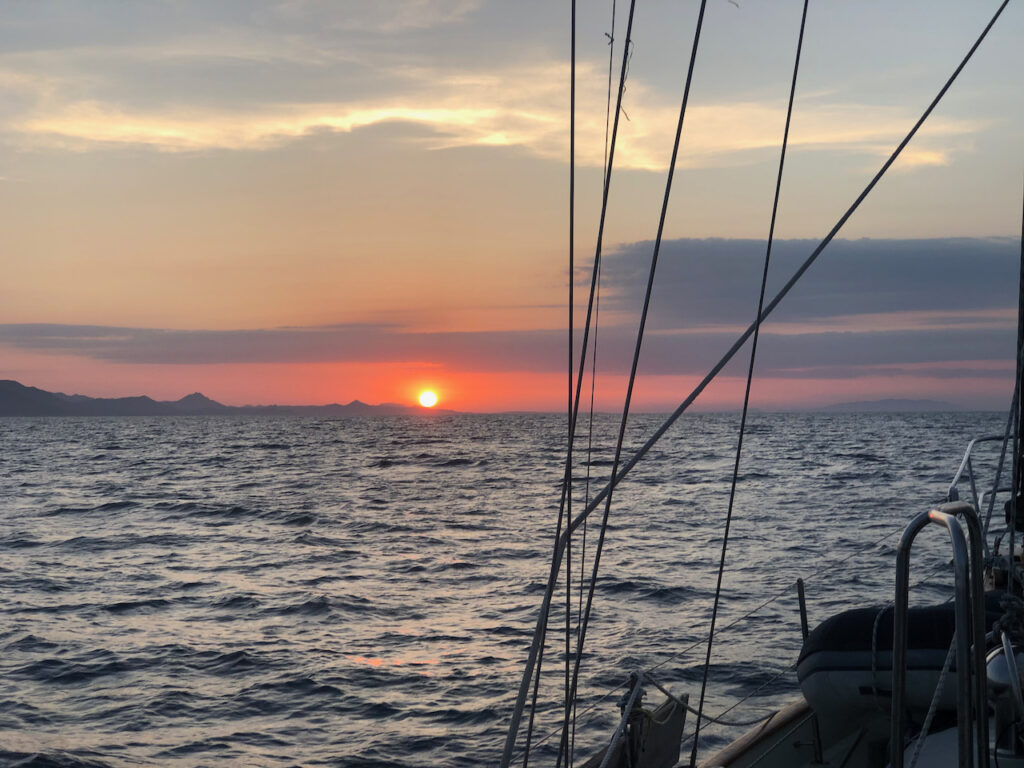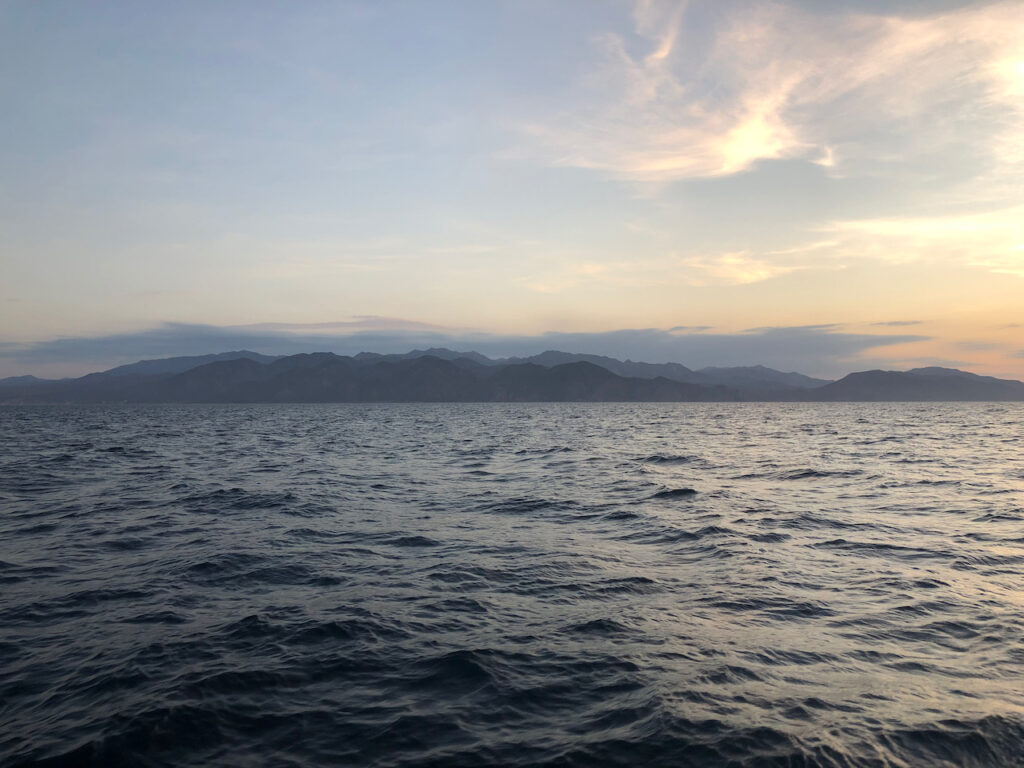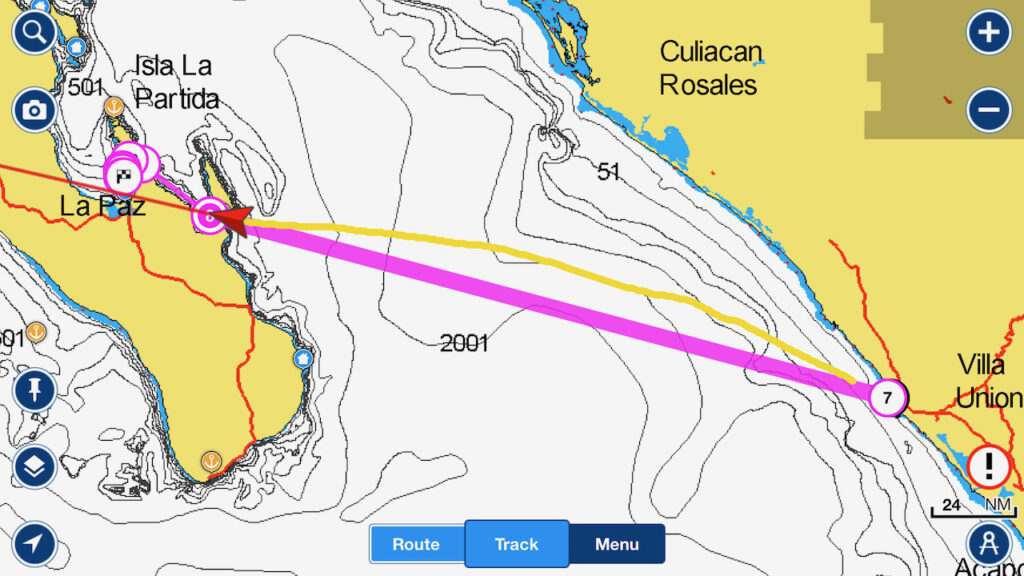 Having arrived on the BCS side, the wind had picked up, I think it's a corumel, but I'm not sure. I decided it would be too exposed to go into la paz bay, and despite the southerly swell I changed course and headed for the safety of a bay on the east side of Espirito Santo called Bonanza. It was quite dark and I was trying to remember if I had ever anchored this boat in the dark, or done it solo in the dark. Thinking it through I realised that I wouldn't be able to see the markers on the chain as it went out. I need to put out just the right amount. I had a secret plan to go to the waypoint where I dropped the anchor last time I was here, when Tim & Asta visited. However somebody had stolen my spot and there was a boat either side of them. The bulb has stopped working in the depth sounder again so I couldn't read it. I grabbed a couple of torches and set course for the beach. It's amazing at night how close the beach looks. By the time I got the anchor down, the wind was gusting 28 knots, but we had the island protecting us from any waves so I slept well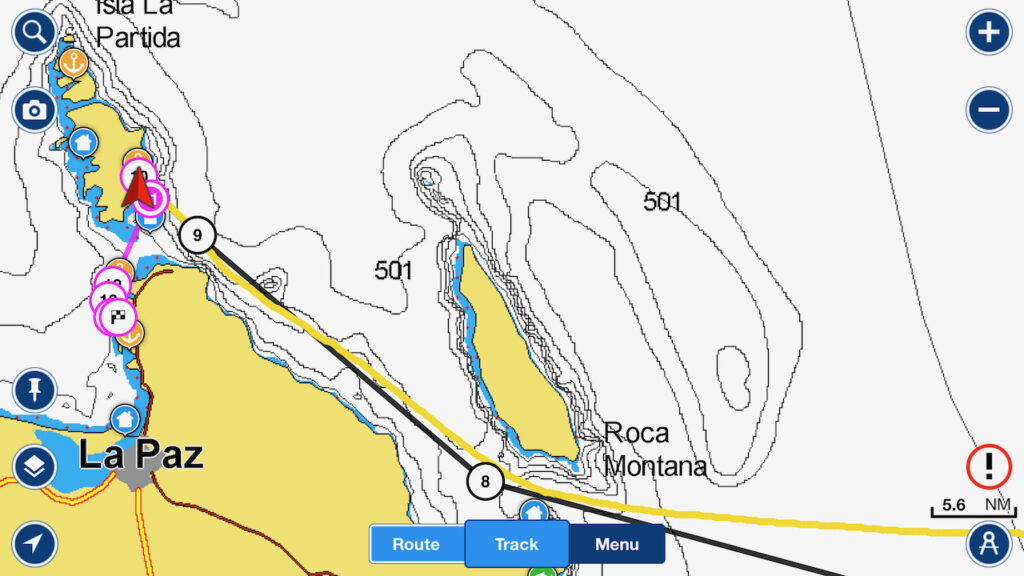 The next morning was a little calmer and I headed round into the main La Paz bay, I was determined to get a swim in before I hit the docks and dropped anchor in Balandra Bay. This is a stunning area with picture postcard beaches. I snorkeled some rocks and a small reef, saw some great fish, and forgot to look under the boat while I was down there! Maybe I will take the boat out again.
Sunday morning and I leave for the Marina. It's been blowing hard all night and around 20 boats have all taken shelter in the corner of the bay I'm in.
On the way back I spot the cruise ships are still here.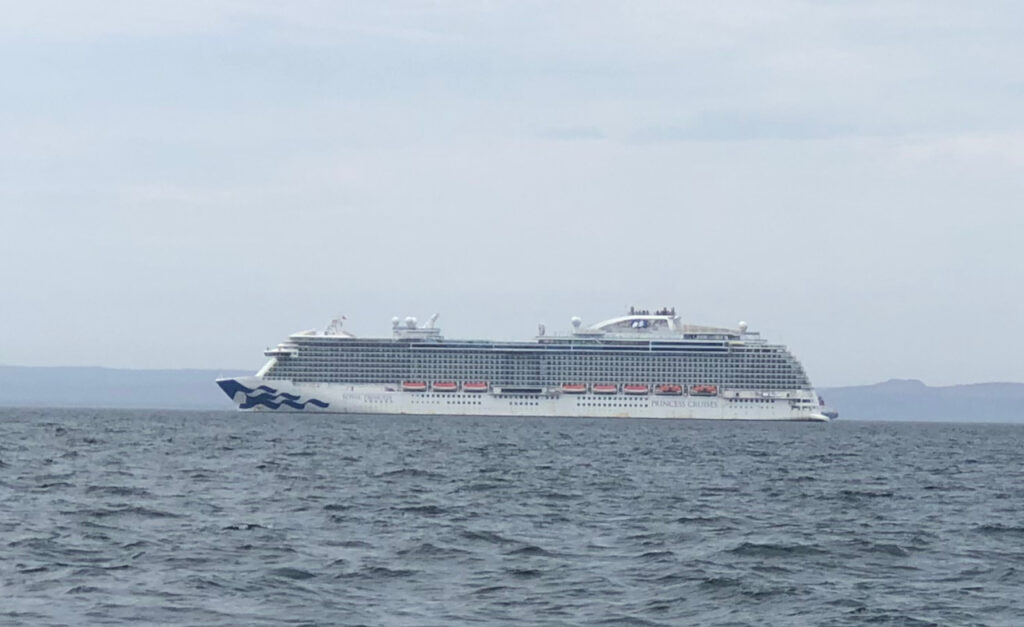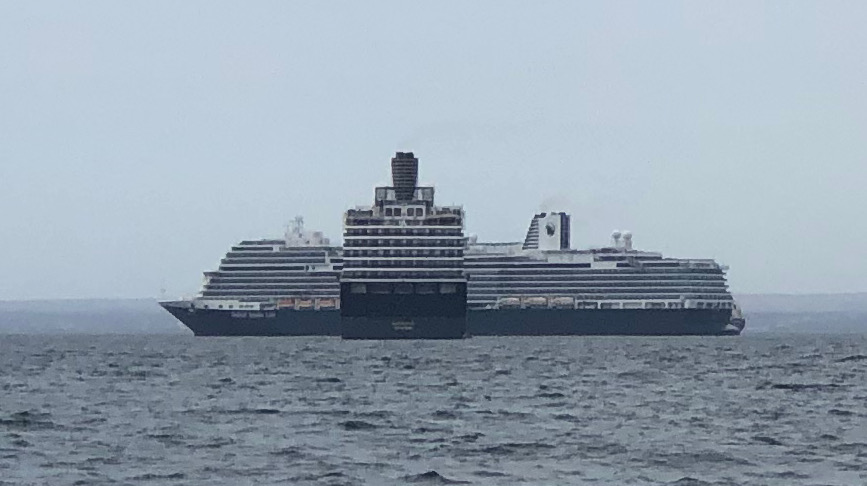 I was a bit worried about getting into the slip as the wind was gusting quite strongly, but as it turned out the marina staff turned out to take my lines and all went very smoothly.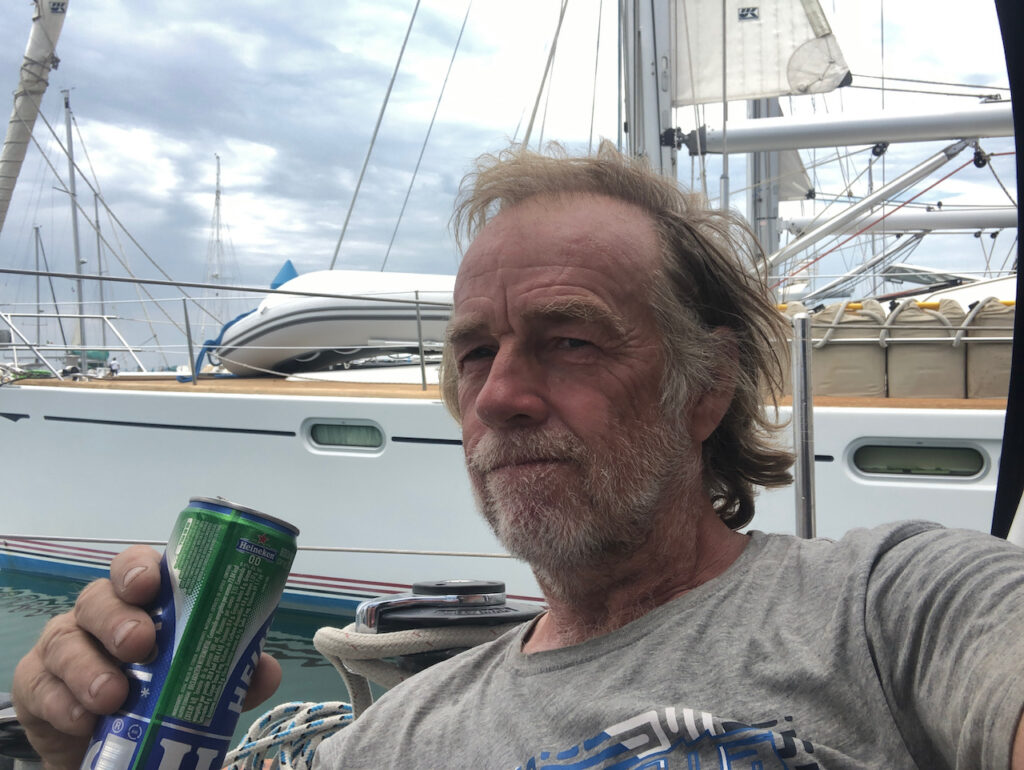 A short time later, the boat is washed down, plumbed into the marina's electricity, water and broadband/ethernet. Tomorrow I have to try and get as much canvas down as possible, if the wind allows me as a hurricane is headed for us. How exciting is that. More below.
Hurricane Enrique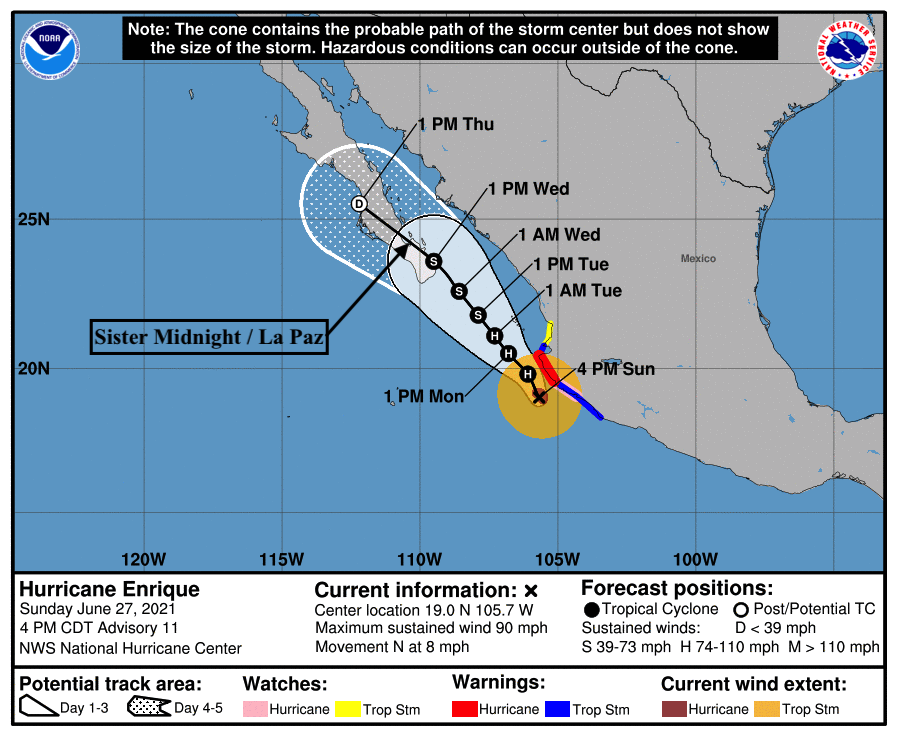 Below is the forecast for the waters south of me, and a good five hundred miles south. The hurricane is tracking slowly to the East of North right now and that means it may well travel up the sea of Cortez and reach us soon
PMZ023-280930-
Entrance to the Gulf of California including Cabo Corrientes-
228 PM PDT Sun Jun 27 2021

...HURRICANE WARNING...

.TONIGHT...HURRICANE CONDITIONS. Near Cabo Corrientes, NW to N
winds 65 to 75 kt, shifting to E to SE late. Elsewhere, W winds 
60 to 65 kt, becoming SW to W 45 to 50 kt late. Seas 11 to 17 ft 
in S to SW swell. Period 15 seconds. Scattered showers and 
isolated tstms. Vsby 1 NM or less. 
.MON...HURRICANE CONDITIONS EXPECTED. Near Cabo Corrientes, S 
winds 60 to 70 kt. Elsewhere, SW to W winds 25 to 30 kt, 
increasing to 35 to 40 kt in the afternoon. Seas 10 to 16 ft in S
to SW swell. Period 16 seconds. Scattered showers and isolated 
tstms. 
.MON NIGHT...HURRICANE CONDITIONS EXPECTED. S winds 55 to 65 kt 
Near Cabo Corrientes, and SW to W 45 to 60 kt Elsewhere. Seas 9 
to 14 ft in S to SW swell. Period 15 seconds. Scattered showers 
and isolated tstms.


Below is the forecast for the area La Paz is in, much more manageable, but things could change. To think I scooted all the way here from Mazatlan to be in the path of a possible hurricane!
PMZ021-280930-
Southern Gulf of California-
228 PM PDT Sun Jun 27 2021

.WED...TROPICAL STORM CONDITIONS POSSIBLE. 
.WED NIGHT...TROPICAL STORM CONDITIONS POSSIBLE. 
.THU...S winds 20 to 25 kt, diminishing to 10 kt in the
afternoon. Seas 2 to 4 ft. Period 16 seconds. 
.THU NIGHT...S winds 10 to 15 kt. Seas 3 ft or less. Period
16 seconds. 
.FRI...S winds 10 to 15 kt. Seas 3 ft or less. Period
16 seconds. 

Th
I'm pretty confident it will fizzle out and it will be wet and windy here, but at least it will be cool and the boat gets a good washing.
Paul Collister.