It rained through the night, and when I woke up the new varnish was covered in rain drops, spoiling the surface of the last coat of varnish. I dried the wood with a rag hoping the weather would improve, then stayed below and did some research on shopping and where to leave the boat when I travel home next week.
I took a trip downtown to check out all the hardware/marine suppliers I had failed to find before, I found them all, not where they are documented as being, bought paint and Epifanes varnish thinner, I had sent an email off to Epifanes the dutch manufacturer of the varnish I use, it's quality stuff, but hard work here. I was pleased to get a reply, he confirmed that it would be difficult to varnish here, but possible, he persuaded me that I should use his thinner rather than the local turps and to let him know how I got on. He also had some other good tips. I also bought some flashing led lamps for the boat, I already had two, but these ones are good for 100 hours operation and turn off in daylight automatically. So when I next anchor, I will look like Blackpool illuminations. Needed because of the massive amount of fishing boats out here, many who drop nets in the anchoring spots.
I also found a fire extinguisher shop and bought a fire blanket for the galley, I had been looking everywhere for one of these, not something normally used here it seems. Outside the shop there was a couple of trees that seemed to be having root problems, glad I didnt lay that pavement.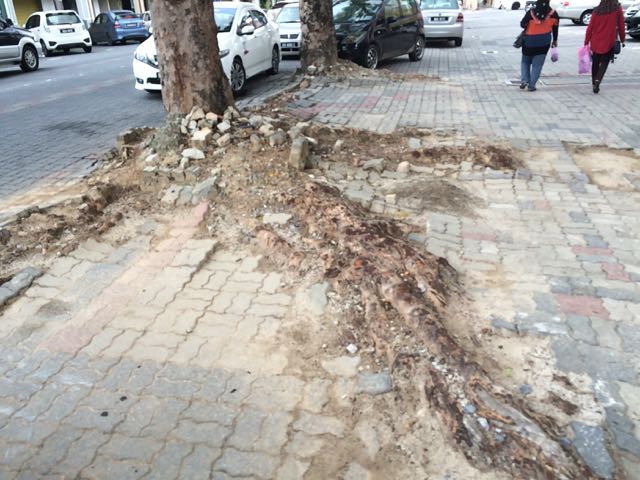 So by the time I got back to the boat the sun had come out and drying had completed and varnishing could commence. I managed to get a second coat on after sanding back the first one and removing the rain spots, I also sanded back the blue paint under the cap rail, that will get painted tomorrow, followed by another coat of varnish on the wood ( 2 down, 8 more to go).
I think I have saved that cap rail, port side by replacing the rotted teak bits with new plugs. The starboard side is still untouched.
Then onto the pool to cool off, followed by the removal of the Aircon Water pump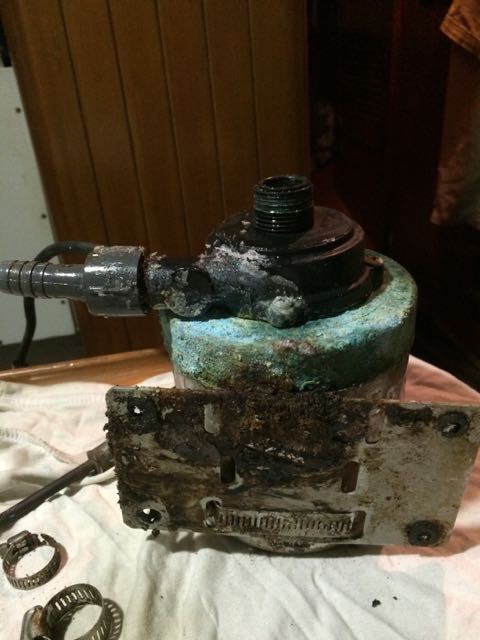 This pump had given up the ghost, it's 15 years old, and has been pumping salt water all its life, so fair enough, Im hoping if I can replace it the air-con will work, but there may be more problems.
Tomorrow everywhere is shut so I will do some painting and varnishing.
Paul C.