Bit of a long read this time due to just getting decent internet after 4 weeks
Thursday 20th August 2020
Wednesday night was very windy as the hurricane came level with us. In the middle of the night we had a huge downpour of rain mixed with constant lightning and thunder. I had to get up and shut the hatches, sadly Arturo left a window open in his berth and his favourite book got soaked.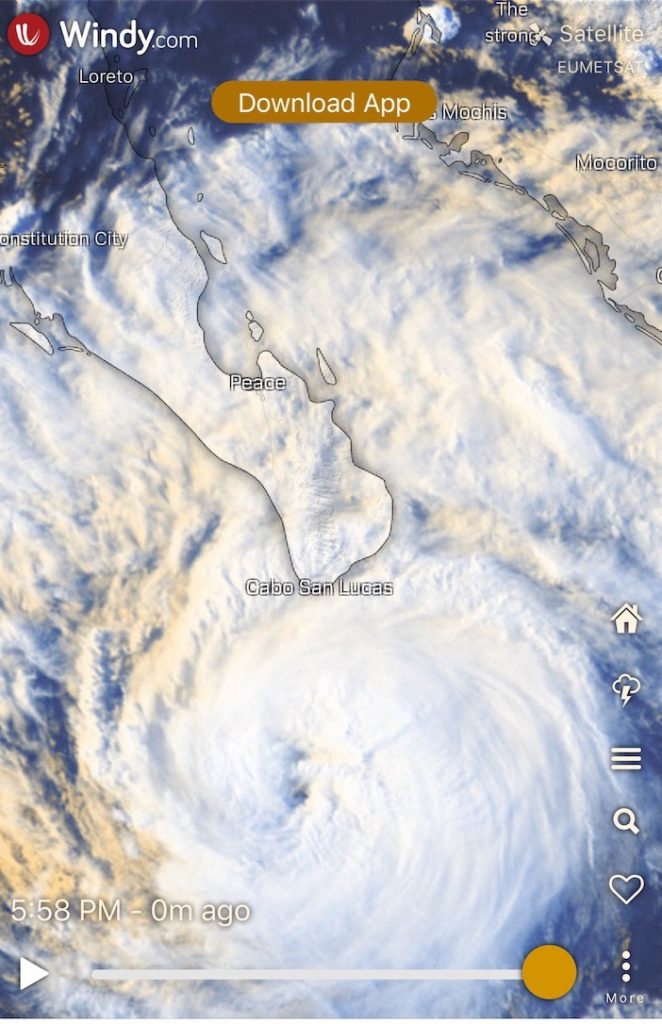 By morning the wind was strong from the east and the sea was building as we set off in an easterly direction for the safe bay of Ballandra on Isla Carmen.
It was a lumpy passage that took about 3 hours, the waves were quite high, but once we were in the bay it was flat calm. The wind was still fresh and the sky had been overcast all day so the coolness was very welcome. We quickly dove into the water and checked out the anchor and were keen to see how much aquatic life there was here. Later we dinghied over to a cluster of rocks and snorkeled around, some lovely fish, but nothing new. We had plenty of bees visit us but they mostly disappeared come sunset.
Friday
Up at 8 after a good sleep and Arturo tells me there's a lot of bees outside, too many for him. I take a look and sure enough there's hundreds of them. They have come for fresh water, I had hoped there would be rock pools of water they would prefer, but it seems we collected rain water in the folds of the mainsail and as the boat rocks, it drips down into the sail bag. The bees are sucking the water from the sail bag in small clusters along its length. Also the tarps we had folded up on deck have collected water inside and the bees have found a way in, some didn't find the way out and died in there. We hoist the mainsail half way and shake the water out, the sun will soon dry it all.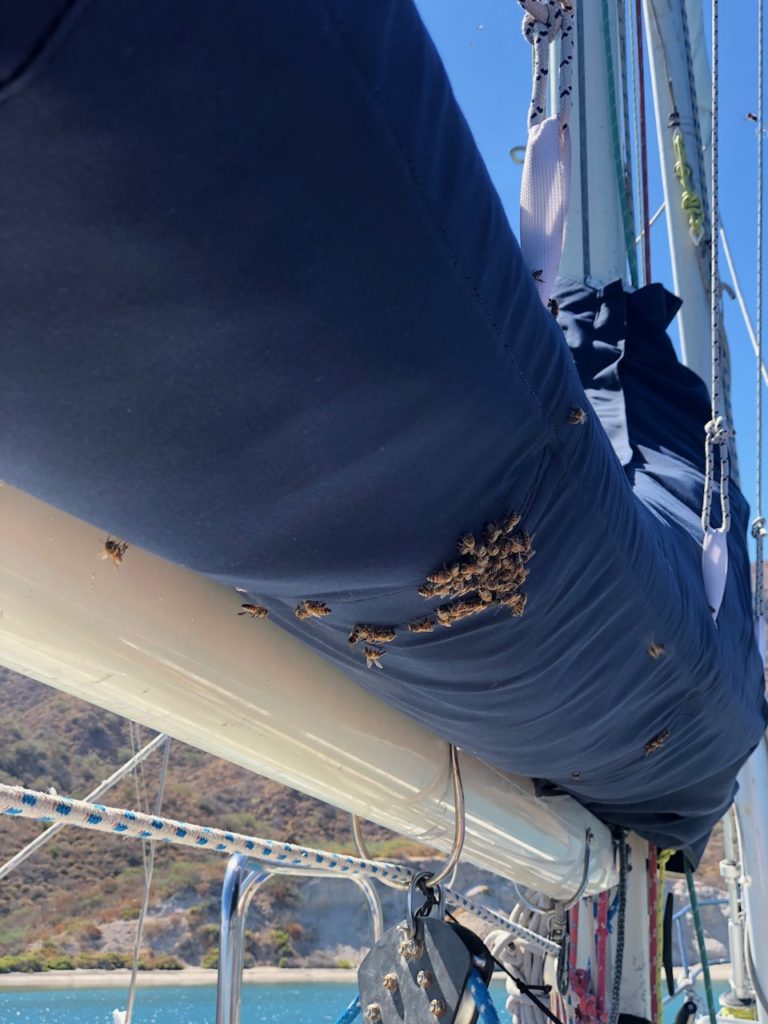 Next up we dinghy over to a big rock outcrop about a half a mile north, the fish here are amazing, so many, a few new species we haven't seen before, and a beautiful giant eagle ray, very blue. We need internet to find out the details of what we are seeing.
Saturday:
An early departure for the 4 hour trip to the back/east side of Isla Carmen, to the old salt mines at La Salinas. We arrive at one and after a quick swim to cool down we head ashore. The mines shut down in 1982 making 120 workers redundant, the village that accommodated them, included a hospital, a general store, a school and other official buildings. It became a ghost town overnight. We talked with the village caretaker, who maintains the church and keeps an eye on the remaining buildings and equipment, even though it's all in a very sorry state now.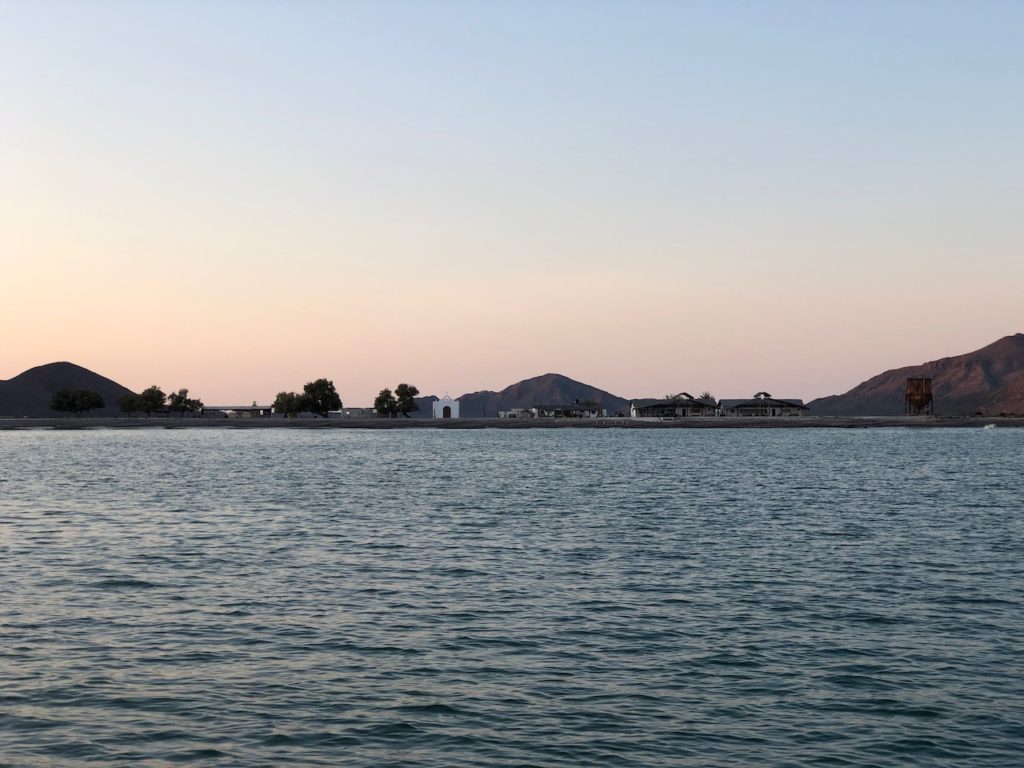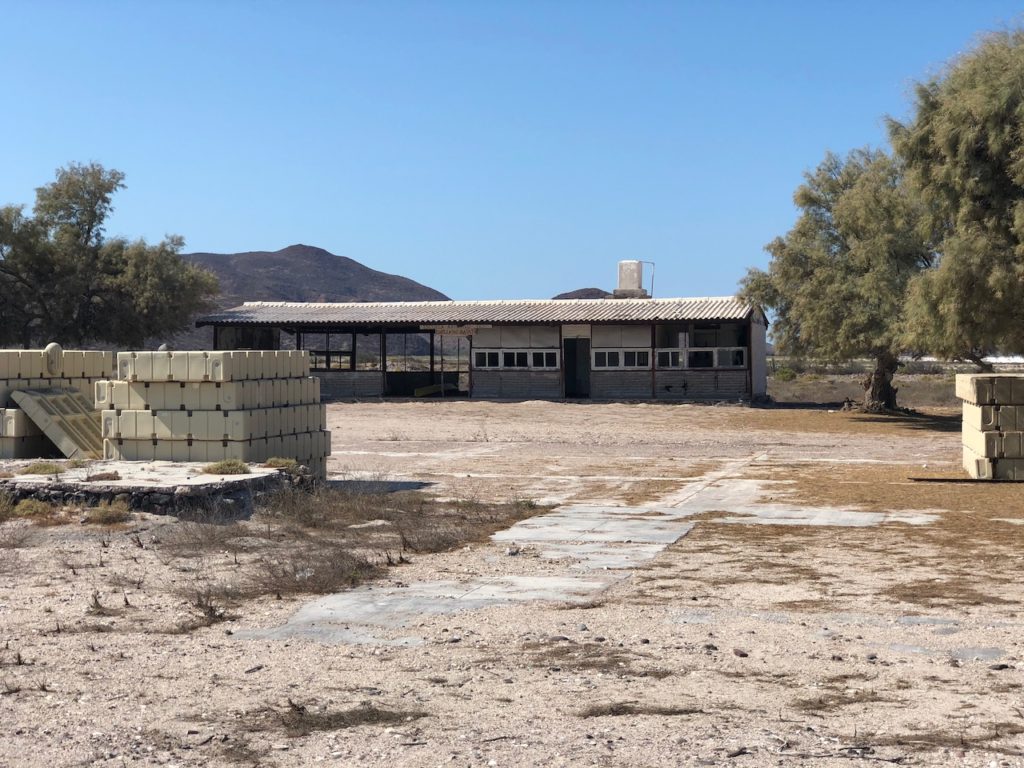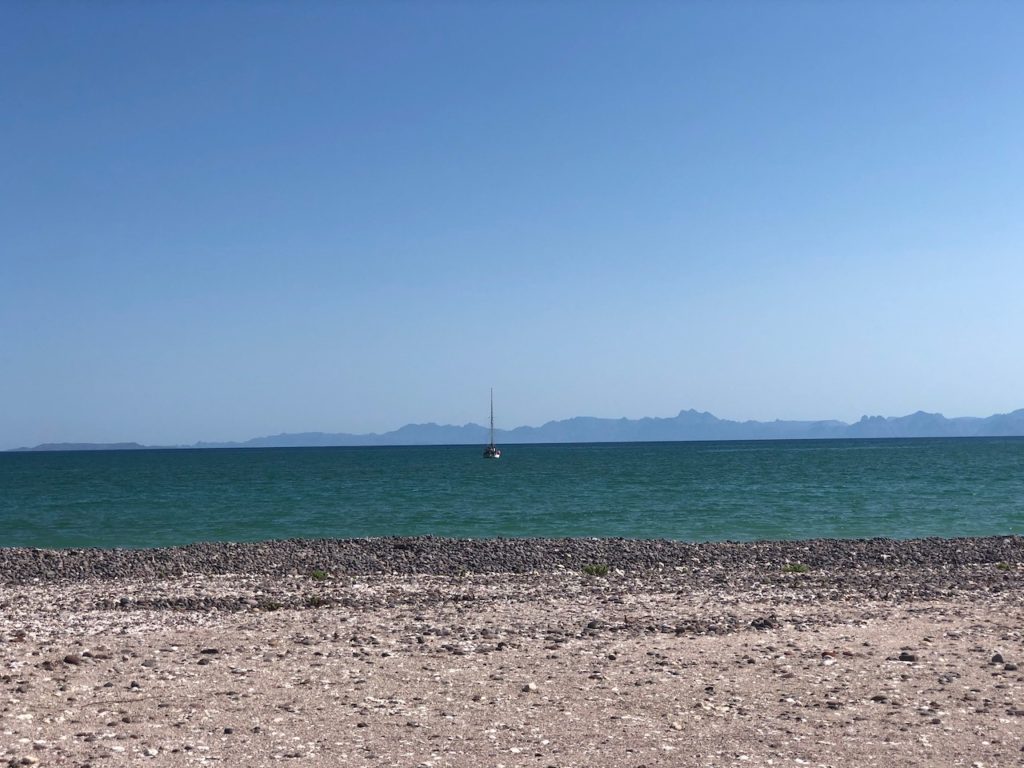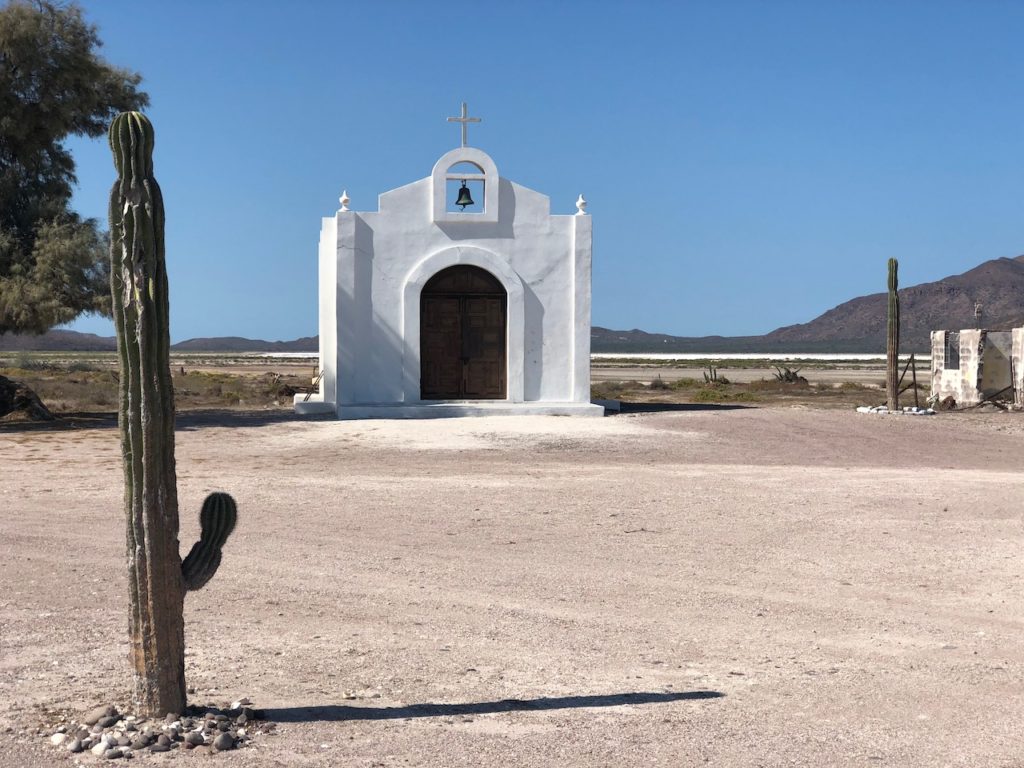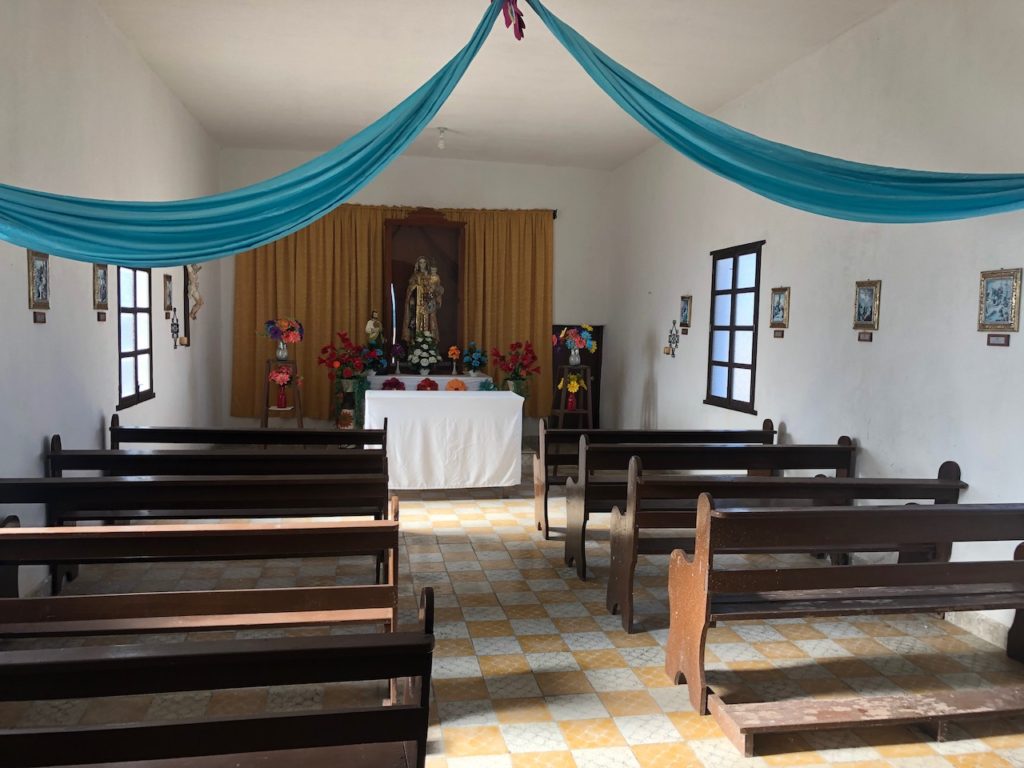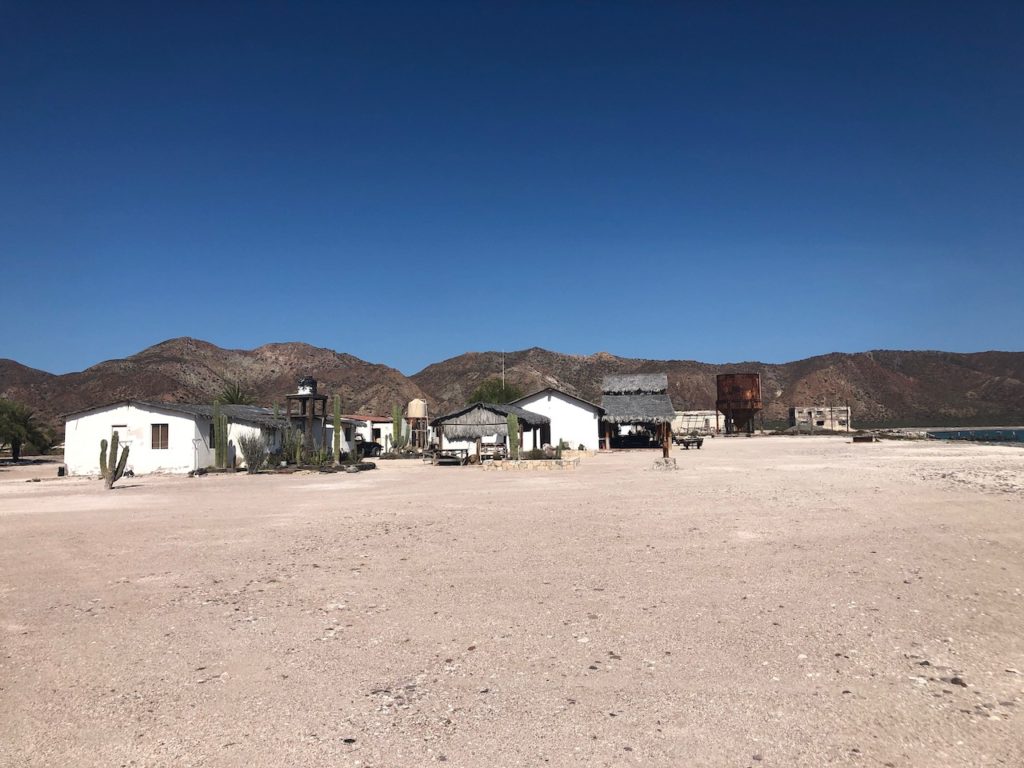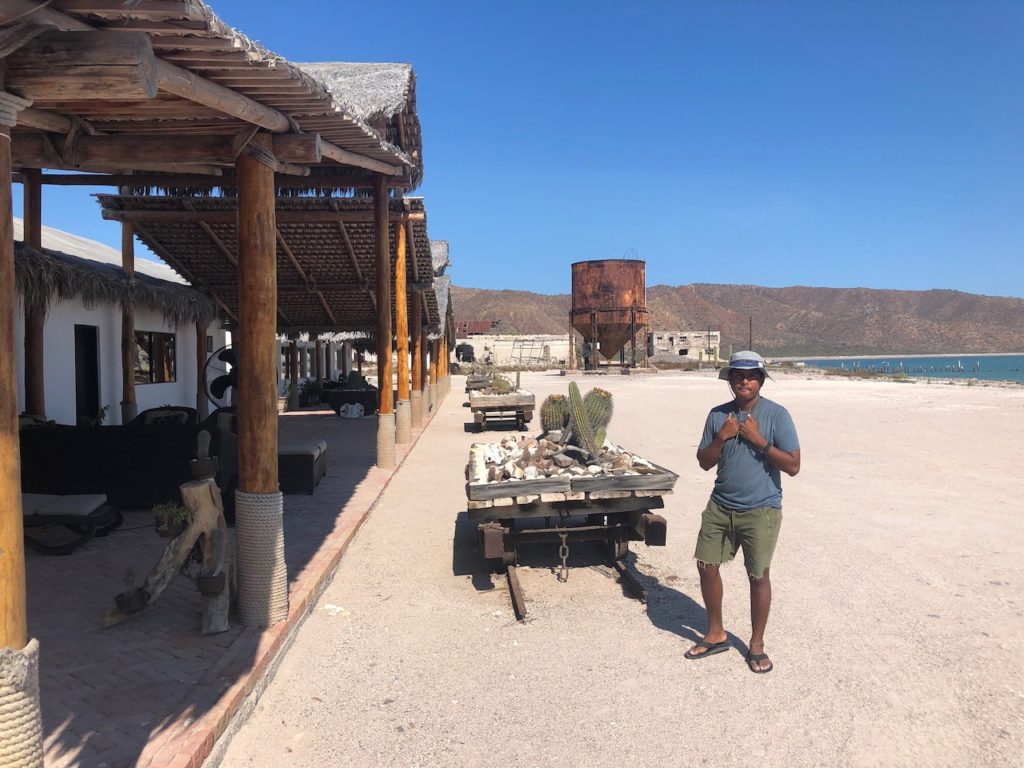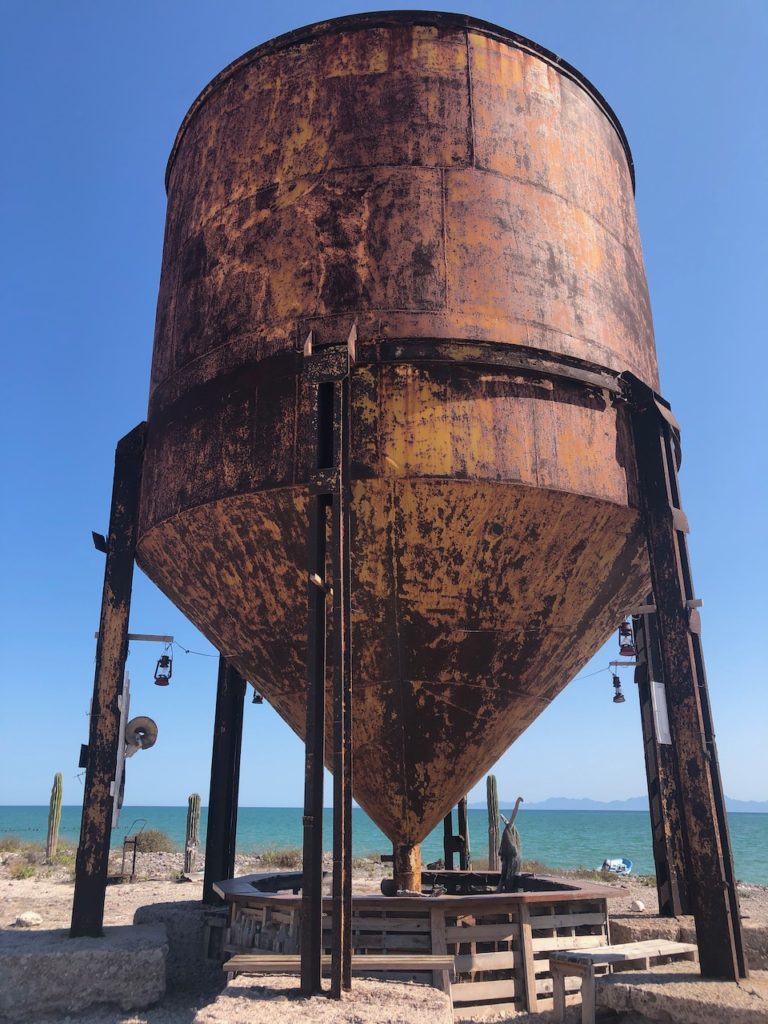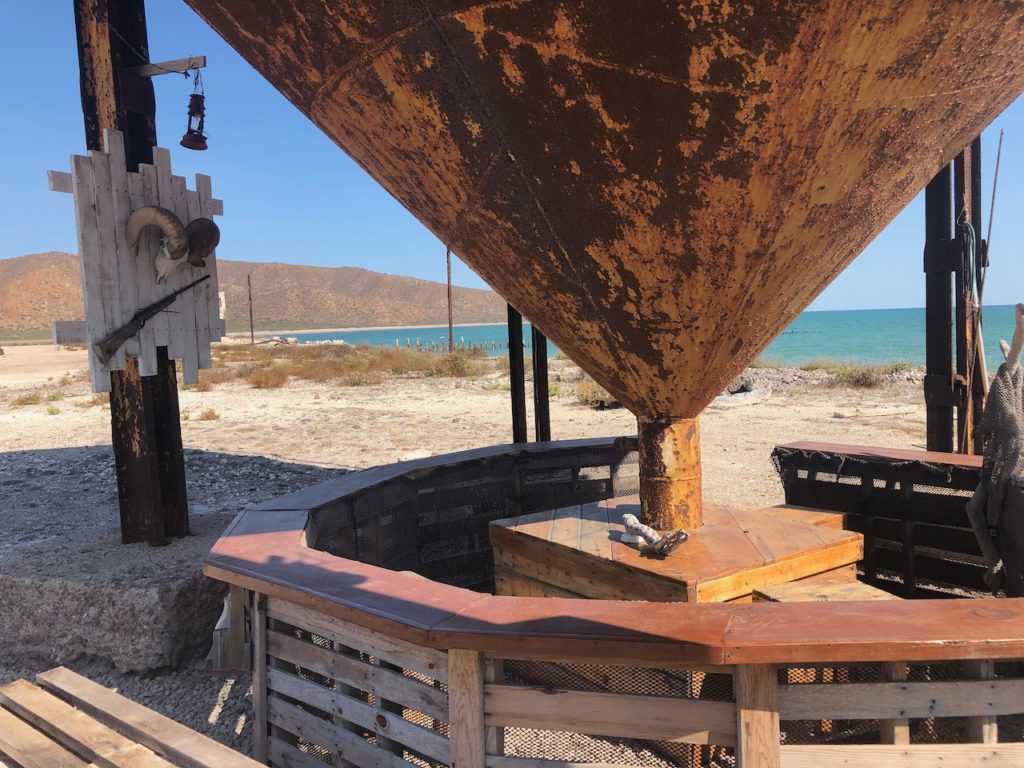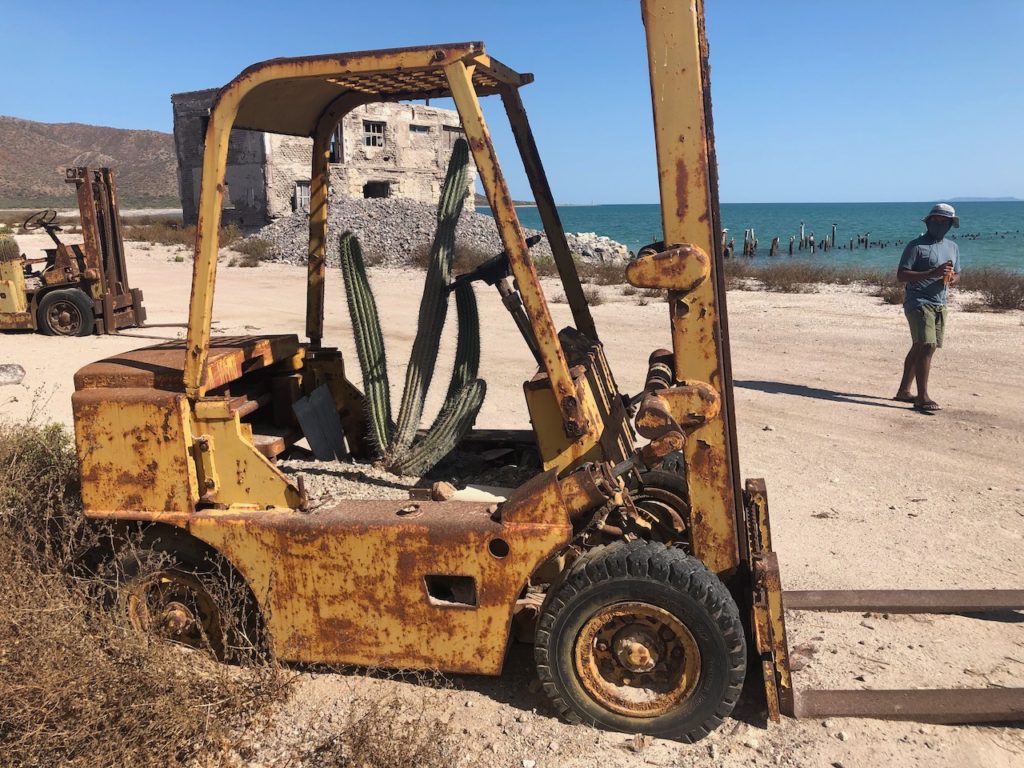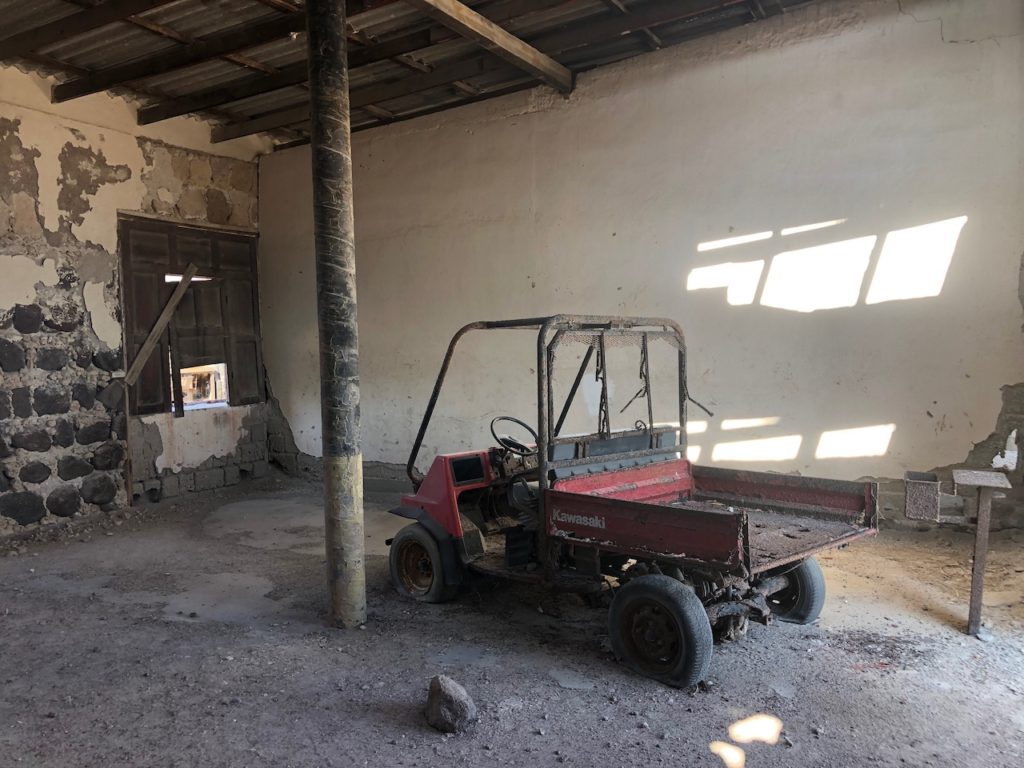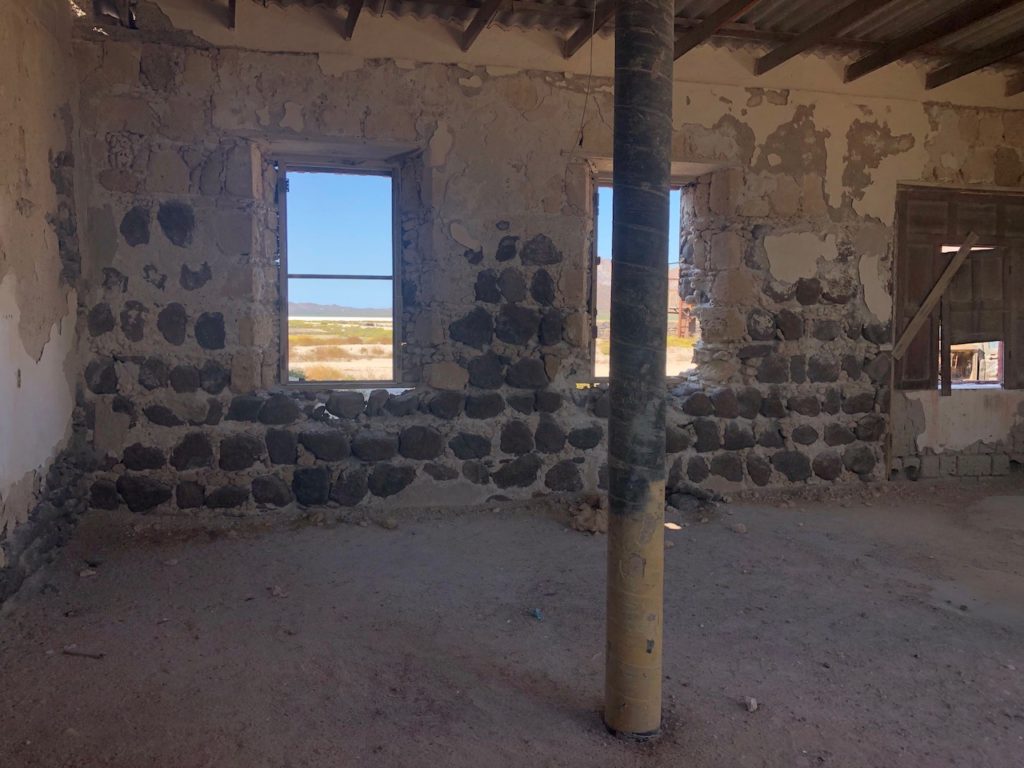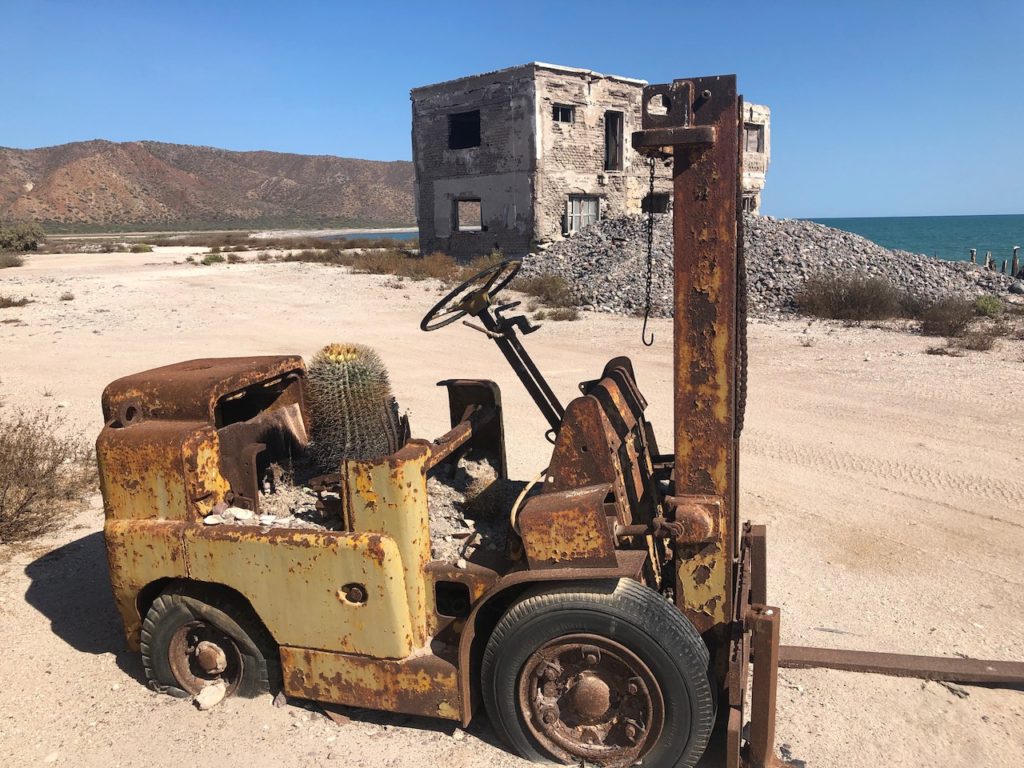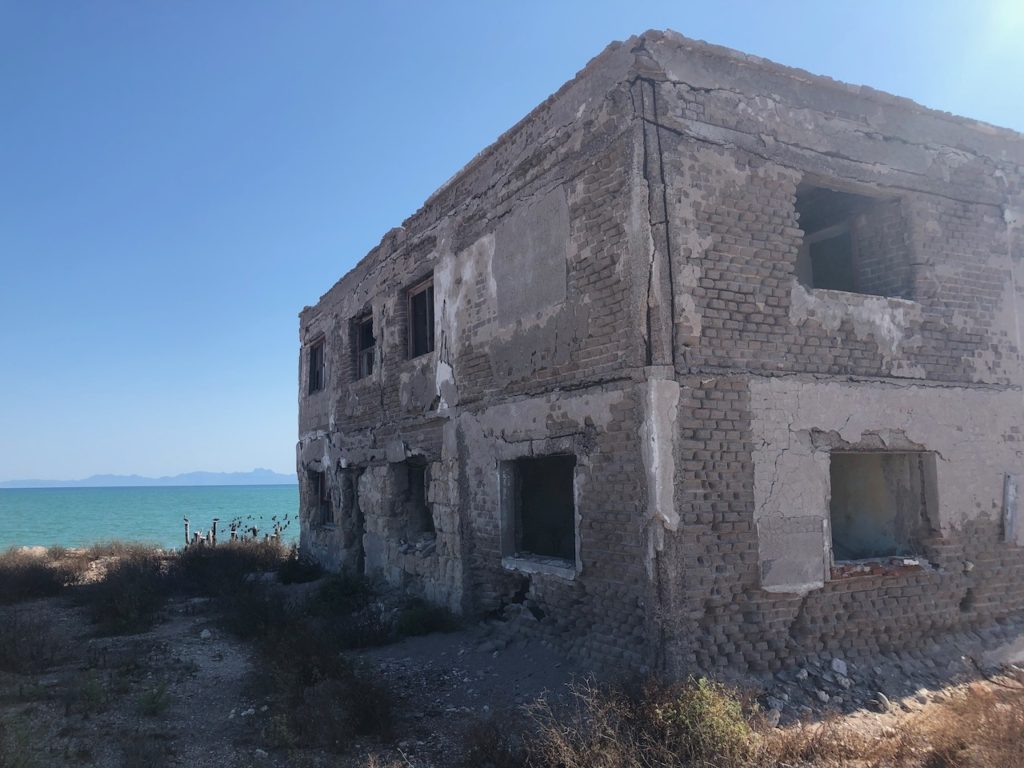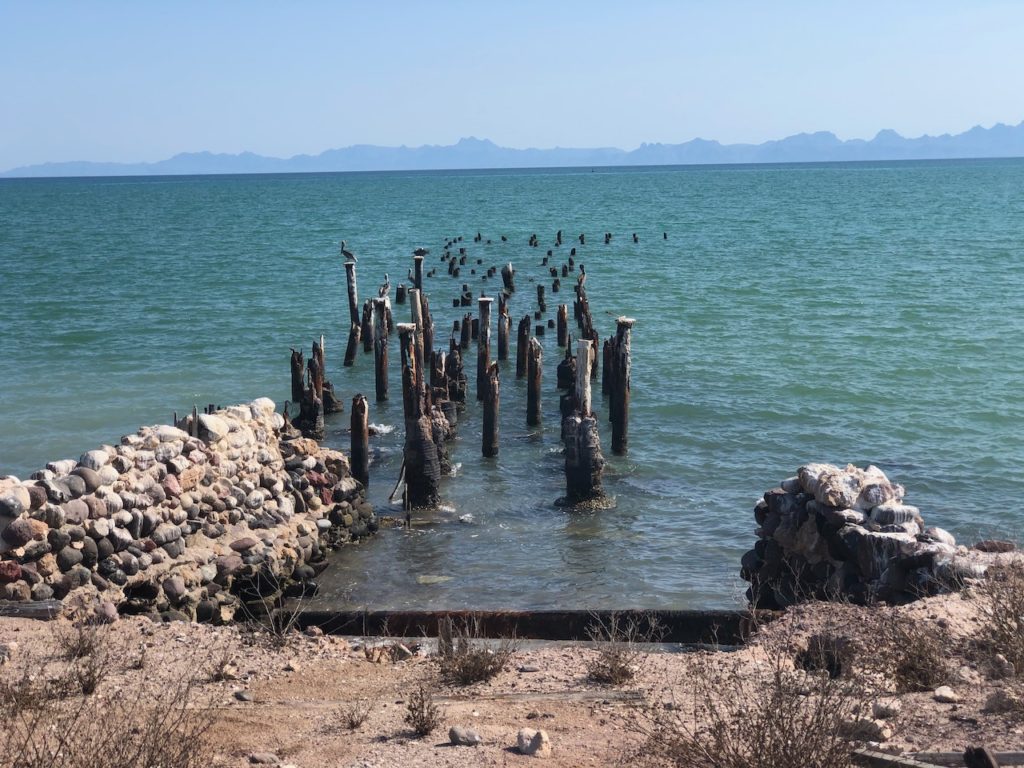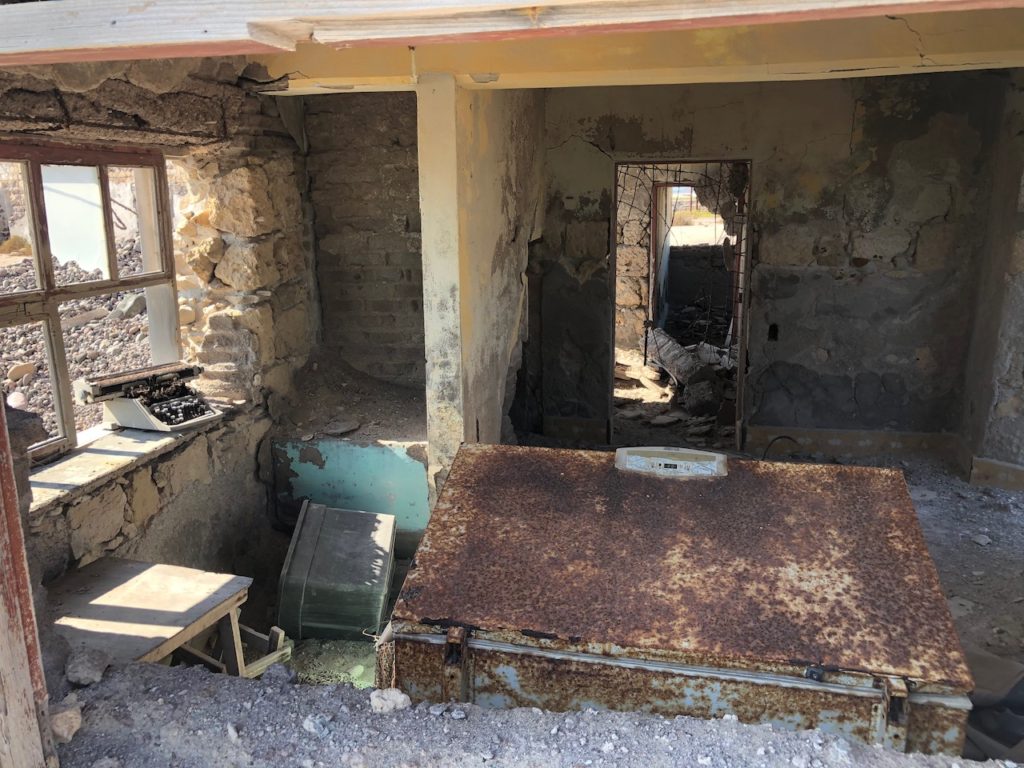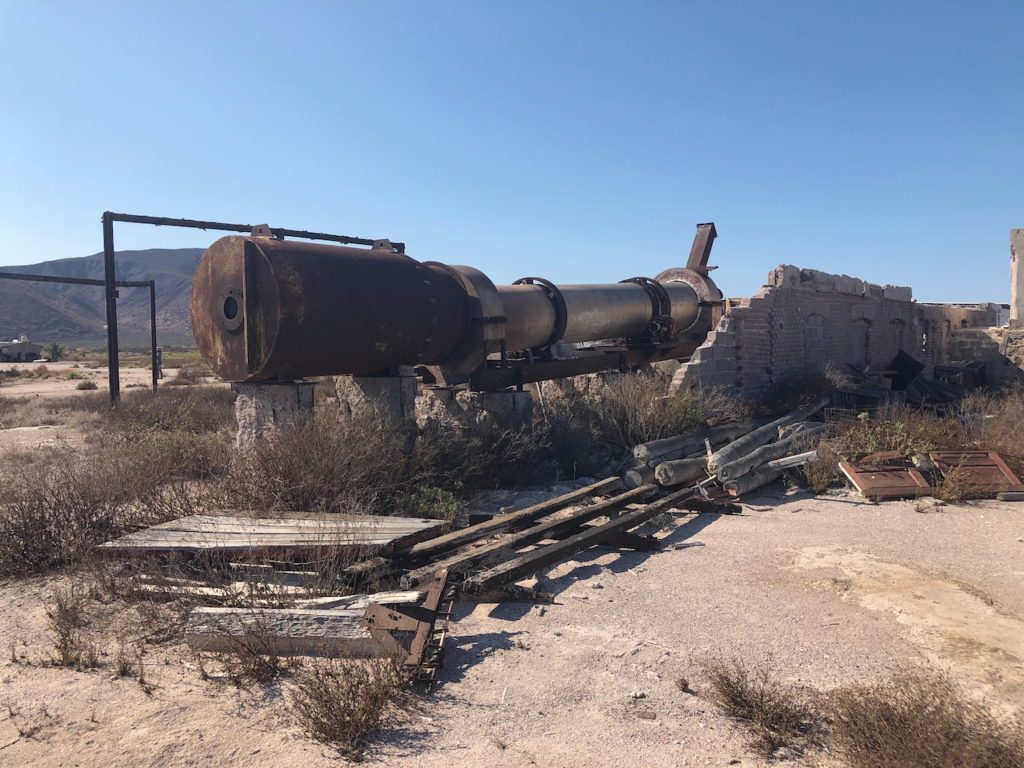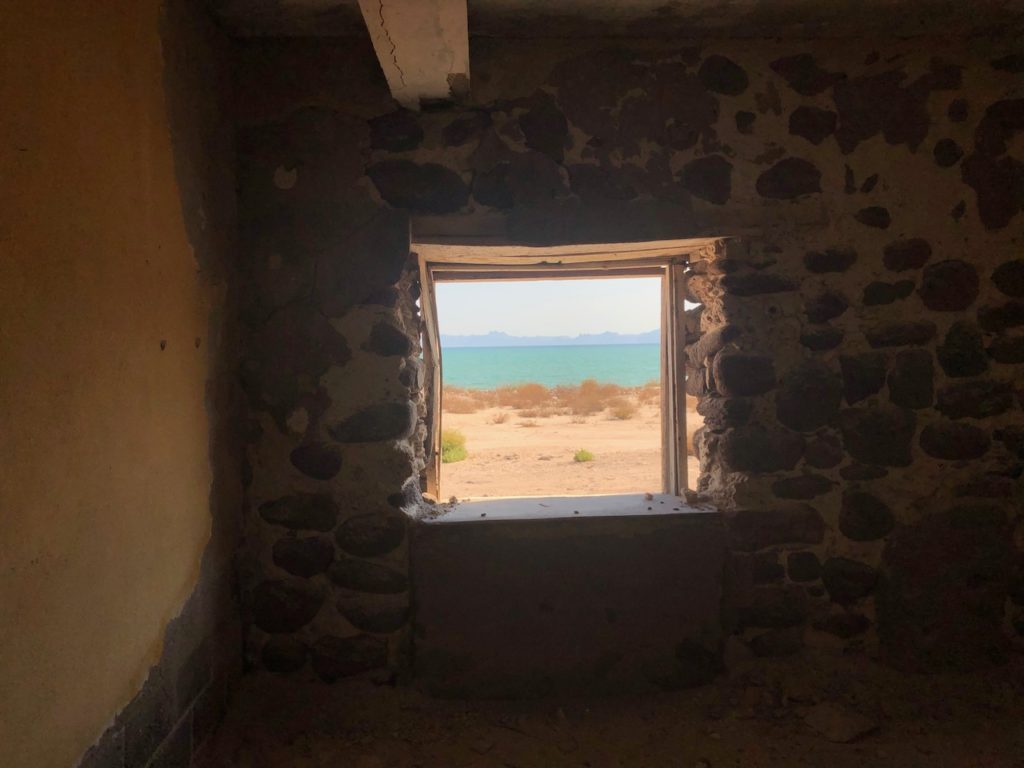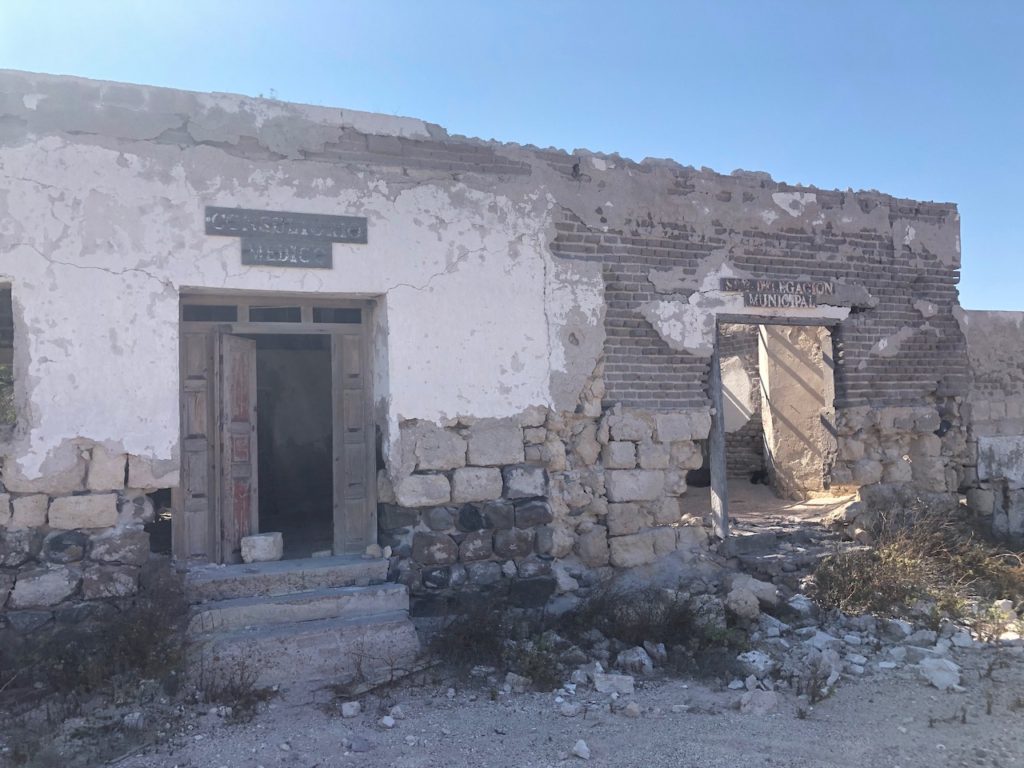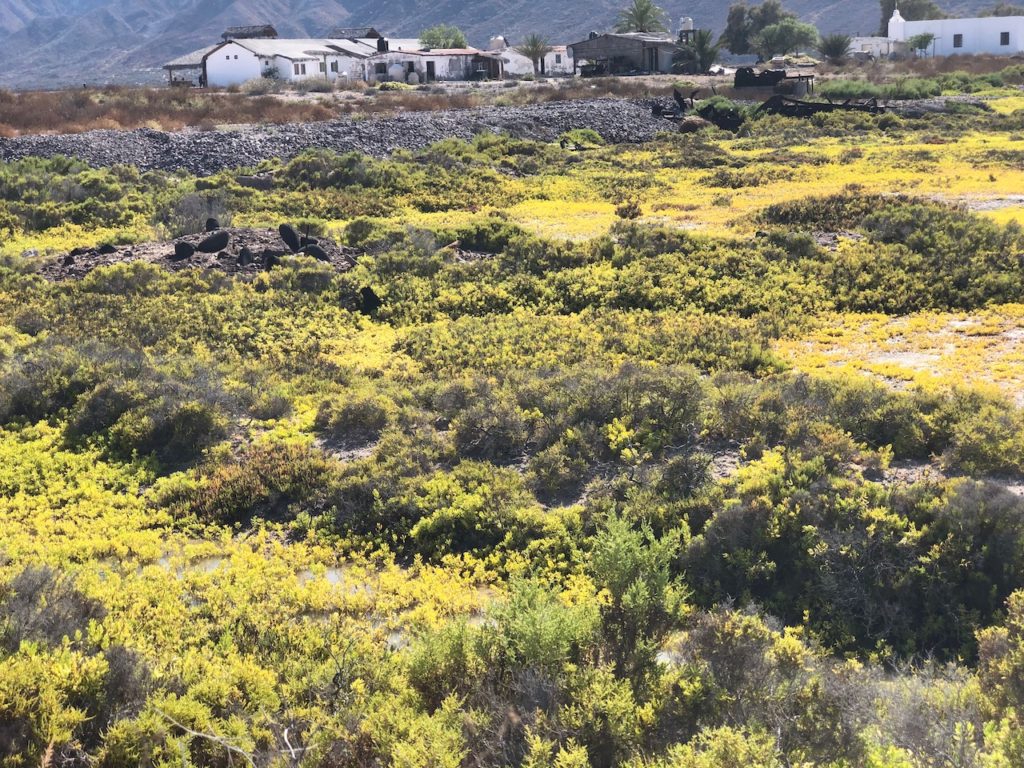 We walk down the long flat track to the main salt pans, I suppose it's wrong to call them mines, they are just huge pools where the sea water is allowed to evaporate. I think I read somewhere that the Baja Peninsula provides about 1/3 of the world's salt. It looked like a snow covered field it was so white. Arturo, who has never seen snow was curious if that was what it looked like.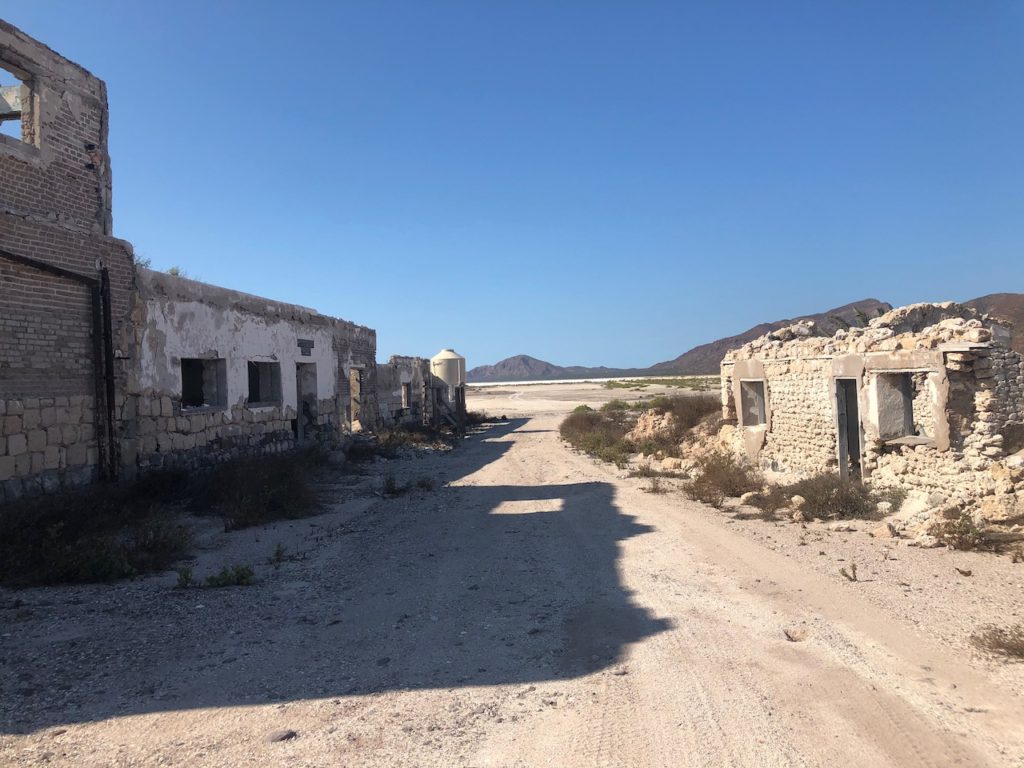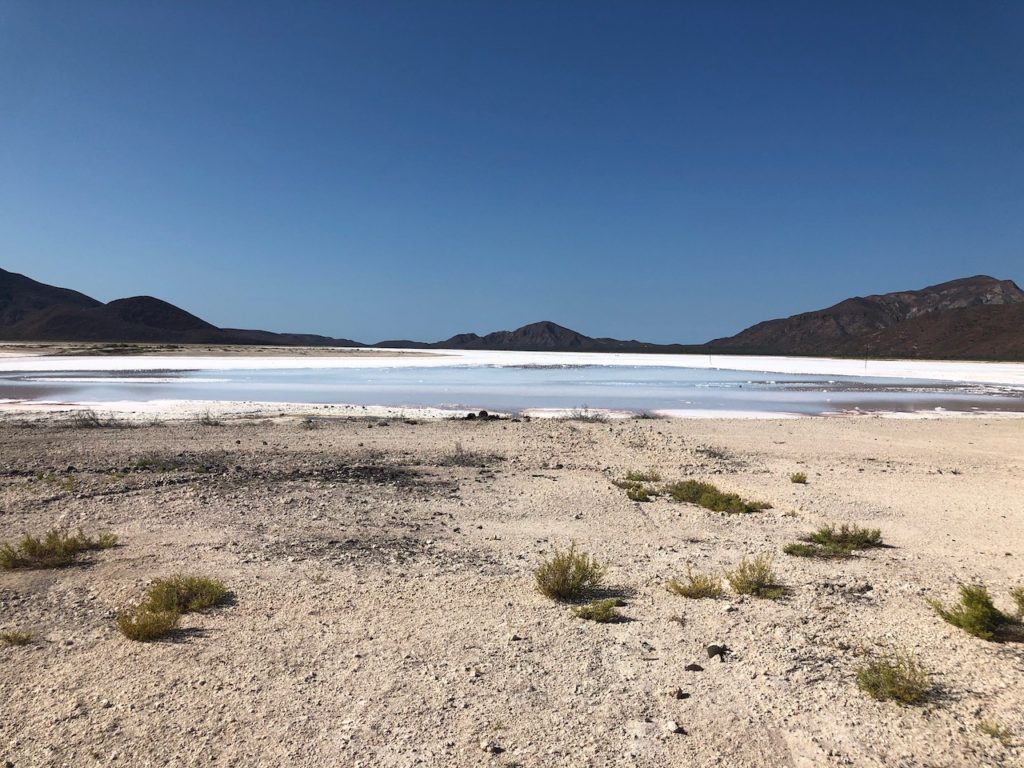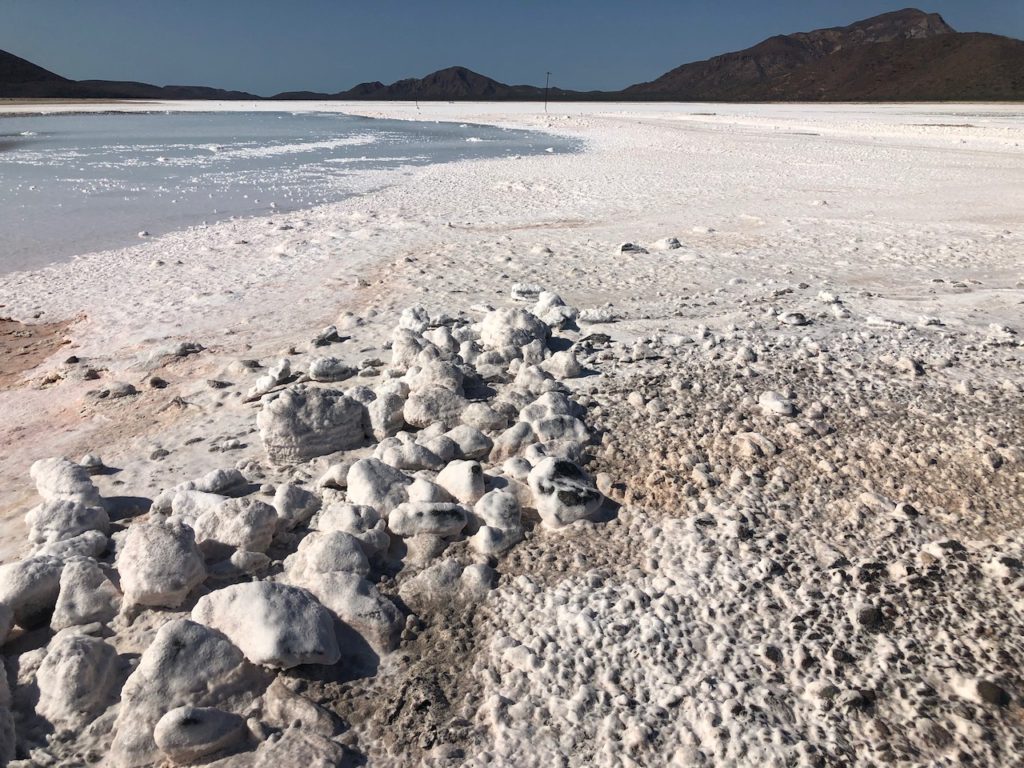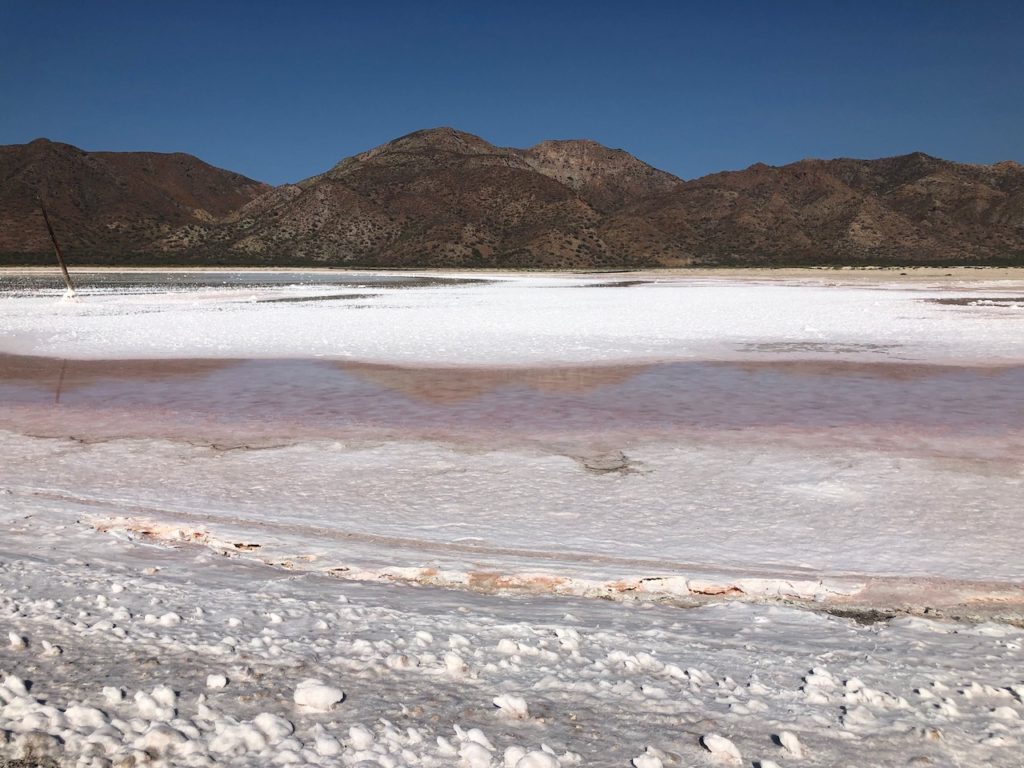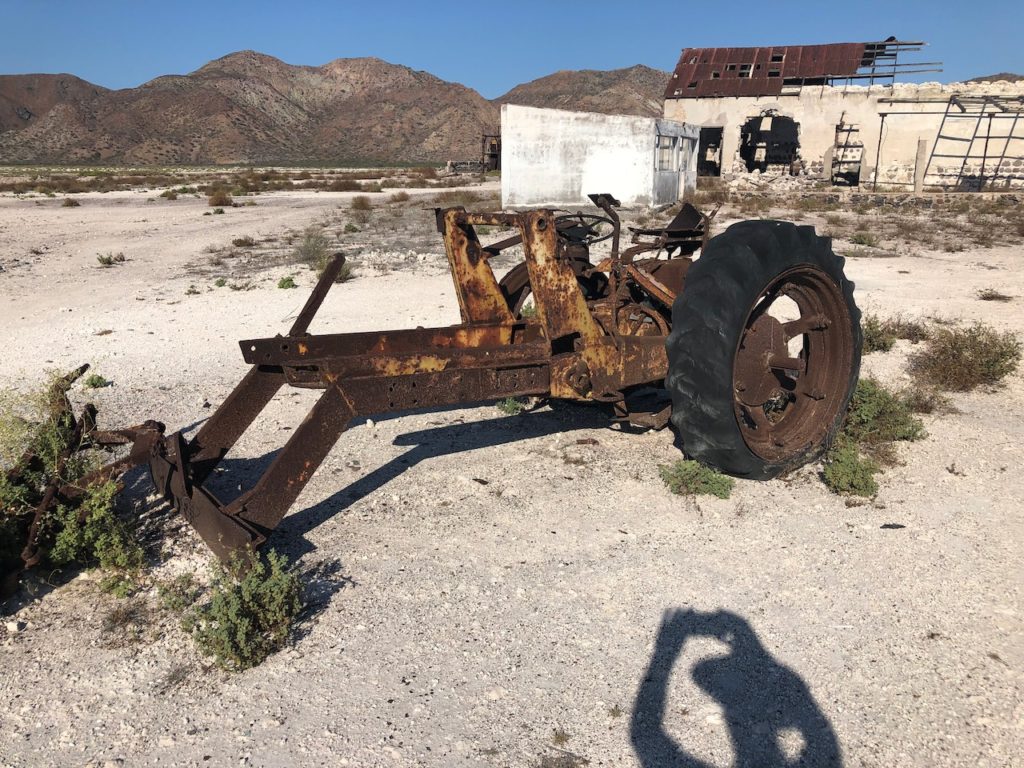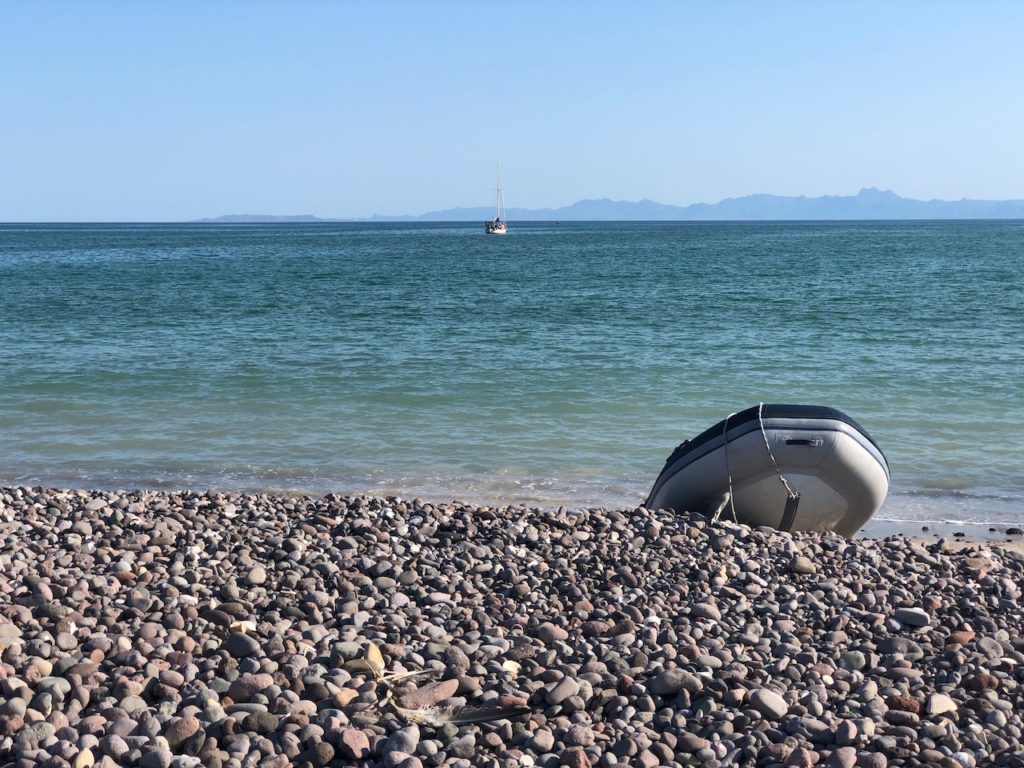 Sunday
Another early departure as we want to get back to Agua Verde today, a six hour passage. We are running low on food and drinks; today we will have our third pasta and sauce meal in 5 days. The passage goes well and we sail with the morning wind for about an hour, then as the sun rises the wind drops and on with the engine. We are entertained when a stack of dolphins swim over past us with a few breaking off to frolic under the bowsprit.
I had picked a spot in the bay to avoid the swell we might get later from the north, but when we get there we realise we are right in the path of the returning panga fishing boats and will be rocked by them, assuming they don't hit us. So we anchor in the middle of the bay and later suffer a little rolling as we prepare dinner. It must be something about the stunning vistas as you enter the bay, because for the second time in two weeks I forget to reel in the fishing line. No prob, we are old hands at this now, and within 30 minutes we have recovered the line, weights and hooks from the prop.
It's Sunday and the whole village seems to be out playing in the water at the beach. The kids are having a great time. We will stay here for Monday, re-provision and hopefully pick up another kilo of the delicious goats cheese we bought on our last visit. 
Monday 24th
I sleep until 10:30 am which is a record for me, 10 hours solid sleep, I feel great and realise later, during my Spanish lesson, that I really can learn better when well rested. I think the heat is a problem in many ways.
We swim off rocks at the southern entrance to the bay but it's a little disappointing, also we both are stung, as happened the previous night. We can't see what's doing the stinging, perhaps those tiny Jellyfish that are transparent.  We head back to the boat for lunch then make a trip into the village. We stock up on Soda and guacamole ingredients then walk along the beach and buy 2.5kg of Parga (Snapper?) fish from a local fisherman on the beach. We trek to the end of the village to buy some more goats cheese, but the house is deserted when we arrive. We are now stocked up ready for the remainder of our trip south to La Paz.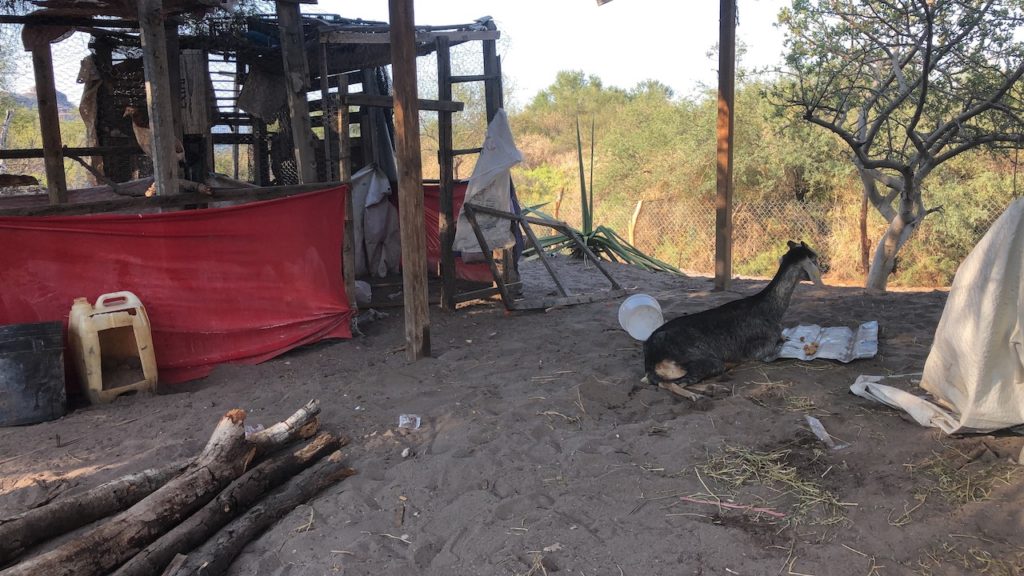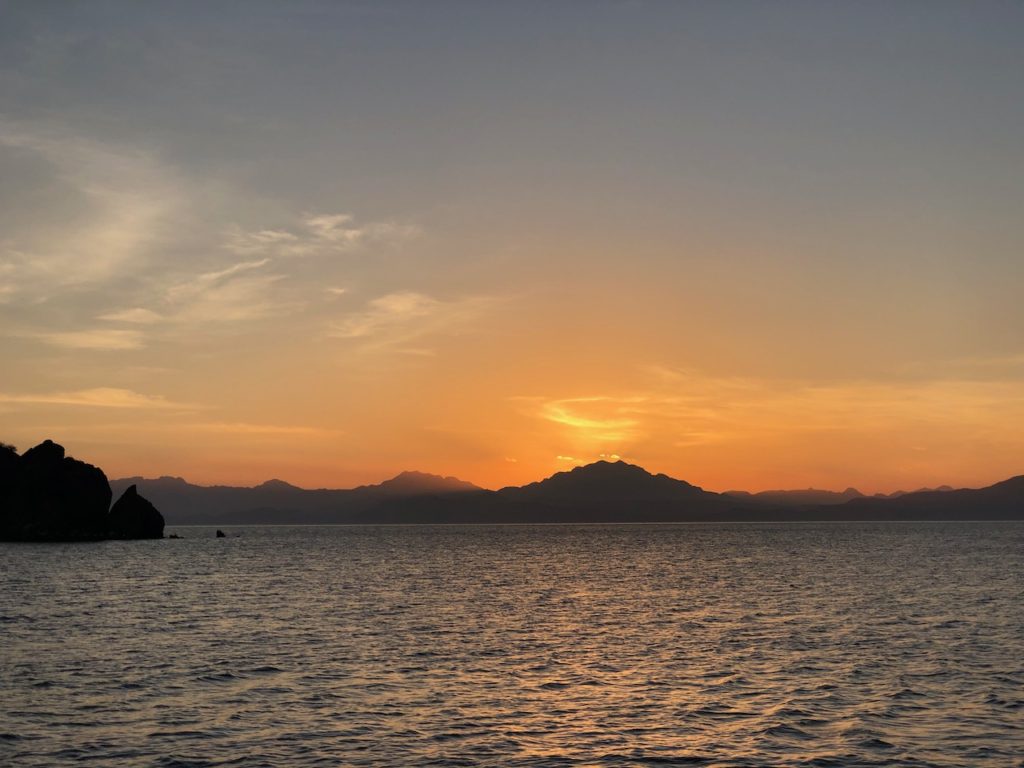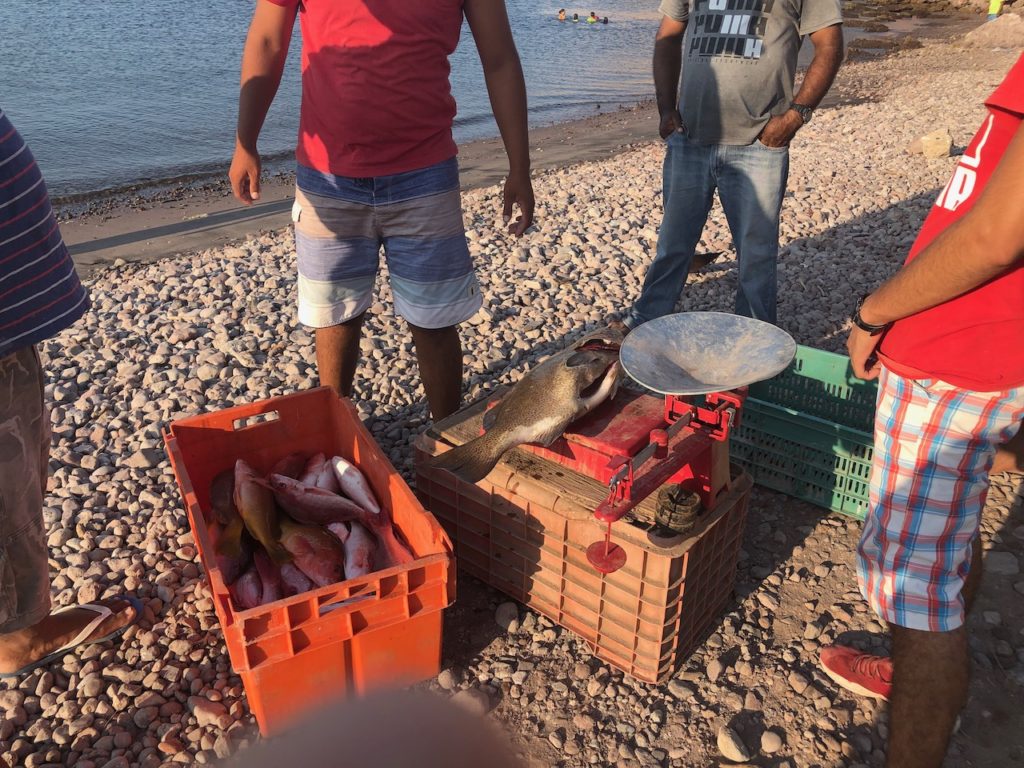 Tuesday
Depart Agua Verde for Los Gatos bay around 9:30. The swell appears to be from the South East so there's little chance of finding calm there, but Arturo really wants to visit so we give it a try. A few hours later as we motor around the bay, it's obvious from the boat swinging 15 degrees to port, then starboard that it's not going to work. This is a shame, as it's six hours to the next possible safe anchorage at San Everisto, and the wind is picking up from the south. We push on, and pass through the channel diving the main peninsula from the island at San Juan. Here we have headwinds of 20 knots ( Apparent) and a bit of a choppy sea, but the fresh wind makes up for the slow progress. Eventually we arrive in San Everisto around 7pm. It's a lively little fishing village. They have had no Covid cases, and a few months back when the crisis started, some yachts anchored here and the fishermen told them not to venture ashore. They offered to bring supplies to the yachts if needed but didn't want to risk exposing themselves to the virus. They had already blockaded the only road into the village. This arrangement worked well for a few weeks until some gringos decided they would go ashore anyway, this enraged the locals and a party of fishing boats motored out to the offending yacht and pelted it with stones until it left town. After that visiting boats were banned. I had heard in Loreto that everything was back to normal now and we could anchor there and even go ashore, but I was very worried as we approached and the first fishing panga screeched out of the port in our direction. However as he sped past us, we exchanged friendly waves, as we did with the next two departing pangas. All seems better now. We have another hurricane possibility, or at least we did 2 days ago when I last got a weather update, so tomorrow I will go ashore and buy an hour of internet at the tienda and get some updates. We are now only a days motor away from La Paz, but we have a bit of a blow due on Friday, so we may sit it out here, or hereabouts until that passes.
Other items of note, The fridge is frosting up at a rapid pace these days, I suspect a leak in the seals, but yesterday we had to defrost just so we could close the lids, in the process of moving the lids around I dropped one onto my lovely handmade Mexican dinner plate, it shattered and I'm gutted. Around the same time Arturo pointed out that the reserve cafetière had a crack in the glass, I had found if I make enough coffee for two cups, by the time it has brewed I have just over half a cup left in it, that will have to do until I can get to a supermarket.
We had the Parga for dinner and it was delicious, sitting in the cockpit under the stars, a light cooling breeze and with Philip glass as our musical accompaniment, pretty chilled.
Wednesday
We leave Evaristo to visit the shallow mangrove bordered lagoon at Amortajada about 7 miles away over on Isla San Jose. Once there we anchor in the spot the guide said to avoid due to 'no see ums' A term I hate, but it describes the bug well, very small bitey things that can invade the boat, somehow finding their way through the mosquito screens.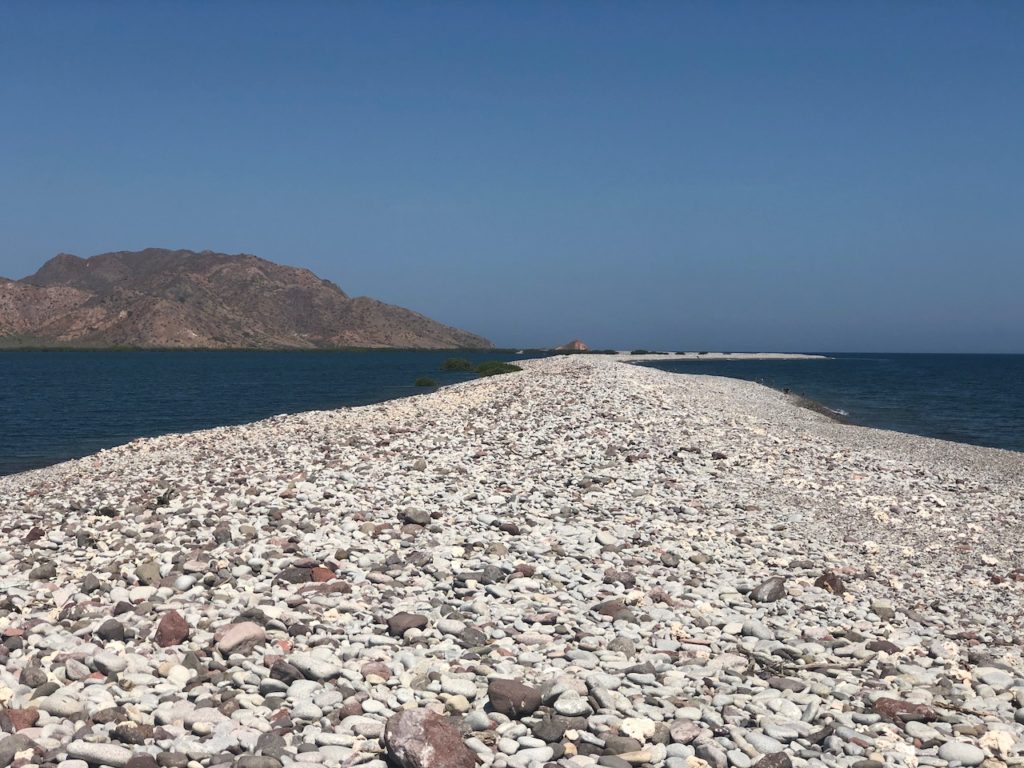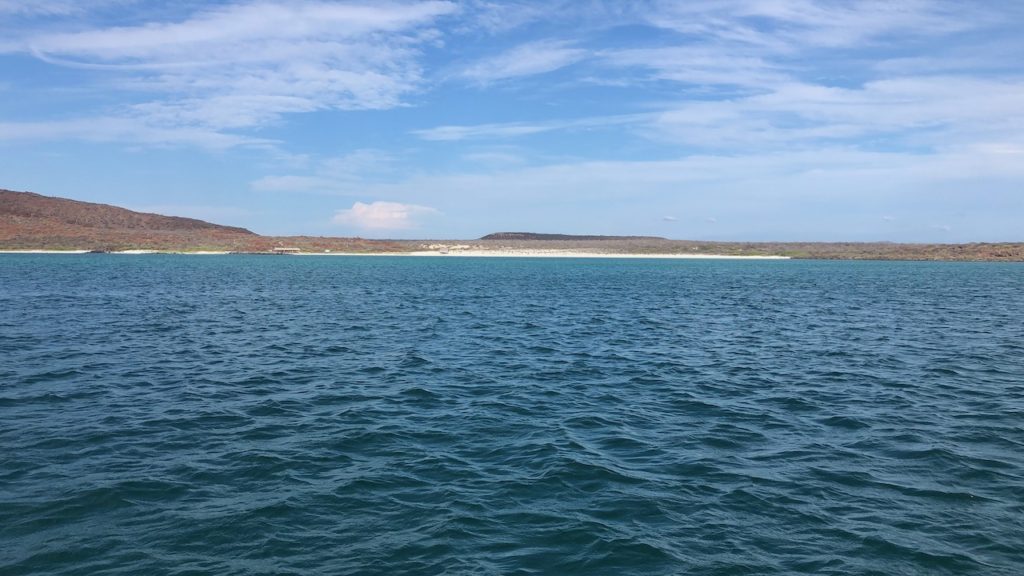 We are lucky that the entrance to the lagoon, which is via a small river about 40ft wider, and has a sand bar on it, has enough water for us to motor over in the dinghy. The mangrove lined river is lovely and takes us through a mile of mangroves backed by a huge field of catus into the main lagoon.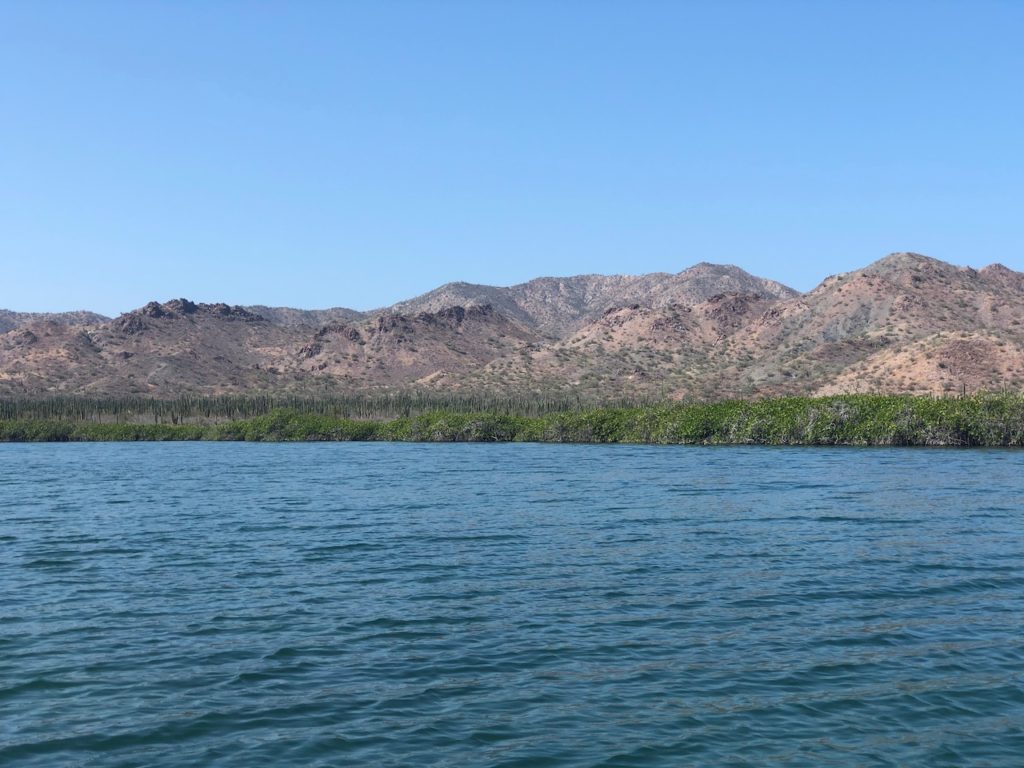 We snorkel and although it's very pretty, there aren't many fish around.
We decode to spend the night at anchor here rather than head back to everisto. There might be an easterly wind later and we are better protected here.
Around midnight, we are both going crazy with the bug bites, we're both covered in bites that sting like crazy, neither of us get much sleep.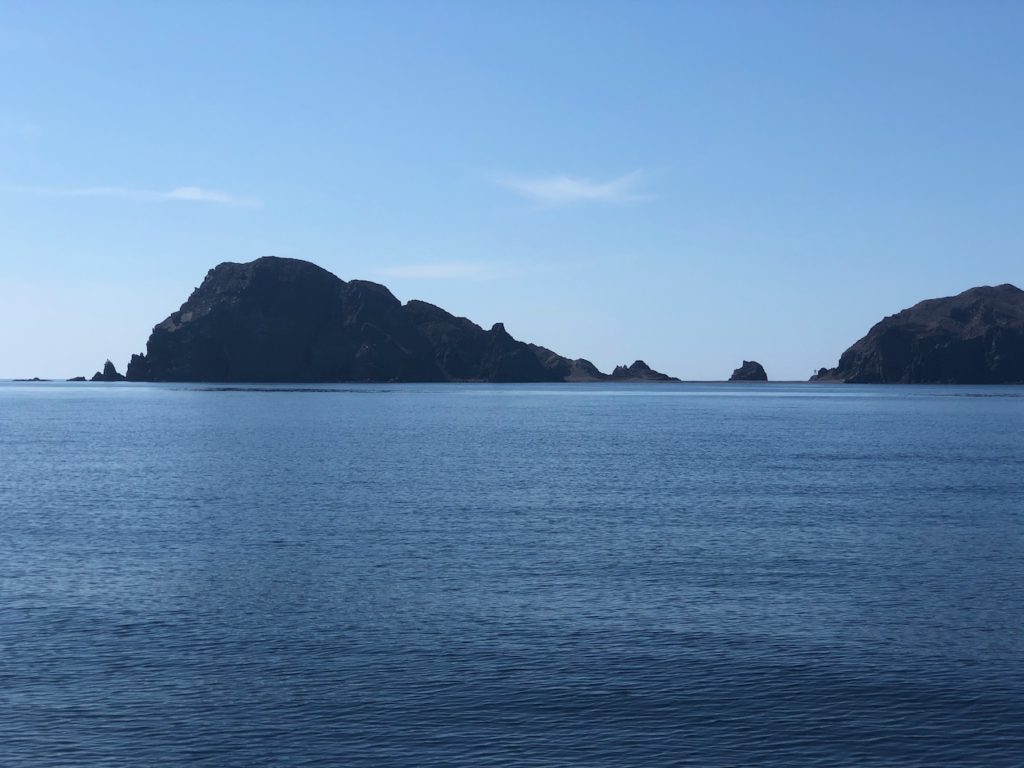 Thursday
We leave the mangroves early and scoot back to Evaristo to escape the bugs. I heard on the SSB that another hurricane is brewing and there's a tropical depression due any day so I want to get some wifi and make plans. We anchor as far south in the bay as possible due to forecast southerlies, and an hour after anchoring a couple arrive on a big Dufour 55 sailboat, The lady is from Halifax UK, so we have a bit of a chat on CH17 VHF later we talk to them from the dinghy, it's a big bay but for some reason they have anchored just one boats lengths away. Arturo and I dinghy out to a rocky outcrop about a mile away and snorkel for about an hour.
Friday
It seems the bugs have taken a liking to me, I hardly get any sleep due to bites and itchiness, We leave at 7:30 for Ensenada Grande on Isla Partida. This is just a daysail north from La Paz, so we are almost home. Again we don't know if we are allowed to anchor in the bay, we had heard the harbour master is allowing boats to travel to the islands for recreation, but the island police (Park guards) are banning visiting boats. I'm apprehensive as we are the only boat around, but by 9pm, there are 3 other sailboats, a giant party catamaran and a flash partying motor launch. I guess visits are allowed. We swim over to the rocky coast and see some lovely big fish swimming in the healthiest coral I have seen all month.
Saturday
Our last day at sea for a while, we finish off the last bananas. weigh anchor and head south for La Paz, It's about a 5 hour passage and we are not really sure if we can get fuel from Marina Baja, or if my berth is free, a large pod of dolphins join us , presumably to welcome us back. The tropical cormorants and pelicans put on a great show for us dive bombing the fish. We watch one surface with a substantial size fish between its beak and another cormorant decides his need for fish is greater, they battle in the sky until the fish falls back to the sea, whereupon a pelican who had been taking a keen interest, dives and recovers the fish and swallows it whole. If ever there was a need for teamwork training…
Just as we get close enough to reach the fuel dock on the vhf, the operator tells us the fuel dock has just closed, we head there anyway and a man comes and offers to fuel us up. It turns out he's the security guard and often fills boats up to break the boredom of his job, of course he can't give us a receipt or any change and it has to be cash. I'm wondering if he even works at the marina. On to our marina and I can't raise them on VHF or on the phone, I think they shut at 12 on Saturdays, luckily I have the managers cell phone number and he assigns me a nice 50ft berth for the price of my usual 45ft.
It takes a few hours to hose the boat down, connect up the power, and get the canopy up, but by 8pm we are done and Arturo offers to buy me dinner. After dinner he chucks his stuff in an Uber and heads off to his accommodation and I go back to turning my sailing vessel back into a static caravan.
Sunday 30th August
Bliss; aircon, electricity, fresh bread from Chedraui. It's nice to be back and tied up, however I'm probably going to want to be back out soon enough. Kathy arrives in 3 weeks time so I expect we will head off after a couple of weeks of her getting acclimatised.
Paul Collister