On Saturday 27th we marked two weeks of being here in Batu Uban. It's gone really quickly and we may well be here another week or two, so as we'd spent the previous couple of days on the boat we decided to get out and see some more of what Penang has to offer.  It had been dull and overcast most of the day but when we set off at around 4, it was cool and a few spots of rain were falling. It's difficult to predict the frequency and heaviness of the rain on days like that so for the first time since arriving, I got my raincoat out.
As we approached the marina entrance to wait for the taxi, we heard bird noises that were very much like the sound cuckoos make.  I spotted two beautiful yellow birds in the tree opposite the hut and we stopped to get a closer look at them.  Our friendly gate guard noticed us and smilingly informed us we'd need a licence to catch those birds.  I don't think he was joking 🙂 We told him we just wanted to look at them and a few minutes later he came out to present us with a mango! It seems if he can't persuade us to have a kitten or a bird he can at least make us a gift of a mango. When we told the taxi driver our destination, I had the feeling he was mildly amused.  I wondered if The Reclining Buddha at Wat Chayamangkalaram Temple is one of the places schoolchildren get taken to as a matter of course.  He said it had been many years since he'd seen it.  Without fail, the taxi drivers have been genuinely interested in us, our boat, where we come from, where we're going etc. One of them even asked if he could have a look at it when he dropped us off. He was so thrilled to be invited on board and he asked Paul lots of questions about the boat before politely asking if he could take pictures and then got me to take one of him with Paul.  Not the usual run of the mill taxi experience – and the fares are cheap too.
The rain that had begun when we set off had stopped by the time we got there, and it was deliciously cool and bright (ideal conditions for walking around). We only had 20 minutes before the temple closed so we went straight in. I'd read that this Buddha was big but it was still an incredible sight.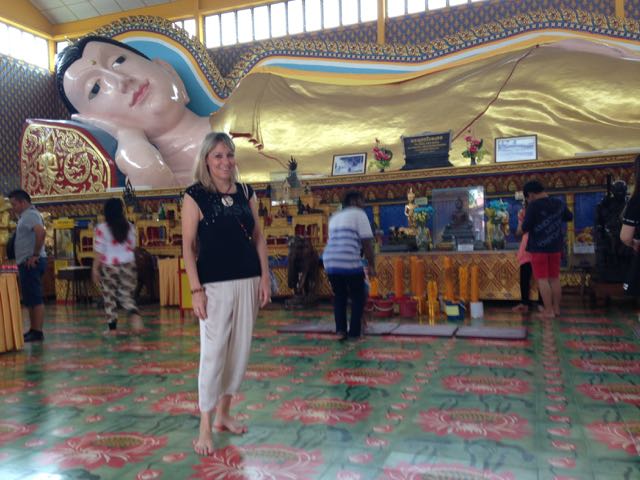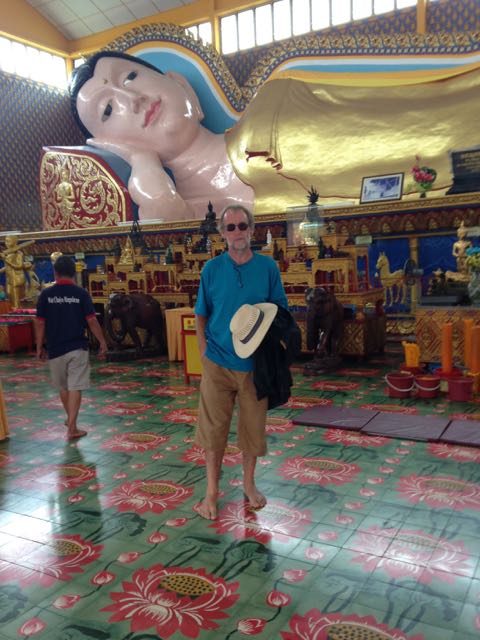 I was impressed by the walls of the building, which were lined with square compartments for the ashes of loved ones. The ashes are inside elegantly decorated vases behind perspex covers, with a picture and description of the deceased on the front.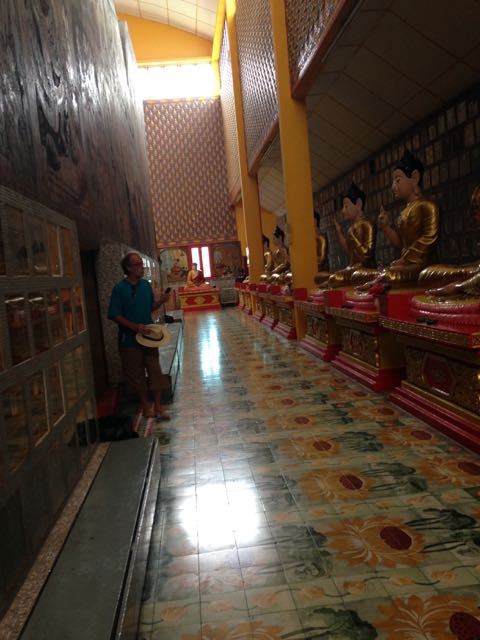 We spent an hour or so looking at a plethora of shrines, statues, and carvings before moving on to the Burmese temple across the road.  This one had ornate gardens, and a corridor with paintings portraying events in the life of the Buddha.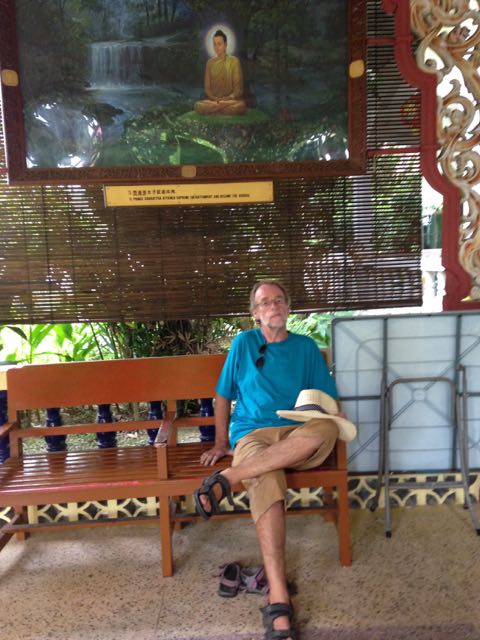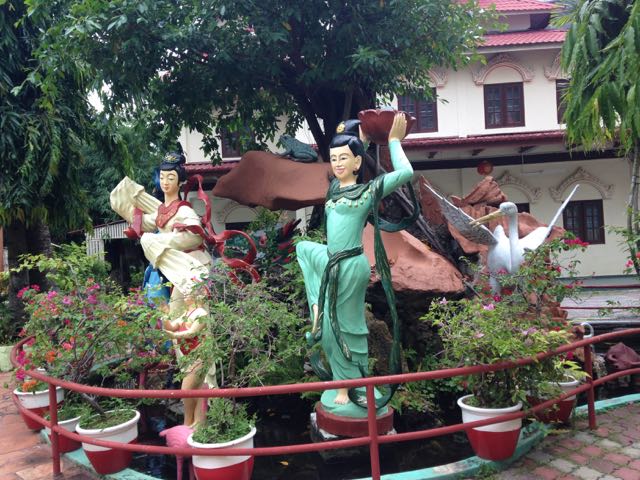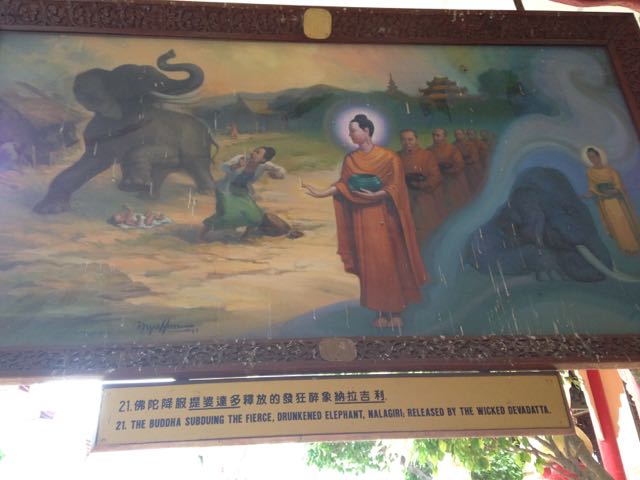 In stark contrast to the historical and reverent atmosphere of Buddhist temples, the plush and upscale Gurney Plaza was our next destination. It's been put together very well and seems to be popular with visitors – although some of the designer shops were noticeably empty – but like most malls it could be anywhere in the world.  We visited all of its 9 (!!) floors, mainly to get to the top and check out the view. It took quite a while to get up there but the view was worth it.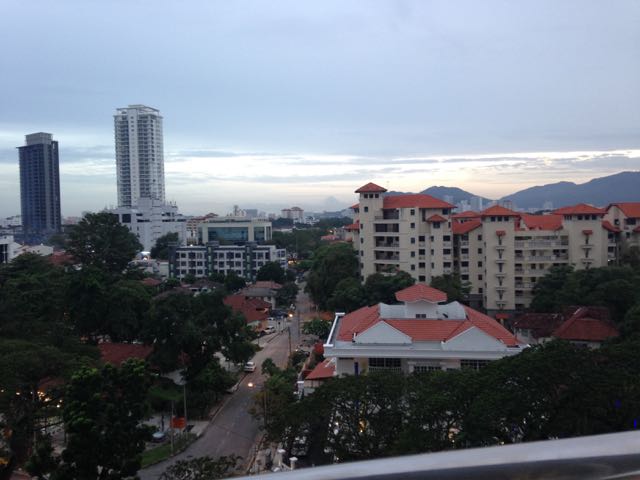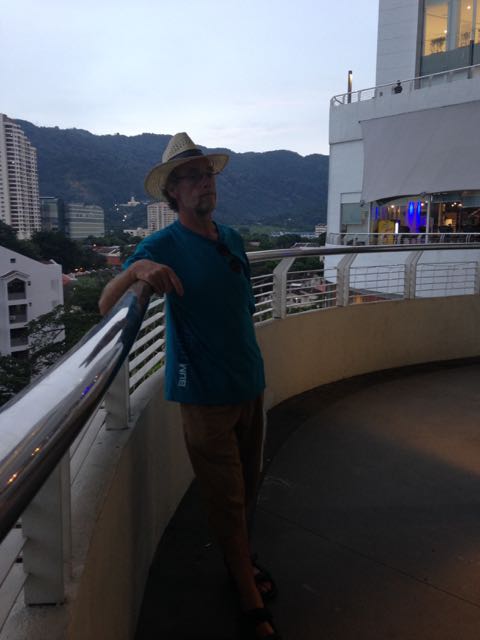 In my quest to become proficient in Asian cooking I've been gathering recommended 'staple' ingredients, as listed in a book on the subject.  One product, however, is proving so difficult to get hold of, it's become something of a mission to find it and has led to puzzled or bemused looks when we've asked for it.  It's 'black bean paste' (not to be confused with sauce). It exists, but so far no shop or supermarket has had it in stock, and the likely-looking Waitrose style shop in the mall was no exception. It was nice to browse in it though.  It was also nice to sit in the bar on the ground floor and have a drink listening to live music being played in the square. The seafront promenade is adjacent, giving the place a festive, 'seaside' atmosphere.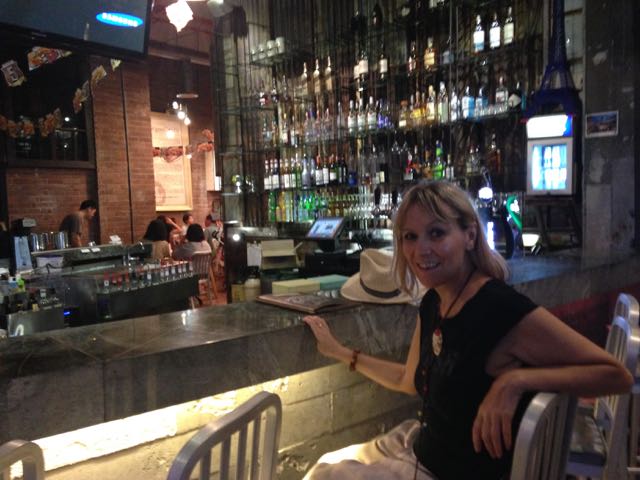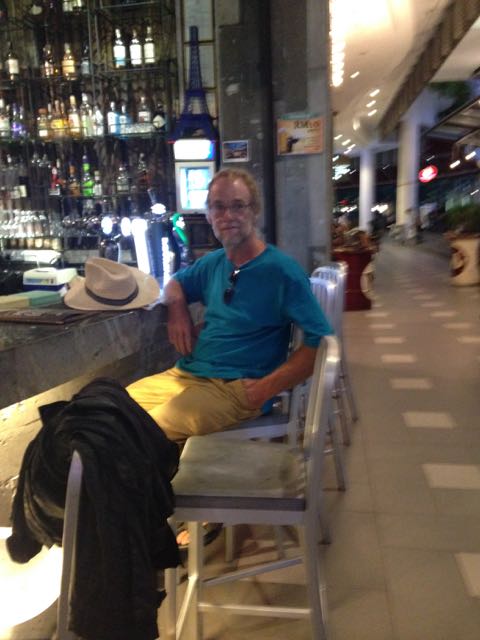 Gurney drive is also well-known for its open air hawker food court and this is where we ended the evening.  It's a huge area consisting of mostly Chinese street food vendors. The smells emanating from them were mouthwatering and we were both hungry by then so we decided to seek out some veggie options from the wide variety of dishes on offer.  This was easy – lots of the stalls turned out to be vegetarian and it was a great eating out experience.  After double-checking with a stern-faced but very efficient lady about the ingredients (mainly that there was no fish because some places have deemed fish to be vegetarian) we settled on Tom Yam and then had to choose our noodle sizes. If she could have said 'hurry up' she would have, but her manner wasn't rude, she was just 'busy'. We sat at a table in the middle of a very lively and crowded street and Paul got us drinks from a separate stall. The man cooking the food had such a tiny area to work in, and considering how busy it was we didn't have too long to wait before our absolutely gorgeous meals were brought to us.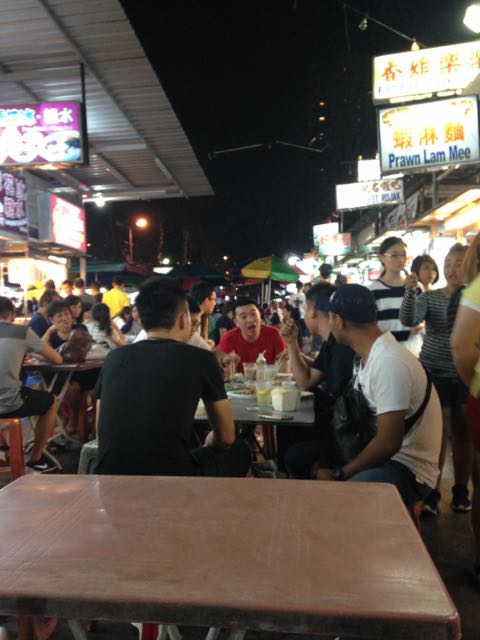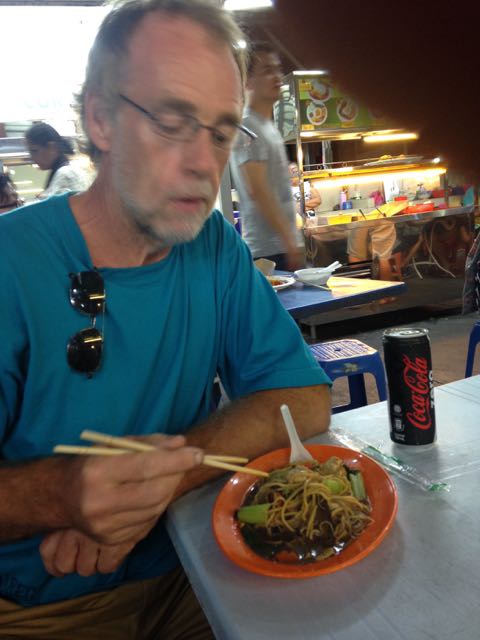 The search for black bean paste continues.
Kathy