By the way, before I start, I predict that Dominic Cummings will pretend he went to Durham castle to test his eyesight out some time in April 2020. Like Dominic, I'm great at predicting things. 🙂
Before leaving the terrific paradise isle of Ko Miang, we enjoyed a leisurely Sunday on the small beach near our mooring. While Paul spent ages snorkelling (wishing he had the necessary equipment to photograph the fascinating marine life visible in the shallow water), I was thrilled to spot some wildlife of my own just a few feet from the shore.  Walking the length of the beach where trees line the edge of the sand, I looked up when movement above made a rustling sound, and found myself looking into the wide, black eyes of a batfox, hanging upside down from a branch.  We had seen pics of these creatures on an information board about the island's wildlife, but I never expected to see one so close. We stared at each other for ages, and my neck began to ache from looking up and trying to remain still. As I slowly began to move, its eyes followed my every movement until with a swift leap, it jumped higher into the branches, unfolding its rubbery wings for balance as it did so. My attempts to photograph it failed miserably but the picture below is exactly what it looked like. Walking further along, I spotted squirrels, and blue parrots, as well as more of the beautiful batfoxes.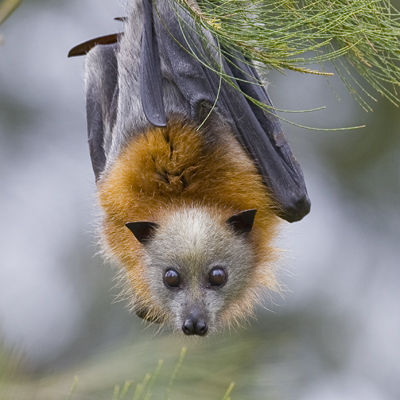 Before heading back to the boat we walked the path to the larger beach and had dinner in the beach cafe there. The stir fry vegetables I had thought I ordered arrived with huge juicy prawns on top so Paul had those added to his meal and I made do with some rice seasoned with chilli and soy sauce and a few untarnished veg, but it was tasty and filling nevertheless.  It was full dark when we were ready to walk back through the wood to the small beach, and the path was unlit, so the 10 minute walk would have to be in total darkness. Luckily we had our phones and made use of the torch apps, otherwise we would have had no idea which way to go. Torchlight, with thick woodland on either side of us created an eerie atmosphere which I found quite romantic in the Gothic sense, and just for the thrill of it we turned the lights off sometimes to experience the feeling of complete darkness and total silence all around us.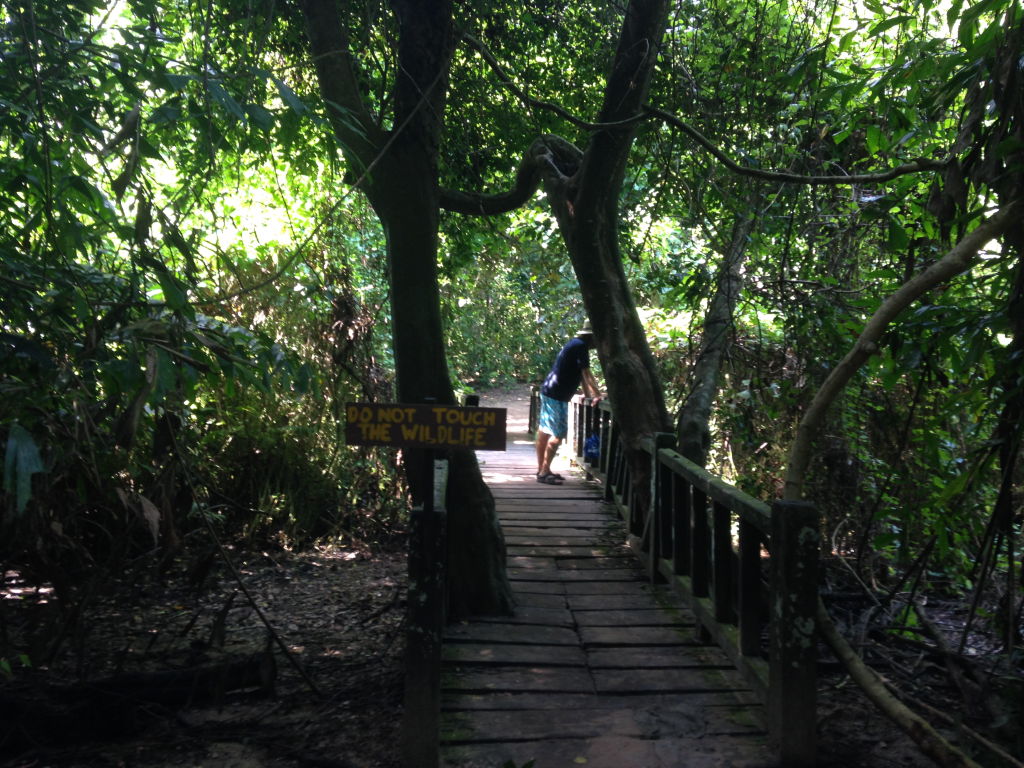 Monday 28th November/Tuesday 29th November-Koh Racha
The morning was spent preparing for what would be our first night passage on Sister Midnight. Paul fixed the self steering while I made a pan of soup (easy to heat up in case of rocky sea states). There had been a short but fairly strong squall during the night, which had made the sea a bit choppy and it was a bit bouncy on the mooring – and extremely hot! We left at 12pm, relieved to get underway and feel the refreshing sea breeze. The breeze enabled us to use the sails on their own up for a while, which was wonderfully peaceful but for most of the way we had to use the engine. We took it in turns to do a four hour watch, something we are used to doing on other passages. I enjoy taking the 4am to 8am watch because it takes in the sunrise. There were lots of fishing boats to be aware of, some of which were stationary. The radar helps to judge whether any action is needed to avoid collisions and just before sunrise I had to take over the steering from the autohelm to avoid two fishing boats that were heading straight for us. Paul thought the crew were probably asleep below when I told him about it!
Conditions got quite rough by mid morning, with huge waves bouncing us about a bit, but as Paul pointed out, (and not to sound blase) we have experienced worse – and in considerably colder temperatures :). Still having had no luck catching a fish, I was surprised to see Paul appear in the cockpit around midday holding a rather small, stiff-looking fish. Apparently it must have jumped out of the water and then landed on our bow instead of back in the water, so he finally got to have freshly 'caught' fish for dinner that evening.  We reached our destination of Ko Racha early in the afternoon, by which time it had become very hot again. There were lots of crafts in the bay vying for mooring buoys, including dive boats, speed boats, cruisers, and various boats from Koh Racha's resort hotels. It was difficult to know which ones were for visiting yachts but we waited for one to become free and secured ourselves to it while we had lunch – only to be turfed off it a short time later by a guy on a boat from the diving company it turned out to be reserved for.  We ended up trying two more before finally settling on one that became free after the day visitors had departed. At least all that 'hooking' on and off the buoys was good practice using the boating hook – I feel very confident doing it now.
Paul pumped up the dinghy and we rowed ashore to have a look around. There was a long floating jetty handily positioned on the beach where we could tie up to and which saved me the embarrassment of repeating an ungainly exit from the dinghy on to the beach.  Tying up to that, we set off to check out what Koh Racha had to offer (details to follow in next post)