The last 25 hours of our passage turned out to be a lot different than I expected, having cleared the high pressure system we had a good 10 knots of wind and were making 6 knots easily. The wind was building and the forecast was for 20 – 25 knots as we approached Vancouver Island and the bar I was worried about. We reduced sail to bring our speed down to about 5 knots, if we maintained 5 knots we would make the bar at slack water around 7AM and the rising tide would woosh us along providing an extra 4 knots of speed to get us into the Marina by midday at the latest.
That was the plan, as it turned out the wind dropped and after a nap, Kathy pointed out that our ETA was getting later and later, We had winds of 7 knots, so up went all the sail and I managed to get about 5 knots ok, but then the tide was taking 2 knots off that so only 3 over ground. At this rate we would miss slack water by a couple of hours. The wind continued to drop and so I had to put the engine on and hope that we had enough fuel left.
One of the nice things was the sea calmed and we made good speed, however fog descended upon us before the bar and even though we had land within a mile on each side after the bar, we could only just faintly make out the coast.
Passing over the bar occurred exactly at slack water according to my tables, and despite dropping from 500
metres deep to 9 metres in 1/10 of a mile, there was no drama, in fact you wouldn't know there was a risk if you didn't look at the chart. Once in the channel, the wind dropped to zero, the sea was flat calm, surrounded by fog, but with small fishing boats appearing from nowhere and zooming past us.
Kathy had been quite on edge up to this point, I was also confused as the coastguard was making VHF announcements about the fact that we were in an area with a gale warning in force. However the fog lifted a bit and the glorious wooded coastline came into view, a bit of sunshine broke through and everything seemed just fine now. We only had a few more hours to go, and despite the fact that the current that was meant to be flowing our way hadn't materialised, the fuel level in the tank hadn't gone down noticeably, so I knew everything would be simple for the last few hours.
A large log had just hit us before we went over the bank, but it just bounced off us, so we were keeping a vigilant watch out now, and I saw a load of small logs rolling around in the water, but they seemed to be flapping a bit, looking through the binoculars I realised they were creatures, at first I thought they were baby bears lying on their backs, but that would be silly, Kathy recognised them as Sea Otters, and soon there were scores of them drifting past us, quite a sight. Next Kathy asked why was the water spurting out of the sea, I explained that that would be a whale, and as we looked to the side of the boat, not that far away at all, a whale surfaces, blew it's spout and dived again, we watched it do this several times, and saw it's huge tail clear the water before it did a deep dive and disappeared. Soon after a sea lion appeared and watched us for a while. More sea life in 30 minutes than we had had in the last 5 weeks of ocean passage.
At this point the tide charts said we would have 4 knots with us, however the SOG (speed over ground) and SOW (speed over water) were the same. Not to worry, the entrance to Port Hardy soon came into view, and as we swung into the inner harbour I called the Marina on the VHF to find a space, only to hear they were full. So we called the fisherman's Wharf office and they told us to come in and if we couldn't find a space to raft up. A very laid back attitude that suited me, we found a space, tied up then realised it was 3 hours waiting only, to be used for loading and unloading, so I looked around and found a new recently vacated spot at the other end, we fired up the engine and raced around, it was a tight squeeze, and my first attempt didn't make it, so I had another go, I was confused as to why I couldn't get the stern to tuck in neatly, and we had to pull it in after getting a midships line ashore. The reason I discovered later is that going in Starboard side too, is much harder than port too, which is my usual method. This is all to do with the kick I get from the propellor.
As soon as we tied up, we checked into the office here, they took a few dollars off me and confessed they had no clue about customs or immigration as nobody ever arrives there from another country! I called customs on a freephone number from a payphone and had a very helpful officer take my details, I told him I was at Fisherman's Wharf in Port hardy, Vancouver Island. He told me to stay there and he would send an officer over to check me, 2 hours later I called back, they were sorry and someone would be right over, 3 hours later I called again and they were very apologetic, they had been looking for me in fisherman's wharf, Vancouver City, which is not the same place by a good few hundred miles. I was asked to call again in the morning and they would clear me in over the phone, which is what they did. A daft mistake, but they were ever so nice and helpful about the whole thing.
So the place we are in is like a marina in the sense there are lots of pontoons with boats on, and some basic services, but it's a state run affair, cheap and cheerful, you arrive and motor around until you find a space, if there isn't one you raft up, as someone did on us last night, most of the boats here are pleasure motor cruisers people go fishing on, but there are quite a few serious fishing boats too. It's quite ramshackle, but we have met a load of lovely people here so far, and most everyone is friendly as says hello as they walk past the boat. We might stay here a while. The biggest problem is no wifi on the pontoons, only up by the office.
Today we were drying stuff out, we found some more leaks on the passage and the clothes in one of the lockers got wet, I think it's from a stanchion leaking. Also the Deck Prism in the V-Berth leaked making the bed unusable right now. We haven't had problems before, but the side decks and the foredeck were mostly under water for many hours on end when the waves were big.
The boat after a bit of cleaning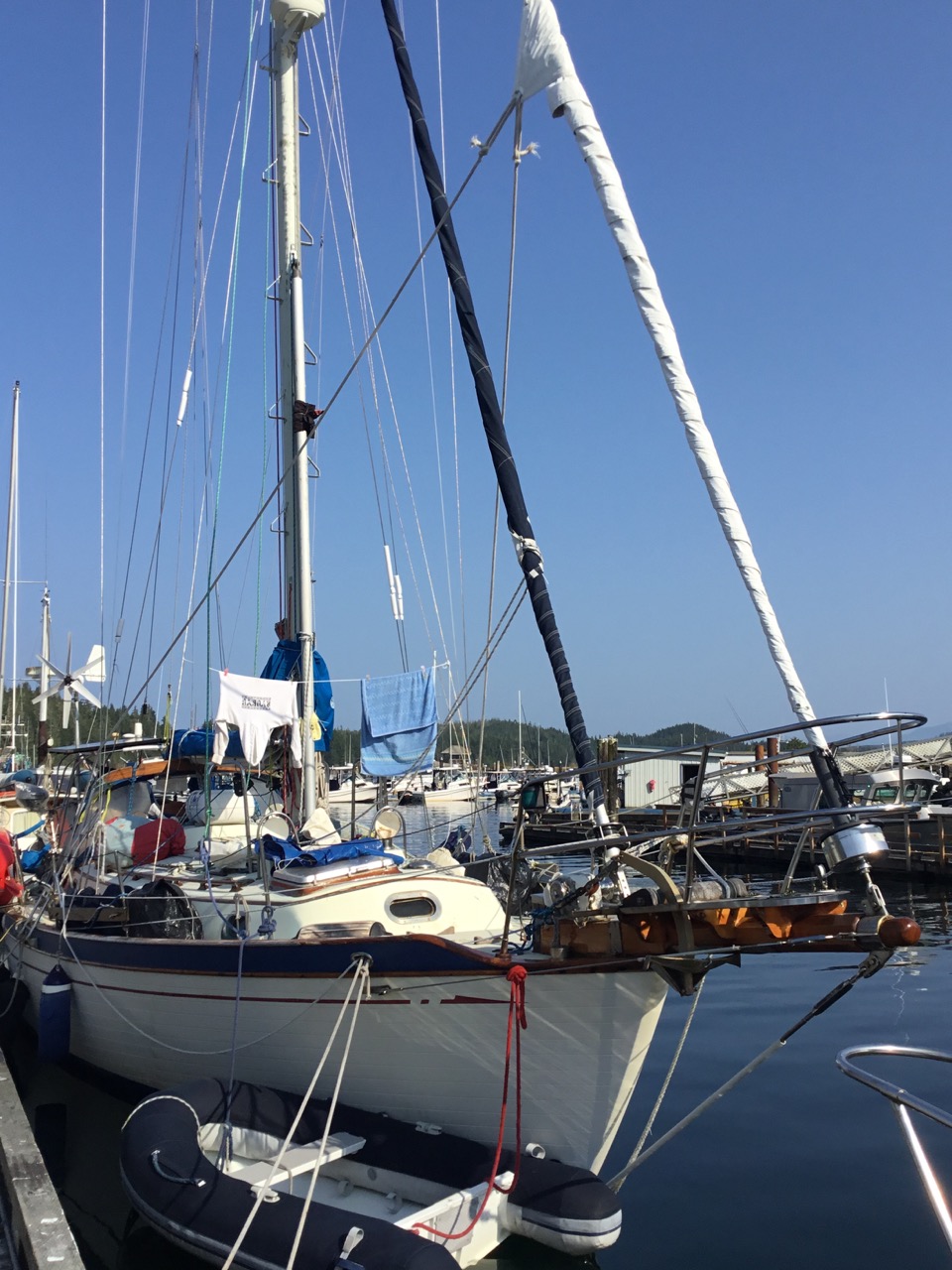 Some of the big waves, see coffee video later 😉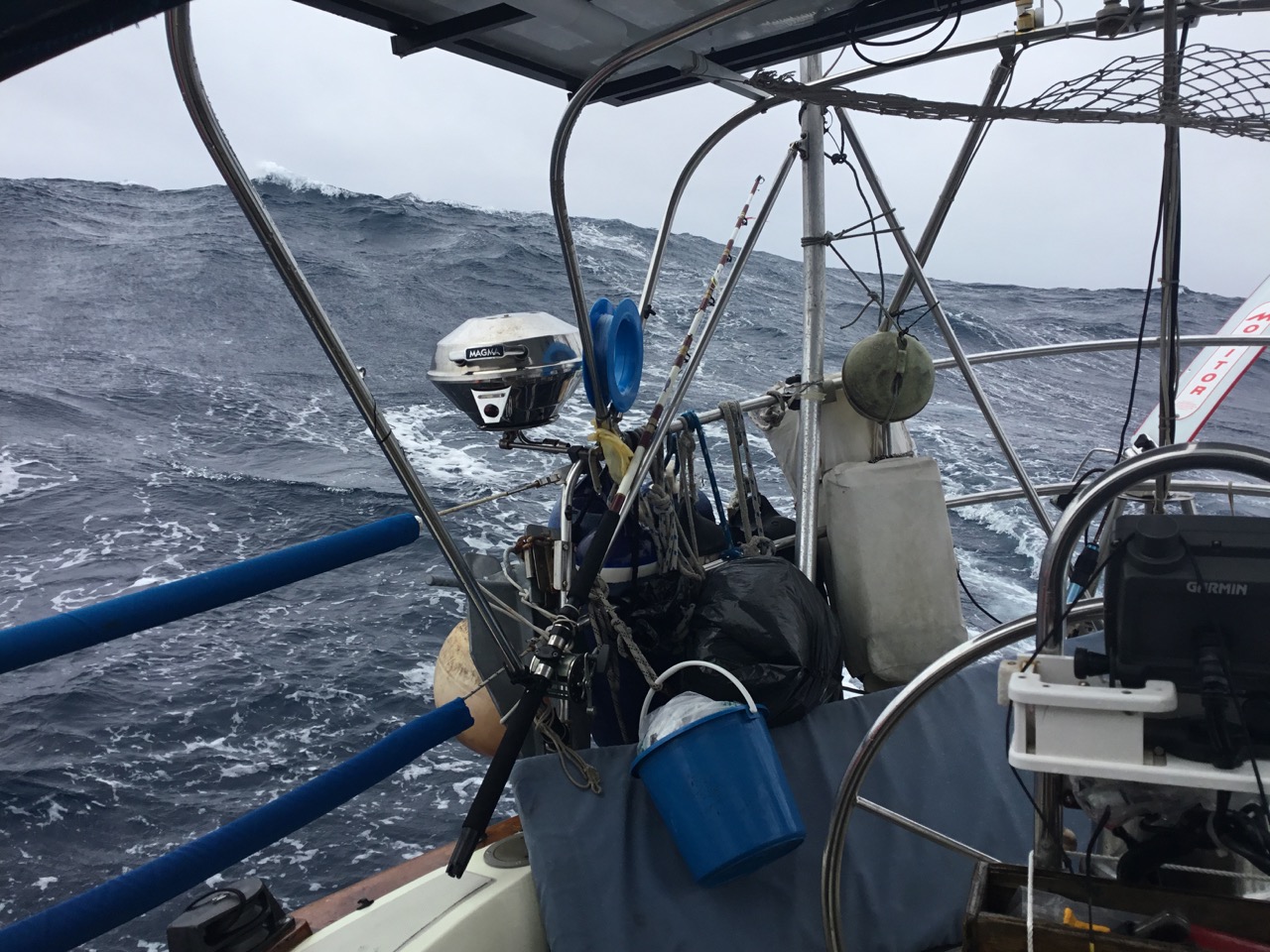 Kathy feeling relieved to be here, and happy to see the sea otters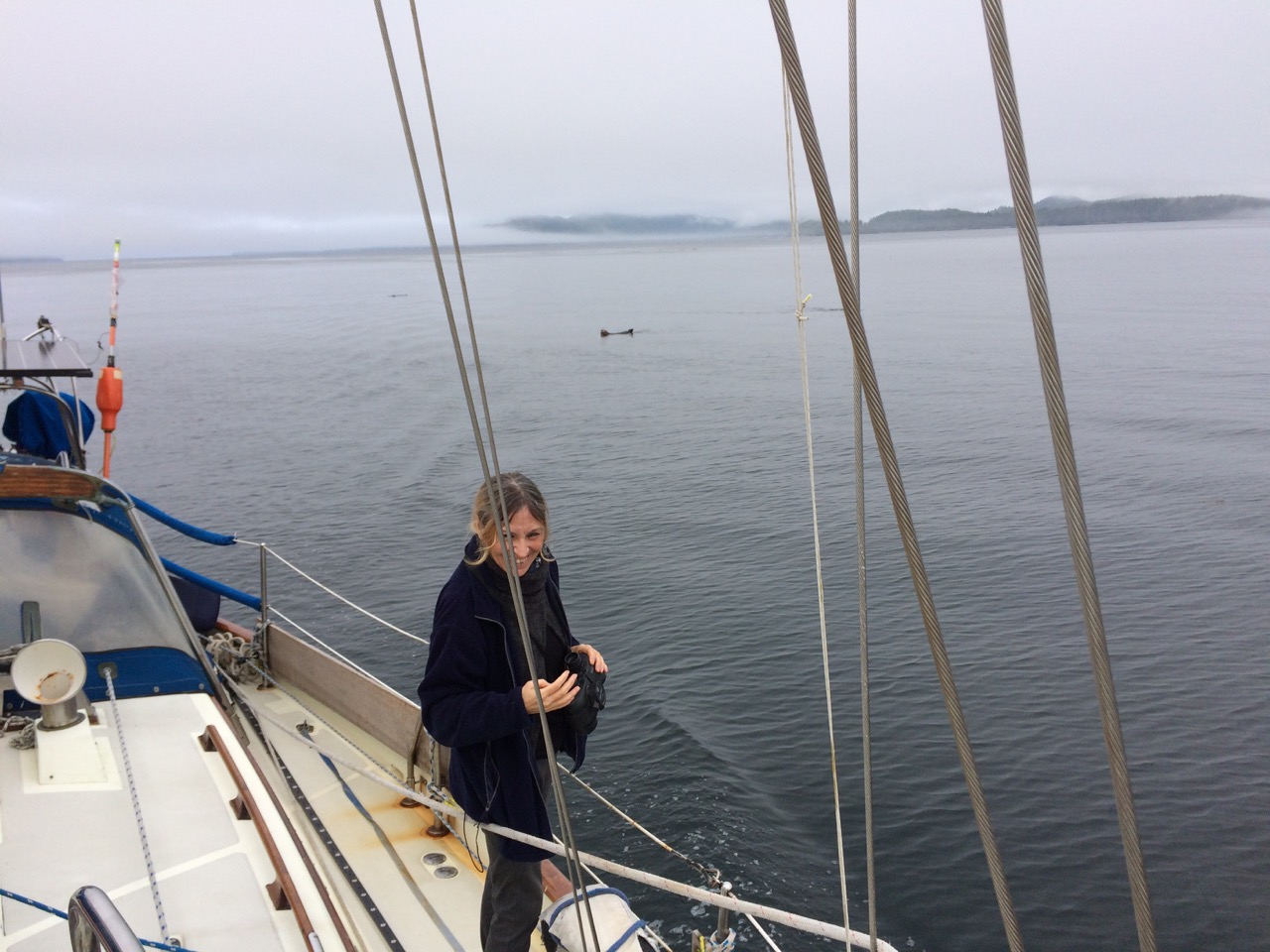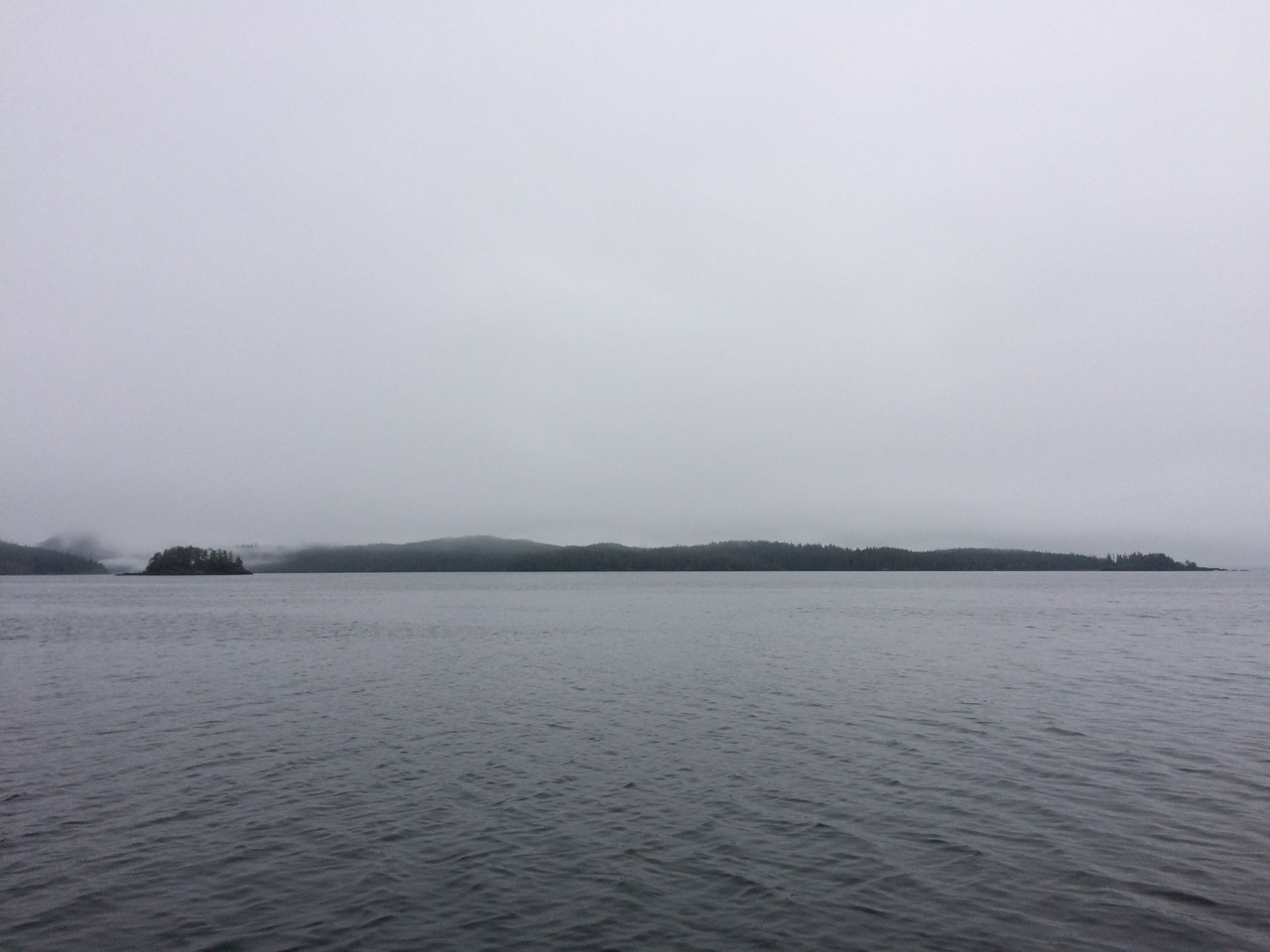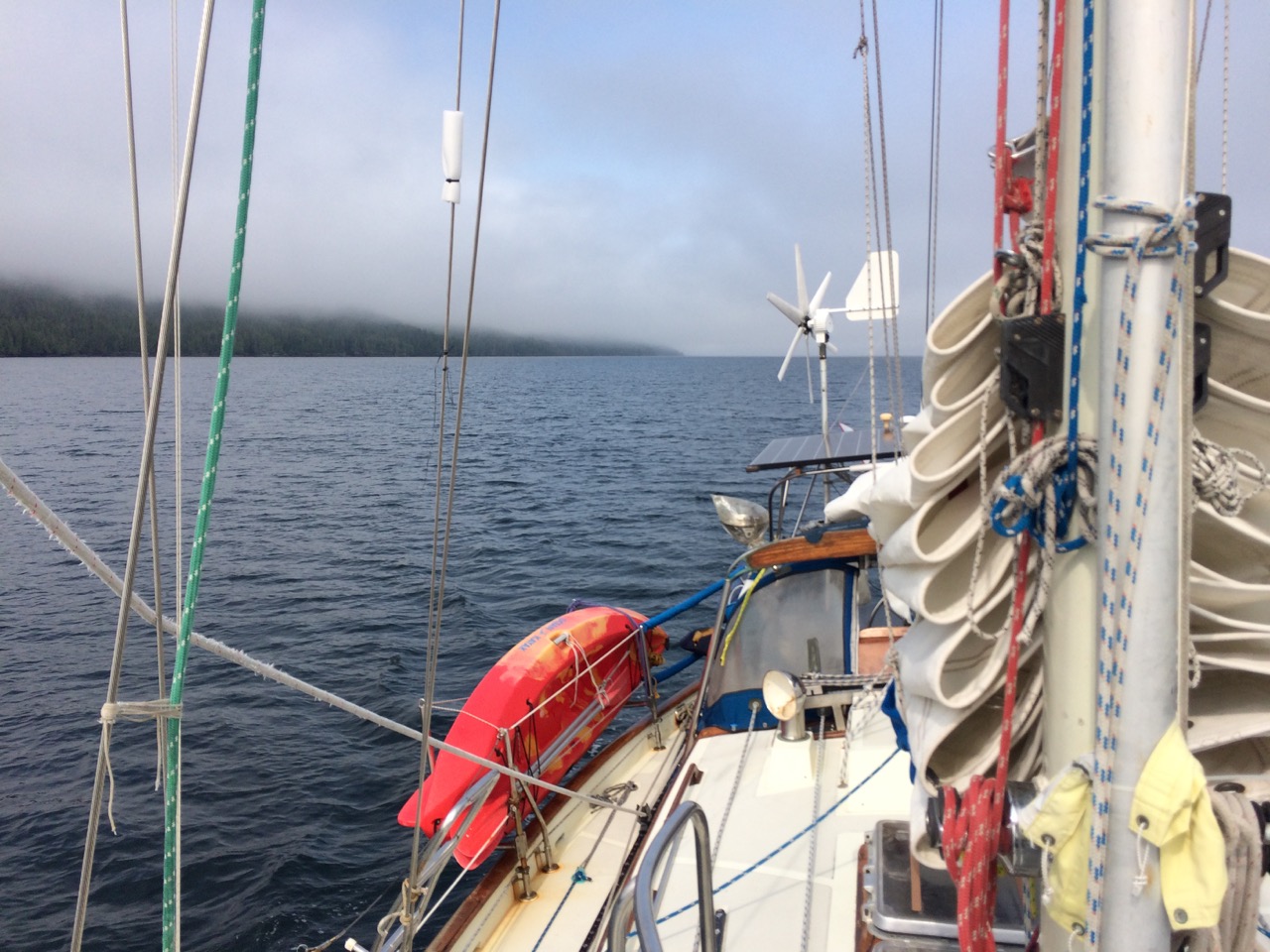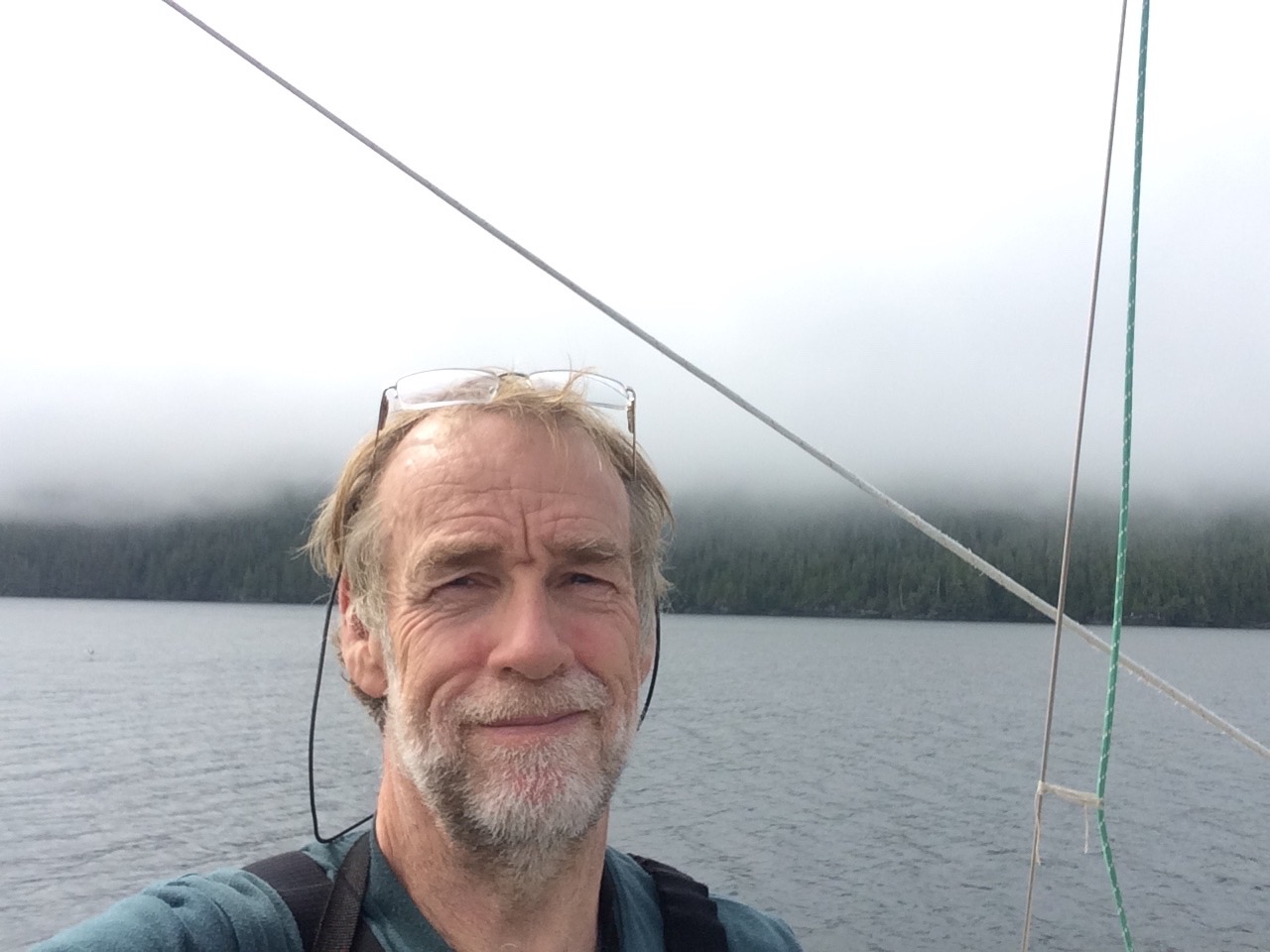 One of the clearer days in the Pacific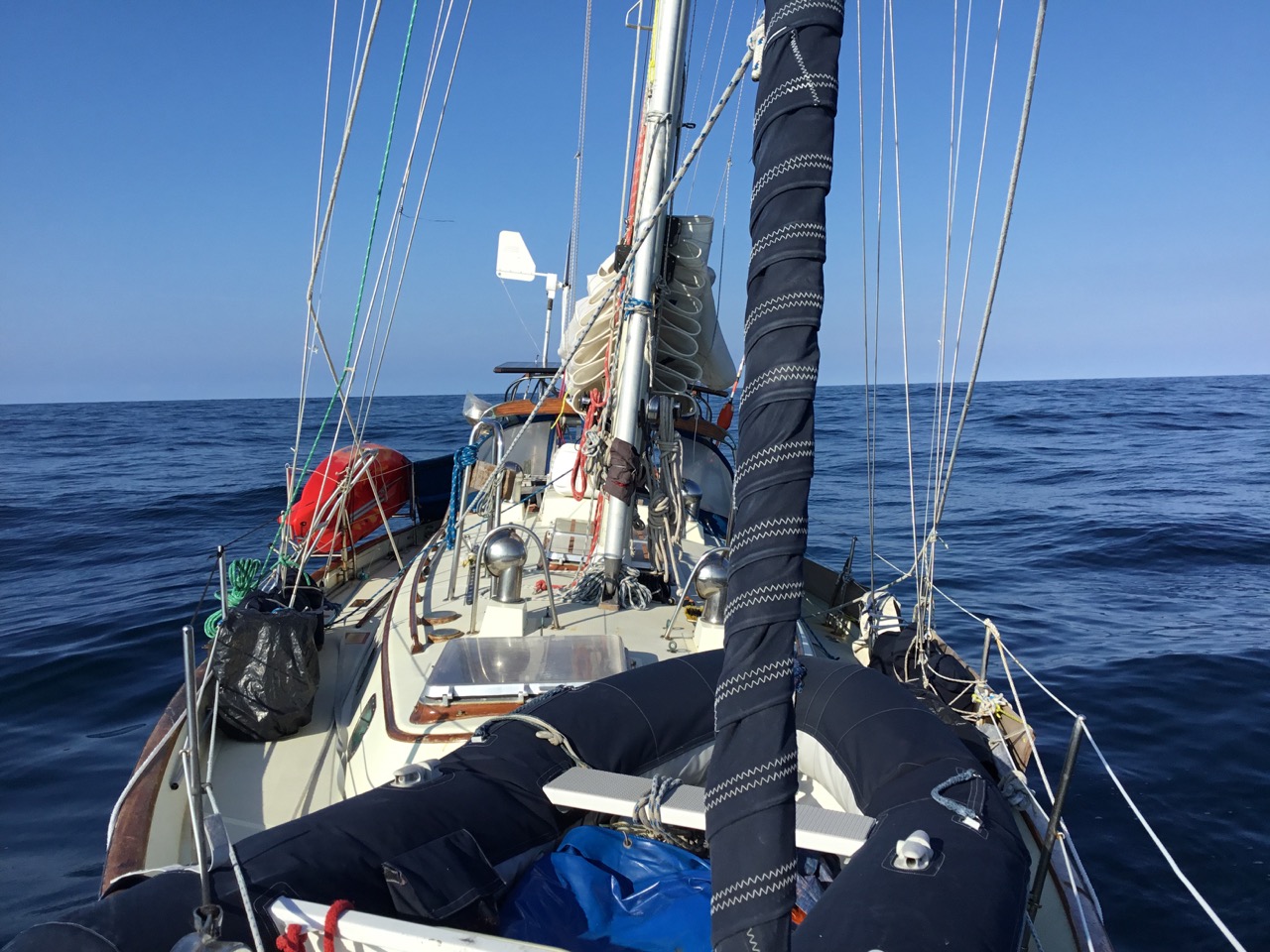 One of the rougher days.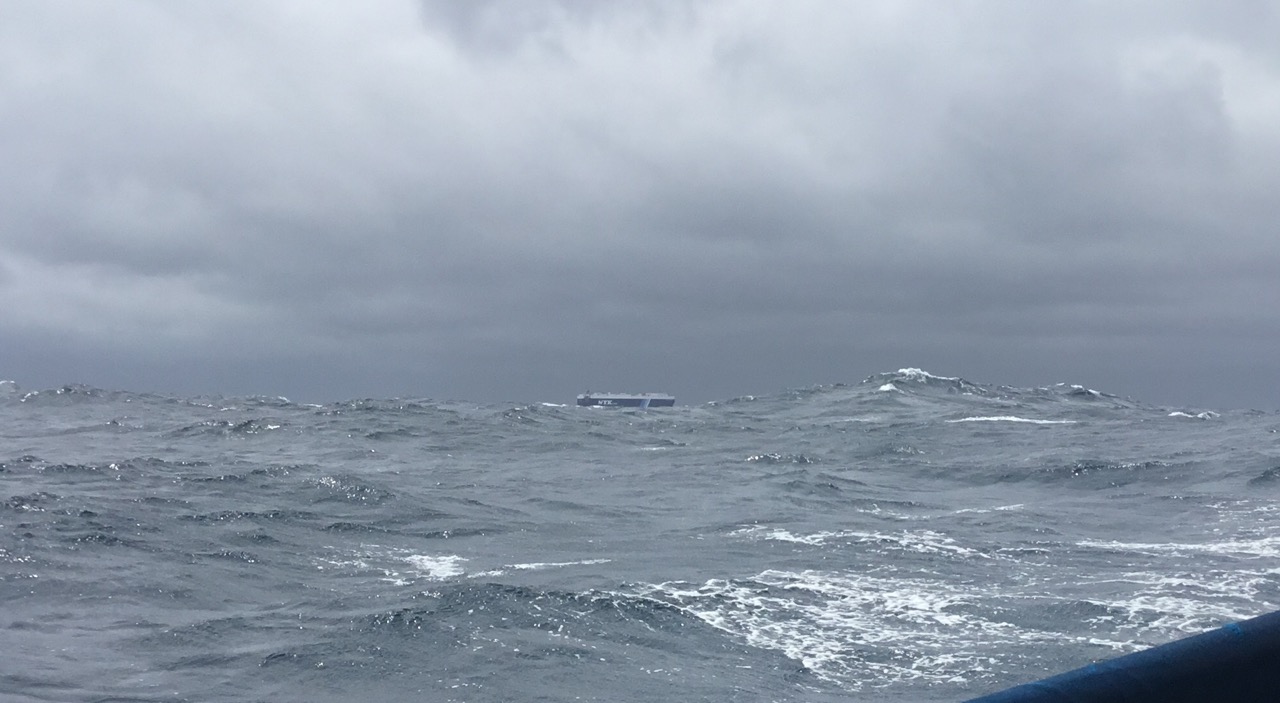 The damage caused to the dodger by the crazy sheet car whipping around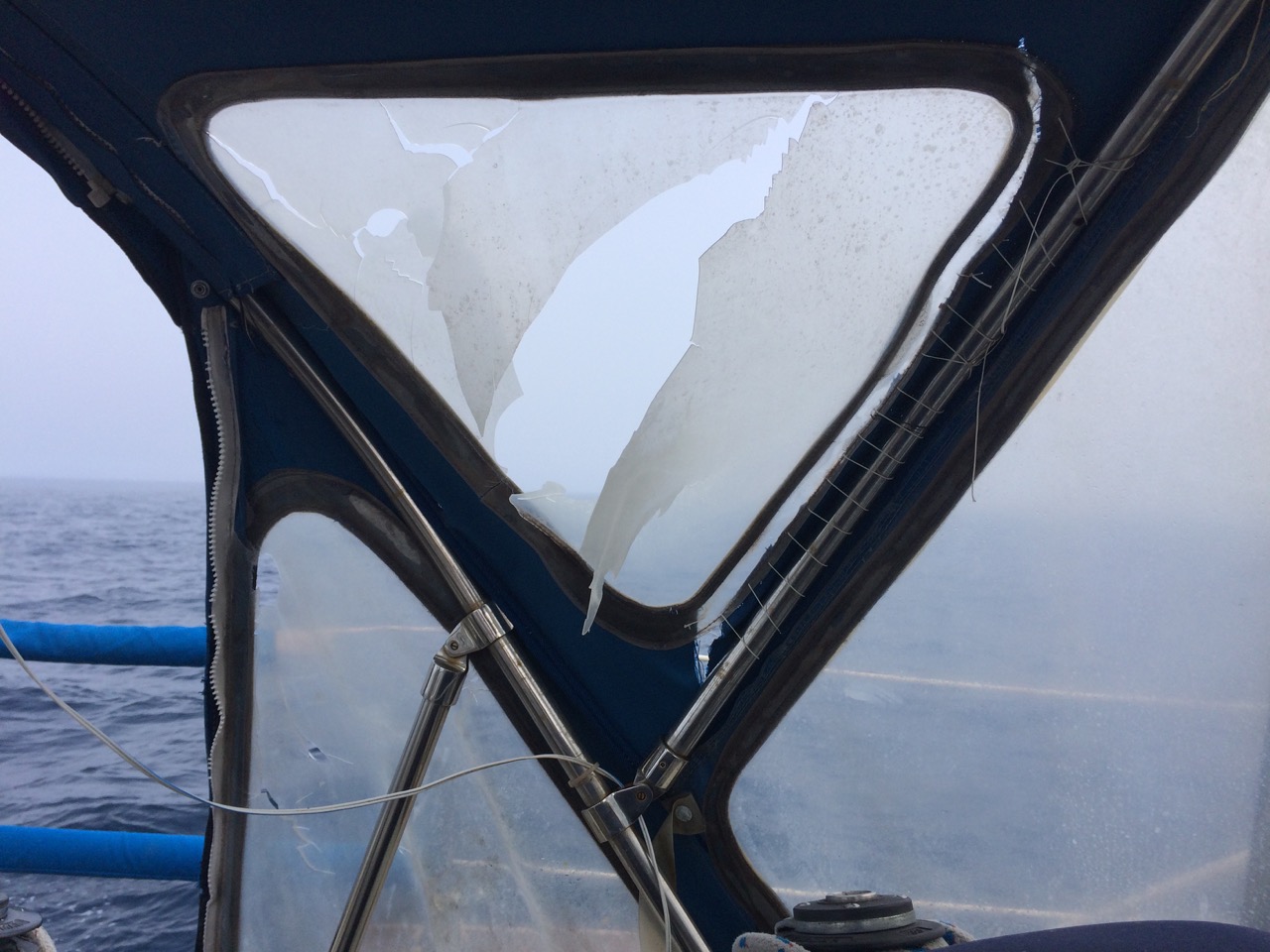 Sea otters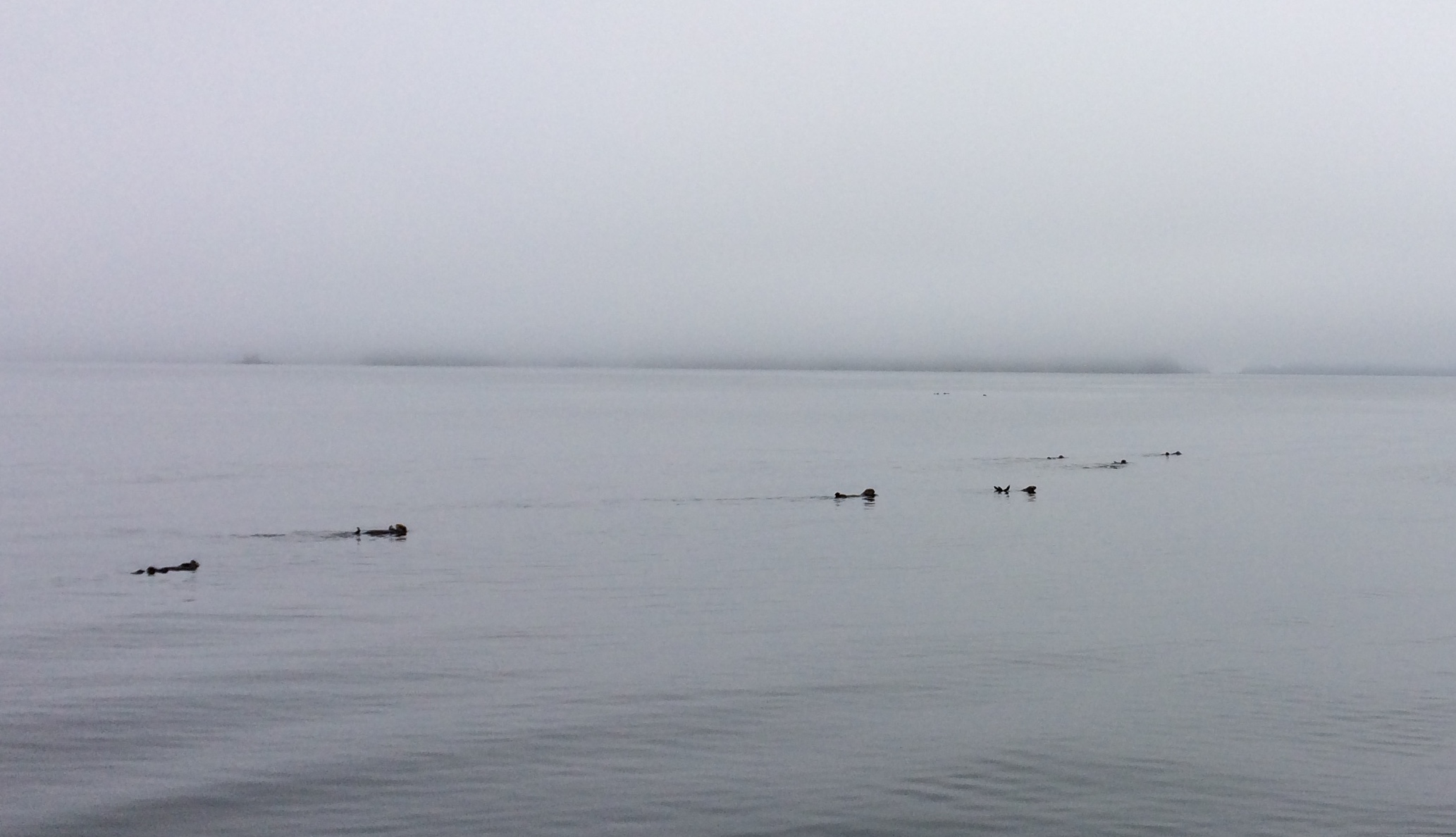 The Fishermans Wharf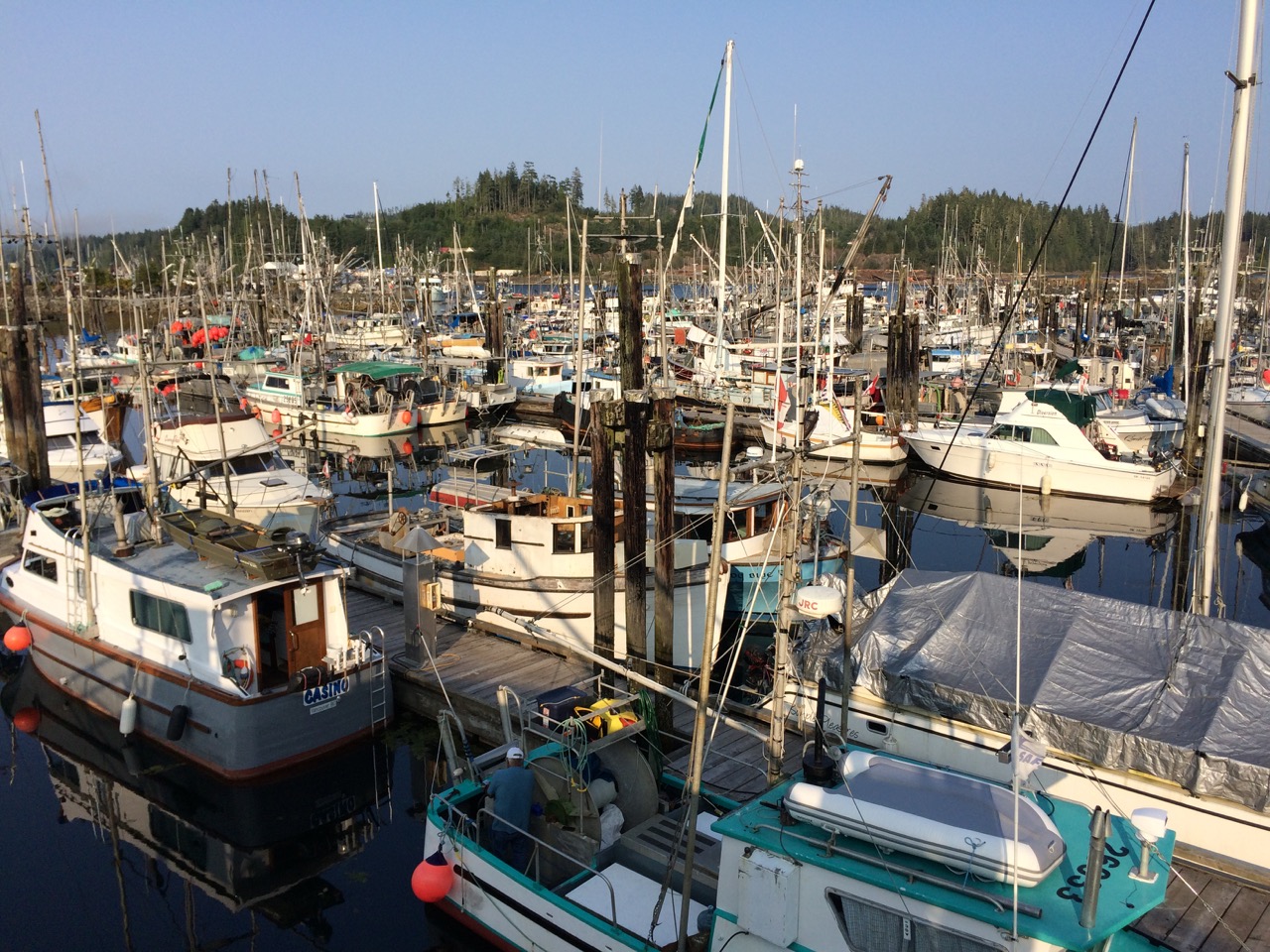 Here is a video of:
1) crossing from East to West, look at the Longitude , bottom Right.
2) the whale we saw at the end of the passage, it looked much bigger than that.
3) the cooker, when watching this, remember the cooker is staying still, it's everything else that's moving.
I have now had a chance to read all of the comments, thanks to everyone who posted and / or followed us on our travels. The red dot may dissapear soon as I will be cancelling our Satphone link until our next ocean adventure, but we will still be posting here as we make our way down to Seattle.
Paul Collister