I've been back in the tropics for almost a month now but haven't had a chance to put any posts or pics on. This is the first instalment of the events and experiences of the month of March.
As we shuffled towards the open doors in the departure terminal at Heathrow where a bus was waiting outside to take us to the plane, the air turned icy cold and the building's huge window revealed a blizzard was underway outside. It was dark, and the airport's exterior lights lit up the snow flurries to create a pretty, festive scene. Inside Terminal 5, I had noticed several European flights getting cancelled due to the snow – the so called 'Beast from the East', and while some of us shivered in our winter layers as the bus meandered around the tarmac, I knew that my next view of the outside would be totally different. I left Liverpool on 26th February after 6 lovely weeks catching up with family and friends. It was now time to return to Malaysia to continue our travels in Asia. I arrived in KL the following day laden with around 50kg of luggage, most of which was heavy weather gear, boat parts and jars and a few food products that can't be obtained in SE Asia.
After Paul had collected me from the airport, we headed for the welcome opulence of The Majestic Hotel in Kuala Lumpur's centre, where we had stayed when I first arrived in Malaysia in August 2016. Listening to Paul negotiate the terms for the taxi ride there, I knew I was back in Malaysia. There was none of the straightforward interaction when getting a taxi in the UK. First you have to go to a desk, not a taxi rank, where some haggling takes place about the price of the journey and then you take a ticket with a registration number to the relevant car outside. The price didn't come down enough for Paul's liking, however and he told the line of staff behind the desk that he would call a Grab or an Uber for a cheaper deal. At this, one of the men warned him, 'you take Grab, you die', which wasn't a threat as it turned out, just a sulky assertion that it wouldn't be as safe a ride as they could offer.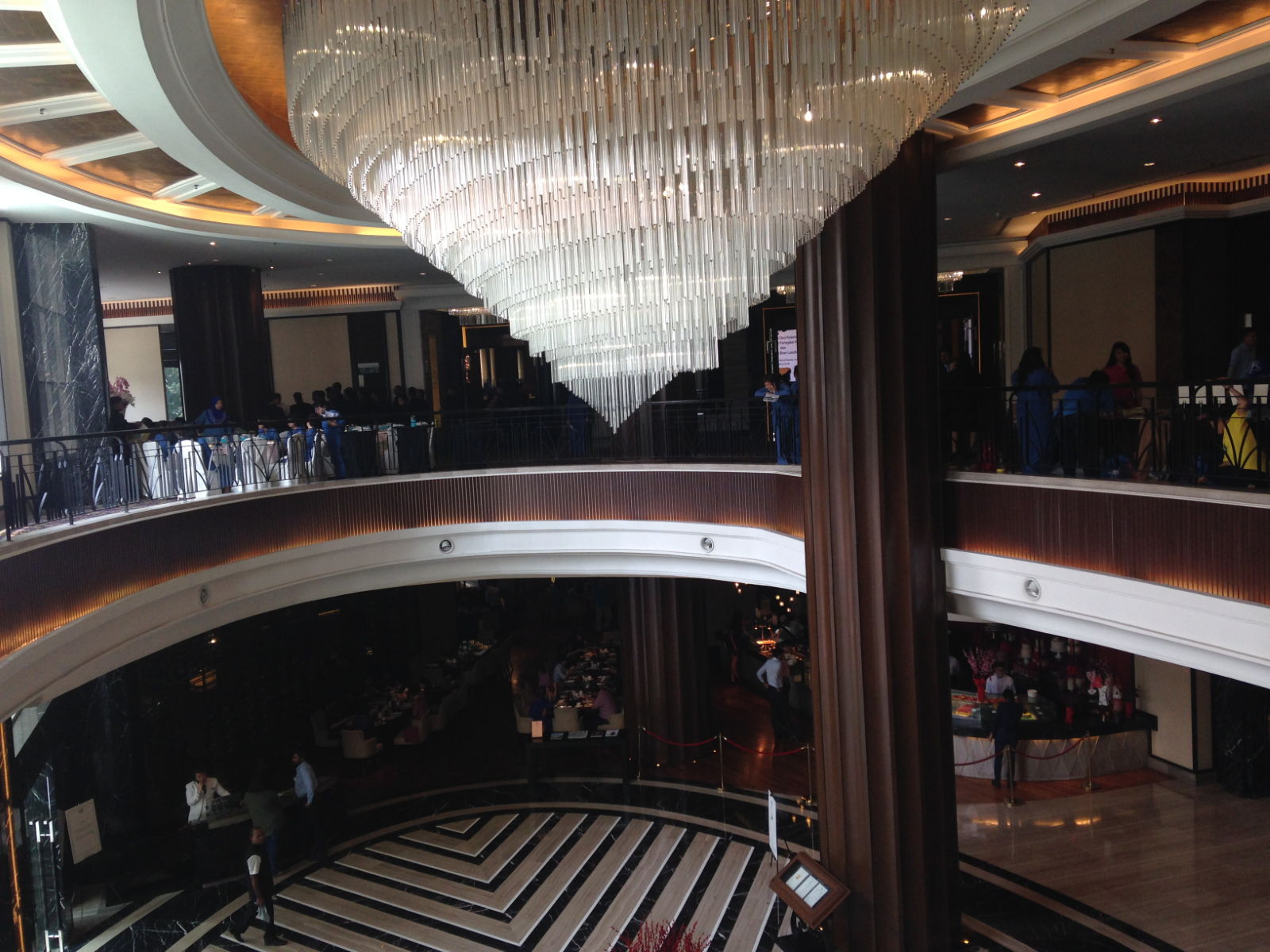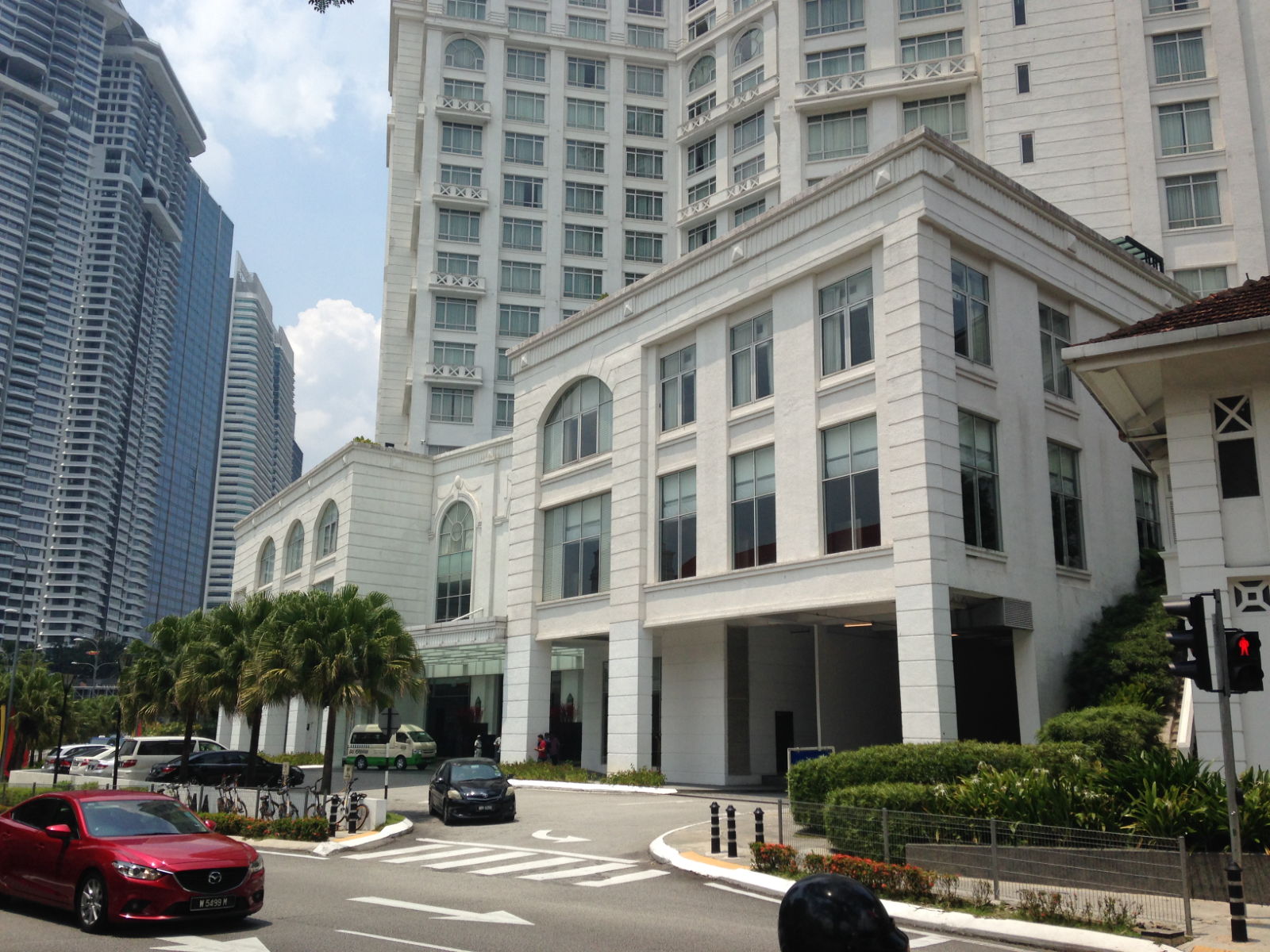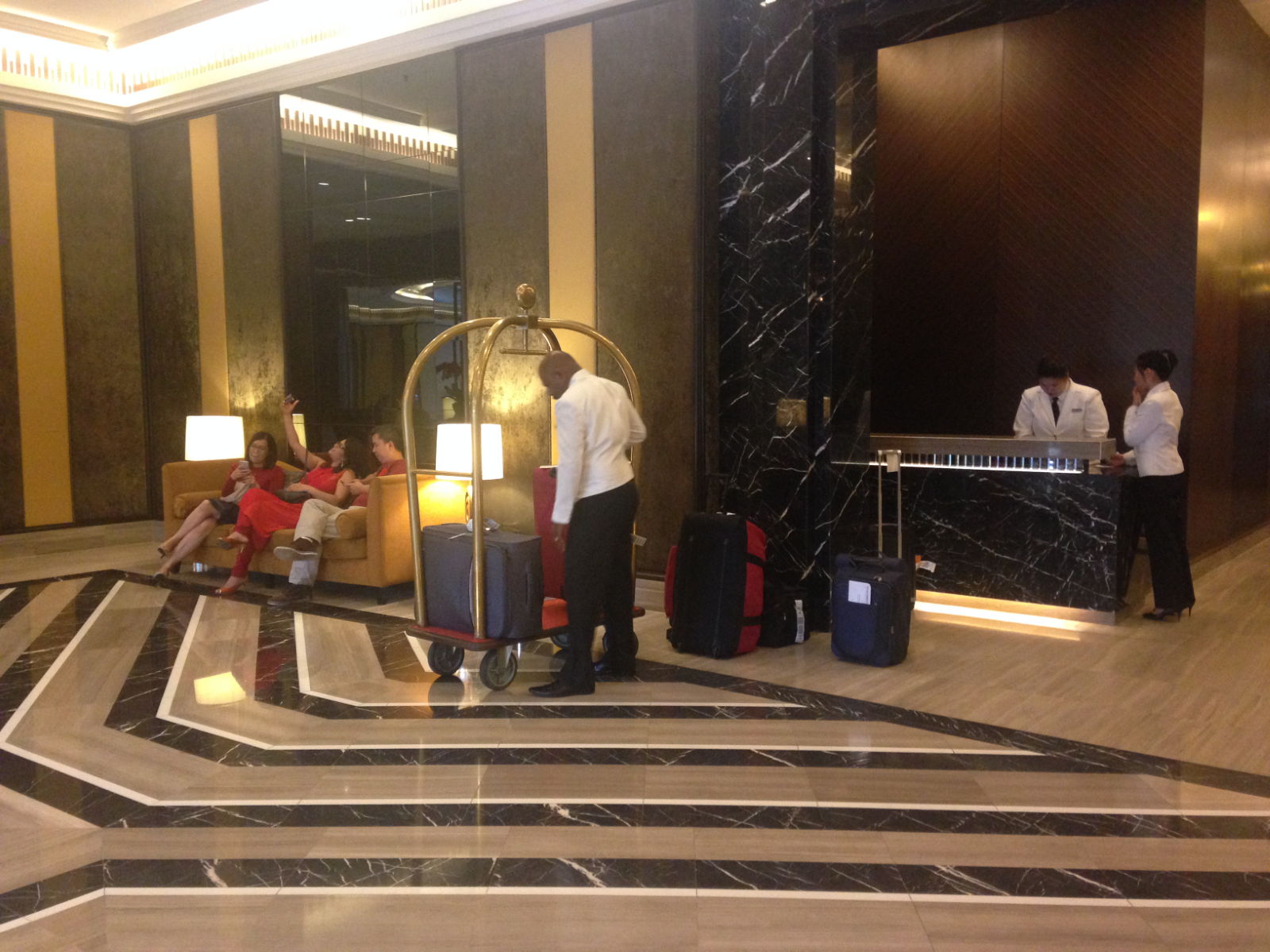 We had been upgraded to a luxury suite on our previous stay at The Majestic, and such was the case when we checked in. This time, however we were given the Bridal Suite (which I thought prudent not to publish on Facebook in case people got the wrong idea  ;)). Needless to say it was beautiful, especially the view from our room which was even more spectacular at nightfall.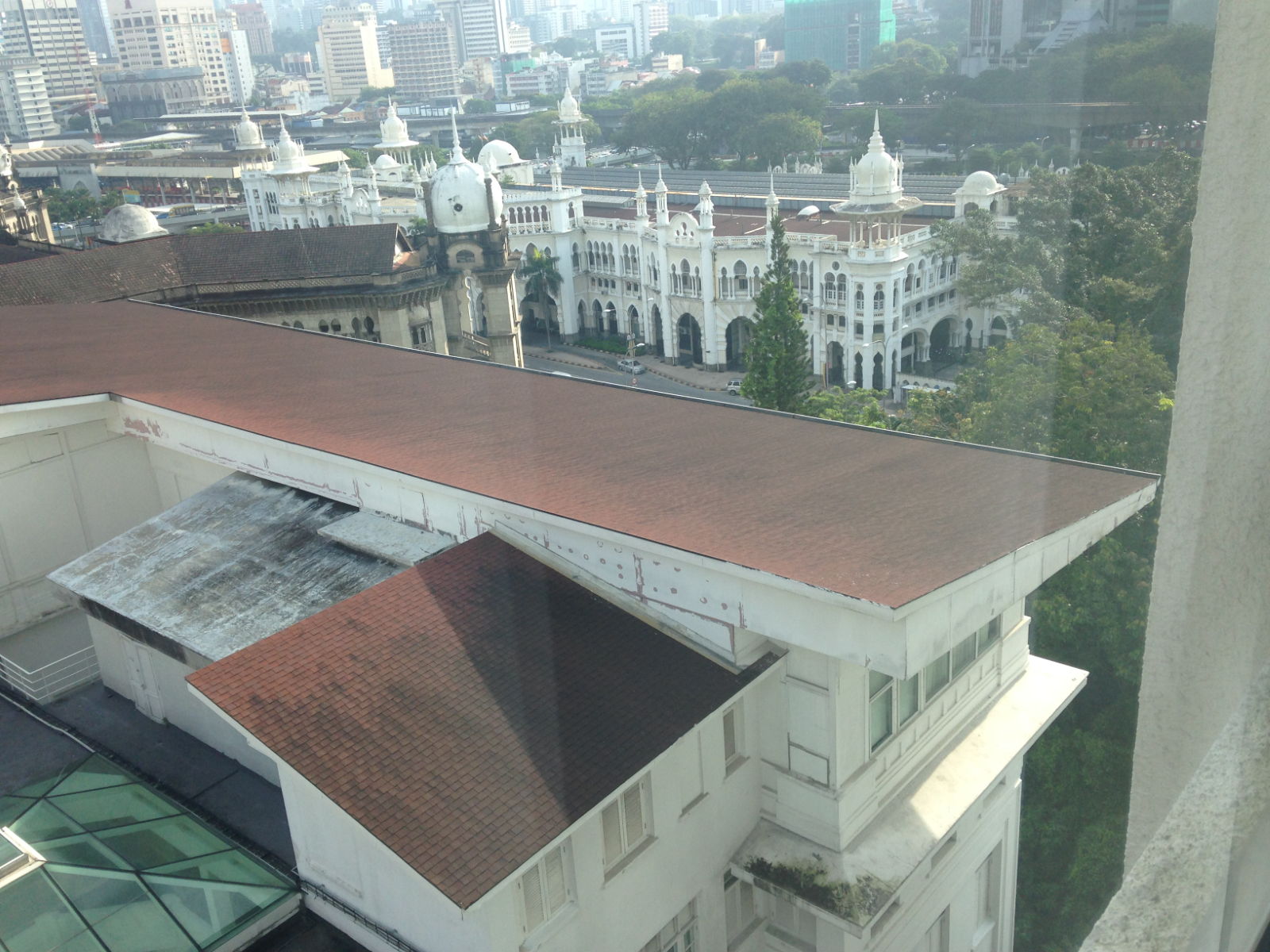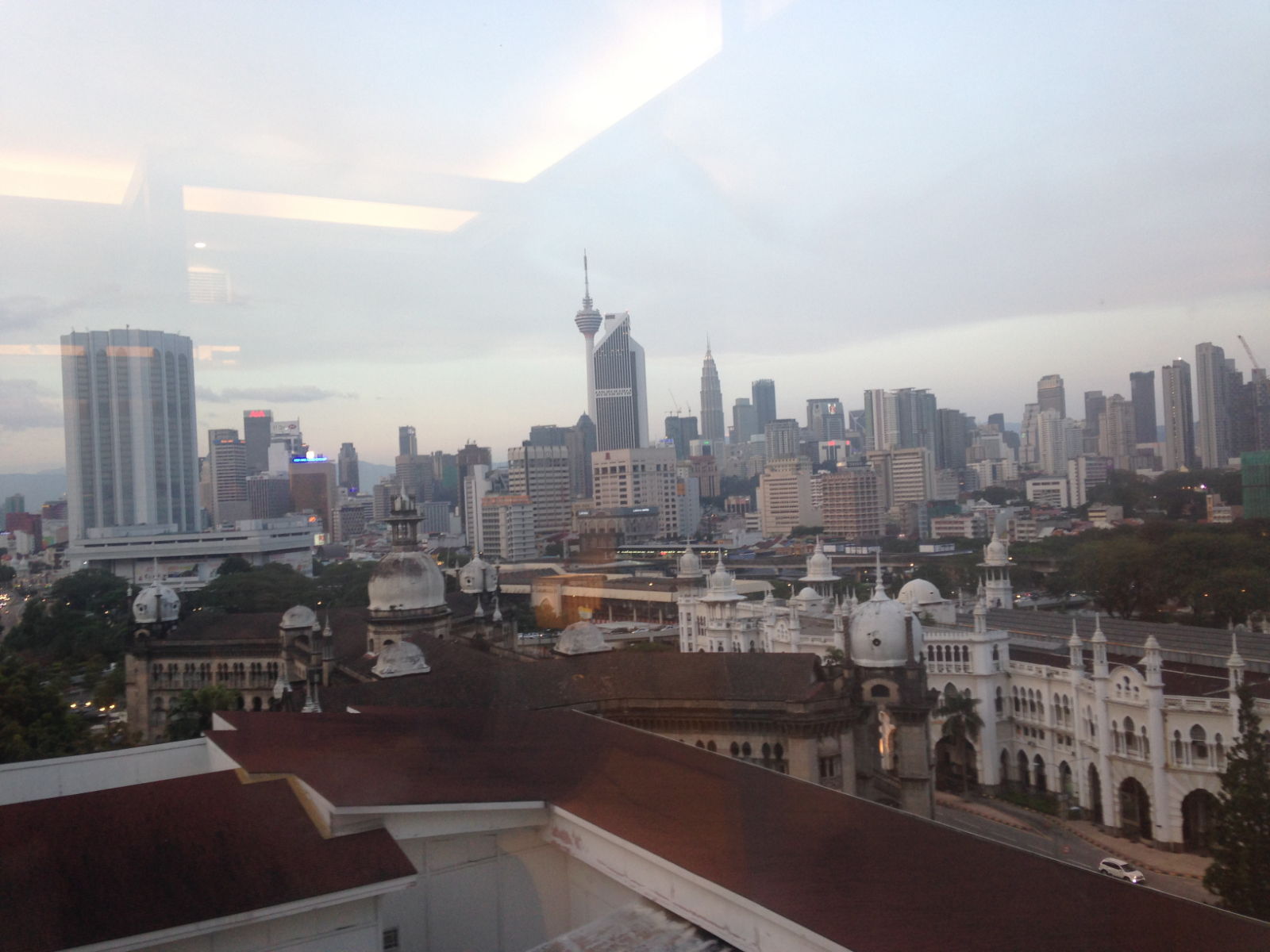 I had regretted not seeing KL's Petronas Towers during our previous visit so that evening we went for a walk to have a look at them. It was strange not to have to clad myself in layers against the cold for an evening out and I enjoyed the 30 minute walk in a temperature that had just enough breeze to combat the humidity. The towers were stunning. I thought they looked extraordinary, rising up high in the darkening sky, with their lights twinkling. I would have loved to walk across the bridge that connects them.  The square beneath the towers had an arrangement of fountains which provided great entertainment in the way that the lights and the fountain's mechanisms made the water appear to dance in time to the music. We sat for a long time in the cool evening enjoying the whole atmosphere.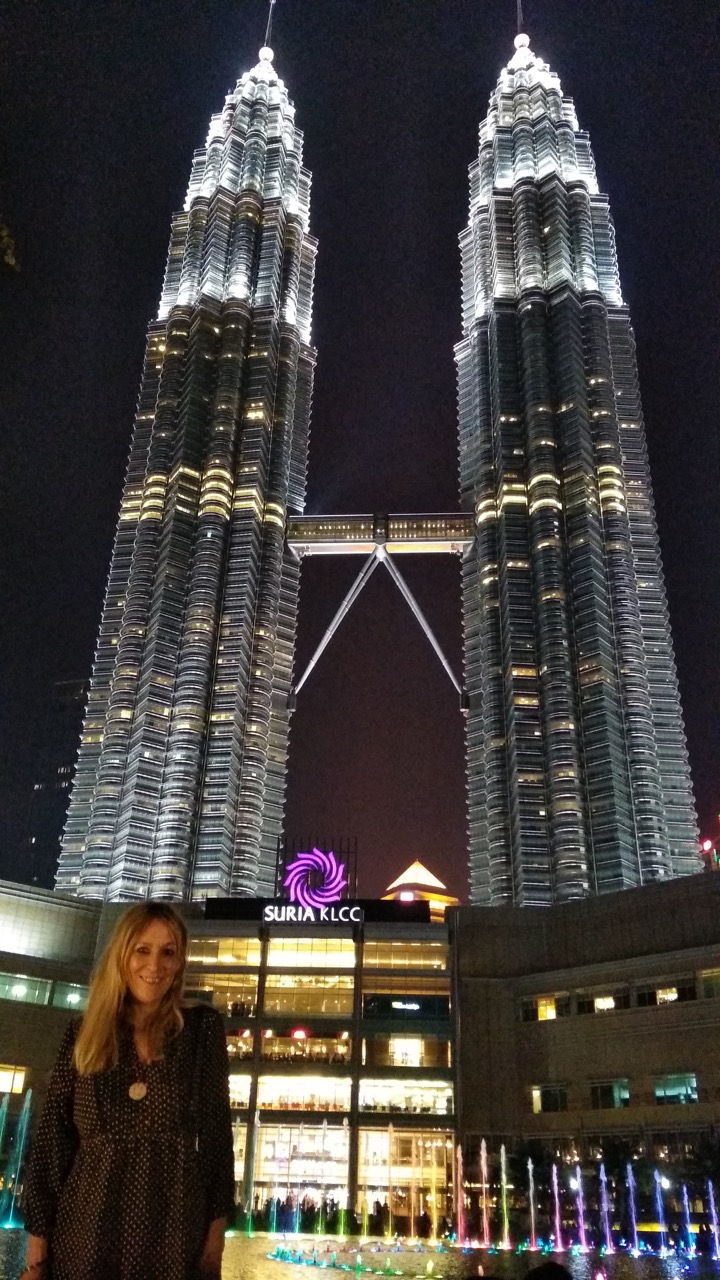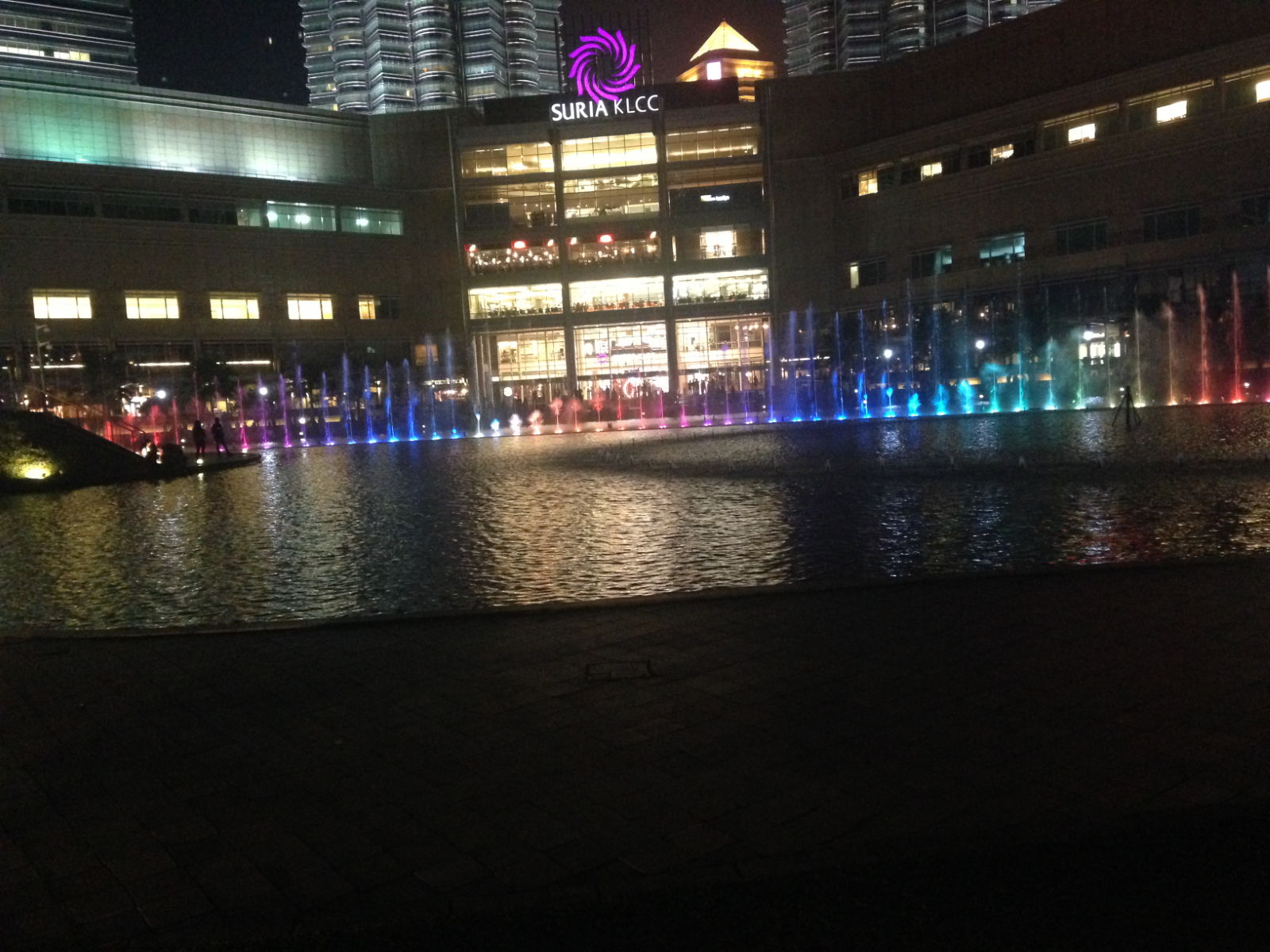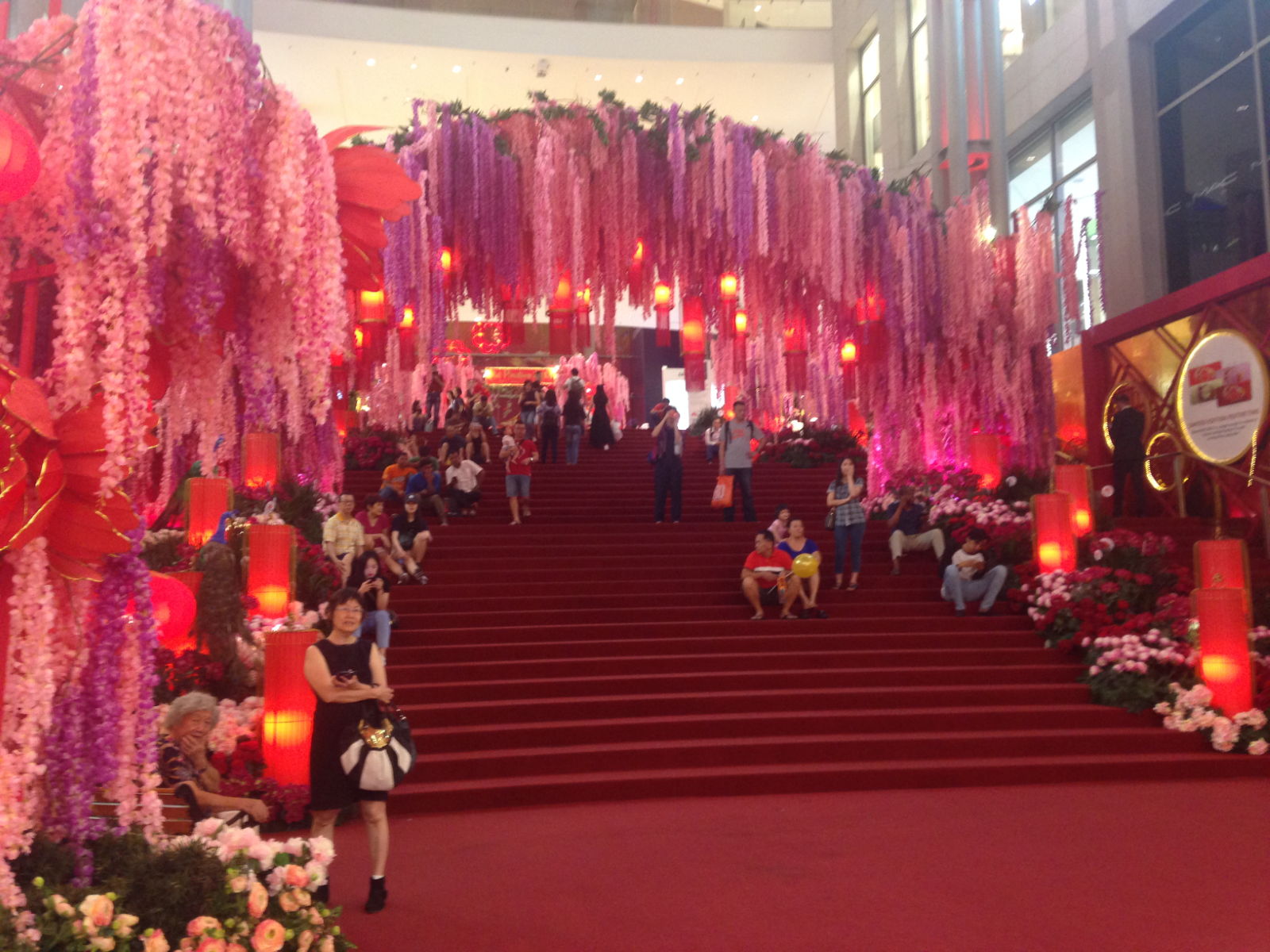 Late in the afternoon of Wednesday 28th February  we reached Labuan after a 2 and a half hour flight and were back on Sister Midnight by early evening. I was glad of a few days to reacclimatise and get over the worst of the jet lag before we had to move on anywhere. Labuan is the place for duty free products so we were also busy restocking with wine and other provisioning, unpacking and going through the checking out procedures.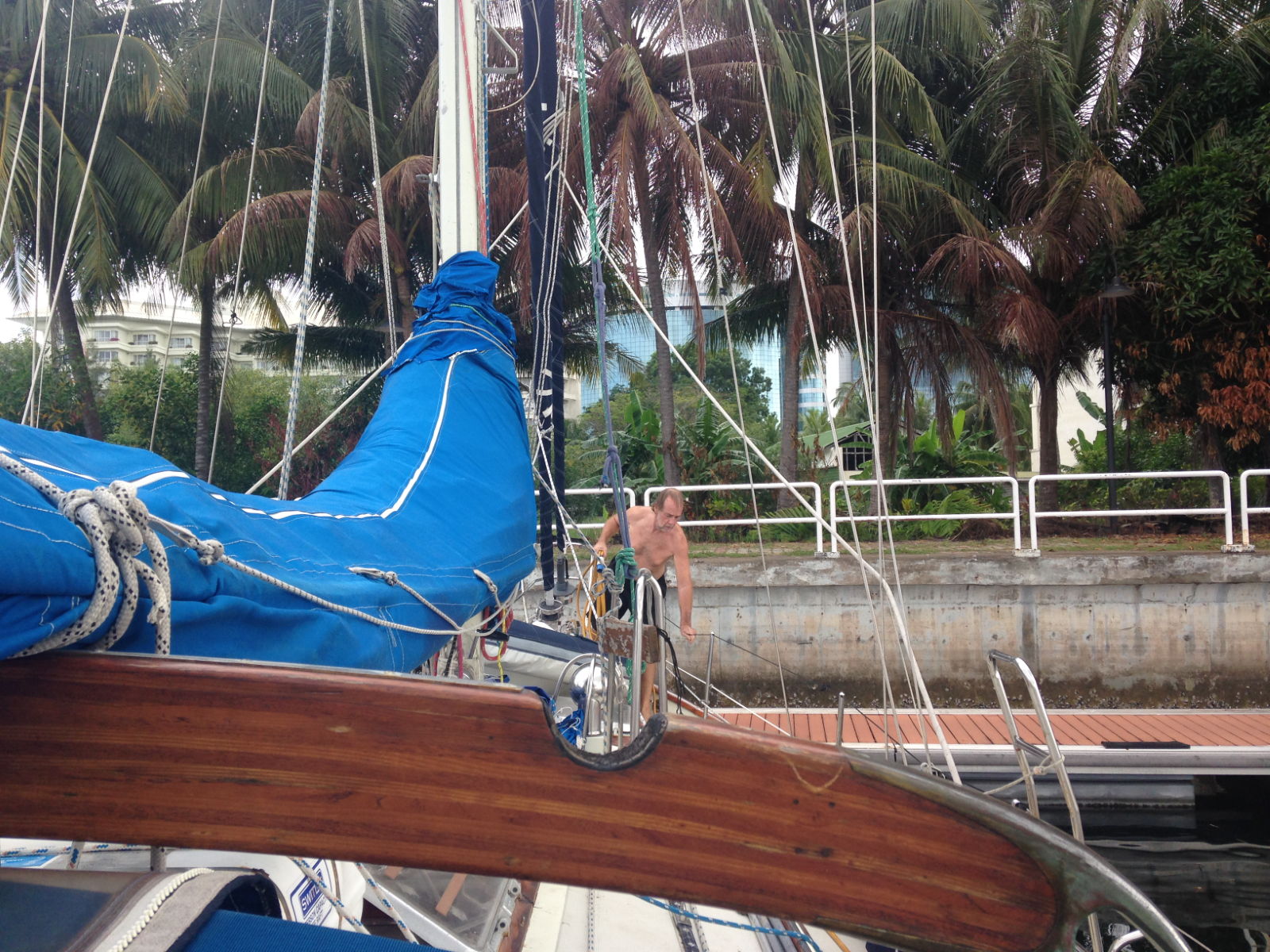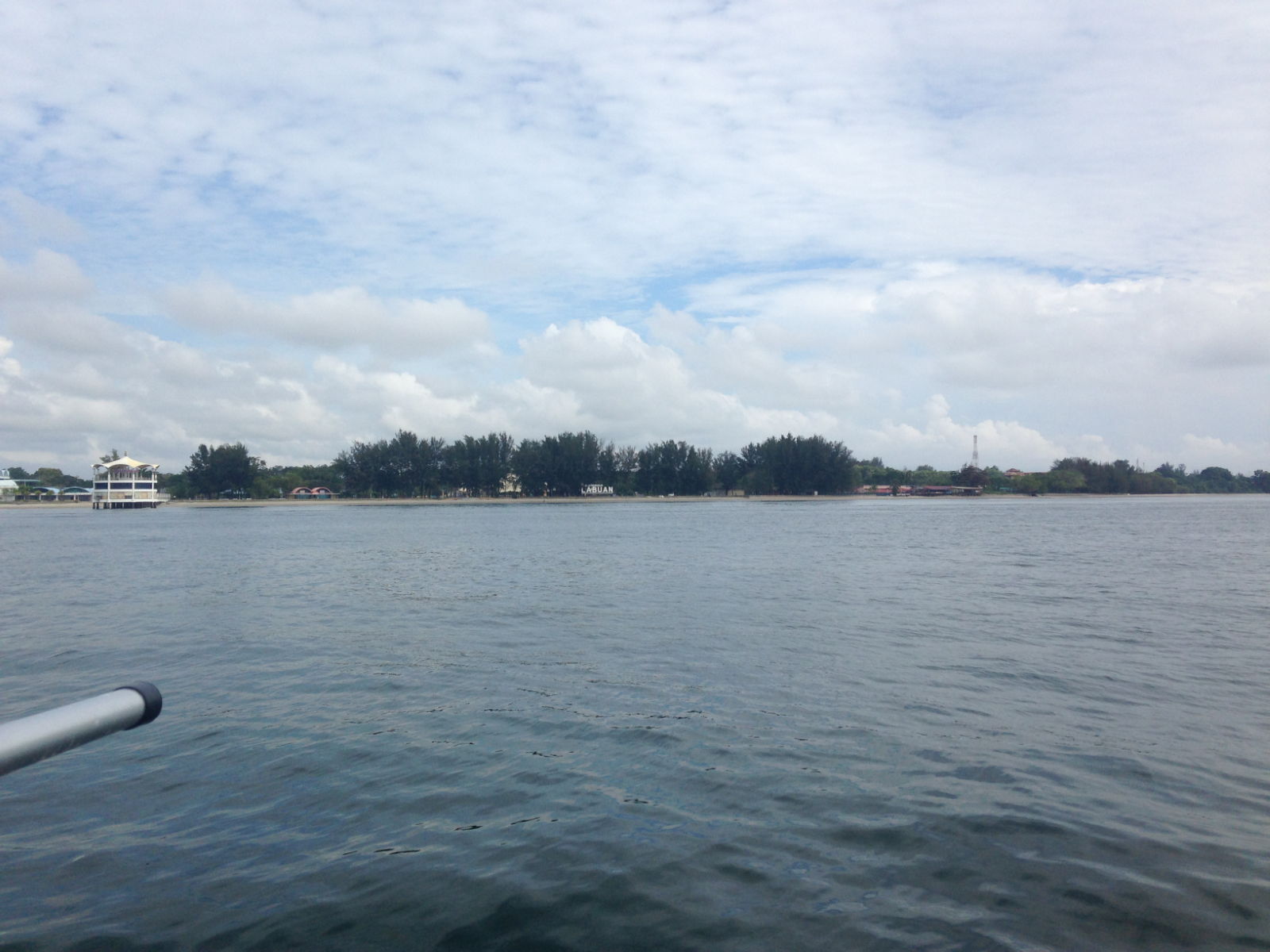 The island of Tiga (pronounced similar to the character from Winnie the Pooh; 'Tigga') was our next destination and we left Labuan for it on Saturday March 3rd on a rather overcast and humid morning. I steered us out of the marina and out into the open sea before the autohelm resumed duties. We had a few rain showers on the way, some fairly heavy, and although there was a bit of wind we couldn't put the sails up because we needed to be at our anchorage before sunset so speed was of the essence. The noise of the engine and the gentle motion lulled me to sleep off more of my jet lag in the cabin. It felt good to be on our way again, with the exciting prospect of new countries to explore in the coming months. At about 3pm, a shout from the cockpit announced 'I've caught a fish and it looks like it might be a big one!' After two years of trying, Paul had finally got one. He reeled it in and I stayed below until he'd killed it (I'm told it had a quick and humane end). The weather worsened while all that was going on and Paul prepared the as yet unknown fish on deck in pouring rain to the accompaniment of loud thunder claps. The rain scuppered his plans to barbecue it that evening. He found out later that it was called a Trevally. I wonder if this will be the first of many?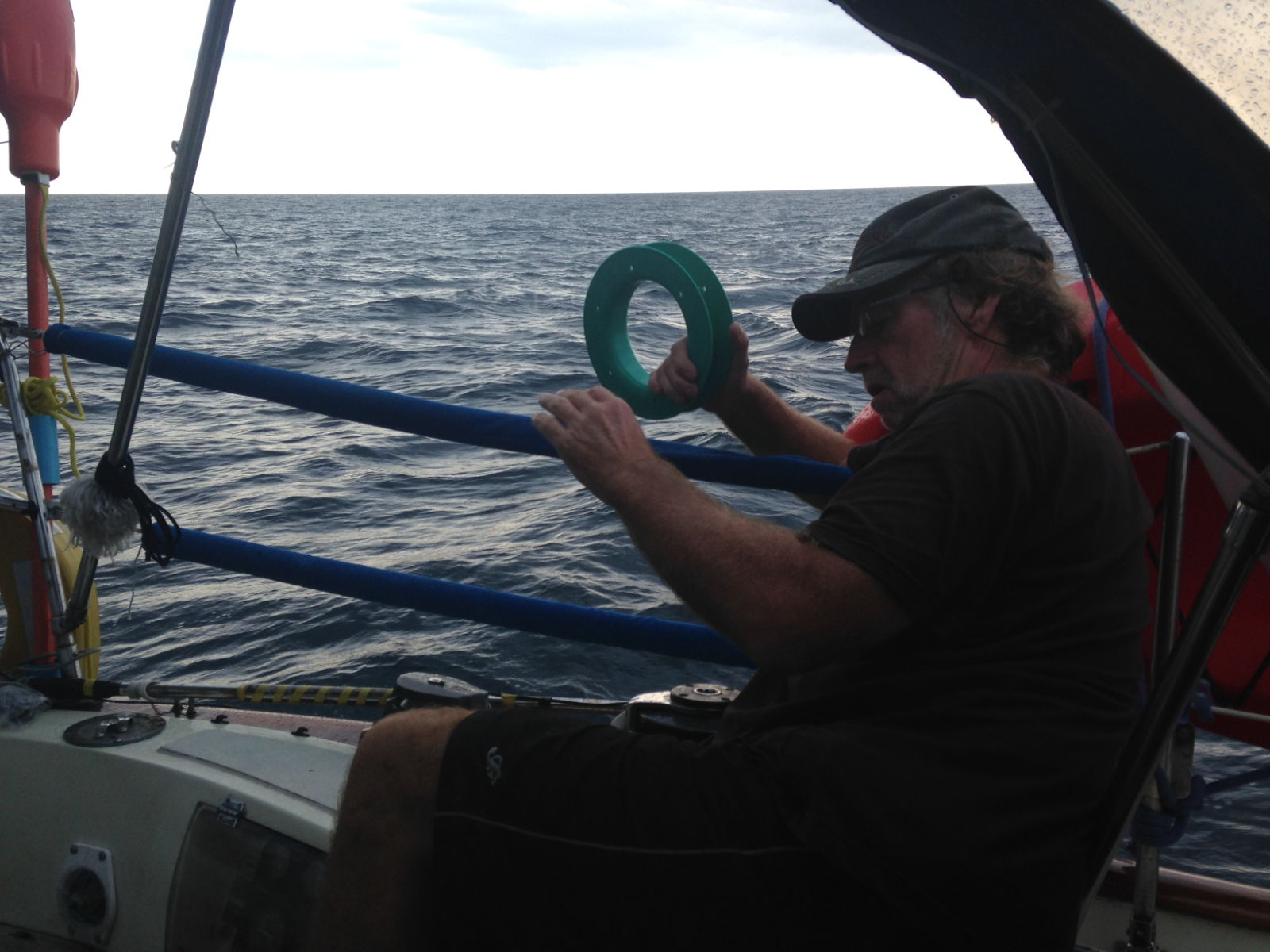 We anchored opposite Tiga at 5pm in fairly shallow water. Conditions were almost exactly the same as when I last saw Tiga in December, although thankfully the sea wasn't as rocky. Through the drizzle I spotted monkeys lining the beach and could see a few people near the resort. Heavy clouds ruined any chance of a sunset view but when darkness fell, the island looked pretty, lit up as it was with fairy lights.
Sunday brought clear skies and warm sunshine. I looked out at the island just before the sun came up; it looked gorgeous in the dawn light. The monkeys had returned to the shoreline, some of them scampering back and forth from the beach to the water's edge. Apparently they like to beach comb, gathering up the coconuts and other treasures that wash up onto the sand to store and examine later presumably. We went ashore in the dinghy in the afternoon. I finally got my wish to set foot on 'Survivor Island' and found it to be as picturesque as I imagined. There weren't many people around, just a few day trippers who come for the famous volcanic mud pool, and some guests from the small holiday resort.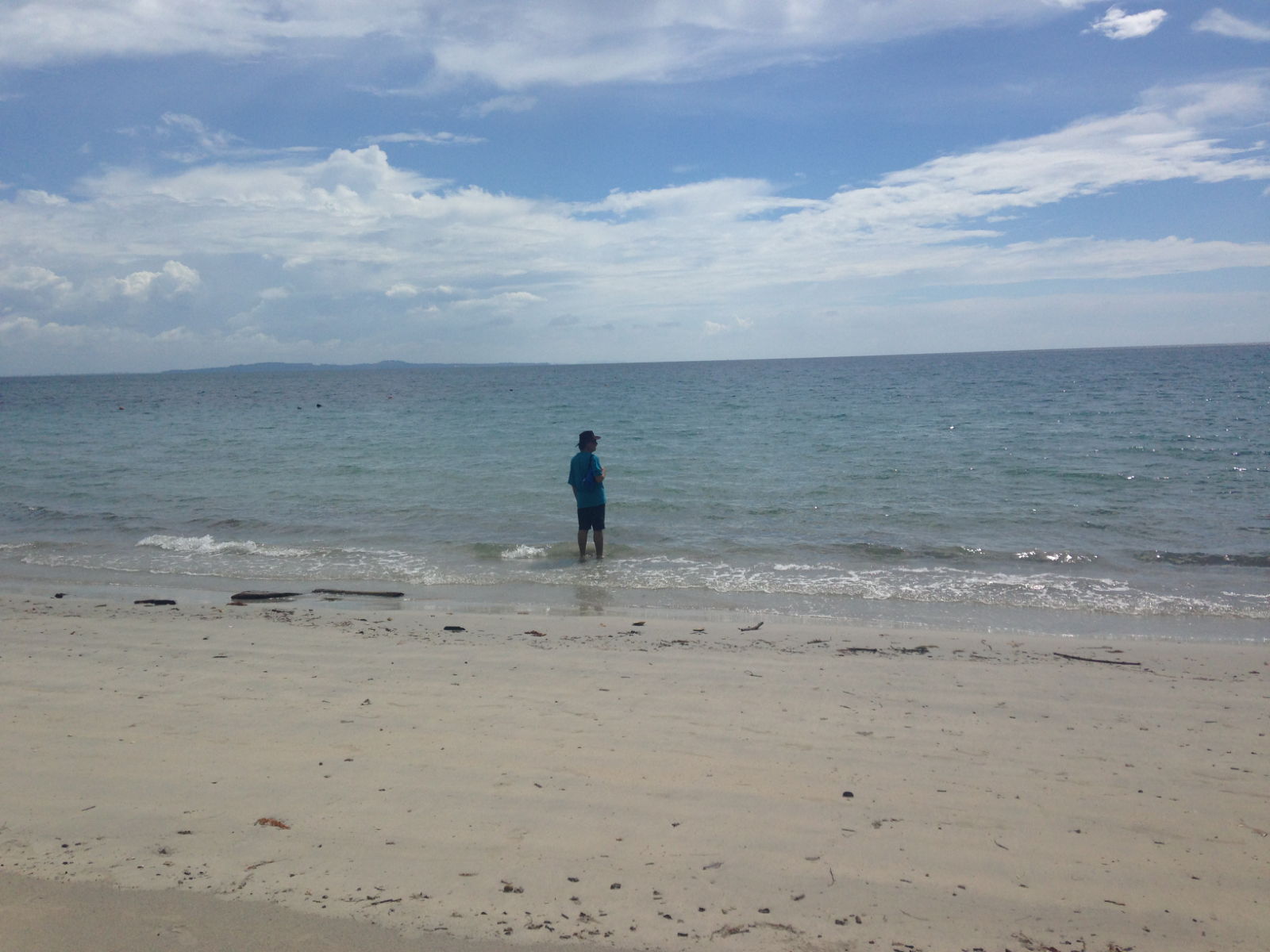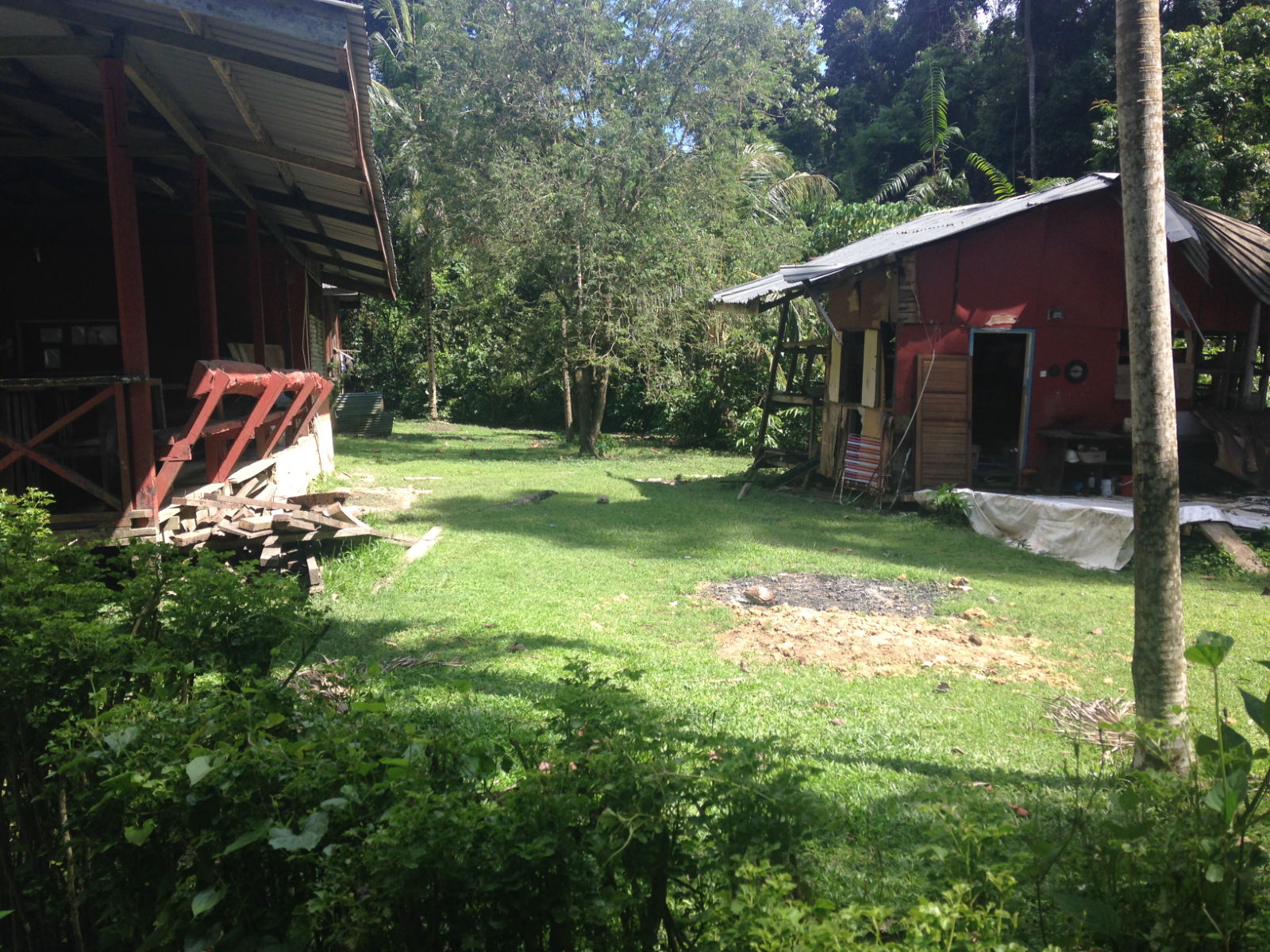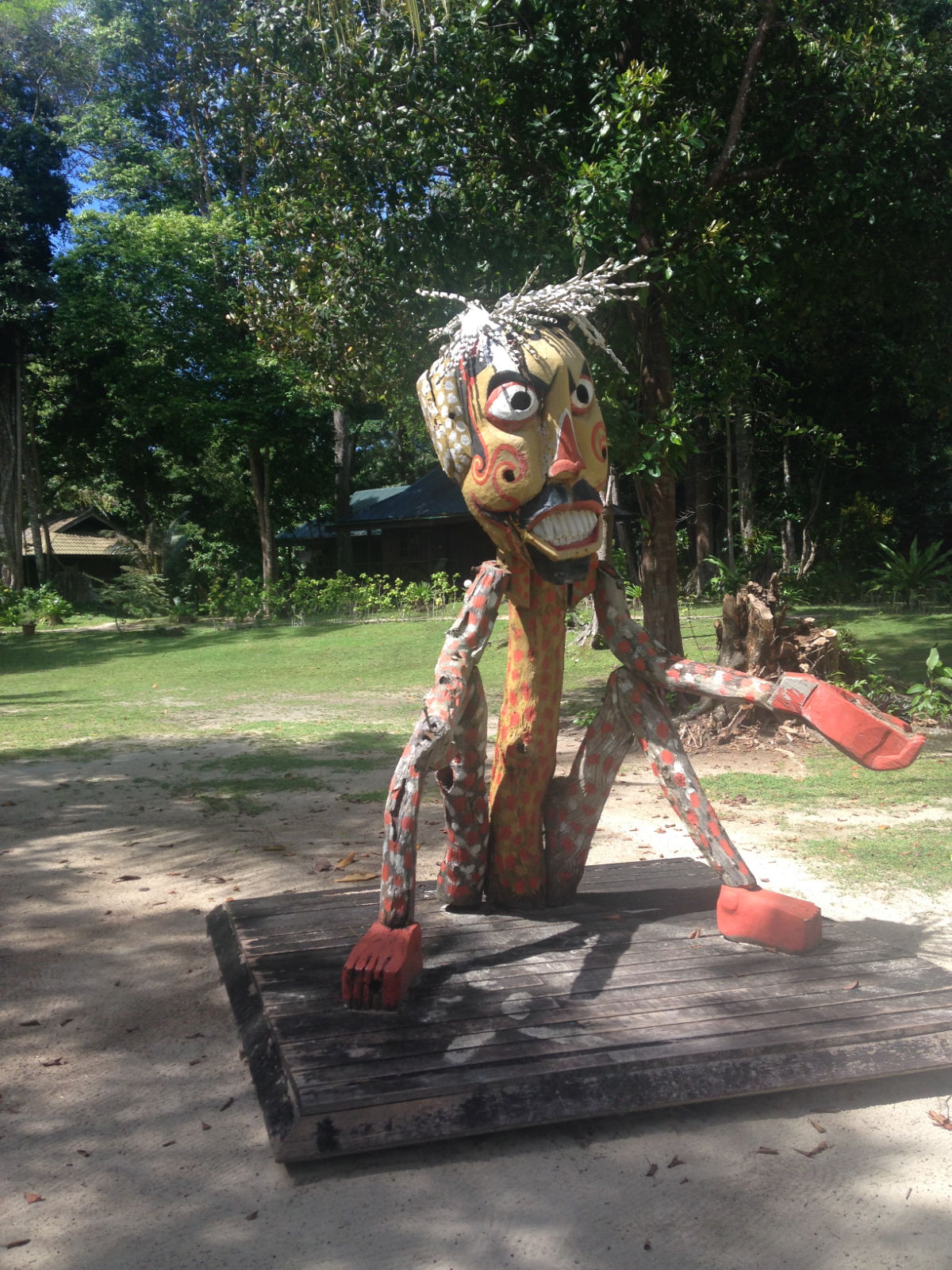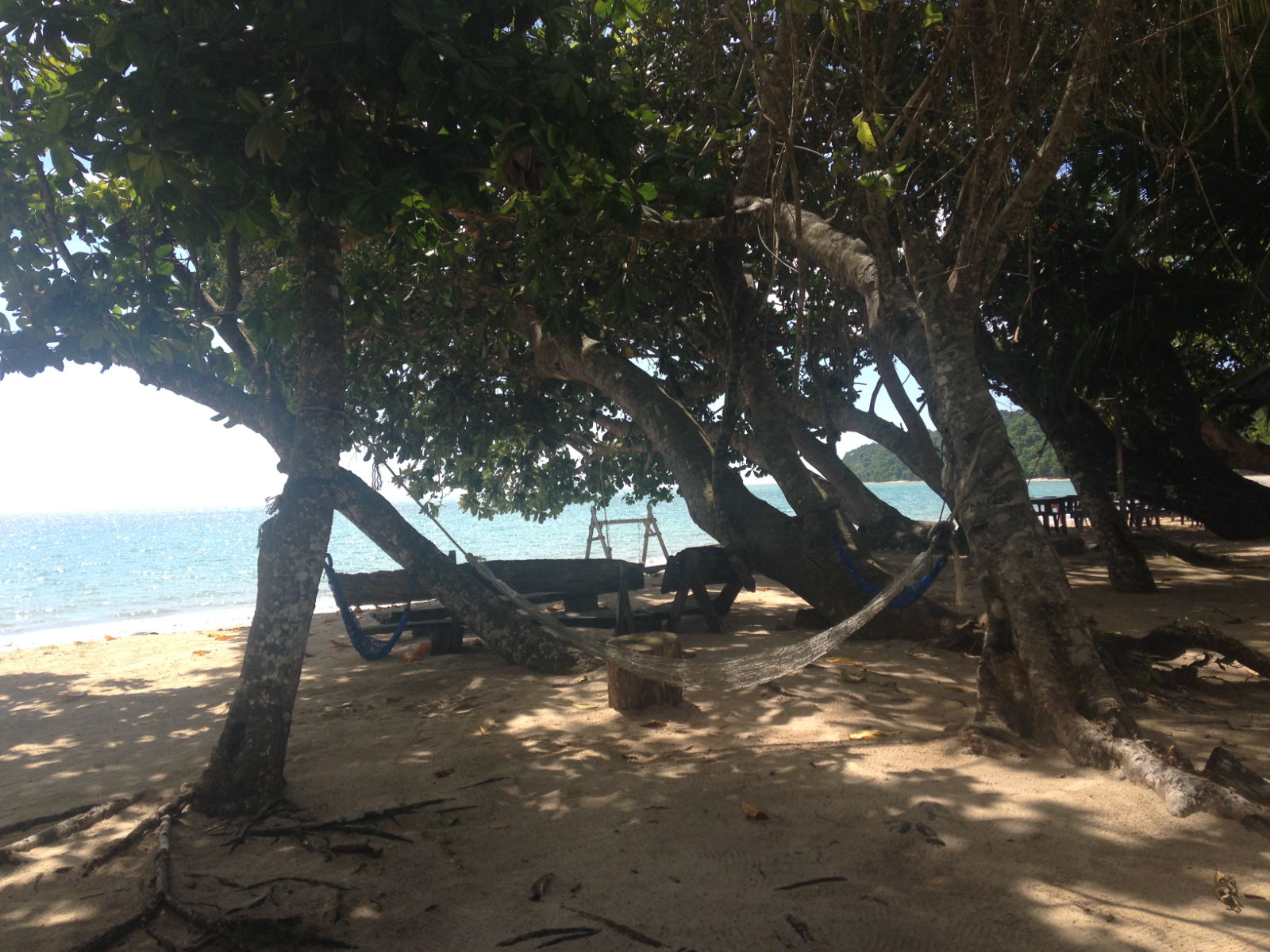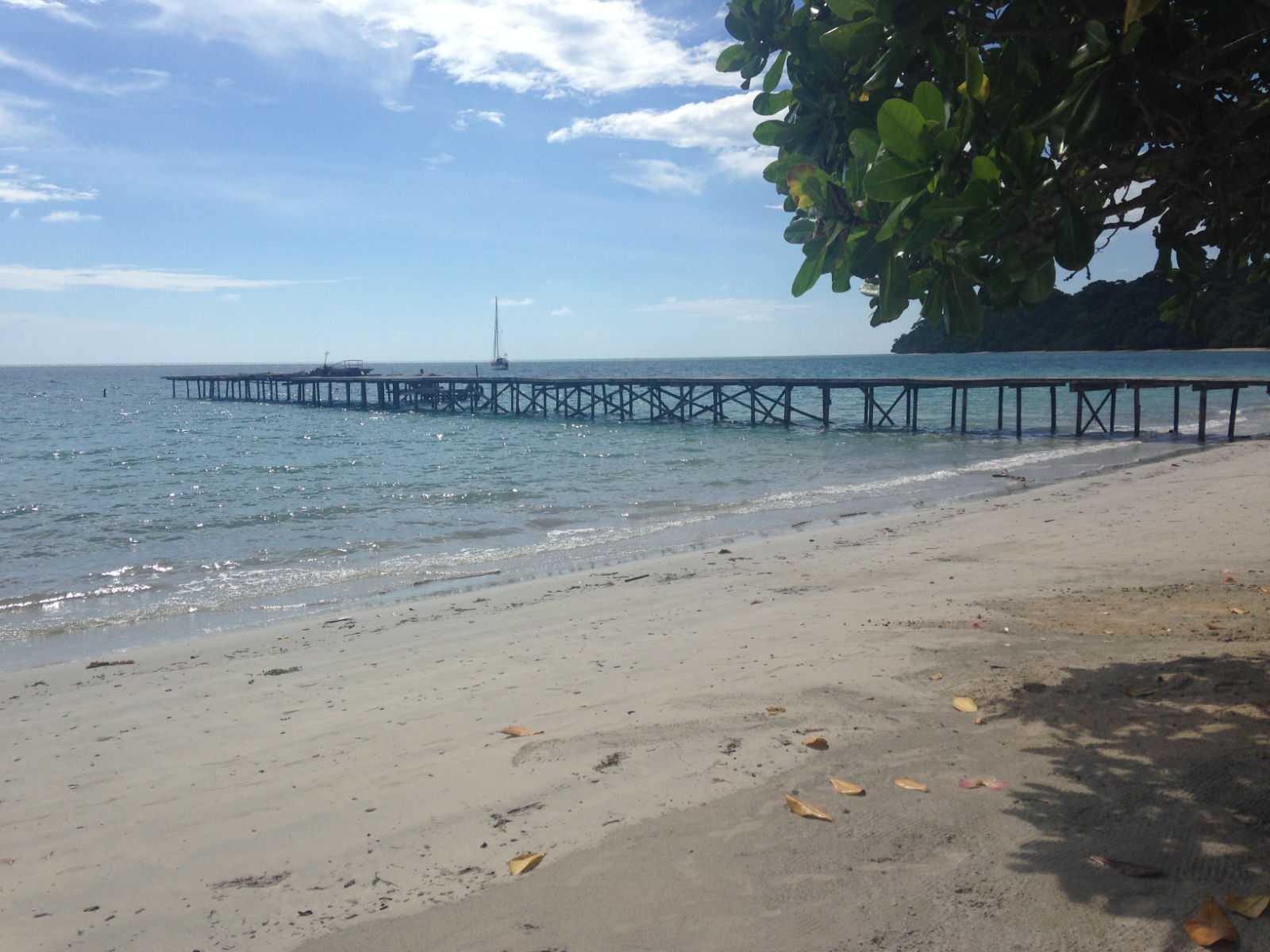 Paul was keen to have a dip in the 'anti-ageing' mud so we set off to find it. It was very hot and if I'd known how far away the place was I would have waited somewhere shady. We were attacked by biting insects almost as soon as we entered the jungle path. Luckily we were armed with insect repellent so hurriedly applied it on top of the sunscreen. Despite being fearful of coming across millipedes, the only creatures we saw were the more welcome sights of monitor lizards and monkeys. A sign informed us the pool was a 20-minute walk away but it felt considerably longer in the heat, and parts of the path were worryingly wet and swampy. Several smiling, mud-clad walkers passed us on their way back from their bath and assured us we would love it. I hoped Paul would because I was still not in the least bit tempted to take a dip in its murky depths. As I became more sweaty climbing the path's steeper parts, however, I almost reconsidered, thinking that at least it might be cool in there.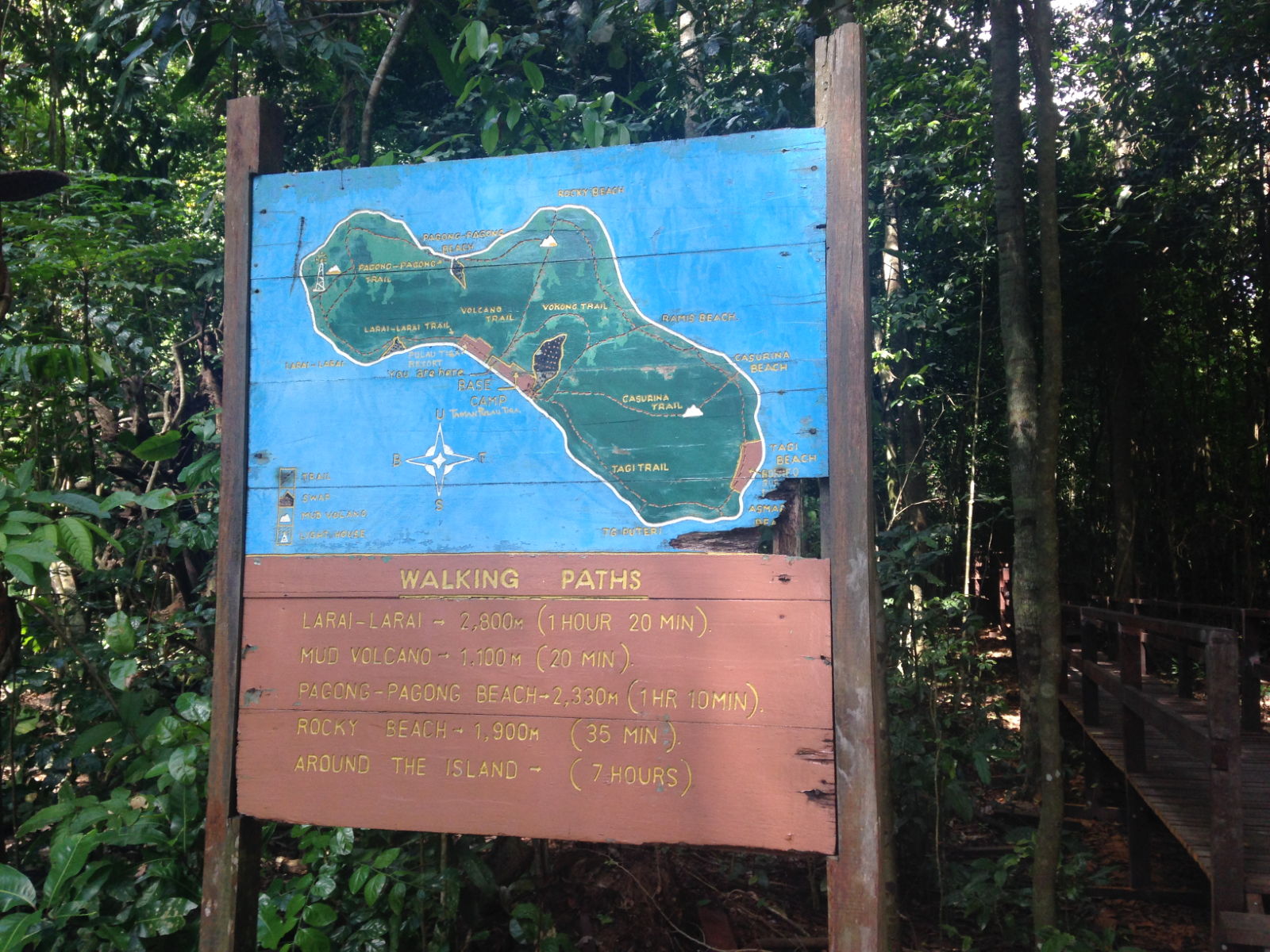 The pool was deserted when we got there and Paul lost no time in stripping down to his trunks and plunging in, leaving me in charge of the photography. I watched him from the wooden viewing platform and thought about not only all the flying bugs hovering above the surface, but also of what might be moving around inside the mud – not to mention all the human bodies that had been in there previously. I couldn't help but ask him why he was prepared to put himself through that: 'For the experience', he replied, ducking his head under to become completely immersed. He reported that he could feel 'things' in the pool and that it wasn't possible to swim as it was too thick.  As is often the case, the walk back seemed a lot quicker but it was decidedly uncomfortable for Paul as the mud dried on him. I think he was glad to leap into the sea to complete his experience. I'll stick to moisturisers  😉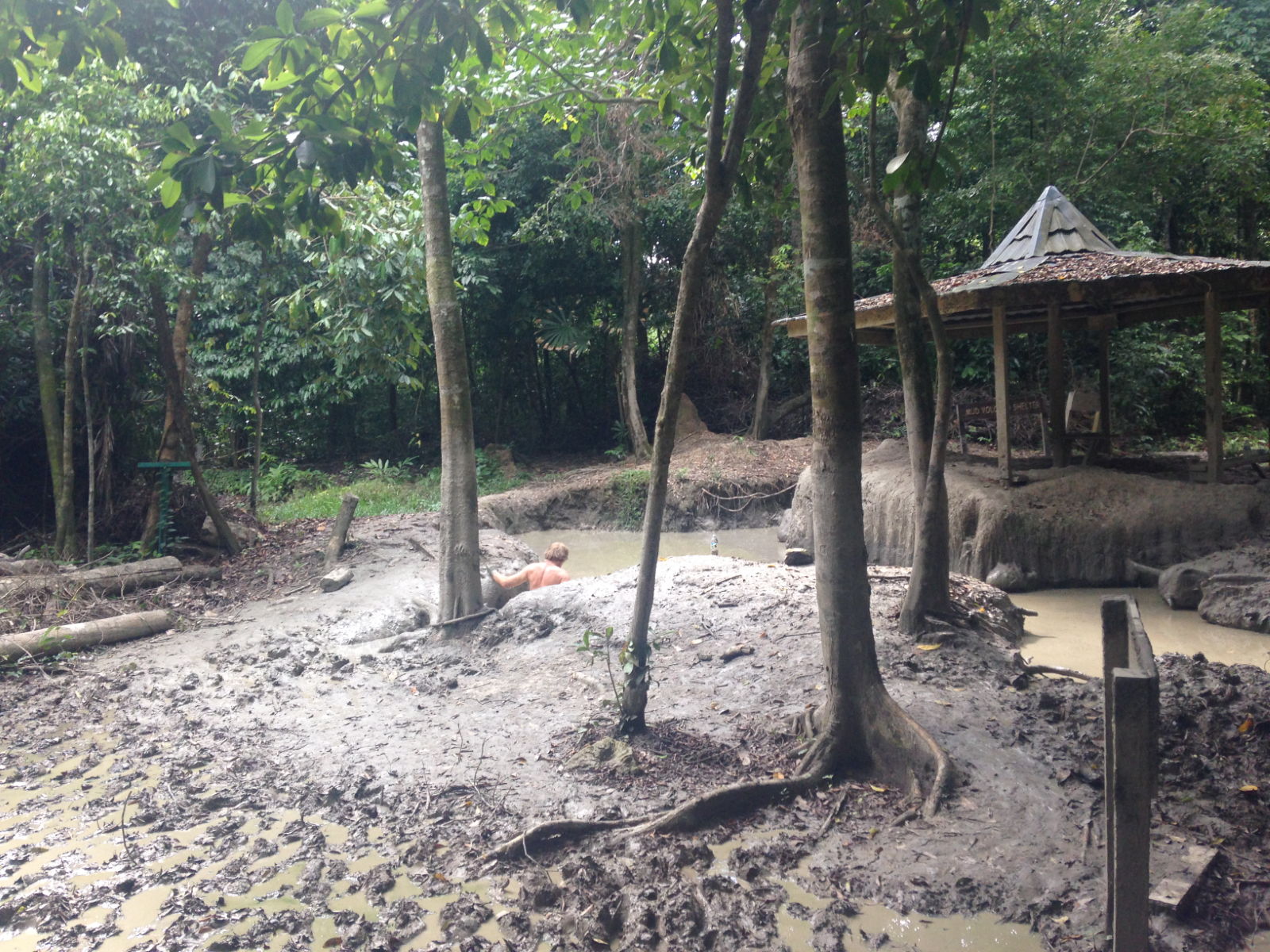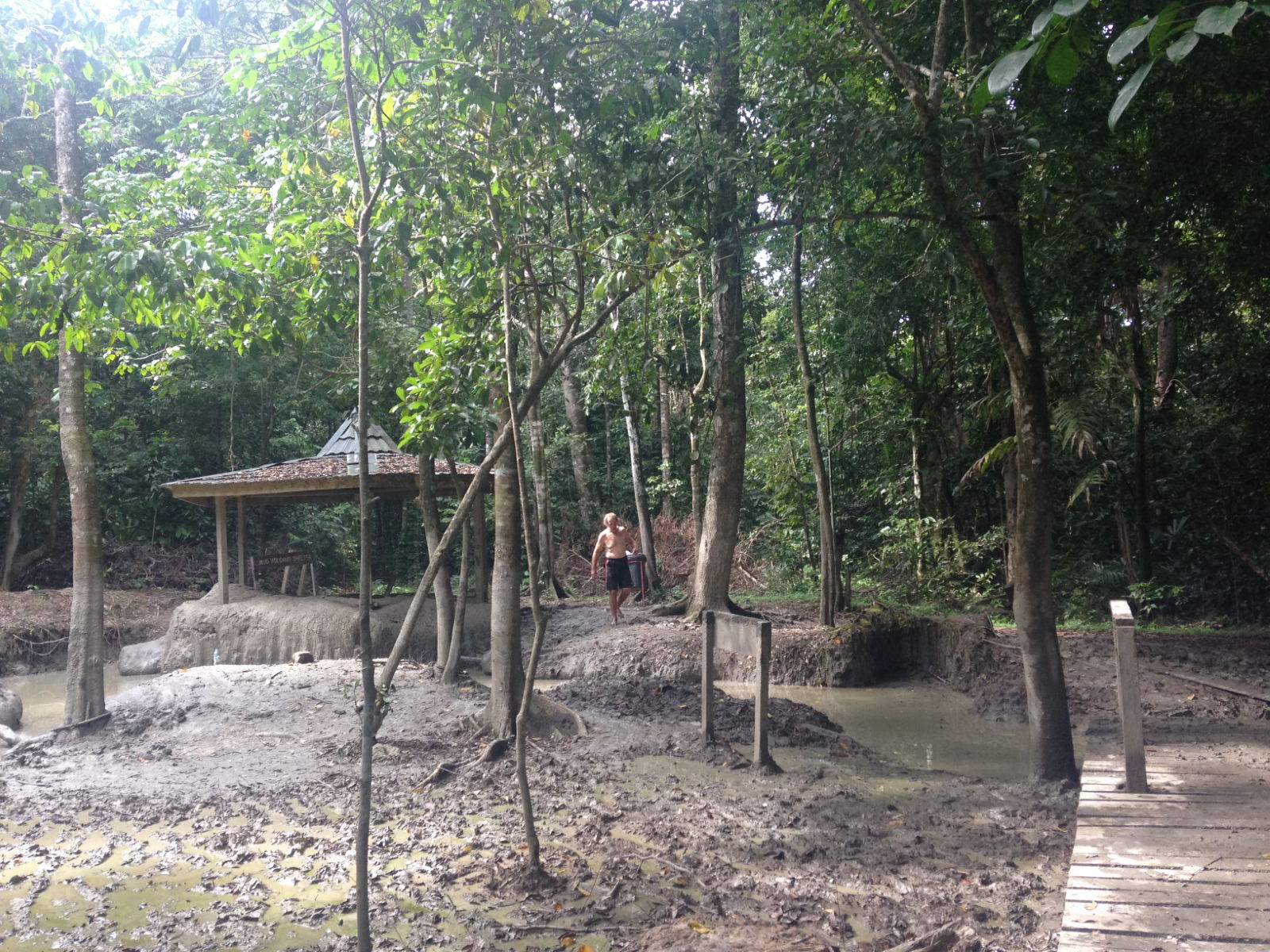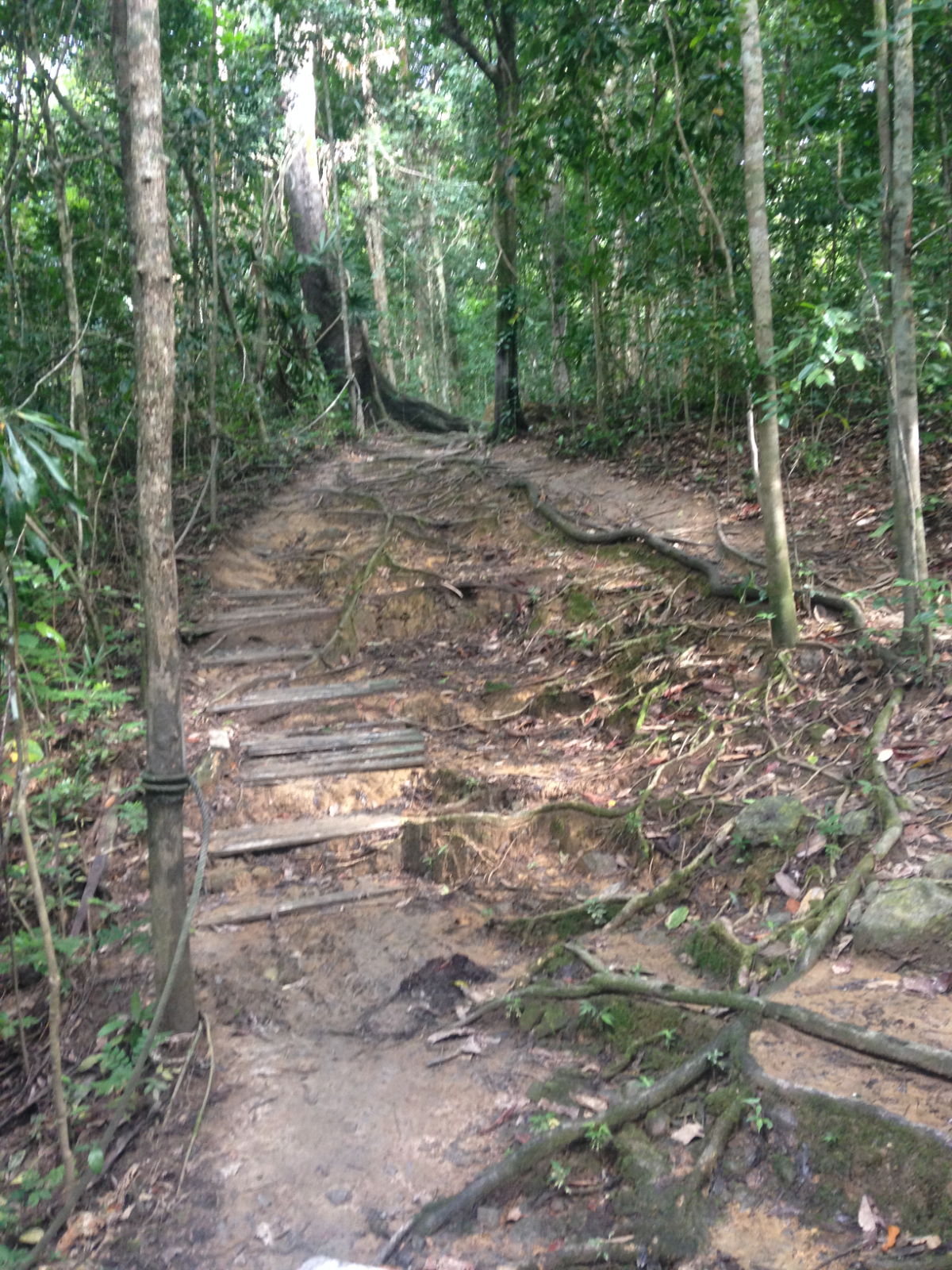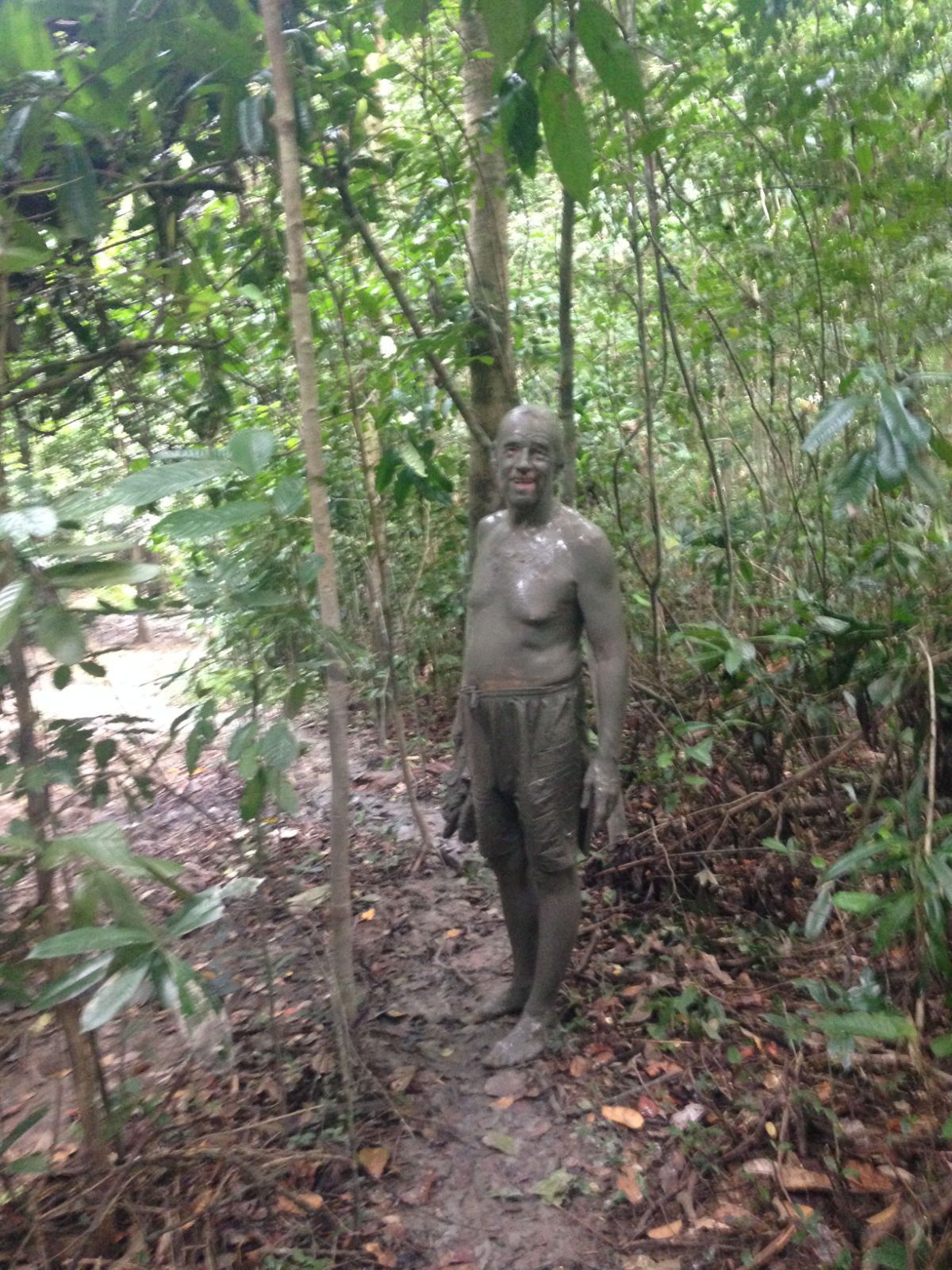 I had a much more pleasurable first time experience the next day. I learned how to kayak! I had watched Paul go out on it in the morning and thought how relaxing it looked, so when he suggested I had a go I thought I should at least give it a try.  I was thrilled to find I could balance enough to stand up in it, and even more pleased when, after following Paul's instructions regarding the paddle, I began to propel myself along. It didn't take me long to get the hang of it and I thoroughly enjoyed it. In clear waters it will be marvellous to drift along in the water and observe the scenes below. Not being a big fan of swimming and snorkelling I have at last found something water-related that I can enjoy.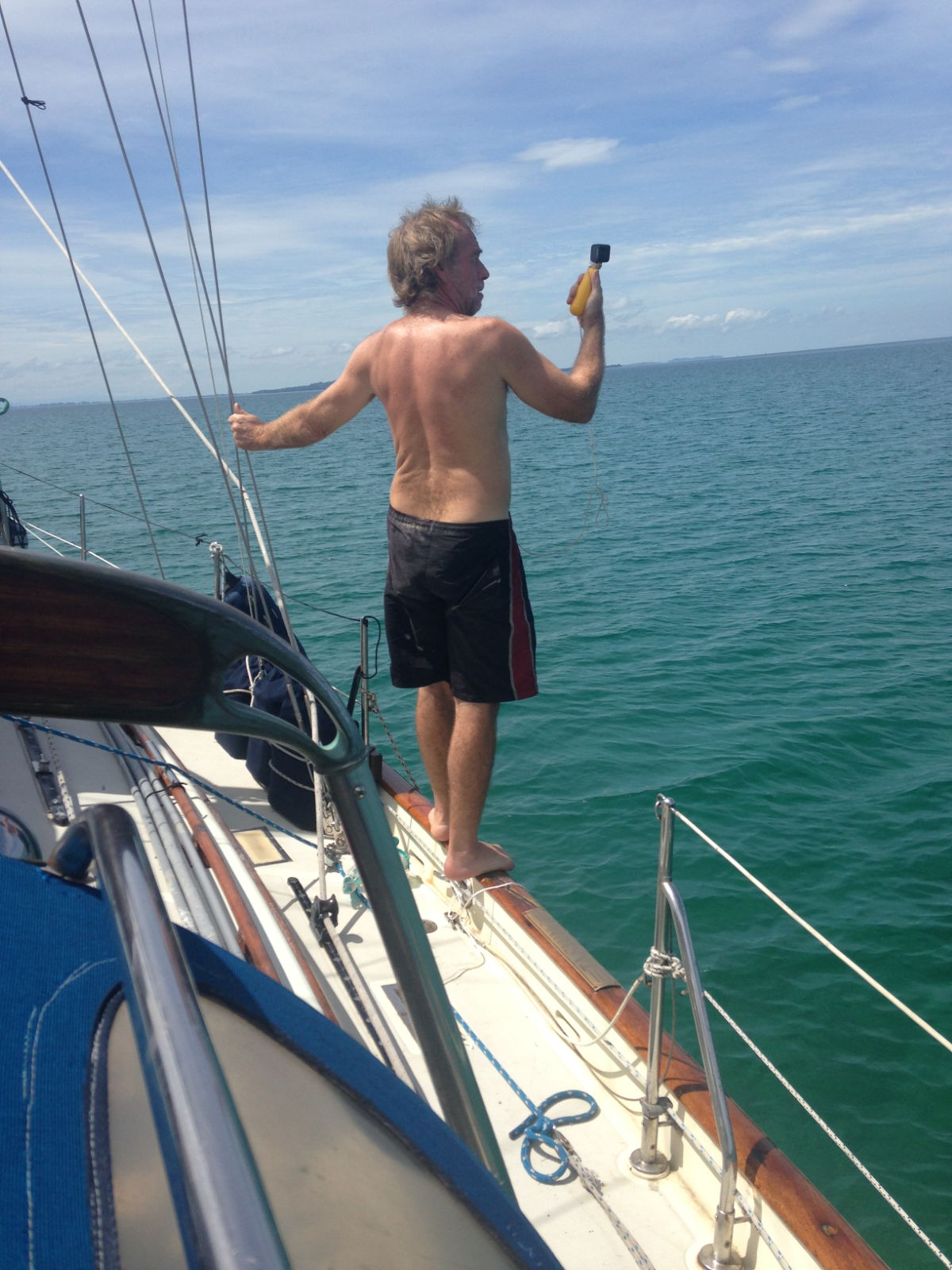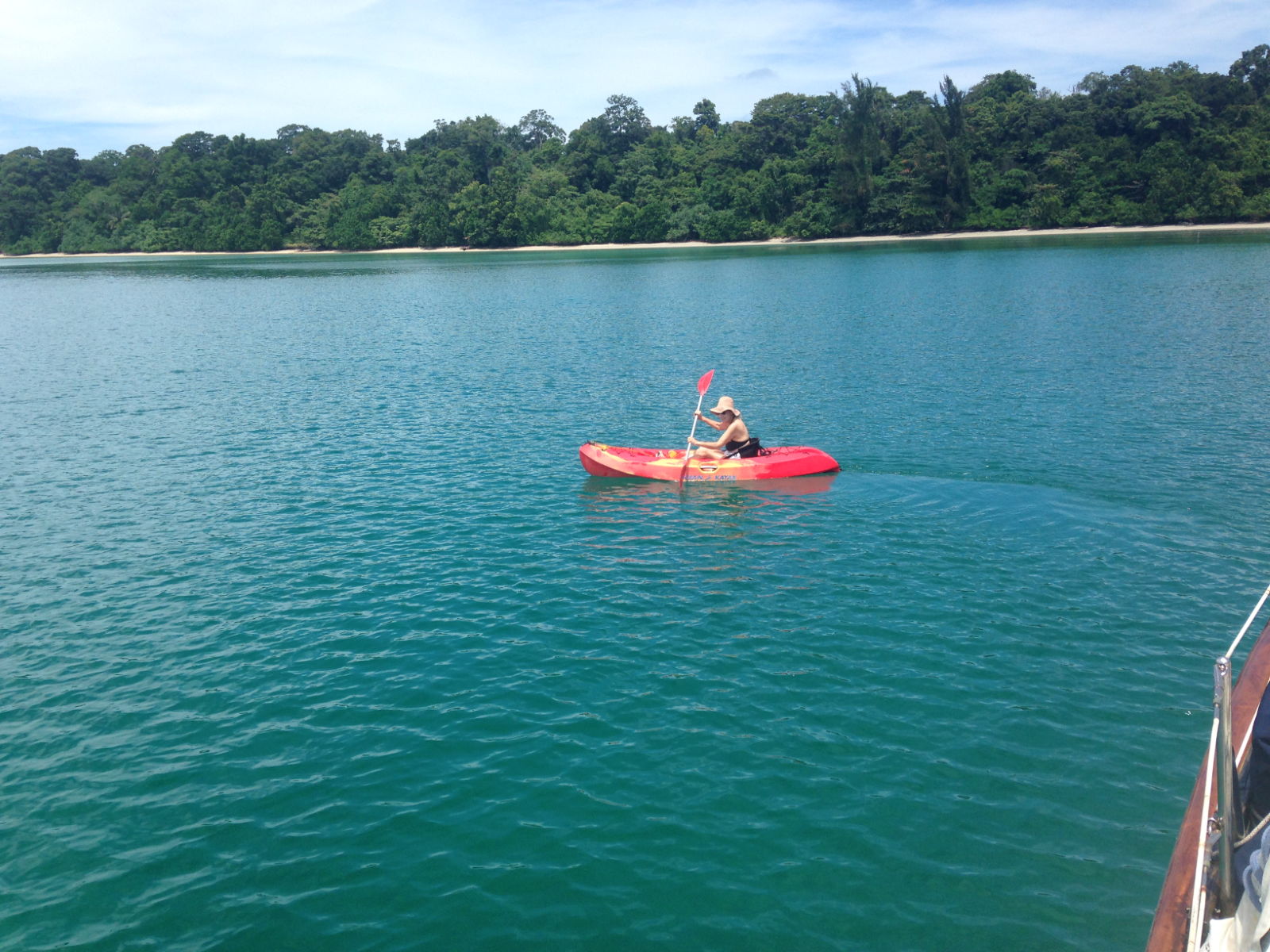 Later, we went out in the dinghy to take a closer look at the coral reef a short distance away from us. As we drew closer the surface resembled a huge pile of white bones. This is dead coral and can be very sharp, so once we had anchored the dinghy, I donned my flip flops and clambered ashore. My initial delight that the long, crunchy reef was entirely free of rubbish was shattered when I came across several of the ubiquitous and currently controversial plastic bottles at the far end of the reef. Paul did some snorkelling and reported a few fish but not as many as we've seen in other places. Next, we dinghied over to the shore of Tiga and I got out to paddle over to the beach, where I intended to walk its length until parallel with Sister Midnight where Paul would pick me up. I saw plenty of monkeys on the way and I'm not sure if I was observing them or they were watching me. They are much more wary of people here than in the more populated islands. It was great to look up and see a grey, furry face peering from the branches of a tree but when they spotted me, they tended to shriek – possibly to alert friends and family of my approach. I saw and heard plenty of colourful birds and watched groups of silvery fish leaping in arcs in the shallow waves. Paul took photos as he followed in the dinghy until it was time to collect me. A delightful way to spend an hour on a Monday afternoon. It was even worth the sandfly bites I felt all over me later.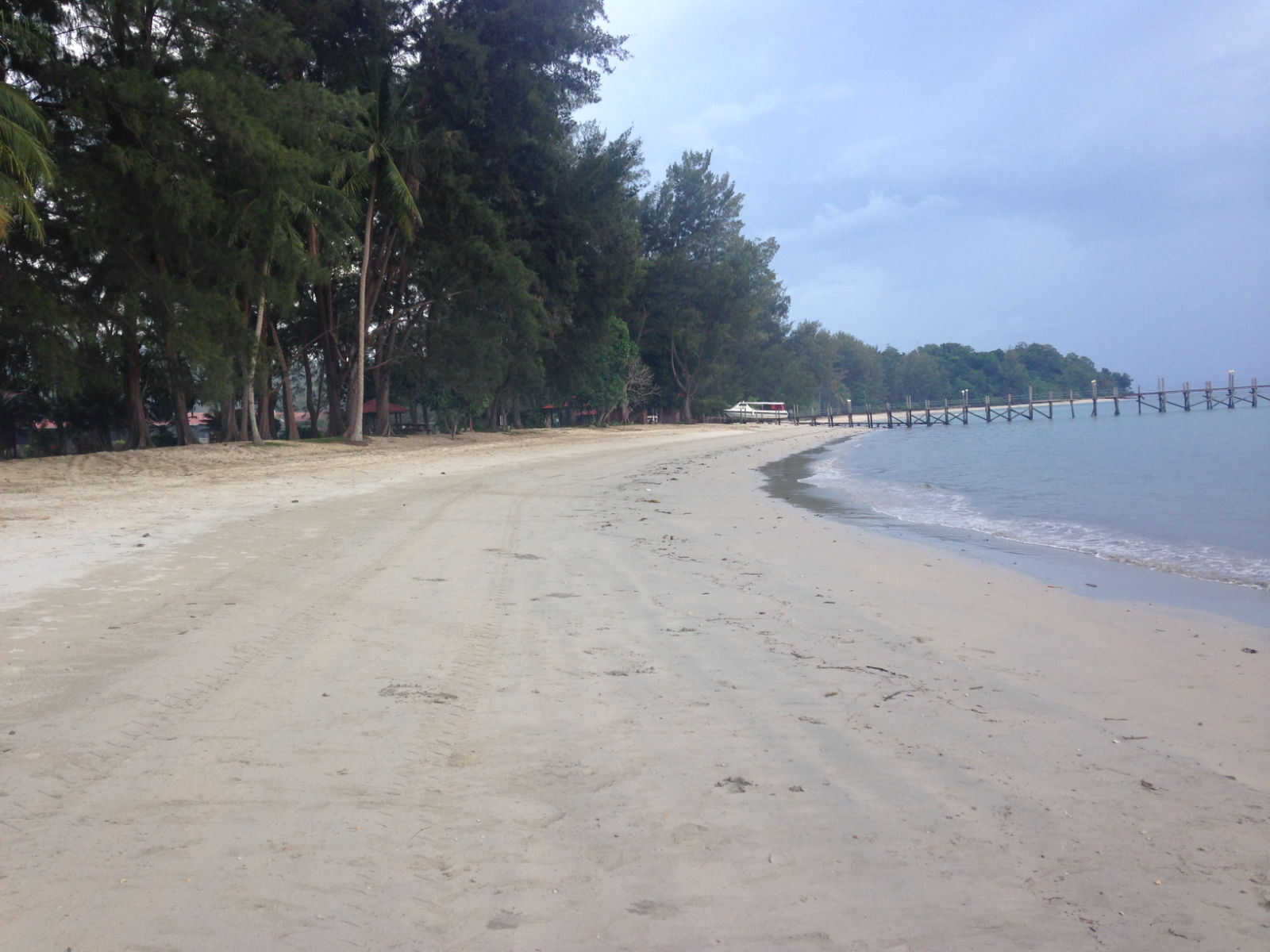 We left the beautiful island of Tiga just after 9am on Tuesday March 6th.  The wind enabled us to sail most of the way to KK where Paul had checked to make sure a berth was free for us. The six hours it took to get there were lovely. A fresh breeze filled the cockpit and the water was calm enough to relax and enjoy the ride. The entrance into the marina was practically as effortless as the last time I remembered, with marina staff guiding us in and taking our lines. It was good to see Sutera Harbour again, a place I will always associate with Christmas. Now, it was festooned with decorations from the recent Chinese New Year celebrations. An added bonus not long after tying up was being greeted by Ian, who I hadn't seen since Miri. Later, he and Marilyn called by for a chat and offered to get some cheap fuel for Paul. We went out for dinner with them later to a Chinese restaurant where you had to choose your food from an array of ingredients laid out in containers which were then given to the cook. This was the start of an unplanned, extended stay in Kota Kinabalu but it turned out to be an ideal place to be 'stuck' in for the couple of weeks that followed.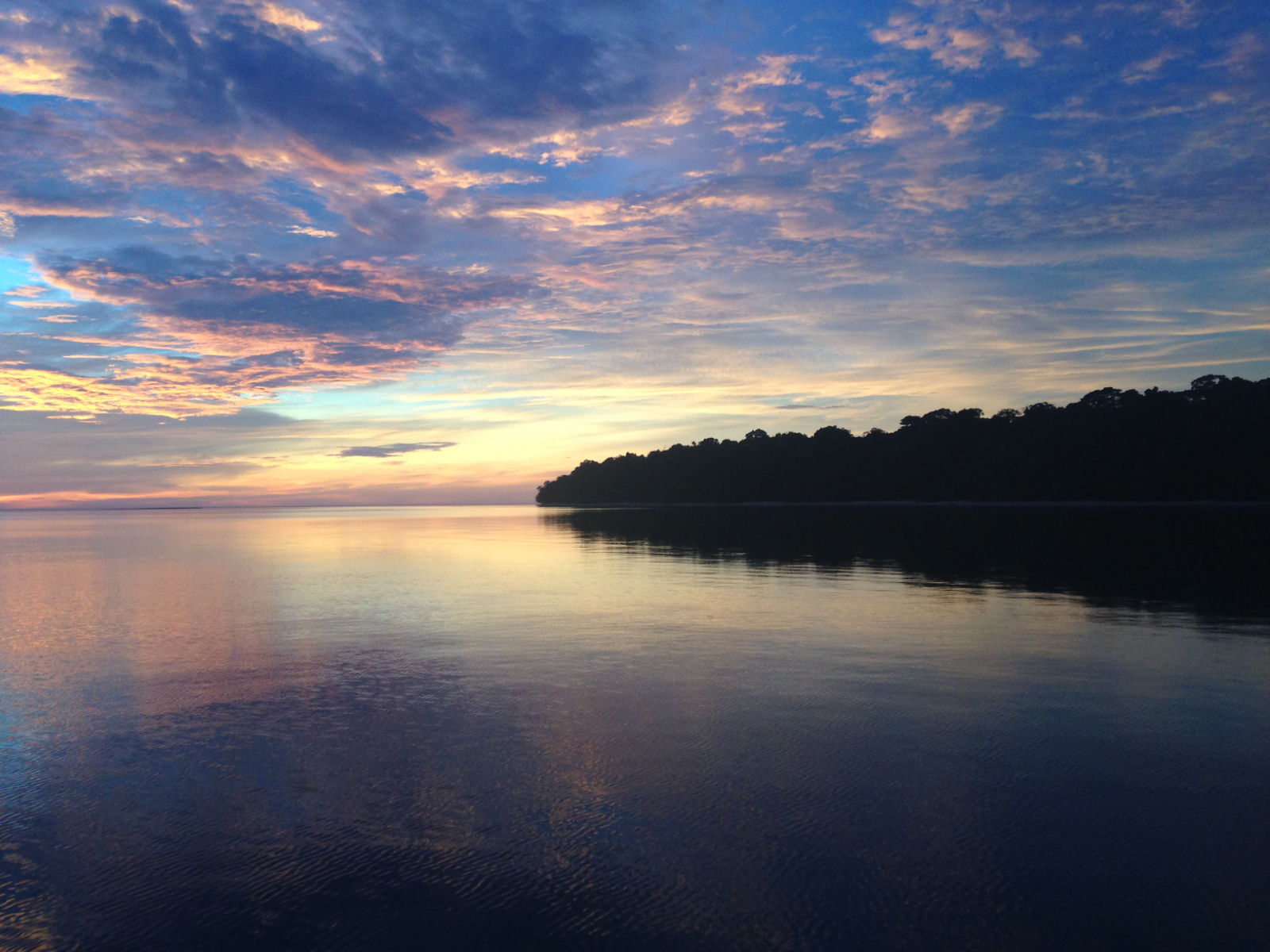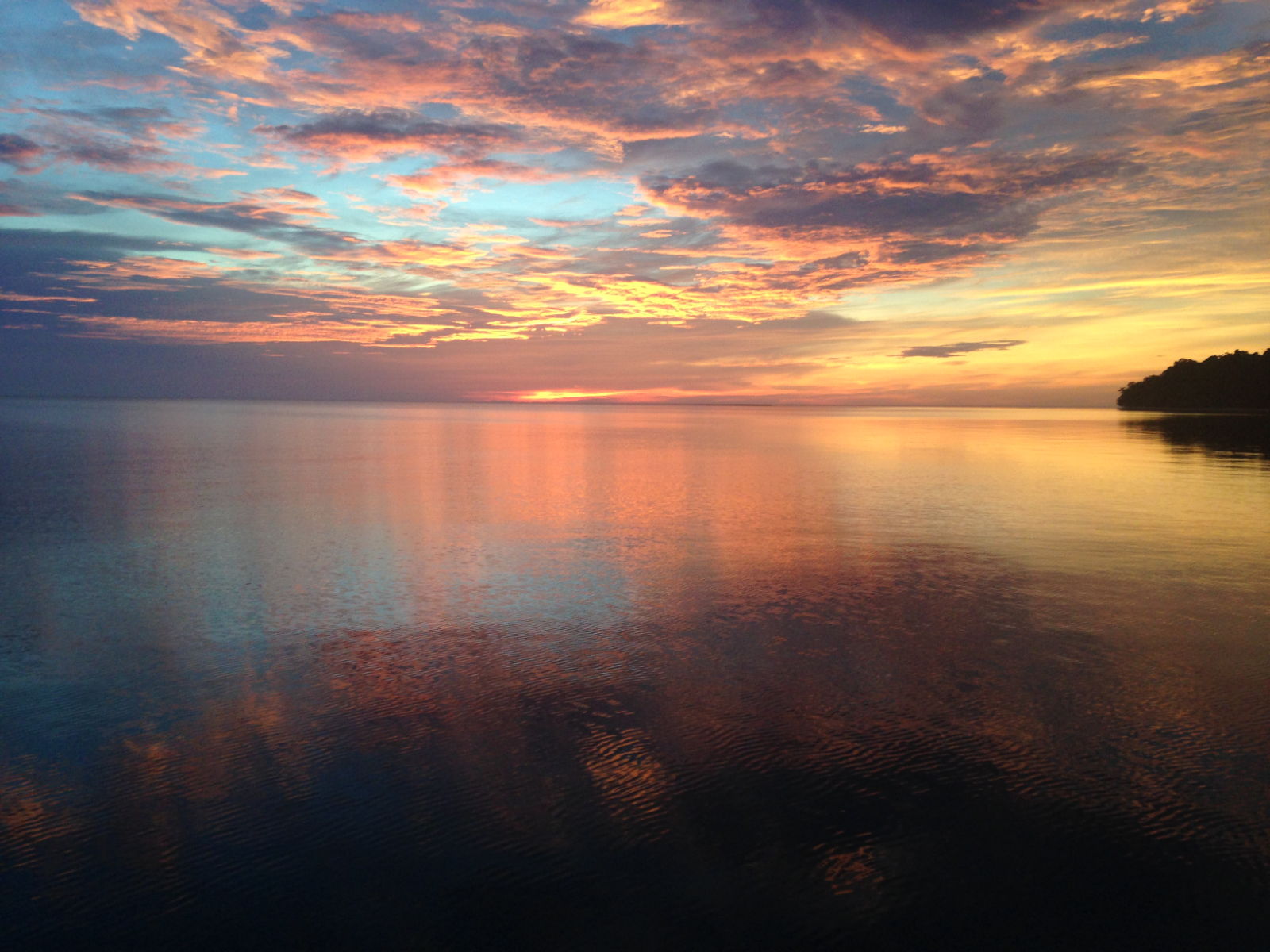 Kathy