Our first stop after leaving the Klias River was the island of Tiga. We planned to spend two or three nights here, having heard that it's great for snorkelling and kayaking. Tiga was the setting for the first of the 'castaway' desert island reality TV programmes. 'Survivor' aired in Britain in 2001 and I remember watching it avidly. We had also been told about the rejuvenating properties of the island's natural volcanic mud bath. I had no intention of sitting in a pit of mud, however – no matter how anti-ageing it might be. I was looking forward to the prospect of seeing more monkeys and the snakes that are purported to be found there. We began our journey at 7am on Monday December 18th. It was a murky, drizzly morning with a fairly strong wind as opposed to a gentle breeze. Knowing that it was likely to get rocky on the 5 or 6 hour passage, I stowed things away and made coffee while it was relatively calm. We had the mainsail and headsail up for a little while. With Paul still having no luck bagging a fish, I kept watch for a couple of hours so that he could doze and perhaps dream of catching one 😉 . By lunchtime, the sea had got rougher, visibility was poor and it stayed that way until we reached Tiga at half past two. Paul wasn't sure if we'd be able to anchor in such choppy conditions but it was better nearer to the island and we dropped anchor hoping we wouldn't be in for a rocky night. Looking across at Tiga in the drizzly rain, my spirits sank a little at the thought of three nights anchored here with coffee running low, poor internet and inclement weather. I had presents to order and check up on via Amazon and was getting a bit anxious about the dates. I busied myself with preparing some bread dough while the boat was rocking and began to feel slightly nauseous and not a little sorry for myself. You can imagine my elation when I heard Paul phoning the resort in Kota Kinabalu to see if it would be possible to arrive a couple of days earlier than we had booked for. They said it would be no problem to arrive the following day. Typically, conditions improved after that and the sun came out.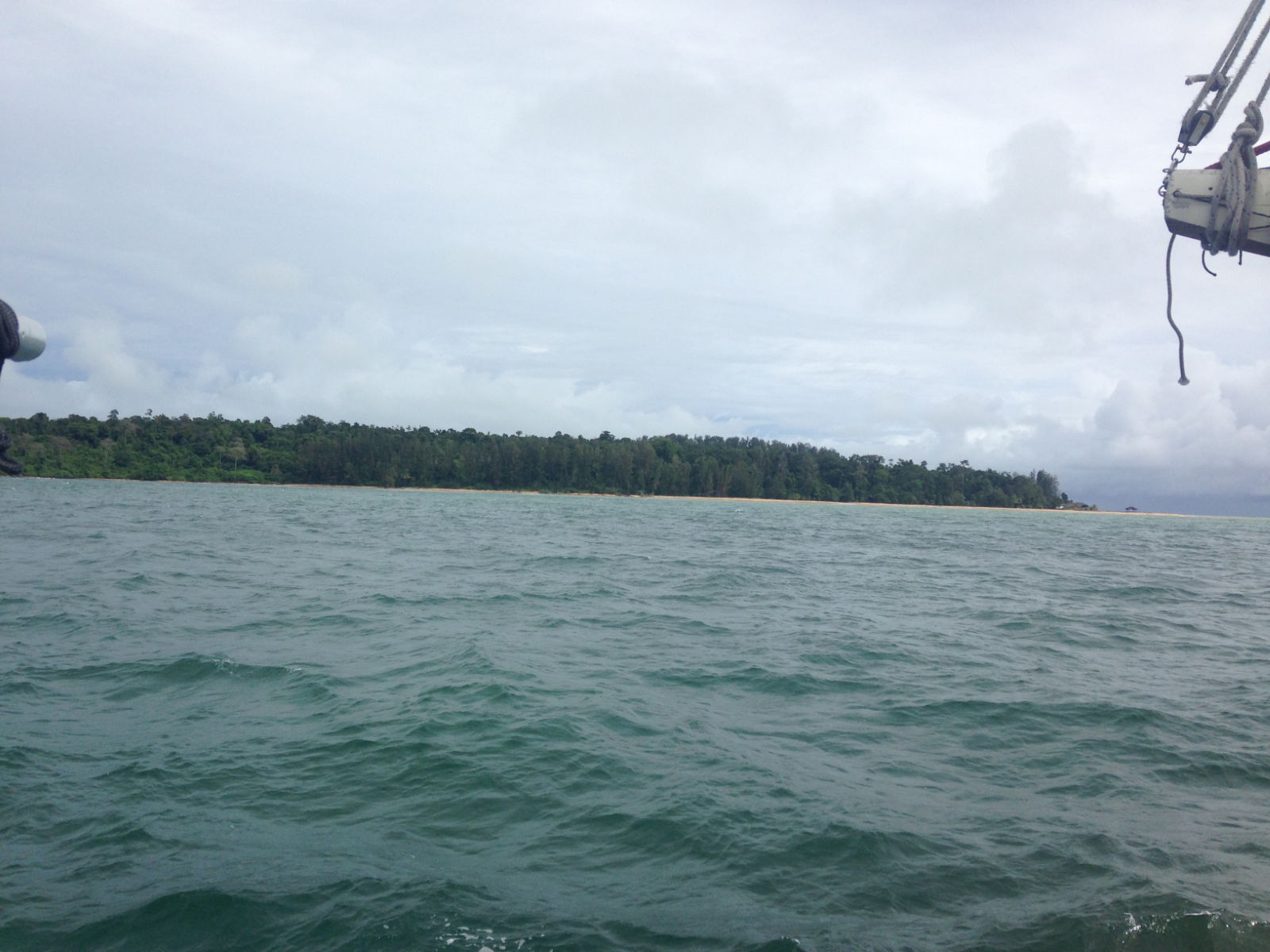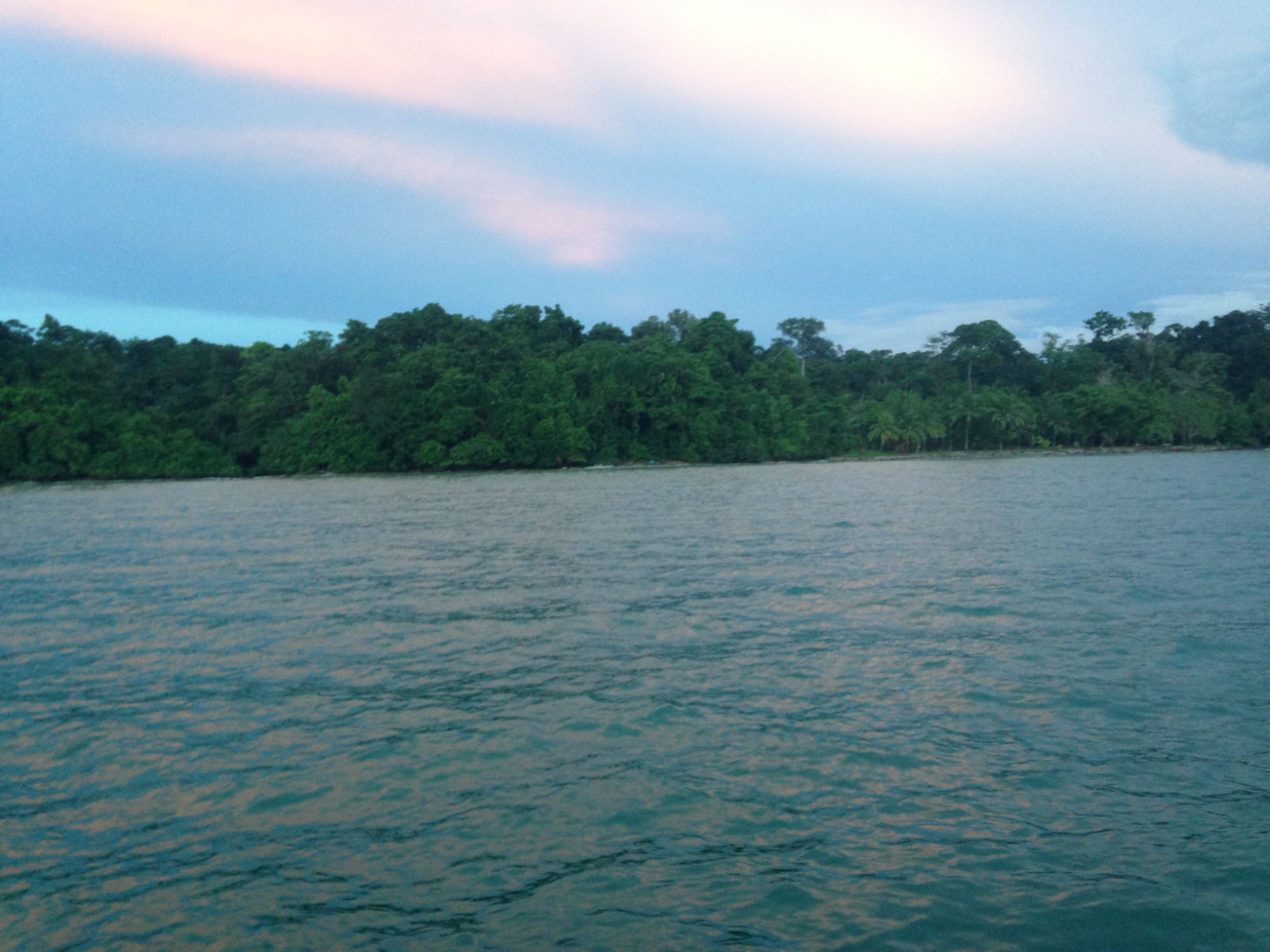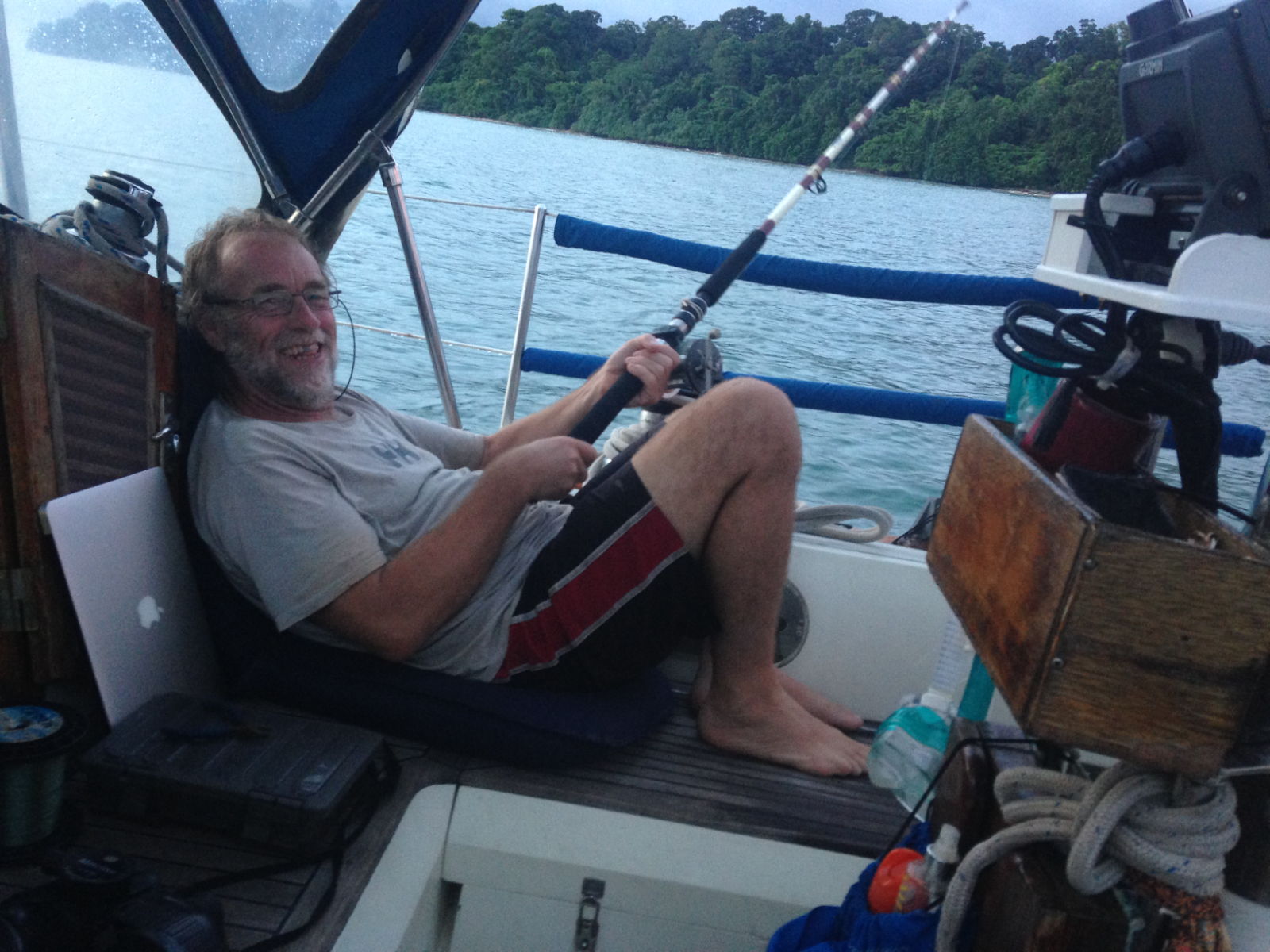 The rough weather returned by nightfall, and the forecast for the next few days gave cloudy conditions with more rain to come. Our visit to Tiga would have to wait: at 9 30 on Tuesday morning we set sail for Kota Kinabalu. With 10 knots of wind we made good speed (average 5 knots) with no engine. The swell was quite strong by midday and we had all the sails out. I was alarmed to hear Paul calling me at one point but I couldn't see him anywhere…until I looked up and spotted him halfway up the mast sorting out a halyard while the boat was swaying from side to side! KK began to emerge in the distance and as the resort grew closer I could see we would be entering an opulent, upmarket place. We had the luxury of three marina staff to guide us into our berth.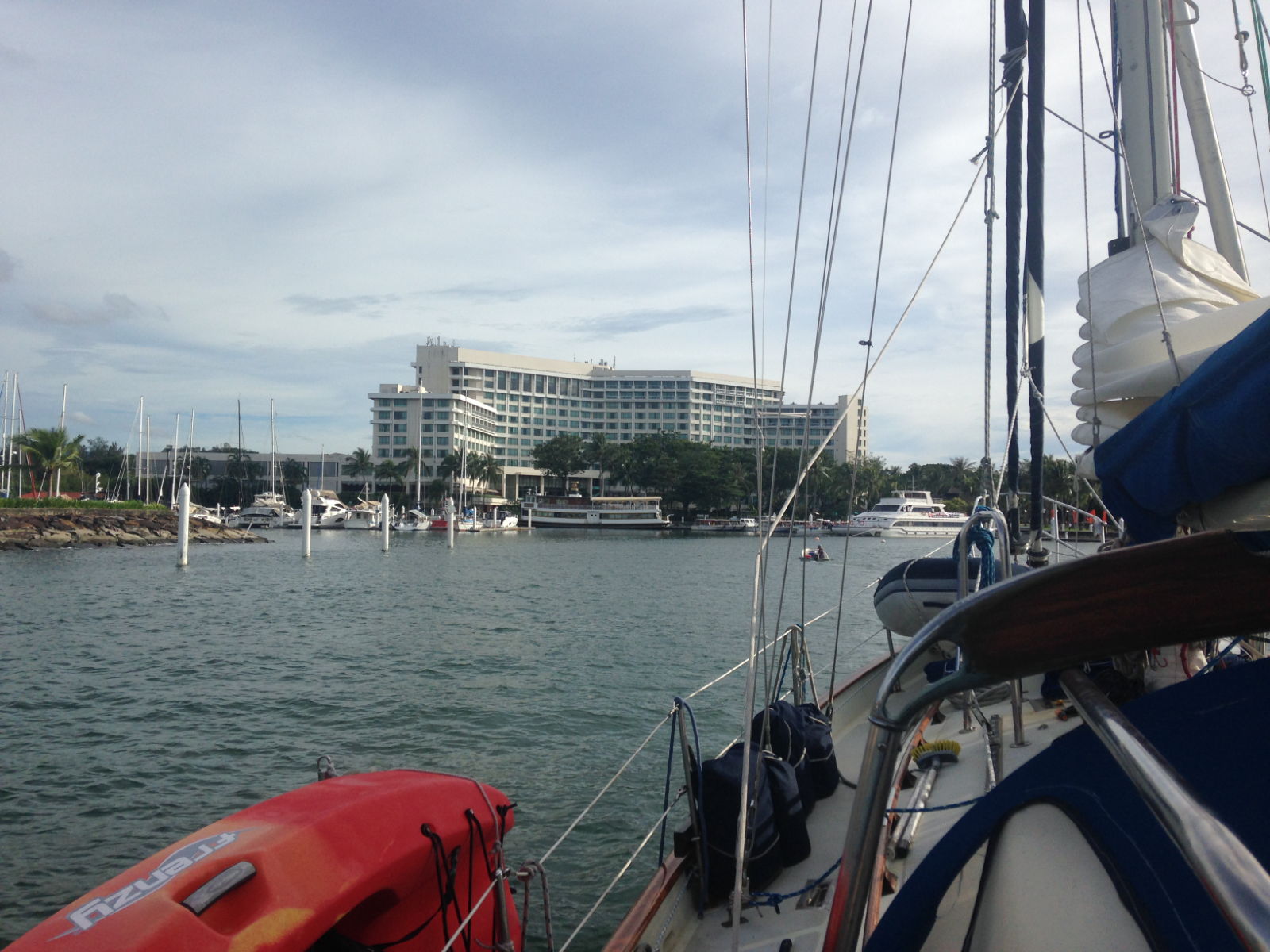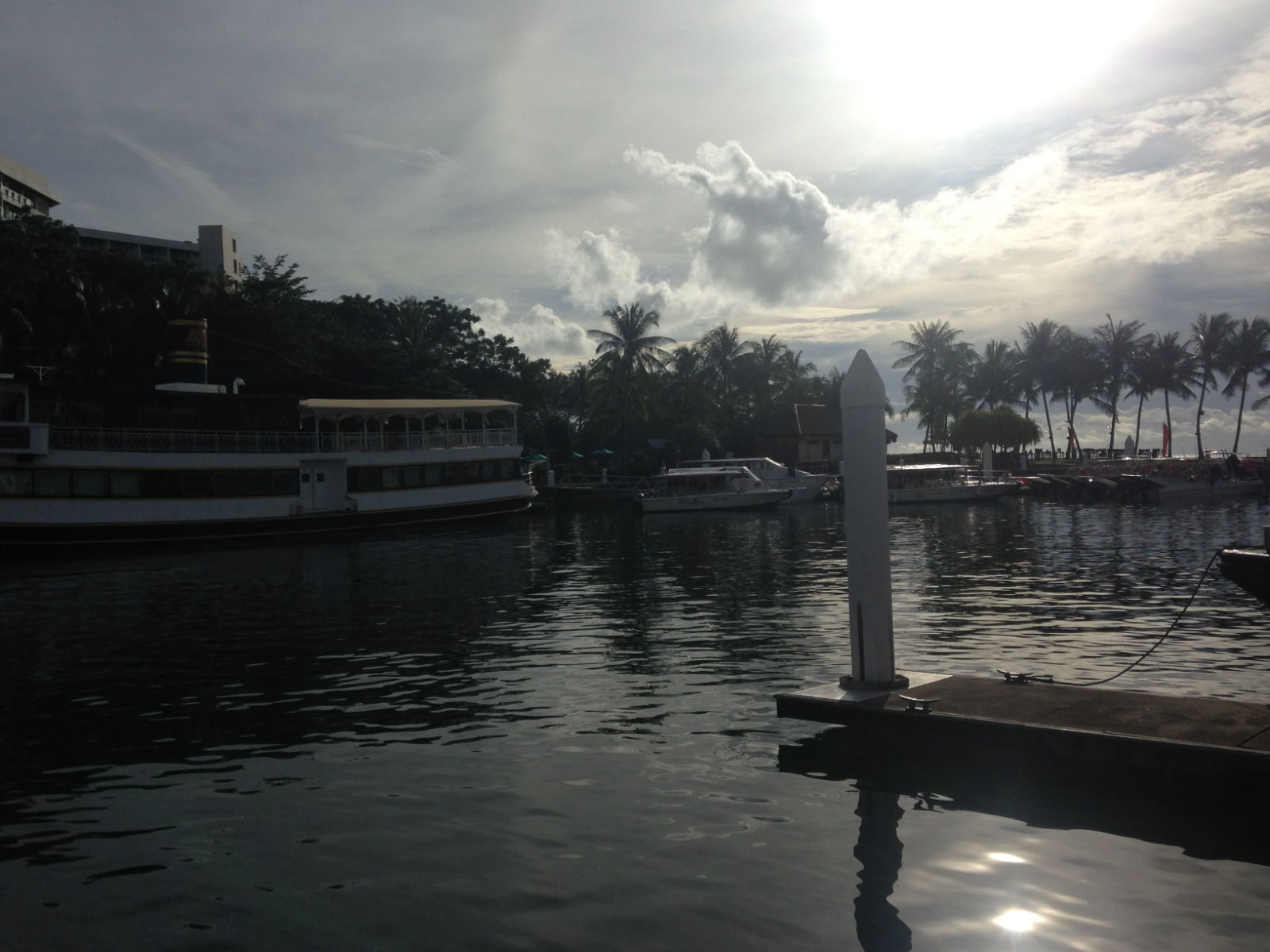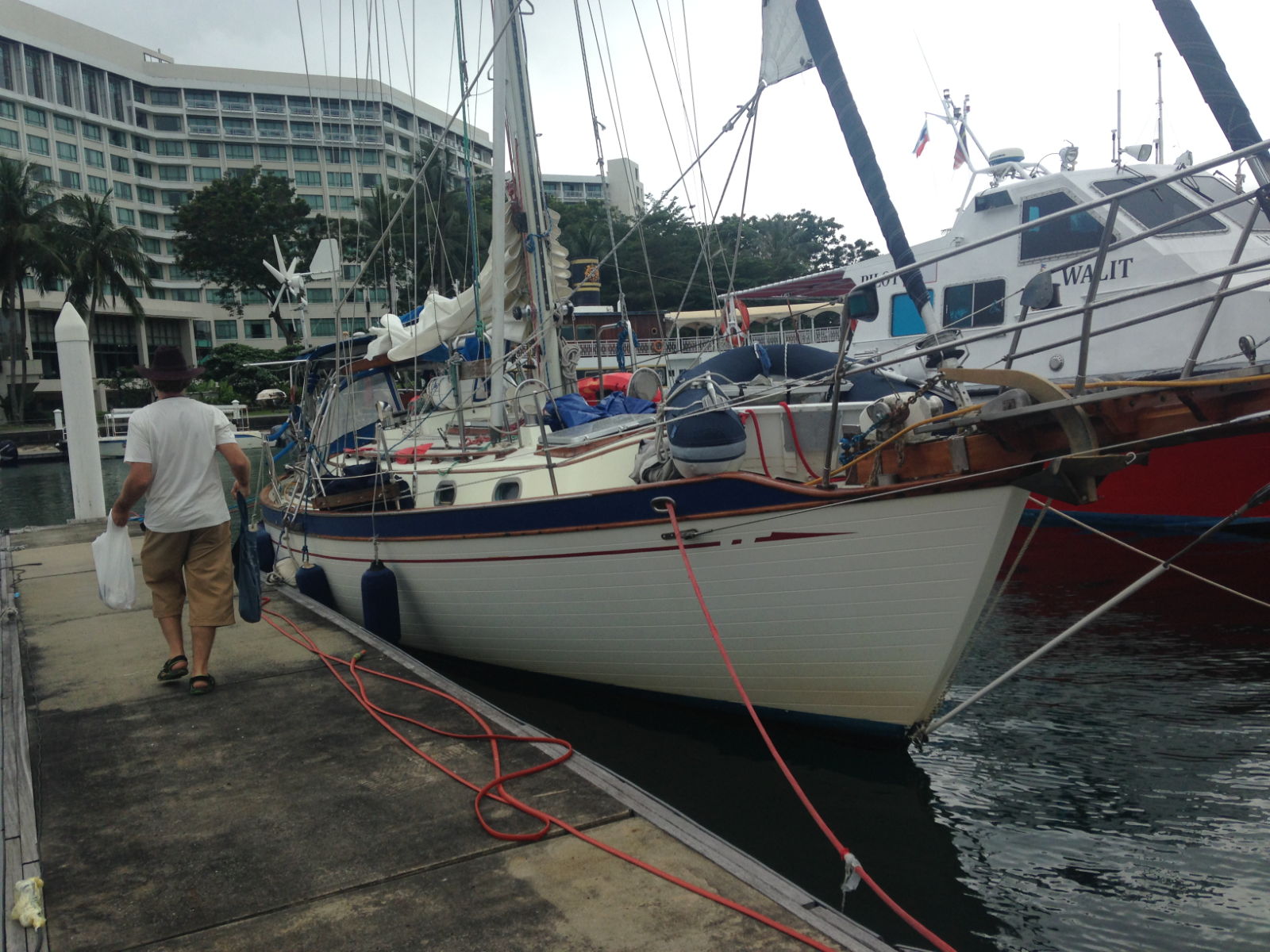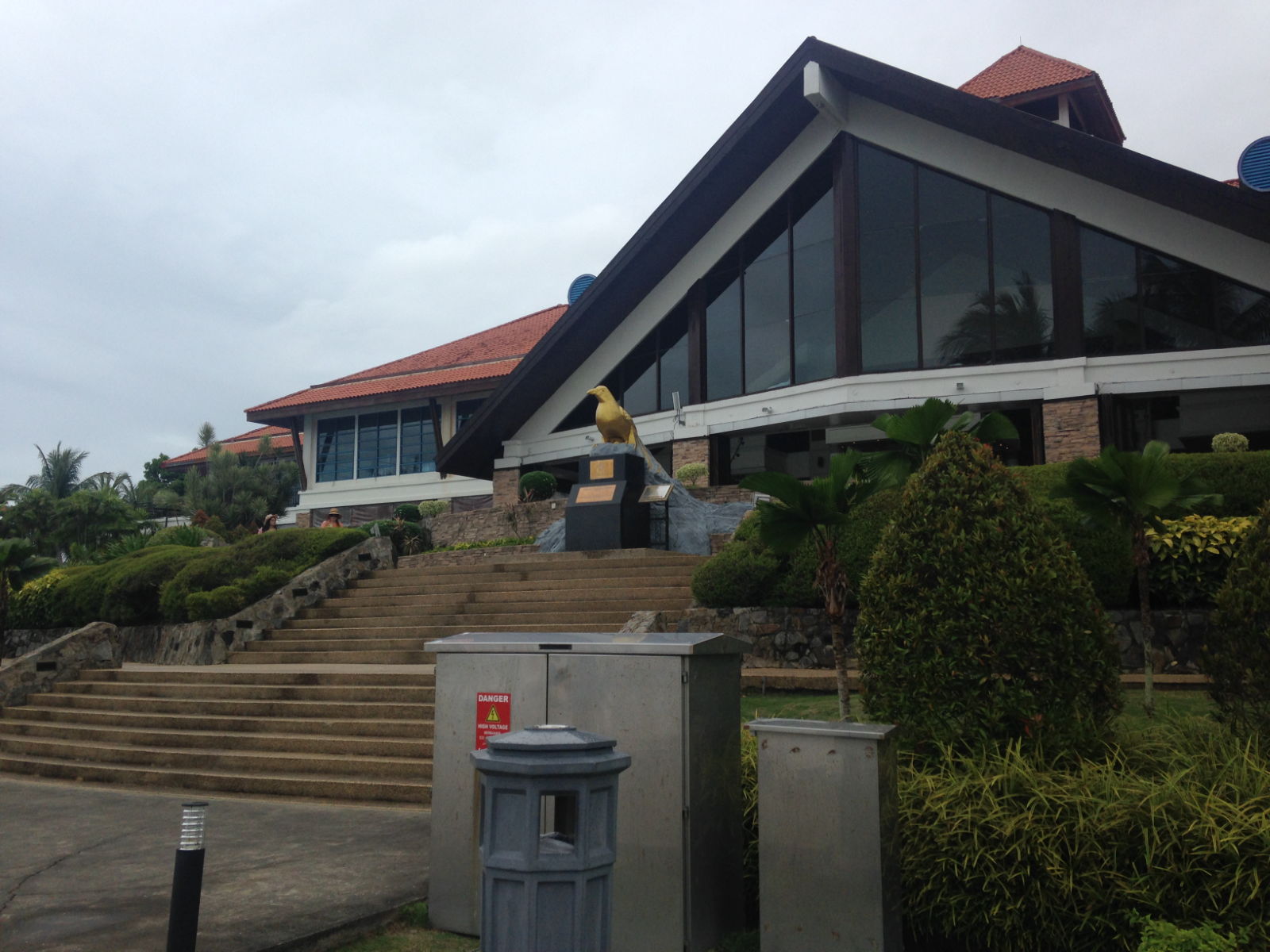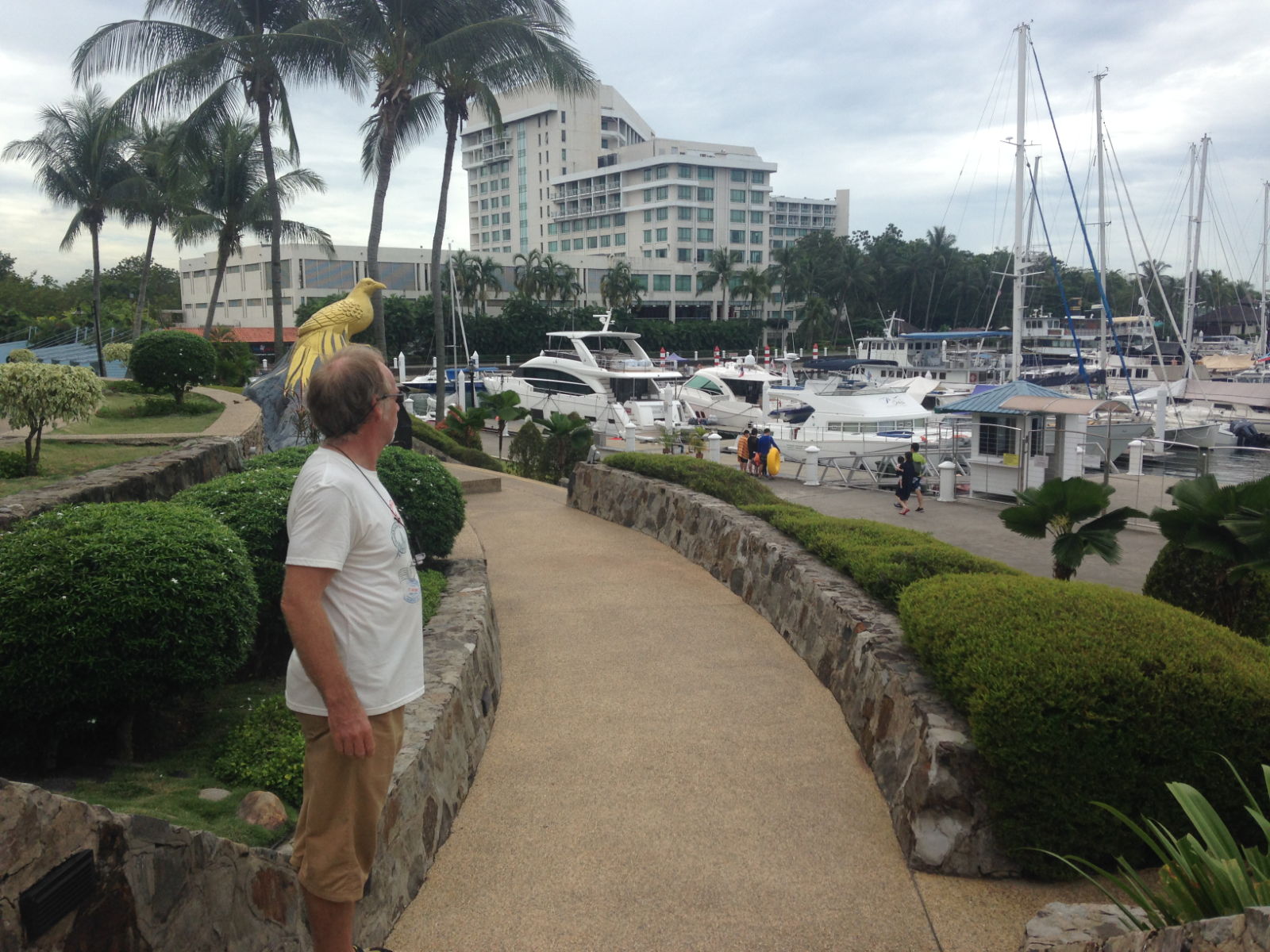 The day got better when we checked in at the office and I discovered that two parcels of Christmas presents had arrived for me; one from England and one from Italy. First impressions of our new 'home' were favourable. Everyone we met was friendly, the clubhouse seemed spotlessly clean and tastefully furnished, adorned with festive decorations, twinkling lights and an enormous Christmas tree in the lobby.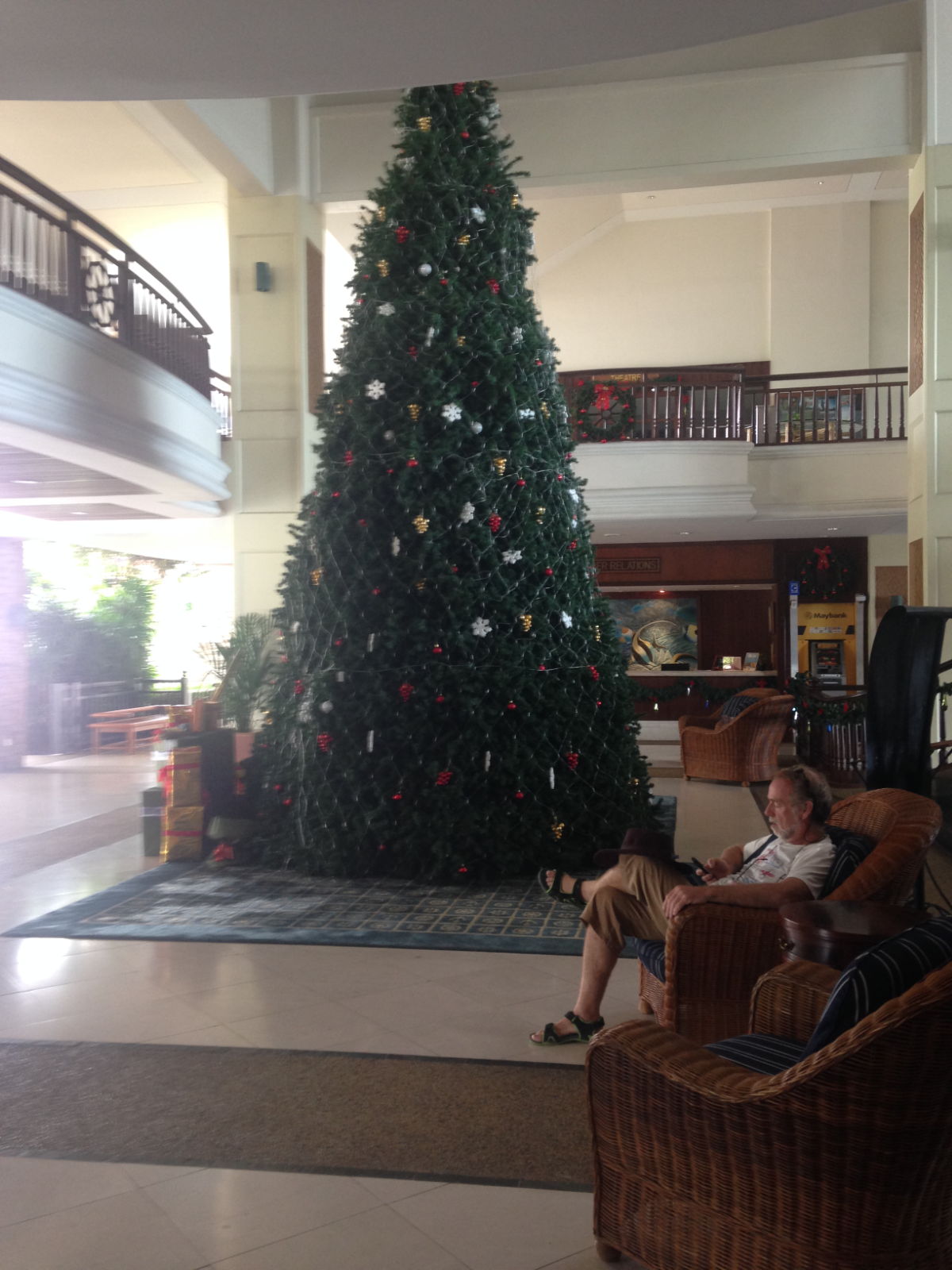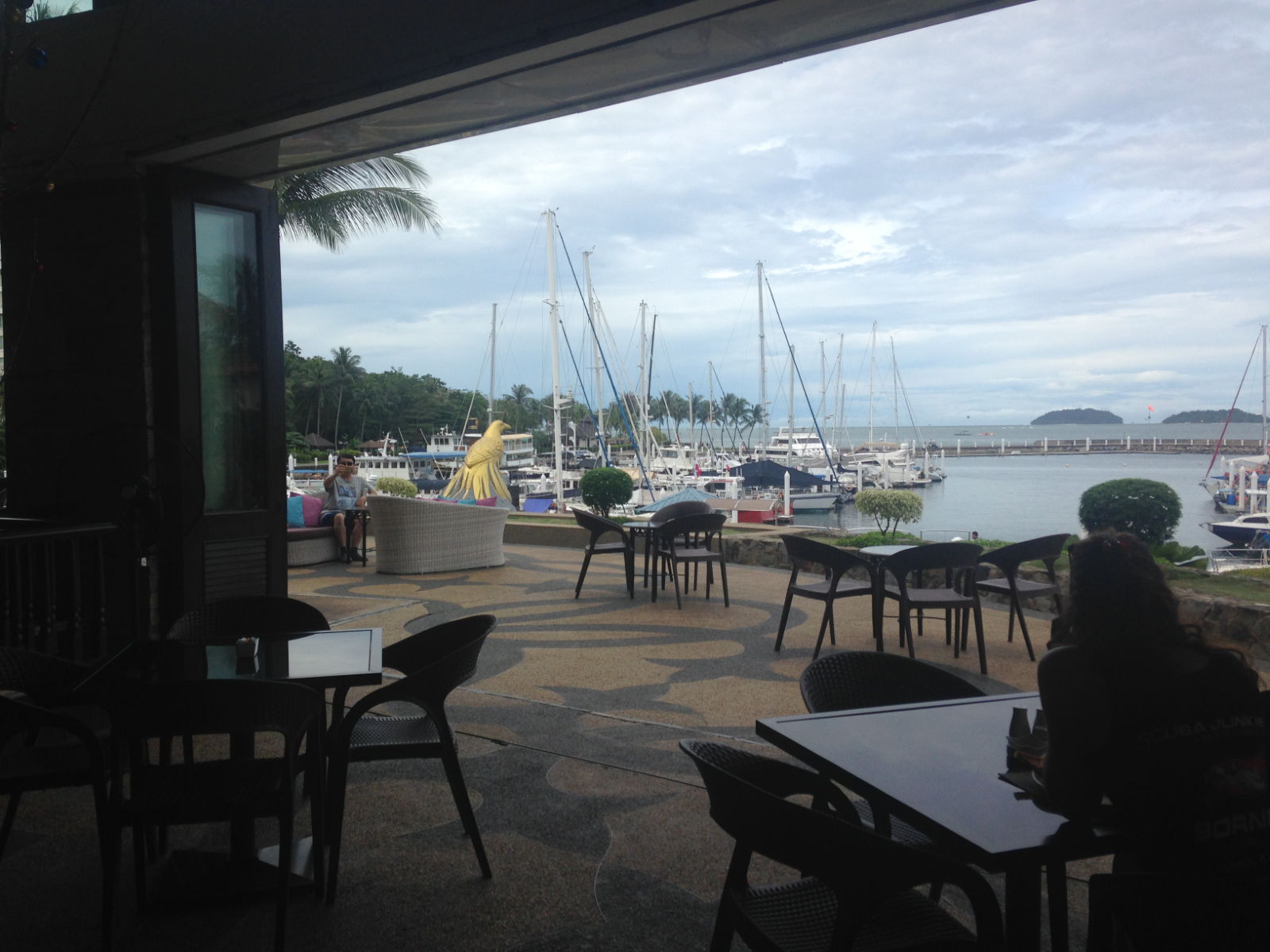 What's more there was a nice-looking bar in the clubhouse opposite the marina. We had a light meal there in the evening, with a view of the boats and the ocean beyond. We didn't have long for relaxing however. We needed provisions, so took a walk to the nearest mall. It was too dark by then to take in much of the area. Sutera Resort is a large, sprawling complex with two large hotels as well as the marina and country club. We passed the golf club on the way and got a sense of how vast the resort is. The fifteen minute walk to the mall was along a shared pedestrian/cycle path with a river on one side and the wide main road on the other. The mall was fairly new and festooned with Christmas lights and trees both inside and out. It was predictably busy with Christmas shoppers but we only needed a few basic things from the supermarket so didn't linger long.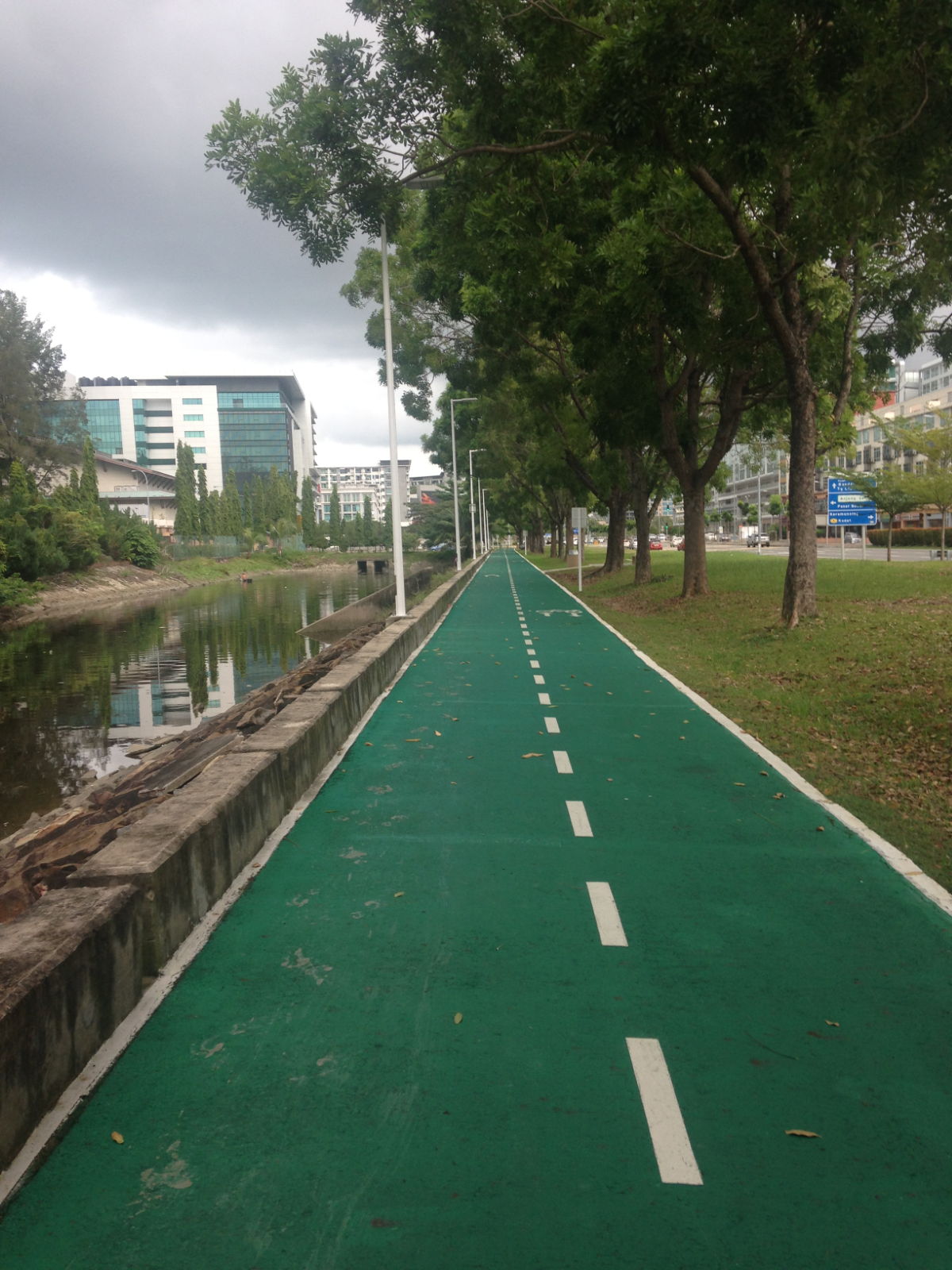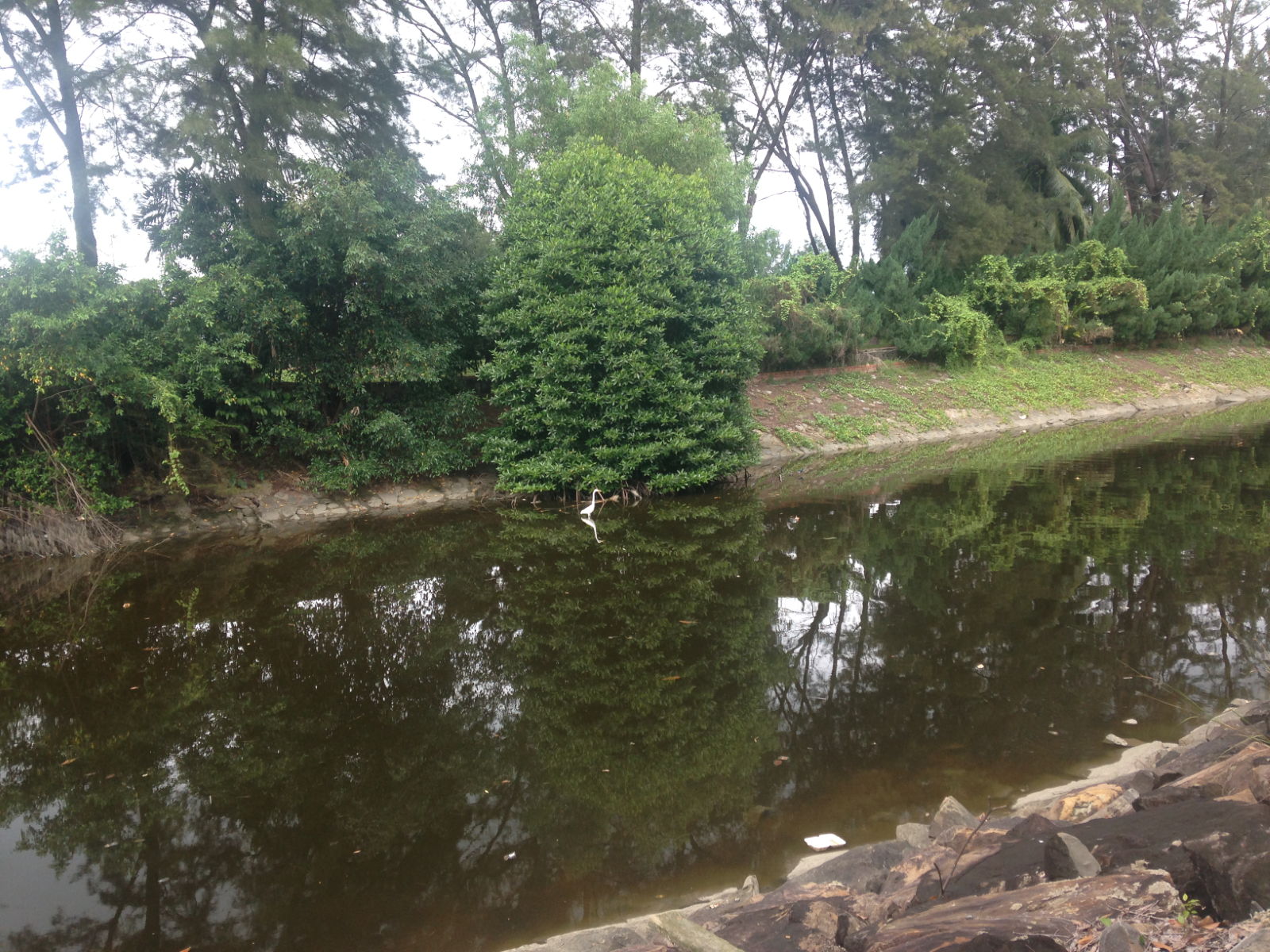 Another place, another checking in process to be undertaken. The buildings we needed to visit were too far away to cycle to so we called a Grab taxi to take us on the 20 mile journey to the harbour master. During the ride we became more aware of just how big KK is. Sabah's capital is a popular destination due to its proximity to beautiful islands and rainforests as well as the challenge of climbing Mount Kinabalu. According to Wikitravel its recent growth is due to its being a major transportation and manufacturing hub and a growing port, the increase in package tourism and it's a major gateway into Sabah and East Malaysia. Little wonder then that land has had to be reclaimed from the sea, and adjacent districts have been urbanised to accommodate such growth.  Apparently most of the town was destroyed by bombing during World War 2, so it wasn't surprising that many of the buildings are modern and that the construction of plush resorts, malls and hotels is ongoing.
When we arrived at the out of the way harbour master's location we thought we may as well ask the driver to wait so that he could then take us back into town to immigration. Considering there was no one else being processed, it all took a lot longer than I expected and I kept popping out to assure the driver that we wouldn't be much longer. He didn't seem to mind because he'd made a friend of the security guy in the meantime, who was helpfully giving him directions to the immigration building. Unfortunately there was a difference of opinion regarding its location when Paul came out and there followed much discussion about routes, a lot of poring over maps, and GPS addresses, none of which was helped by the language barrier.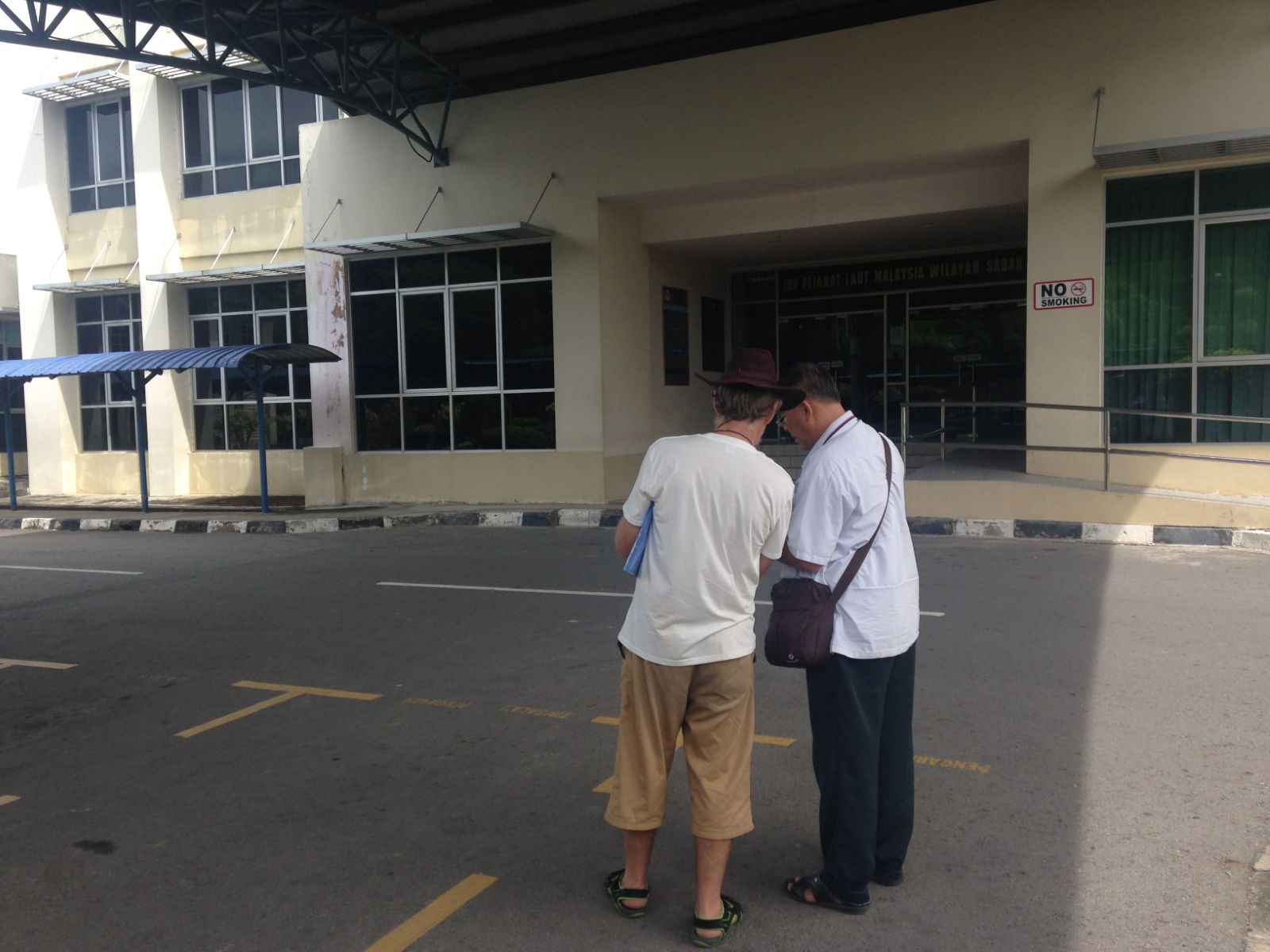 We had an extended drive around the city centre with several wrong turnings – the driver insisting his way was correct and Paul saying it wasn't. We finally got him to agree to drop us where Paul wanted and gave him extra for the time it all took. Of the three of us, I'm not sure who was more relieved the journey was over! Need I say that Paul was right! We were dealt with quickly and were then free to have a walk along the waterfront. The boardwalk is lined with cafes and food stalls and is a vibrant, busy promenade. Several fishing boats were anchored in the water, along with a couple of cruising yachts. We intended getting a shuttle bus back to the resort but there was a bit of a wait until it was due and it was very hot so we sat in one of the cafes to have a drink. Despite an extensive drinks menu, which included 'mocktails' and a variety of fresh fruit juices, everything we asked for was met with the response 'no have any' until in the end we settled for two cokes (they didn't have diet cokes).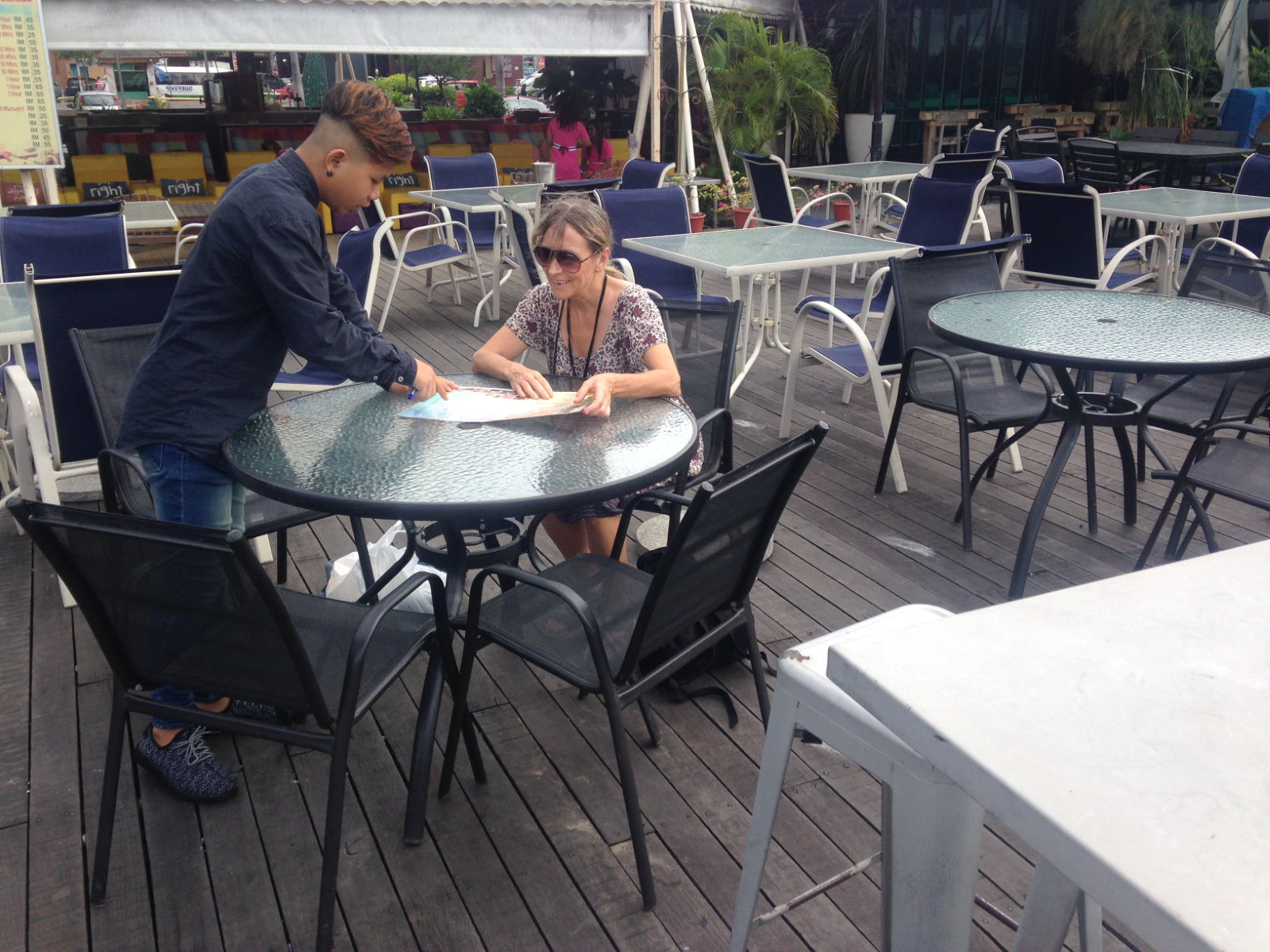 Our first cycle ride was hair-raising (for me anyway). There is a lot more traffic than in Miri or Labuan, and due to all the building going on some lanes were closed off, thus funnelling traffic into one narrow one. I kept as close to Paul as I could and hoped the speeding cars would avoid us. We left the main road to take a closer look at the waterfront on the way to the market. Here, we had to push our bikes along the boardwalk because it was so crowded. We were stared at and greeted a lot by adults and children alike, and I've come to think that it's not so much the bikes that attract attention, it's simply that they like seeing foreigners in the area. What's nice is that so many shout out 'welcome to Borneo/Sabah/KK', while the children are keen to practise their English phrases.  The market was a lively and – it has to be said – smelly place. The smell of Durian, barbecued meat from the food vendors, and ripe pineapples and coconuts mingle with the overpowering odour of tiny dried silvery fish. Outdoor markets, supermarkets and convenience stores all display them in large uncovered tubs. I think they are used as a base for stock for flavouring all kinds of dishes and it's a smell I've come to abhor. I actually prefer the smell in the fresh fish market and that is strong enough! KK's central market is huge, and it's impossible not to be fascinated by the range of stuff on offer. The stall owners on the road side of the market were very keen for Paul to buy some 'genuine' Rayban sunglasses, cartons of cigarettes or leather belts. That these belts were the real deal was proved to him by the action of lighting it with a cigarette lighter to show that it doesn't catch fire!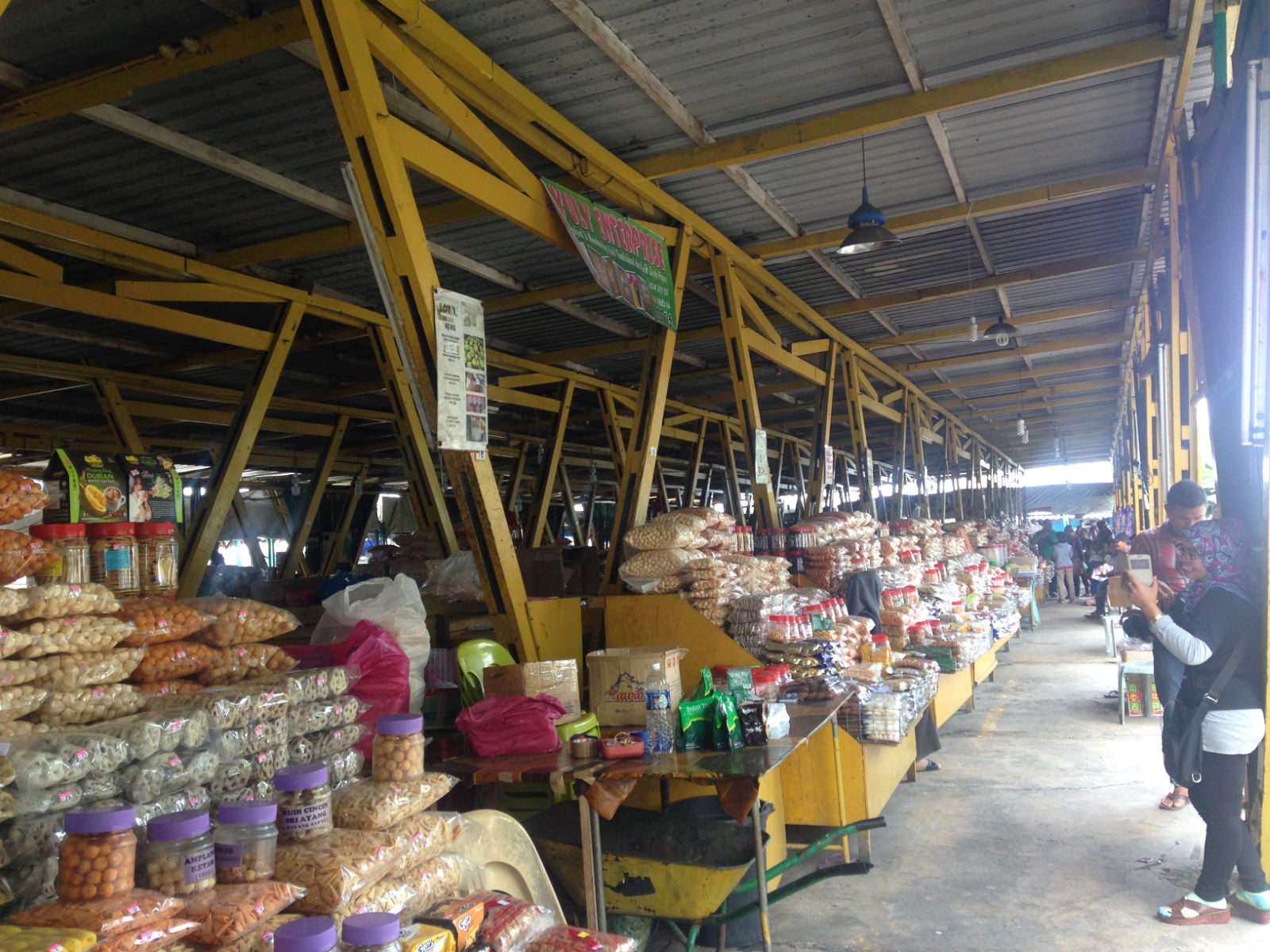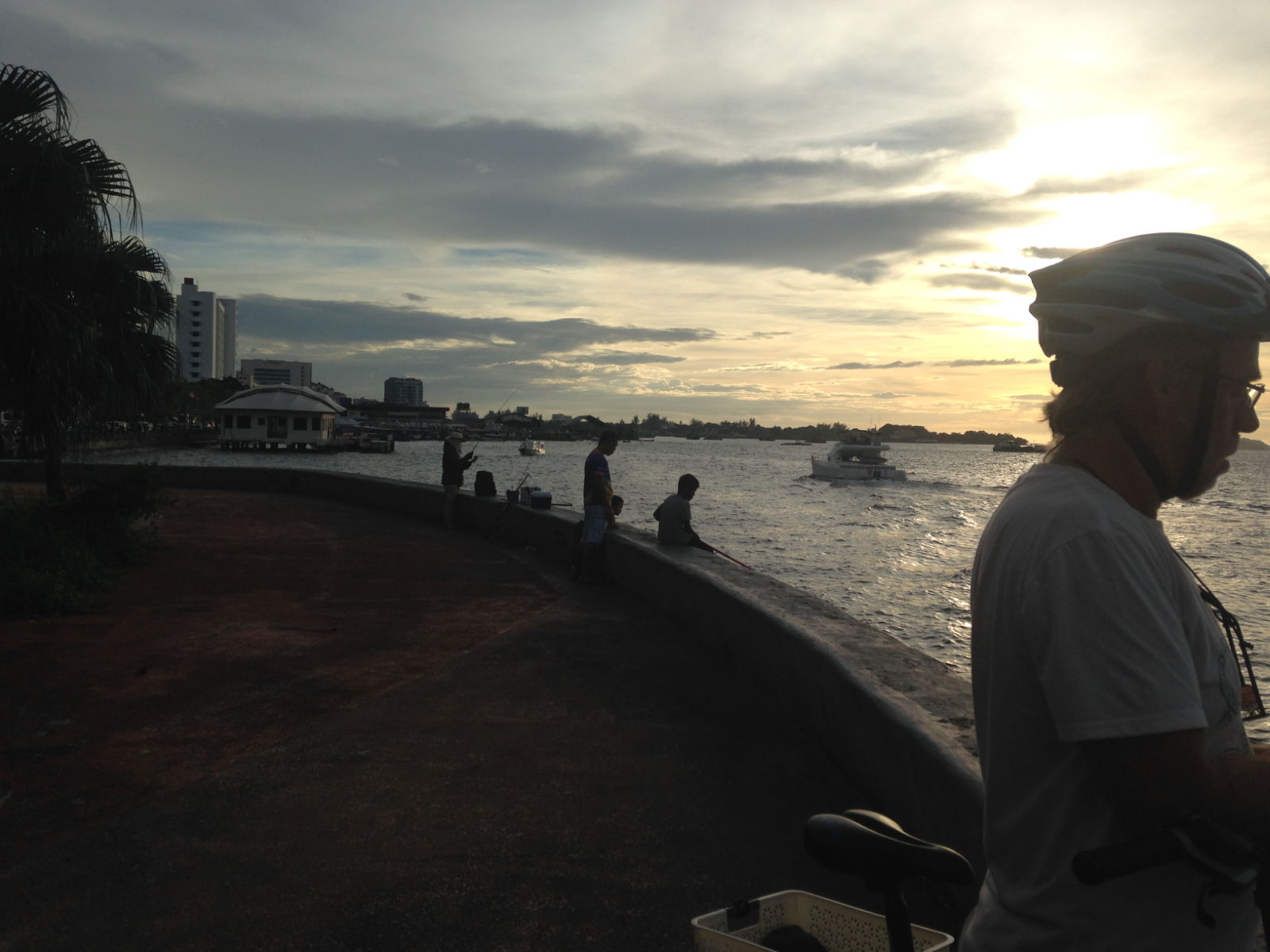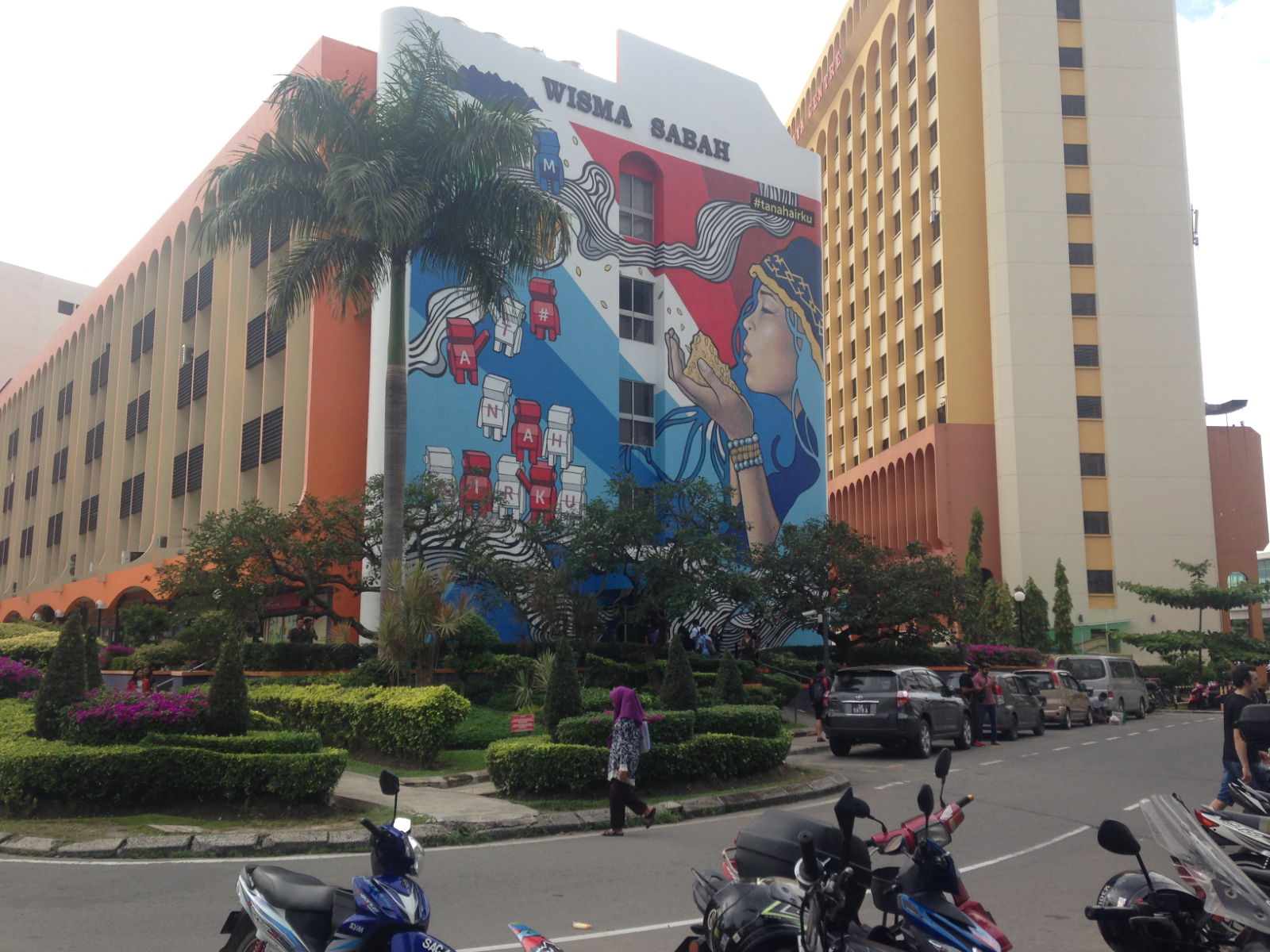 On into the hub of KK again and we now had more time to browse the malls, which wasn't as boring as it sounds because the Christmas displays and decorations were really worth seeing. Virtually every shop was 'trimmed up' to some degree, and some of the staff were sporting Christmas hats and flashing badges. It all combined to inspire us to buy a little blue tree for the boat.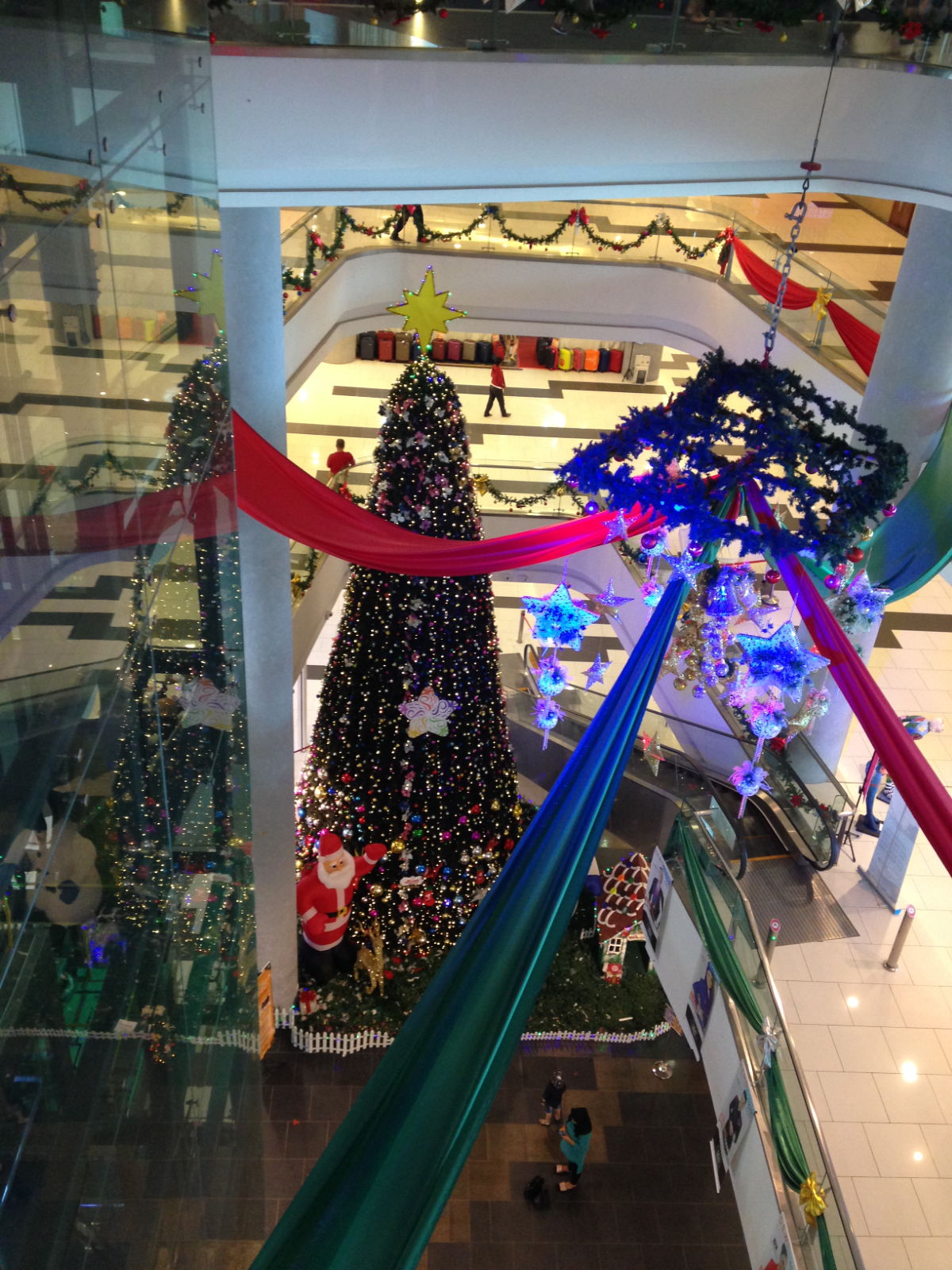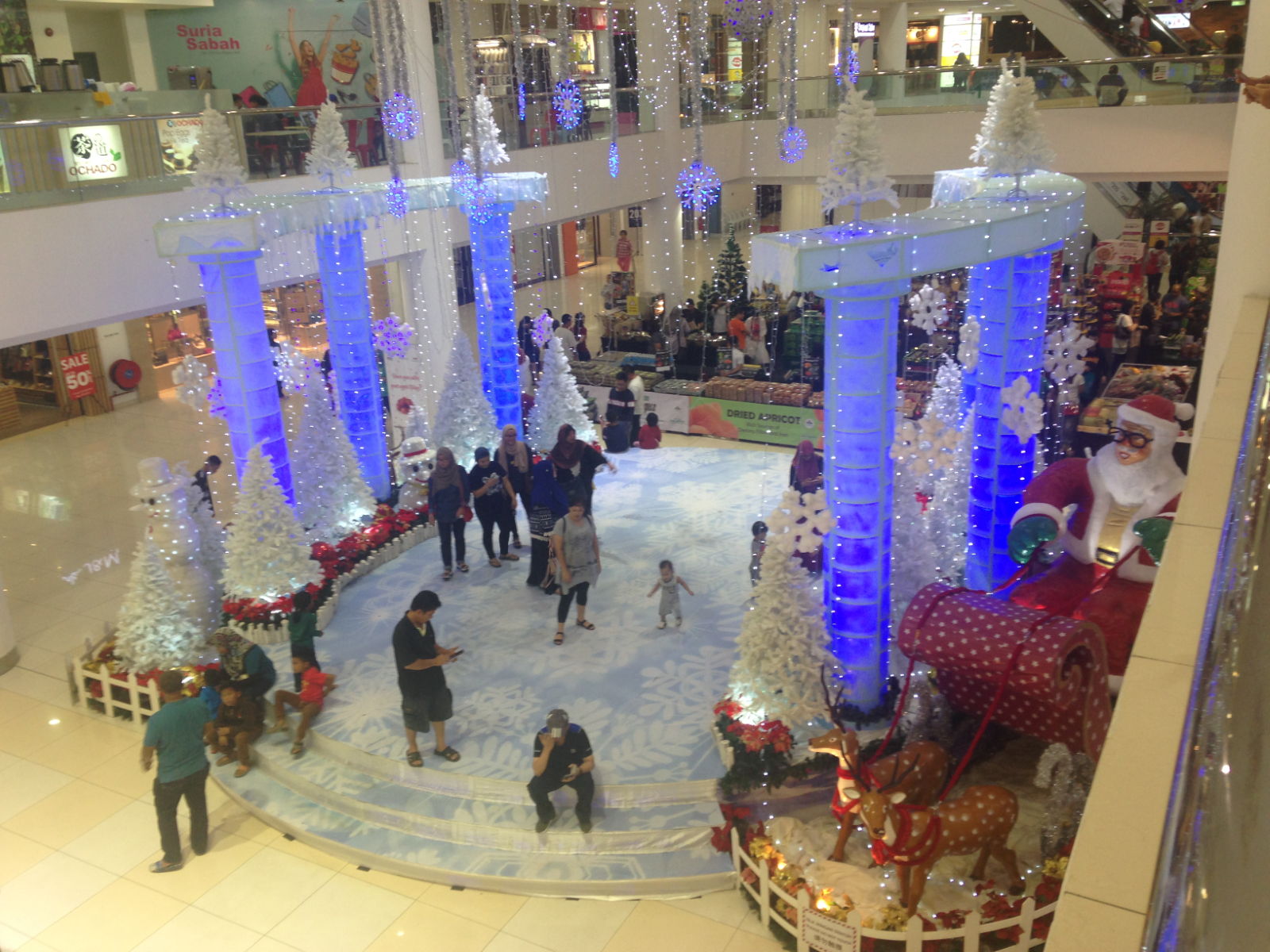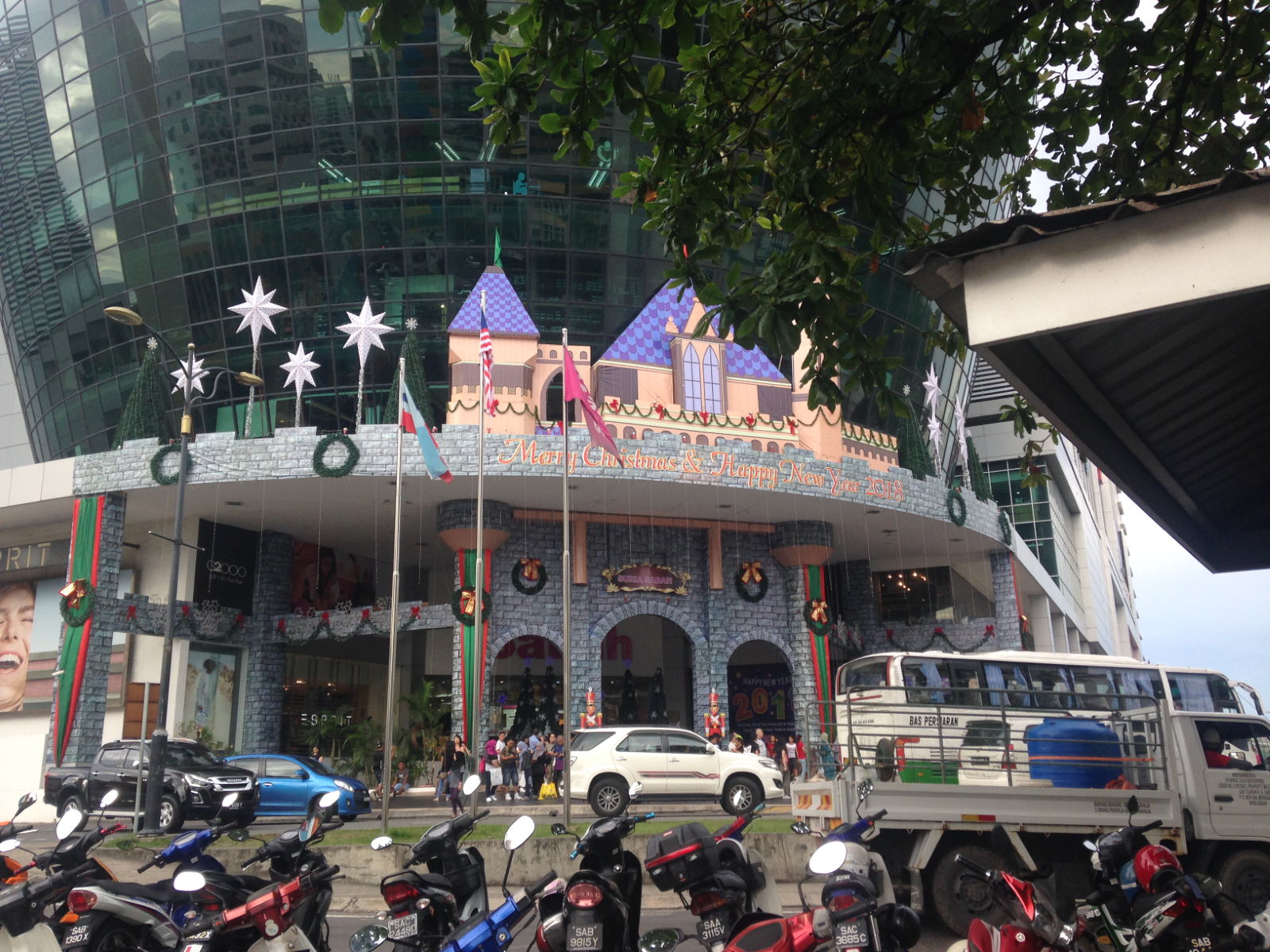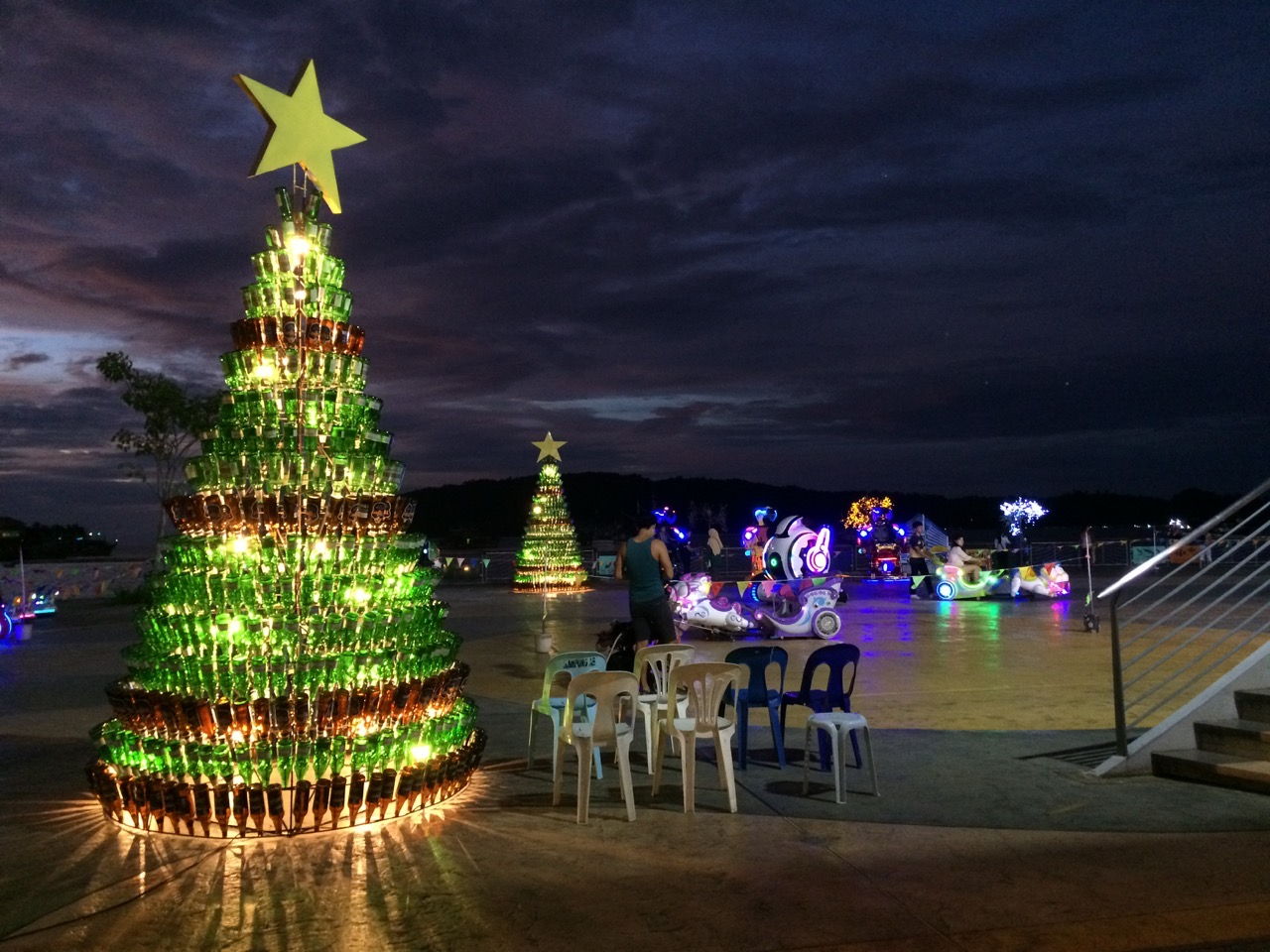 The next few days were spent getting ready for Christmas. Our Christmas dinner would be a more toned down affair than the usual huge feast at home because we had booked a table at the marina club's Christmas Eve buffet dinner. Old habits die hard, however and I couldn't resist buying a few traditional festive foods and even made some mince pies using readymade puff pastry and the most expensive jar of mincemeat I've ever bought.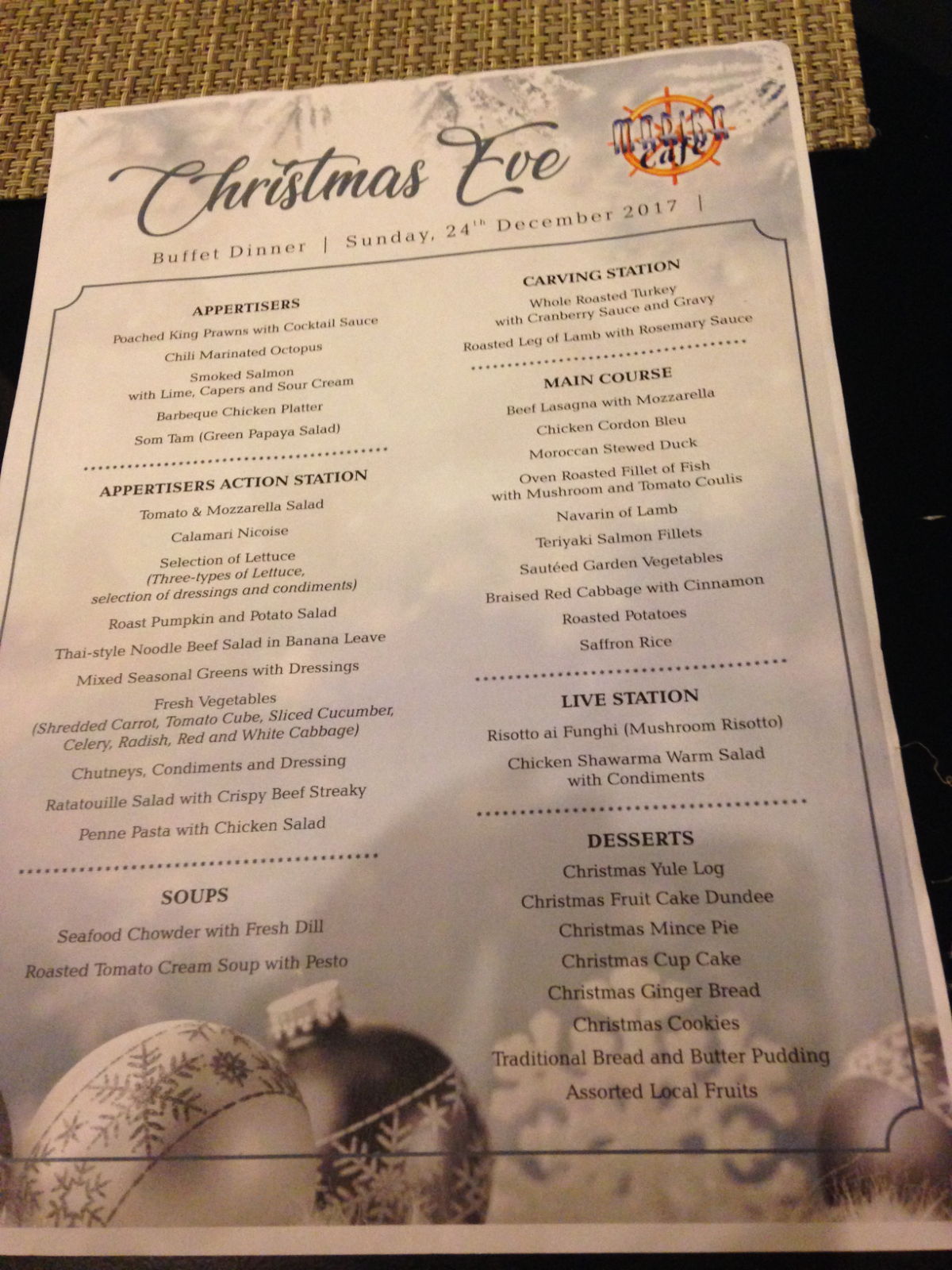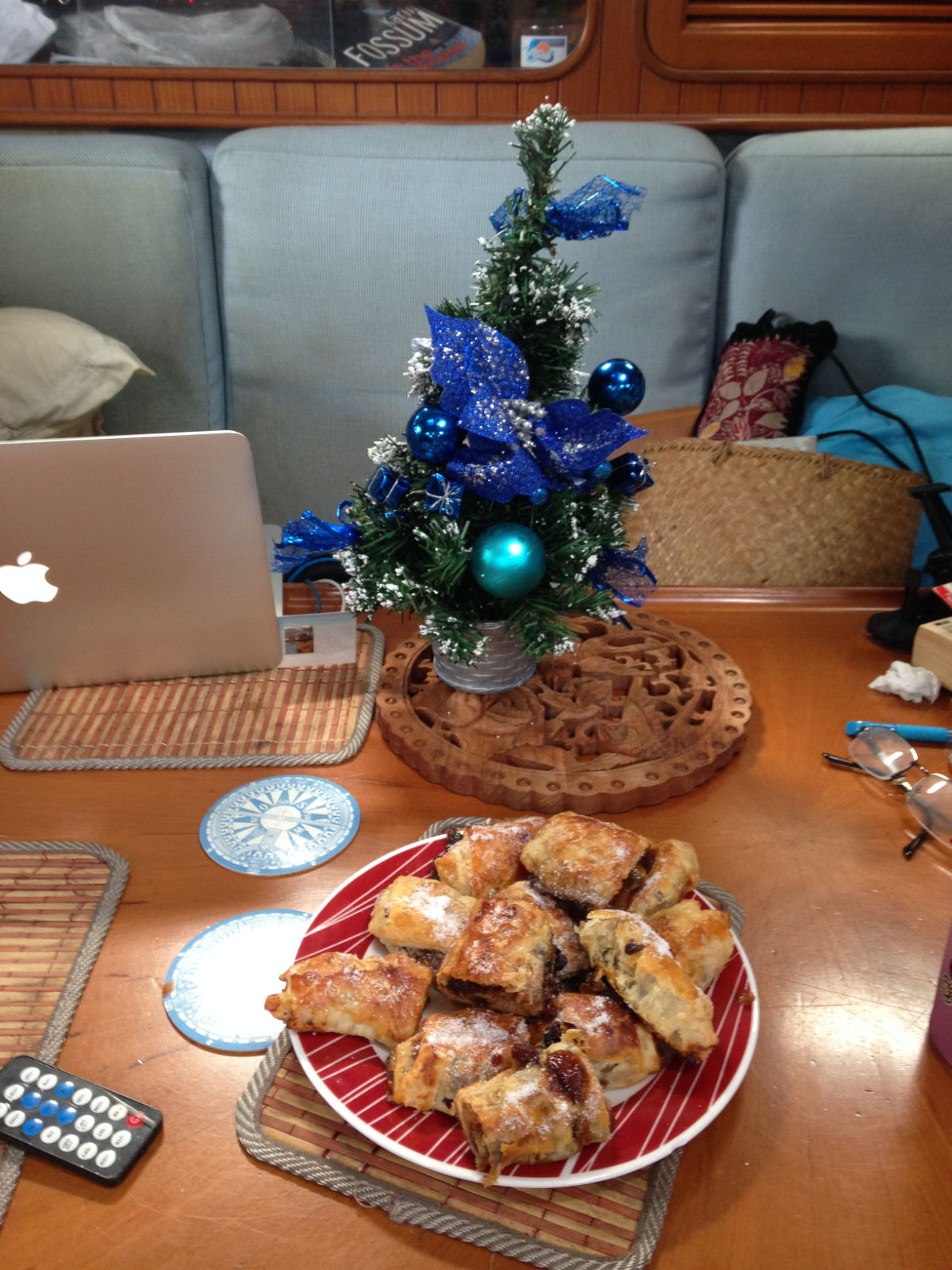 The buffet was worth the money. The food was well-presented and delicious, and there was plenty of it! We could eat as much as we liked and with so much to try, even for vegans 🙂  We made the most of it. Both of us went up for more…several times. Carol singers appeared and lined the staircase to perform a range of seasonal songs while we ate. The evening was topped with the wonderful spectacle of a waving Santa and his dancing elves arriving on a boat cruising down the centre of the marina, to the accompaniment of Bruce Springsteen singing 'Santa Claus is Coming to Town'. The children loved it, naturally and were treated to a goodie bag and a personal chat with Santa. The little festive gang then went round all the tables to pose for a picture with the diners. How could we refuse Santa!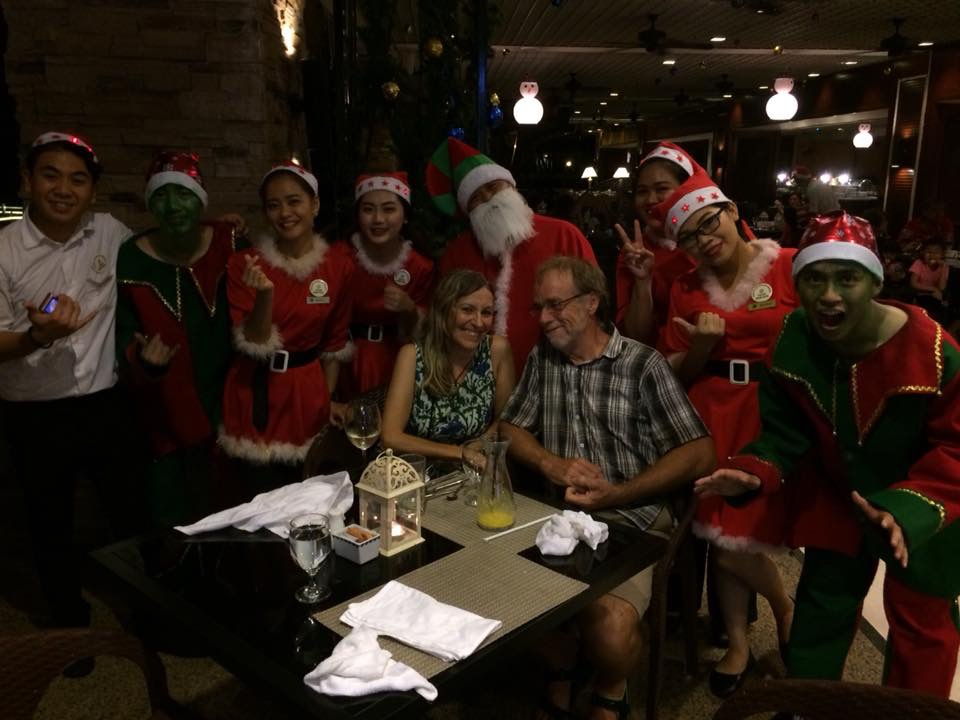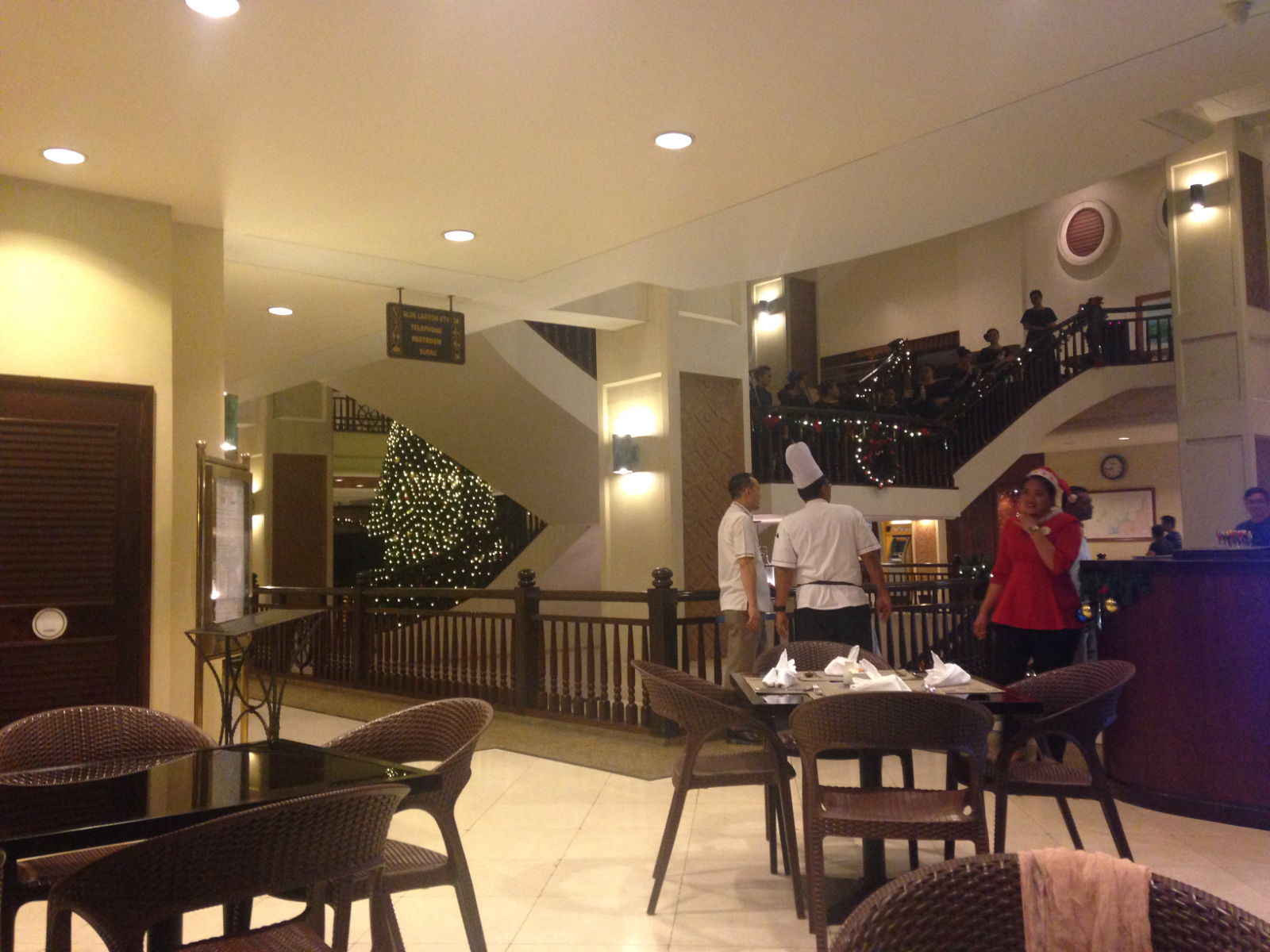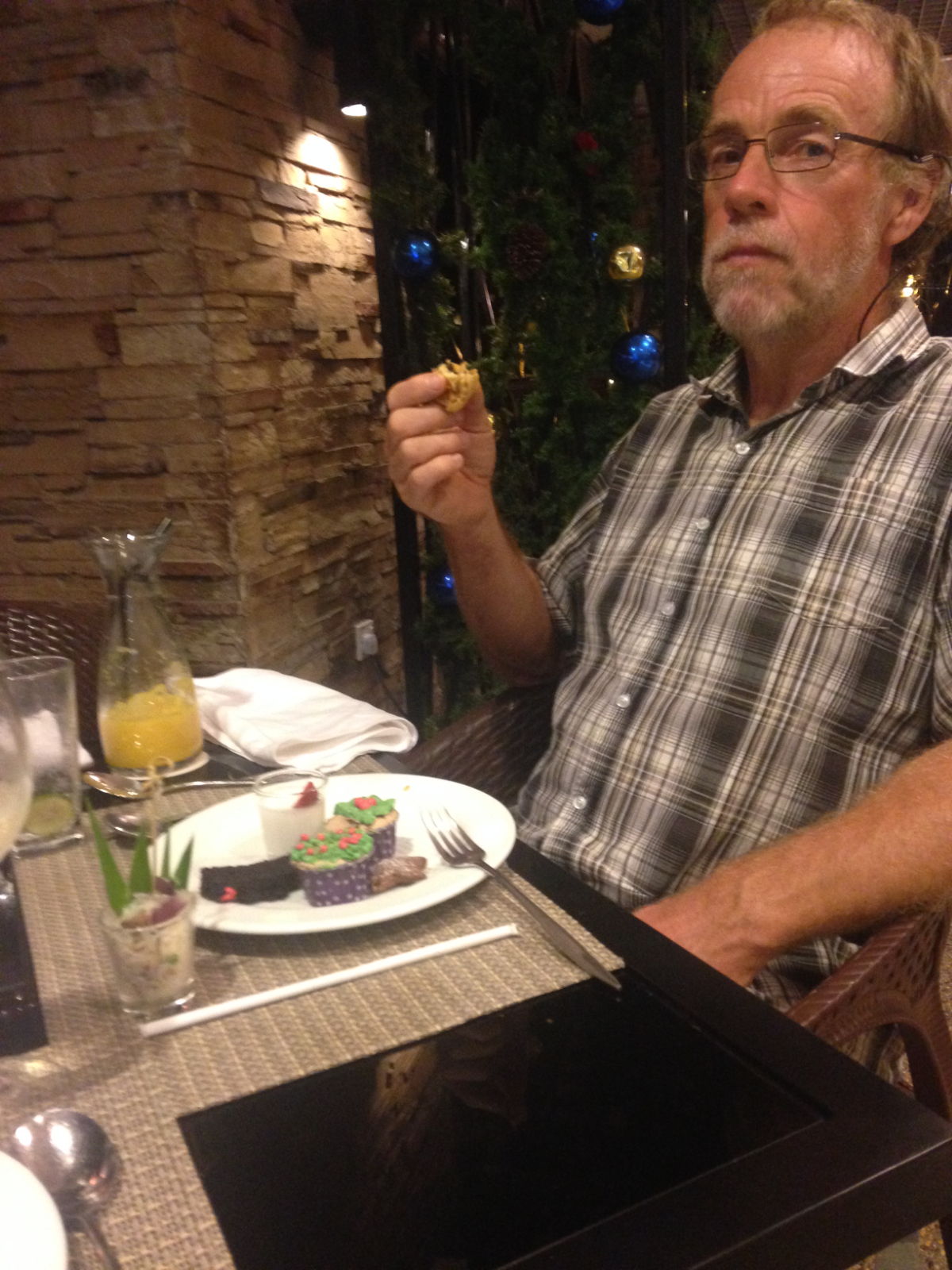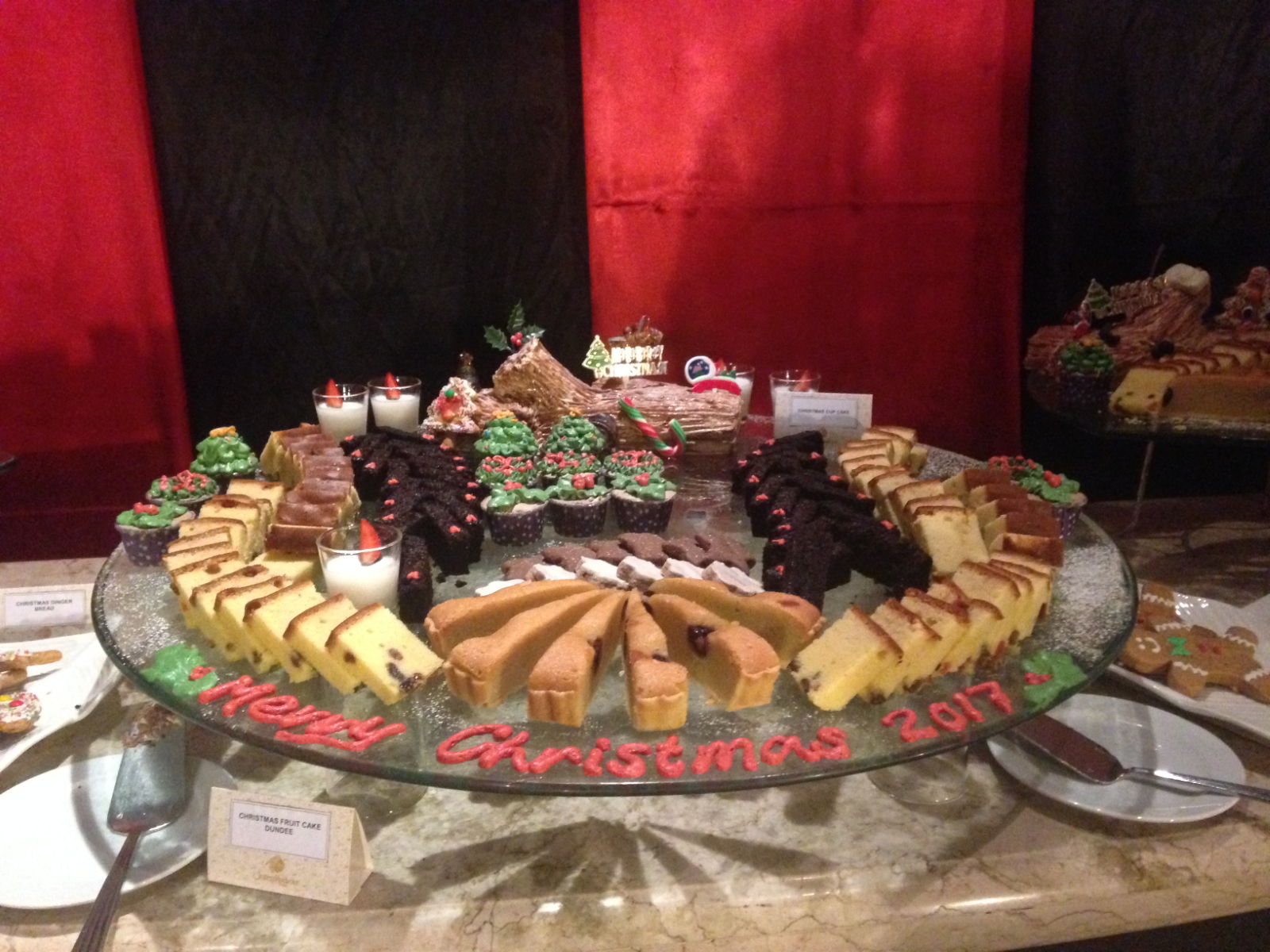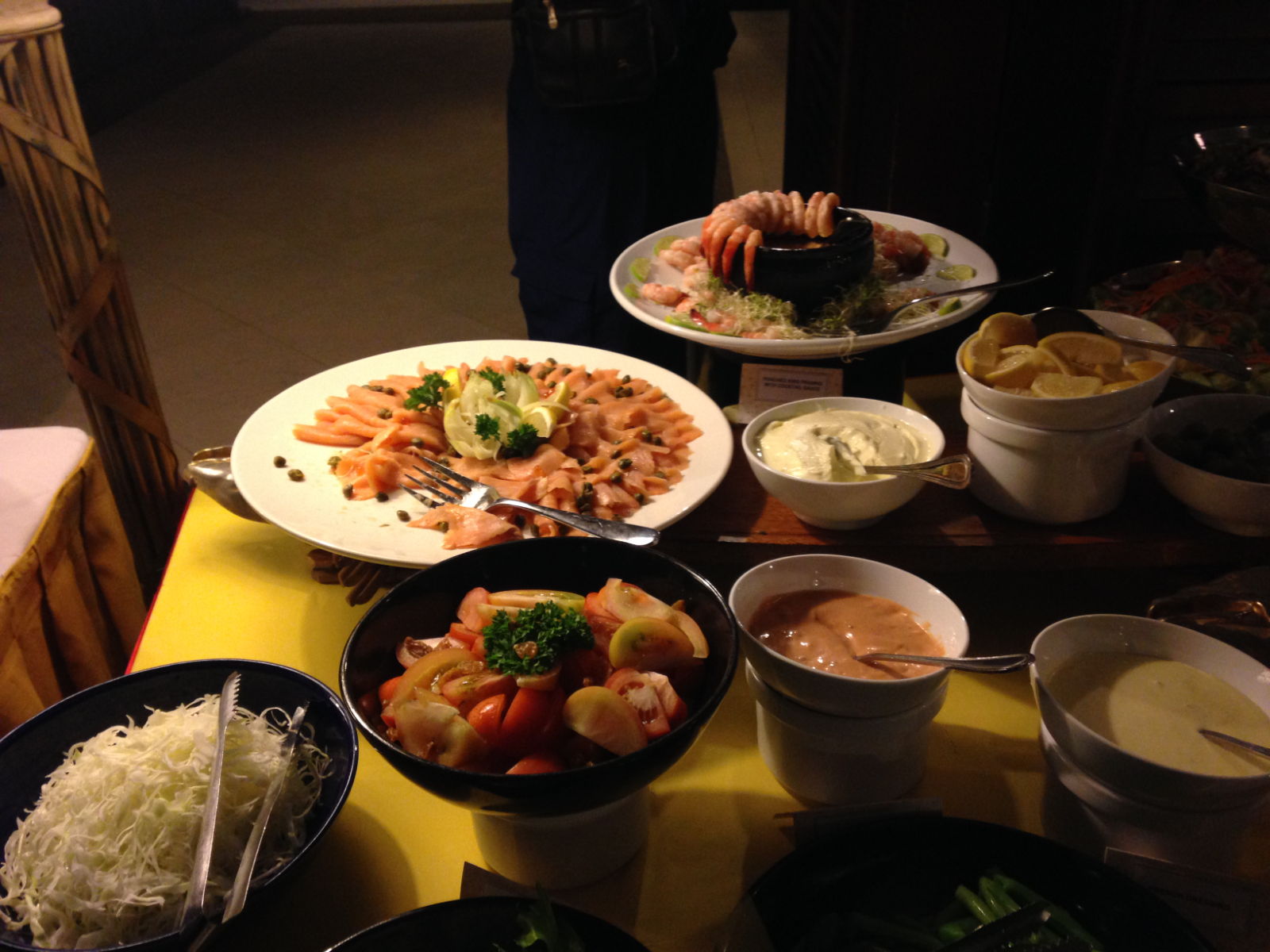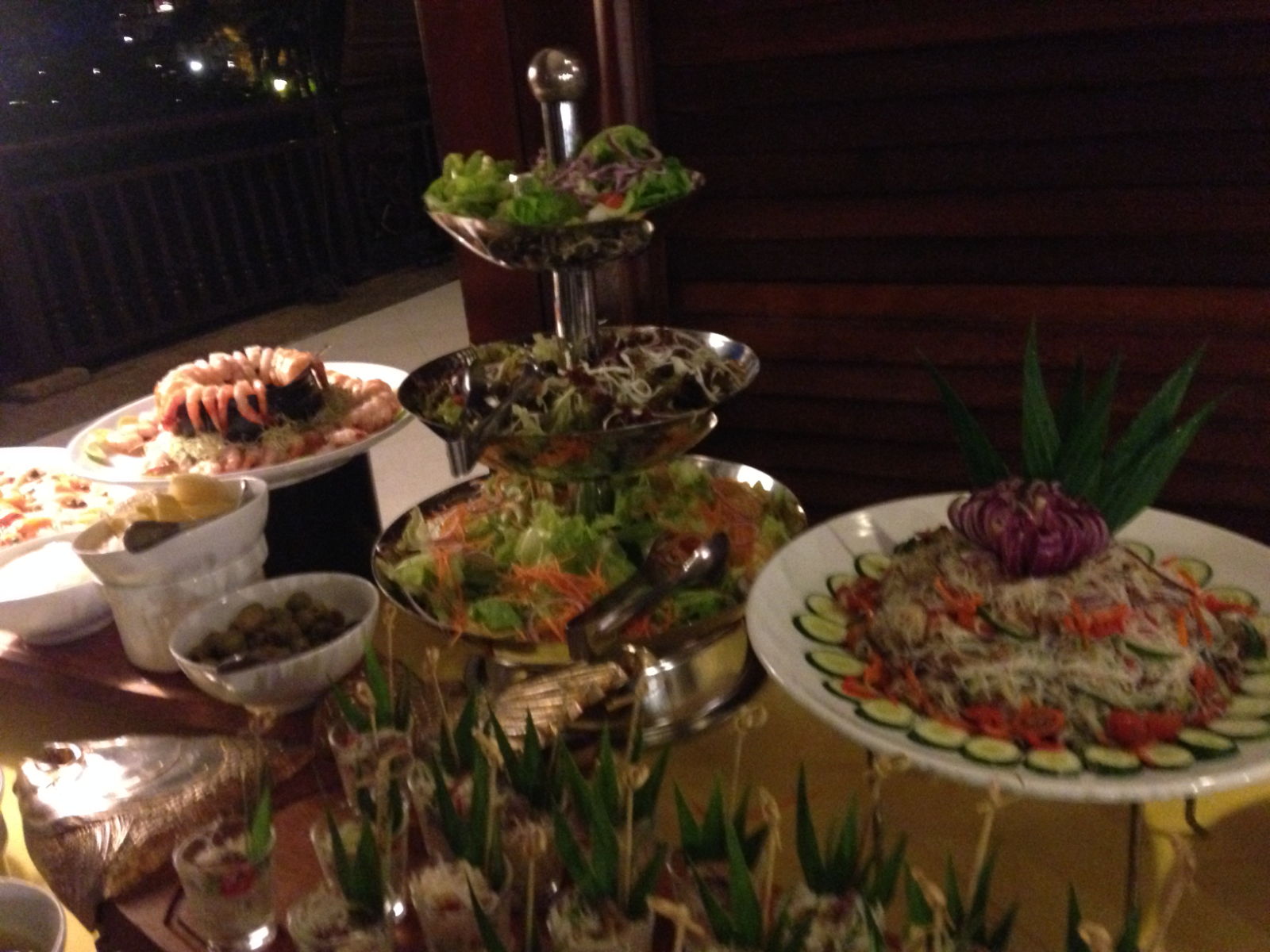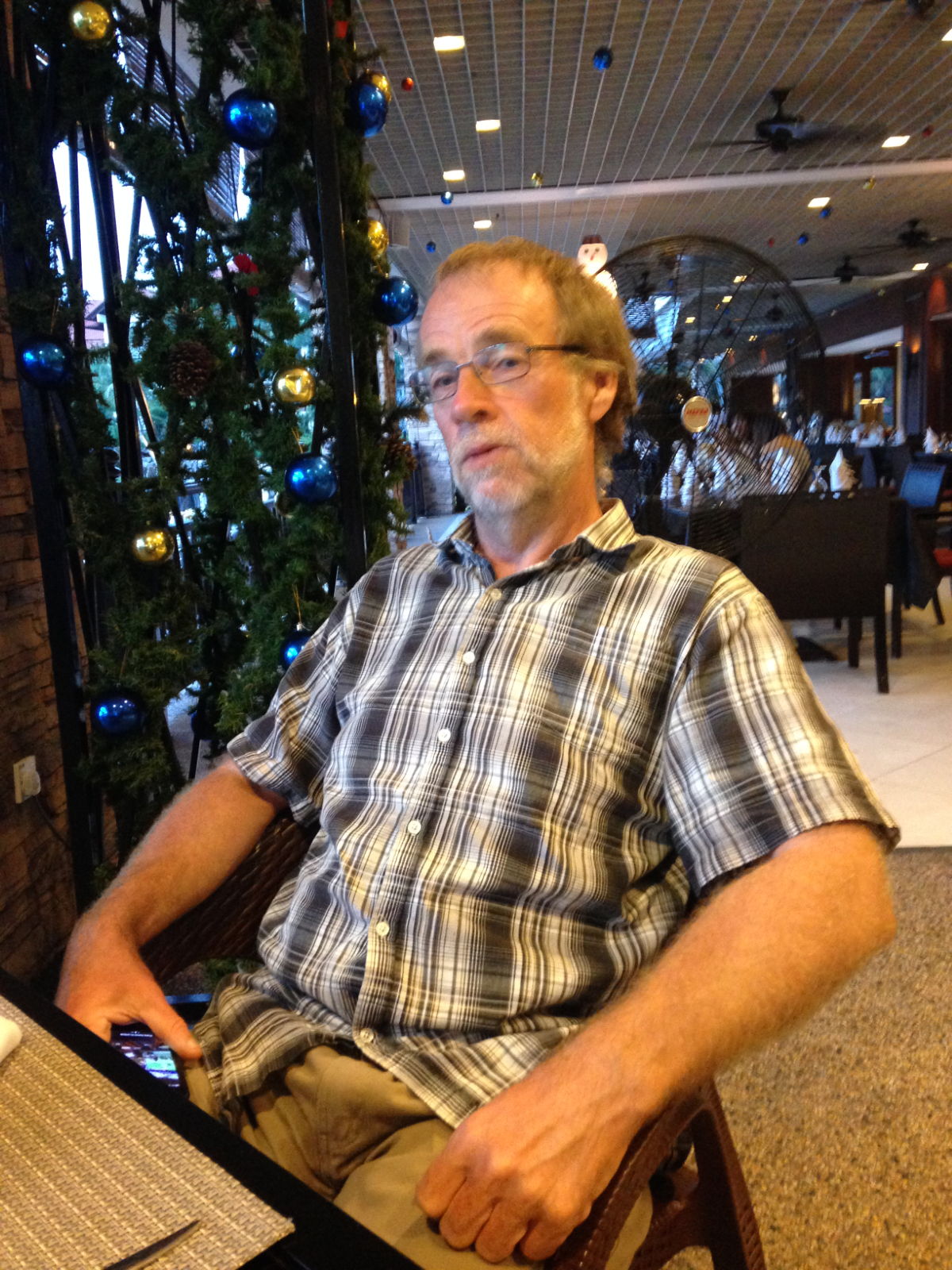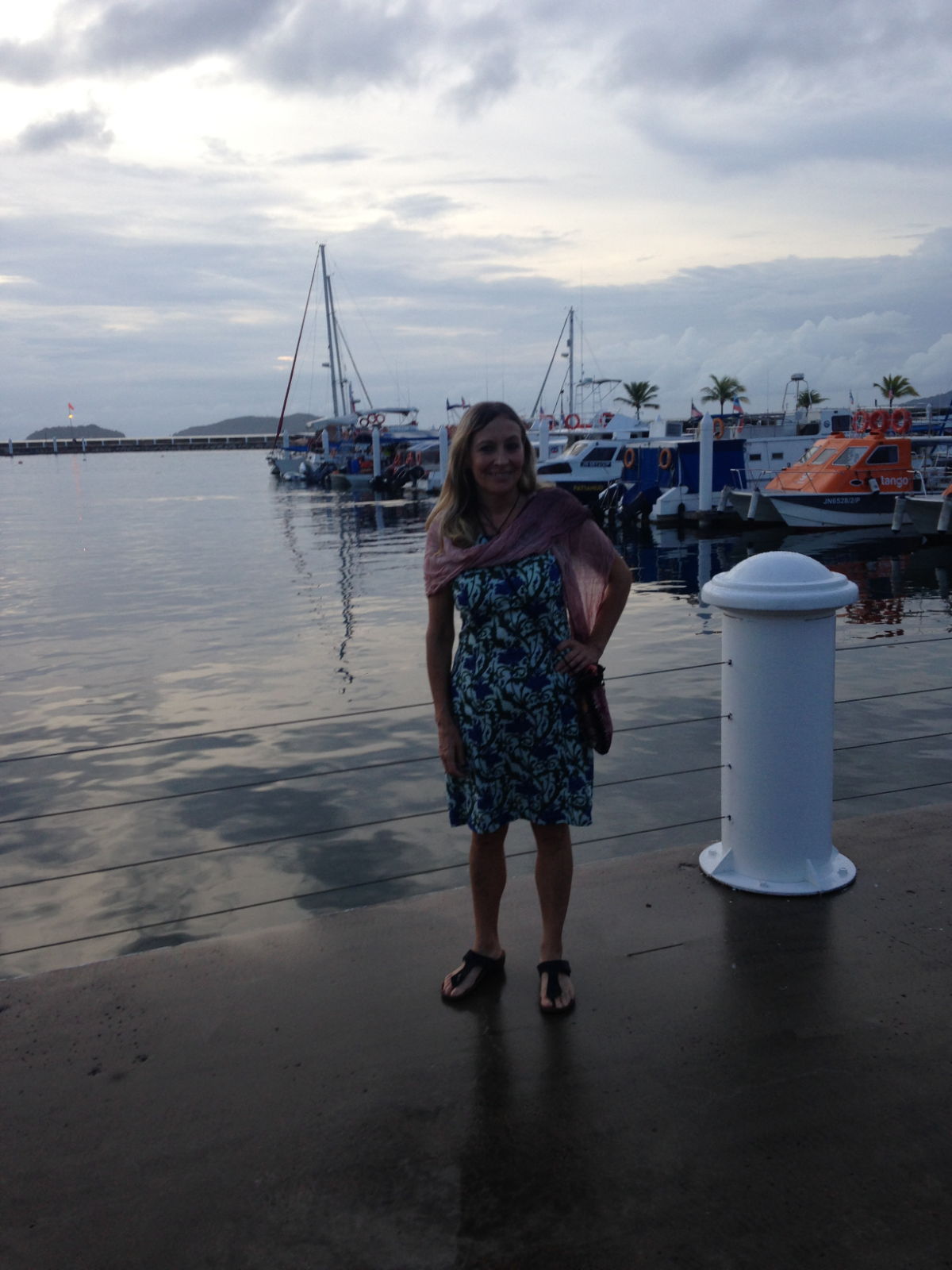 Christmas Day
I did two things I've never done before on Christmas Day. The first was to go for a morning swim in one of the open air pools, and the second was to go for an evening bike ride. I have to confess it felt nothing like Christmas during any part of the day (apart from opening our presents in the morning) but that was fine.  The waterfront, where we ended up on the bikes just as the sun was setting, was cool after the humidity of the day. The town was busy and most of the shops and cafes were open but there was less traffic and we cycled around to work up an appetite before returning to the marina. We had nut roast (Paul also had some ham) with most of the trimmings apart from parsnips, sprouts and stuffing. I had remembered to bring gravy with me because that's tricky to find here, too. I've since seen parsnips and sprouts on sale but not stuffing. Most of the supermarkets had turkeys in the freezer departments, but there were no Christmas puddings either, even in the imported goods sections. We finished the day in the marina bar where I'd hoped to get a gin and tonic as it was Christmas. Alas, the request was met with a 'no have any', but the wine was nice.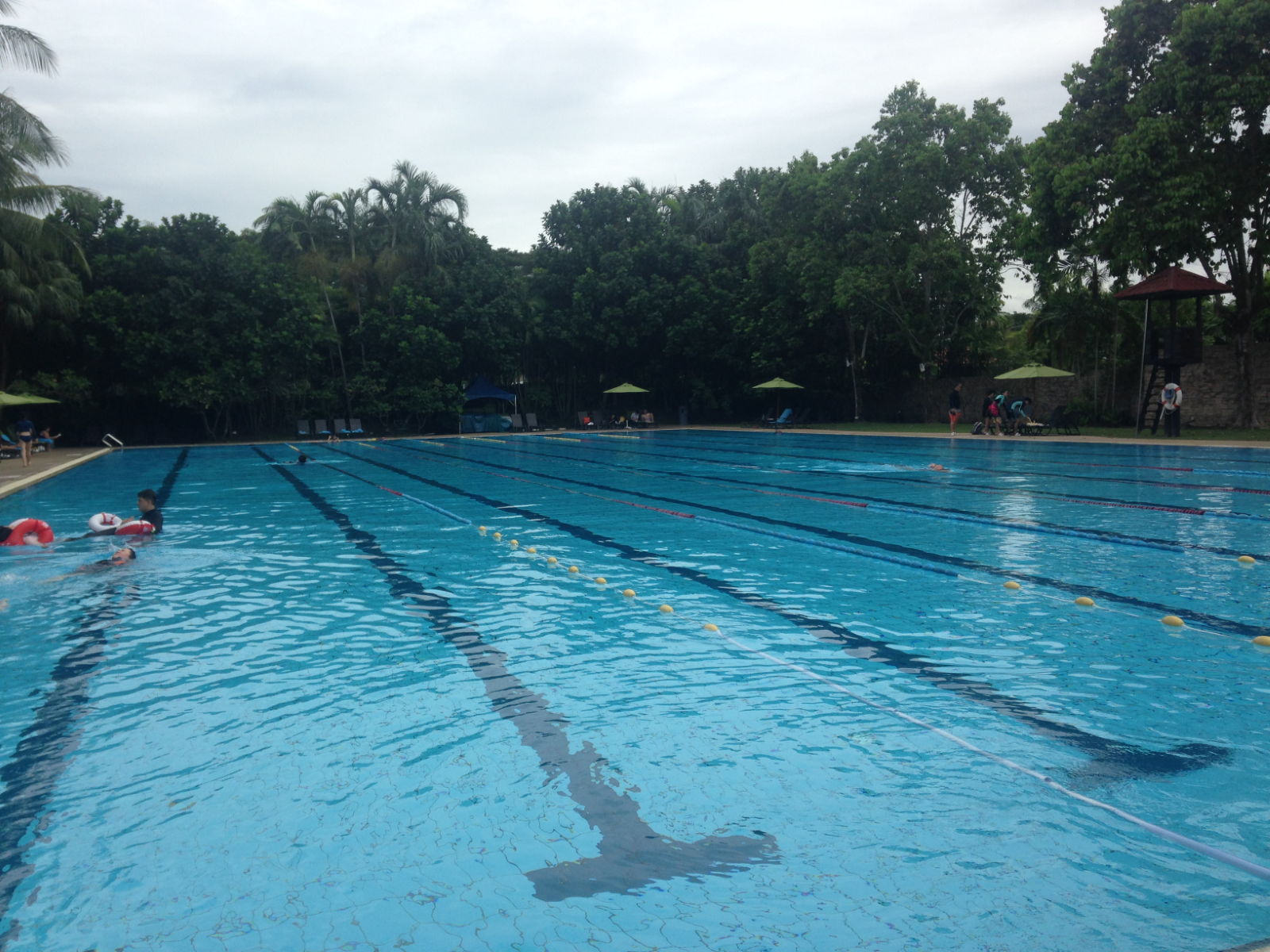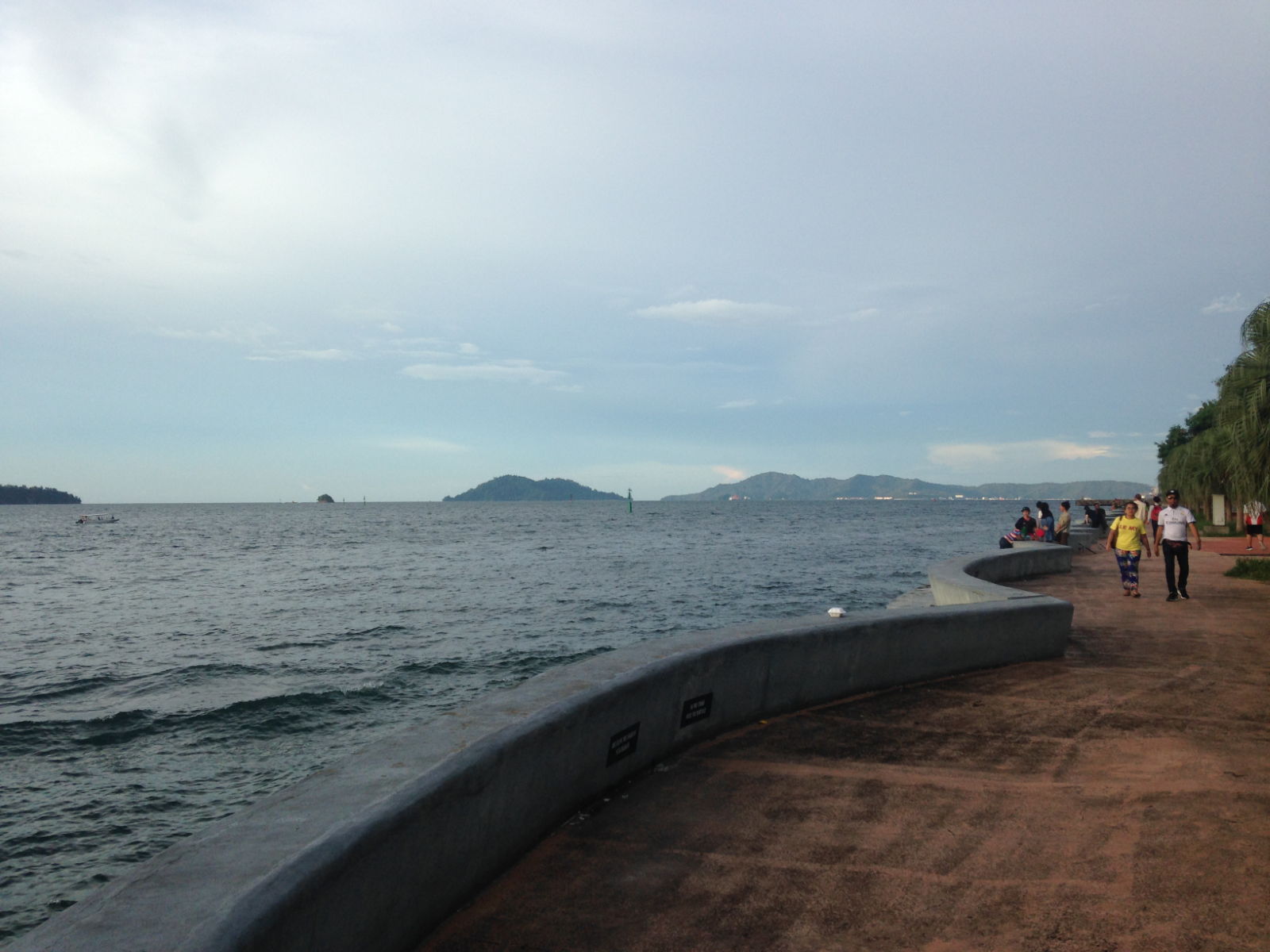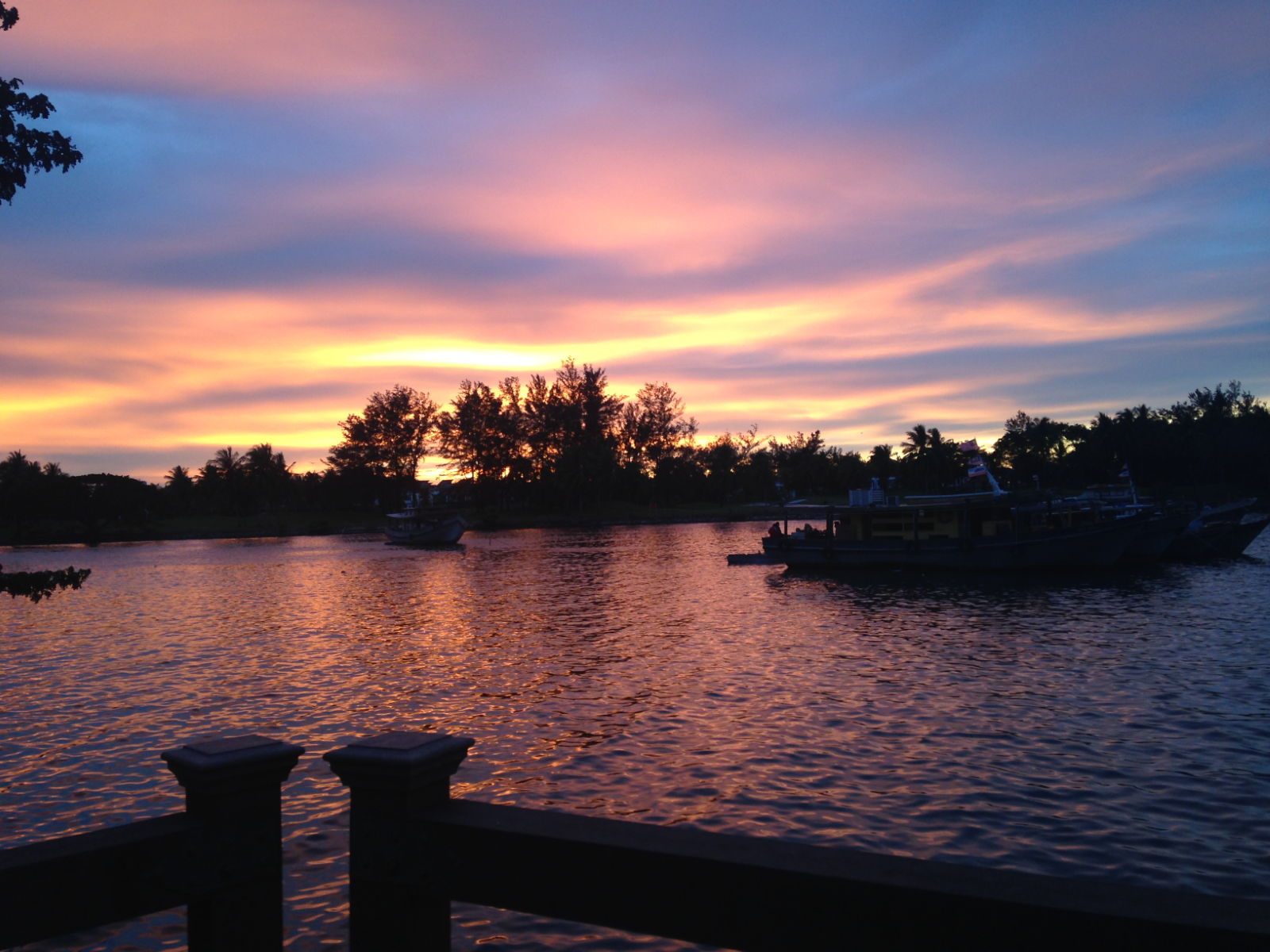 Boxing Day was spent having a good long walk around the resort's hotels and facilities (pics below). The idea behind this was to check out the spa in the Magellan Hotel. My Christmas present from Paul was a massage of my choice and we set off to see what they had to offer, looking at the cafes, pools and shops on the way. All the treatments on the spa's menu were tempting but I chose the one that combined the best of all of them and booked it for the next day. Needless to say it was wonderful. It lasted an hour and 20 minutes and I would happily have one every day if I could.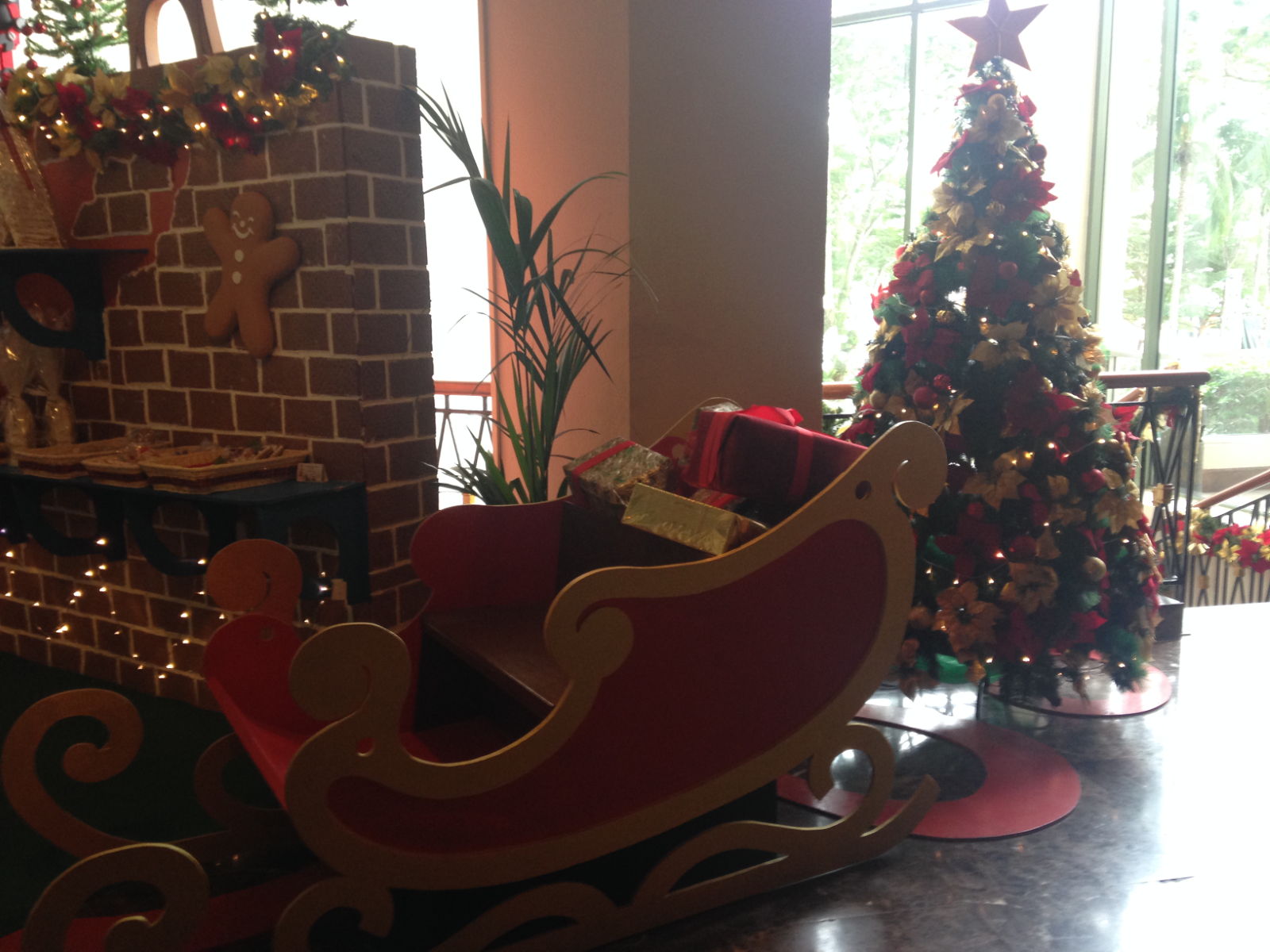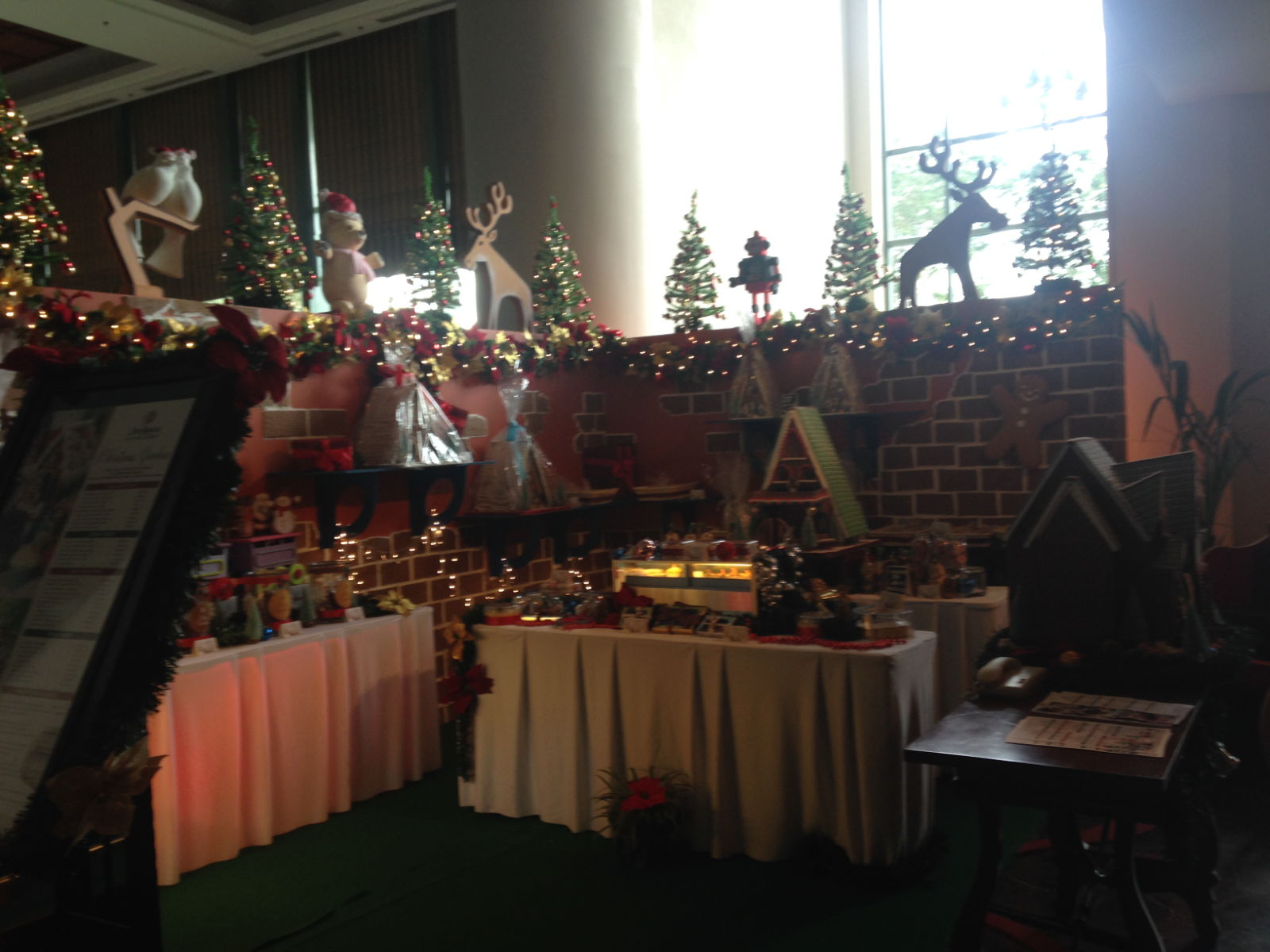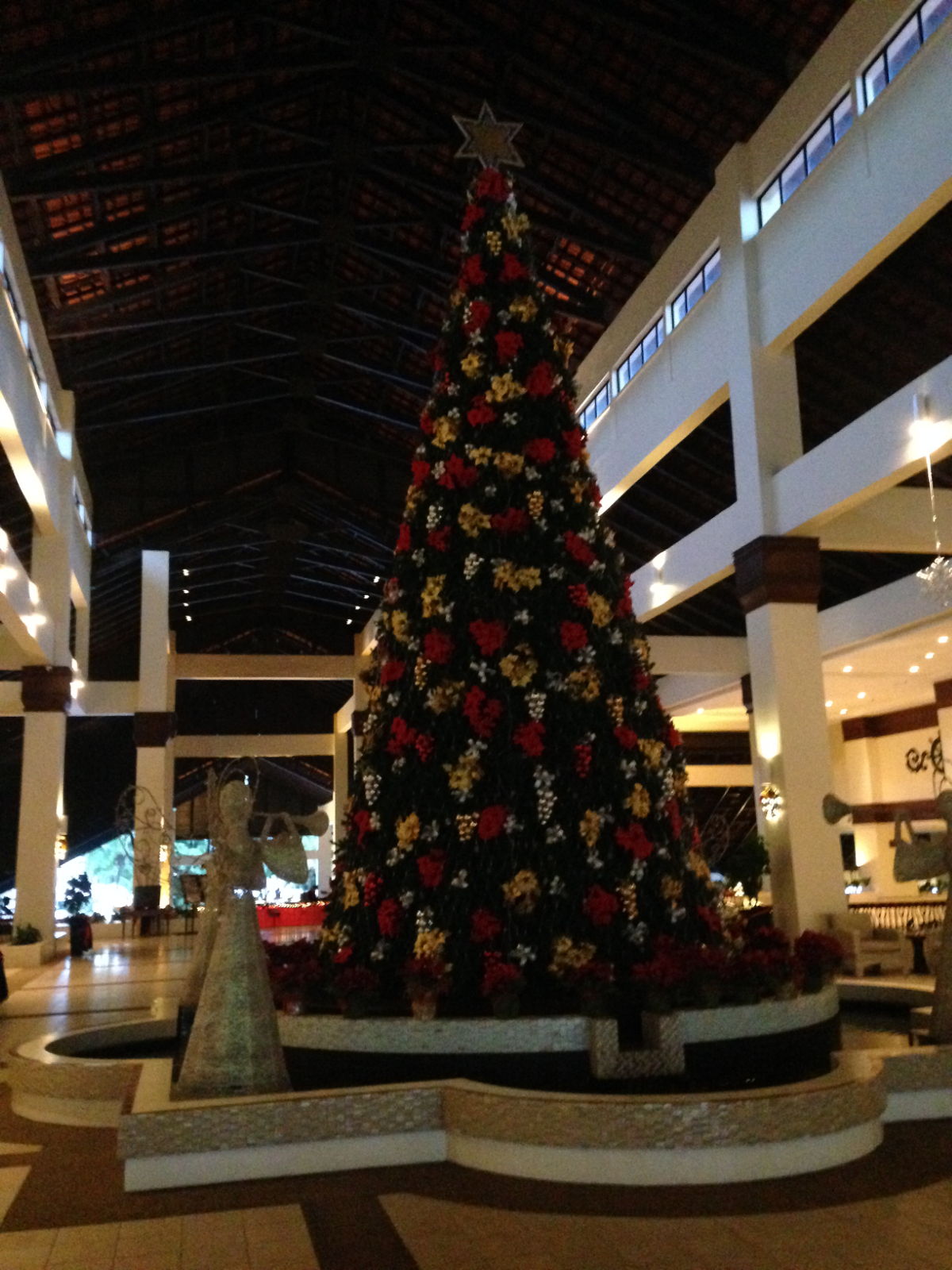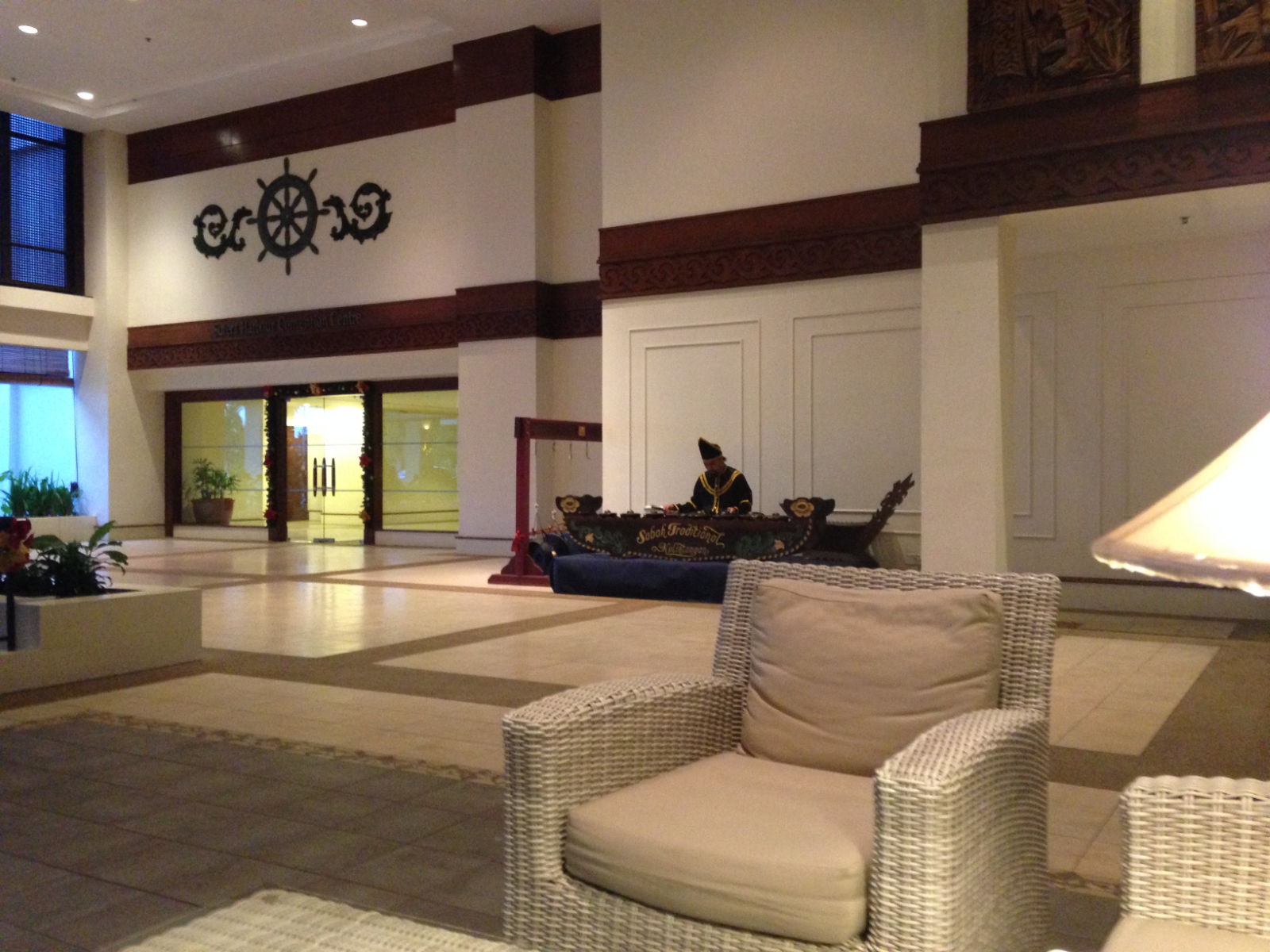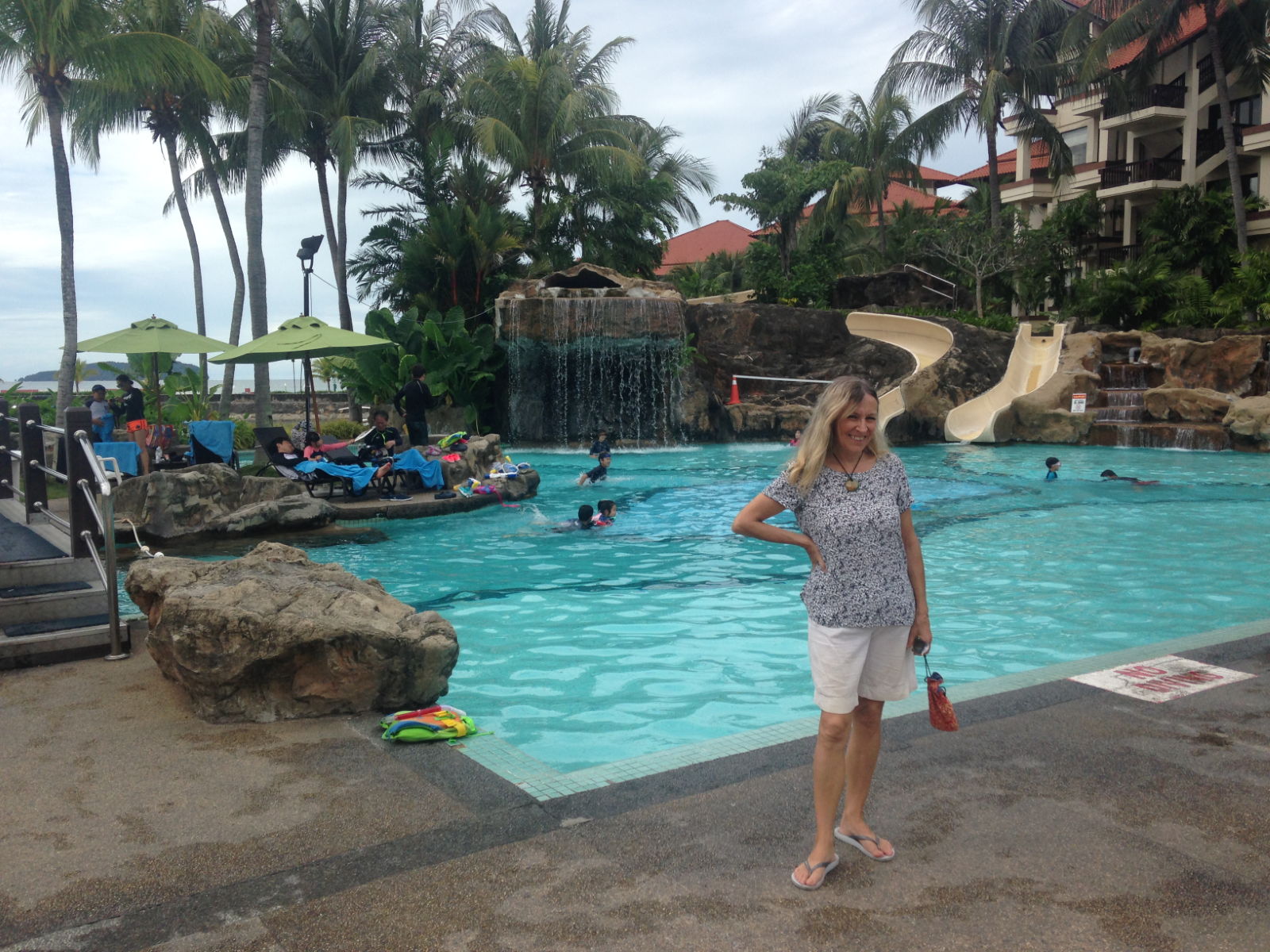 The days in Sutera Harbour post-Christmas have been wonderfully relaxing. We've done pretty much exactly what we want in beautiful surroundings and have met some nice people. Our neighbours, John and Kay invited us to join them and their friends for New Year's Eve for some food and drinks on their boat and we all went to the end of the pontoon to watch the firework display from the beach bar party at midnight. As I type this, it's almost time for me to return to the UK for six weeks to catch up with friends and family. When I return at the end of February, we will be preparing for the passage to The Philippines and then journeying on to Japan for the rally there. The Pacific crossing to North America follows that and it will be Christmas 2018 before we go home again. The pictures below show some of the places and things we've enjoyed in the weeks after Christmas.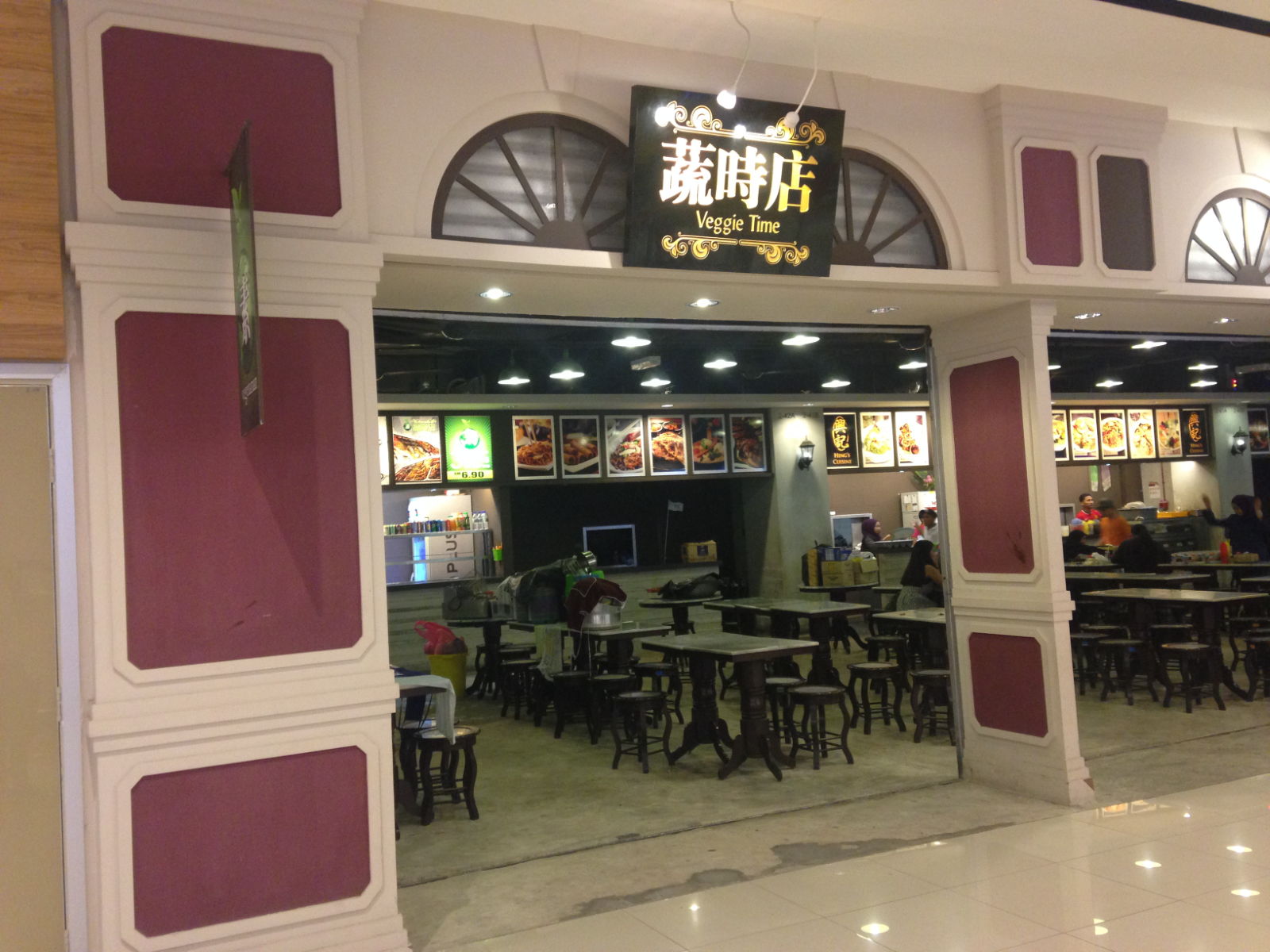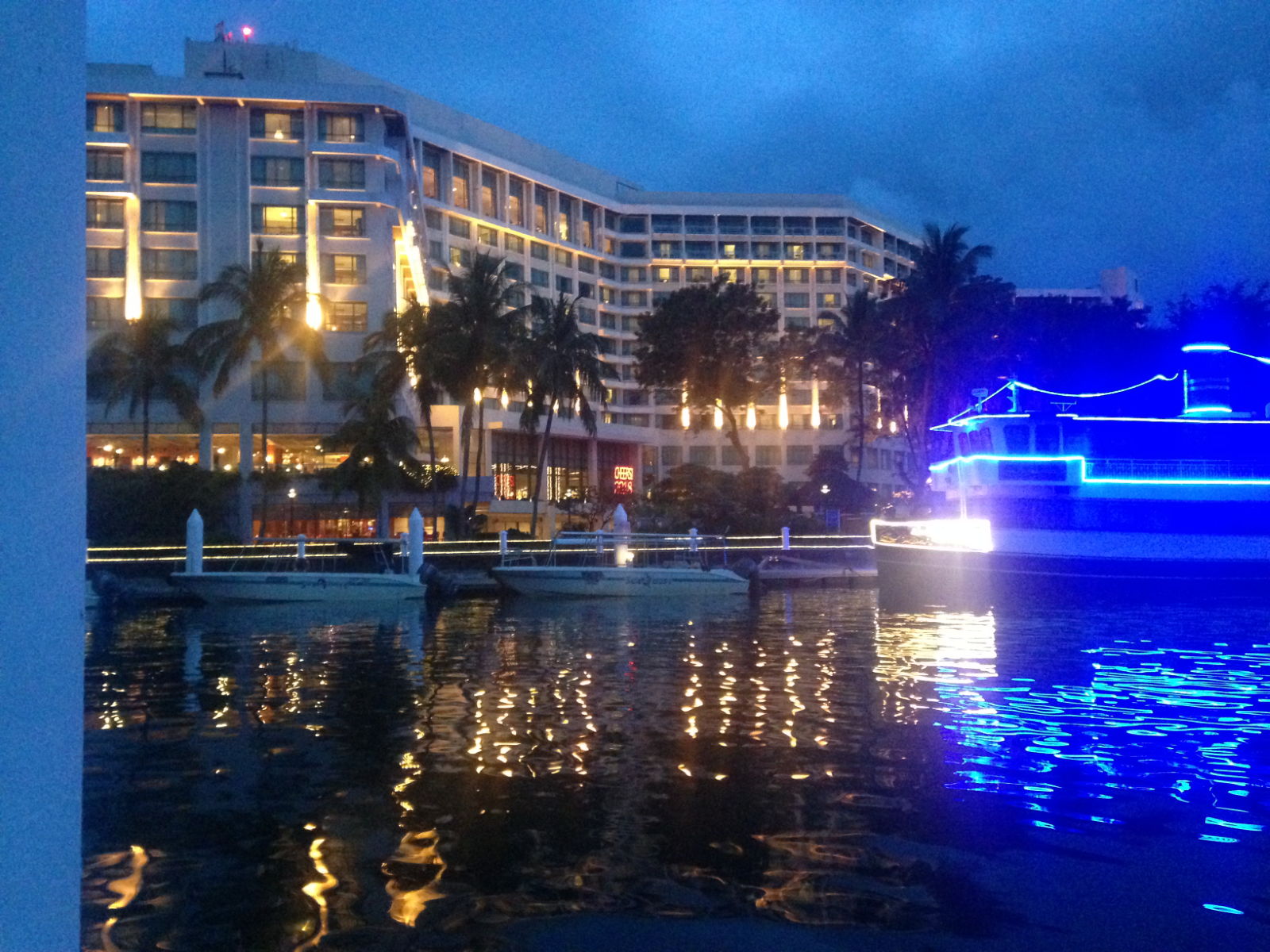 Images from Tanjung Aru Beach below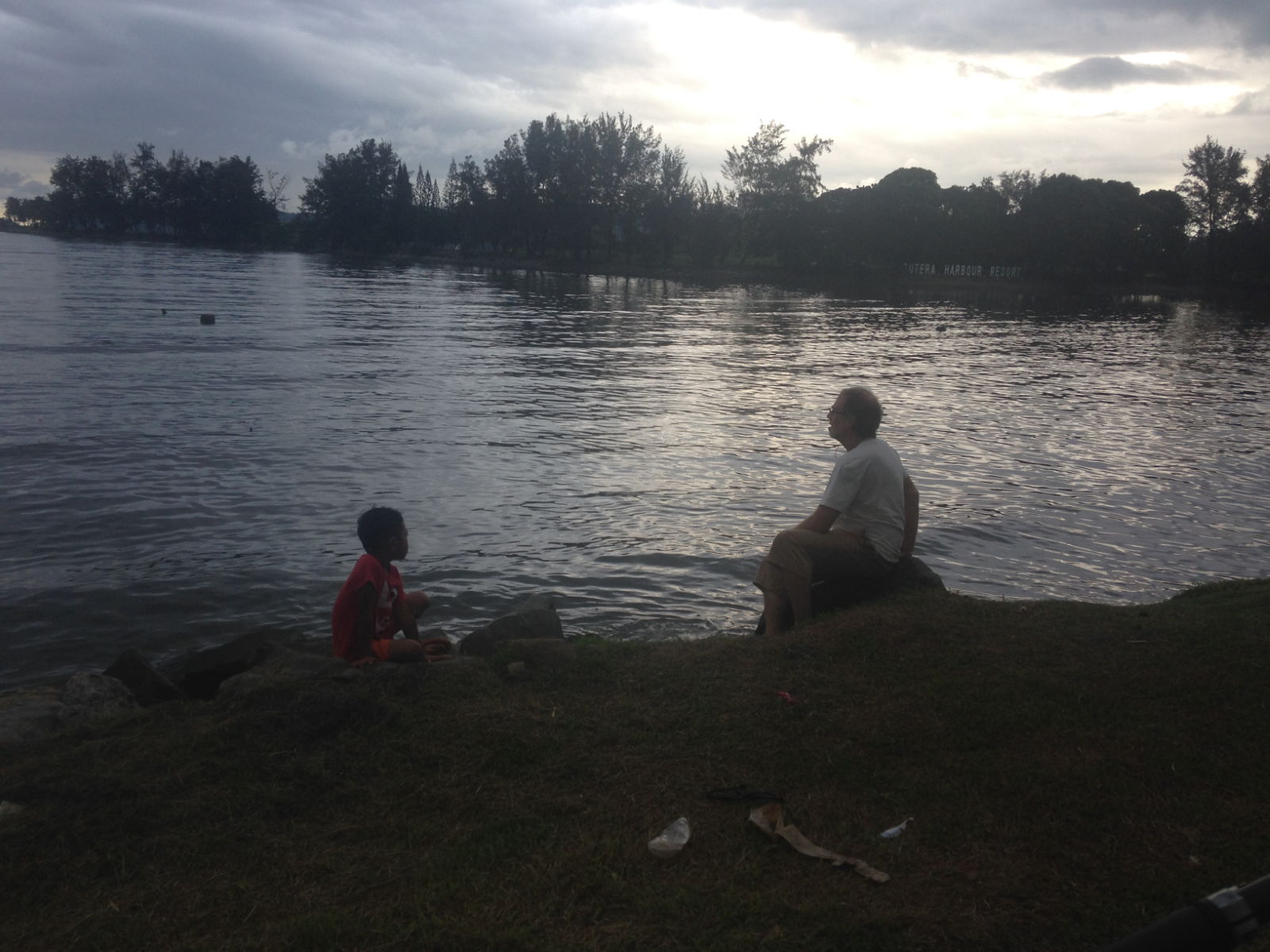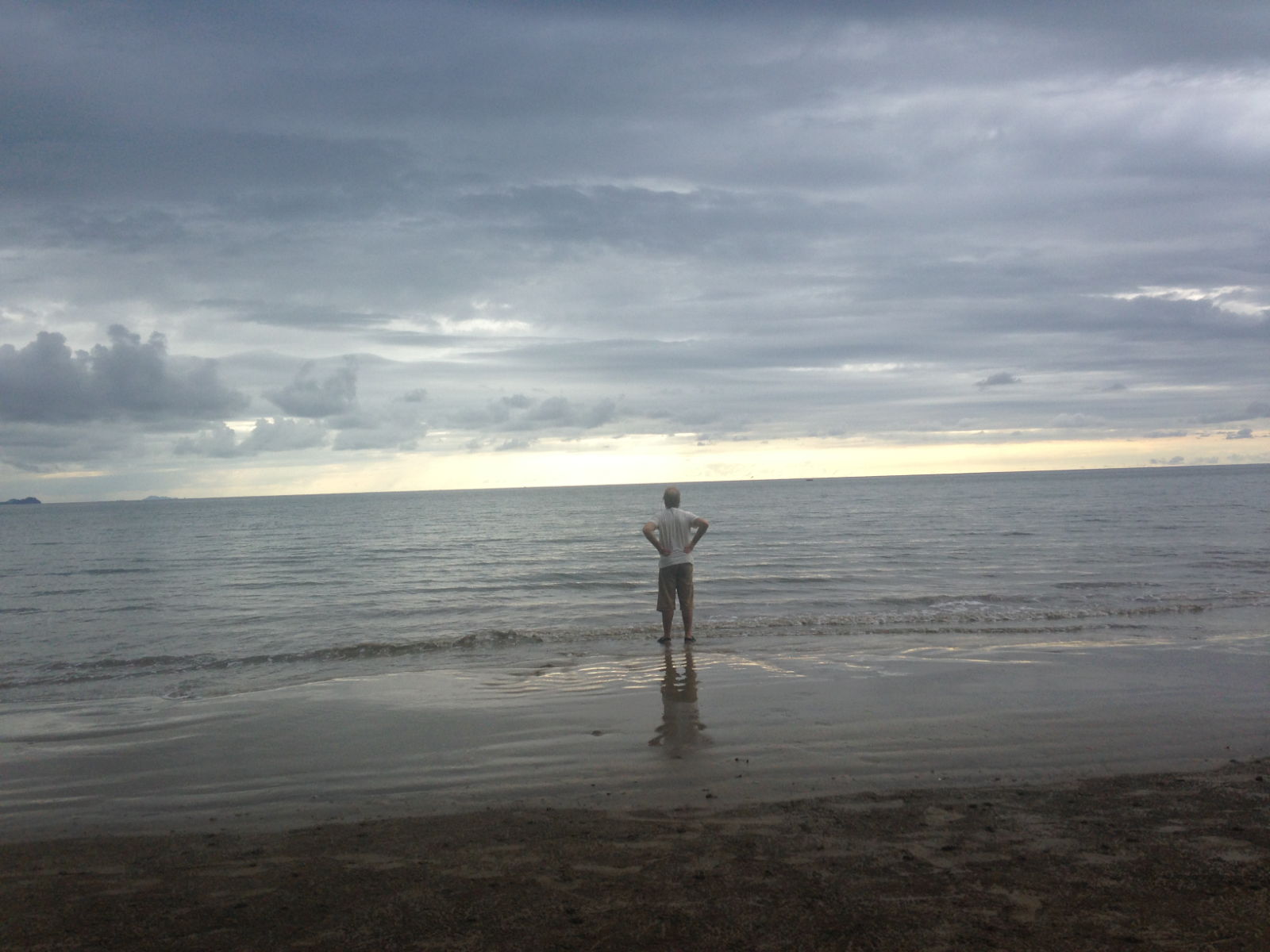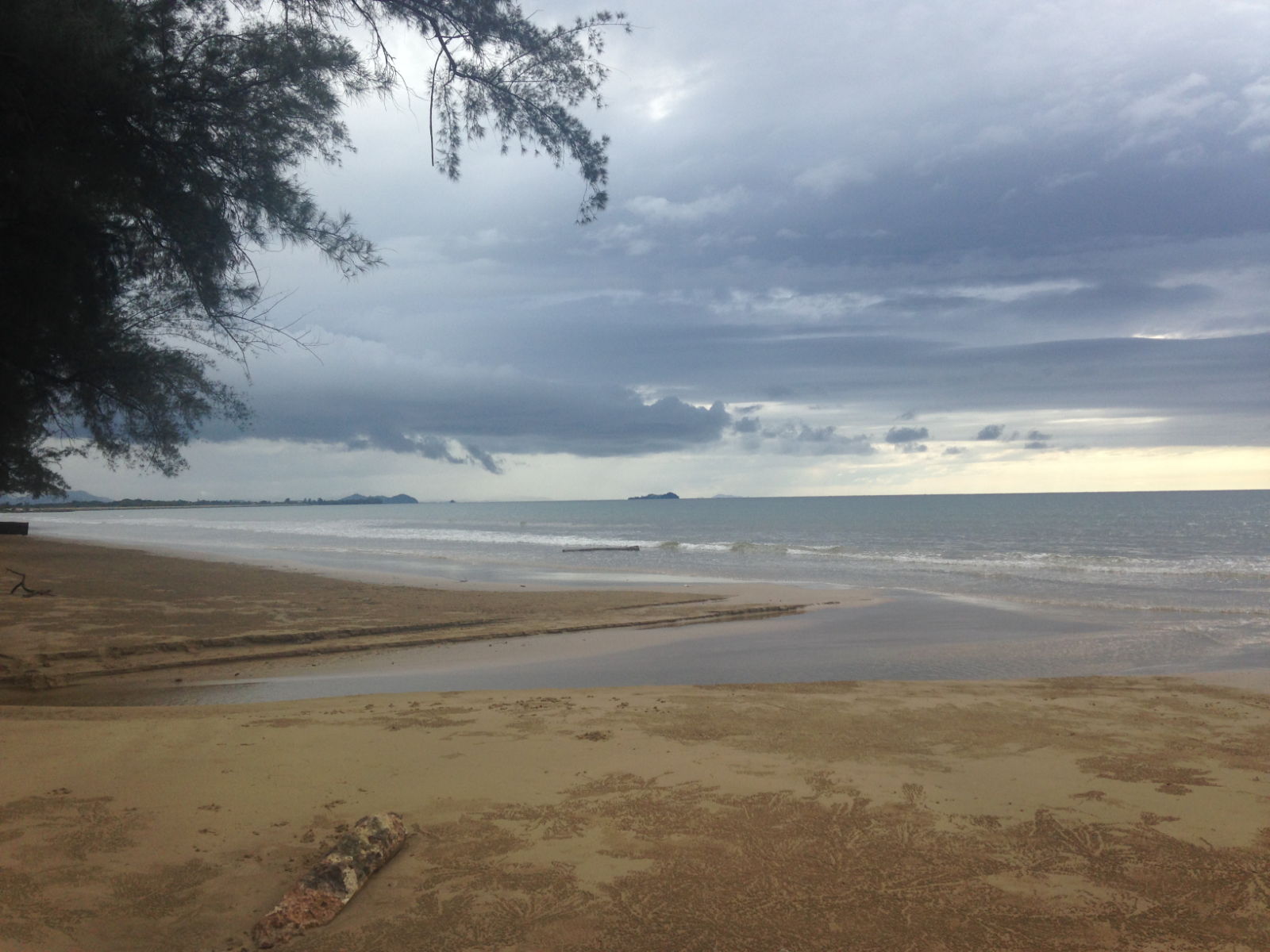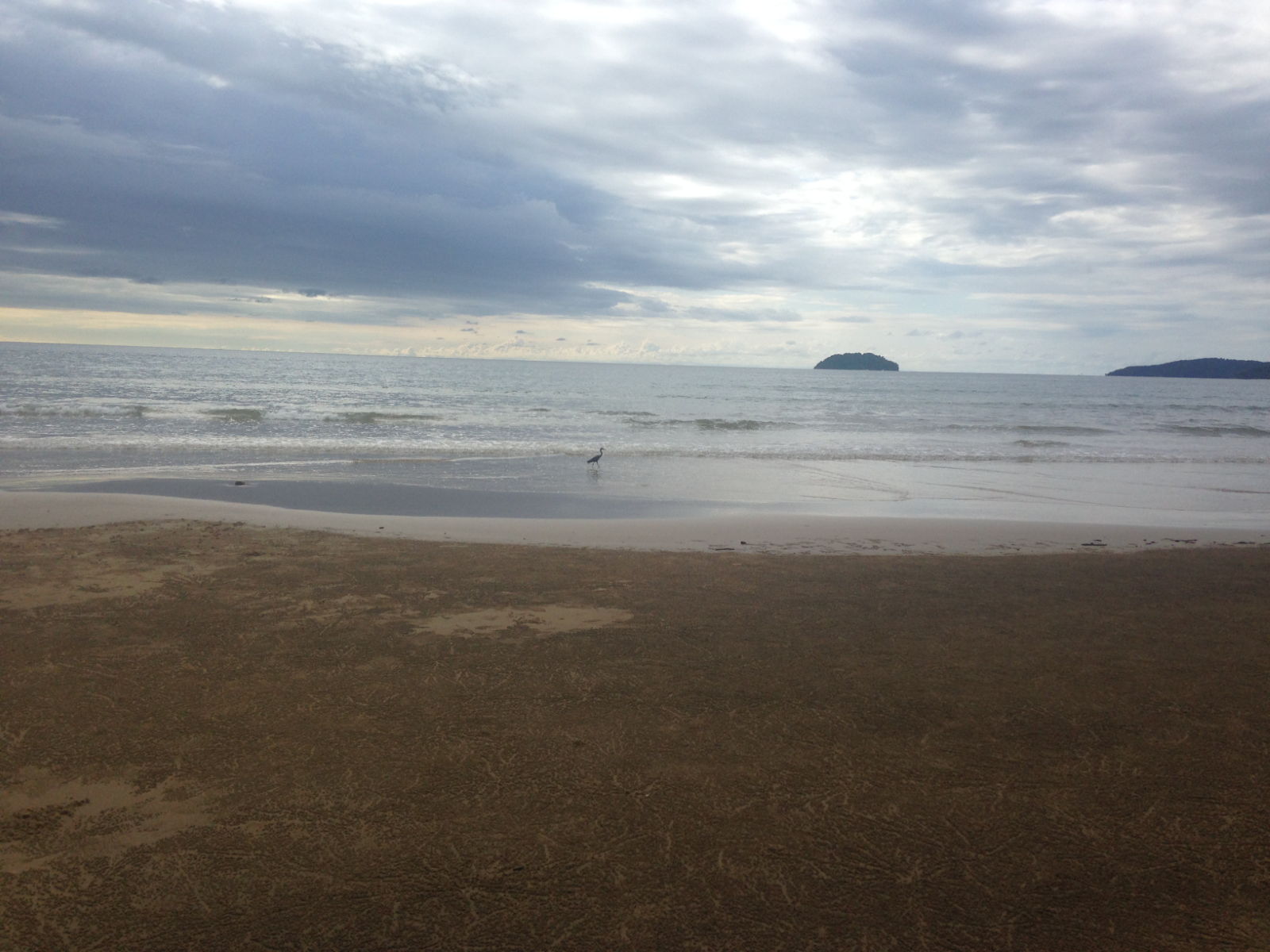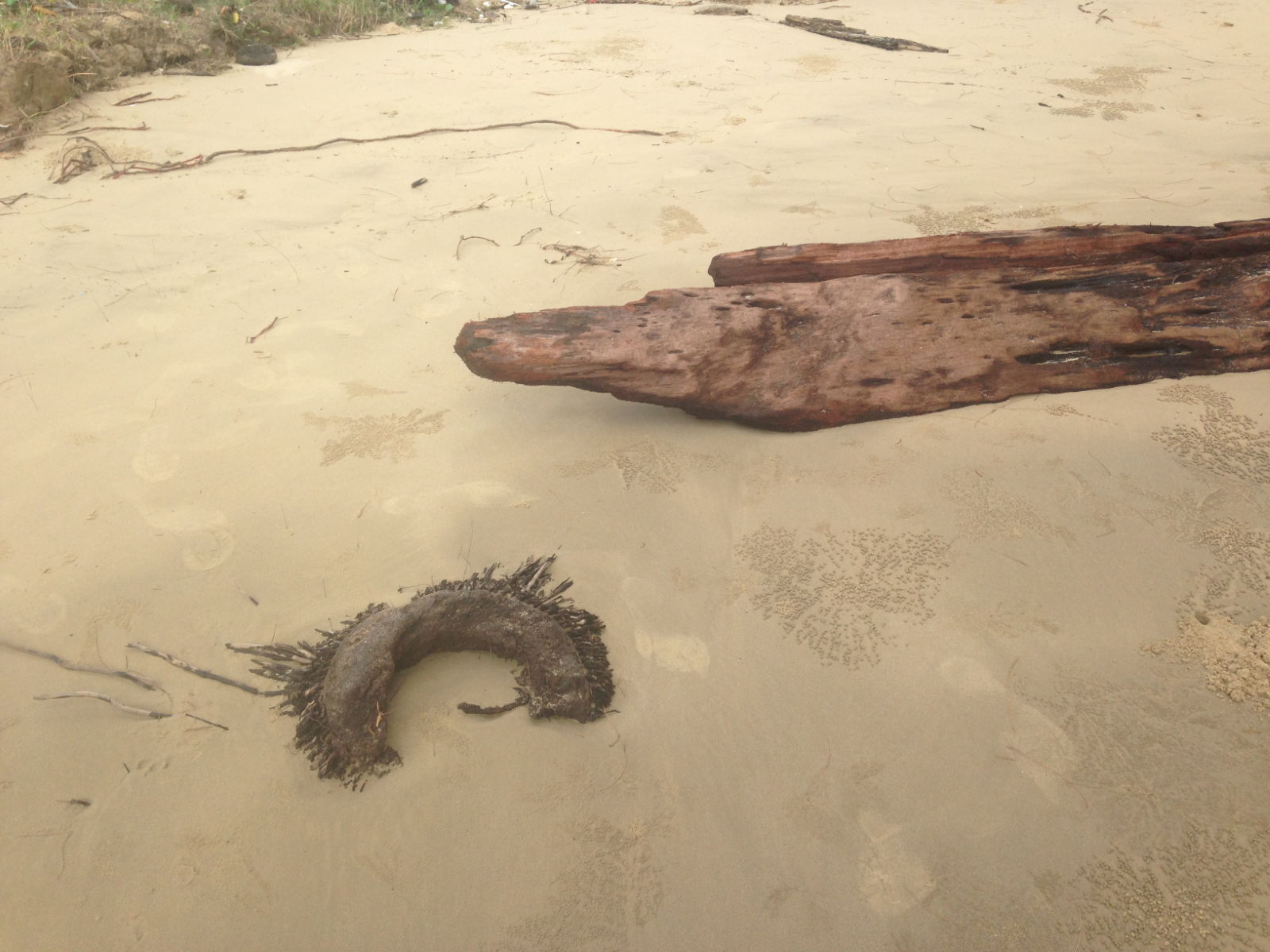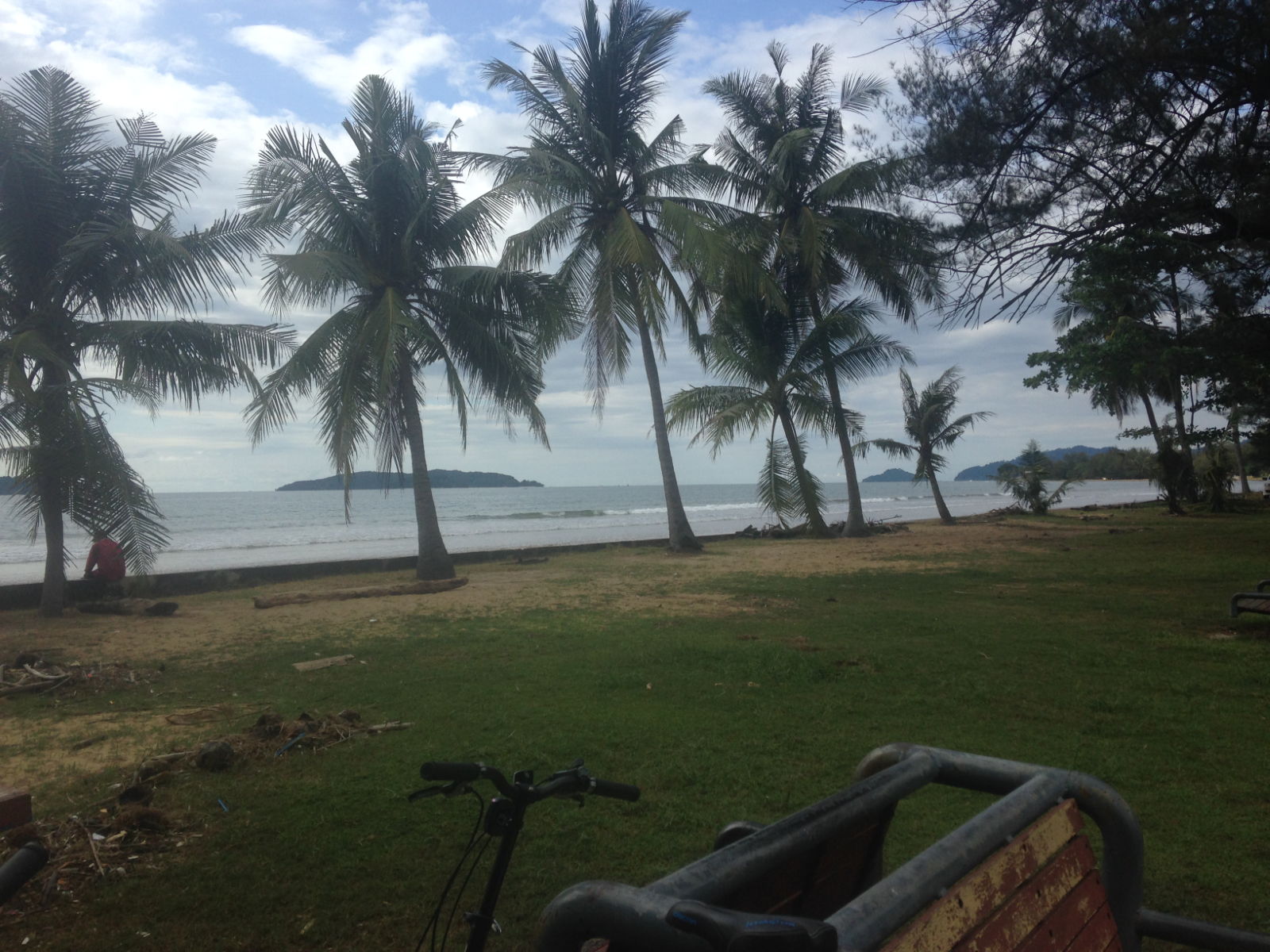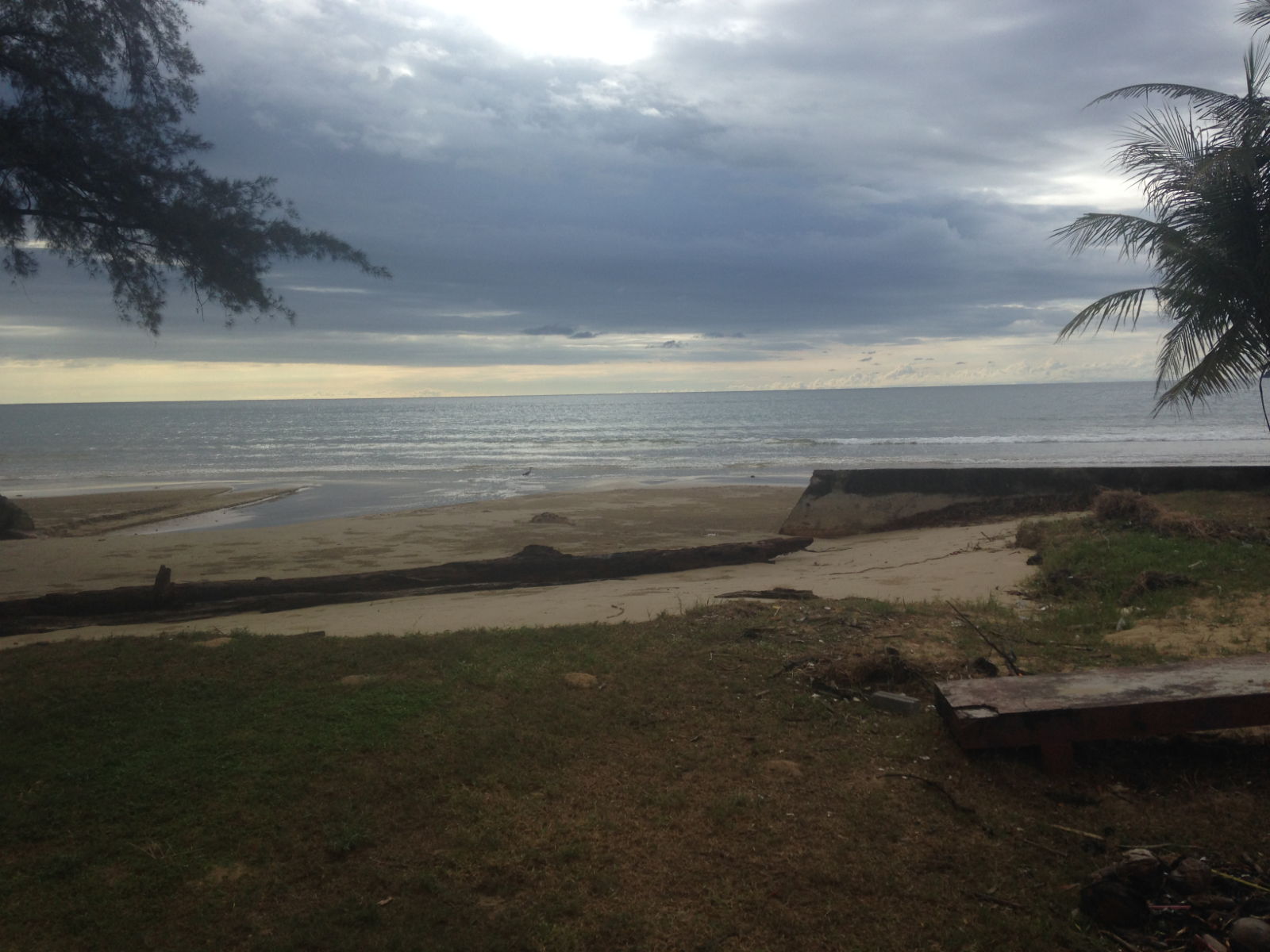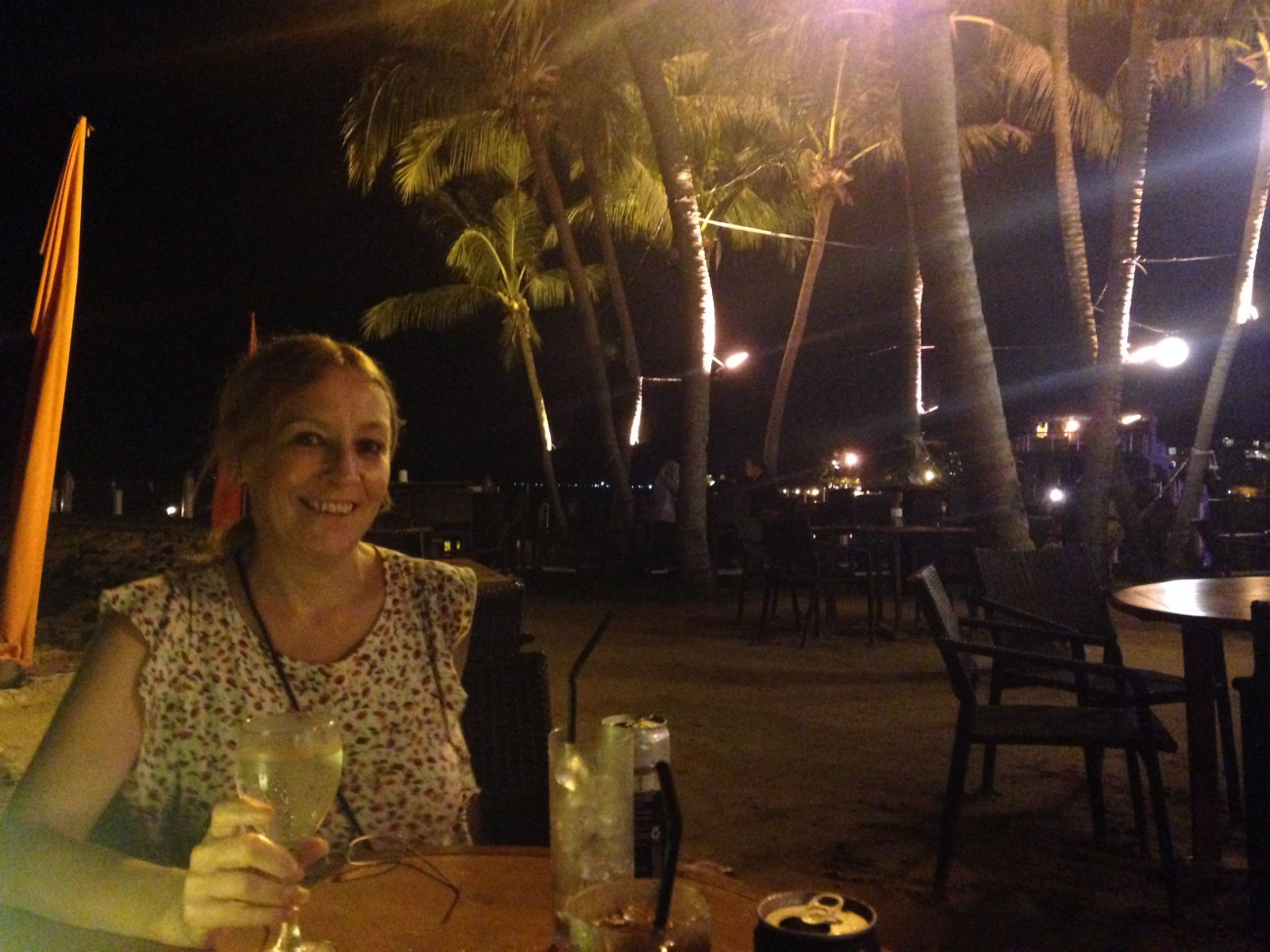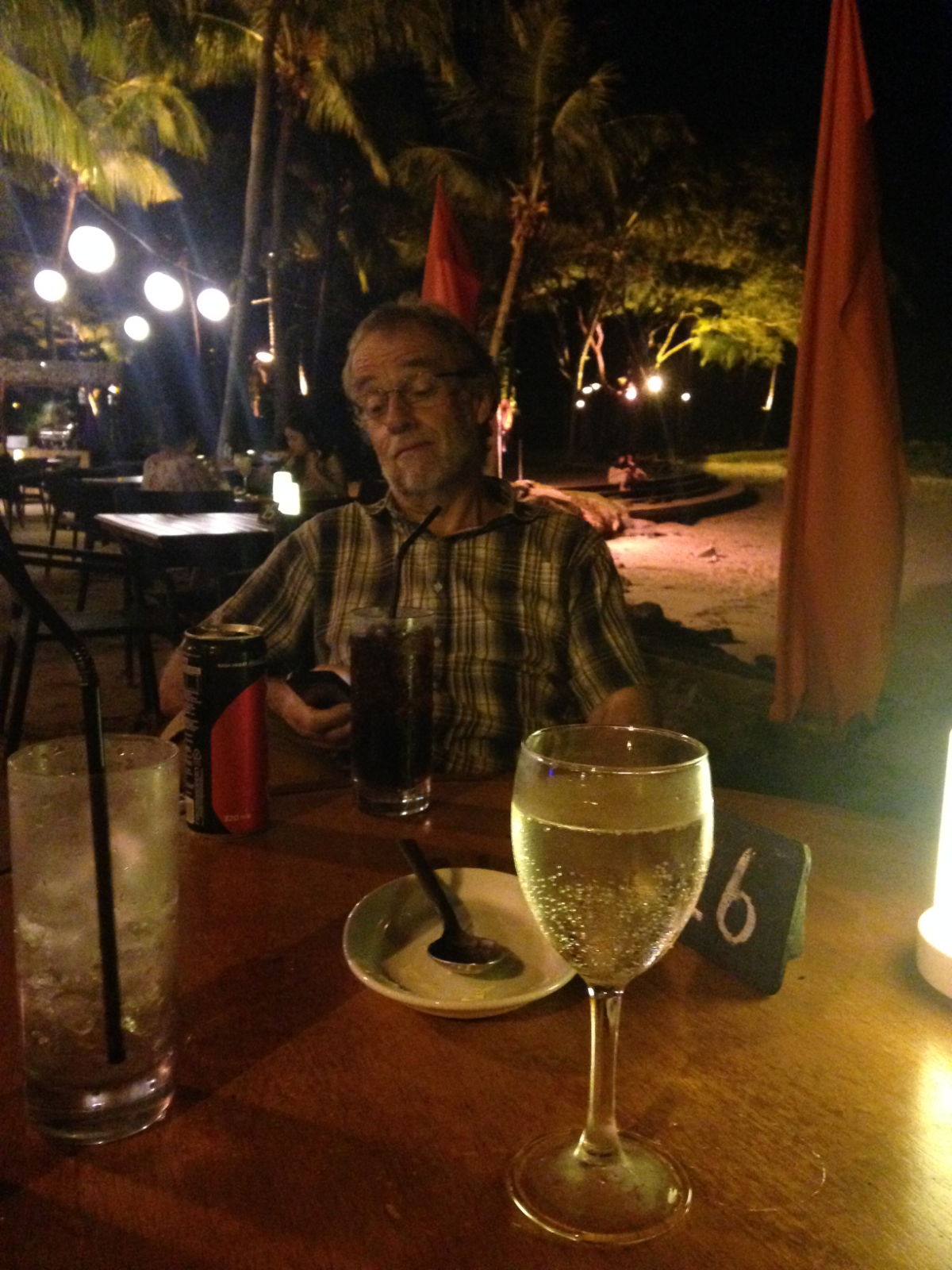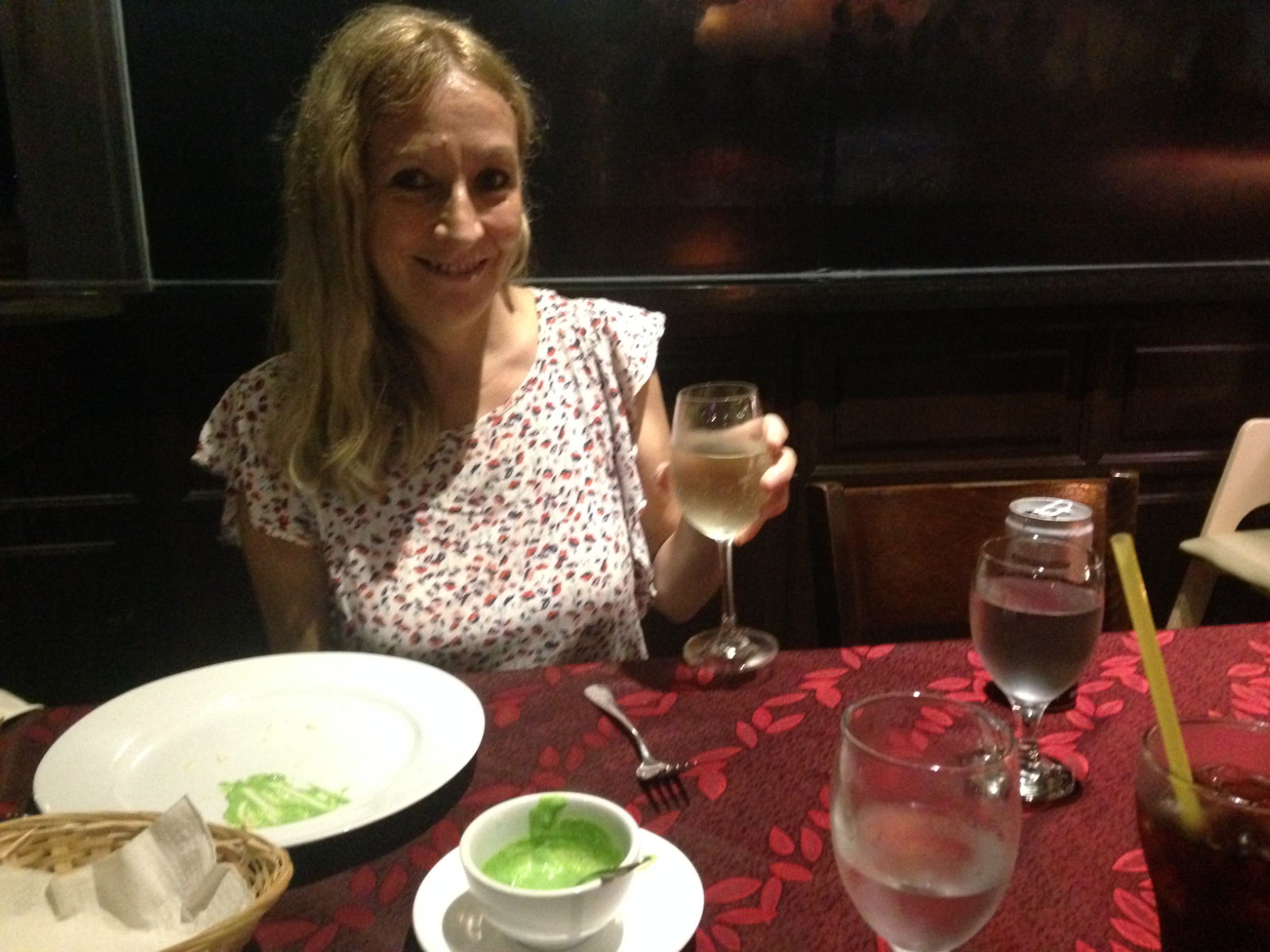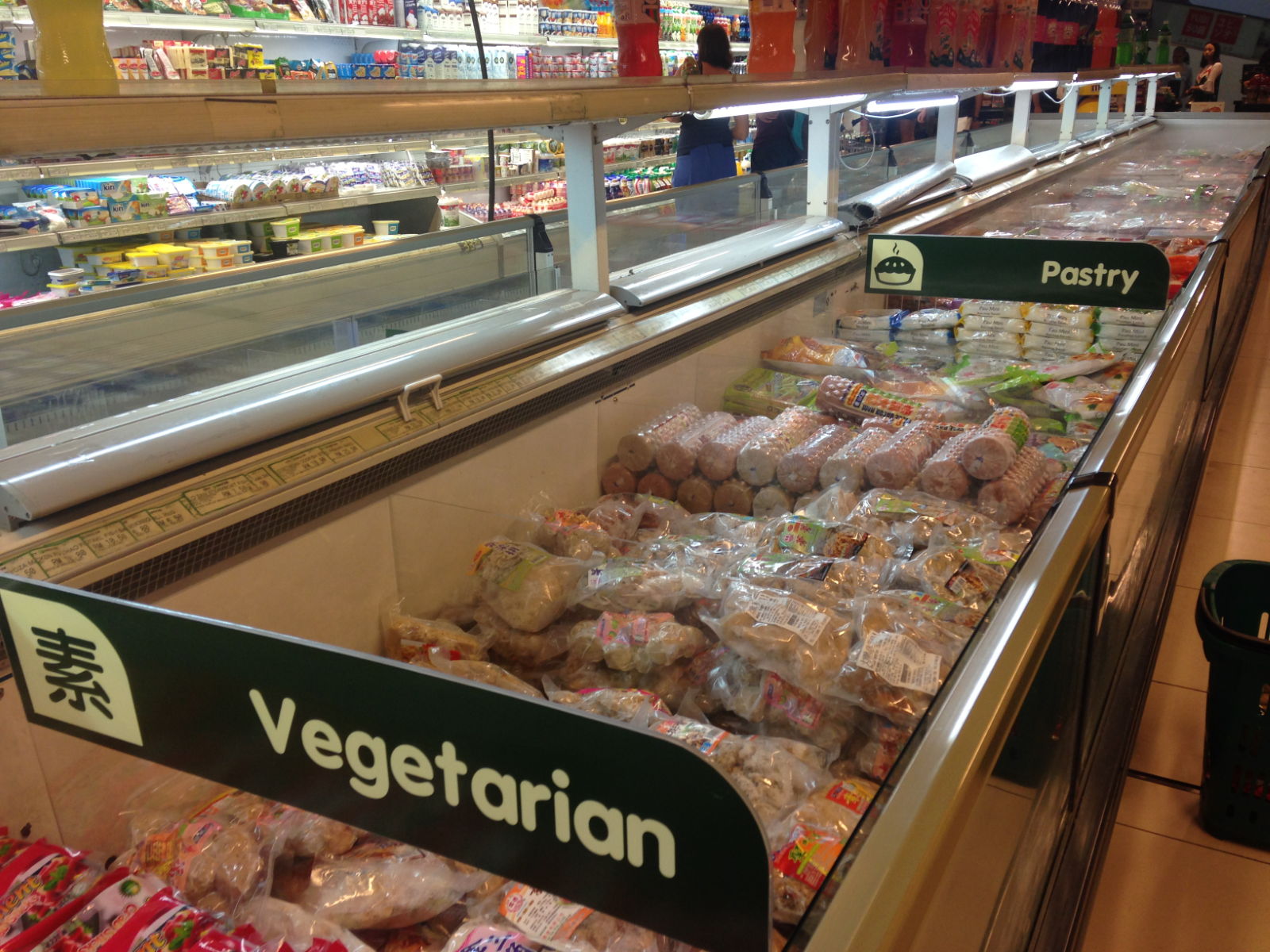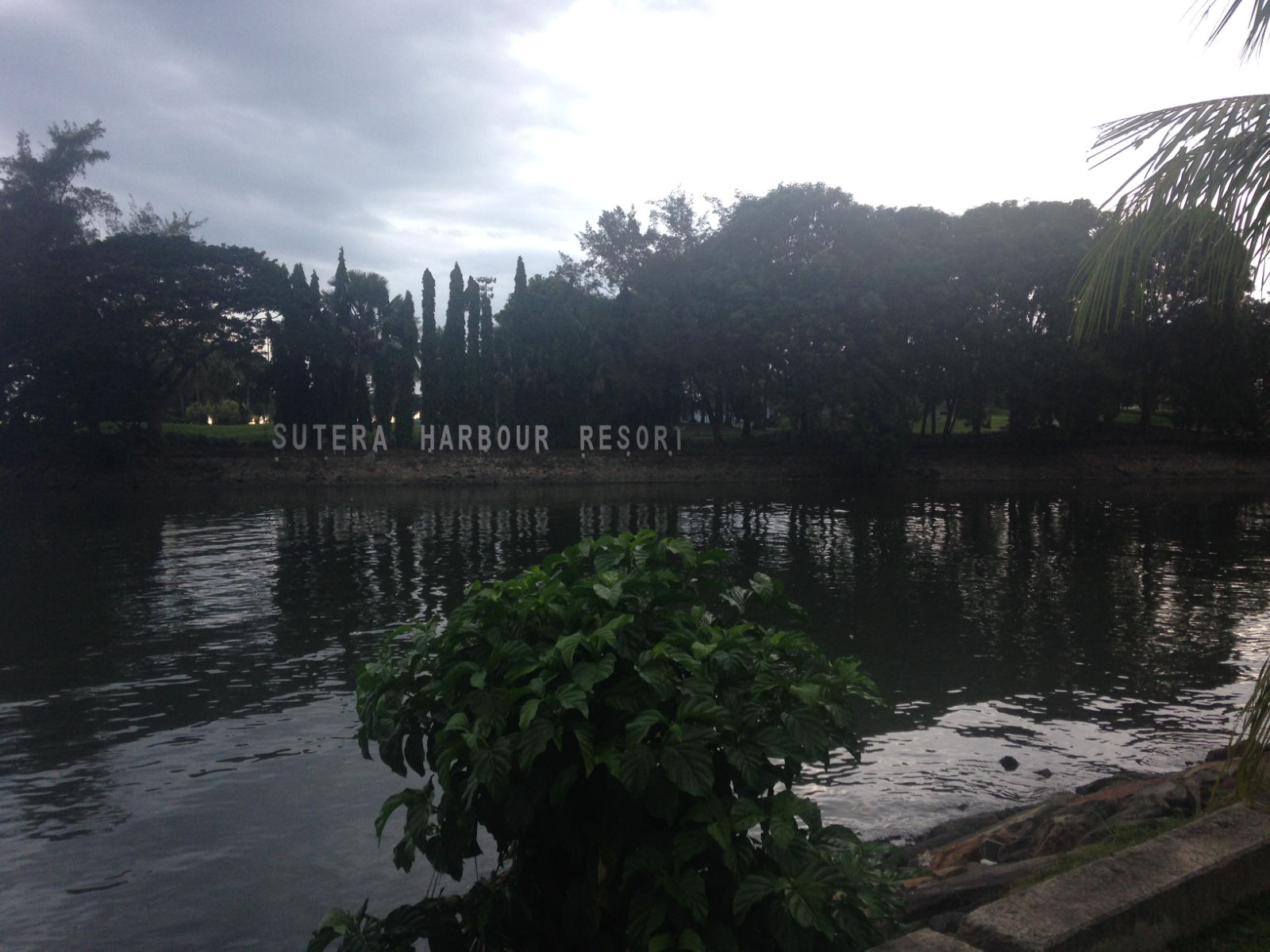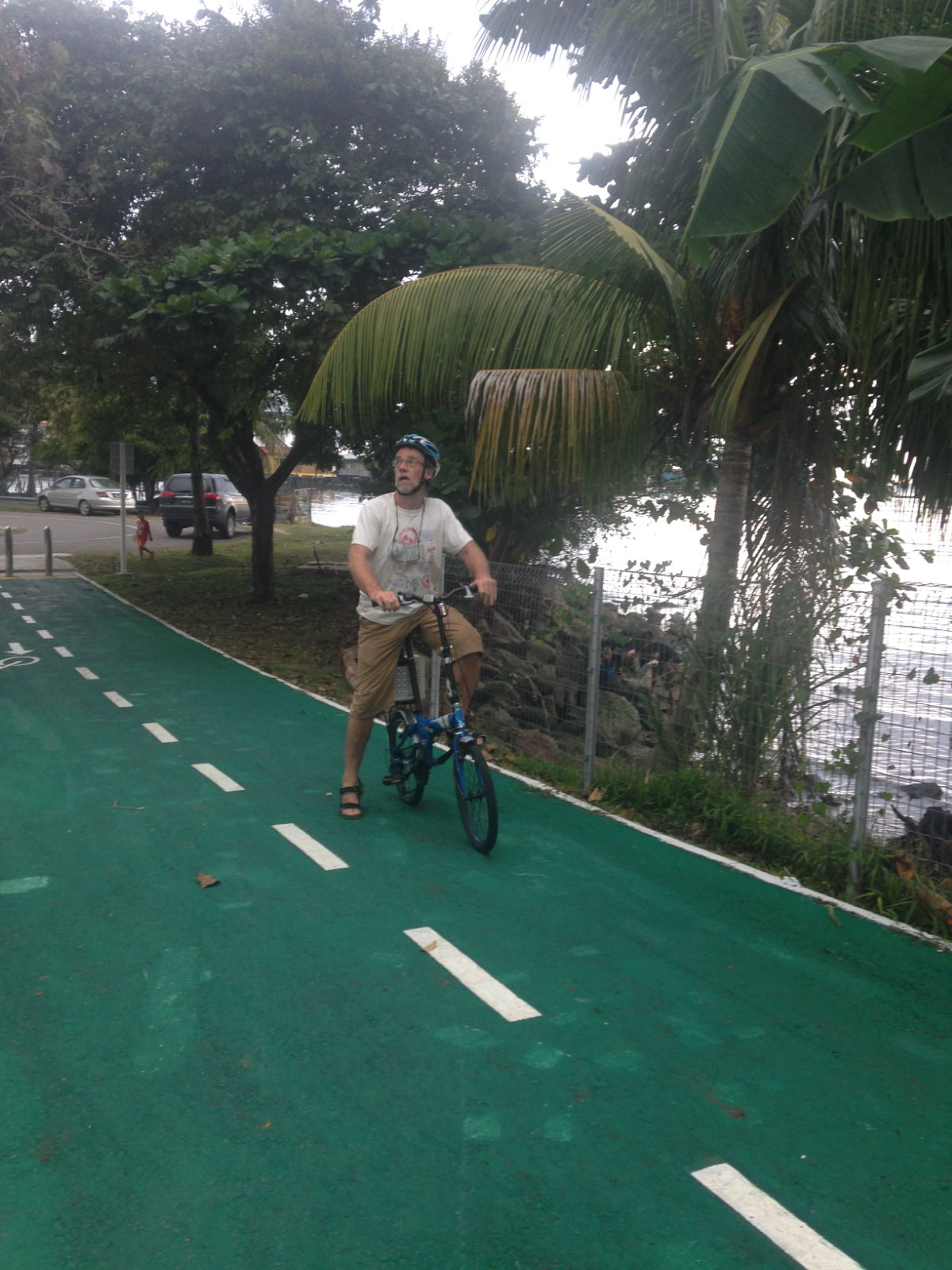 Sabah Museum