I had logistics to sort out yesterday (Thursday), so I spent a few hours writing emails, and researching costs. Tim took on the task of fixing the deck wash, this is a hose on the deck that can be used for various things when we are at sea, such as cleaning the mud off the deck and anchor, as well as getting a shower. It can run from the fresh water tanks or from sea water so there's lots of valves and plumbing involved. Turning the first valve on caused it to break, so a shopping list was started. Tim dismantled all the plumbing and we checked the rest of the system and all looked good
Off down town to search for the bits, which we found in a great shop that sells lots of marine parts, very reasonably priced, but with bronze/brass/steel plumbing fittings, it's always difficult to know what quality you are buying, so I went for the most expensive and fingers crossed it might last.
Off for a lovely Indian buffet then back to the boat to fit all the bits.
Tim finished off the work and now we have a deck wash.
A swim in the pool here finished the day, some Camembert on Tim's home made bread, then a drink at Charlie's bar while we watched poor Wales get beat by England.
Back at the boat, around midnight an almighty lightning storm kicked off, at times the lightening was so bright and sustained it was like daylight all around. All night it rained hard, yet the boat remained dry, except for the portlight in the head, which has a crack in the glass, and dripped a little.
This morning we woke up to rain and it has stayed wet and overcast all day, quite refreshing in a way.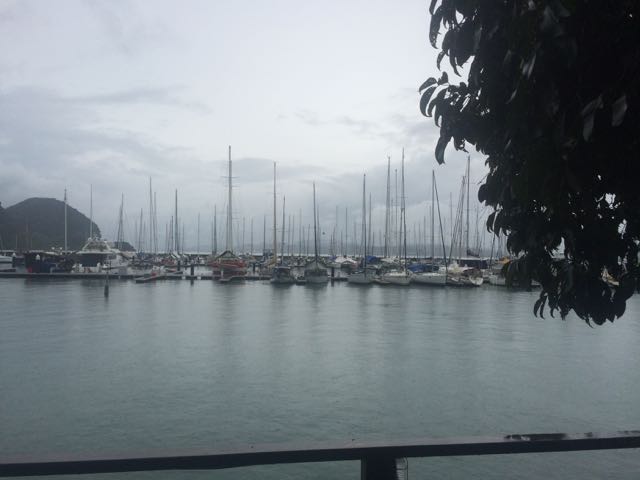 We worked on the fuel and tank gauges, I am trying to understand how big the tanks are, how much fuel we use , and how that relates to the meters. We decided not to go to Rebak today, as they shut for Friday prayers at 3pm, and we would have had to rush to make it in the pouring rain.