Sunday 15th May.
We spent Saturday provisioning for the next month afloat. The plan was to deliver Kathy to an American Airlines flight to Phoenix, departing from Loreto on the 26th May, in 11 days time. I would then spend a couple of weeks slowly making my path back to La Paz, where the boat may well remain in dock until the hurricane season has passed later this year. 
We had a last meal with Arturo at a vegan / veg venue that has nightly music.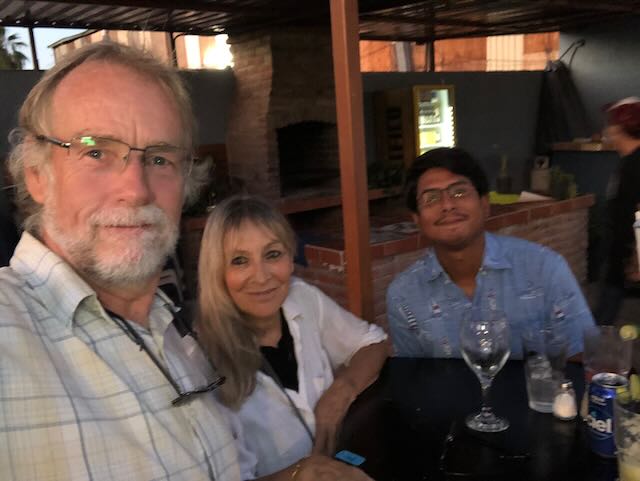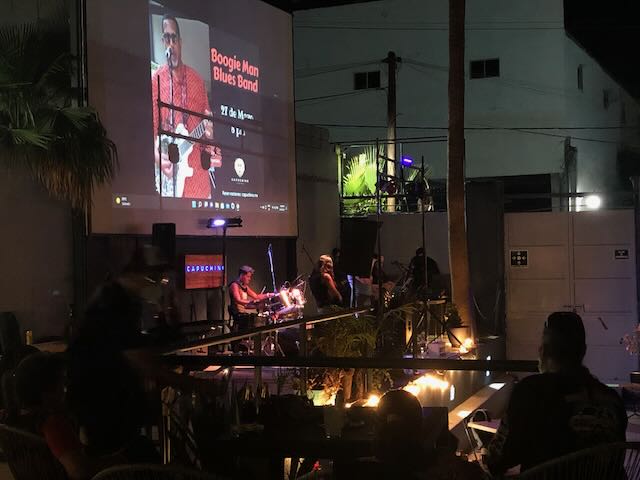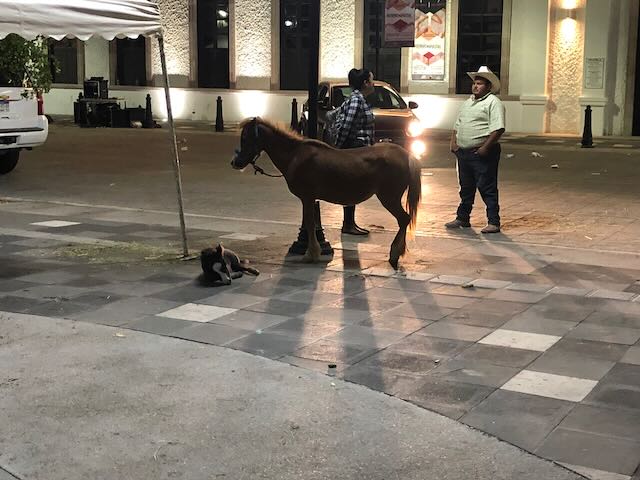 We left around 10:30 on Sunday on slack water and sailed up to Isla Partida, a four hour trip. Two days previous, Carlos had been with his cousin and scrubbed the bottom of the boat, it made a huge difference and we raced along in a light wind doing 5-6 knots. We were soon anchored in our favourite spot at Candeleros enjoying a very calm evening.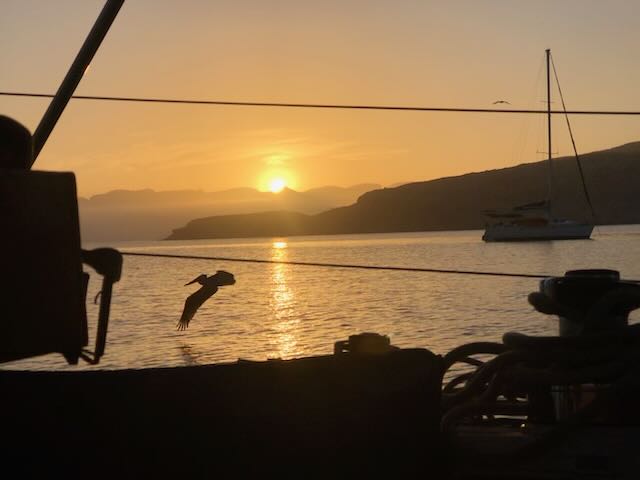 Later that night we watched the Total Eclipse of the moon in its full glory.
Monday 16th
Up early for the 4 hour sail to Isla San Francisco, or Franciscito as it is also known. Again we sailed the whole way in a strong southerly, A walk across the island to the east side for exercise and then I made Guacamole for our dinner.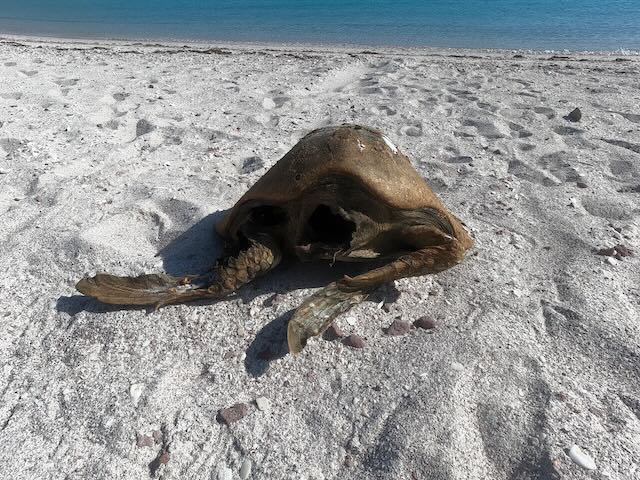 Tuesday 17th
A short hop up the channel between The Baja Peninsula and the island of San José and into the small fishing village of San Everisto. There was a strong southerly still blowing and the waves had been building all night, as we left the protection of the horseshoe bay it hit us full on the beam, the period of the waves had the boat rocking like the pendulum on a grandfather clock, and a lot of crashing noises filtered up to the cockpit from below. Kathy dashed down to protect what she could. On deck everything was fine and I enjoyed the lurching around, after 15 minutes we turned to starboard and put the wind and waves behind us. Out came the sails, off went the engine and we settled into a couple of hours of fast sailing.
Normally we would anchor in a small cove away from the town, but I had been told there was a nice beach restaurant there and I wanted to check it out. The bay has a spit that comes out and to get protection from the swell you have to tuck in behind the spit in quite shallow water. There was already a 45ft yacht there and so we went in front of them anchoring in just 3 metres of water. By the time we had swung with the wind, we were directly in front of them, but with 60m between us, given the short scope of 20m of chain I had out, I had no worries about us hitting them, but they called me on the VHF saying they were concerned. I let them know we were well dug in and I was sure in the lightish winds there was no chance of us dragging, but they were worried that it might be a problem as they were leaving at 5am. I couldn't understand why that would be an issue, but assured them I would listen on CH16 and they could call me when they left if there was a need. As it turned out their anchor chain woke me up and they left without any issue. I'm still confused by the whole thing, as they had a boat that looked setup for sailing around the world, they were quite elderly, and I presume very experienced, so what was the problem? I worried if I might get like that in ten years time.
We went ashore and I immediately recognised the restaurant as one that Jim and I visited over 2 years ago. We had drinks and promised to return for food, which we didn't. Jim and I bought a Parga fish here from the neighbour who I recall had a very cute toddler granddaughter who was amused by us gringos.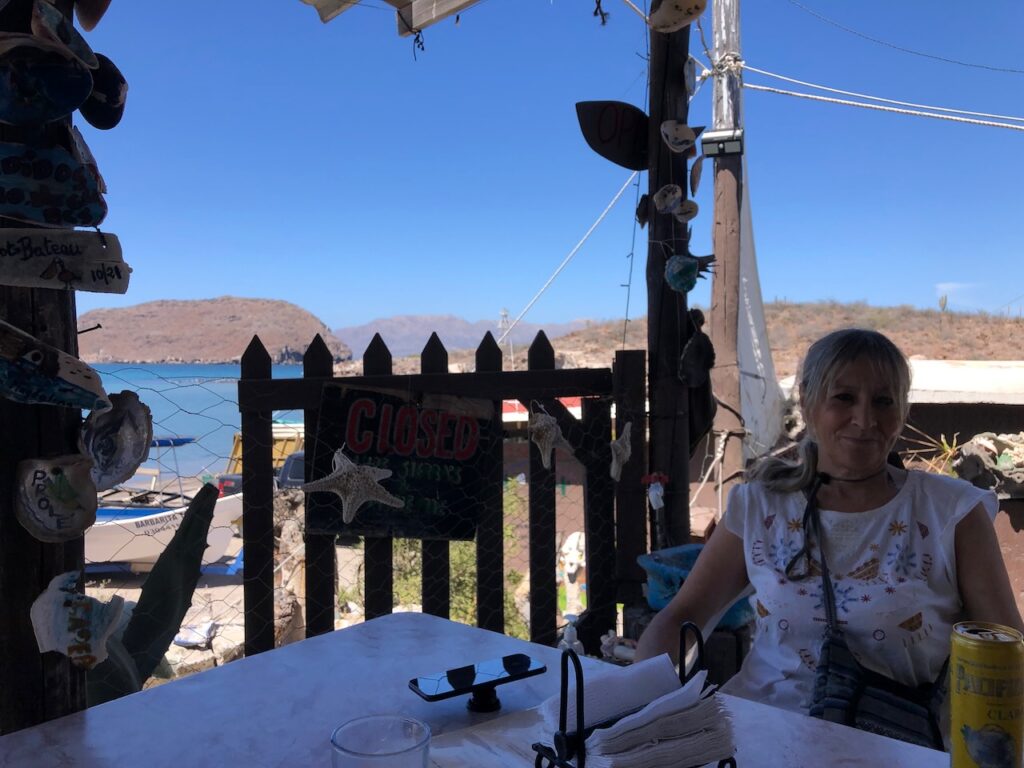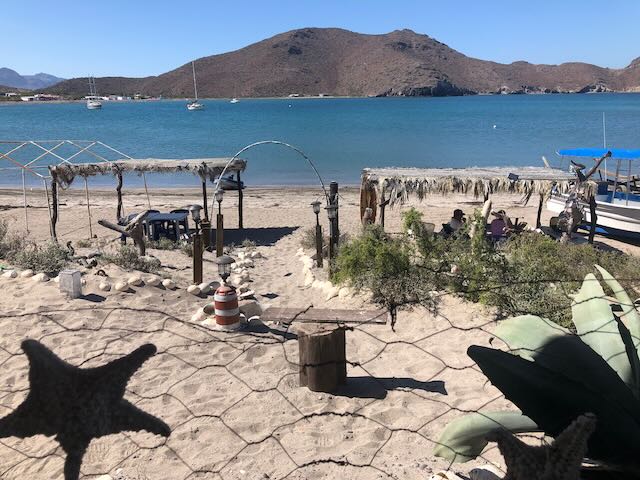 Wednesday 18th
The next leg is always tricky, going north from San Everisto, up through the San Jose channel, there isn't anywhere to stop out of the waves for the night, unless it's a northerly or westerly wind, any southern component in the wind will cause waves to build through the channel and creep into most anchorages, the nearest safe place is Agua Verde, but that's 8 or more hours to the north. However the southerlies were still blowing strong and so at 9:30am with the sails up we left and were making great progress. I could tell that the anchorages en route would be too rough so we settled into a long ride to Agua Verde, arriving at 19:30 to find a crowded bay. There must have been about 15 yachts and a few motor boats there. But it's a big space and we found a nice spot near the beach and anchored in 4 metres of water. We would spend the next 4 nights here.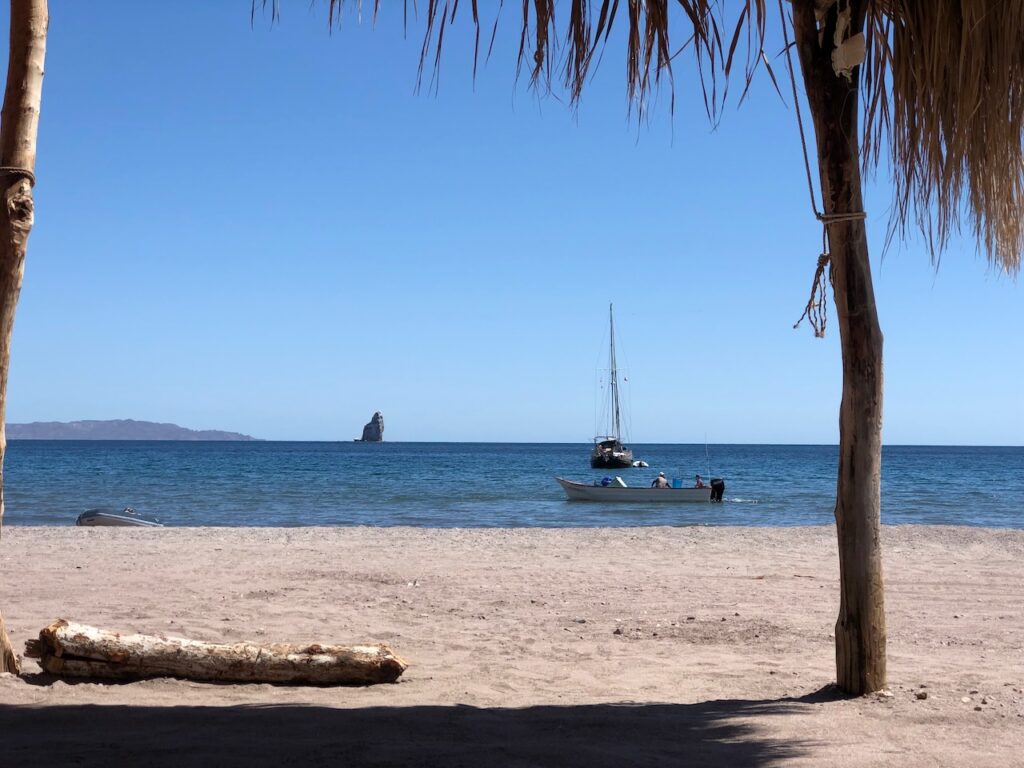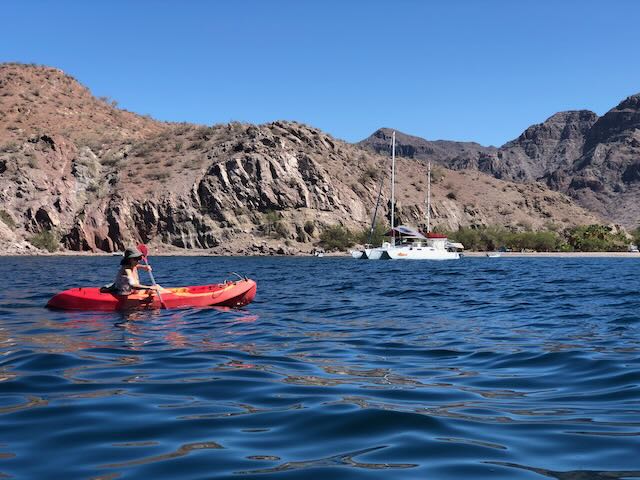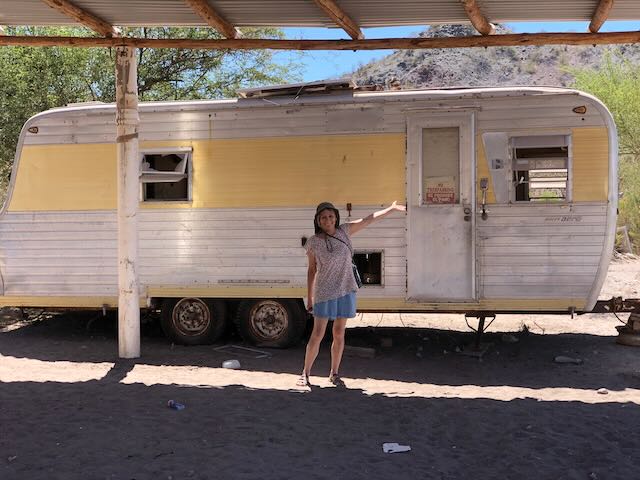 Monday 23rd May
We left Agua Verde at 10 am, heading north we had many options and I wanted to see how the wind played out as we sailed up towards Loreto. Had the sea been rough, we would have gone into Puerto Escondido, taken a mooring ball, and ordered a Taxi for Thursday to get Kathy to the Airport, however the sea was very calm. The winds had dropped off a lot, and although southerly still, were generally around 5 knots in the daytime, picking up in the evening. We also had 4g on our phones now and I could get decent weather forecasts showing very calm days ahead. Basically it looked like we could anchor anywhere now and be fine. So we went to Juncalito, a small strip of beach with some fishing shacks and a row of gringo houses/trailer truck huts. It seemed lovely until we heard some Mexican Banda music, followed by some very rude US Rap songs blasting from the beach.Several groups had setup there for a days outing and had brought along a PA system that would be better suited to Glastonbury than here.  I wonder if it's because they don't quite speak English well enough to get the lyrics that they let their children dance to this stuff, Even I was blushing, I'm not even sure it's legal what the Rapper was suggesting! Fortunately as the sun set, they departed and left us to enjoy a quiet evening.
Tuesday 24th 
We left early for the Coronados, an island and islet just a few miles north of Loreto, where we will enjoy a day before Kathy's flight is due.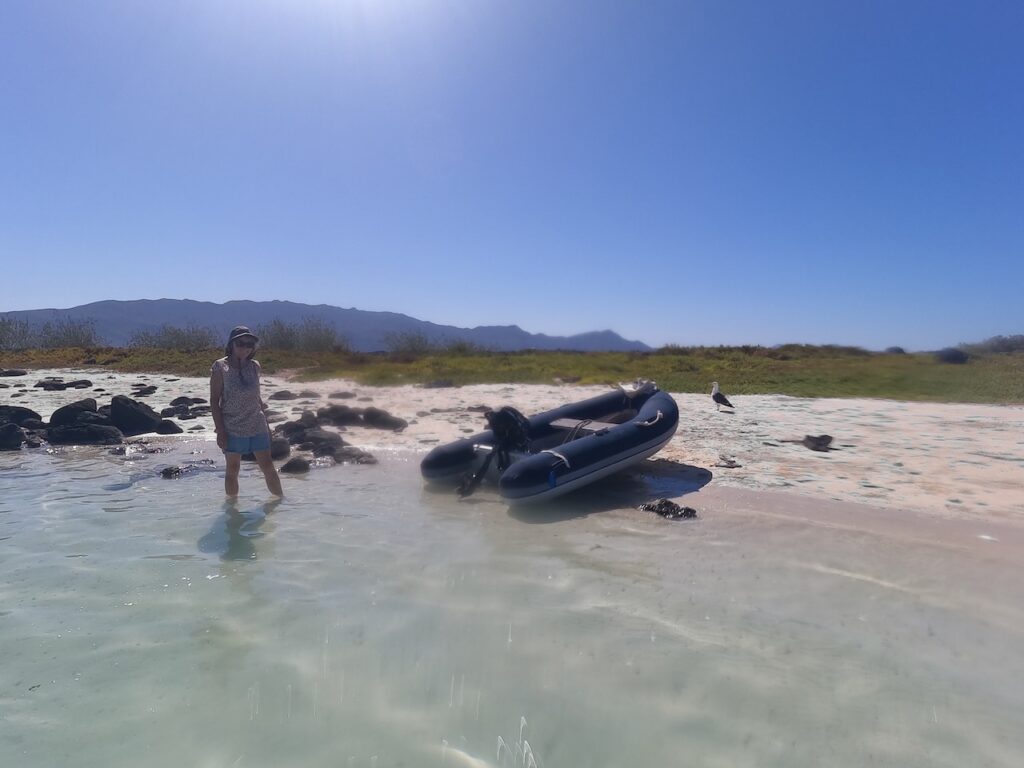 Wednesday 25th
A great day walking the beach, snorkelling and relaxing. Today is Kathy's last time here, I doubt she will visit these islands again, but who knows what BA 25.1 or CC 22 might bring.
In the morning we sail down to Loreto, anchor and then go ashore so Kathy can get a Covid Test, required before flying into the USA, in the evening we go back ashore for a farewell meal at 'Mi Loreto', where Kathy can enjoy a Mexican Vegan meal.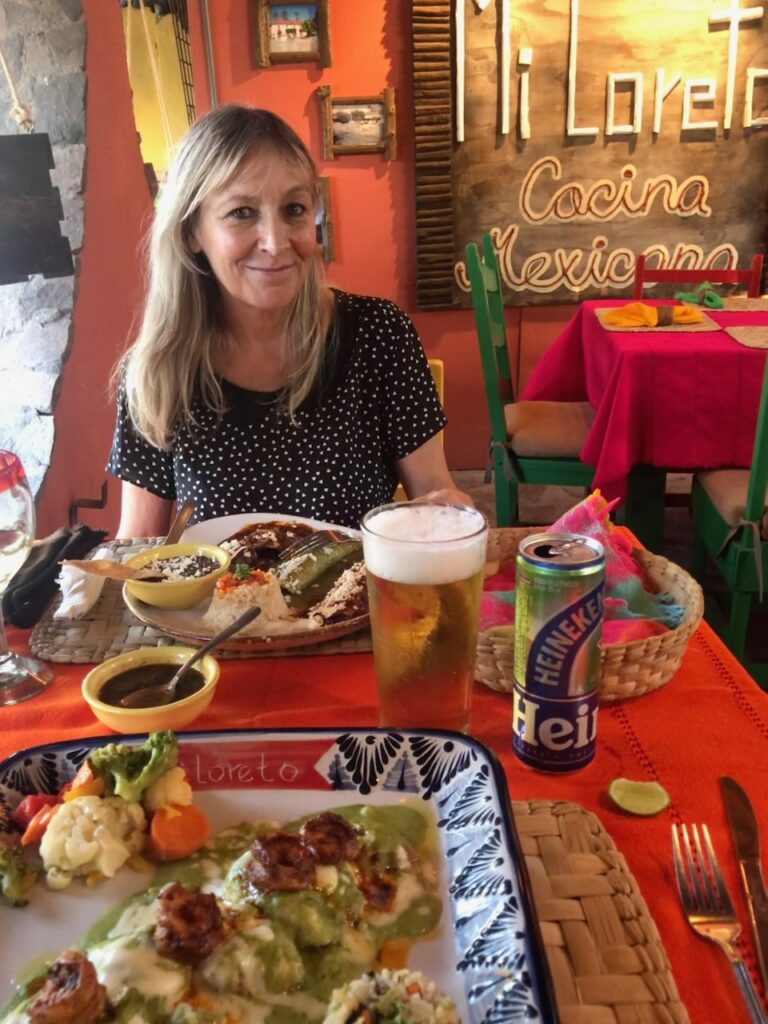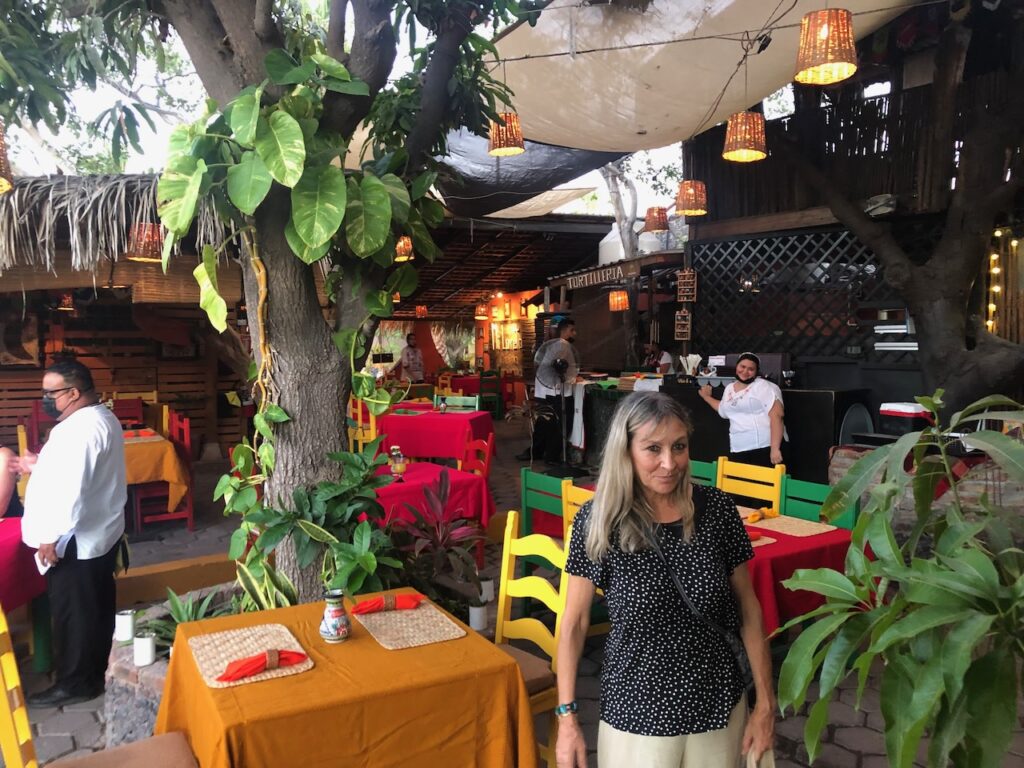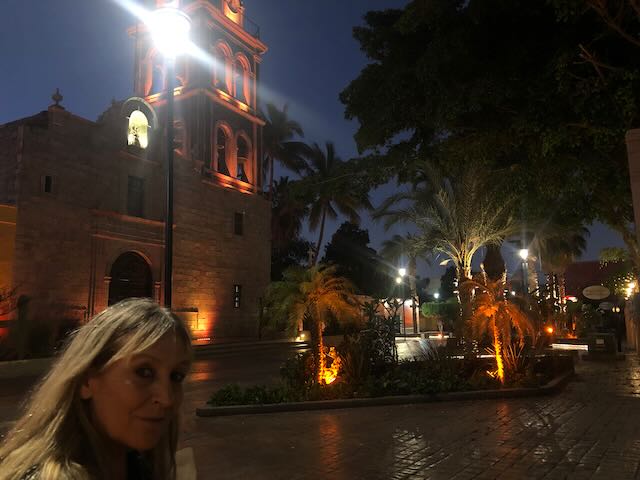 Thursday 26th
Up early and we lug Kathy's 23 kg of potatoes, biscuits, stale bread and kitchen tiles into the dinghy. In no time at all we are in a taxi on the way to the airport. Kathy Checks in, and has a 2 hour wait for her flight, I get a taxi back to the supermarket, provision up for a few days and head for the dinghy, only to be accosted by the API (port Manager) that I need to visit the Port capitanía in his office up the road with all my papers. Something I haven't ever had to do here before, I'm a bit miffed, but I shouldn't be, I really should have checked in when we arrived. Normally this is done for me when I go into the marina here at Escondido. So I dinghy out to the boat, get my papers and head back to the office to join a queue of other sailors in the same boat, well not literally, but all queued up outside the capitania's office. When I do get in it seems I am missing a paper, the original entry clearance into Mexico from 2 years ago. He is not very happy with me for not having it and I explain it must be on the boat but it's not in my folder because I have never been asked for it, he says he must see it, or he can clear me in for a fee. I explain that I will return with it, he again asks why I don't have it with me and I can pay the fee, I explain that in Cabo San Lucas, La Paz, Santa Rosalia, Guaymas, San Carlos and Mazatlan, I have never been asked for it, this makes him more abrupt with me. I explain that I can bring it in on Monday when I clear out and he is happy.
I leave feeling like I can't deal with authority anymore, and wonder if my hobo life on the waves is going to make it difficult to reintegrate with land based officialdom, I'm already getting stick from banks and the like wanting to know if I'm still a British resident!.
Back on the boat I quickly find the form, and then file it away, haul anchor and head back to the Coronados. Ten minutes into my trip I see Kathy's flight take off, it's heading right over me but with her side looking down, so she will have a perfect shot of Sister Midnight, putting along, dinghy in tow sailing up the Sea of Cortez, I bet she doesn't have her camera ready. As it turns out, I'm right on both counts.
I do accidently record a ray while snorkeling here. It has amazing markings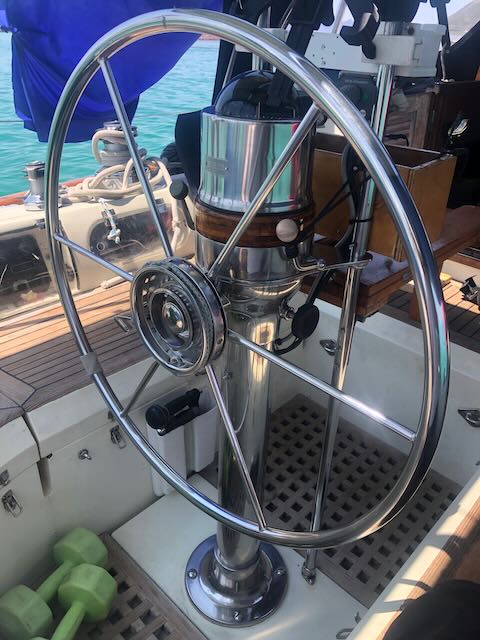 Soon I'm anchored and snorkelling with the rays and sergeant majors. Kathy is starting her long trip home.
Friday – Monday 30th
I spend a few days just chilling in the Coronados, internet is good here, but on the Monday it's time to start heading south. I stop off at Loreto, provide the required paperwork to a smiley friendly capitanía, buy some fresh fruit and sail onto Agua Verde for more chilling. I bump into a few hundred dolphins out lunching on the way, they don't mess when they go out to eat as a group, almost feel sorry for the small fish.  
There's only a few of us here in AV now, 3 sailboats by Wednesday, I buy some of the local goats cheese, but I'm reminded of the comment in the Navionics app from a guy who spent two days here violently sick, blaming it on food poisoning after eating said cheese. Not sure that should be in a nautical guide, especially when there's little mention of the huge rock in the middle of the bay.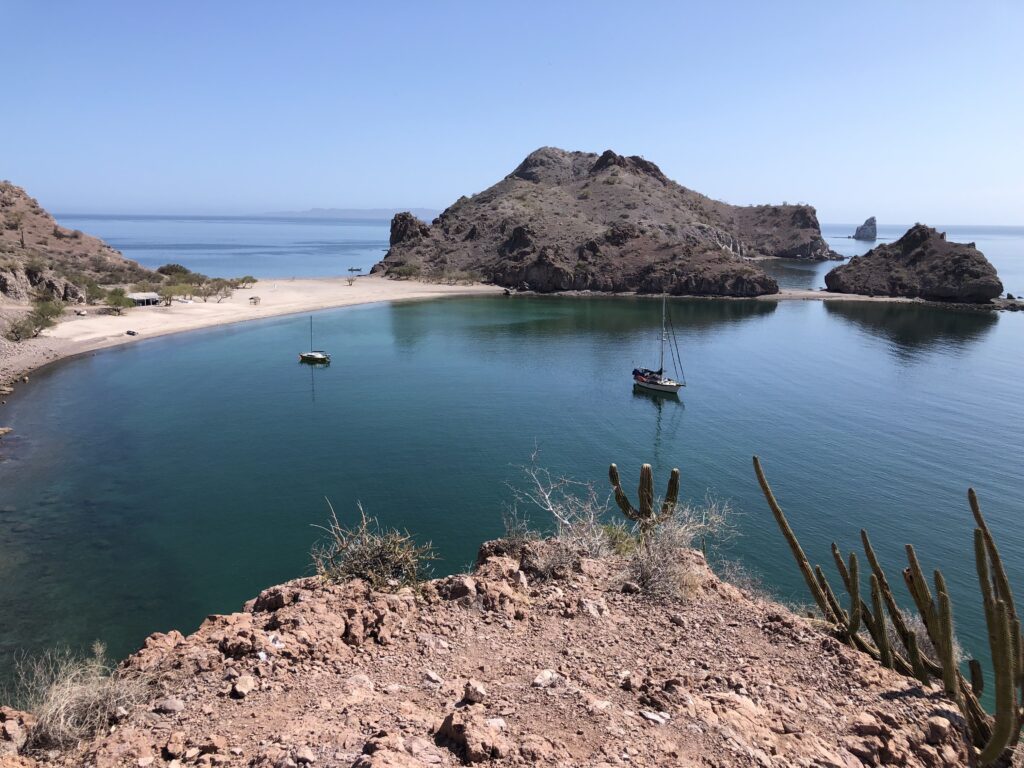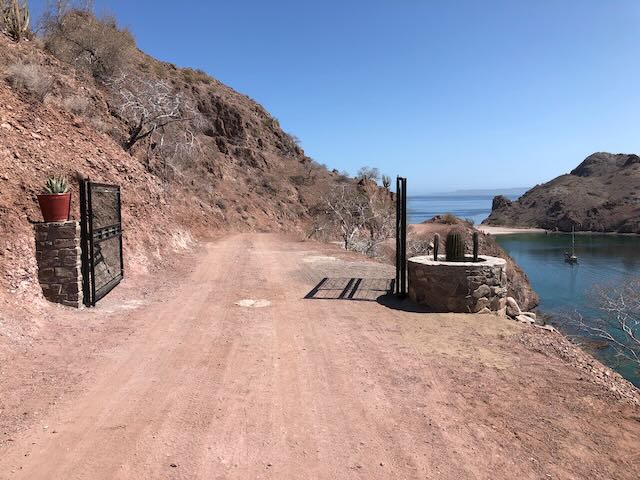 Sunday 5th June
It seems I have spent 6 days in Agua Verde, The southerly winds are staying strong, not massive at 10-15 knots, but it means a lot of motoring to get south, after 7 days I opt for the first day when they drop to just 10 knots and head out at 7am when it's flat calm. Once out in the main sea, the wind gradually picks up and by 2pm it's blowing over 15 knots with fairly big waves, causing the bowsprit to dip into the water occasionally. I push on anyway, as it's not worth tuning back and waiting another week or more, I'm going to burn a lot of fuel, but it's ok given I got the northbound trip for free on the same winds.
At the last minute I decide to turn into the protected bay on the Northside of San Everisto for the night. I'm all alone here and it's very sheltered and peaceful. An early start and I should be in Isla Partida, just one hop from La Paz by tomorrow afternoon.
Monday 6th June
I head into Bahia Candeleros, as we did on the way up, I have the place to myself as a strong westerly wind is due and there will be waves. I'm not fussed, but the boat does end up bouncing around in the night, but all is good and I still get a good night's sleep. I manage to film a Mobula ray jumping out the water after I kayak over to a group of them and follow them around the bay.
Tuesday I head back to La Paz, anchor overnight so I can get the morning low water / slack tide the next day and on Wednesday at 11 am I'm back in the marina in my usual spot.
It's been a good trip, and now Kathy has left I can start doing the bigger messy jobs around the main cabin. But first I need to book my flights home for September, and also organise Visas for the USA and Mexico, more on that next time.
Paul Collister
16th June 2022