Had a nice lie in today before tackling the new AIS antenna, I had to route the antenna cable through the boat to the chart table. This is not as easy as it sounds, and involves clearing out the quarter berth and also the stern lockers, and quite a bit of crawling around in confined spaces. Thankfully the job is done, but I'm unable to check it works here as there are no AIS stations collecting the data and putting it onto the net. This won't be a problem once we travel a bit. I can see enough of the other boats in the area to make me think all is fine.
The old anchor sits on the pontoon waiting for me to find a new home for it.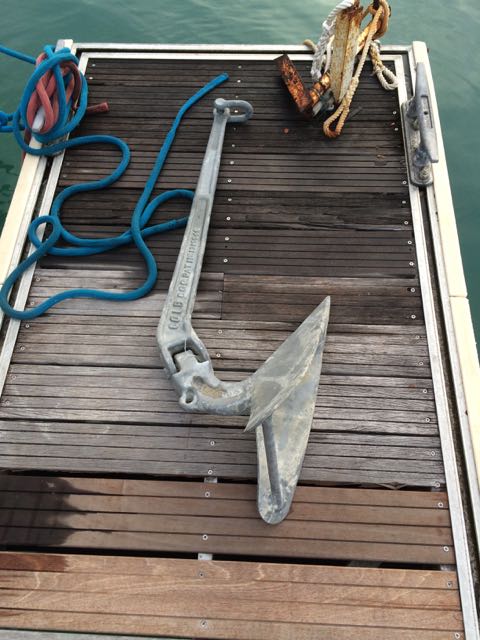 I'm thinking of putting it in the bottom of the stern locker, keeping the weight low is best, however it's hard work to get into that space, and when I next need the anchor, it will be in a storm situation and probably not the best time to be emptying out lockers and hauling a huge weight around. I hadn't appreciated how big it was until I had to manhandle it.
We are still spending lots of time stowing stuff away, Kathy has been re-arranging the galley, I have been assigned lockers on the port side of the v-berth, I have two lockers in which to keep all my clothes for the next 4 years, so that's the first locker sorted, not sure what to keep in the other one 😉
Last night we saw a gang of monkeys traversing along some overhead power cables, I was hoping Kathy would be impressed by seeing some monkeys here, I had no idea they had planned such a turnout to welcome her. I have a bit of video below.
So todays work stopped us getting out, hopefully tomorrow we can go for a motor/sail around the islands.
Paul C.