It's Saturday afternoon and we are on the arrivals pontoon in Batu Uban, on the Island of Penang, back where I started this adventure with wanderlust back in January.
We decided to leave Langkawi on Thursday as the weather was predicted to be rubbish for a week or so, slightly better to the south, and as we had planned on doing sightseeing in Langkawi, it seemed more logical to get down to Penang and enjoy the festival here then head back to Langkawi when the weather improved.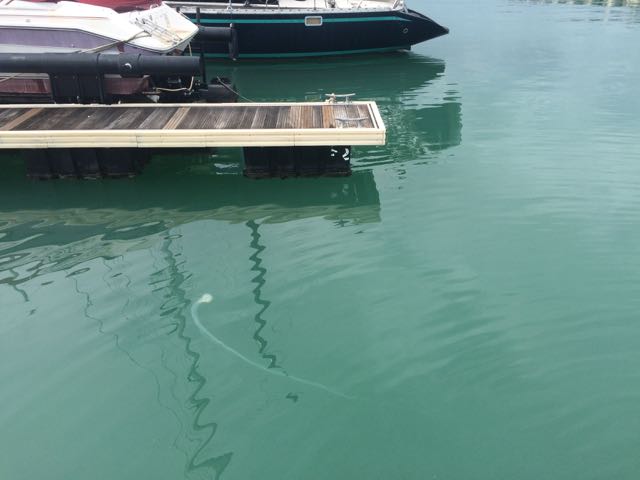 So yesterday we paid our bills and headed south, it's a long slog (12+ hours) to do the journey in one go, especially as it's risky sailing at night here, the risk of collision with a fishing boat/net is high as they tend not to be lit. So we broke the trip up by spending the night at anchor behind the island of SonSong. This is a lovely little spot, but before we could get there we had to deal with some big squalls, the worst occurred just as we were approaching another island called Pulau Paya, I could see it approaching, and with the help of the radar and a little bit of trigonometry I calculated that by dropping our speed to 3 knots it would pass ahead of us, which it did, which was nice. We still got soaked and rocked around a lot, but missed the worst of it. In case you don't know, a squall is like a mini thunderstorm, you see them on the horizon as an ominous large black cloud, getting darker and bigger as it approaches. Once it gets near, the sea whips up and the rain chucks it down, and there is a very strong wind, sometimes 30-50 knots. Visibility is also very poor. They can take 30 minutes to a couple of hours to pass depending on the bigger weather picture. Most of the squalls come from the SW during this monsoon season, so we anchored on the North East side of the island at Palua Songsong.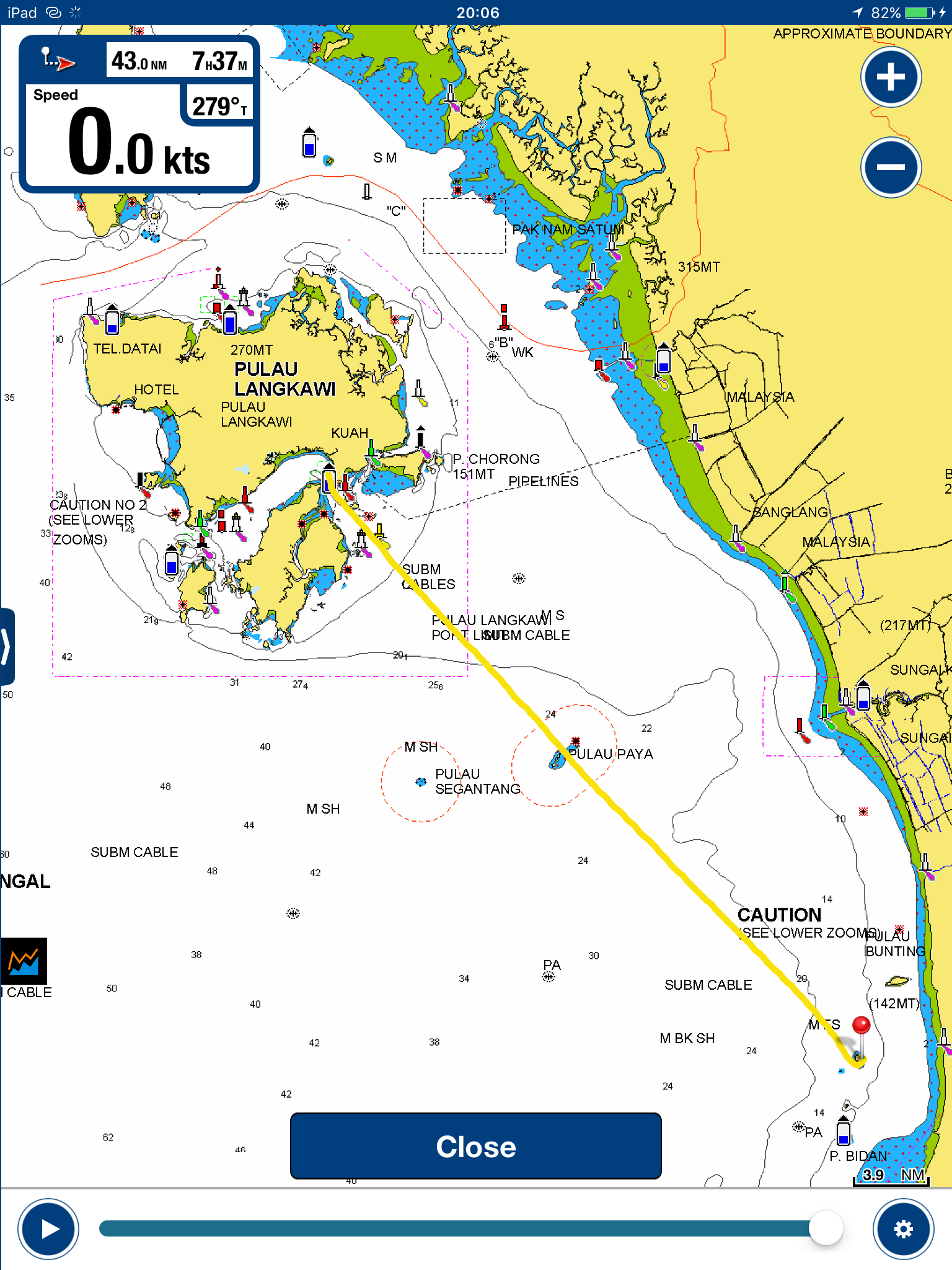 It was a very pleasant evening, not too hot, the monsoon wind kept us cool on the boat and Kathy cooked up a lovely pasta dish for dinner.
I slept in the cockpit, we had all the windows open and the boat was lovely and fresh. Accuweather had predicted 70-80% chance of rain during the night with their prediction peaking around 2AM, which is exactly when the rain came. I was in the cockpit, and was woken by a strange sound getting louder, it was in fact heavy rain falling on the sea, and approaching, by the change in volume I could tell it would be big, and soon. I chucked my pillow and sheet down the hatch, jumped in and sprinted around the boat shutting portlights, by the time I reached the front of the cabin where Kathy was just waking, she had been drenched by rain pouring into the boat. within minutes we had the boat watertight again, and Kathy was back asleep. I couldn't sleep, I was expecting wind to arrive with the rain, and we were very close to the shore. Also this was my first time I had used the new Spade anchor in any kind of real test, so I was worried if we had a problem we could be blown onto the beach. I was also curious as to how this would play out, I ended up watching the rain and wind from the cockpit until 4AM when I fell asleep in the rain. By morning things had improved, but it was still wet and windy. At 9AM the wind started to pick up and was now from the East, so I decided we should leave as we were now on a lee shore, meaning we were being blown towards the beach and if the anchor gave we might have problems.
Just as we got the anchor up I noticed a few fishing boats racing directly towards us, I did wonder why, one of them almost hit us, the other close behind, and I was still bringing the anchor on board, they waved and smiled but I didn't understand what they were saying, which was a shame. We waved and headed off. We had just cleared the island when I realised that they had all been heading to our spot to take shelter from one mother fecker of a squall that was hidden from us, but heading up from the other side of the island, and I had just motored right into it. This was at least as bad as any Force 8 I had been in, thankfully we had no sails up at this point. I managed to swing the bow around and head back to the anchorage, where I waited for 30 minutes to let the worst of it pass. After that we headed onto Penang, but more squalls came and went, we were in poor vis, rain and rough seas for the next 3 hours. At least the boat held up well. I got a headsail, the Staysail, up and that pushed us along at about 6 knots, The Radar helped me see more squalls, but the AIS is of limited use around here as many commercial ships don't seem to use it.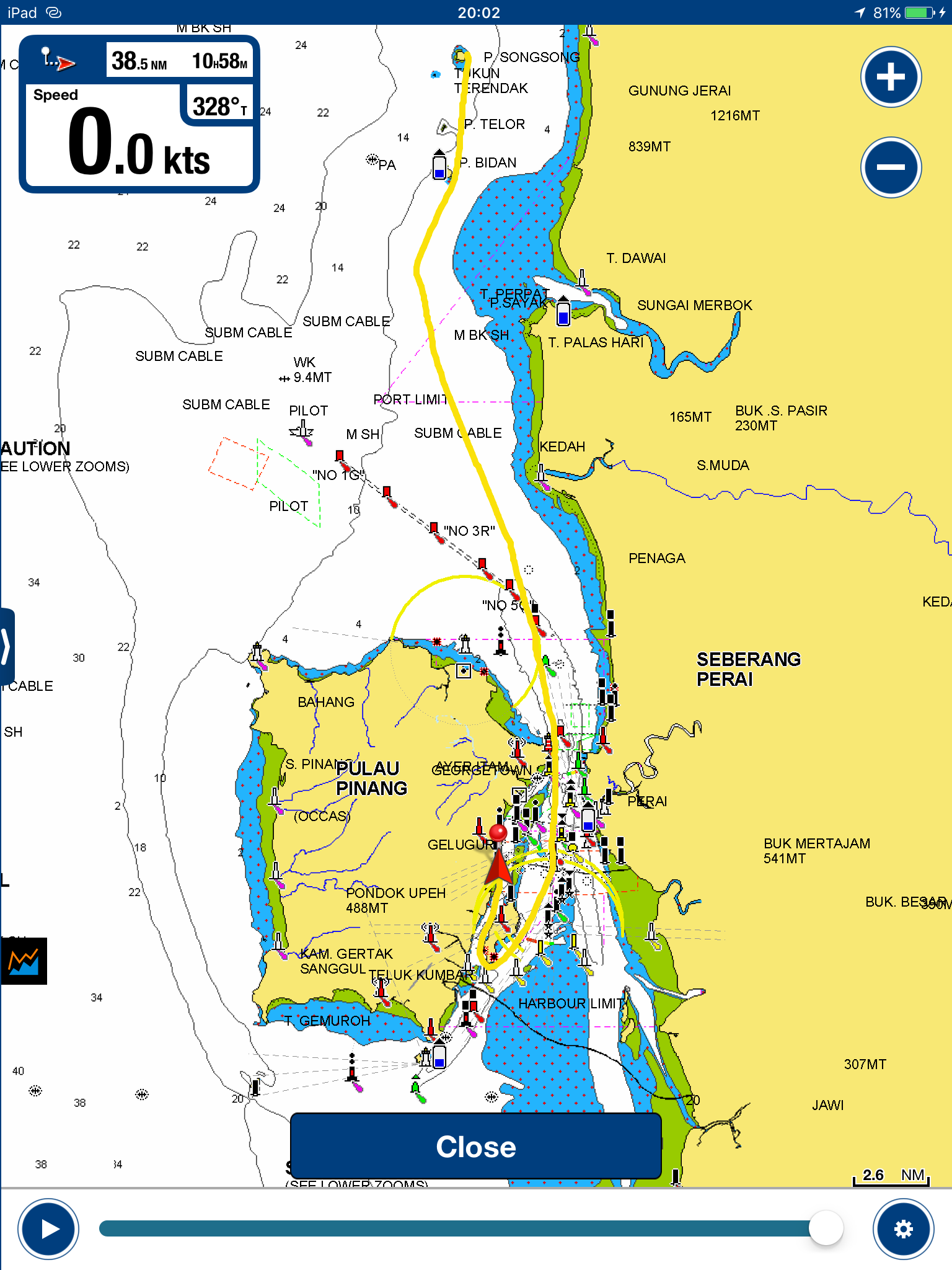 As we approached Penang the squalls abated and the sea calmed, by the time we went through the old bridge it was turning into a lovely day, hard to reconcile the hot air, blinding sun with the soaking wet oilies and clothes scattered around the cockpit.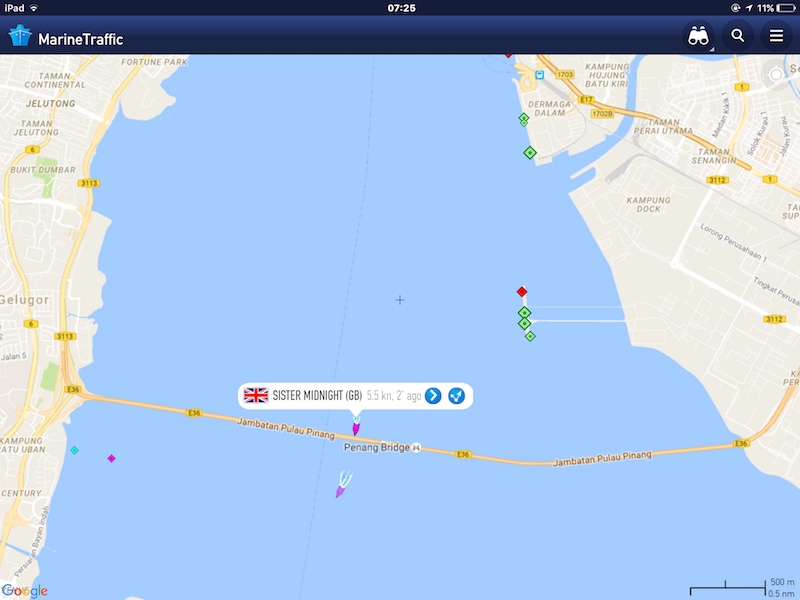 Just a word on AIS, if you are following us on AIS you need to be aware that AIS wasn't designed for the internet, it's really a ship to ship safety thing, so ships broadcast to each other beacon signals and it's just like radar, but with more information like GPS Position, name, callsign, speed, course, and some physical boat details. Coast guards and harbour masters also use AIS to monitor shipping, and actually can generate fake AIS signals to simulate hazards for ships to be aware of.
We have the cheapo version AIS-B, which doesn't give destination, or whether we are anchored/steaming etc.
Also the Internet sites like "Marine Traffic" and "vessel finder" don't have many listening stations, if any. They rely on feeds from people who have setup AIS receivers and connected them to the internet, these are mostly hobbyists, or universities and consequently coverage can be scratchy. I think there are two different sources of AIS data for the internet in Penang, one of them can't see me in Batu Uban, but the other can. There are sites like AISHub who merge data from various reporting sites / organisations and then syndicate it back to them
The main point here is that if you don't see me on AIS then don't be alarmed, it just means Im not in an area monitored by an AIS internet connected receiver (or possibly we have sunk, in which case you can be alarmed). I would expect when we hit the Pacific, you may not see another AIS signal from me again, other than the fake ones I can generate from my iPhone when I have a signal.
Tomorrow we go hunting for a berth with electricity and move the boat there, before we head off into town for Kathy to experience the joys of Penang.
Paul C.