All tied up in Puteri harbour, just a short swim from Singapore, after an uneventful motor from last nights anchorage.  Below is one of the many big ship anchorages around here, theres about 30 big tankers or container ships there, and there's quite a few similar anchorages around here.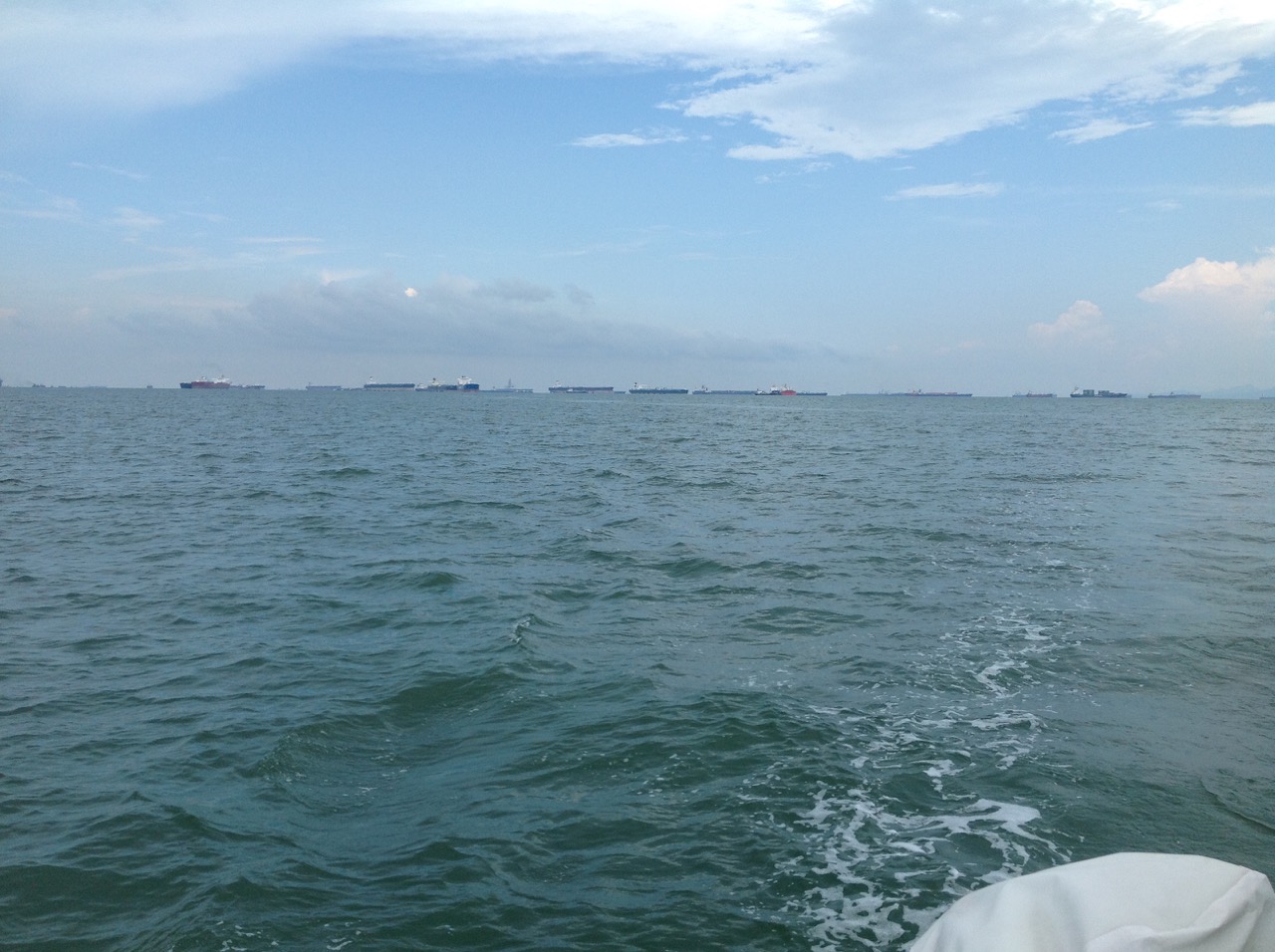 I was expecting to see skyscrapers rising into the heavens as I approached, a bit like I expect motoring up the Hudson or the East river to be like, but no, nothing, fields and forests is all I can see on Singapore. Other than the massive docks I passed. Also there is a bit of smog here, they do suffer terribly from the burning of forestry in Indonesia at this time of year I believe
I have wifi now, so I have been able to upload yesterdays pictures at last, the main ones being the openCPN screenshots, I have a problem with not getting the correct Course data into it, so my little boat is sitting there pointing North, and travelling SE sideways, most ungraceful.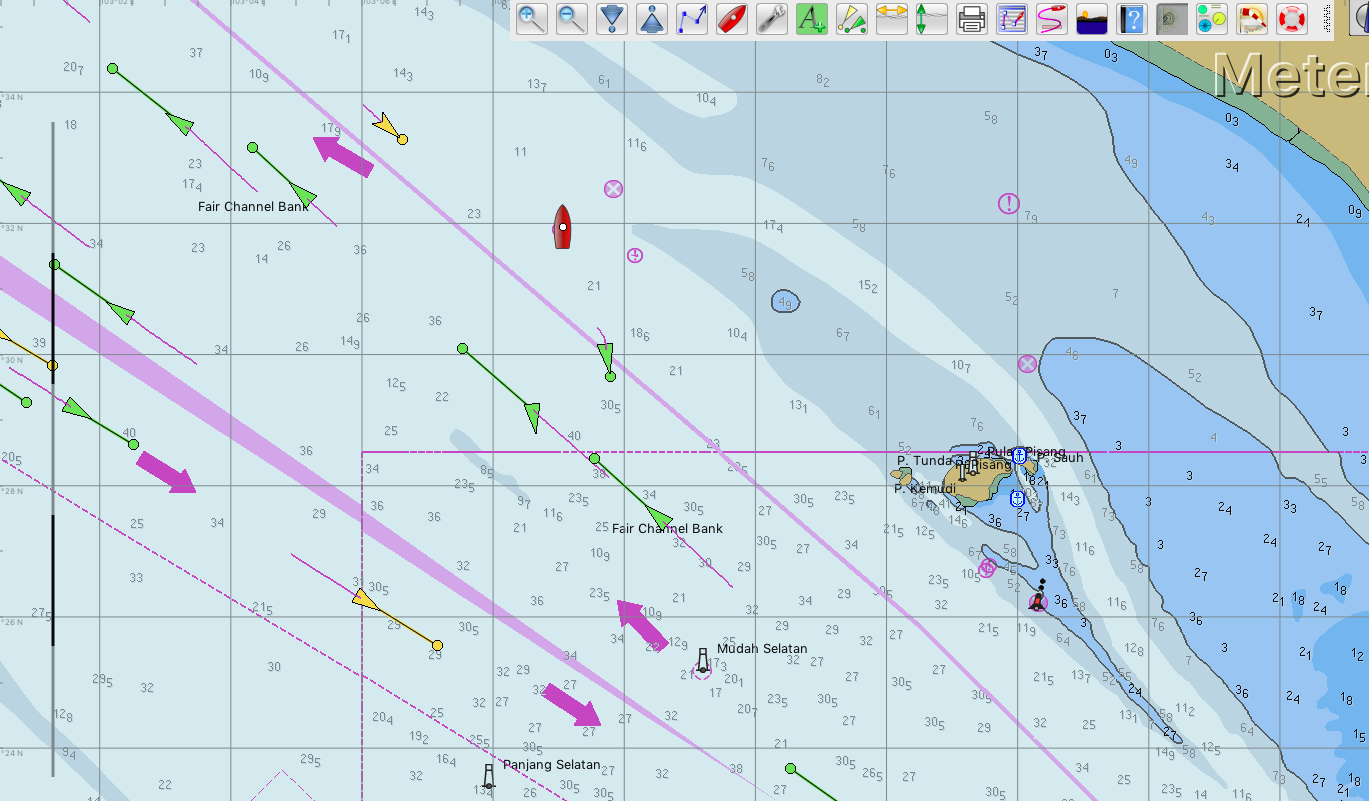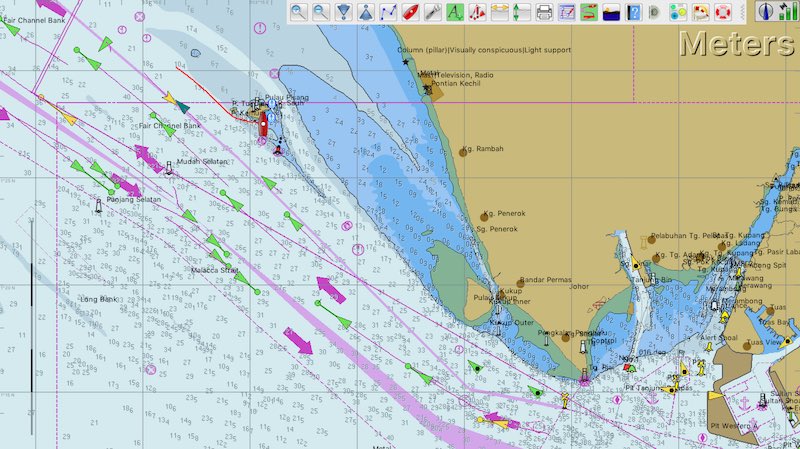 The above pictures shows the ships passing up and down the straits, Singapore is in the bottom right of the pic, and the Johor straight, which is where I am is running NNE around the back of the island. The AIS data plotted on the chart was fantastic for getting past the dock entrances, I could see and work out who was going to hit me really easily, one ship was heading through the anchorage right at me, but I held my course as I was only in 5 metres of water, and there was nowhere ahead of me for him to go, he was a huge container ship, so I figured he would turn before he hit me. He actually stopped and dropped anchor. I remember being told, as a kid, that the really big tankers need a day to slow down, I don't believe it, this guy went from 15 knots to stationary in a few minutes.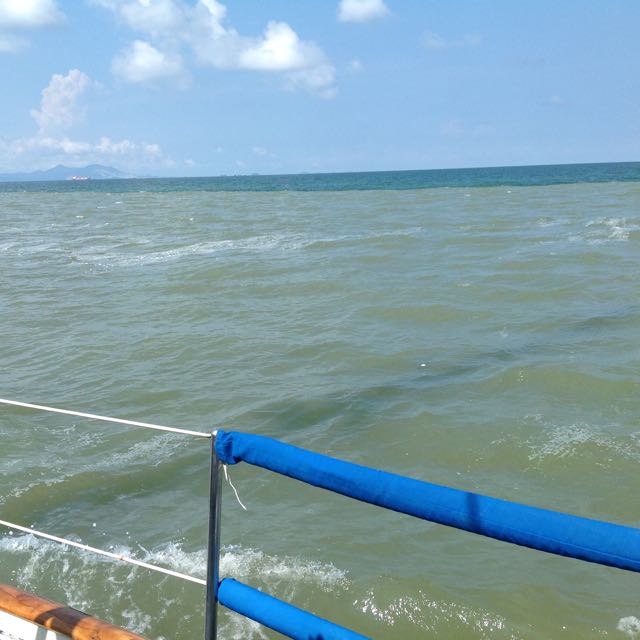 The above picture confused me, the sea changing colour so distinctly, immediately has me checking the depth sounder, but there's no difference in depth between the clear and muddy water. must be currents or something.
On the way down I snapped this tug (no pun intended), in fact we were on a collision course, but I worked out we would just miss, which we did, but I got close enough to the tug to wave to the skipper, that's probably too close. The towed barge is actually massive, at least the size of a football field, possibly two, and it's carrying powdered real estate, just add estuary, and you have the basis of another unsightly block of flats.

Which brings me nicely to where I am, I think, not so long ago, this area would have been miles and miles of mango swamps / jungle. however, thanks to the invention of reinforced concrete, we have a small city here, there are high rise buildings all around, mostly still under construction. But why would you want to pick this block of flats compared with any of the other billions of developments going on along the coast here, well there's their secret, it's a harbour, with billionaire boats, perhaps 'you' could aspire to having a boat here, actually the billionaire boats haven't arrived yet. So basically I'm in a 'show Marina' To me a proper harbour would have a smell of fish and diesel and some hookers hanging around, nothing like that here, just western boutique shops, a Belgium beer bar, a Superman/batman store, which has me confused, and all the other standard mall offerings. There is nowhere to get repairs to the boat done, no fuel dock, no stores of any use, like a supermarket or fruit and veg shop, just a few day trip boats for the tourists, who are the only people here as far as I can tell. I expect you can tell I'm not mad about the place, still it looks pretty, and I only wanted something to tie to for a few days while I wait for Kathy to arrive.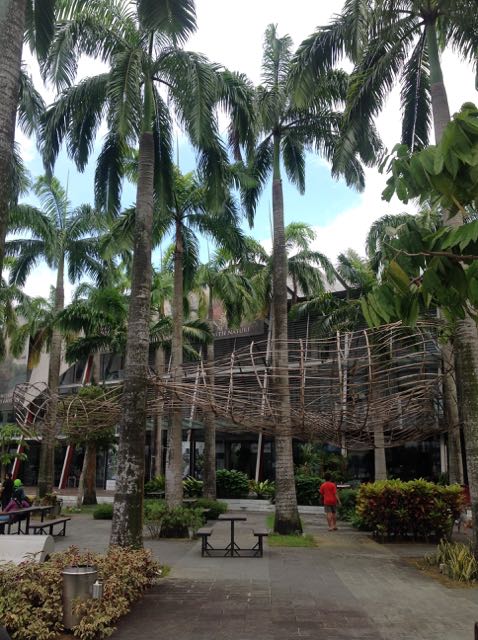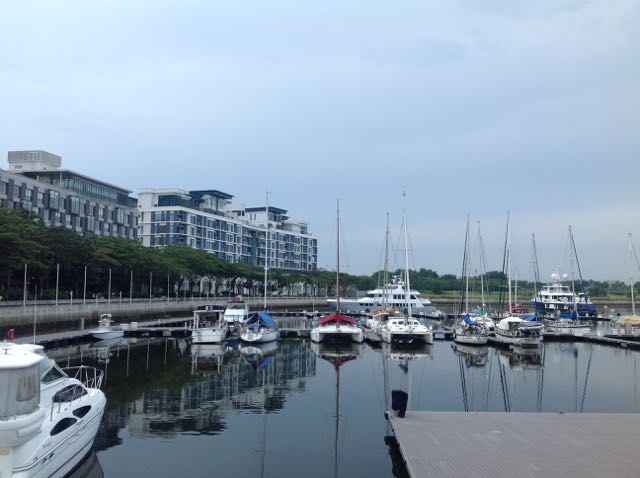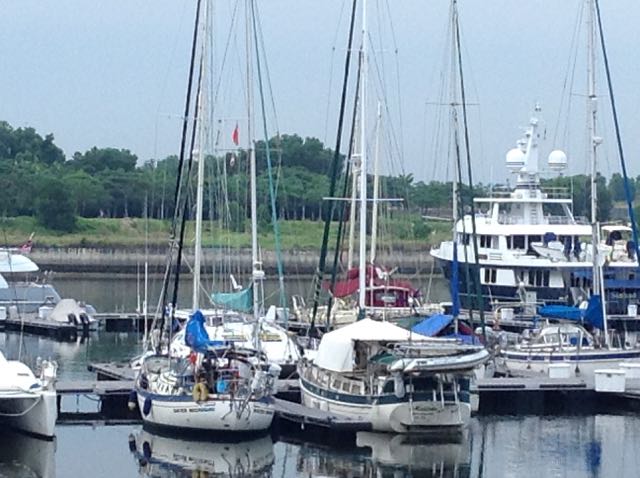 There we are above, Herman, who I met in Admiral Marina is just a few boats up, he hit something in the water on the way here and is worried he has bent his prop shaft, thankfully that's a lot harder to do in this boat, but there's certainly plenty of crap in the water here to hit. Herman saw a fridge, I saw a big old style 36″ tv, lots of the usual coconut and tree bits. I sent the go-pro camera under his boat and we couldn't see anything on his prop, but because the marina is on a little creek here the water is very muddy, if not even stagnant. As I type, I can here his tabby cat walking around the cockpit, I assume it remembers the boat from the last Marina, as it spent a lot of time snoozing here.
This picture is for Taffy, who has been known to read this blog, I believe it's a Solent class lifeboat from Stornaway. The Hugh William Viscount Gough. I bet there's a great story behind how it got from the outer reaches of Scotland, to here. It makes my voyages seem trivial.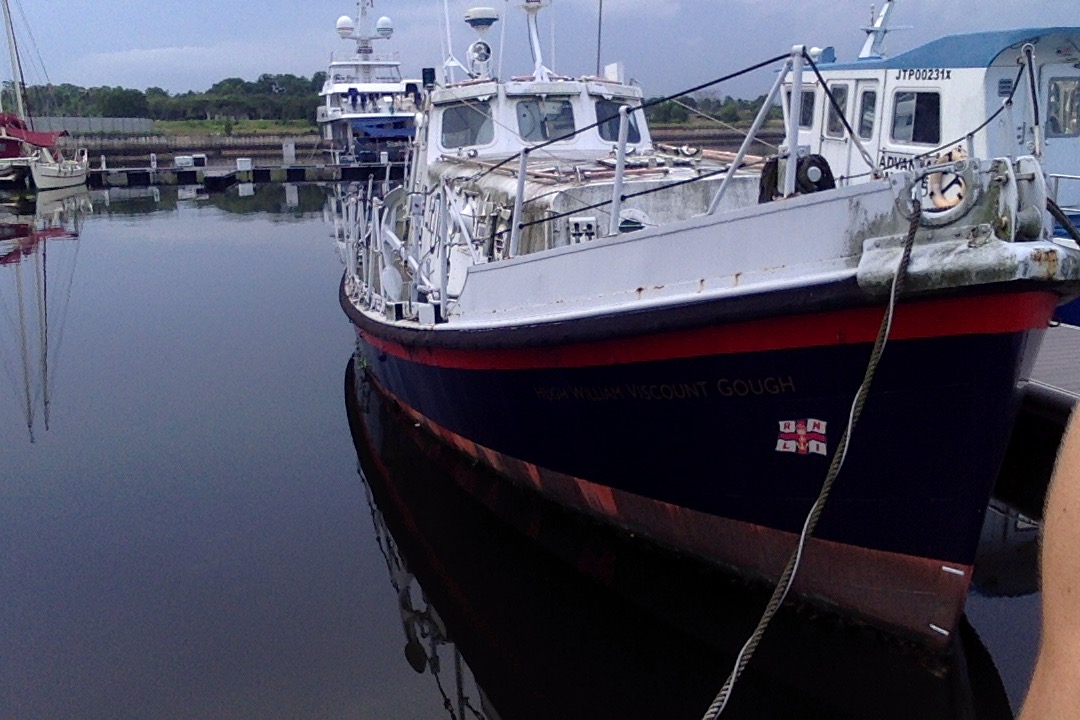 There's also what looks like a baba 35, just a few berths along from me, but I feel like crying when I walk past it, she has been left to rot away, the staysail, is lying on the deck, destroyed by the UV I would expect, the whole boat black with dirt/soot, things are rusting away on it that I didnt even think rusted. Such a shame. I will investigate more and try to find out the history. The berth I am in, apparently had a baba 40 in it just a few days ago, I wonder who that was?
Paul Collister