We're settling in well to life here in Phuket (need to remember to pronounce it 'Pooket').  The first two nights were spent in the marina at Ao Po, some way south of where we are now and a bit closer to the immigration office at Chalong where we needed to check in.  Our arrival at Ao Po proved to be a fitting finale to the passage here when an almighty squall occurred just as we were about to take the sails down outside the harbour. After everything else that had happened on the way, it had been such a relief to see the pontoon only minutes away, that I hadn't even noticed how dark the sky to our left had gone (a worthy lesson learned in not relaxing until safely tied up).  Luckily Paul spotted it and the 'super squall' hit us seconds later. From down below where Paul sent me for safety, I could see the concentration on his face as he battled to keep control.  The flapping and banging noises coming from the sails was alarming, and visibility had lessened considerably.  Feeling helpless, I asked if it would end, and he retorted – shouting above the noise – 'no, this is the famous never-ending superstorm that only happens in Thailand'- I knew he must have gained control of the situation with a quip like that :).  Some pics below of Ao Po Grand Marina.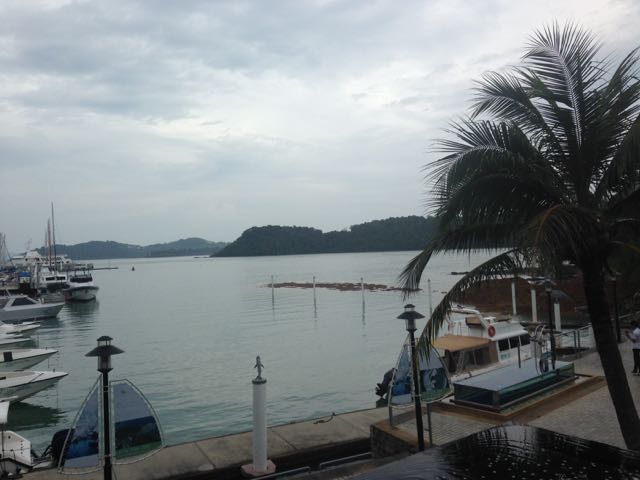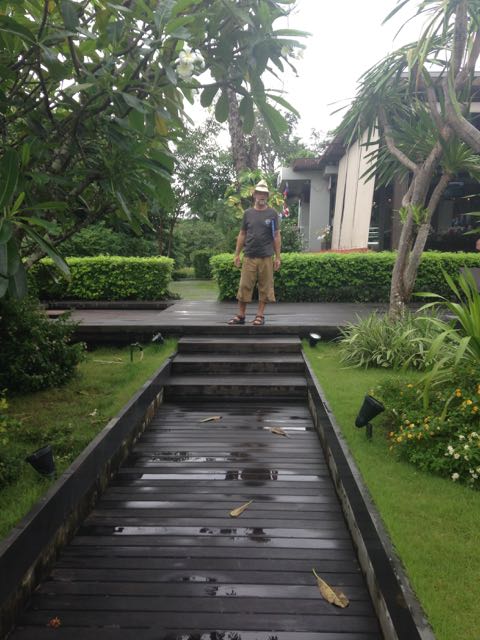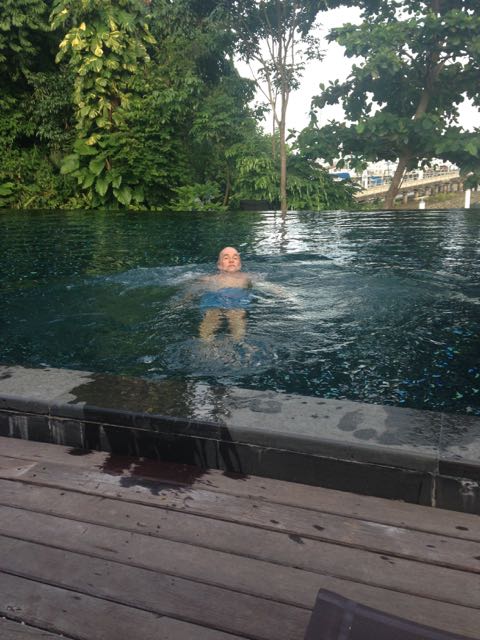 The marina had a photographic shrine on display in tribute to Thailand's late King and we were careful to heed advice about dressing conservatively.  It was late and dark by the time we went for a walk to look for somewhere to eat that first night and we came upon a great-looking open-plan restaurant. It had a fish pond lit with fairy lights, water features and tasteful wooden interior decor, including a boat suspended from the ceiling.  The food wasn't brilliant but nice enough and the service was faultless.  In fact, every person we've interacted with since arriving in Phuket has been extremely friendly, polite and helpful.
Both the cost of the meal and the taxi we took into Chalong the following day were more expensive than we'd been used to in Malaysia. The Brexit effect continues to cause financial disadvantages; the pound is 20% down from its value in June apparently.  The 30 minute journey provided an opportunity to check out Phuket's inner area.  There was a lot to look at on either side of the road.  It's a lot more verdant than Malaysia and there are no high rise blocks, just lots of ramshackle houses-cum-shops-cum cafes, some of them resemble Swiss-style chalets, others are like wendy houses, and some looked like smaller scale versions of the grand houses found in the American South. Each one is individual and you can't help but be curious about what they're like inside.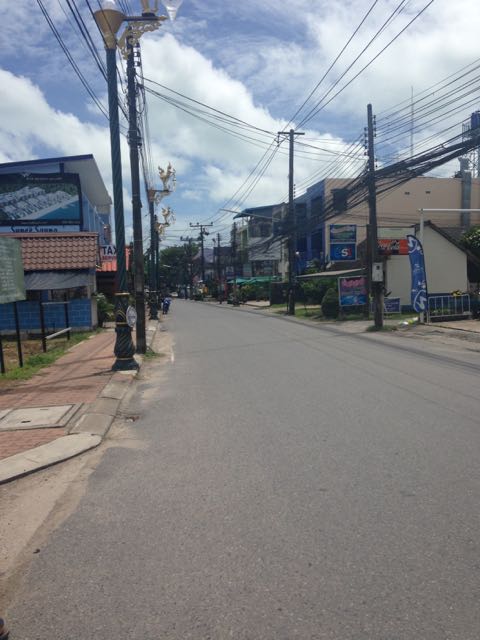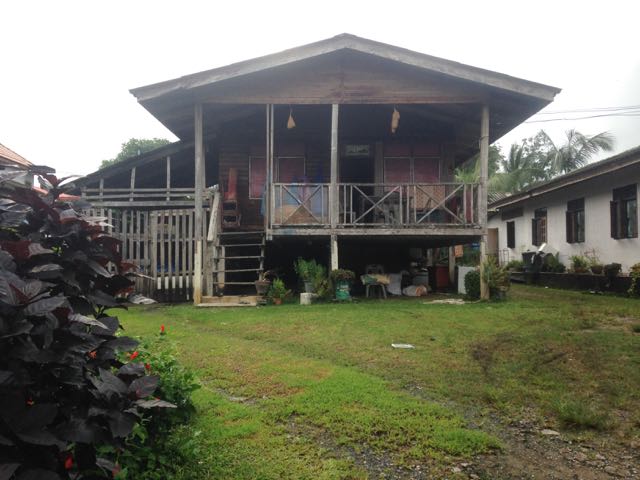 The immigration process took about an hour and thankfully presented no huge problems, just the usual form exchanging and questions that happens in any bureaucratic process.  So, now finally legal immigrants we were free to shop for some basic provisions. At the huge Tesco we visited on the main road I was disappointed to discover that there are even fewer products for vegetarians than in Malaysia.  All the more surprising since this is the city that hosts the world's biggest vegetarian festival each October (we arrived too late to see it this year).  Looks like I'll have to carry on enjoying more tasty rice and noodle dishes and salads then :).
The short passage to Yacht Haven Marina was blissfully uneventful – it was even rain free! That didn't last long, however. It poured down for most of the weekend but it's so much easier to cope with when safely tied to a pontoon, and the climate seems a lot cooler than Malaysia. We've even managed without the cumbersome and noisy air conditioning unit so far, making do with opening the windows and hatches and using the small cabin fan.  Anyway it rained most of Saturday night and pretty much all of Sunday. The showers were spectacularly heavy, as Paul showed in the video on his post. Late in the afternoon after the boat was tidied we explored the marina and its vicinity a little.  The resort is vast, with small shops, a pool, laundry, gym and several other facilities scattered over a wide area. For this reason, people carriers (like golf buggies) are employed to offer lifts to destinations.  They're especially useful when carrying heavy shopping or cumbersome boat equipment, but also when it's hot and just looking at the steep hill drains your energy. I'd never been on one before so when one of the shops we found was closed, a nearby driver offered us a lift to another – quite a thrilling and exhilarating experience, (if lazy).  Went for our first drink in the bar afterwards and were pleasantly surprised to find it wasn't as expensive as we'd feared.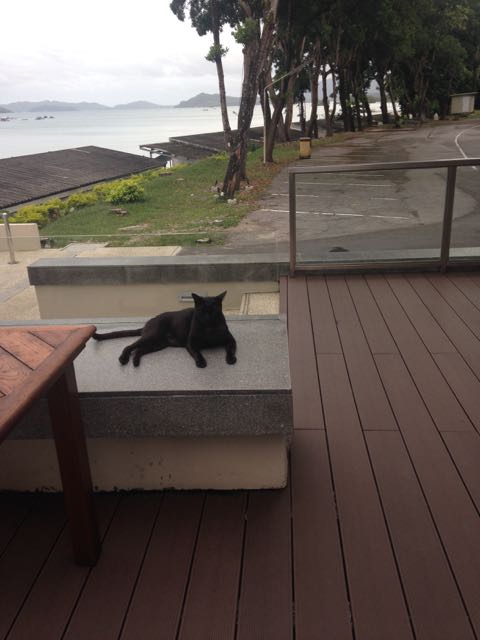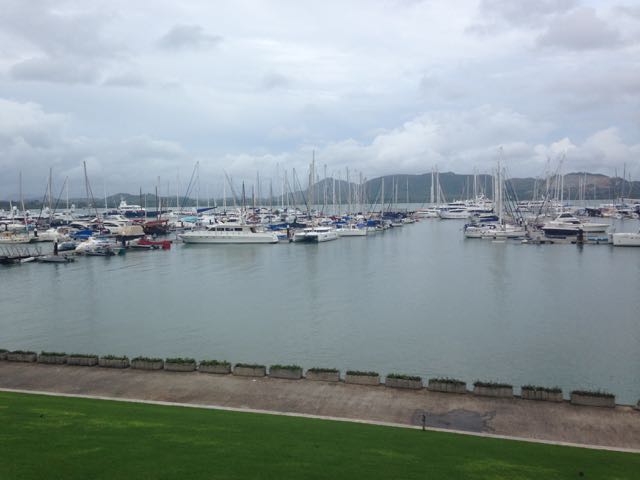 On Monday, in between showers, we took the sails down in readiness for their trip to Rolly Tasker. There were a few local guys working on the boat opposite, one of whom couldn't resist watching us quite blatantly.  He was very smiley but according to a chapter on Thai customs and etiquette, people are likely to smile when they're embarrassed, annoyed or shy, as well as when amused. I think it was amusement in this guy's case, and when I acknowledged him by smiling back he asked if we wanted some help.  I thought I was folding the huge, thick, stiff, awkward, frustrating sail fairly well and was definitely following Paul's precise directions but if this guy could do it better I was willing to let him, but Paul replied that we were fine before I had a chance.  He asked if there was any other work he could do, such as varnishing or cleaning.  There have been quite a few guys enquiring if there's any work going and although Paul prefers to do the jobs himself, he told him he might need someone for guardianage (that's the correct term apparently) while we're away in December. He introduced us to his Australian boss later who promised to return with a business card and discuss rates (still waiting four days later).
In the afternoon we went for a walk to nearby Ko-En Village, just to have a look around and to buy some bread and bananas if we found a shop.  All the rain, and the cool breeze meant the lush vegetation smelled like any country village in Autumn. If it hadn't have been for all the scooters and motor bikes whizzing up and down the road (no helmets on any of the riders or passengers) it could have been part of the Wirral Way.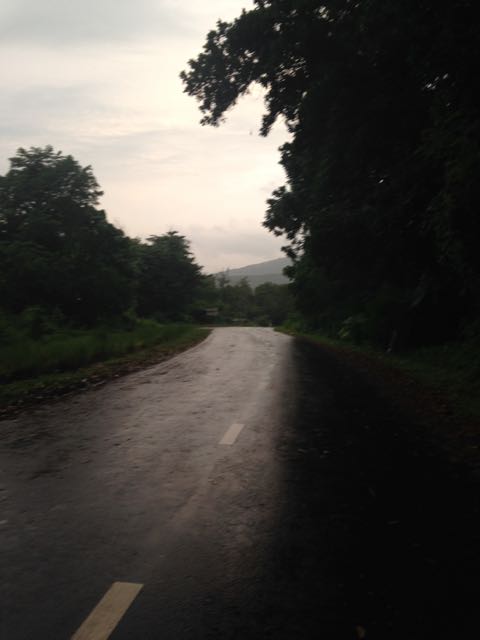 Virtually all of the riders shouted greetings to us and waved.  When we got nearer to the village itself, people outside their houses stared at us openly and it made me wonder if many of the other marina users ever passed through much. People here are genuinely friendly and delighted to see us, a few asked where we were from and if we had a boat. Again, the houses are charming and individual, and more than a few doubled as cafes and shops, with living quarters situated at the back.  The main street was busy with people chatting, eating and cooking, and noisy with the sound of all the bikes. Chickens of all colours, shapes and sizes were strutting along the roadside and we saw lots of domestic cats (and kittens) and dogs. Every shop we went in to enquire about bread caused the owner to look puzzled or bewildered, clearly having no idea what we meant and it wasn't on display anywhere. In fact, most of the shops were reminiscent of the pretend ones you might have set up as a child in someone's back garden shed: a few products on shelves arranged in a haphazard manner.  Giving up on the bread, we spotted some bananas at a roadside stall so Paul asked the lady if we could buy some and got a response that sounded like 'no one really buys bananas here' – she then made a vague gesture down the road and we left empty-handed.  Don't worry, we did eventually find someone willing to sell us some of her bananas. There was a rather large bunch on display so Paul asked her (through hand gestures) to cut it in half. This she did, and promptly put both halves in the bag so that we ended up with the whole bunch anyway :).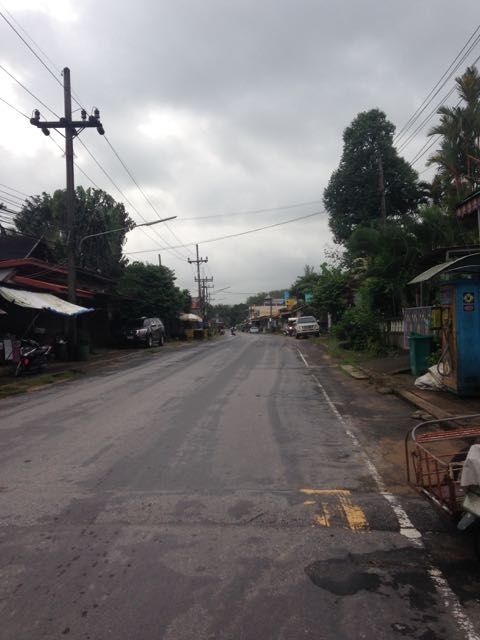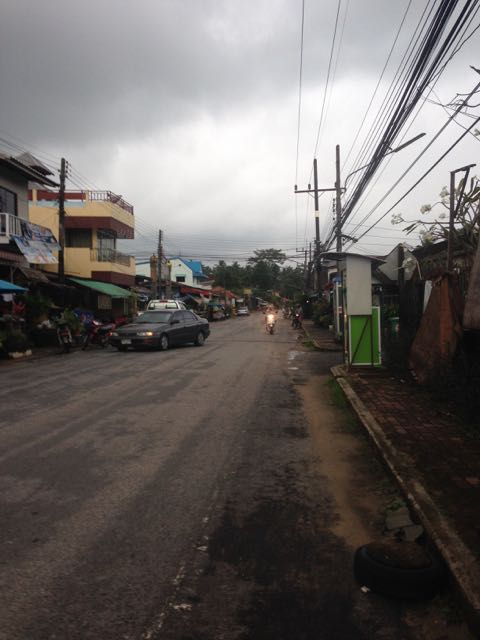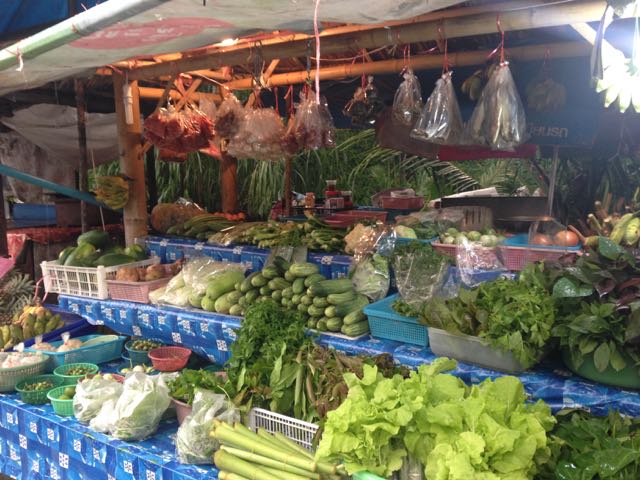 We were warned about an imminent downpour by a lady at one of the stalls, which led us to take shelter in a cafe/shop across the road. This whole delightful experience was described by Paul in his blog post. It really felt like we'd dropped in on the family for an impromptu afternoon tea.  They were so welcoming and hospitable, urging us to sit and wait out the rain shower and even our request for bread culminated in our receiving a delicious banana pancake. The language barrier was got over with the use of smiles, gestures and facial expressions – even if some of the smiles could have been construed as shyness or embarrassment, I'm sure annoyance didn't come into it :).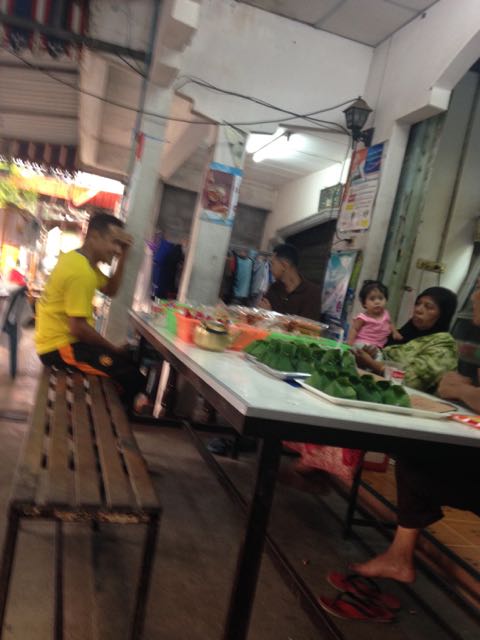 On our way back to the marina we spotted several banana trees bearing green fruit. Paul thinks it's probably ok to pick them but I'm not so sure. It might explain what the lady meant by saying that no one buys them! Our big provision shop scheduled for the following day with the use of a hire car, we ate in The Deck Bar before returning to the boat (fish for Paul and a veggie sandwich for me with fries to share). The menu is similar to most pub fare and reasonably priced so doubtless we will sample a few more of the meals before we return home.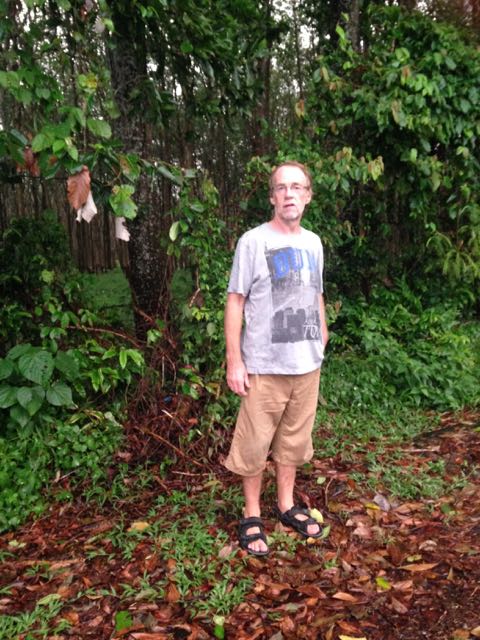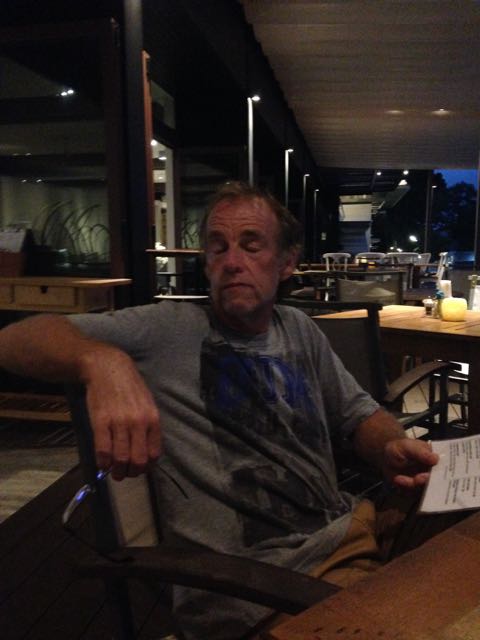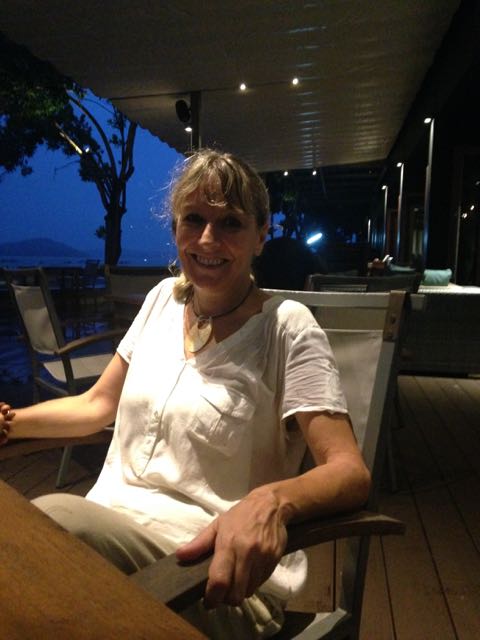 Kathy