Due to the time difference we were able to follow the developments of the US election as they happened, and we listened in amazement and with sinking hearts as Trump's victory became a certainty.  Like millions of people around the world we heard the reactions, the speeches, the pundits, and the comedians as events unfolded, and later we went up to the bar and eavesdropped on the conversations taking place there.  One Australian lady was concerning herself with the sort of first lady Melania Trump will make and concluded that there hadn't been a glamorous one in The White House since Jackie Kennedy.  Oh well, that's all right then!
Aside from that, it was boat chores for the first part of the week, which included another trip up the mast for Paul.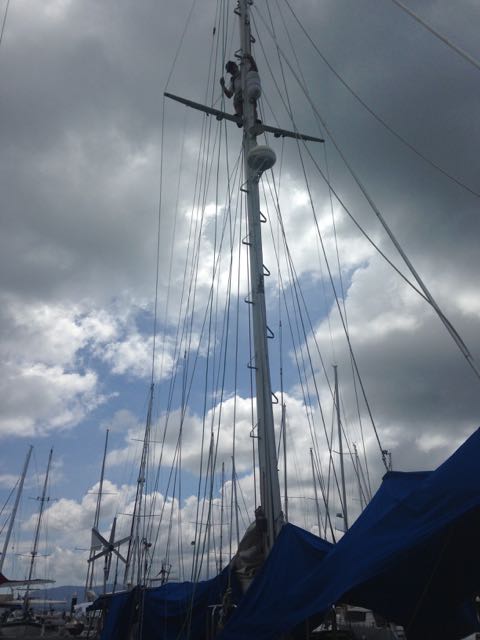 The clouds in the picture built up during the afternoon, but before that it had been a hot and sunny day. We waited until the sun wasn't as fierce before setting off on another trip to the village of Ban Koh En.  This time, we took the back roads so that we could see what it was like in the inner part, behind the main street.  It was lovely – obviously more residential- with each one-storey house distinct from its neighbour.  Most people were sitting outside, cooking, chatting or just enjoying the cooler evening air.  I took some pictures in an attempt to show how unique the houses are. I'm not sure their charm comes through though.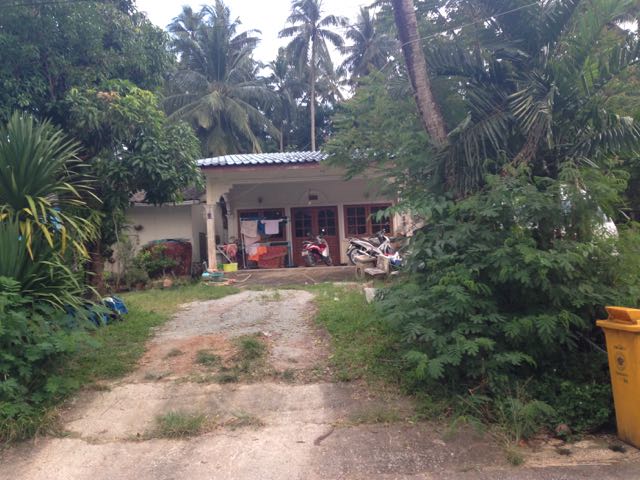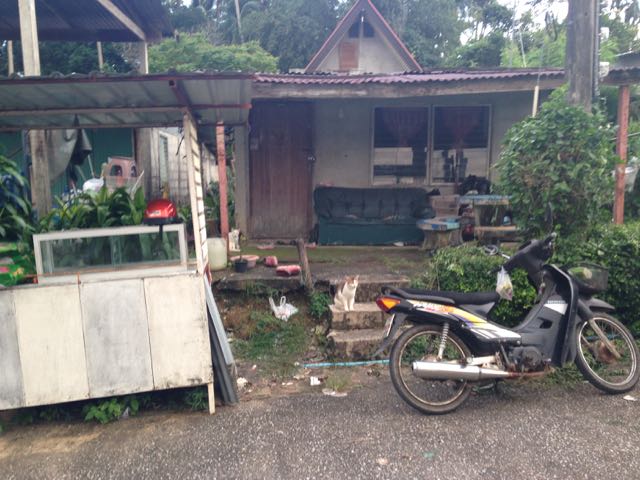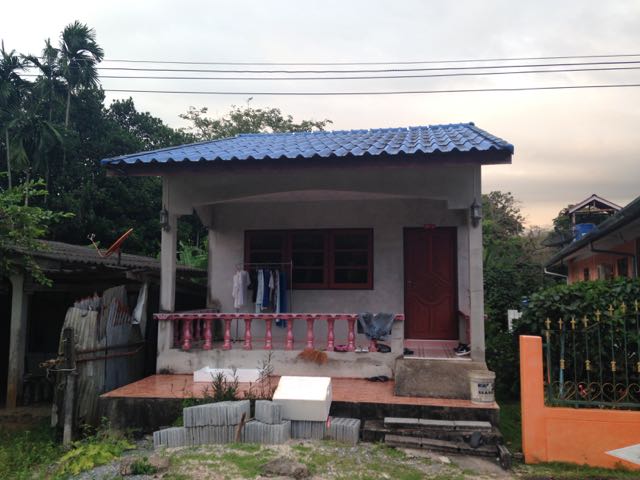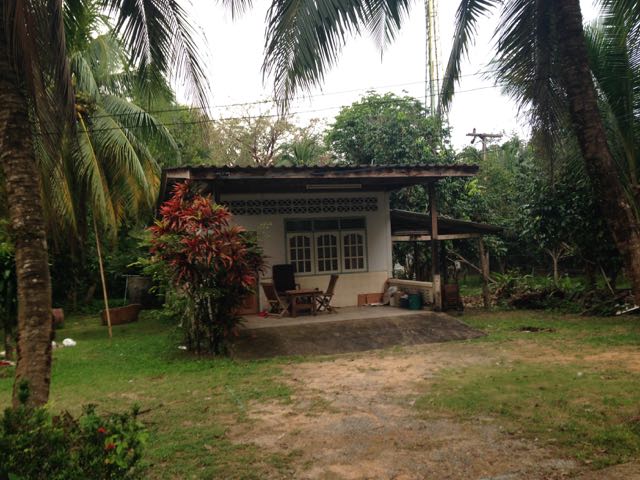 We drew considerably more stares here than in the main street, but they were accompanied by friendly smiles, not 'this is a local town for local people' hostility.  The children, in particular took an interest in us, and delighted in practising their English phrases on us as they sped past, running or on their bikes.  Word must have spread, because eventually a little group of them gathered behind us and joined us as we ambled along.  We enjoyed a humorous interchange with them, using hand signals smiles and their few words of English.  I suspect they also delighted in saying some of the more naughty Thai words, judging by their hysterical giggles when we could only smile and nod in response (I would have found that hilarious at their age too :)).  They were thrilled to have their photo taken and kept saying 'I love you' when they left us. The little one in the pushchair hardly took her eyes off Paul the whole time.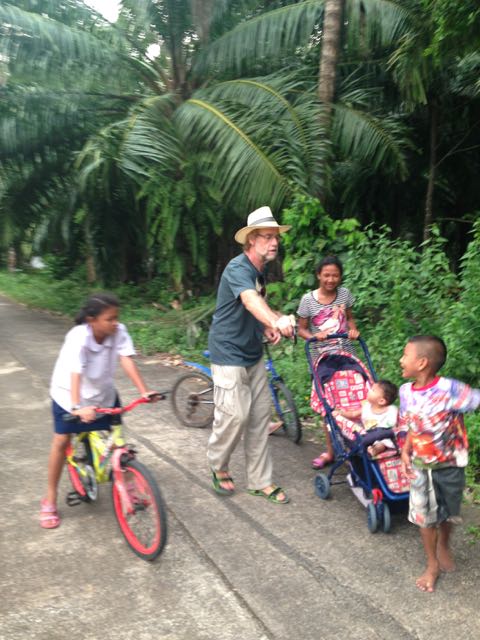 Further on, we came upon the local school where a football match was taking place in the field. There is a real sense of community in Koh En and I grow more fond of it each time we pass through it.  We bought some bread, and then decided to walk to the very end of the village to buy some bananas. The sky grew darker as we walked and by the time we came out of the shop, the rain had started to fall.  It was so heavy, we had no option but to take shelter under the shop's canopy where there was a bench in front of a table bearing homemade sweets and cakes and a couple of hand made wooden boats.  The rain provided quite a spectacle in that it coincided with twilight and we were overlooking a forest across the busy main road.  It created an eerie vision of darkness, rain and trees, lit up intermittently by car headlights.  We were joined by a few motorcyclists who were typically dressed in only vests/T shirts and shorts and we all sat and waited and waited while the rain showed no sign of stopping or getting lighter.  Paul looked at a rain radar website on his phone to see if he could gauge how long it might last and it proved to be extremely accurate (and fascinating). We've used it several times since.  When it finally stopped, we walked to a restaurant at the far end of the marina that had been recommended by an American guy called Giles. Named 'Papa Mama', it wasn't an Italian restaurant as the name suggested.  It was fairly busy, and had a 'rustic' feel to it.  We were told to take whatever drinks we wanted from the fridge in the centre, take a seat, choose our meals from a menu and then go to the counter to inform the lady who'd greeted us what we wanted.  Both of us chose a rice dish (Paul's with fish and mine with vegetables).  It was cooked to order either by her or her husband in the kitchen on show in the corner of the restaurant. Lovely hot, tasty food and we ate at a table overlooking the water.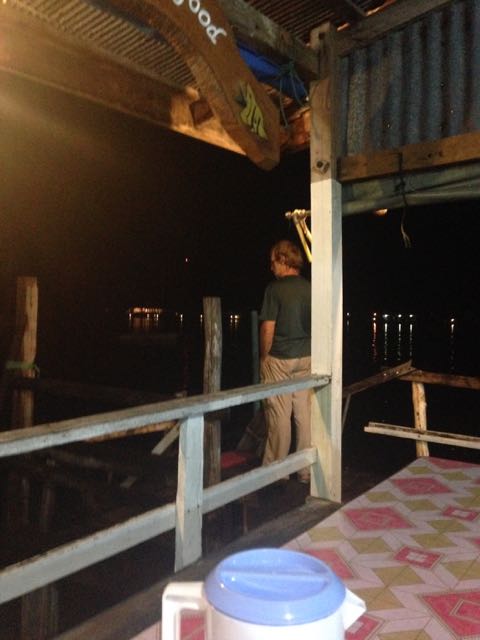 There was another storm during the night; heavy rain with loud thunder claps and we had to get up to get all the windows and hatches shut. Friday was hot and sunny again and we spent a good deal of it listening to more discussions and comedy shows on the radio relating to the US election. At the Deck Bar we watched an evening storm. The rain radar site means we can now time it so that we know exactly when to leave the boat before the rain begins and how long it will last for (is it worth ordering another drink?).
On Saturday morning we collected our hire car and met up with Giles who needed a lift to Chalong.  It was nice to chat with him and hear all about his experiences on the journey there, especially as he has a great, rich southern Californian accent.  He's been here quite a while and provides us with useful information and recommendations.  After we'd dropped him off at the wonderfully named Coconut Boat Yard, we drove on to Yanui Beach, at Giles's recommendation. It was a charming little cove on the southern tip of the island: thankfully lacking the usual touristy 'strip-style' bars, restaurants and stalls.  All that was on the beach was a shack offering Thai massages, and a few people laying on the beautifully soft sand.  It was such a hot day, Paul wasted no time in getting into the water for a swim. I hadn't intended to go in, thinking the waves looked a bit big and they'd knocked a few people off their feet (I know…I'm a namby pamby) but the heat was beginning to feel unbearable and Paul said it was gorgeously cool in the sea.  It didn't take me long to change my mind and discover he was right – it was wonderfully refreshing. There were a few sharp and big rocks to negotiate on the way but well worth the effort. We stayed in for quite a while, and I did get thrown off my feet by the waves but it was fun :). We sat on the sand for a while afterwards until it got too hot.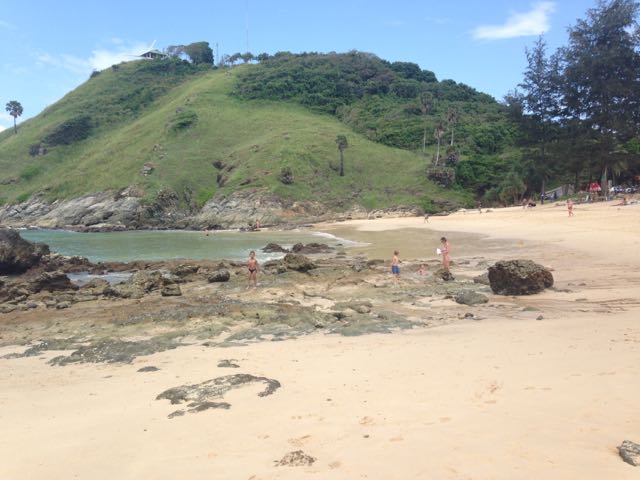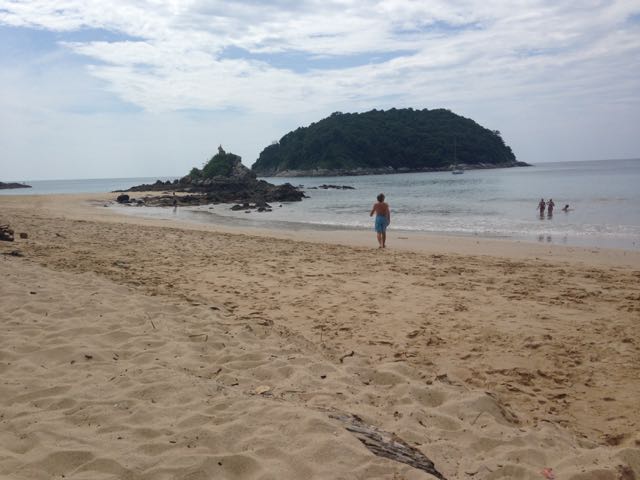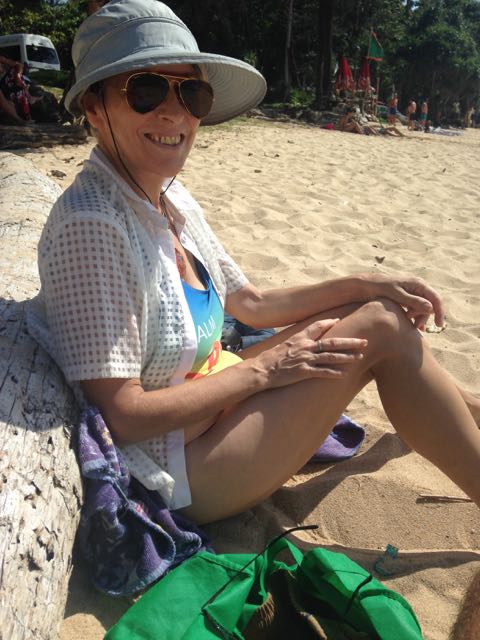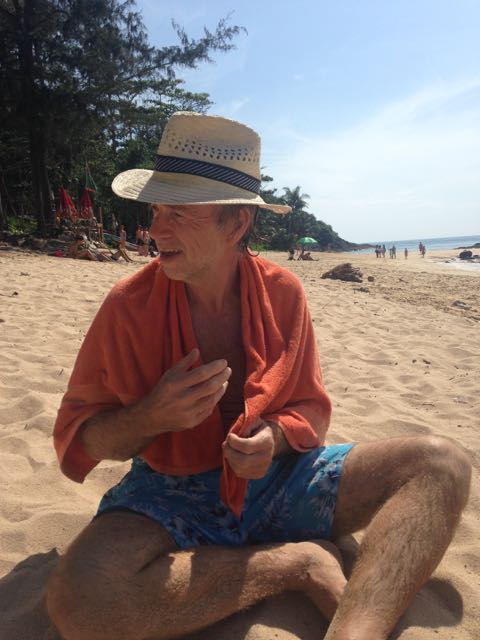 We were ready for some refreshment by then, and went to cross the road to go to one of the beach restaurants.  We'd noticed a heavy police and military presence throughout the day and by this time there seemed to be more.  Traffic was being controlled (or rather, uniformed guys were waving on traffic that was going in that direction anyway) and whistles were being blown, and we were helped across the road. Paul asked what was happening and the response was something to do with The King and memorial event. Local people were all dressed in black and white, the official mourning colours(?), and stalls were set up along the roadside offering free food and drink.  It looked to me more like a very dignified celebration of his life to mark the end of the first part of the mourning period.  Lunch was lovely, at a garden table in the sun. I was able to request a tomato toastie (repeatedly assuring the waitress that I really didn't want cheese in it).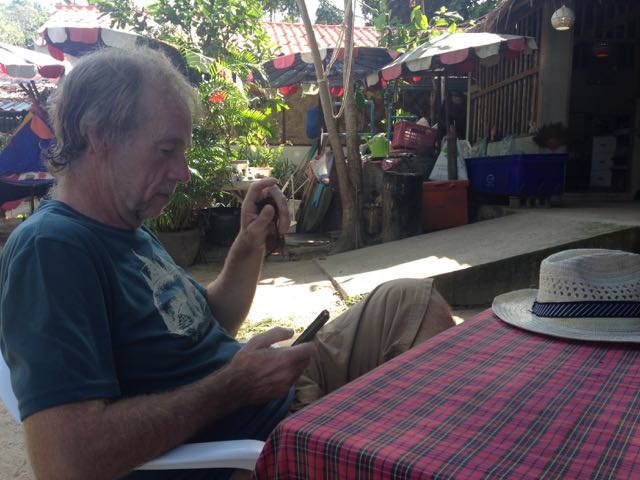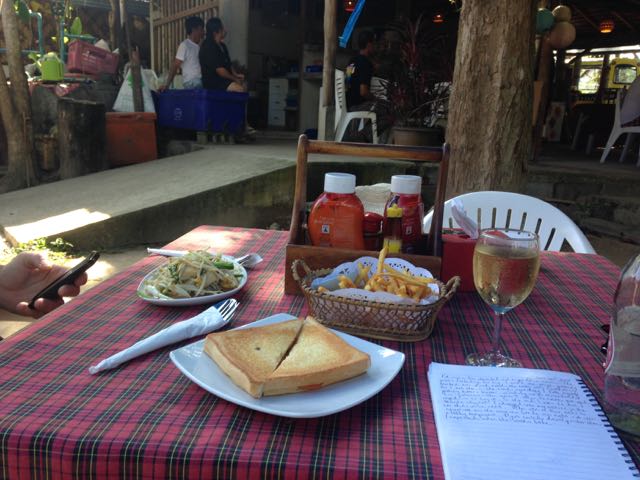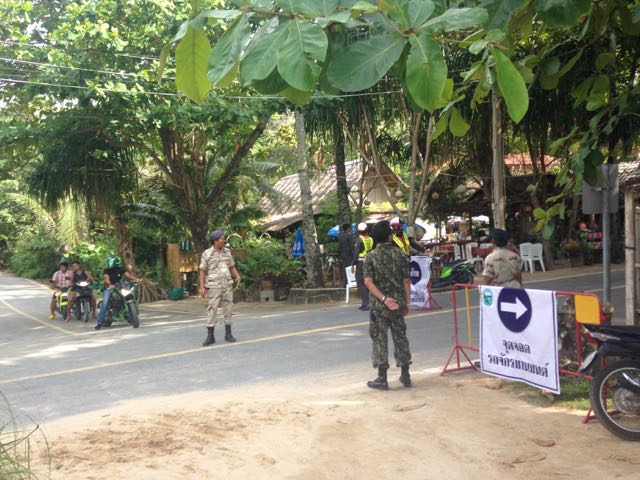 It was fortunate we had our beach experience at that point because the rain started again as we left.  Shopping was next on the agenda so it hardly mattered.  We went to a succession of shops to pick up various items while we had the car, and the only thing worth noting is that we decided to buy some Durian to try.  Paul had seen a lady in one supermarket buying loads of it, and urging the assistant to ensure she got every last bit of the fruit into the tray.  It really must be great, we thought, despite the vile smell.  We were shocked at the price (£3 for a few slices of it). It was carefully wrapped in another plastic bag at the checkout (no charge for bags here yet).  We tried it later, with a little trepidation, trying not to be put off by the smell.  Paul went first and I wasn't encouraged by his expression but thought I'd better try some before I went off the whole idea if he hated it.  It was horrid. The texture was like an overripe avocado (slimy) and the taste was 'oniony', meaty even. It tasted like the smell of tripe and onions! It's a mystery why it's so popular, but despite the price, ours went straight in the bin and then straight off the boat into the communal bin. Next we will try dragon fruit and hope for a better outcome.
Kathy