'We are unable to serve you with petrol at the moment because we are on a 15-minute break'…well that was the gist of what the petrol station attendant informed us anyway!  We'd driven in at about 11 pm to fill up the hire car as required, and after finding that some had closed for the night we were pleased to find one open.  As usual, staff were positioned at the pumps ready to assist and Paul wound the window down to tell the guy the quantity and type of petrol he wanted.  He was interrupted by the statement about their being on a break, and when we looked around we saw that all of the staff were indeed eating, having set up plates and cups on top of their work stations. Thanking him, and smiling our goodbyes, we drove off to find another one. It's good that things continue to surprise and bemuse us on our travels I think 🙂
Our day out in the car turned out to be a very long one and we packed a lot in to it. After the spectacular storm from the previous evening, Wednesday (18th) was sunny and very hot.  I spent the time while Paul was browsing in toolshops and looking for his mislaid sails in Rolly Tasker, reading in the cool of the air conditioned car. In between visits to shops and chandlers, we decided to take a look at Phuket's bays, to view them from the eastern coastal road. This proved to be a great idea: we saw some beautiful beaches from high up on the narrow, verdant 'B' roads, and hardly passed another car during the entire drive.  Some pics from the trip below.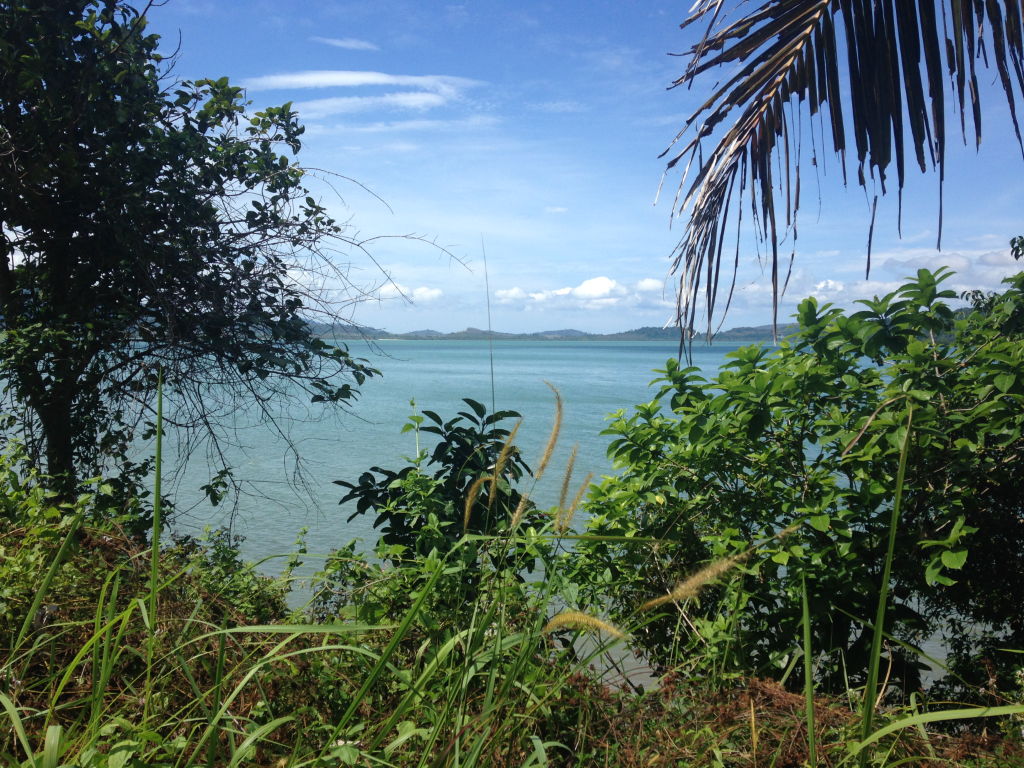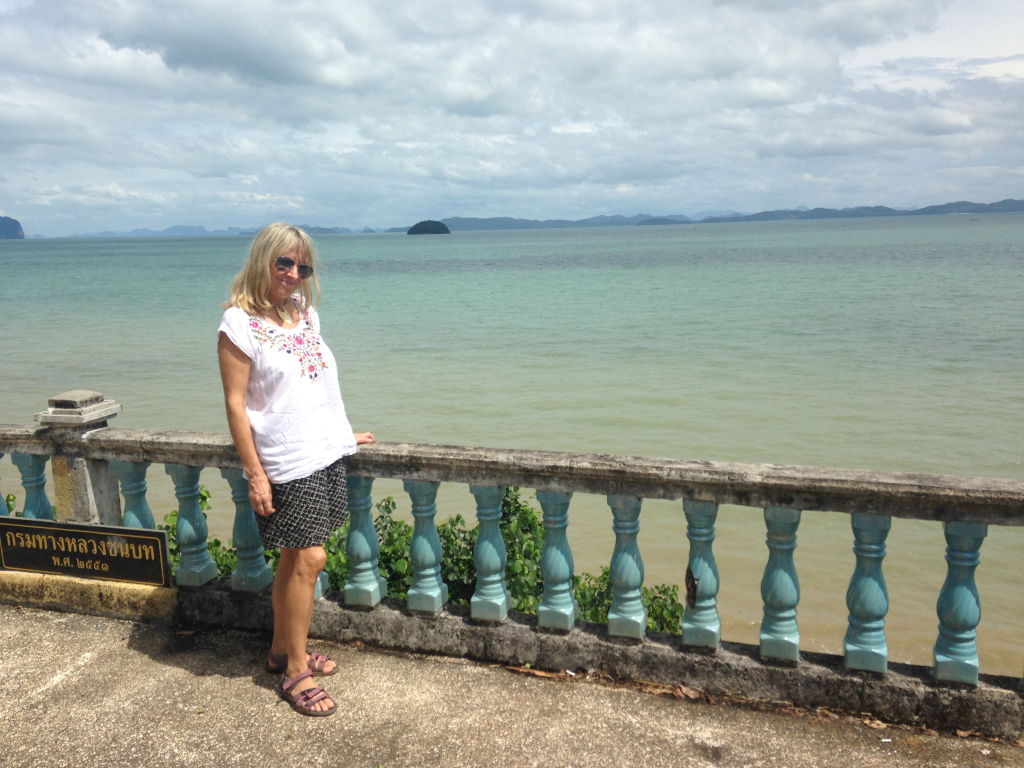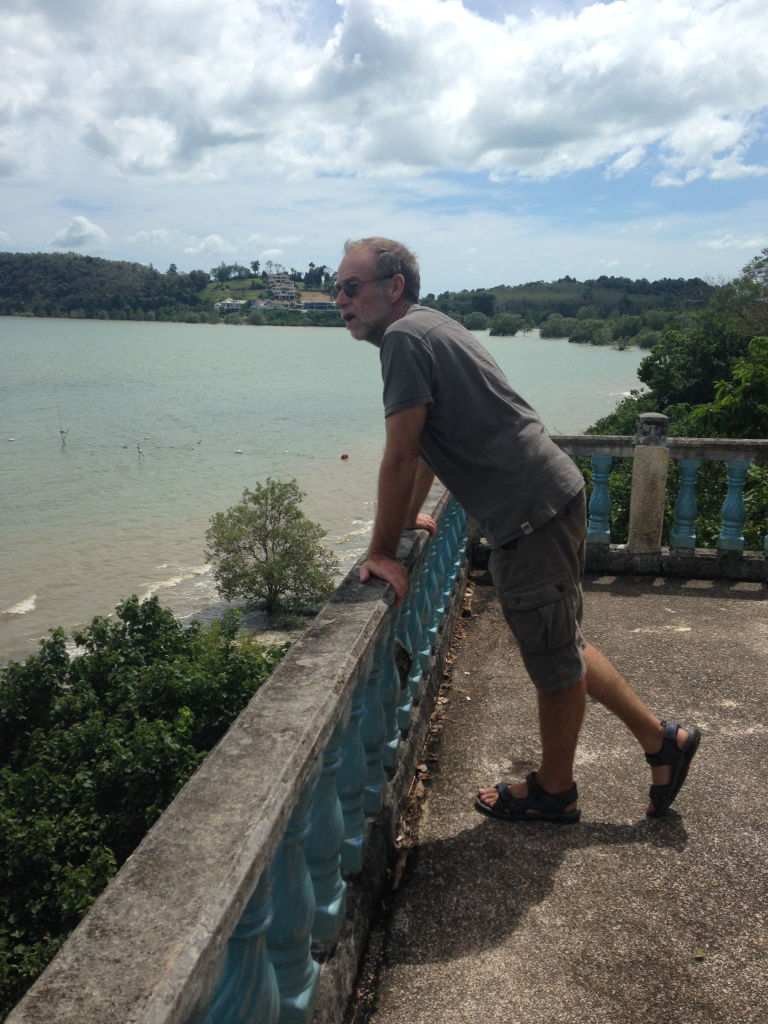 We had a very entertaining time in a marine shop called 'Waynes World', with Wayne(!) who hails from London and has a delightful east end accent. He was keen to sell us his dinghy and he had a very persuasive, loud and amusing selling technique. So much so that I was ready to pay for it there and then! We tried it for size in the water by his shop and I found it was pretty impressive compared to ours, but Paul told him we'd think about it and get back to him. We ended the day with a visit to Yanui beach so Paul could have a swim before the sun went down, and had a meal at a beach bar to fortify ourselves before doing the big supermarket shop.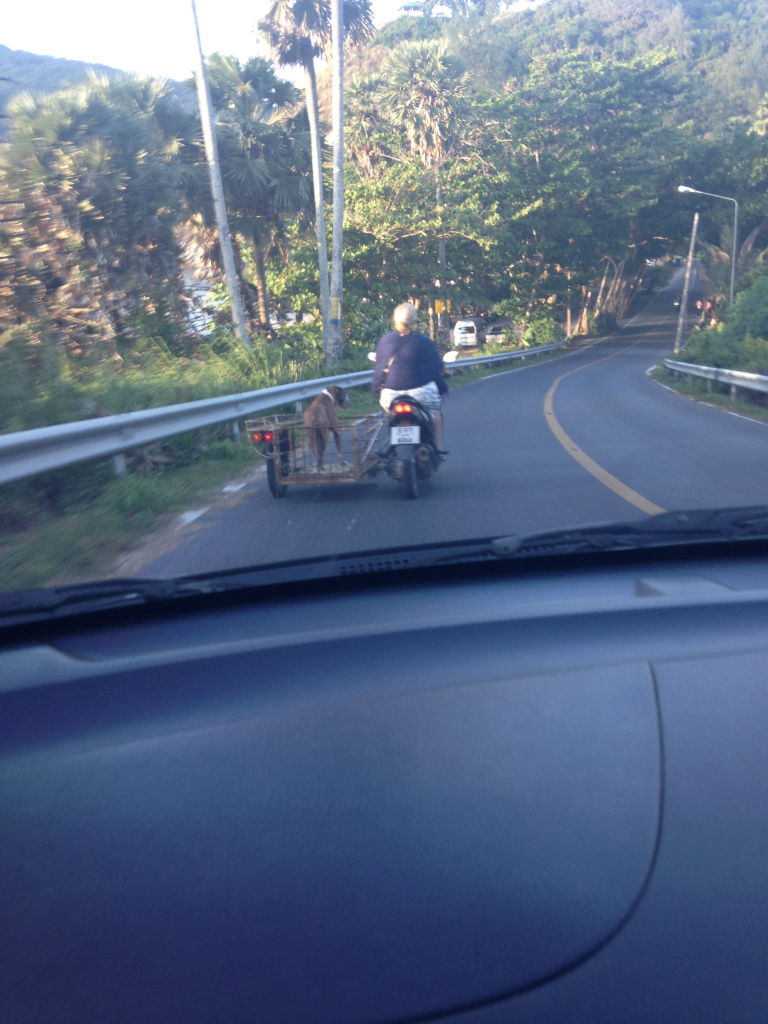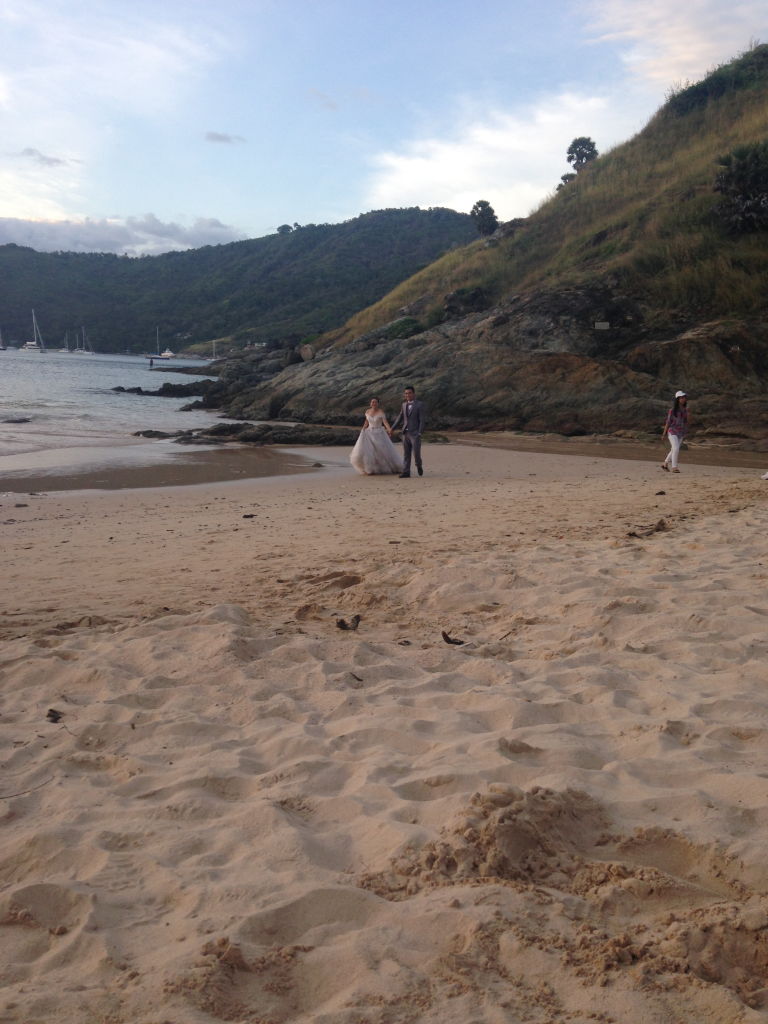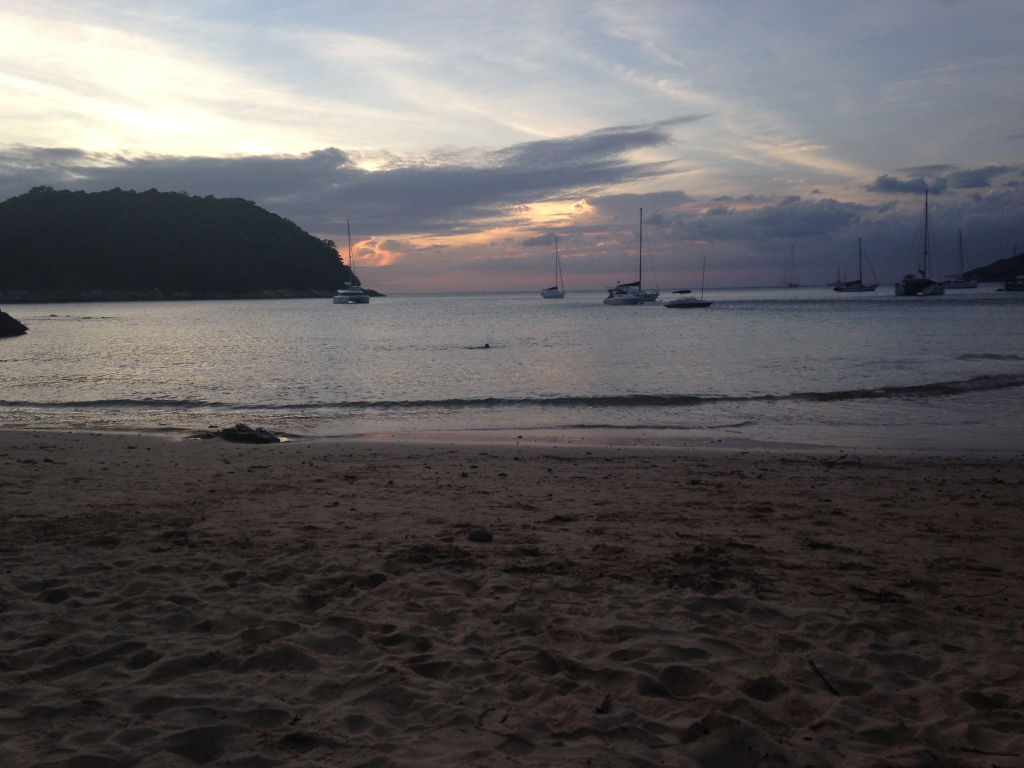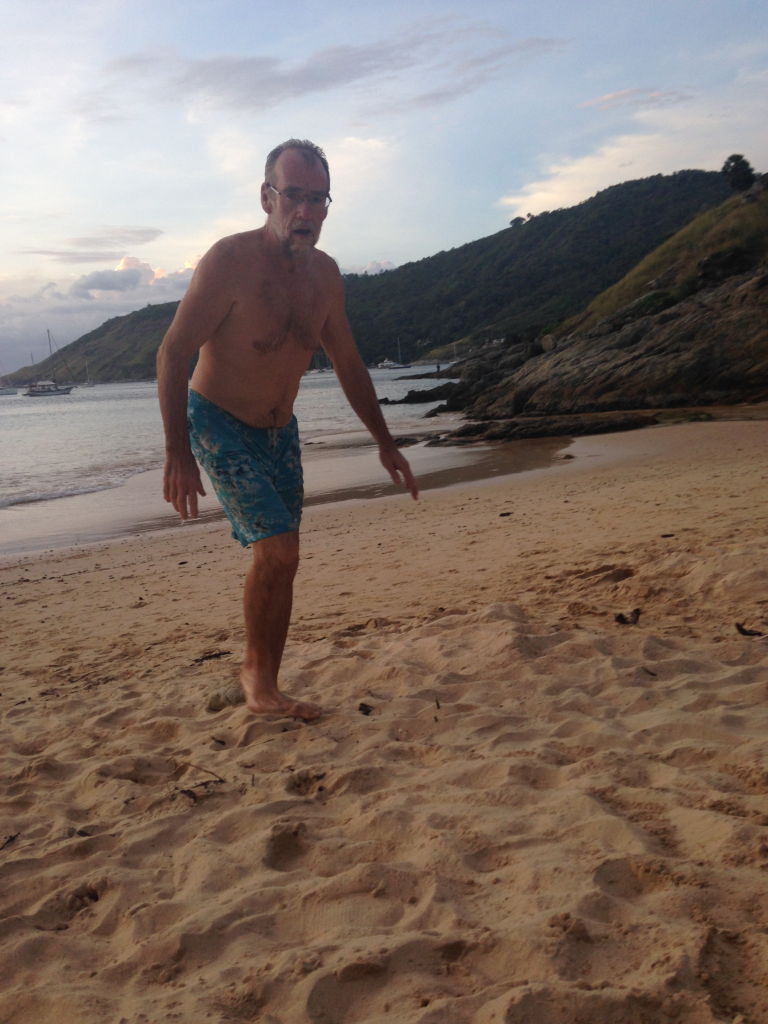 Other days in the week have been fairly leisurely. We've got on with our own particular tasks and chores, had walks to the village, a drink at The Deck Bar each evening while the sun sets, and enjoyed meals at a couple of local restaurants.  Both of us have suffered muscular aches and pains, largely thanks to squeezing into the cramped space of the anchor locker to affix nuts and bolts in extremely awkward places.  I had a mishap while making a chilli (without) carne the other day. I managed to get juice from the pepper on the skin between my upper lip and nose which began to burn, so I splashed my face with cold water, not realising that by doing so it spread the burn instead of diluting it, so my whole face (including my right eye) felt like it was on fire.  Paul googled what to do and the advice was to use dairy products!! We have no dairy on board apart from cheese so I had to sit with a soap-lathered face until it faded away. The chilli was delicious, despite Paul declaring that he was reluctant to eat anything that produced such a drastic reaction. Photos were taken (without my knowledge) but I'll include one as a warning to others ;).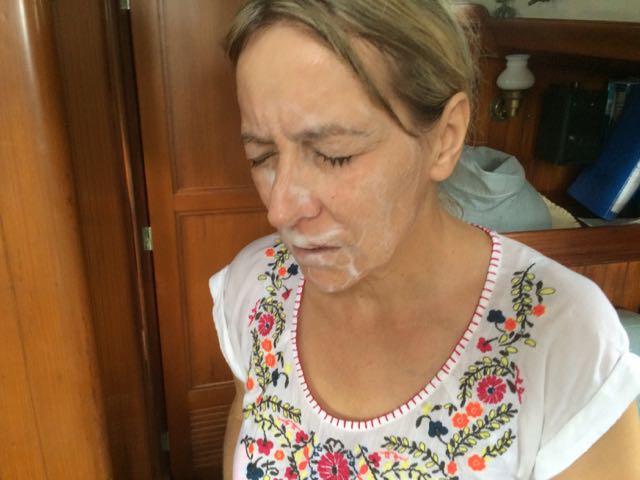 The highlight of the week, probably of the whole trip so far actually, happened on Saturday evening when returning from The Deck. Movement under one of the marina's people carriers caught my eye and at first I thought I was looking at ferrets (my daughter had one as a pet years ago and their 'darting and slithering' runs looked familiar).  These were fatter though and as we got closer it was clear that they were otters! Assuming they belonged to one of the staff I asked the driver if they were his but he didn't understand. I was delighted when they came up to me, let me stroke them and began running round my legs in fast circles, giving my ankles an occasional playful lick and nip. An Australian guy, a regular at the bar  who was passing by told us he's seen them before and they always go for the legs. They moved on to the bank of grass nearby which had just been mowed and rolled around in the cut grass, chasing each other and showing alarmingly sharp teeth. Another member of staff told us that they swim in from the sea sometimes and run up to the forecourt. I could have stood and watched them all night, and needless to say I'm constantly on the lookout for them now. Pity we didn't get video but here's a pic of the beautiful creatures (labelled as 'badgers' on Paul's picture album :)).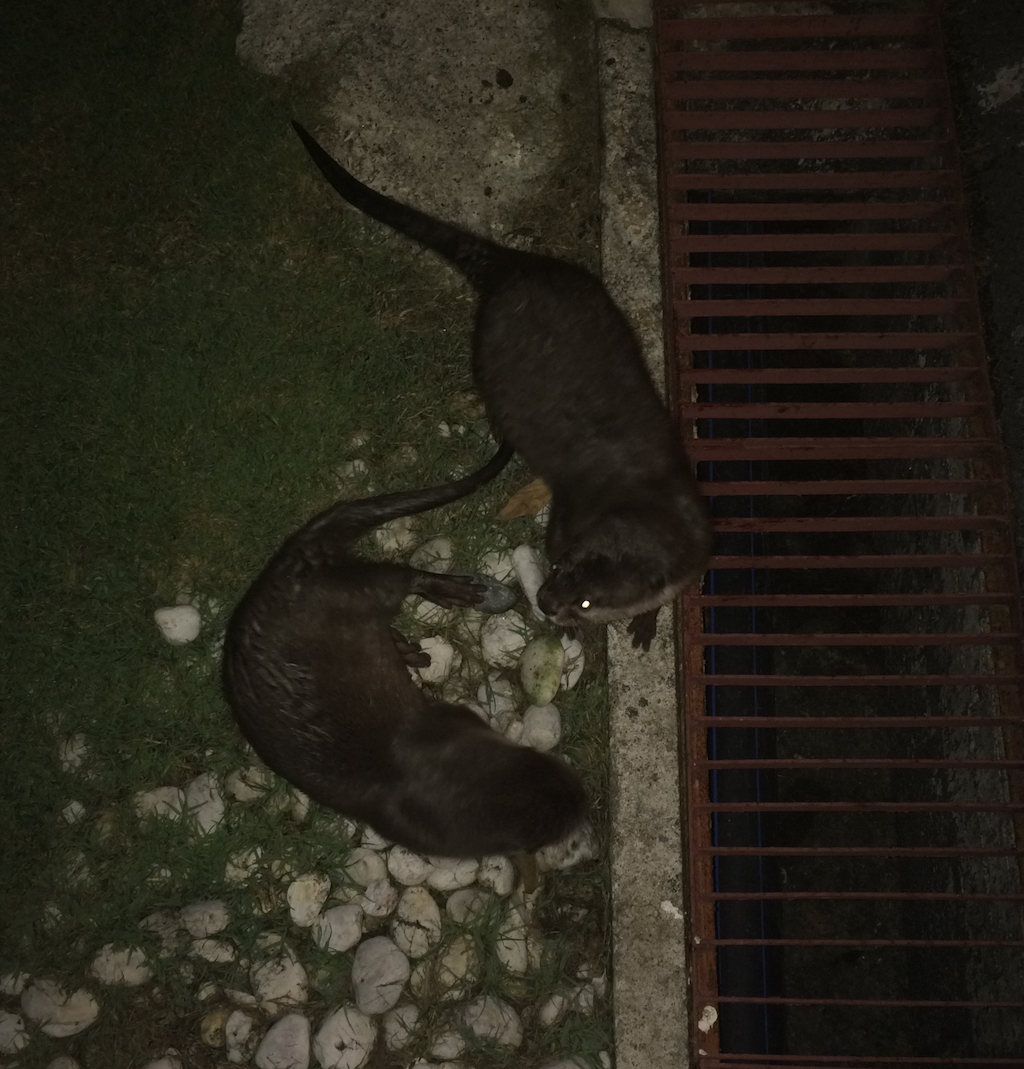 Koh Miang Saturday 26th November 2016                                                                                                                                                                                                 So delighted were we with this gorgeous island we decided to stay another night. This gave us an opportunity to explore the other side of the island, the one with the larger beach. We walked through a pathway cut straight through the island's middle to reach it and came upon a modest-sized resort with a cafe, toilets, showers and more camouflage tents. Excited by signs warning us not to touch any wildlife, I was disappointed  that the only creatures we saw were mosquitoes.  The noises we could hear from the thick jungle, however, informed us there were birds and animals in there somewhere.  The larger beach was crowded with day visitors and several boats were on the shore either picking groups of people up or dropping them off. A tradition is in operation whereby some 'Hi-di-Hi type cheers are shouted out whenever a boat departs. We didn't stay long on that beach.  Back at 'our' beach, we set up a base, took some photos, swam, snorkelled and sat on the sand admiring Sister Midnight sitting pretty on her mooring. Later, on the bow we spent ages watching the fish swimming around us until it got too dark to see them.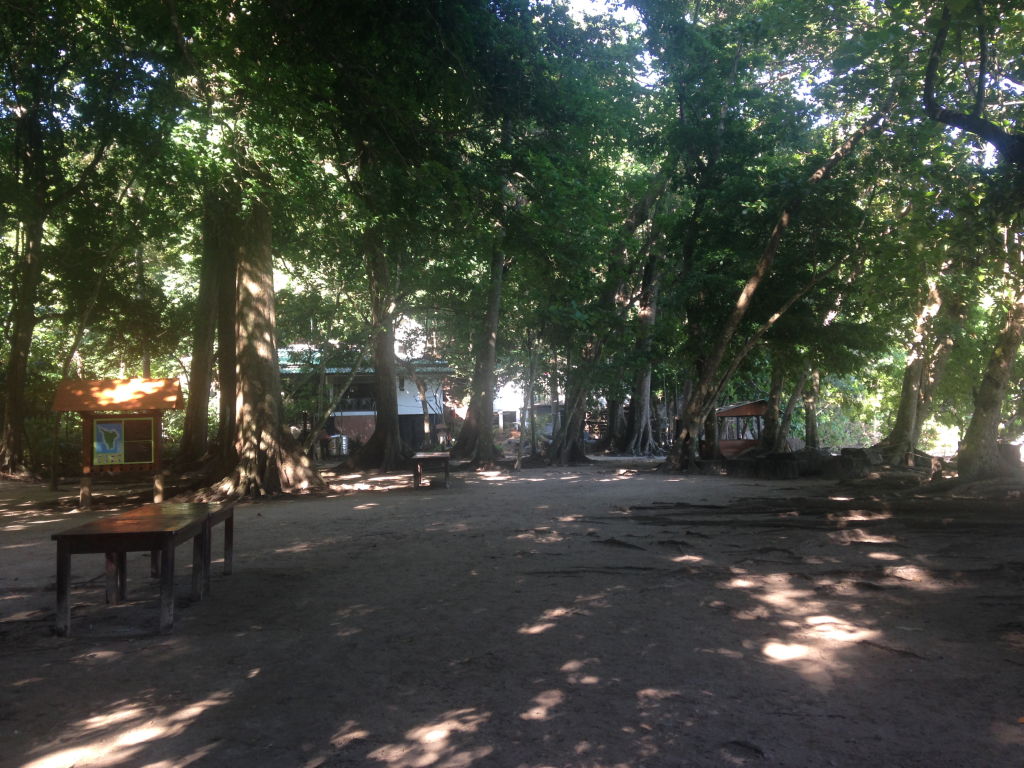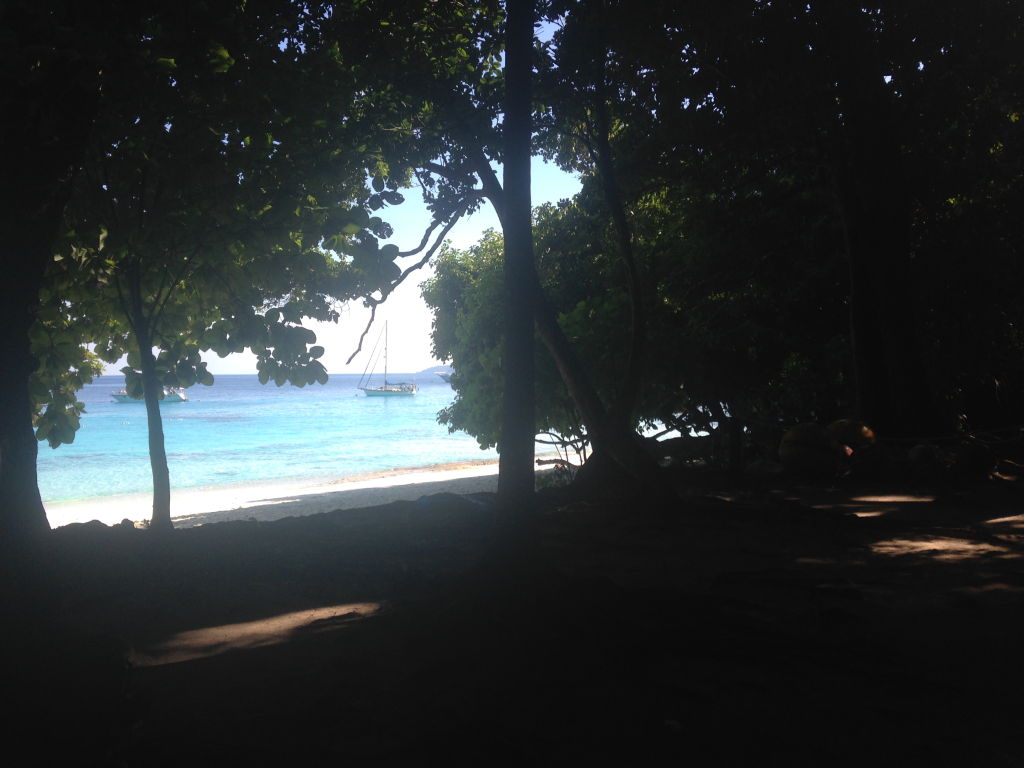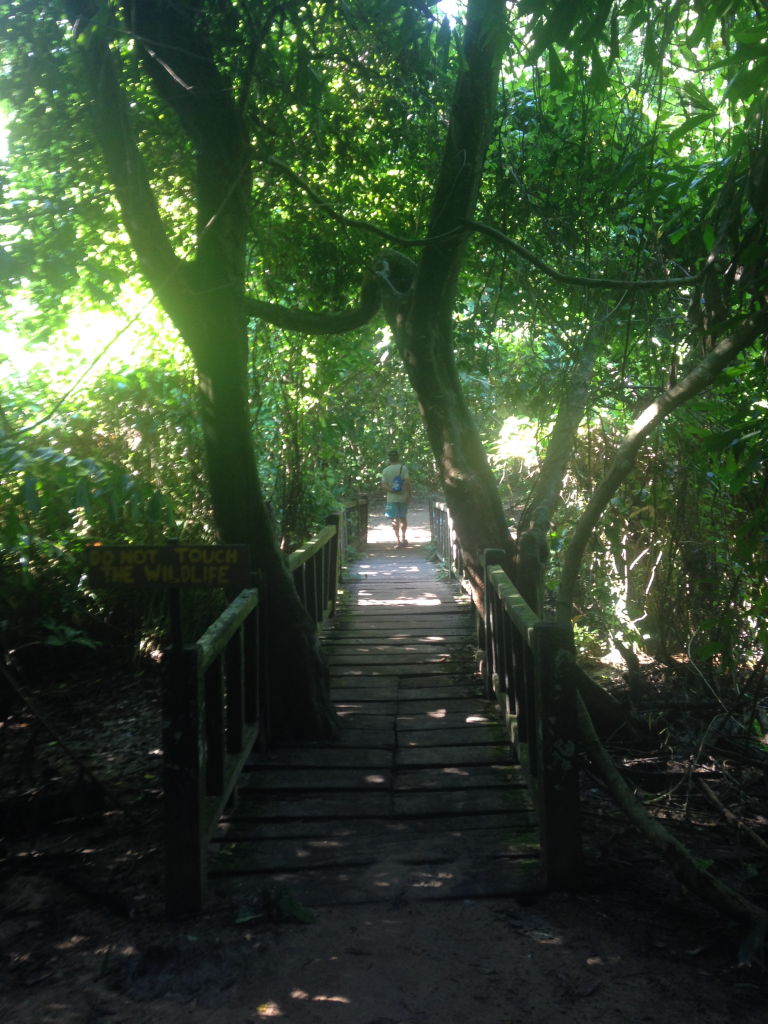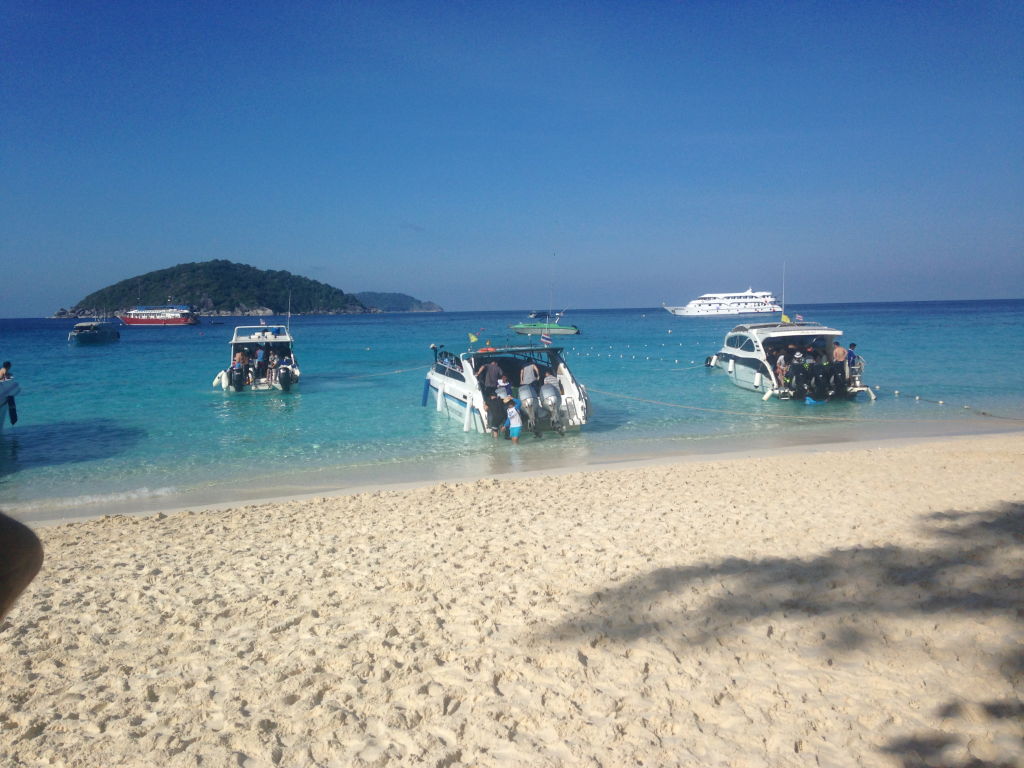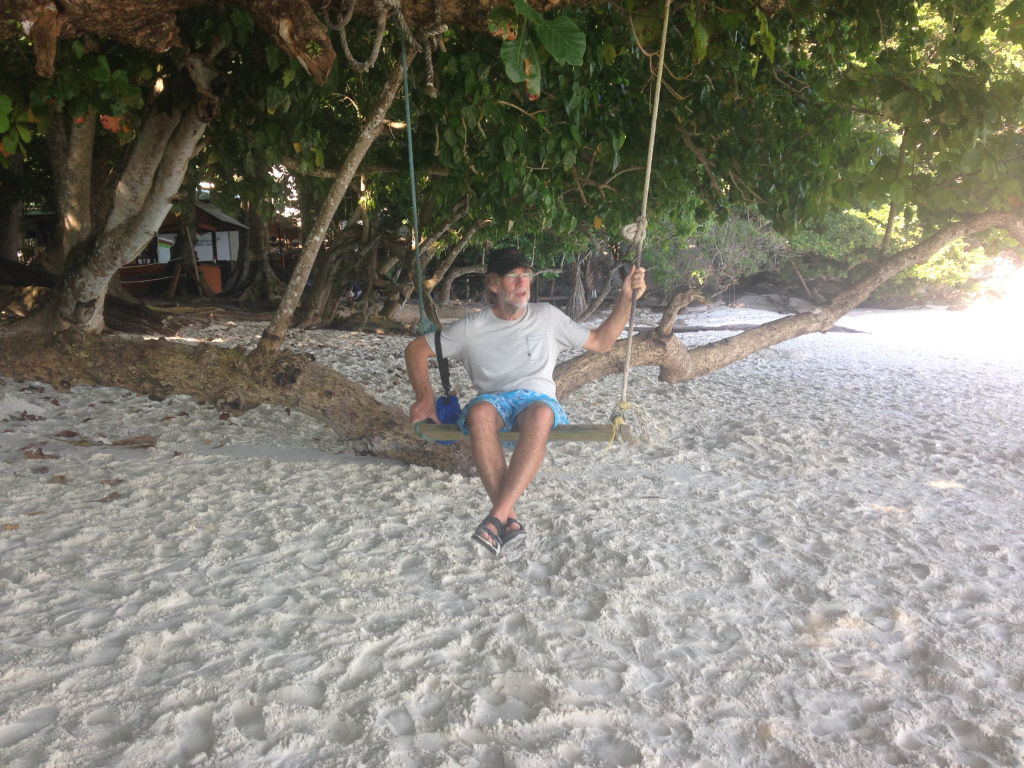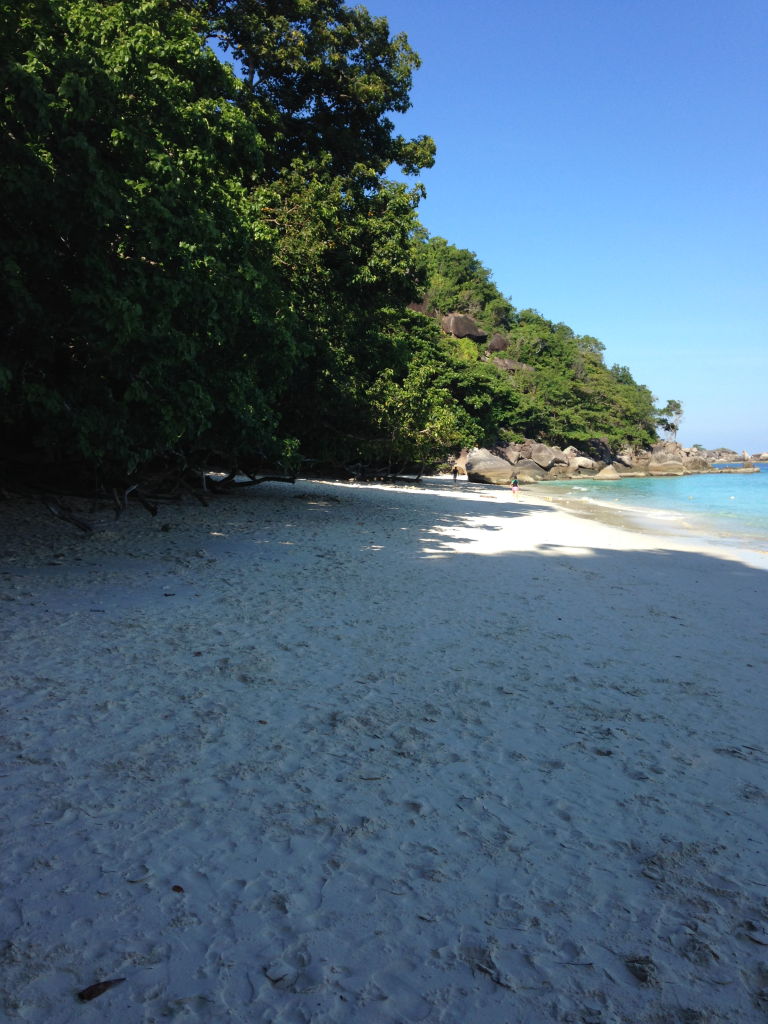 Sunday 27th November 2016
During the night there was a mild storm with a fair bit of rain and Paul had to reset the mooring. It actually sounded worse than it was but I was awake for quite a while and read for a while in the cabin. We had a lazy morning watching the boats come and go, and because it was cooler after the storm, we dinghied ashore at lunchtime to check out the beach buffet that had been set up. Nothing appealed to me and Paul wasn't hungry so we took a walk to the top of the island. Following the signs, we ascended a fairly steep path through the jungle, feeling the humidity as we went further in, but it was fun and I was thrilled to see a huge lizard lumbering through the foliage at one point. The view from the top didn't disappoint and was made all the more lovely by a cool breeze after our hot, sweaty walk. We took some pictures and rested before beginning the descent which was hard on the legs at the steeper places. Halfway down, I grabbed one of the steadying ropes as I felt myself falling but couldn't stop an ungainly stumble onto my back in the mud, apparently looking like a tortoise on its back when I tried to get up according to Paul :).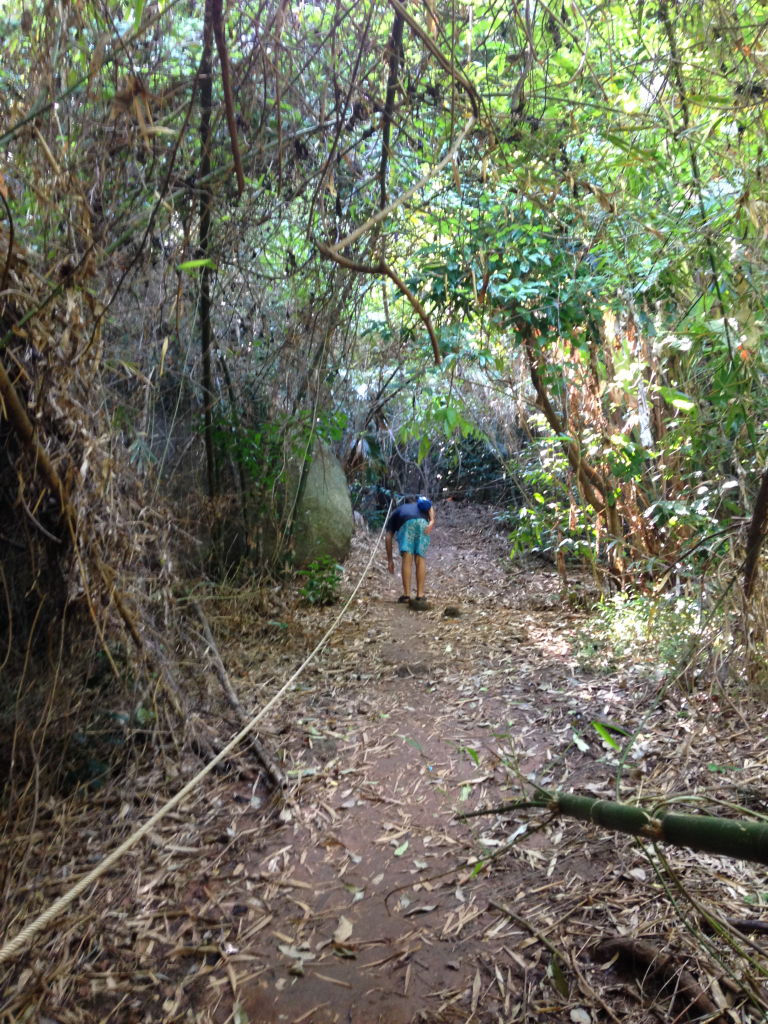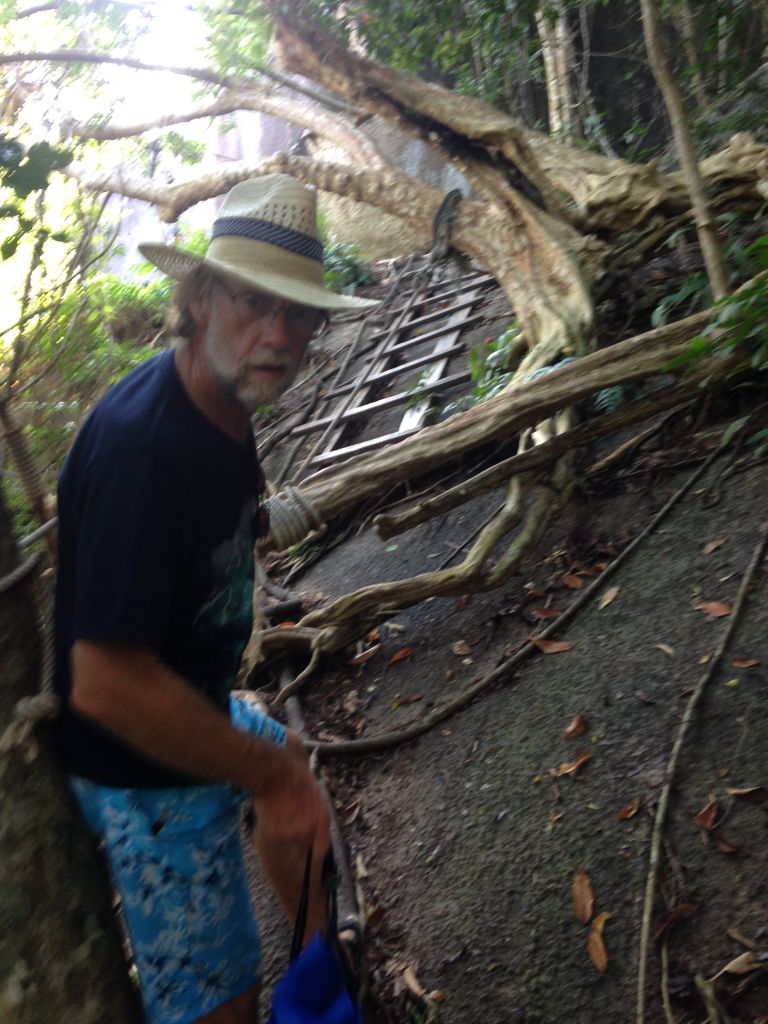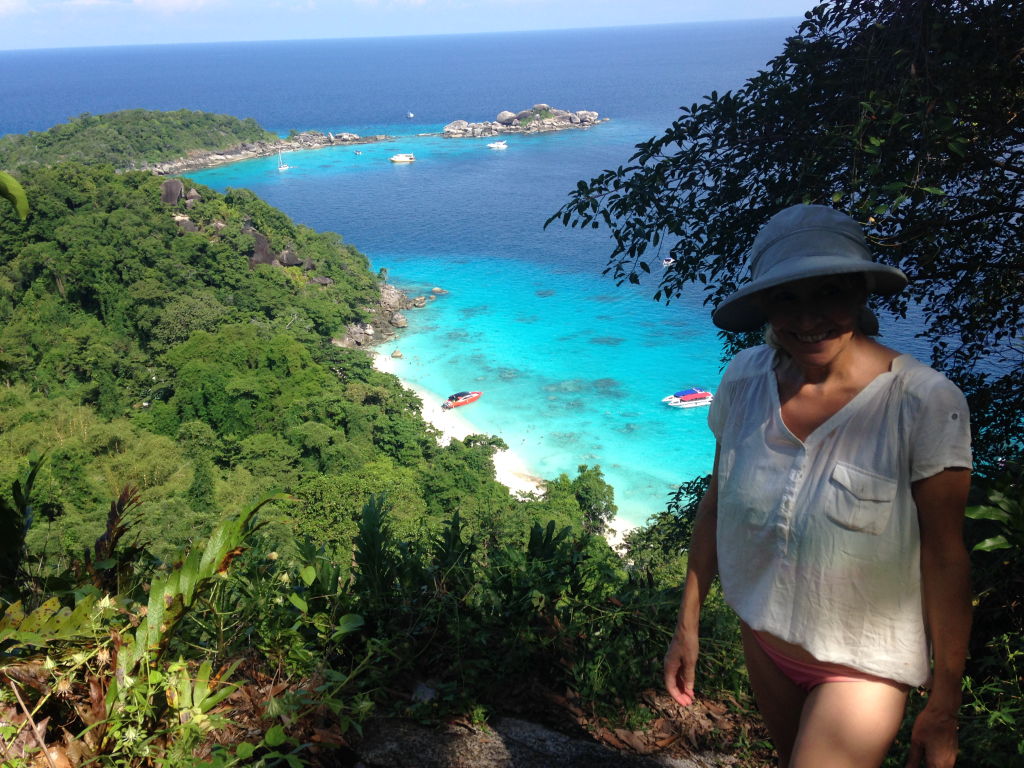 Kathy