On Monday (6th Feb) we set off early to collect the hire car. An early start was needed in order to carry out the series of tasks on the 'to do' list so that we'd be ready to depart the following morning.  The priority, and therefore first task on the agenda, was to get Paul's stitches out. We were expecting to be in the hospital for some time, especially when we arrived there and saw how busy it was. Yet after presenting himself at reception with the medical card he'd been given the week before, he seemed to get 'fast-tracked' through to the treatment room. It looked to us like he'd jumped the queue because lots of people were seated in the waiting area outside the treatment room but his name was called over the tannoy before he even had a chance to join them. Paul had experienced this type of preferential treatment in Afghanistan and wasn't comfortable with it but we couldn't be certain that was the case and whatever the reason for such a speedy service, it meant we were out of there within 20 minutes. The next stop was a Post Office for Paul to get his damaged iPhone weighed and posted back to the UK for the insurance claim. Unfortunately, mobile phones – even those with no batteries in – are on the list of prohibited items for posting, along with live animals, drugs, pornographic material and Buddhas! On we went to Boat Lagoon to collect the penultimate item on Paul's list of essentials to buy for the boat: a Danbuoy, a good thing to have as part of lifesaving equipment. The last item to buy is a life-raft which we'll get nearer the time we're due to hit the big wide ocean. Rolly Tasker Sailmakers was next so that Paul could re-buy the rope that ended up in the marina during his accident. With all that done we were free to take in some of the sights we hadn't managed to fit in before we left for the Christmas holiday.
The first of these was The Big Buddha. This huge white marble statue sits on top of the wonderfully-named Nakkerd Hills near Chalong. We'd seen it from several vantage points during our drives around Phuket, and although a visit to it had been recommended by Giles, I thought seeing it up close wouldn't be worth such a steep hike up there in the heat.  Anyway we were fairly near to it, and since it appears in Phuket's Top 10 sights to see, we decided to pay a visit. Luckily we were able to drive all the way on a winding coast road which was very picturesque – although I was a bit perturbed by the sight of elephants chained and tethered in tiny enclosures outside houses or cafes on the roadside. One contained a mum and baby with a sign advertising rides on the baby elephant for children. This sort of 'attraction' will be banned completely one day I'm sure – I hope so anyway.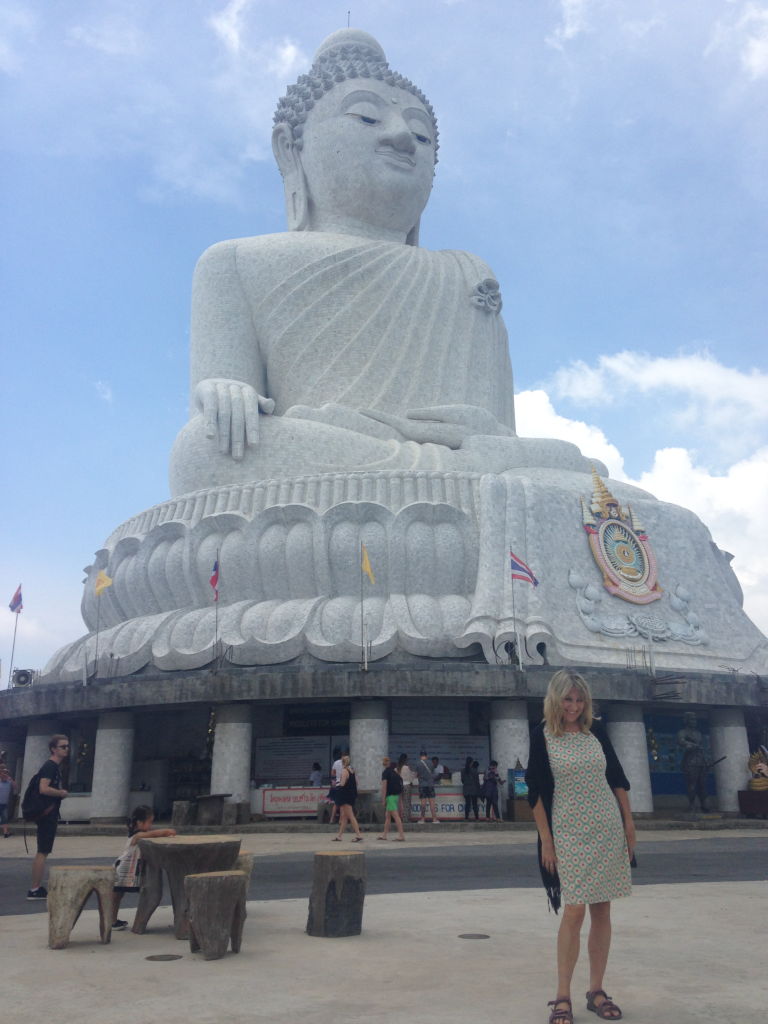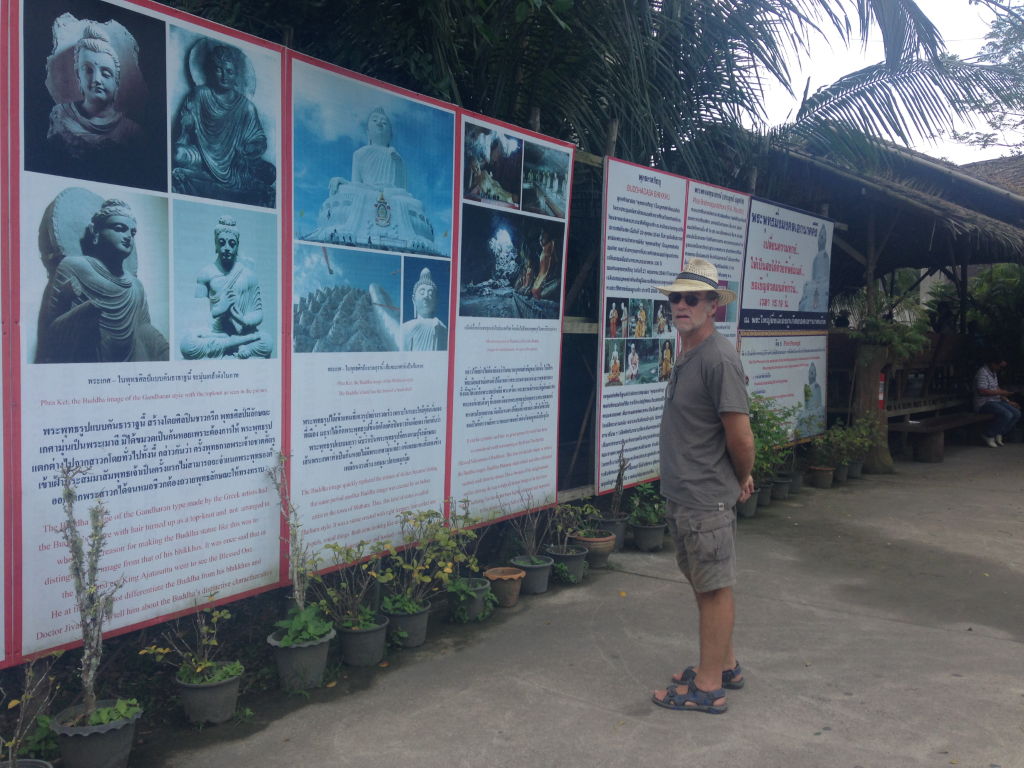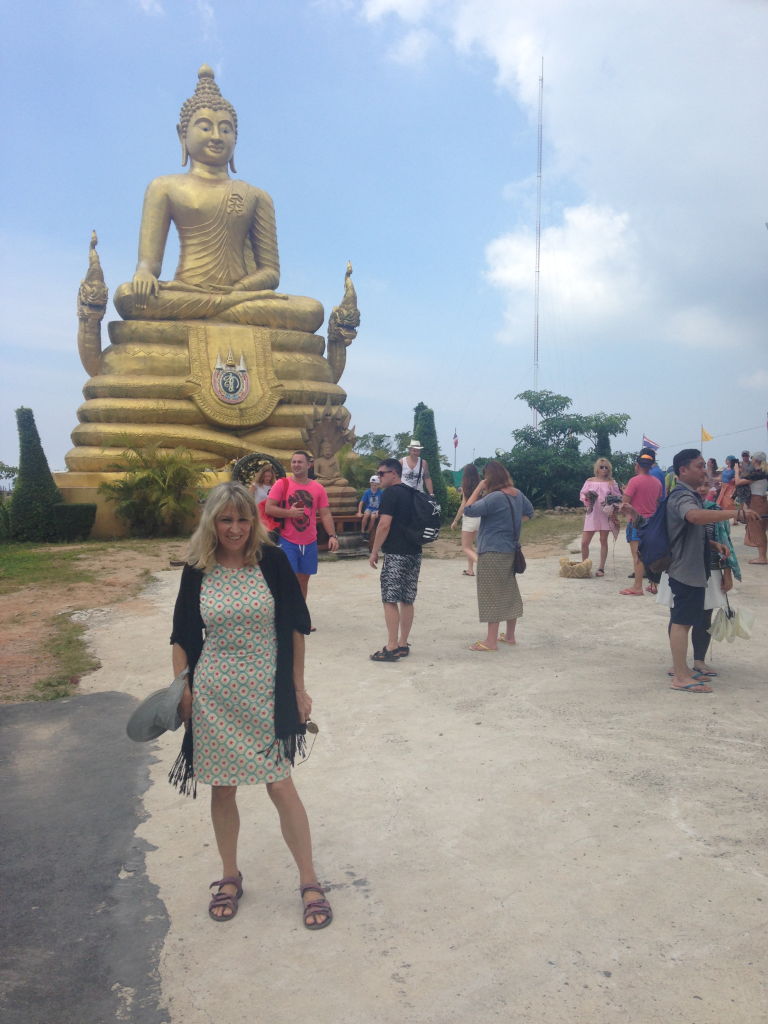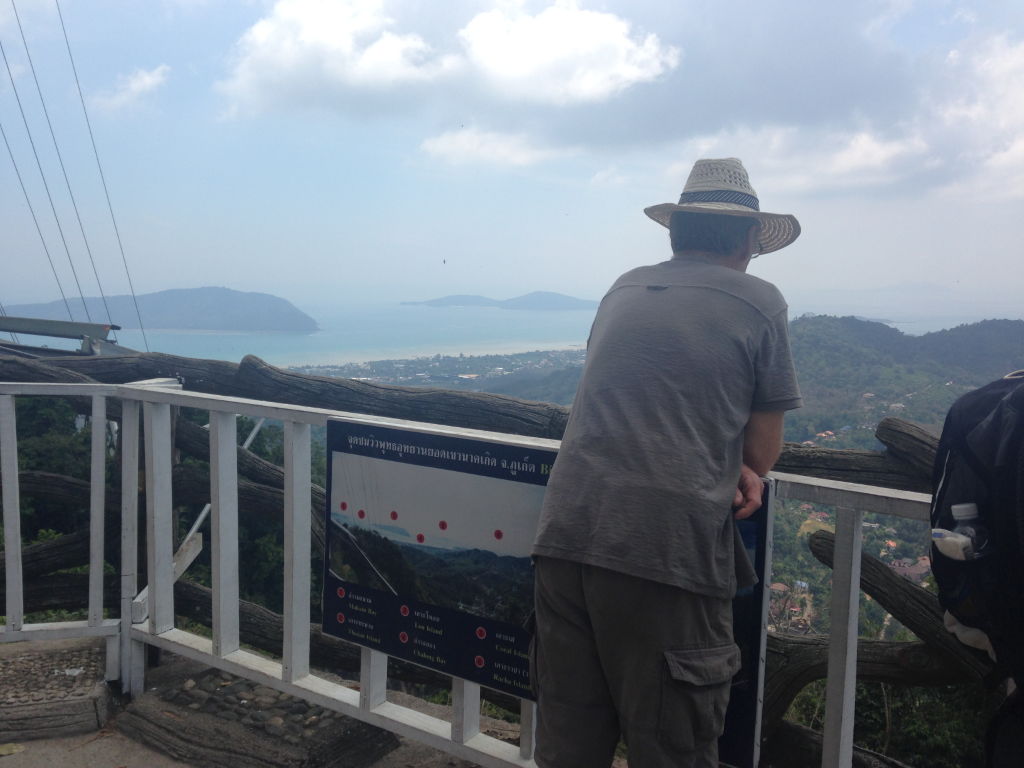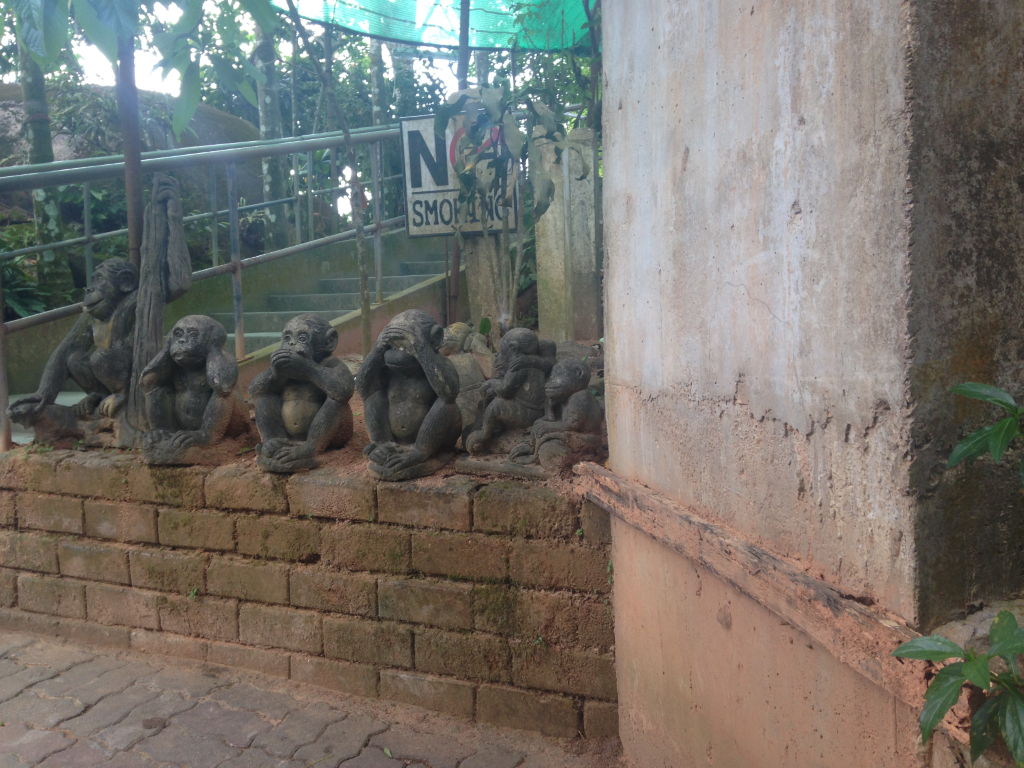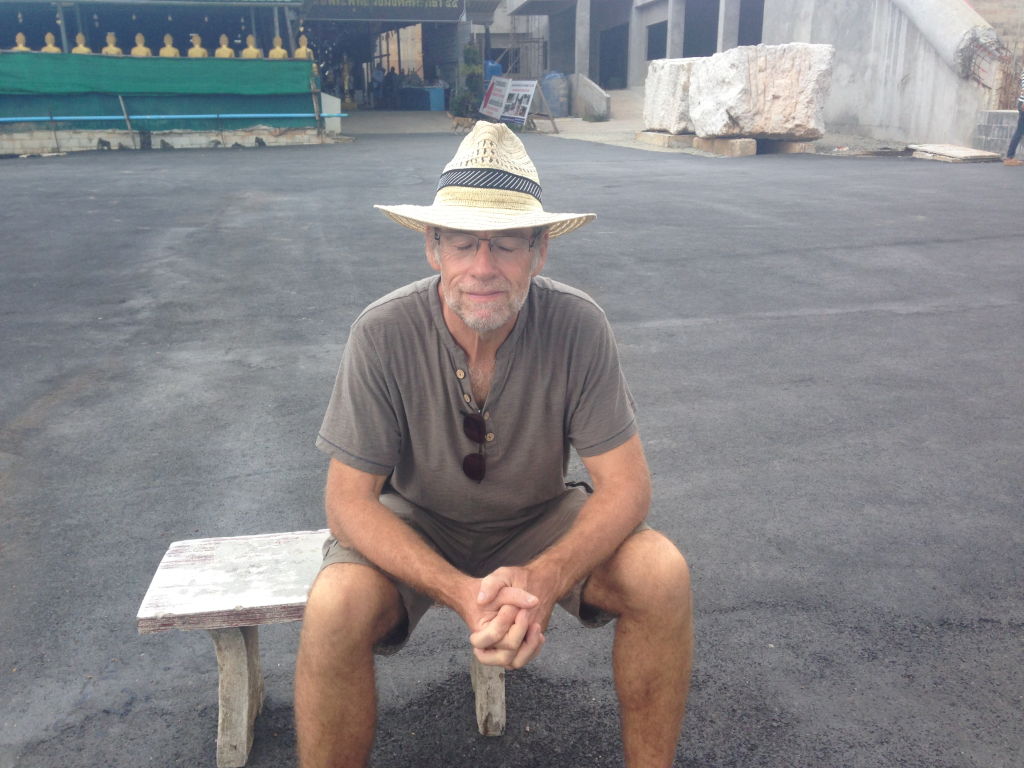 We were pleasantly surprised to discover that visiting the Big Buddha was totally free: no admission fee or parking charges. There was even a free hot vegetarian buffet near the entrance – we weren't ready to eat at that point otherwise we would have taken advantage of it. It turned out to be well worth the visit despite the intense heat. There was plenty of information about its construction, history and Buddhism itself, along with accounts from famous devotees and how it has influenced people's thinking. Interesting to discover that to have tattoos of the Buddha's image is disrespectful and that you should never buy a souvenir or picture that is just of the Buddha's head – it has to show his whole body.  We had a leisurely walk round, taking pictures and looking at the statues. Renovation and ongoing improvements are taking place and discretely placed donation boxes invite contributions towards the upkeep.  Buying souvenirs from the shop also helps so I did the shop while Paul opted for the donation box ;).
Our second sight to see was Siray Island on the east coast of Phuket.  You'd hardly know it was an island except for the road bridge you cross to get to it. One website describes it as 'Phuket 20 years ago' and it definitely has a completely different feel to it than the Phuket we've become used to. It's a lot less touristy and parts of the leafy coastal road reminded me of Mediterranean Europe. We passed luxury villas, resorts, rustic farmhouses and exclusive private dwellings. It seems Siray is the wealthy part of Phuket. Before we saw all that though, the place that caught our attention just as we drove over the bridge, was the monkey viewing platform overlooking the mangrove swamp where they live. Locals and visitors can buy or bring bananas and peanuts to feed them. They come right up to you and take food from your hand – not aggressively, just a bit 'snatchy' and they are extremely quick. I wasn't brave enough to do it but other people were and it was fascinating to stand and watch – both the feeding frenzy on the platform and the antics of the monkeys in the swamp. Good also to watch them in their natural environment, especially after seeing the plight of the elephants earlier in the day.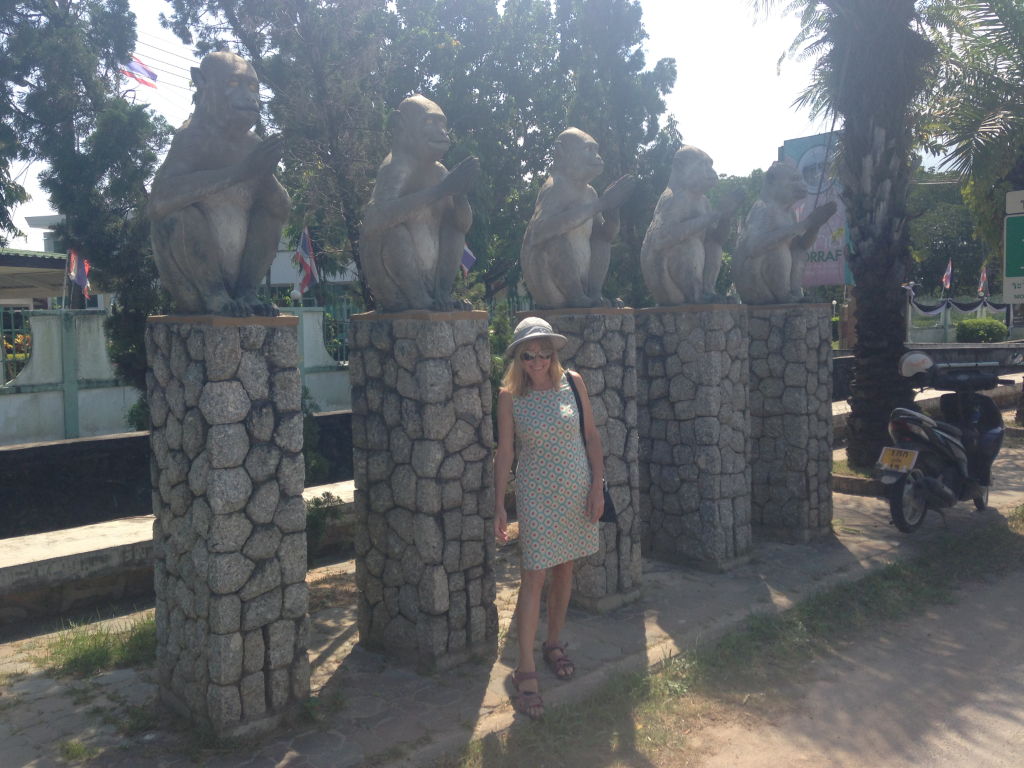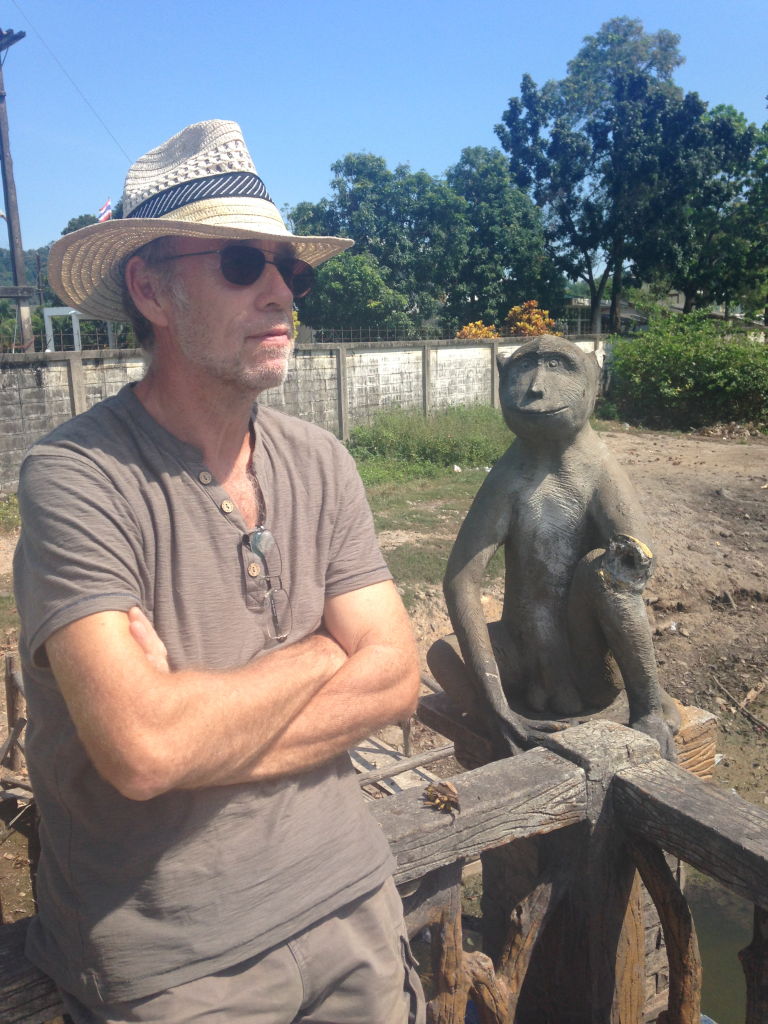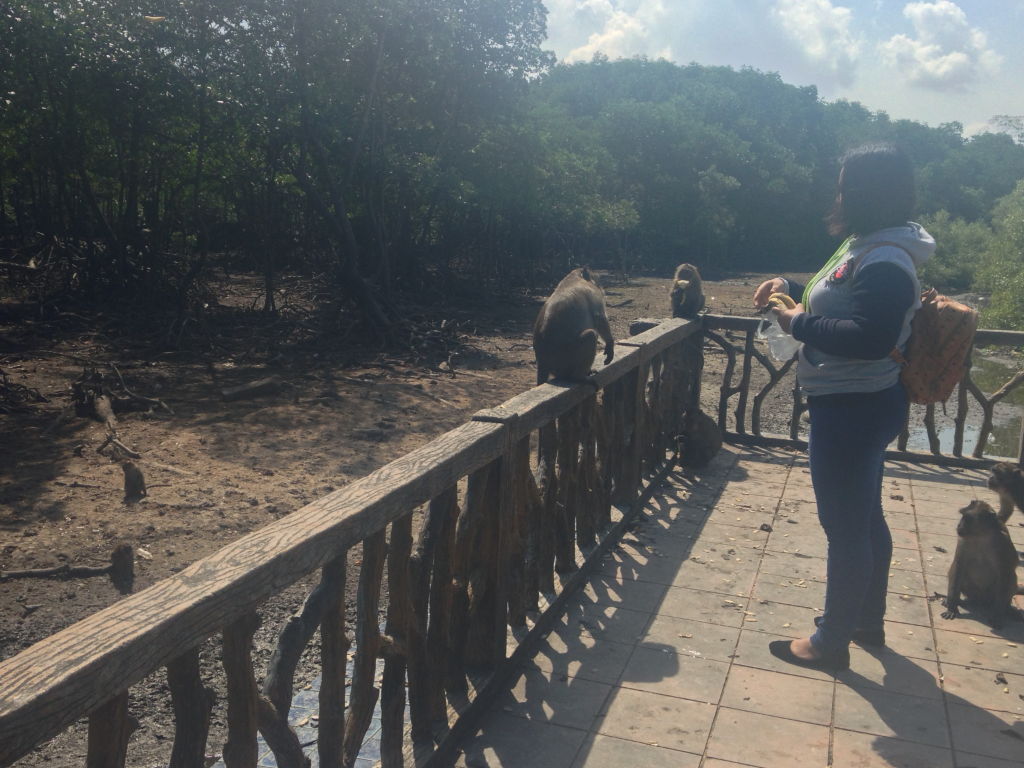 Back on the coast road, we stopped the car at one high point to get out and photograph the breathtaking view over Phang Nga Bay. Just as we stood wondering about an unfinished road and a plot of land that had been cleared for some purpose, a motorbike drew up and the driver came up to wish us good afternoon. He was a local man and stopped to have a chat with us. The area we were looking at, he told us, was going to have a hotel built on it. Apparently, Chinese business men had commissioned it but the deal fell through due to corruption according to him. He supposed we would be going to see James Bond Island in Phang Nga Bay and was surprised when we said probably not. He in turn surprised me, since he'd lived all his life here, when he complained about how hot it was that day – much too hot he said.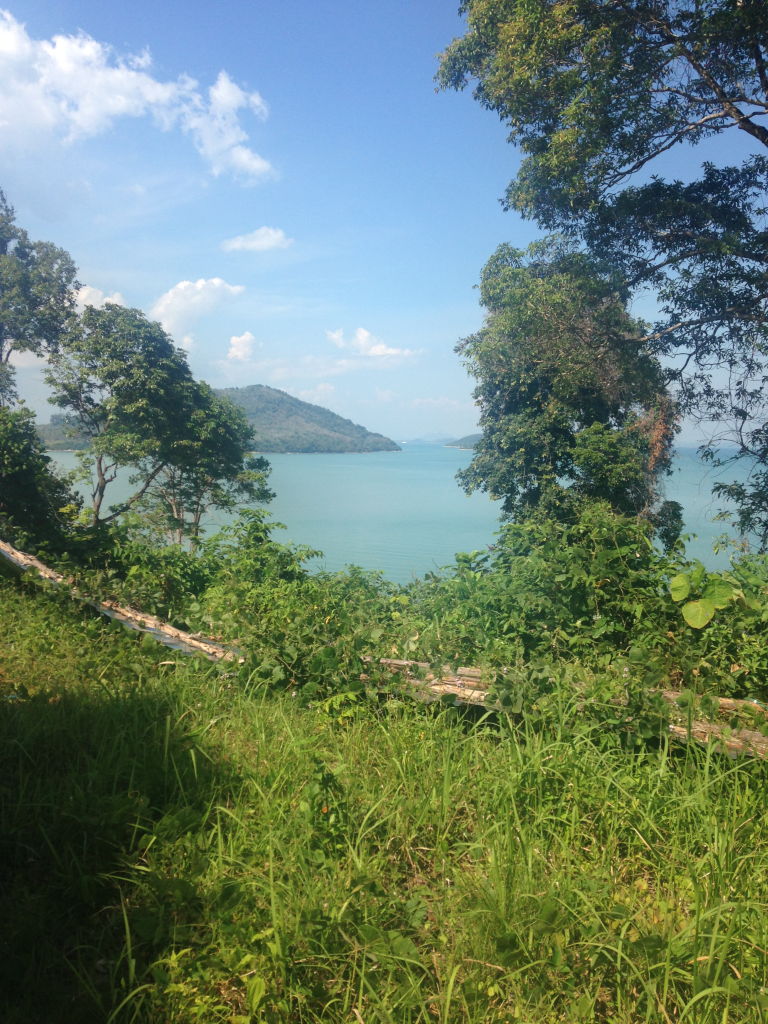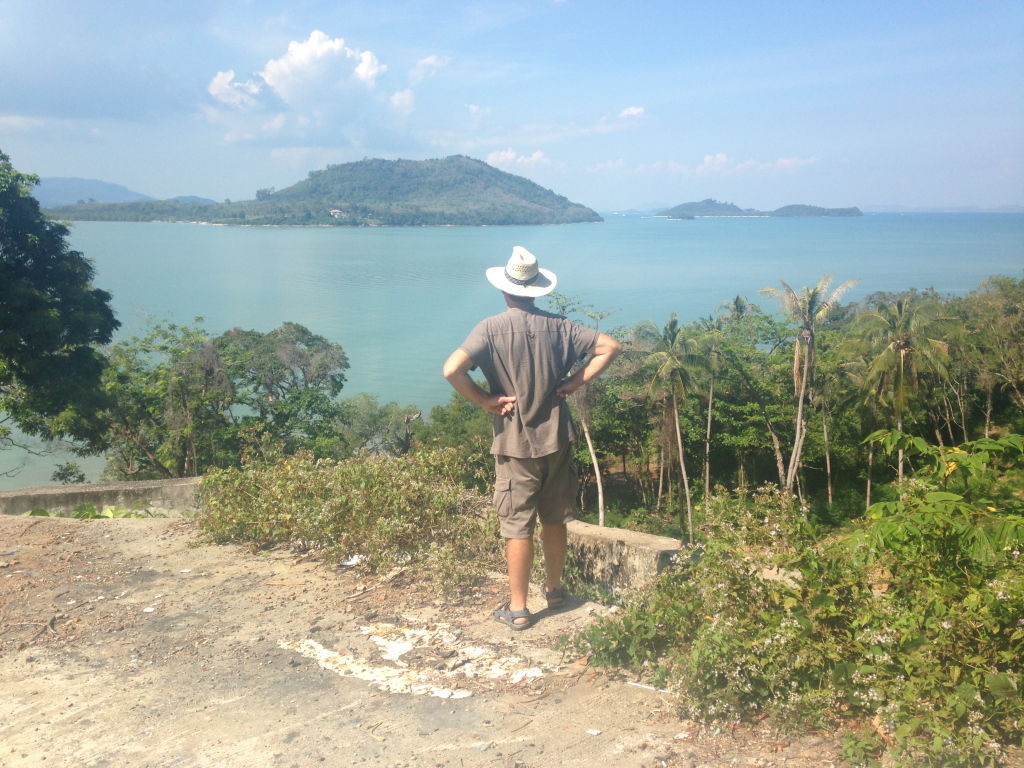 We had one more place to see before a planned late lunch/early dinner at Yanui Beach. Cape Promthep is a popular spot to see the sun set, and has stunning views across the bay. There were steps to climb and it was still baking hot but once again it was worth it when we reached the top. The breeze up there was wonderful and people were making the most of it by standing on the walls and letting the wind catch their scarves and shawls to create flowing, model-like poses. We didn't do that ;).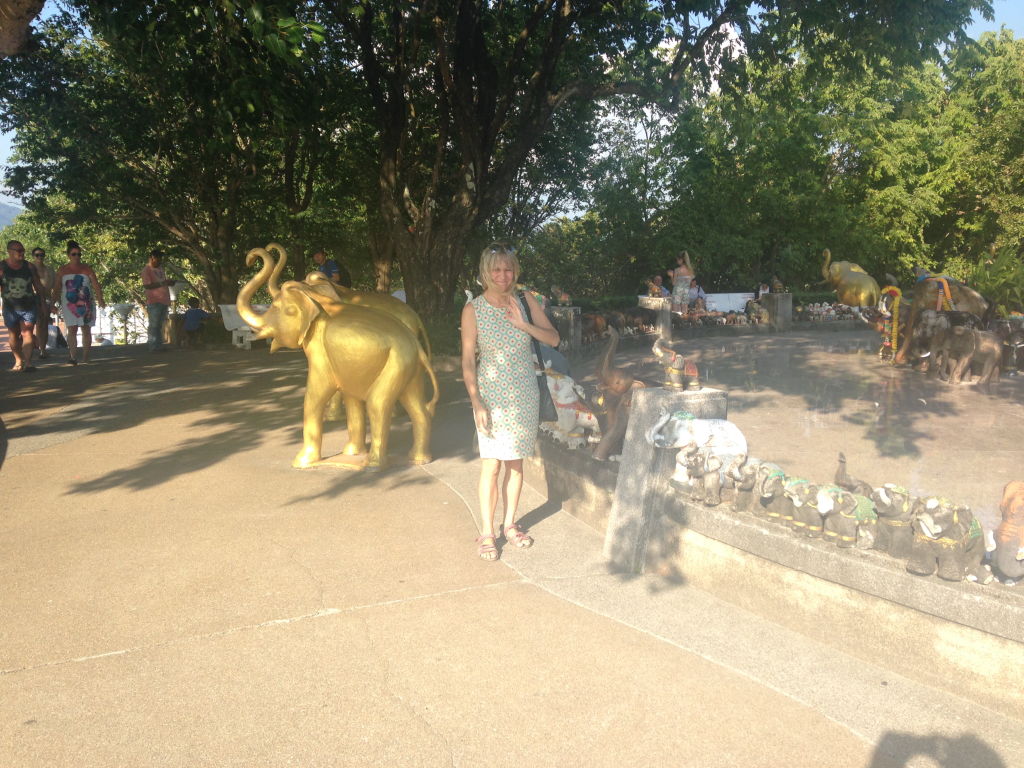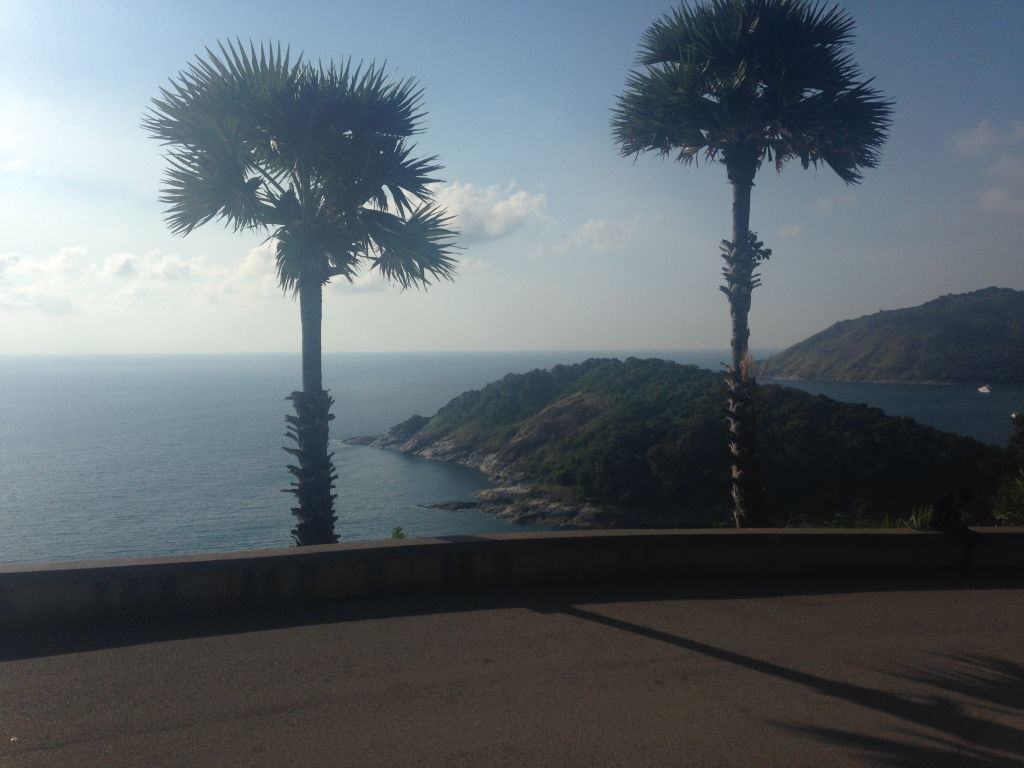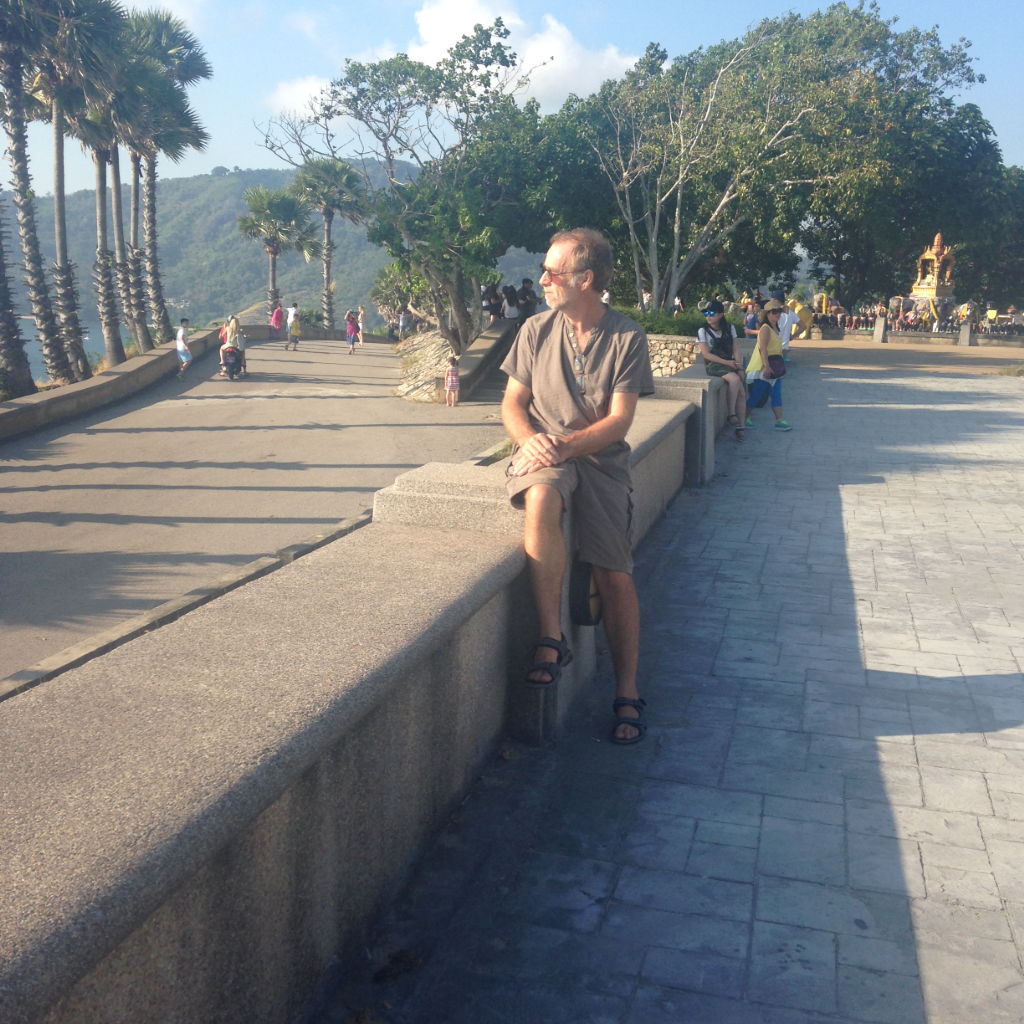 At Yanui Beach we chose the restaurant we'd eaten at on our first beach tour in October. The food and service wasn't as good this time but the setting was as charming as ever, and it was enough to sustain us during the last supermarket shop we'd do for a month or so. We didn't get back as late as the previous week and thankfully had no mishaps getting it all on to the boat.
We left Yacht Haven as planned, late in the morning of Tuesday 7th February. Paul arranged for a marina dinghy to assist us out of the berth in case the propeller had gathered up growth in the time it's been sitting there which would have made make it tricky to manoeuvre out. Our journey was to be a very short one anyway and the weather was calm enough for us to take our time in order to check things were performing as they should.  The prop did need scraping and when we anchored at 1pm for lunch, Paul combined his cooling off swim with carrying out that task. There wasn't enough wind to try out all the new sails but the Yankee sail was up for a while and the sheets which had proved tough to move, were now easier to furl. Setting off after lunch provided an opportunity to use the new deck wash pump to clean the mud off the anchor chain, which is a great aid. There is a slight problem with the trip switch being underrated, which means it cuts out when it overheats but as long as it's not running for too long it works fine and it beats scrubbing the chain with a broom and a bucket of sea water.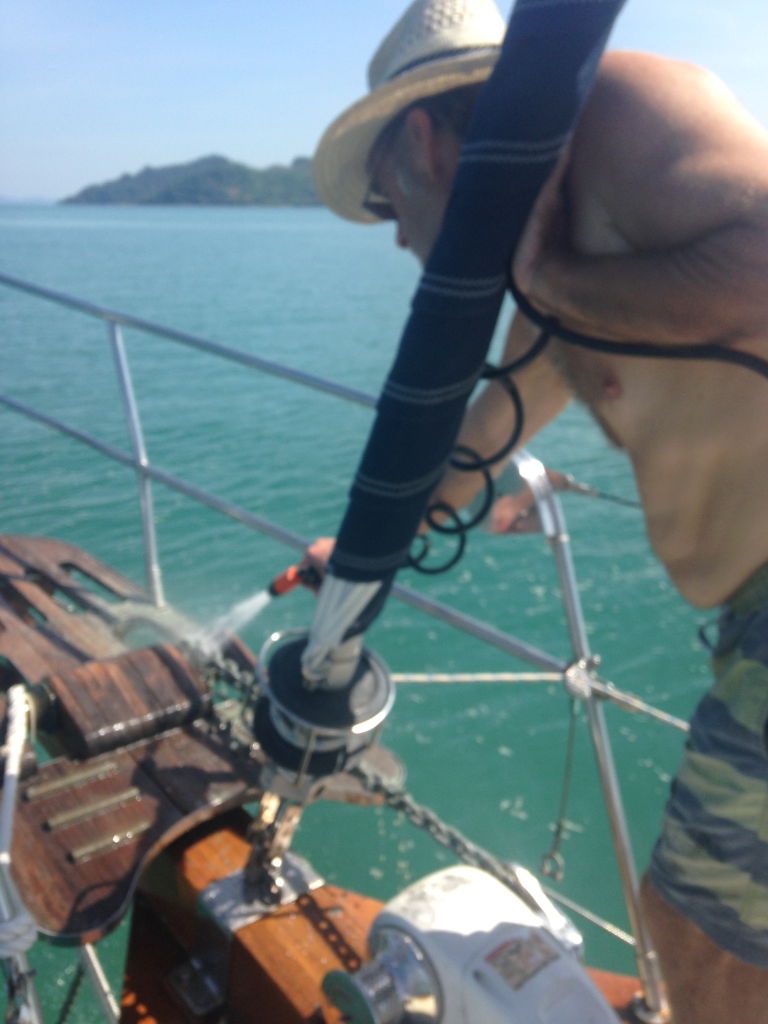 It was a beautiful afternoon –  very hot and sunny, so even the slight breeze was most welcome when it came at around 4 o'clock, just as we chose our first anchorage in Phang Nga Bay.  Koh Phanak loomed in front of us – a stunning sea mountain coloured different shades of green due to all the trees growing out of its rockface. The turquoise water surrounding us was mill pond calm and it was so peaceful: a beautiful location to begin our tour of the area. Anchoring was a doddle and all we had to deal with then was the oppressive heat. A cold shower soon sorted that out and as the sun began to lose its power we sat up above until it set. Lights from the coast of Phuket twinkled in the distance but Phanak Island, towering over us on the other side was totally dark, and seemed to be a lot closer in the twilight. We could hear birds chattering in the trees but apart from that, and the odd longtail fishing boat motoring by, it was completely quiet. That state, especially after the heat of the day made us feel drowsy and after we'd had a dinner of salad in the cockpit we didn't see much more of the evening. Phanak is described as King of The Hongs in a guide that Jack from the marina gave us before we left, and I was looking forward to seeing if it lived up to that reputation.