The names of the various 'kohs', or islands we stopped at gradually became indistinguishable the more we visited. With unfamiliar language and a familiar, uninhabited landscape it's easy to become disorientated when trying to recall events and descriptions. It's made even more muddled by the fact that maps and charts often have different names and varied spelling for them. For example, Koh Jum is also known as Koh Pu. We began to find ourselves debating what such and such a place was called and when we were there. Or maybe that's merely an ageing trait ;). Anyway, noting them down on paper helped and on the afternoon of Saturday 11th February, I can state with certainty that we were anchored near to the islands of Koh Kai and Koh Lo Lo. It took a little longer to get the anchor down because the chain was twisted. I was concerned that I hadn't been flaking it correctly but Paul thinks it's down to something else because it doesn't always happen and I don't vary my technique. After we'd had a bit of a motor around in the dinghy, checking out the three small Hongs around us (getting out for a closer look on one of them), the weather changed and a squall hit us.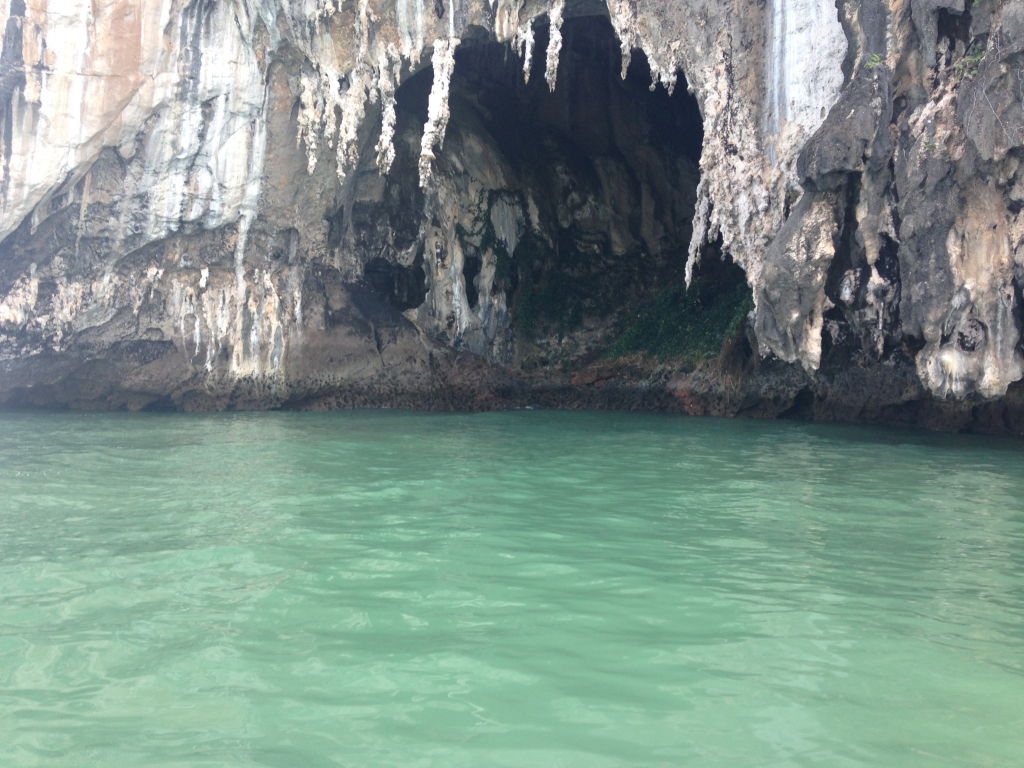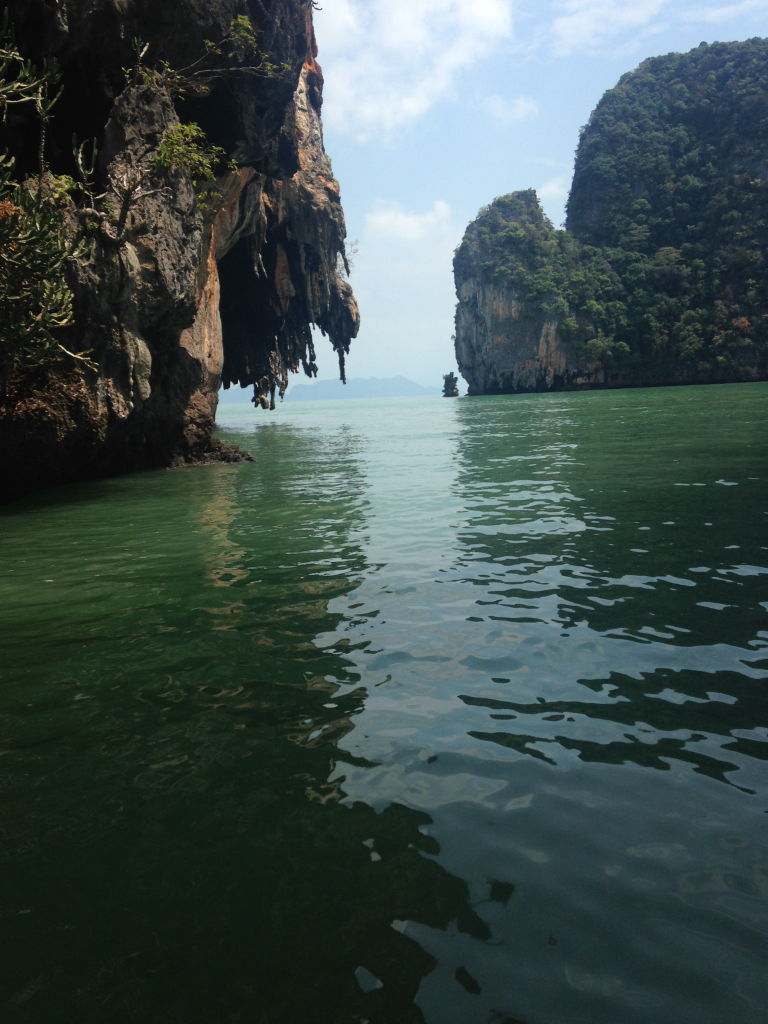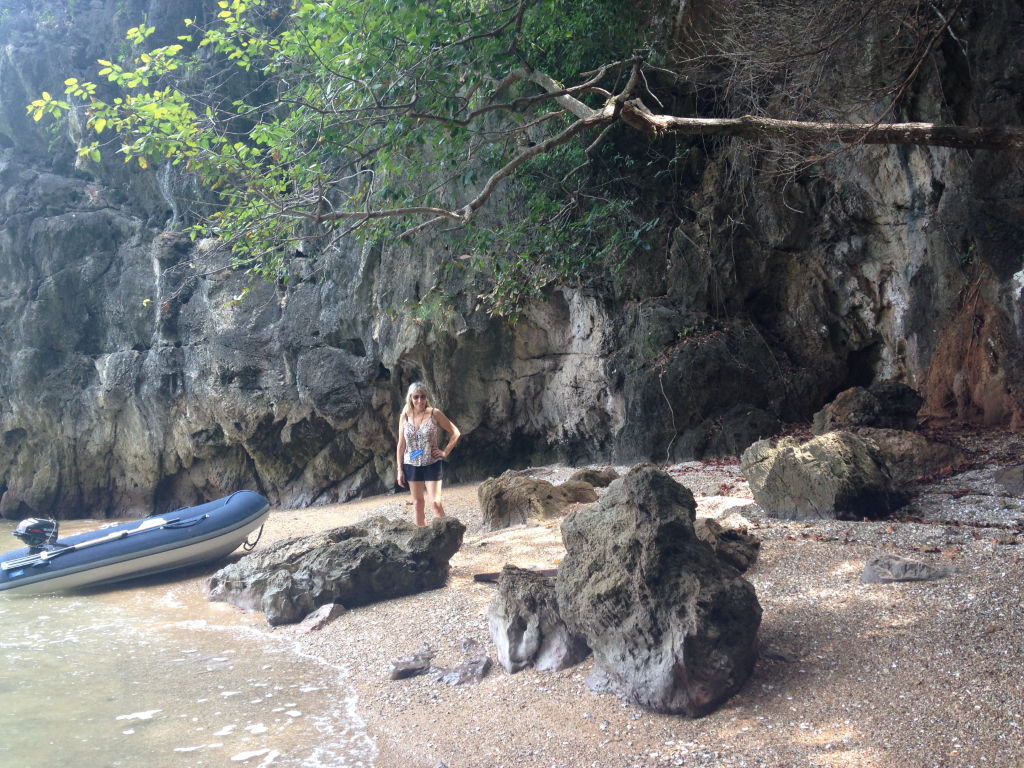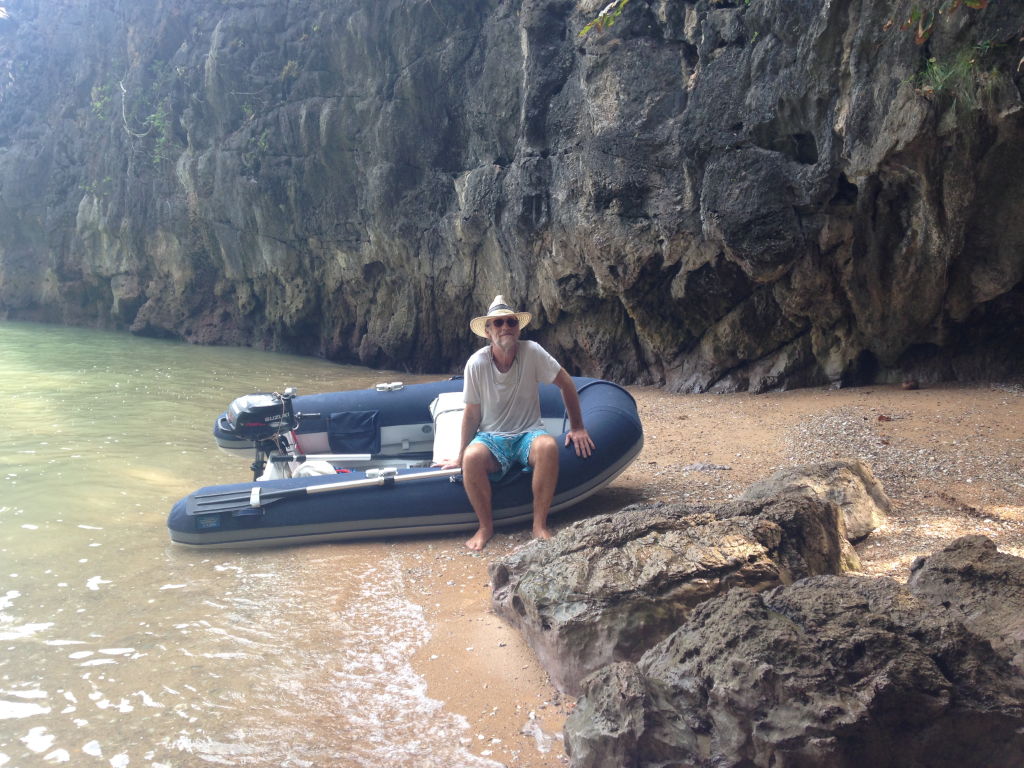 There was nothing else for it but to sit in the cabin reading and dozing for the rest of the afternoon. When Paul woke up and checked the forecast he decided we needed to move on because the wind was set to increase in force and we would be too exposed in our current position.  It was indeed blowy during the short journey to a more sheltered spot, and actually felt quite chilly – a rare sensation in these parts. The new area was very remote and felt more so because there were no other boats around, the silence was absolute and the gloomy twilight as it began to get dark created a pleasingly eerie atmosphere (well I thought so anyway). Two specks moving around on the beach opposite were identified as clam collectors with the aid of binoculars. We had dinner, fell asleep on the sofa and woke around midnight when Paul said we had to move again. So we weighed anchor in the dark and motored slowly on to what turned out to be a very shallow part because sometime before dawn we went aground.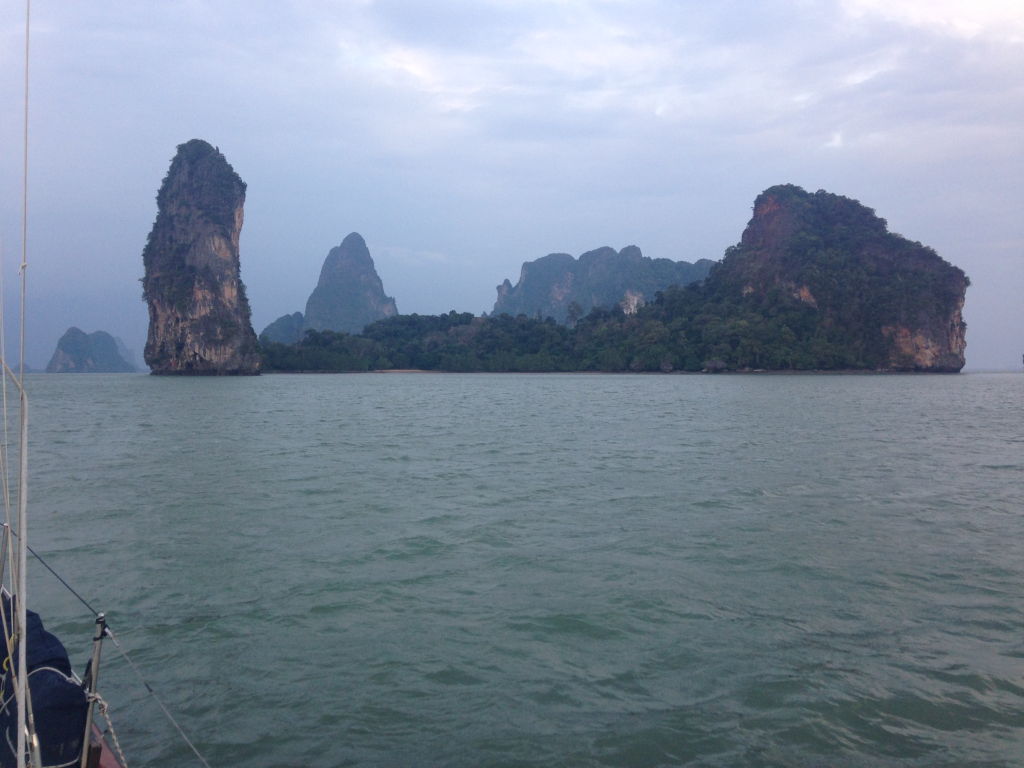 Sunday 12th Feb
It wasn't such a big deal going aground, although I had felt alarmed when Paul told me in the early hours. We'd just tilted a bit to one side and when the tide returned all was fine again. The morning was sunny, bright and still very windy. Koh Yang was our next Koh and we spent all of Sunday there with a couple of nearby Catamarans for company. Despite the strong gusts and a few showers of rain, we dinghied over to a secluded beach and got a bit of a shock when we stepped out and found ourselves ankle-deep in mud! I lost a flip flop and thought I'd seen the last of it but Paul gallantly trudged through the sticky mud to seek it out and reclaim it for me. The tiny island didn't take long to explore. We returned to Sister Midnight on choppy water with a fine drizzle covering our faces and had the Thai version of pot noodle for dinner when we got back. We thought this would be a quick, filling and tasty meal; easy to prepare in rocky conditions, which it was except that Paul's non-veggie one was so spicy he could hardly taste anything. We stayed all day Monday so that Paul could work and with the weather still threatening rough conditions we didn't feel inclined to move. The bonus to sitting out such strong winds was that it tested the anchor well. We hardly moved at all even when the knots of wind reached the high 20s.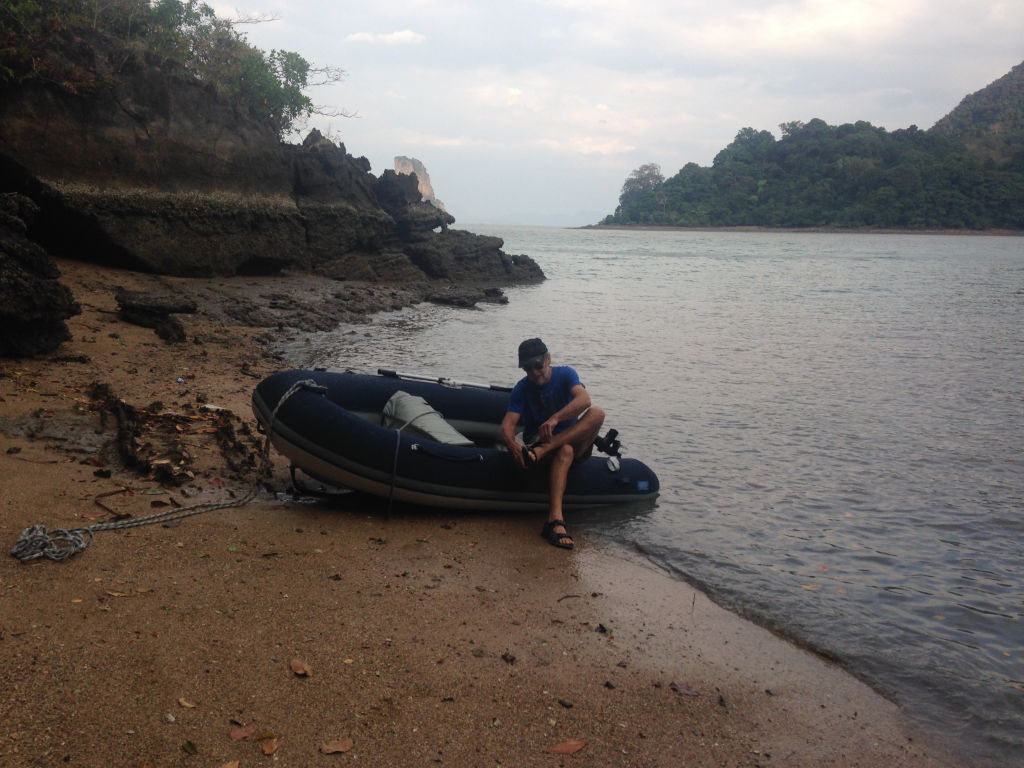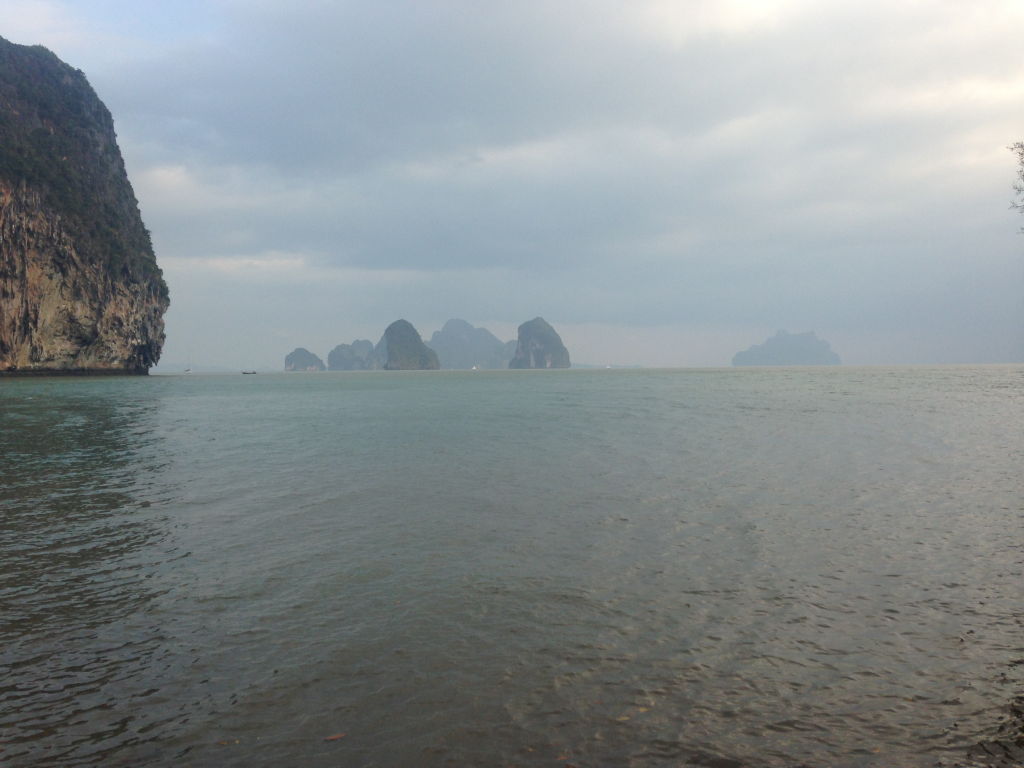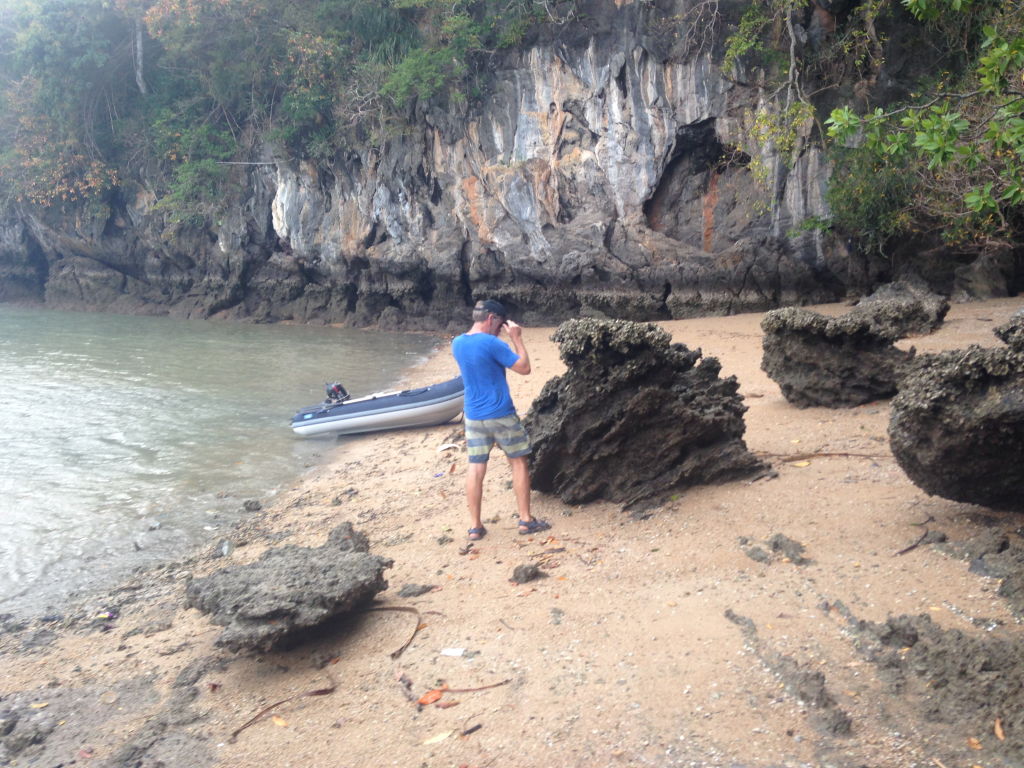 Tuesday 14th Feb
After another rocky and blustery night we discussed when and where to head for next and settled on slowly making our way towards Krabi Province on the east side of Phang Nga Bay. We filled the fuel tank and weighed and flaked the mud-caked anchor and motored off at midday. It was less windy – instead, we enjoyed a warm breeze and the sun on our faces as we skirted over the shallow, choppy water. The sea was calm by the time we arrived at Koh Chong Lat Tai at 2pm. There was no wind and it was very hot. Once we'd anchored and were fed and watered, we went to explore the very attractive-looking beach opposite, and as we approached it I was excited to see a small grey monkey (another lone one) scampering along on the western side of the sand.  It had disappeared by the time we beached the dinghy and I didn't see any more unfortunately.  The beach was totally deserted but clearly has visitors from time to time. There was an eco-toilet, a few discarded bottles and cans, and evidence of a beach bonfire or barbecue. We guessed it might be used for campers as an 'away from it all' destination. It's certainly a peaceful and serene location, although it's also host to sand flies. These insects seem to like biting our feet whenever we come across them so we didn't linger too long.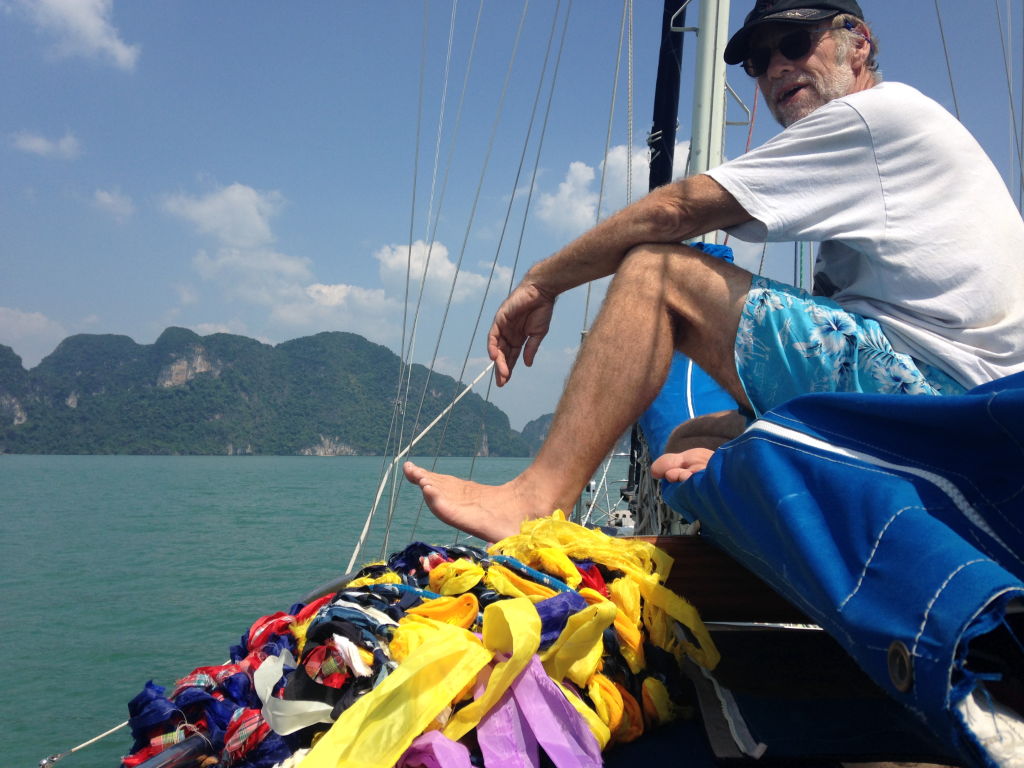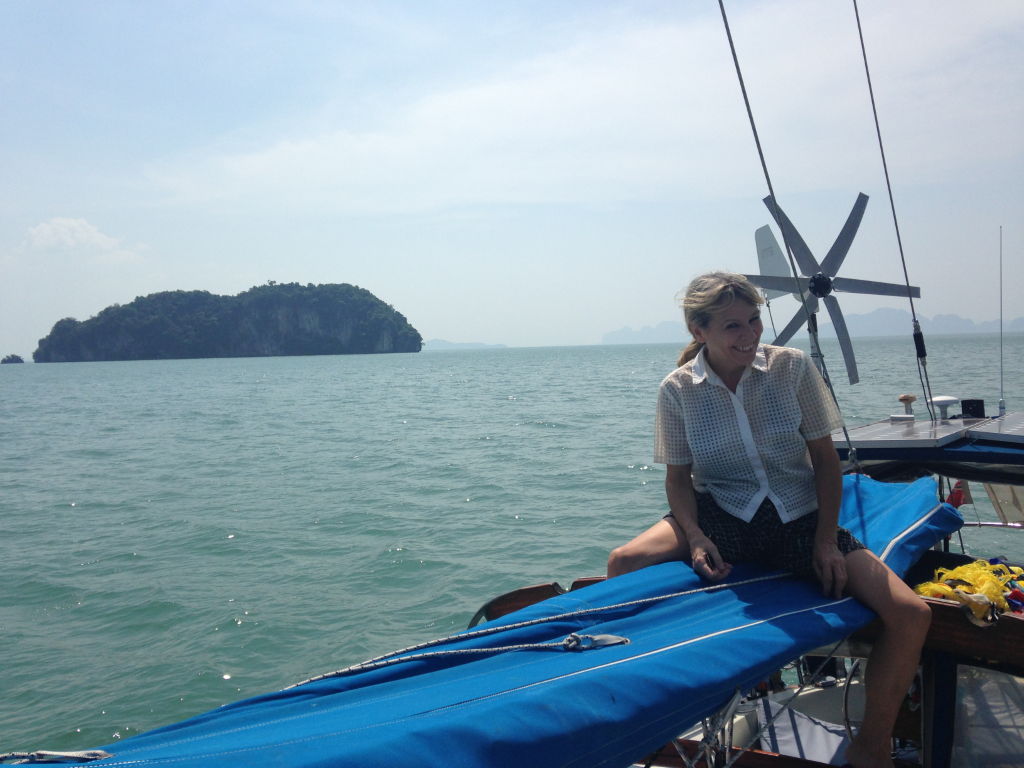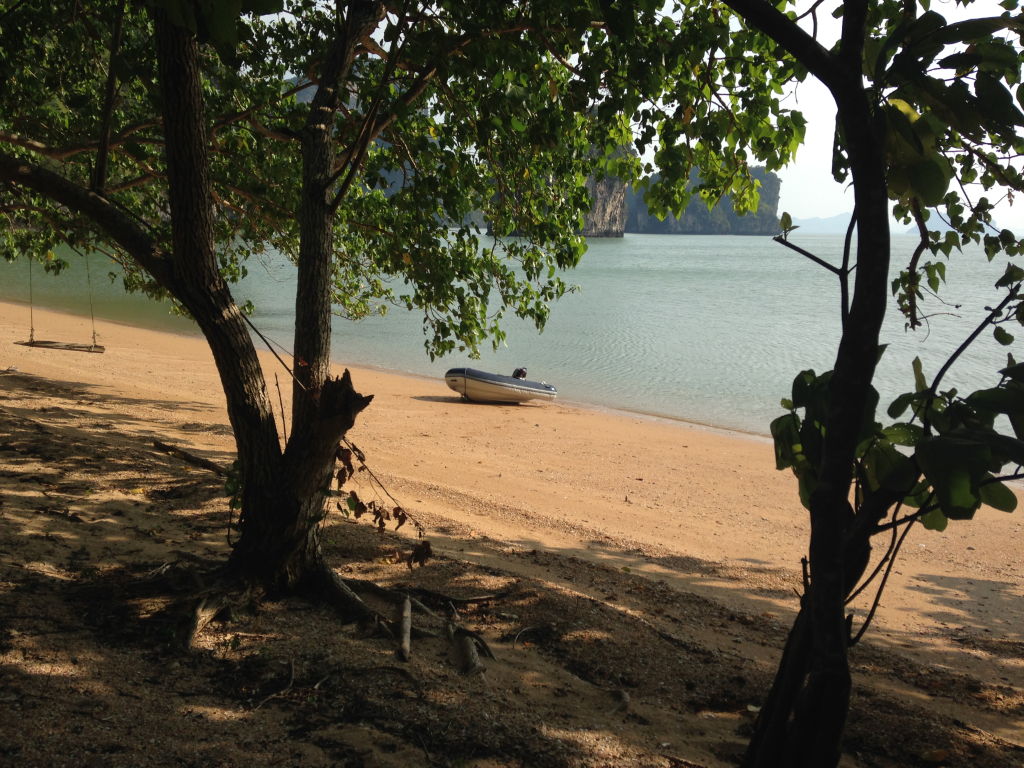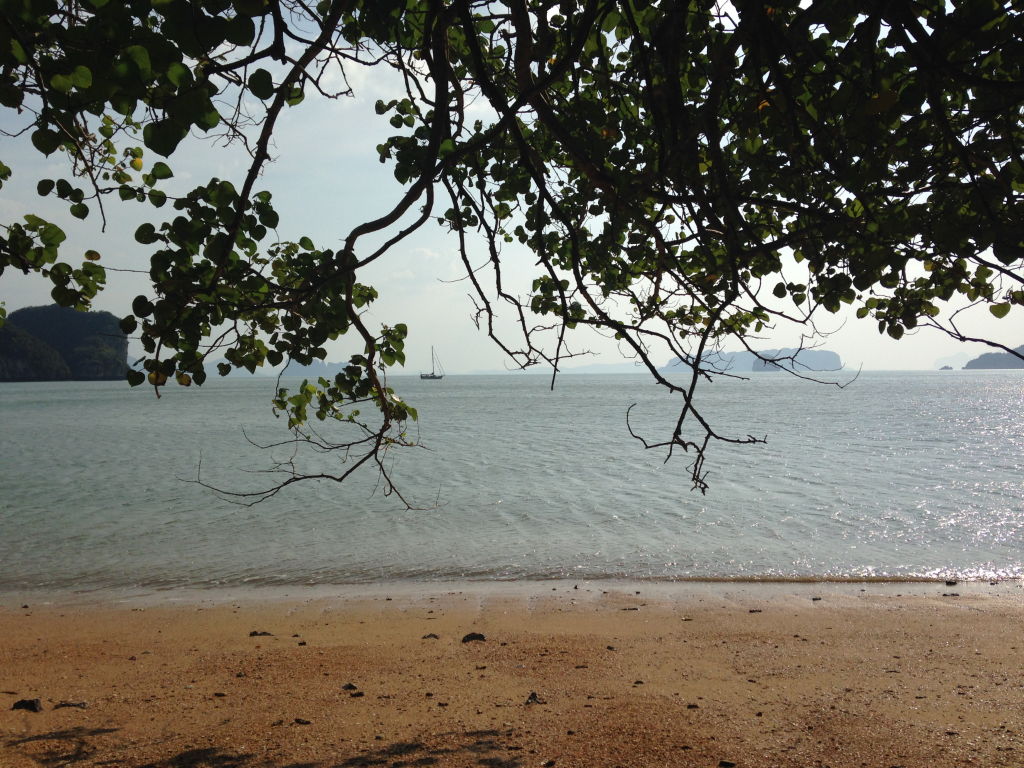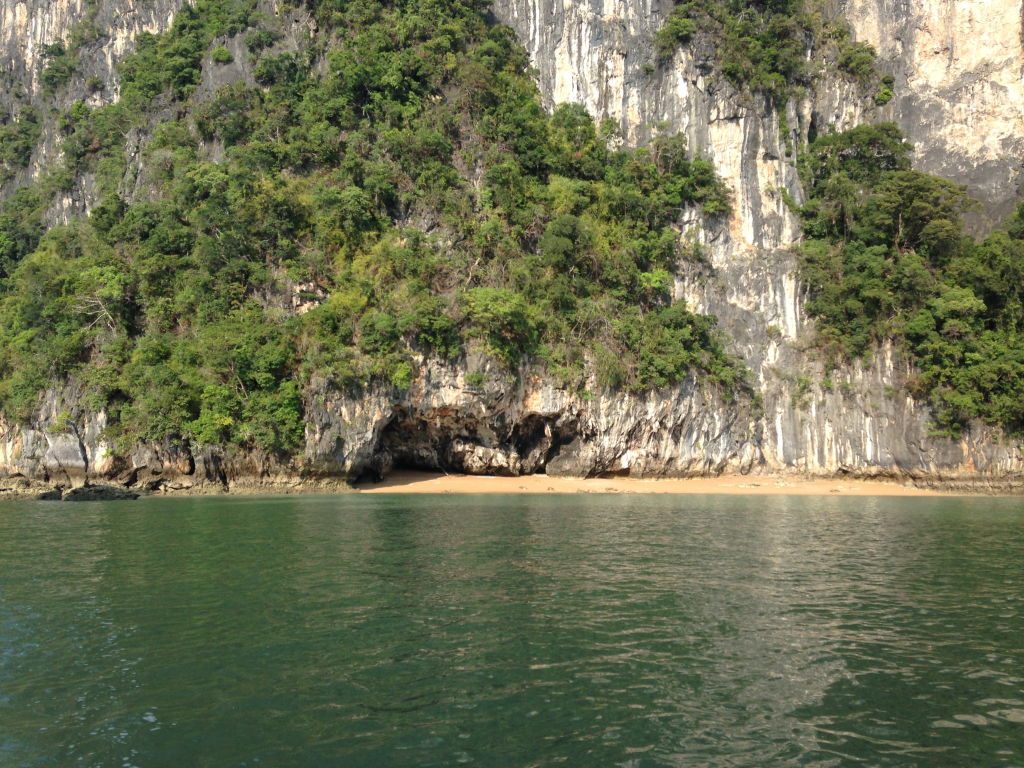 Wednesday dawned cloudy and overcast with a cool breeze blowing. A fishing boat drew up alongside us in the morning, calling out the now familiar cry offering fish for sale. We looked out to see a man holding up a bunch of prawns, which Paul bought from him after a little bit of bartering over the price. They were bagged up and put in the fridge for him to look up how to cook them later, and we set out to investigate a nearby open Hong. It was fascinating to enter it and come upon the sight of fully grown trees sprouting out of the water. I finally got to see some bats in there (a few glimpses anyway), and some toads hopping on surreal rock formations among the mangroves.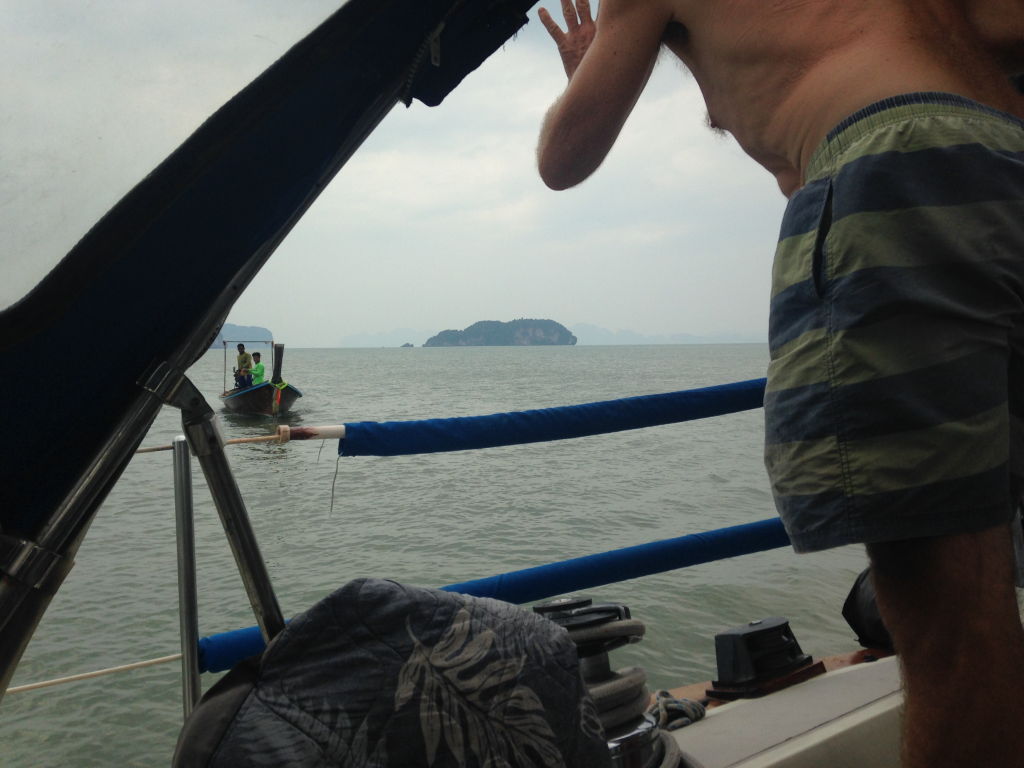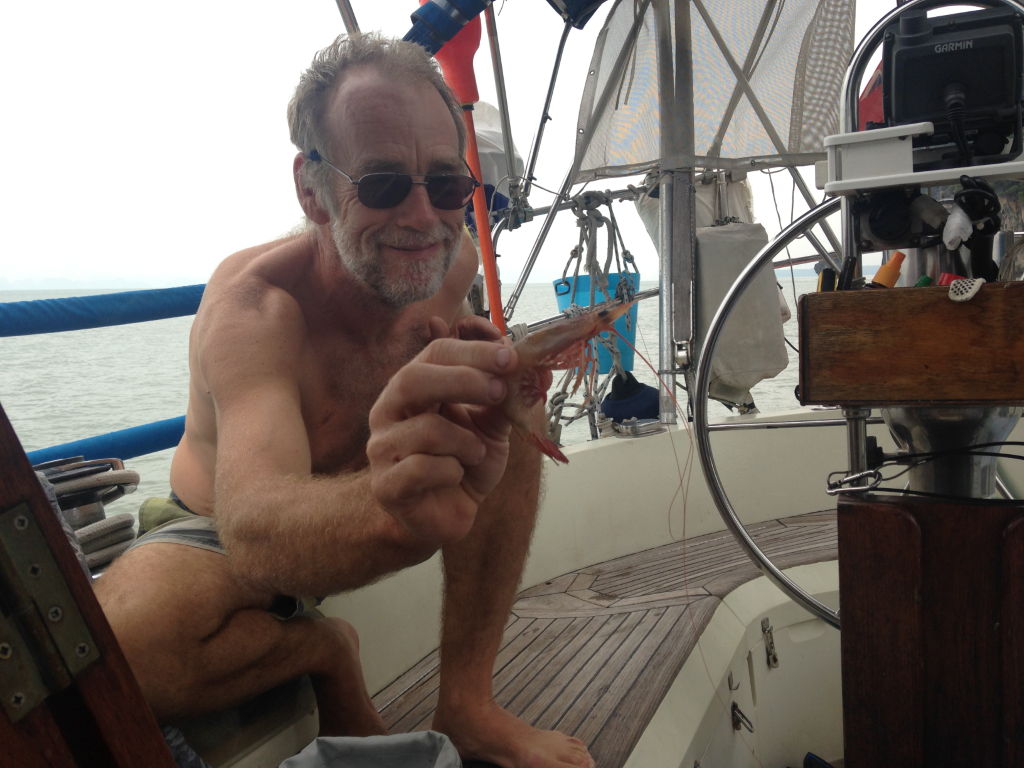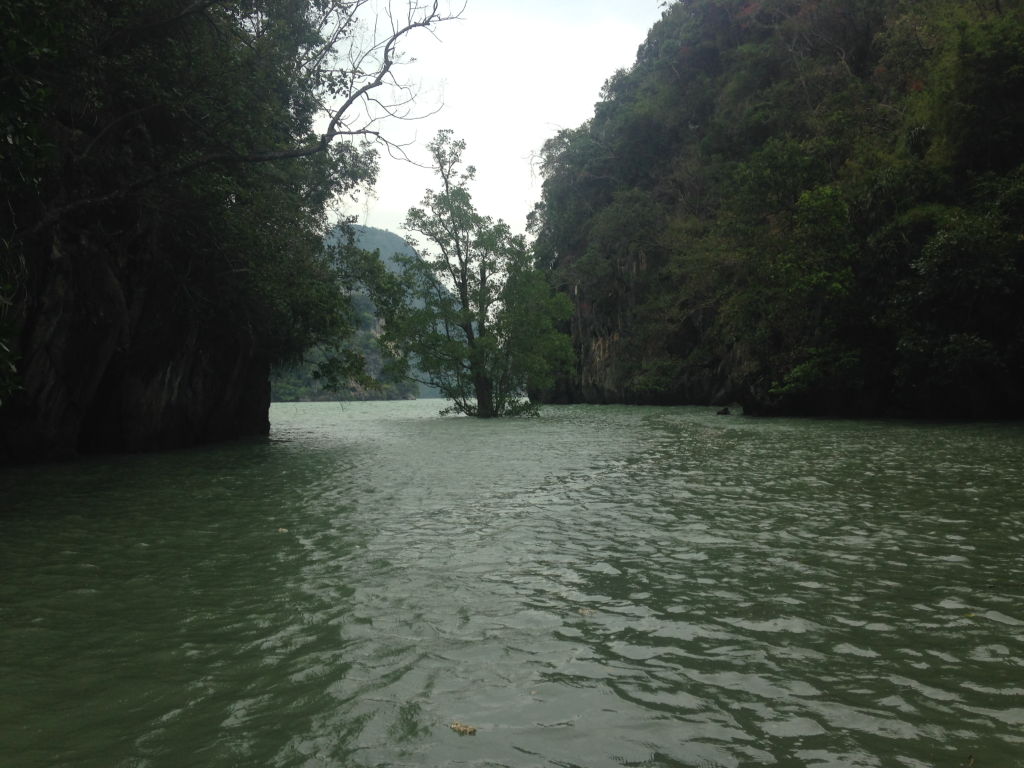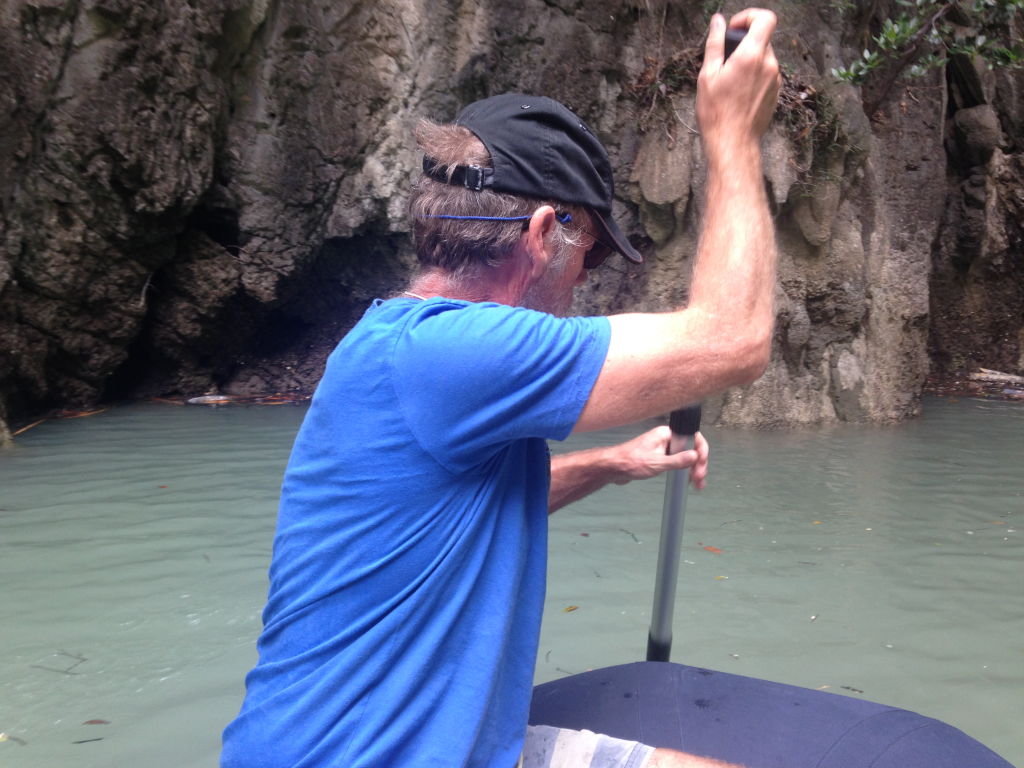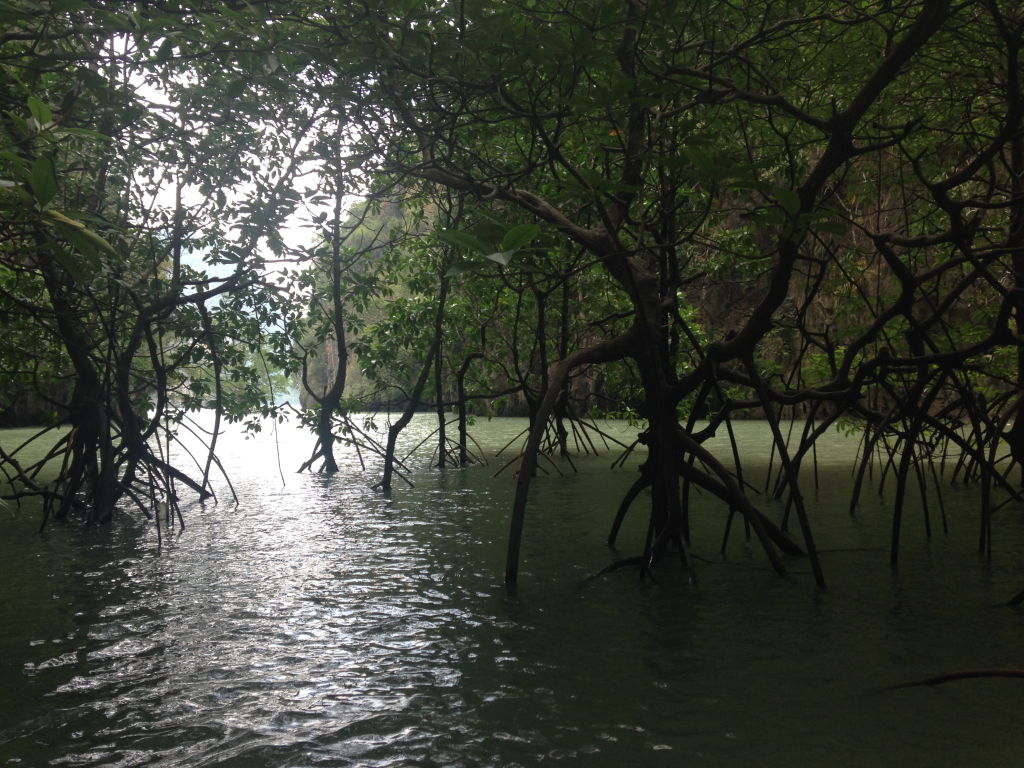 At 2pm we departed for Koh Ku Du Yai (you can see my point about how confusing it gets with all the names), and reached it by 4 o'clock after circling its circumference to find the most suitable spot. The water is very deep there but we managed to set the anchor in 12 metres. Paul did what needed to be done to prepare the prawns (it looked very messy and fiddly to me), cooked them in garlic with mushrooms and potatoes, and declared them delicious.
Thursday 16th Feb
More boats were anchored around us when we emerged into the cockpit in the morning and a few diving school boats were setting up equipment nearby. Fruit bats are said to be prolific in this area but on our dinghy trip we just saw lots of butterflies. The beach we landed on looked like it might have been a Hong once – the sea stacks around it could have been walls that had fallen away. It was nice to sit on the warm white sand taking in the exquisite scenes around us. The crew of a longtail boat whose passengers we'd spotted on a beach further along were on the other end of the shore cooking their lunch on an open fire (fish by the smell of it) while they waited to take their group back. We took a short walk on a narrow path through the dense jungle foliage behind us and when we returned we took the dinghy for a row around the water by the high rocky edges to look for bats.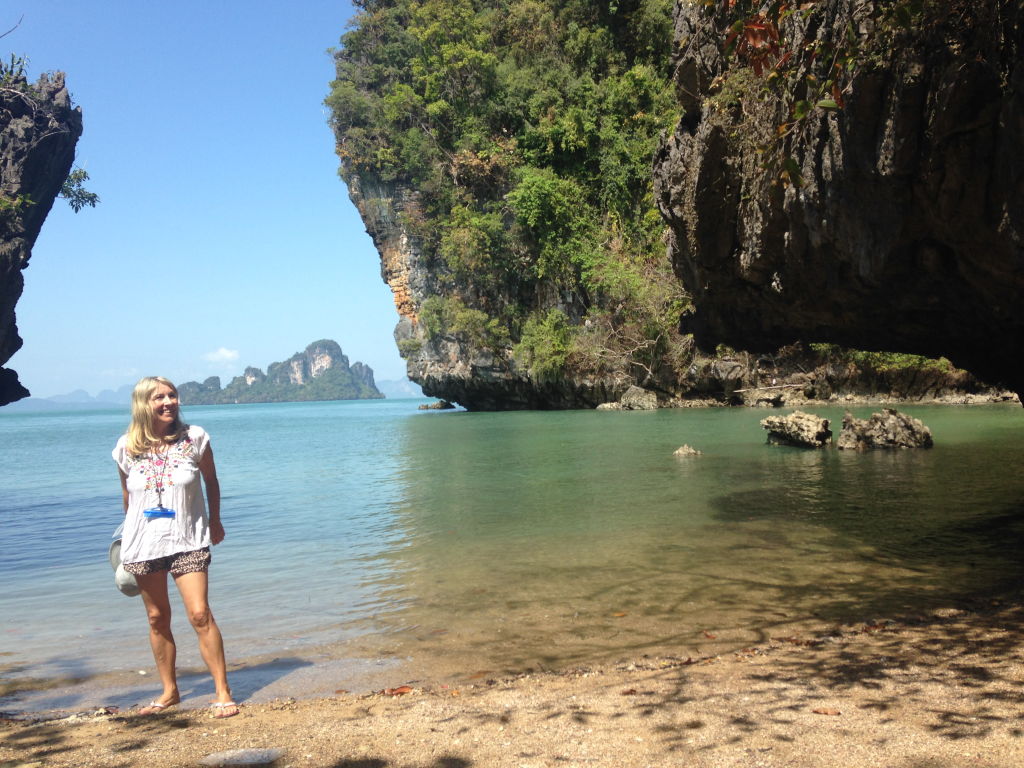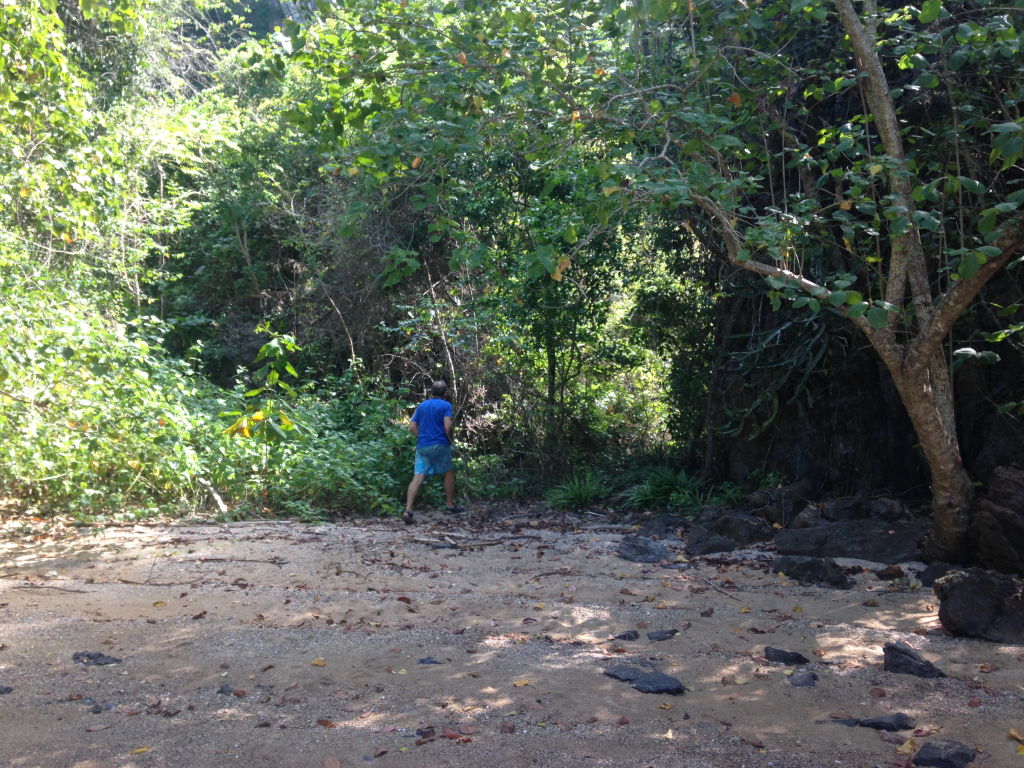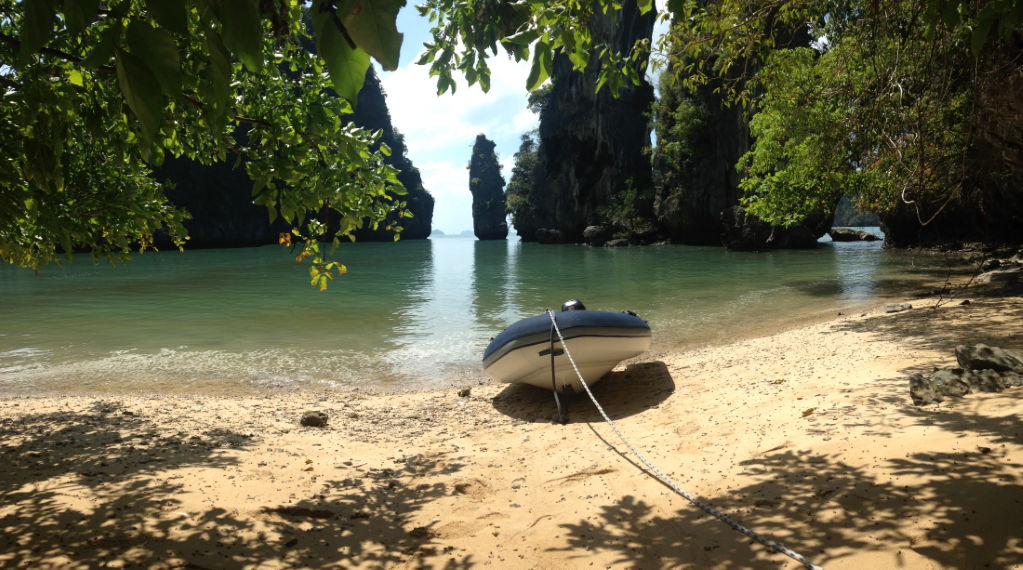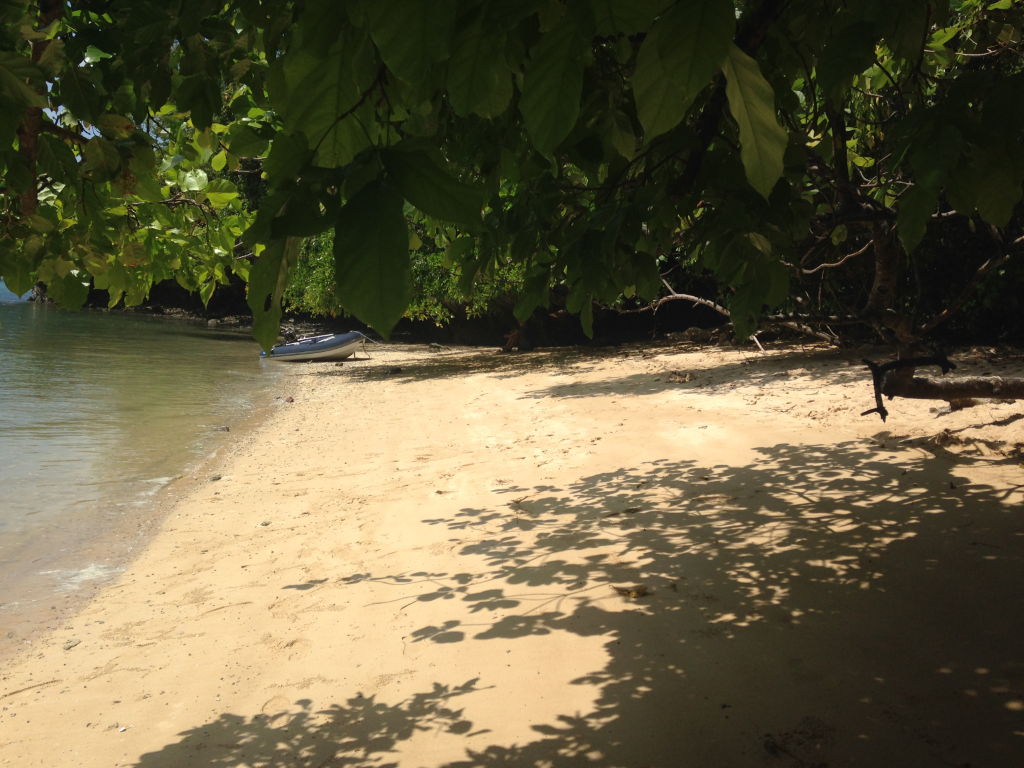 It was time to leave for Krabi at 12 30 so after weighing anchor in a stiff breeze, all three sails went up for the first time. Paul has described the passage in terms of wind speed and sail techniques in his post. My role, at the start, was to steer the boat into the wind when the mainsail was being hoisted – I failed to do it properly at first but got there in the end through trial and error ;). I also took over the helm a few times when we had to come off autopilot and Paul had to tend to other things. Conditions got rougher as we went along and with all the sails out the boat was leaning sharply to starboard. Things down below began to move around so I went below to adjust the stowing accordingly. At one point, a cupboard door flew open, releasing an assortment of toolboxes, tins and books flying onto the floor poltergeist-style. There was only a light shower of rain but the waves were high so all the windows and hatches had to be shut in case of splashes.  The rest of the journey to the anchorage at Ao Nang passed without any hitches but as Paul has stated, it felt strange to look out and see a lively mainland coast opposite us after enjoying the tranquillity of such remote and peaceful regions. We had only been away from that type of scene for just over a week. I can't imagine how we'll feel after a long Pacific crossing!  It was too far away to dinghy ashore for dinner so I made a salad with ingredients that were still fresh and tasty so the trip proved to be a good test of the fridge's efficiency too.  As the evening wore on the shoreline reminded me of when we'd sailed past Benidorm one August night a few years ago.  I don't mean that in a negative way, it looked like people were having fun at the bars lining the shore…albeit with the booming 'EuroDisco' soundtrack :). The firedancers on the beach looked amazing from our vantage point. We went to bed that night looking forward to seeing what Krabi had to offer us for the weekend.