Monday 6th March Koh Jum
I had intended to get up in time to see the sunrise and have another look at the deserted beach in the morning light, but was disappointed on both counts. It was too cloudy to see the sun in all its glory, and boats had already begun to arrive by the time I woke up at 6 o'clock. I made a coffee and sat in the cockpit watching longtails head for the shore one by one, much as I had watched them depart the evening before. We didn't linger long after Paul woke up because we were both keen to move on, so at 8am we slipped our mooring and motored off.  As we passed slowly by the rest of Phi Phi Lee's coastline we remarked on how much more attractive its other beaches looked – and they are probably a lot more peaceful too.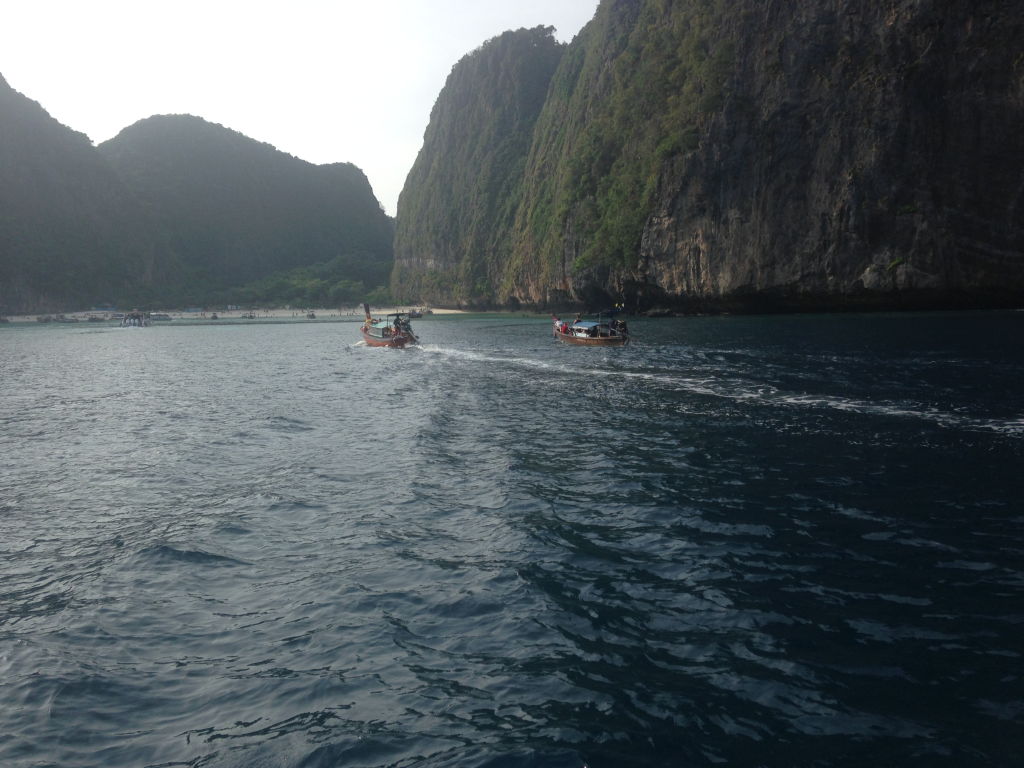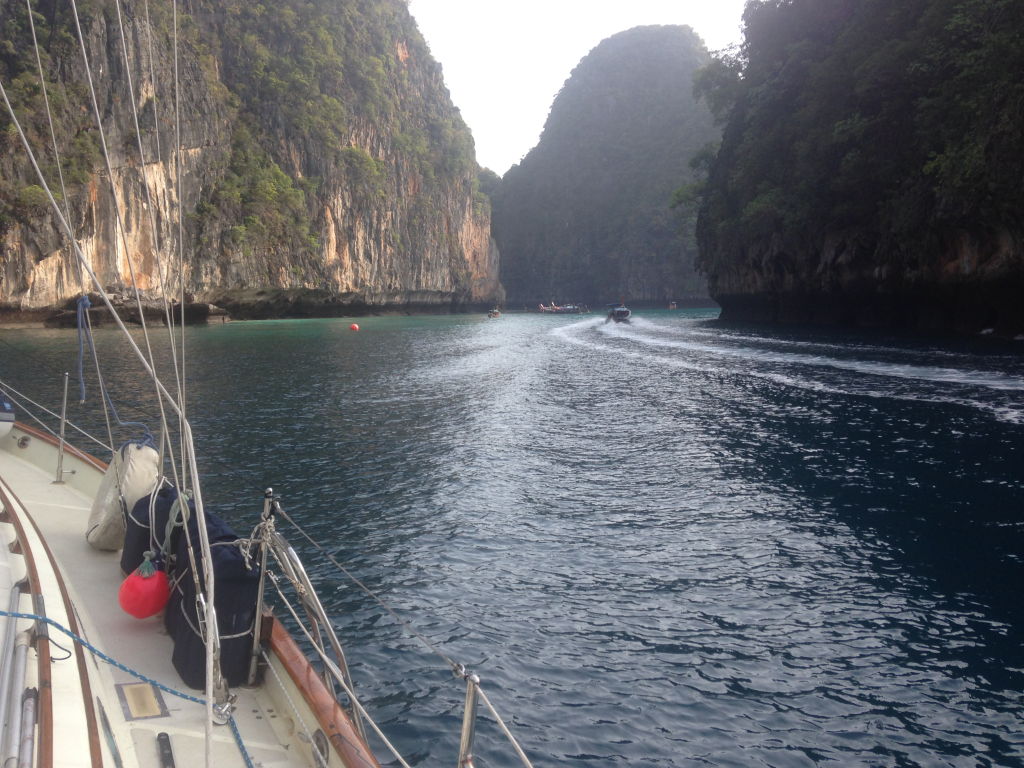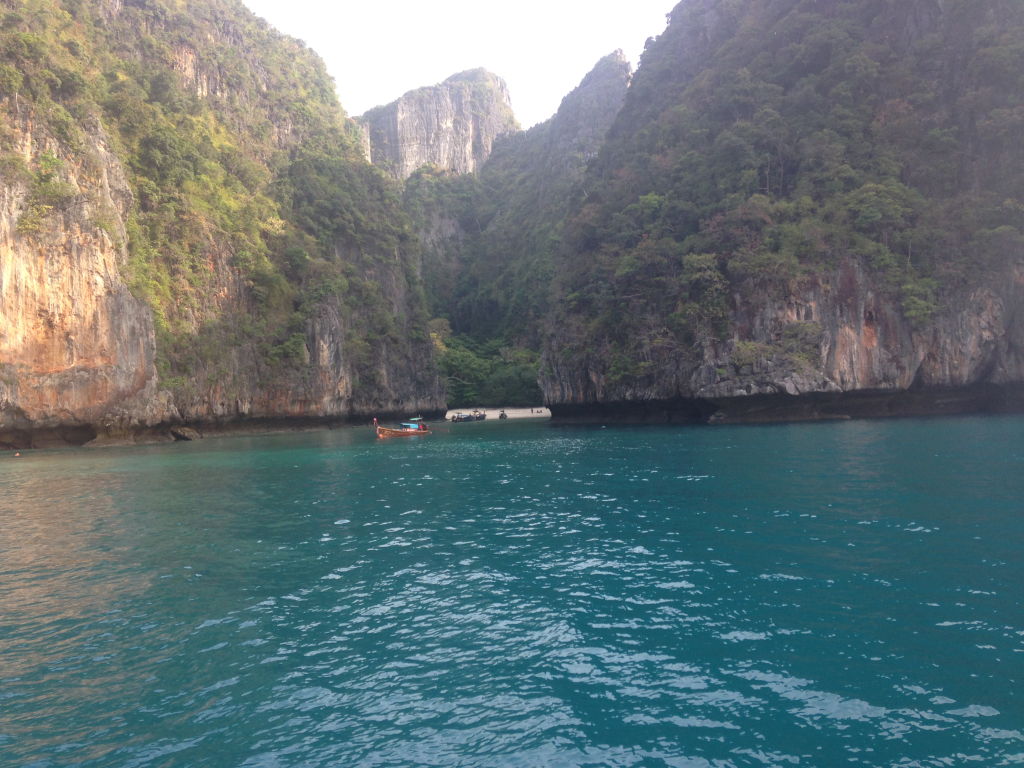 They will have to wait until we visit these parts again, however, because we were steering towards our next destination – Koh Jum.
We'd heard lots of good things about this island, mainly from the sailing vlog 'Follow The Boat' we've been following on the internet but also from a couple of people who have been there. That it is beautiful and well worth seeing was confirmed from a bit of online research. Praiseworthy descriptions like the ones below from Travelfish and Rough Guide were the norm on several other independent travel sites (I guess 'thin' in the second description refers to the amount of people rather than their size, but who knows!):
Jum is a favourite with guitar-strumming beach bums and families looking to side step the party crowd.
 Jum strikes an ideal balance of great beaches, thin crowds and ultra-relaxing atmosphere. 
So enchanting is Ko Jum that we'll go out on a limb to call it one of our favourite Thai islands. 
Jum is the sort of laidback spot that people come to for a couple of days, then can't bring themselves to leave.
The morning was overcast but hot – we refreshed ourselves with a breakfast of fresh pineapple that had been sun-ripened in the cockpit.  On a very calm sea, all we saw for almost the whole way were a few fishing buoys and one or two other yachts.  As we got nearer to Jum at about midday it looked a lot bigger than I had expected, and was also a lot flatter than the towering islands we've been used to seeing. Covered in a forest of varying shades of green, we could see tiny chalet-like buildings nestling among the trees and the shore was lined with long white beaches. No other yachts were at anchor so we had the pick of the spots in this peaceful location: so far so paradisiacal then.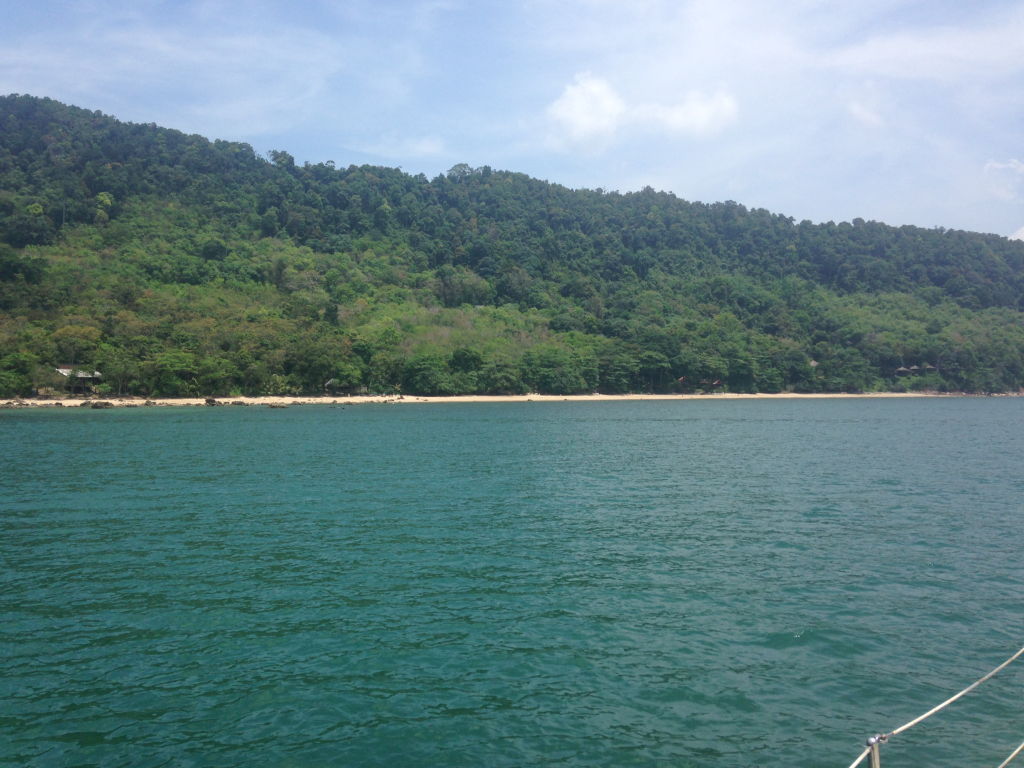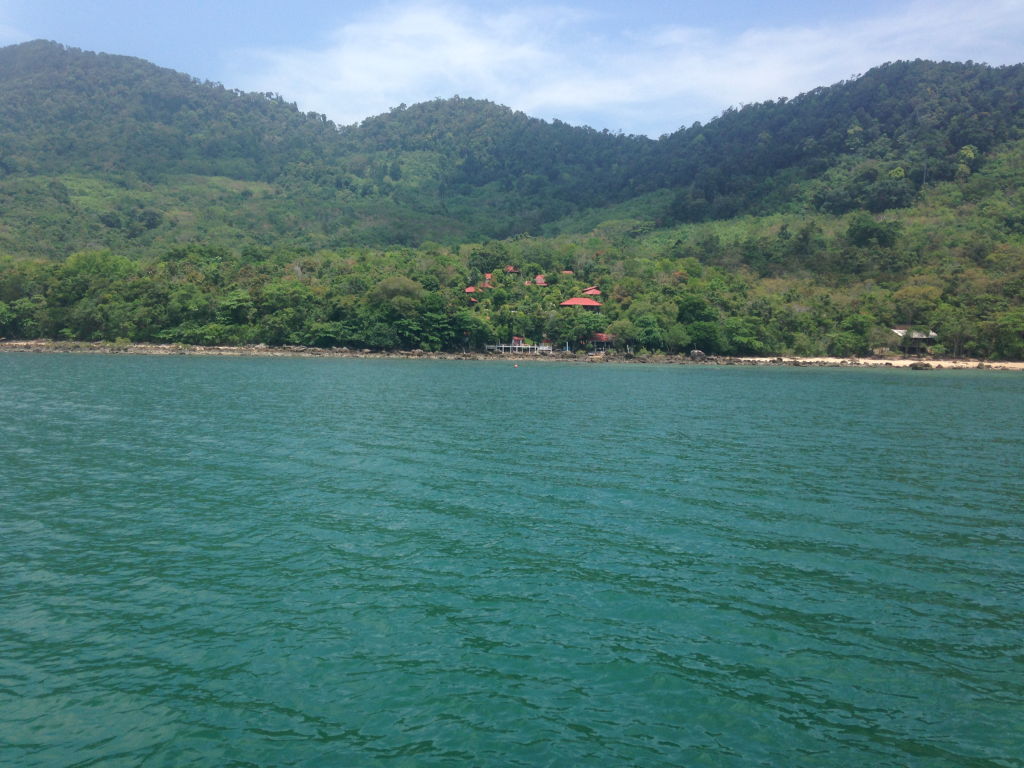 It wasn't until we went ashore in the dinghy that the stunning beauty of the place really hit me. It's high on the list of one of the most gorgeous places I've seen anywhere in Asia (I wonder how any more times I will state that – lots I hope). The afternoon light only enhanced its appeal, creating a clear contrast between all the colours on show: turquoise sea, green forest, blue sky and white sand. Again, I'm not sure that any pictures I took will do the scene justice. Not many people were around, just a few sunbathers and swimmers – very serene, and very hot, so we climbed up some steps to the first beach bar we saw. It was called Mr Boy Bar and the guy who served us (who may well have been Mr Boy himself) was chatty and friendly, although most Thai people are so it's not that noteworthy. He told us the wine he had in stock was not good enough (!), so I had a gin and tonic instead; well it seemed rude not to in such a setting :). We spent an hour there taking in our surroundings and it struck me that it would be pretty hard for anyone not to feel relaxed in this tranquil environment.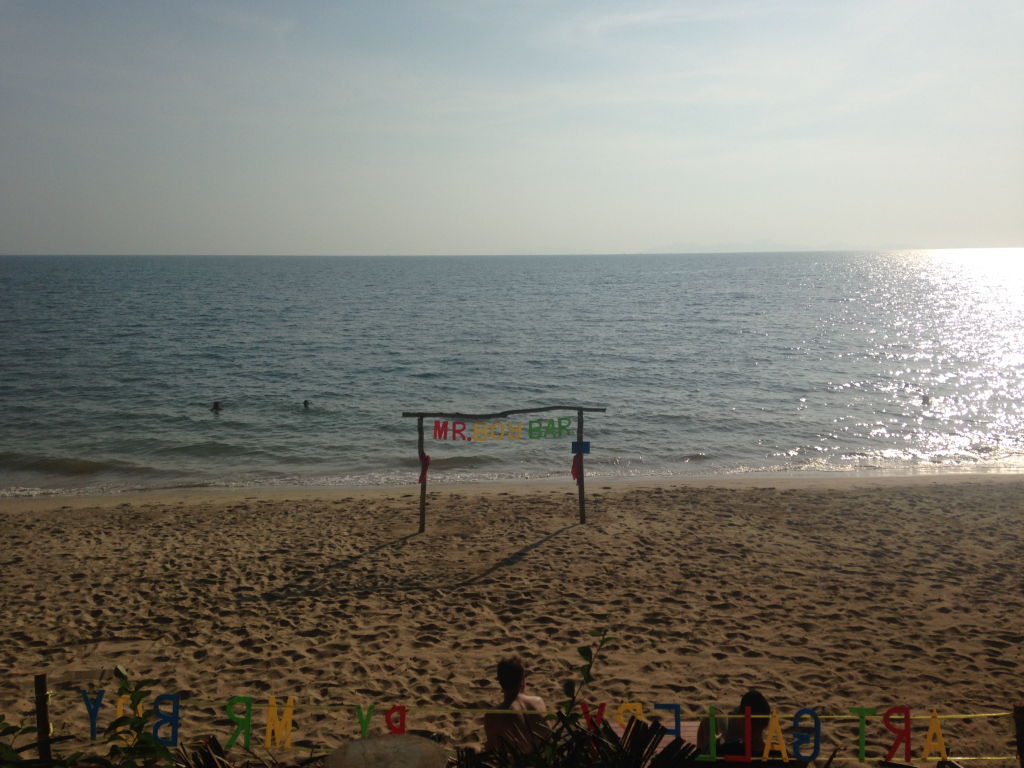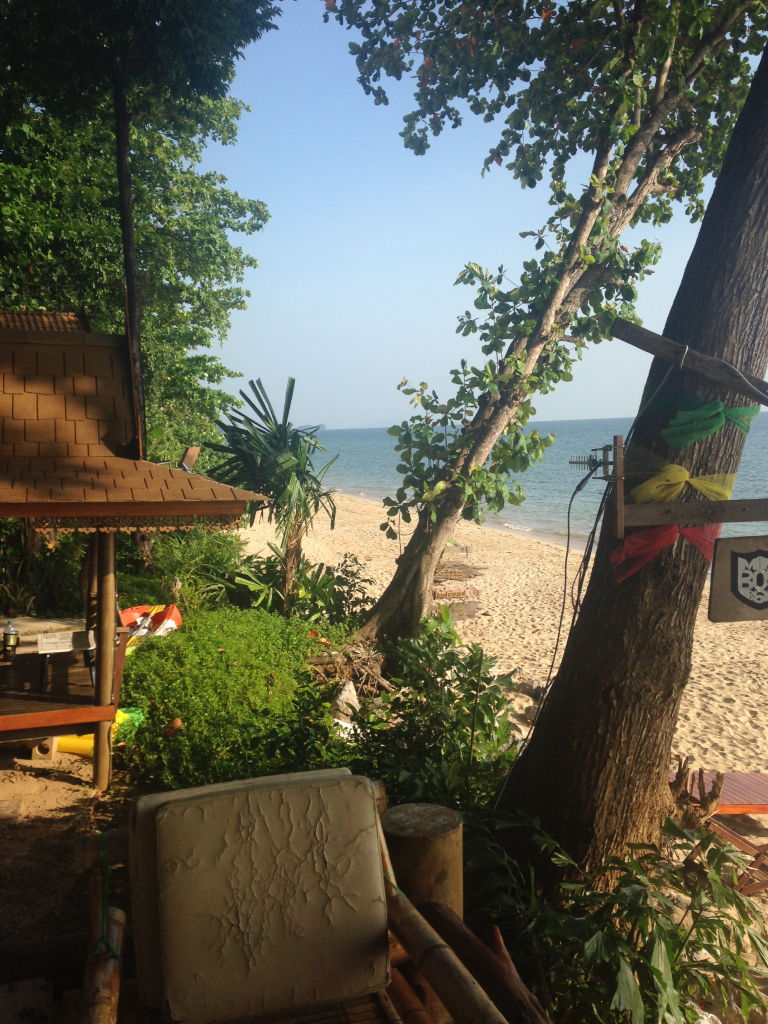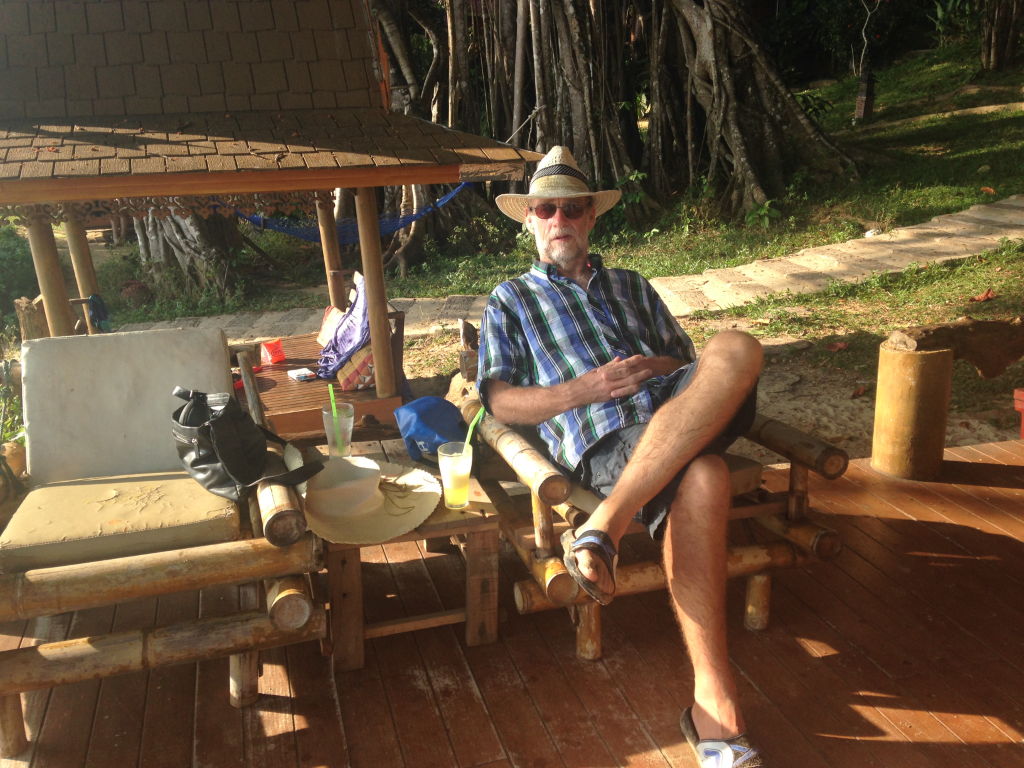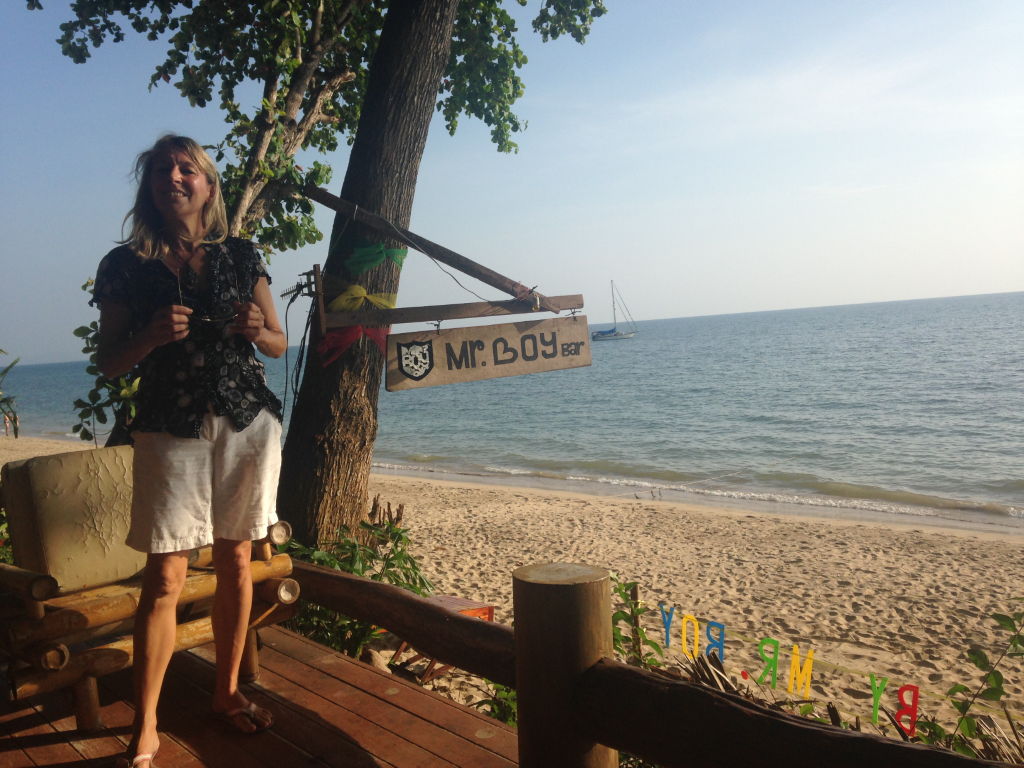 Mr Boy, who turned out to be from Bangkok and had been in Jum for 12 years, told us the season had been notably quiet this year. This isn't such a bad thing in terms of ambience for visitors like us, but not so good for the bars and resorts in the area who rely on tourism. We decided we would stay for two nights to make the most of the place. We chose to have dinner sitting at a table on the beach very near to the water's edge (see pic below) and ordering it was an amusing interchange both for the young waiters and us as we all tried to make ourselves understood. I was proud that I managed to get a vegan green Thai curry and Paul had the catch of the day (Barracuda – the waiter's arm gestures indicated that it was a very big fish :)). Little white sand crabs scuttled past us – fascinating to watch them, though I felt sorry for them when a couple of cats began pouncing on them, seemingly just for sport.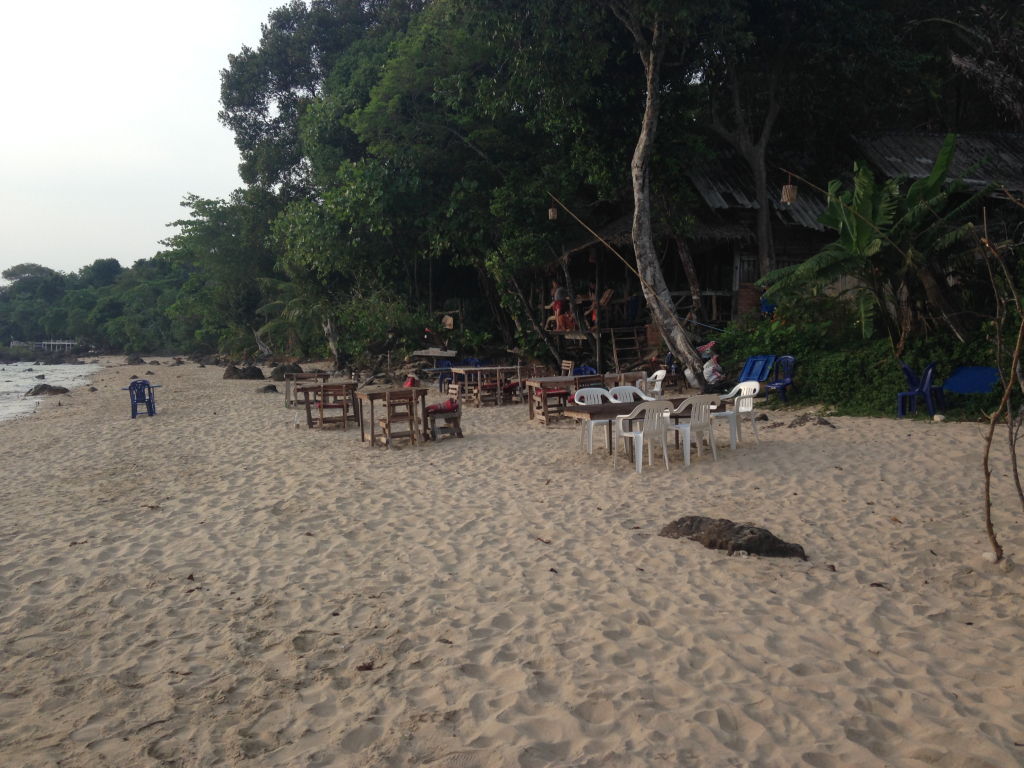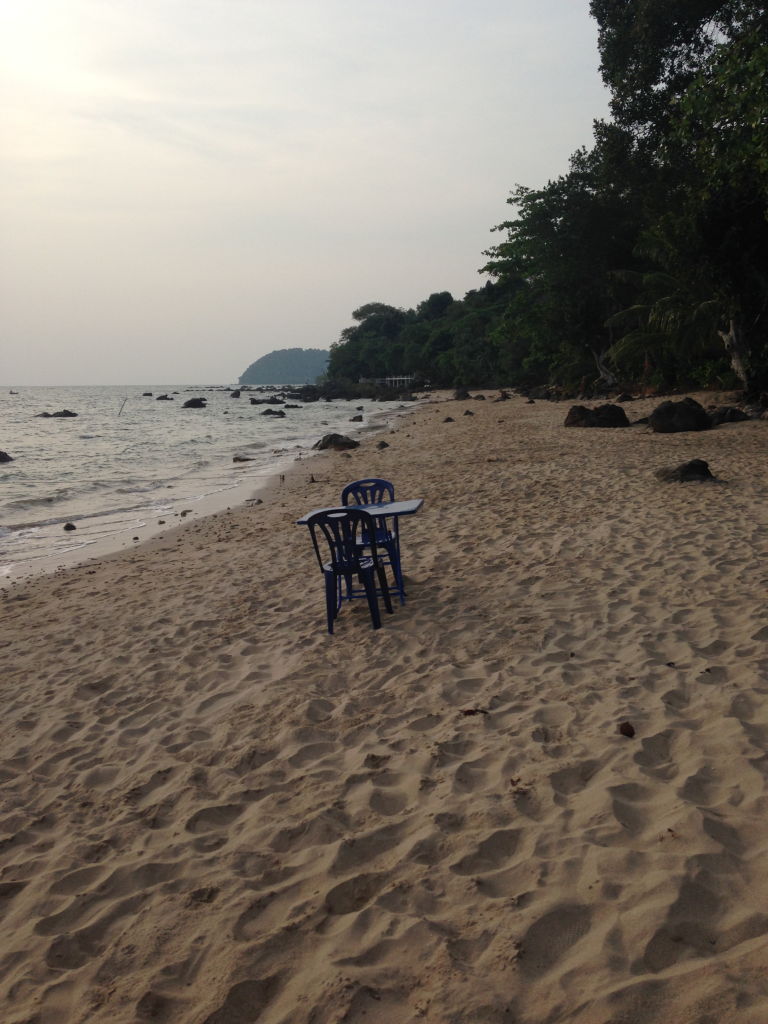 Tuesday 7th March
It was nice to have a leisurely morning instead of preparing to move on. In fact most of the day was spent in a leisurely manner because of the heat. Some days I find it more physically draining than others and my energy is sapped (it feels almost like being put 'on hold' until cool enough to move again) so while Paul got in the dinghy and cleaned around the hull, all I could muster the strength to do was soak some clothes ready for washing and type up a bit of the blog. When it had cooled down a bit, we went through some safety procedures, such as 'man overboard' with the lifebelt and new dan buoy Paul had bought (hopefully we'll never need to use them!!).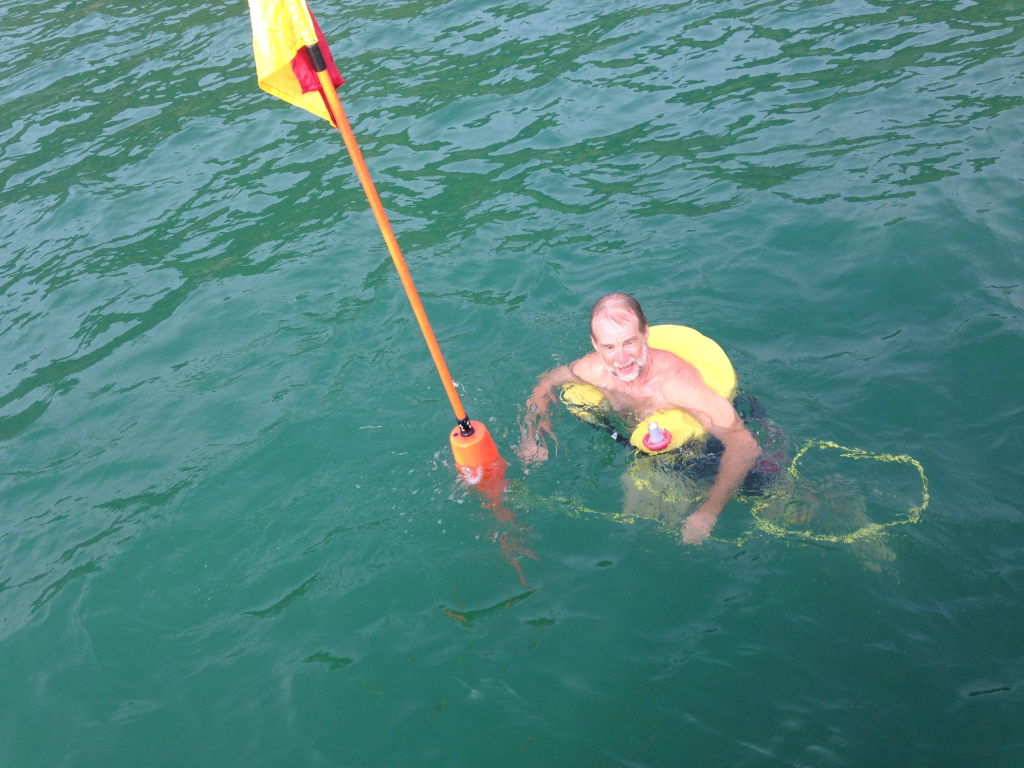 After I'd summoned enough steam to rinse out the washing, we went ashore, walked the length of the beach and ended up at another bar, strangely enough. This one overlooked a more rugged terrain that reminded me of the Cornish coast – huge rocks, rock pools and waves crashing onto the shore instead of gently lapping on it. In keeping with the overall surroundings, though the music was ambient – some reggae, some instrumental, no 'muzak' – and to complete the perfection a lovely black dog joined us and allowed me to fuss him for a while.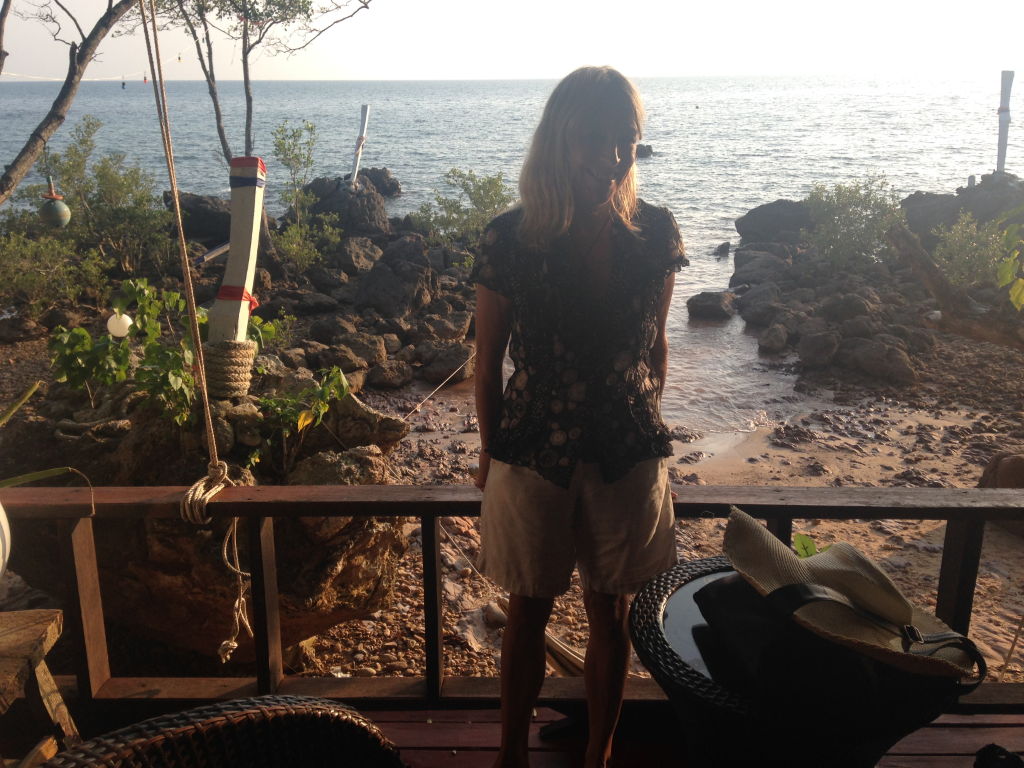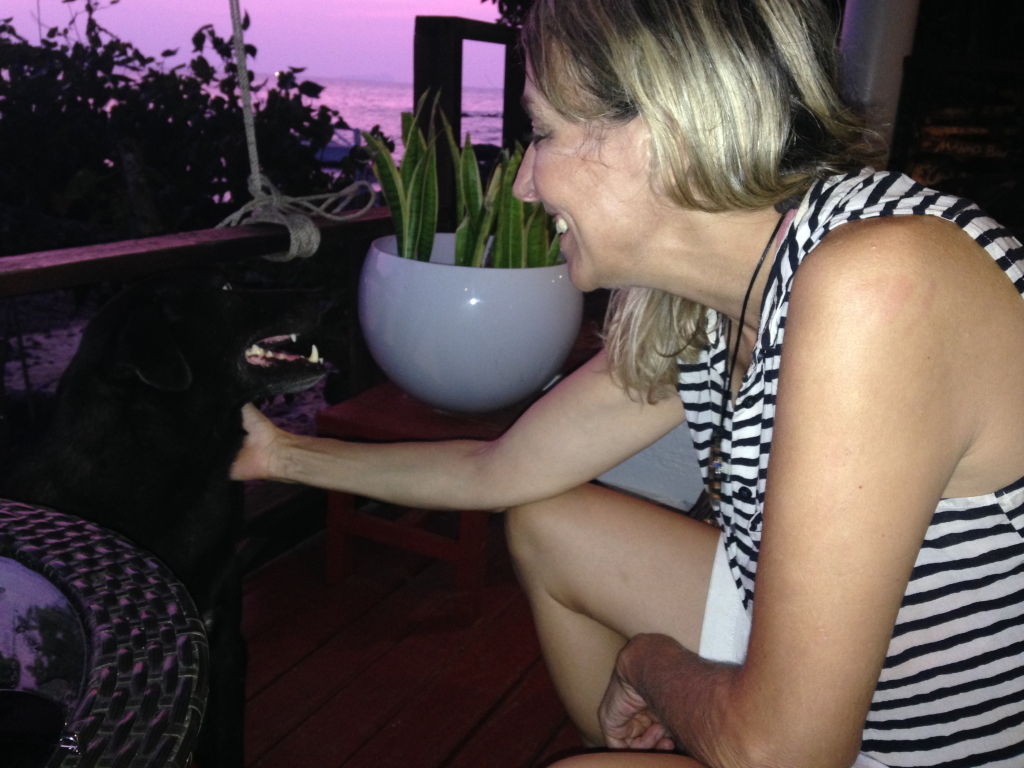 Paul had forgotten to put the boat lights on, so while he went back to do that in the dinghy I waited on the sand watching the sand crabs scurrying around and darting into their holes. We went for dinner in a nearby restaurant that was part of one of the resorts. It was high up, lit with fairy lights and had a great view over the bay (shame that my pineapple rice had bits of chicken in it though).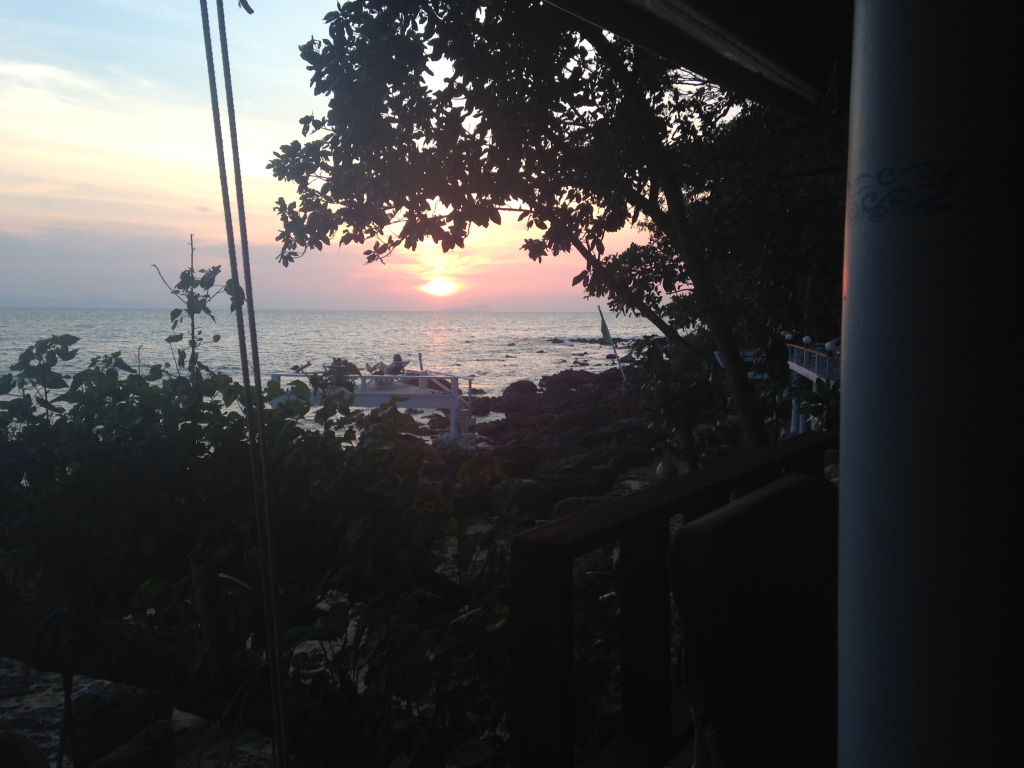 Wednesday 8th March Koh Lanta
An early getaway (8 30) to make the most of the cooler hours. There were lots of fisherman in one particular area so we had to watch out for their buoys and net markers for a while.  Within an hour the wind had got up and we were able to put the sails up and turn the engine off. For two hours we enjoyed peace without the noise of the engine and made good progress with the sails. The coast of Lanta looked empty of people as we drew closer, but it was full of resorts similar to those in Jum. The island is very long and we were heading for the far end of it, so it was a good opportunity to see the whole of its southern coastline.  A small fold-out map we'd been given advertised a plethora of clubs, bars, restaurants and beach party venues, complete with fire dancers! It's a popular spot for young holidaymakers but we knew it wouldn't be as manic as the hotspots of Ibiza or Cyprus – Thailand generally winds things up at 1am – or 2am if it's a full moon party. We dropped our anchor at 3pm in Kantiang Bay among quite a few other yachts and catamarans.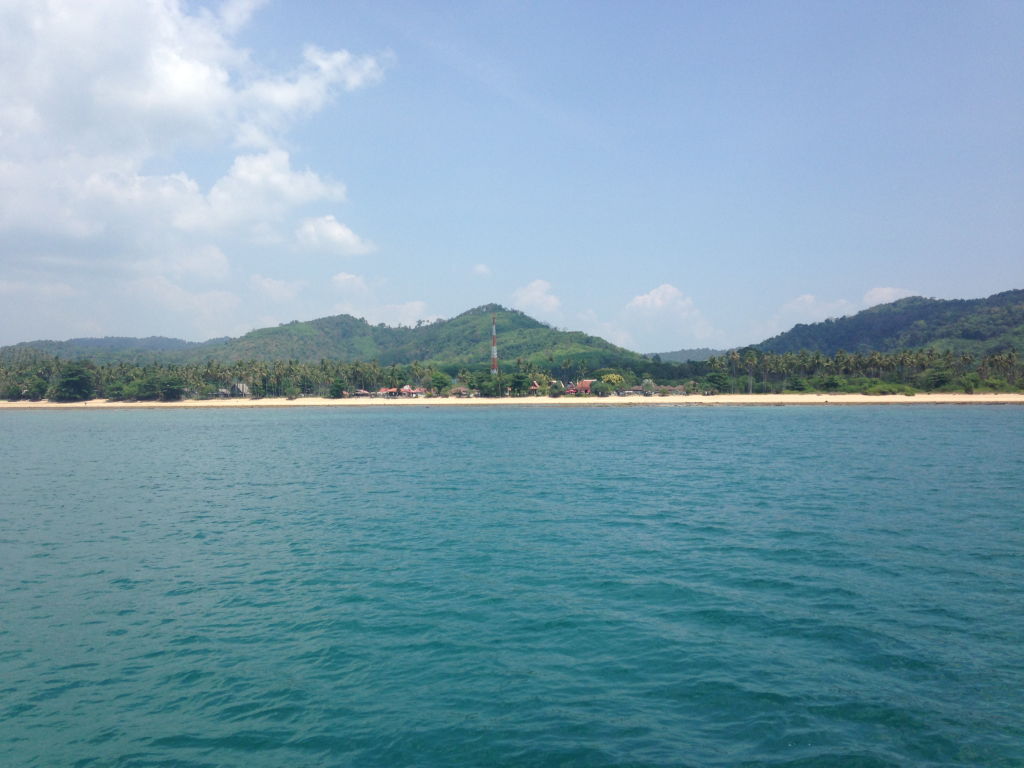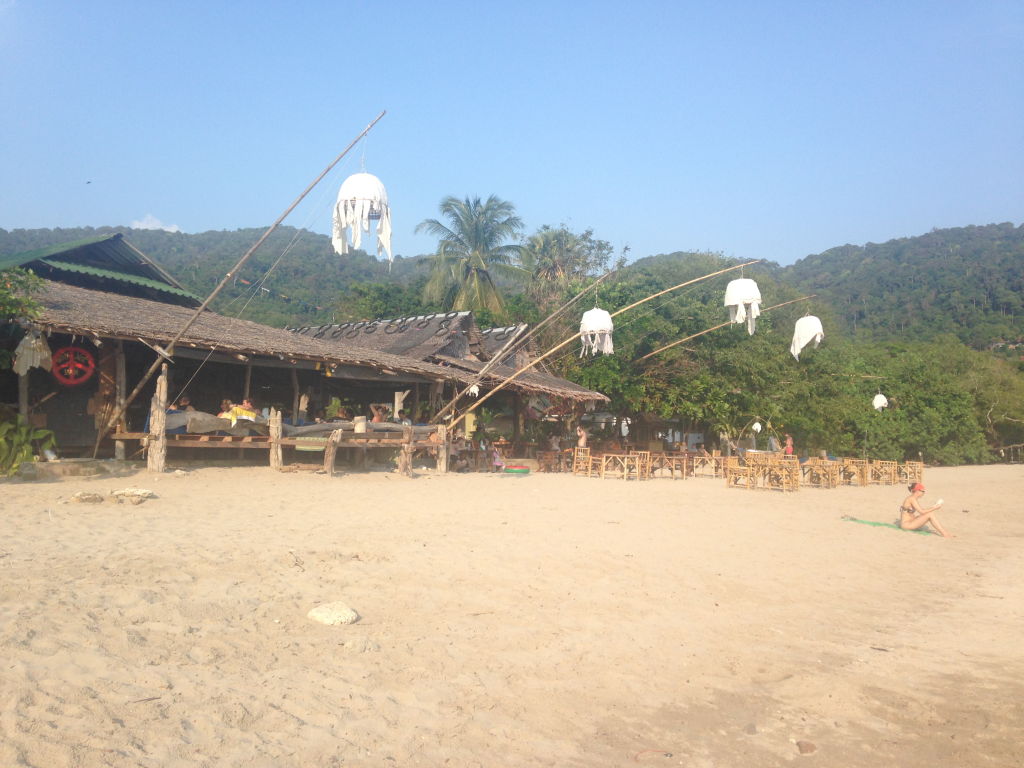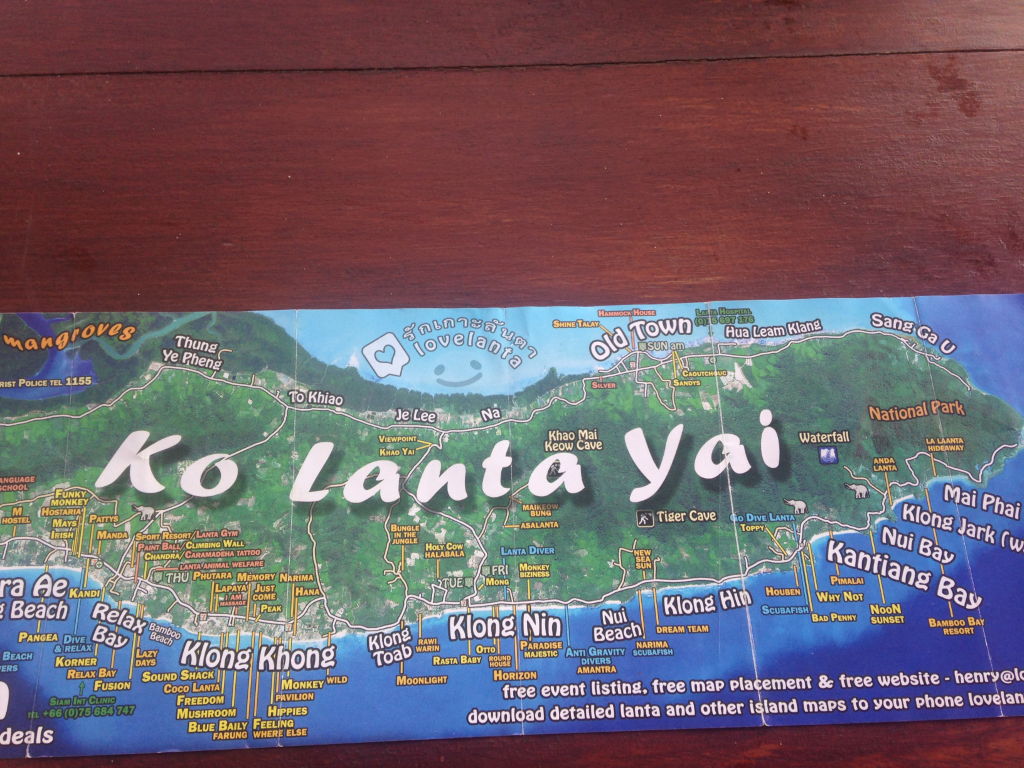 When we went ashore at 5 we were met at the shore by two guys who turned out to be Glaswegian and they offered to help us carry the dinghy up the beach. They were just off fishing for their dinner they told us, in the cheerful manner that is the norm on these islands: everyone is so happy!  Sometimes it's like we've been transported to the island from that old TV series, Fantasy Island, or Shangri-La maybe…nice though ;). My initial impression as we walked along was that it had a Mediterranean feel. It was clean, with a café and bar-laden prom offering everything from crepes to cocktails. Families and couples on the beach were either lounging in deckchairs or paddling and swimming. We headed for a bar with the apt name of 'The Why Not Bar' for a drink before walking along the shore as the sun was getting lower in the sky.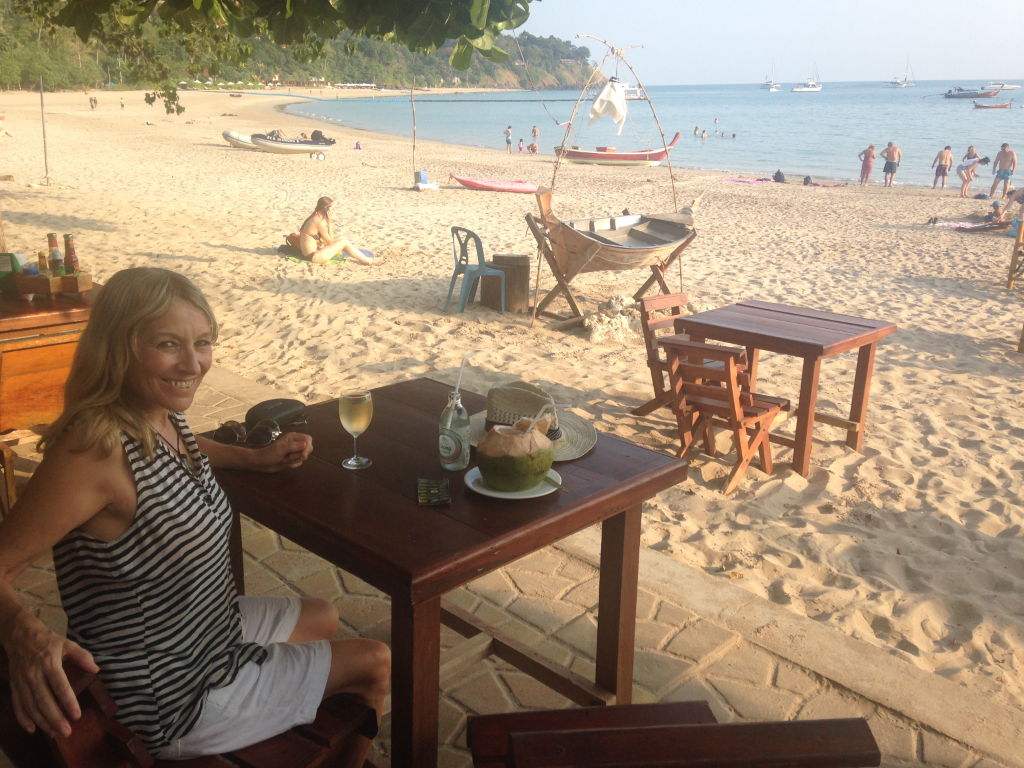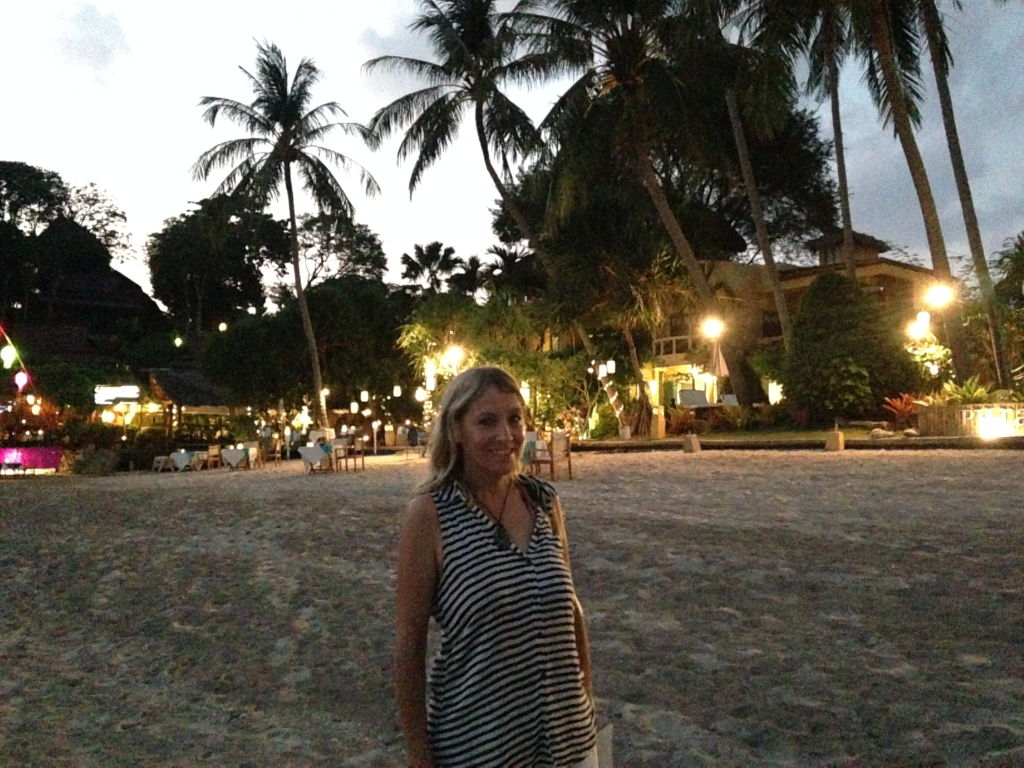 When we reached the spot opposite Sister Midnight we noticed there were comfy-looking loungers on the sand and thought it might be nice to lie on those and have a drink in the dusky light. Despite the bar associated with the loungers proclaiming that it was 'happy hour', the offer being 'buy one get one free', the cost of a glass of wine was around £9, so not caring that we might be thought cheapskates we had a glass of diet coke each (one being free) and were happy with that.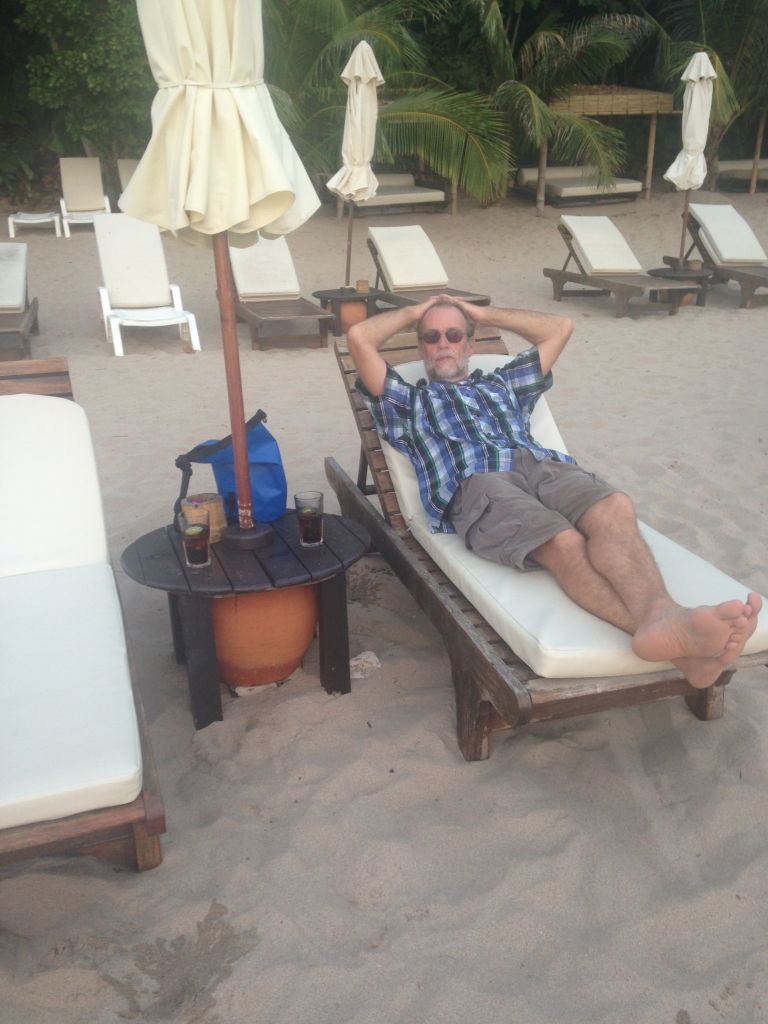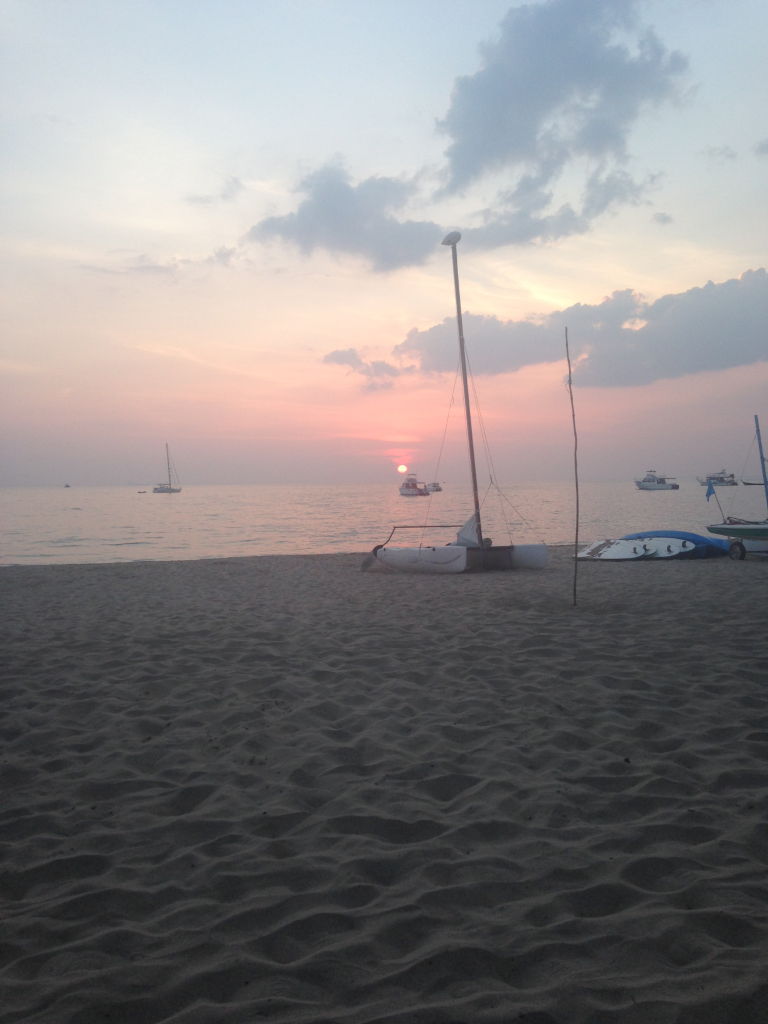 When we got to the dinghy to return to the boat, the two Glaswegians reappeared as if by magic to help us carry it to the water. They proudly showed us their catch of the day – an impressive bunch of squid. Paul is still having a run of bad luck in his attempts to catch his dinner so a tin of tuna had to suffice for him that evening.
Thursday 9th March Passage to Muk
There had been strong gusts of wind all through the night – not enough to make it rocky but Paul let more chain out on the anchor to be on the safe side. It was still gusting in the morning when we decided to go to Ko Muk, which had been described as another 'must see' destination, with the added attraction of a Hong that you have to swim through a dark tunnel to access. I told Paul I'd look forward to seeing the pictures he took of it! Before all that, however, we had a more pressing problem to deal with.  The anchor had been pulled tight due to the wind and in order to free ourselves I had to manoeuvre the boat a little bit at a time while Paul gave hand signals from the bow to indicate where to steer and when to stop and start until the chain pulled free. There was also the need to flake the chain so he had to come down to the anchor locker a couple of times to do that too. It sounds more complicated than it actually was and we managed it well, motoring off into 20 knot winds at 10am. It could have turned into a rocky ride so I stayed below to check on the stowing while Paul put sails up to utilise the wind.  We reached Ko Muk at 3pm and anchored in another lovely sheltered spot. Not long after we got there, a fisherman drew up with fish to sell (squid to be precise) and Paul bought some from him.  He then asked if he could come on board and look at the boat – he seemed suitably impressed with it. For the next hour Paul was on deck preparing the squid for cooking later – I didn't know so much dark inky fluid could come out of one small creature, and Paul had several!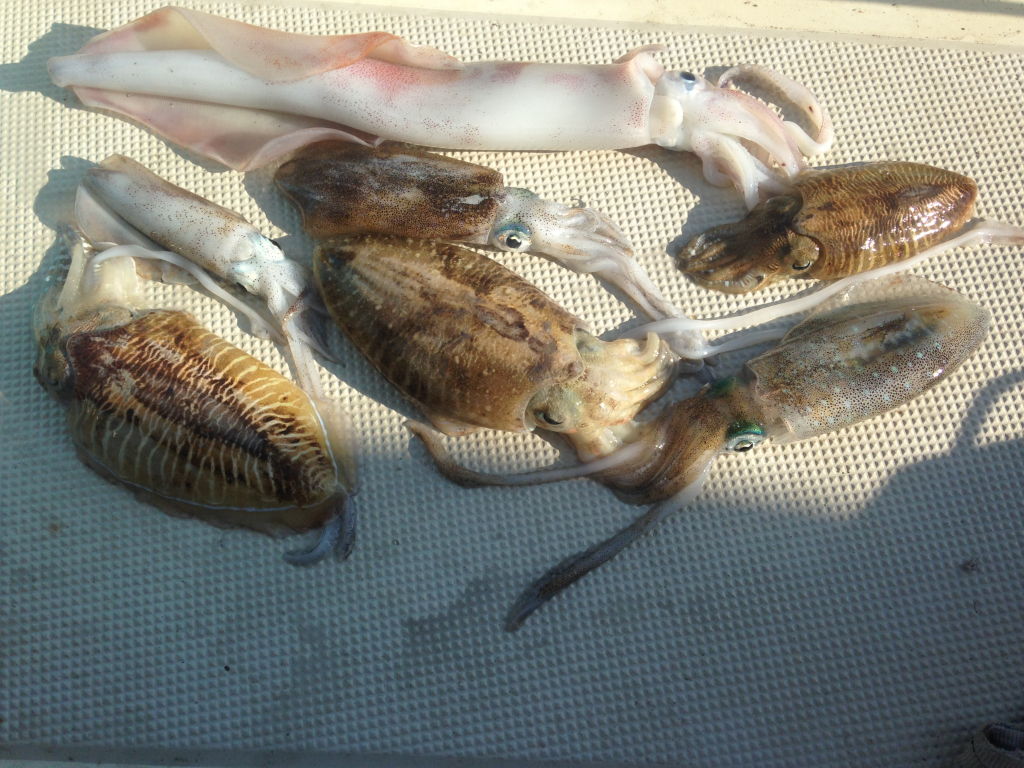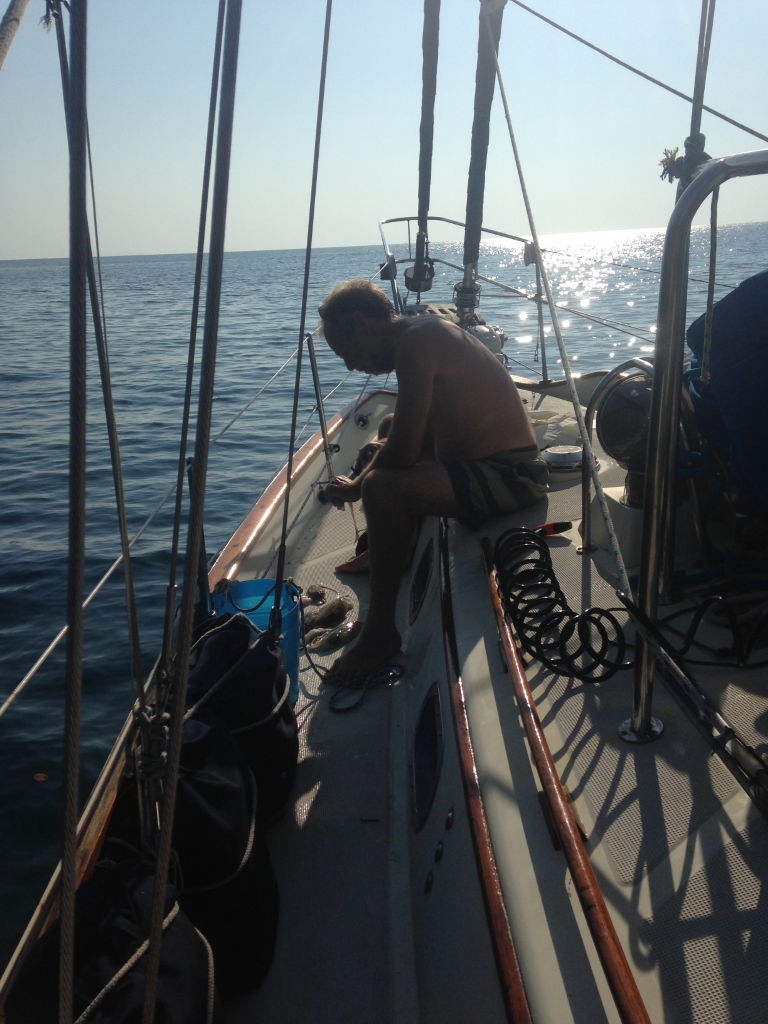 It was 5 30 by the time we went ashore, and still very hot. We went to the place where all the kayaks had had been gathered earlier in the day. Only one was left and the owner was nowhere in sight. A sign in front of the rocks informed us that this was 'Emerald Cave', which is what we had come to look at. The tide was too high to attempt an entry in the dinghy (well I thought so anyway). I suggested Paul could swim through and I'd wait but he said we'd try in the dinghy the next day after he'd checked the tides. We headed for the little beach opposite our anchorage and passed the last kayak leaving it, so we had the place to ourselves. It was gorgeous, and warm enough to have a swim in the clear water. I never tire of looking at the intricate patterns the sand crabs make. They remind me of the crop circles that were in the news several years ago.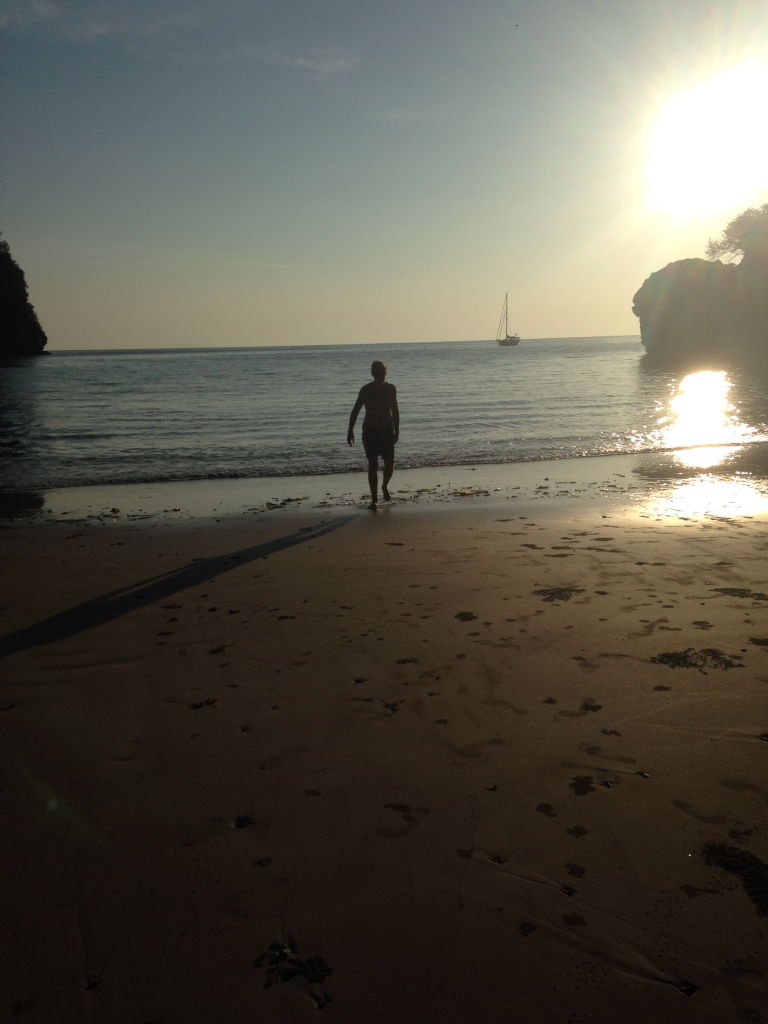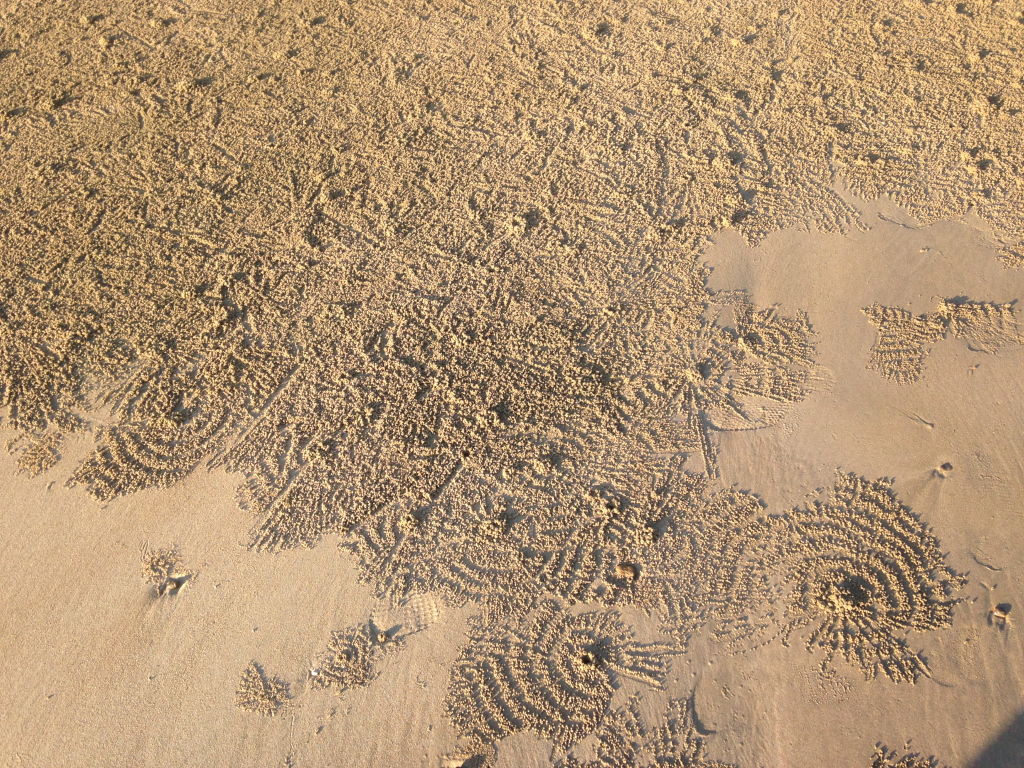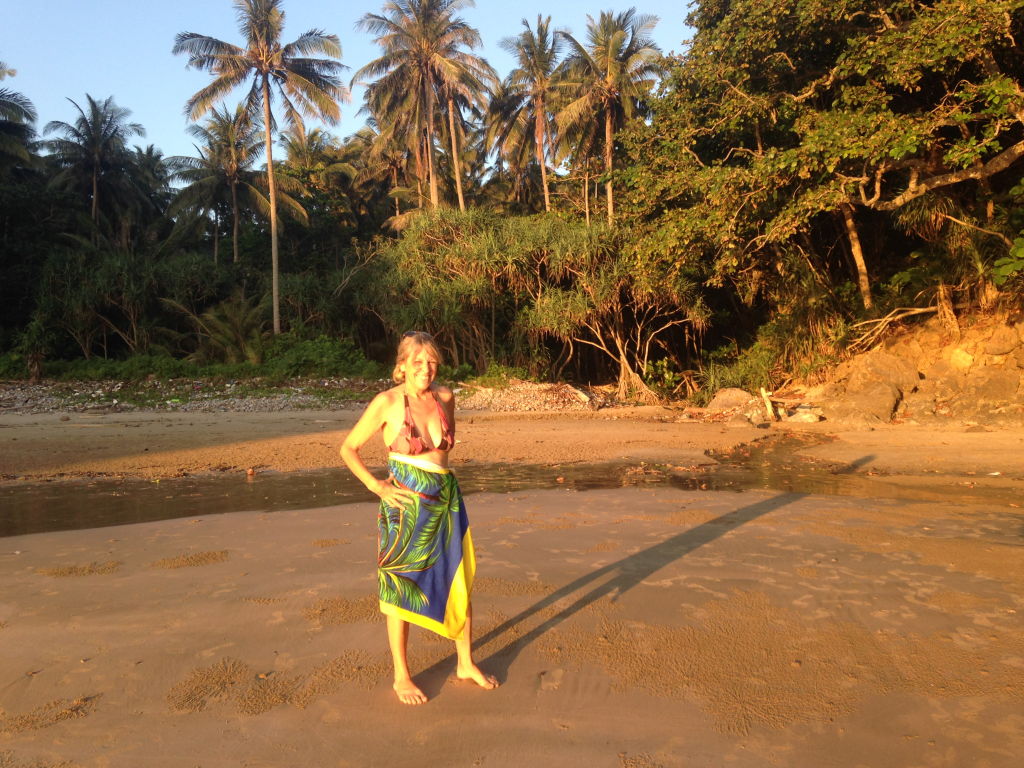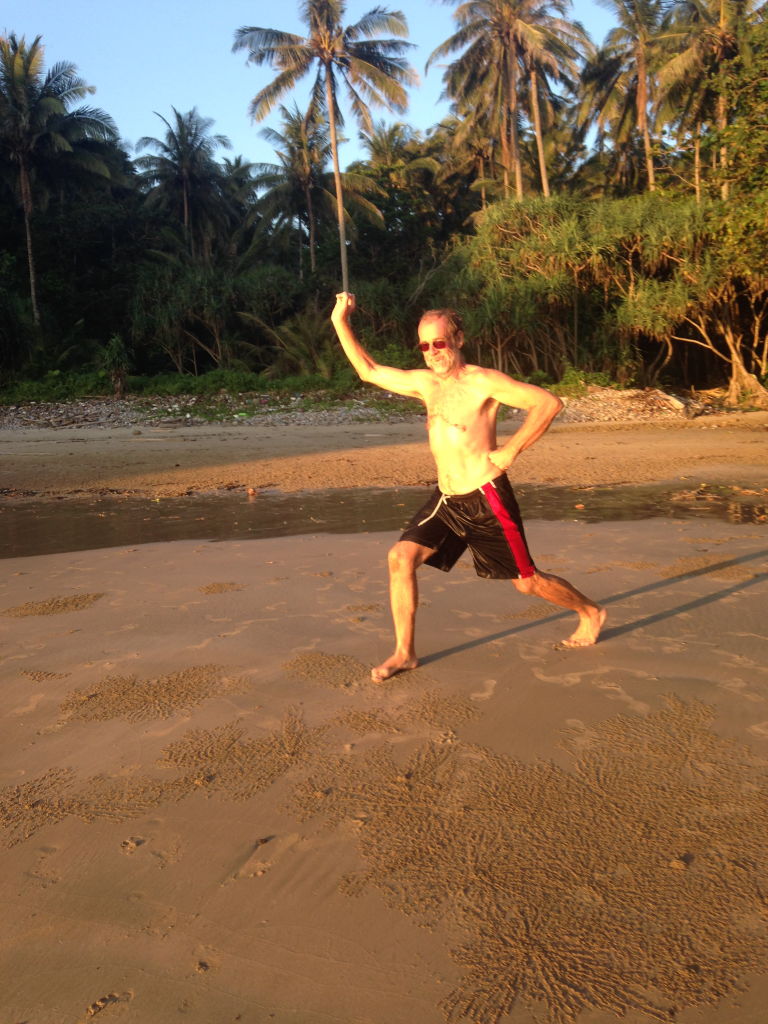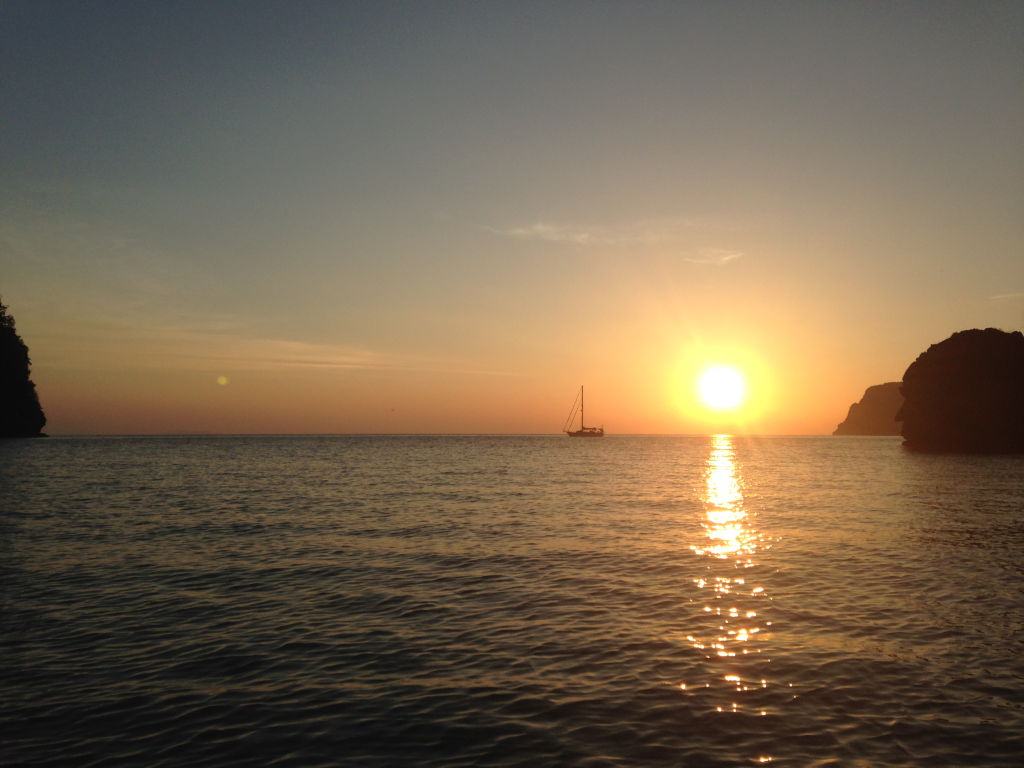 Friday March 10th  Koh Muk and the Emerald Cave
The little beach opposite us looked particularly charming with the early morning rays of sunlight shining on it. However, because we hadn't yet seen the 'must see' Emerald Cave we needed to move so that we could be near to it for our 3pm visit when the tide would hopefully allow us to go through in the dinghy.  It seemed a good opportunity to circle round the whole of Muk slowly so that we could look at its coastline in full, especially as it was such a clear and breezy morning.  The palm-fringed beaches on the opposite coast were lined with resort buildings that appeared to be deserted. Empty sun loungers were arranged neatly on the sand which was smooth and undisturbed. It will be a shame if these places go bust, but I suppose there are so many islands with similar holiday complexes there is insufficient demand for them. When we reached the spot near the cave we had a bit of trouble anchoring because the sea bed was strewn with rocks, and twice we had to pull it up and start again. The third attempt found a space for the anchor to dig in and then we just had to wait until the time was right. We set out on a choppy sea at 4 30, guessing that all the visitors who were part of excursion tours would have left by then. There were only a few kayaks and dinghies from private boats when we got to the cave, which looked a lot more accessible than the day before. Two of them were just leaving so Paul asked if it was ok for dinghies in the tunnel. We were reassured it was fine, as long as we had a torch (which we'd remembered this time) so in we went. It was easy to see why it had the name 'Emerald' in its name. The combination of the water and the reflection of the colour of the roof of the cave produced a vivid green colour. We had no trouble entering and I positioned myself at the bow with the torch to light the way as it got darker. I shone it on the roof to see if any of the bats the guide book had reported might be in residence, but there were none.  I definitely wouldn't have swum the length of the tunnel, even though it was a relatively short dinghy trip it would have been a long dark swim with plenty of unseen marine life for company. It was a little like being in a fairground ghost train, with the light that emerged when we rounded a corner indicating the exit was ahead. A couple of kayaks and a dinghy were on the small beach when we got there so we added ours to them and looked at the glorious scene that was gradually revealing itself to us.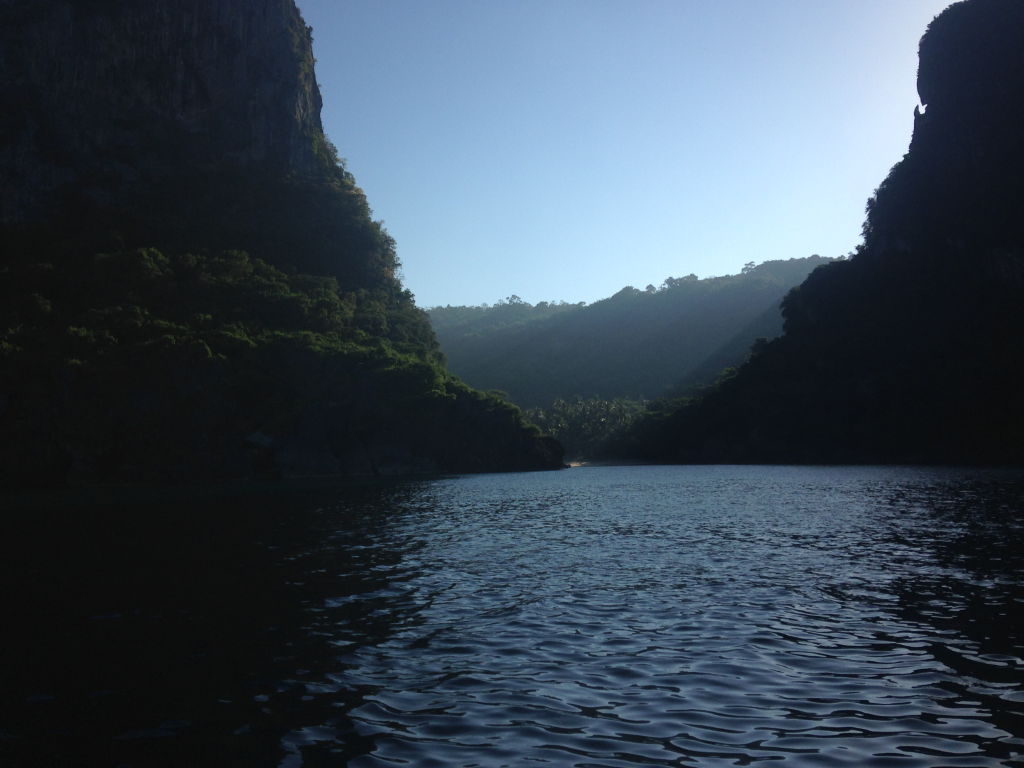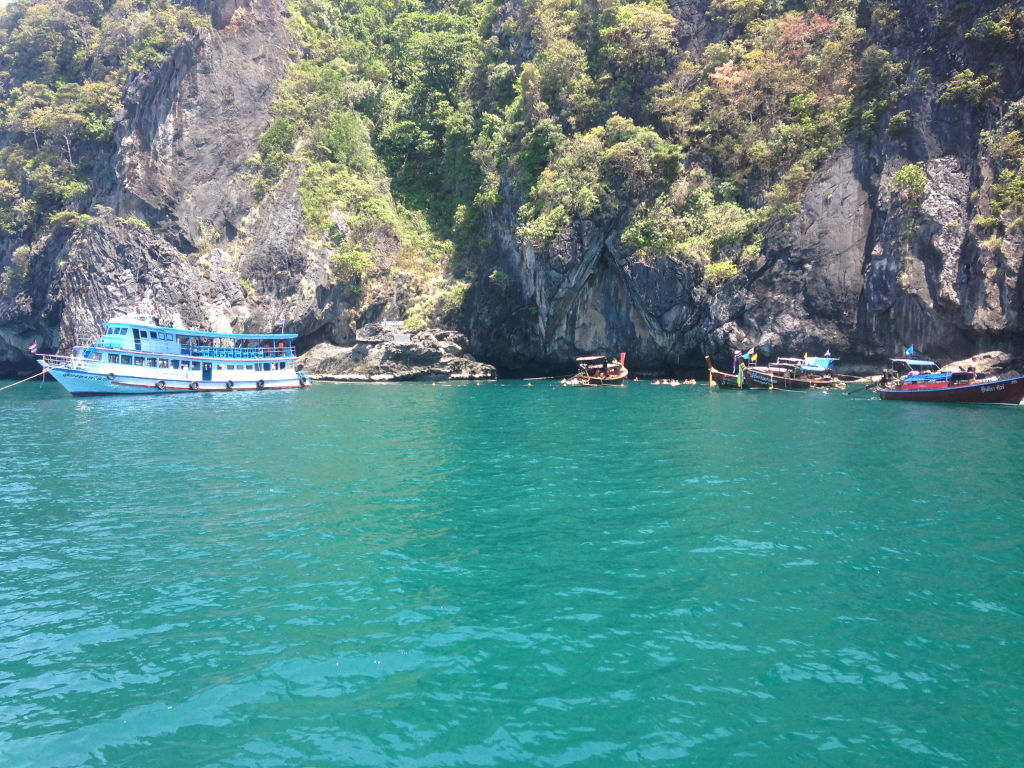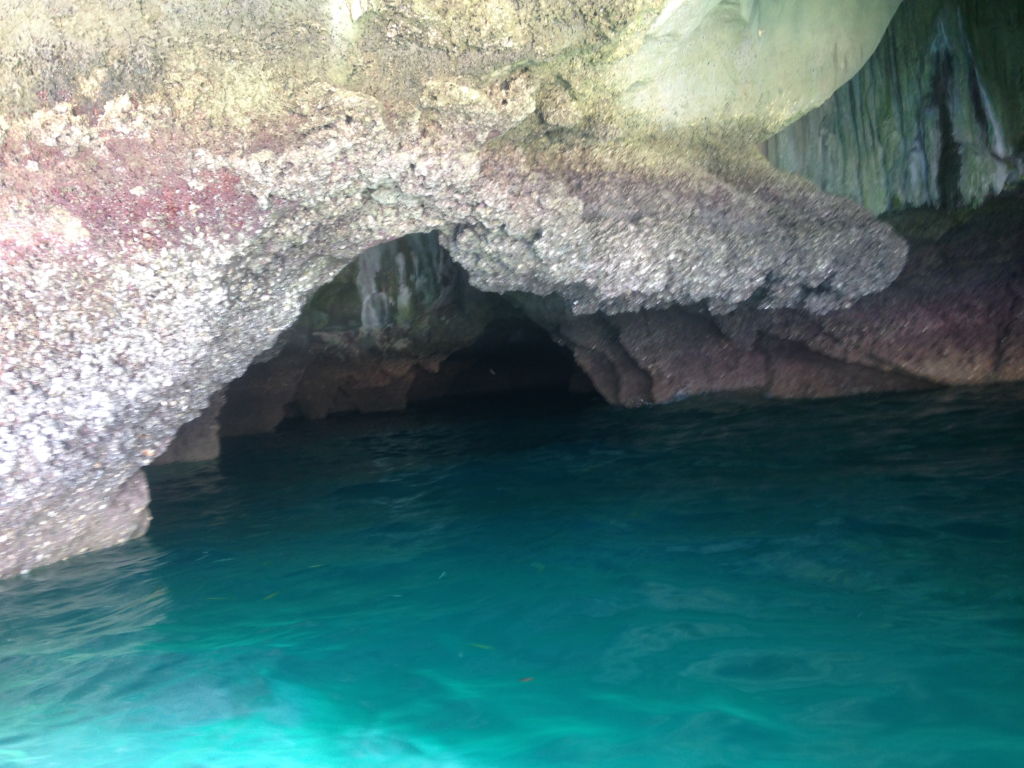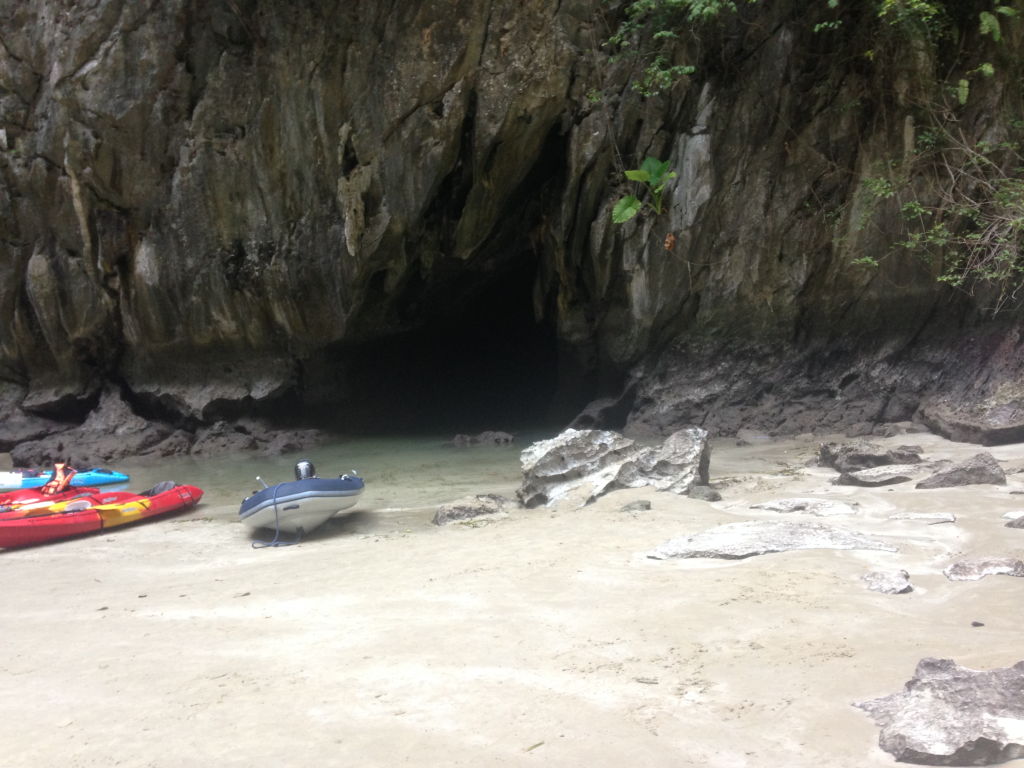 Paul had been concerned that we wouldn't get the full benefit of the light at the time of day we were there. As it turned out, however, the late afternoon light lit up some parts of the cylindrical scene and left others in the gloom, which created a very atmospheric landscape. Then there was the silence! Half a dozen other people and ourselves, all talking in normal tones, yet it was so still and quiet, it was akin to the interior of a church. The steep sides were lined with plants and trees, some of them quite rare according to an information sign, which also revealed that it was once a storage place for smugglers' contraband. I thought it was an incredible place and Paul liked it, but said it wasn't as 'awe-inspiring' as the description in 'The Hong Notes' had led him to believe. I know what he means but I'm wary of becoming complacent when confronted with beautiful scenes every day as we have been. I like to 'see' them as if it's the first lovely place of the trip.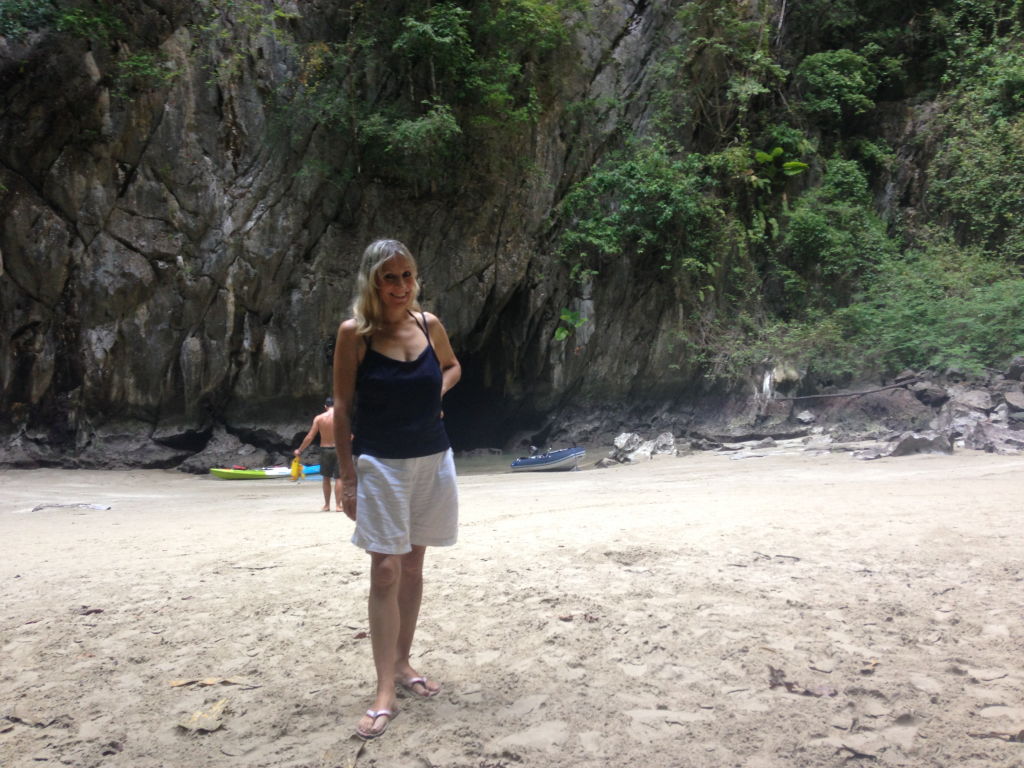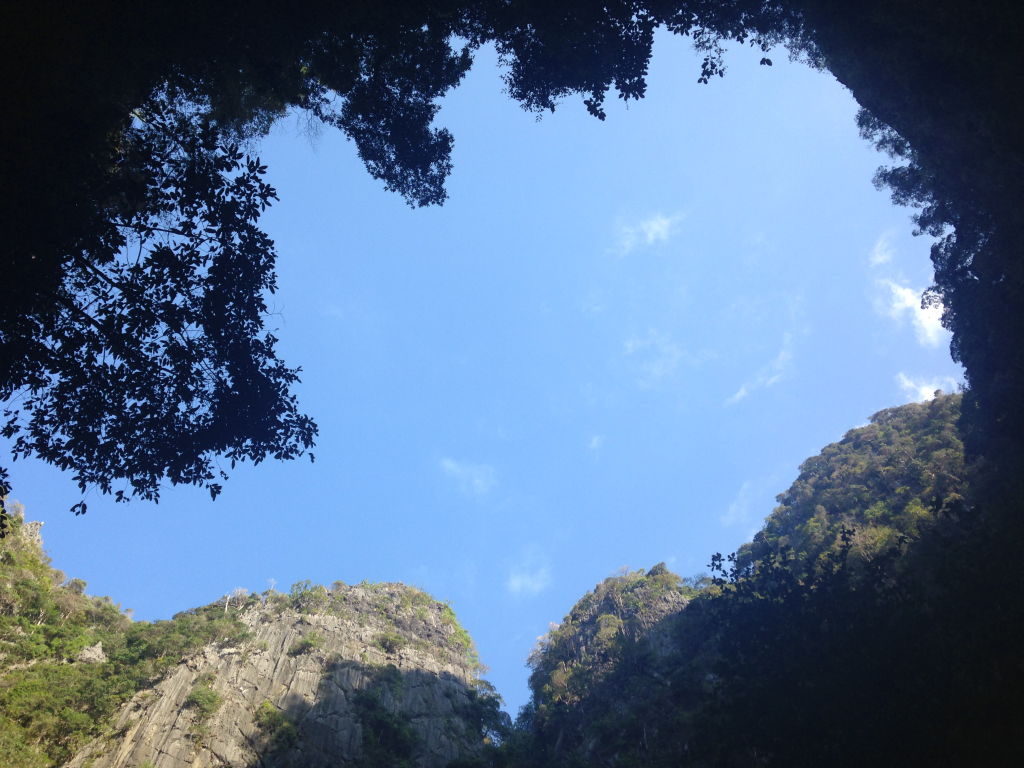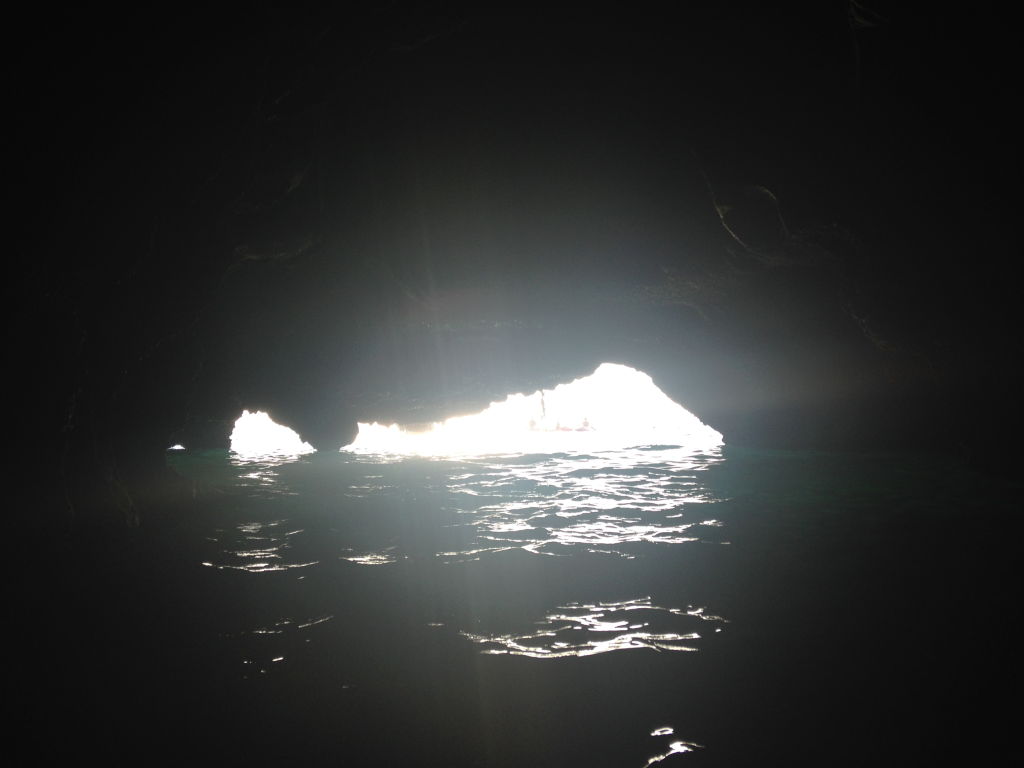 Back on the boat we freshened up a bit and dinghied over to the main beach. There was a laid-back atmosphere prevailing when we got there, and we sat at a charming little bar at the end of the beach, looking out at Sister Midnight bobbing on the anchor. We had dinner in a restaurant we'd picked out as soon as we arrived. It was set fairly high up overlooking the bay. The view was predictably wonderful and I enjoyed my spicy papaya salad but the service was a bit slow and grumpy (actually it was quite refreshing after so much smiley niceness ;)). By the time we left, it had got dark and the lights were coming on in the bars and restaurants, but it was still warm enough for people to be enjoying an evening swim in the sea. Pics below of Koh Muk Beach in the evening.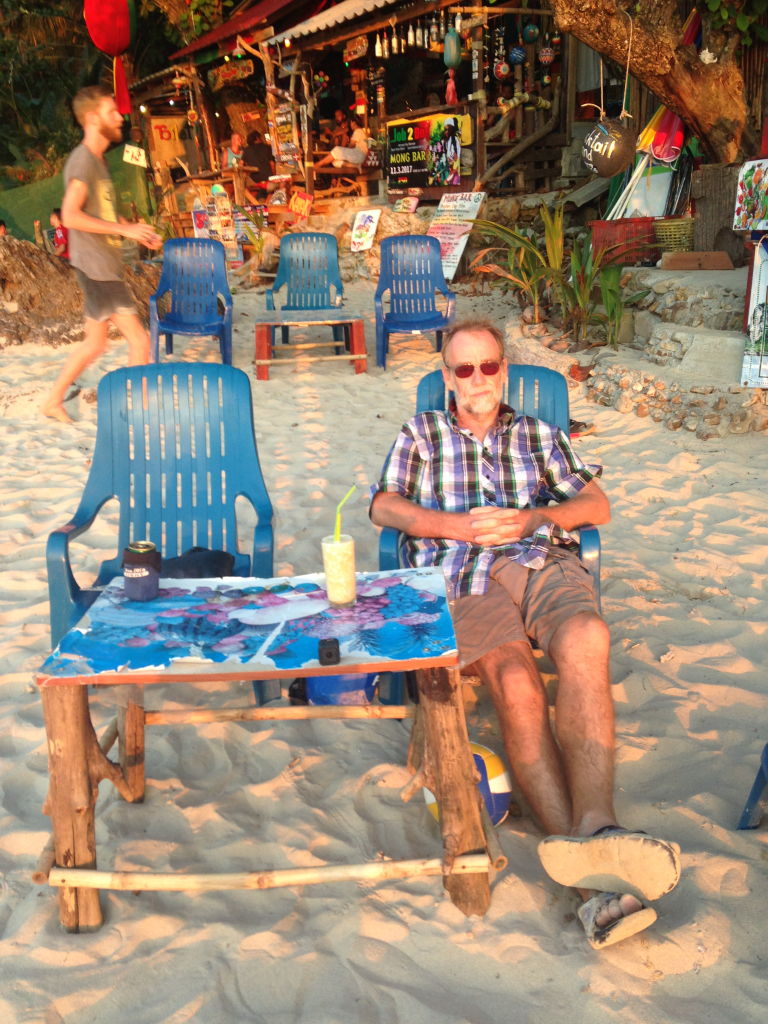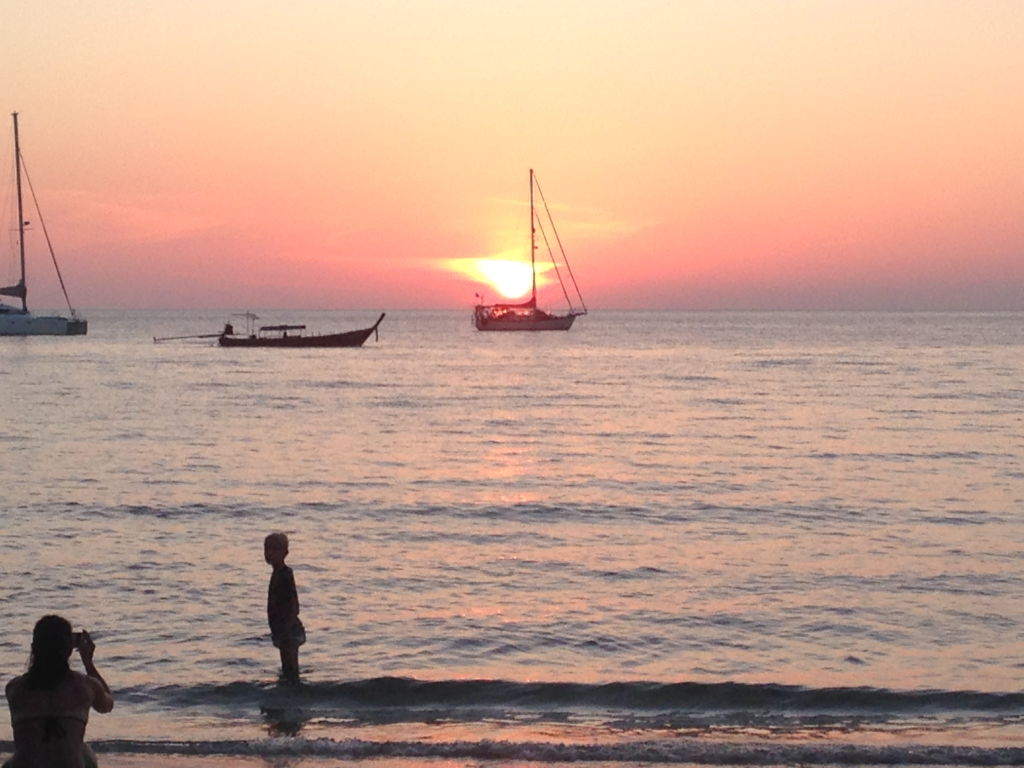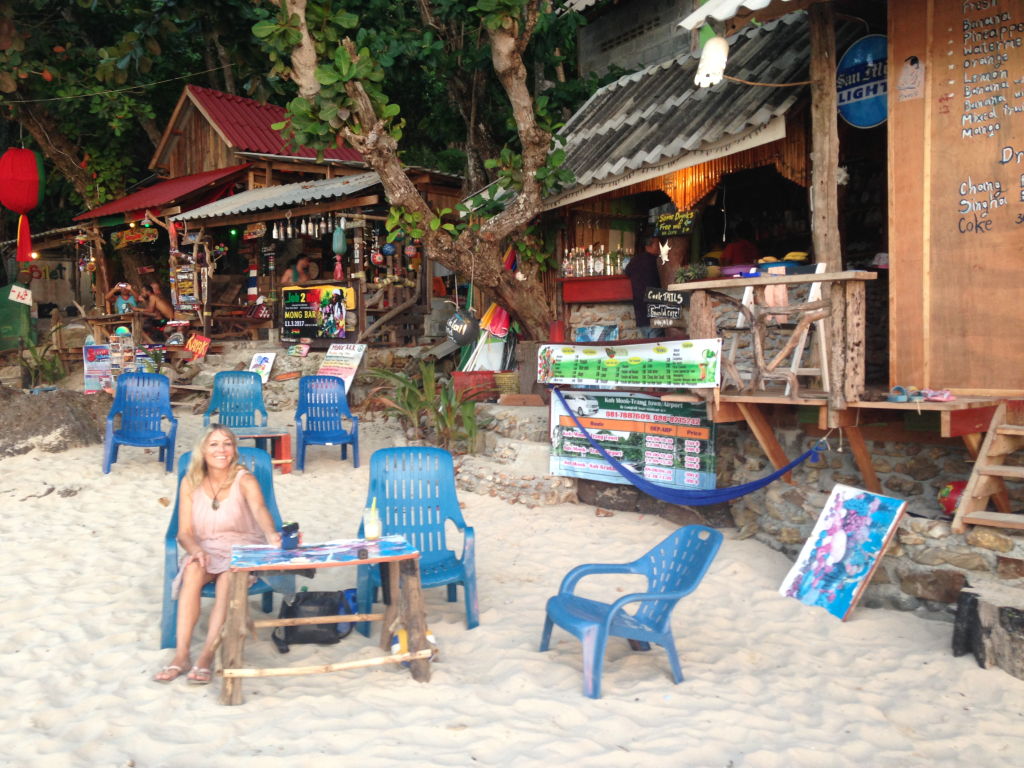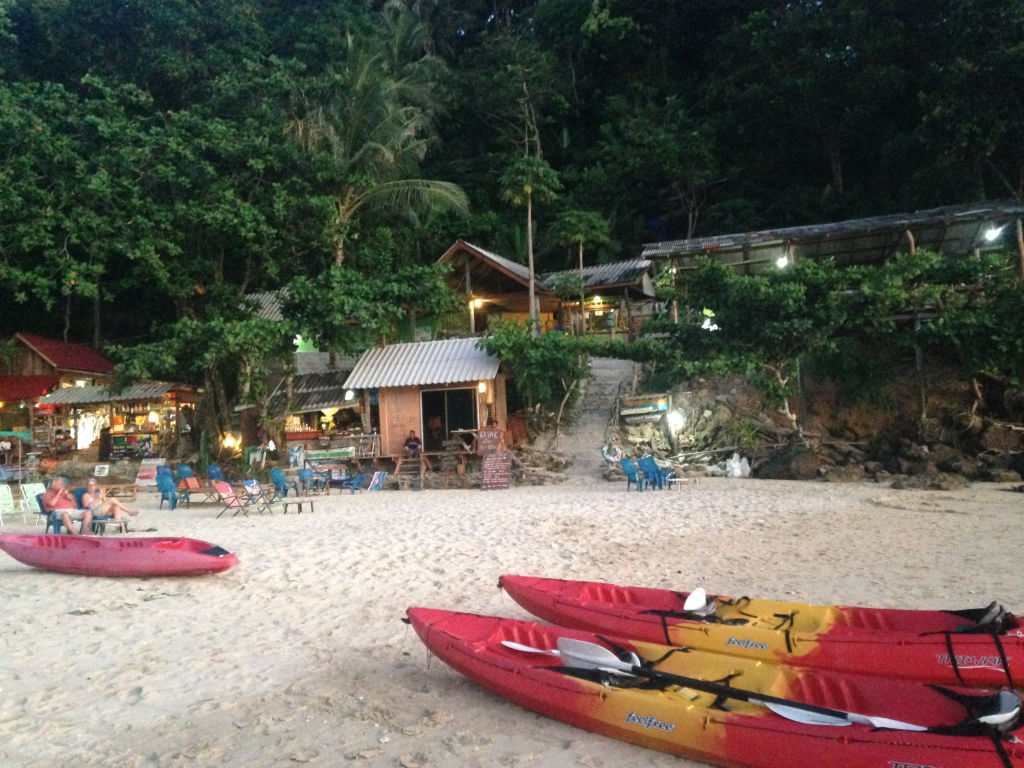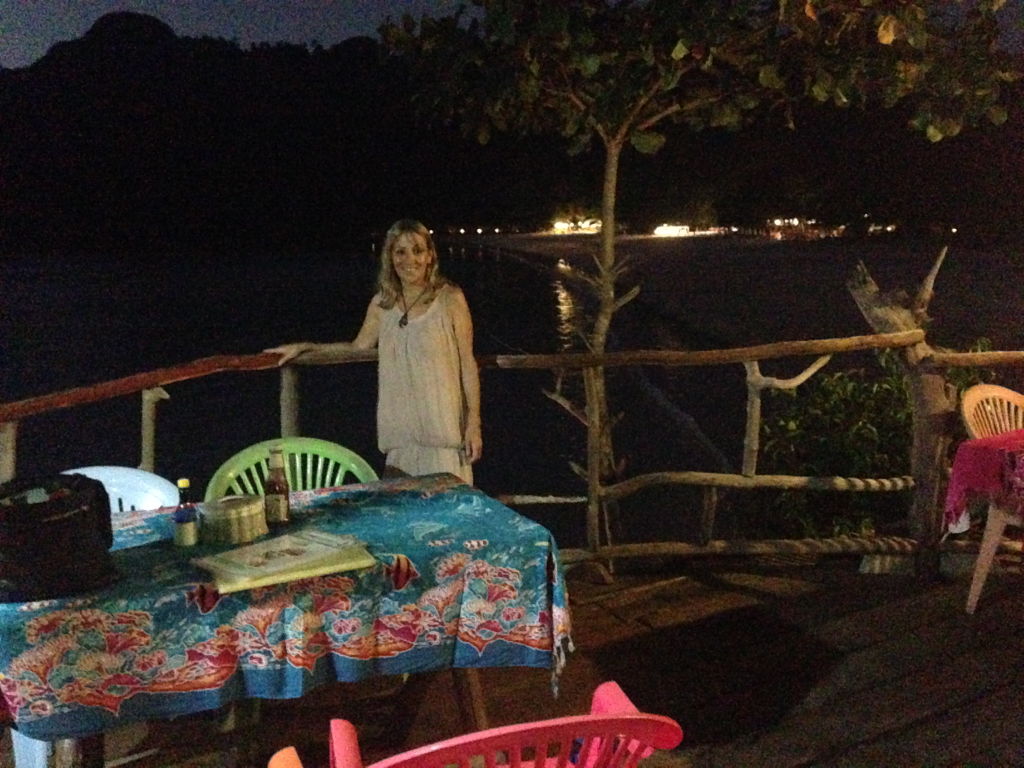 Kathy