Wednesday 10th May – A day in Johor Bahru
Late in the morning we booked an Uber taxi to take us into Johor's capital: Johor Bahru. Our stay in the boatyard was to be slightly longer than expected due to a public holiday and an emergency job taking precedence over others. To break up the monotony of being on the boat we thought it would be good to visit the town, since we needed to get a few things anyway.  I had read the section on it in our guide book the night before and picked out some places worth seeing. One of these was The Grand Palace. It used to be the residence of a Sultan (a word that still has fairy tale connotations for me), and has hosted such illustrious names as Queen Victoria's son, Prince Alfred, Franz Ferdinand and King Edward VIII. The palace was opened to the public in 1991 and turned into a museum to celebrate Johor's golden age. It is, says the guide book, reminiscent of rural England's aristocratic homes and 'there is no other museum in Southeast Asia quite like it'. Well, that description was too alluring to ignore so that was where we asked the driver to take us.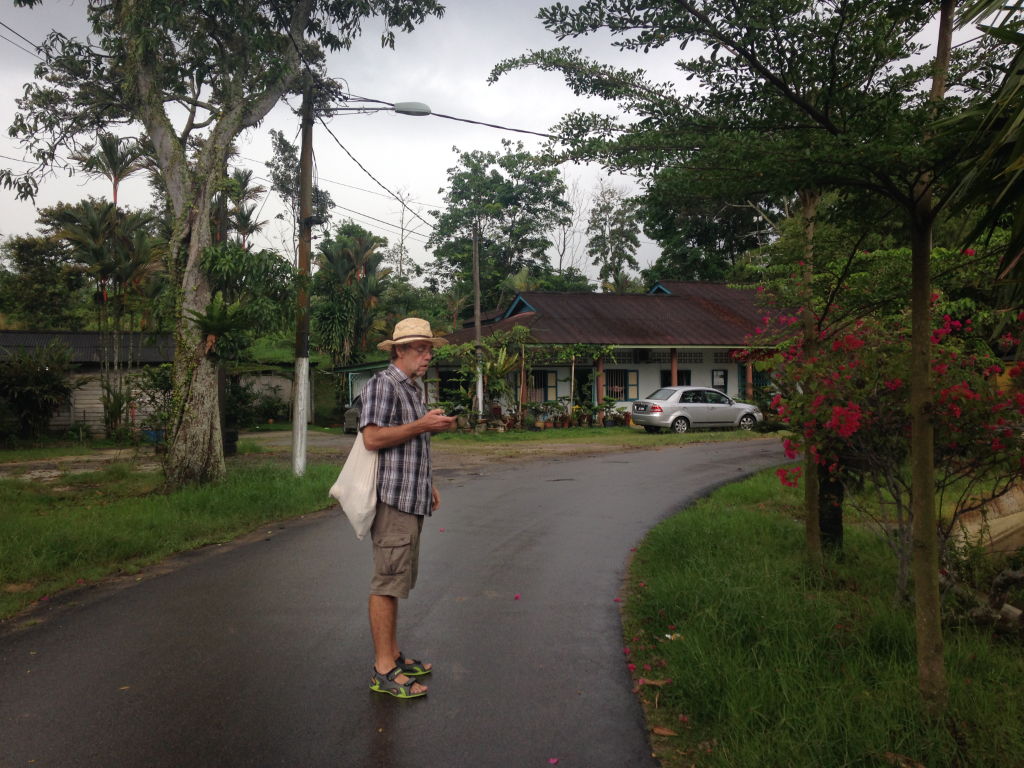 I thought the driver seemed a bit unsure of the destination but Paul showed him a picture on his phone and gave him the location to put into his satnav. Foolproof, I thought and sat back to relax. On the way Paul asked him what the public holiday was in honour of, but all we could make out from his mumbled reply was something about India. The street he dropped us off in looked promising. We found ourselves by a large impressive-looking mosque and walked around a bit expecting to see signs for the palace. Plenty of cars were parked on the roadside and families were walking towards the nearby petting zoo which we could see through the trees on the other side of the road. No palace here, however. Paul asked a lady with a clipboard who was addressing a small group of people if she knew where it was and she led us to the driver of a parked car who was sleepily reclining in his seat, and with a few words, unceremoniously passed us on to him. Probably feeling indignant at her for foisting confused Brits on him during his afternoon break, he pointed vaguely in a direction straight ahead when we repeated our query. I was beginning to think a museum to celebrate Johor's golden age hadn't been received, or indeed, advertised very well judging from the blank looks and lack of interest we experienced enquiring about it.
We were near the water by now and tried finding the elusive palace by looking at the picture on Paul's phone. When this failed and we'd pretty much checked out the whole area we decided to hail a taxi and try again. The driver nodded enthusiastically when we told him where we wanted to go and then proceeded to ask us questions about where we were from and about our boat and what we thought of Malaysia as we drove along. Things got confusing when he asked where we wanted to be dropped off. Out came the phone again with the picture of the palace, and I repeated the name of the sultan (Abu Bakar) and the street name. He then told us that that was where he had picked us up from and assumed we wanted to go into town. He turned the car around and drove us right up to the palace gates (a bit further back from where we'd been looking). The ornate palace gates were firmly padlocked and the grounds were deserted. It was closed due to the public holiday! We gave up on the idea of sightseeing after that and got him to drive us to the mall at the ferry terminal, thinking we'd take advantage of the resort comprising 'integrated hotel, duty-free shops, dining, bars and cafes' that were promised in the guide book. Admittedly, this was recommended at night when Singaporeans flood there, attracted by 'cheap drinks, a liberal atmosphere and a lively nightlife'. I didn't expect it to be quite so deserted during the day, however. Only a handful of people were in the building, the shops on the top floor were all boarded up, and the small duty free shop had four people in it – all of them staff. The goods on offer were bars and packets of chocolate that were more expensive than the supermarket.  Clubs and bars were visible outside in the courtyard but were obviously closed. It was hard to imagine that the place would turn into a lively hub of fun and action later.  All that was needed to complete the picture of sheer desolation in the afternoon were some tumbleweeds.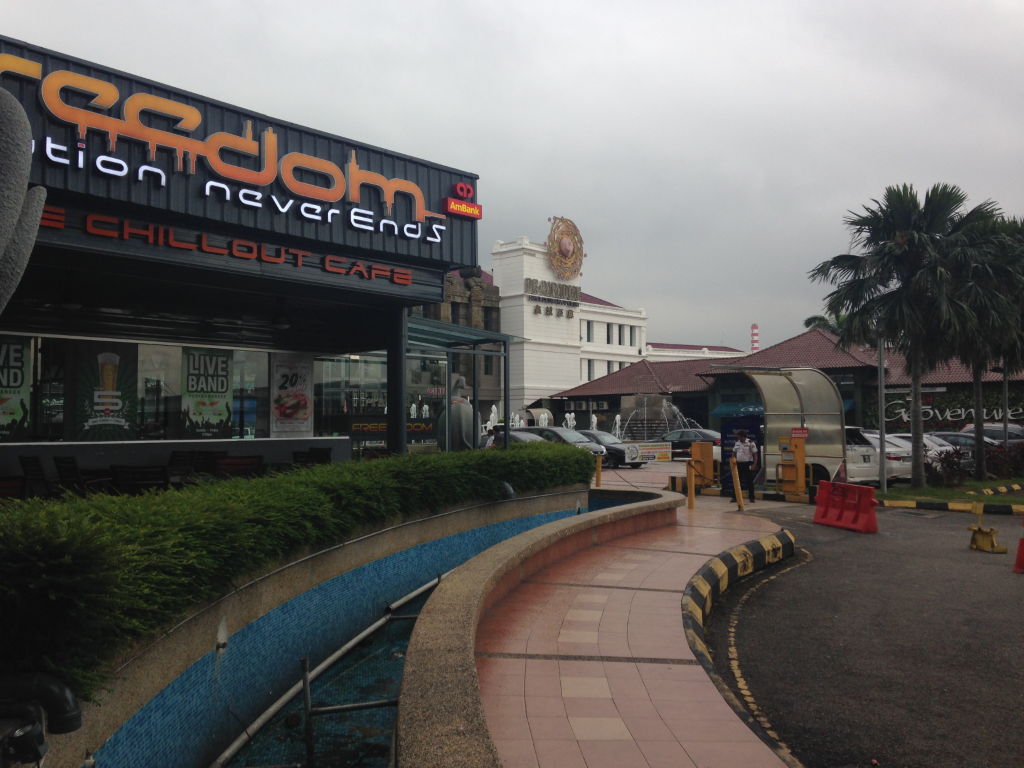 We entered the hotel next to the mall, the spacious reception area was empty apart from two Japanese girls in the lobby and two staff on duty behind a desk.  They were only too pleased to help us when we asked where we could find a large shopping mall with a supermarket, and provided the names and locations of two. So, into another Uber taxi (lucky they are so cheap) and the driver took us to one a couple of miles away. This one had a bookshop, coffee bars and quirky shops that sold products like 'armpit masker' instead of common old deodorant…and of course, it had a huge supermarket. I was happy to amble around for an hour while Paul got yet another taxi back to Puteri to collect a parcel. When he returned we had a late lunch of veggie burgers in a fast food veggie outlet I had discovered (Paul wasn't overly impressed but I loved it). The menu is below. I couldn't quite bring myself to trust that food described as goose/lamb/chicken free are actually meatless but I may be wrong. Fortified, it was time for the Tesco shop for wine (very expensive free of duty-free) and a few other (less important) items before heading back to the boatyard – in a taxi.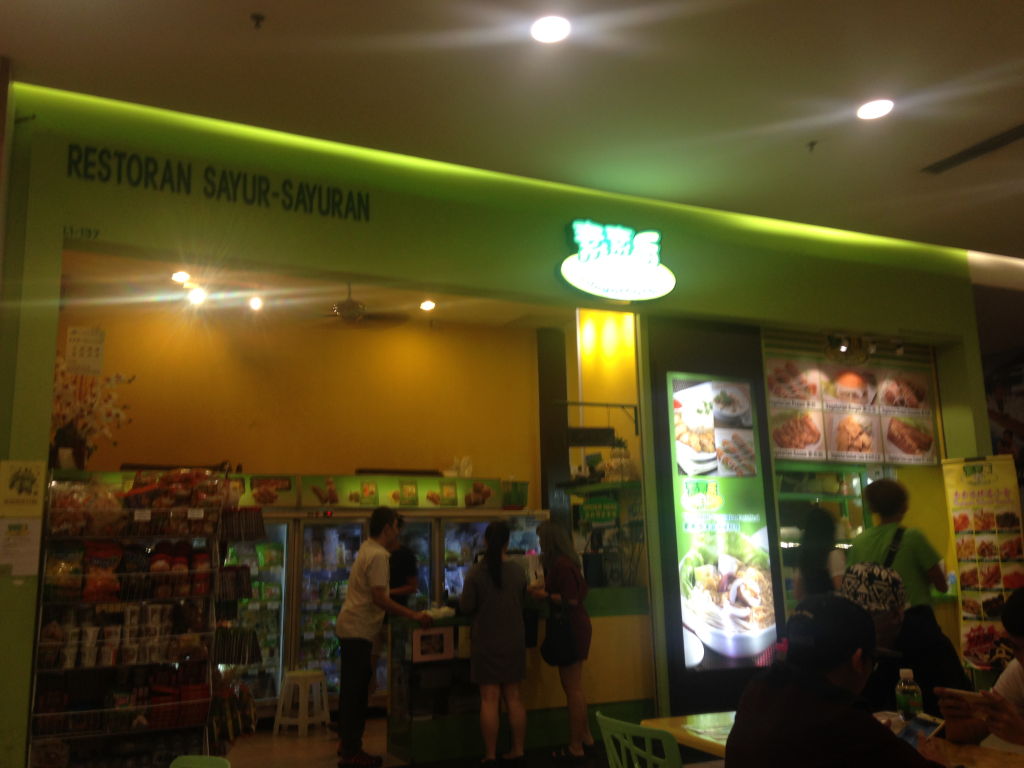 Thursday 11th May –
Holiday over, the marine guys arrived promptly at 9 am to continue working on the propeller shaft. We didn't have to get off the boat, and Paul took advantage of the haul out to do other tasks, as well as being on hand to help the guys.  They are all lovely – very friendly and cheerful, they all get on well and you get a sense of community in a workforce that lives on site as they do. It was a hive of activity all morning in the cockpit, with the lads clambering around in the lockers and up and down the steps, banging and sawing. The worst thing here is the prevalence of flies and crawling insects. It's to be expected in a hot, dusty tropical environment where puddles and rubbish accumulate but at least there haven't been too many mosquitoes to bother us. The work was finished just after lunch and it had all gone to plan. We were ready to set off the following morning.
After I helped Paul put all the stuff from the cockpit locker away we got ready to head out into town to find an ATM because Paul had to pay for the work in cash, so Uber was called upon again to take us there. We'd spotted an Aeon supermarket fairly close by and intended to go there.  While we were waiting near the main road, a motley pack of dogs we'd encountered there a couple of times began their usual barking chorus, sounding a lot fiercer than they actually are. Any attempt to approach them saw them backing hurriedly away. In the taxi, we told the driver that we wanted to go to Aeon, but it turned out there are two to choose from, so there followed another convoluted interaction involving pictures on mobile phones, both of us saying 'nearest and closest' a lot before we realised that he'd already entered the destination of the one he expected to take us to and he wasn't going to change that. He barked a curt 'NO' at our requests, and we watched our chosen supermarket fade into the distance behind us as we sped along at an alarmingly fast rate. The roads here aren't as bad as Thai roads but still have a fair few potholes and each time we went over one we almost literally hit the roof! It was a long journey in more ways than one.  Screeching to halt 30 minutes later, we saw a huge complex of shops in front of us and I was thankful to get out and bid the driver farewell. Inside, it was amazing – a very well put together mall, with one section dedicated to Japanese products. It was a shame that all we needed was cash but we had a good look around anyway.  It was a relief to get a more chilled out driver for the return journey 🙂
Friday 12th May – Launch, Dalac Marine Boatyard
Paul was up very early this morning to see the sunrise and took a walk around the yard. I was very envious when he told me he'd seen sea otters frolicking around in the shallow water. He also took a fabulous picture of the yard cats waiting for scraps from an early morning fisherman – they remind me of the cats on the 70s cartoon series Top Cat.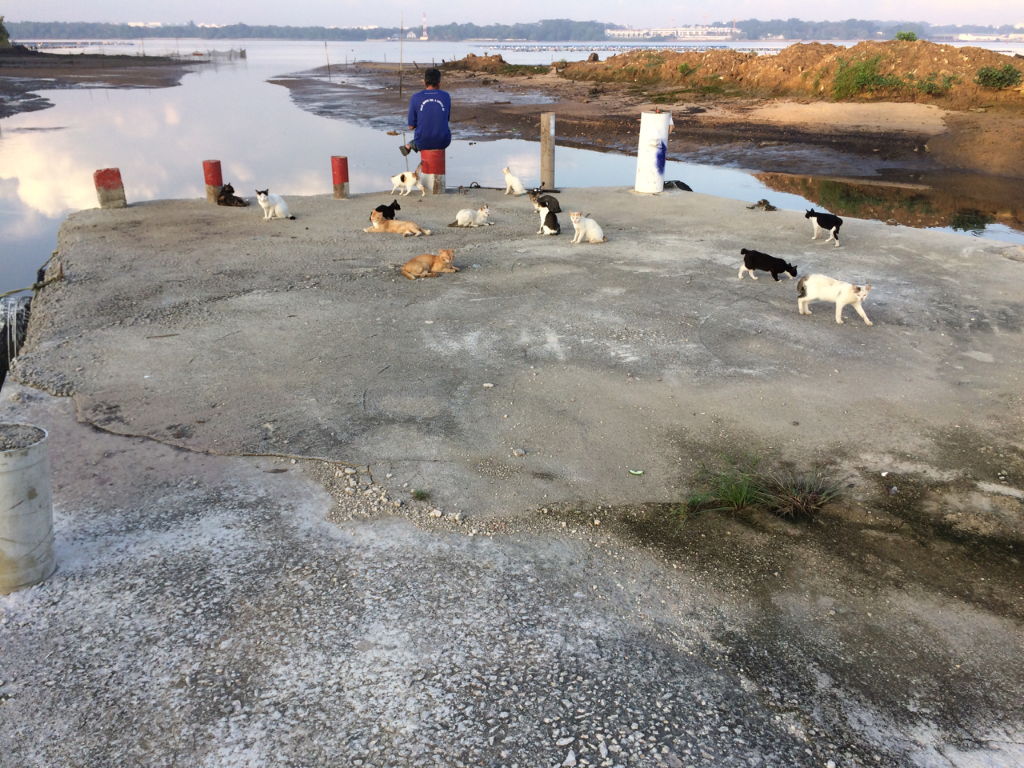 The lads arrived at 10 30 to begin the process of getting us back in the water.  We were allowed to stay on board throughout the whole operation, which would never have been permitted in Britain.  It was a thrilling and fascinating process. Away went the chocks once the hull was secure in the sling and slowly and surely we were driven towards the water, while looking down from the cockpit. Hovering over the travel lift dock, we were lowered gently and slowly down until the hull was sitting safely on the water.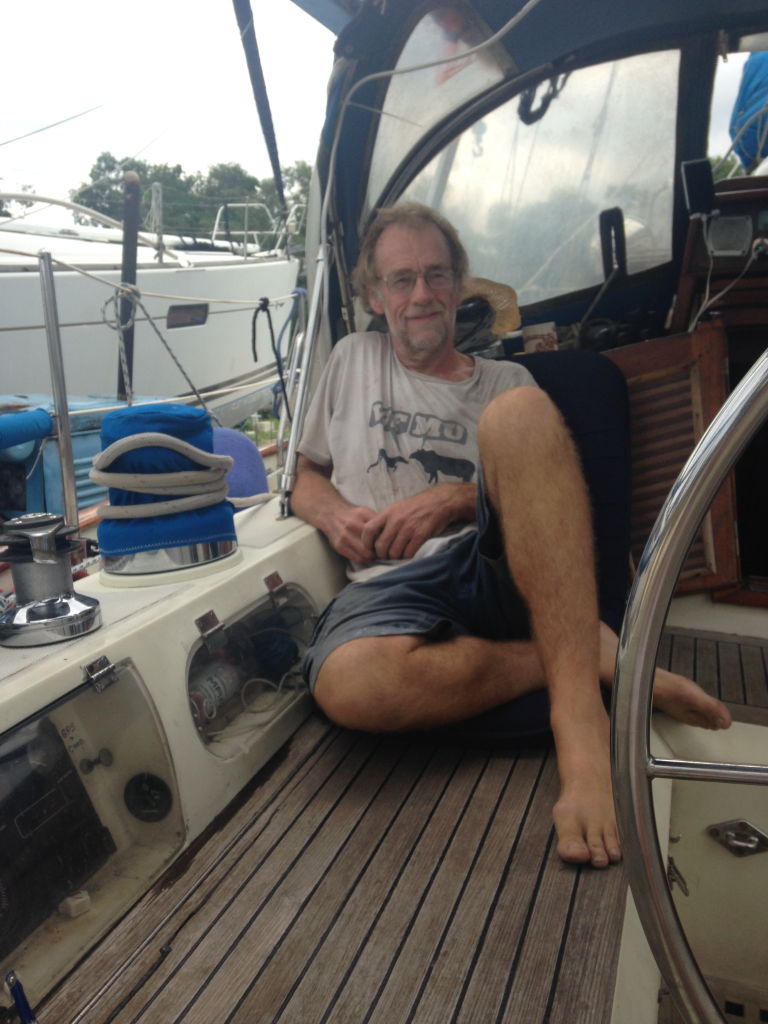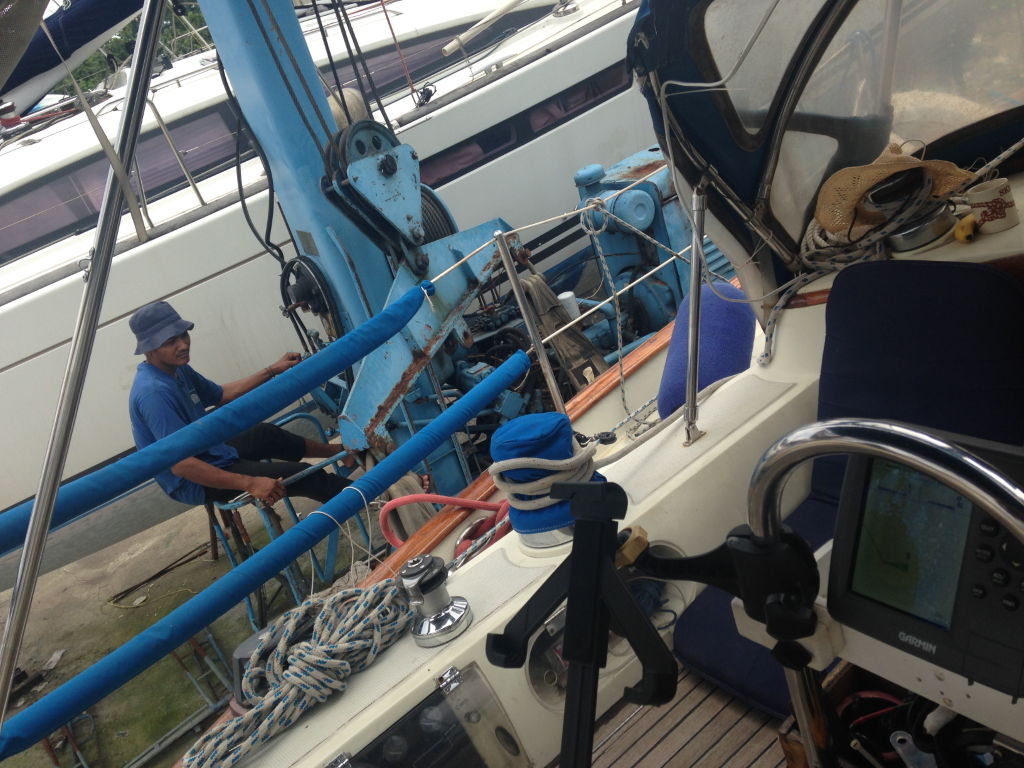 There were a few things to do before we could set off, like filling up the fuel tanks and refitting the backstay. The guys were only too willing to help with everything and when we left they all stood on the side to wave us off and wish us well. I wanted to take a picture but I had to have my eyes glued to the depth readings as we went through the shallow channel.  So at midday we were off, back on the water and making our way to our first stop en route to Pulau Tioman. I'd read that this island (one of the most beautiful in Southeast Asia according to our guide book) was the location for Bali Hai in the film South Pacific: yet another place in a favourite film that I never expected to see, but I later discovered that this is sadly not at all true. Four uneventful hours later we arrived at Kuala Lebam and were safely anchored by 3 pm, just opposite Singapore.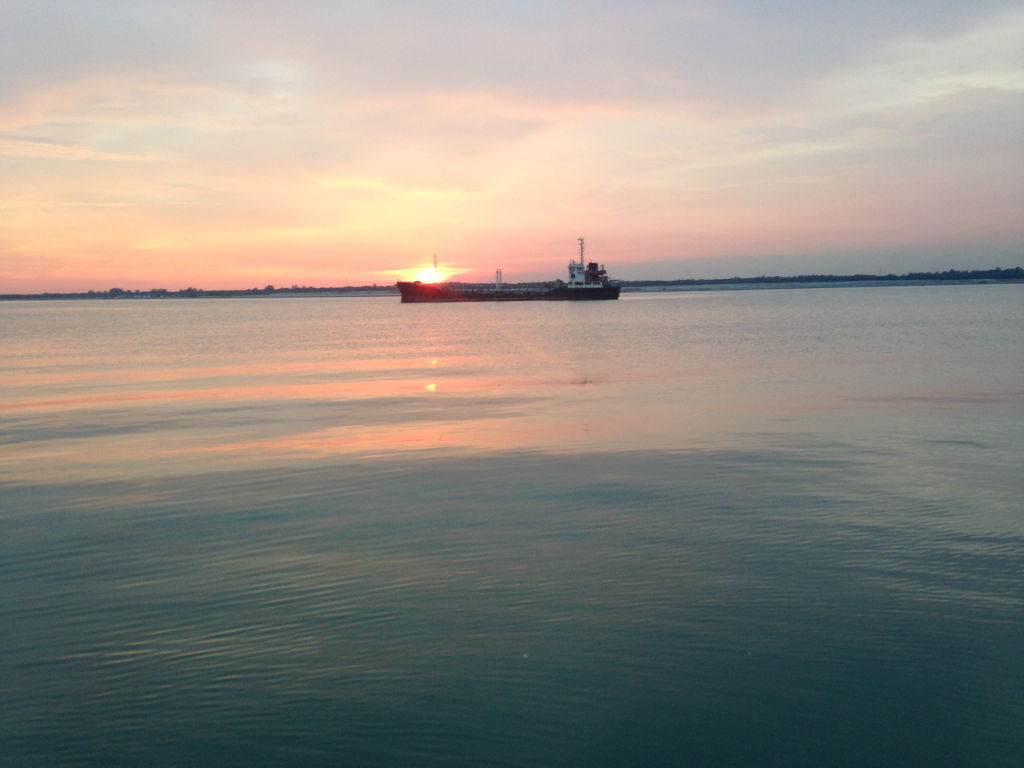 Kathy