Sunday 21st May – Tulai
A voice outside could be heard repeatedly calling 'Sister Midnight' as we sat eating breakfast late this morning. It turned out to be the lady from one of the neighbouring catamarans. She had swum over to invite us, along with the crew from two other boats in the area, to a get-together that evening on their boat Backchat. We were all to bring along some food and drinks, so I spent the afternoon preparing a rice salad and some roasted cashews and peanuts for our contribution. We had little else to offer, not having done any shopping for a while. Paul took the dinghy out to snorkel and film in an area a bit further off while I got on with that. At 6 o'clock we got ourselves and the food ready and rowed the short distance to Backchat. It made a change to sit and chat with other 'yachties' and swap experiences, and past and future destinations. I did zone out a little during the more technical conversations, but Paul picked up some useful tips for catching fish that he is keen to put into practice when we get out on the sea again. Four hours later, after ending the evening playing a complicated mathematical dice game that was way beyond my understanding :-), we dinghied back to our boat under an exquisitely black, starlit sky. One of the many pleasures of life at sea is the sight of a non light-polluted night sky.
Monday 22nd May Juara Bay
It was a lot cooler this morning, and time to move on again. Juara was to be our next port of call, on the eastern side of Tioman. It's described as having just one long white beach and no coral reefs, and is also the destination reached at the end of the recommended jungle trek across the island (I was pleased to be reaching it via the water, though where it's blissfully millipede-free). During this passage Paul tried out one of the surefire tips for catching fish, using a wooden lure shaped like an aeroplane. Still no takers, though – maybe because his plane has no wings on it (!). We arrived in the bay just after 1 o'clock and anchored in 8 metres of water – it was a doddle with no coral to worry about.
Crossing a rather choppy sea early in the evening, we beached the dinghy, collected some water for the tanks from a tap at the end of a pier and set off to check out the village. Lush green rainforest rose steeply on one side of us and on the lower slopes, raised, chalet-style accommodation lined the main pathway. There is a distinct 'hippy' vibe to the place, largely due no doubt to the fact that it is geared towards backpackers. The accommodation is interspersed with cafes offering western food and all day breakfasts. People were gathered, commune-like on the nearby beach smoking and chatting: it's an ideal cheap resort to live the simple life for an extended period. No alcohol is served in the cafes but like many places in Malaysia there is no objection to bringing your own cans of beer or some wine as long as you ask first.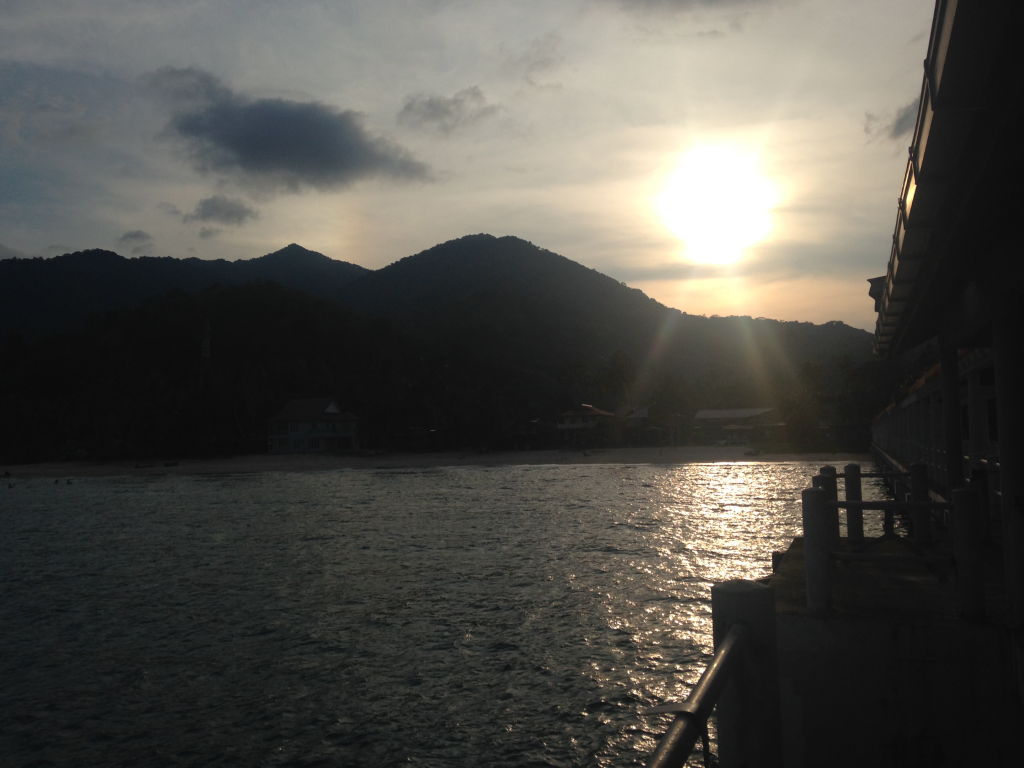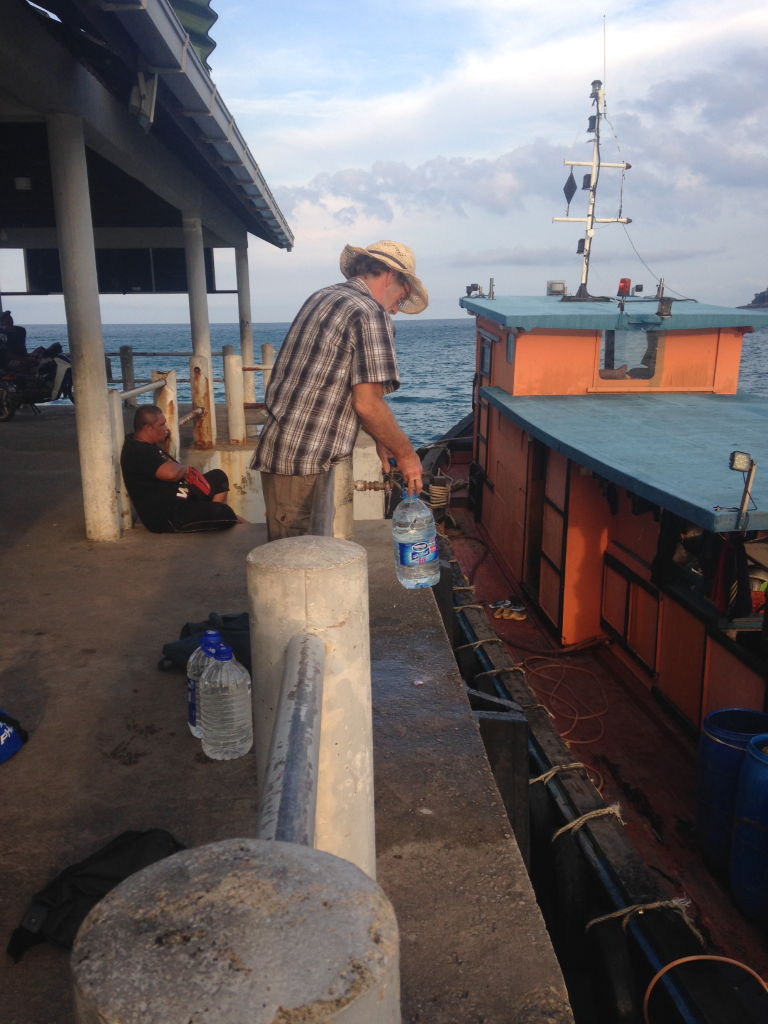 We ate in one of these beach cafés and made do with guava juice to accompany our meal (chicken wings and tofu burger with fries). While we ate, two female travellers from Sydney on the next table were getting to know, and swapping stories with, a guy on holiday from Kuala Lumpur.  He told them that Tioman, especially Juara, is a popular spot for rest and relaxation with stressed out workers from Malaysia's capital city.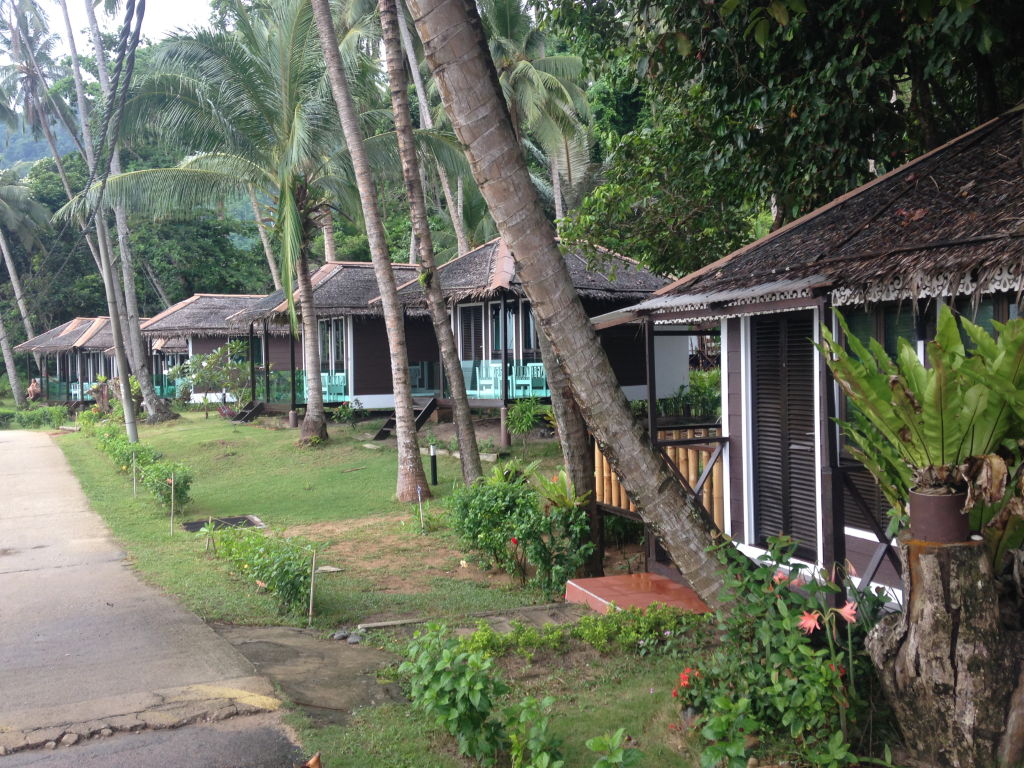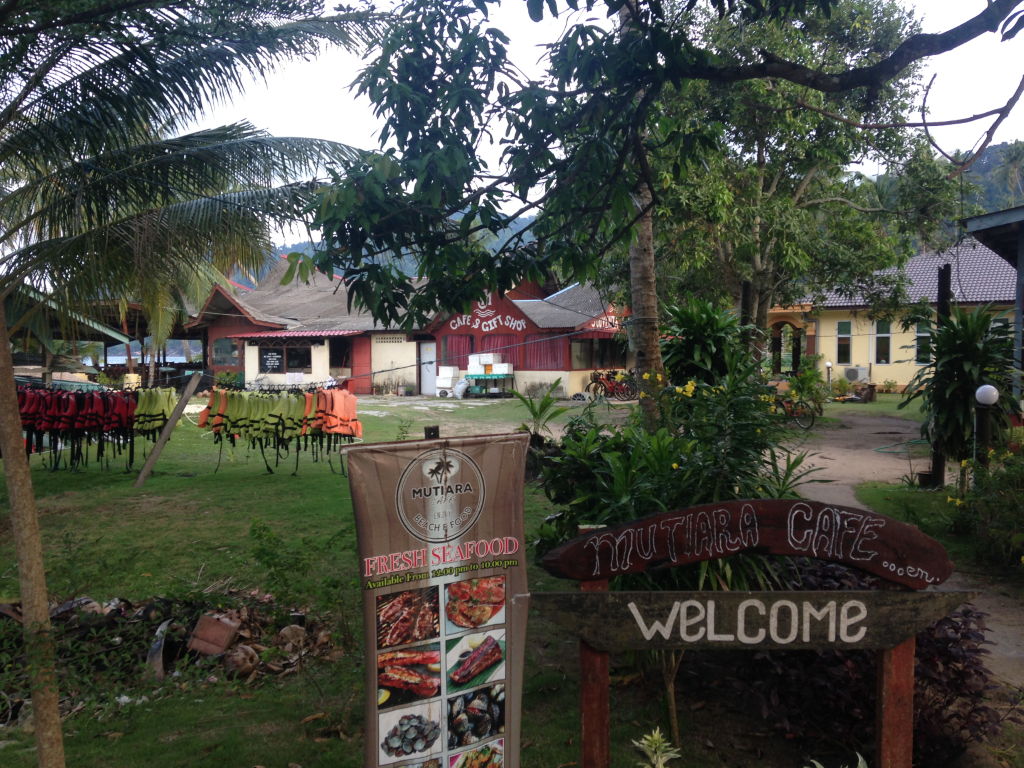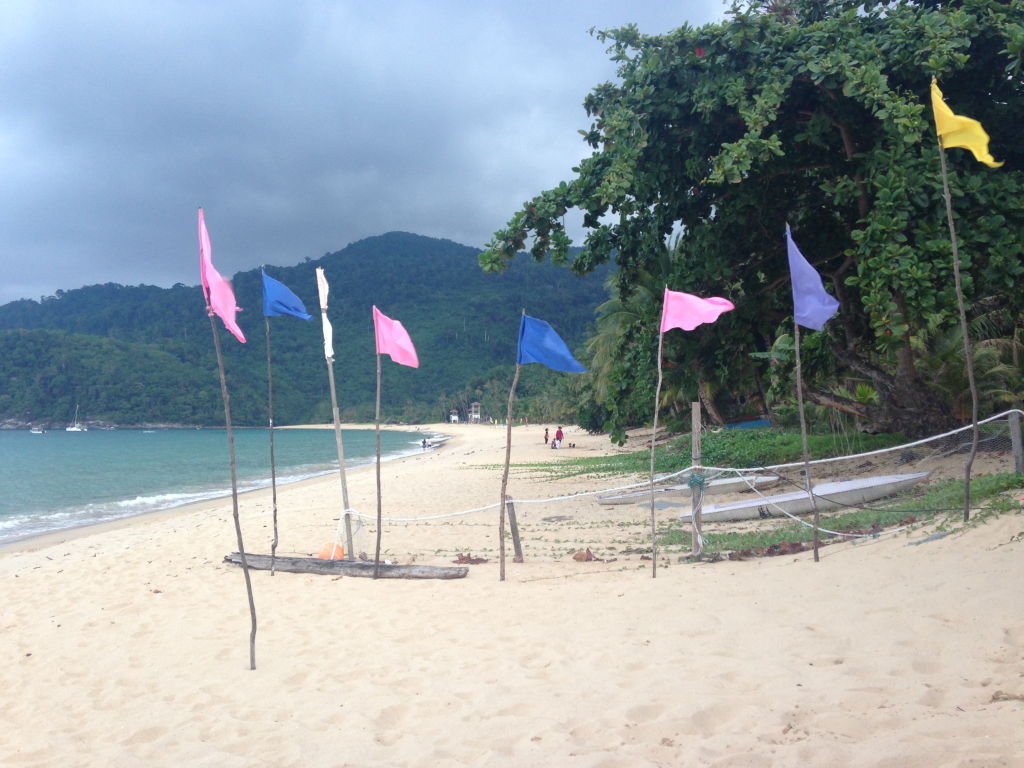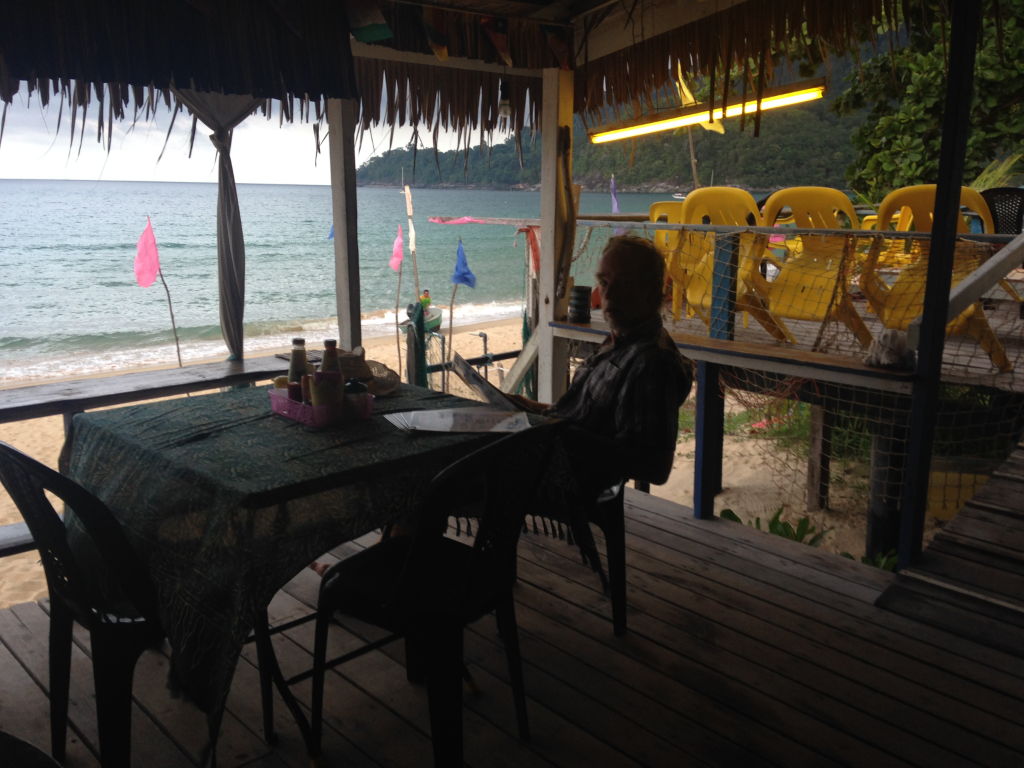 Tuesday 23rd May
The sea got decidedly choppier during the night and I woke up several times due to being jolted roughly from side to side in the V berth. Paul hadn't fared too well in the cockpit either and we were both awake early – up in time, too to hear the dreadfully upsetting news about the bombing in Manchester. Much of my thoughts for the rest of the day were taken up with it. The time difference, climate and location felt so far removed from the awful event but were no less distressing, especially with family and friends caught up in it. It rained on and off all morning. We sat in the café from the previous night watching the showers while we had breakfast and then walked along the beach to have a look at the turtle hatchery, one of several projects set up by volunteers to help wildlife and nature on the island. The hatchery is a fenced structure where eggs laid on the beach by the turtles are placed and monitored, away from predators and poachers so that they can be released into the sea when hatched. It's possible to book appointments to see this but we needed to get going. Hopefully there will be other opportunities because it's something I've always wanted to see.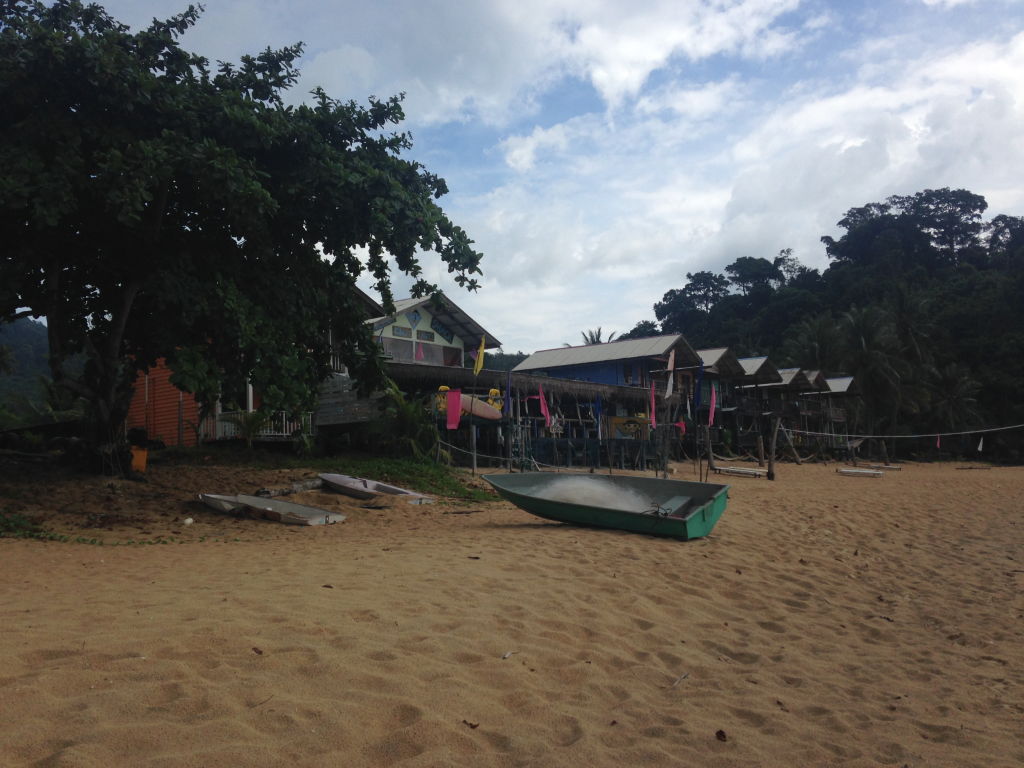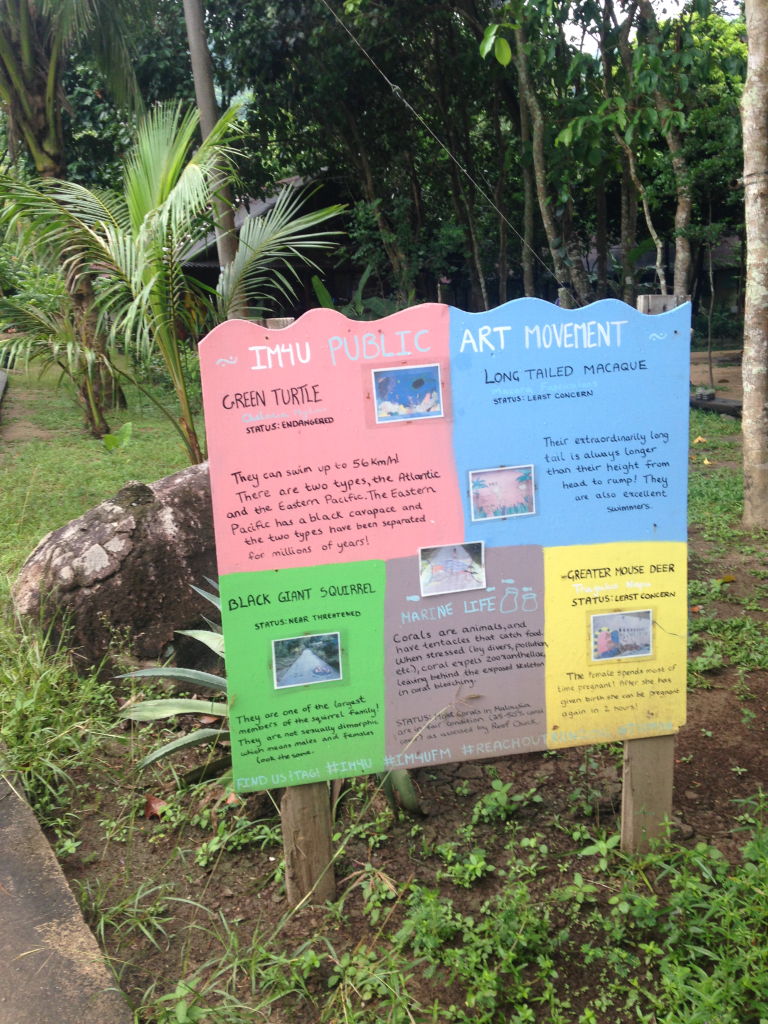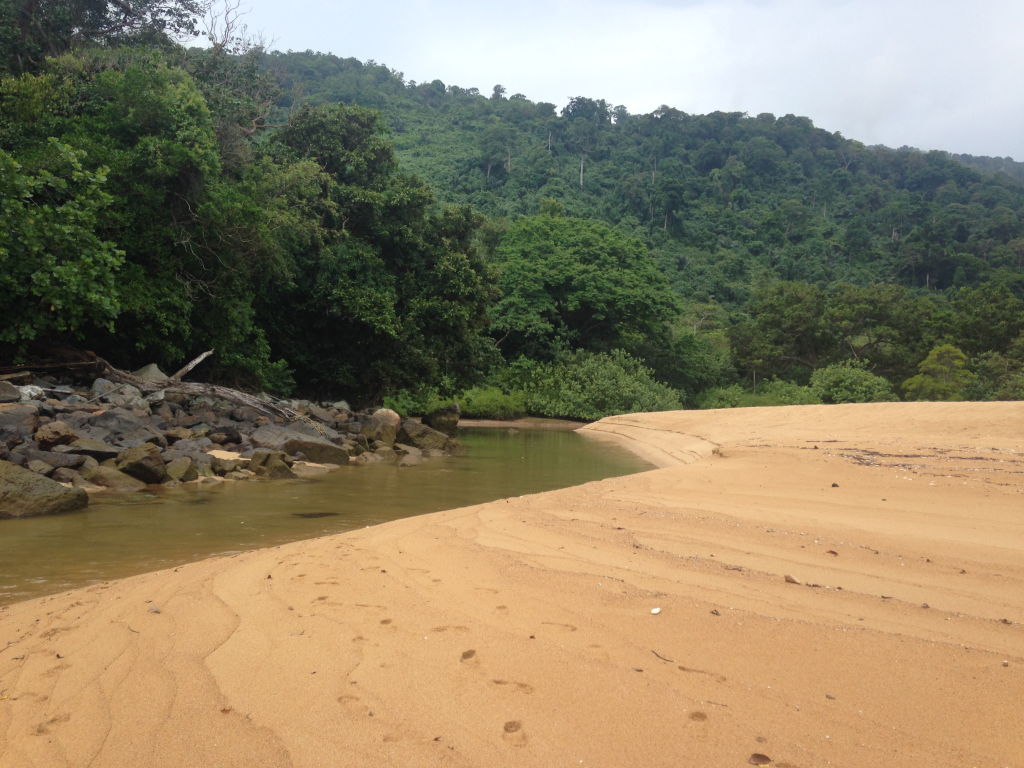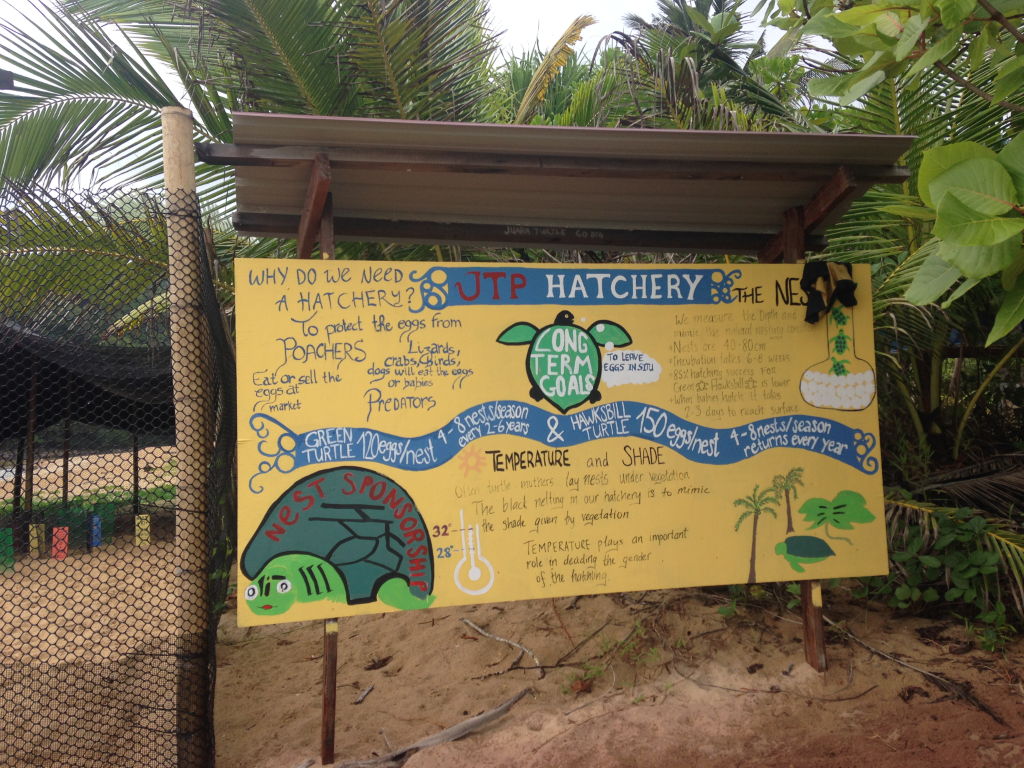 We were on our way again by 1 o'clock, heading back to Tekek on a blustery afternoon. I had another sailing lesson on the way which if nothing else, at least focused my mind on something constructive for a while instead of dwelling on the events in Manchester where I was helpless to do anything. The lesson took the form of steering into the wind and keeping the boat there while Paul gets the sails down. It's the 'keeping it there' part that I struggle with but with perseverance and practise using techniques that aided my understanding, I managed to do it (I just need to keep doing it correctly now). On reaching Tekek we anchored in the same place as before. It was in a very sombre mode that we went ashore for provisions that evening, after learning more about the casualties in Manchester. Little Saffie, the youngest victim was the best friend of my granddaughters back in Leyland. Heartbreaking news to take in, and it's tough being so far away from family at times like these.
Wednesday 24th May –Tekek
There was quite a fierce squall during the night. Paul had put the engine on in case we had to move apparently, but I was so exhausted I had slept through it all. We woke to a drizzly, cool morning that felt more like an English spring than a tropical Asian high season but it was a welcome respite from the intense heat. We had a lingering breakfast of toast and coffee while discussing where to go next. It looks like we'll be visiting a group of islands called The Anambas on the northern tip of Indonesia. The internet was down all day so we couldn't look up any further details about them, and since it was cooler, there was nothing else for it but to catch up on chores. Paul worked on attempting to get the watermaker to work and I did some cleaning…and some reading. We went for dinner at The Coral Reef in the evening where the internet is good and I was able to phone home to at least give some moral support. While we were waiting for our food there was an invasion of flying ants. It was quite an amazing sight, especially when hundreds of them fluttered in front of the lights hanging just outside the restaurant – like black snowflakes. One of the guys came and fixed up a sticky insect 'catcher' in the end because they were all over us and the table. The girl who served us told us it often happens after a rainy period. We were joined by some infinitely more welcome cats after the meal. One of them was keen to get closer to see if there was anything left for him :).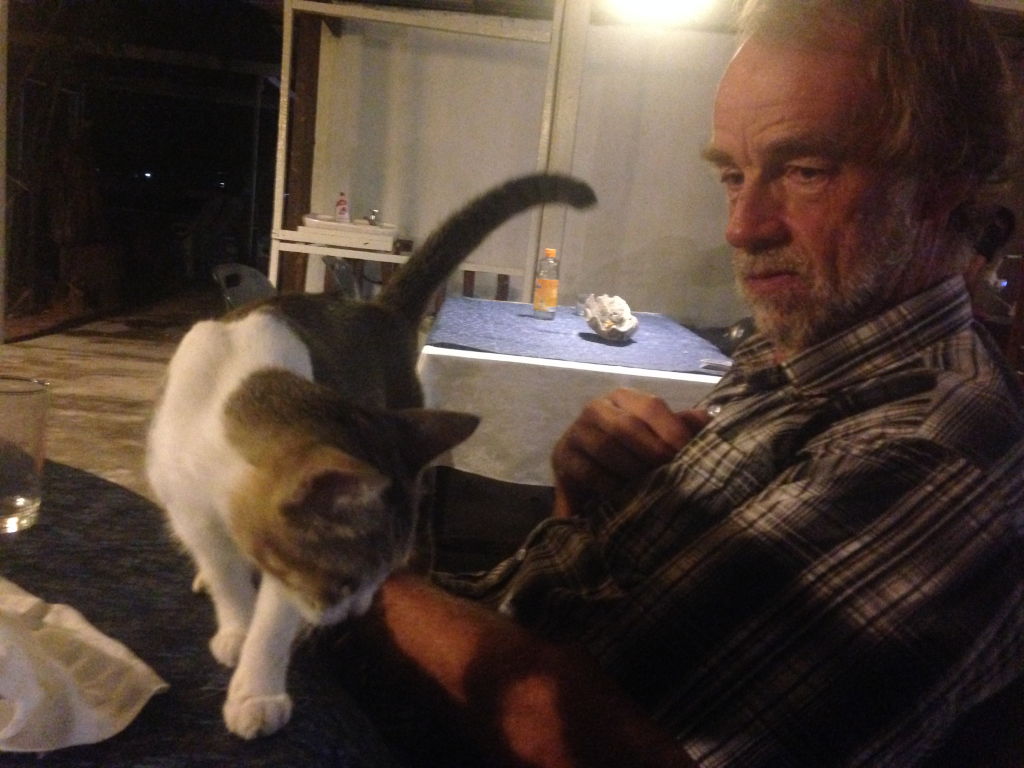 Thursday and Friday were lazy days on board with a few trips ashore to get essentials. There was quite a squall on Friday afternoon which had everyone on the boats out checking that their anchors were holding in the strong gusts. It didn't rain, but the force of the wind threatened to carry our canopy off the top of the boat and we had a bit of a struggle to get it folded up and put away. While we were doing that, the dinghy started bashing against the side of the boat and the rope that was tethering it pulled a stanchion with such force, it broke at the bottom. We could see at least one boat getting assistance from the harbour master because of the problems they were having and it struck me that squalls can be just as troublesome and alarming at anchor as when out at sea.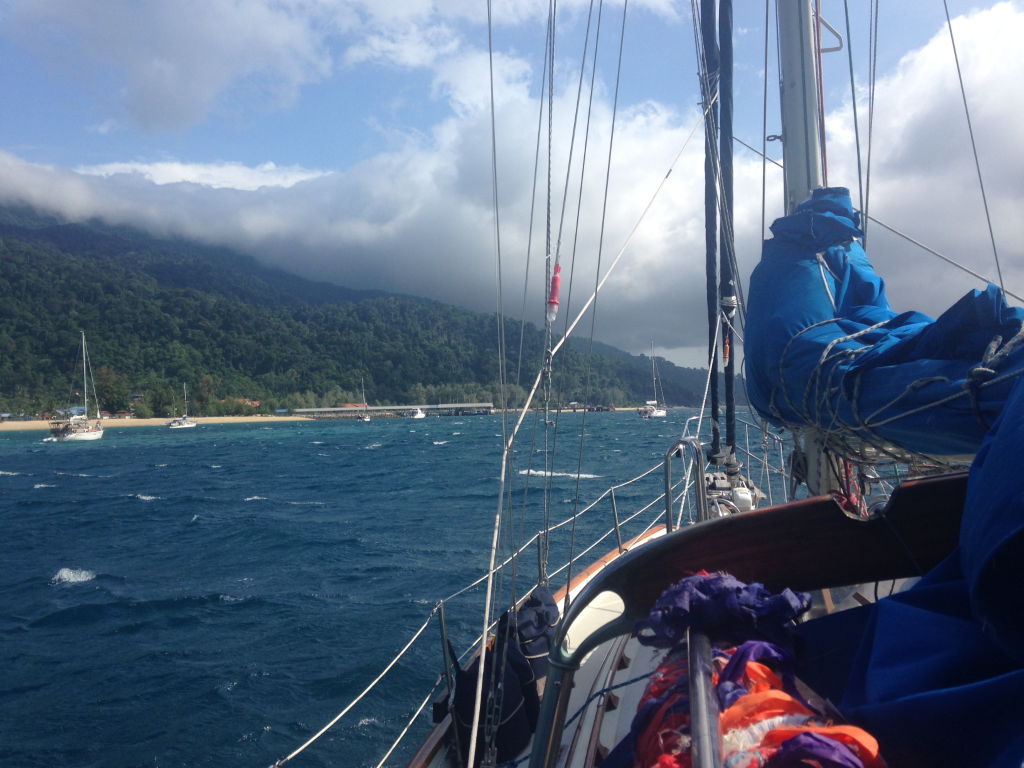 On Saturday, which marked the first day of Ramadan for Muslims, the humidity drove even me to have a swim when we took the dinghy to the beach opposite to us (I don't like to swim in the deep water round the boat, especially after Paul's painful jellyfish experience). It was fine in the water for a while but we could still feel our skin burning and we left it until late afternoon before going out again. Our intention was to have a walk before buying some provisions and going for dinner in one of the restaurants. The look of the beach much further along the coast had appealed to us when we'd first arrived but it had been too far to walk in the heat. In fact, it was still humid when we set out but the sun wasn't far off setting so we strolled slowly up the steep road to start with. The area is where all the monkeys gather in the trees and foliage on either side of the road. They were everywhere when we looked up, staring back down at us defiantly (and possibly aggressively) from branches and power cables or grooming each other on the grass verges.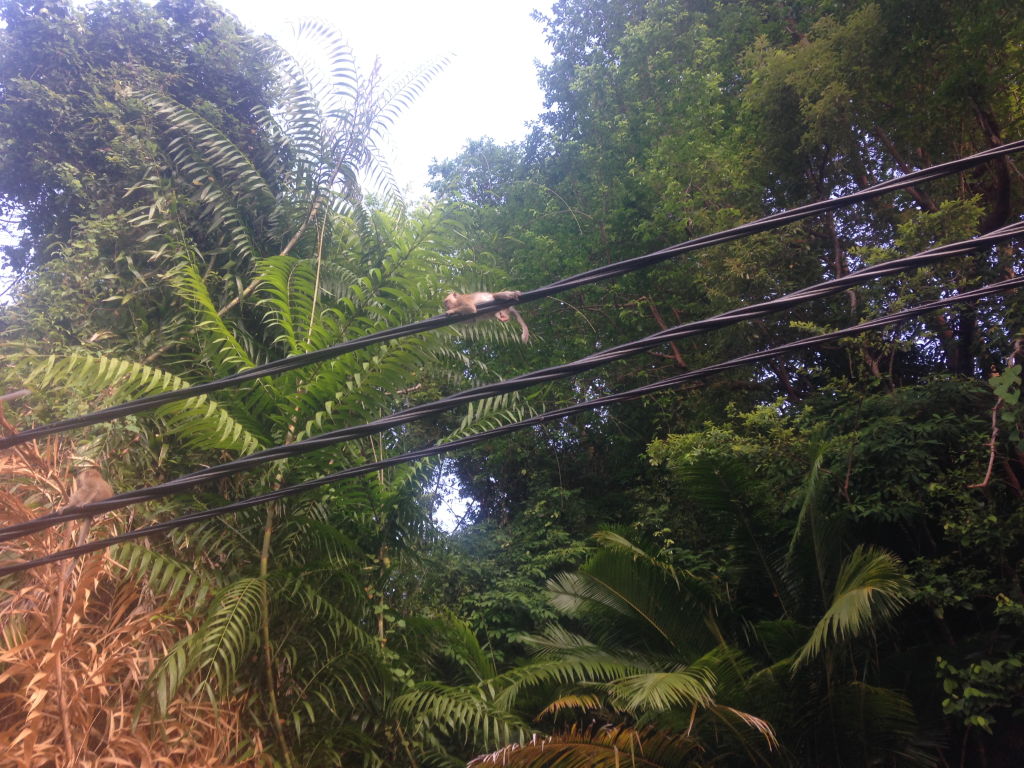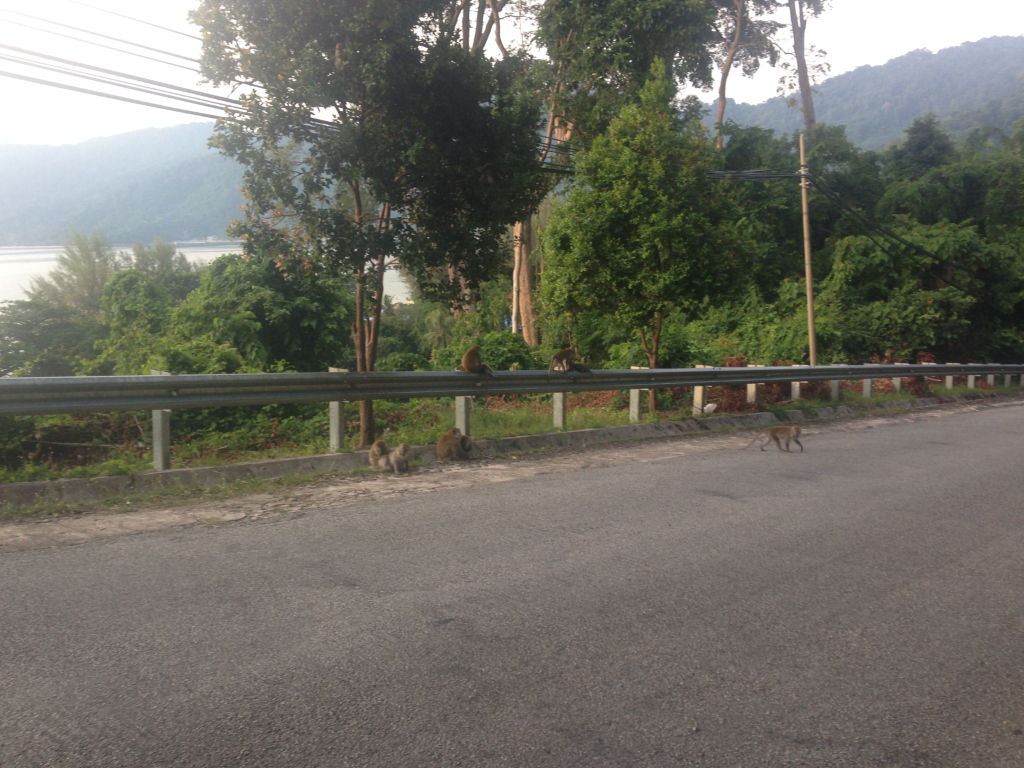 It was a pleasant walk once the sun had gone and we headed for a holiday resort we'd spotted on the beach to have a look around. We passed family groups enjoying the seafront in the cooler evening temperature, and then we came upon an actual beach bar. Not just any beach bar (it was empty, due to Ramadan probably), this bar served alcohol! It would have been rude not to stop and become its only customers after we'd sought out the sole staff member to ask if the bar was open. We sat at a table with a great view, watching the antics of the kids on the beach until the inevitable flying insects drove us on. We'd spotted a Chinese restaurant earlier so we stopped there for our dinner: seasoned vegetables and rice, with fish of the day for Paul.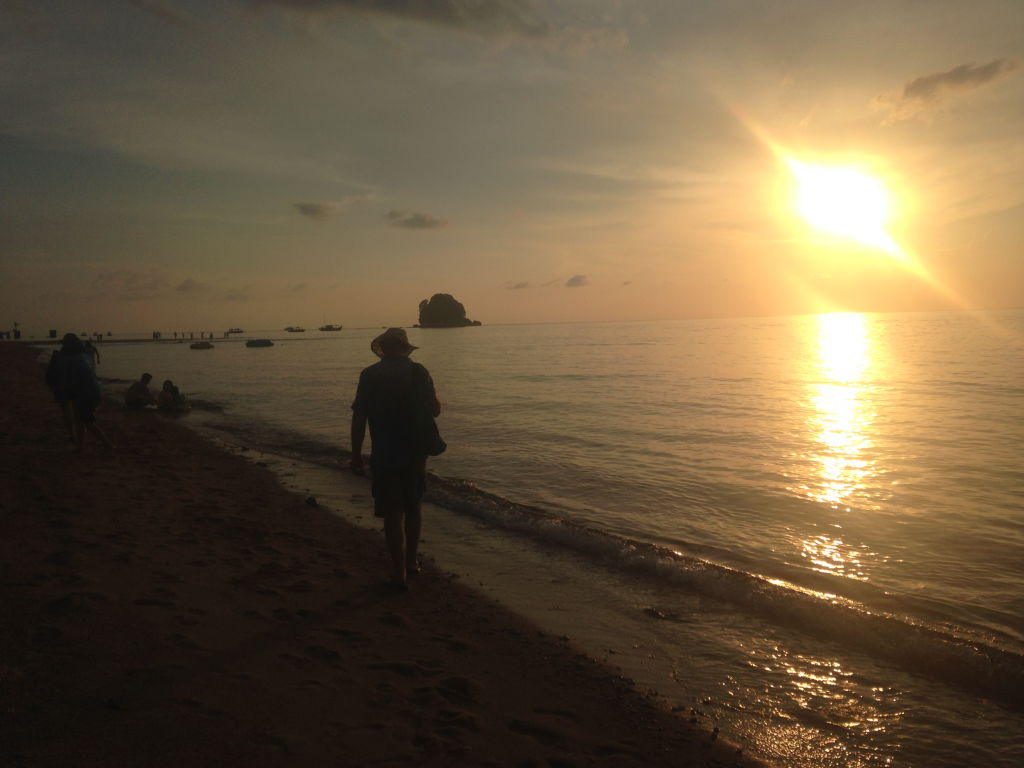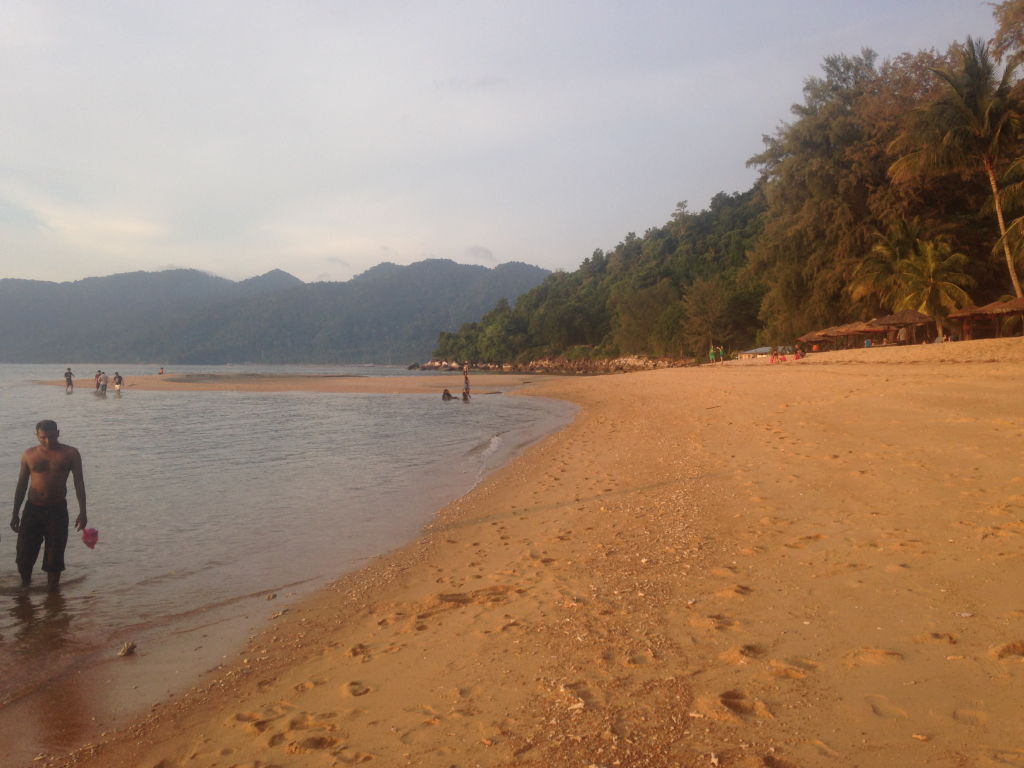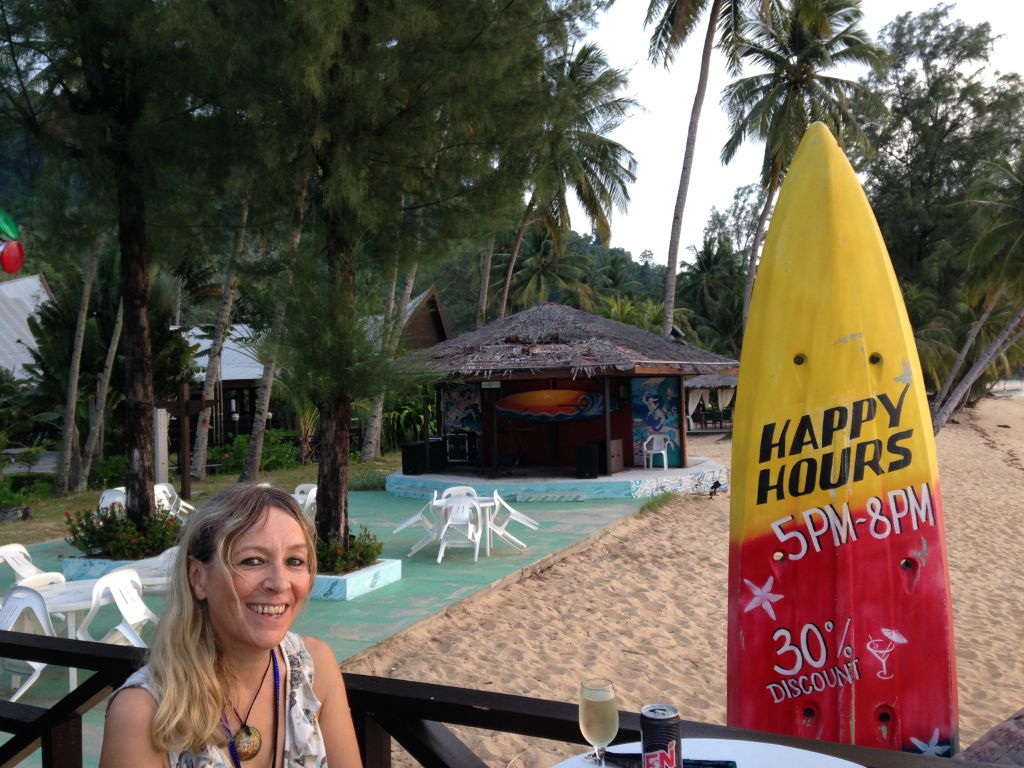 The broken stanchion was repaired over the next couple of days. I helped when it needed to be held steady while Paul applied the sikaflex – in the sauna-like heat on deck! I went from reading a book set during a particularly cold winter where a woman resorts to warming her frozen hands on a hot kettle, to cooling my hands and body down using an icy cold bottle of water on the bow. On Monday evening, taking a short cut through one of the holiday resorts on Tekek, Paul noticed the fabulous sight of a fruit bat colony hanging from the branches of trees in a small clearing. Unlike the ones we'd seen in the Hongs in Thailand, these bats were silent but not any the less fascinating for that. I wondered what time of day they all set off for food and what it would look like when they did, and received an answer the following evening at sunset when we were travelling back to the boat in the dinghy. We saw hundreds of them overhead, all flying in the same direction – to where the food is presumably. It was an amazing sight, made all the more wonderful because a storm was brewing and the dark clouds and rising moon created an authentic gothic image in the eerie twilight. The 'echoey' mournful call to prayer provided an apt soundtrack to the scene. Unfortunately I didn't have my camera to hand to capture it all, but Paul took this great shot of them in the trees. The cat caught my eye because he looked to be in a bad way but just after I took the picture, he jumped up to run another cat at quite a pace :0)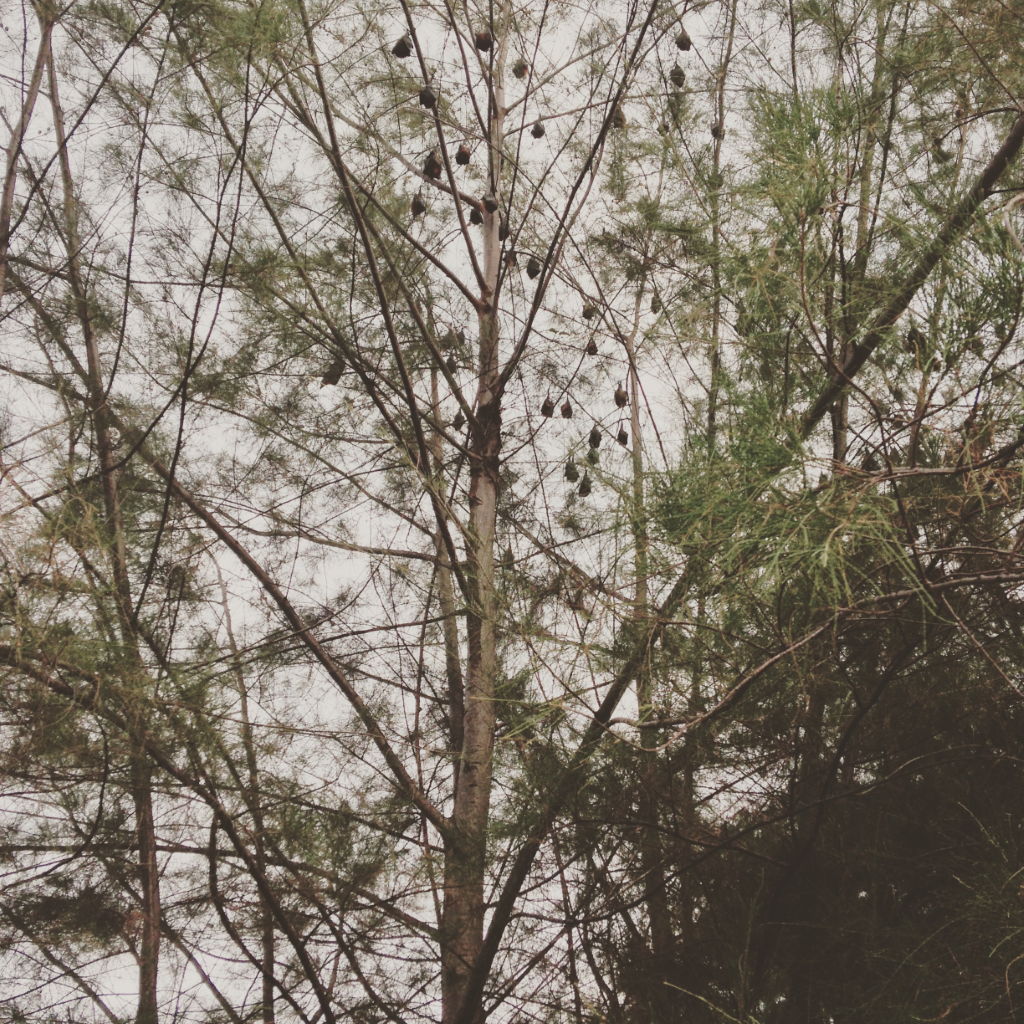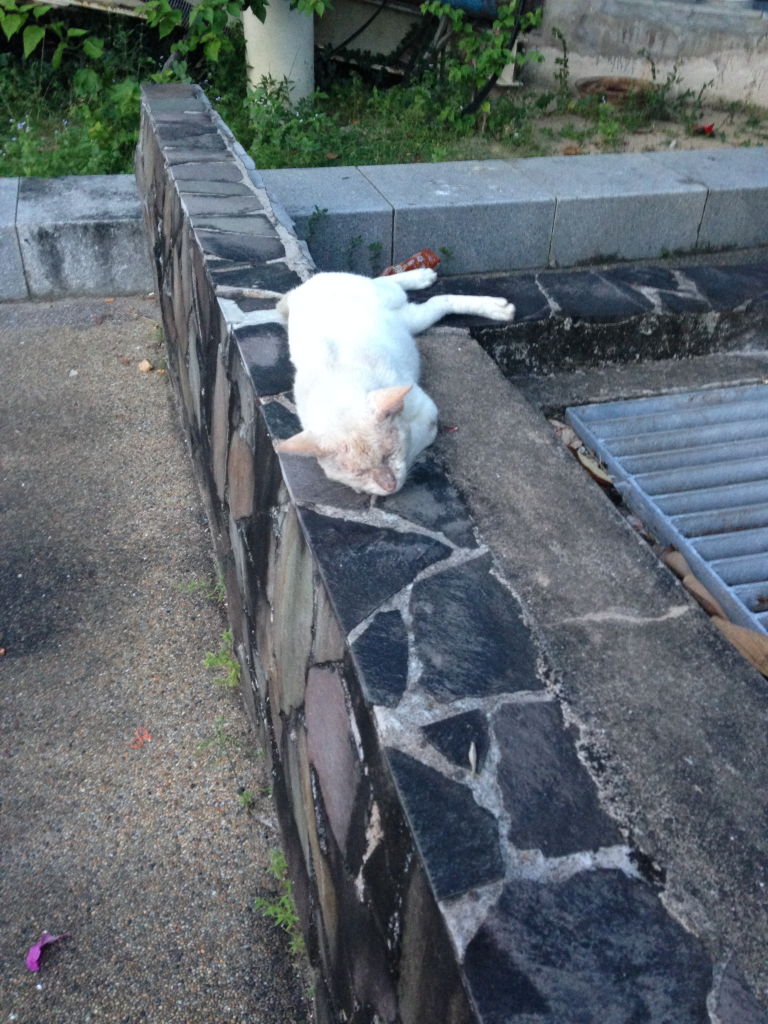 Kathy