We checked out of Malaysia on the first of June, adding more colours and inky shapes to the growing amount of stamps in our passports. Customs and immigration completed without too much hassle, and our provisions all stowed away, we went ashore in the evening to have a meal with Deb and Bruce and four other people from yachts on The Passage to The East Rally. The popular Chinese restaurant we dined at served beer, and the food was great. The Rally's next destination would be The Anambas so it was useful to swap tips and info with the participants, and good to know we'll be meeting them again on some of these Indonesian islands.
Friday 2nd June – Departure from Tioman
It grew very windy in the morning and the weather was set to deteriorate according to the forecast. This cast some doubt on the time we needed to leave in order to avoid the worst of it during our second 'through the night' sail. The boat was all ready to go by 12 30 and we left half an hour later with the main and head sails propelling us along in a good breeze. Unfortunately it didn't last long, and we had to resort to motor sailing for most of the way. The watches began after a dinner of falafel wraps with tahini dressing (I know that sounds a bit pretentious but they were delicious). I took the first one, which was 8pm to 12am. The boat veered off course about an hour into the watch when the autohelm stopped working, and I had to call Paul up to sort it out. With Captain Mainwaring duly adjusted we were soon back on course. It was a very mild night and I spent the whole four hours in the cockpit wearing a sleeveless cotton sundress, savouring the coolness. We used the AIS and the Open CPN navigational aids to check for vessels, in addition to physically looking around. Lights at night when at sea can resemble floating lanterns bobbing about when it's pitch black, by which I mean it's tricky to gauge distances (well it is for me anyway) so the aids provide both accuracy and reassurance. I passed the time by reading books on my phone when not checking the course, sails, wind direction, engine temperature and looking for other boats. I didn't, however, check for pirates! When Paul took over at 4am I asked him why the navigation lights weren't working and he calmly told me that he'd turned them off because we were in 'stealth mode'.  Apparently there had been a pirate incident in the area the previous week. Pirates mostly target large vessels but Paul felt it was prudent to be careful. It was a possibility, albeit a small one, that boats with no lights at all could appear without warning alongside, and armed robbers would get on board to demand valuables, a bit like highwaymen, except on the water. I think I was glad that I was blissfully unaware of this possibility!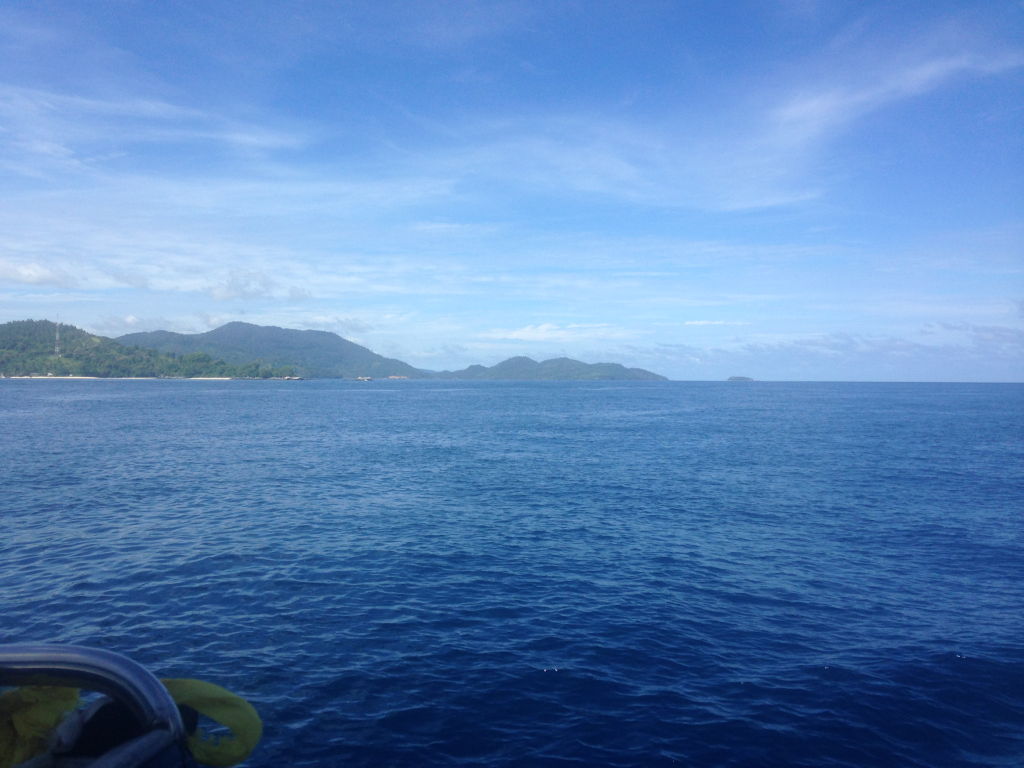 Saturday 3rd June – Indonesia! (Pulau Ajam)
It had been a rocky but thankfully pirate free night and we'd both managed to get a good few hours' sleep.  I joined Paul for coffee at 10 30 on a gorgeous morning, to get my first look at Indonesia. Paul put up the country's courtesy flag along with the obligatory yellow quarantine flag which is flown until a boat has been officially cleared. The air felt fresher and I wondered hopefully, if perhaps prematurely, whether there may be less humidity here.  Our first task when we reached Ajam was to find a spot to anchor. It needed to be in between all the coral surrounding us and we managed to find one in 5 metres of water at around 12 30…except it was actually 11 30.  My phone had changed itself to the local time, which is one hour behind Malaysia.  When Paul snorkelled to double check that the anchor was set in sand, he noticed a huge fish nibbling the hull. When he showed me the GoPro footage my first thought was that it was a young shark! Later, when I threw some stale bread out it shot out from underneath and gobbled up every bit. We could see it clearer just under the surface – a huge fish that seems to have taken up residence under us, so I fed it some more scraps. I noticed Paul eyeing it as a potential easy catch for dinner and had to tell him that it would break my heart to see it on his plate.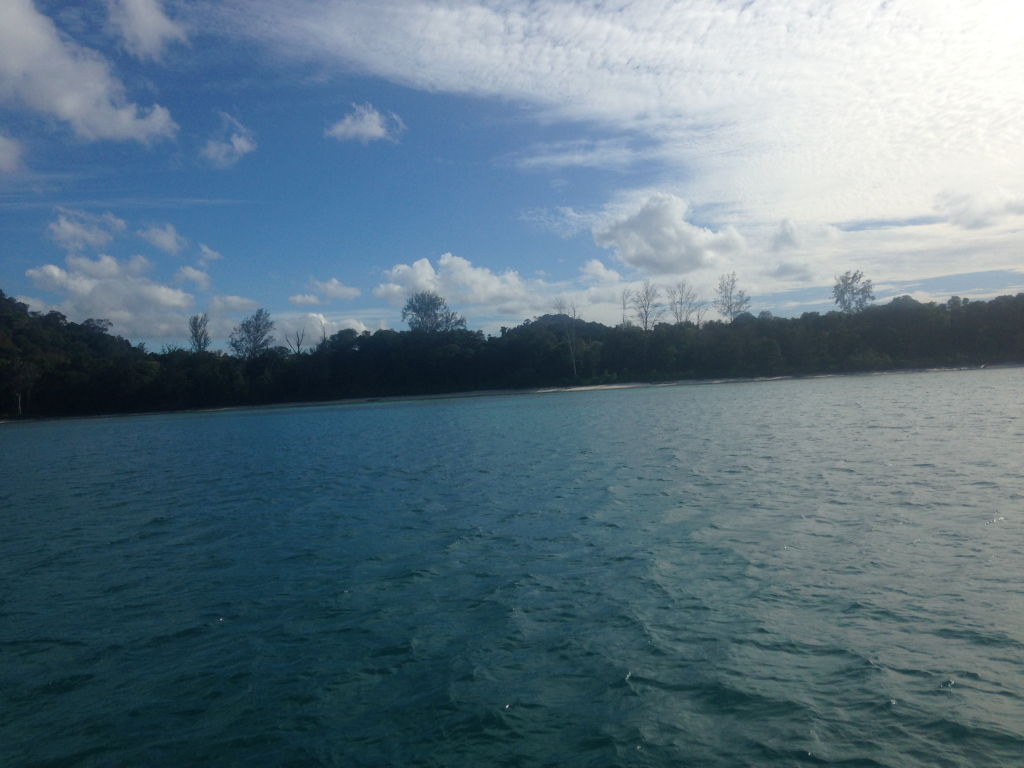 The beauty and serenity of this anchorage was revealed in all its glory just before sunset.  All around us was azure water, golden beaches and lush green forest. White birds were swooping all around us, fish were jumping so frequently it looked like a sparkling synchronised routine, and colourful (big) butterflies flew in and out of the cockpit.  It was so serene…and quiet…and relaxing. I would think fondly of this state of affairs over the next few days.
Sunday 4th June – To Terempa, the capital of The Anambas
We stood on the bow at 8 30 this morning admiring the surrounding vista before it was time to leave to check in at the main town on the island of Siantan.  A problem with the anchor windlass meant we left an hour or so later than intended while Paul sorted it out.  I steered us out, listening carefully to Paul's directions…until the depth started falling rapidly and becoming alarmed, I called to him to take over. Too late – we were on 1.4 metres and touching coral – but luckily we managed to reverse over and off it! All the same, it was a heart-stopping start to the passage, the rest of which went really well thankfully.  We had no engine on, just used the power of the main and the head-sail. The wind was just right, it was cool and fresh, the sea was calm and no other boats were around. With Uncle Arthur steering, we could sit back and enjoy the ride. I was thrilled to spot my first sea turtle just before we got to Terempa. On the approach to the bay we got the sails down, took some pictures of the coastline as it got closer and prepared to join the 5 or so other boats at anchor.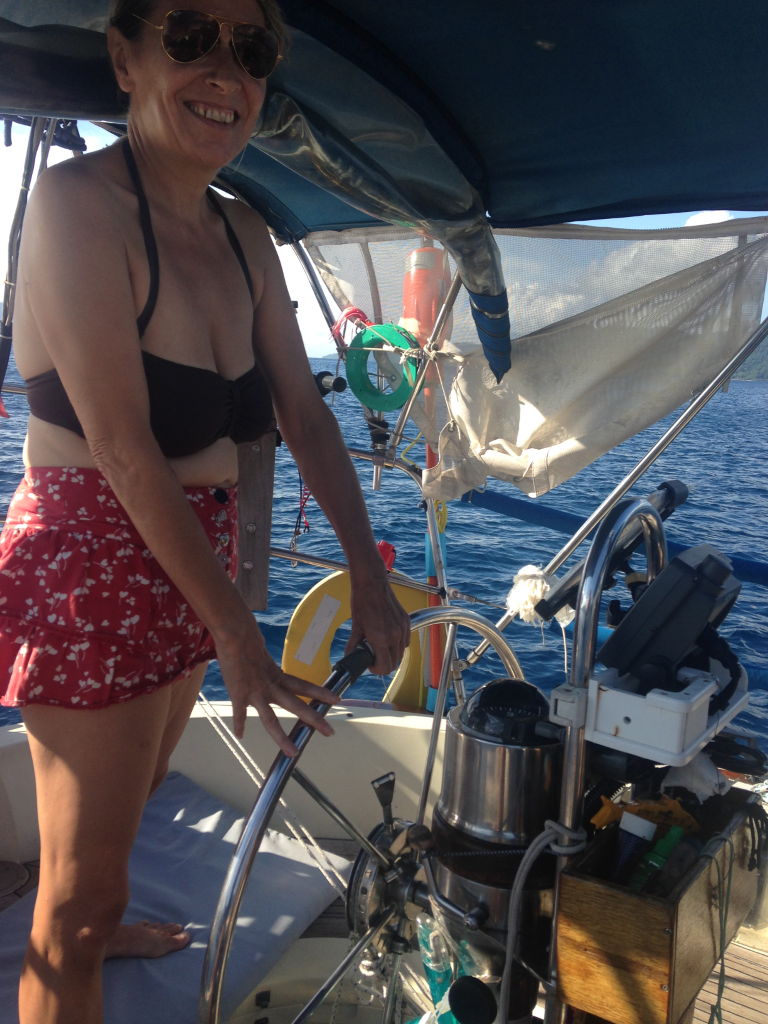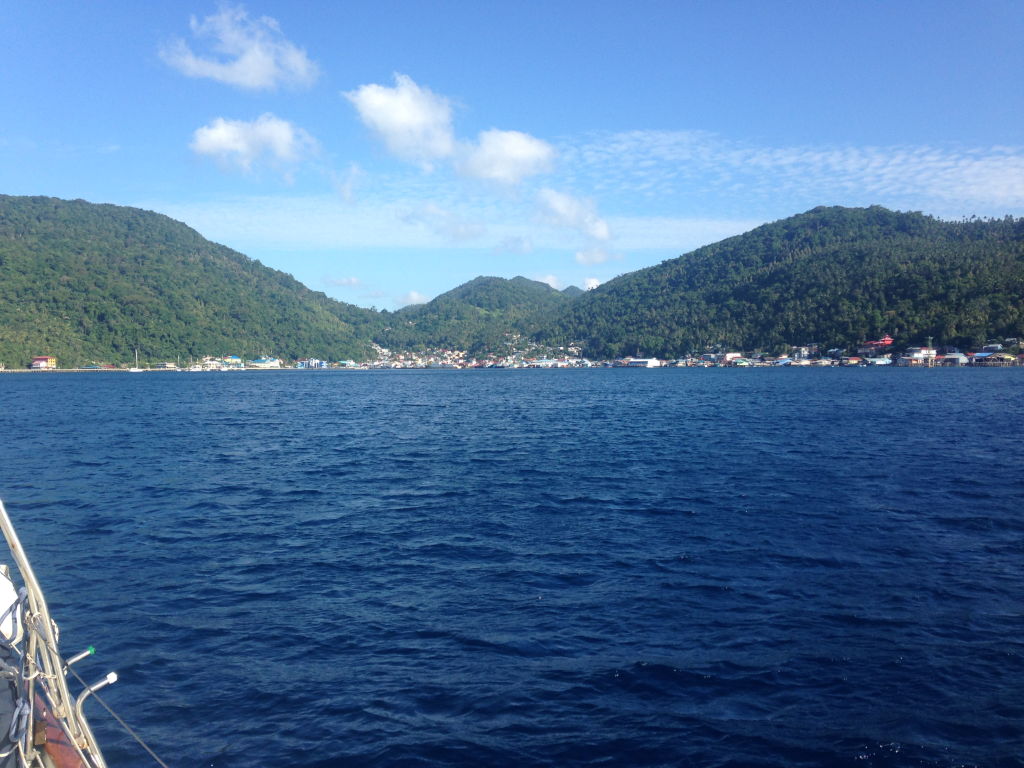 We'd done the passage plan together and I had read that this anchorage can be tricky.  Anchors have been fouled (become stuck and tangled so they have to be cut free) and the prevalence of coral means it's hard to find a sandy spot. I was therefore already a bit apprehensive about anchoring. Maybe it would have been better if I hadn't had any prior knowledge. Anyway, there began two hours of intense stress, mistakes, heated 'discussions' and a seemingly never-ending cruise around the bay while crew from the other boats looked on, sometimes offering advice or warnings about particular areas.  Two attempts failed, which meant pulling the anchor back up, flaking the chain and starting again. It was extremely hot after being out in the cooler open sea, and several fishing boats whizzed past. The noise of their engines made it difficult to hear what Paul was saying, and the wake they created rocked the boat considerably. I kept hoping Paul would say we'd have to go back out to an alternative bay because there was nowhere free here but I should have known he wouldn't let it beat him. This was a challenge and we would set our anchor here! It seemed an insurmountable task to me.  There were so many factors to get right: we had to be away from the coral, not too near the other boats or in the path of the ferry's entrance and exit route and in the right amount of water. I expect my defeatist attitude wasn't much help but we did it eventually at about 6pm, after which we sat in the cockpit gazing at our new surroundings.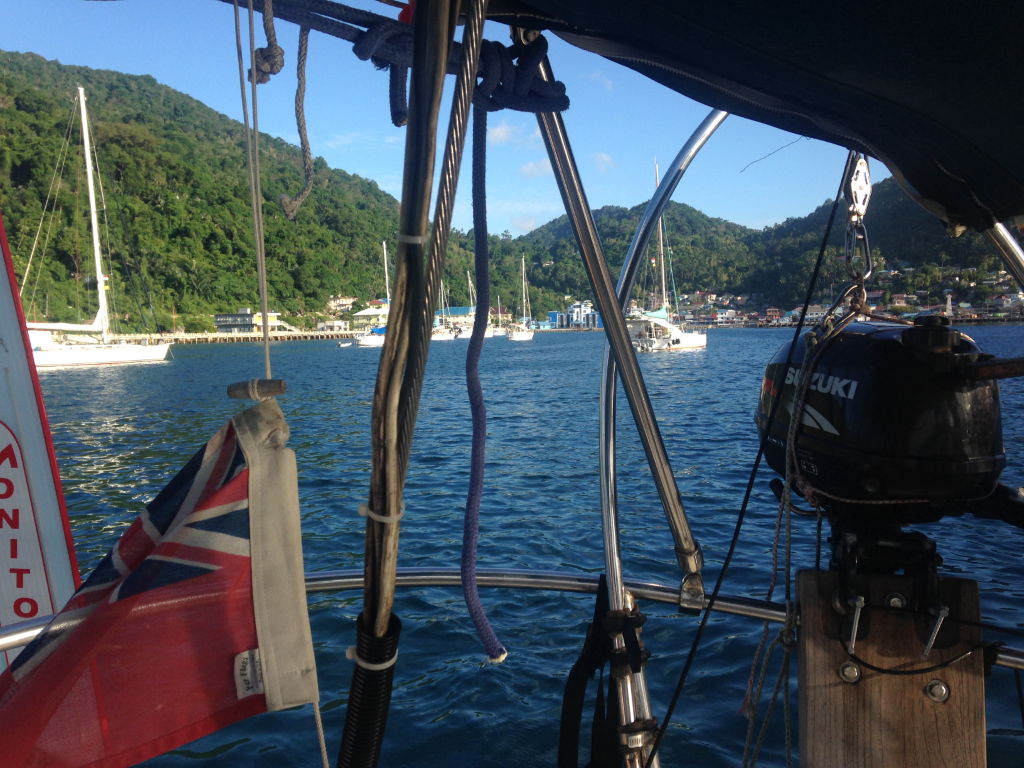 The village of Terempa is the capital of The Anambas Group, yet was a lot smaller than I'd expected. The buildings we could see looked like alpine huts dotted in the steep forested hills behind the busy port area. A mosque was visible some way inland and larger structures near the shore were clearly police and port authority buildings. I was hoping to see a commercial area, or the line of stalls and cafes often found on the promenade of coastal towns but nothing was obvious from our viewpoint. The huge fairy-lit car and passenger ferry that arrived as we were anchoring obstructed part of the view opposite us. It also emitted some very loud blasts at random intervals which Paul said made no navigational sense.
Those sounds were just part of an overall cacophony of noise in the area.  The engines of the private boats going past sounded like pneumatic drills, but they stopped after a while as they returned home to neighbouring islands after shopping in the town.  The noise from scooters on the road opposite, however was constant. Next came a series of very loud bangs like gunshots which made me jump until I guessed it was the signal that feasting could begin now that the sun had set. Ramadan lasts for a month so isn't set to finish until June 25th.  The call to prayer was the next sound and I've grown to quite like the melodic and melancholy wailing that is projected through several public address systems in the towns. Here, several calls were happening at the same time, creating a kind of 'descant' chorus which was soothing, if a bit surreal.  It provided an apt musical background to the twinkling lights of the town and the ferry anyway, especially when the ferry glided slowly away, with its passengers leaning over the rails waving enthusiastically to all of us at anchor.  The next noises weren't quite as soothing. Maybe because it's Ramadan, but after the singing came the chanting and the shouting and the very loud recitals of tracts or prayers…this was to go on all night long.  Never mind, the music soon joined in to dilute it a little. It was like the very worst kind of disco music from the 70s, and it, too lasted well into the night.  More noise in the form of barking dogs kicked off in the early hours, and the shouting had become so urgent and angry I was convinced that some drama or disaster had happened in the town. I wondered how Paul was faring in the cockpit where it was bound to be louder, but much to my surprise, he said it hadn't disturbed him at all.
Monday 5th June – Terempa Town
Raymond, the helpful guy from the Sail Malaysia Rally had stopped by just after we'd anchored to let us know that the immigration building would be open from 8 30 and we were keen to get there to start what could potentially be a long and laborious bureaucratic process, although the presence of the rally at least meant that the authorities would be expecting to process crew from other countries.  There was no obvious dinghy park but some small boats were tethered to the main harbour wall so we headed for that. When we got there, the wall was a lot higher than it had seemed and the only way to get onto the path above was to climb a rudimentary 'ladder' that looked like it was made from rotten wood.  Local people on shore watched with interest as we clambered up it. I went first so that Paul could pass the bags up to me. I found myself on a narrow concrete pathway that led to the entrance to the village.  Take it from me, you wouldn't want to suffer an attack of vertigo on that path or negotiate it after a few drinks. Below me on either side was the murky, oily water typically found in harbours. Halfway along, two people from the other side began walking across. There was no way either of us could make way for access, so it was a relief to discover they had assumed we were rally participants and had come to greet us and to inform us of a better place to tie the dinghy.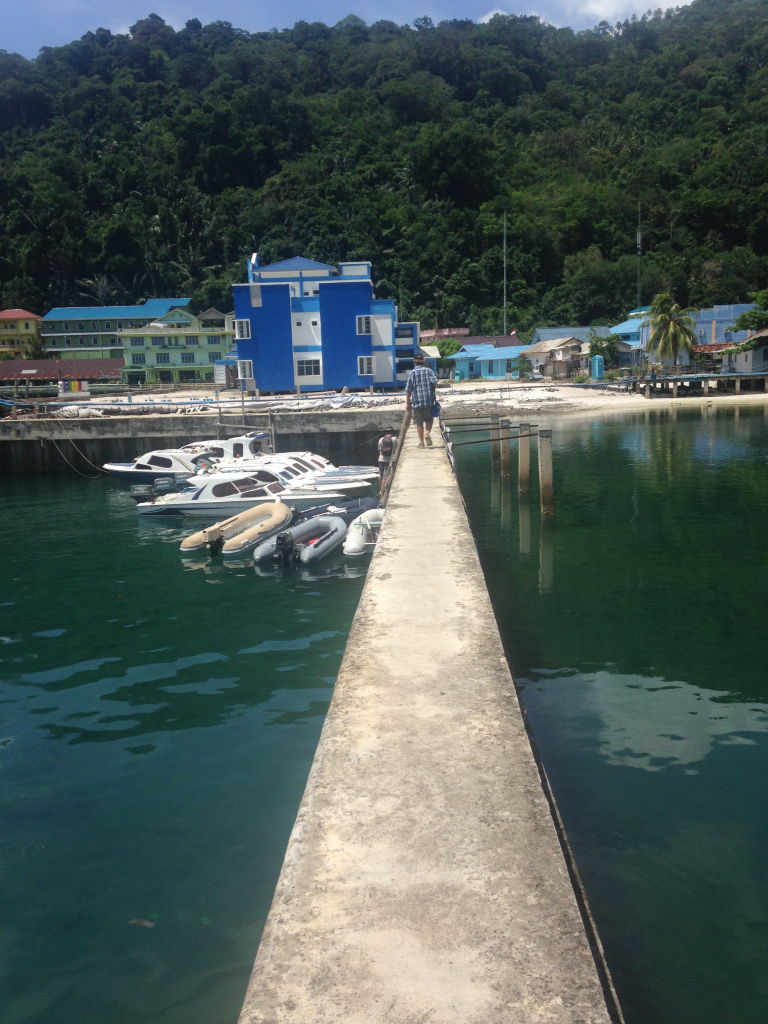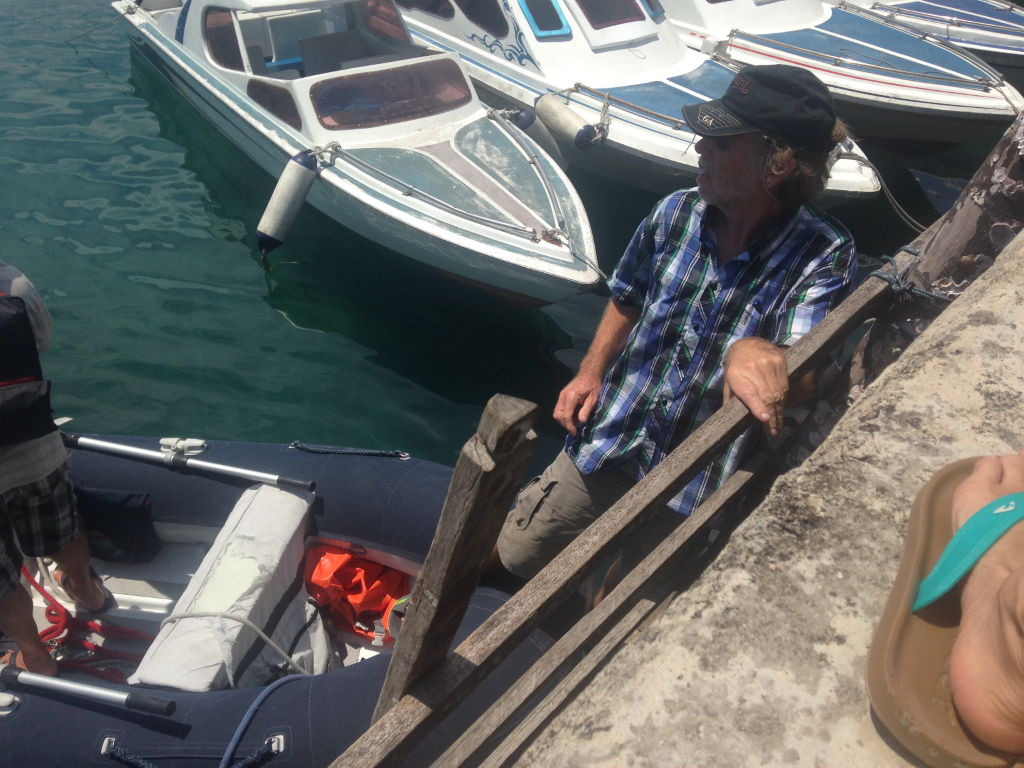 They directed us towards the immigration building once we were on wider ground, and I had a chance to take in my surroundings. It was hot, and the air was still and heavy. It was also very busy with people and with the ubiquitous motorbikes.  A lot of the buildings are on stilts above the water, with wooden walkways, similar to those on seaside piers.  People lined them on both sides so our progress was a bit like running a gauntlet. The stares we received were blatant and I knew they weren't intended to be rude but it felt a bit unnerving nevertheless. I began to feel self-conscious about the thin summer dress I was wearing. I had thought it was respectable enough but looking around I noticed the women were mainly covered up. My concern was confirmed when one lady stopped, looked me up and down and gave me unmistakable 'evils'. We received lots of friendly greetings too though; smiles and 'hello, how are you' 'where you from?' from children and adults alike. The streets were delightfully ramshackle, narrow and thronging with people and bikes, making it hard to walk without taking care not to get run over.  The main street, when we reached it was wider, with concrete pathways but it meant we were more exposed to the sun's rays and it was so very hot, I was drenched in sweat and the humidity felt almost claustrophobic.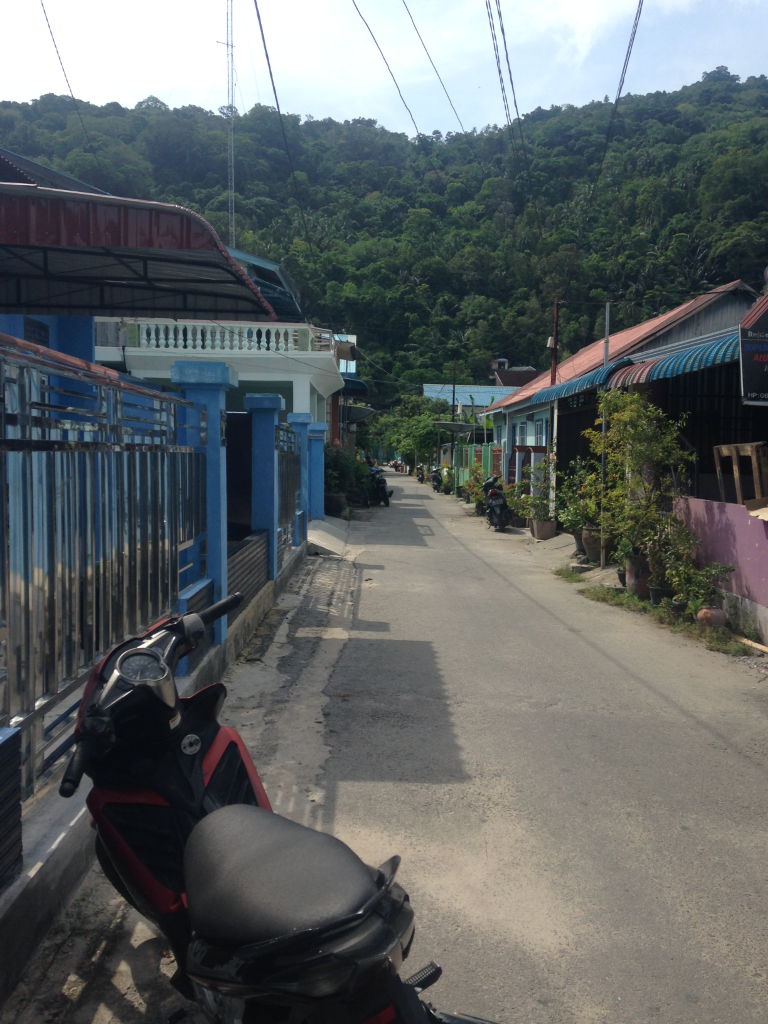 The immigration, customs and harbour master process took the best part of two hours, complicated by the fact that we didn't have a crew list, a boat stamp or a printed visa request form.  Learning that we weren't part of the rally, the immigration guy bumped us to the front of the queue so that he could take Paul to a computer to fill out the required form. Due to slow internet bandwidth and the increased demand for it, it took ages but the old-fashioned building (1930s or 40s dark wooden post office counter type interior) was at least out of the sun, if not much cooler, and we were able to sit down.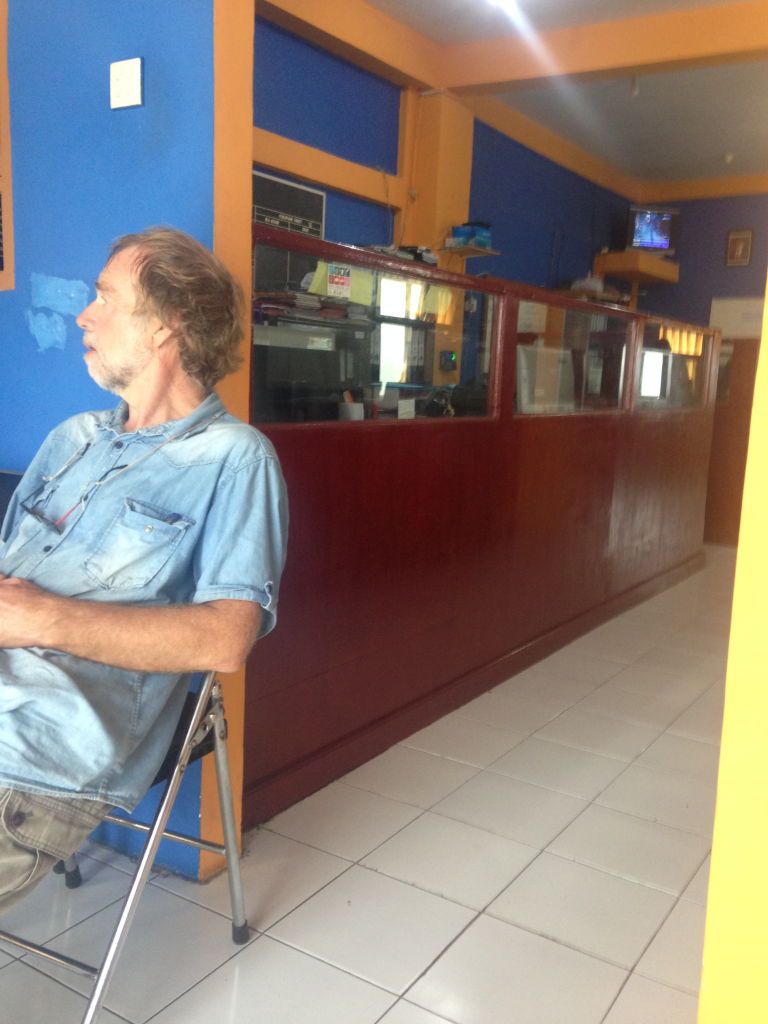 Once it was all done we went for a walk to get more of a feel for the place. More stares, more friendly greetings and smiles and requests for us to buy things: 'hello, sir/madam, where you from? – you want? …' and all kinds of produce from pineapples to seaside inflatables were pointed out to us.  The heat enhanced the smells coming from roadside rubbish and the muddy water underneath us, and the crowded streets and noise from the scooters were all beginning to exhaust me. After buying some fruit and vegetables from the market, we dinghied back to the boat, which was just as well because a squall arrived just as we got back.  The anchor held well during the worst of it anyway, which was reassuring. Pictures below show images from our walk on our first day ashore in Terempa.