Thursday 22nd June Temburun to Airuba
An early departure was planned and I duly woke early to discover that there had been a fierce storm in the night. Paul had sat in the cockpit and watched it – prepared to motor off if it escalated, while I had slept all through it again (catching up on all the sleep lost through being disturbed by the wailing no doubt). We were back out tackling the coral reefs by 9 o'clock. It was overcast and thus easier to spot the coral without any glare from sunlight. The dark clouds soon brought forth a squall so I went below to check the course on the OpenCPN programme on the laptop, and by 10:30 we hit the open sea. There wasn't enough wind to put a sail up but Paul put a line out just in case he got lucky and bagged a fish…still no luck on that front, though.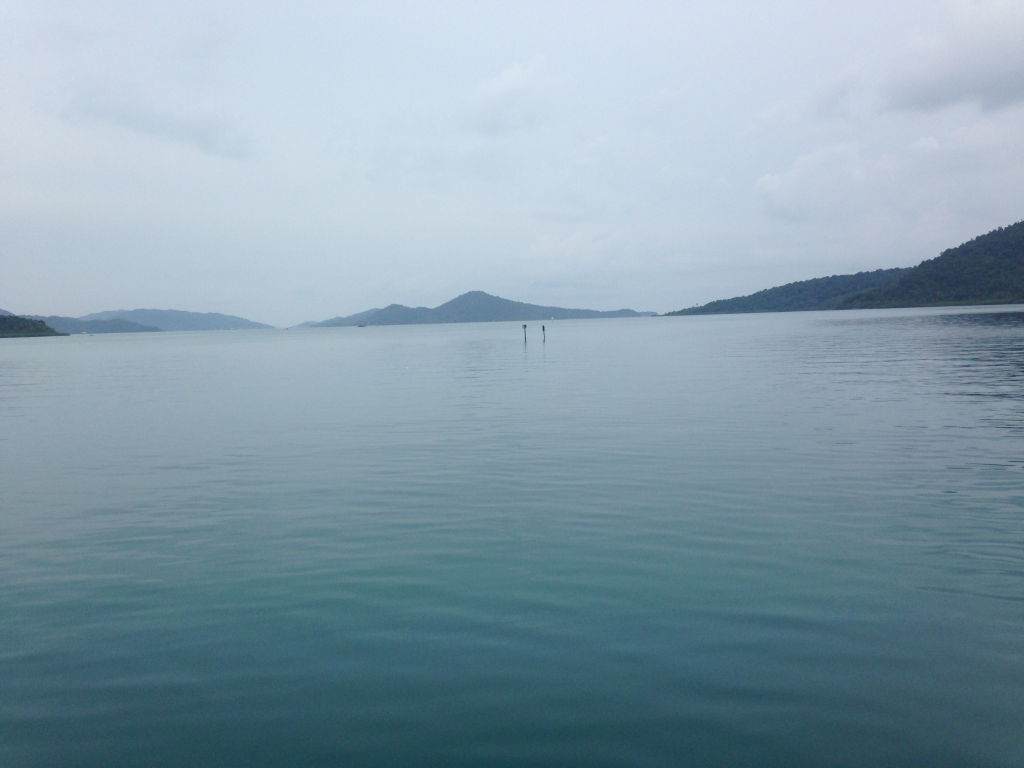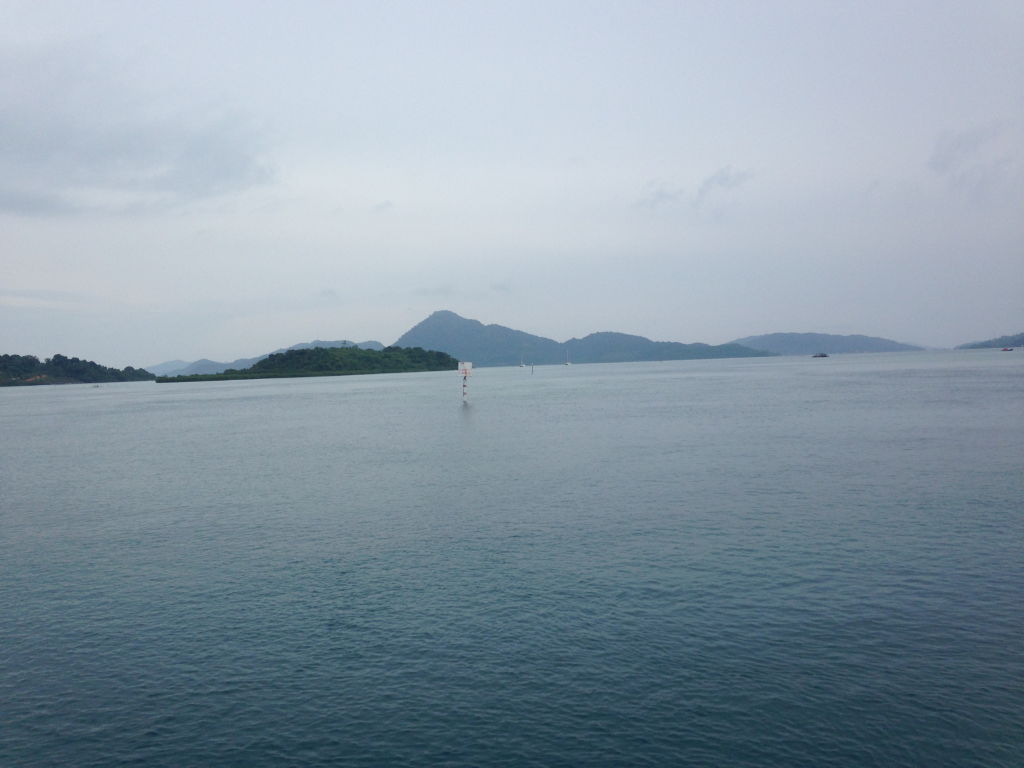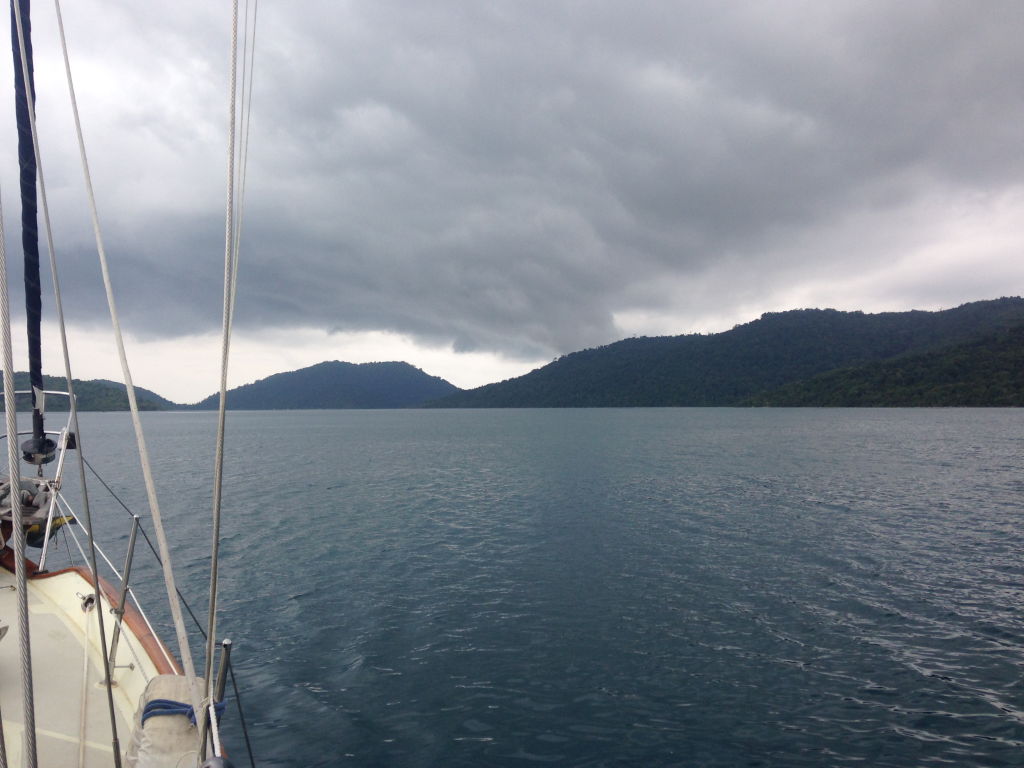 An hour later the wind was strong enough to put the mainsail up. I steered and kept us into the wind, I'm definitely getting the hang of it now. With the main and head sails up we were able to lower the engine revs to save on fuel because Paul was concerned there might not be enough to get us to Kuching. Just as we turned the engine off completely though, the wind disappeared altogether and it went on again. We arrived at 3:30, anchored in 9.5 metres of water and admired the beauty of our surroundings. It's quiet, uninhabited and totally unspoilt. Just what we (or I at least) needed after recent crowds and noise.  The pictures speak for themselves.  I took them during a trip in the dinghy to check out the area.  The litter-free beach had a tree full of butterflies and the clear water revealed fish we hadn't seen before on our explorations such as a huge flat fish which looked like a plaice but was probably a 'ray' of some kind. One day I hope to be able to name some of the exotic creatures and plant life we see more accurately.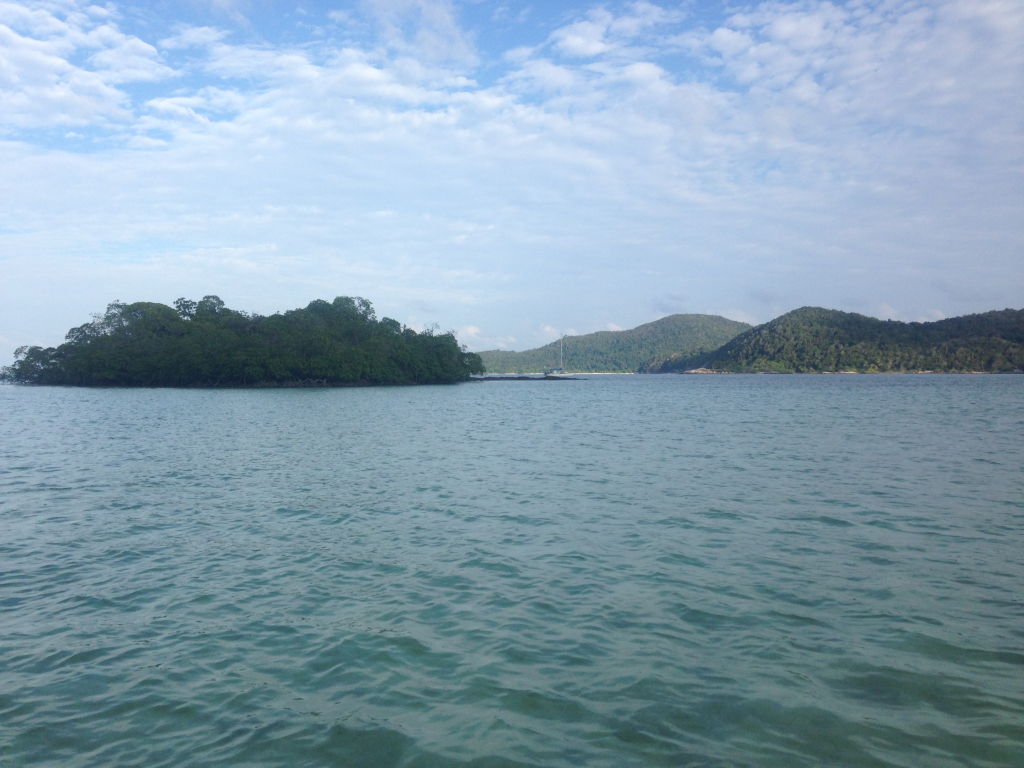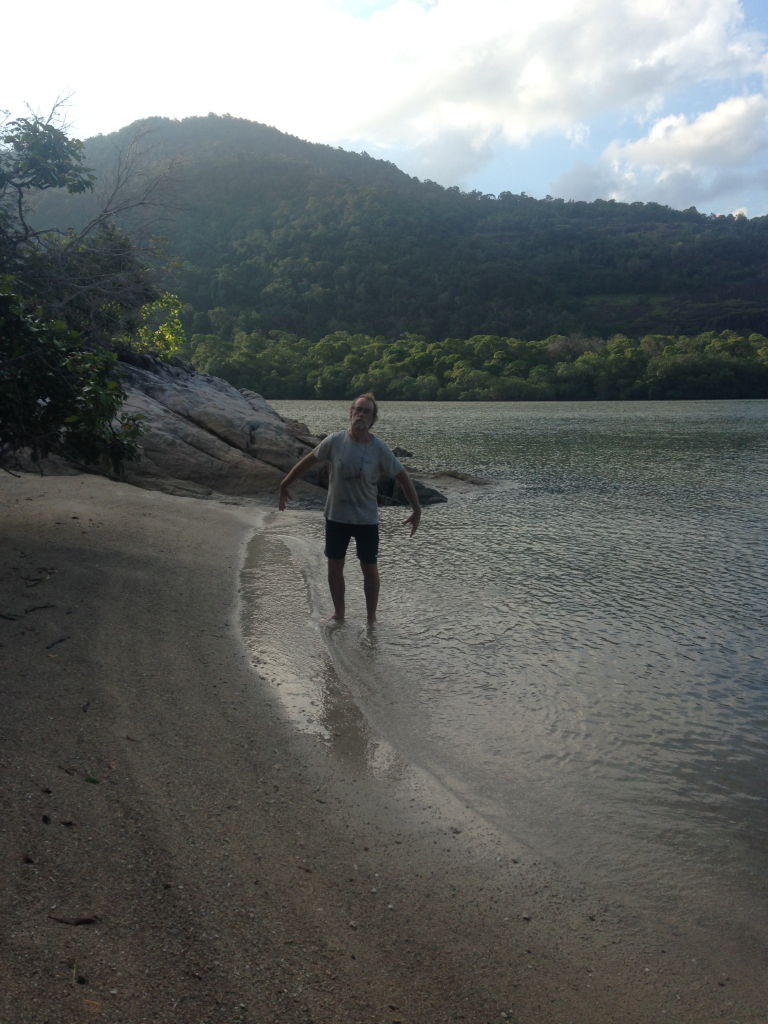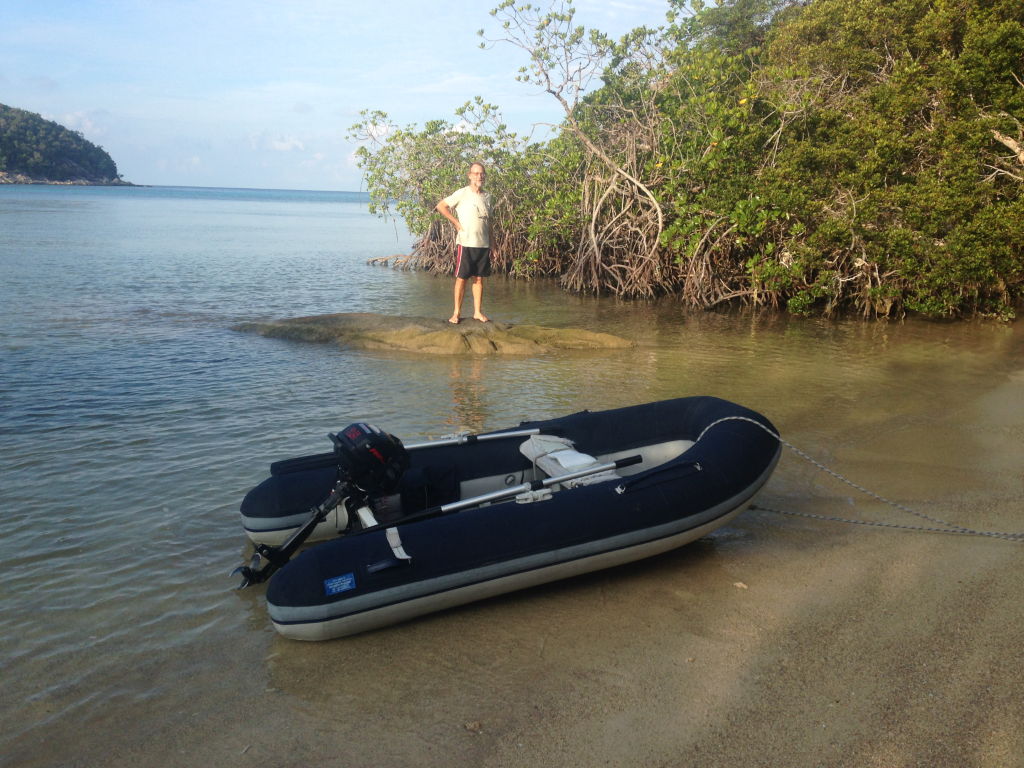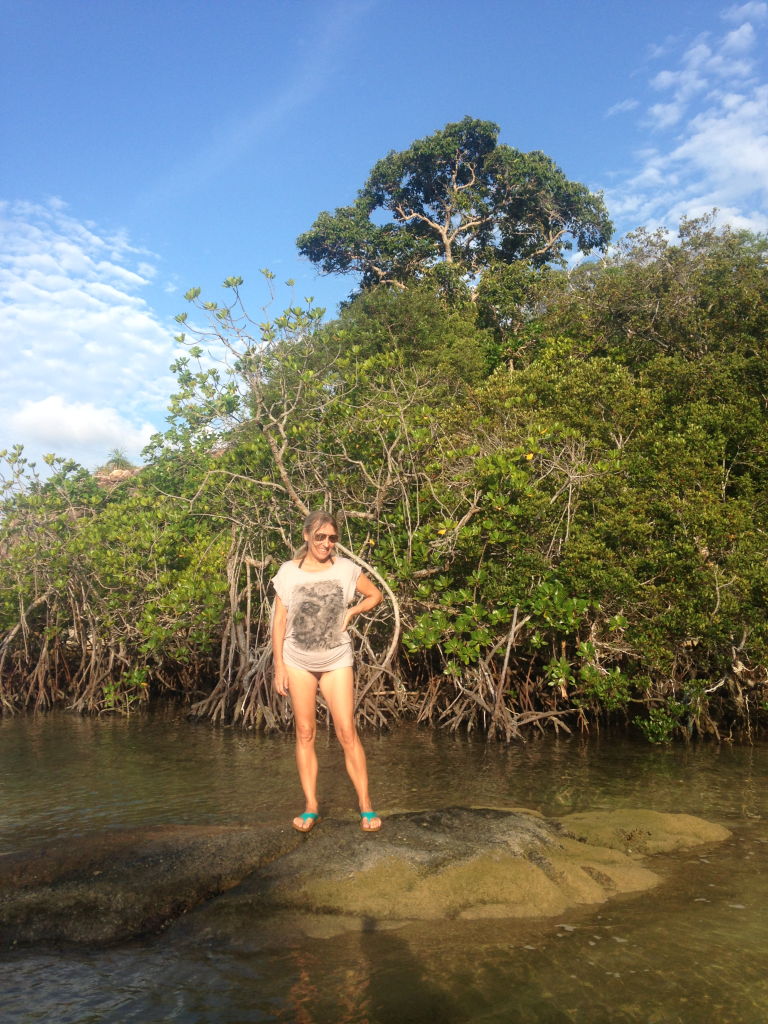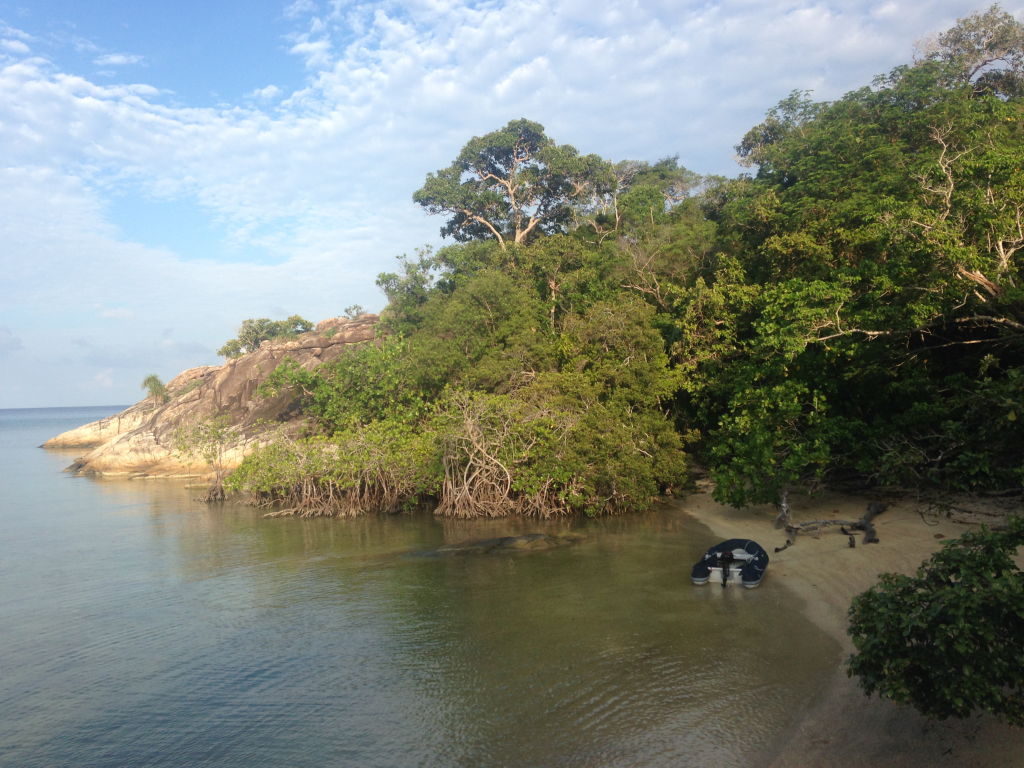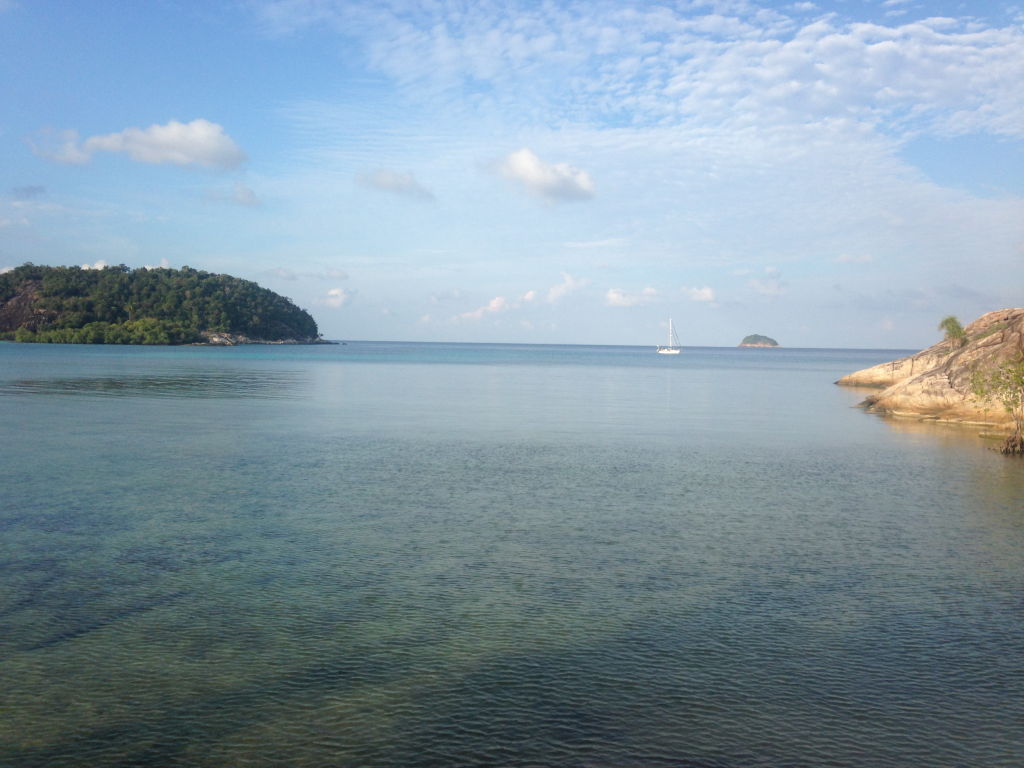 Friday 23rd June – Airubu to Bawah
On to our final Indonesian destination today.  Bawah, our quaint guide book proudly boasts, is a paradise island set to rival the beautiful Tahitian island of Bora Bora. Proud claims indeed! We negotiated our way through a passage between two islands with coral banks very efficiently – we're definitely getting better at this 😉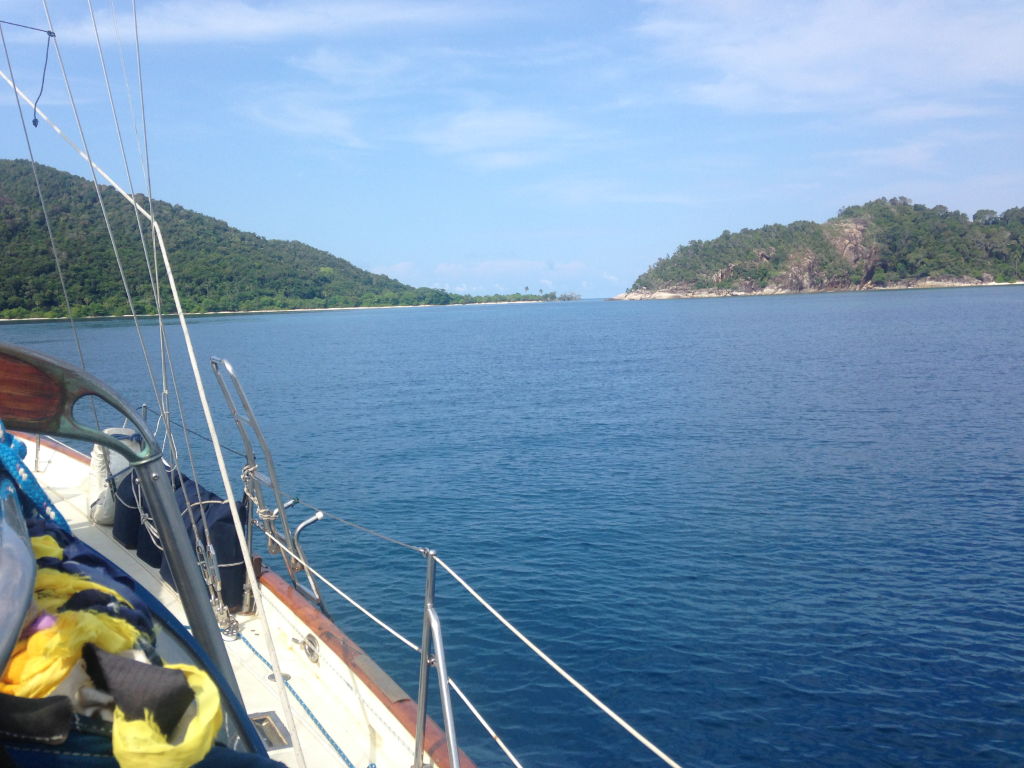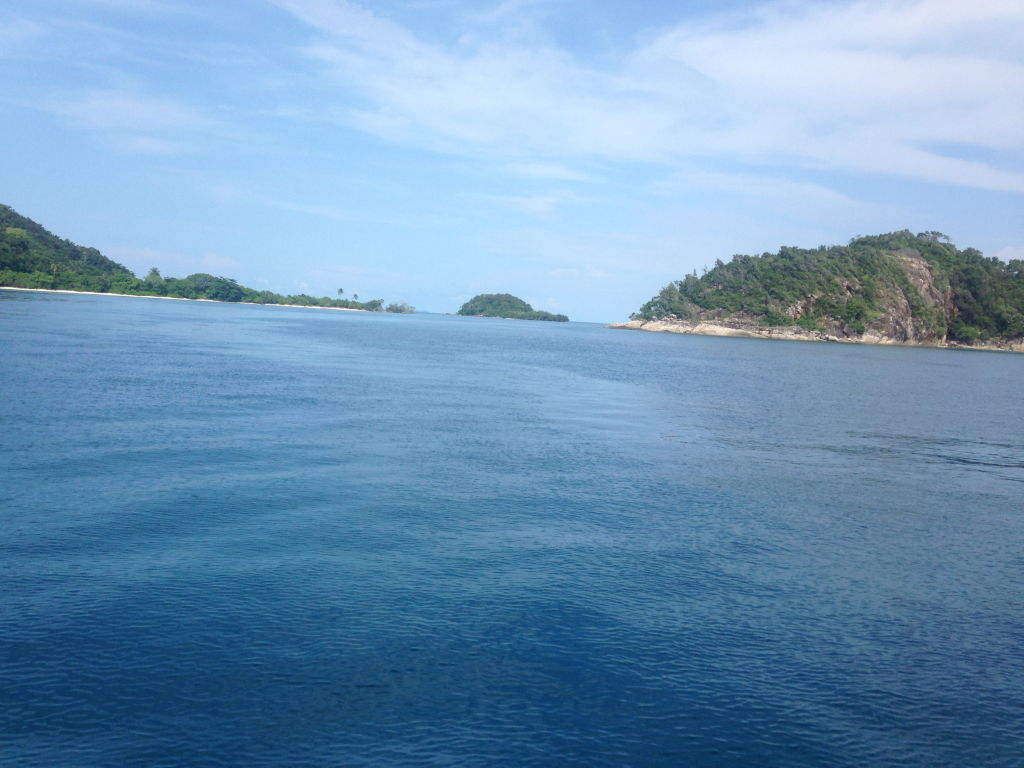 From about 11:30 onwards we were subjected to squall after squall. The first one wasn't too bad but at 1 pm we endured a fierce one. I had to take the helm while Paul got the sail down in heavy rain, 30 knot-winds and poor visibility. The radar picture shows the extent of it. Due to the pitching and tossing (think 'bucking bronco') motion of the boat I had felt slightly nauseous but the combination of cool wind and rain on my face up in the cockpit soon sent it away. Paul hand steered during the worst of it, relishing the challenge as usual 🙂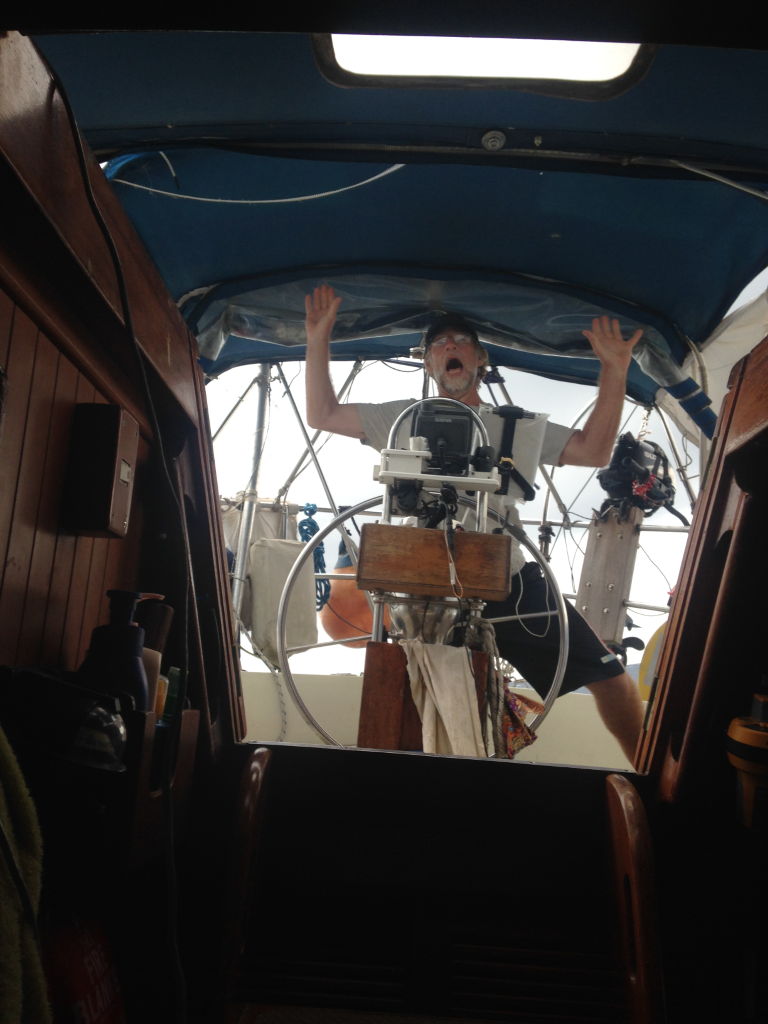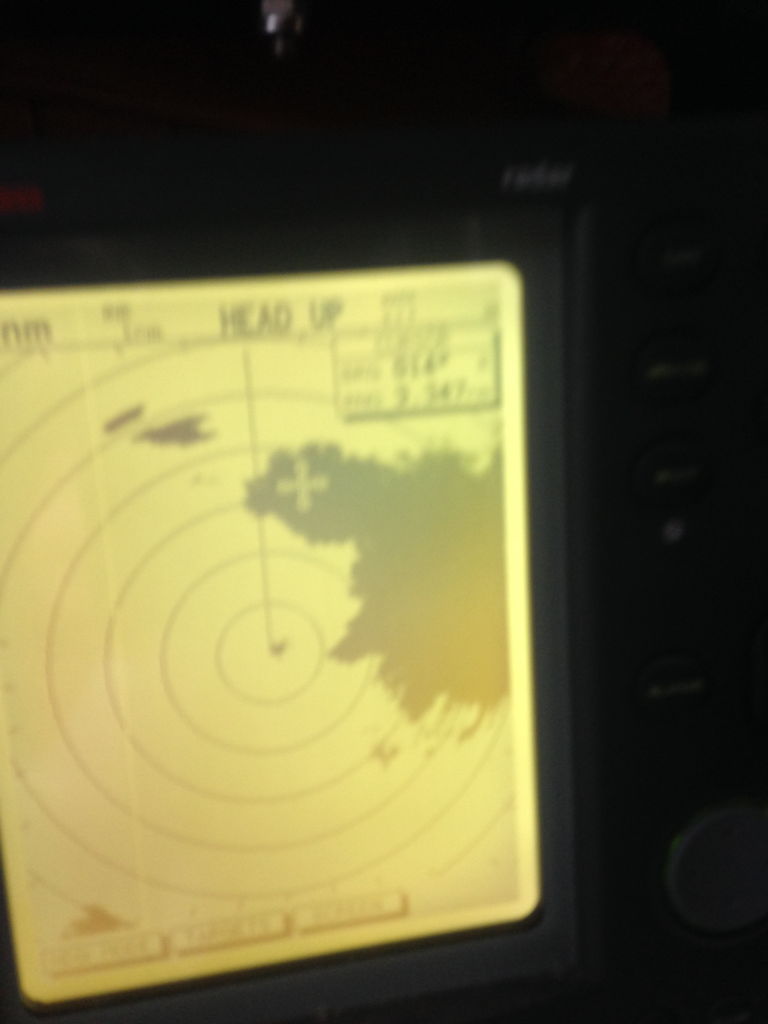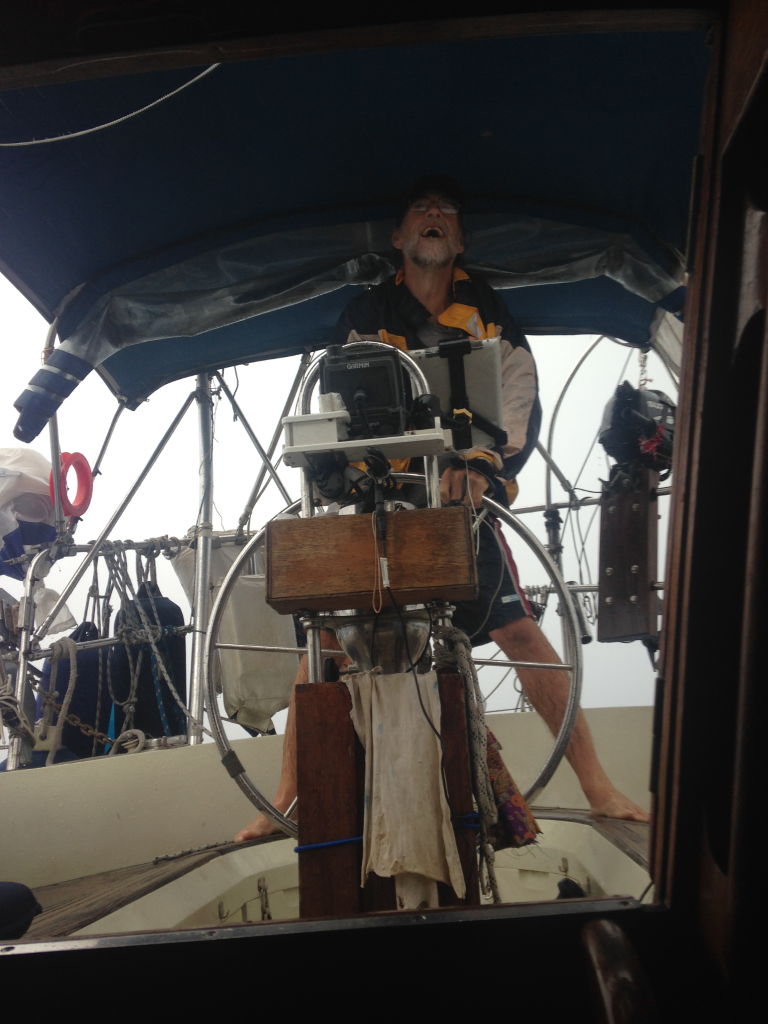 The bad weather had abated by the time we reached Bawah. It had left big waves in its wake though and I hoped the lagoon we were heading for would be sheltered from the resulting swell. The shallowest part of the entrance to the lagoon dropped to 3.5 metres – excruciating for me, always fearing going aground but it got deep again almost immediately. Next, we had to hook a mooring buoy, but it was totally unlike the ones I'm used to. This one didn't have a loop to catch at the top. A different technique would be necessary to hook it so we swapped our customary tasks. I took on the steering towards it while Paul got ready near the bow to secure it with the boat hook.  It's a tricky manoeuvre because steering isn't as easy when speed is slow and I'd never tried it before but I was chuffed to get near enough on the second attempt for Paul to grab the hook.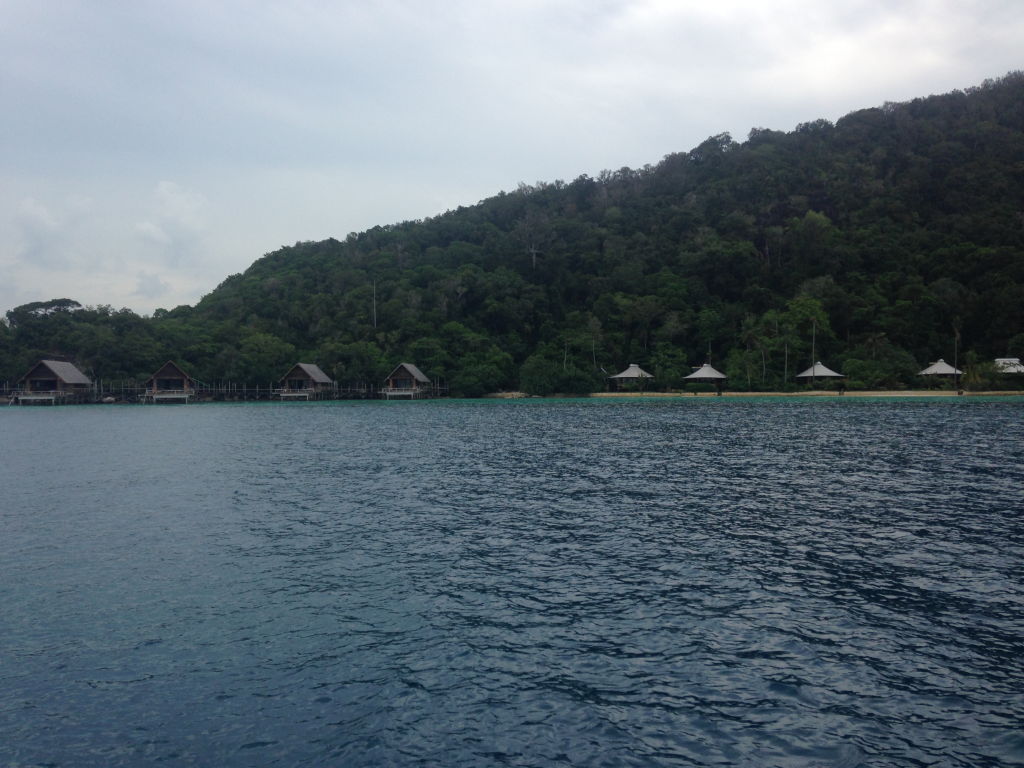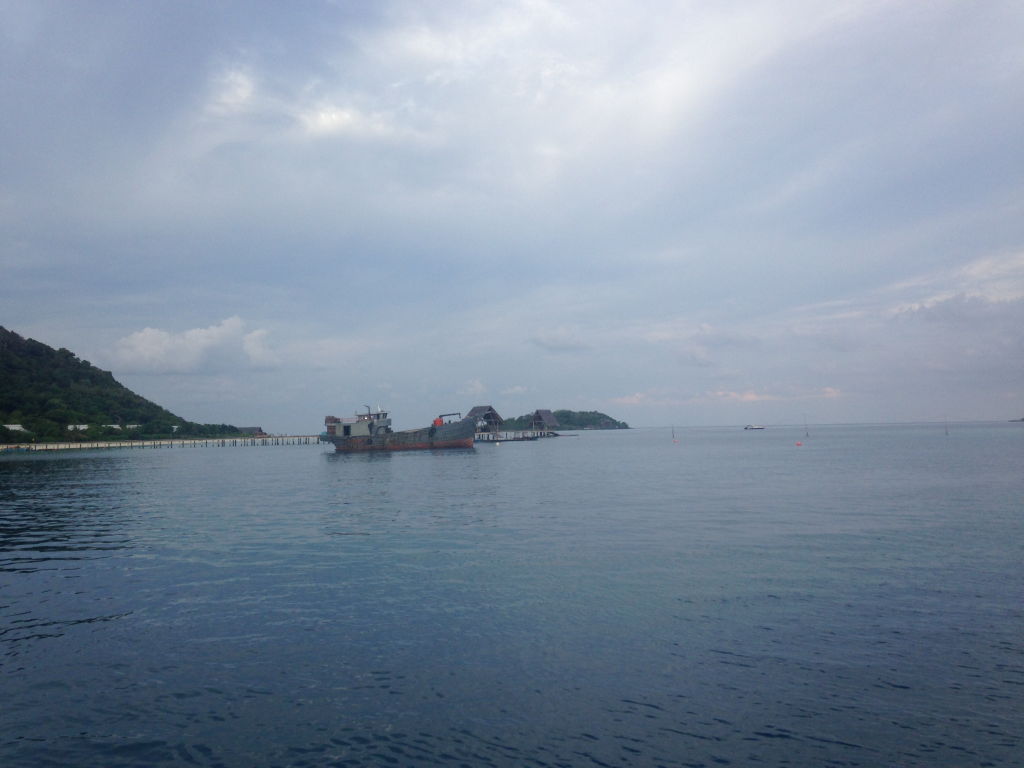 We were the only boat moored in the lagoon, which is surrounded by a semi-circle of small islands. The main one is under construction to become a luxury resort that is due to be completed sometime this year. The whine of a sander or a drill involved in the construction could be heard when we switched the engine off. It struck me as an incongruous sound in such a paradisiacal environment. We'd learned earlier in the afternoon that it isn't currently possible to go ashore because of the construction work going on but I didn't think we'd be missing much. It was a cool and overcast afternoon so it lacked the benefit of being bathed in sunlight as in Airubu but this island wasn't a patch on it. It's pretty enough but it lacks something. Perhaps it's a little too refined with its luxury accommodation and symmetry so that through being tweaked to perfection the natural beauty has been marred, stripping it of charm. Viewing it from the boat was fine for us anyway. Our plan was to stay for two days but Paul said he'd check the weather and we might possibly leave earlier. I set to making some bread in case it would be too rocky to do it on passage.  Looking through the binoculars later to peek inside the chalets under construction, I made a note to check the place out in a few years to look at the finished result.
Saturday/Sunday 24th & 25th June – Depart Bawah for night passages
The forecast was for more squalls so we decided to stay another night. It had rained on and off all night but was only slightly rocky so we took the opportunity to catch up with various tasks on Saturday and had an overall restful day, watching the guys working on the resort, tidying the quarter berth and playing scrabble (we know how to live it up here 🙂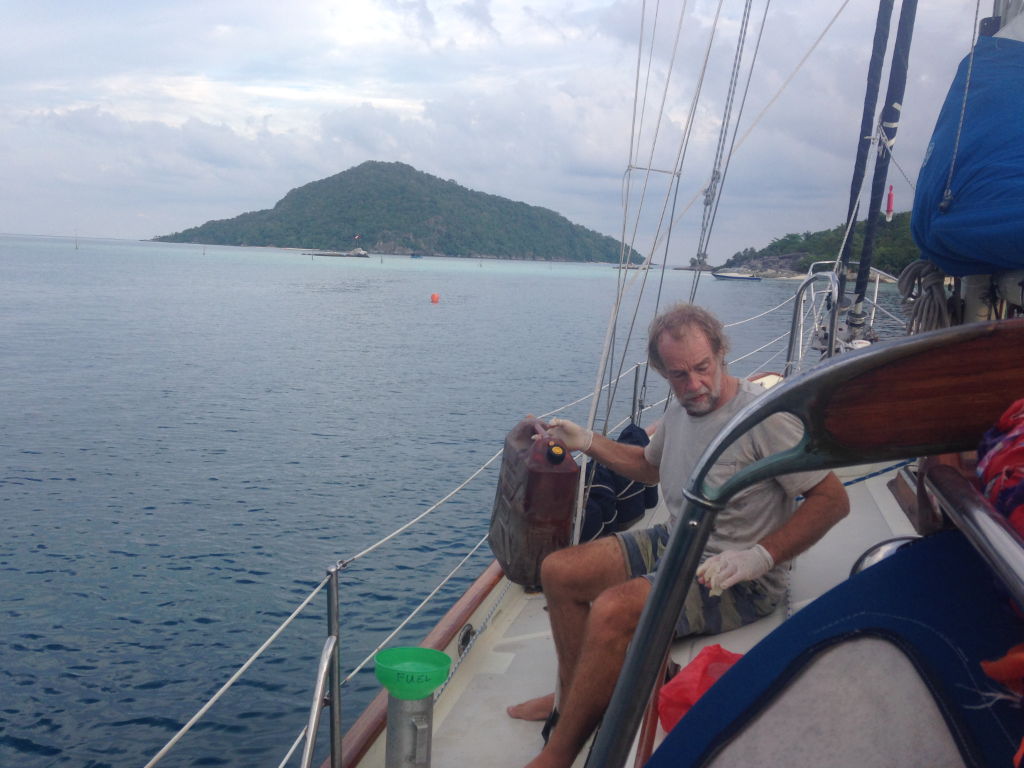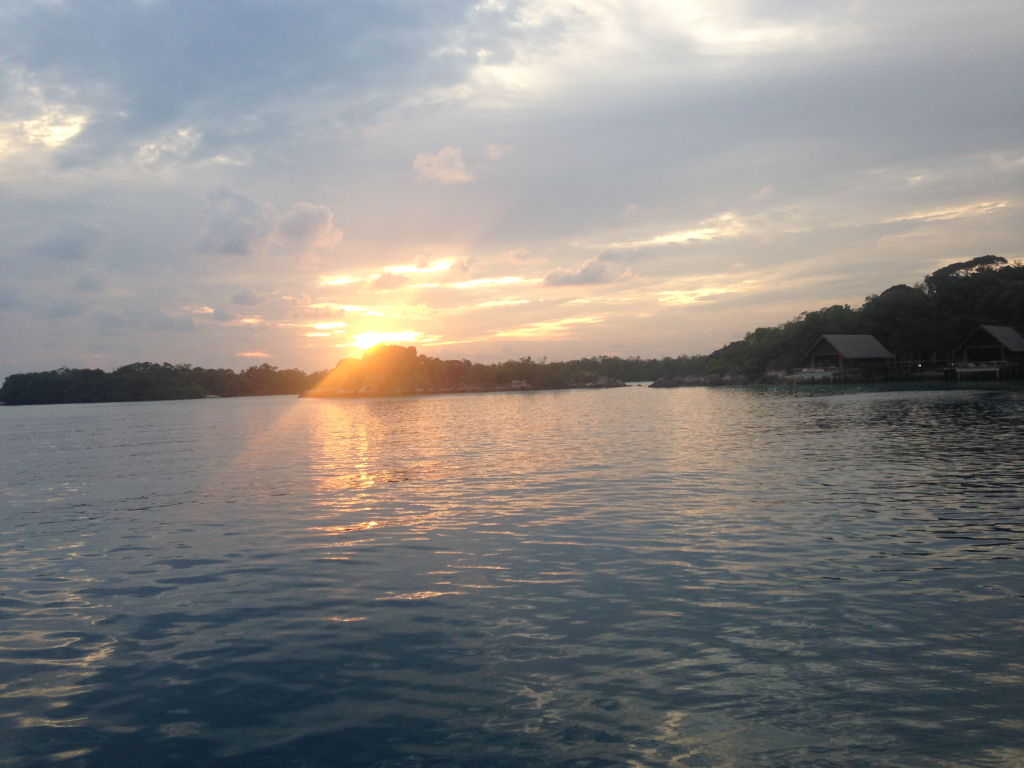 On Sunday we got up at 6am for our planned early departure and I positioned myself at the bow to check the coral at the shallow entrance. It was beautifully clear and we skirted over it with no problems. Up went the mainsail, Captain Mainwaring was steering and we were in the cockpit discussing the journey when I happened to look down and noticed coral alarmingly close to the surface. I yelled out 'Paul – the depth!' It was 4.5 metres and he quickly steered us away from an unexpected coral reef! This was the start of a 48-hour passage which is the longest we've done on this boat. It's also the longest that either of us has been without internet. It's not such a bad thing considering all the recent bad news and also how much of a distraction it can be but I do miss keeping up with news from friends and family. We are able to get news from The BBC World Service which is often a little 'scratchy' sounding, and reminds me of wartime broadcast recordings.
We put the watch system into operation straight away and Paul took the first 8 until midday one. As soon as the wind picked up all the sails were out, giving us a speed of 7 knots without the help of the engine. This lovely situation lasted until I took over, by which time squally showers were all around and the speed had gone down to 5 knots.  The wind changed direction frequently an hour into my watch, making the sails flap noisily, and then heavy rain fell and visibility was poor. Paul had to come up to deal with the sails and we both retired below, using the radar, AIS and OpenCPN until it abated. My plans for dinner went slightly awry that evening. I had been thrilled to find dried pasta penne on sale outside one of the shanty shops in Terempa. It was displayed loose in a huge basket and despite entreaties for less, the lady server kept piling it into a carrier bag, smilingly insisting via hand gestures that it had to be 1kg.  I tipped two portions of it into boiling water and as soon as I stirred it I could tell it wasn't any kind of pasta penne I had ever come across before. Almost immediately it dissolved into a creamy glutinous mass and when I tasted it a few minutes later I hastily made plans for a more appetising alternative (wholewheat spaghetti). I still don't know what we bought but it definitely looked like pasta as the pics below show.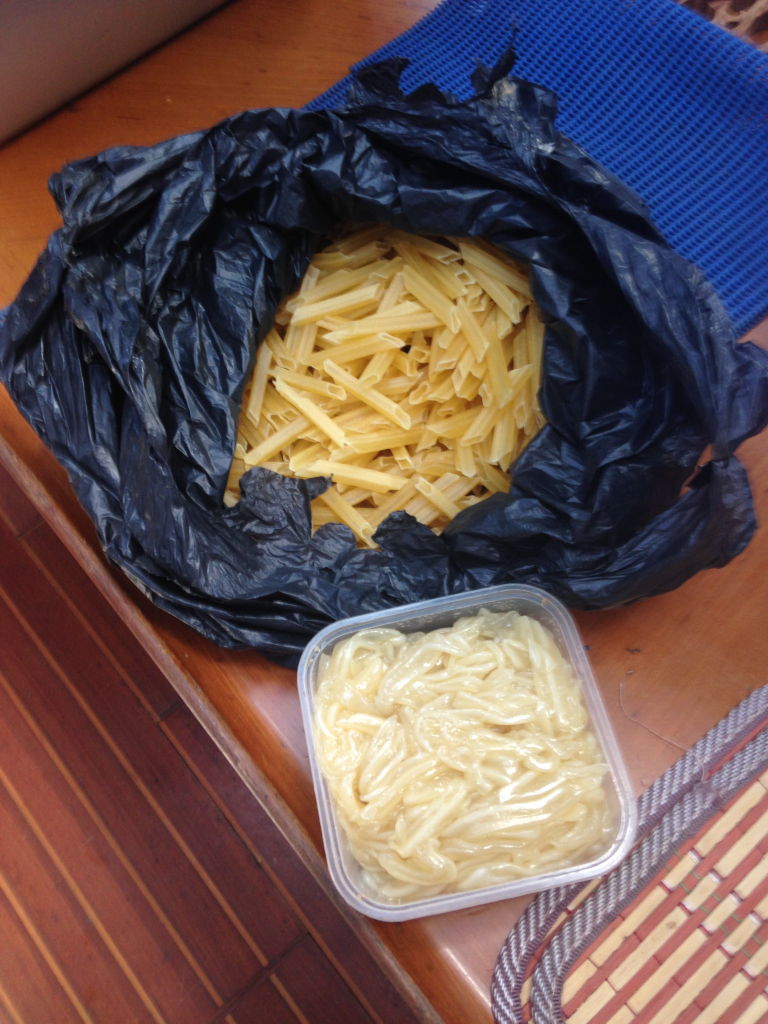 I took the 8 until midnight watch. The moon had set by then and it was full dark, clear and the sky was full of stars. It's mesmerising to lie on your back staring up at them, and there were plenty of shooting ones too. I also saw a spectacular display of lightning in an electrical storm – long jagged spears of it hit the sea, creating a bright orange gash through the blackness. Not many boats were nearby, I only had to steer behind one to avoid a collision.  To fight sleep I stood up near the companionway and let the cold breeze wash over me – an effect equivalent to a splash of cold water on the face.  There were no more squalls but the sea got steadily choppier.
Monday 26th June – Night Passage in The South China Sea.
Spotting Paul doing the usual 'sleep-doze-alarm-check-back/to/sleep' cycle on his watch, I suggested he go below for a proper sleep at 4:30 am. I was wide awake and all set for my four hours by then anyway. Stars were still visible but it was already beginning to get lighter and it was easy to see where the sun would rise, from the hazy orange hue on the horizon in the east.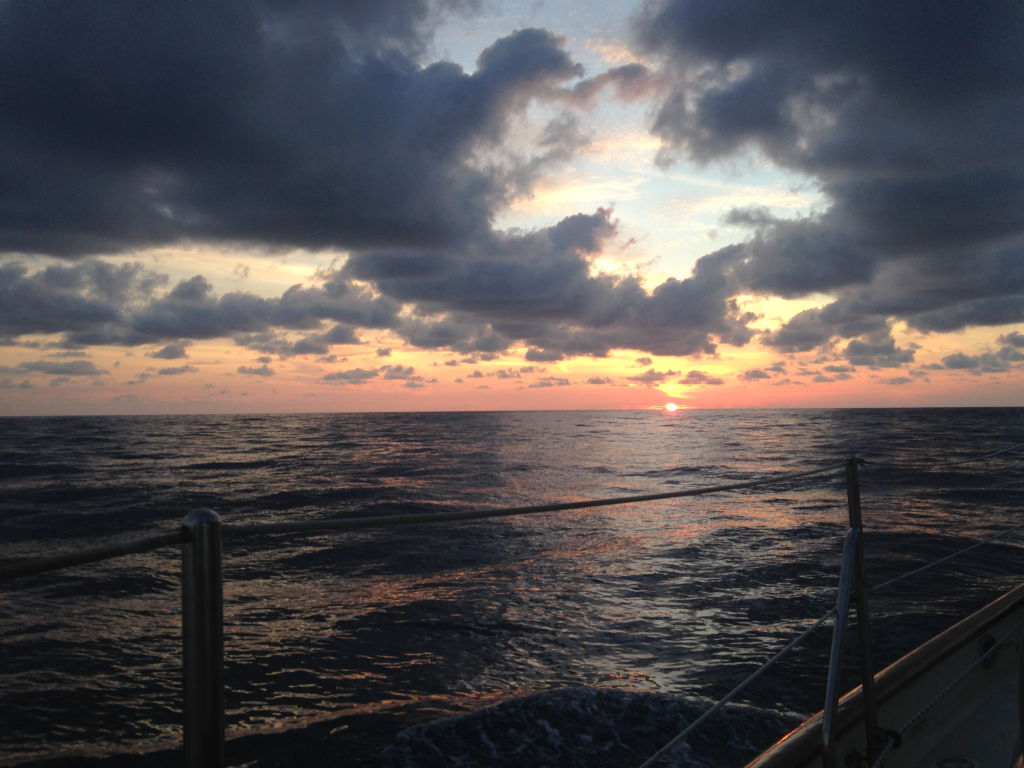 Nothing was around, the waves had diminished leaving only a slight swell and it was deliciously fresh and mild in the cockpit.  The flat water presented some intriguing shapes as I stood looking out. One dark shape that I was convinced was a whale turned out to be part of a thick tree trunk, while others were nothing more than black rubbish bags. I did see one huge black thing leap out of the water, far too fast for me to determine what it was. I watched the sun rise at 6, drinking coffee as the sky displayed an impressive array of red, orange and pink shades. All the sails had been taken down during Paul's watch because there was no wind at all. I did suggest it might be a good idea for me to learn how to control the sails but for some reason he didn't seem too keen on the idea and insisted he really doesn't mind being woken up to do it! I slept a little during the morning. It was going to be a hot and long day with the 4 hours on, 4 hours off system in place. There was little to do apart from read or type so it's very relaxing in a way and it's never boring. My leisure time is spent with Charles Dickens in Victorian London or Jo Nesbo in frozen Norway, not to mention a host of other places through the travel literature I devour. I'm also compiling a notebook of information on provisioning, storage and recipes for future reference.
It was flat calm with no wind during my watch so the engine was on the whole time. With the wine all gone, I had a can of cold beer as my evening drink. Another dinner plan went slightly awry when I discovered that weevils had invaded the last packet of sosmix, so the fish had that for dinner while we had eggs instead of veggie sausages to go with the fried potatoes and beans. A very comforting and filling meal for the lethargy that kicks in after two days of broken sleep.  I struggled to stay awake during the 8 until midnight watch. Apart from the current pulling us off course a couple of times, it was a quiet and uneventful four hours and it was a relief to hand over to Paul.
Tuesday 27th June
It was something of a struggle to rouse myself to take over the 4 am watch this morning. Paul told me I would need to keep checking the autopilot's course because the current was pulling us to the right and we had to avoid the headland!! I also noticed we were in considerably shallower waters. I'd clearly need my wits about me. On the plus side it was getting lighter by the minute, the sea was calm and it was a lovely temperature.  I could see Borneo in the distance and that kept making me grin with amazement and delight. Me in Borneo! The word alone evokes memories of David Attenborough speaking reverently while crouched on its shores as he told us about the origins of life in programmes from the 70s and 80s. It was yet another 'I never thought I'd get to see this' moment on this literal trip of a lifetime.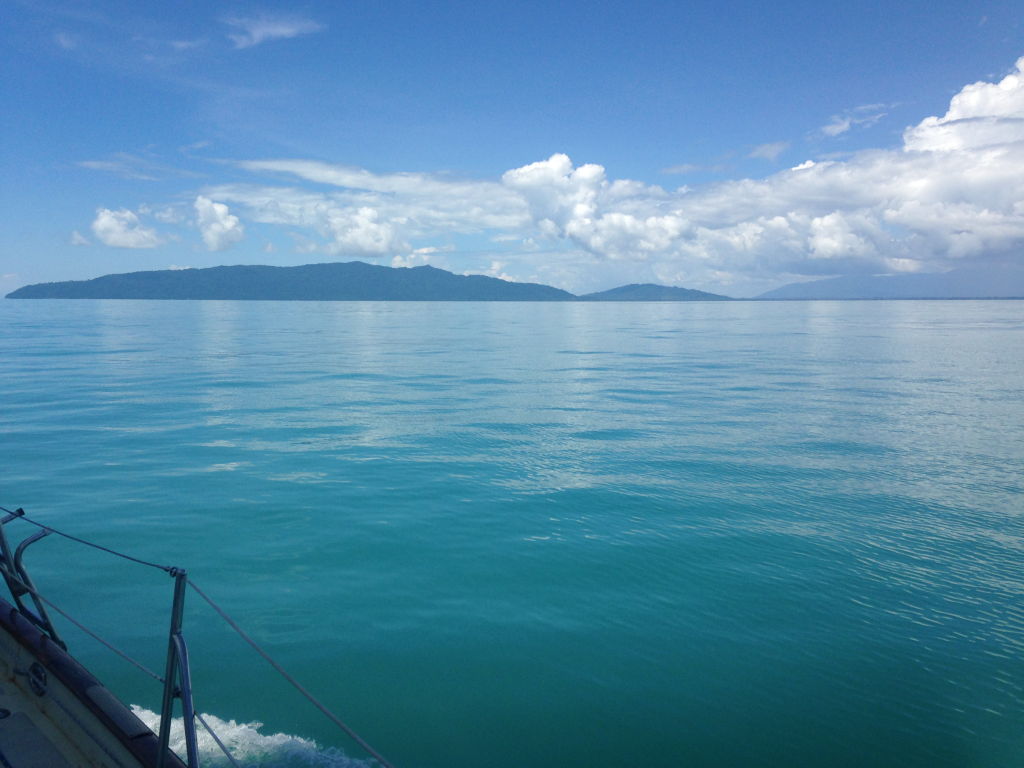 We were due to reach our anchorage in the afternoon and progress was steady. There wasn't much of a sunrise view but it began to get hot quickly when it rose so I retreated to the starboard deck where it was cooler and sat looking for sightings of sharks or dolphins…or anything alive. Speaking of which, in case anyone's wondering; Paul still hasn't had any success catching a fish! Sometime around mid-morning we crossed over from Indonesian waters into Malaysian. I know this because my phone changed its time to an hour ahead. We arrived at a place called Cape Tanjung Datu just after 3 (or 2pm Indonesian time). As this is just a stopover on the way to Kuching it was a good time to read up about it and its environs: phrases such as 'tribal longhouses' 'former headhunters' and 'old trading town suffused with old memories' jumped from the pages and thrilled me. It also promises some unique street markets, quaint shops and and great street food. We'll have to hit the streets then.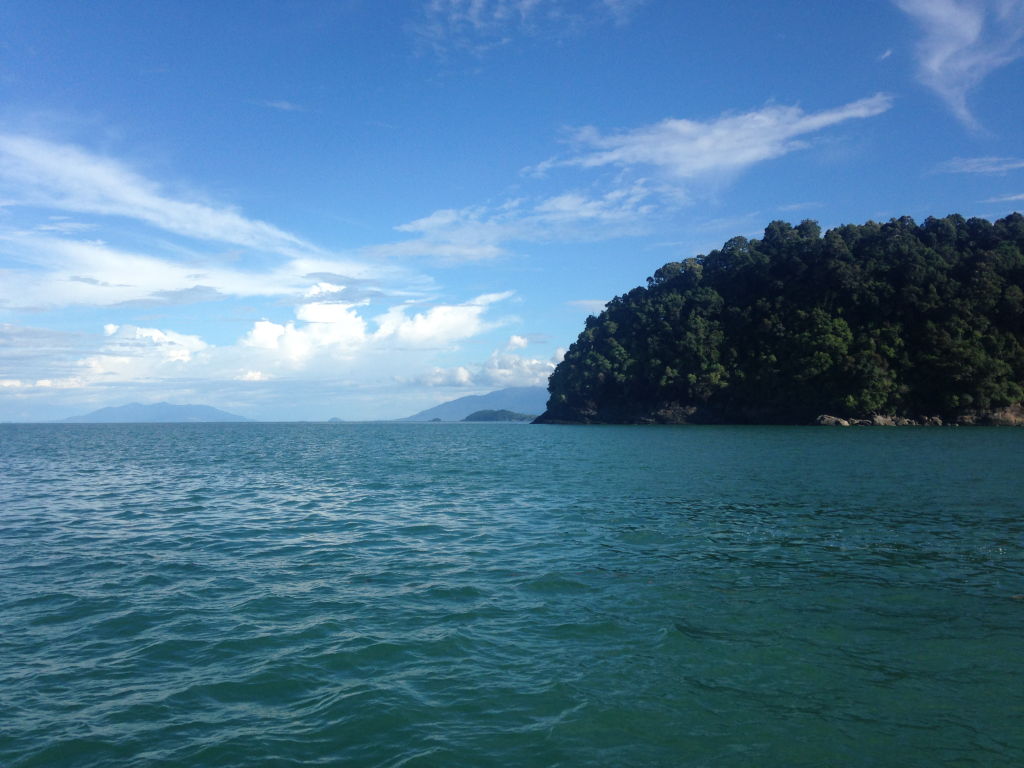 Wednesday 28th June – To Telang Besar
Sometime during the night it began to rain and continued heavily well into the morning, bringing a significant swell with it.  We weighed anchor at 9:30 in the drizzle but it was deliciously cool and there was sufficient wind to put the sails up. Our course coincided with a squall: we headed straight for it, listing heavily to starboard under a white and dark grey sky. The angle sent a few things on the move below but stowage is pretty good now.  The next few hours were not exactly 'rough' but we tacked a few times to make the most of the wind, so the boat tipped at steep angles alternately from port to starboard. Sometimes we were pitched and tossed in the higher waves. There was some doubt whether we would make our original destination due to the weather and current hampering progress.  Rather than rush and risk getting there in the dark we decided to stop halfway at a small island called Besar which is also a turtle sanctuary. I was so thrilled to spot one on our way in to the shallower water. It was huge – much bigger than I thought turtles were and I happened to spot it in the act of catching a fish. Its head emerged out of the water and a flipper followed to hit the surface before it dived down for its prey. The beach where the eggs are laid and hatched is visible from our spot so with the aid of binoculars we could look for more sightings. It's good to be back in Malaysia.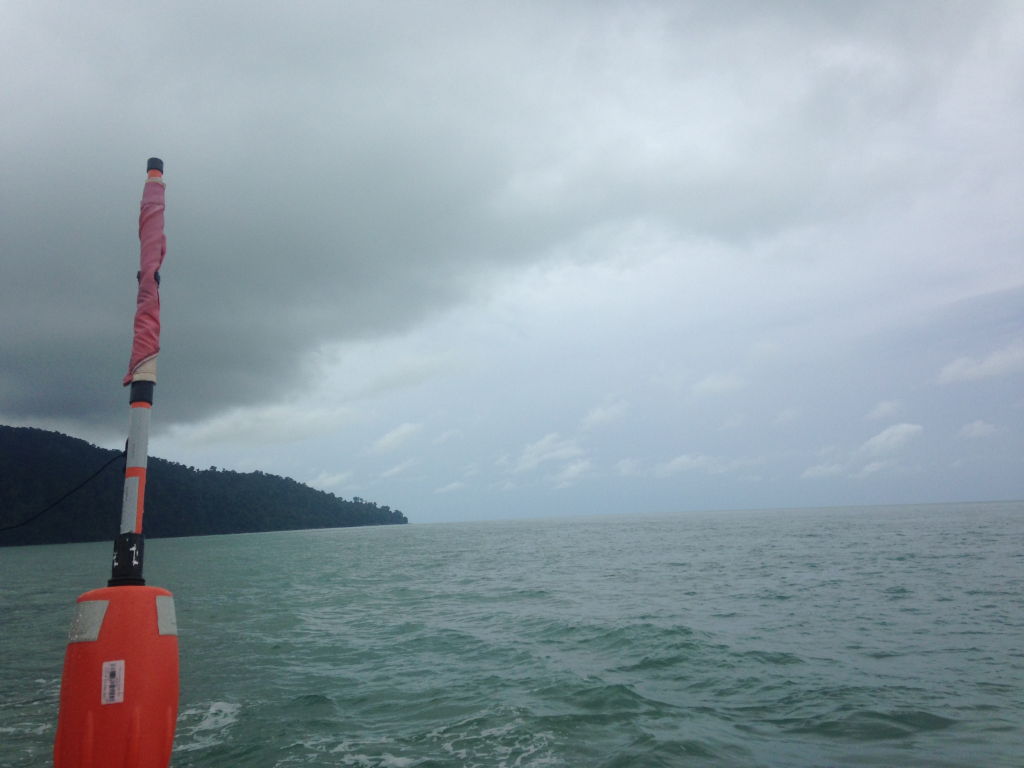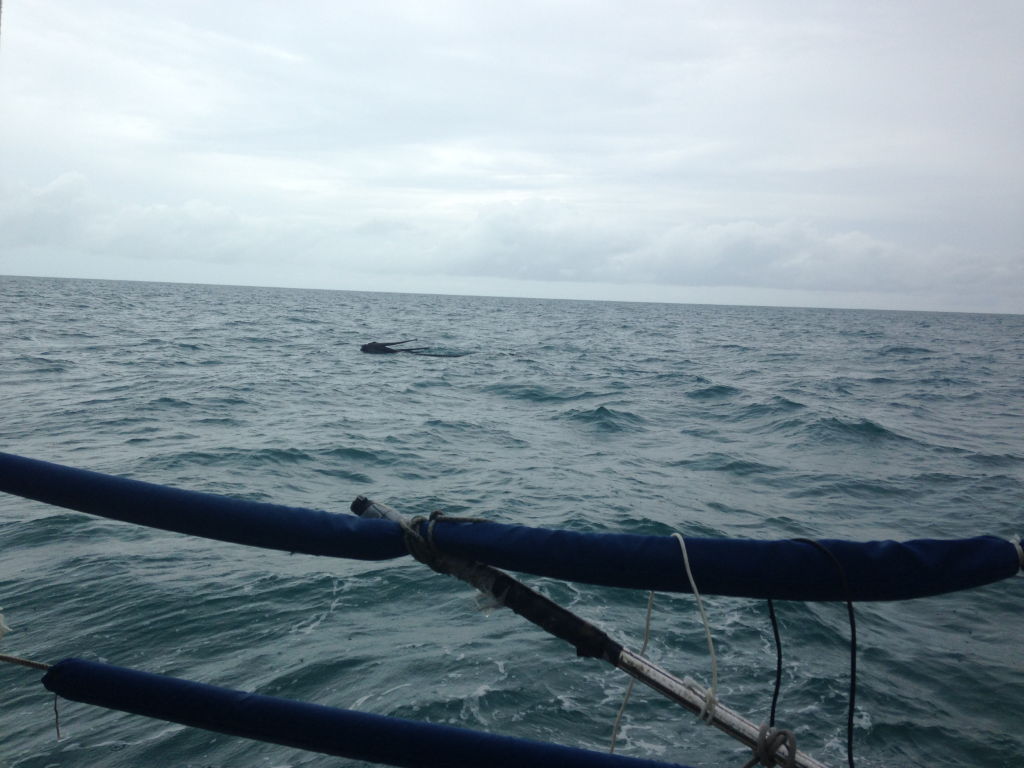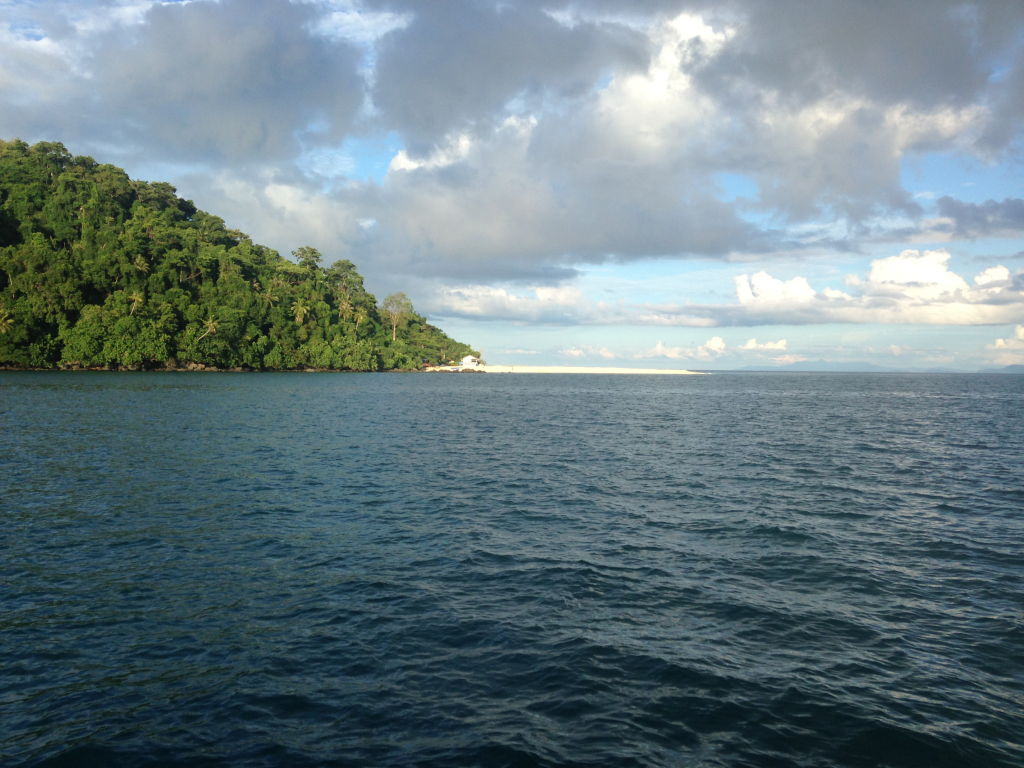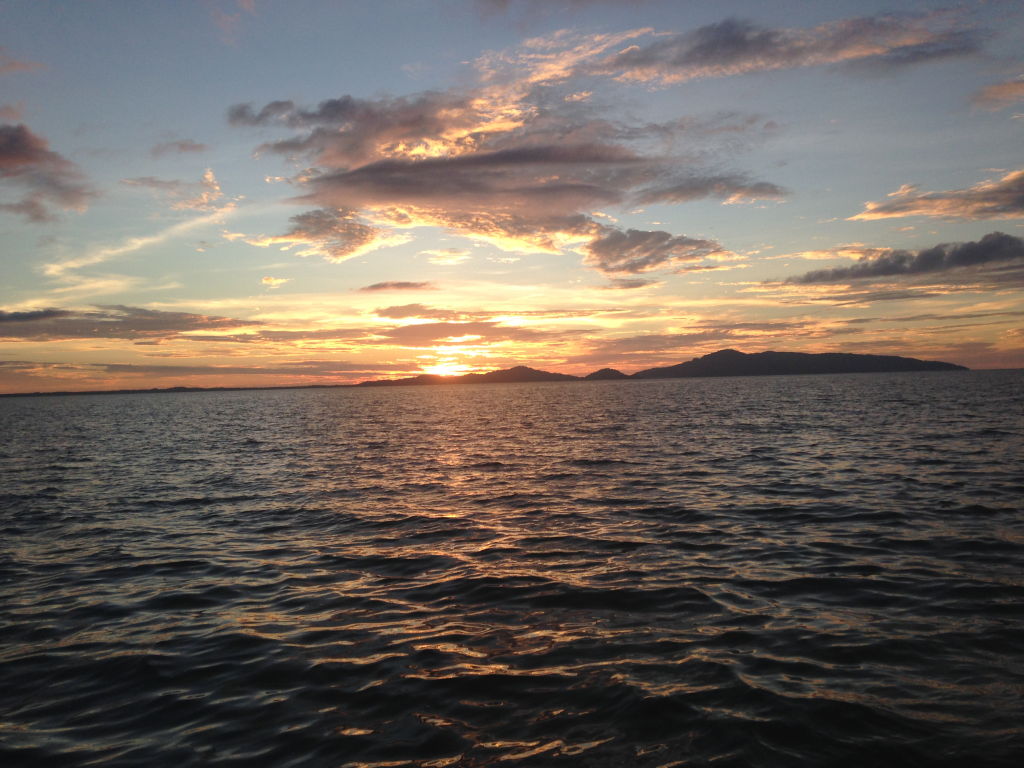 Kathy