Thursday 29th June –To Satang Besar
Weighed anchor on a hot sunny morning just after nine. Sadly, no further turtles were spotted but I don't intend to stop looking; there's always a chance of seeing one in these waters. A five hour journey stretched before us.  It was too hot to linger up above and the cabin was stuffy even with the fans on. A slight breeze provided some relief later in the afternoon but on days like these at sea, you long for sunset and the reprieve from heat it brings. At half past two we anchored near an island not too dissimilar to the previous one, put the canopy up and retreated below for cooling showers.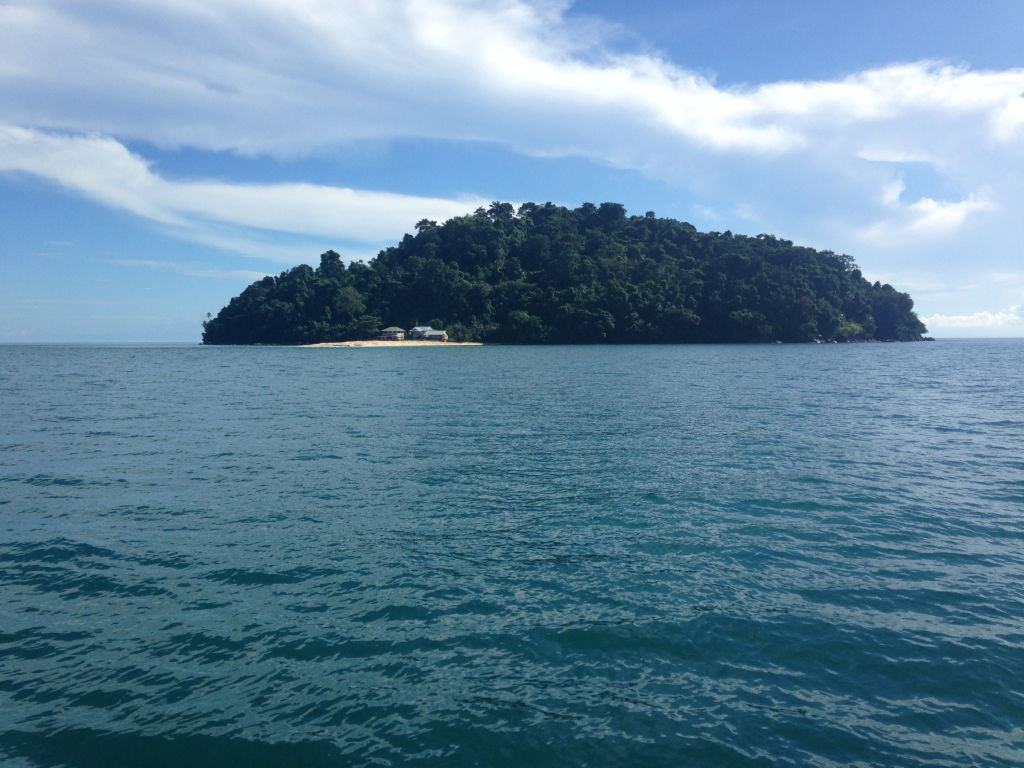 Things changed late in the afternoon. Paul had checked the weather and noted that a huge squall was on the way. It turned out to be a massive one. It suddenly went very dark and the wind got stronger and stronger as the the deluge continued. The boat rolled, pitched and tossed for over an hour rendering me helpless to do anything but sit it out below; on hand in case Paul needed help above. The anchor held very well though and post-squall I was able to resume creating the latest piece de resistance in the galley using 'stuff' to make a tasty pie: chestnuts, onions, lentils, herbs and veggies in pastry, accompanied by gravy made from scratch because we have no handy granules. I was chuffed with the gravy,  which I made using a thick dark liquid called cooking caramel (found in most Asian shops), onions, vegetable stock and cornflour.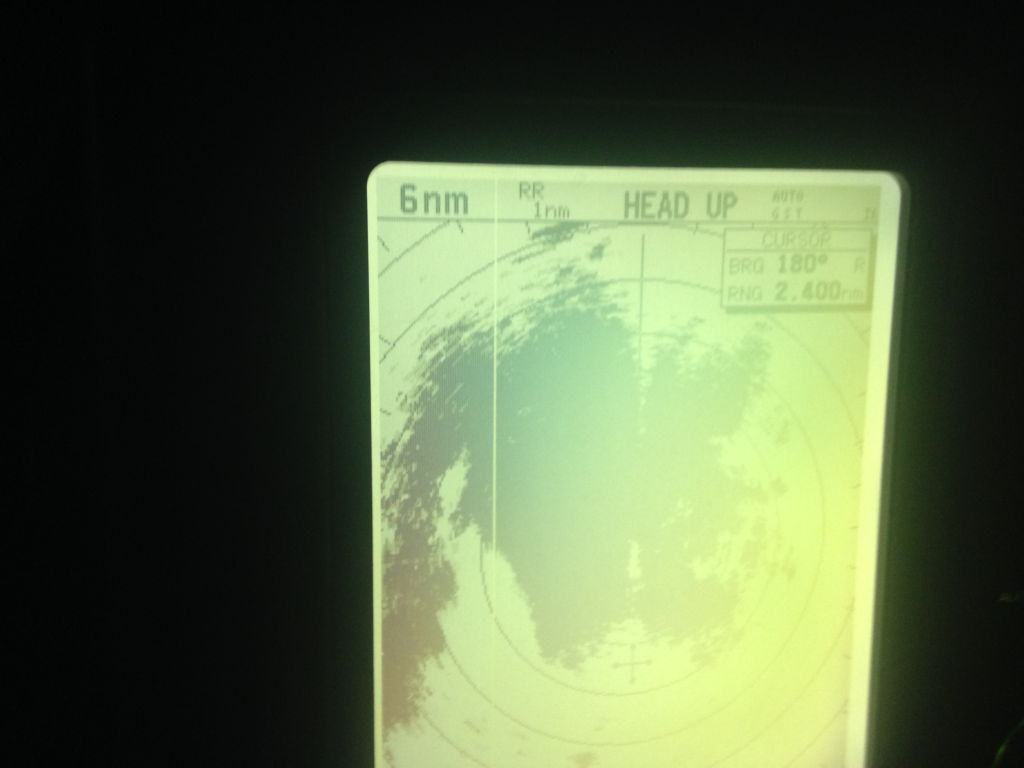 Friday 30th June – Santubong
An early start this morning in order to catch the tide for our short passage into the river. We almost didn't start at all because the anchor was stuck in the mud. Yesterday's fierce squall meant that Paul had to let more chain out and the anchor was well and truly dug in, not for long though luckily and we were on our way to by 8:30. On the route Paul related various hazards and conditions to be negotiated and avoided on the approach to our anchorage. These included underwater rocks and shipwrecks, the urgency to beat low tide, a sandbar and fishing nets and buoys. He also said the river has crocodiles and it isn't advisable to snorkel, swim or do boat repairs under water. As he was telling me this, I saw a movement in the water and for a split second thought I was seeing a croc already but it turned out to be a long, thick sea snake.  We traversed each of the hazards slowly and surely, steering slalom-like around the many stationary fishing boats at the entrance to the river and were ready to drop anchor at 10:30 in the shadow of an imposing mountain. We anchored in 13 metres in mud under a scorching hot sun that burned my feet and legs as I stood at the helm. Opposite our spot is a small wooden pontoon with a bridge leading to a yard, which Paul told me is part of a fish farm and we could just make out some buildings beyond that. Half an hour later it was apparent that we were in a pleasingly restful place, and it has good wifi to boot.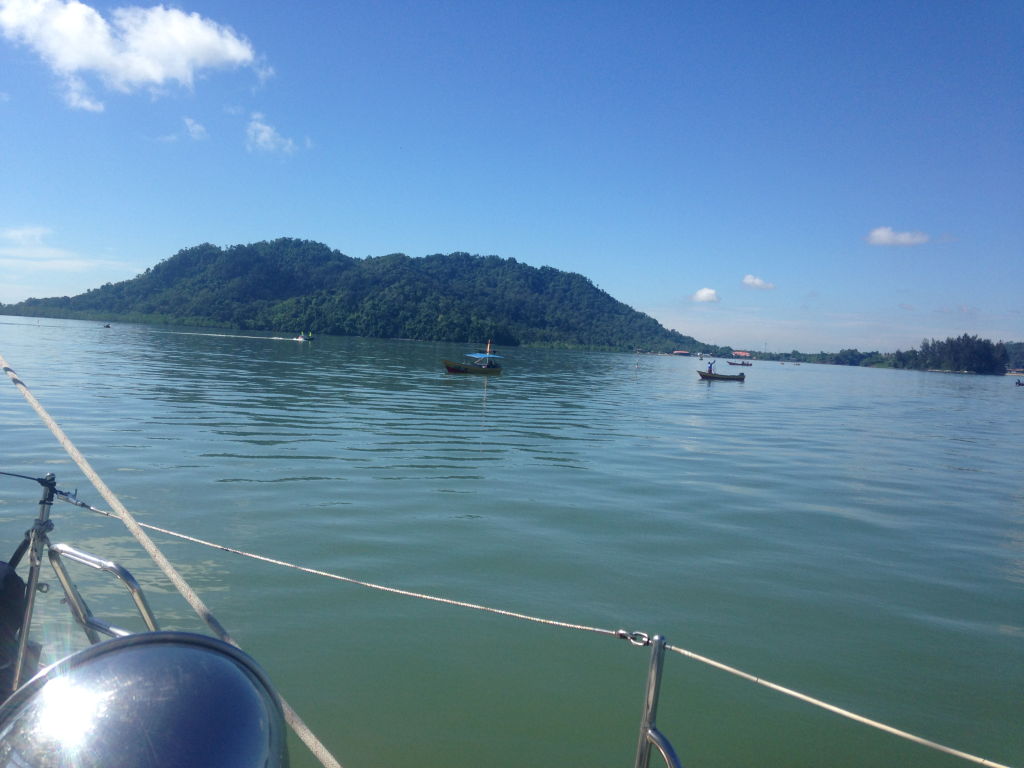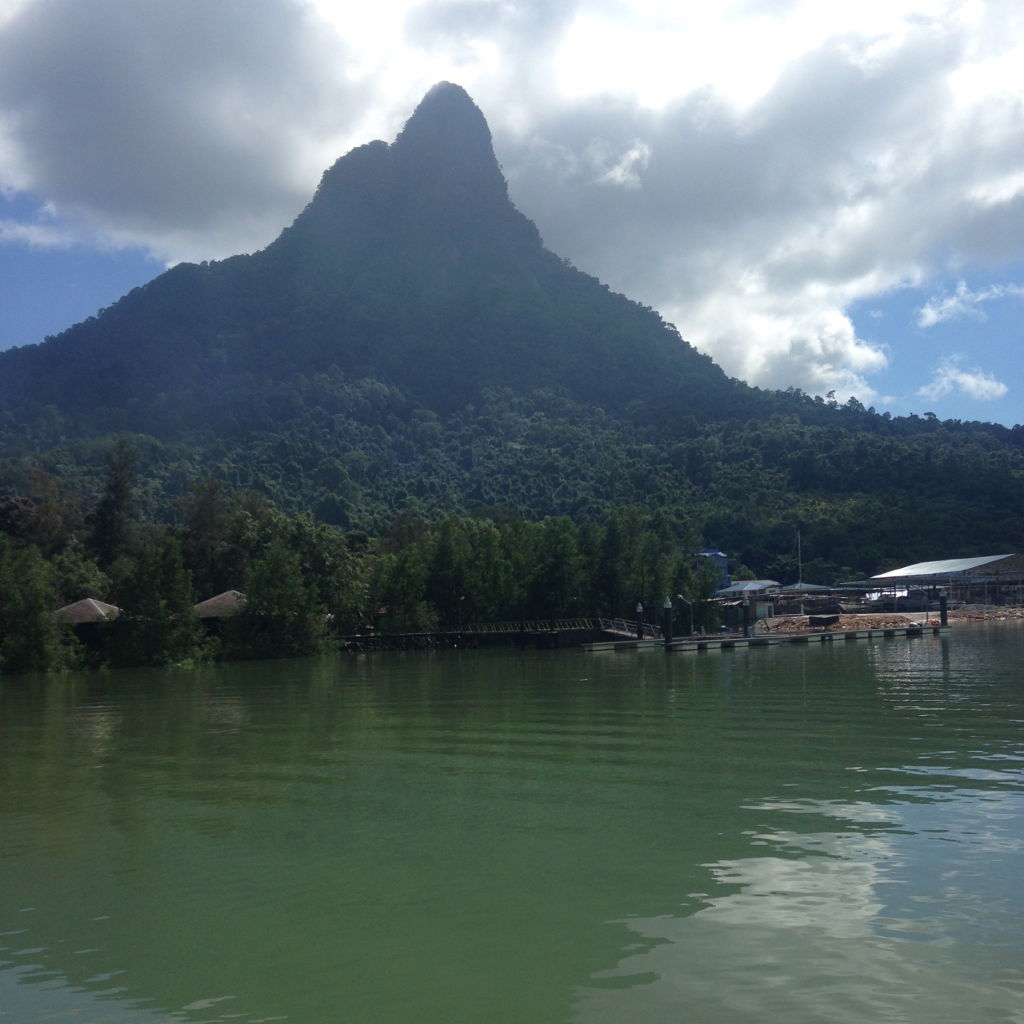 Paul intended to go ashore as soon as possible to introduce himself and the boat to the manager but the dinghy outboard wouldn't start and the current was too strong to row across. The engine had to be fixed of course, meaning more sweaty work in the heat of the cockpit. Apparently the problem was down to water leaking into the fuel, but this was sorted out quickly and the outboard was back in action.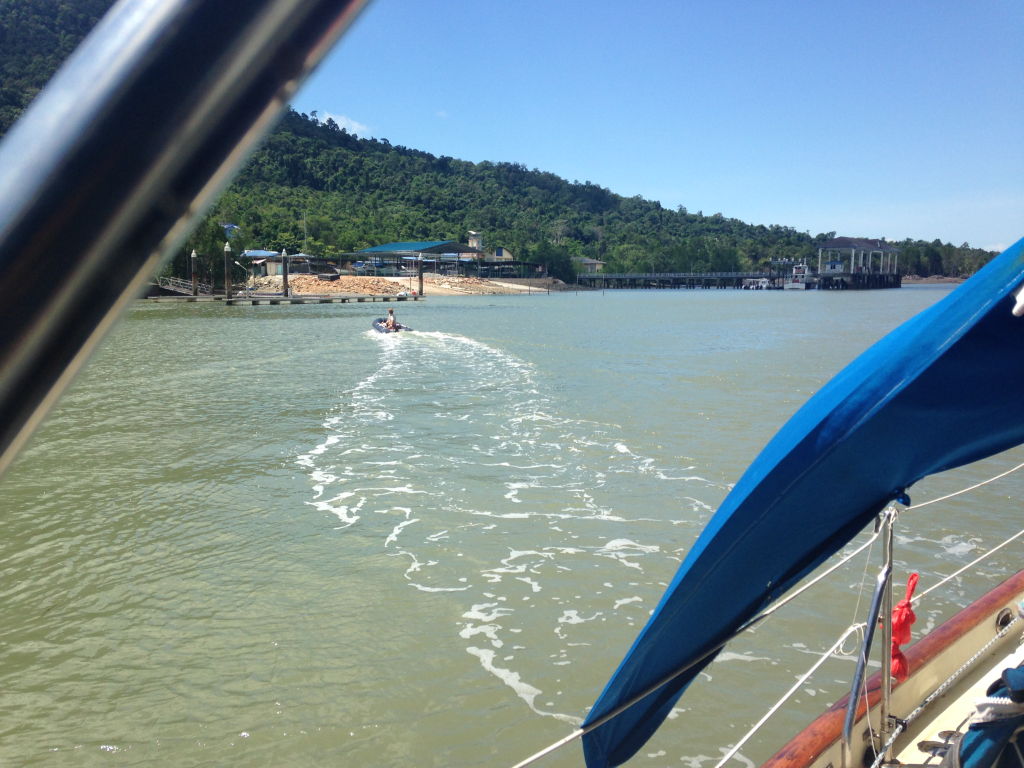 Once ashore Paul arranged a diesel delivery with a guy who was working on the fish farm and booked a taxi for a trip into town to get provisions. By the time we left at 3:30 it was hotter than ever and the tide had gone right out to reveal several lizard-like creatures scurrying around on the mud. They looked like baby crocodiles and were fascinating to watch but I'd hate to walk among them. We were greeted by the pack of dogs Paul had already encountered and told me about. There are about 6 of them and they all barked but wouldn't come too near us. They're the sort of dogs who bark loud and furiously while wagging their tails the whole time and they loved it when I spoke to say hello and tell them they were good dogs 🙂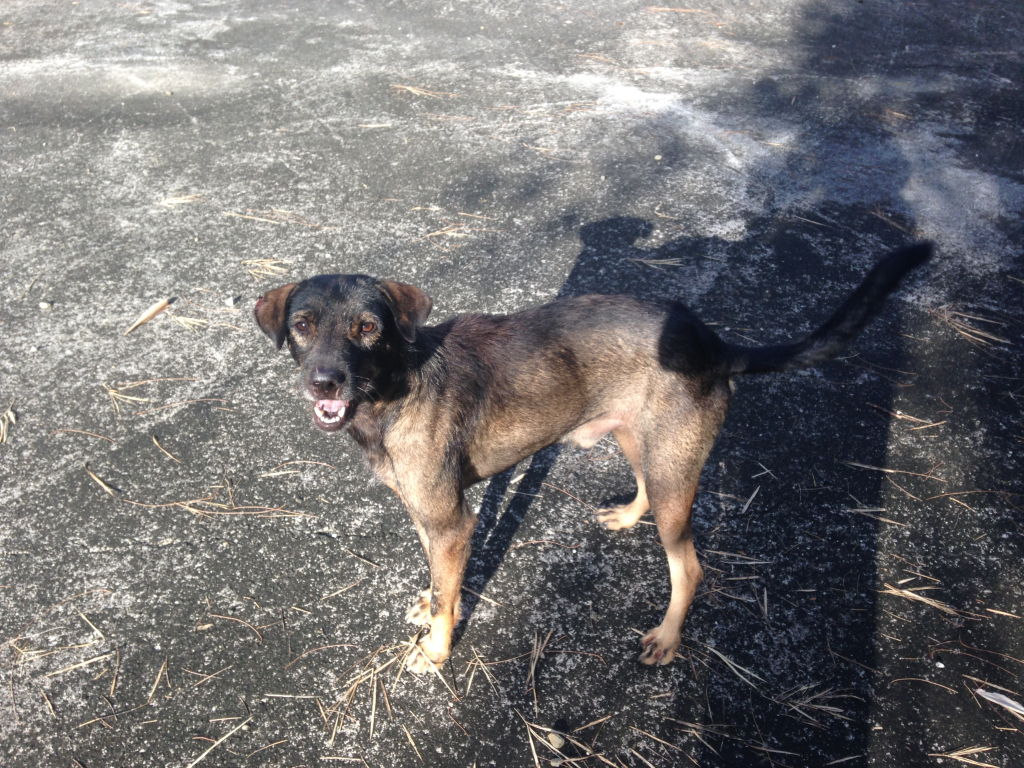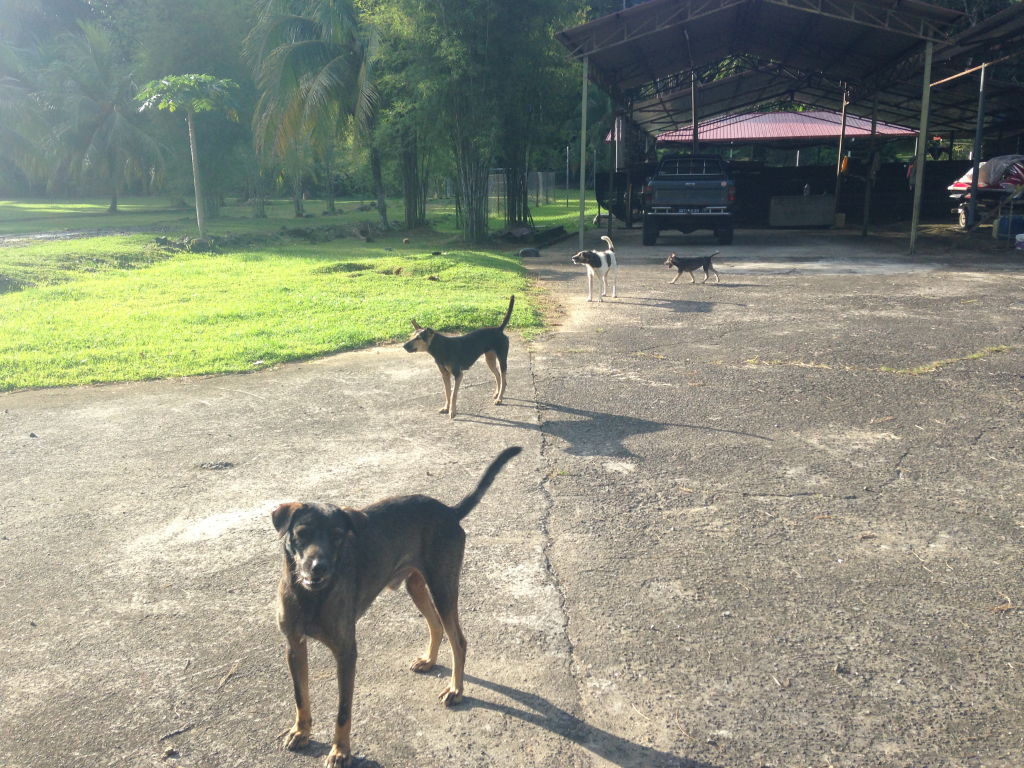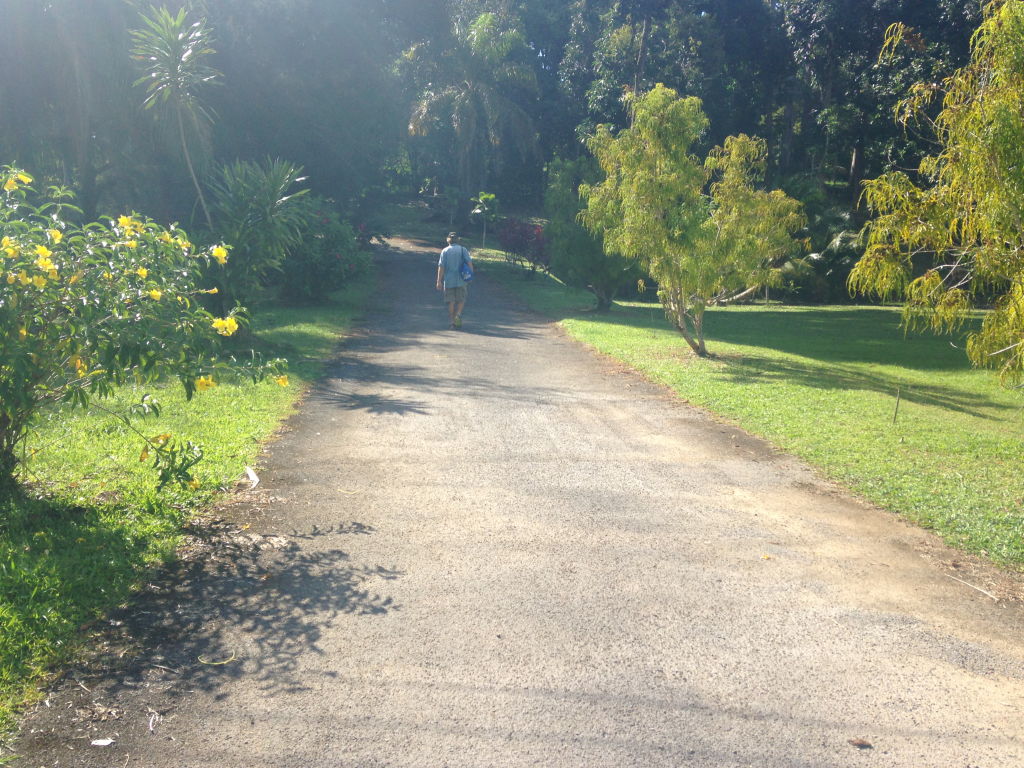 We waited for the taxi in heat so oppressive I thought I would flake out and it wasn't a whole lot cooler inside the taxi. The driver was a mine of information about the area. He lives locally and told us about places we should visit and about Santubong in general. Fishing and farming are the main industries here he said, and urged us to try Sarawak Laksa, a spicy chicken noodle and prawn soup: a local speciality. I asked him about the mountain. It's called Santubong Mountain and is 2,655 feet high, he told us, and it can be climbed – he had climbed part of it but hadn't managed to reach the summit. You need to be fit and healthy, there is a path to follow and it takes about 6 hours to reach the top. I looked up at it towering above me and felt tempted to conquer it until I thought better of doing something so strenuous in these high temperatures. I bet you see an impressive panorama from up there, though.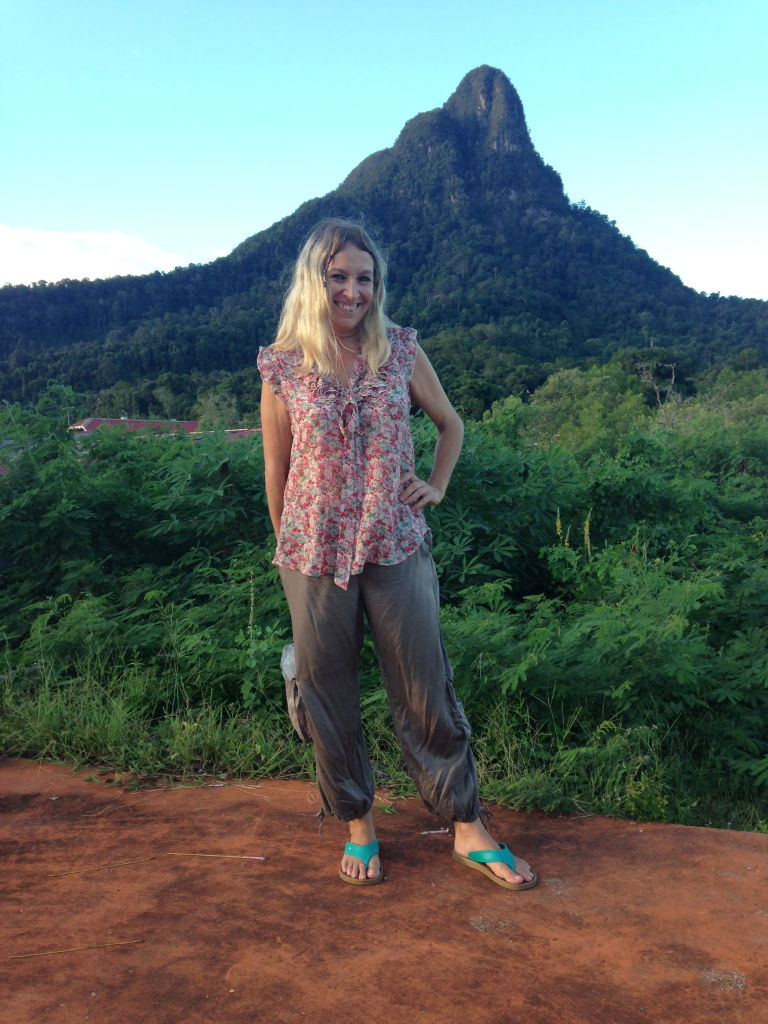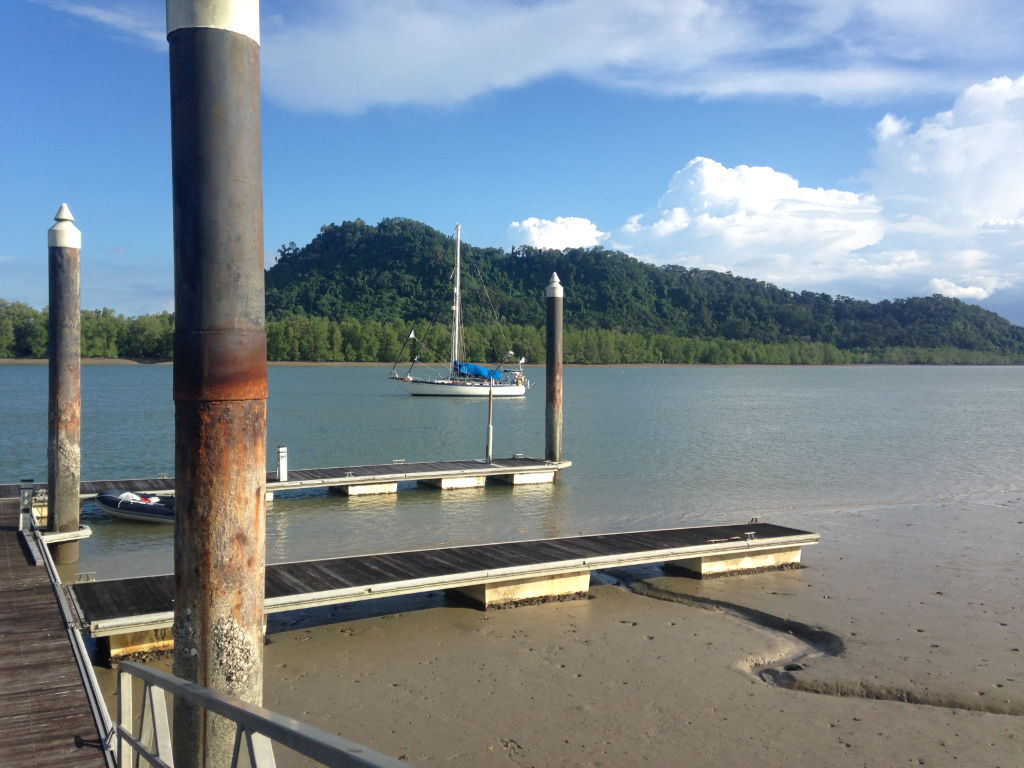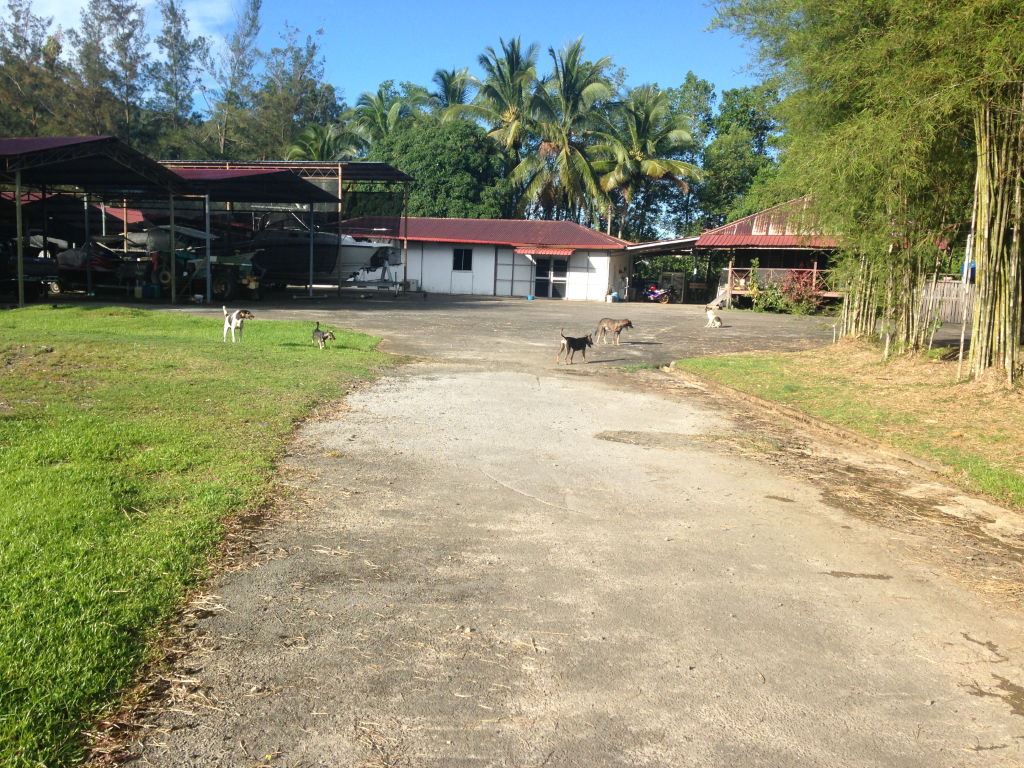 During the drive, which took about 30 minutes, both of us noticed how much more upmarket the environment here is, compared with Peninsular Malaysia. The roads, verges and houses are well maintained and larger and the cars and scooters are mostly new and much smarter-looking. We were dropped off at a mall where the supermarket 'Giant' is located and arranged with the driver to be collected at 6:30.  Discovering that the supermarket didn't sell alcohol, we decided to ask our well-informed driver to stop somewhere on the way back – he was bound to know where to get some wine or beer, I thought. Meanwhile, it was a luxury to walk the aisles picking up things we hadn't been able to get for weeks. Heavy rain was falling as we shopped and Paul was concerned about its effect on the anchor, but we had half an hour to kill before the taxi was due so decided to grab a quick bite to eat in one of the mall's food outlets. We finished just in time to walk out to where we expected to see the taxi waiting. He wasn't there. He still wasn't there 40 minutes later! One guy, seeing us alternately pacing and looking up and down the road, kindly offered us a lift to wherever we wanted to go. I was tempted but Paul didn't want to let the taxi driver down in case he'd been unavoidably delayed, plus we hadn't paid him his fare yet. When he did turn up 10 minutes after the other guy's offer, he truthfully (and smilingly) admitted that he'd simply forgotten all about us. Paul, admiring such a frank admission, bit back any admonishment he'd got ready to let rip. It rained heavily all the way back and the driver cheerfully (he really is a happy soul) delivered the news that there would be nowhere on the way home that sold alcohol because the whole of Santubong is dry. Disappointingly, I would have to wait until our Kuching trip on Monday before enjoying my first glass of wine in two weeks.  It was dark and raining heavily when we got back and the dinghy was full of rainwater.  We had to lift it out of the water (no mean feat that) for Paul to pull the plug in order to drain it all out. For once I was glad to enter the hot interior of the boat to warm up (and dry off). Fell asleep listening to the soothing sound of rain pounding on the roof.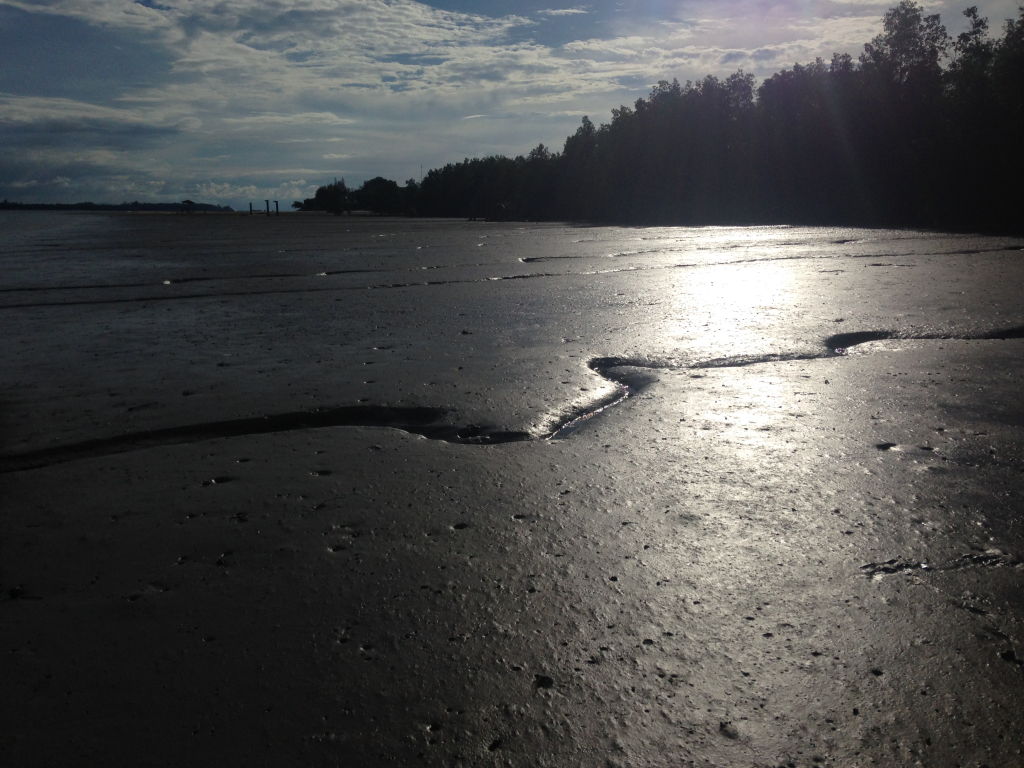 Weekend July 1st and 2nd
Our tickets home are booked! We leave on the 1st August and return on the 3rd October so two whole months to look forward to, catching up with friends and family. We enjoyed a lazy Saturday on the boat. It's very tranquil anchored here – only a few fishing or diving trip boats pass by every now and then, and even they're not noisy. On Sunday morning Paul collected the diesel he'd ordered and I helped to lug the heavy containers on board, after which we both retired below out of the heat. I made more bread and read while Paul worked at programming and at 5 o'clock we went ashore to have a look at the village and take some pictures. Santubong is a tiny and charming place, very rural and pretty with well-kept houses on stilts above the river.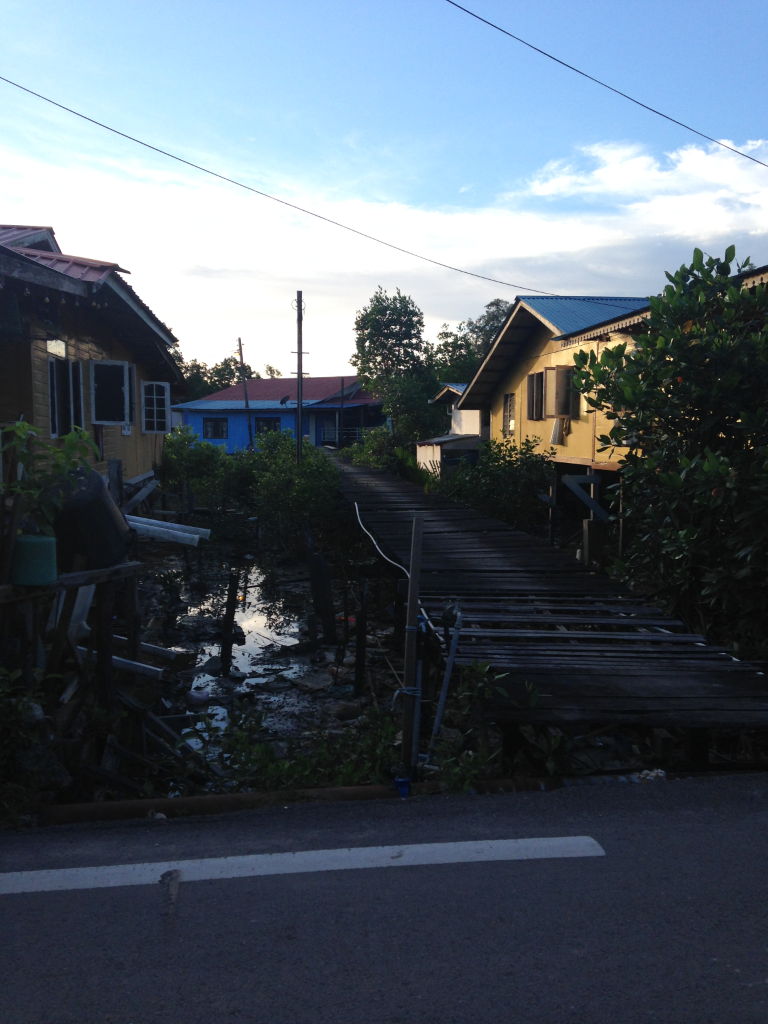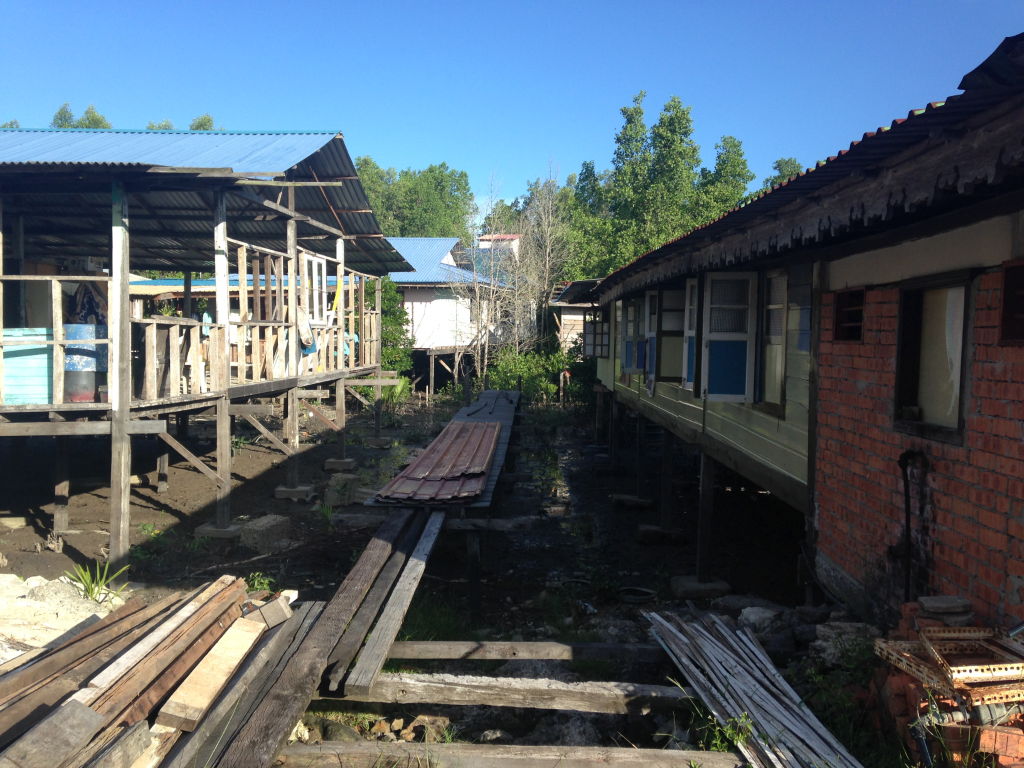 The warning about crocodiles was confirmed when we came upon this sign near the beach – I almost expected to see them on the sand in front of us.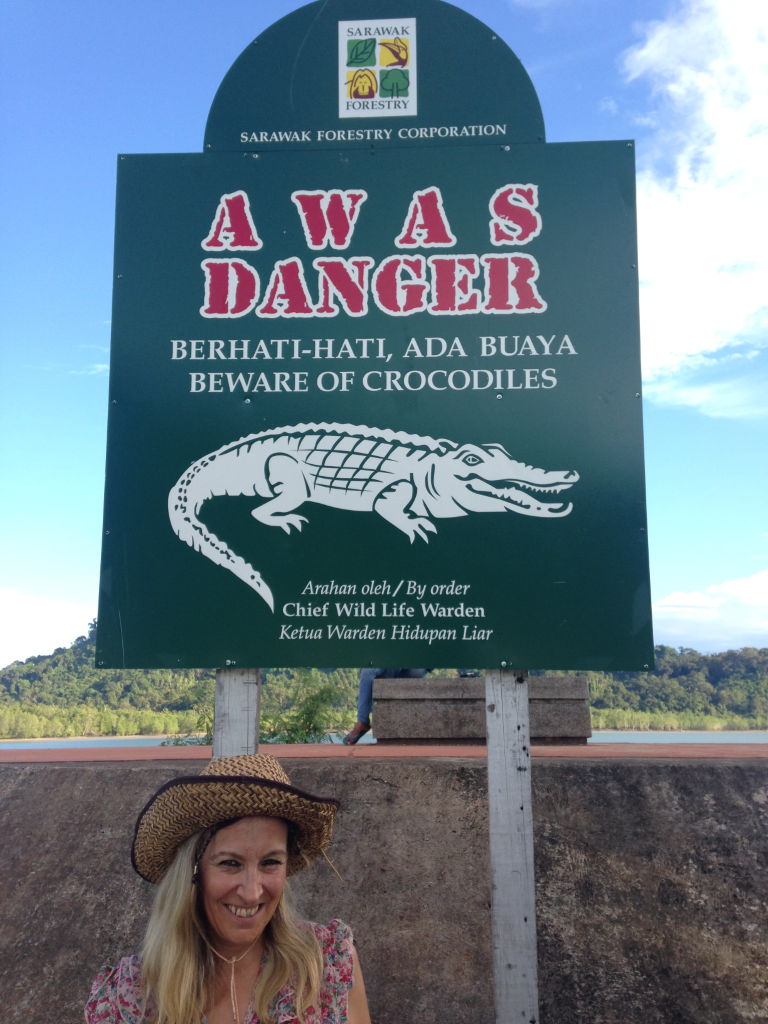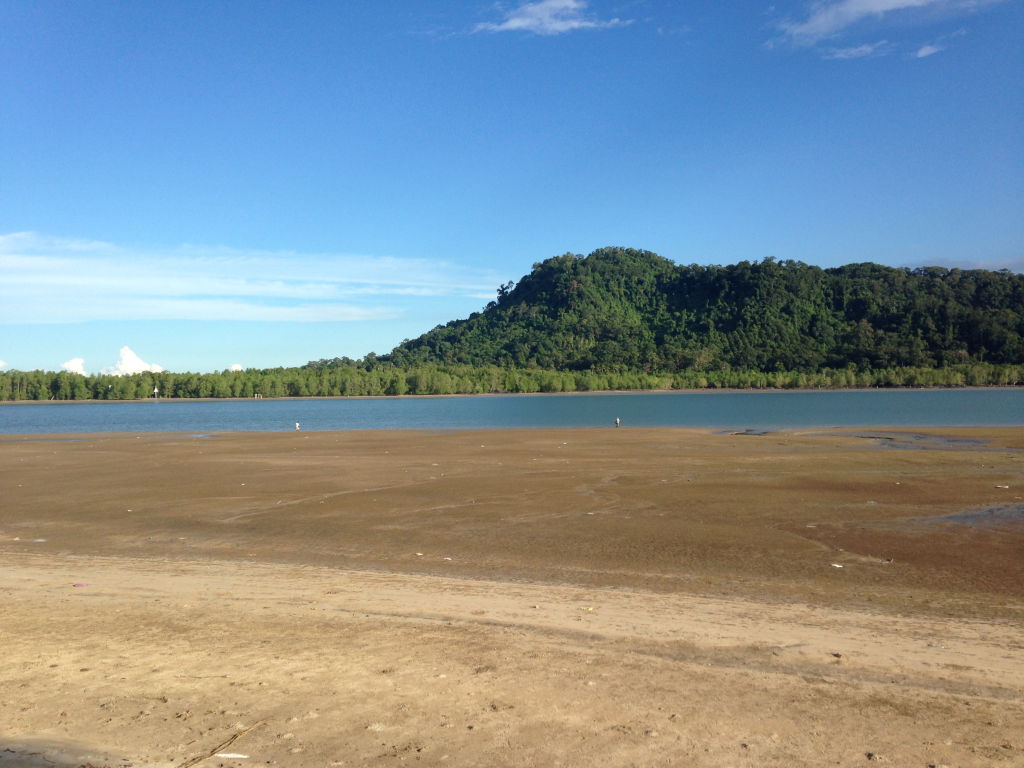 The beach itself was amazing, especially in the fading light. Large boulders littered the sand and I couldn't help picturing David Attenborough crouching among them while telling us about the feeding habits of salt water crocodiles.  Near the end of the beach we came upon some dogs peeping out from behind the boulders. They seemed to be living there in a pack and took little notice of us. It's difficult to capture the ethereal beauty in pictures, but I had to try.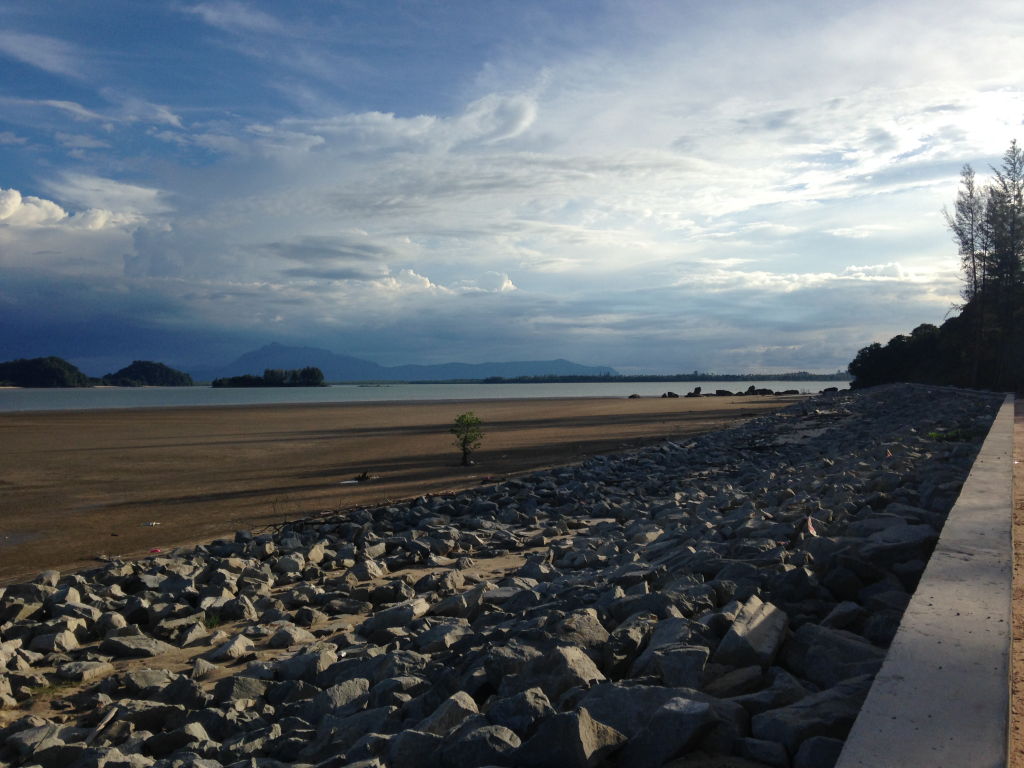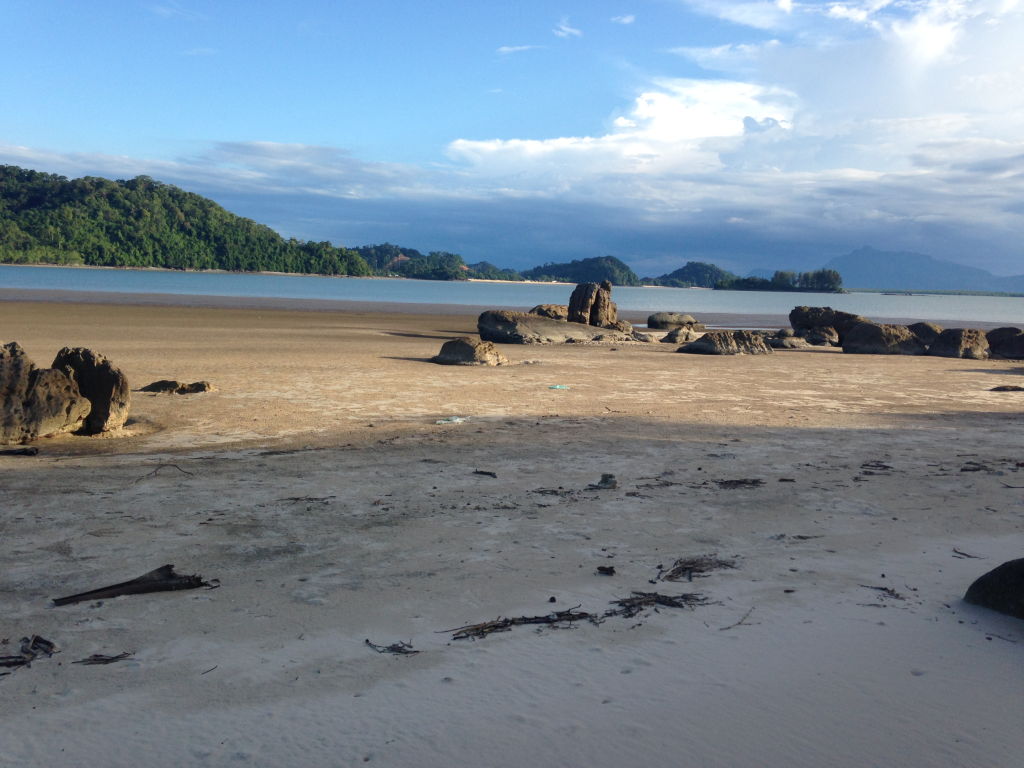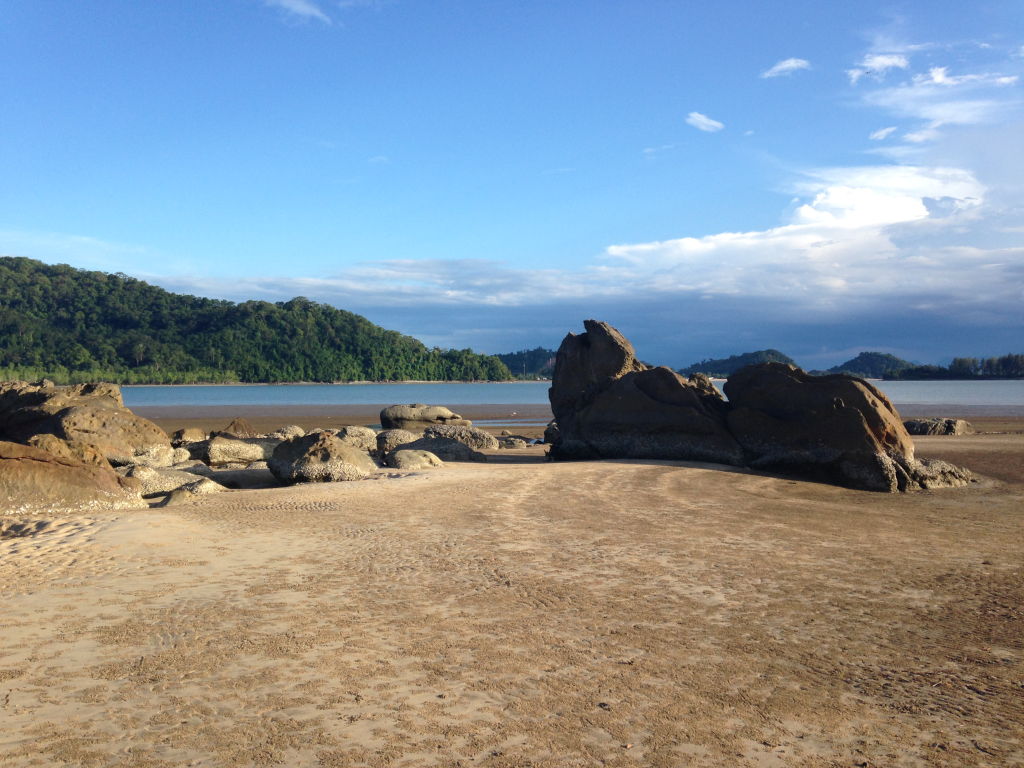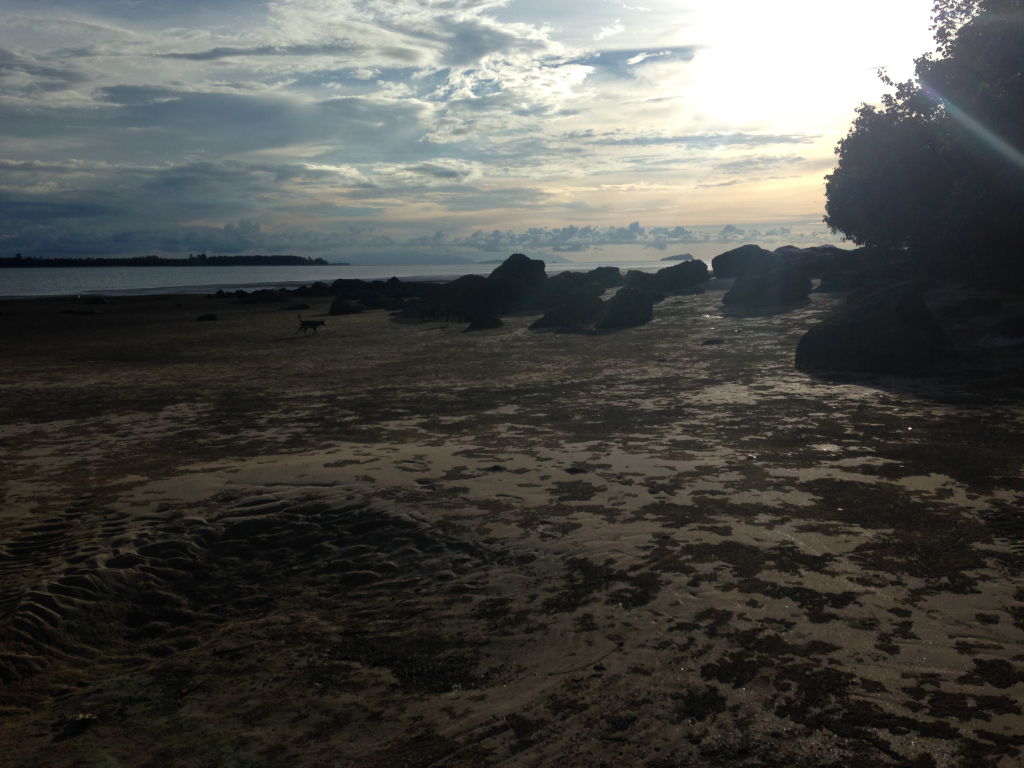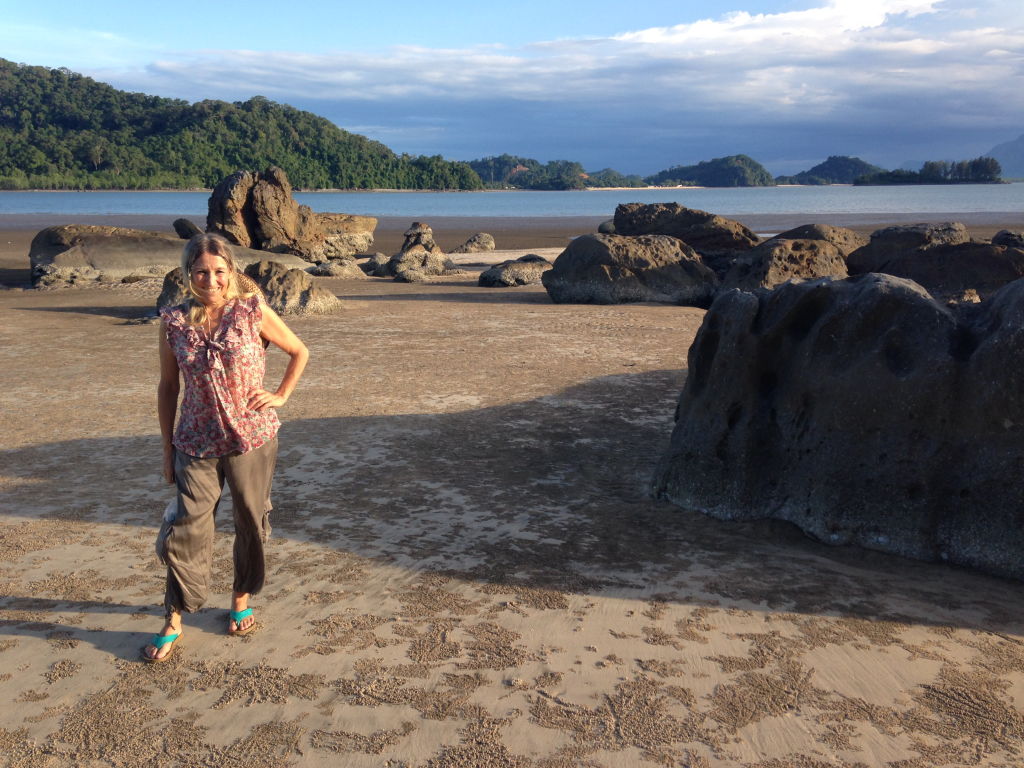 Monday 3rd July – A day in Kuching
We turned up at the fish farm entrance at the agreed time of 10:30 to meet our taxi driver from the night before, hoping that he wouldn't forget us again. It was too hot to be standing around for long periods. He was bang on time thankfully and on the way to Kuching he provided us with lots more useful tips and info about places to visit and even advised Paul on the best type of car to hire, along with an interesting explanation about the petrol pricing system here. It seems prices are announced by the government each Tuesday evening and it goes into effect on Wednesday morning, causing people to rush out to fill up on Tuesday night if the price is due to increase.  My first impression of Kuching as we drew near was that it's a big city, or bigger than I expected at least. Skyscrapers came into view, there was a lot more traffic and we passed office complexes, large ornate mosques and smart apartment blocks. High rise hotels and signs for museums indicated we'd reached the centre. We were dropped off at the waterfront, where all the souvenir shops are located.  A slow walk along that street was our first mission, as recommended by our guide book, which proclaimed it a 'shopping mecca'. The shopfronts are old and quite charming.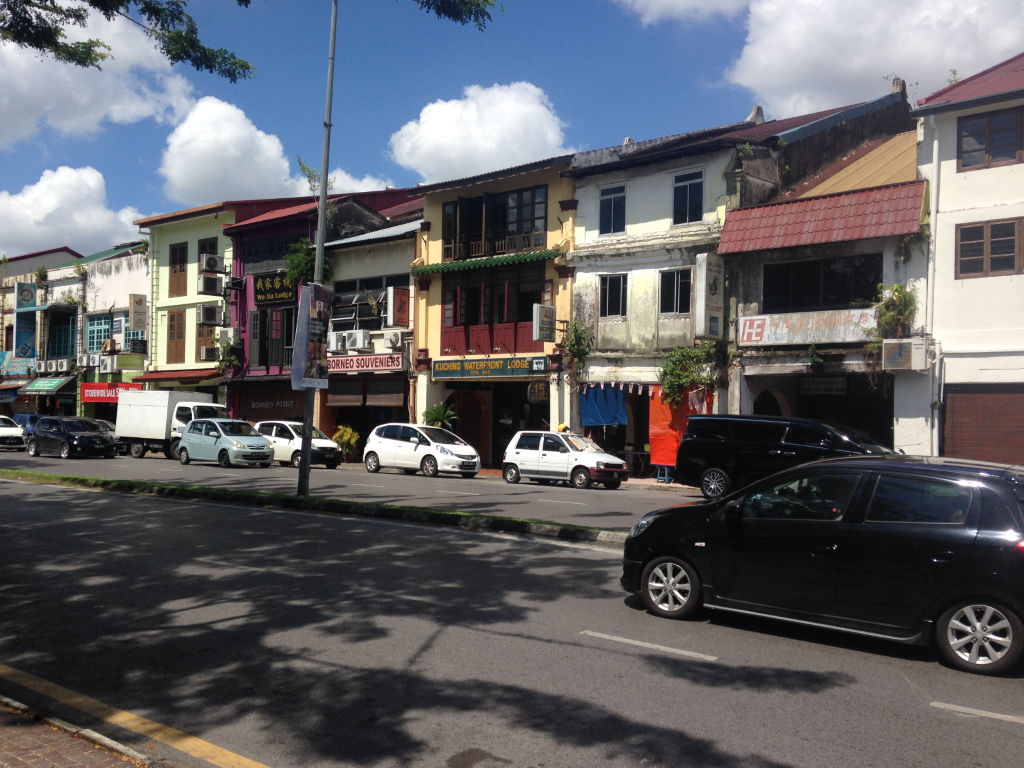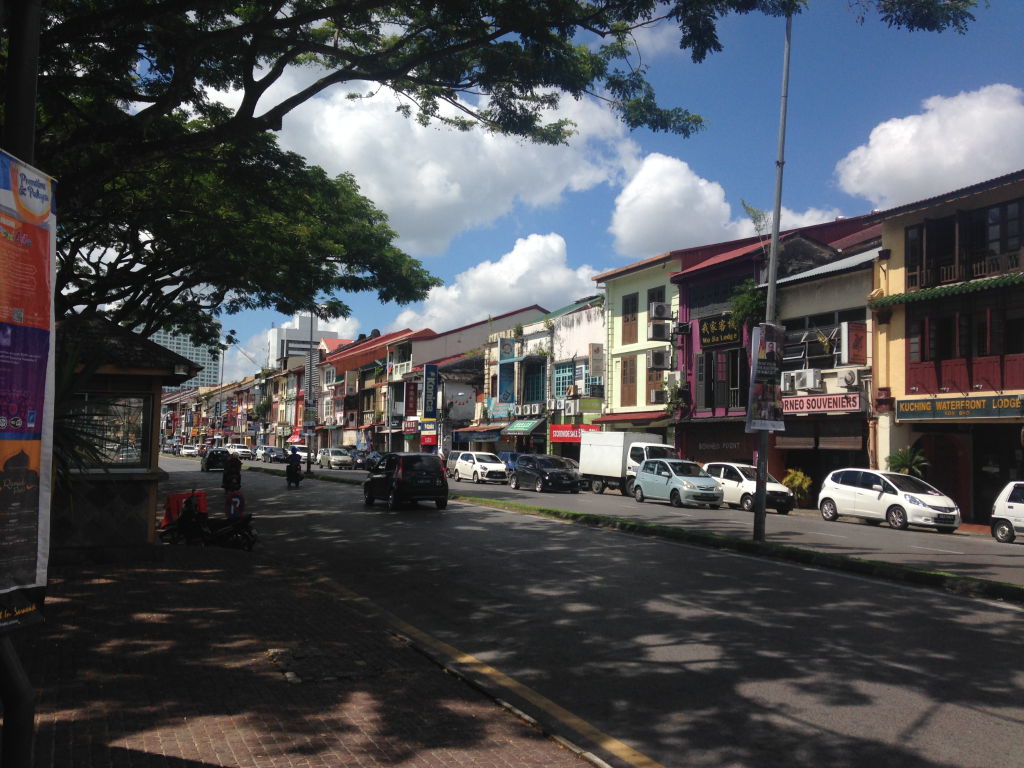 Inside them it's a browser's paradise and we strolled in and out of several, admiring the handmade gifts, local crafts and unusual carved souvenirs. I was keen to have a glass of wine after that now that we were in the (wet) city, and our taxi driver, naturally, had recommended The James Brooke Bistro as a good place for lunch. It's the sort of place Paul hates because it's clearly geared towards Western tourists from its style, its name (after the first white Rajah of Sarawak) right down to its bill of fare: spiced wedges, pizzas and burgers.  It is, however situated on the waterfront, is reasonably priced, and it sold wine.  We sat down. The food was ok, the wine was most welcome and the view was lovely. The restaurant also had some cats, one of them was a tiny black kitten that a member of staff told us she had rescued from the middle of the road earlier in the week. I asked nicely, but Paul wouldn't let me take it back to the boat.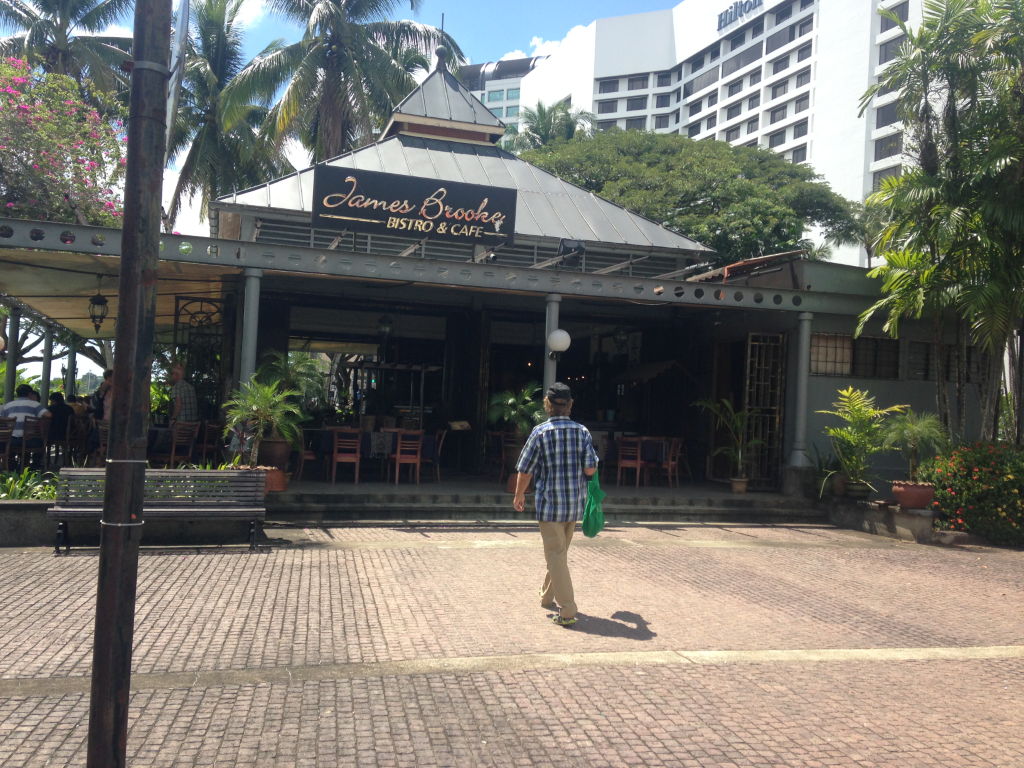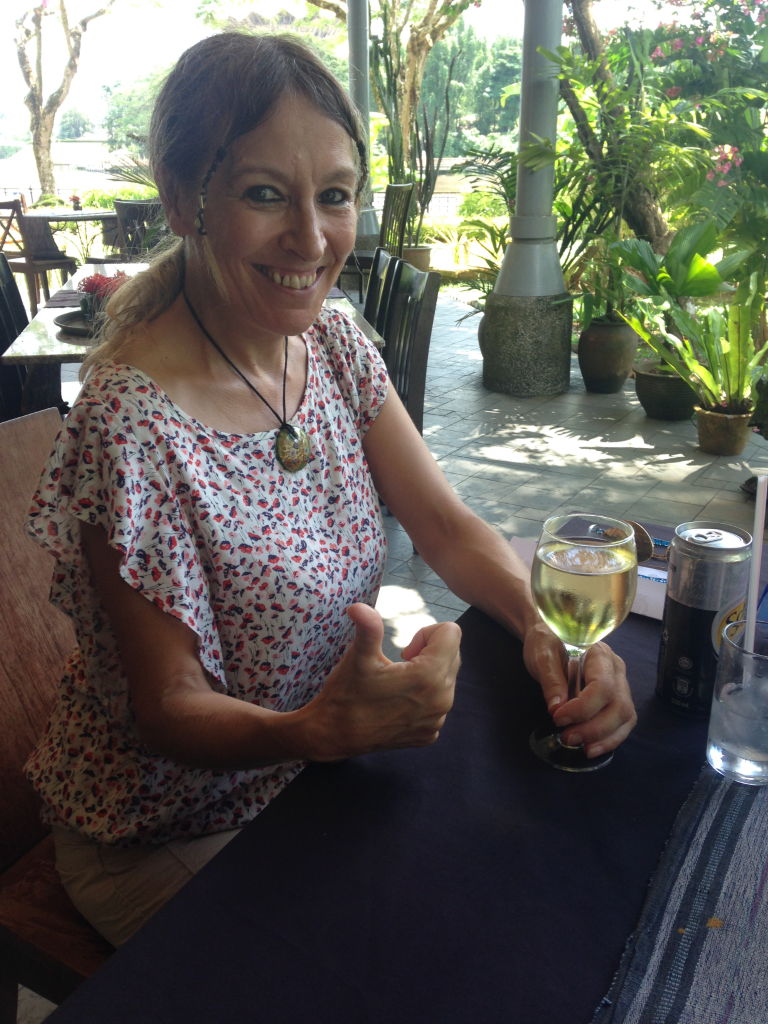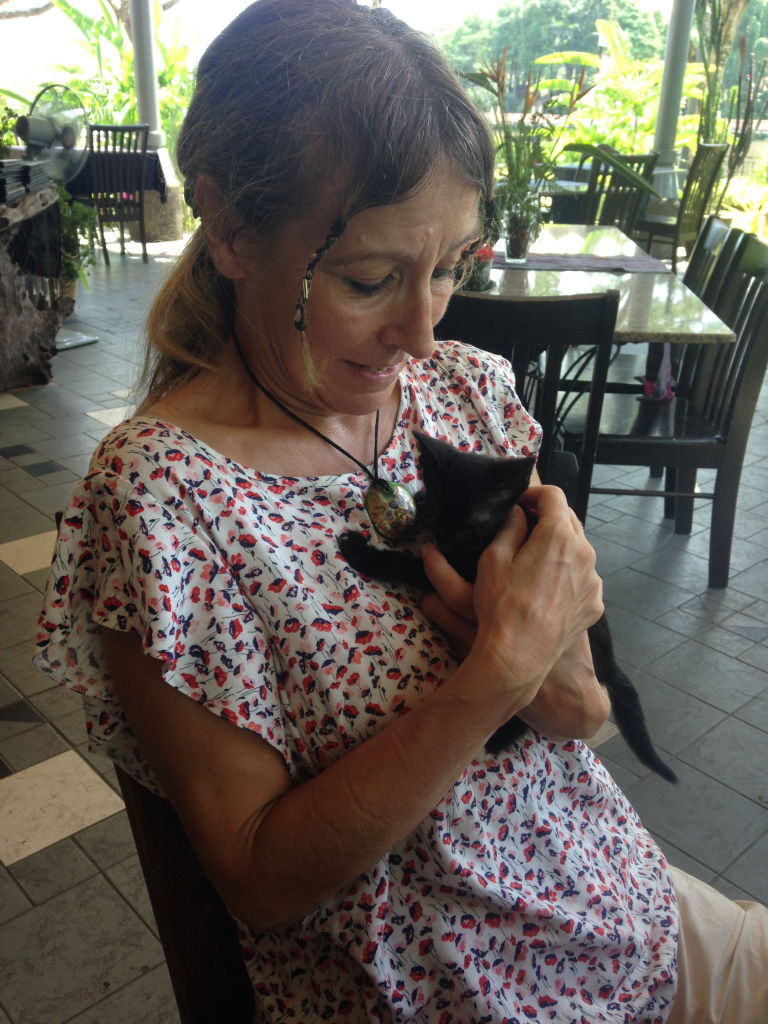 After lunch we carried on walking, making our way to Chinatown where Paul had booked a hire car but they were still waiting for it to be returned from its previous customer. The lady from the car hire company let us leave our bags in the office while we had a walk around Chinatown and did a bit of shopping. By the time we got the car (a nice little white VIVA) it was 3 o'clock and too late, we thought, to fit in customs and immigration but we could squeeze in a drive to Kuching Marina to declare the boat's arrival into Malaysia. After filling out a form there we were told that we could still get to immigration in time. It wasn't far away apparently and a lady helpfully provided directions. We tried in vain to follow those directions but maybe they were a bit vague (drive past the building with the green gates and turn right). We drove around for over an hour trying to find the building. When we did we weren't allowed to take the car through the barrier because we didn't have a security pass so we had to park it and walk a fair distance to the entrance in cloying humidity. It was another old fashioned building but the guy who processed us was young and charismatic.  A good-looking guy, he lounged casually in his seat with a grin on his face while he asked us questions. In lieu of a boat stamp, the lack of which always causes some consternation, Paul gave him a printed card with all of Sister Midnight's details on one side and a picture on the other. He was really chuffed with it and immediately looked it up online, smiling all the while. He even googled West Kirby because he was curious to see what it looked like. From entering the building hot, tired and slightly irritable (well I was anyway) we left it smiling and impressed. Customer service at its best. On we went to customs hoping for a similar stress-free experience. No one was there when we arrived so two security guards gave us a number to call and one of them produced a chair for me near the fan. They then lent Paul a mobile to call the number because his battery was flat. I just love Malaysia. A smartly dressed young lady turned up shortly after and unlocked the door to a tiny room straight out of the 50s in décor. There was a bed with a crocheted cover on one side of the room and two wooden desks on the other. There was a computer but internet was slow and it took a long time to enter all the necessary details and sign the paperwork. Because we didn't have spare copies of certain documents she had to take pictures of them with her phone. Few words were exchanged but we left there legitimate at last and set off to find yet another place recommended by our taxi driver.
The shop was called Ting and Ting and is apparently a good place to find Western products…and affordable wine. I wanted to buy some Marmite and some wine. I found both in there, along with a few other necessities and then we headed back to the boat to do some online research for our next excursion: this one would involve orangutans! 😉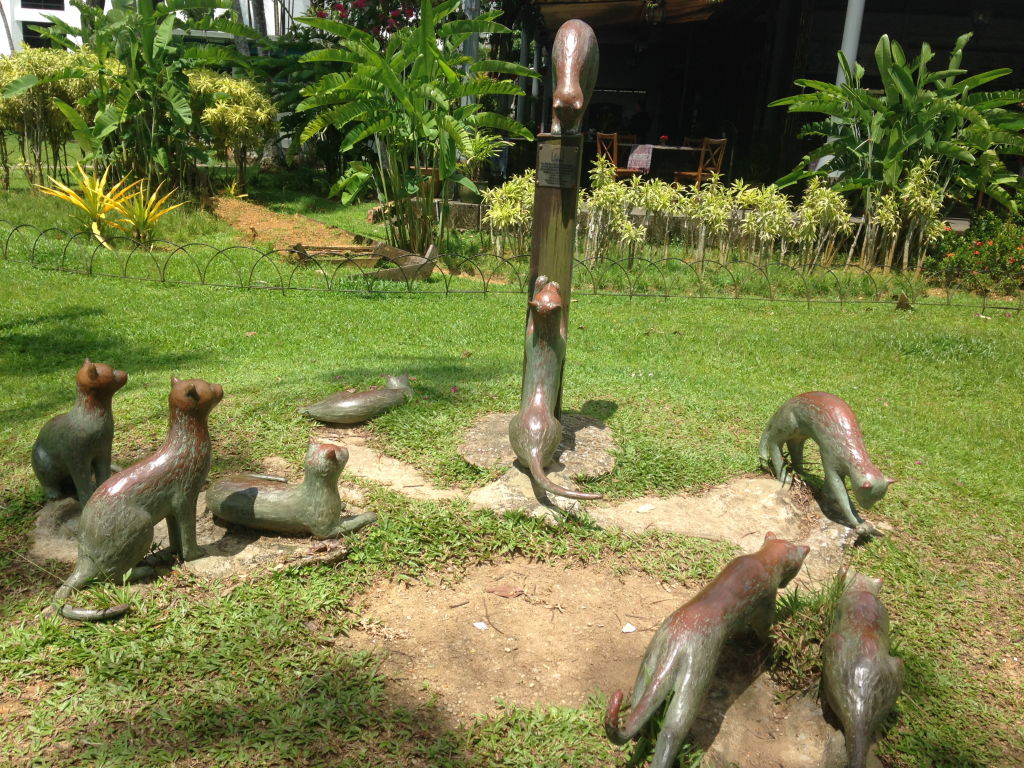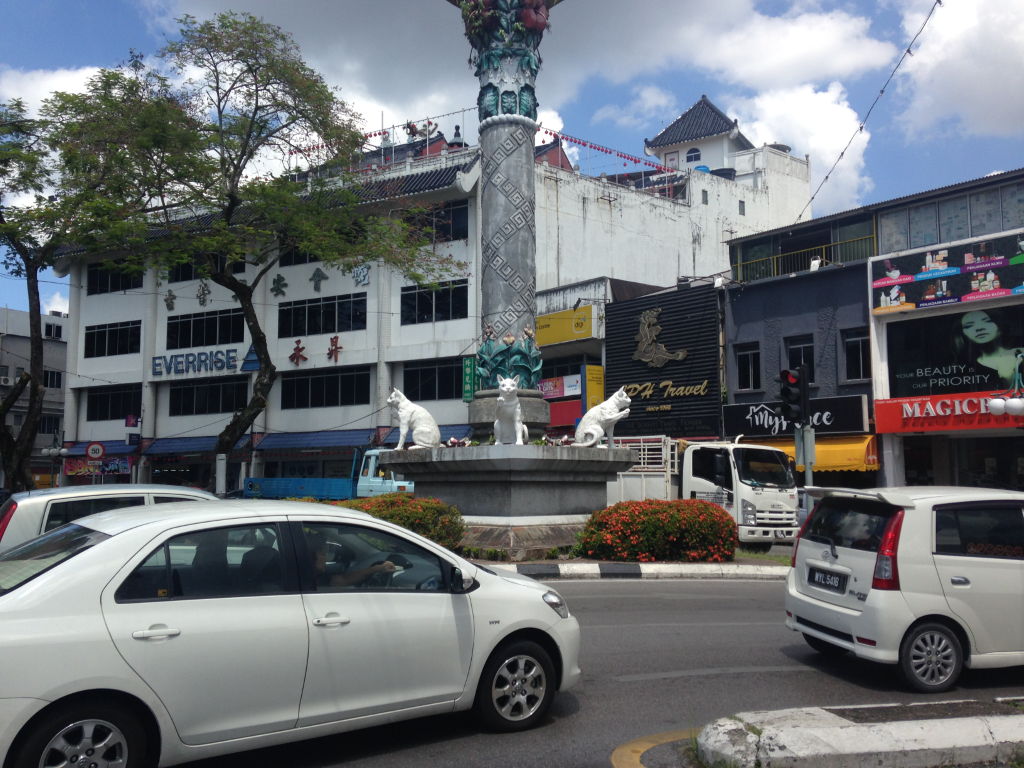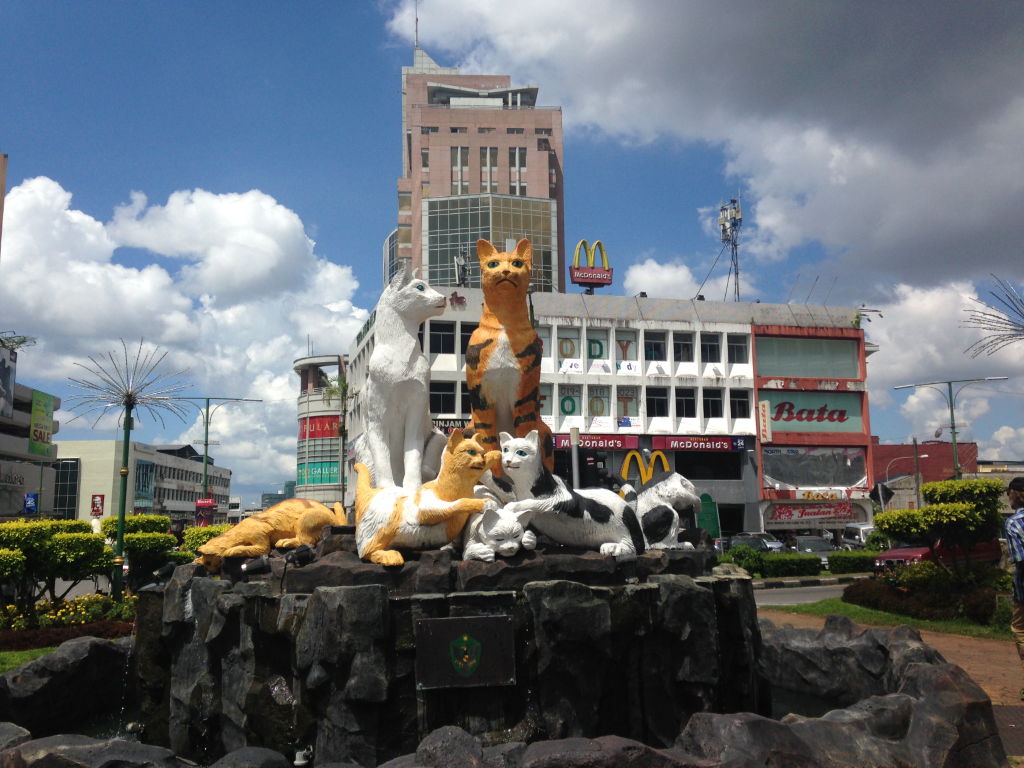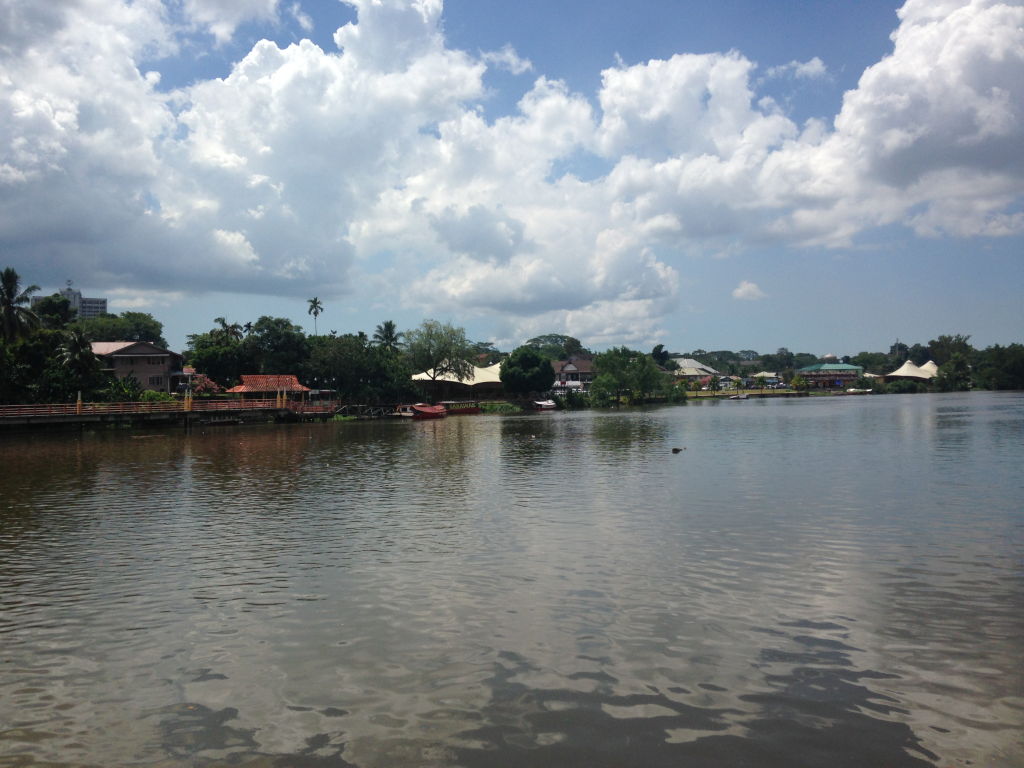 Kathy