While we are just chilling in Miri Marina, the blog will naturally get fewer posts from us. Otherwise it would be akin to social media style hourly updates of things we ate, what time we got up, what we bought in the shops and so on (although there is some of that in this post). I have carried on making notes in diary form, which has proved useful to us when we need to know dates relating to things like car hire, bike buying and when the worst squalls happened but otherwise makes for very mundane reading. This post will condense the few weeks since my last post by narrating the more (hopefully) interesting events and activities of that period.
The days here are largely leisurely and – yes – it is rather wonderful to indulge in such a relaxed way of life. There are no time constraints, no telephones or doorbells ringing, no bills or junk mail, no places to rush to…I could go on. This more flexible manner of living was brought home to me during a recent trip to town when I asked Paul if I had time to browse the bargain books in a department store and he pointed out that I could take all the time I needed since our time was our own.  The bikes have brought about a different kind of freedom. We now tend to shop on a daily or every other day basis. The long, hot walks into town are no more; we simply load our purchases in the baskets Paul fitted on the back of the bikes, or in our rucksacks. I was a bit nervous about cycling to start with. I know the saying 'it's like riding a bike' and that you're not supposed to lose the ability once learned but it's been a while since I pedalled any distance and that was on a country cycle track. We collected our bikes from a shop in town and had to ride them back to the marina. After a slightly wobbly start, I gained confidence and found my balance but both of those deserted me once we set out on the main road. The traffic, the noise and my lack of road skills left me feeling vulnerable and I had to get off and push it a couple of times. Away from the busy roads, I found cycling to be pure bliss. The wind as you speed along is cooling, the roads are flat, and people smile and greet you (or maybe they are smirking at our helmets 😉 ). Best of all, there is no risk of coming into direct contact with the centipedes crawling along the pavements. Much as they scare me I do try to avoid squashing them.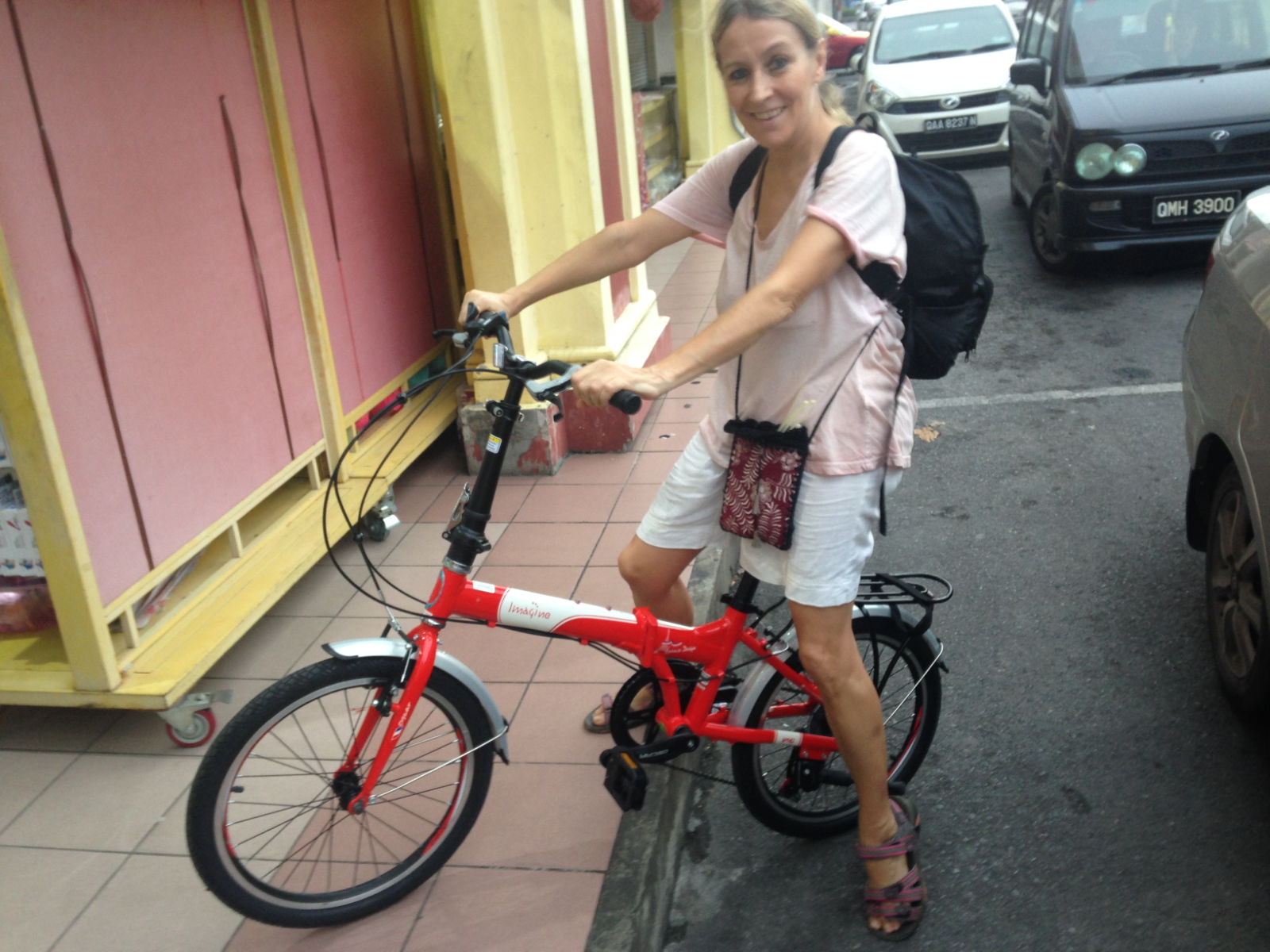 One of our first excursions was to the Coco Cabana event space on the waterfront, where the iconic seahorse lighthouse is located. I discovered, when looking at its Facebook page that it only opened in April this year, and was created as a 'seaside ambience' from which to view 'the best sunset in Malaysia'. I'm sure other locations in Malaysia have also laid claim to that boast, but nevertheless it is a great place to watch the ocean from. Tables are set out overlooking the coastline and it's also possible to sit on the boulders next to the water watching the waves crash onto them while sitting with a drink in the cool evening breeze.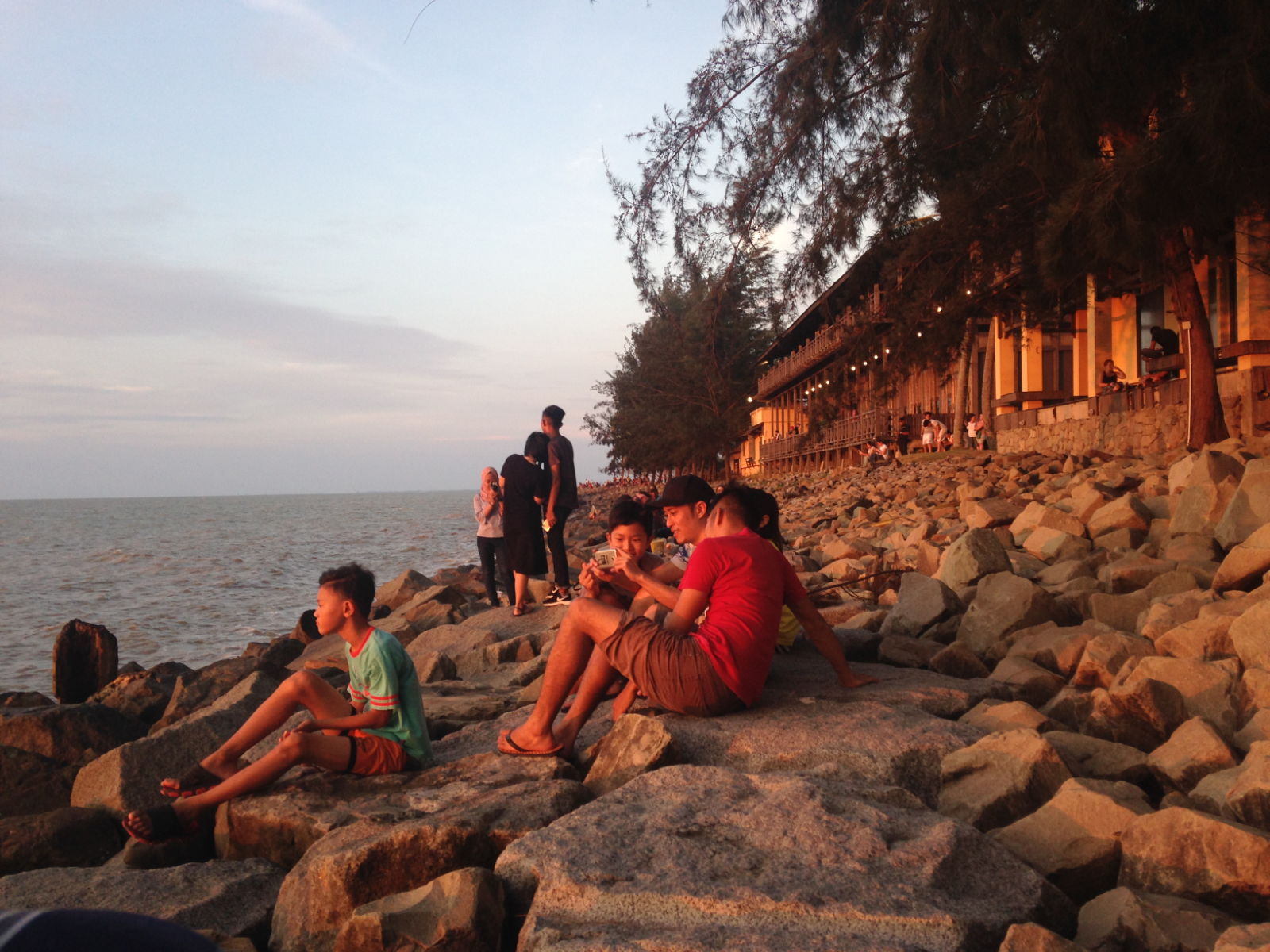 It's a popular hangout with families and teenagers, who also flock to the regular artistic and cultural events held in the wooden event hall.  One Friday evening I bought some home-made perfume from one of the vendors during an art event there. It was the best copy of the Chanel fragrance (Coco Mademoiselle) I have ever come across. The lady who made it had several other brand name copies on sale and told us how she created them. At only £10 and cruelty-free, I walked away very happy…and smelling nice.
Paul got a puncture in his back tyre on our second day out cycling. Funnily enough we'd gone out specifically to get more cycle accessories such as locks, lights and puncture kits. I stood by and watched, impressed, while he turned it upside down and fixed it on a busy, dusty street. I tried to remember how I used to cope with this situation in my bike-riding days as a teenager. I remember pumping tyres up but the business of inner tubes, glue and patches must have been delegated to my dad or brothers I think. We also got caught in a torrential downpour while riding along a town centre road, becoming soaked through and chilly within seconds. We had to take shelter under the roof of a shopfront until it stopped. Arriving back at the marina feeling damp and still a bit cold, the boat felt wonderfully warm and dry and it seemed an appropriate evening to make sausages, sweet potato mash, mushrooms, fried onions and gravy for dinner.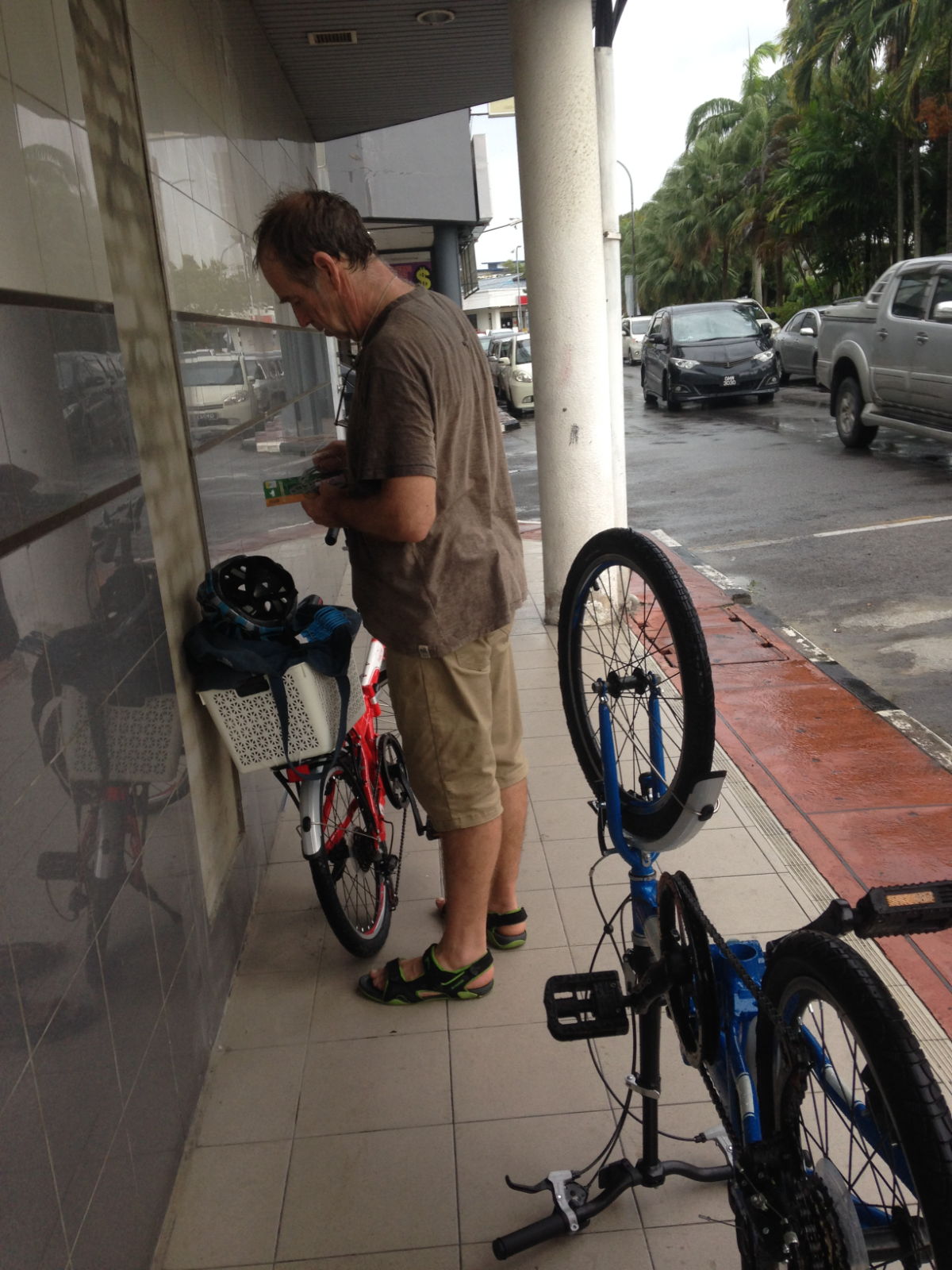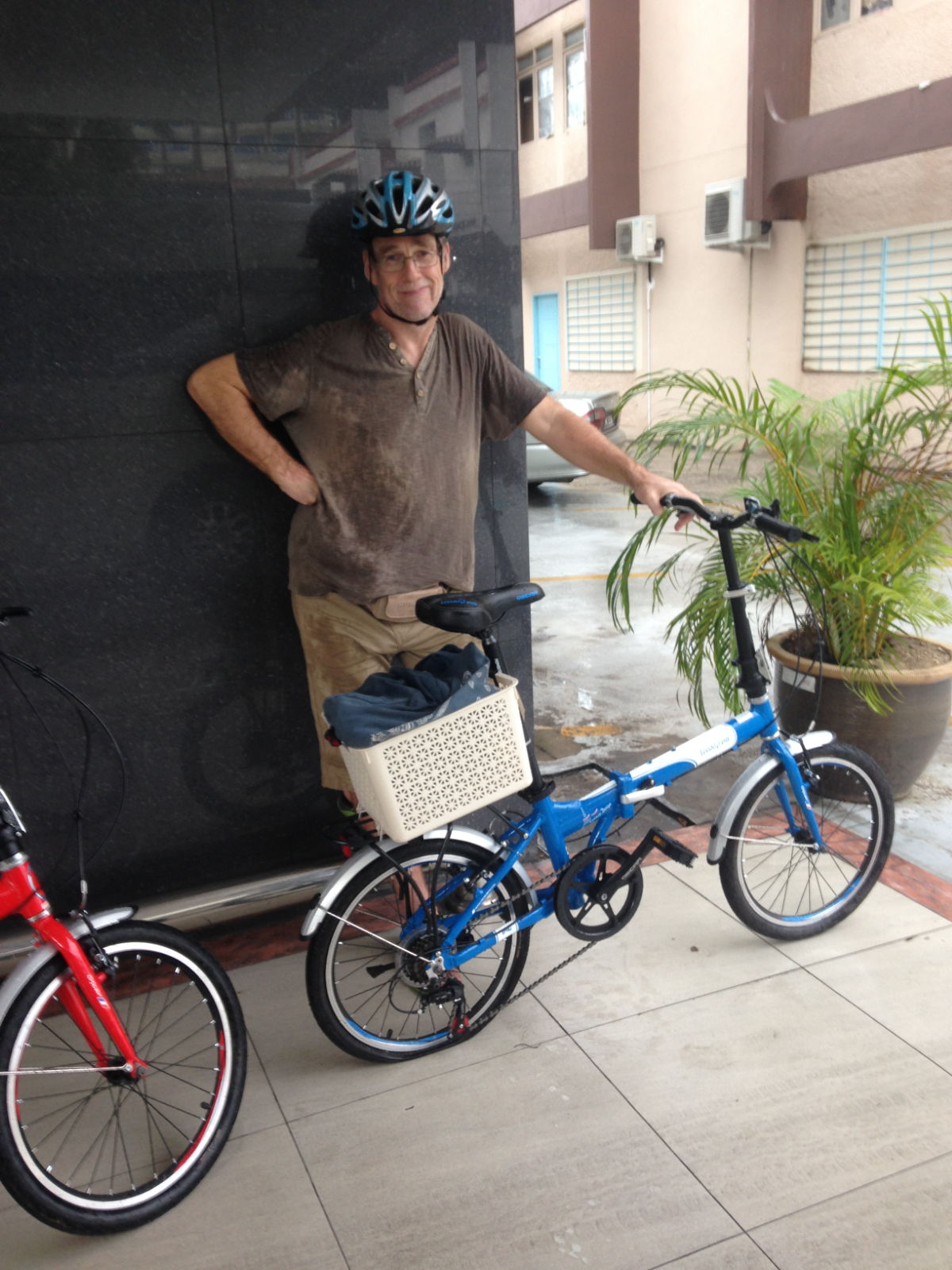 During the early hours of the morning of Friday 20th October we had the worst storm I have experienced while berthed in a marina. The wind felt frighteningly strong (60 knots we discovered later) and the sheet of heavy rainfall was a sight to see; the marina was completely obscured behind it! Paul went out in it to check the bikes and to tie anything down that was likely to blow away. One gust was so fierce and noisy during its build up and so strong when it hit the boat, it made me squeal in alarm. We later found out that it was the worst weather anyone local could remember and there was a fair bit of damage around to testify to its severity. The worst of this was, as Paul related in his post, the sentry box complete with sentry inside that blew across the marina forecourt. Apart from being literally shook up, he was thankfully unharmed. There was another powerful storm early the following afternoon, with a wind strong enough to cause some concern that the boat in the berth opposite would break its mooring ropes and hurl into us. Marina staff came and secured it just in case. We sat it out in the cabin for the whole day, preferring to stay onboard even when things settled down later on. The boat was rocking due to the combination of the big waves caused by the previous night's storm and the powerful gusts. It had caused a fair bit of debris to scatter around the car park: broken glass, roof tiles, tree branches and building materials. Paul pointed out a house that had collapsed just over the water when trees had blown on top of it.  On our way to Miri on the bikes, we cycled through the park by the promenade and saw several trees that had either been uprooted completely or pushed almost horizontal. Meanwhile, the waves looked as if they were reddish brown in colour as they crashed on the beach, possibly due to algae having been whipped up by the storm.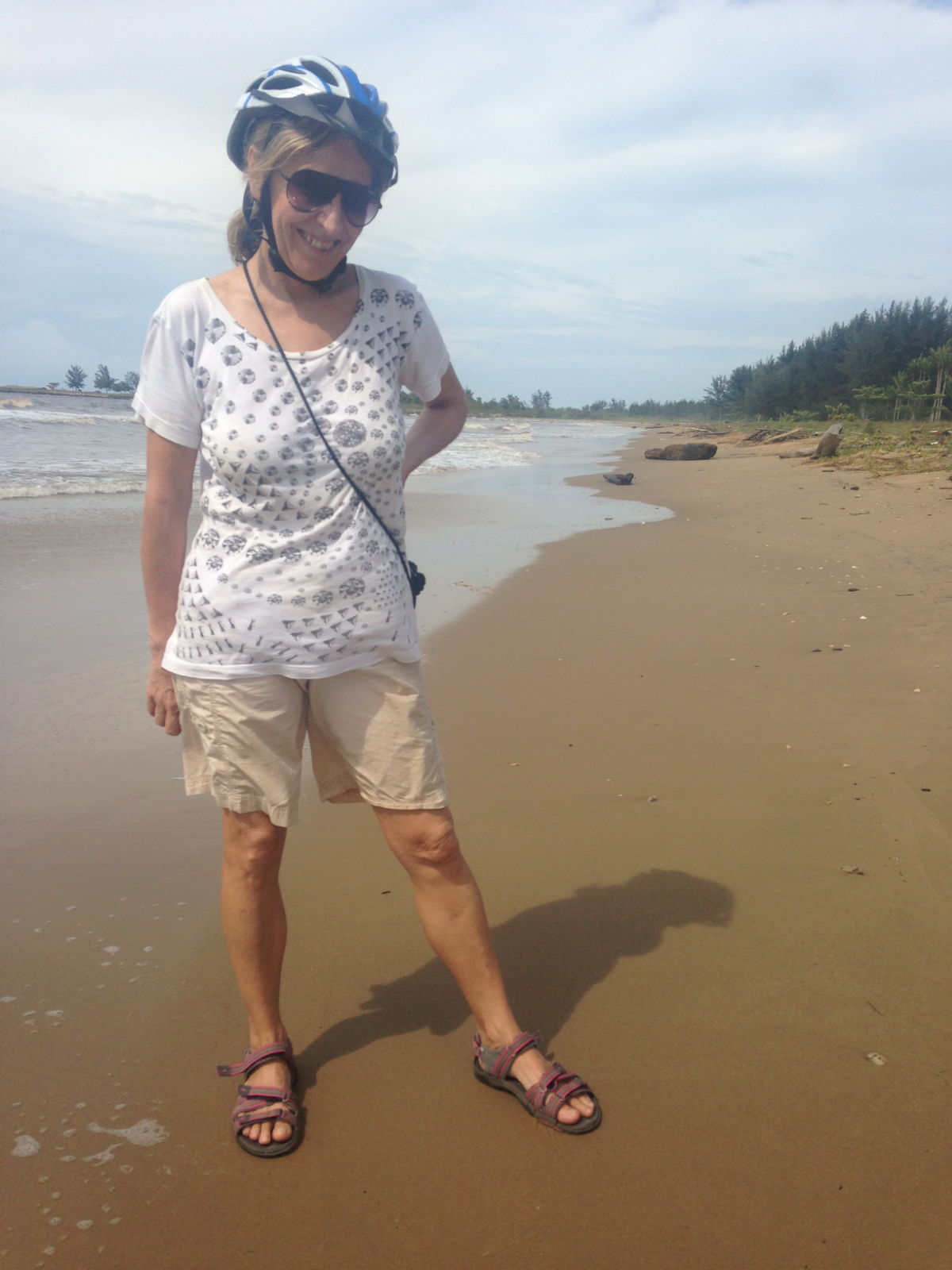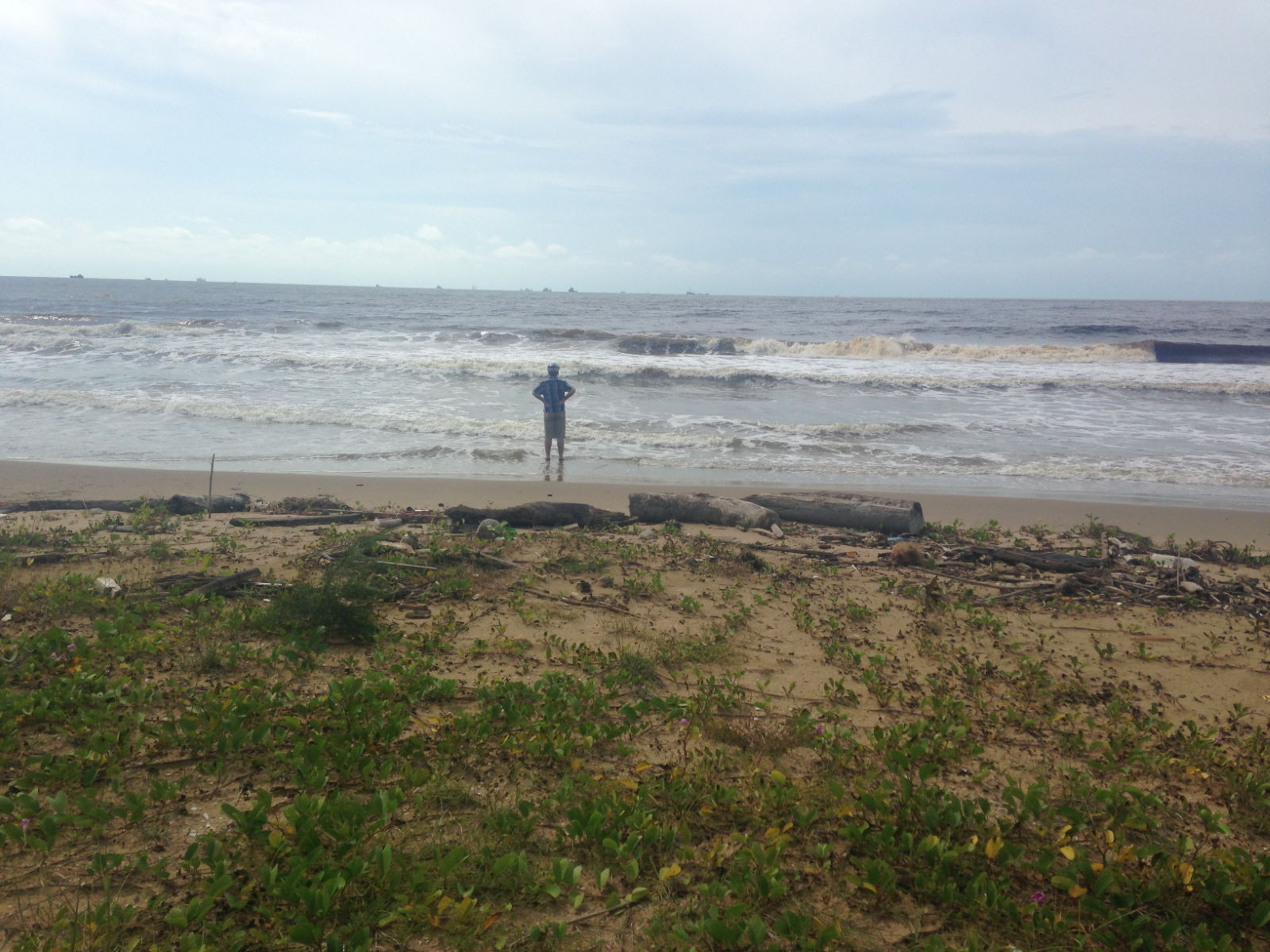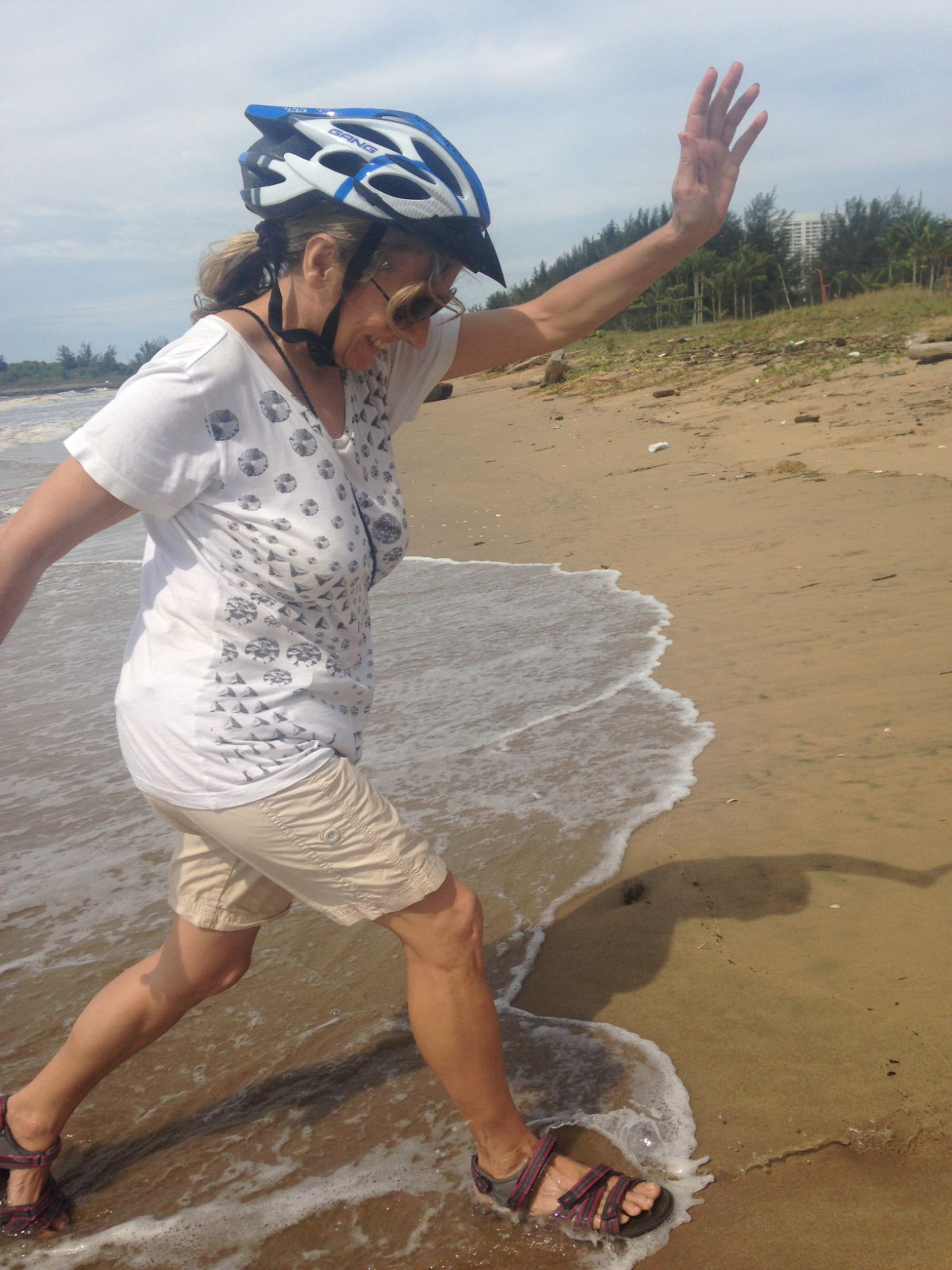 One of the more beneficial (for us anyway) consequences of the gales was that a kayak belonging to a neighbouring yacht blew away, leaving the couple with only one. Paul heard them deciding to dump or sell the remaining one since they didn't really use them any more, and as he's been intending to buy one, he bought it off them for a bargain price. So now we have a kayak to add to our growing lists of accessories. It's very smart, and Paul enjoyed taking it out for a test ride in the marina. I suspect it's another activity that looks easier than it actually is for me to do, a fact I discovered when I tried to windsurf once. I've been promised a lesson in kayaking anyway so we shall see.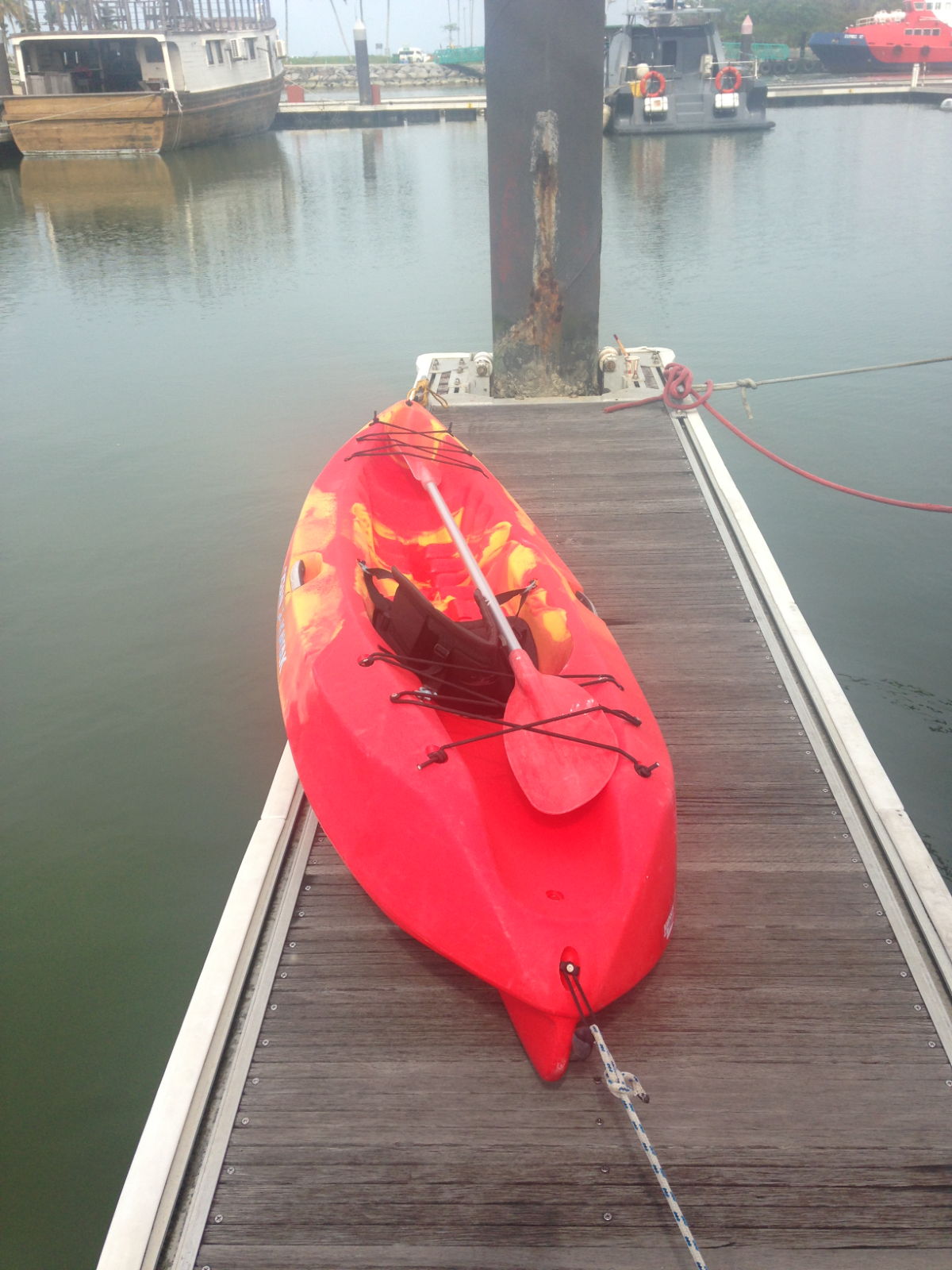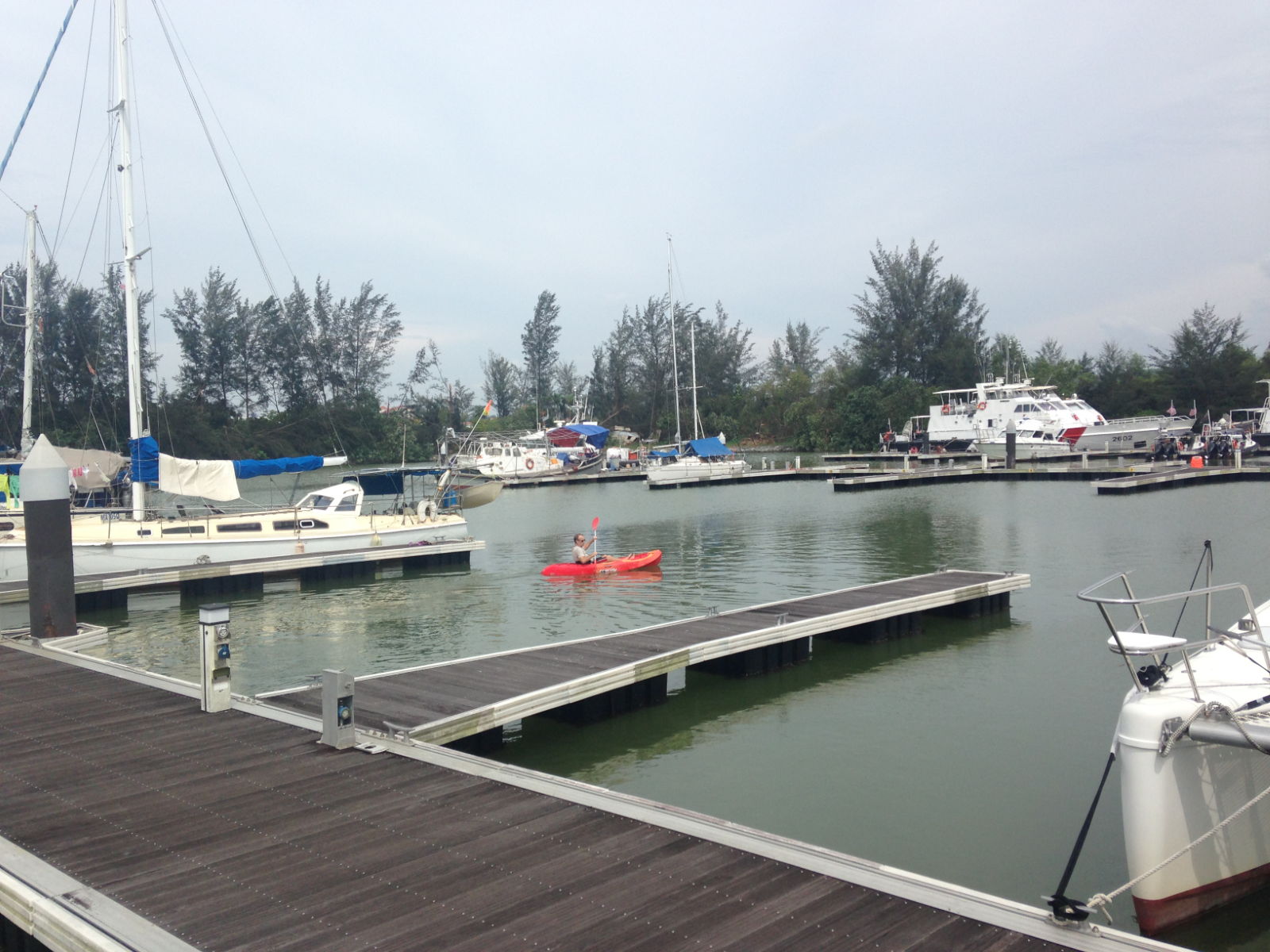 I got on with making another batch of bread dough while Paul was kayaking and battled with a different kind of challenge. Using the other bag of flour we'd chosen from Bakery Ingredients, I tipped it on to the tray while I got the other ingredients ready. I made a well in the flour and cursed when I spotted a fly that must have landed on the pile. I went to shoo it off and realised that it wasn't a fly: it was a weevil, and it wasn't alone! These pesky things are a fact of life here in The Tropics. There is a choice to be made on discovering them. Throw your hands up in horror and chuck the product away, as we have indeed done before, or deal with them by sieving the flour and using it as normal. I did a bit of research on the net and discovered they are harmless (as we'd already guessed) and that most grain products have them. I mustered up my courage and dealt with them. I can't say I'm happy about the situation. I've found them in biscuits, nuts, breadcrumbs and packet mixes. Depending on the product and the amount I either throw it or use it, but we have discovered that putting the bags in the freezer for a few days and then storing them in the fridge is an effective way of dealing with the problem. Anyway we have had no ill effects, the bread was made and eaten – weevil free and I discovered a core of bravery I didn't know I had 😉 .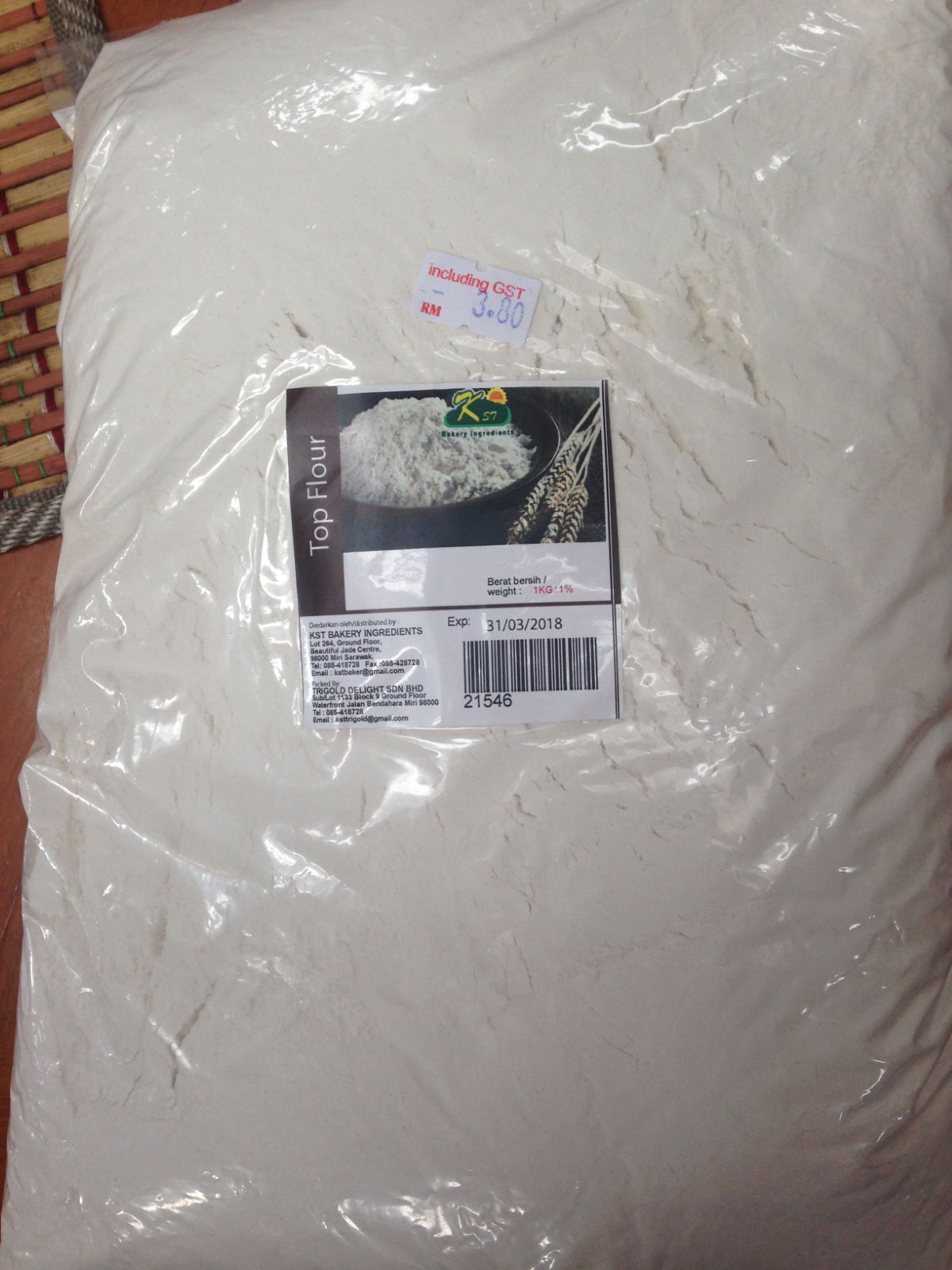 One afternoon in Miri we found ourselves near the bar where we'd been told all the ex-pats go to meet and socialise. Called The Ming Café, it's on the corner of a busy street in the centre where lots of hotels and hostels are located. I was curious to see if they sold wine since it is so popular with foreigners so we parked the bikes near a table by the pavement and sat down in the busy bar. I knew it wouldn't be Paul's favourite type of place. It had screens showing sport, signs advertising all-day breakfasts, soccer matches, beer by the bucket and a wide range of imaginatively named cocktails (pictured below). They did serve wine by the glass, however – with soda too, so we had a drink there, but didn't fancy ordering from a menu offering burgers, sausage sandwiches, potato wedges and mixed grill. I quite liked it in there though – it was lively, the music was good and it's a great place to sit and people watch.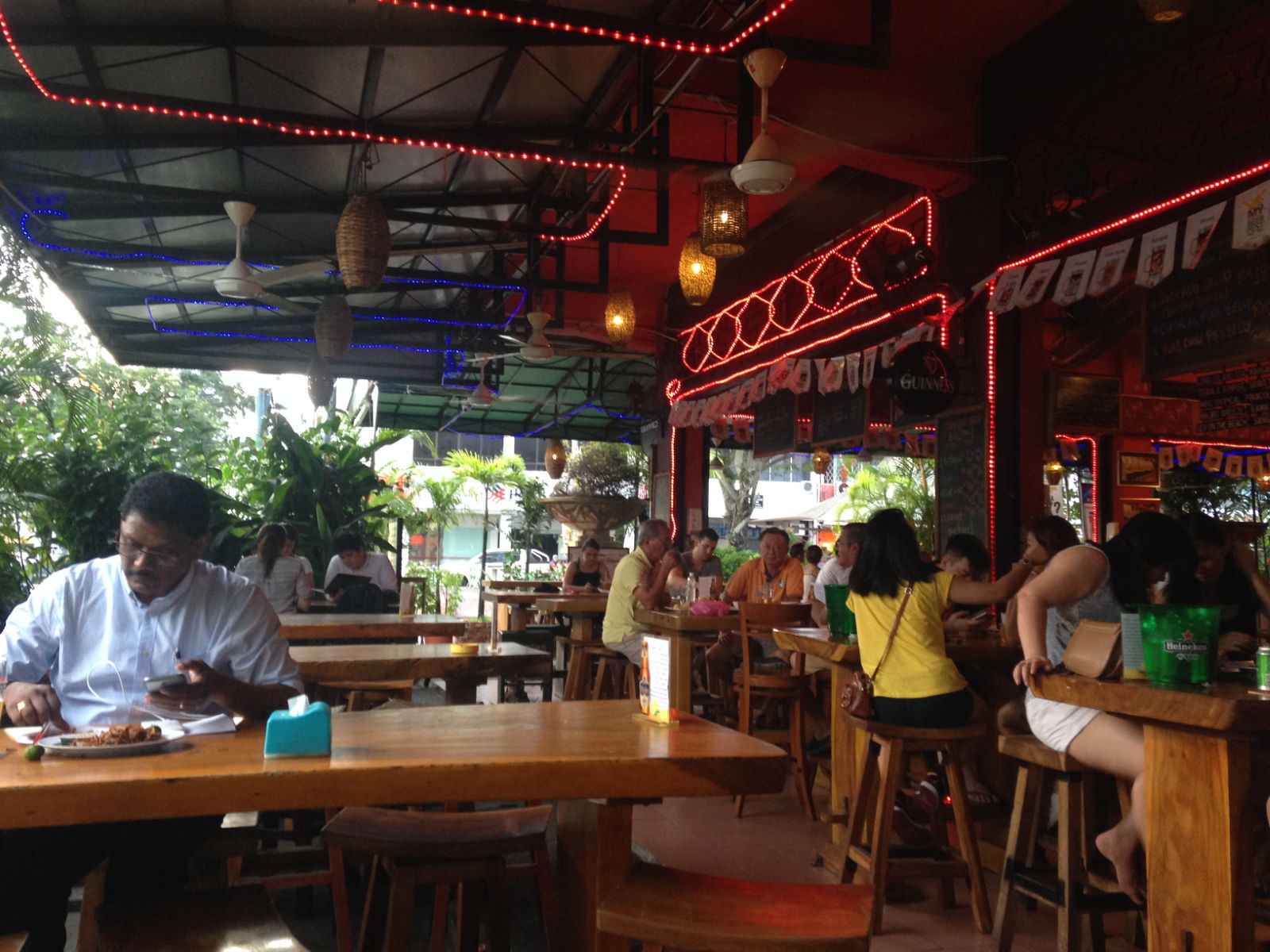 It was time for a wine run on Monday (23rd). It looked like the glass I'd had in the Ming Cafe would be my last for a while if I didn't restock.  I didn't want to have to pay the hiked up prices for a bottle from our regular supermarket, so we returned to Merdeka Mall, where it's less expensive.  It's a bit too far to cycle and we found it cheaper and more convenient to use 'Grab' taxis for both journeys. The wine worked out at about £12 a bottle – still pricey but better than £17.  With my indulgence catered for, Paul cycled off early to get his the next morning; a fresh fish from the town market in Miri (the type of fish he'd like to catch one day).  Each morning, just as dawn breaks we get visited by several little birds chirping and flying around on deck. I can see them through the hatch above the V berth and there's often quite a few of them near the mast. Paul was concerned that they might be nesting but it seems they just like paying a morning visit – so much so that when Paul returned from market with his fish, one of them was flying around in the cabin! It beat a hasty retreat soon enough but I don't know how long it had been inside while I was sleeping.
Other visitors to our pontoon, not quite as regular as the birds are 'just married', or about to be married, couples, complete with a photographer and dresser, whose main job appears to be to arrange the bridal dress and veil in 'natural' flowing poses by throwing the material up in the air and letting the wind catch it. It looks likely that Sister Midnight will be in the background of many a glossy wedding album, and we have often had to either wait or take a detour while all the snapping is going on. It's quite interesting to watch all the preparations and Paul is keen for the boat to look its best for its backdrop role. He has been busy painting, varnishing and cleaning the starboard side all week; getting up early to make the most of the coolest part of the day. It's looking good, especially the varnished wood gleaming in the sunlight. The port side will need doing soon in order to preserve symmetry, which means moving the boat around for access to it. We will literally have a change of scene when that happens ;).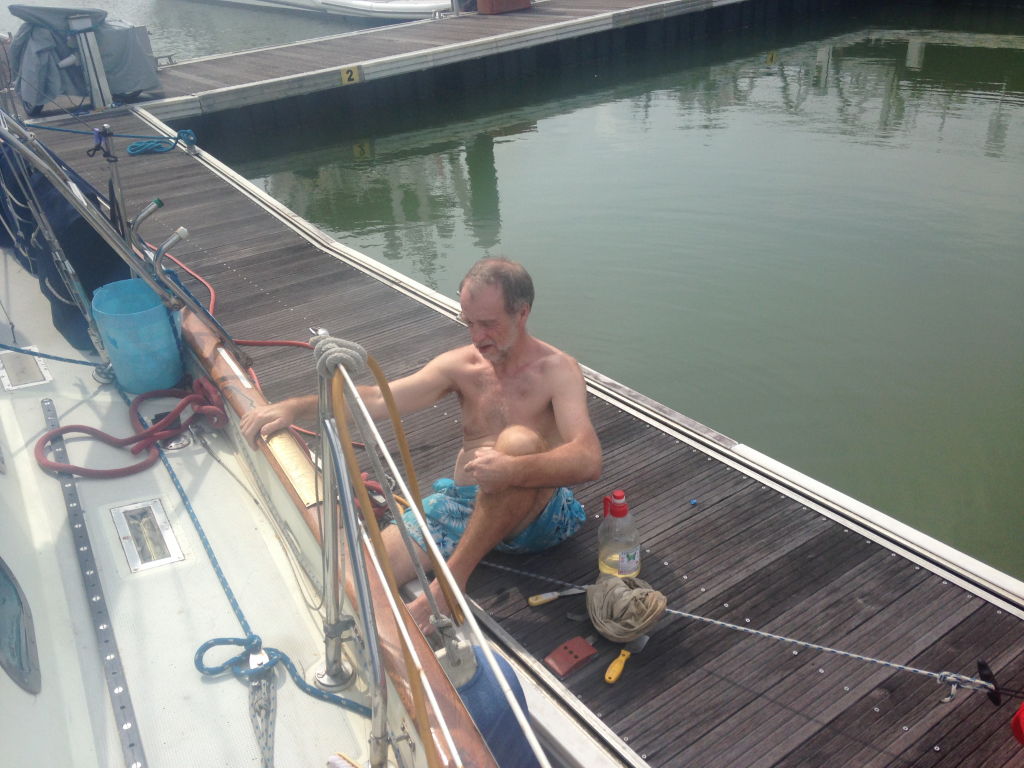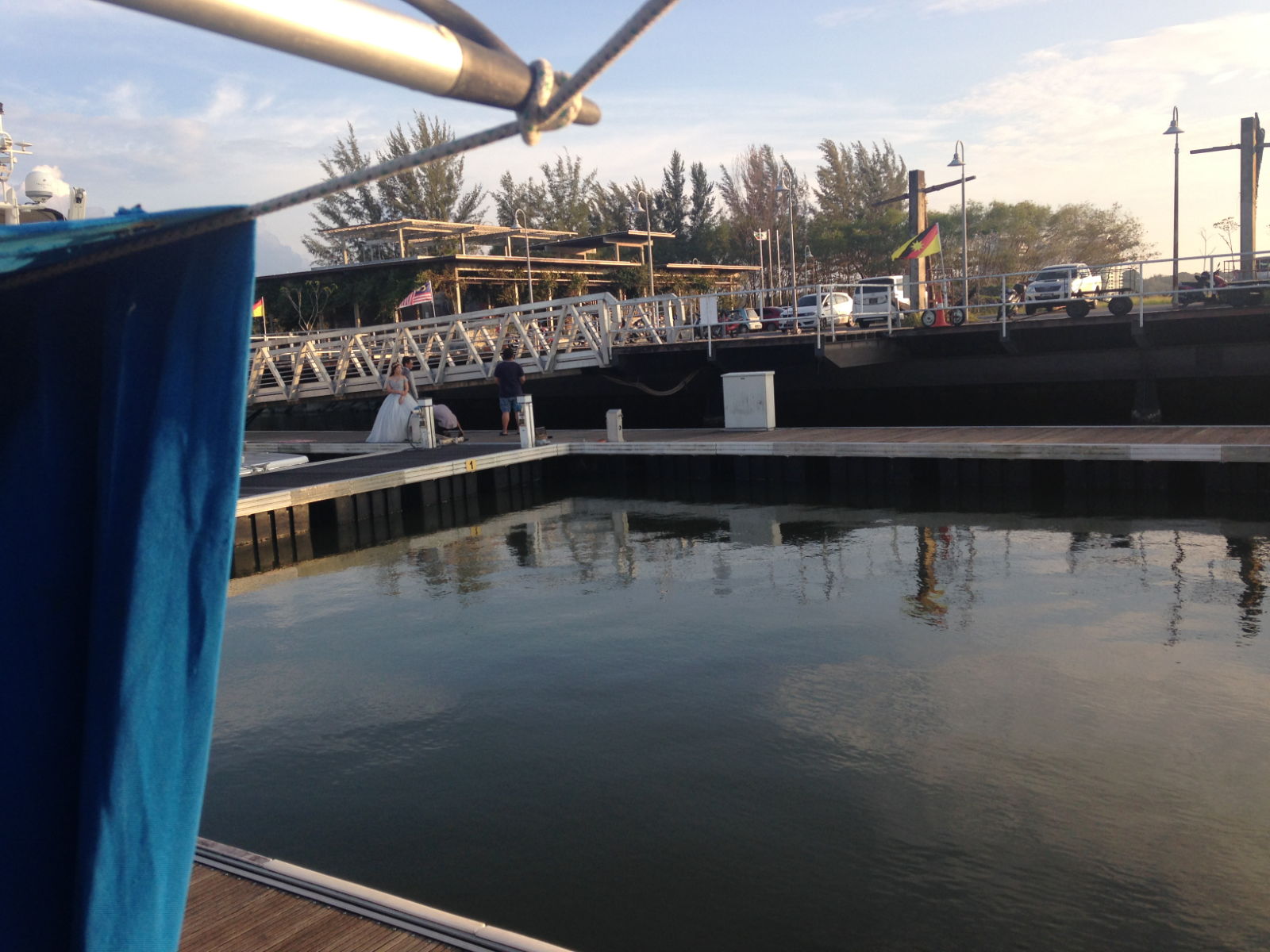 Last night being Halloween we went to the party organised by Brian and Glee further down the pontoon. Our contribution to the victuals was a pumpkin jack o' lantern carved by Paul and lit using one of our led bike lights because we'd forgotten to get tea lights. We also took some chocolate vermicelli ball cakes and hoped these offerings would make up for our choosing not to dress up in fancy dress (I know…#partypoopers). There was a very impressive array of food set out on the table and all the usual spooky decorations, masks, and lanterns hanging up. Party games and dancing were also successfully avoided by us but we enjoyed ourselves just the same. The atmosphere was great, and I have always preferred watching people dance to doing it myself. Brian passed on some useful tips about Labuan and Kota Kinabulu (popularly known as KK). Both of those places are on the agenda for visits later this month. Before that, though we intend to have a look at the nearby Niah Caves, where we will see the intriguing sight of relics from the cave dwellers of 40,000 years ago. Images below are from the party and from some of our daily bike rides.