November began pretty much as October ended here in Miri. I can't say that I missed the sound of the bangs, whistles and explosions of fireworks that people were complaining about on social media during the build up to the 5th. Our peaceful time is our own here, and we often find ourselves asking what day it is. There is a sense that Christmas is coming in some of the shops and supermarkets but nothing like the scale back home. It feels very strange, having entered a cool mall from the blazing heat and humidity outside, to be pushing a trolley in a Malaysian supermarket to the strains of 'let it snow, let it snow, let it snow'. Paul has made great progress ticking off the list of boat jobs. He began this by cycling to town one morning to buy the necessary tools, paints, brushes and an electric drill and has been getting up early to work on painting the hull and varnishing the cap rail.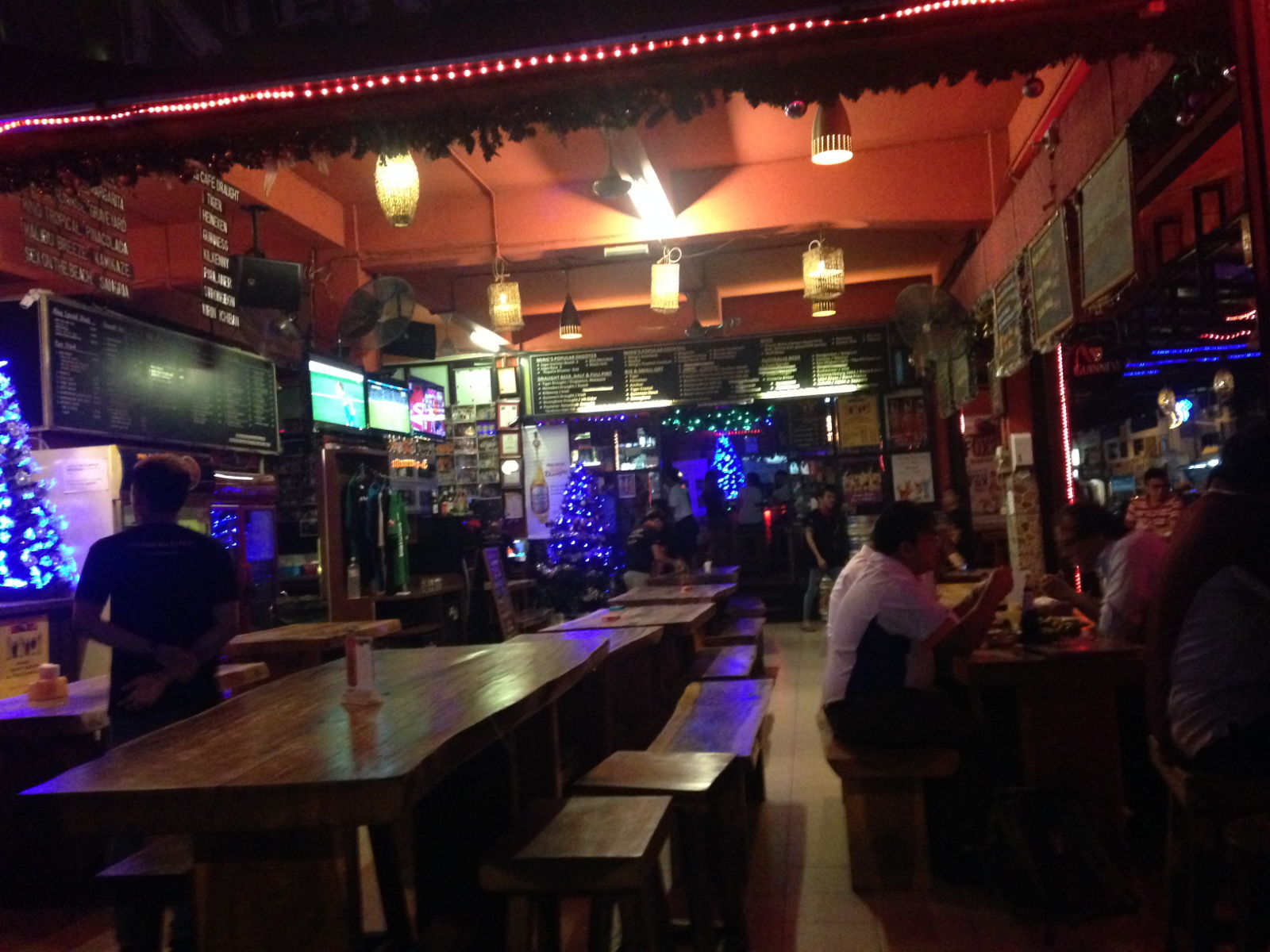 We decided we would eat out twice a week because restaurant and cafe prices are so reasonable here. On board we mainly eat salads (which aren't generally available to order in restaurants), soups, or pasta and noodle dishes. In tropical temperatures, it's far too hot to have the oven on and for this reason I've temporarily stopped baking bread. We found a couple of bakers that produce decent wholemeal loaves with no added sugar, so it makes sense to buy those instead. In the marina park complex we spotted a Tandoori Restaurant that hadn't long opened for business so we stopped there on impulse one evening on our way back from a shopping trip and the food didn't disappoint: Tandoori Chicken for Paul and Vegetable Jalfrezi for me with Roti and Naan bread and rice, all for less than £6 complete with drinks! We're regulars now.
We were invited to another social gathering in the communal area a few days after the Halloween party. The invitation came from a German couple who wanted to show how tasty their sausages are with the inhabitants of the marina – no sniggering at the back there, they were Bratwurst sausages 😉 .  Before that, though we had to go and buy an aluminium pole for the awning in the cockpit. The route to the hardware store took us right through the centre of the Kropok Cemeteries. The Malay/Muslim cemetery and the Chinese cemetery are situated next to each other along the banks of Miri River. With space at a premium, the last major road expansion meant that due to limited space, some of the tombs ended up right on the edge of the road. I wasn't surprised to learn that the road is reputed to be haunted – although the reported supernatural sightings haven't been verified, according to Borneo's Resort City Resource on Miri. I was struck by the rural surroundings we cycled through. The fields, narrow tree-lined lanes and farm houses reminded me of the English countryside.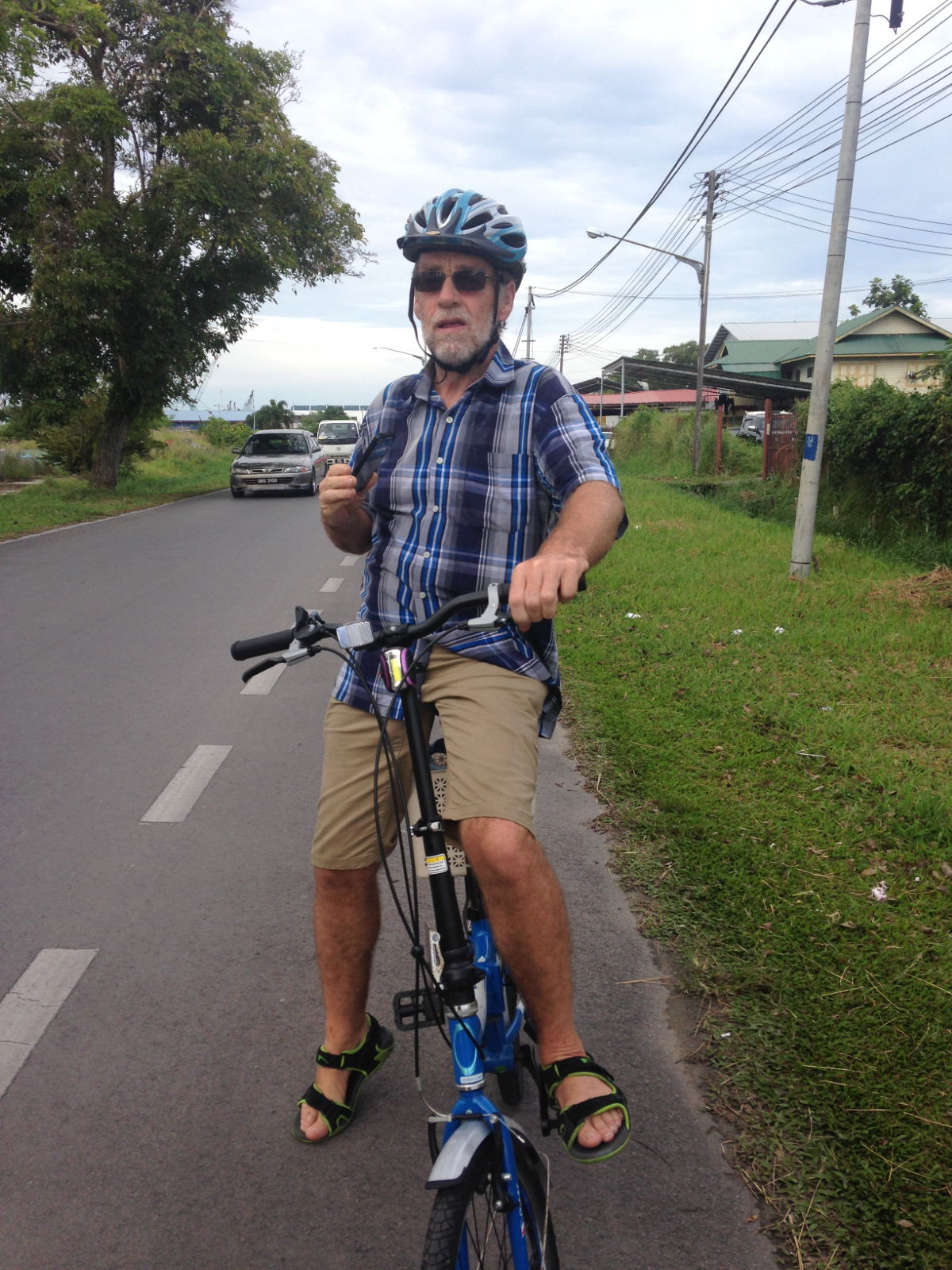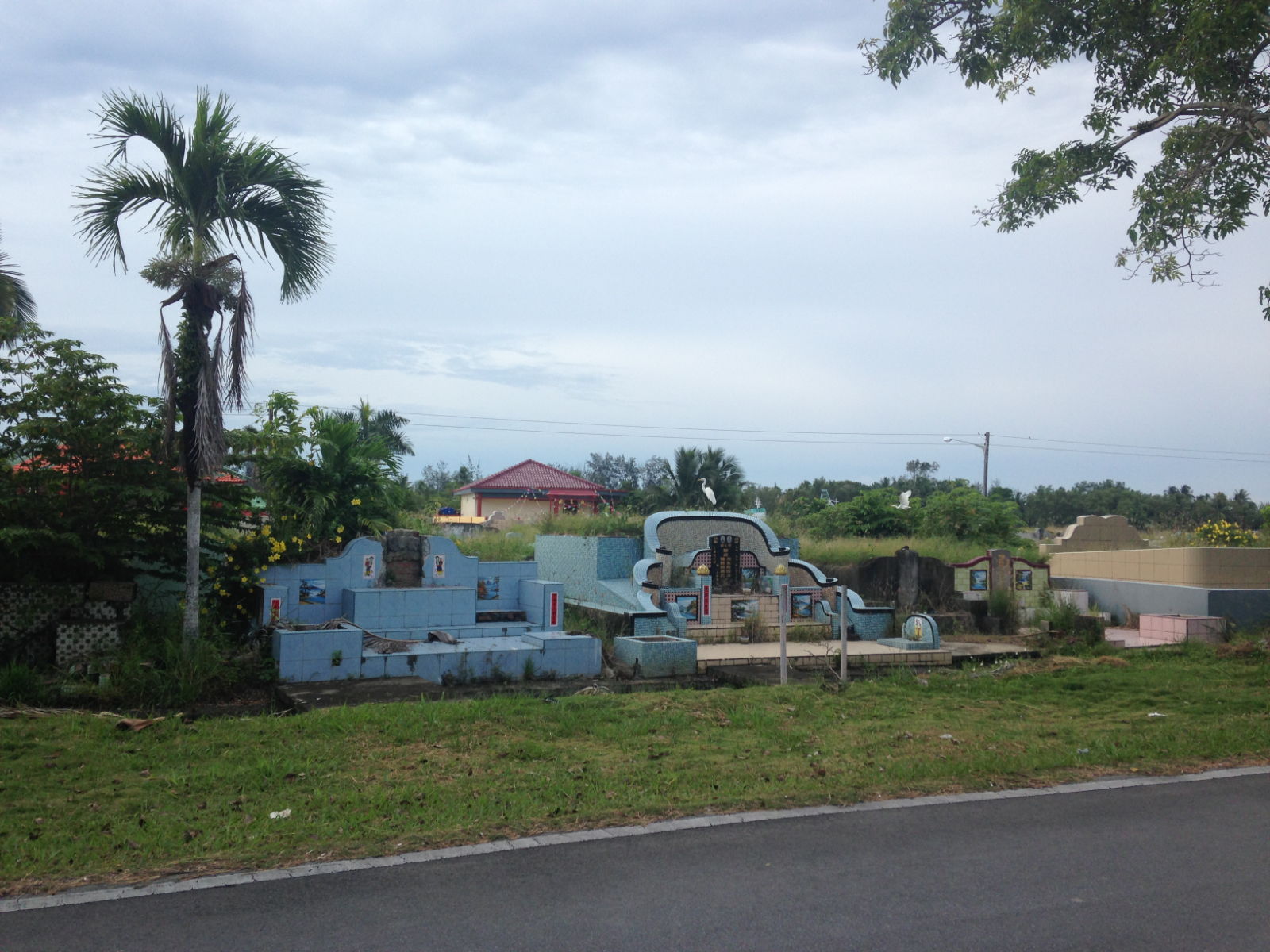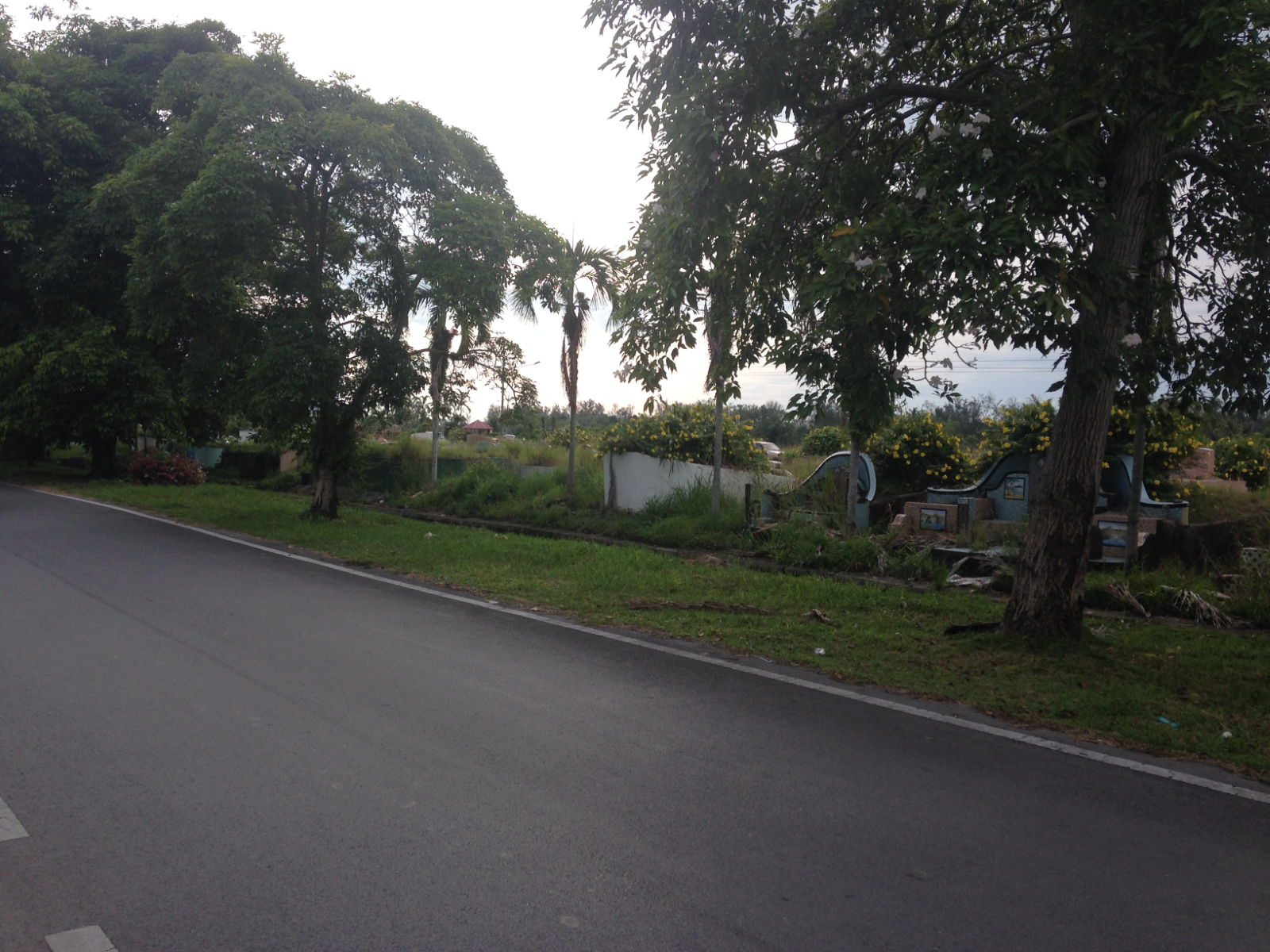 The pictures below show how Paul transported the lengthy pole back to the marina. I had serious doubts about the wisdom of this method but should have realised Paul had thought it all through. One customer, watching it being affixed to Paul's bike with cable ties, was sorry that he hadn't driven his pick-up truck that day – he would have willingly given us a lift back he said, which was very kind of him. My role was to stay behind Paul on my bike as close as I could. We got some very strange looks, and some smiles and waves from drivers and pedestrians especially when they noticed the 'warning flags' in the form of a pink carrier bag at one end and a blue T-shirt at the other, but we got it back with no incidents.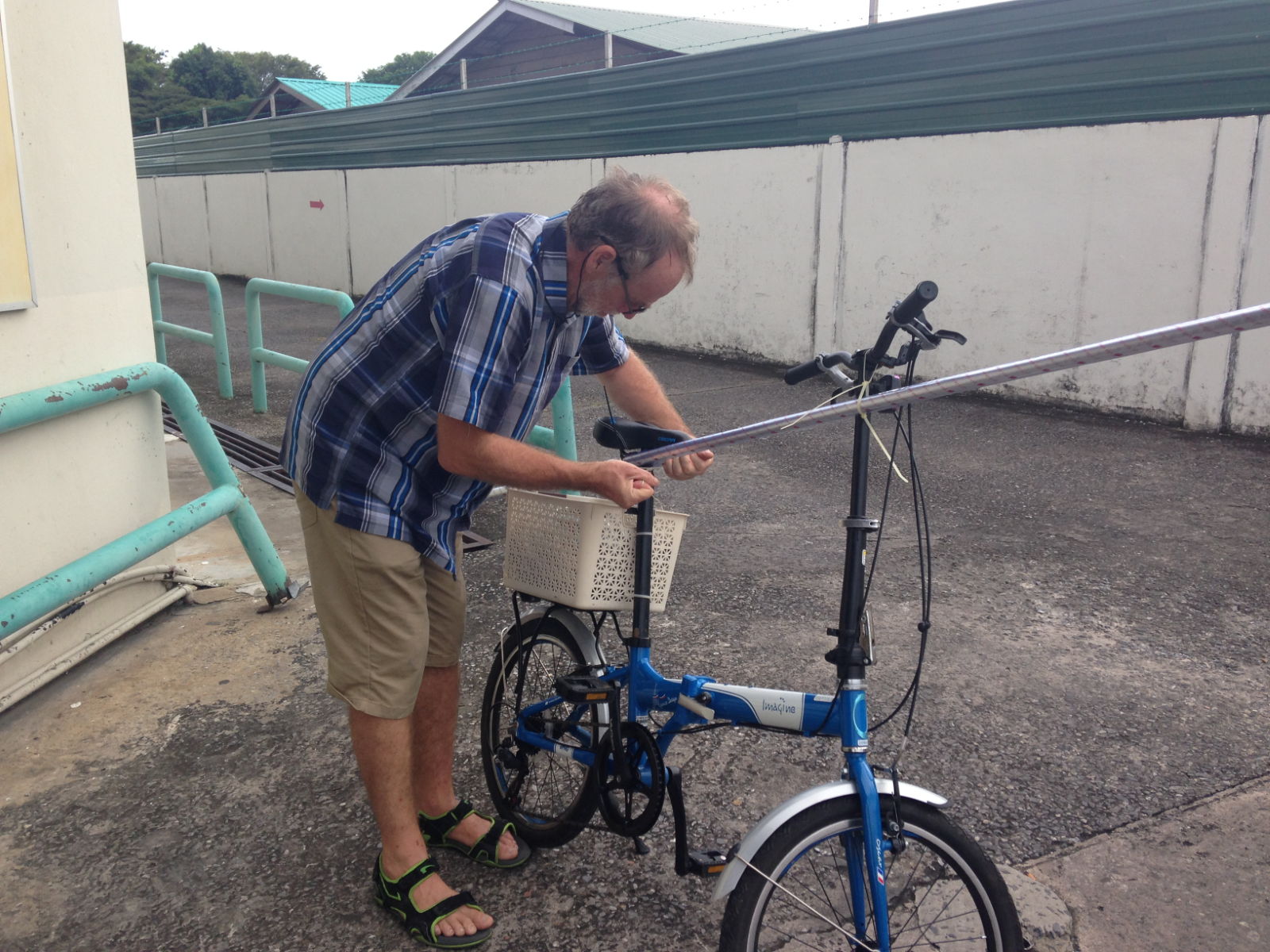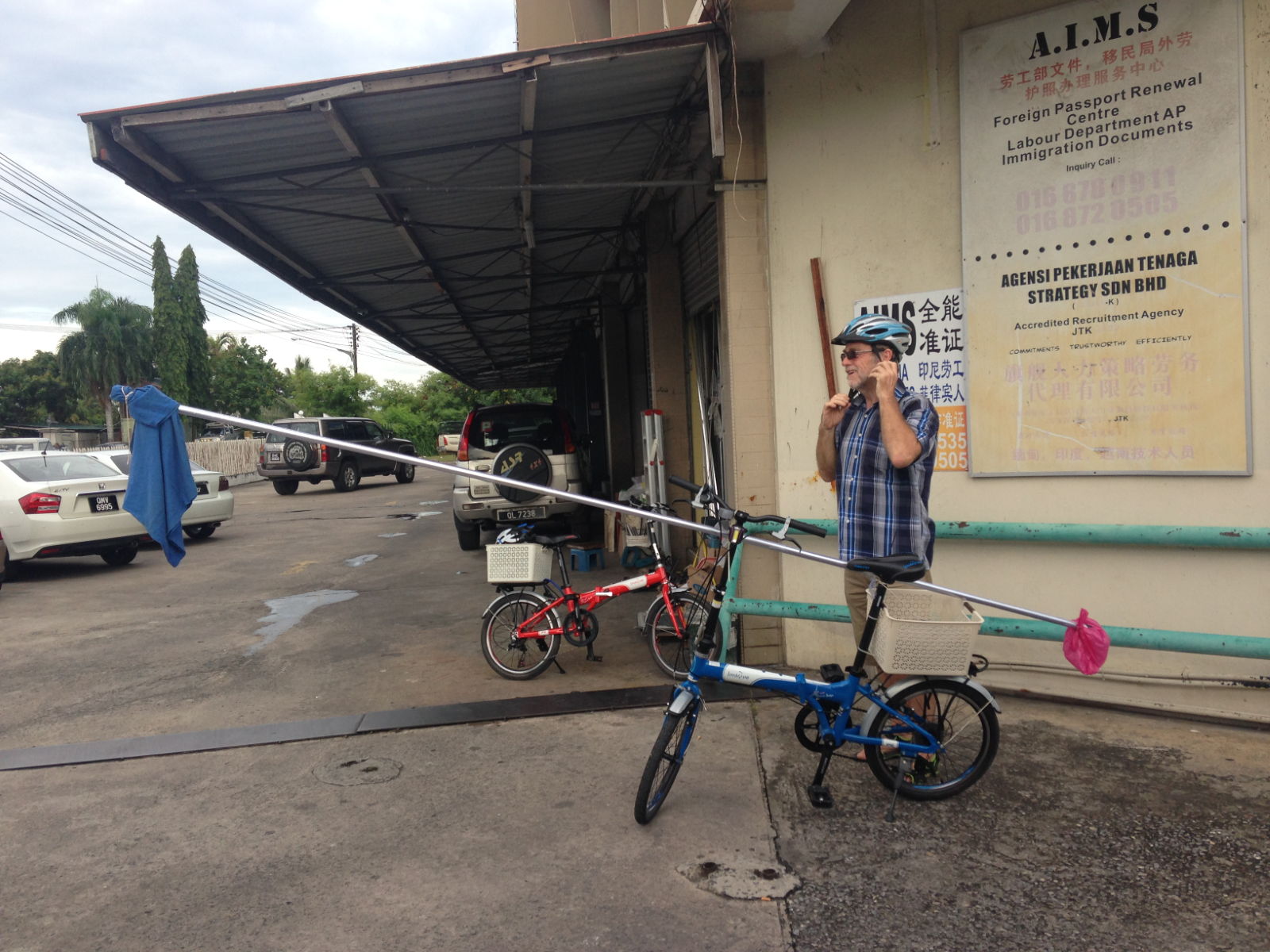 Bratwurst sausages weren't for me obviously, but a feast had been laid on with plenty of other nibbles by the time we made it up to the party. People we had met before from other marinas were there so it was a good chance to catch up and have a drink with them. This is one of the few marinas I have been in that doesn't have a bar or café, but the communal area with its roomy table and chairs creates a more informal meeting place and people are encouraged to bring their own food and drink.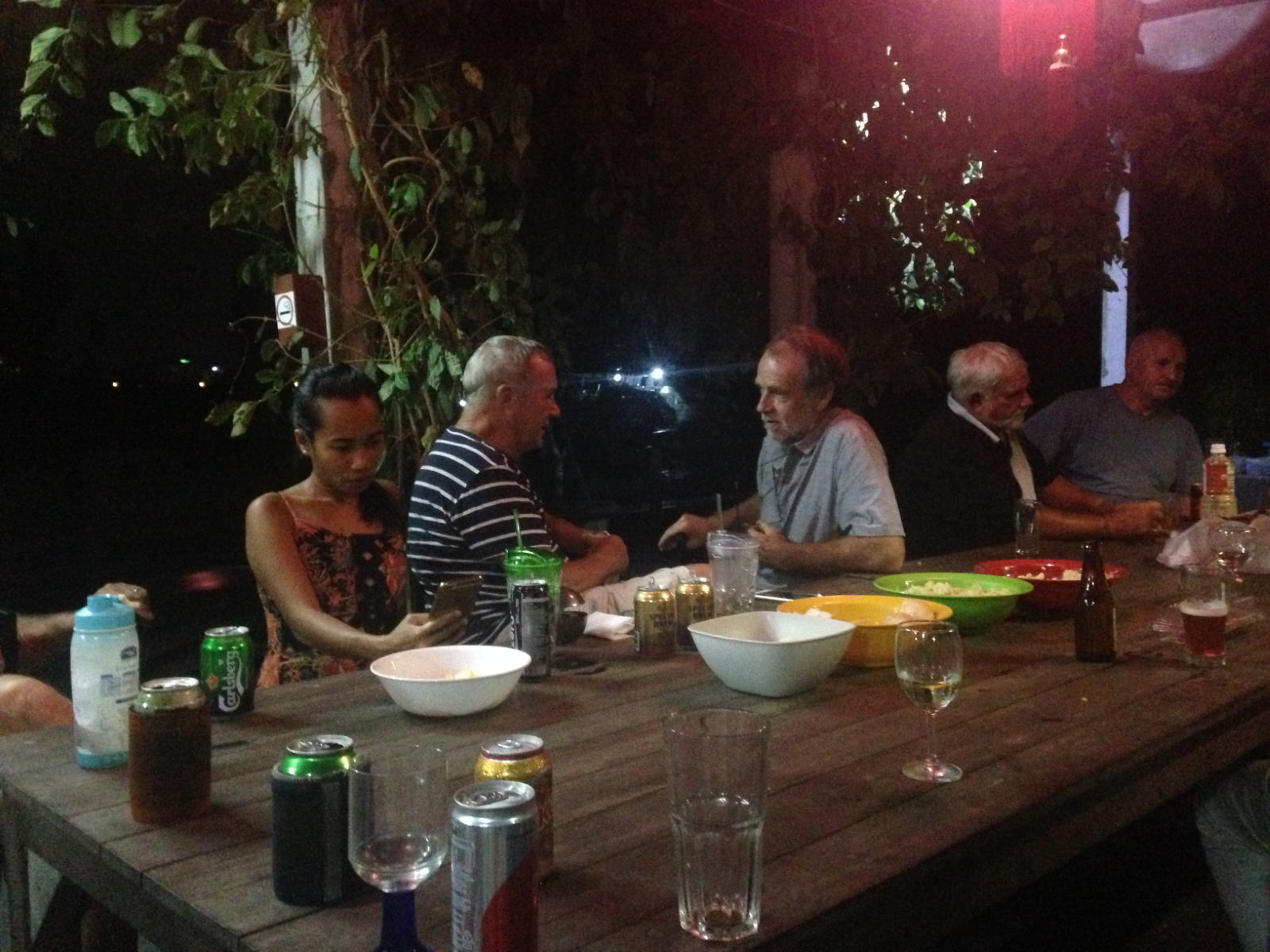 Work, cleaning and repairs are ongoing and Paul has submitted measurements to Steve at Kiwi plastics' shop for a new boat canopy which is hopefully being constructed as I type. We moved the boat last week; it's now on the other side of the pontoon and the port side has been painted and varnished to match the starboard side, which is just as well because today (18th November), a bride and groom posed right in front of it, sitting on the pontoon. Word has got around about Paul's computer expertise and knowledge of technical systems and he has spent a fair bit of time on neighbouring boats helping them to fix various technical problems. Let's just say that it hasn't made him any more enamoured of Microsoft systems 😉 (no one has come to him with Apple problems). Nevertheless, Roger and Lucie from catamaran Catamini opposite us were so impressed and grateful when he managed to resolve the issues on their computer-based navigation system, they invited us on board one evening for a drink and cakes and also treated us to dinner at a local Chinese restaurant the night before they left the marina for Thailand. We got to know them quite well and they passed on some very useful tips and information about places and marinas we plan to visit. We hope to meet up with them on our travels in future.
The car we hired was ready for us the evening before our day trip to Niah Caves so we took advantage of it and went to a supermarket to stock up (well, where else 🙂 ). This one was new to us and had a few things we hadn't managed to get elsewhere. Unfortunately not sage, though. I never thought finding a particular herb (especially the dried variety) would prove to be so elusive. Every other one from A-Z lined the shelves but not sage. I finally managed to find a jar a few days ago but will be bringing some back from the UK. On the way home we stopped at a vegetarian restaurant called The Healthy Vegetarian – you can see the dishes they offer on the pic below. I still cannot bring myself to try veggie 'mutton' 'spare ribs' or 'fish' along with several other dishes I would never have touched as a meat eater 40 years ago. I chose a bean curd dish and Paul had sweet and sour mushrooms. I've got used to having soft drinks when we eat out (it's a case of having to really) and have become very fond of fresh, iced lime juice, although the request for no added sugar is always met with surprise.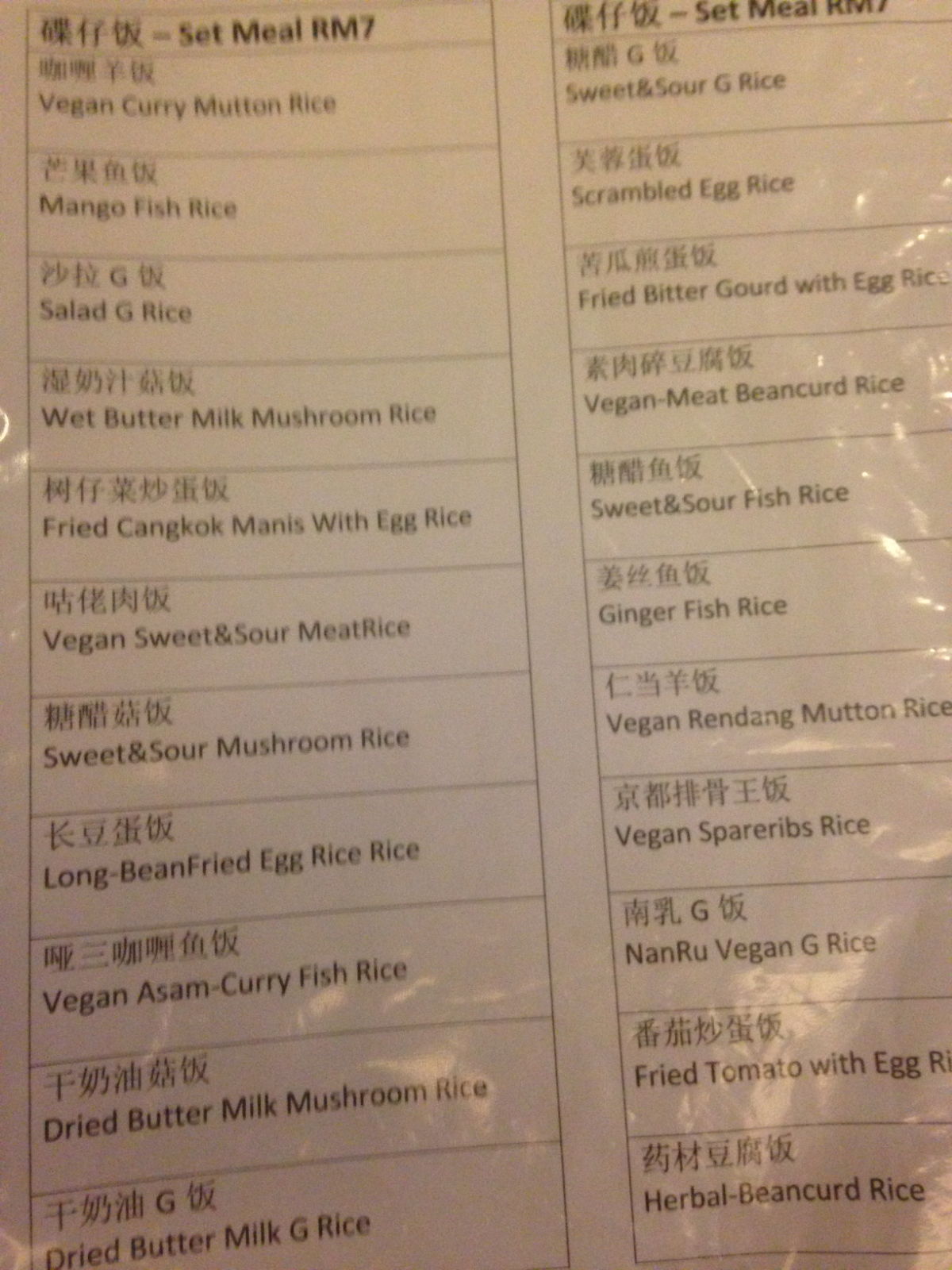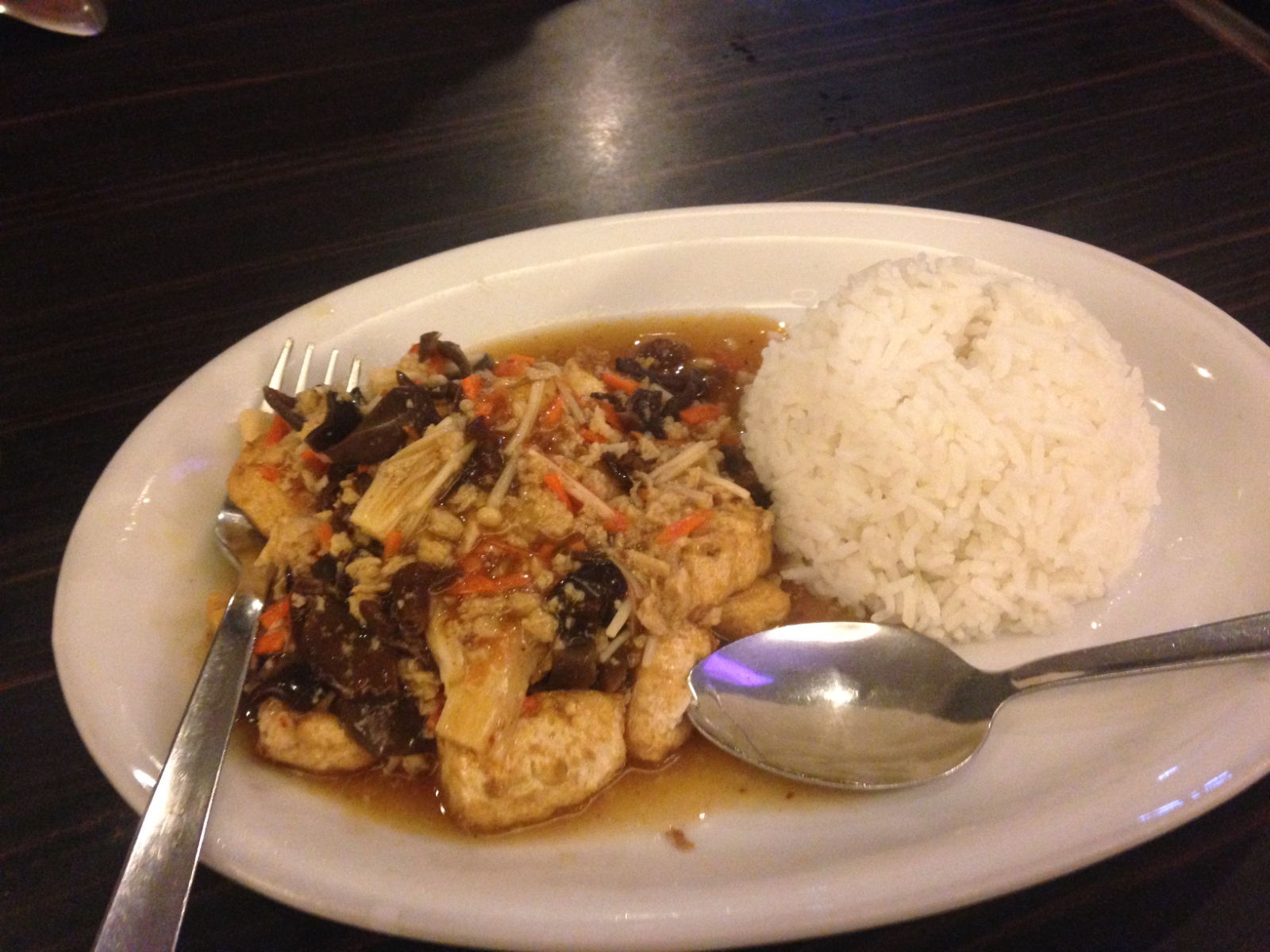 Our intrepid trip to the caves of Niah began slightly later than we intended. The journey would take about 90 minutes, so to make the most of our time there we planned to set off at 8am. When we woke up, however, it was raining very heavily so we waited a bit in case things improved, but it just got heavier. This didn't bode well for a walk through the jungle: millipedes love wet conditions. I mentioned this to Paul and he remarked that he already anticipated a short enough visit for me to shriek a bit and then we'd return home. I resolved to prove him wrong.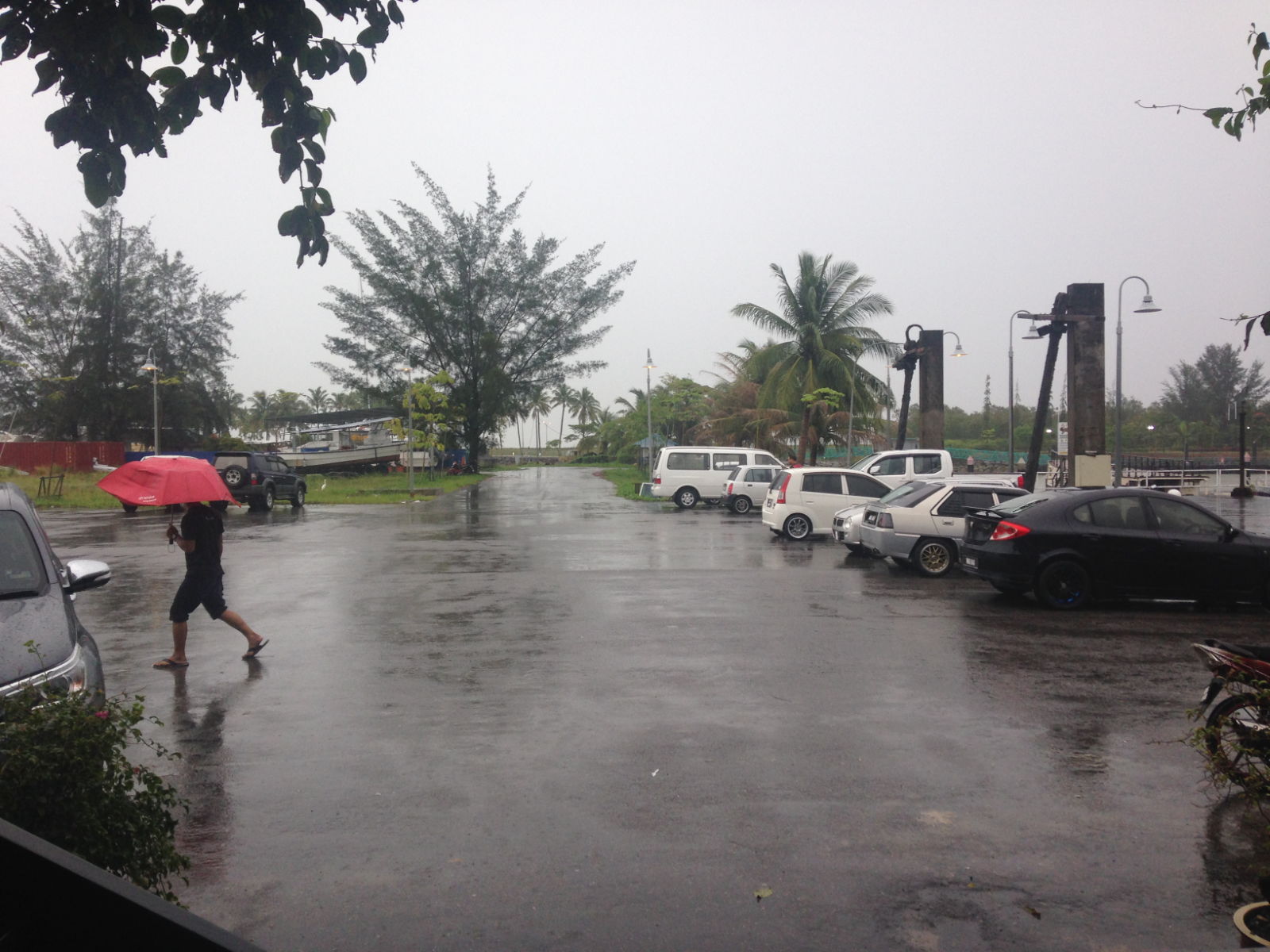 The roads were terrible on the way. Water covered the road surfaces and we drove through several huge puddles and floods. The wipers weren't up to much, and we felt every bump and lump of the many potholes we went over. It made me realise how much I've become used to cars with good suspension. Almost there, and we realised we'd forgotten to bring a torch. This would be an essential item in the caves and rather than risk hoping they would have them on sale there, we took a detour to the nearest town to find a shop. The road we took was in a worse condition than the other one, and at times I thought my head would hit the roof of the car! 45 minutes and two shops later we had acquired two torches from a store in a small town called Bekanu, which in some parts, reminded me of scenes typical of the ones portrayed in 'Disney-style' American frontier towns.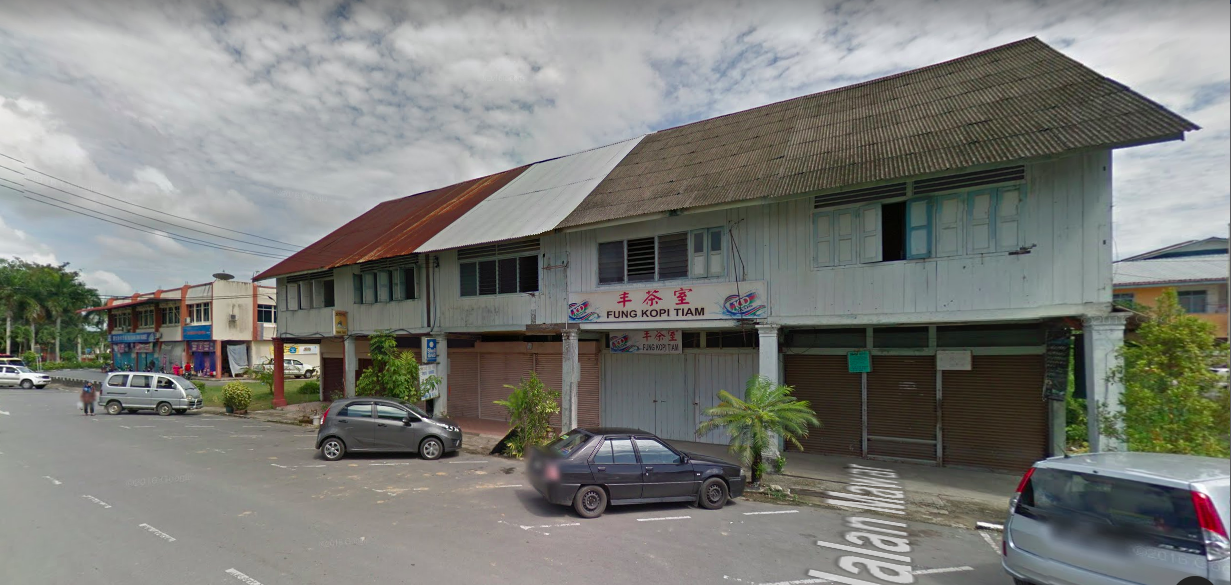 The journey back to Niah didn't do much for the car's suspension. It sounded so rickety I half expected to see parts of the car fall off with each jolt. Still, at least the rain had stopped by then. With the heavy cloud cover gone our surroundings were lit up by glorious sunshine. We drove through lush forests, swamps, palm oil plantations and flat farmland. Most of the houses we passed were on stilts; some were wooden and flimsy-looking, some had been abandoned altogether and some were plush, newer models made from much sturdier materials. I couldn't help thinking of the houses in the story of The Three Little Pigs.
We arrived at the park's headquarters at about 11 and prepared ourselves for the trek. For me, this meant donning socks, trousers with elasticated bottoms, plimsolls, a hat and a shirt. Paul had forgotten his hat, so had to fashion a head covering from my shawl. We both packed insect repellent, water, and a torch each, sprayed ourselves with sun protection, put our sunglasses on and we were ready.  At the ticket office we were given a map of the route and a brief explanation of what to expect. I was so preoccupied with preparing myself for the millipedes and talking myself into being brave, I missed some of what was said, trusting that Paul had it all in hand. We made our way to the river bank where a ferryman would take us the short distance across the muddy water to the beginning of the path. The river looked very atmospheric. I'd just finished Redmond O'Hanlon's Into the Heart of Borneo and it looked just like scenes he'd described during his travels up the river Rajang in a dugout canoe in the 80s. Our crossing took little more than 30 seconds and cost about 20p each.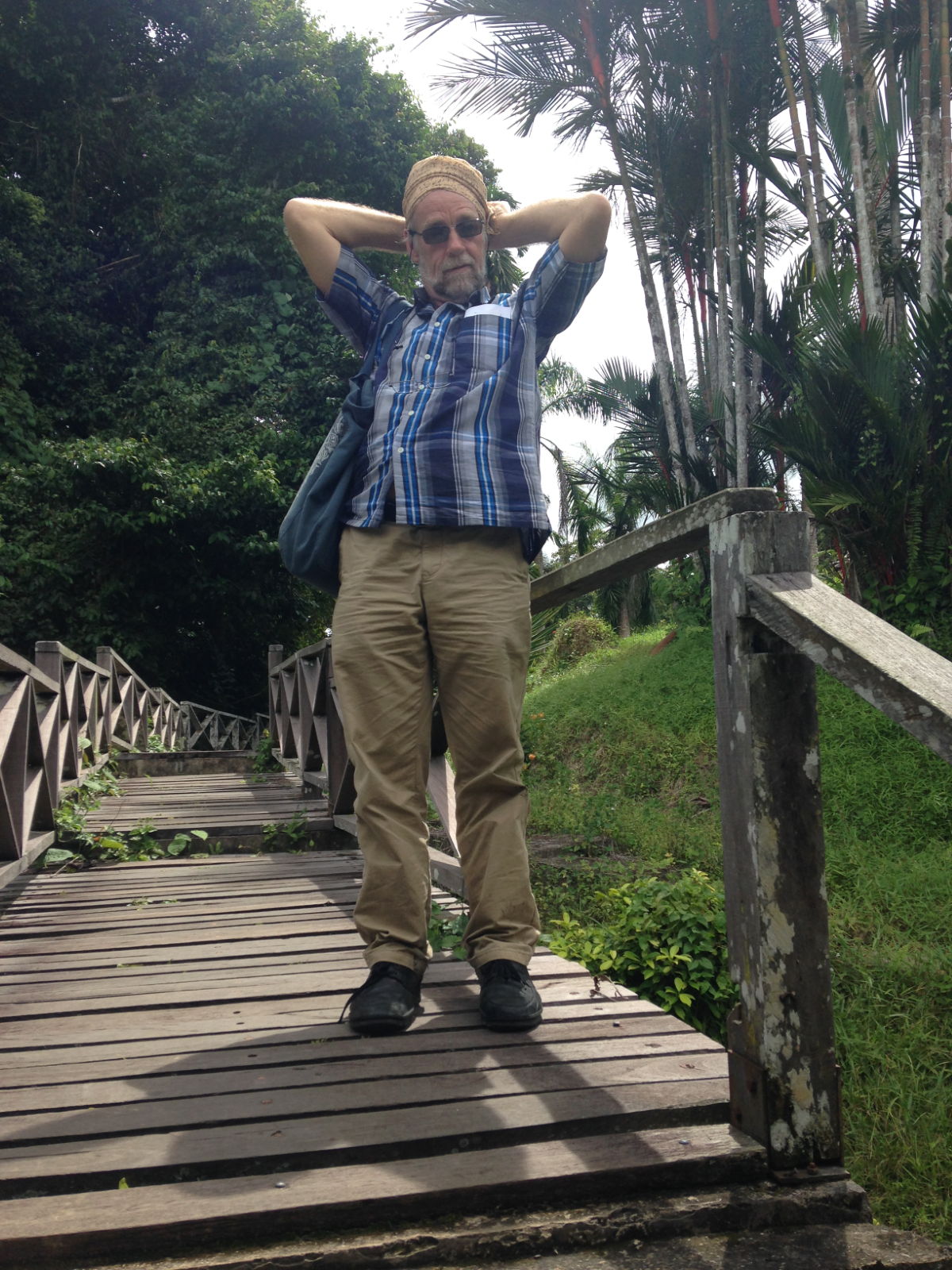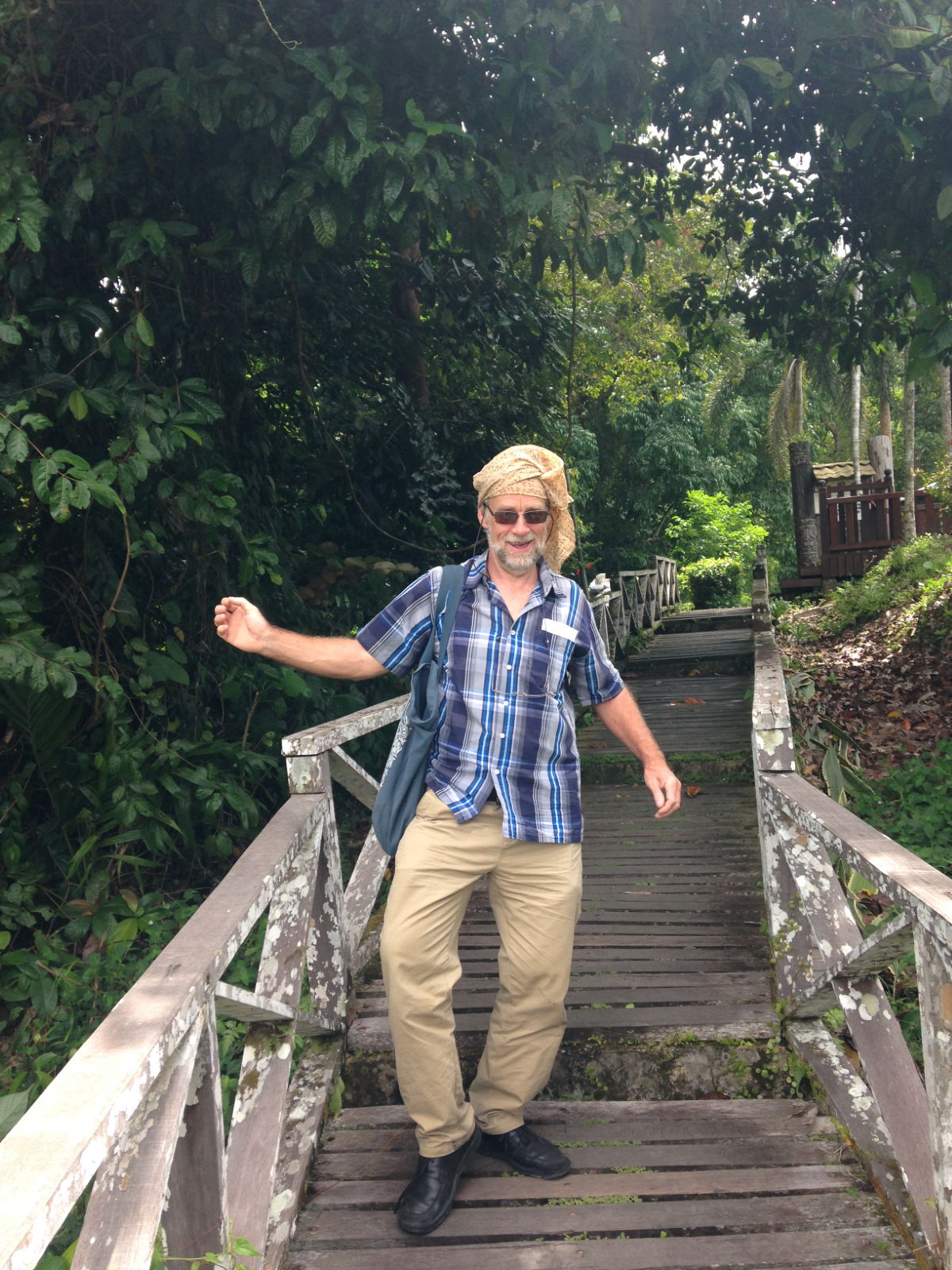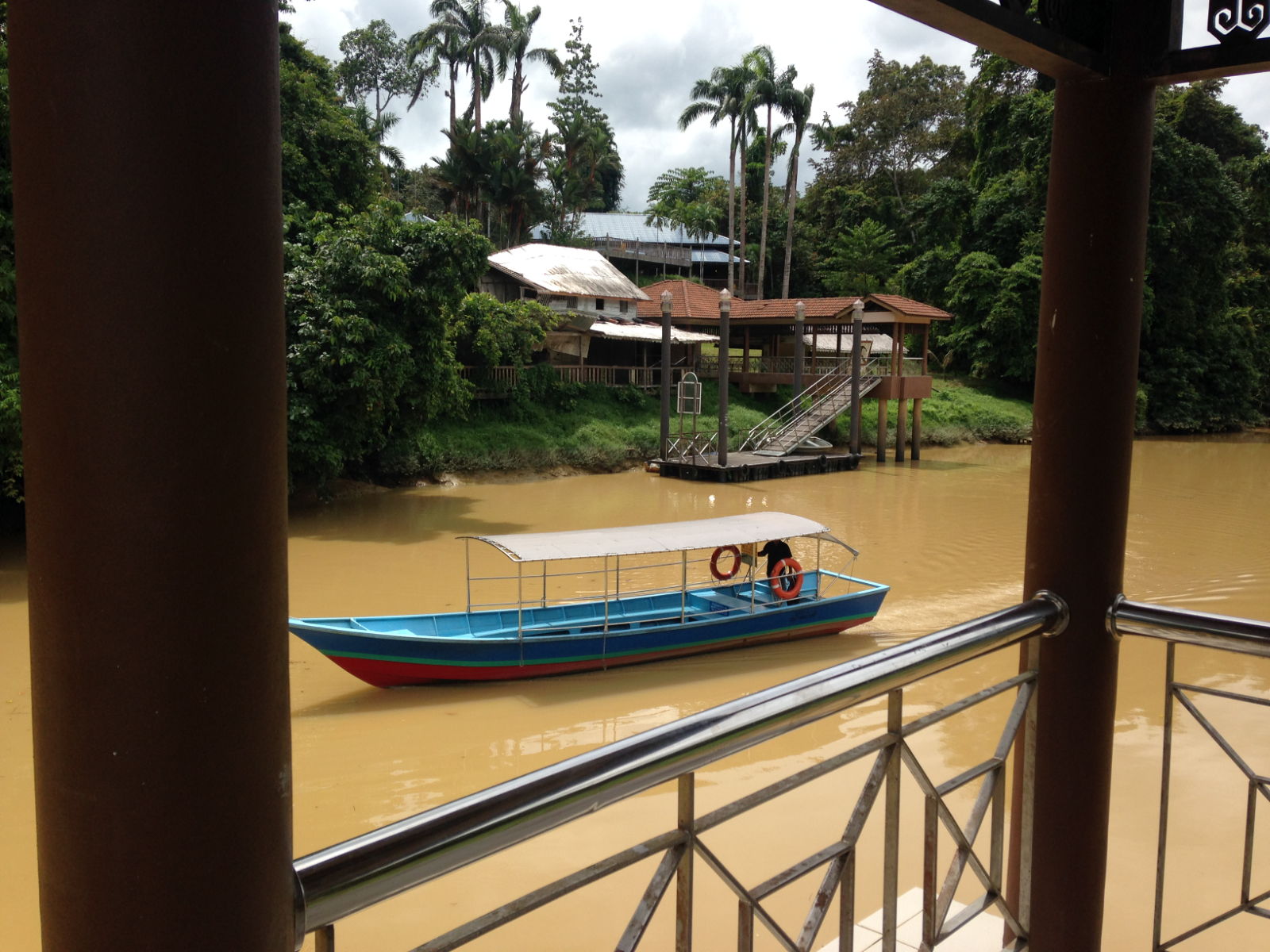 Nerves kicking in, I followed Paul along the concrete path that soon turned into the wooden plank walk that would take us all the way to the caves. We'd been told not to touch the wooden handrails because the red ants crawling on it can cause nasty irritation if they bite. It turns out that millipedes like to hang out on the handrails too: 10 minutes later I saw my first one, then another, and another…  From then on I walked in the centre of the path with my head down until we worked out that if Paul walked ahead he could 'flick them on' without my seeing them. I could then enjoy the sights and sounds of the jungle all around me. The sounds were like the ones you used to pay to hear on relaxation cds in New Age shops. It was great to stand still and just listen to the jungle chorus, with the knowledge we were actually in the Borneo jungle. We encountered less than a dozen people during the whole excursion so no other noises intruded. On either side of us and below the raised planks, lush jungle vegetation abounded: swampy mud, ferns, moss, and trees of all shapes and sizes, displaying amazing roots and creepers. A few lizards scuttled across the planks but the birds we could hear were too shy to show themselves.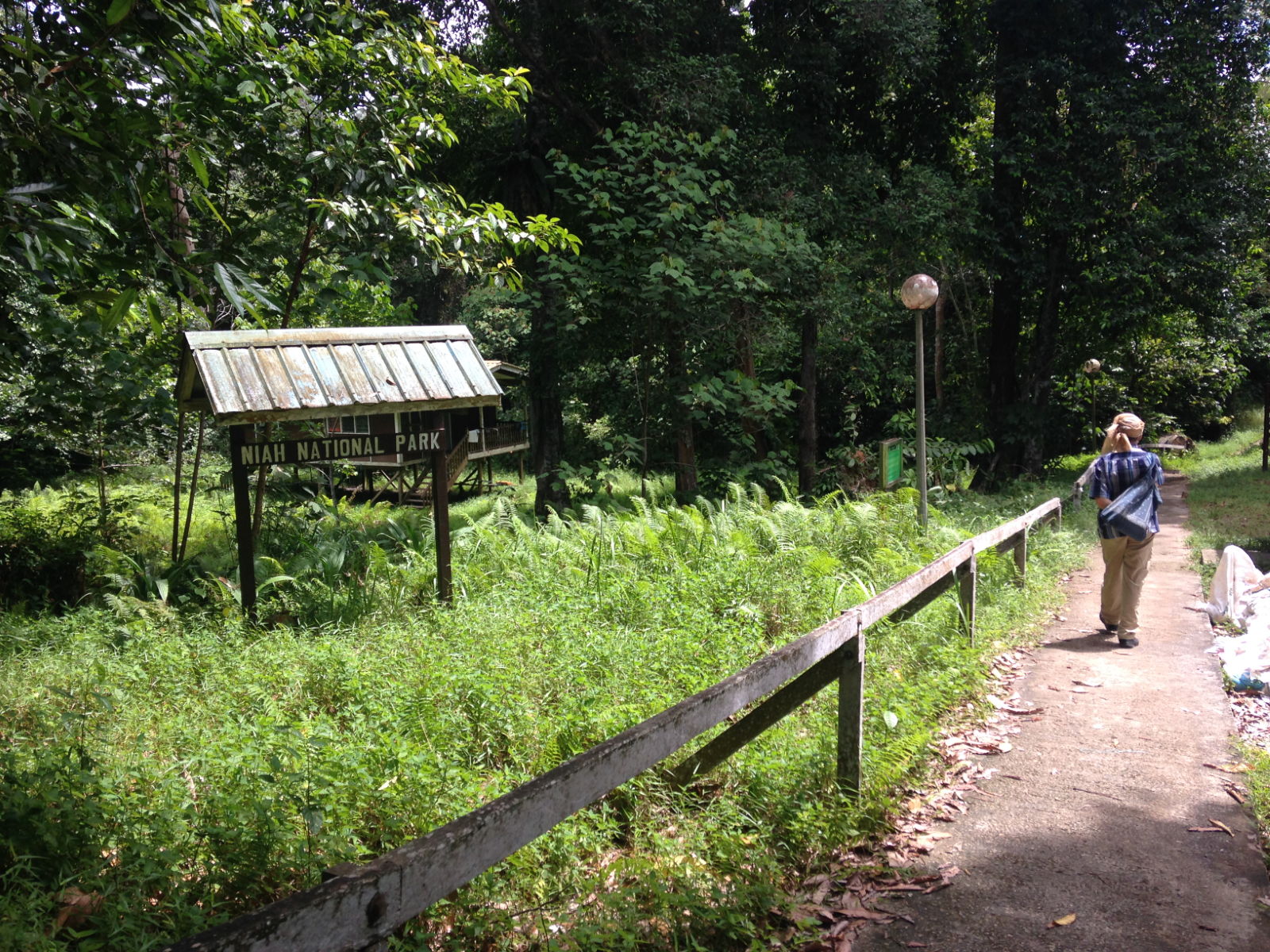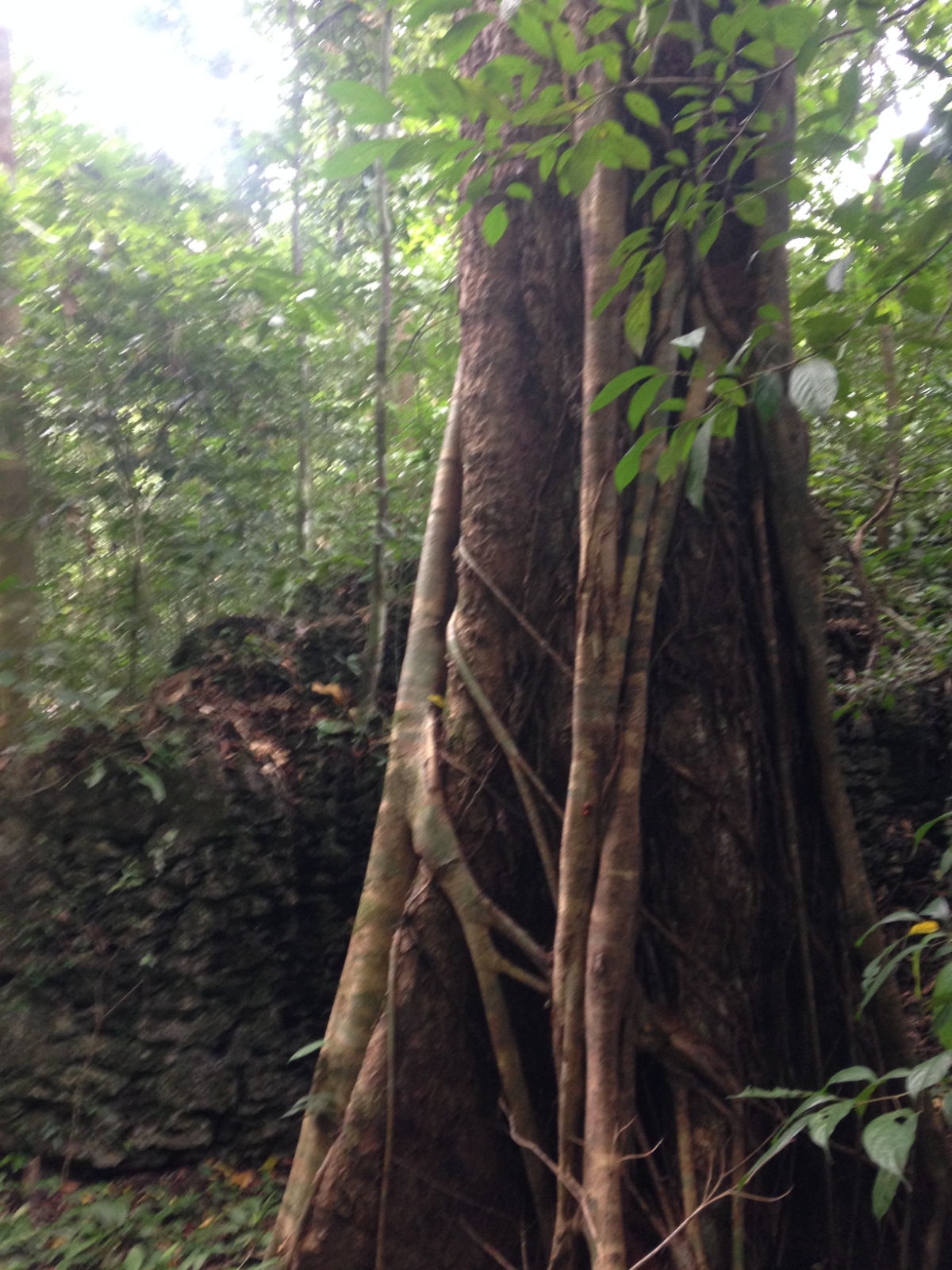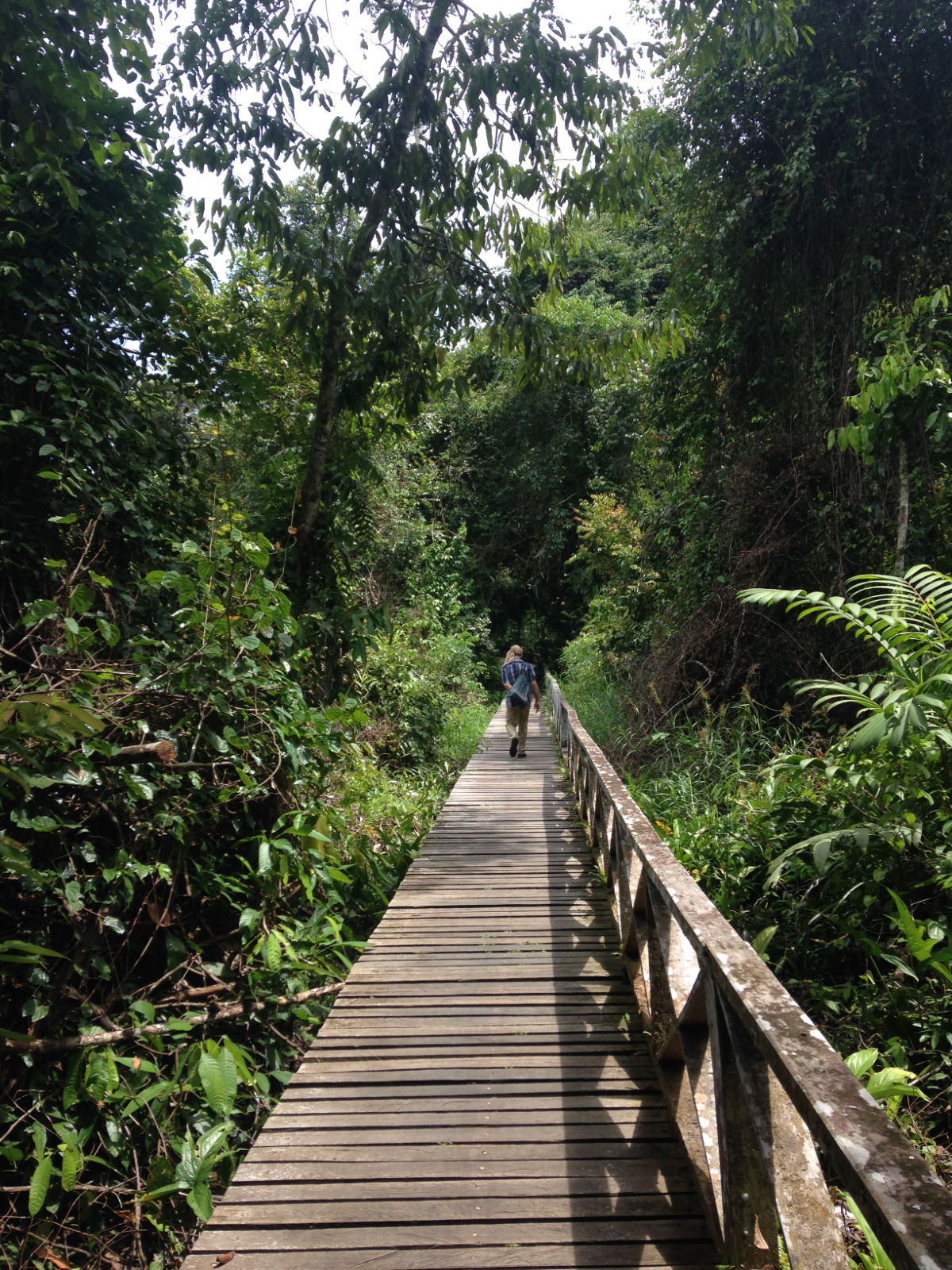 The first part of the walk was mainly level and pleasantly easy-going, but the going was about to get a lot tougher! It became necessary to climb – gently at first, up slopes and then steps, and then more (steeper) steps. We reached Traders' Cave after about an hour and saw the remnants of bamboo scaffolding where birds' nest traders had once set up a camp (amazing to think they often climb 200ft high on precarious poles and rope ladders). The cavern beyond this was magnificent and I naively thought we must have reached, or be very near to, the journey's end. Paul pointed out that we were only at the beginning and there was still a very long way to go. This was the part I'd missed hearing at the ticket office – that the trek was four miles long altogether, so it would obviously be four miles back. It was well past midday by then and all I had on me was a cereal bar! It was going to be a long day.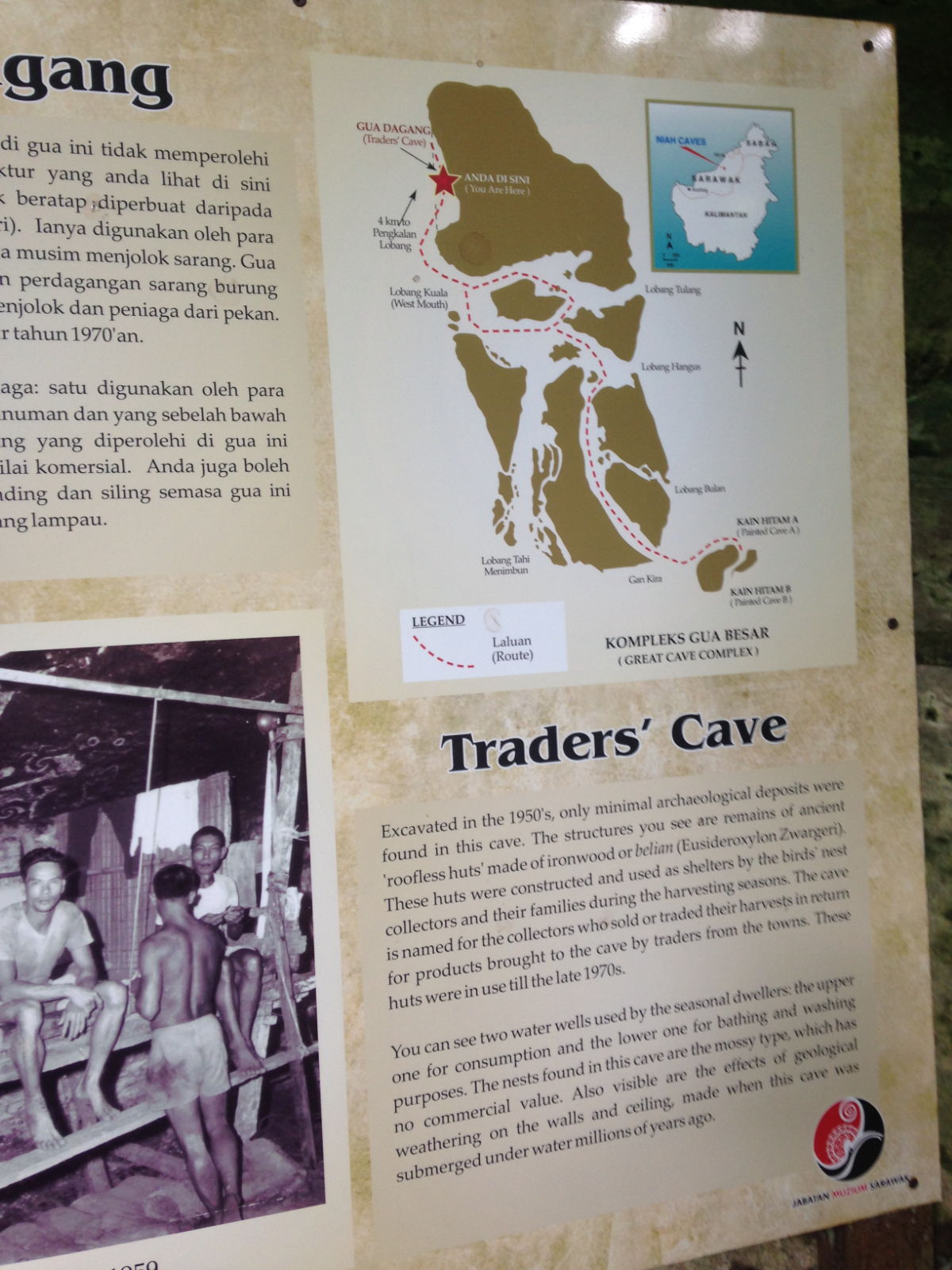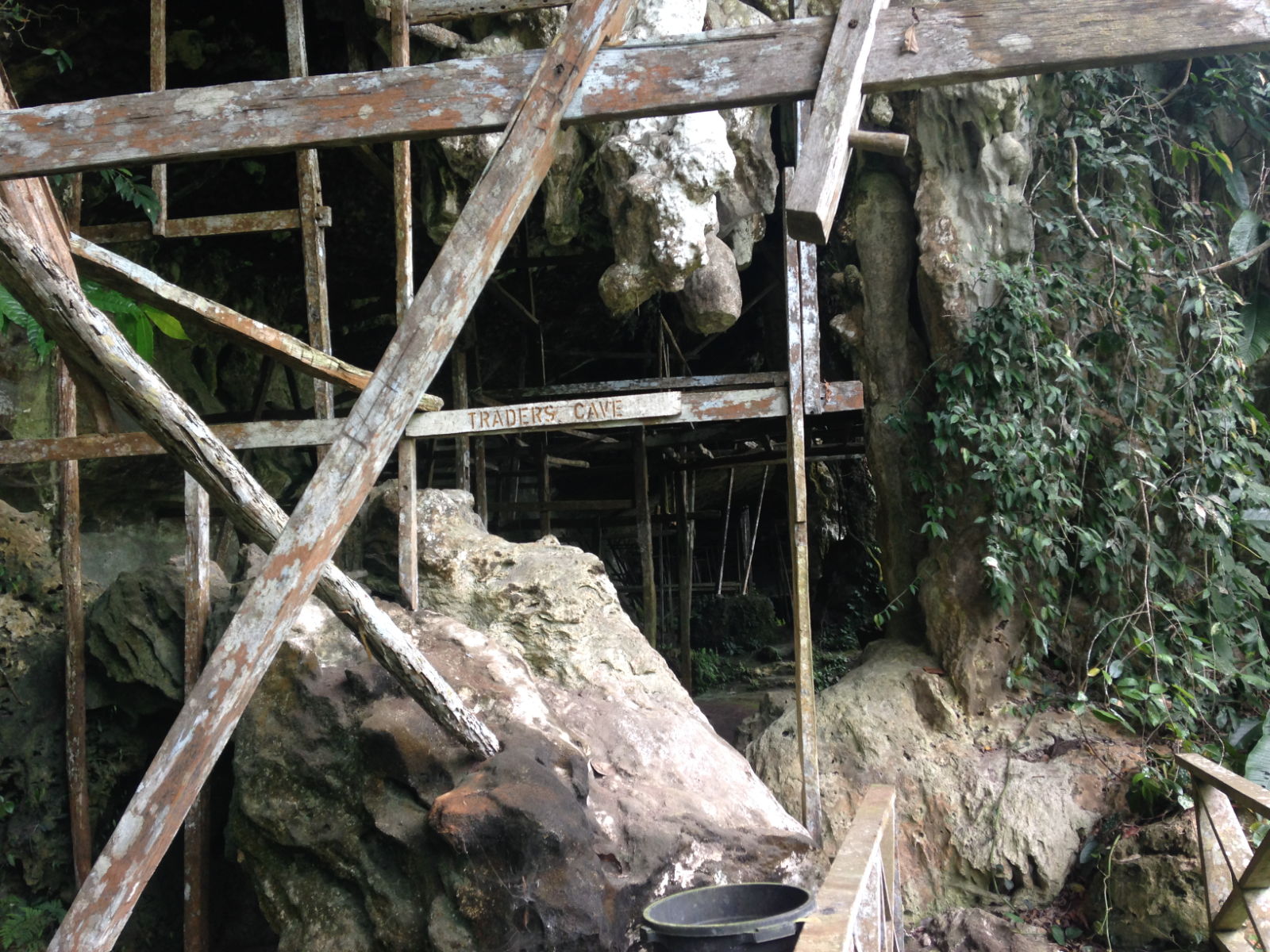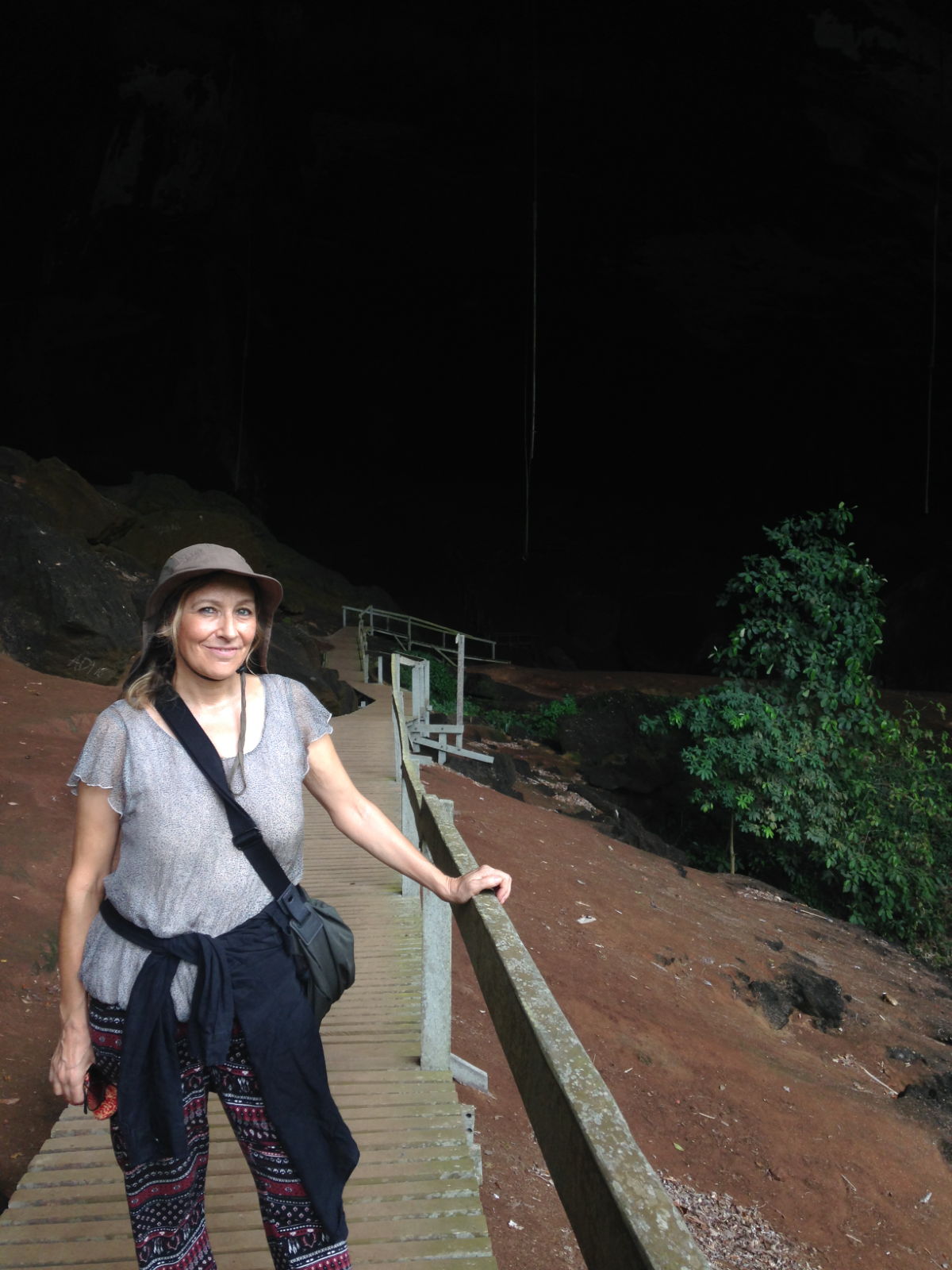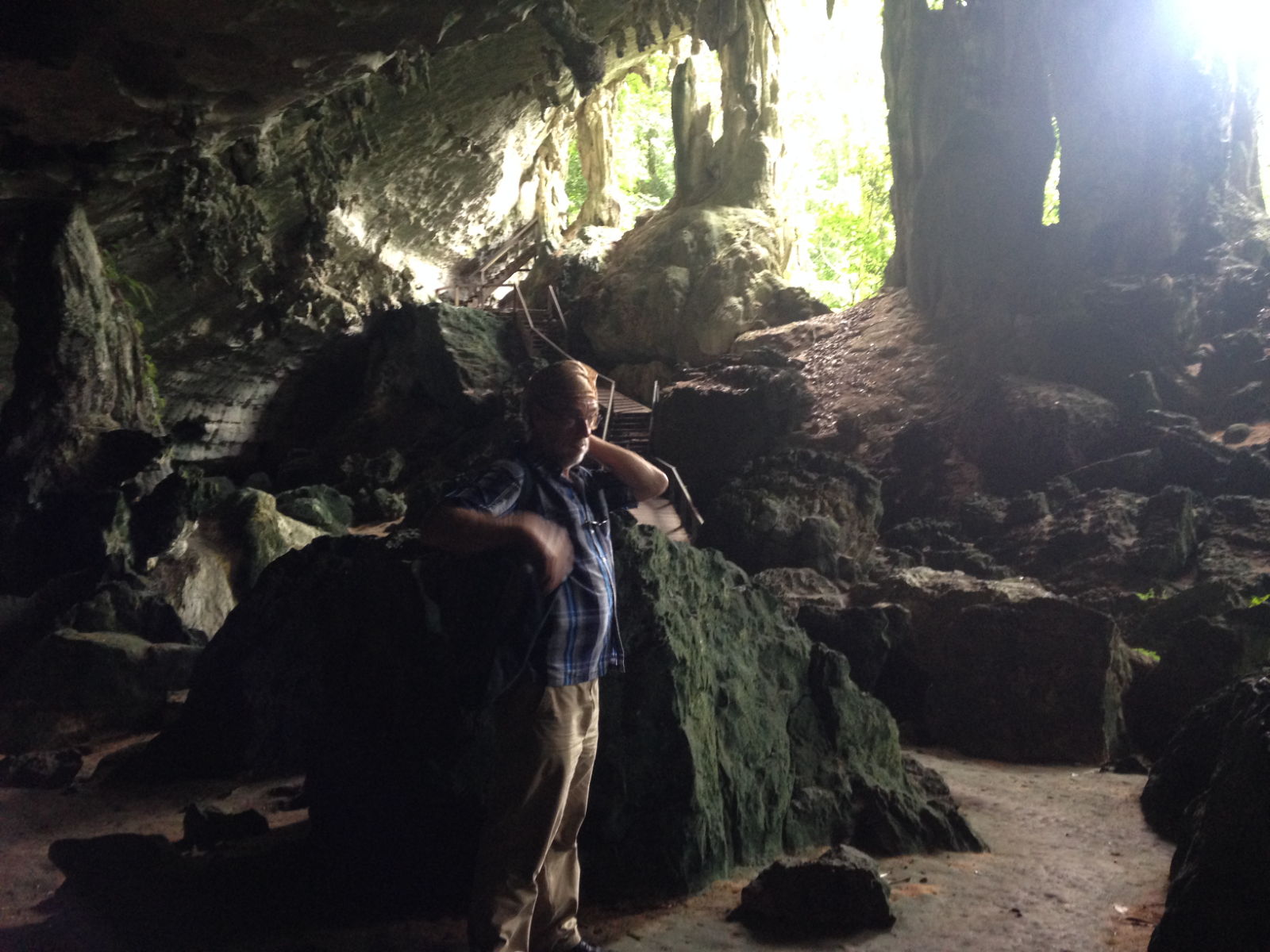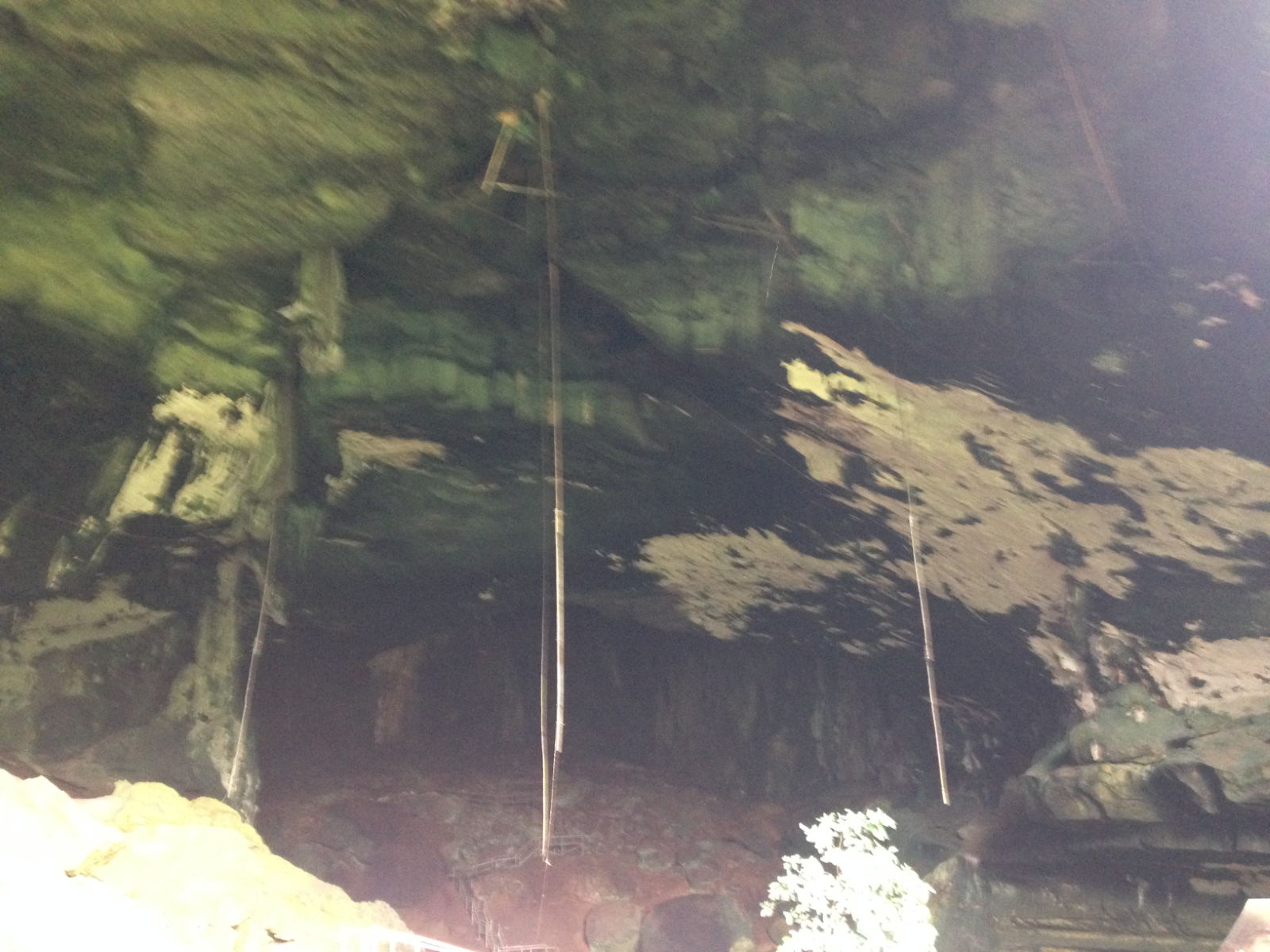 'Oh well', I thought 'at least The Great Cave won't have millipedes'. It turned out to contain something far more dangerous! I knew there would be bats (12 species to be exact); bats don't scare me, I like bats. I knew their droppings, known as guano, was highly-prized as a rich fertiliser so a musty odour was to be expected, and I covered my nose to block that. I also expected the total darkness and we had torches for that. The torchlight revealed some fabulous images: bats hanging from the roof, bats and swiftlets flying around; stalagmites, stalactites and other eye-catching rock formations; ferns, feathers…and spiders! Spiders don't scare me either but the one I saw was huge and as they seemed to be all around us I was curious to know what they were. I retrieved my little guide book, pointed my torch at it and located the chapter. It informed me that on this part of the trek we should expect to see giant crickets and scorpions in the caves as well as bats and birds. I read that walkers are protected from these poisonous spiders by the raised plank walk above the rocky floor! Well the creatures we could see were ON the plank walk. I told Paul and we managed to reassure ourselves that what we were seeing were, in fact, the giant crickets (they had long antennae waving around on closer inspection). However, despite the slippery surfaces and steep steps and total darkness, and cobwebs and bats swooping just inches above our heads, we increased our walking and clambering speed quite considerably through this part.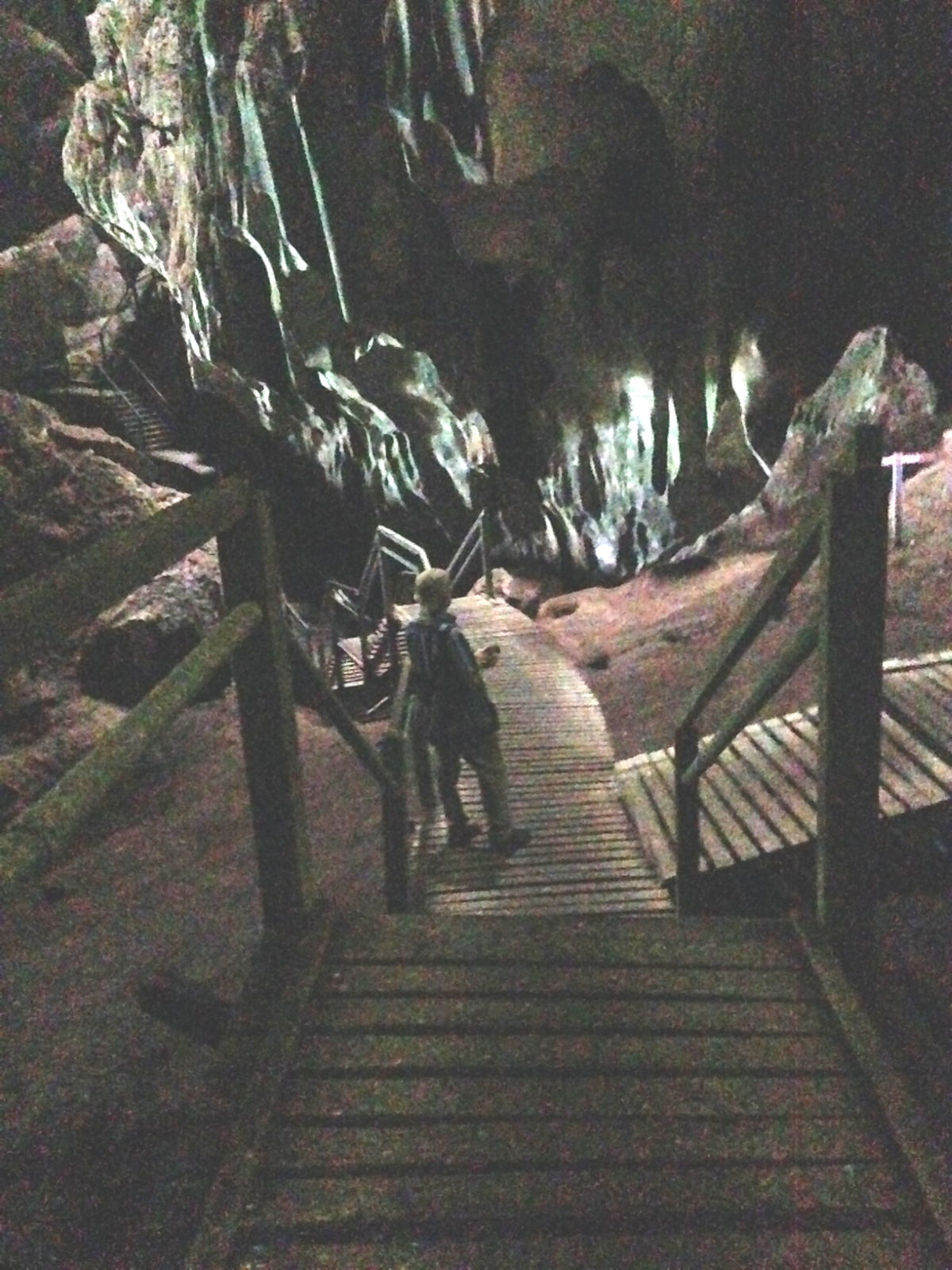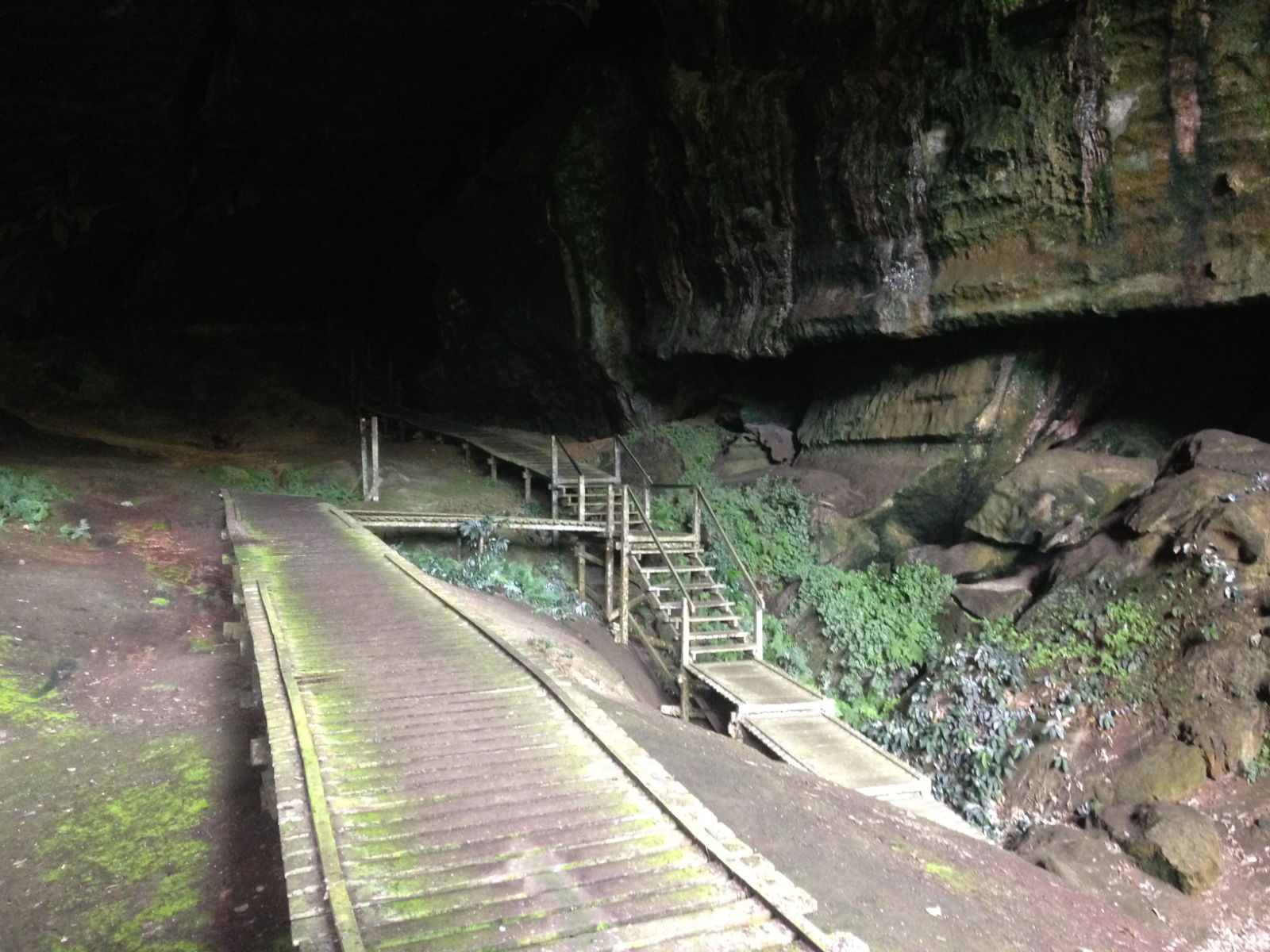 The experience reminded me of passing through the tunnel of an undulating fairground ghost train without the carriage or sound effects. Here, though, there were many steps to climb and it was very humid and smelly but it was still thrilling to look around at the striking views. Ropes leading from the swiftlets' nests were hanging down, and we spotted torch beams from collectors near the top where they would be scraping nests off the ceiling. Apparently the nests, which are believed to have medicinal properties, can fetch up to $1000 (USD) a kilogram! 30 minutes later, we emerged hot, thirsty and tired onto a plateau where a Malay family were seated round a table with the remnants of a picnic. We joined them to rest our legs and exchanged smiles and empathetic pleasantries via gestures and facial expressions. Considering the strenuous footslog we had all undertaken, words weren't needed to communicate our feelings.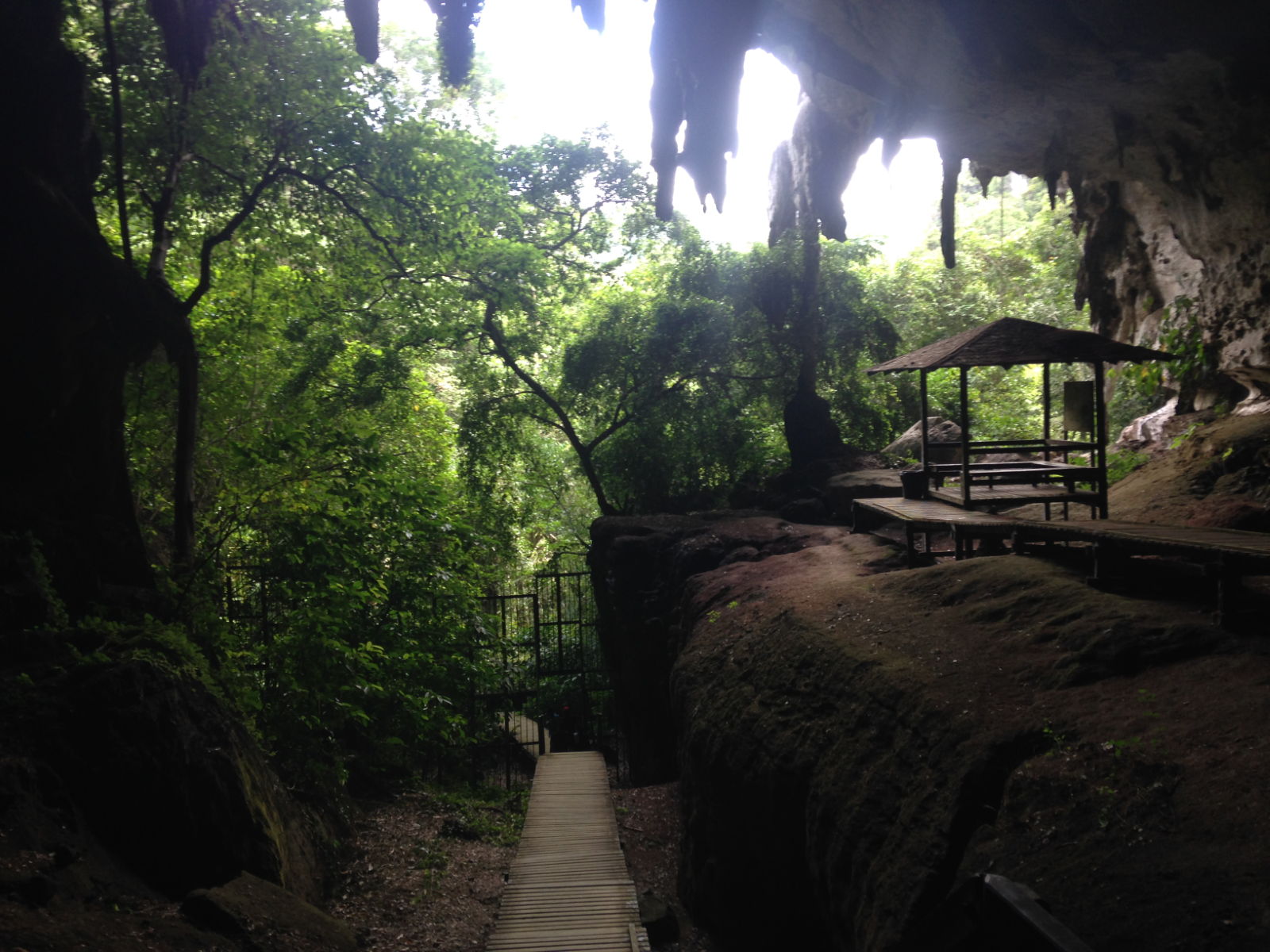 The Painted Cave was the next and final place on the expedition, which was another 30 minute walk on a (thankfully) level plank walk. We were sheltered from the afternoon sun's rays by the trees but it was still hot, and we were quite high up by now. The cave was welcomingly cool when we got there and three men were sitting on a rock near the fenced off wall. One of them turned out to be a guide and he helpfully explained the exact location of the paintings when he heard us having difficulty seeing them. They are very faint, and it has to be said, lacking in 'wow' factor as images go. It was still incredible to think they were created around 1,200 years ago though and to read about the story of their discovery in 1958 by explorer Tom Harrison who found a human skull along with the paintings. I marvelled at how people had got there before all the staircases and paths. We sat for a while to rest in the cool, looking out at the glorious view and pondered on the kind of life that was lived in these caves by the hunter gatherers of 40,000 years ago.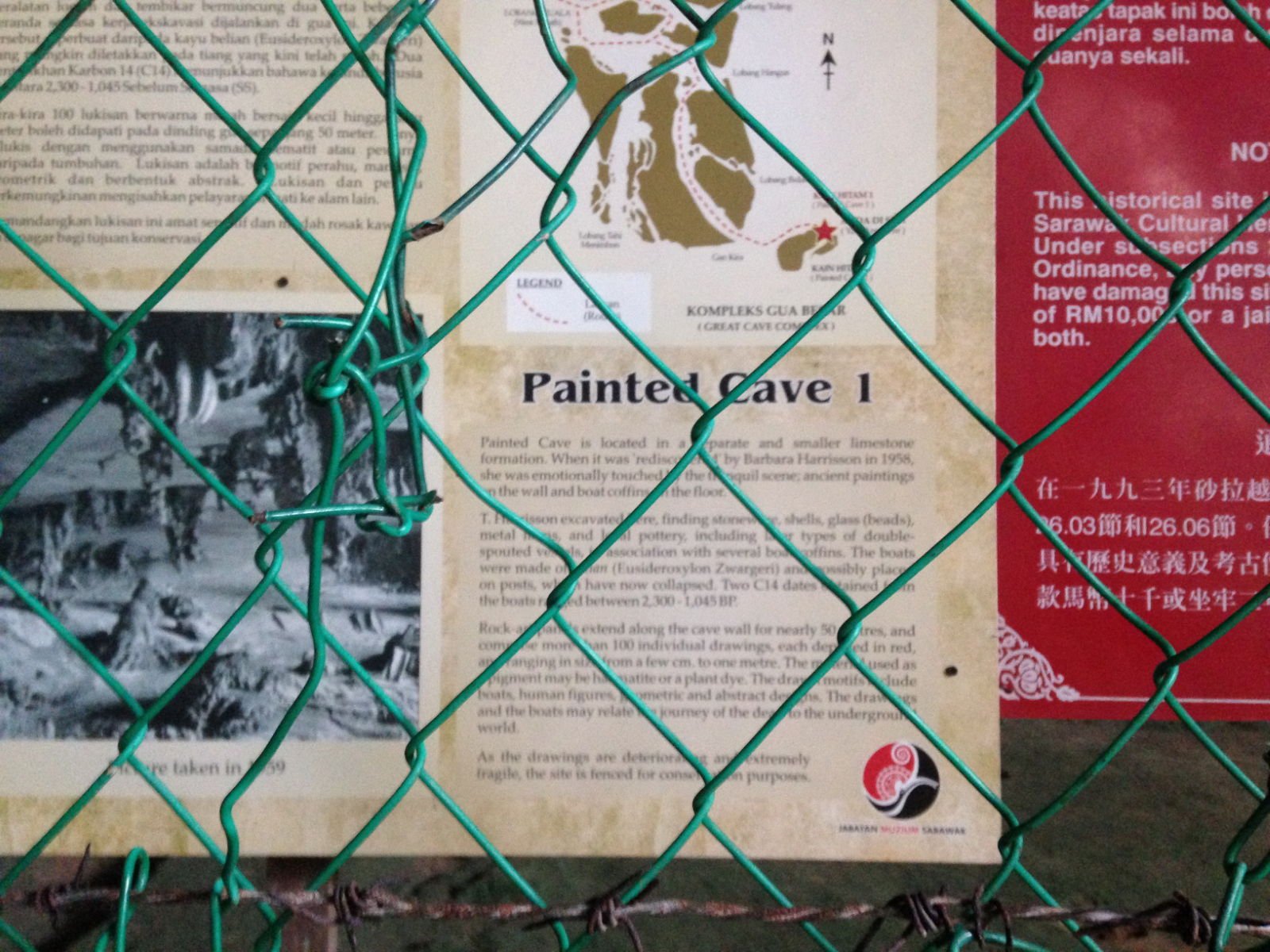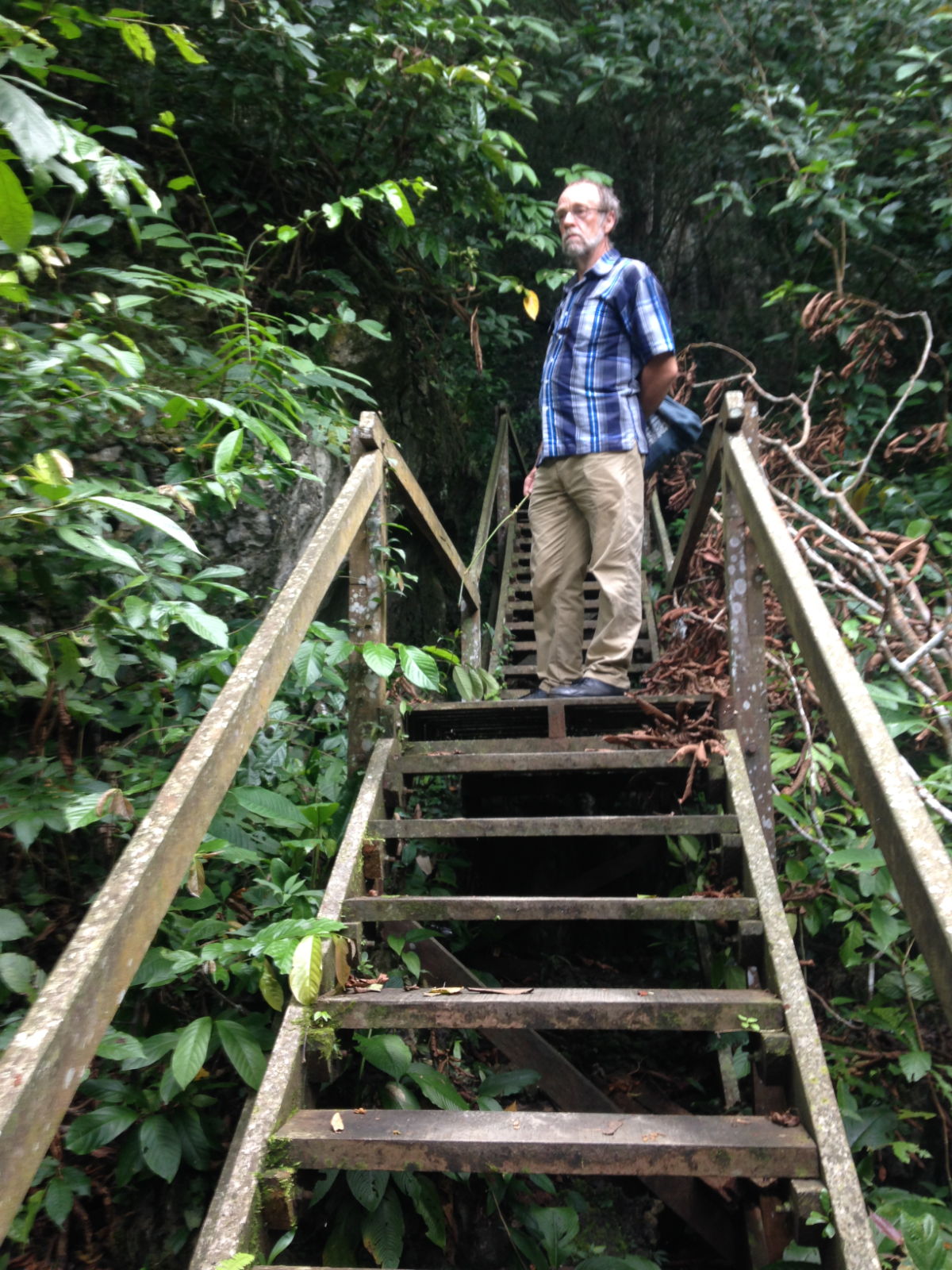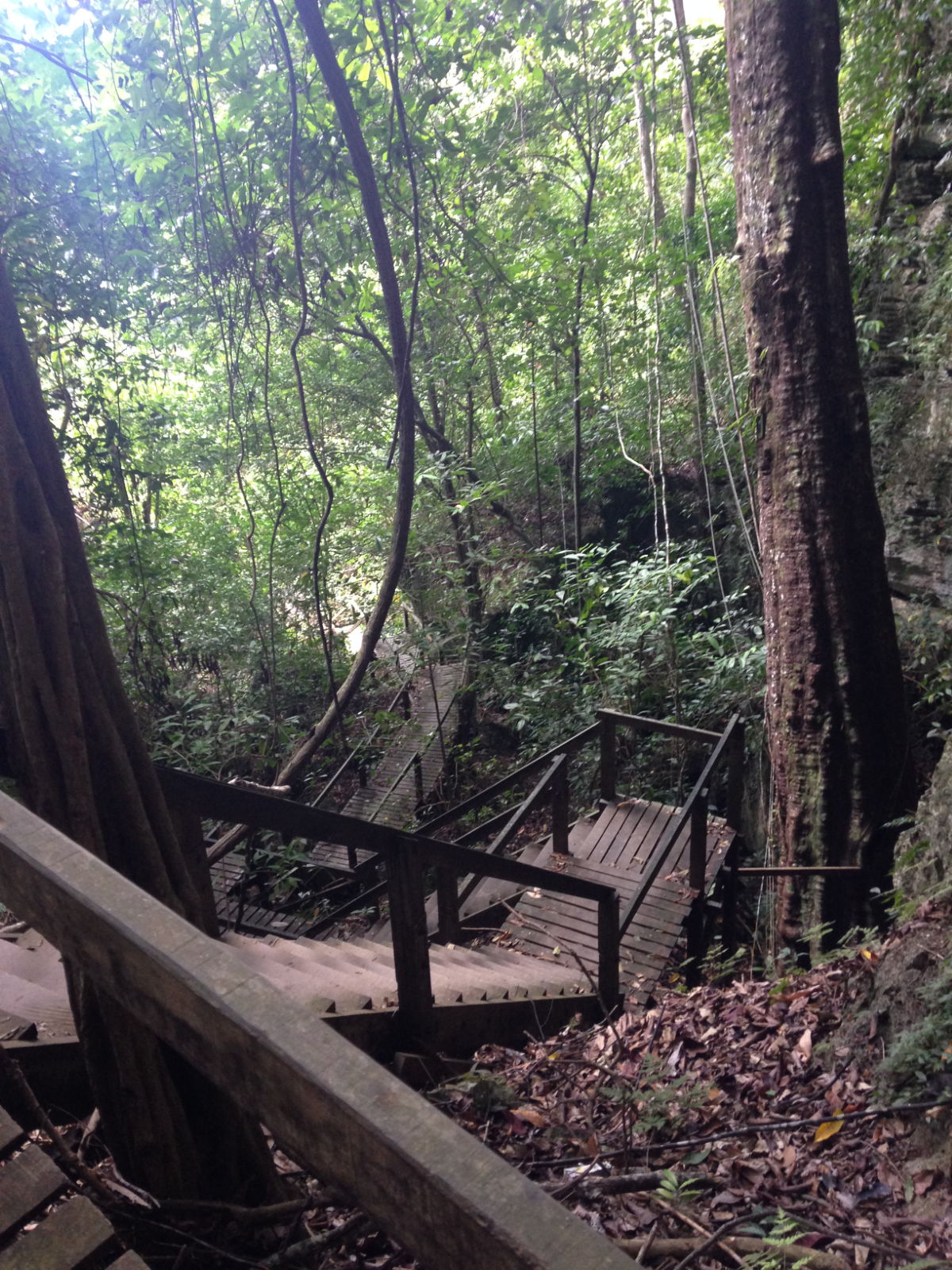 Exhaustion and aching legs were beginning to kick in for me. The very thought of the long trek back was daunting to say the least, but time was getting on and we had a date with the ferryman at 5 30. Needless to say making our way back down the steps, slopes and rocks we'd climbed was very hard on the legs and of course we had to go back through the bat cave where the scorpions lurked. I kept thinking of the little bottle of wine and a packet of crisps waiting for me in the car. We stopped to rest a lot more on the way back, hoping to see some of the birds that were squawking and singing above us but unfortunately they remained elusive. We also heard something very heavy lumbering through the thick trees, cracking twigs and branches as it stepped on them, and waited in silence for a while to see what would emerge but sadly it didn't appear.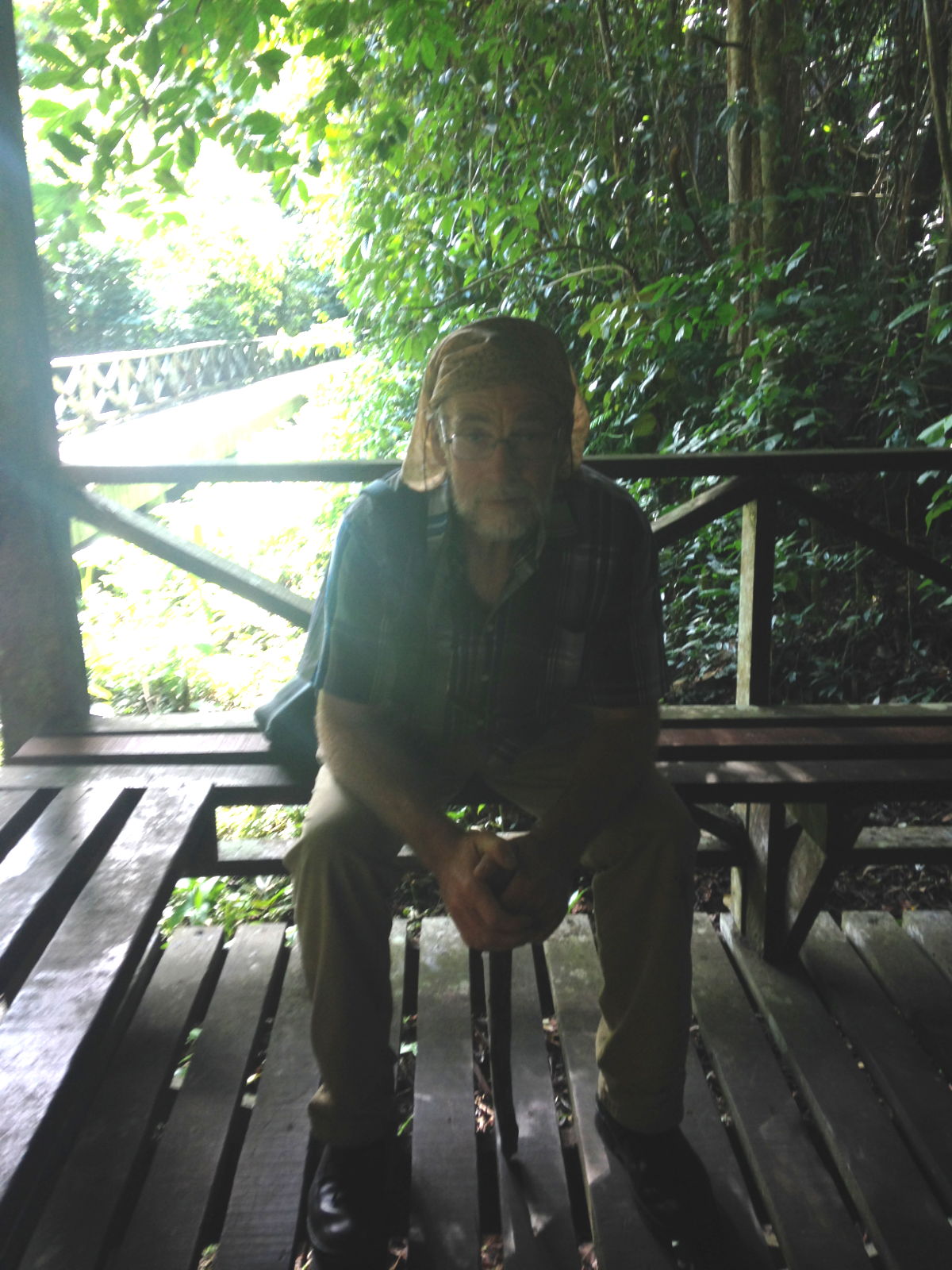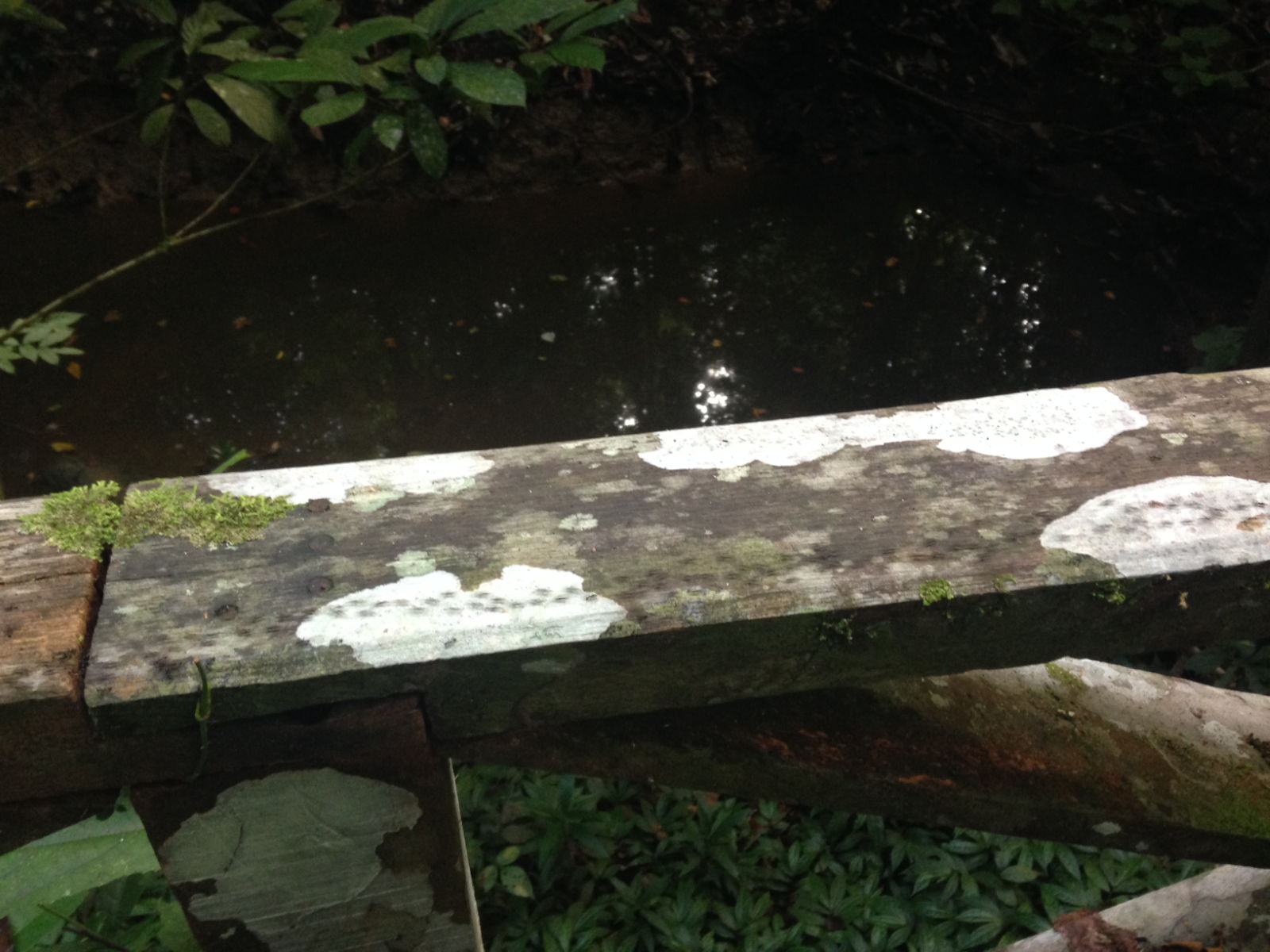 I can honestly say the 6 hours of walking and climbing and clambering on that trek was the most strenuous thing I've ever done and I ached for days afterwards but I'm glad I did it. I proved that my phobia doesn't prevent me from seeing sights that are worthwhile. I think I'll pass on the Mulu Cave expedition though. Ian, from the boat next to us told us that the millipedes there are a writhing mass in some areas and that there are hundreds of them. Here's a pic of just one of the little blighters!