The main parts of Tuesday and Wednesday were spent on the boat. Paul was busy sanding the cap rails and I stayed below reading, writing, catching up on emails, and helping Paul when needed (mainly fetching and carrying).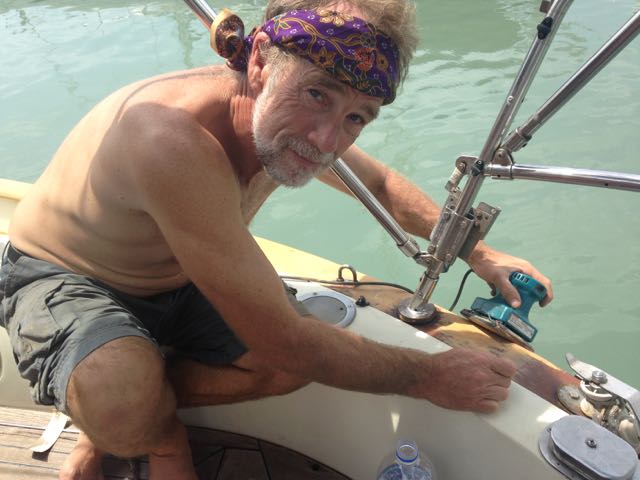 On the 1.5 mile-walk to Tesco, I saw the spot where Paul got mugged. In daylight it looked a most innocuous place; a verdant country lane with colourful flowers, joggers and cyclists. The only thing missing was dog walkers.  I've seen very few dogs since I've been in Malaysia. A couple of nervous strays and once, a whole pack of them, much like the packs that I used to see roaming the streets in the 70s. We see lots of cats and kittens too but it's hard to tell if they belong to anyone. The local radio station urges people to adopt stray cats and dogs and there is a 'help the beach cats' programme in place, but it seems the idea of pets isn't a 'thing' here yet.
Yesterday morning (Thursday), I cleaned the spray dodger in the hope that it would improve visibility. I couldn't stay out long, though – the exertion needed for cleaning left me sweating and breathless. Paul stays out in it for hours using power tools and doing strenuous jobs. He says it's because he's acclimatised. If that's the case, I've got a long way to go yet! Because he needed to go to a chandler in George Town, we decided to combine it with visiting the places I'd been reading about in the guide book (a heritage walk relating to George Town's colonial era). This time we got a taxi to take us straight to the chandler's which is directly opposite the clan jetties, so when Paul had finished we made those our first stop.  These are little wooden houses perched on stilts over the sea. Each of the 'villages' on the jetties has its own Chinese clan and are named for them: 'Chew Jetty', 'Lim Jetty' etc.  Most now sell gifts, hats and cold drinks but one still makes a living from fishing.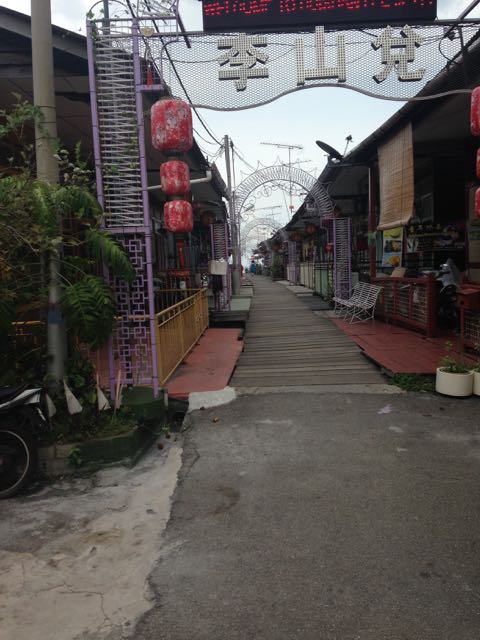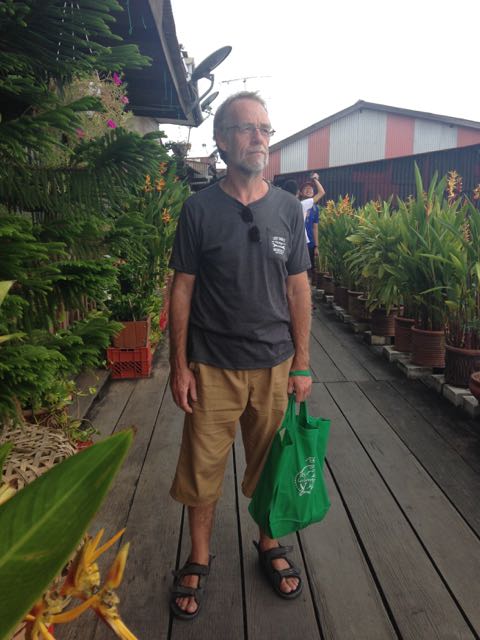 Apart from the heat-at its peak at this time of the day-we had to contend with the very heavy traffic on the main road.  Pavements are intermittent and haphazard, so cars and (particularly) scooters whizz dangerously close to your body. It's also hard to hear anything with the constant roar of engines and horns beeping. We headed inland to the busy, but calmer, streets and made for Fort Cornwallis.  I was keen to see the site where the founder of Penang, Francis Light had supposedly loaded a cannon with silver dollars and fired it into the jungle as motivation for the workers to clear the thick undergrowth for the settlement he wanted to establish.  We didn't want to go in to the fort because we'd heard there wasn't a lot to see and it wasn't worth the entrance fee, so we had a walk around the walls instead.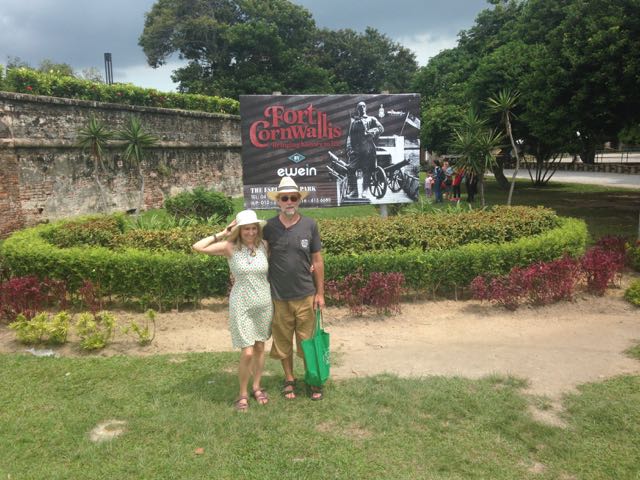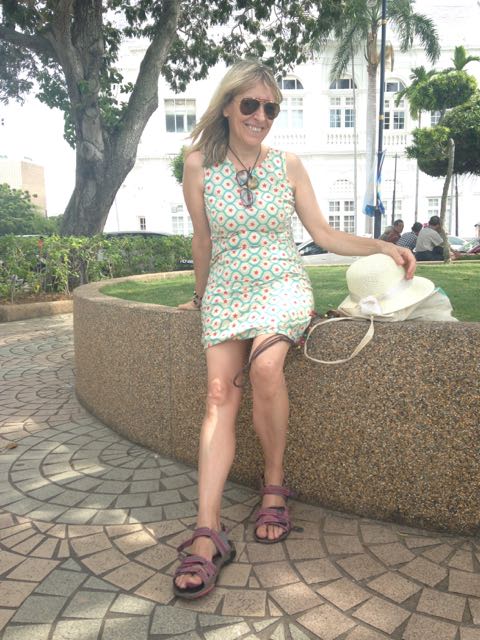 We were ready for some refreshment after this, so walked along the esplanade enjoying the cool breeze coming off the sea.  Our destination was The Eastern and Oriental Hotel, a grand and luxurious building that in its heyday was host to illustrious guests such as Rudyard Kipling, Noel Coward and W Somerset Maugham. Neither of us was hungry but I wanted to see what the bar was like so we entered the palatial cool, dark reception hall and through to an old-fashioned looking, beautifully decorated lounge bar (wooden walls, plush leather seats). It was empty and there was a terrace area outside so we asked the barman if we could sit out there with a drink and he offered to bring our order out to us.  The only places to sit were on sun loungers that were set out around the swimming pool and from here we had a lovely view of the rear of the hotel with its brilliant white walls and ornate balconies. Despite its reconstruction, it was easy to imagine it in past times when writers and actors visited.  Our drinks arrived with a dish of nuts and crisps and we spent a pleasant hour relaxing by the pool.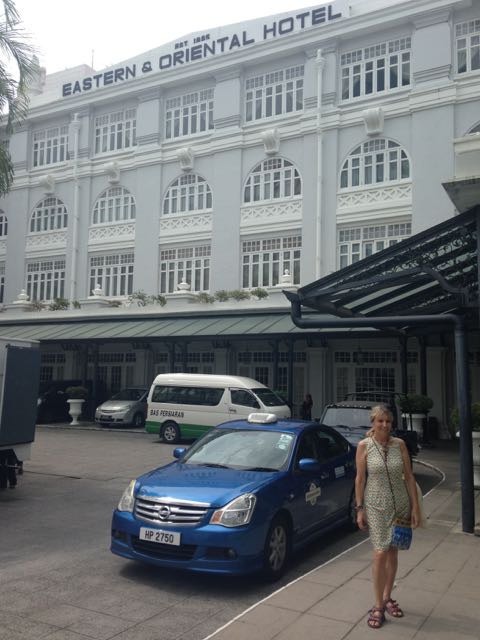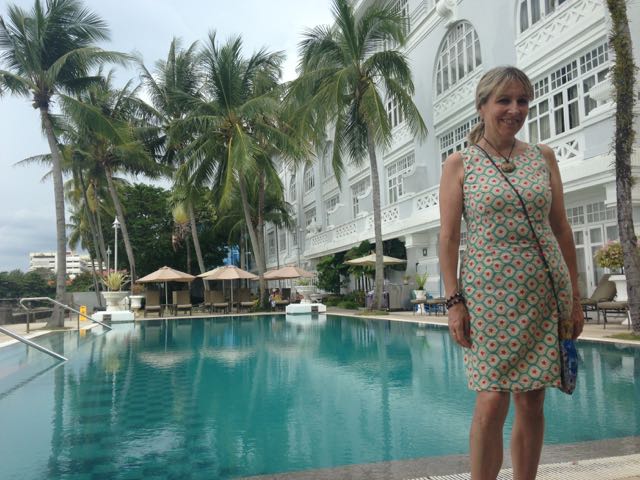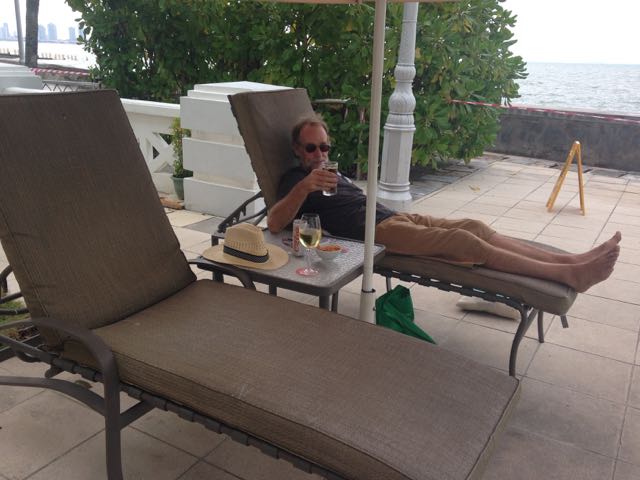 Next it was on to the Protestant Cemetery where Francis Light is buried. It was a fascinating place, reminiscent of Highgate with its crumbling and cracked headstones and tombs.  So many men and women had died young – hardly any were over 50. They had succumbed to the rigours of the tropics (malaria, dysentery and cholera mainly). 
By the time we were ready to walk to the bus station, it was late afternoon and the beginning of rush hour so the journey back took ages due to the bus crawling through the town traffic jams but it was cool inside and it felt great to be sitting down after being on our feet for so long.
Kathy