Last night we had a tremendous downpour with lightning & thunder, the noise on the roof of the hotel was deafening, I think this is what's in store for a while now.
I moved onto the boat this morning, had a great taxi driver, I learnt a lot from him, included the best place for a certain type of fish head meal, although it might be a while before I try that.
The cutless bearing proved quite a match for the guys here, they spent all day working on it. I'm not sure where we are at, I didn't pay too much attention because the bow thruster was more important. The wiring was completed and I had the yard fabricate a stainless bracket for the control joystick which is mounted on the pedestal, by the wheel. All is working, but the propellors aren't fitted yet as they have to be anti-fouled, and we are a couple of days away from that. The main thing was the wiring was done so I could clean up the v-berth and get my bed sorted out. I must say, she scrubs up well, the V-Berth looks gorgeous now, the wood really glows and there is just so much stowage there.
It's also great to have the mattress out of the main cabin however, it's still a mess, but getting better.
I managed to get the galley surfaces looking good, and one of the galley lockers cleaned up great, so I have somewhere to stow my food. Tomorrow I will clean up the rest of the galley, while I wait for them to finish the gutless bearing. Cleaning is a bit drawn out because I can't use the sink, in case water drains out over the paint jobs being done below.
I can't get into the quarter berth as thats the main access point for the prop shaft and is full of workers tools right now, so it's mattress still lives in the main cabin.
Outside, the barrier coat is being applied, both sides have had one coat and all the port side a second. The hull looks like a real boat now.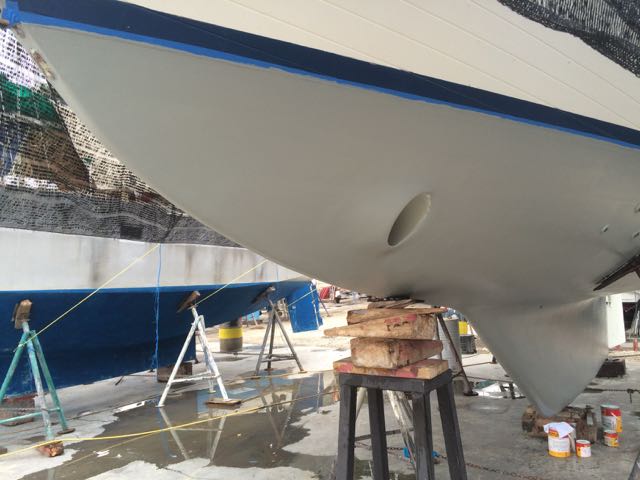 Finally I got the wifi working, but at a slow rate, I may hold off on the pictures until I get a better signal.
The boat is remarkably cool now, but I don't know if the mossy who was here earlier has left, and if so, was it just to return later with his extended family!

So now the pictures have uploaded (10 minutes later), I can confirm I have at least one mosquito to keep me company tonight!
Paul C.