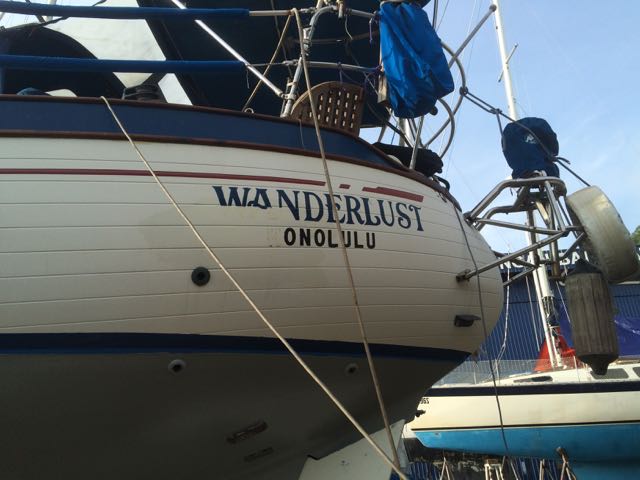 Don't Panic, just the name has gone, and that was todays main activity. Removing the name, and the honolulu registration numbers took most of the day, originally the name was applied as a transfer, but as that faded, the PO (Previous owner) painted over with a gloss paint. It was a nightmare to remove, and the subsequent staining of the hull means the name can still be seen close up. I could get the hull rubbed down and polished to try to remove it, but I think I might skip that.
Having thought about it, I'm not going to be too precious about the boat, I could easily add another weeks here in the yard polishing the hull , shining up the exhaust etc, then the deck/cap rail and fitting could take weeks to make look pretty. I'd rather be out there sailing the boat, so these things can be worked on, on the trip. After all I will need something to do while we laze at anchor in all those south pacific islands 🙂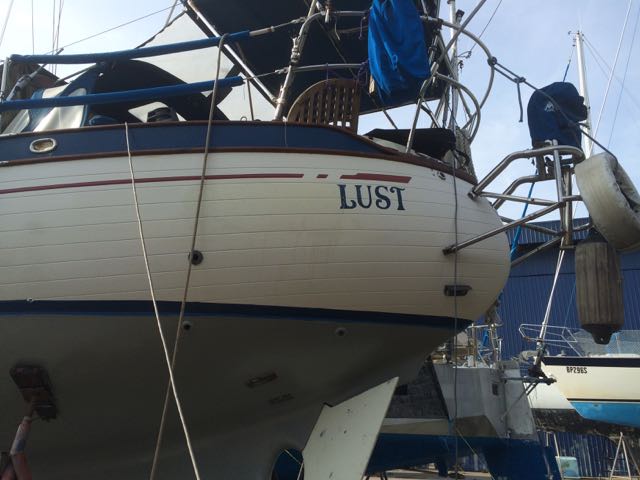 I had a good sleep last night, the AC kept the boat cool enough, and I was up early to start work before the sun got too hot, I settled on a midday siesta, seems logical to do, then this evening I explored Batu Maung, I was told there's nothing there, but after a 15 minute walk I came across lots of shops and restaurants, An Indian dinner of chicken and rice was lovely, however I need to get stuck into some experimentation with the local dishes soon.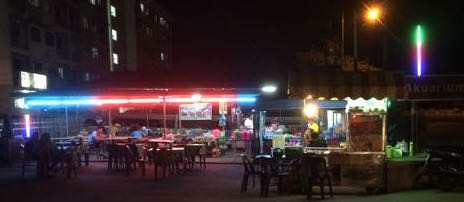 Back at the boat, I moved the wifi antenna to a higher spot, and ended up with a worse signal, should have expected that.
Two more coats of bottom paint were applied today, so we have one layer of clear epoxy over all of the repairs, followed by two layers of grey epoxy seal, next will be two layers of a tie epoxy coat, followed by 2 coats of antifoul. It's hard to imagine this boat will ever have osmosis (blistering) again. I'm hoping the prop shaft goes bck tomorrow then I can get to work on the quarter berth and look at fixing up the shore power properly.
I had to chuckle when I saw this link today, about a brit sailing, god bless Pathe news for making this stuff, precious, and quite hilarious. We tend to have less crew on Stardust.
Paul C.