I finished cleaning around the chart table today. It's a lot better now, I ripped out the electronics. Most is ready to be replaced or re-located.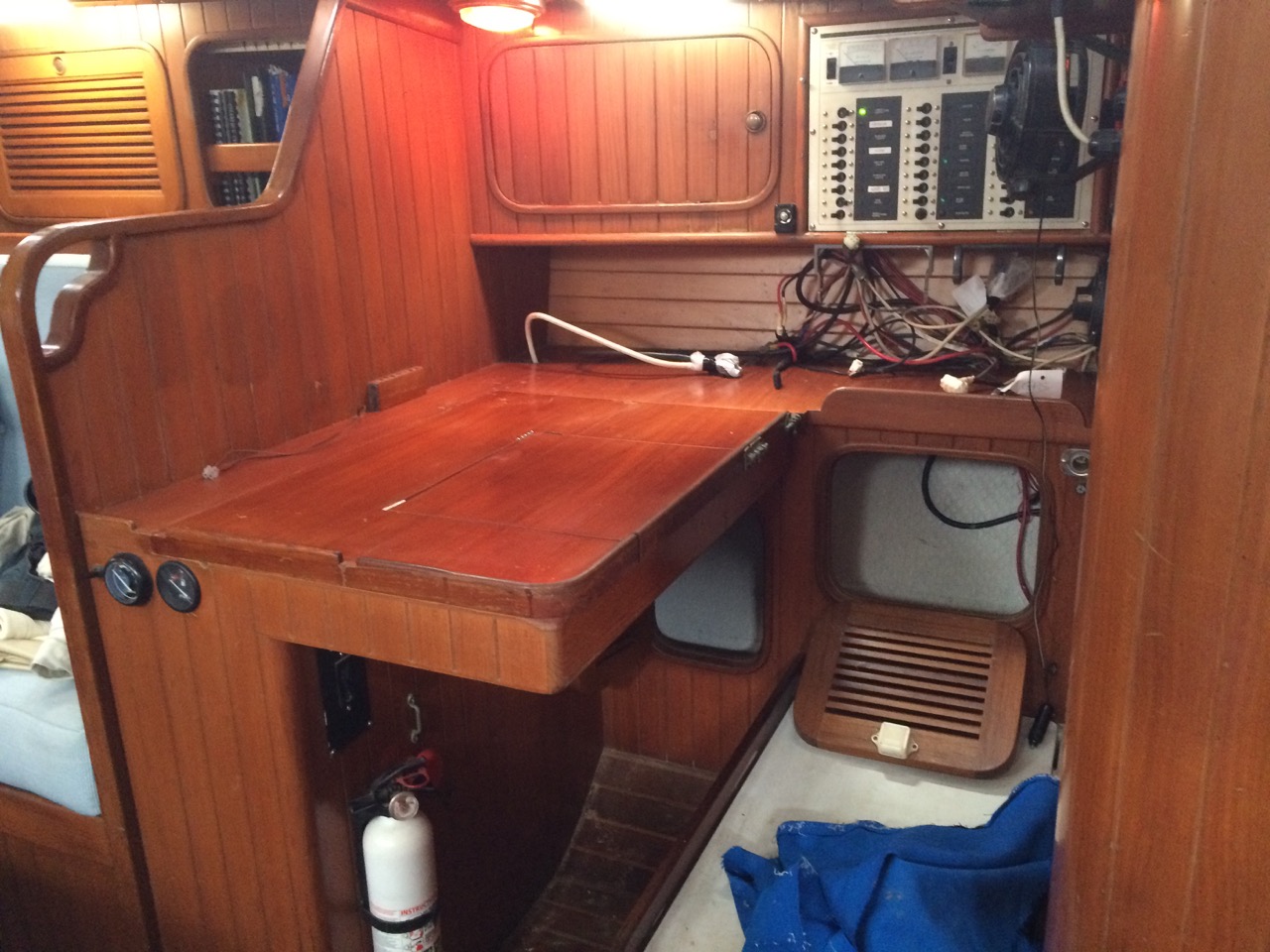 I think the PO (previous owner) had added the electronics bit by bit, you can usually spot this by the way it's wired in, especially when lots of kit is running off the cigar lighter.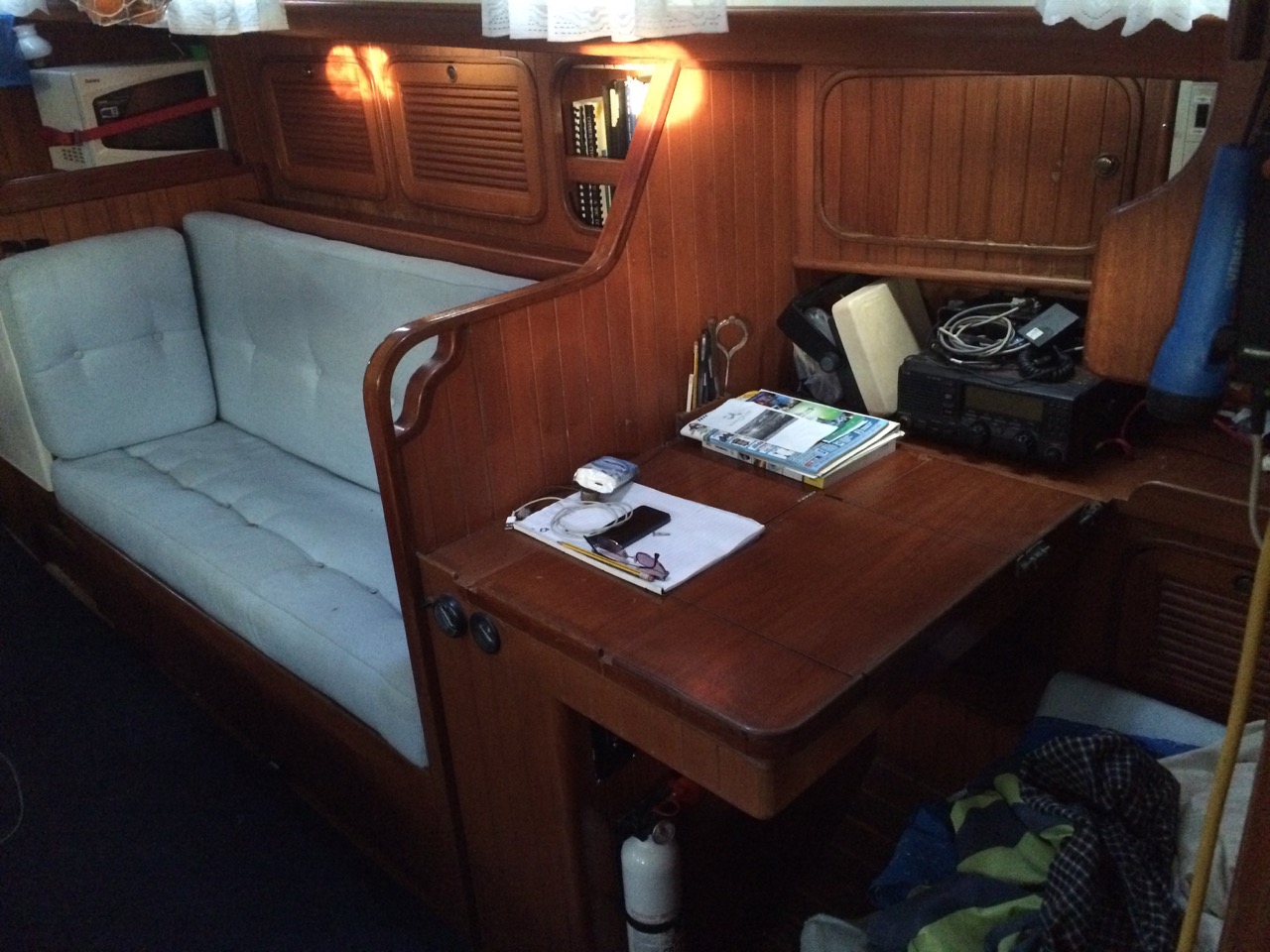 I plan to have the following equipment installed around the chart table as a minimum for now:
1) DSC VHF (new)
2) AIS Class B Transponder (Receiver and Transmitter)  with display (new)
3) Radar (existing Raytheon)
4) Navtex (existing Raytheon)
5) SSB Transceiver with Saillink Packet modem (existing Icon)
6) Chart Plotter (existing iPad running Navionics)
So I'm moving the existing kit I'm keeping to better locations and will be ordering the new gear soon.
I'm also investing heavily in Signal-K a new protocol designed for the future, currently all the equipment can talk to each other using a basic protocol called NMEA, this allows the autopilot to learn how to steer using the GPS route information, or for the DSC-VHF to send out the position as part of a distress call. However the Signal-K extends the connectivity to any kind of equipment and also to other places, people or interestingly, other boats and shore stations and even over the internet. In theory, my chart plotter can now show me my route, and the routes programmed into other boats if they support Signal-K, I can in theory extend my AIS or Radar by hooking into the data from other boats further away. Shore stations may collect this data and retransmit it. It's been called the Internet of things for the sea. It may not take off, it's early days, but I will be writing software and apps to work with this data, and I have ordered one of the first Signal-K gateways for the boat, which should arrive soon. More details can be found here
I'm also struggling on how to handle the entertainment system for the boat. I definitely need a pumping sound system that works in the cabin and the cockpit, and possibly the v-berth, most of the music is going to be coming from an IOS or Android device, but will also need local FM radio. I think it will be nice to watch a film once in a while, should that stay on the laptop, or invest in a display I can plug the laptop into. That decision can wait a bit.
I still see no sign of any visitors lurking around the boat, but I found this chappy behind the chart table today (well dead ).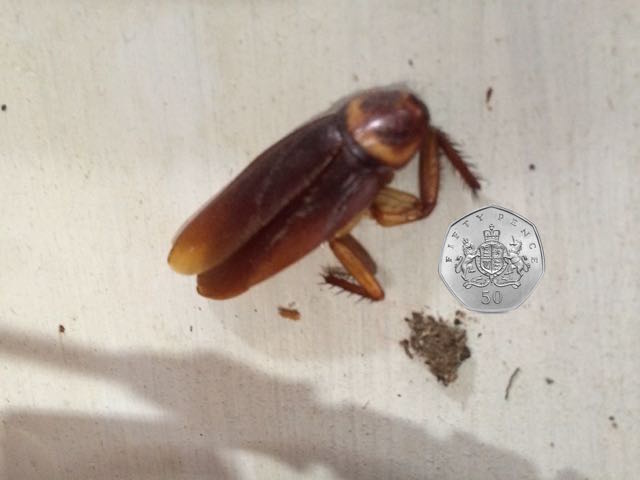 Tomorrow I'm going to get to the bottom of the shore power wiring, and decide on 110 or 240V for the boat, or some kind of compromise.
Paul C