Apologies to Robert Browning for rehashing the title of his famous poem, but April is here and I am in England. It's almost time for me to return to Southeast Asia for more adventures but before I left Malaysia I didn't get a chance to post my blog entry about our final few days in Thailand so here it is with accompanying pictures of more gorgeous places.
Wednesday 15th March – Ko Lipe
During the night I was woken by howling! It was very loud and sounded just like the wolves in horror films. As I came round a bit and heard barking too I realised it must be coming from the stray dogs we had seen on the beach. I went into the cockpit to listen some more, hoping it wasn't howls of pain I was hearing but they stopped after a few minutes. Paul told me he'd heard them too and decided the dogs probably just followed suit when one of them started making a noise: 'oh, what do I do, shall I howl or bark – I'd better do both, that's what all the other dogs are doing'  :). The strays appear to be very well looked after here. I saw a few signs on display on the island advertising the charity that cares for them (Animal Care Lipe), and the ones we saw looked well fed and content. After a lazy day on board we had a look at the other beach (Sunrise Beach) late in the afternoon. There were even more dogs on this beach and it was a lot less touristy. The bay was full of moored longtails and as its name suggests, it's the beach where early risers can see the sunrise.  After an early evening drink in a bar, where a gorgeous little pup wanted to make friends with Paul, (see pic) he went off to a beach bar while I browsed the shops.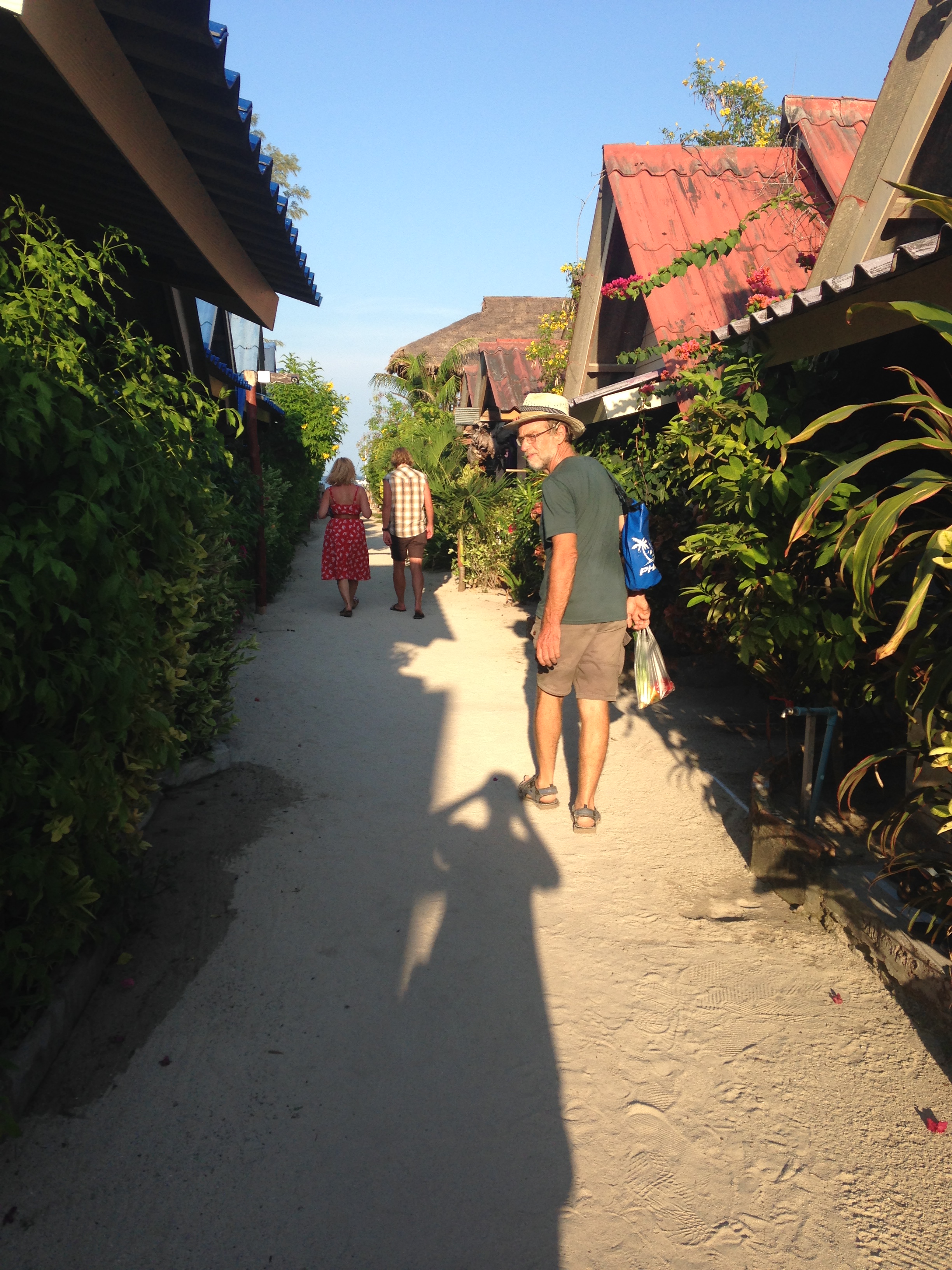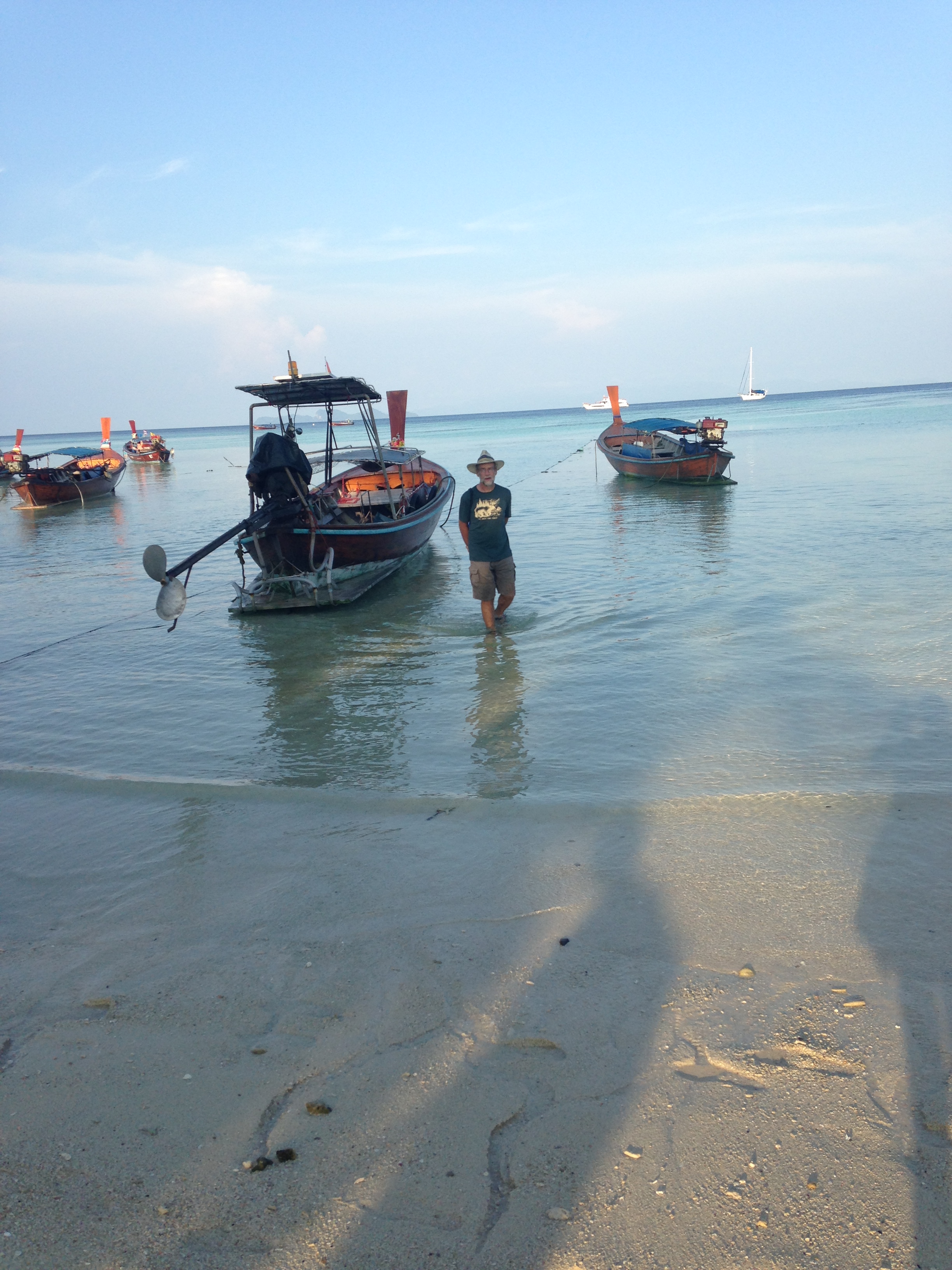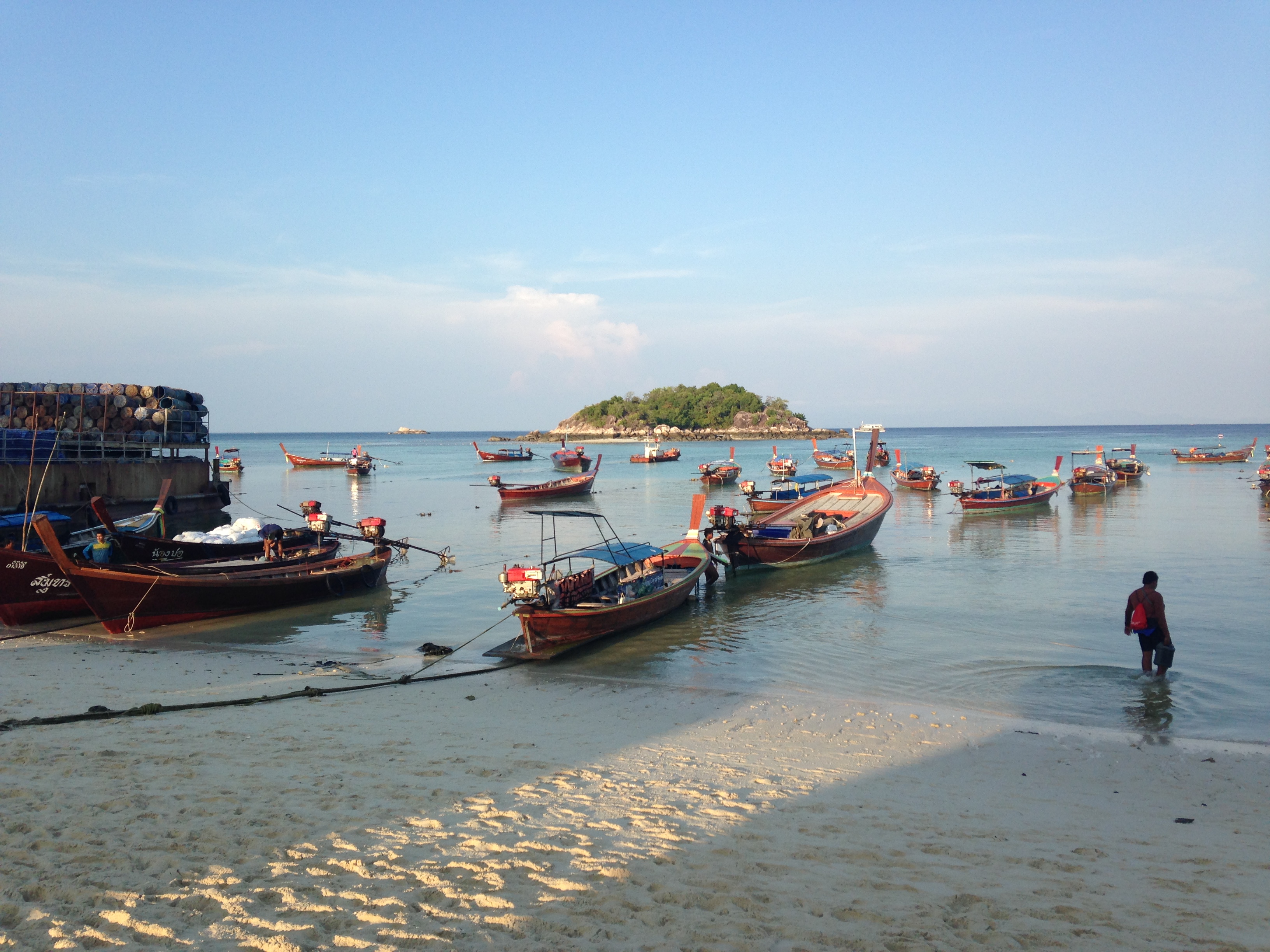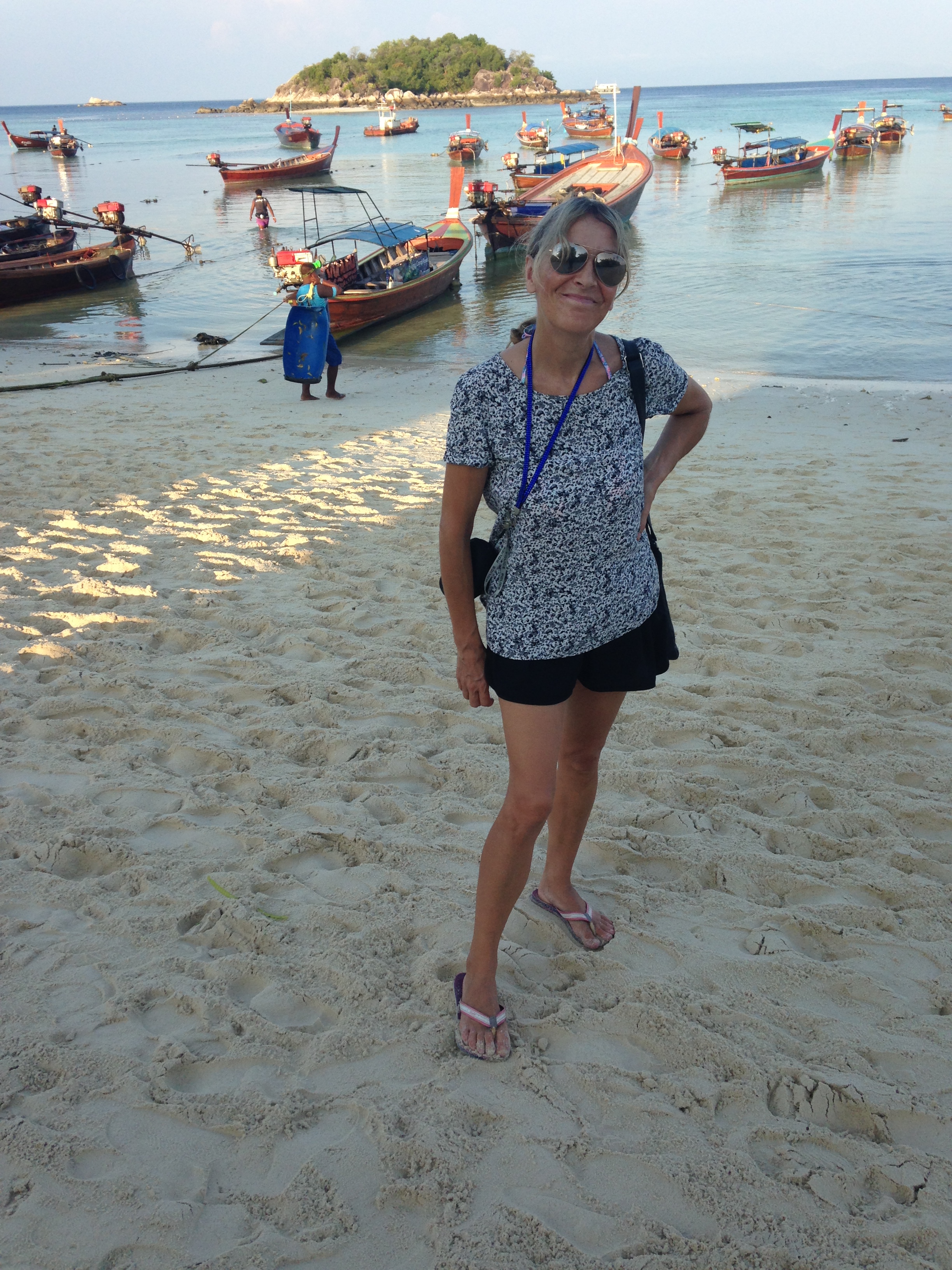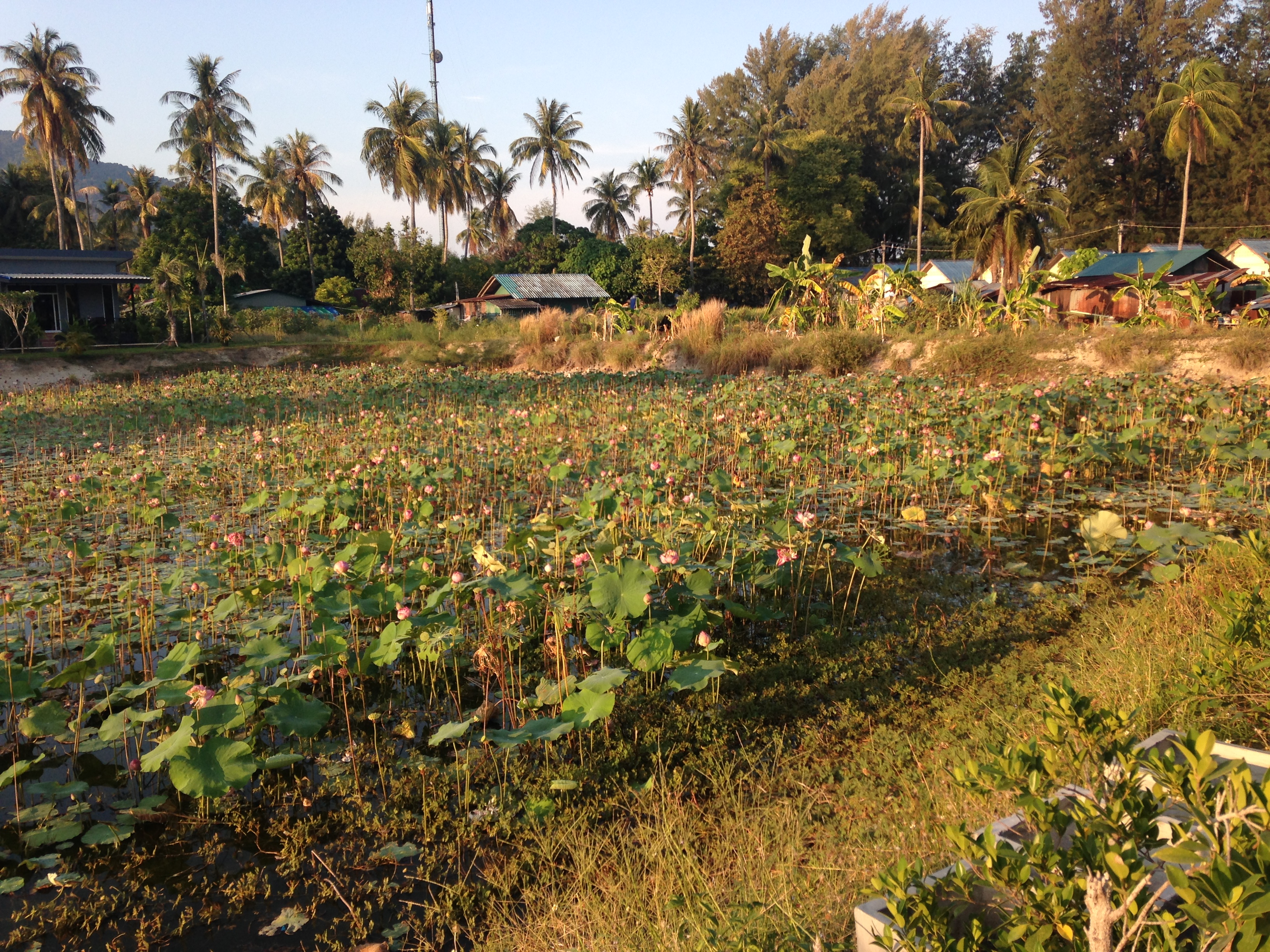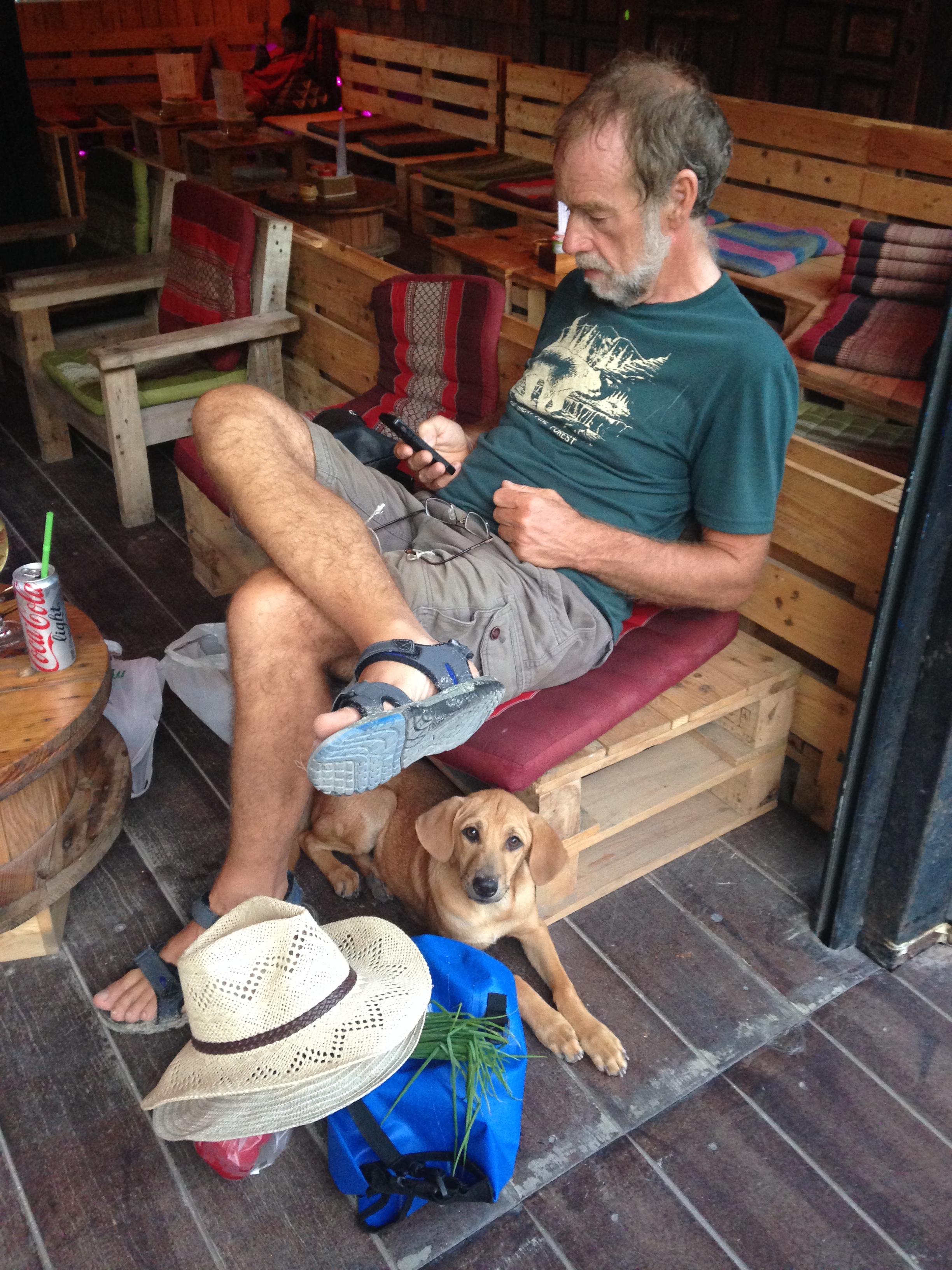 Since it was probably going to be my last chance to do so and also because I'd backed out so many times before, I braved having a Thai massage. I'm very pleased I did – it was wonderful. For an hour, you just lie on a mattress where incense is burning and soft music is playing while a professional masseur kneads and bends, manipulates and even walks on, your muscles and limbs. The price (£7) includes head, feet, neck and shoulders – very relaxing, and highly recommended. I met Paul in the bar two hours later just as the beach nightlife was starting to heat up. Fire dancers were twirling blazing batons to a growing crowd of onlookers on the sand, beachside clubs were booming out music and staff from bars and restaurants begged passers-by to choose their establishment. It was back to the boat for us sleepy party poopers, though :).
Thursday 16th / Friday 17th March – Lipe, Barat and Rawi
We decided to leave Lipe mid-morning. Not to go very far, just to have a look at some of the other  islands around us. Paul's makeshift gearstick worked well and we arrived at Barat at noon.  There wasn't a lot to see there, apart from a few divers on a nearby man-made pier, but at least there weren't as many longtails racing past us. Once we'd secured a mooring buoy, Paul took the dinghy to check whether the island had anything on it that might be worth a closer look. It didn't, so we had a leisurely rest of the day and prepared for a rocky night because the weather began to deteriorate early in the evening.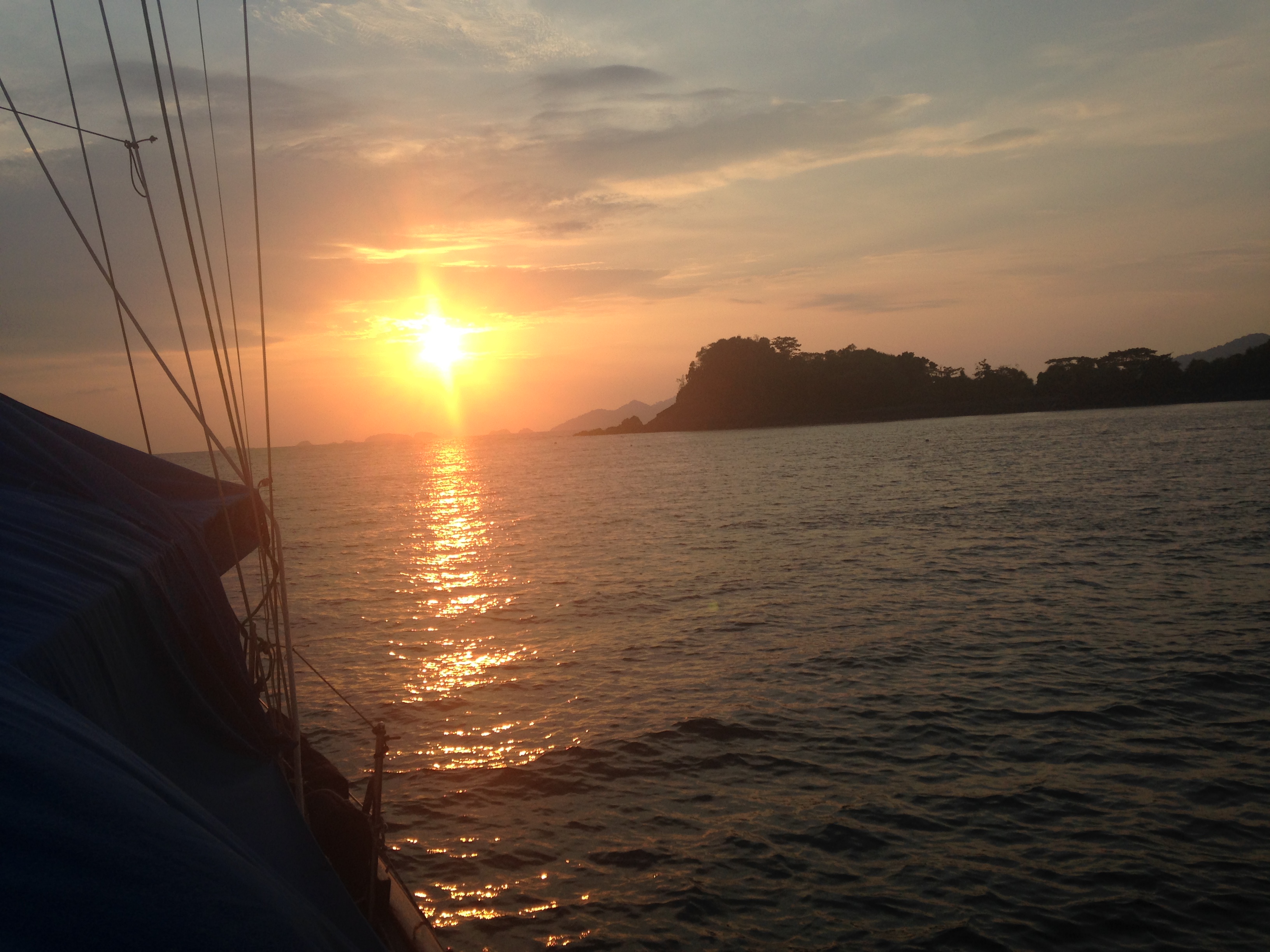 As it turned out, there was a storm in the night but it wasn't a bad one, compared with others we'd seen in the Tropics but the sea state caused quite a bit of rocking. The swell made the boat rock from side-to-side, so sleep was disturbed by some items becoming dislodged and falling and we had to close all the hatches and windows when the rain got heavy. Paul went for a snorkel with the Go Pro this morning because the water is so beautifully clear here, but with the rocking making everything that bit more difficult we decided to slip our mooring and move on.
Hardly a minute had passed when we experienced an alarming jolt and heard an awful grinding noise -one that I don't want to ever hear again.  I was convinced whatever it was had gouged a hole somewhere in the hull and ran to the bow to look over the sides to see if I could see anything. Paul has described the sequence of events in his post. At the time, I just followed instructions as it happened. One of these was to lift up the floor hatches in the cabin to check if water was coming in!  I don't mind admitting I was scared then because I had no idea how serious things were, or might get. The situation was made worse because the swell kept making the boat jolt and crunch as it repeatedly came into contact with what turned out to be a boulder directly underneath us. I had to suppress the urge to squeal each time it happened in case water was about to gush in. I was actually planning what to try and grab to chuck in the dinghy when I heard the longed-for cry from Paul 'it's ok, Kathy we're clear'! The swell had finally pushed us off the boulder. It wasn't until later, though after Paul had checked all around the hull that I felt completely secure. He really does know exactly what to do in any crisis, and more importantly, he does it without panicking. He did say that I reacted very well though so maybe I'm getting better at remaining cool, calm and collected :).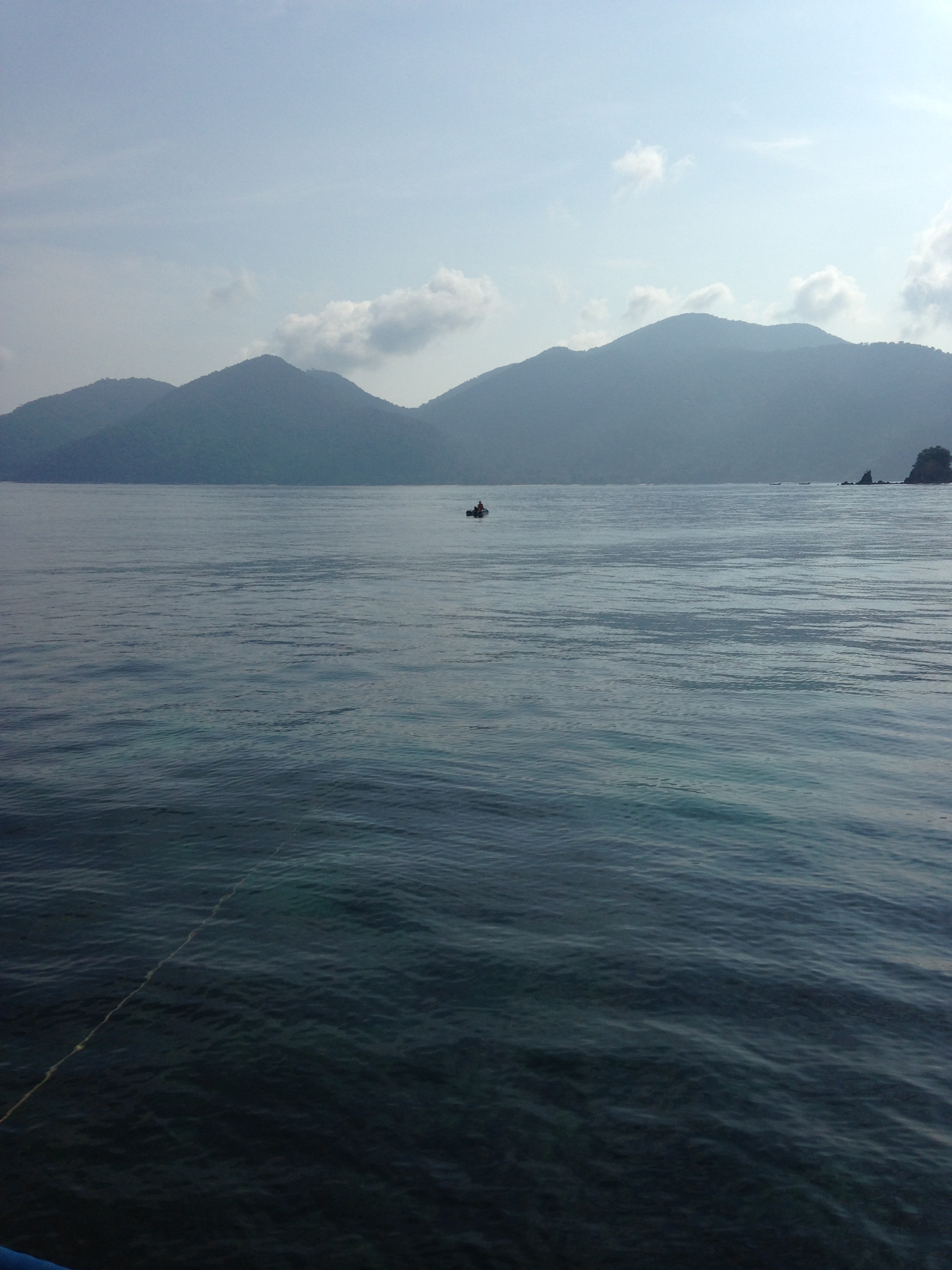 After that drama, we didn't move very far but we moved to the wonderfully peaceful and picturesque location of Rawi. No longtails at all here and no rocking, which was just what we needed. It was too hot to do much else but sit by the fans until the sun lost its fierceness.  At 5 we set out to explore the serene-looking island, marvelling at the clear water on the way.  The pictures show just how fabulous it was, all the more so for being deserted and quiet.  We clambered over rocks, paddled in the warm water and watched the living shells and crabs scurrying along on the sand. Paradise found!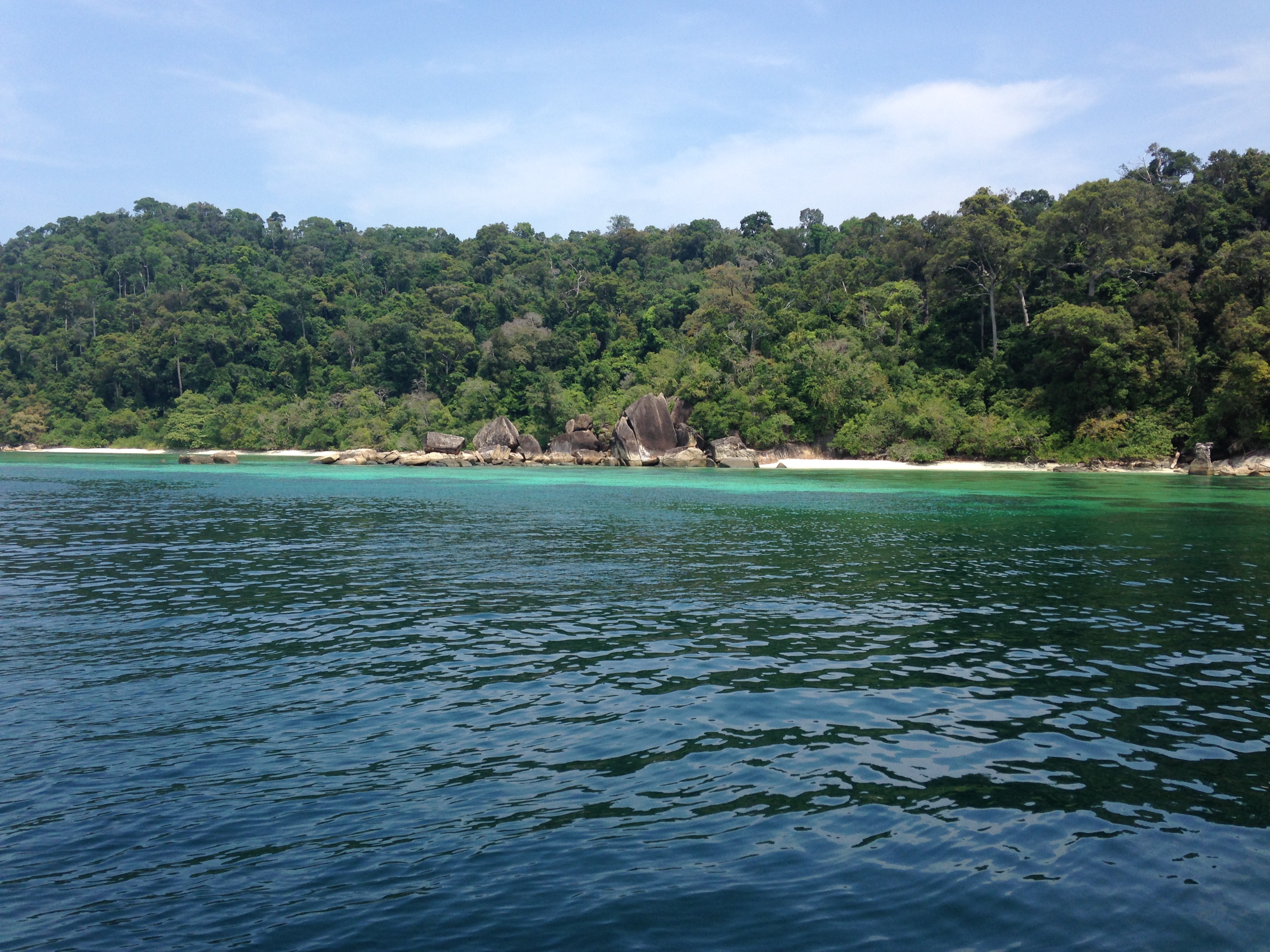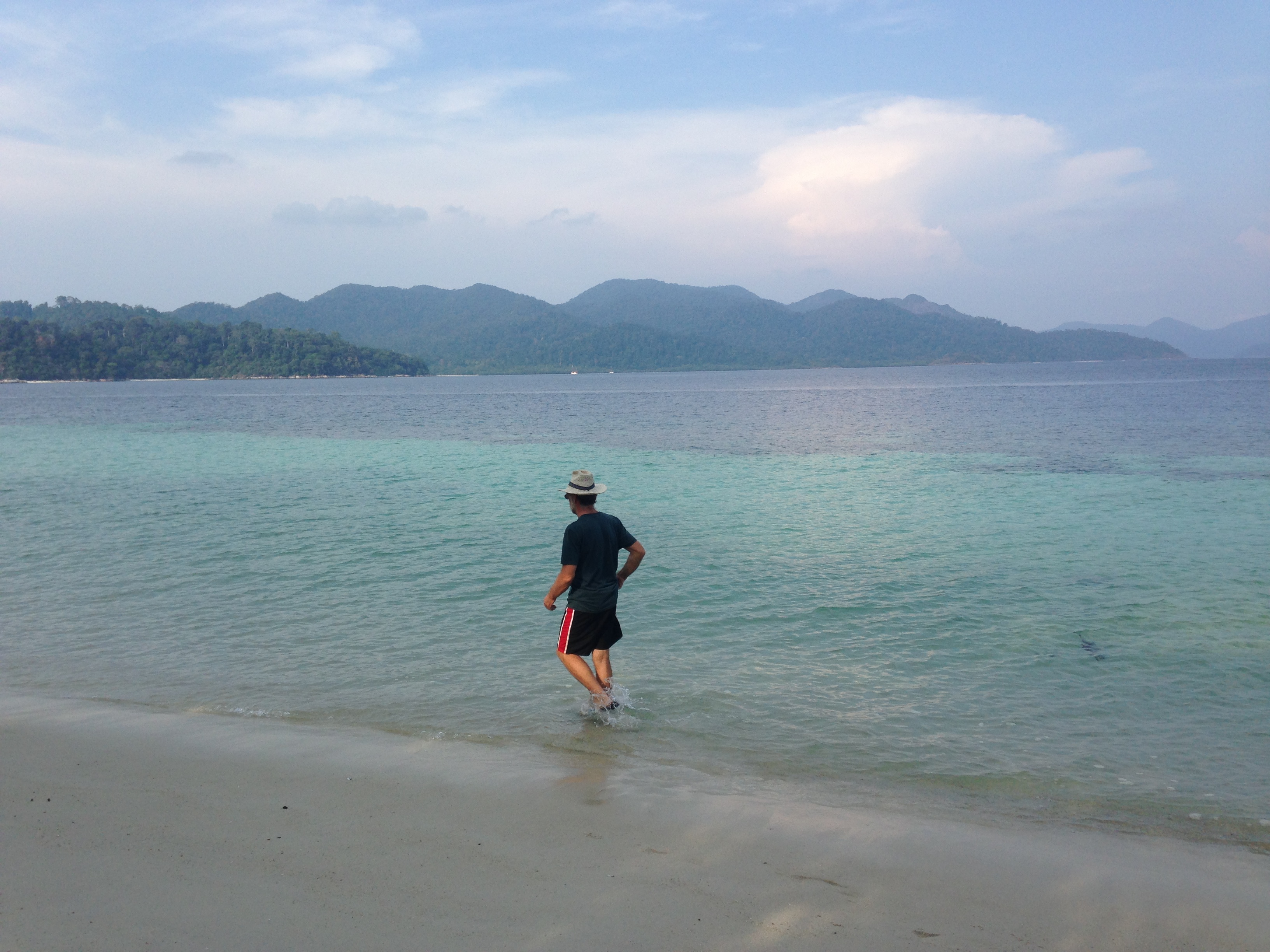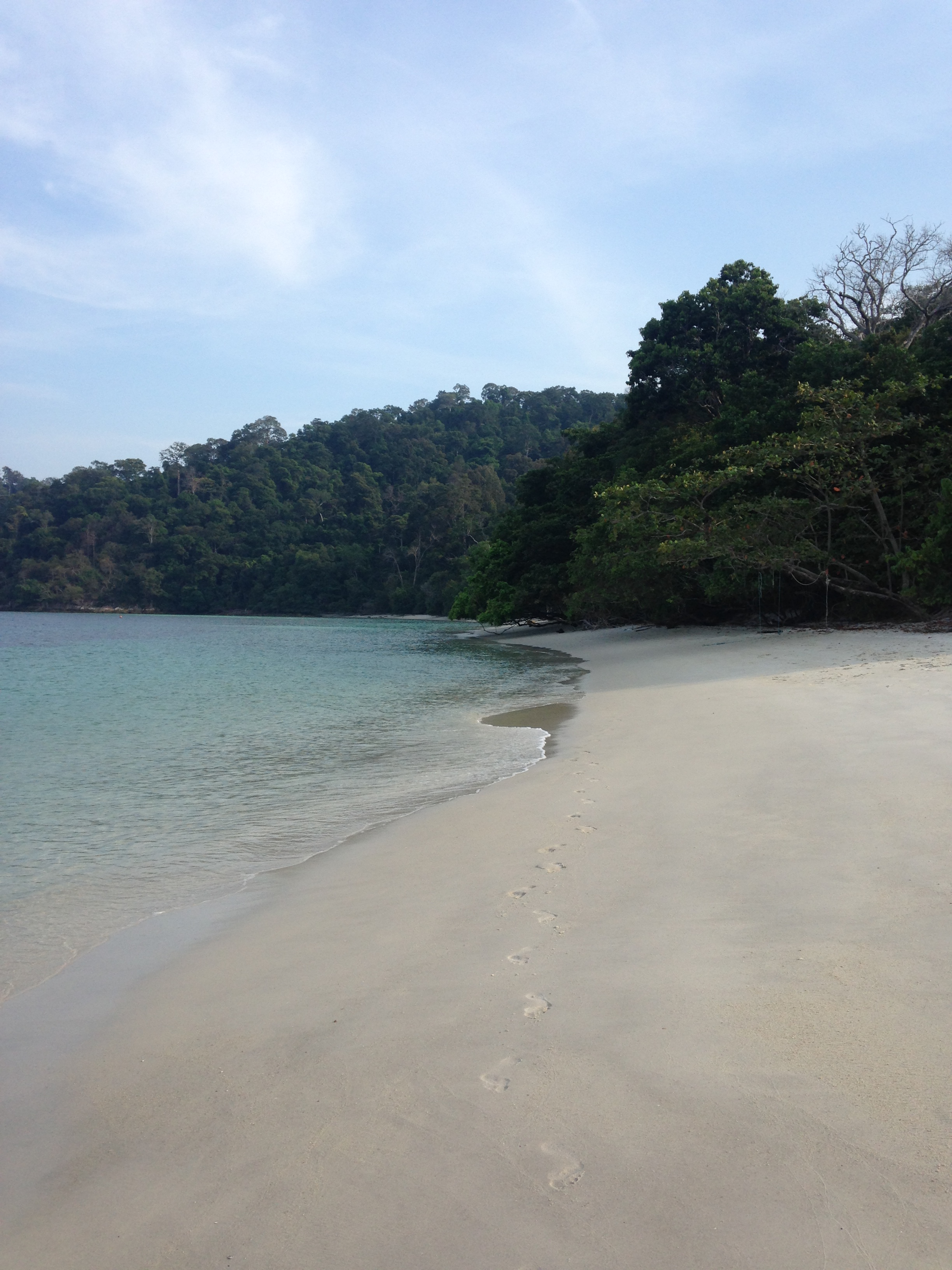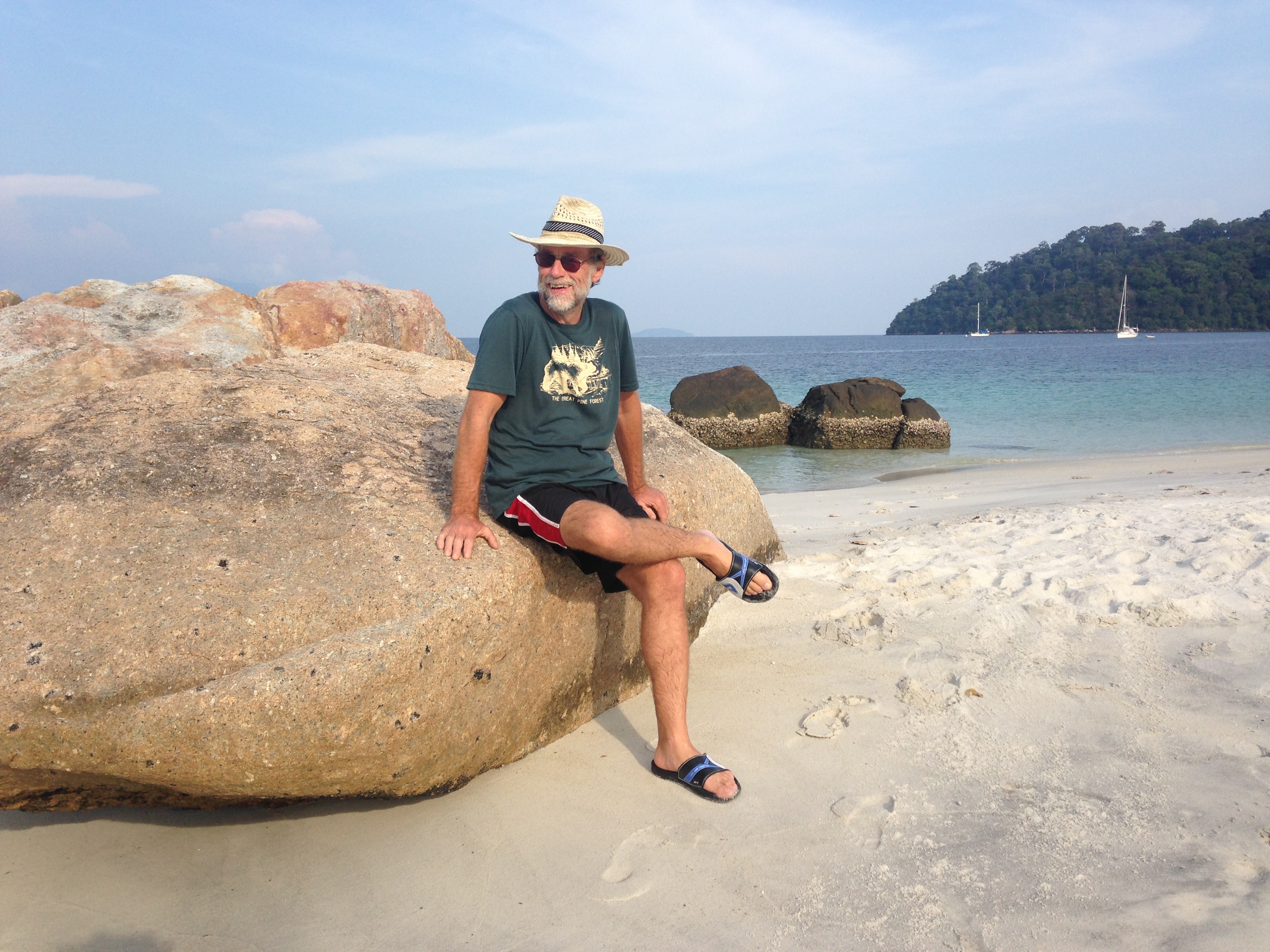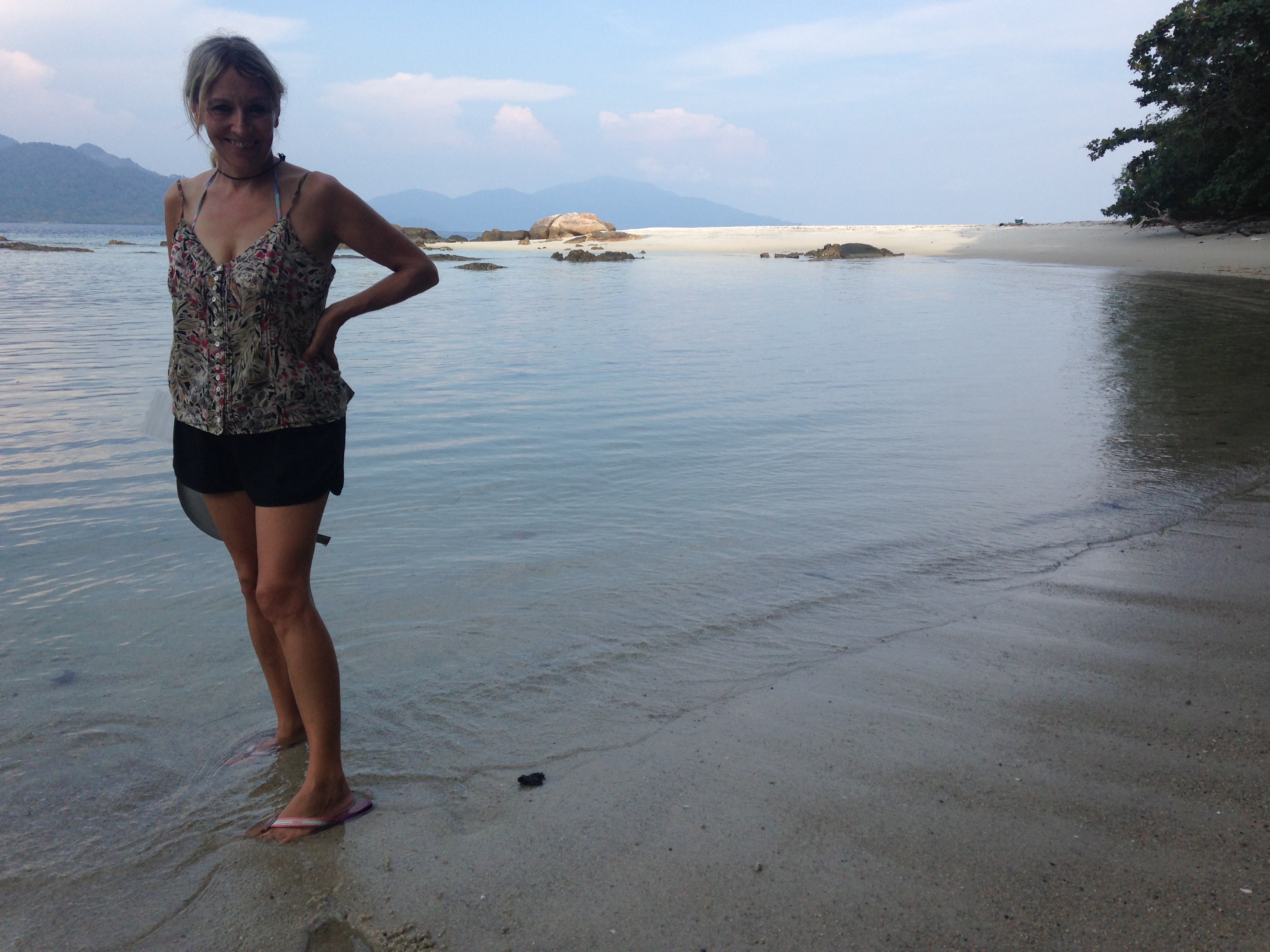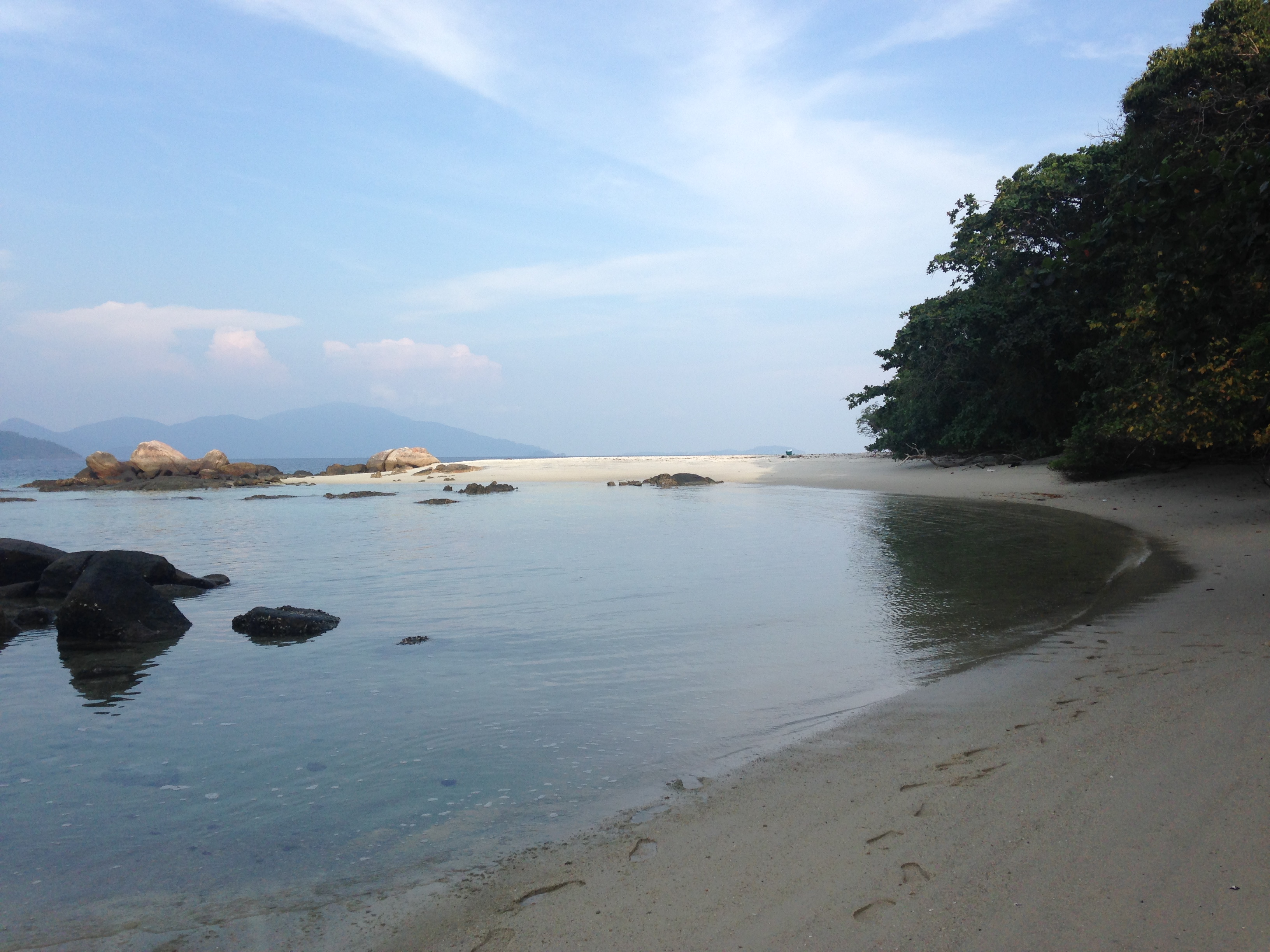 On our way back to the beached dinghy we spotted a few uninvited guests investigating it.  The monkeys we had seen when we arrived had evidently heard us and had emerged from the woods to see if there was any food going. One of them picked up a mosquito repellent spray, and threw it down in disgust, while another was taking great interest in one of the oars. Seeing us approach, and hearing Paul telling them to clear off made one run at us – it looked aggressive and I reacted by running into the sea to escape its wrath but it was all bravado because it thought better of tackling Paul and scurried away. My fear came from reading a sign on the beach that warned people not to feed the monkeys because they can be dangerous, but the picture below shows their possible reaction to it.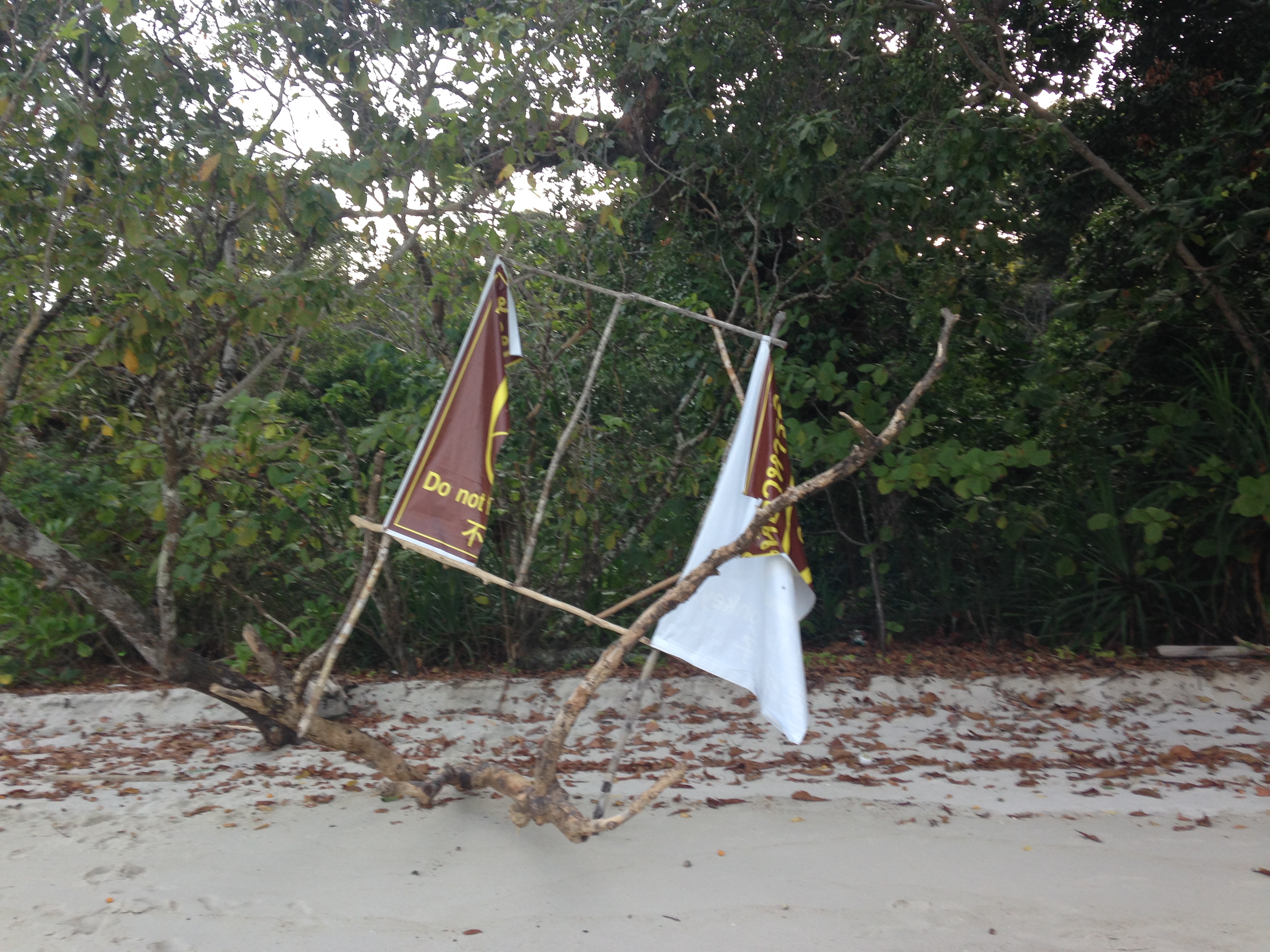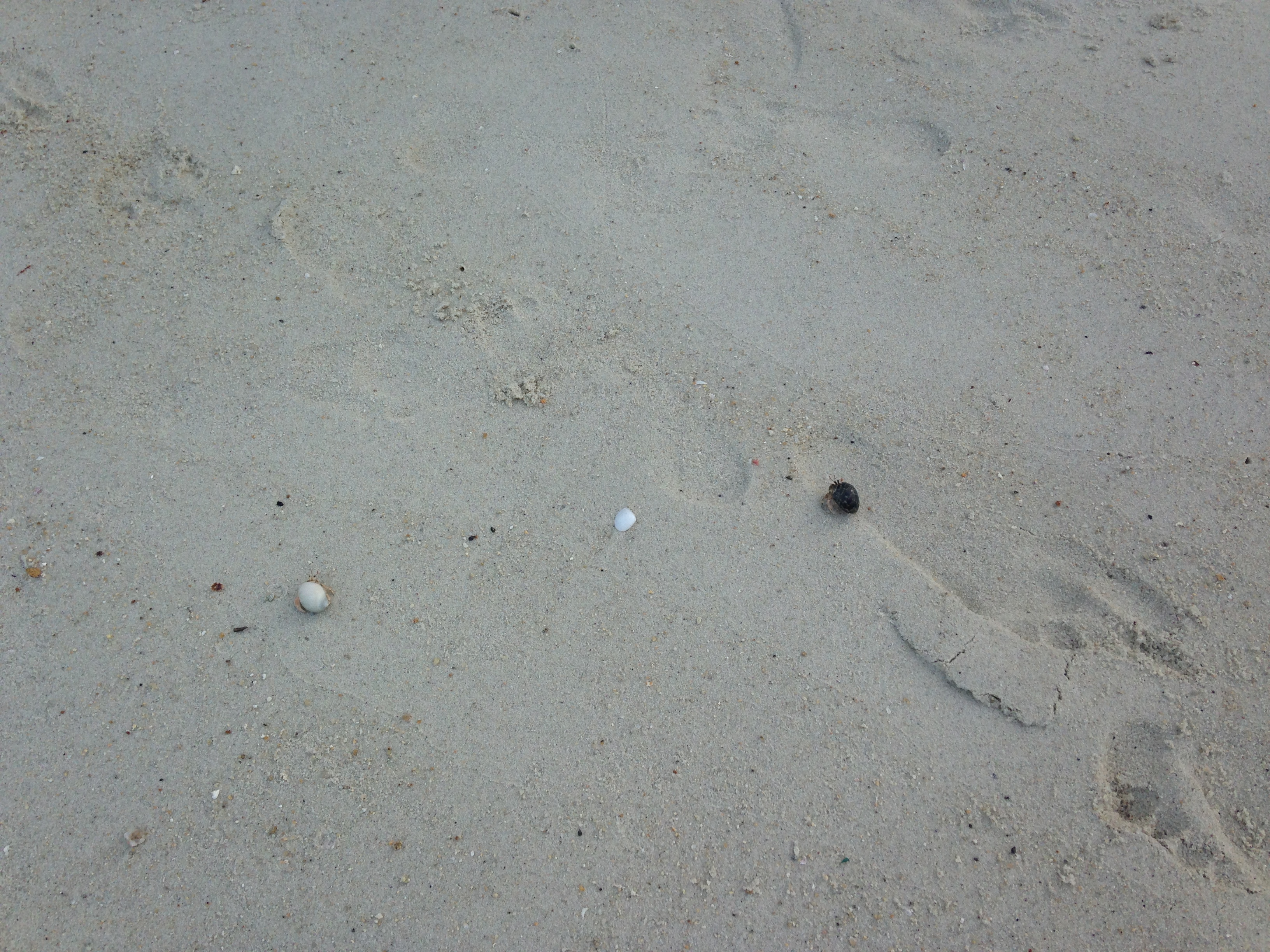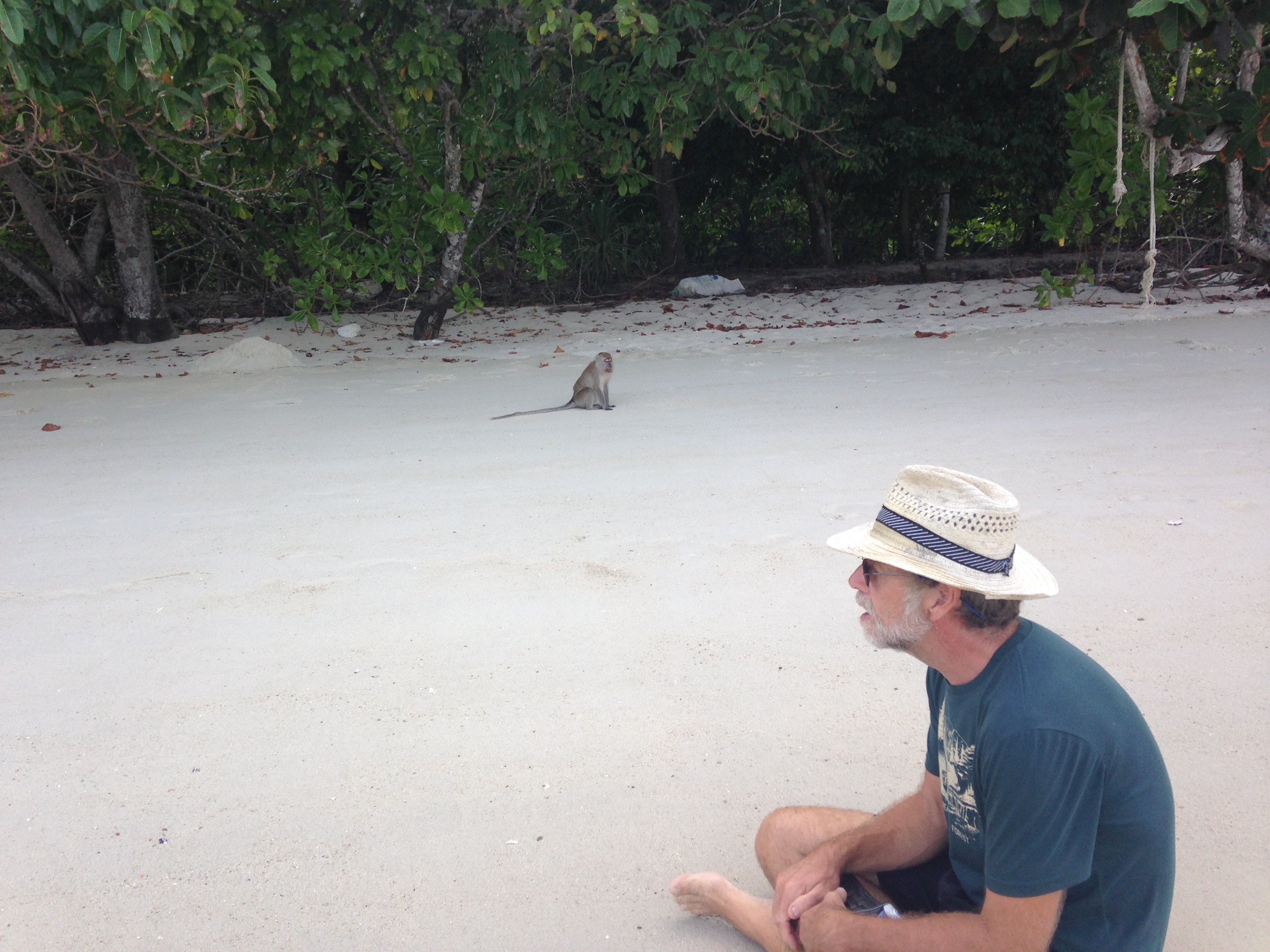 We took our time getting back to the boat, lingering in the dinghy to look at the incredible scenes of the marine life under the surface of the water. It was so clear it was almost better than snorkelling. While the monkeys scrapped and chased each other on the beach, we watched sea urchins, vividly coloured tropical fish and living corals. It was the ideal antidote to the anxiety we'd experienced from the rock collision earlier in the day.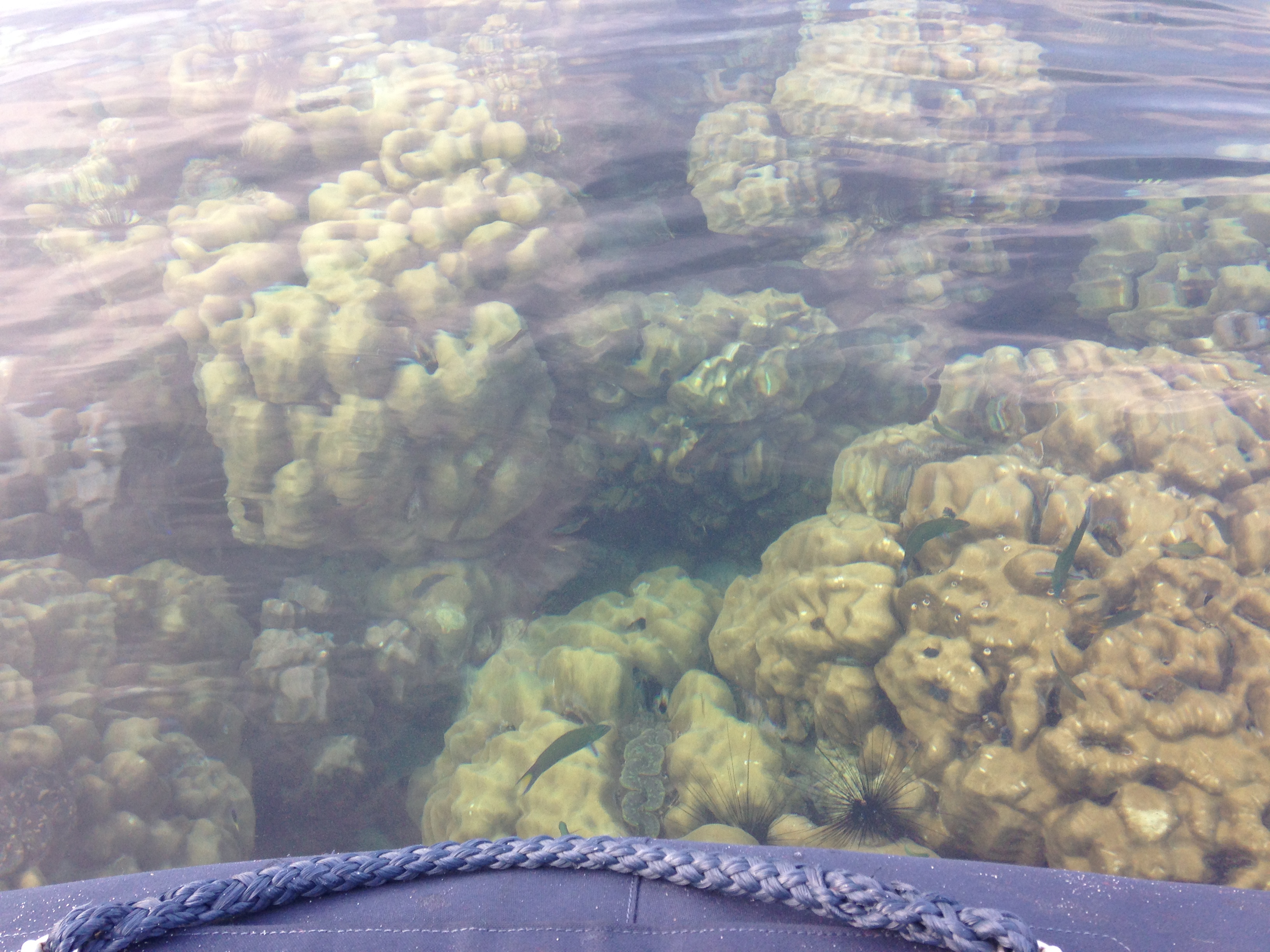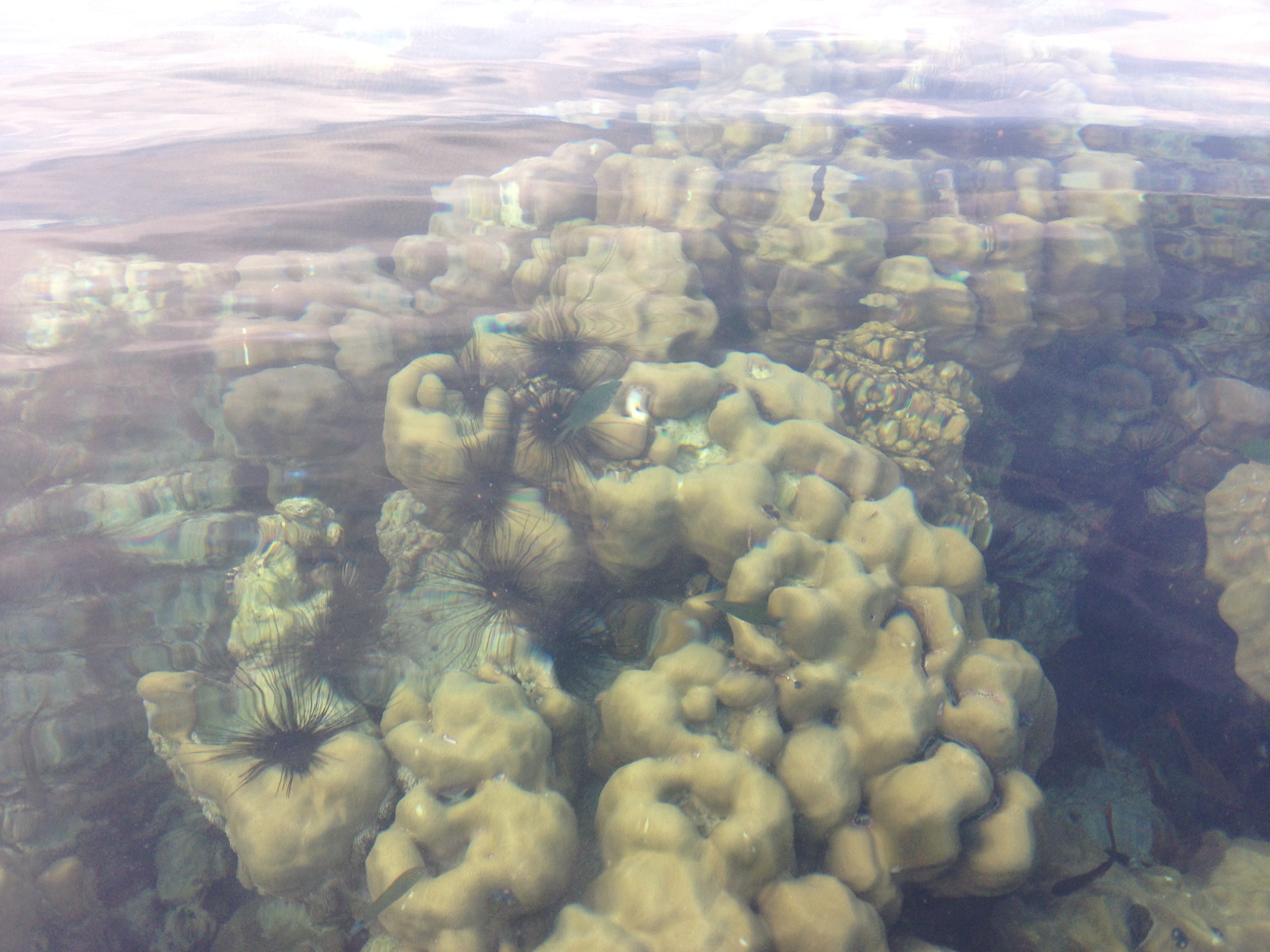 Saturday 18th March – A bit more Lipe
We returned to Lipe this morning, mainly because it's a good point to leave for our next stop -Telaga Harbour in Malaysia, and we also wanted to take a look at the island's other coastlines. However, after motoring around and assessing (and rejecting) the suitability of various likely spots we ended up in the same place we'd anchored at before. Same 23 metres of water but this time using the makeshift gearstick, which is becoming more familiar now that I've had some practice. The humidity forced us to relax in the cabin all afternoon and it wasn't until 6 30 that we ventured out in the dinghy to get provisions. Walking Street was hot and sticky and crowded so we got what we needed pretty quickly (I tried not to flinch at the cost of five pounds for a jar of peanut butter) and headed back to the cooler shore. Since this was our last night in Thailand, we went to The Paradise Bar at the end of the beach that we'd become fond of, and had drinks while listening to great music and chatting to the friendly staff.  It would have been lovely to stay longer but as the only drinker of alcohol I had to remain 'steady' enough to help carry the dinghy to the water, and more importantly, be able to get into it in a graceful manner.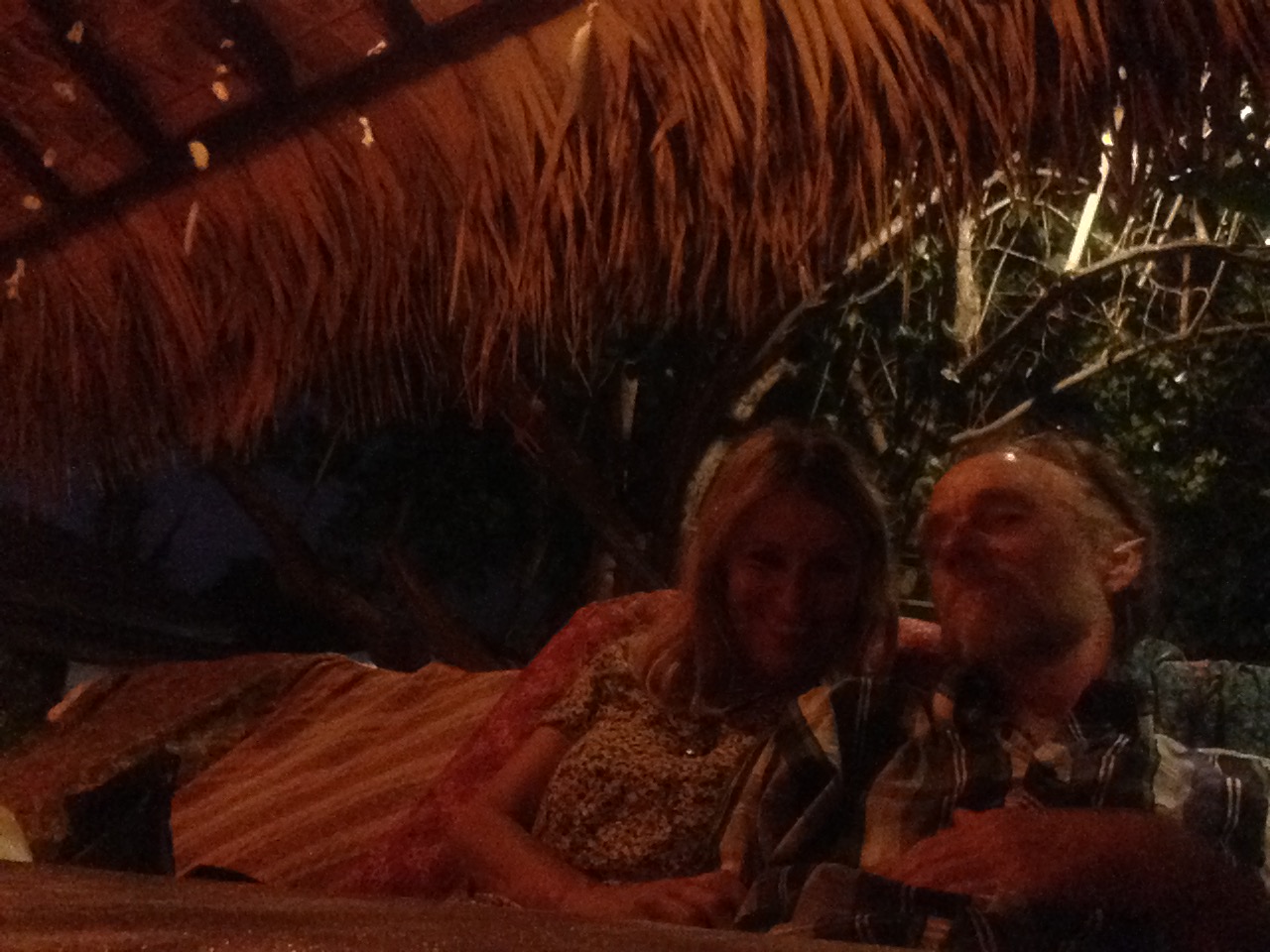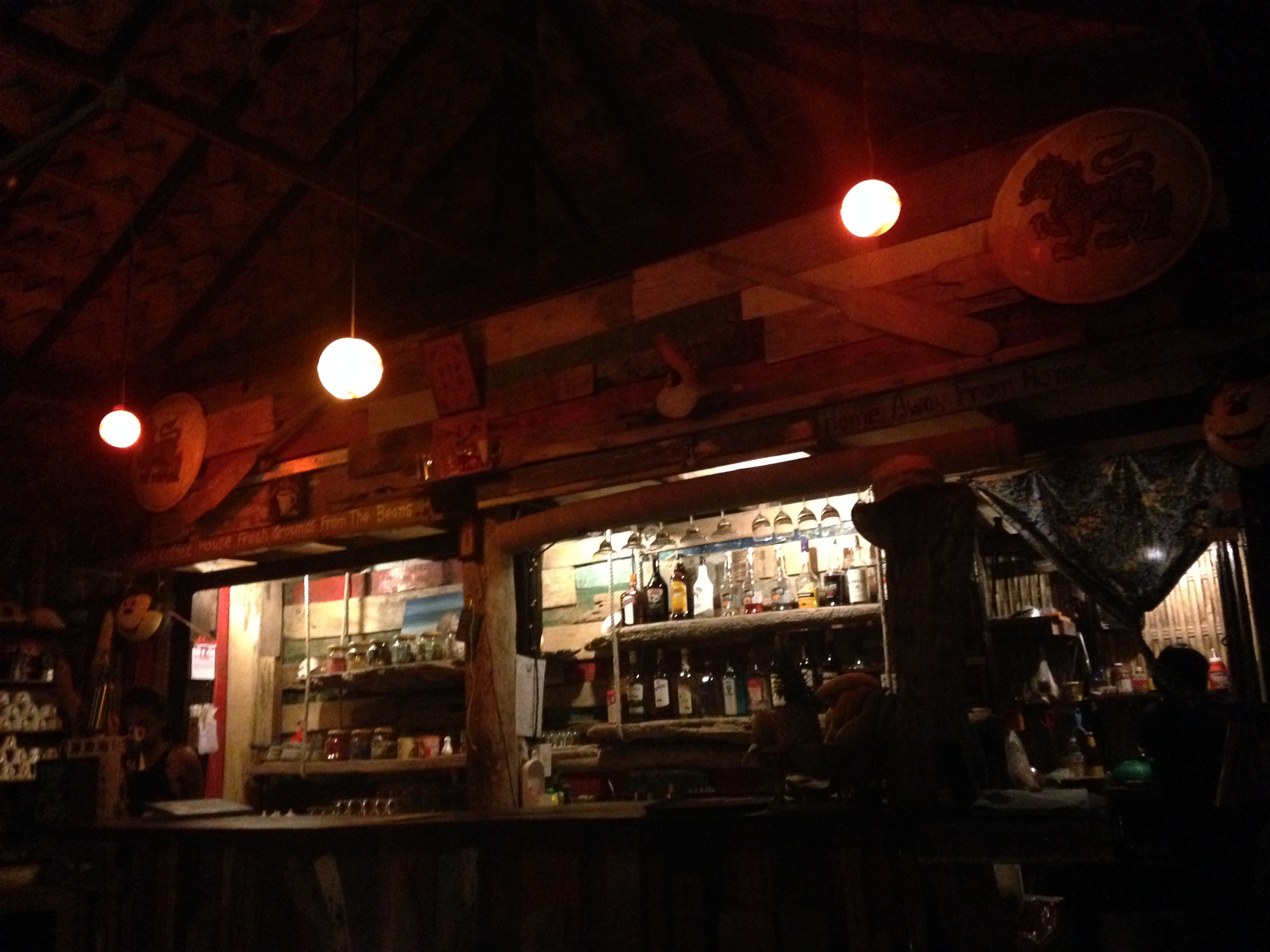 We had a somewhat disturbed night due to loud music from the bars wafting over and the fact that the wind had increased in strength.  There was a possibility that boats moored or anchored nearby could swing and hit us and we were concerned that we, too might drift if our anchor dragged.  Typically, that had to happen while we were both asleep so we had a rude awakening at 7am when a strong thud jolted the side of the boat. It was better than any alarm clock – Paul was up above in a matter of seconds to discover that the anchor had dragged and the boat had struck the ferry that had been quite far away when we went to sleep! Thankfully, though it wasn't too serious a collision, just a scratch on the paintwork. As we made a sharp exit out of the bay, I saw a sleepy looking crew member from the ferry looking slightly bemused.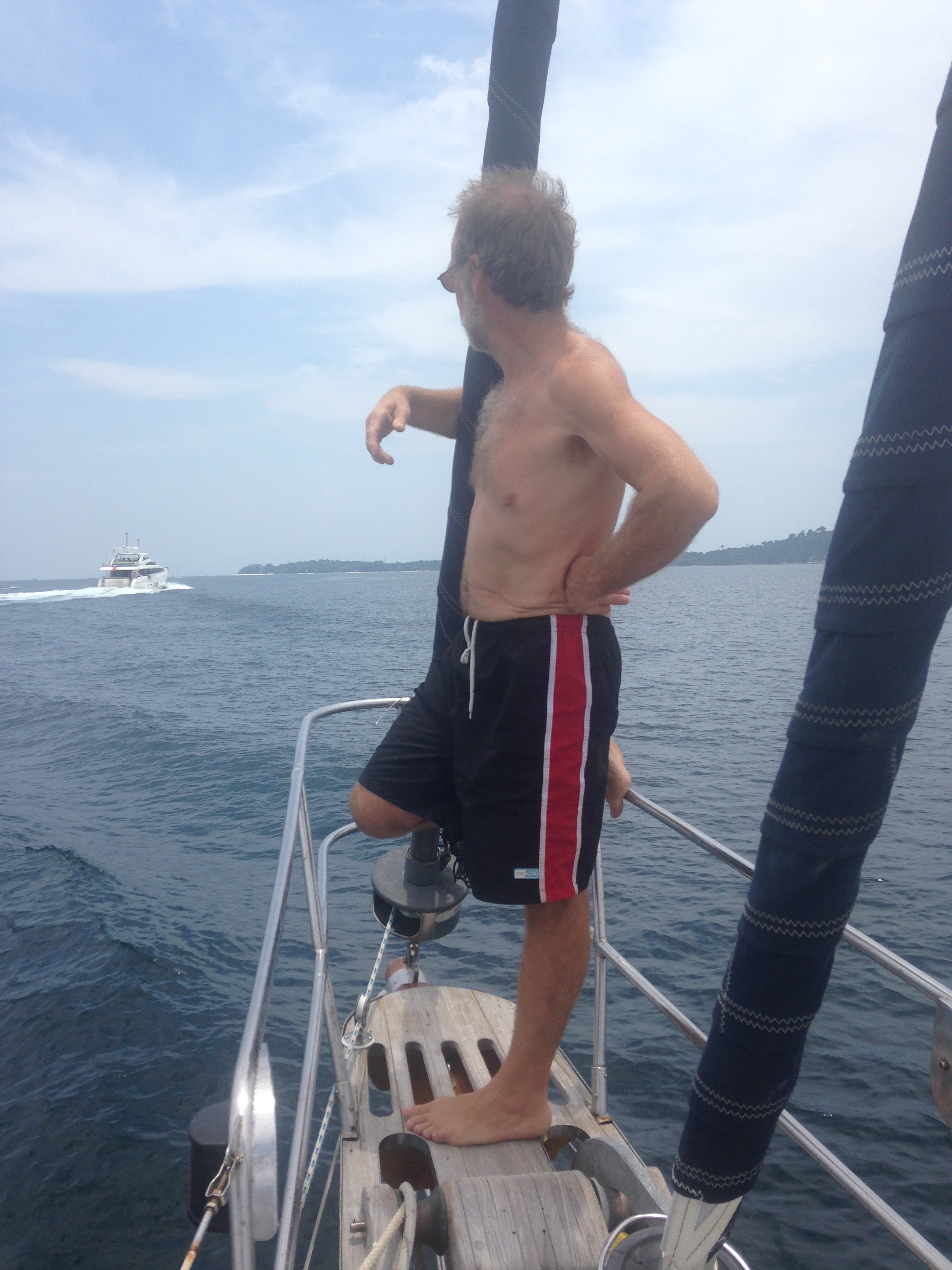 We made it back to Telaga Harbour without any further incidents, and from there back to Langkawi's Royal Yacht Club.  There was a maritime festival going on not long after we arrived. The boats in the marina were festooned with artwork, flags and lights and there was a party atmosphere in The Deck Bar as well as in the local cafes and shops. We walked to Eagle Square and watched the parade of boats on finale night. It was quite a sight: flashing lights, dancers in national costume, music and a spectacular firework display at the end. In a few days I would be leaving these hot, sultry nights for the more temperate climes of the UK and Italy and would not be seeing Langkawi on my return at the end of April.  There are other countries and waters to explore and navigate then, and I'm thrilled at the prospect of seeing our first one at the beginning of May: Singapore – and the famous Raffles Hotel beckon.
Kathy