Thursday 13 th
Today we checked out with customs and immigration in Telaga harbour. All very easy. However Chris informed us that the swaged fitting on the headsail stay was the wrong size for the furling gear, we could wait a few weeks to get a new one sent out from the USA, or pick one up later in the year on our way through, or get one swaged locally later that day, which meant missing our departure. I went for the latter option, and as it turned out we were able to use the stay we had, with a modification to the furling gear. This still meant a delayed departure, so for one evening, we were illegals.
Also I found that the dinghy stayed inflated, except for the floor, which isn't essential. I can have a go at gluing that myself. Still I do fancy a nice new, bigger dinghy.
Another nice thing, or sad, depending on how nostalgic you are, is that contracts and money changed hands today for Lady Stardust, so she has a new owner. He bought her on spec and hasn't even seen her yet.
Friday 14th
So with all shiny new rigging, we left Telaga. The plan was to go west to the group of islands with Koh Lipe at the southernmost tip. However it was hard going, the south west monsoon was mostly from WNW, so we had to tack upwind, this is not this boats strongest point of sail, and after the second tack it was obvious we weren't going to get far. I had a reef in the main and the headsail half furled and the staysail all out. Some of the squalls were quite strong, 20-25 knots, and 2-3 m waves. Also it was worse on one tack than the other. I think this is because the mast isn't tuned yet, in fact I think it's leaning to starboard, like the boat itself.
Somewhere along this journey Kathy shouted out that the Genoa (headsail/jib) was in the sea. This perplexed me, as it's quite difficult to achieve this. I was hoping she meant the sheets, but a quick look and sure enough the staysail is in the water not on its furling gear. You can't actually see the sail easily from the cockpit as it hides behind the mainsail when beating upwind. So up to the bow to investigate.
First I had to get the sail back onto boat, as I was hauling it onboard I remembered watching Dame Ellen MacArthur doing a similar operation on the TV, however she was in tears, and took all day. I had mine back on board in a few minutes. Mind you she was in the Antarctic doing 40 odd knots, and her sail was the size of a small cricket pitch, whereas I'm having a pleasant time in the tropics, with a hankerchief size of a staysail, even so….
Anyway, back on board I could see the head attachment had ripped off, and the sail split down the luff behind the luff rope for a couple of metres. The sail had then lowered itself down the furler, popped out the bottom and over the side. No point in worrying now, I grabbed some rope and lashed it down to the deck to worry about later. I don't have any spare sails on this boat, unlike stardust that had 3 of everything. Still with the stress on the rig so far, I know everything has been tightened up. I also found out why the swim ladder was removed, or at least another reason, with it lifted up out of the water, the headsail sheets can catch it and rip it off it's mount, which they tried to do several times.
Soon after this I gave up trying for Koh Lipe and swung her around to sail off the wind over to the Lee side of Koh Tarutao, this isn't very far north of langkawi, but was going to have to do for the day, we were relieved to get into calm waters and found a lovely spot near a jetti to anchor.
Lost my cap at some point today, so went for my spare, got two spares so all is ok.
I'm not sure if I have been in the med too long without tides, or I have a terrible memory, but I was surprised at how much this boat doesn't care about the wind. Or should I say, how she doesn't like to lie at anchor to the wind, and the current flowing has a massive effect. Consequently, a lot of the time the anchor chain is running under the bow, and making hideous sounds as it grinds away at the bob stay. I now run a long bit of nylon rode to an anchor hook I lower over the anchor roller, this takes the strain from below the water line.
Saturday
We make an early departure for Liang, in the rain and squalls, I had hoped to go further today, perhaps to Koh Rok , but I decide to be less ambitious. Again heavy weather, but I spend the morning in the cockpit repairing the broken sail. I manage a reasonable repair, but the weather is to heavy to think of putting it back on the furling gear, and I don't want my delicate stiching to be flapping like crazy in the wind. The plan is to keep a turn on the furler all the time so as not to stress my repair.
We arrive at Liang late afternoon, anchored off a lovely beach, but rolly and still getting hit by squalls, but anchor worked well. I paid a lot for this anchor, but already I'm pleased at how it sets first time and doesn't seem to budge once it's in.
Lost my cap at some point today, so went for my spare, got a spare so all is ok.
Sunday 16th
Up early, need to push on and find somewhere sheltered to mop up and get my staysail back on. I love this staysail in heavy weather, it's quite powerful, and with it being close to the mast it doesn't have such ability to destabilise the boat as the big Yankee headsail can. In fact the Yankee headsail is more like a high cut Genoa, I like that too, it's very powerful but difficult to furl in a blow for me with my knackered shoulder.
So Kathy takes the helm as I raise the anchor, a bit blowy but ok, then out of nowhere , or rather from around the headland, comes a mini squall of 30 knot winds with pelting hard rain, I can see Kathy working hard at the wheel trying to keep the boat moving forward while I raise the anchor, but within seconds she is drenched through, not a great start to the day. I don't remember ordering such weather.
Again tacking into the wind is hard, normally I would hope to tack when my target is on the beam, but no chance as things stand, plus we make lots of leeway. I understand this boat class has won racing trophies, would like to know how, perhaps when it's tuned and new sails are on it will point better.
Now it's Kathy's turn to mention the other thing I'm not mad on hearing, that water is coming into the boat, the way she says it makes me a little worried, it seems to be getting in from under the bunk at the side.
A difficult place to work as the water tank takes up this space, but I suspect it's probably the water tank that's the culprit, so I taste the water and sure enough it's fresh. So next I have to dismantle the woodwork that somebody has added over the tank to make extra storage, they did a bad job and it's on my list to fix one day. Then I can see that the water level gauge sensor is leaking, as the water sloshes around in the tank it's squirting out the side of the sensor mounting flange, no big deal, I tighten it a bit, but suspect the gasket is shot. It can wait, we have loads of water and a second tank anyway.
So two long tacks and we arrive in a bay protected by Koh lanta. We anchor in 3 metres of water some way from the shore of Koh Po, nice and calm here, but grey and little squalls still pass through, but they just keep everything nice and damp 😒
Monday 17th
Up early, I get the repaired staysail onto the furler while it's calm. Then off to Koh Phi Phi and guess what, the weather is awful again. Loads of squalls, 20-25 knots of wind and rough seas. I tack out on starboard, heading away from phi phi towards Koh Rok as that's the best I can manage in the headwind, then after several hours, maybe 5, I tack and head for phi phi. It was so calm at the start I didn't bother with the reef in the main I had had so far, I was curious if the main would point higher without the reef, I also got both the headsails out and was pleased my repair is holding out. Of course that was the cue for Poseidon and his mates to have a go, 30 knots of wind, and a building sea and boy was that fun, I wondered how far we would heel, I also wondered if every stage in the new rigging had been tested and inspected. I'm afraid it rather bothered Kathy, who worried about me shouting to take the helm while I tried to quickly reduce the sail area out there. It took about ten minutes but it was all back under control and we were belting along. So far we have been doing about 7 knots close hauled at best, but generally about 6. We had to travel nearly twice the distance the crow flies and ended up arriving in the dark, another first for me with this boat.
The bay at Phi Phi Don is sheltered from the sea, but not the wind, it's very deep and near the shore at 12m depth it is coral all the way to the beach. The trick is to anchor in mud just after the coral which can only be seen in daylight. We found a shallow bit some way from the shore, near the middle of the bay where all the work boats here race up and down, but by now they had finished for the day, so we dropped the hook in 13m of water, put out 60m of chain and called it a day!
Along the way, the waves and gusts took their toll, both lifelines snapped, port and starboard, the port signal halyard snapped, some diesel spilled from a Jerry can and washed along the deck into the cockpit, only a tablespoon or two, but that's enough to make a right stink. The anchor locker door in the v berth flew open and ripped itself off the hinges, and the oil lamp unscrewed itself from the spot above the sink and spread itself around the boat in bits. Thank goodness it had no oil in it.
Oh and I lost my cap in one of the squalls, hope they sell caps in Thailand.
Tuesday, wake to survey what is supposed to be the third most beautiful island in the world, not impressed. Rammed with day tripper boats and long tails, these are boats used as taxis and general work/fishing boats. They look like they have an auto engine mounted on the rear on a frame up in the air, with a prop shaft about 20ft long sticking out the back, the whole thing pivots and that's how they steer, a bit like an alternate design for an outboard. Will post pictures later.
I could see we were lucky coming in as local boats have mooring for the day trippers they use when dropping them off to snorkel on the coral. These moorings consist of a length of polypropylene rope floating on the surface which they get with a boat hook and tie to. Presumably they go down to an old engine block or something just as heavy, anyway we may have motored past or over a few in the dark, that could have been fun. Later we popped ashore in the dinghy, which worked out well, the outboard was reluctant to start and stay running, but got into it after a while. It's on my list to give it a service. It's actually a very lovely place and we will come back and spend more time here.
Wednesday 19th
Tried to leave, but the sea was very rough and 10 knots of wind on the nose quickly became 20. After 40 minutes and not much distance, I turned her around and headed back.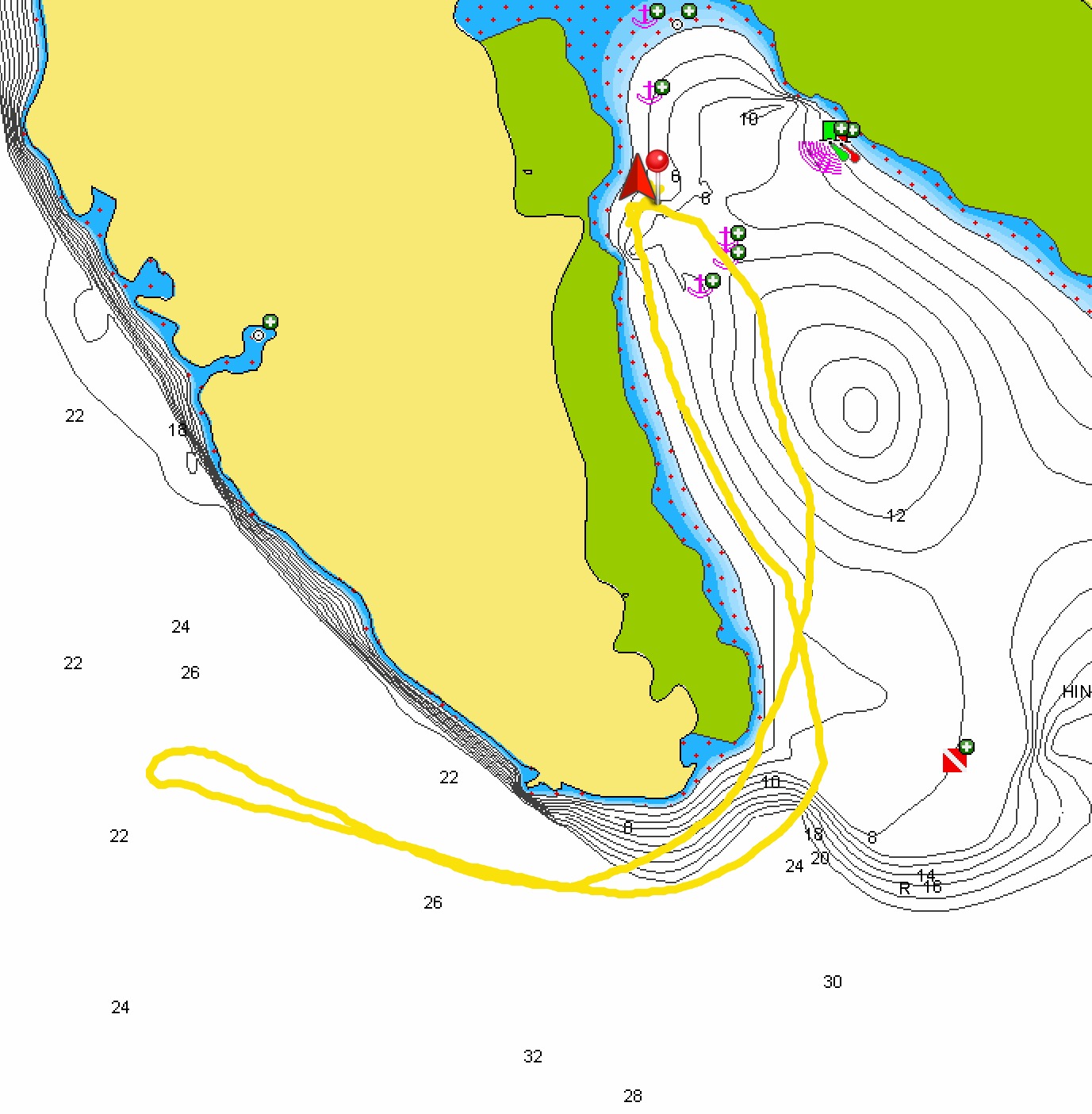 This is a pain, the forecast from the Thai government service gives us 25-30 knt winds from the west with 3.5m seas, but other sources say this is only for offshore areas, and here it is 10-15 from the Sw which would be great. Anyway, it seems the gov forecast was more true when we went out. Also we have had some tremendous squalls blow through here in the anchorage, had to start the engine for fear of hitting other boats as every one swung in very different directions.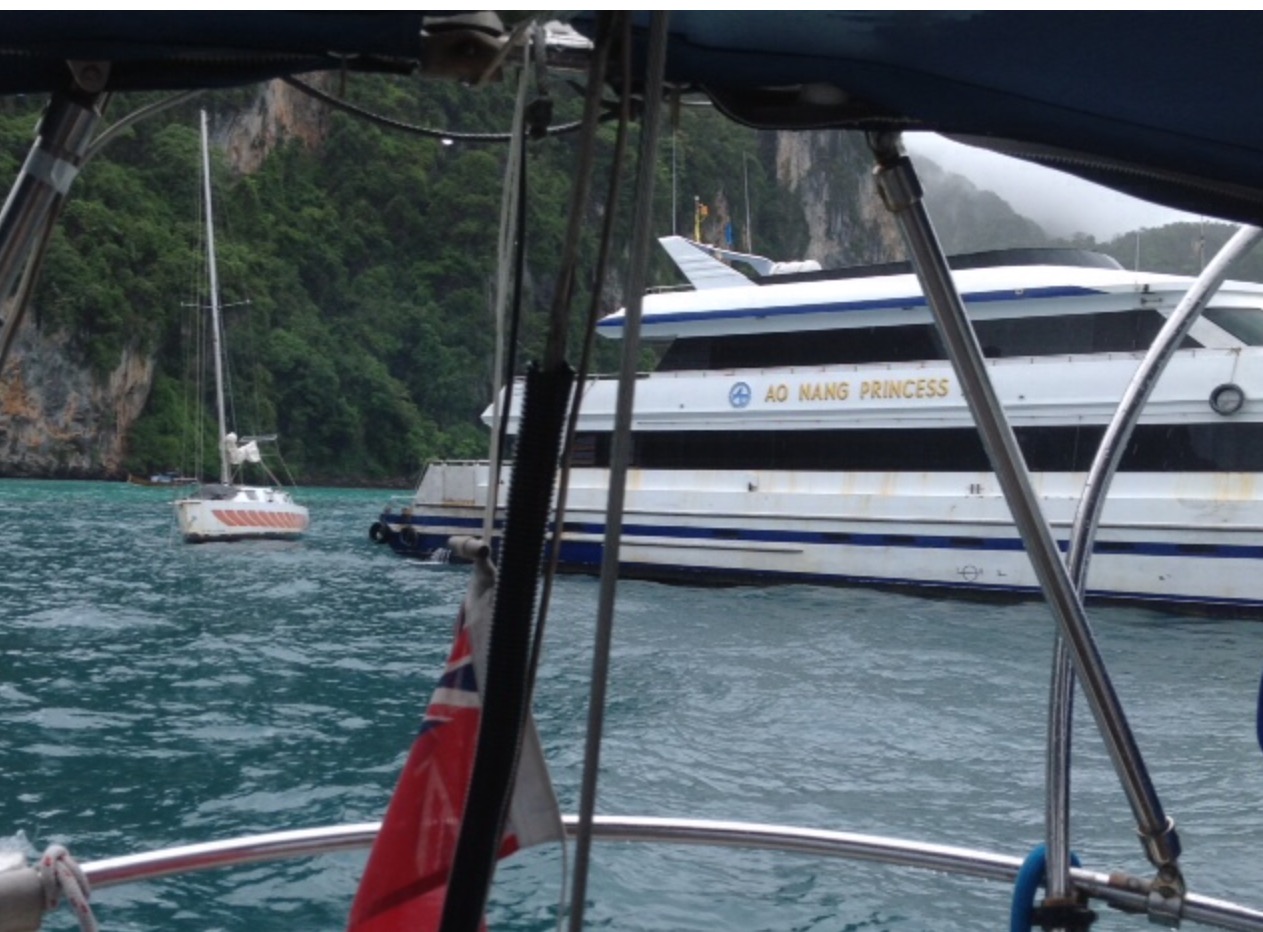 I'm not sure when things will improve, we may have to wait a few more days.
Will try to upload pictures later, but my MacBook has flat batteries and I haven't got round to fixing up a charger on the boat yet, so it's difficult to do from my iPad, will try some anyway.
Paul C