The King's passing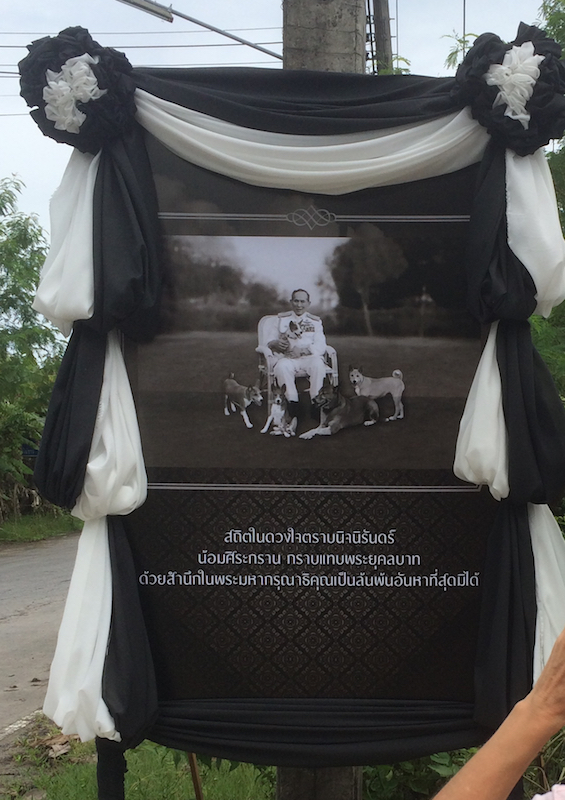 We found an English language radio station that explained a bit more about the king Bhumibol Adulyadej mourning arrangements yesterday. I had wondered if Thailand was the first country I had visited that didn't have pop music on FM, but it seems all the stations have restricted their output to sombre chanting and readings. The only exception being music that the king was directly connected to. Apparently he was quite an accomplished musician, along with many other talents, like sailing and sport in general. Next week the 14th Nov marks the end of the initial 1 month mourning, and entertainment venues, stations and organisations are able to resume activities, however they have mostly decided to wait until the end of January when the 3 month mourning mark is reached. The mourning period, which I thought was set at one year, was referred to today as 'one year minimum'. It's hard to imagine such a thing happening back home. Even when our queen goes, it won't be anything like this.
All government offices and most businesses have tributes to the king set up at their entrance, and the draping of black and white ribbons is everywhere.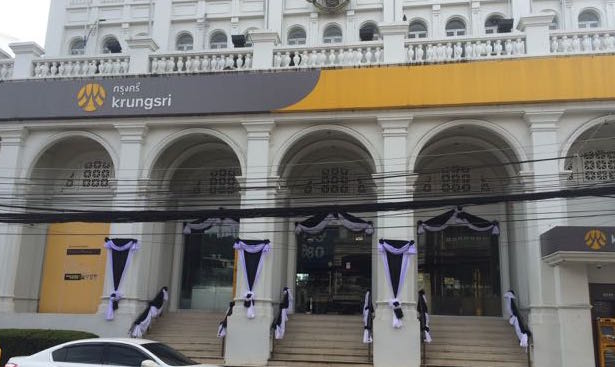 Chandlery
I spent many hundreds of pounds this weekend at the chandlers, and I still haven't bought the expensive stuff yet. I can't get a liferaft or Offshore Danbouy here. That's one of the worst bits about yachting, the very expensive stuff that you don't want to skimp on, should, if you do the rest right, never get used. Best to think of it as insurance, however I have made some good claims on my insurance in the past, like getting a new iPhone when I dropped it in the lake, so that doesn't seem so bad. I'm about to put a £3000 liferaft in the bin, that has never been used. Not to mention hundreds of pounds worth of flares that are way past their sell by date.
Still I have a lot of new running rigging (ropes to pull the sails up), new signal halyards and blocks, and a lot of ropes and fittings from which I'm going to build a fancy boom preventer system with. basically this is a system that stops the boom flying around and knocking your head off. I also have a good complement of new flares and other safety gear on board. The new fenders I bought look great, just disappointed to have just received an email from a UK chandler offering them at half price this morning. A new dinghy pump and PVC repair kit were added to the bag, Finally I picked up an anchor and a few metres of chain to use as a kedge and hang off the back of the boat, this gives me three anchors and 200 metres of rode in total, so that should do for now.
Buddhas (Wat Chalong)
After the chandlers and the rope manufacturers it was on to the Wat Chalong buddhist temple.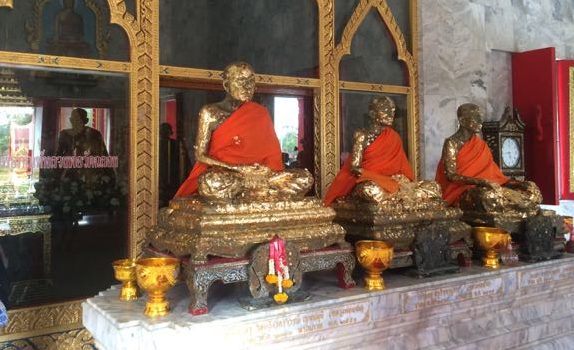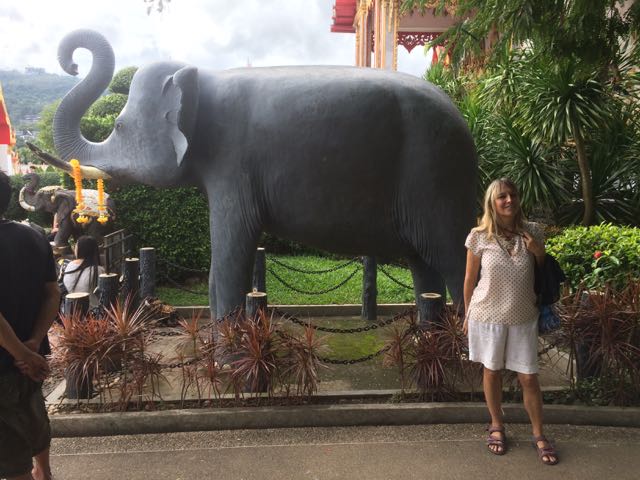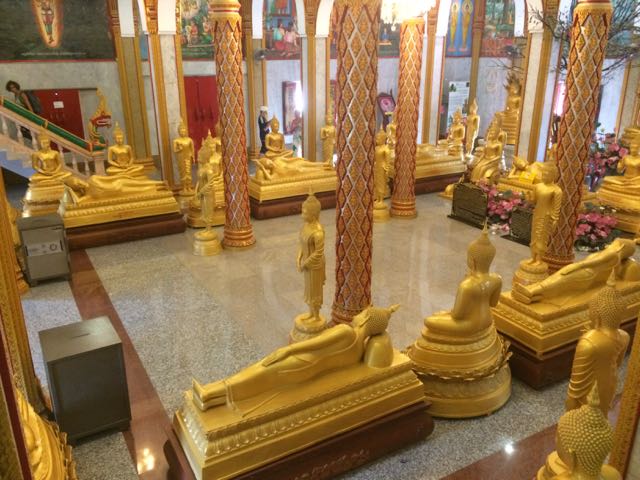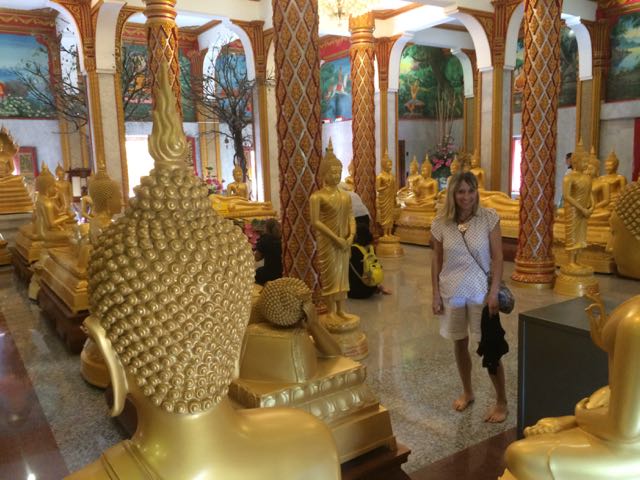 From the temple we headed over to the Naka Night market, which is a huge, mostly covered, market with stalls selling everything you would expect, t-shirts, caps, fabrics, tourist stuff, and it seemed to be a popular destination for day trippers heading over by the coach load from the western side of the island. Every now and then you would here a tannoy shouting for 'shirley to hurry up as the coach is about to depart'. There was a great selection of food on offer, and we both enjoyed snacks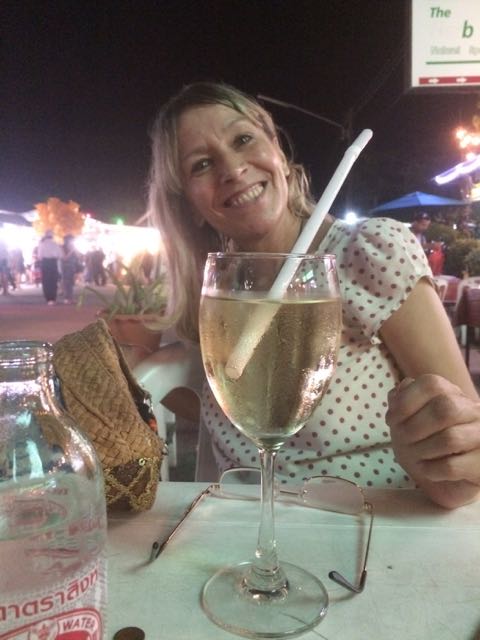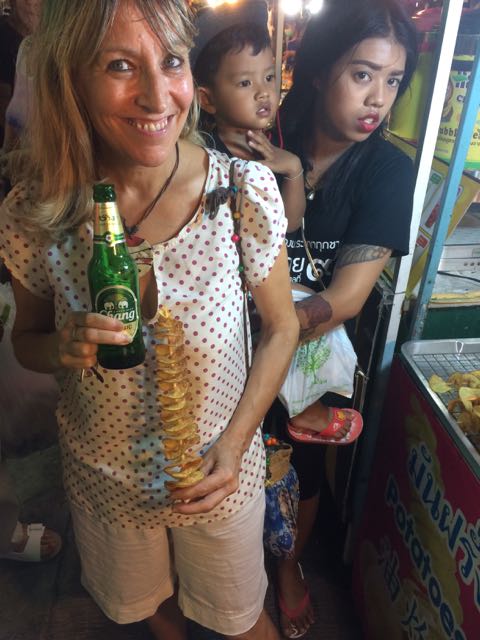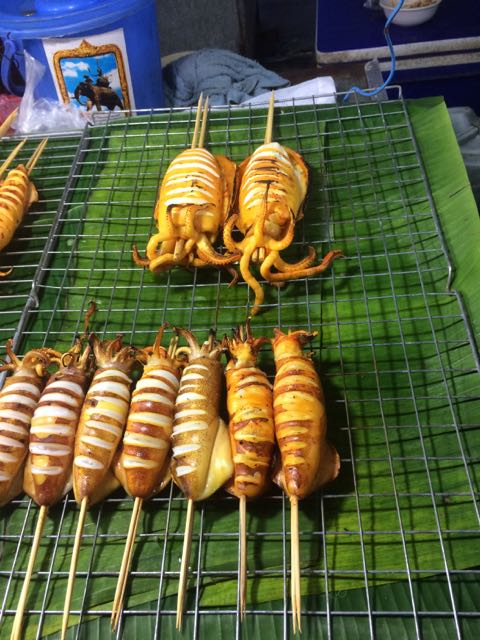 Finally a trip to central market on the way home, this is the only food market/mall we haven't seen on the island, and we needed some groceries, so we had a look. It turned out the food hall was actually owned by Waitrose, so on the plus side, we bought some lovely fresh bread, and other rare European items, but also left a lot of basics out because of the high prices.
Sunday we headed off to look at the western side of the rain forest here. This is where the gibbons are released, but further in than we would go. We couldn't find the animal sanctuary we were looking for, but did find some interesting places over run and quite wild. We ended up at the Ton Sai waterfall, which was great. Sadly Kathy really did find herself in room 101 this time with the attack of the giant millipedes, and leeches dropping on her. I expect she might mention this in her blog later 😉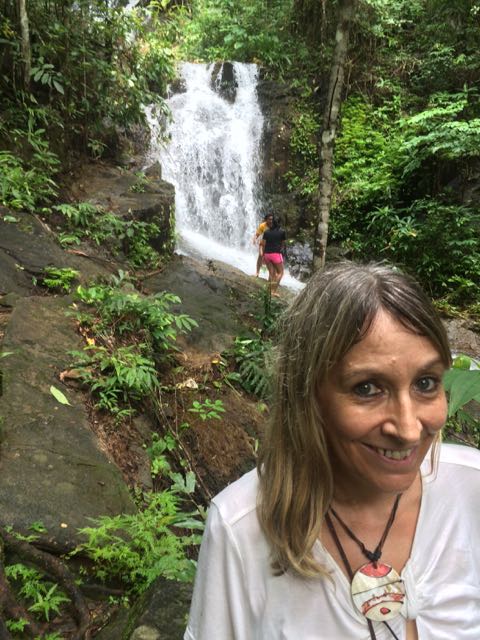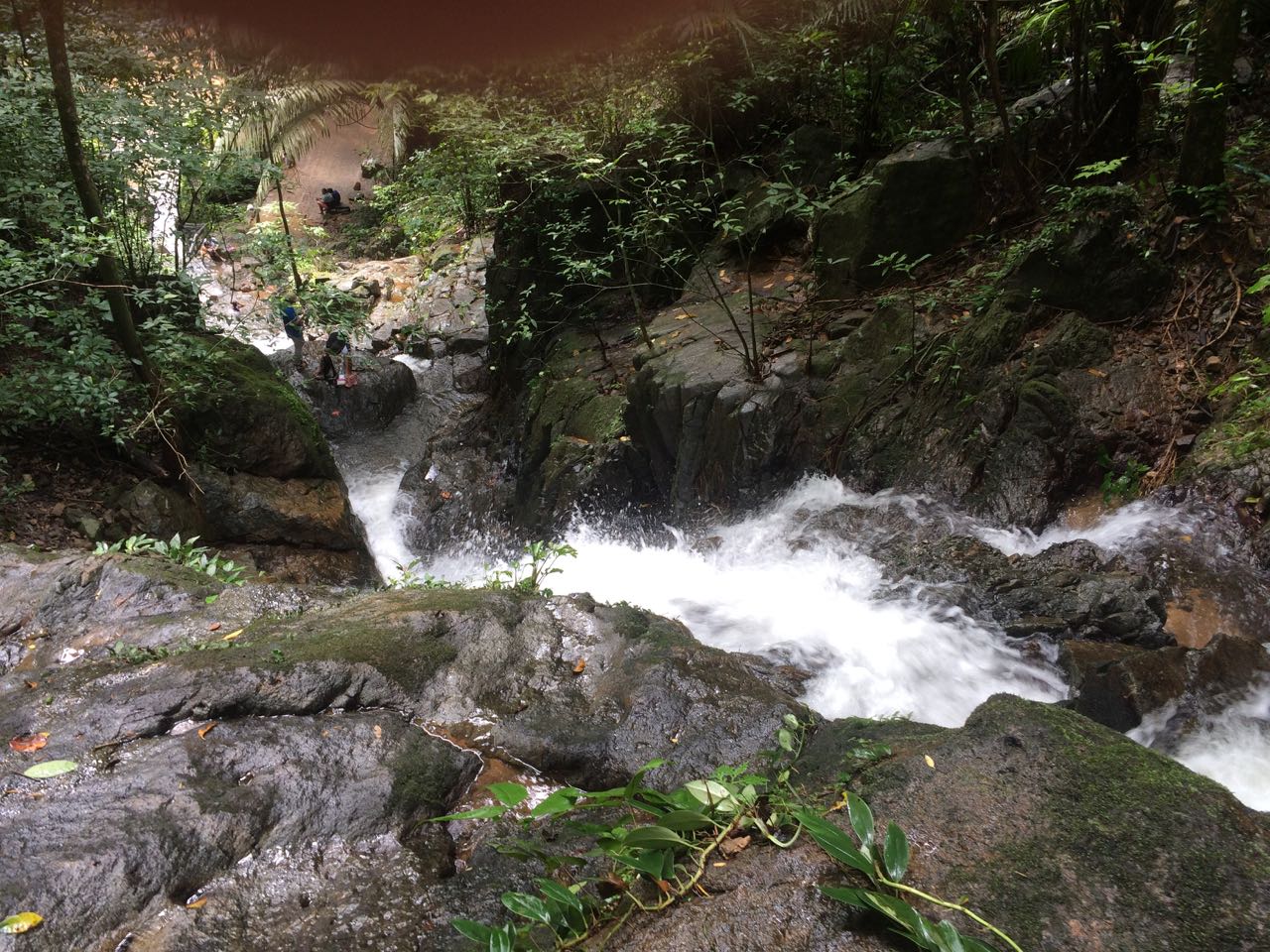 A Rubber plantation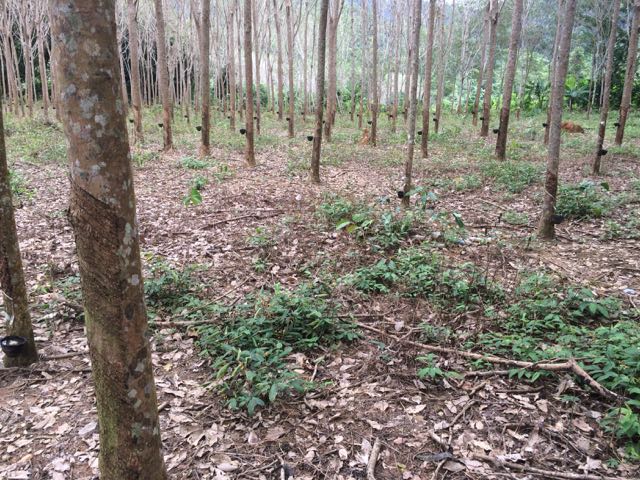 Not sure what happened her, but this was at the end of a road, and I had to drive down the steepest hill I have ever seen to get here.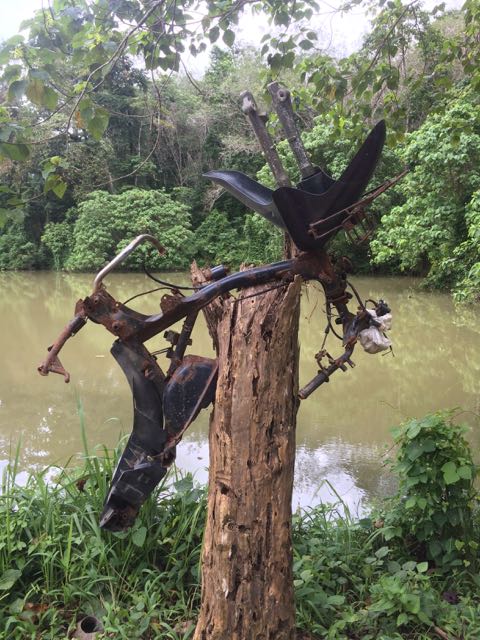 As we approached the hill down to this spot, the road disappeared in front of me, I really couldn't see the road until the car was so steeply angled that there was no way I could reverse back. So in for a penny.., down we went. The only comparison I could think of was the big dipper, when you reach the top, you don't realise just how steep the drop is until it's way too late. I was praying there was another route out, as I couldn't imagine our little hire car getting back up the hill. Of course it was a dead end.
Before I returned the car, we had time to visit the Soi Dog foundation, they do very good work for stray dogs and shockingly, dogs rescued from the meat trade, it's quite a thriving business shipping dogs north to Vietnam where they come to a terrible end. Kathy will post more on this I'm sure.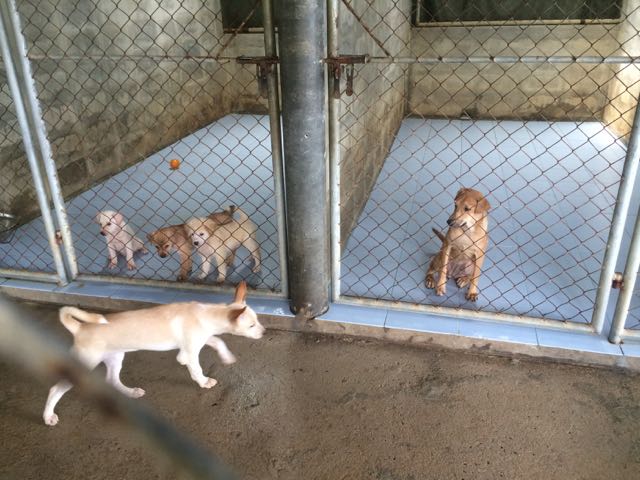 Finally, although it seems like there is very little boating activity going on, we are waiting for the sun to come out, then we are heading off to explore the local area. I have now heard a lot of local people mention how this year has been the worst in living memory for rain, frequency and amount, and how the monsoon season is running late. The weather has us down for clouds and rain all week, with shockingly low temperatures of 27c on some days.
I will spend this week finishing off the refit of the boat, I checked on the sails and they are in production now, and might be ready next week.  The bigger plan is developing, my current thoughts are to aim for Seattle USA for next August. This means leaving here in February and heading to, Malaysia, Singapore, possibly the Philippines, Hong Kong, Taiwan, Japan, then the interesting bit for me, the Aleutian islands. It's a lot to fit into one year and presents a lot of challenges, so I'm doing research on winds, currents etc. Anyone who is reading this and thinks it sounds hard, it's not hard at all, I have been following one family via their blog for a long time now, and they left for world cruising with babies and are still going strong, do check out their blog, they are a great example of how to just get on and do it. Here is a huff post article about the family.
Paul C.