I'm cooling on the idea of going up to Japan this year, there are several reasons, the main reason is that I like it so much here, and if we are to make it in time, we would have to skip all of the gulf of Thailand, Borneo and quite a few other enticing areas. however the prospect of tensions between the USA and China are becoming more real, especially over the disputed islands in the South China Sea. The BBC have some information on the disputes here if you are unaware. Trump has stated he will act against China over their claims to territory which is in International waters, which a recent international court decision has found. At the least I expect there to be increased military presence from both sides in the region. We would have to pass through this area on our way north, and the chances of being intercepted, questioned, and possibly detained are too high for my liking. So perhaps it might become clearer over time. I expect Mr Trump will be very busy with all his other schemes, so this may come to nothing anyway. But with our route to the west hampered by the Red Sea pirates, we might have to stay here in the tropics for some time, of course there is always Austrailia and new Zealand to the SW to escape to, if we have to. Life can be tough at times eh 😉
Bowsprit Update
Nada, it's all done, one last picture and I won't mention it again, promise.
I will continue to apply varnish every morning I can get up early enough, 5 coats so far, but it's all back together now. Need to put the sails on, I have a problem with the staysail stay being too slack, I can't adjust the turnbuckle to tighten it, as the case that covers it is seized on and the grub screw that holds it in place is knackered. Not sure how the rigger managed it. But I need to drill out the grub screw. I filled a few tiny holes in the foredeck, where the PO had changed the windlass foot-switch and left the screw holes from the previous bigger switch open. I also did a great job sealing the windlass to the sprit and now we are 100% watertight on the bow. I took the opportunity to add the 60m of nylon rope to the main anchor rode, and gave the chain locker a good scrubbing and repaired the dividing wall in there.
Our sail repairs wont be ready until Saturday, and I think the harbour master is closed at weekends, so it looks like we will checkout of Phuket on Monday.
Tomorrow our new dinghy arrives,  after a lot of umming and ahhing, we settled on a 2.6m Aluminium base hypalon dinghy. We tried lifting a few of the 2.9m fiberglass bottomed dinghies, and it was a strain, that was without the 30kg a 5hp outboard would add. This dinghy is very light in comparison, so light that our existing 2.5hp motor should push it along, not very fast admittedly, but enough for a couple of old codgers like us. I can always pick up the bigger outboard in Langkawi if needed.
The deciding factor was that I put my back out trying to lift these dinghies, not badly, but I had to accept that most of the time we plan to be hauling the dinghy up exotic beaches in remote places 😉 so weight is a big factor, also as we don't have dinghy davits ( a crane system for lifting the boat out of the sea onto the mothership) I will be manhandling the boat onto the foredeck most of the time. We shall see how it works out, the biggest problem by far was opening my wallet for this one. The dinghy cost more than my first yacht did to buy. I had no idea, it's not just here, they are expensive in the UK and America, I was used to paying £500 back home, for something similar in PVC with a soft bottom, but you can multiply that by 5 for Aluminium and Hypalon.  I'm also paying a lot to have custom covers that go on top of the tubes to provide extra UV protection.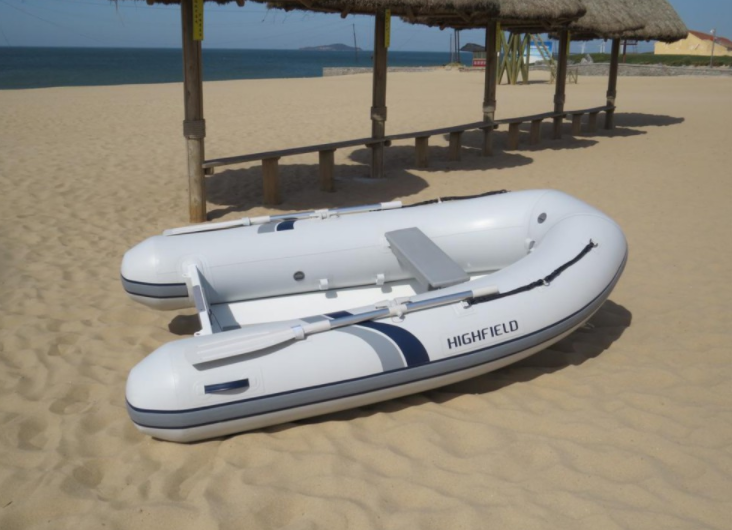 This is the kind of dinghy (above) without the covers.
So the list of jobs is dwindling fast. yesterday we stripped all the cushion covers off (12) and sent them away for cleaning, that means I can't do any more messy jobs without being extra careful (ha, fat chance of that). The new mainsail is waiting collection, the engine has been spun up and is working well, I'm going to give it a major service when I get to Malaysia in April.
Paul Collister.