We left Krabi Boat lagoon (Marina) on Monday morning, the tide was very weird, I thought we would leave an hour later than high water the day before, tides advance by about an hour each day, but was shocked to find High water was about 5 hours later than the previous day. I wish I had time to work out what was going on. There was about ten hours between low and high water, instead of the normal six. The end result was the earliest we could leave was about 16:00 on a not very high tide, I was a little concerned, but the marina manager, Ben, who was most helpful during our stay, was confident we would make it, and it was on a rising tide anyway. So we left, I'm hoping there is a little timelapse of us leaving the pontoon below. The marina was lovely and I'm looking forward to returning one day.
With us only having 2-3 hours before dark, we couldn't go too far and planned to anchor nearby, but once we cleared the mud flats, we had an hour of daylight left, just enough to reach the small island of Ko Dam Hok, a protective anchorage for all winds, just as the sun would be setting. When we arrived we saw a load of big mooring buoys, so we picked up one and called it  a day.
Tuesday and off to Ko Hong, the Krabi one, there's another Ko Hong to the west. After a slowish sail we again found another lovely mooring buoy awaited us, here the water was so clear I took the GoPro with me for a swim. You can see the video below I hope, uploads of hundreds of megabytes take a while on a throttled 3g phone connection. You can just see some things, I'm calling them jellyfish, but they are just translucent bubbly alien looking creatures that float past me. I think they might explain some of the stings I have, one quite bad.
Ko Hong has a big hong, we dinghied in easily and then I rowed around, all day scores of day tripper boats had been ferrying holiday makers around, but we waited until later when they had all left. One other yachtie was motoring around in his dinghy, but once he left we had it to ourselves, and it was lovely and peaceful, a big hong, but at the current mid tide it had about 3ft of water in the middle, it was about the size of half a football field. the peace lasted just a moment, when a motor cruiser steamed in, full of screeching people with music blasting out. they anchored, and jumped into the water, screeching, shouting and singing along with the eurotrashy music that was blasting out and echoing around the hong. Kathy and I put on our best BBC "Disgusted of Cheshire" expressions, how very dare they! So we rowed on, our evil stares at them had no effect.
Wednesday we left at a leisurely pace, hoisted the sails and headed back to the middle of the bay. I had wanted to cut through the gap between Ko Yao Noi & Yai, stopping at a village there, but the pilot book recommends we need 2.5 metres of tide and we only had 2, so that plan was scrapped, I went back to the north of the island group and we headed for Ko Roi, which has an amazing Hong, accessible by a small cave like entrance. This Hong was the most amazing so far, massive inside, and populated with a huge bat colony.Kathy loved it and will no doubt write more about it. Pics below.
You can just see the entrance to the hong in the very centre of the picture. The hong is basically the whole of the inside of the island!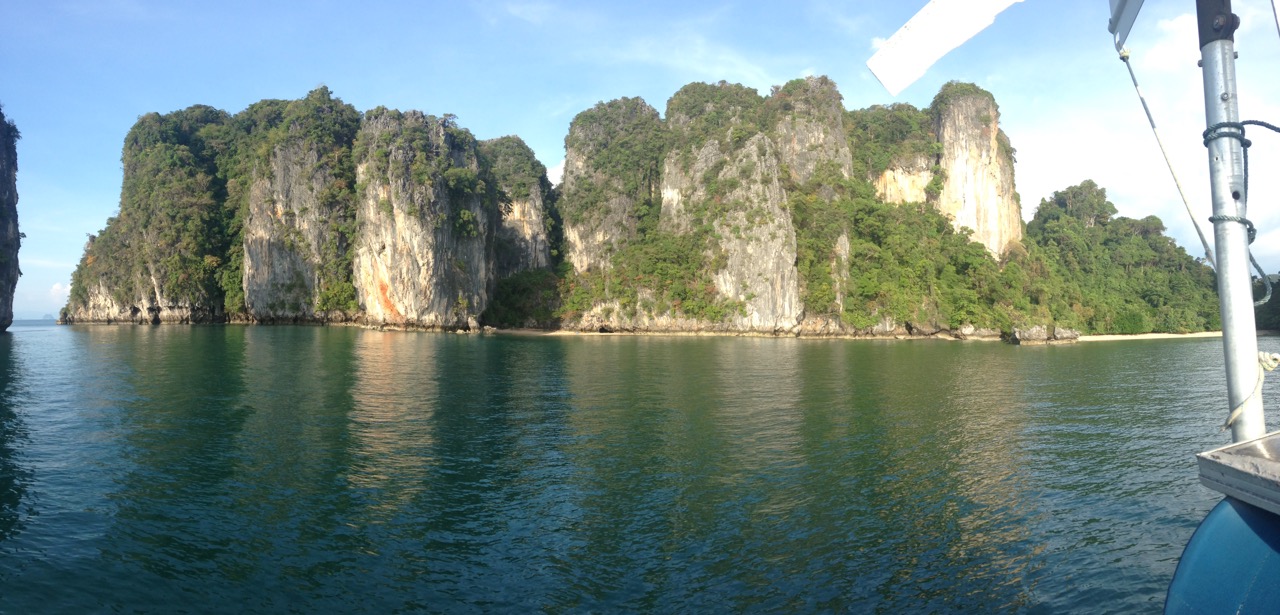 A small vid of the entrance
Inside is the harry potter forest of replicas

Looking out from the entrance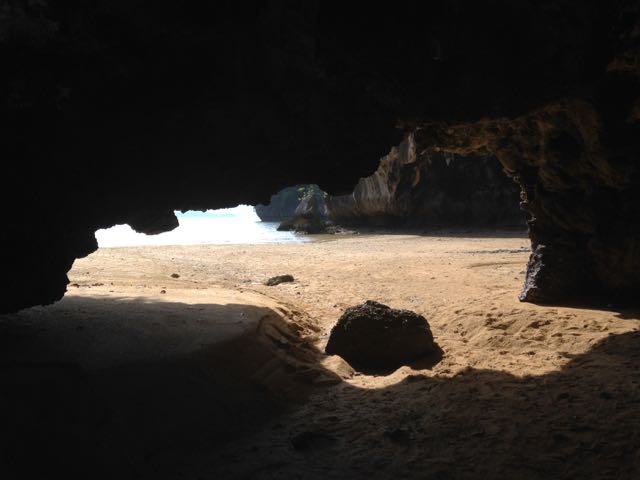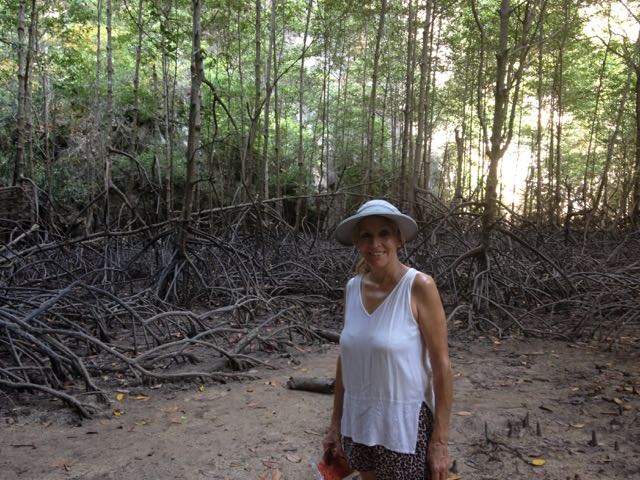 I also have a video clip of the bats here
Thursday we left early, partly because two huge catamarans turned up late last night, full of Russians, they're not quite as reserved as us Brits, and they were here to party. They also liked to play their music loud, they anchored either side of us, just a little ahead, and spent a lot of time shouting between the two boats, when not jumping into the water. So by 08:30, we were off heading north to the small fishing village of Ko Panyi, this is an interested place, with a fascinating background, but Kathy will cover the detail, from my point of view, I loved how they had built a village on sticks clinging to the side of a big vertical walled island.  We arrived at about 11:30 just as 50 million tourists were brought here by long tail boats to feast on fresh fish, grown (not caught) in lots of fish farm nets all around the village. We are anchored right next to a large one. We went over to the village and waked around, what was once a self sufficient fishing community, has now become a tourist hot spot with many restaurants built onto the waterfront just to service the visitors. It's been here a long time, and the sticks have mostly been replaced with concrete piles. While we were looking for somewhere to eat, much harder from the village inside than from the waterfront, only accessible by boat, a bit of a squall built up and I worried if we would drag, so we popped back to the boat, crossing a rougher river now.
The village from a distance

The kids here liked my dinghy, Scouse kids would have had a few bob off me by now to 'look after my boat' 😉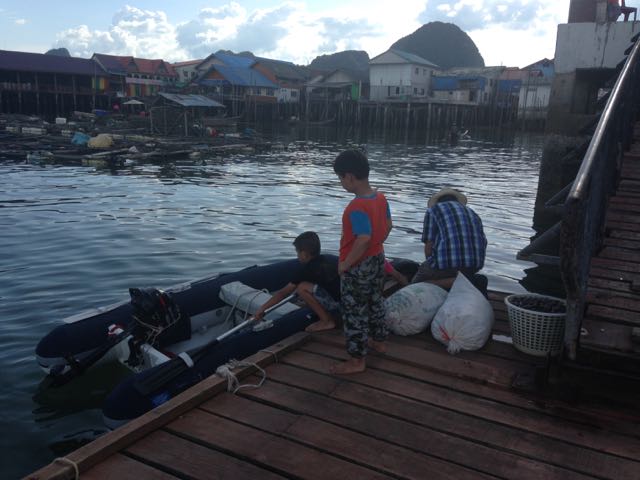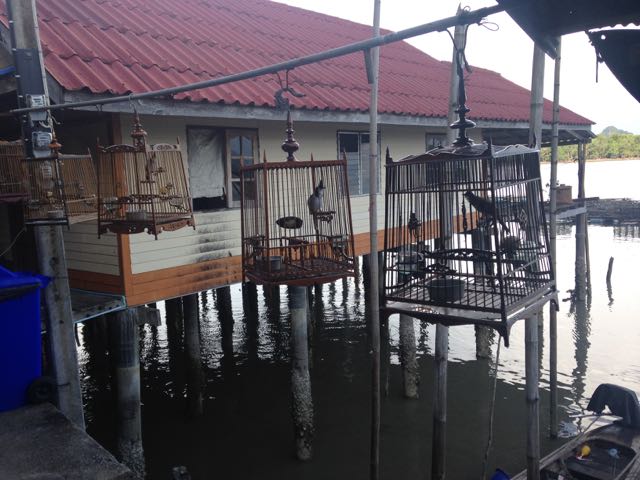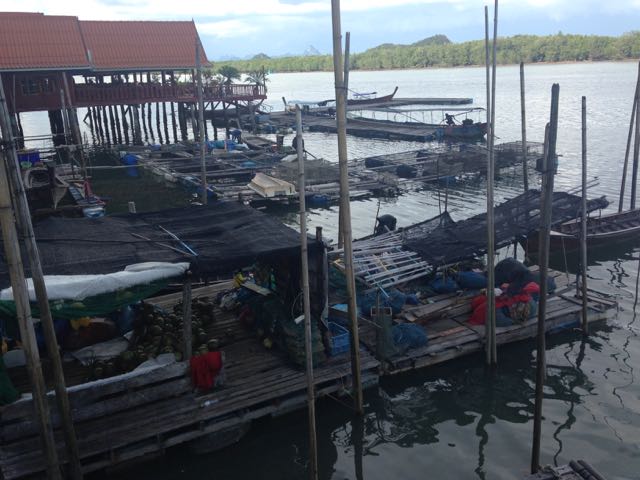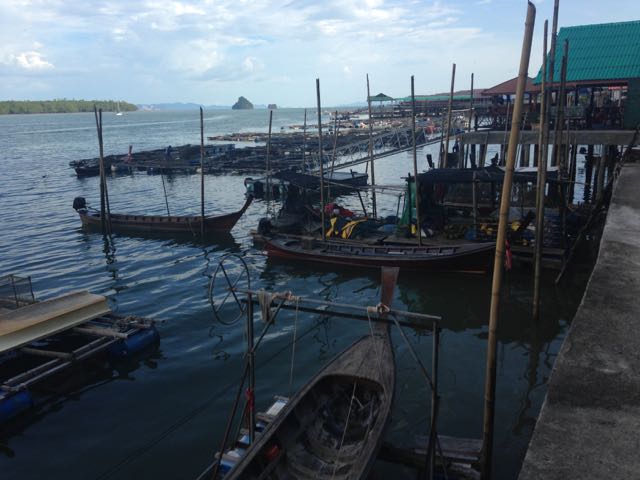 No land for a footie pitch, not a problem, but a slightly flawed plan if you ask me.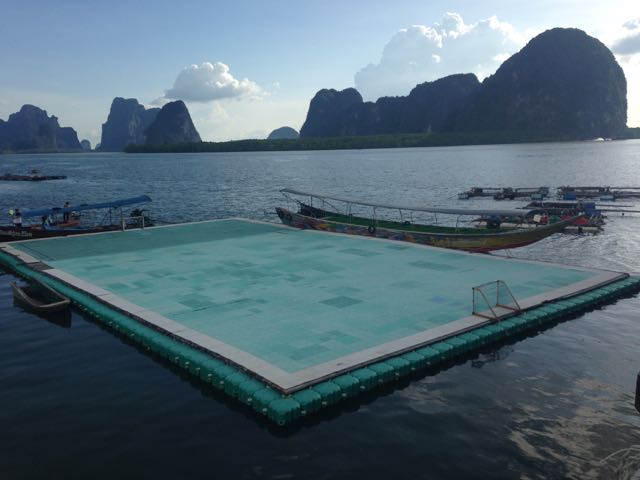 The local barber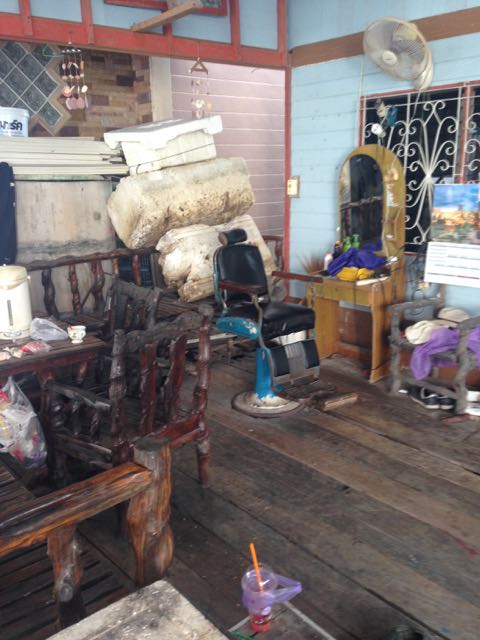 Sister Midnight still there.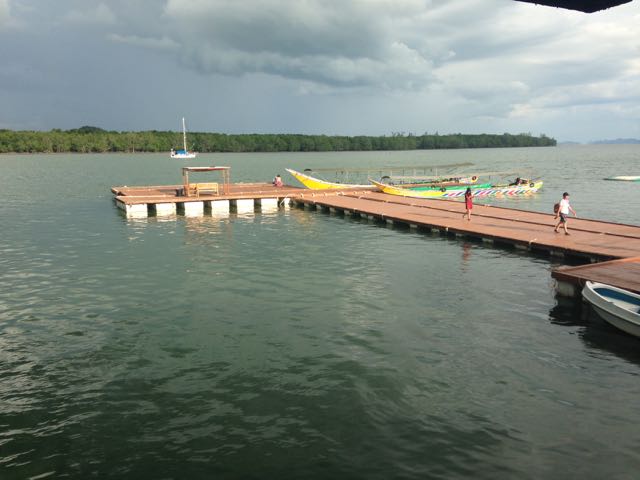 Tomorrow we head south, should make a fast passage with the wind behind us. Slowly working our way back to the Yacht Haven marina, then to check out of Thailand next week and head back south to Malaysia.