It's not all plain sailing and experiencing gorgeous tropical paradises. There are complicated tasks and more mundane pleasures involved in this nautical way of life. Time spent in marinas allow us to use their facilities and to prepare for the next stages of our travels, as the following few entries show.
Monday 27th Feb
Woke up to another sweltering morning, so we concentrated on maintenance tasks and cleaning jobs in the cabin. Paul created a rota for things that need to be done on a regular basis (see pic below) which helps us remember what needs doing and when (although my brain took a while to figure out how the dates and letters work – see pic below). It's not a rigid set of rules and obviously there's room for flexibility concerning frequency, but with so much to remember it's a useful aide-memoir.  The two fans we have in the cabin have proved to be sufficient for keeping us cool, even when doing strenuous chores. The somewhat cumbersome air-conditioning system that Paul had in operation when I first arrived in Asia is very heavy and it was a faff to get it in and out of lockers and on to the deck whenever we moved on. I found it a bit too cold anyway, and I didn't like the fact that we had to keep all the windows and the hatch closed while it was on; it's now stowed away until we decide what to do with it. Today, the fridge got defrosted, cleaned and sorted and I washed all the mud splashes around the anchor locker in the V-berth, along with a few other chores. It had clouded over by the afternoon and then came the rain – lots of it, for a few hours. During one break in the downpours we walked to a small local shop to get some drinks, and then holed up in the cabin for the rest of the day listening to the radio and poring over our laptops.
Tuesday 28th Feb
More work today. Paul programmed, I cleaned and tidied, read, wrote and typed. It's made life easier having a laptop of my own to work with because I don't have to rush to finish things so that Paul can get back to work. It's not so easy when Microsoft 'crashes', 'malfunctions' or 'gets confused' (insert any one of those terms) and Paul reminds me how he never thought he'd have the displeasure of having to work with Windows again ;). We both needed a breath of air and to stretch our legs by the afternoon so we went for a walk into Ban Koh En. The air turned out to be hot and humid as opposed to refreshing but by 4 30 at least we can be certain that it won't last long. The sun starts to lose its intensity by 5 and sets at 6 45 so during that time there's often a breeze and the dazzling glare fades. After buying some bread and collecting the laundry we went for another meal at Mama Papa's by which time the breeze had got strong and cool and was as invigorating as having a cold shower after a long walk in the heat.
Wednesday 1st March
We're planning to leave the marina on Friday to begin the protracted journey south towards Malaysia where I will be getting a plane from Kuala Lumpur at the end of March to spend a month in the UK. Today we did a bit more preparation for the journey. I filled the water tanks, made lists for provisions and we both spent some time staring at computer screens to make the most of the marina's strong internet. After dinner, my laptop kept losing the wifi signal just as I wanted to upload and post some pictures on the blog. Sorting all that out took time we'll never get back that's for sure! It also made for a very late night and more about how Apple technology would never cause as much hassle and stress 😉
Thursday 2nd March
Collected the car mid-morning and followed our usual routine with it: Boat Lagoon, Rolly Tasker (to collect Paul's sail – unfortunately still unrepaired despite being in there for 5 months!) and on to the supermarkets to shop for provisions.  We also needed to go to Ao Chalong for the checking out process. This took longer than expected because there was only one guy on duty in the immigration office and he was having to sort out a confusing situation for the man in front of us. We sat for almost an hour waiting patiently (good thing I have books to read on my phone). Drove to Patong afterwards and shopped in the 'Big C' supermarket in the mall there. Neither of us felt like another walk down Bangla Road so after a quick look round a night market (see pic below), we had a drink and some fries in Wine Connection inside the plush, cool indoor area of the mall before heading home to unload and stow (thankfully without the added drama of impromptu swims this time).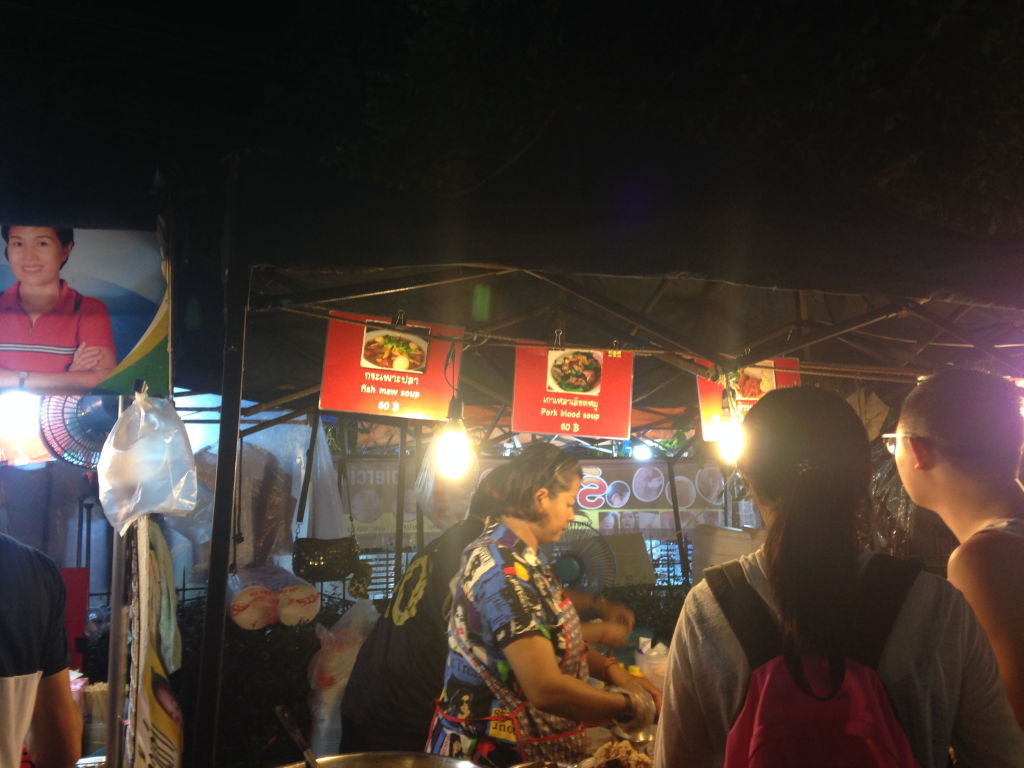 Friday 3rd March Koh Yao Yai
Up early and out of our berth by 10am, we had a trouble-free departure even though I (with a bit of help from the bow thruster) motored us out. There was a good wind so the mainsail went up within 30 minutes of leaving and by 11 we had the engine off and the yankee sail out, doing just over 5 knots. Unfortunately the wind stopped suddenly not long afterwards and never returned, so on went the engine all the way to Koh Yao Yai, where we dropped anchor at 3 o'clock. Ao Labu is a lovely sheltered spot which, as the pilot guide informed us, has 'a long sandy beach fringed with casuarina and other tropical trees'. It also stated that further in the northern corner of the bay there's a small settlement where coconut and rubber are cultivated. We never go far enough in to see these industries in action; I suspect there are quite a few tucked away behind the pretty front views of the islands that we haven't been aware of.  Two other yachts anchored near us late in the afternoon just as it began to get very gusty but the bay was sheltered enough, so the strength of the wind caused no concern. We sat in the cockpit and watched lights on the shore come on to gradually reveal objects and dwellings we hadn't seen in the daylight.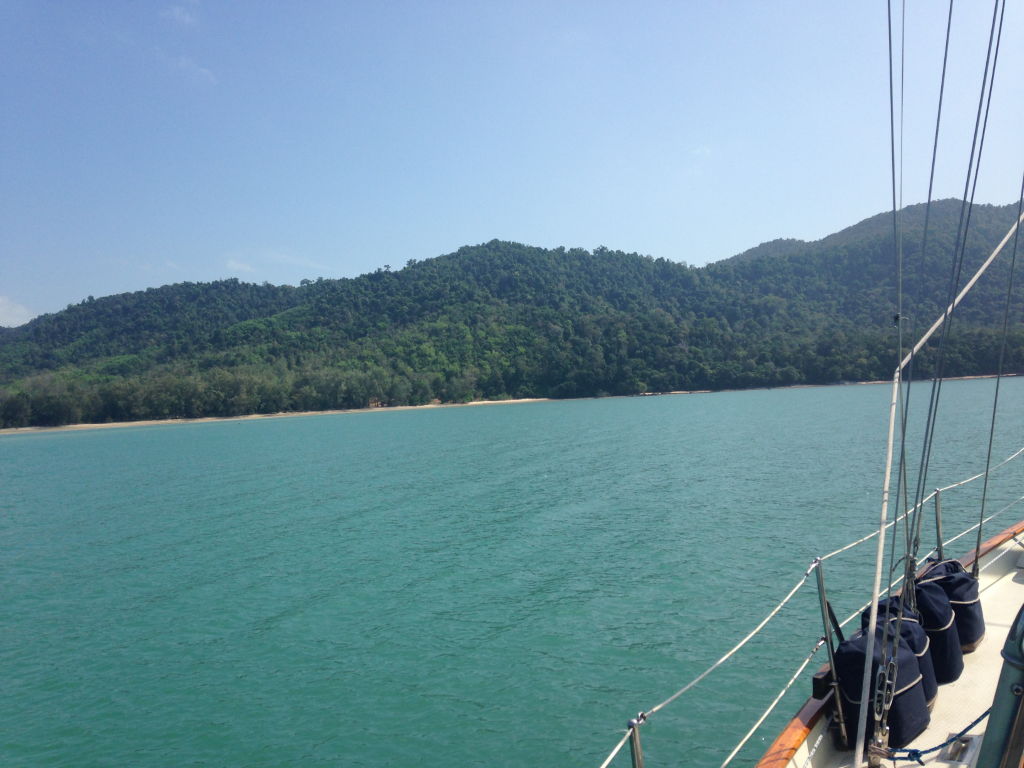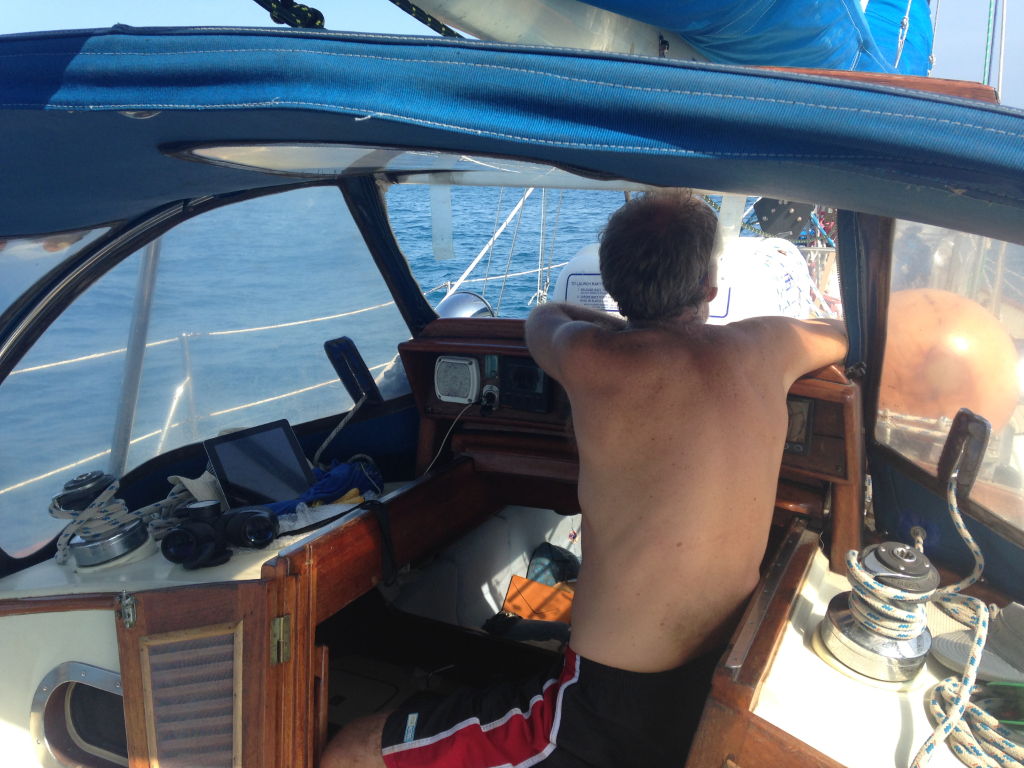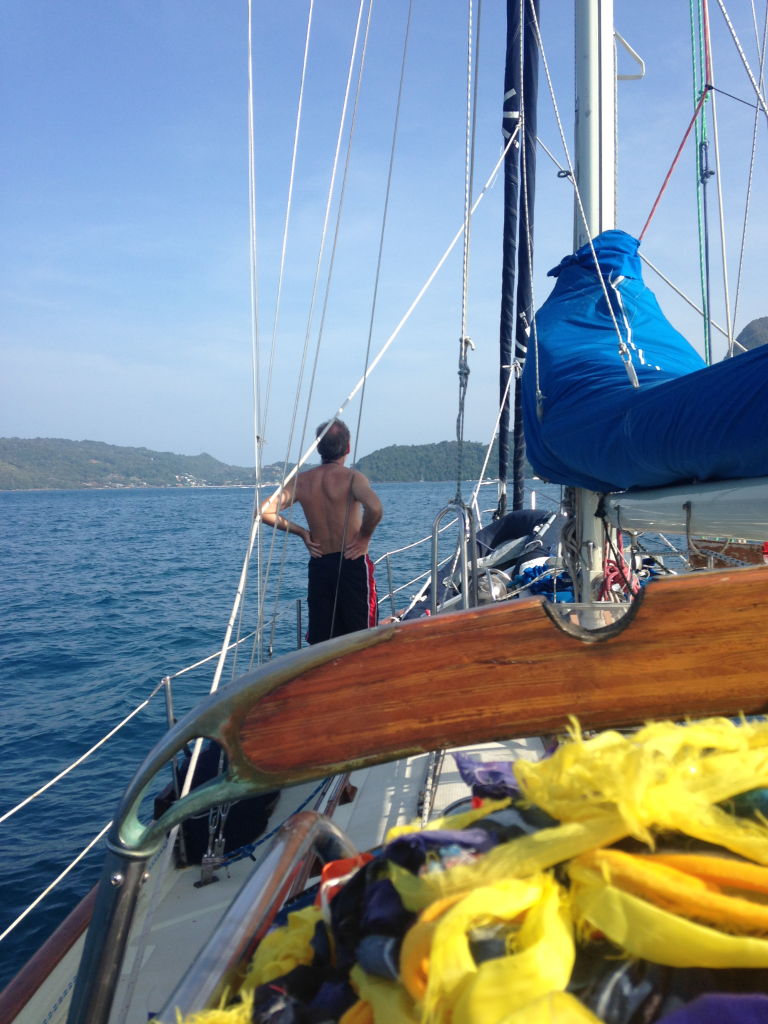 Saturday 4th March Ko Phi Phi Don
There had been just enough gentle rocking on the waves to ensure a restful sleep. Our destination for the day was Phi Phi Don, an island we'd visited on the way up to Thailand in October. This time we went northwest of our previous stop and ended up on the opposite side of the isthmus. It looked extremely busy with the usual longtails, diveboats and speedboats but we managed to pick up a free mooring buoy at Monkey Beach (no prizes for guessing why it's called that). We were quite far from the beach but could see there were lots of people on it.  As it was getting on for 5 by then, we guessed they'd start leaving soon so we dinghied over to take a look. The monkeys came into view pretty quickly. It did look rather as if they were taunting the visitors instead of the other way around. I could see them running up to 'tag' them, or snatch something perhaps and then run away if anyone responded to them.  Reaching the beach, we parked the dinghy, intending to go for a swim and snorkel but I became distracted by events involving a group of young visitors and a couple of monkeys a few metres away from us. This time, the people were running towards the monkeys, jeering and laughing about something and the monkeys were running away. One of the monkeys had a tiny baby clutched to her tummy. I couldn't see any overt cruelty but something made me feel uncomfortable about the interaction. I wanted to keep watching anyway and the little monkey family ran right past us closely followed by the band of people. When they'd almost reached the other end of the beach one of the men started throwing clumps of sand or something at one of them and that's when I set off to intervene. Paul thought that maybe the monkey had pinched a camera or a phone or something. Anyway, the monkeys ran off out of the way in to the foliage and the visitors had to board their boat back. It made me smile when they reappeared a bit later (probably having stashed their loot away safely somewhere). A few pics of them are below.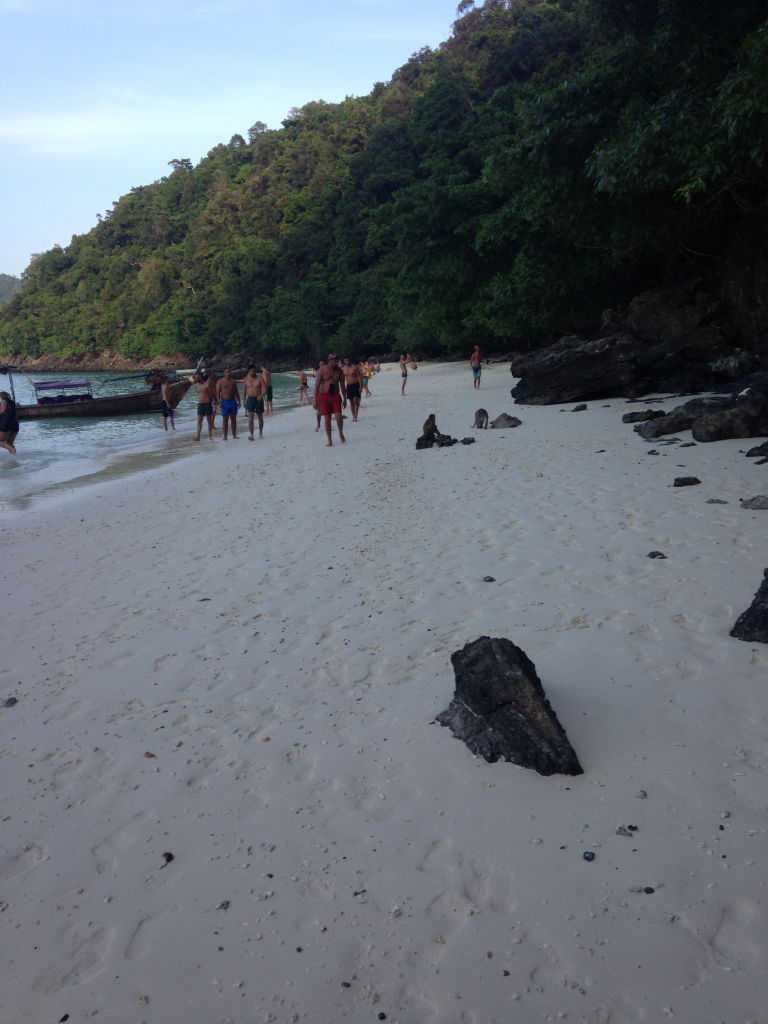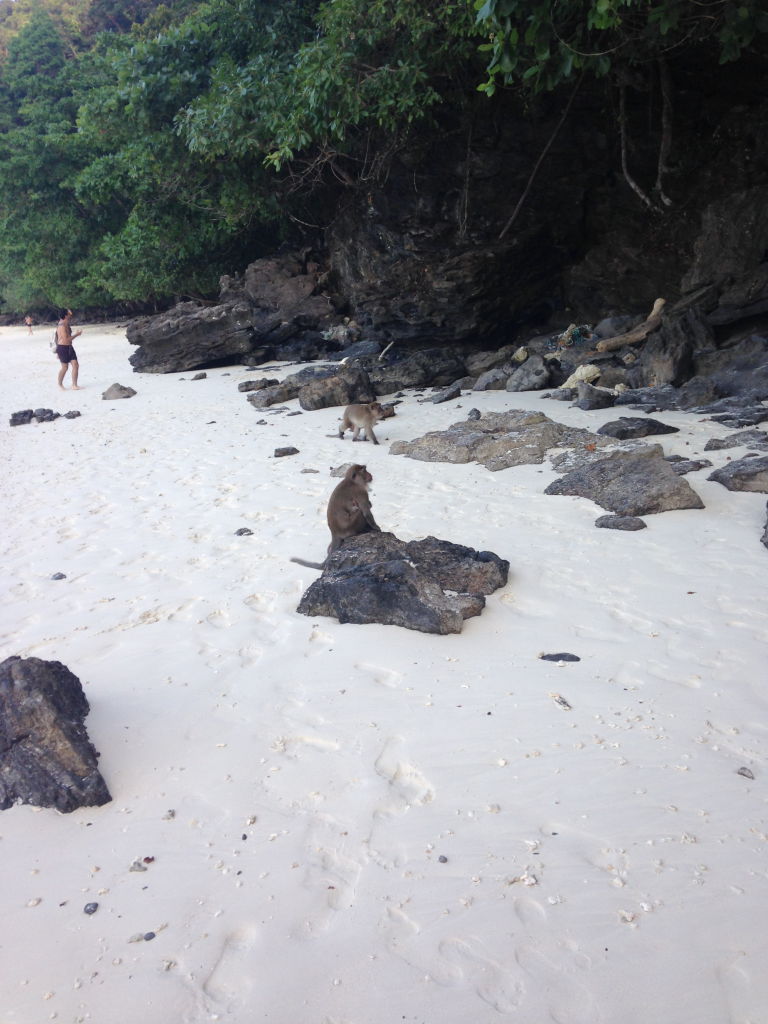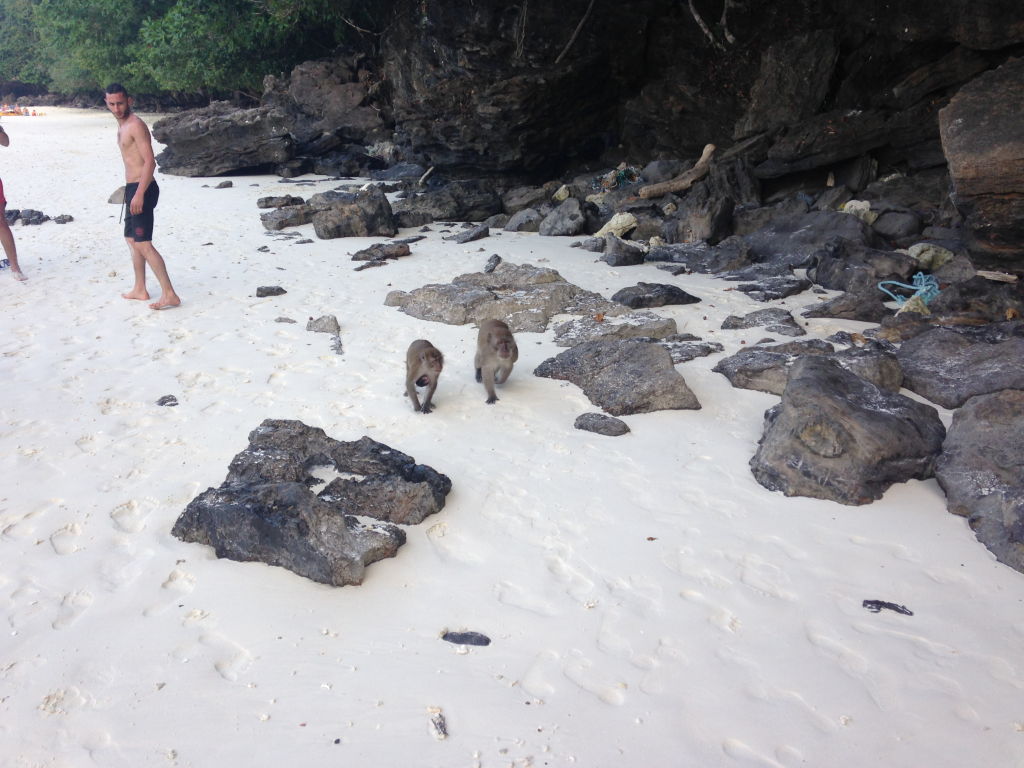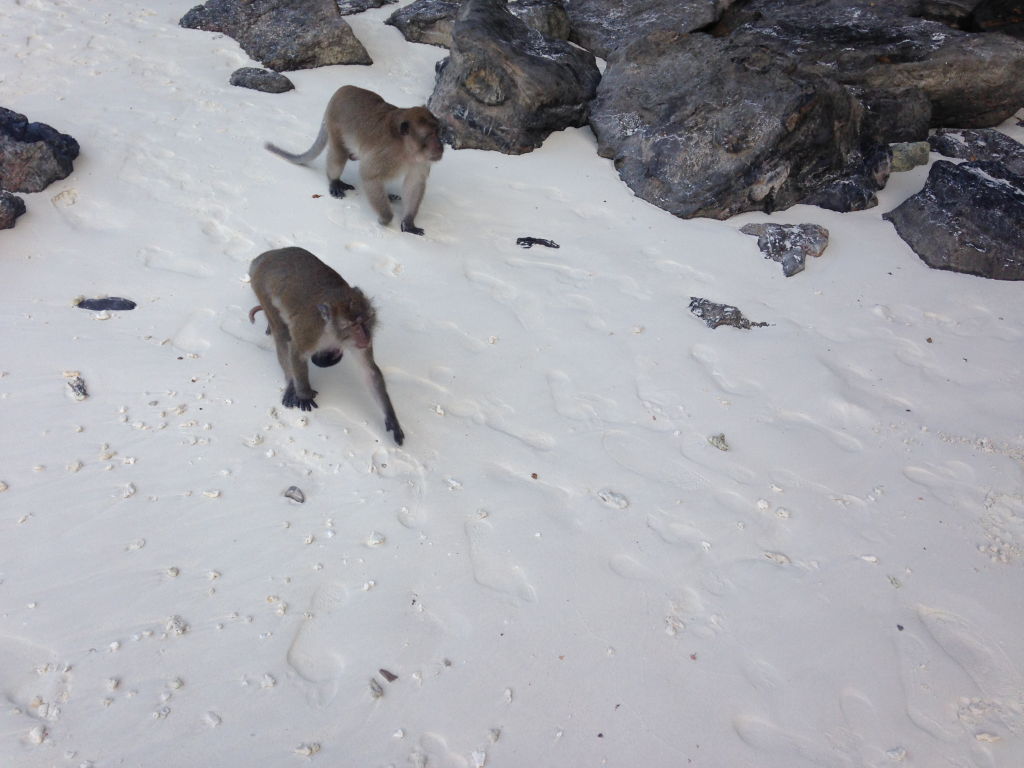 We didn't linger on Monkey Beach for a swim, deciding instead to explore a short stretch of the coastline in the dinghy. We passed by the spot we'd anchored at in October because I was having trouble recalling it (well with so many other islands we've seen…) and then Paul took me back to Sister Midnight while he took the dinghy to swim and snorkel near some caves opposite to us and to practise filming with the GoPro.  The beach was more or less empty by evening but the neighbouring boats livened up, as did the shore of Phi Phi Don. Screams and shrieks of delight filled the air from passengers on pleasure boats enjoying the fun of water activities. They were being dragged and bounced along at high speed on rubber sofas and chairs or sliding down inflatable slides hanging from the boats' sterns and splashing into the water. Meanwhile, people on the big catamarans around us lit up their decks, put music on and partied – long into the early hours according to Paul. Phi Phi Don was also brightly lit and playing music. It's high season here and we'd expected the popular destinations to be 'buzzing' but in fact the nightlife hasn't been as lively as we thought it would be. It seems reports of a dip in the number of visitors and bookings this year is a fact.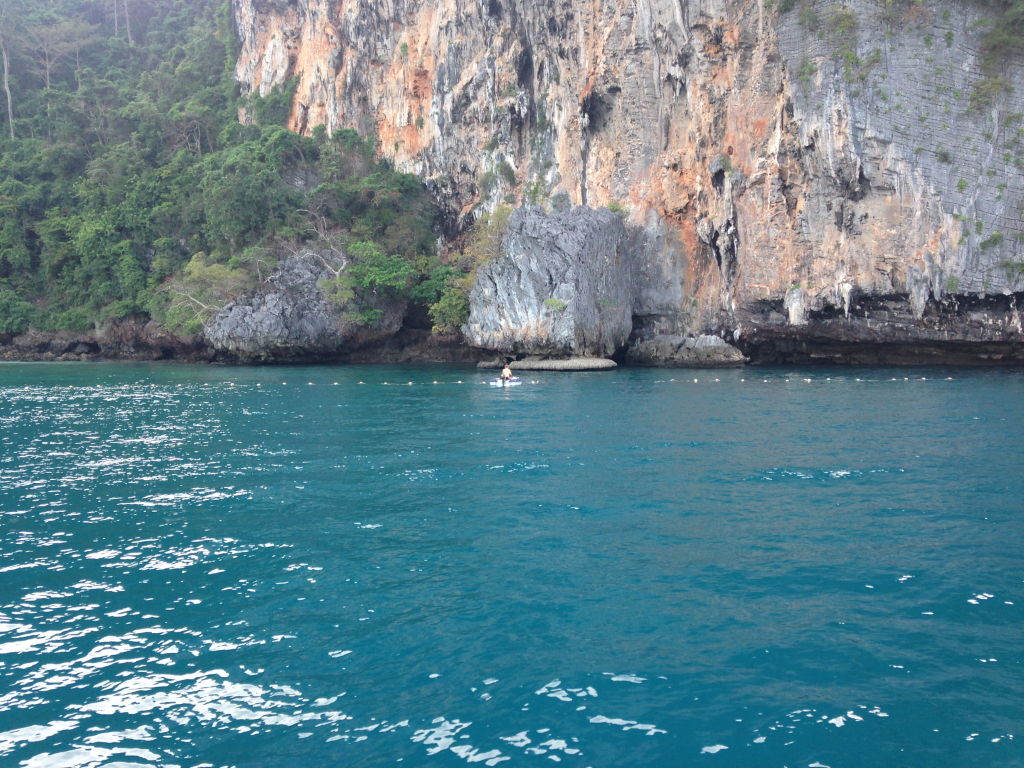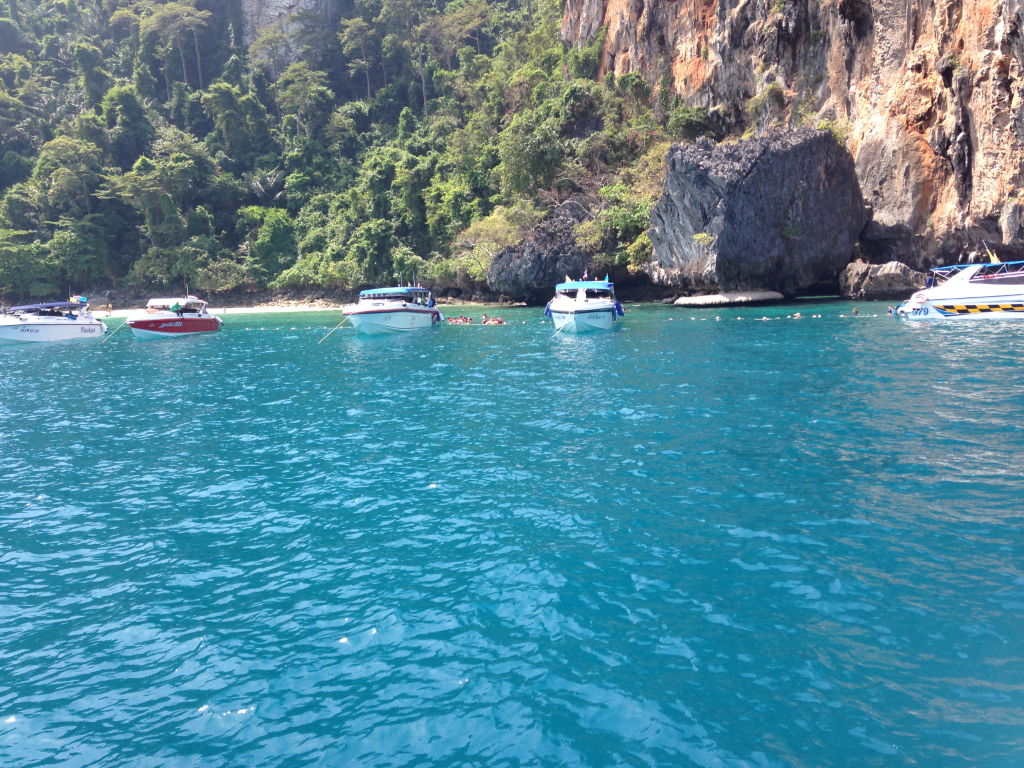 Sunday 5th March Phi Phi Lee
Phi Phi Lee is only a short distance from Phi Phi Don. Our previous visit to the area had been in bad weather and we'd glimpsed the famous movie location island through a sheet of drizzle and cloudy greyness. Leaving our anchorage at 11am after a lovely long sleep, the weather couldn't have been more different. It was a clear, sunny, blistering hot day, and in the hour it took to get there we knew we would not be enjoying anything like the solitude and peace of previous anchorages.  The sheer volume of marine traffic and the accompanying noise was no real surprise but the fact that we managed to pick up a mooring buoy was. This location was popular long before it rose to prominence as the location for 'The Beach'. The diving school boats and the plethora of divers around them confirmed that it's an area where sea turtles and three types of shark can be seen (Black tip reef, Leopard and Whale sharks apparently. That large 'fish' I saw in the clear water when I was bending to hook the mooring buoy could well have been one of those.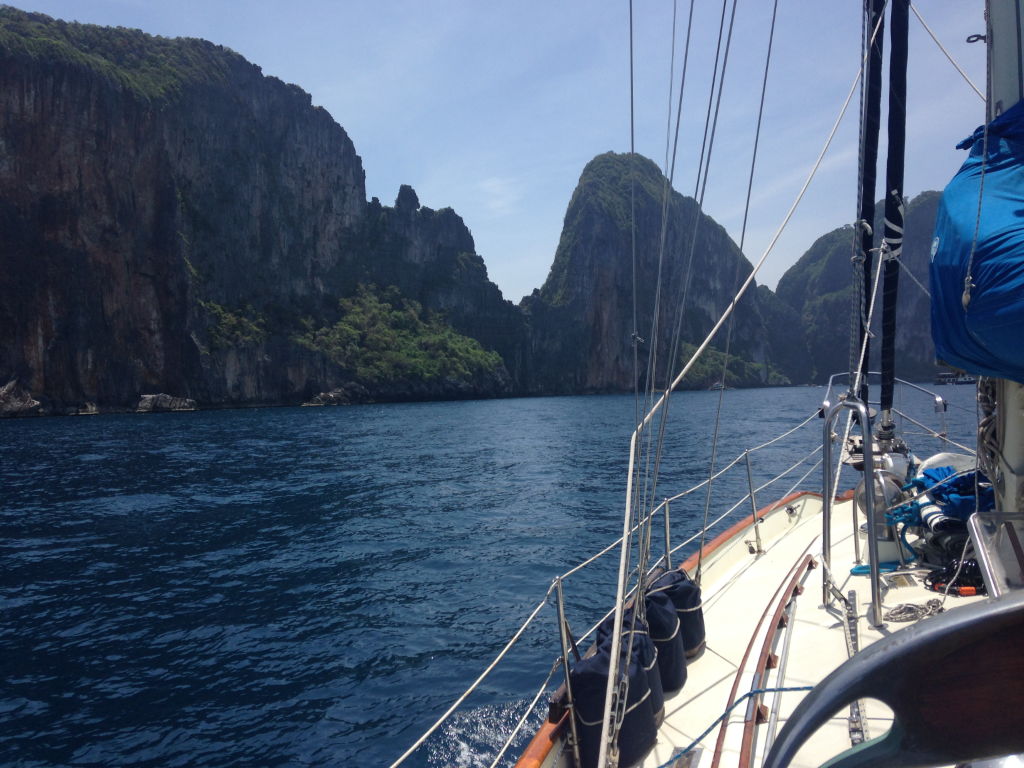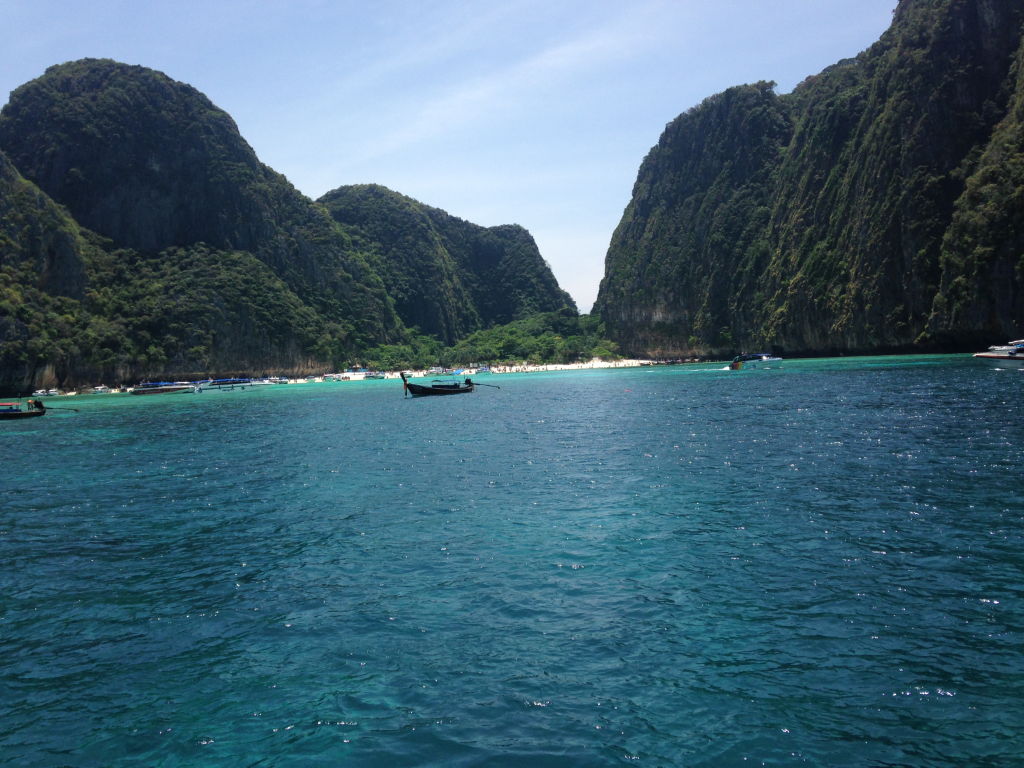 Once secure, we sat back and gazed at the lively scenes before us. We didn't intend going ashore until most of the visitors had left anyway so we watched divers, snorkelers, swimmers, and an increasing number of tipsy visitors arriving on longtails. There seemed to be a required celebratory dance that no one had told us about, which involves standing near the front of the boat and swaying around with your arms up in the air while crying out something…unintelligible. Lots of people did it on arriving but we hadn't – hope that wasn't a faux pas ;). The beach itself was packed with sunbathers and walkers and of course lots of longtail boats. We debated whether to stay – I know Paul wasn't keen on the fact that it was such a hyped-up 'naff' location. My desire to see it came not from being a Leonardo fan, although I do enjoy his films. It was more that I saw that film so long ago and remembered looking at the idyllic scenes and imagining what it must be like to walk on those sands in such a place. I never thought I would actually get to see it! So yes, I felt an unashamed thrill at being within touching distance of it. Having decided to stay, we had a swim to cool down and then put snorkels on to check out the sea life around the boat. We saw sea urchins, tiger fish and what might have been small sharks but no sea turtles unfortunately.
At 4 30 we went across to a small beach to have a look at the interesting flat-pebble structures on the edges of the sand. I've seen a few similar ones since then on other beaches. I don't know what they signify, if anything – maybe it's something like the padlocks on bridges craze that cropped up everywhere for a while.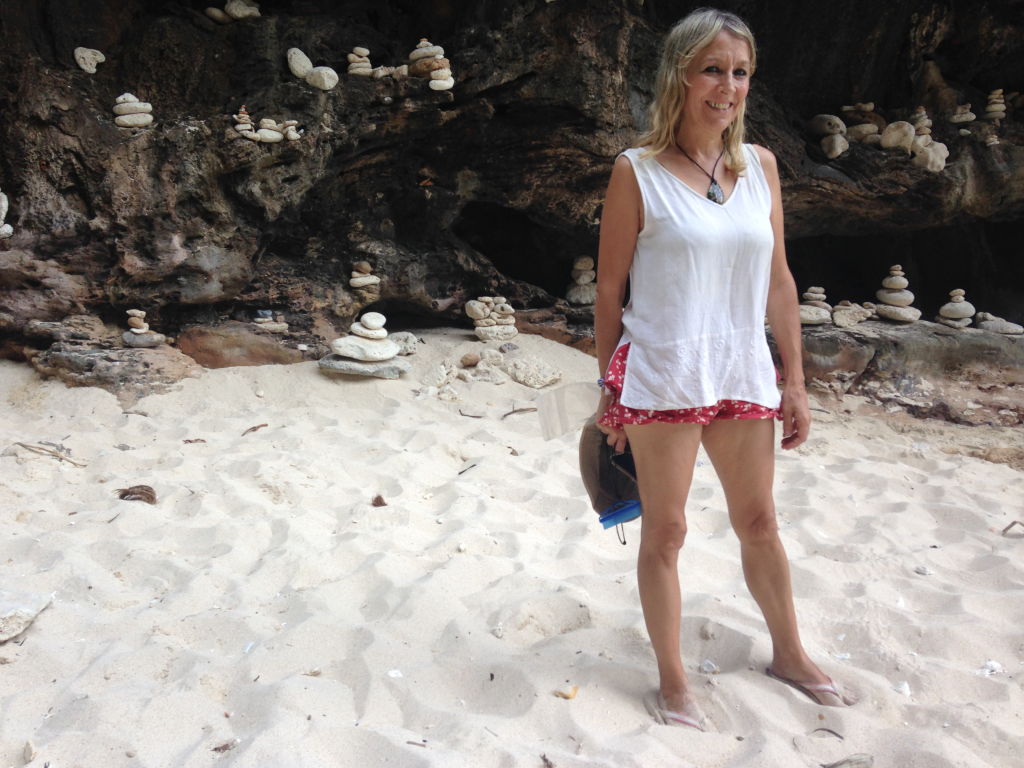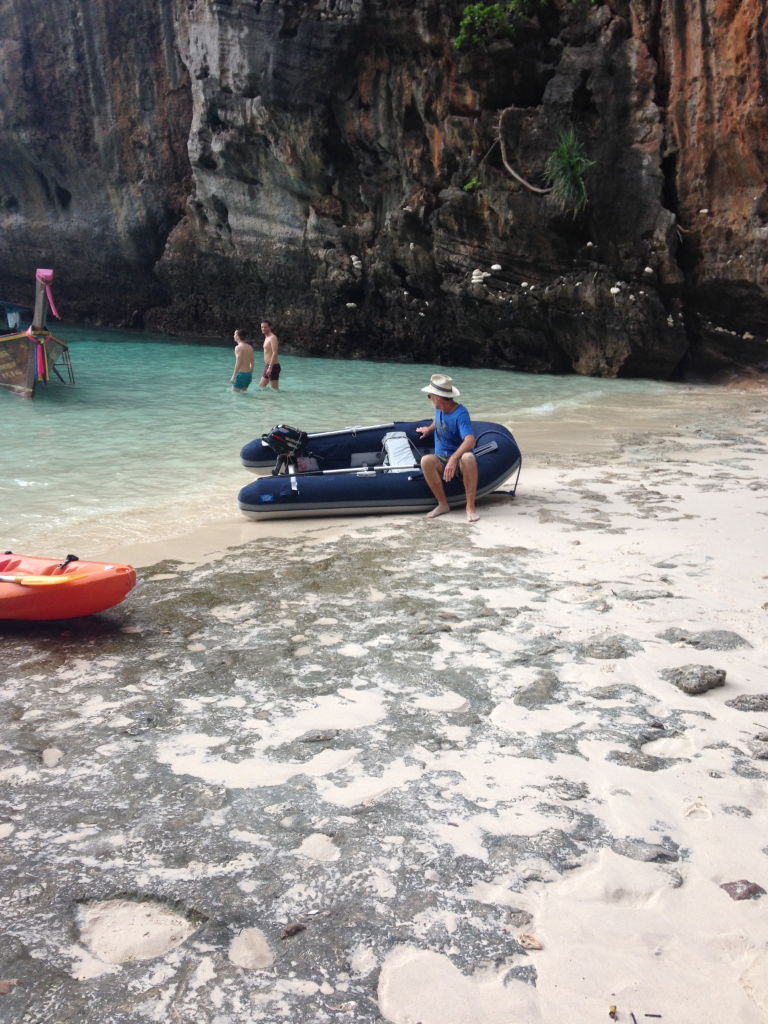 After a quick row around to see if we could spot any turtles, off to The Beach we went. It's proper name is Maya Bay, and in pre film days I'm sure it was more like the beautiful unspoilt ones we've seen on our travels around Thailand. The first thing I noticed as we drew closer was a line of signs plonked unceremoniously at the back of the sand. There was also a garish blue platform made from pontoon segments that served no purpose at all (or so it seemed to us). Quite a few of the longtails had left by then but it was still quite crowded. We found a spot to beach the dinghy on the left side of the sand and stepped over the legs of sunbathers waiting for their boats to collect them. The signs I'd spotted had intrigued me and I was keen to see what was on them. Surprisingly, none of them advertised the fact that this was the location for the film. One, rather alarmingly, told of the risk of stings from creatures known as Portuguese man o' war (NOT a jellyfish I'll have you know-it's a siphonophore!) and how to treat them – I might not have gone snorkelling if I'd seen that first!.  Another sign simply said 'No Drones!'. Apparently, these are banned due to their irritating buzz, yet that would be nothing compared to the constant drone of the longtail engines. Another sign, and this only highlights a few of them, warned that bringing polystyrene food containers onto the island would result in hefty fines.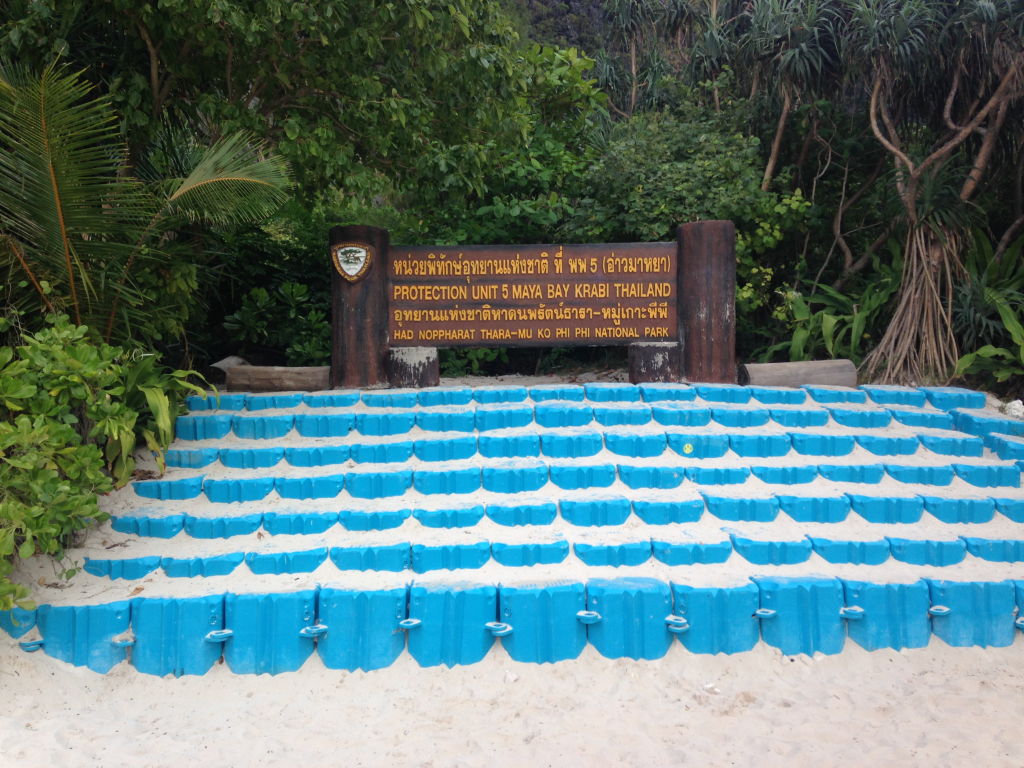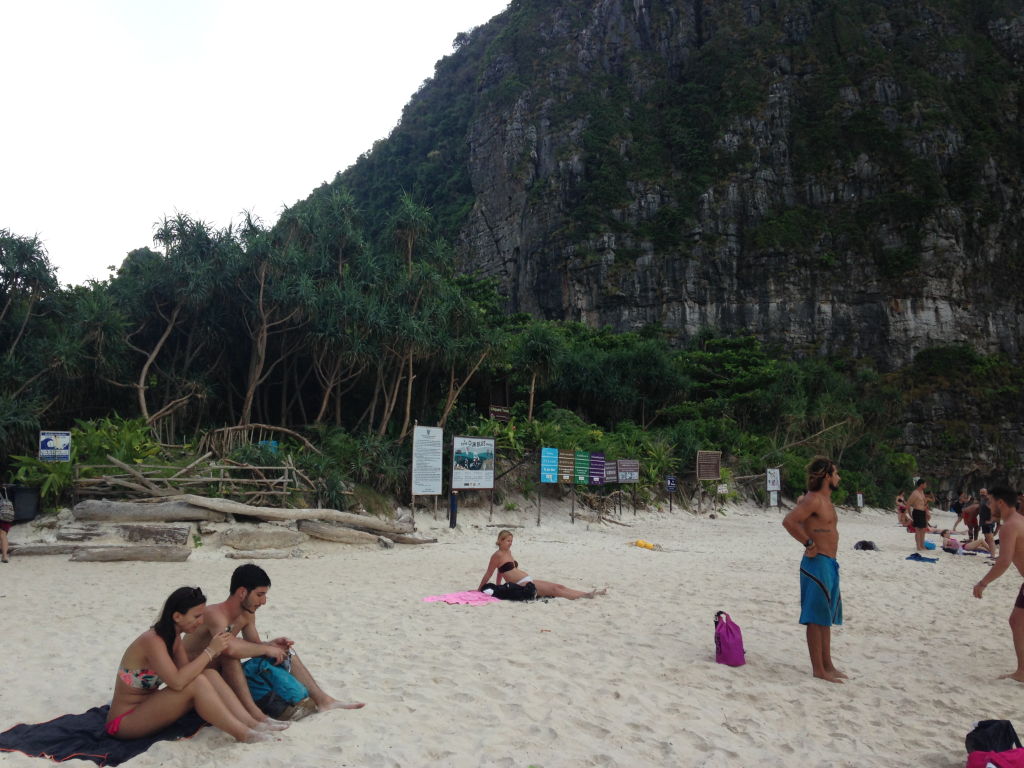 There was a strong smell of fuel coming from some of the longtails with dodgy engines, and I was very disappointed to see so much litter: food wrappers, plastic bottles, cigarette ends and fag cartons (even though smoking is prohibited) were strewn everywhere. I'm sure rangers have a clean-up system in place, but I'll never understand why people think it's ok to drop or leave rubbish where they feel like it. I thought back to an interview I'd read when the film came out, in which Leonardo, a keen environmentalist, had stated that when filming was over he'd been adamant that the beach should be left exactly as they'd found it with not a scrap of litter to spoil its beauty. I think he would be dismayed to see it now. We walked along the length of the beach and back, had a look at some rocks and caves, took some photos and then headed back to the boat.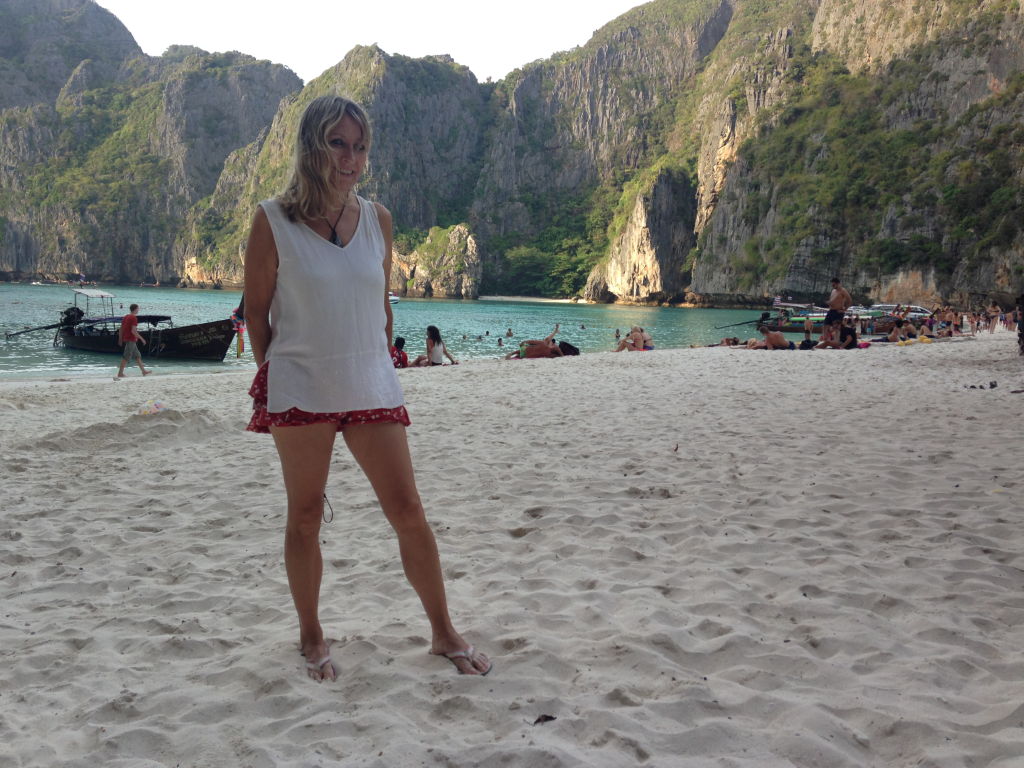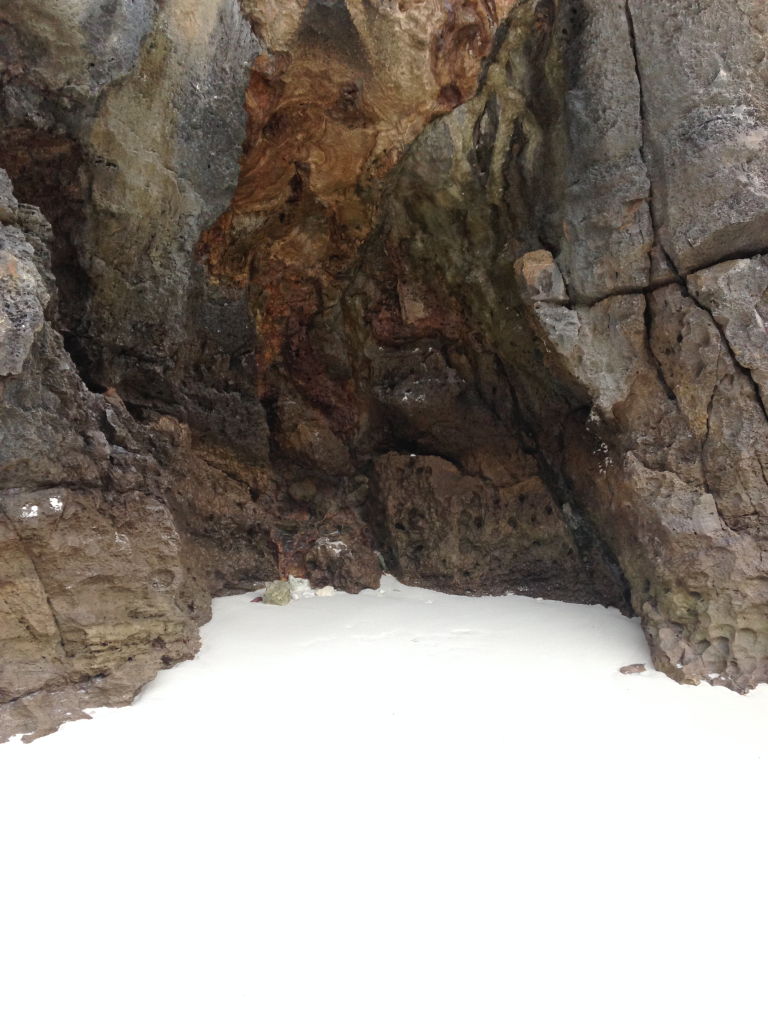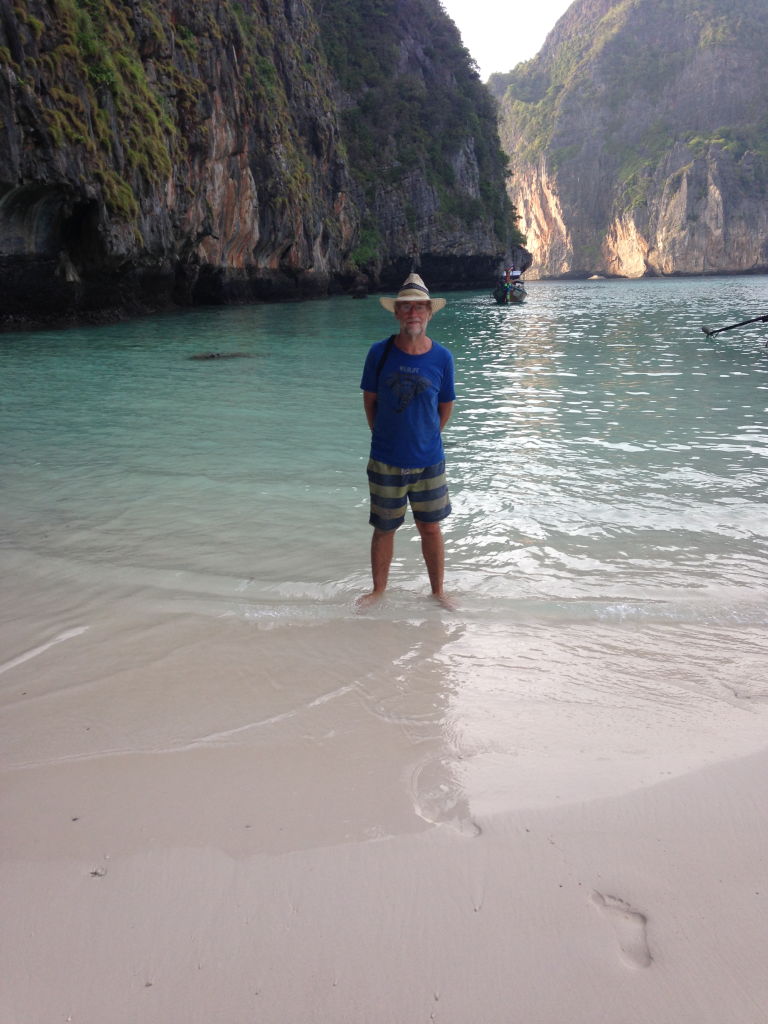 I was interested to see how deserted the place would become as the evening wore on. We sat on deck watching the boats leave one by one; it was just before sunset when they had finally all gone. Apart from one dinghy and a couple of people (rangers maybe) in the wooded area, the beach was empty. This is possibly the only pocket of time in the day when it's a clear white stretch of sand with no people or boats at the water's edge. The wooden signs appeared even more incongruous when unobscured by people though.
Kathy